Day 4 (India & Georgia)
Monday 10th March 2014
Written by India
We're up at about 9am as we decided we would catch up on our sleep last night. George and I go to the food court where I have a hot chocolate in the reusable mug I bought yesterday, a blueberry muffin and fruit salad; George has a cinnamon roll.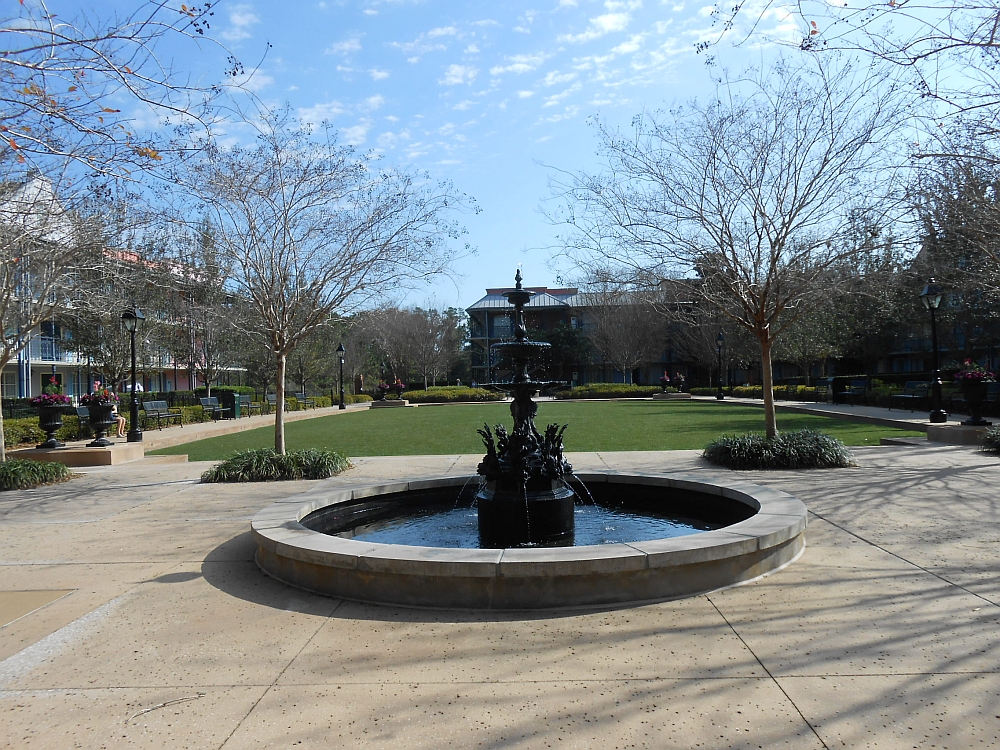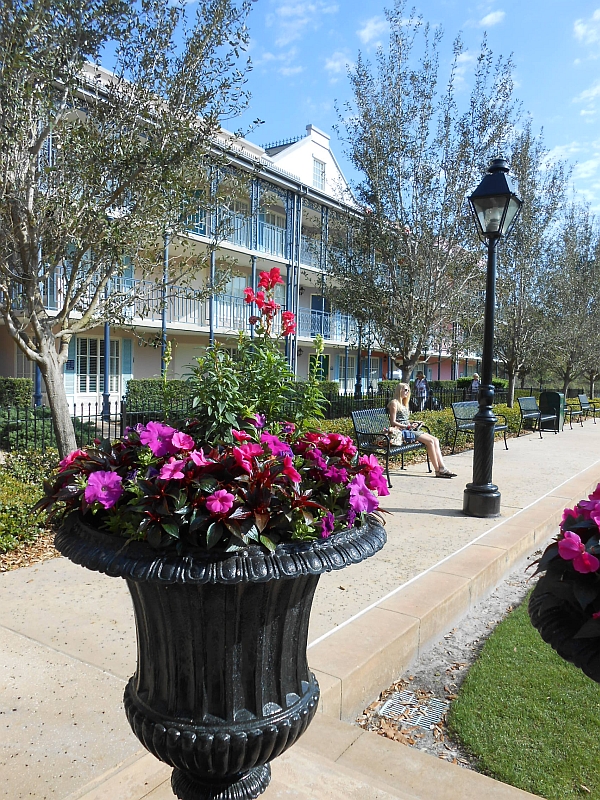 Anna meets us and we drive over to Epcot, entering the park about 11am.
The fastpass+ at the entrance is heaving so we head to the one at International Gateway. They don't have any fastpasses left for the main rides so we leave it and decide to try for fastpasses when we get into Magic Kingdom later.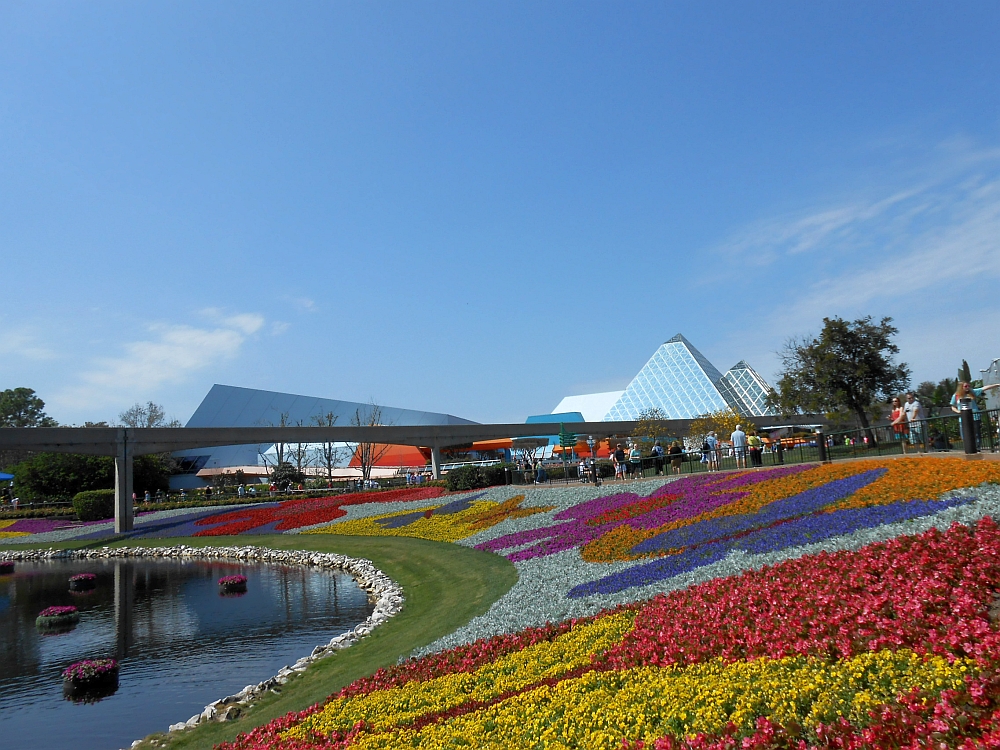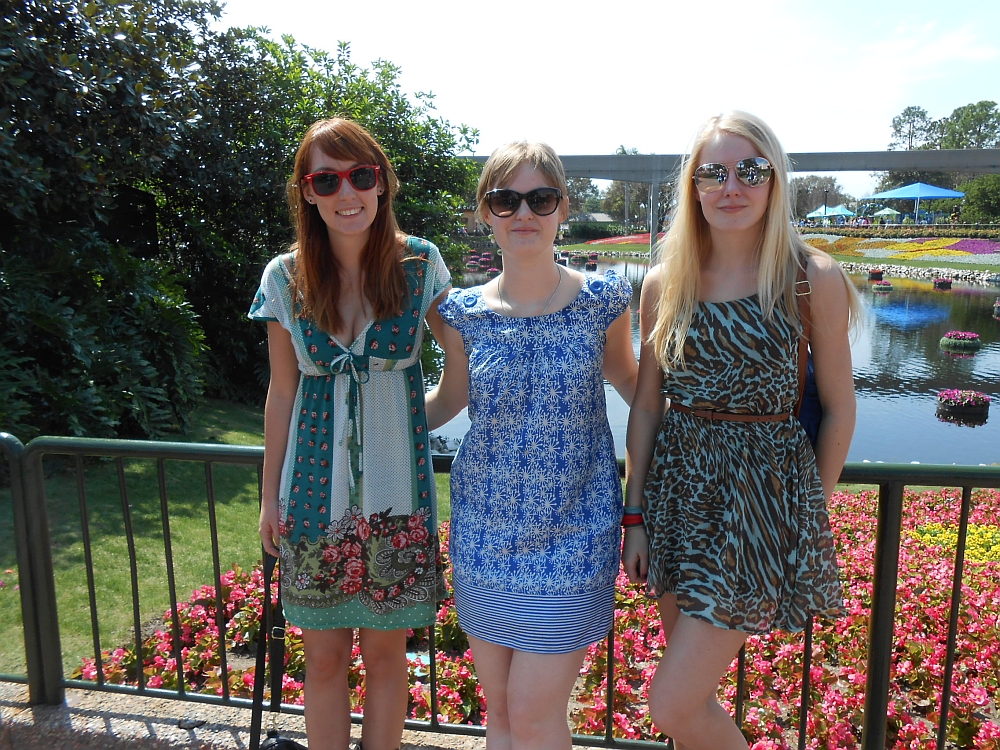 We head round and ride Test Track single rider. It's the first time George and I have done the new one - I quite like the idea of designing your own car (you only the get the option of preset in the single rider and fastpass queue) but other than that it hasn't changed greatly and is quite Tron-esque. We then go to Club Cool for a drink. George finds one of her favourite things of the holiday, Pineapple Fanta, and everyone avoids the Beverly. It's the Flower and Garden Festival so we go for a wander through the butterfly garden where Anna is quite taken by the fairy houses. Then we go to the Land Pavilion and ride Living with the Land.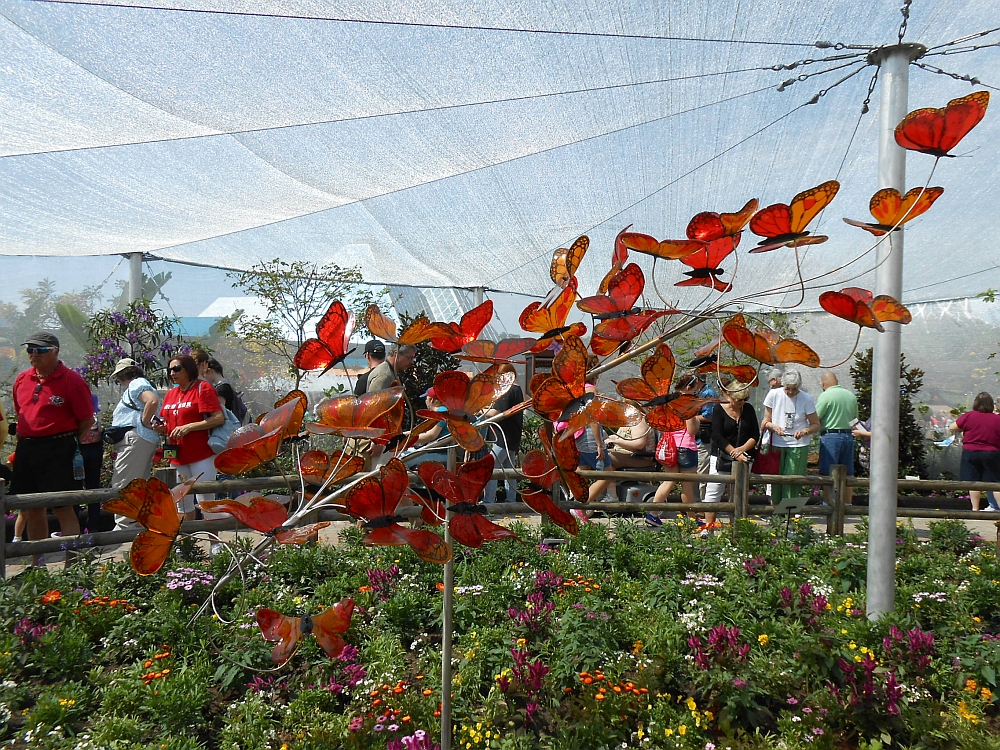 Off for a wander round World Showcase, it is very hot so we want to go on Maelstrom but there is a big queue that is next to the even bigger queue for meeting Princess Anna and Queen Elsa making Norway as busy as I've ever seen it. George and Anna both get spring rolls from the Lotus Garden stall in China which they both enjoy. I grab a watermelon, rocket and feta salad with pickled onion and balsamic vinaigrette from the Florida Fresh stall which is very tasty but could do with a little less of either the onion or vinaigrette as it is a bit tart and overpowers the watermelon.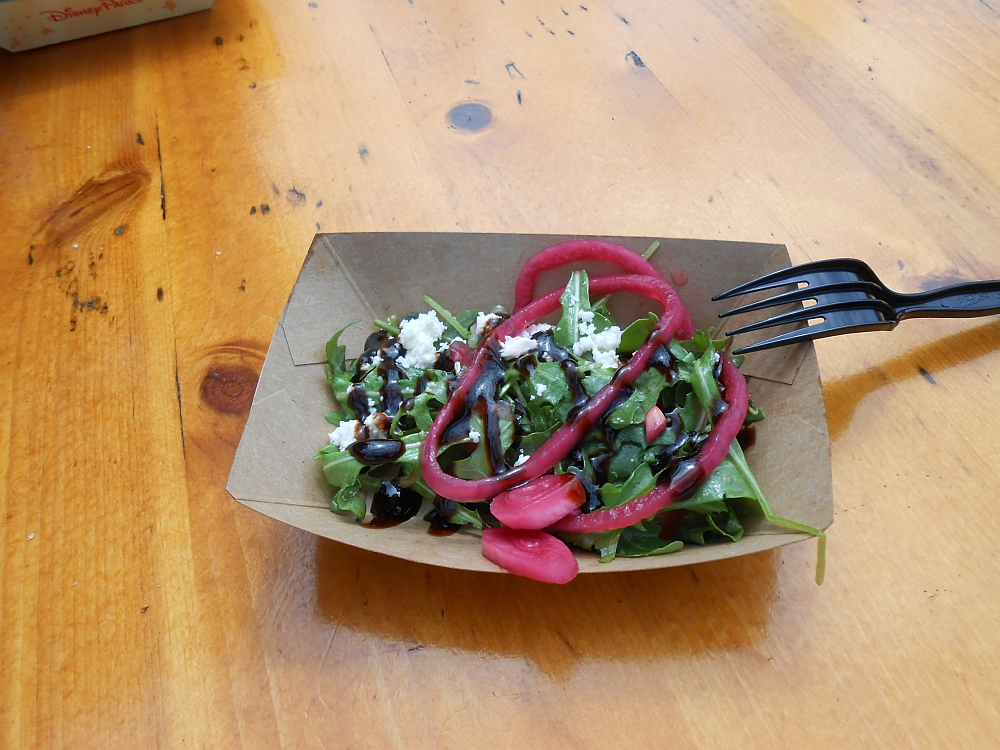 Once back in Future World we decide to go on Nemo + Friends as it will be cool and then have a brief look at the manatees who spend most of the time out the back of the enclosure.
It's coming up to 3pm and we have high tea booked for 3:40pm so get the tram back to the car and drive round to park in the Contemporary and get the monorail round to Grand Floridian. We wait for 10 minutes in the lobby where we listen to a gentleman playing the grand piano and see a wedding party preparing. When we get in to the Garden View Tea Room we are seated at one end of the room and make our decisions. We all go for the Buckingham Palace Tea - George has organic breakfast tea, I have vanilla earl grey, which is amazing, and Anna has a ginger ale because Anna doesn't like tea. For this reason booking afternoon tea may seem like an odd choice but she was taken to Claridges for afternoon tea for her 21st birthday and loved it, so we wanted to show her Disney's version. We have a selection of sandwiches - my notes are pretty weak here but I remember there was a pear one, a fishy one and a couple of others, there's a reason I don't write reviews. We also have scones with jam and "Devonshire" clotted cream which Anna is appalled by. To anybody unfamiliar with the geography of England, Cornwall and Devon are two coastal counties situated next to each other with a deep rivalry and clotted cream can be referred to as both Devonshire or Cornish. We also have some tasty jam tarts and a couple of pastries each. It was nice to do the tea again as it has been a while since George and I have done it, plus it was good to get out of the heat for a bit.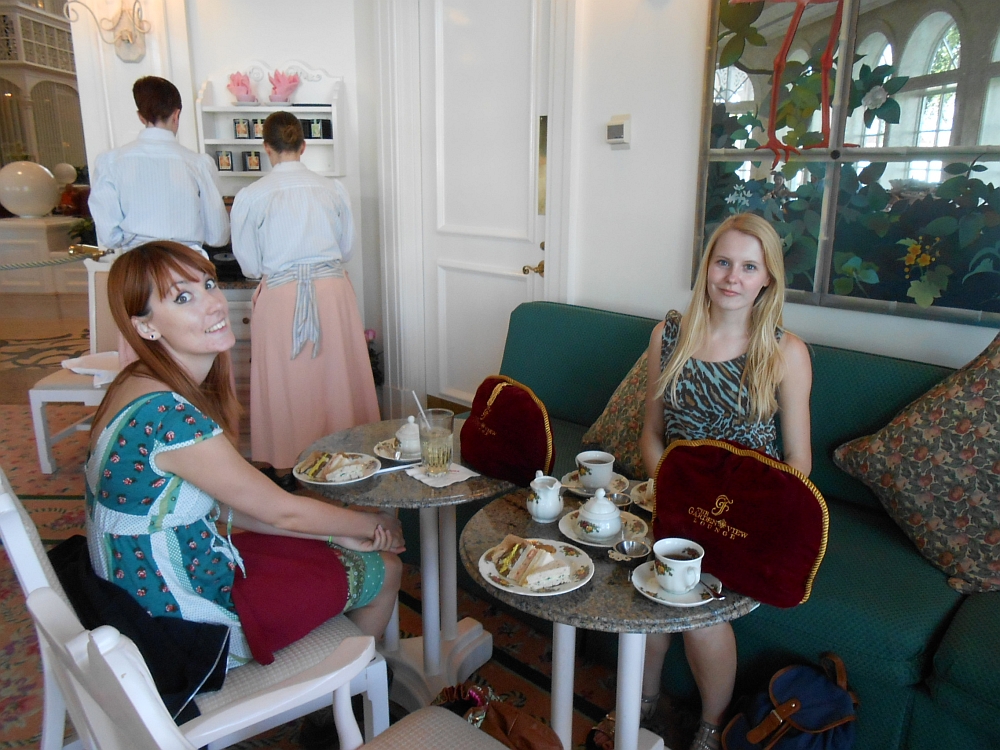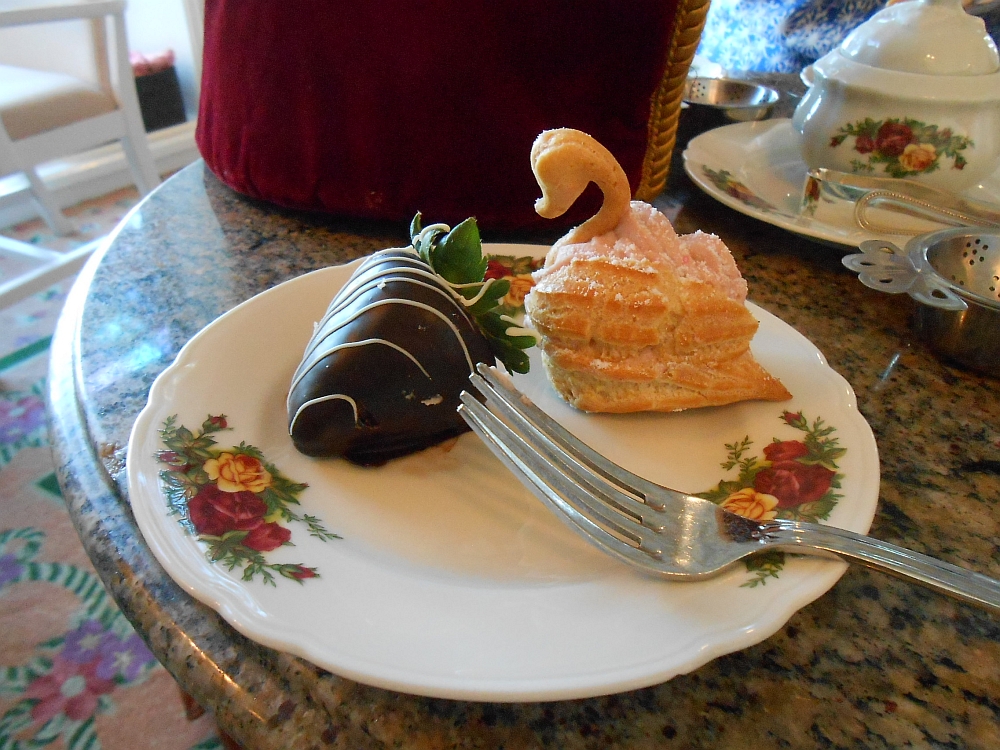 We jump on the monorail round to Magic Kingdom where at bag check the security guard says to me 'thank you princess'. To most people this would just be another Disney touch but one of the CMs in Animal Kingdom called me sir yesterday, a fact which is not quickly forgotten by either George or Anna.
We head to Philharmagic which is as enjoyable as ever. We then try to sort out some fastpasses but are told we can't have any as the guy we spoke to in Epcot had assigned us some and you can't have fastpasses in more than one park. After a conversation with a supervisor they manage to sort it out for us and we jump on the carousel which has just started working again so doesn't have a long queue. On our way over to use our Haunted Mansion fastpasses we stop to have a look at the new Tangled area which is far too pretty to just be a restroom area. I see people going in to the restrooms to see what's in there only to come out disappointed. One cool thing I notice is there are charging points for your phone in the seating area - Disney really does think of everything.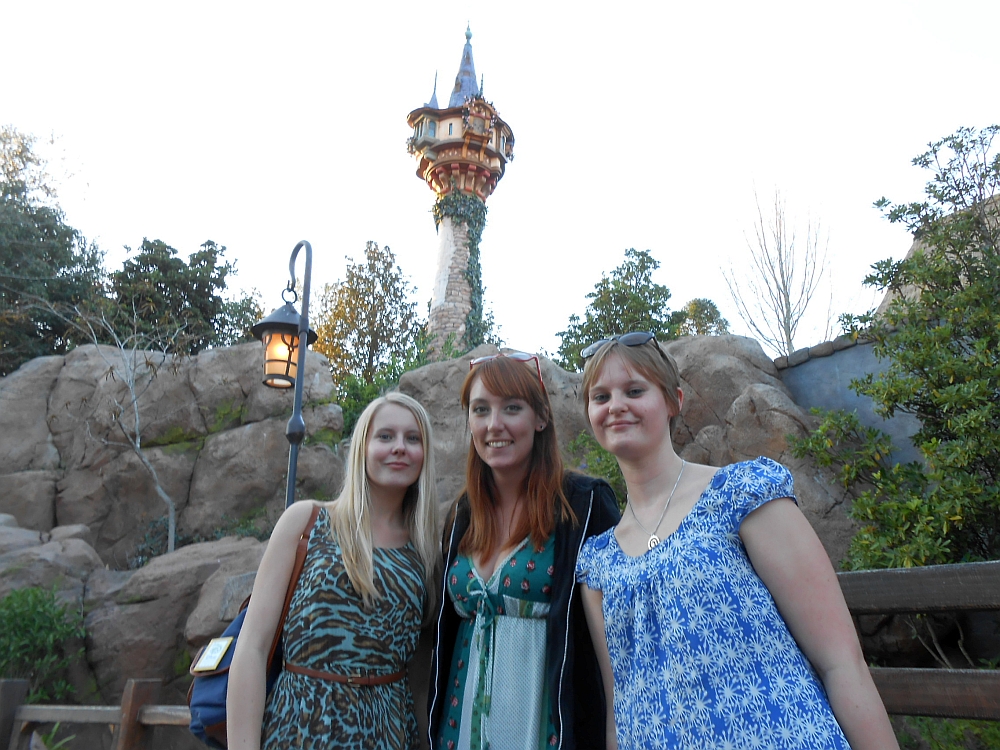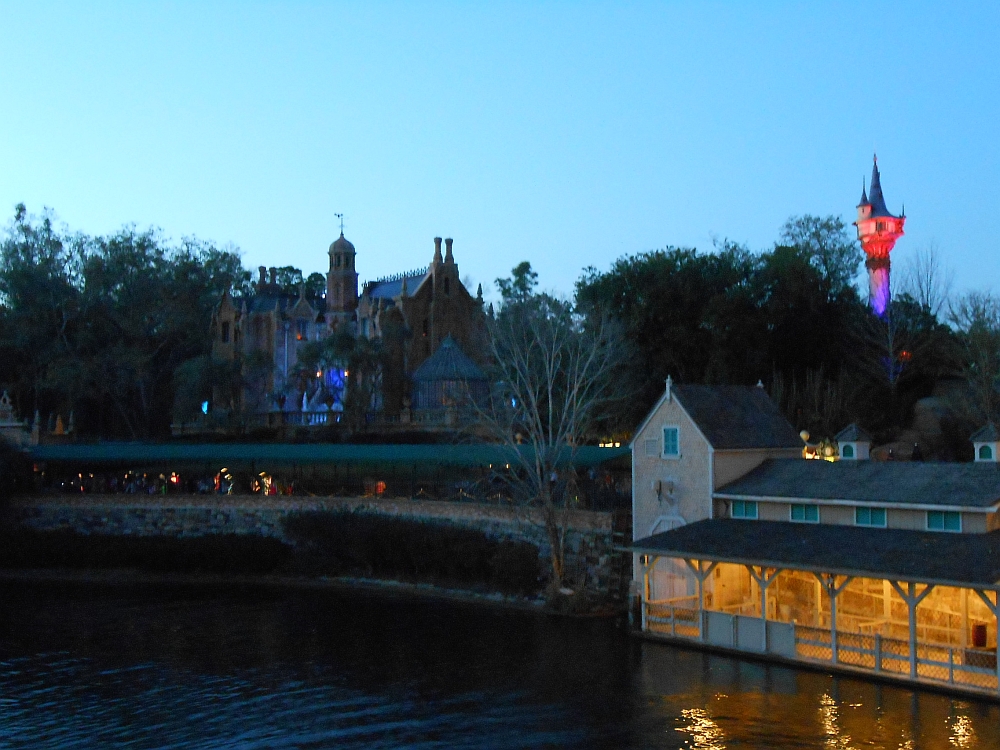 At Haunted Mansion we find out Anna's fastpass hasn't worked properly for some reason but the CM is kind enough to let us in anyway. It is twilight as we get out of the mansion so we jump on the last Liberty Belle circuit of the day. We then head over to Tomorrowland to ride Buzz, where for once I am able to see my light and score 660,000 which kicks the other two's asses. A quick trip on the TTA and then we go to Cosmic Ray's where George has chilli cheese fries, I have a Swiss and ham burger with fries and Anna has a salad. We sit just off to the side of the singing dinosaur which I don't think I have ever seen in all my years of coming here. We want to catch Wishes so head towards the hub but decide to stop on the bridge across from Tomorrowland to Main Street. We didn't realise Celebrate the Magic was on and watch it although it is not an ideal angle. Wishes is next and although it's not symmetrical and centred around the castle there is good view of the big fireworks that go off straight ahead of us. We head back to Tomorrowland and use our Space Mountain fastpasses - thank goodness we do as the queue is 65 minutes and more people are joining every second.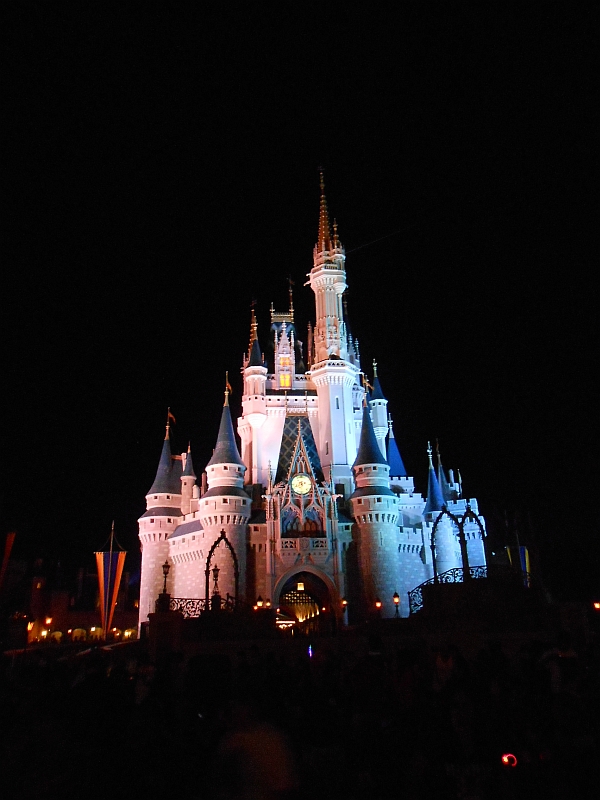 After Space Anna grabs an ice cream (you'll notice this is a theme that runs throughout the holiday, she has a real thing for hot fudge sauce) and we then head over and ride POTC. One thing we notice whilst walking to Adventureland is that Main Street clears out so much after Wishes you can get a really good view of the second showing of Celebrate the Magic, I would definitely watch this from right in front of the castle next time. Walking through the shop after Pirates we notice a barber shop type area that we haven't noticed before that turns out to be Pirates League (the pirate version of Bibbidi Bobbidi Boutique) which looks very cool. Next we ride Big Thunder Mountain which is so quiet we ride it again a second time.
It's 11:45pm now and we have to be up early to get into Hollywood Studios for opening so we decide to leave the park. We drive back and are in bed by 12:30am.