Day 15 (India & Georgia)
Day 9 (Tammy & Kev)
Friday 21st March 2014
Written by Kev
It's our last full day. We are up at 7.45am as we want to get into Epcot for opening. We probably have the longest wait for a bus of our whole trip – a massive 10 minutes.
We arrive at Epcot and go through bag check. The security guard is a little surprised at the amount of stuff I have, as there is a change of clothes as well as some toiletries. We are going to have a morning in the park followed by a few hours at the pool at the Boardwalk before getting ready for the evening around World Showcase.
We meet the girls at Test Track and go through the single rider line with minimal wait. This is the first time I've ridden since the revamp and I'm not sure about it. When a ride is changed from the original it should be an improvement and they rarely are. Whether it's because we retain a fondness for the way an attraction is originally, I don't know.
Time for a coffee and an Apple Strudel Danish. As we stand in line I ask Tam if we should share one, but she looks at me like I'm a complete fool and orders one each. When we are half way through eating them she declares that I should have made her share as she's full. Now let's see – I ask her if she wants to share – she declines – she eats it - she's too full – it's my fault. It's a strange and wonderful place inside the head of a woman.
Tam wants to look in the Flower and Garden Festival Centre in the old Wonders of Life pavilion, so we spend some time there including watching a film on the organisation and planning that goes into the festival. It makes you look at all the wonderful displays in a different light when you appreciate all the work that has gone into them.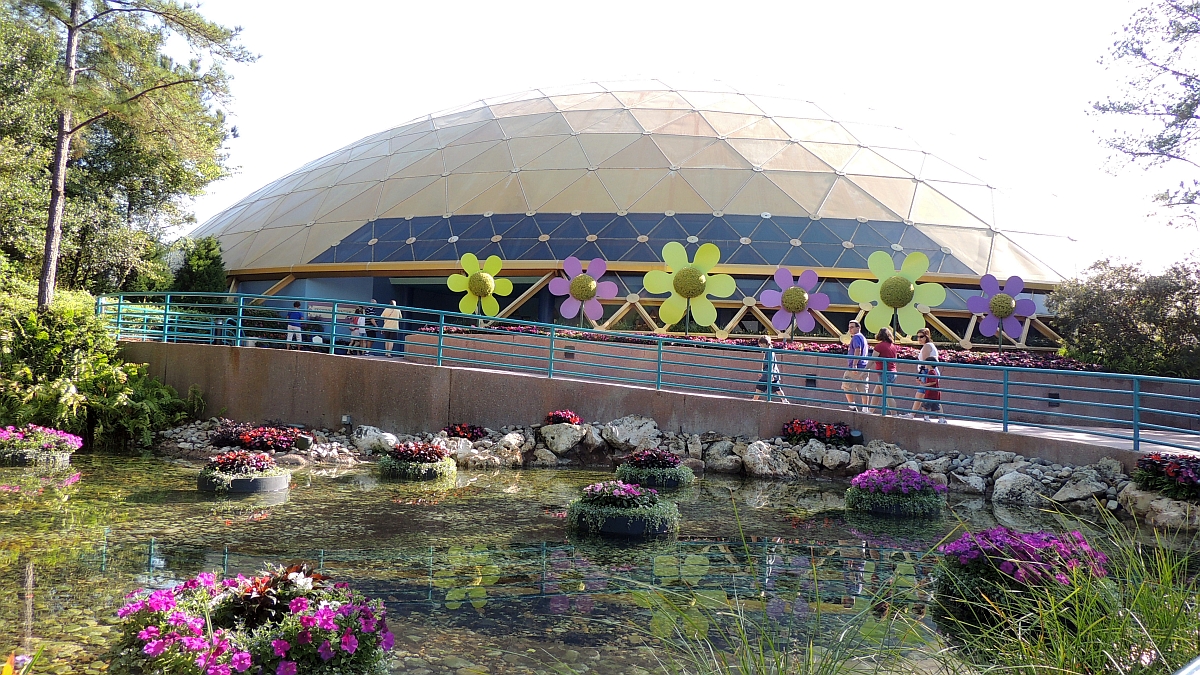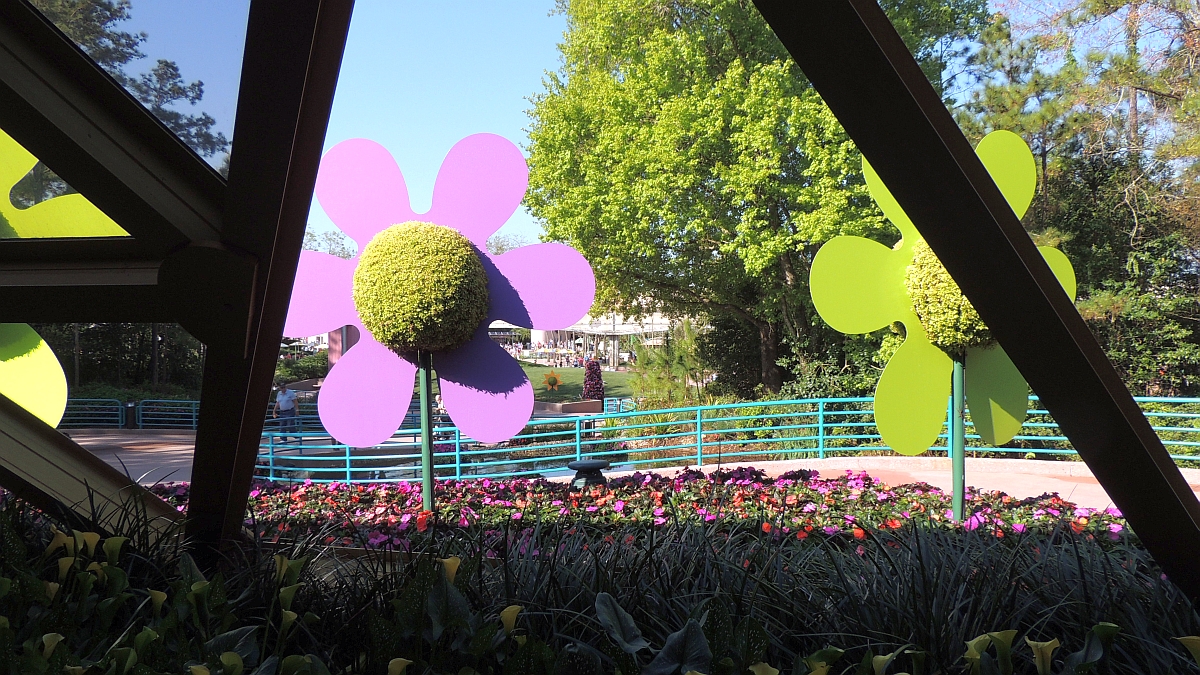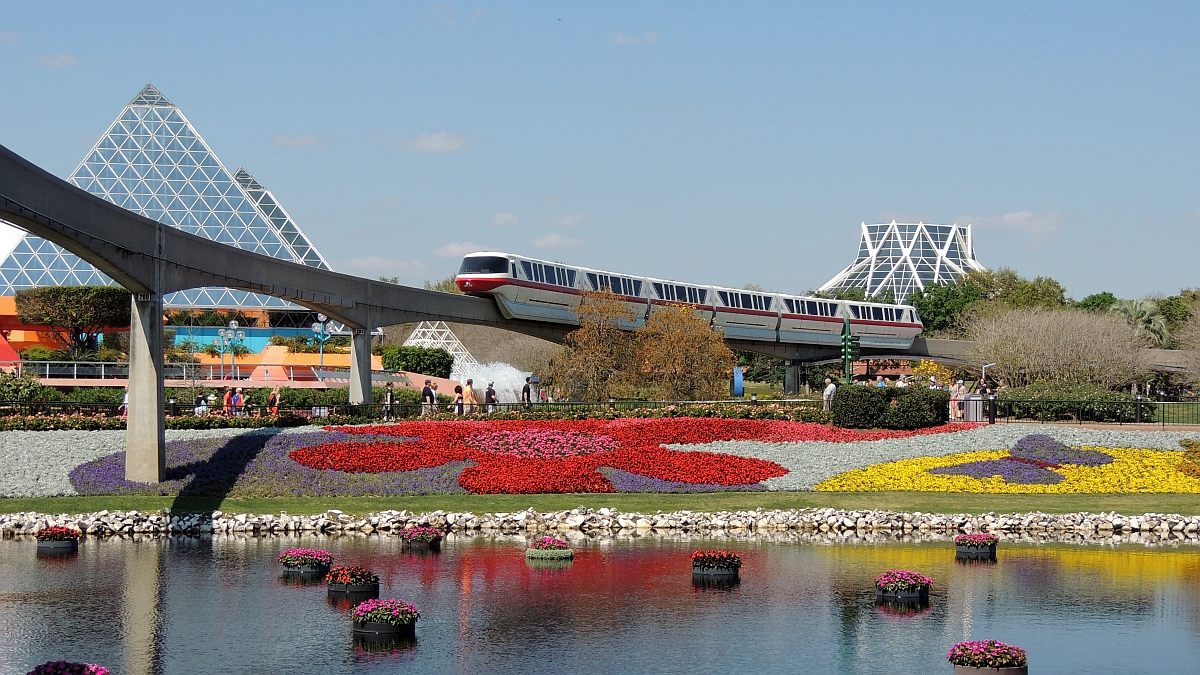 Over to The Living Seas where we have a Fastpass for Nemo and Friends. We spend a while looking at the aquarium and then walk across to The Land for our Fastpass for Living With The Land. I notice that the standby line for Soarin' is at 90 minutes.
We meet up with Anna and walk up to the International Gateway, stopping off briefly at the Buttercup Cottage stall in the UK for a Field Green Salad with blue cheese, strawberries and balsamic dressing. It sounds a weird combination. But it's very nice.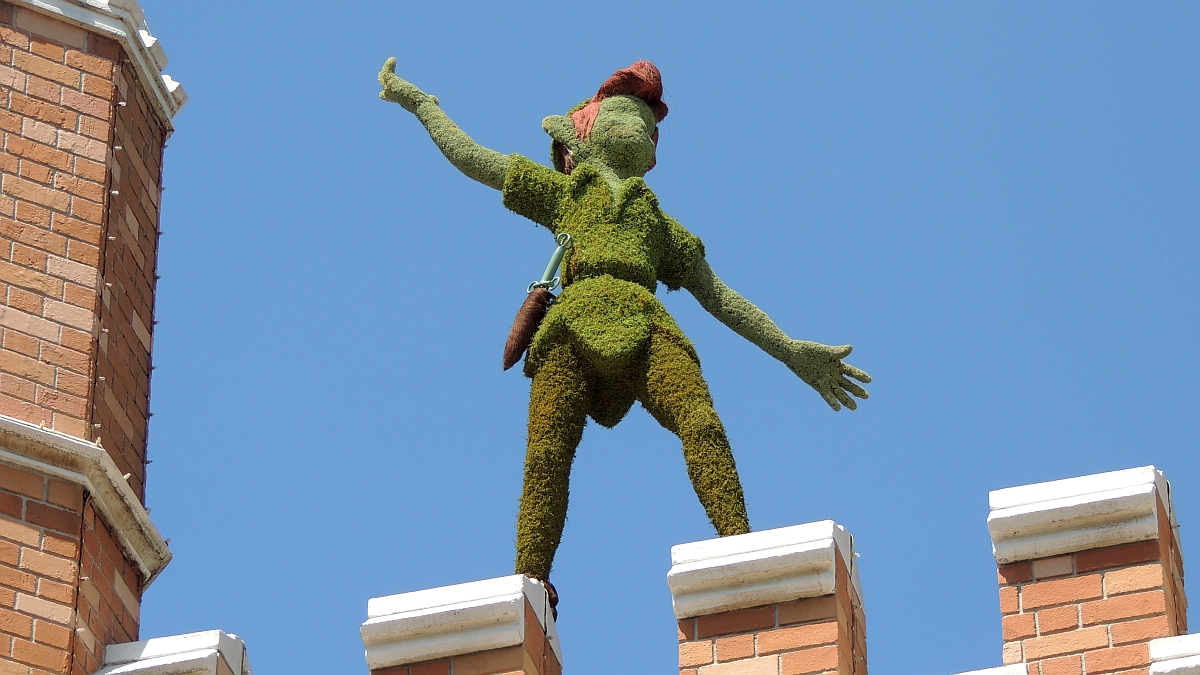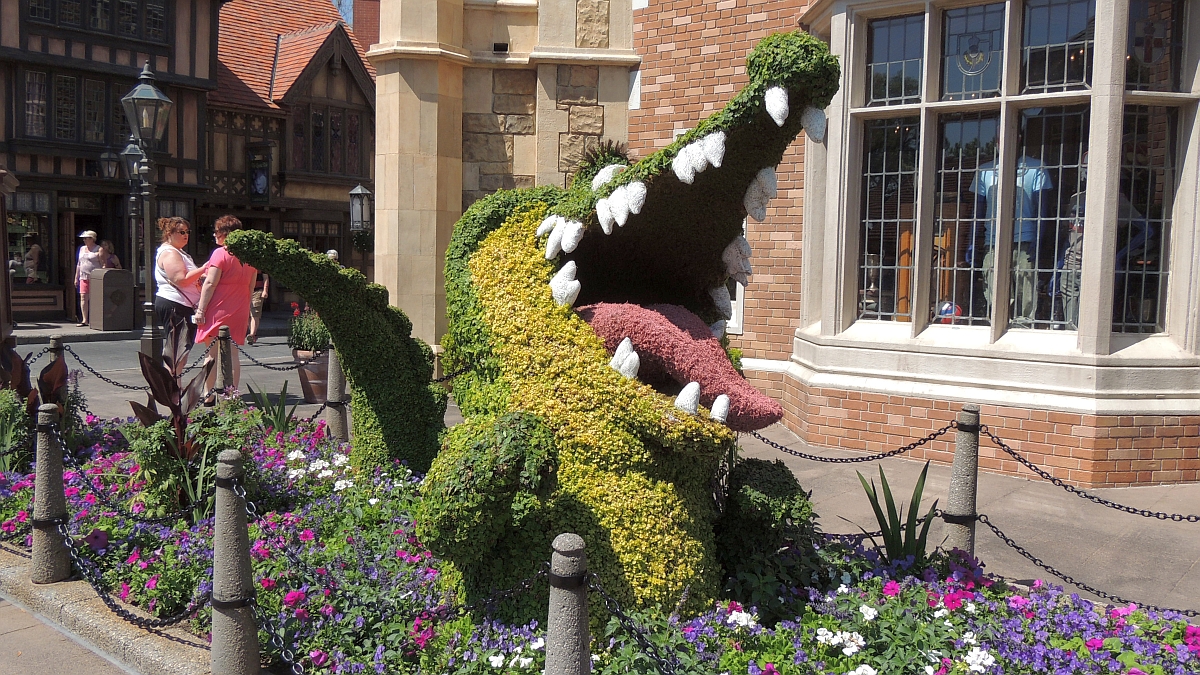 Out through the International Gateway and we jump on a Friendship boat to the Boardwalk. We walk through intending to use the quiet pool, but it looks like they are just finishing up a refurbishment project here, so we have to settle for the main clown pool. I guess it shows the crowd levels as this is the first time ever that a Cast Member is going round checking that people are staying at the resort or are DVC members. He gives you a wristband if you are.
I spend some time writing up my trip report before a swim and a go down the slide. We also enjoy a Bahama Cabana from Leaping Horse Libations. At 3.30pm we go to the Health Club to shower and change. It always feels much better when you are clean and have fresh clothes on for the evening.
As we are on the Boardwalk it seems a good idea to sit outside Big River Brew Works and Grill and enjoy a drink. The ladies have various mojitos and I have the beer sampler. This is quite good, except the wheat beer, which is rather strange. It's yellow and cloudy. It looks like a sample of something true enough, but not beer.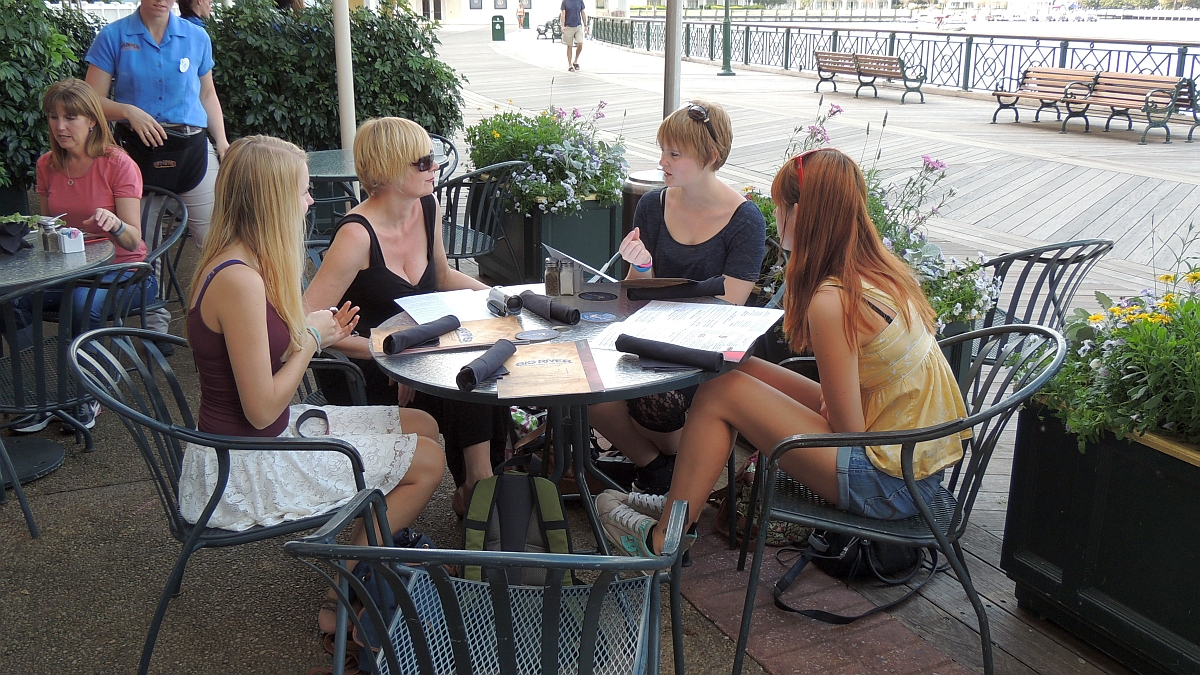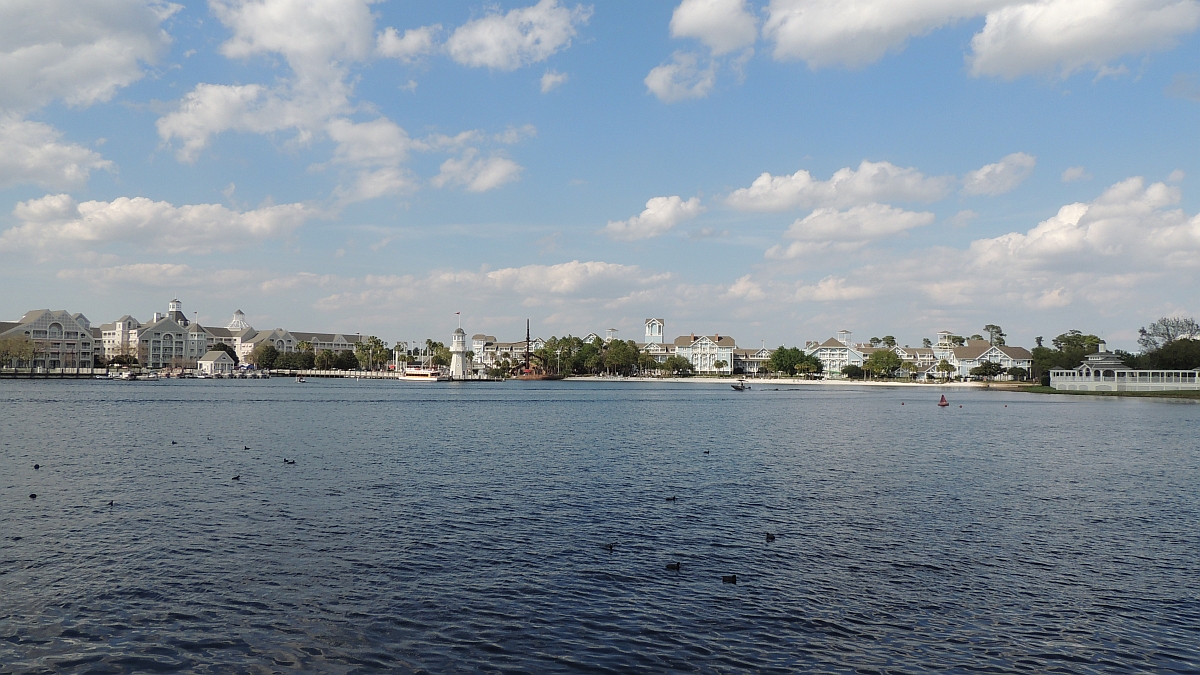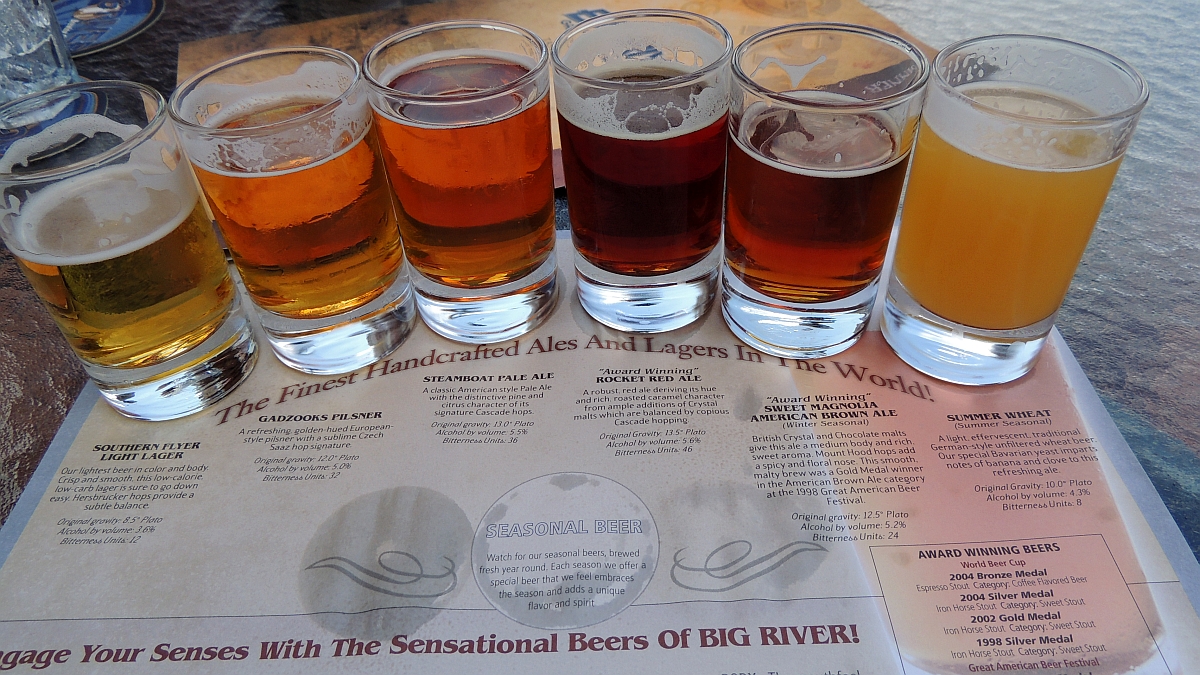 Into Epcot through the International Gateway and we walk to Via Napoli in Italy for our 5.45pm ADR. It's crowded and we are seated in the area at the side of the restaurant with open doors onto the small patio. Strangely, it's cooler here than in the main part of the restaurant despite (or maybe because of) the open doors.
Tam and I split a chicken pasta dish with pancetta in a cream sauce. This is quite small for the price, but delicious. Anna and Georgia share a large Margarita pizza with ham. Tam, Ind and I split the largest size pizza, a Funghi. It's massive. The thing nearly covers the entire tabletop. We also have a pitcher of beer for $30.
We all make a pretty good effort at the pizzas, but there are a few slices left to be taken away. Overall, I quite liked this place. Not somewhere that will become a 'must do', but I would not be unhappy to eat here again in the future.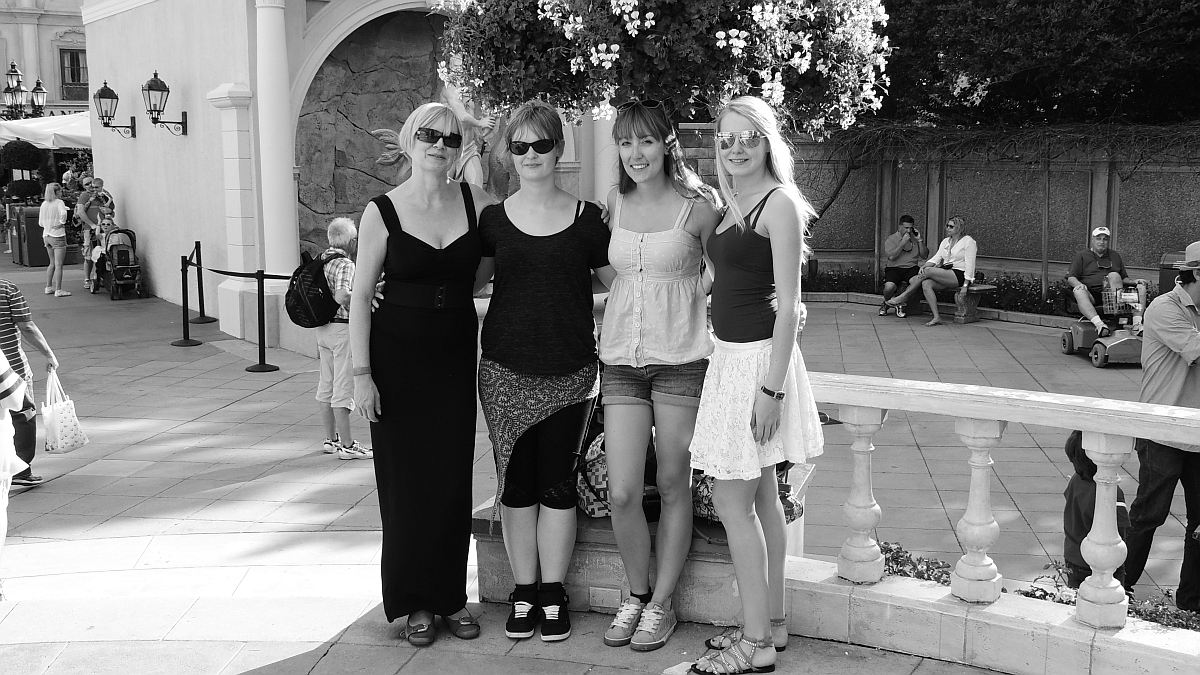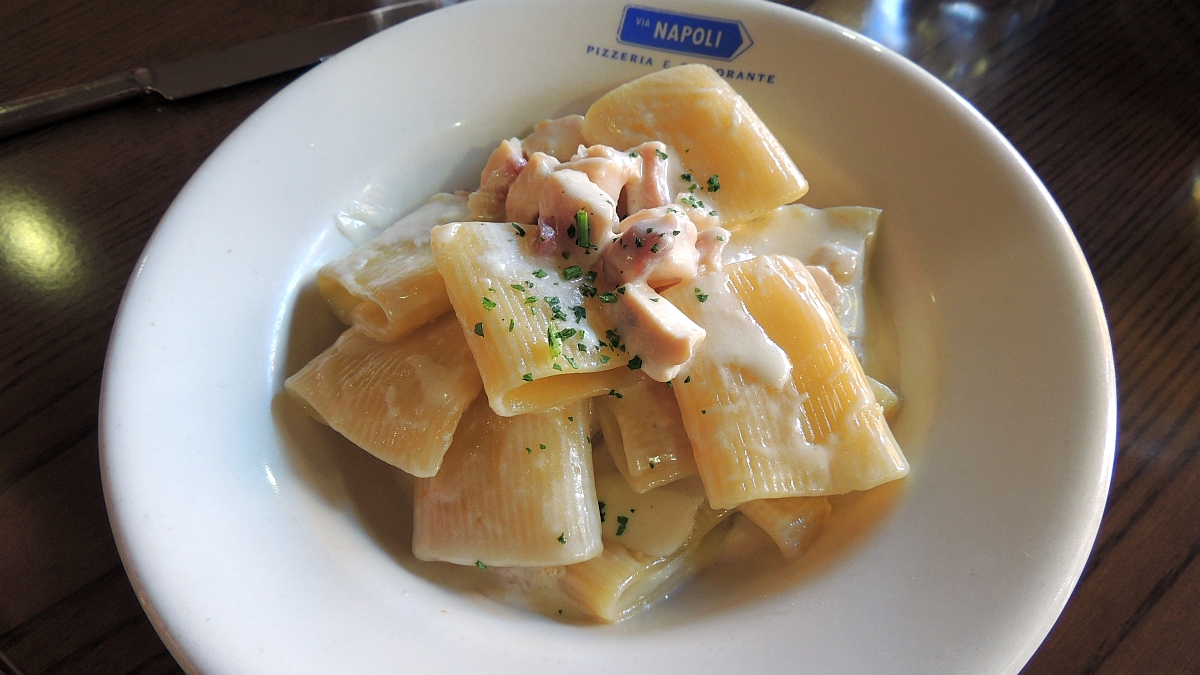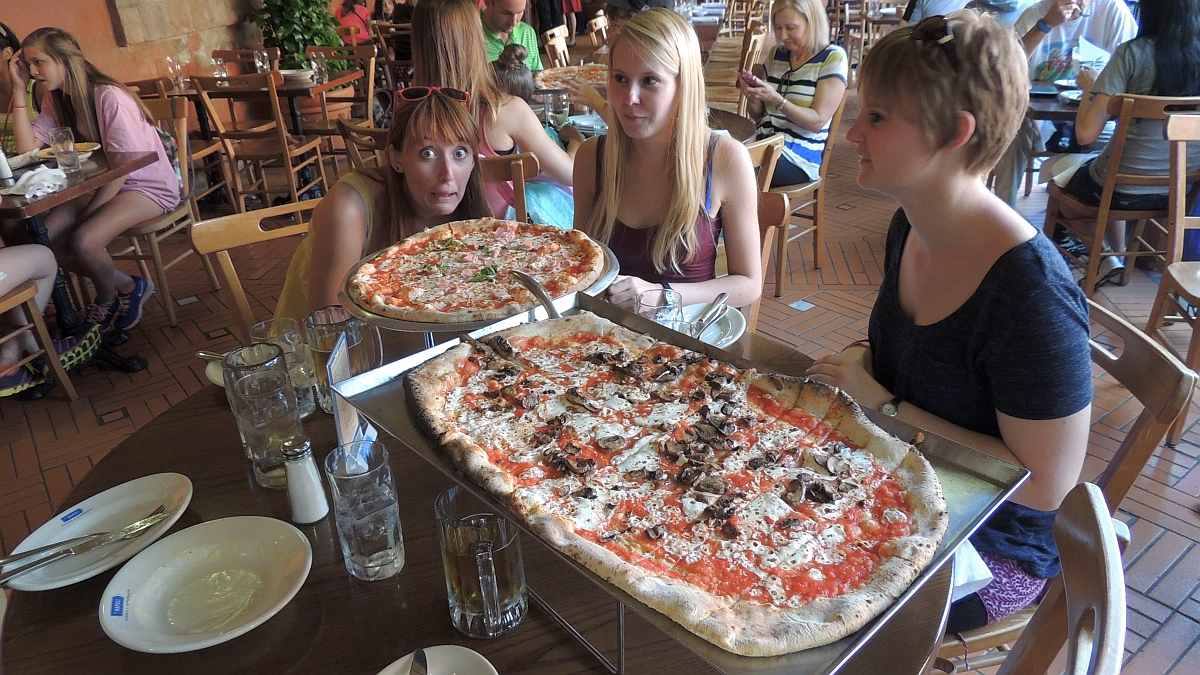 We leave Via Napoli just as The Orchestra are starting up in the theatre in front of the American Pavillion. This is a band with a couple of original members from ELO. The only one I particularly remember is Mik Kaminski, the violinist. The theatre is packed and we have to stand down the side. This is not bad at all as we have a good view and it's better than having to remain seated through the set. They play the hits including Mr Blue Sky and Telephone Line along with a couple of songs I haven't heard in many years. We really enjoy them, although it's a bit strange seeing everyone sat down all the way through. At least we get to jiggle about a bit, although anybody else watching us might not consider that a good thing.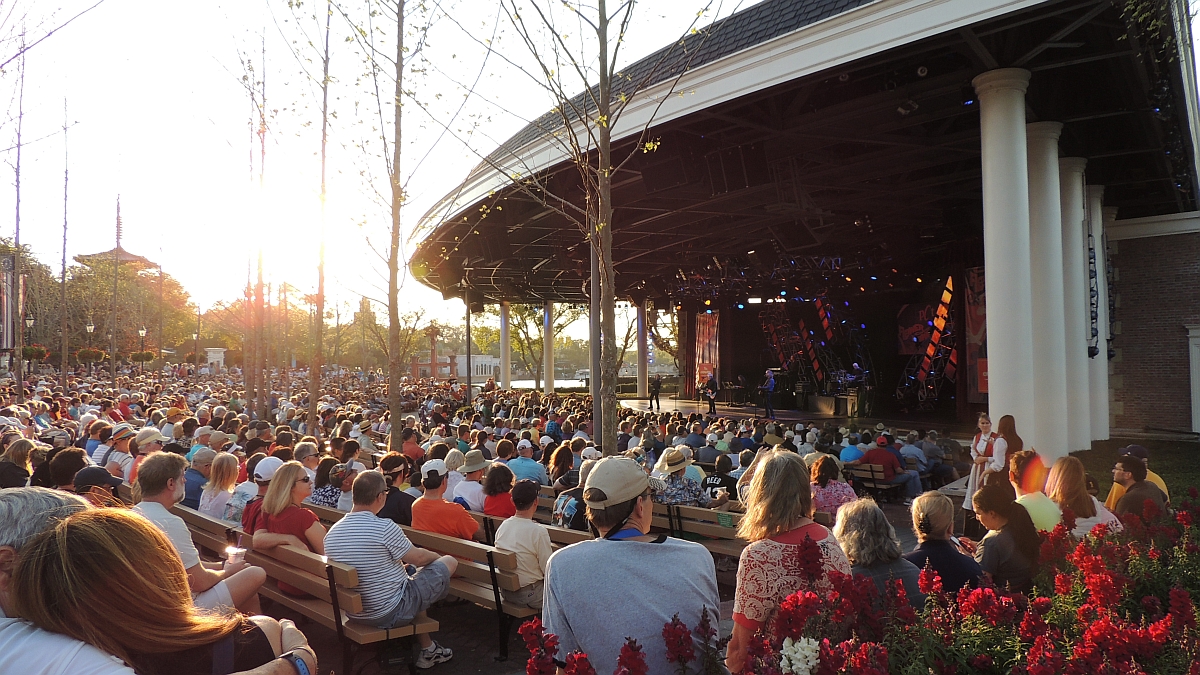 India wants some Frushi in Japan next and while she is queueing up Georgia and I giggle when we hear a man say to his lady friend 'Did you get some Frush-ee' as in rhyming with brush-ee. Tam asks us what we are laughing at and when we tell her she says 'Well, how do you know it's not pronounced like that?'. Georgia and I look at each other and then burst out laughing again. No Tam, it's Froo-she, it's a play on words as it looks like sushi, but is made from fruit and rice. That's the advantage of writing a trip report; I can put in all the daft things other people say, while entirely ignoring anything silly I may have uttered.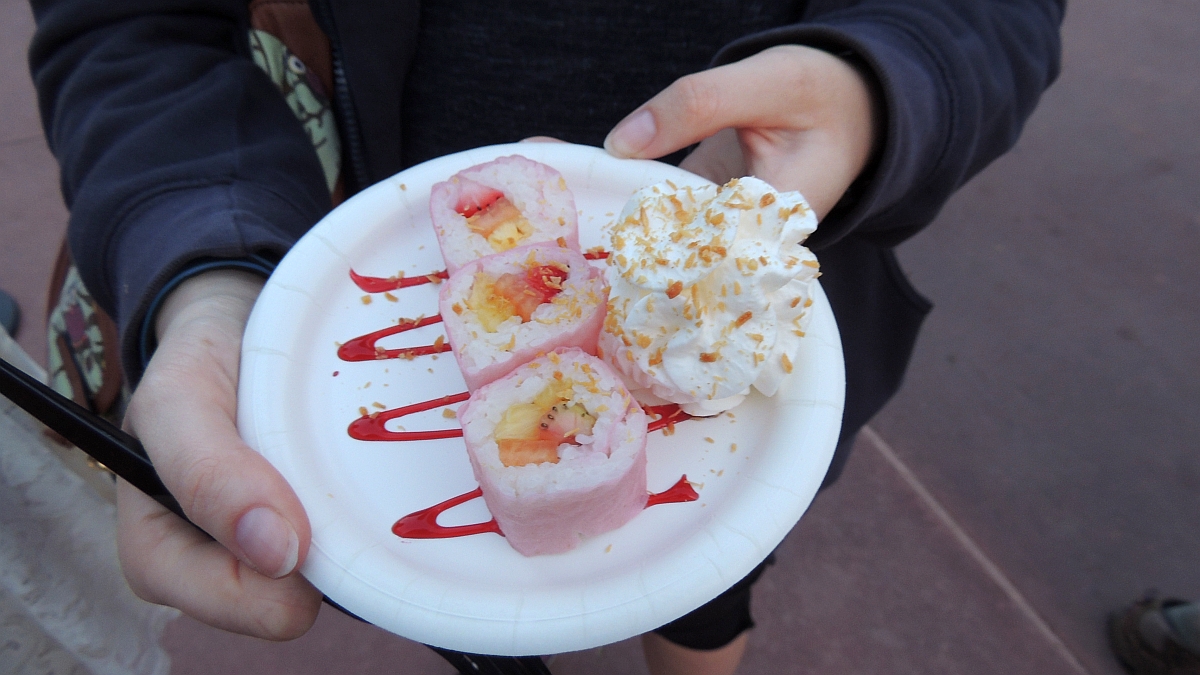 On round to France where Tam has a Kir Royal and some orange macaroons.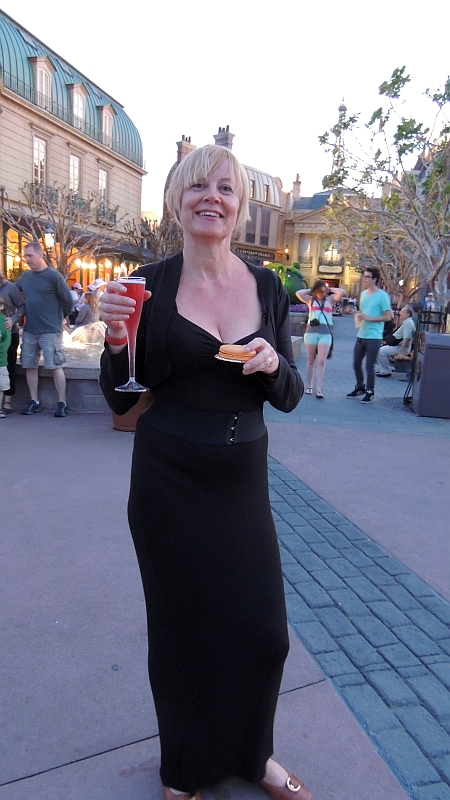 In the UK I grab a pint of Bass and we continue to stroll round World Showcase to the Illuminations Fastpass area. There is a queue forming, but there are only half a dozen or so people in front of us. Georgia really wants to get to the front for an unhindered view. This she accomplishes when they allow us in a few minutes later.
I nip out to the loo and to get a beer - the two things seem to be related I've found. One thing to watch out for at this end of World Showcase is that there are definitely too few toilets. There is really only one set and they have long queues for both the ladies and gents. I go to get a Moosehead from Canada, but the queue is really long, so I hightail it round to Mexico to get a Dos Equis. With impeccable timing I arrive back for Illuminations with just a couple of minutes to spare.
There is no better way to end a Disney holiday than watching this wonderful show.
We say farewell to Anna as we won't see her again, but she finishes her year in WDW in 5 weeks and is returning to the UK where she will be living just a few miles from us, so I'm sure we'll see her from time to time. The girls leave at the same time to get back to Port Orleans French Quarter.
Tam and I sit on a bench and Tam completes on-line check-in for our flight tomorrow while we listen to the Tapestry of nations music. The wonders of modern science, eh?
Tam and I then slowly walk out of the park. Wait a minute though, what's this? People are walking on to Spaceship Earth. Being foolish people we hadn't realised that it's extra magic hours tonight. It would be a crying shame not to take advantage, so on we go. We pull silly faces at the point where they take your photo, although some would say it's difficult to tell the difference from our normal faces. We also put in silly answers on the questions screen. I mean, come on …. who really presses 'I live to work' and means it?
There is only one proper way to finish up our night – off to Soarin'. The wait is less than 15 minutes, but we get the bottom row in the right hand section. This is not the best place to enjoy it. I don't mind the feet you see dangling above you, but you see the bottom of the circular screen and this takes away from the immersive experience. Still, I'm not complaining, it was a nice addition to the night that we were not expecting.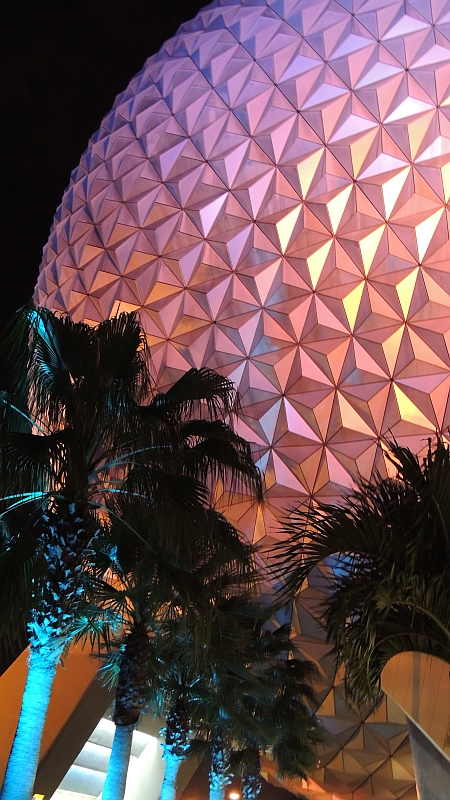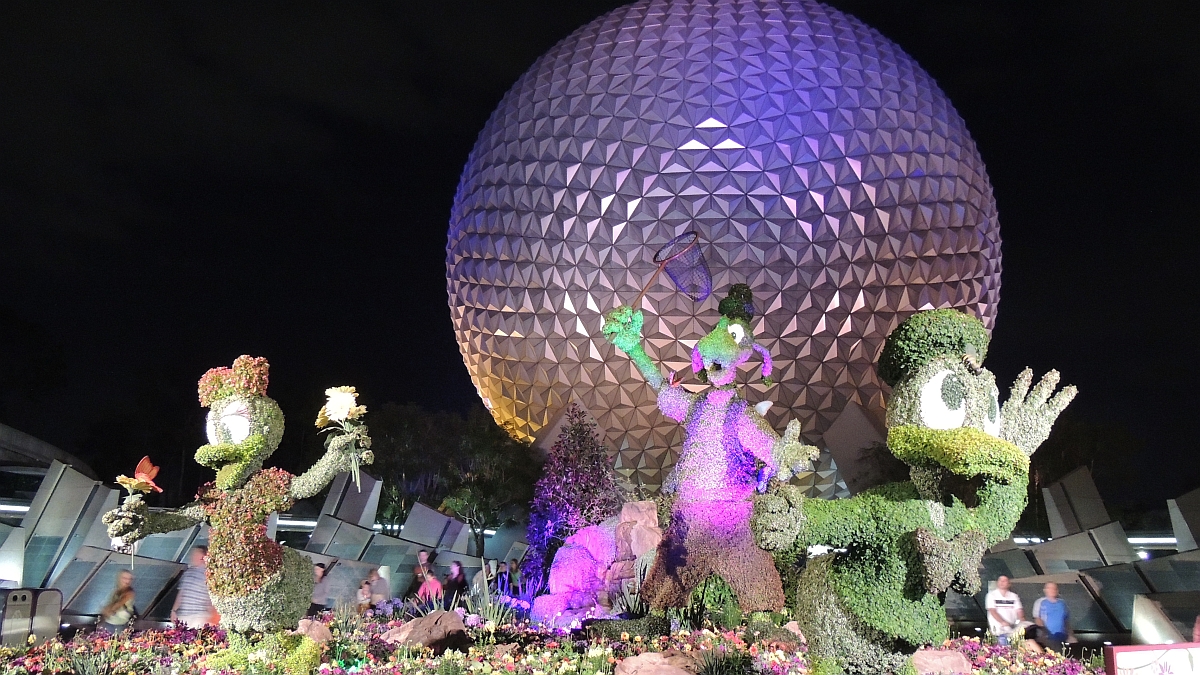 We finally do walk out of the park, stopping for a fond farewell at the entrance. The bus soon arrives and we are back at Kidani Village and tucked up in bed by midnight.