Day 16 (India & Georgia)
Day 10 (Tammy & Kev)
Saturday 22nd March 2014
Written by Kev
Going home day. Never fun, but it's something that must be done.
We are up at 8.30am and start the onerous process of packing. Our plan is to leave the luggage at Bell Services and spend the day at Blizzard Beach before returning to the hotel to shower, change and catch Disney's Magical Express to the airport at 5.00pm.
The packing is achieved relatively painlessly. I know Matt would be really disappointed in us, but we have some beer left. We try to give it away to a couple of passing strangers, but they are not interested. In fact, they react like I have just asked to molest their mothers. In the end we put the beer in the corridor along with a written note from Tam saying 'We are leaving today (sad face). We can't take the beer. Please help yourself'. If I saw that in a hotel corridor I would be in heaven.
We have one last look from the balcony at the savannah before dropping off our luggage at Bell Services.
We catch the bus to Blizzard Beach, arriving at 11.00pm. We find a cabana and the girls join us shortly afterwards. It's another lovely day, we have had such good luck with the weather, particularly in light of how bad the forecast was just before we left.
A quick bob in the wave pool (lovely chap, Bob) and we are off to the Toboggan Racers where you race in a line, all coming down together. Once again I trounce the women. In fact I've dried off and had a beer by the time they reach the bottom.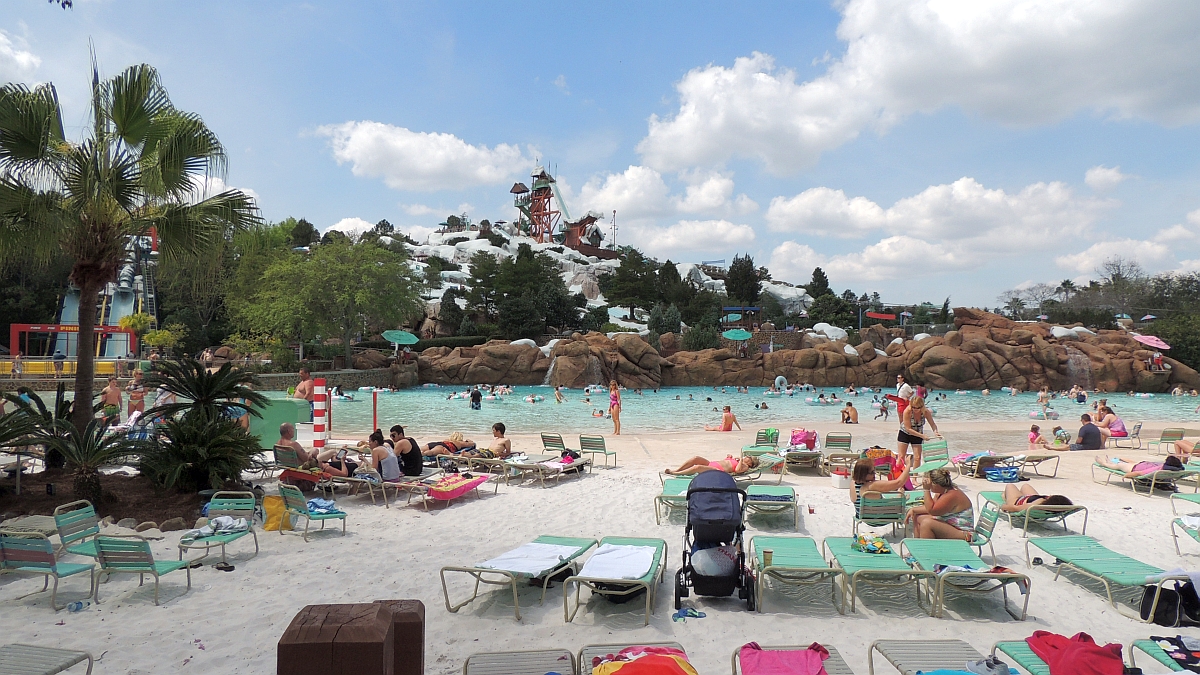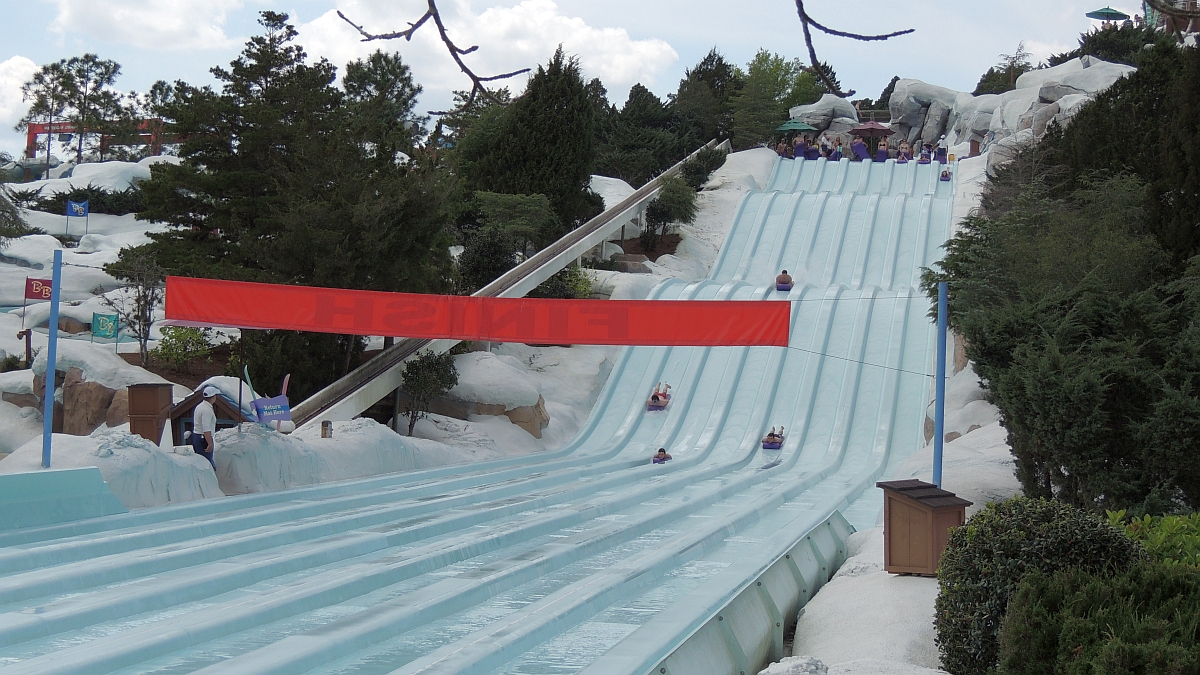 Snow Stormers is next, at least I think that's what it's called. Similar to Toboggan Racers, you go down head first on a mat. I somehow manage to become detached from my mat half way down, but recover with grace and elegance to splash into the pool at the end whilst swallowing a mouthful of water.
The family raft ride is next. This ride is so much fun. It's much longer than the raft ride at Typhoon Lagoon and we are laughing and screaming the whole way down. Obviously I'm not screaming – I'm shouting in a high-pitched yet manly manner.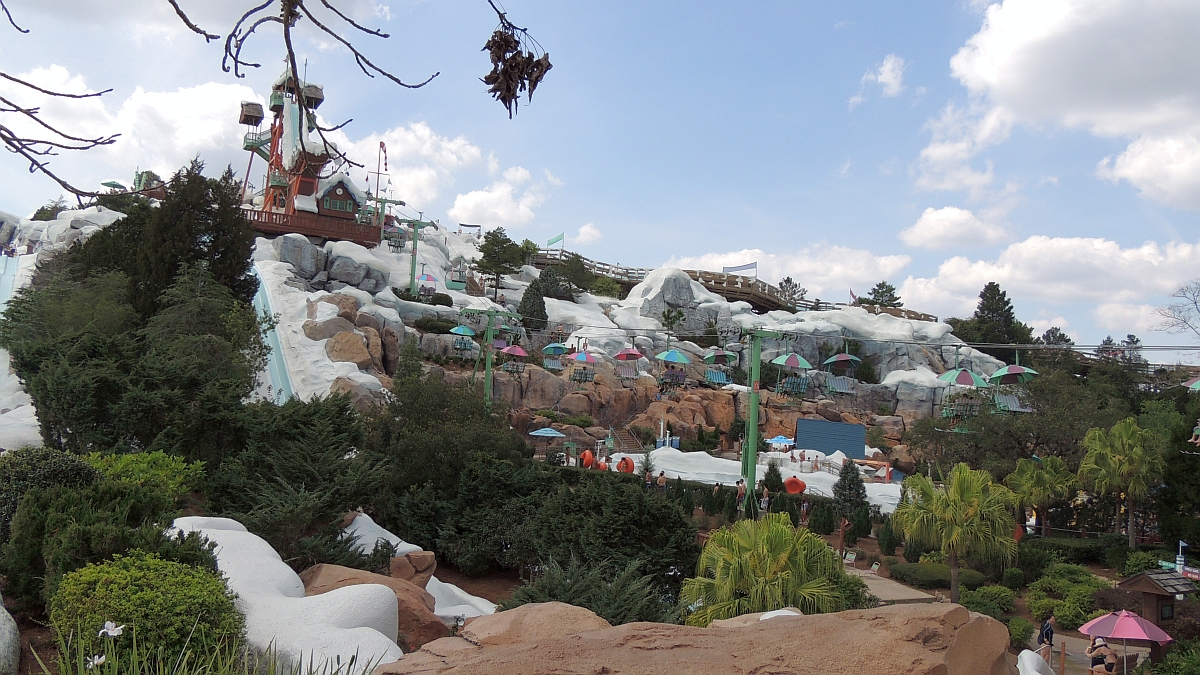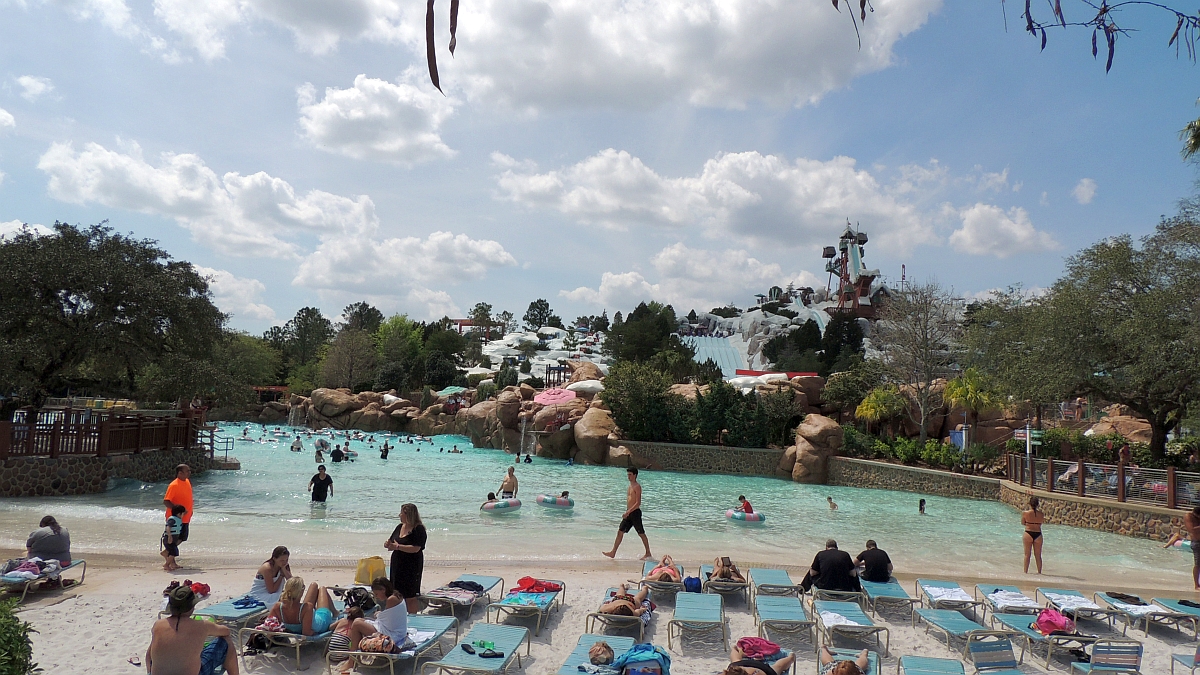 A float round the lazy river and it's time for lunch. We strike it lucky here. Tam and I want a Chicken Caesar Salad and a Grilled Chicken Sandwich, along with a couple of beers. Tam orders a number 3 (Chicken Caesar Salad) and a number 4 (Grilled Chicken Sandwich) off the chart. After she has paid she looks at the receipt. The server has given us three number 4's – that's 3 Chicken Sandwiches. Tam points this out and a manager has to be called to come over and rectify the mistake. He credits two of the Chicken Sandwiches and adds a Chicken Caesar Salad. When we get given the food at the counter we still get given 3 Chicken Sandwiches as well as the rest of our order. The girls are behind the queue and have still not placed their order, so we tell them not to bother and they can have 2 of the Chicken Sandwiches. Don't feel too bad for Disney; they've made a shedload of money out of the Stringer family this trip. Our bar bill alone has made the stockholders very happy.
We passed the Polar Bar earlier on (see, that's funny … Polar Bar he,he) and I liked the look of the Pink Grapefruit Margarita, so I get one of these bad boys, while Tam has a Rum Runner. Both are nice, but Tam's is particularly potent, we both saw the huge rum float the server put on top. It also tastes very nice. Not to be outdone, this is my next drink. They need to change the name. You couldn't run after too many of these. Rum Staggerer would be more appropriate. Now, you may think the alcohol intake is a little excessive for the middle of the afternoon, but I have always had to drive back to the airport and this is a new experience to be driven back in a bus. It would be rude not to take advantage.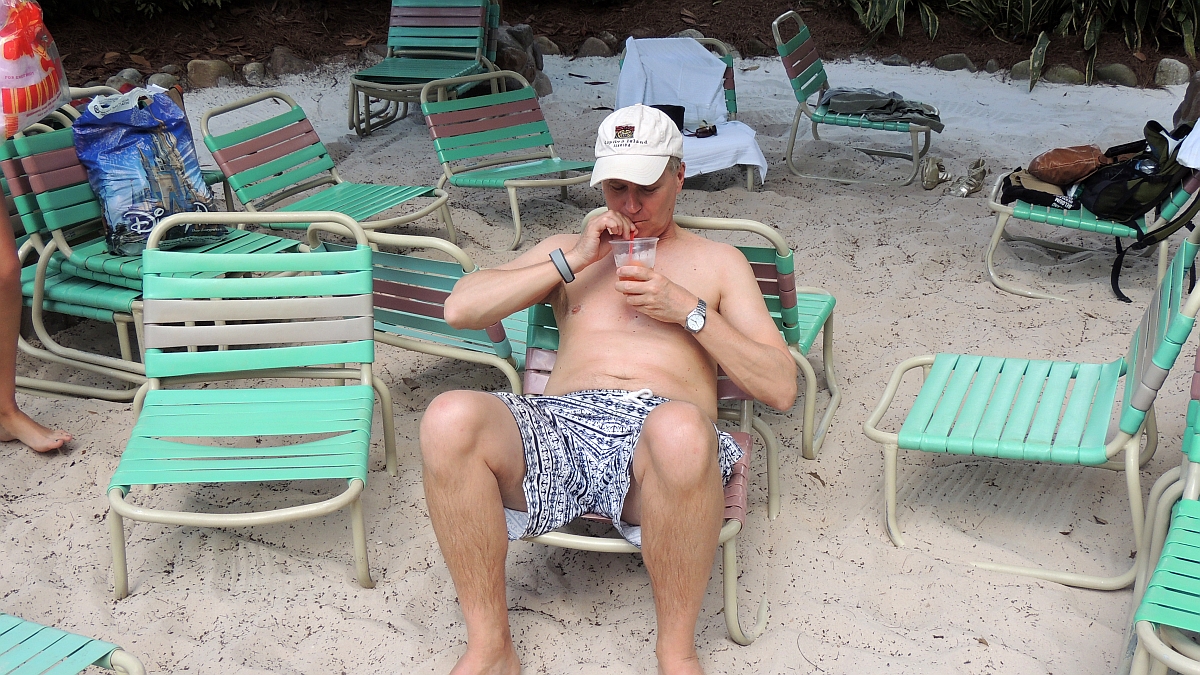 Mmmmm ... Rum Staggerer
The girls have a float round the lazy river and then return with candyfloss, which they insist on calling cotton candy. India says it's because she is embracing the local culture and has been saying butt, restroom and peeing all holiday, although how these things are related I don't know. Georgia contributes with 'Arse, I'm a Redneck, bum'. I'm not sure this adds much to the conversation, but it amuses me no end. Maybe it's the Rum Staggerer. Apologies to all true rednecks, I suspect you are a lot less vulgar then my disgraceful children.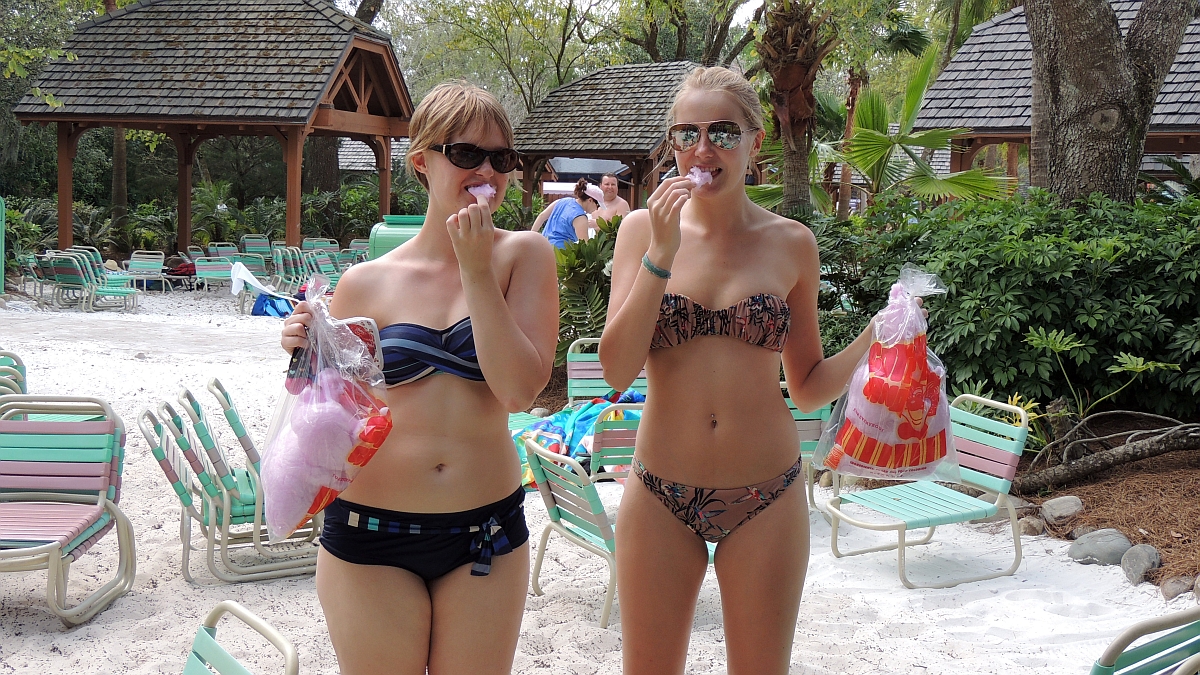 All too soon it is 3.00pm and Tam and I pack up and go back to Kidani Village to shower and get the bus back to the airport at 5.00pm. Things go amazingly smoothly. In fact, too smoothly. We are back showered and have our luggage from Bell Services by 4.00pm. Still, it's not really a hardship as we sit on one of the overlooks in rocking chairs watching the animals on the savannah.
There is a light breeze blowing and I know Tam is fully relaxed as she has a little snooze. I suspect the beers and the Rum Staggerer have had an input into her relaxation too.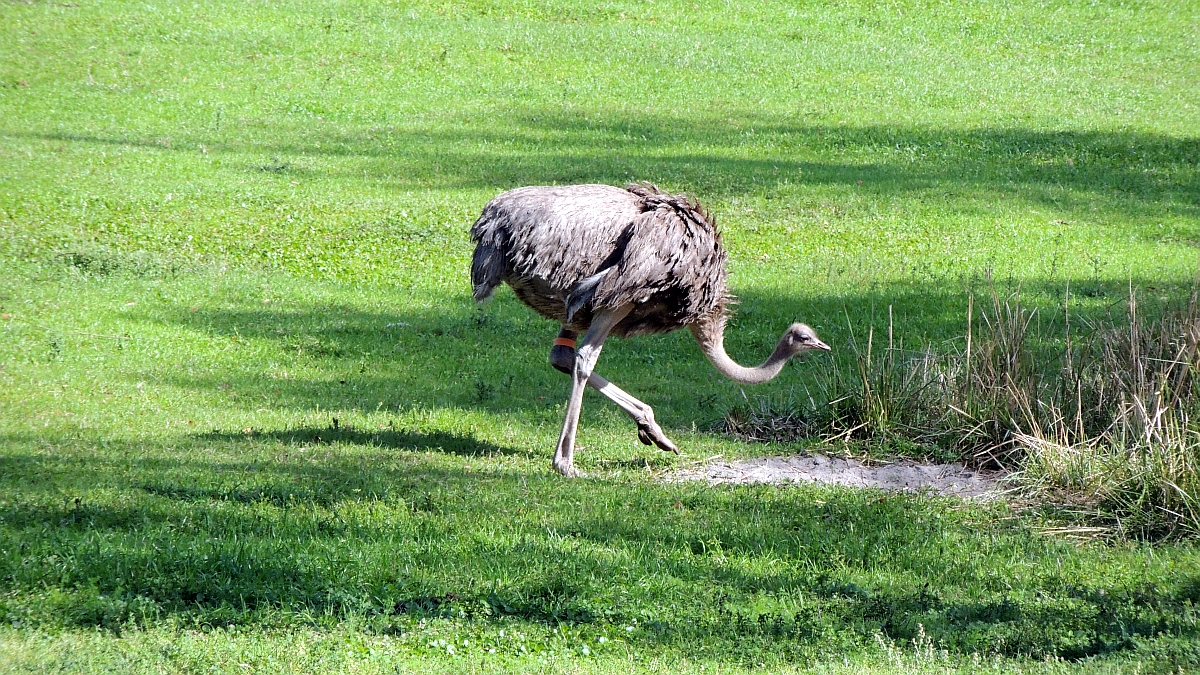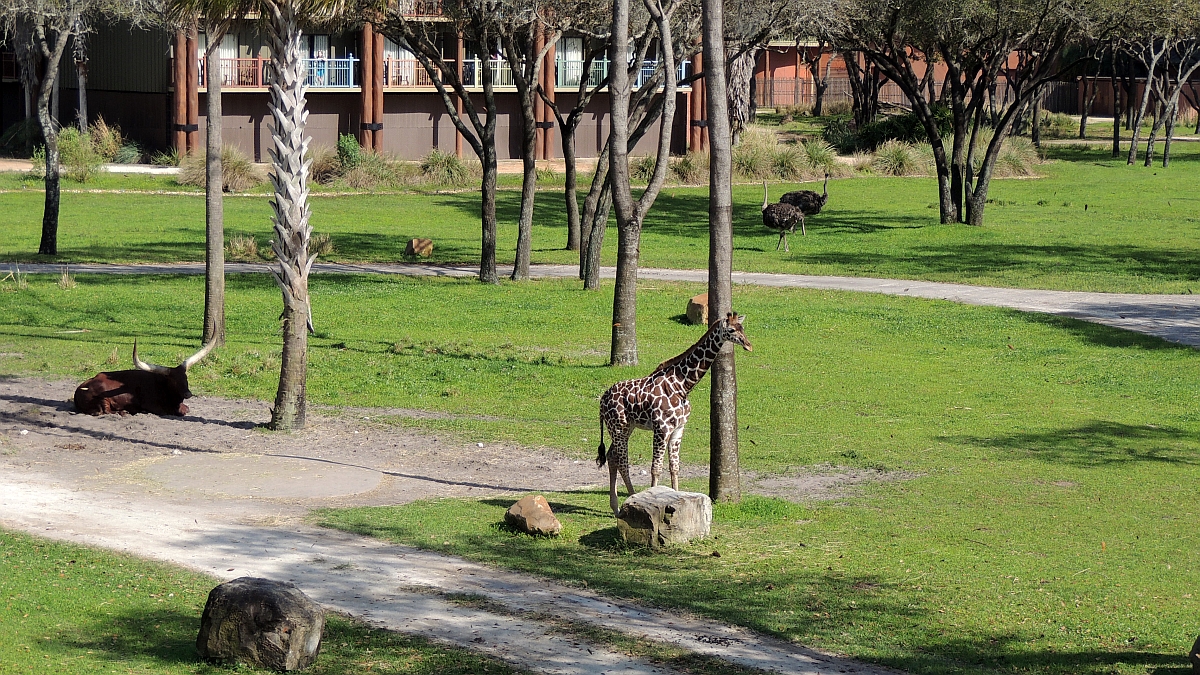 The Disney Magical Express bus arrives a little late at 5.15pm, but it seems to take a long time to load up the few people that are waiting. I suspect something has gone a little awry as we arrive at our next pick up, Art of Animation, with the bus driver muttering to himself 'Oh my God, oh my God' as there are a number of people waiting to be picked up. It's even worse at Pop Century where there are even more people and he has taken to proclaiming 'I'm a dead man'. This is the honest truth; I'm not embellishing this at all.
There is only room on the bus for a couple of people, but another Magical Express bus pulls in behind, so they don't have to wait long. It's now 6.00pm and we still haven't progressed beyond Pop Century. The driver doesn't endear himself to me any more when he moves his paperwork to his lap and checks it while driving along! He compounds this by mopping his brow with kitchen roll and applying something that smells suspiciously like Vicks to his neck.
We arrive at Orlando International just after 6.30pm, so it's only taken 90 minutes from the time we should have been picked up, but it's been quite a strange journey.
We drop off our luggage at the Virgin desk with no queue and meet the girls who arrived a fair bit earlier from Port Orleans French Quarter.
An Orlando holiday is never finished until we have paid a visit to McCoy's at the Hyatt. It's a pleasant way to pass the time until the flight and India and I order a bourbon based cocktail I can't remember the name of.
Tam declares that we should eat something. I point out that we will be getting a meal on the plane shortly, but this is swiftly ignored. She wants buffalo drumettes. Once again I point out to her that these are likely to be very hot. My pointing comes to naught as two lots of hot chicken are ordered, along with a quesadilla. There is only one thing to do in circumstances like this – order a final Florida Margarita. The food arrives and the ladies tuck in. Not bad at first, but the buffalo sauce slowly works its magic on the mouth and lips. Kev chuckles evilly. To be fair, even Georgia manages to eat two of them. The ladies have done well in the face of mouth roasting chicken.
We pay and go through security to the flight where the only downside is being slightly too late to get any duty free as the flight is now boarding.
The journey home is uneventful, if long and it's the end of another Florida holiday.
Summary
So much was good about this holiday.
The weather was nearly perfect (I'll bet your fed up with me going on about it, but I'm British after all, it's expected).
Although one week was never going to be enough to satisfy me, it didn't seem so short as to feel rushed. I would do another one-week holiday in the future if it suited our plans.
Kidani Village was lovely. All the DVC resorts are relatively quiet and peaceful, but this was even more so than the others we've stayed at. I still missed sitting on a balcony watching the people on the Boardwalk, but we will almost certainly stay here again.
Disney's Magical Express was ok. If you're in a hurry it could be a bit of a pain as it took a while to get to the hotel and then back to the airport. This wasn't helped by Kidani Village being the last drop off. Still, it saves a fair bit of money on taxis or car hire
The buses to the parks were excellent. I know this can vary from resort to resort and I suspect that Disney are particularly sensitive to accusations that Animal Kingdom Lodge is too far from most of the parks. This might be the reason that the bus service is so good.
Having a more relaxed park visiting experience was also very nice. I wanted Tam to enjoy her time as much as me, so a gentler approach was needed. We still did just about everything we wanted to, which was no mean feat considering how busy the parks were. I had no problems with Fastpass+ and I'm sure it will improve even more as it gets refined. The only thing I would say is that it must be confusing as hell if you're a first time visitor and doesn't invest a considerable amount of time learning and planning how it all works.
Having fun with the family – even after all the trips we've taken together, it's fun being with the girls. They share our sense of humour and enjoy many of the same things as we do.
Meeting old friends and making new ones – so lovely to see Susan again and her friend Anne. Also bumping into Joh and Sian in the Magic Kingdom. We had planned to meet in Downtown Disney on St Patrick's Day as well, but the weather put paid to that. I think Joh and Sian got a little damp in all the rain.
Well, that's likely to be it in terms of Florida holidays for 3 years. There are no definite plans for next year, but we will probably be going to Australia in 2016. Still, never say never. Who knows what the future has in store.