Day 14 (India & Georgia)
Day 8 (Tammy & Kev)
Thursday 20th March 2014
Written by Kev
Woohoo! It's my birthday. 56 glorious years. I throw open the curtains expecting to see the animals on the savannah lined up and bowing Lion King stylee. I am disappointed. It is, however, another lovely day. A day in which I will be mostly relaxing around the pool before going into Epcot this afternoon.
We have breakfast and I open my cards. To be honest, I'm a little disappointed that her majesty has not seen fit to honour the occasion of my 56th birthday. I had a card last year. It said 'Have one for me, Liz'. Perhaps I shouldn't have signed that anti-monarchy petition.
We leave the room at 11.00am and walk across to the Animal Kingdom Lodge as we thought we would try out the pool here today. At this time of day it's reasonably quiet and we find a nice area behind the hot tub to relax in. That is until they start cutting up sheets of copper in a screened off area a few yards from us. They are doing some refurbishment, but at least the noise is infrequent.
It's nice to hear African music playing in the background; it certainly helps to set the scene. I forgot to say, but at Typhoon Lagoon yesterday they had the Beach Boys Greatest Hits on a loop. Now, I can appreciate The Beach Boys as much as the next man (more if the man next to me doesn't like The Beach Boys), but I could happily have strangled Barbara bloody Ann by the end of our time there.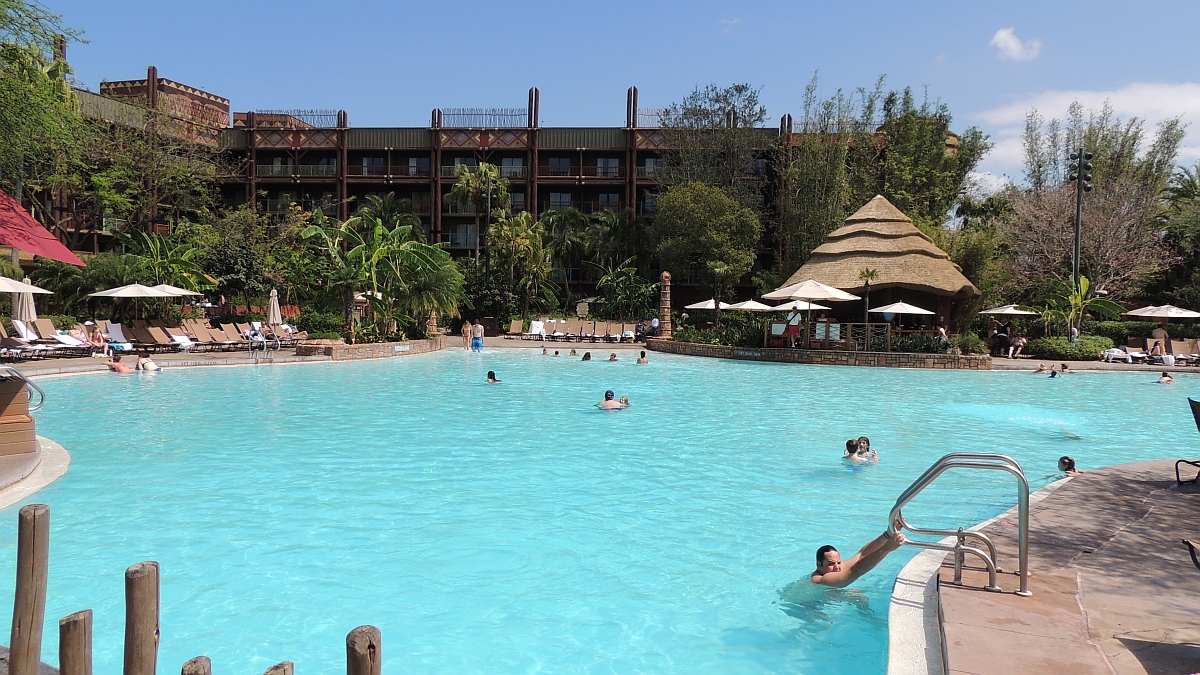 India arrives from Port Orleans French Quarter. She and Anna had a good time in Downtown Orlando last night. They started out in Hooters (damn their eyes) before going to a speakeasy. Inds says it was really cool. You had to knock on the door and they asked for the password. Of course, the girls didn't know it, but they let them in anyway for being so polite.
[India - After we left Typhoon Lagoon we drove back to POFQ where I showered, changed and got my stuff together for the evening. We then headed over to Anna's flat, stopping off first at a liquor store to pick up some beer and cider for pre-drinks. This is probably your average liquor store at a strip mall but the amount of amazing spirits, flavoured vodkas etc. are way beyond what you would find in even a specialist store in the UK.
After accepting there's no way to get several litres of popcorn or candy floss flavoured vodka home we drive over to The Commons, one of the accomodation areas for people working on the programs at Disney - it's near the Mary, Queen of the Universe shrine. When we got there the security was very strict and we had to park near the entrance whilst Anna went over and took my driving licence to sign me in to the complex. I found this a little strange as they never actually see me so I could be a 60 year old man for all they know. Anyway, once I was signed in we drove round to Anna's and I had a few beers whilst she got ready. A couple of her friends came round for drinks and I met her roommate Siri from Norway.
We had decided to head to Hooters for dinner and met a couple of her friends before getting a taxi over. We had a nice server, as all the Hooters girls are, who kept telling us how cute we all were. We split some pitchers of beer between us and each ordered wings, burgers etc. I had honey chipotle wings which were absolutely lovely. Towards the end of the meal a man on the next table over came over to start chatting to us, he told us his name was Buck Diamond - a name that he got when his friends were deciding what their porn star names would be. Anna ended up having quite a spirited conversation with him and he commented that he liked her feistiness. Leaving Buck behind we got a taxi back to The Commons where we got a big taxi with a lot of people in to Downtown Orlando, it is about 40 minutes so it makes it cheaper to get as many people in one taxi as possible.
Anna and I went off on our own to find a bar, as we were walking along she remembered a speakeasy that she was following on Facebook that was nearby. We got to the address but it just looked like a regular bar so we asked where we could find Hanson's shoe repair. We were told to look upstairs and ring the doorbell when we got there. There was an impressive looking door and when somebody answered we were asked for the password, we said things like 'Hanson' and 'we need our shoes cobbled' but in the end they let us in (once in Anna remembered that they post the password on their Facebook page regularly). It is very cool in there and quite quiet with an outdoor courtyard area. We decided to stay inside and I asked the barman for a bourbon-based cocktail which was very nice, whilst Anna had something sweeter. We sat at the bar and chatted to the barman for a while, enjoying the ambience of the place. At one point the other barman came back from the door and said the people that rang were too drunk to come in, using obscenities when asked for the password. It was getting late so we decided to head over to I Bar for a dance as they have cheese night on a Wednesday. Unfortunately the pictures I took in Hanson's were too fuzzy to show anything but I'd recommend it if you are looking for somewhere a bit quirky with good cocktails and excellent barmen.
When we got to I Bar they had ridiculously cheap spirits and mixer so we partook in a couple before heading to the dancefloor to dance to Avril Lavigne and countless other dodgy songs. After a little while having fun dancing we had to go back to the car park to meet everyone for the taxi, Anna grabbing a quick bite on the way back. Unfortunately it was worse than trying to organise a taxi at uni as most people hadn't been able to handle their drink, somebody was off with one of the boys from the German pavilion and people took to throwing shoes around in the taxi for 'fun'. Feeling a lot older than 23 we finally headed off to drop everyone at the accommodation complexes whilst Anna and I stayed on back to French Quarter where she stayed the night as she didn't want to leave me to get a taxi alone back to Disney, thankfully with George at AK Lodge there was a spare bed anyway. Bar the taxi rides it was a good night and Downtown Orlando is definitely somewhere I'd like to spend some more time as there looked like a lot of great bars.]
We get lunch from Mara. Tam and I split a BBQ Chicken Flatbread and a Chicken Breast in Pita Bread with couscous. Both are very nice. We've eaten some lovely food on this holiday.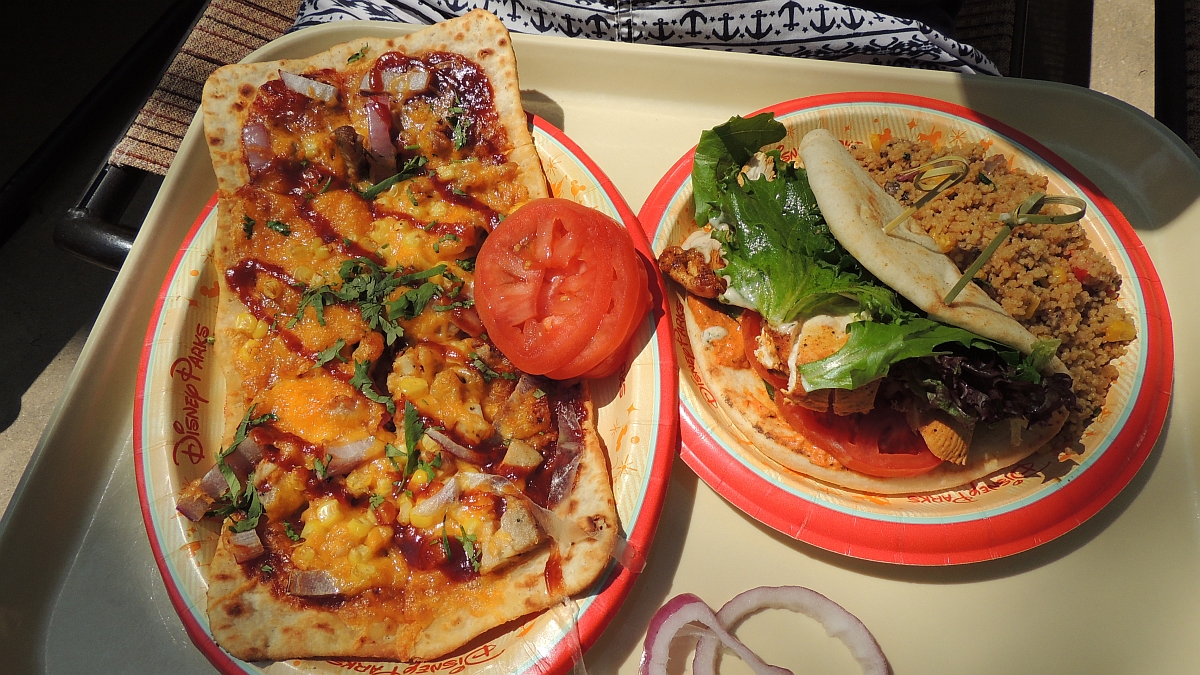 As we settle down to eat the girls give me my birthday present. It's a windcheater with the original Walt Disney World logo on. Apparently there is a Cast Member store passed the Contemporary and behind the Magic Kingdom where they sell off stock and even old furniture from the hotels. Anna took them there and that's where they got my jacket.
After lunch we go for a swim. As we float around Georgia says 'Wait for me. I want to be part of the bloat'. We learned at the Animal Kingdom that a group of hippos is called a bloat. I'm not sure that this is a good collective noun for a group of Stringers, so we discuss becoming a 'sponge' before settling on a 'podge'. So, the Stringer podge leaves the pool and goes for a wallow in the hot tub.
After another hour lying on the sun beds we leave the Animal Kingdom Podge ….. er… I mean Lodge ….. and return to our room in Kidani Village to shower and sit on the balcony with a beer.
At 4.00pm we catch the bus to Epcot. The girls need a locker to put their things in. We know that inside the park the lockers cost $12, but outside, round by the bus stops, there are lockers which cost just 4 quarters for the whole day. They are huge too, I suppose they are for leaving suitcases in if you are spending your last day in a park.
We walk slowly up to Morocco, where we go to Spice Table. You cannot book ahead for this restaurant, you just walk up and it seems like not many people know this, as it's very quiet inside. They have an outdoor seating area, but we sit inside. We are all impressed by the décor here and we are seated by a window with spectacular views across the lagoon to Spaceship Earth.
We start with an Efes beer and Anna arrives soon afterwards. This is a tapas style restaurant and we order several different things including the sampler plate, spicy prawns, beef and chicken skewers and calamari. The service is a little slow, but that's ok because we aren't in any hurry. The food itself is a bit of a disappointment. It's tasty enough, but there is very little of it for the money. The prawns, skewers and calamari are the best things, but they cost around $10 each and our complete table of food is not very much when split between 5. Another Efes is called for along with some Baklava for India. In the end we leave with mixed feelings. The place itself is lovely and the servers are very friendly, if a little slow, but the bill comes to $130 including tip and we still leave hungry.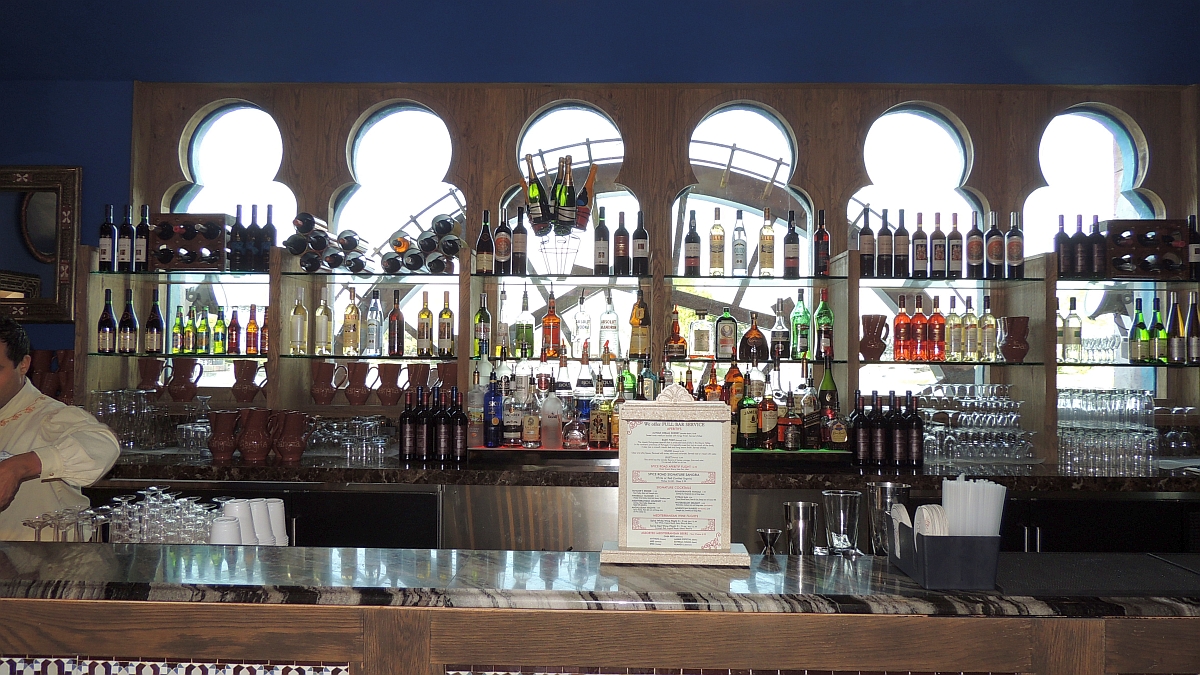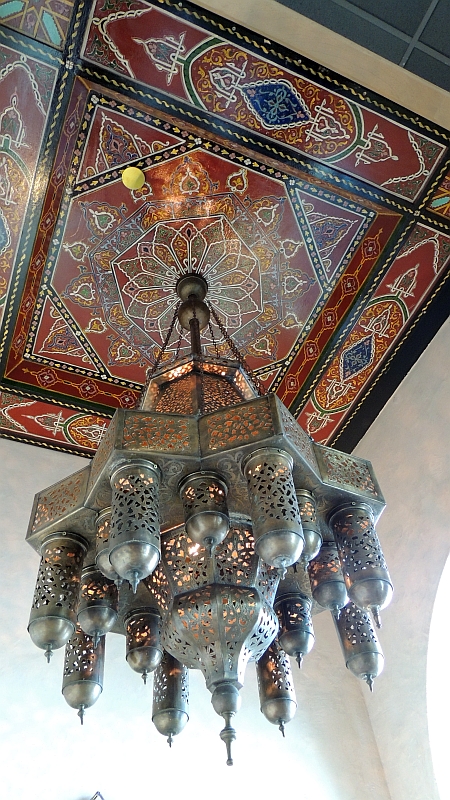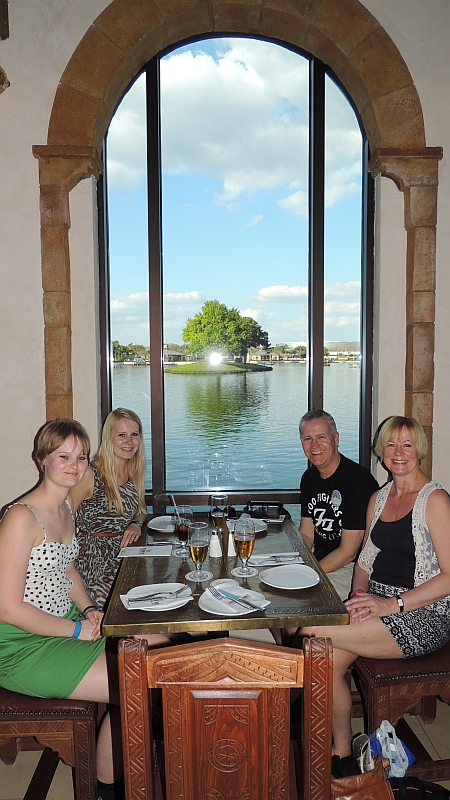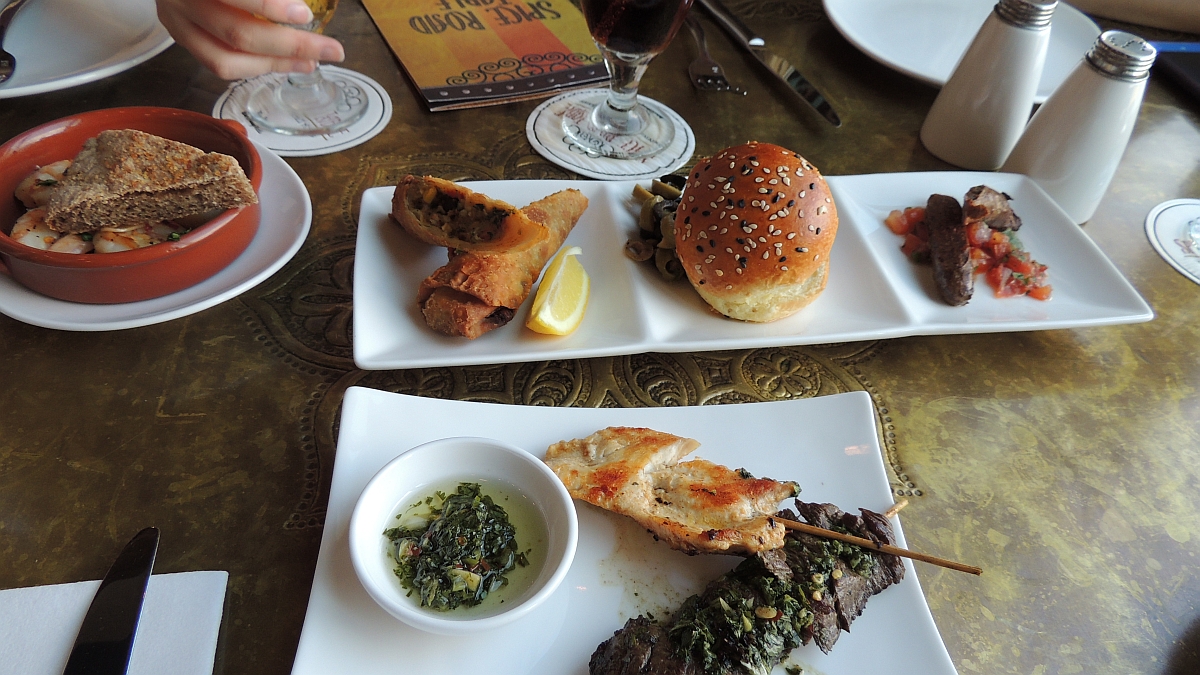 On round to the Florida Fresh stall where we get the beer flight between us. It's a beautiful balmy Florida evening as the sun disappears below the horizon and the lights start to come on around World Showcase.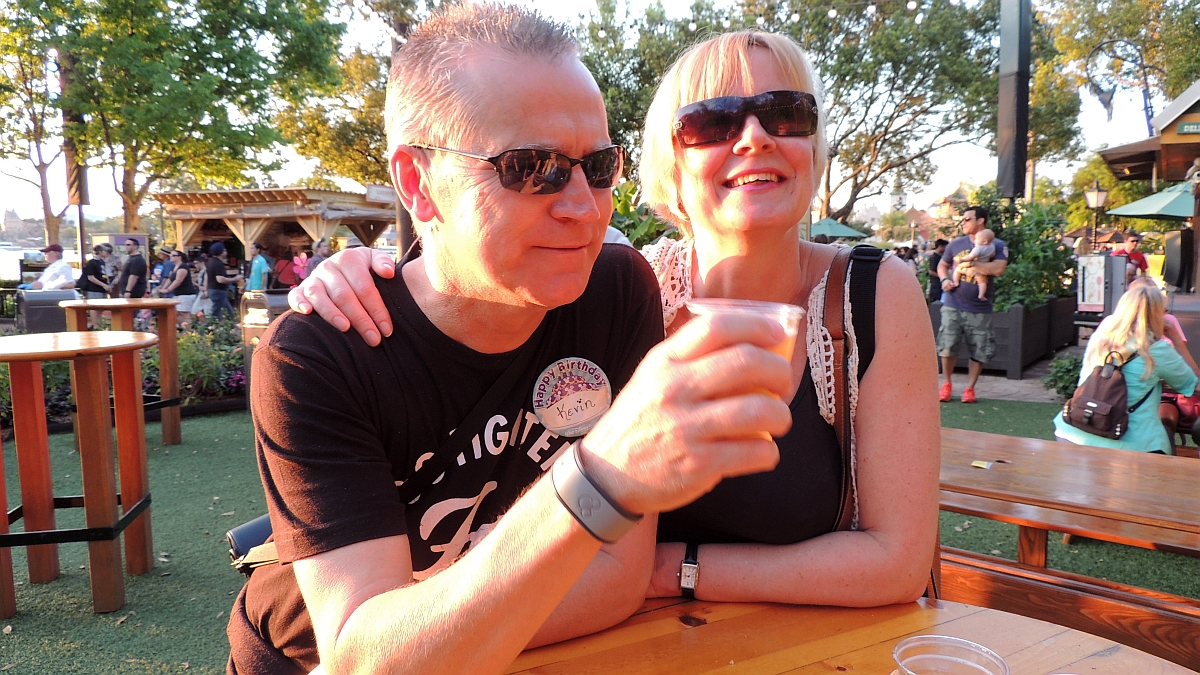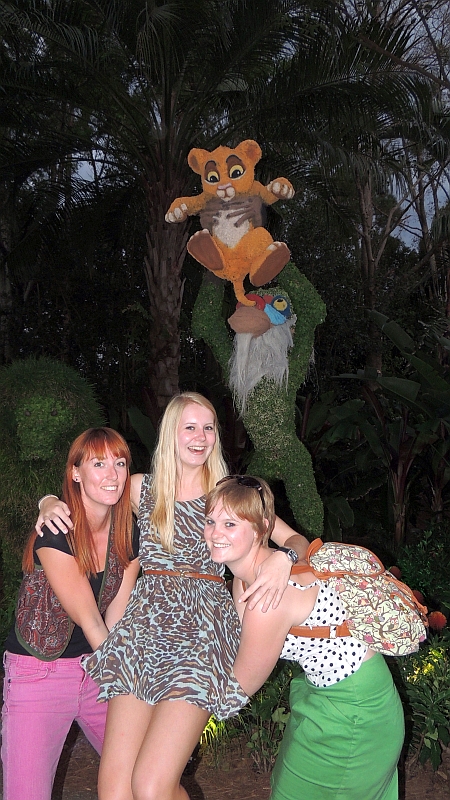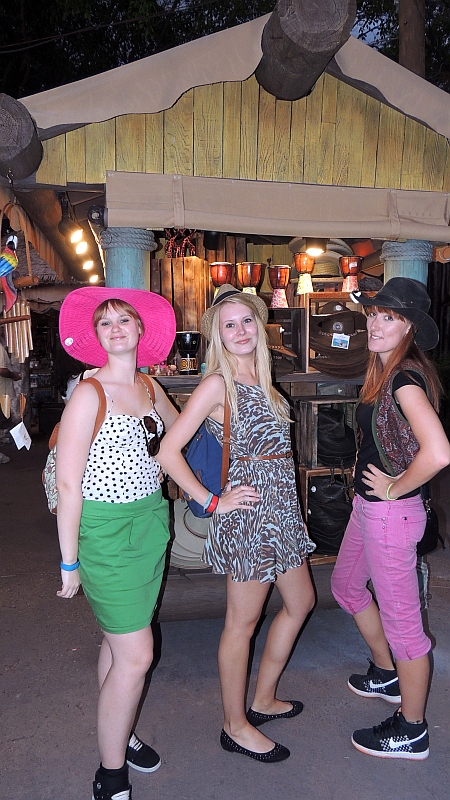 A visit to Cava Del Tequila is next where I get a San Angel Inn Margarita to take away. I forgot to say that Tam has made me wear a birthday badge all day and everywhere I've been Cast Members have been wishing me a happy birthday. In Cava del Tequila I get a birthday present as well as the man serving says 'Oh, it's your birthday, you need some extra tequila' and proceeds to pour an extra slug on top of the already incredibly alcoholic drink. Cheers!
Another slow walk and we find the Fastpass+ viewing area for Illuminations. Georgia and I enter while the other ladies go off seeking things to eat. Around 8.30pm they all return and I leave the last bit of margarita for Tam and go to get a Moosehead. I manage to get back just as Illuminations is about to start.
There are definite pros and cons to watching from this area. On the plus side you can walk up fairly late and still get a good view. The area beyond the rope to our left (general viewing) is packed, while we still have plenty of space. This is a distinct advantage at busier times of the year. You also get a view that is considerably closer to the globe than some other parts of World Showcase and the show is clearly designed to be viewed from here as it is perfectly framed.
The downside is that there are a few minor obstructions in the way – lampposts, bushes, pesky tourists etc. All in all it's a good place to watch from and we will probably use it tomorrow night as well as it's so easy to turn up 15 minutes before the show and still have a great view.
I must admit to being slightly squiffy, but, if you can't be on your birthday, when can you be?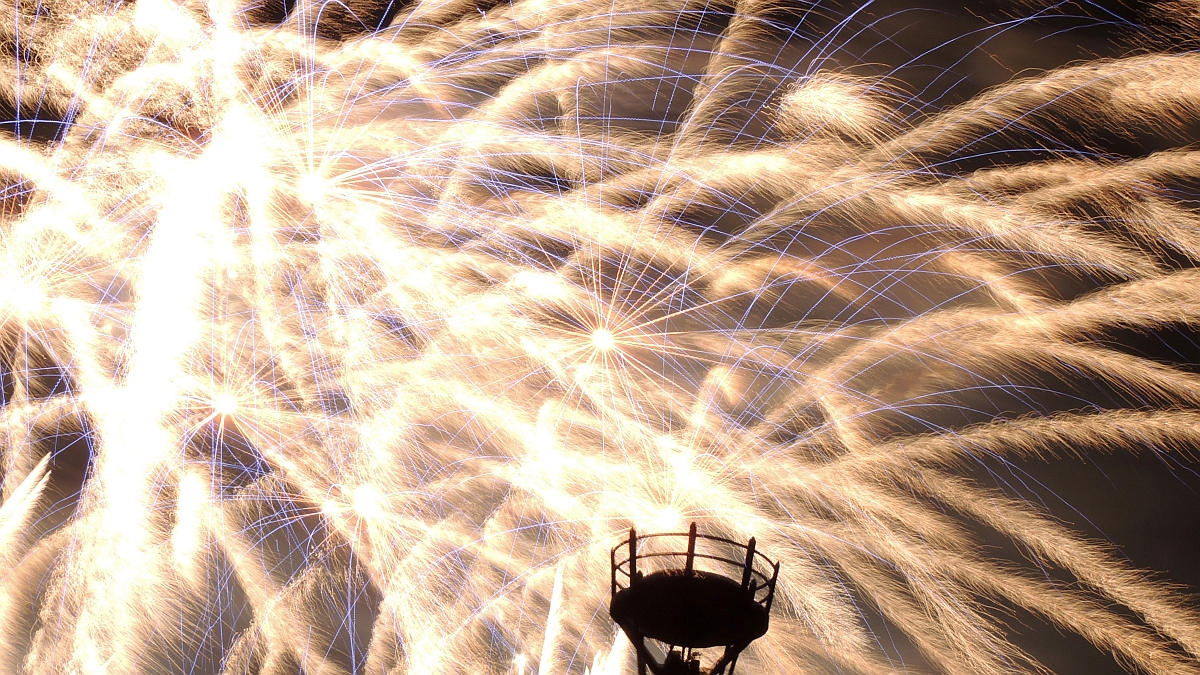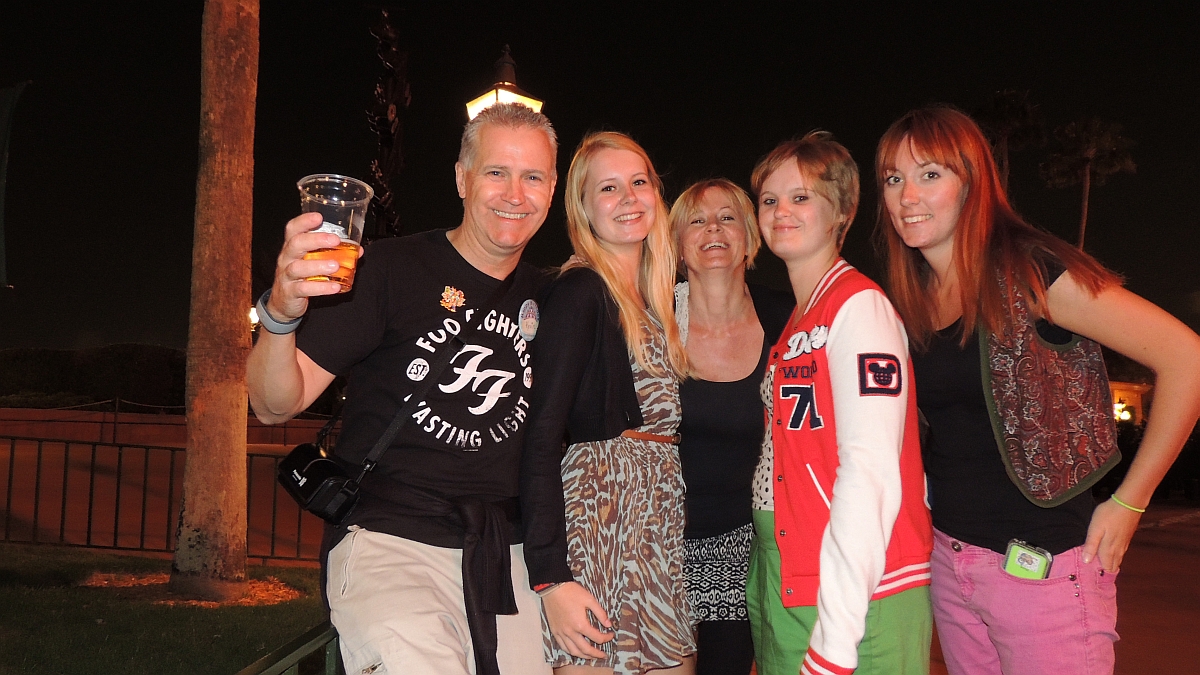 We stand around chatting to Anna and listening to the Tapestry of nations music as the park clears out. Eventually we must leave and we walk out, pausing at the Fantasia topiary where Georgia's eye has been caught by the ballet-dancing hippos and she decides we should have a photo of our podge.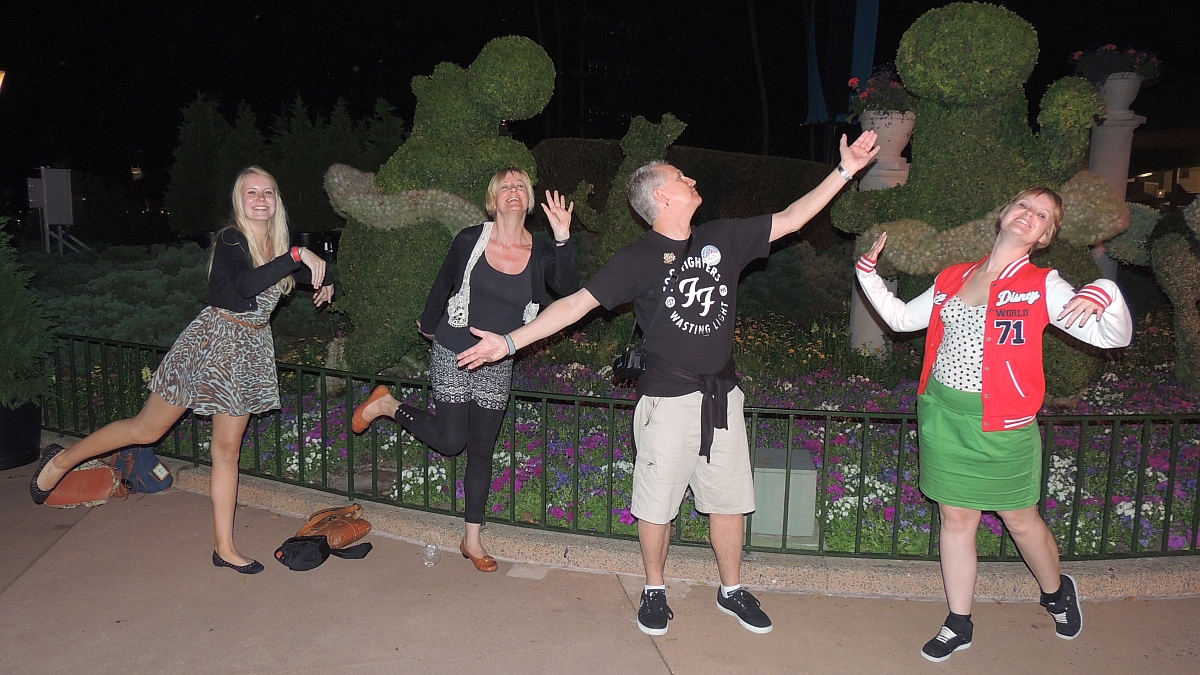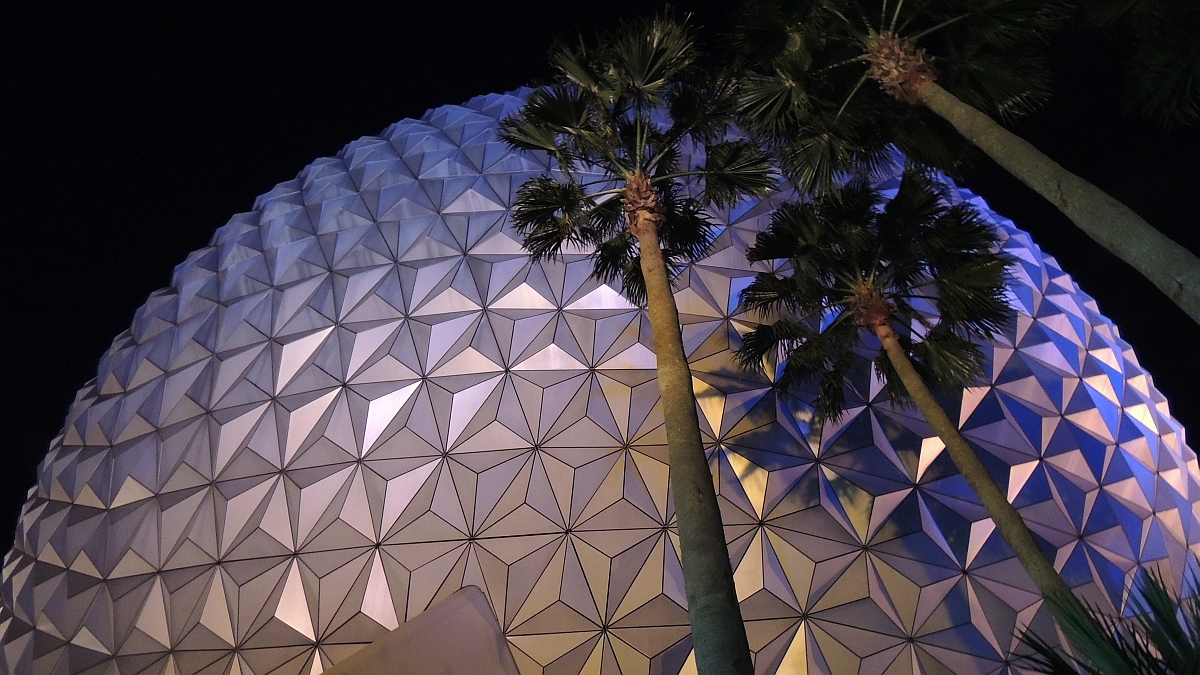 We walk out of the park and say goodnight. The girls go off to get their things from the locker and Tam and I go to the bus stop, where a bus pulls up 2 minutes later.
Back at Kidani Village we walk out to the fire pit. There are no animals to be seen, but it's nice just to look back at the resort from here.
We are in bed by 11.00pm. It's been one top birthday.