Day 13 (India & Georgia)
Day 7 (Tammy & Kev)
Wednesday 19th March 2014
Written by Kev
Up at 8.15am and breakfast of the usual cereal and muffins with peanut butter. To be honest I've had enough of peanut butter by now, I shan't be sad to see the end of it.
We are having a more relaxing day today. The plan is to spend the morning in Typhoon Lagoon and return to the room in the afternoon to enjoy watching the animals from the balcony. This evening Anna and India are going to Downtown Orlando, whilst Georgia is going to spend the night with us in the Magic Kingdom area, probably eating and drinking at the Top of the World Lounge. We might watch Wishes from there and then go in to watch Celebrate The Magic.
Tam and I leave the room at 9.20am and get the bus to Typhoon Lagoon for 10.00am opening. The girls are already there and are stood at the rope waiting for the park to open. At 10.00am nothing happens. In fact they don't open the park until nearly 10.30am. The guy operating the rope apologises on several occasions, it's not his fault though. The result of this is quite a queue of people who rush to find decent spots when rope drop finally happens.
We try to get a cabana looking down over the surf pool, but the only one available is right by a speaker. I don't recall the music being quite this loud before. I'm all for loud music in the right place, but a water park themed to a lush tropical paradise should probably have a few quiet areas.
We eventually find a cabana close to Shark Reef that is mostly shaded, but at least it's not too loud.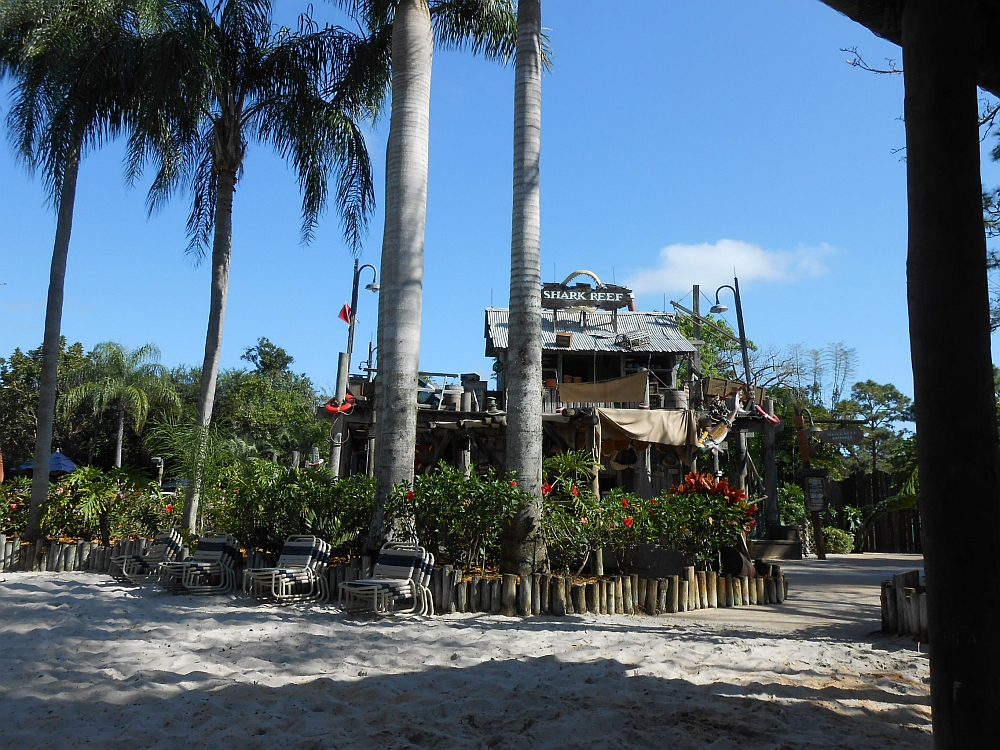 The first thing Tam wants to know is- 'Is it time for Chicken Tenders yet?' For some reason she has got it in her mind how wonderful the chicken tenders are and that she hasn't had any yet on this trip. She is building this up to be a culinary experience on a par with Victoria and Albert's. I fear she may be a tad disappointed.
We all go off to do all 3 rides on Crush and Gusher, such fun going up and down on a water chute. When we get back to camp, Anna has arrived. Tam and Anna lie in the sun while India, Georgia and I go off to the wave pool to be wiped out by the surf.
After drying out it's time for lunch and chicken tenders. We have to walk to the front of the park to Leaning Palms for them, but they are enjoyed by all. Maybe not the taste bud delight that Tam was expecting, but nice all the same.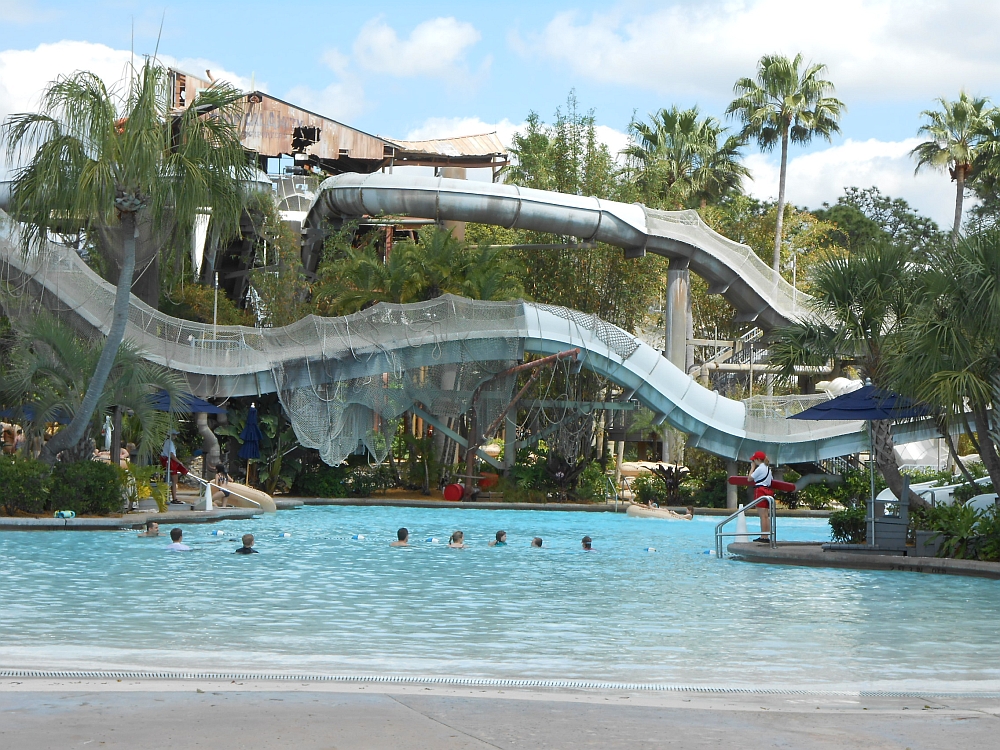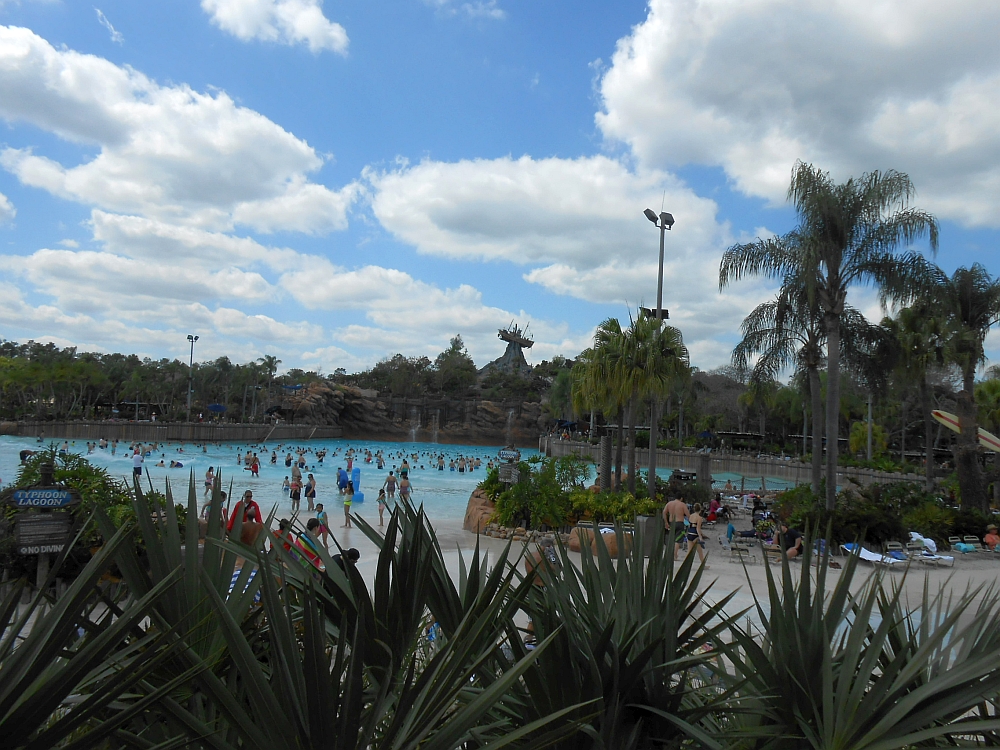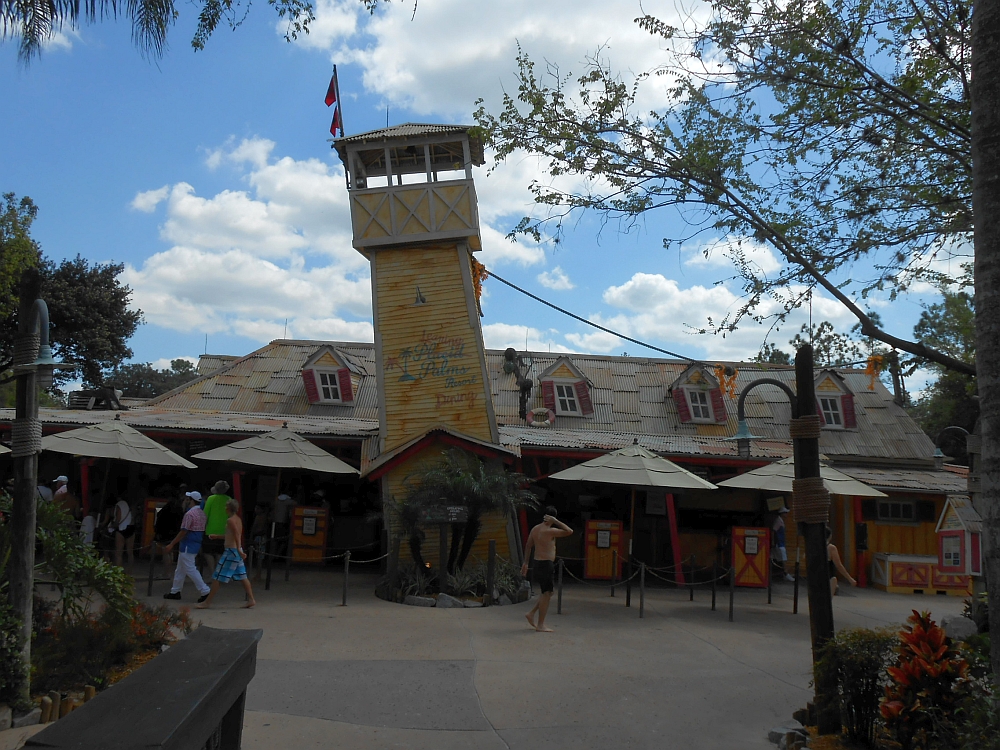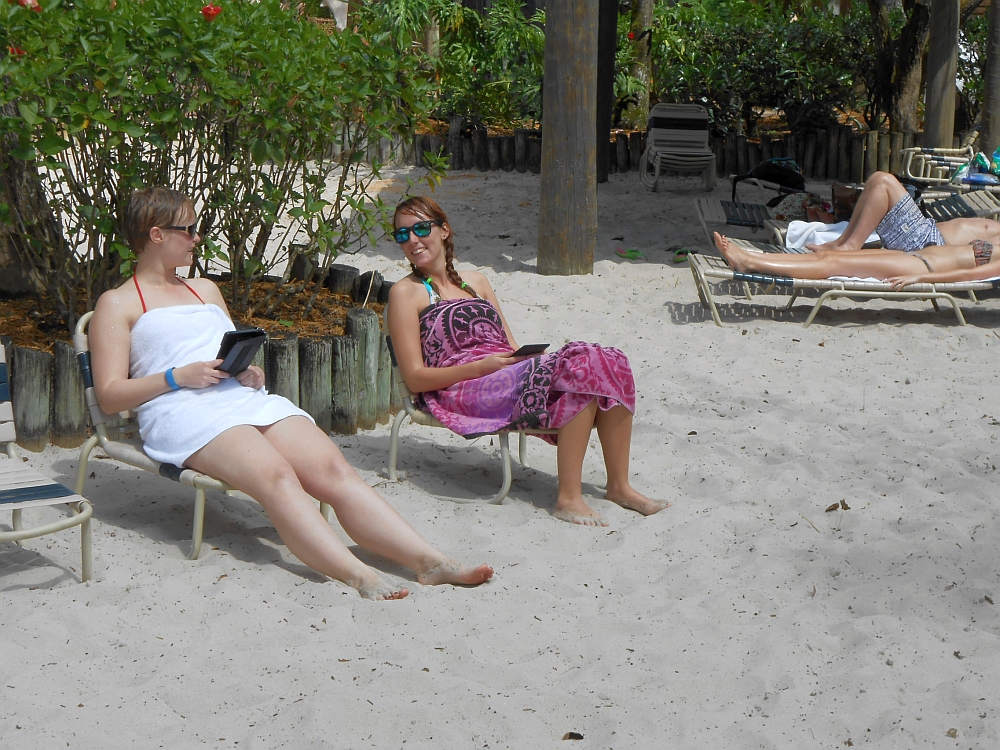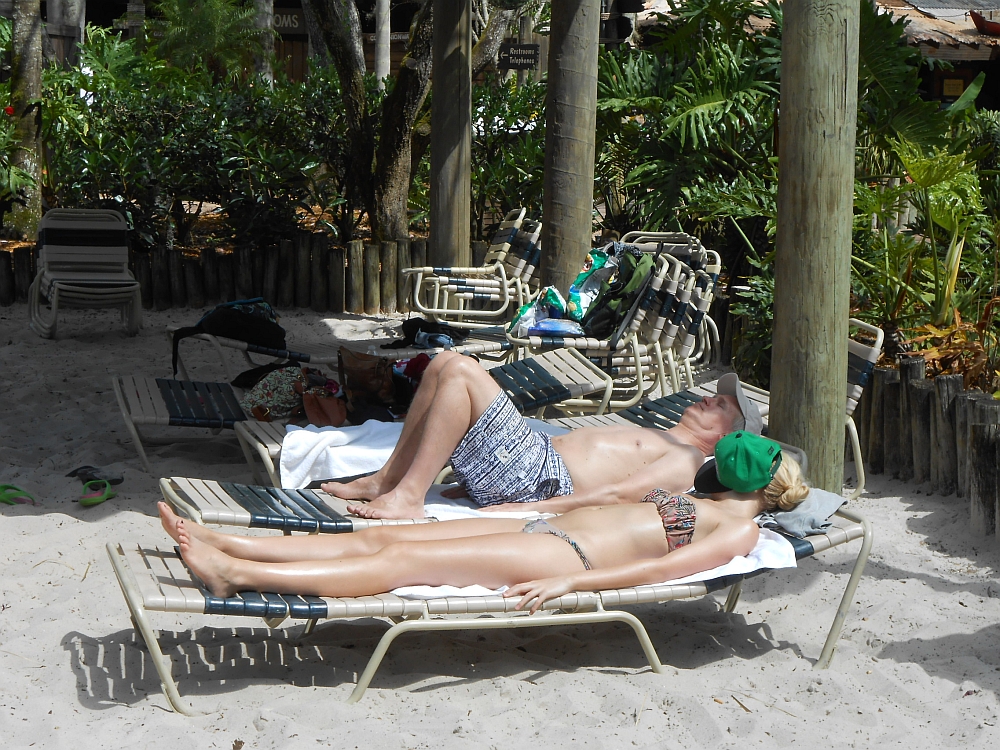 The afternoon is spent relaxing in the sun and riding round on the lazy river. At 3.45pm, me Tam and Georgia leave to go back to Kidani Village. India and Anna stay as they are going to relax for a while longer before getting ready for tonight. It seems they may now be going to Hooters! Now that's just not fair. My daughter is going to Hooters and I am not. What's the world coming to?
Back at Kidani Village we sit on the balcony with a beer. At first there's not a lot happening, but then a couple of giraffe pay a visit and stop with us for a while. There are not always loads of animals to see from the balcony, but it just makes it more exciting when they do come along. There is usually something to see, even if it's only a pair of Roan Antelope of some Ankole Cattle. These things have the most amazing horns. If you've ever seen the video for Tribute by Tenacious D, then the devil played by Dave Grohl has very similar headwear.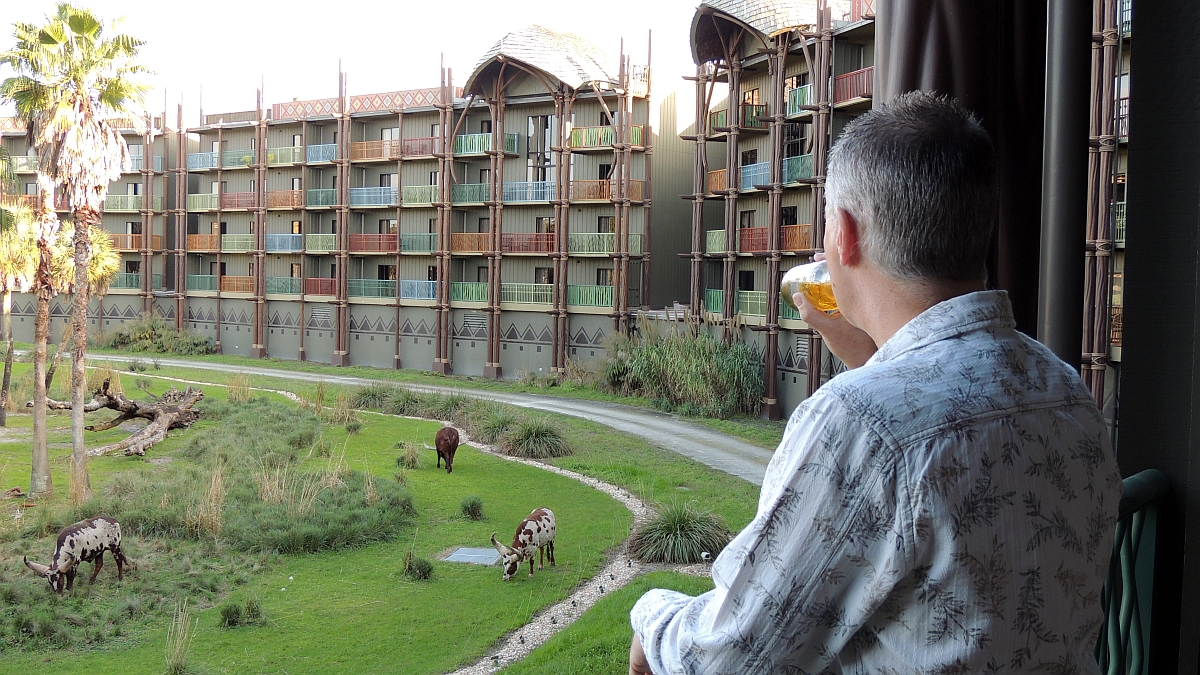 Me, looking at the Dave Grohl cattle.
The ladies are in having showers and I sit with a beer writing up my trip report and enjoying the late afternoon sunshine whilst watching the goings-on on the savannah. Sometimes you just have to pinch yourself to make sure that all this is real. I wouldn't advise doing it too often though - it hurts.
Tam comes and joins me and she is enjoying a beer called a Fat Tire. It's an amber ale with a caramel aftertaste. At one point she goes into the room and comes out to ask if I've seen her Fat Tire. It is at this point that I really, really have to bite my tongue.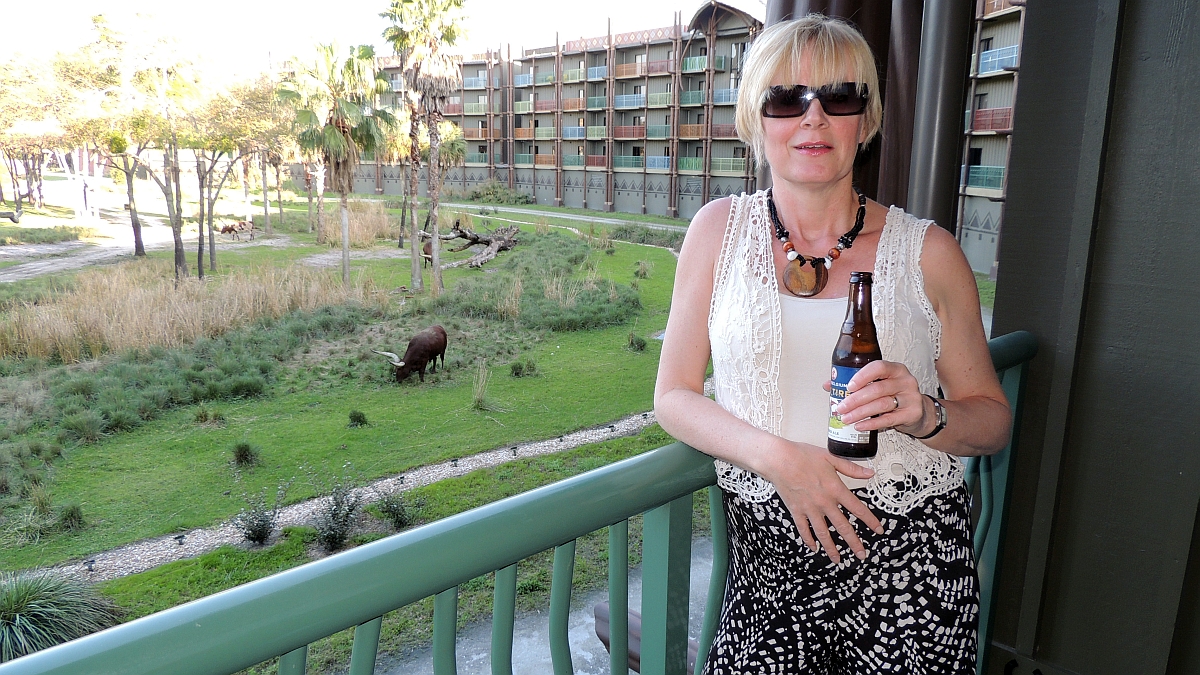 Tam has her hand on her Fat Tire ... tee hee hee!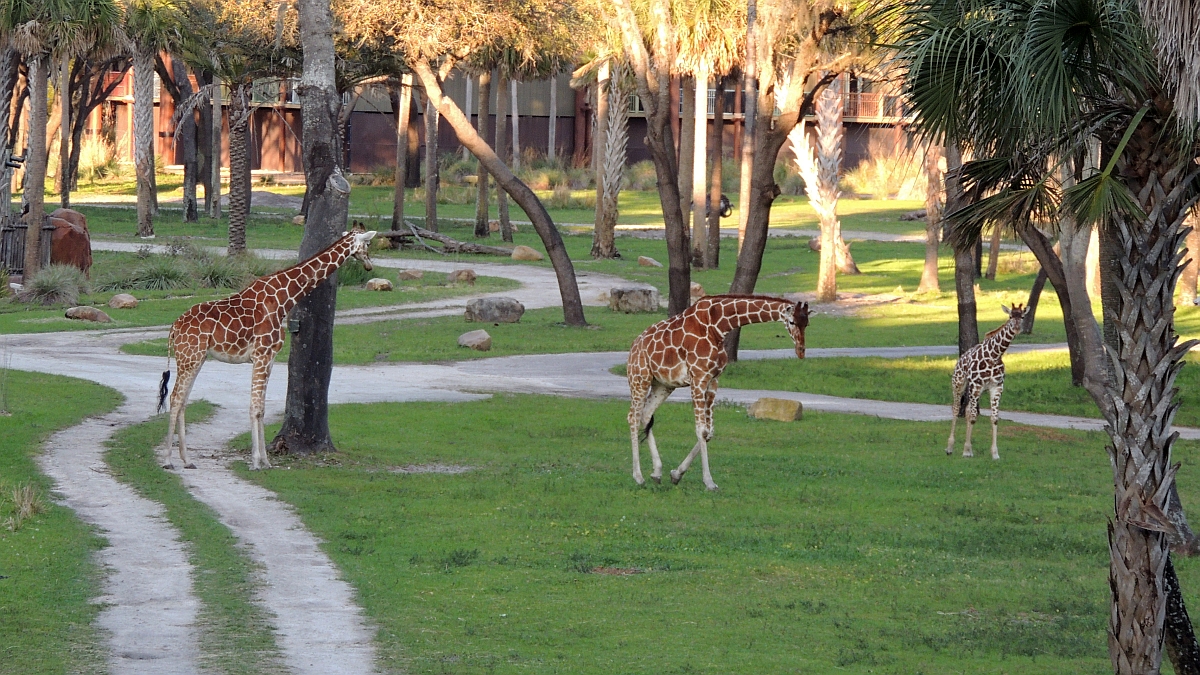 Women being women, they take an age to get ready and we finally leave the room around 7.00pm. We get the bus to the Magic Kingdom and then walk across to Bay Lake Tower and go to the Top of the World Lounge. The plan is to eat and drink here and then go into the Magic Kingdom.
Top of the World really is a lovely lounge with beautiful views over the Seven Seas Lagoon and the Magic Kingdom made even better as it's getting dark and the lights are coming on for as far as the eye can see.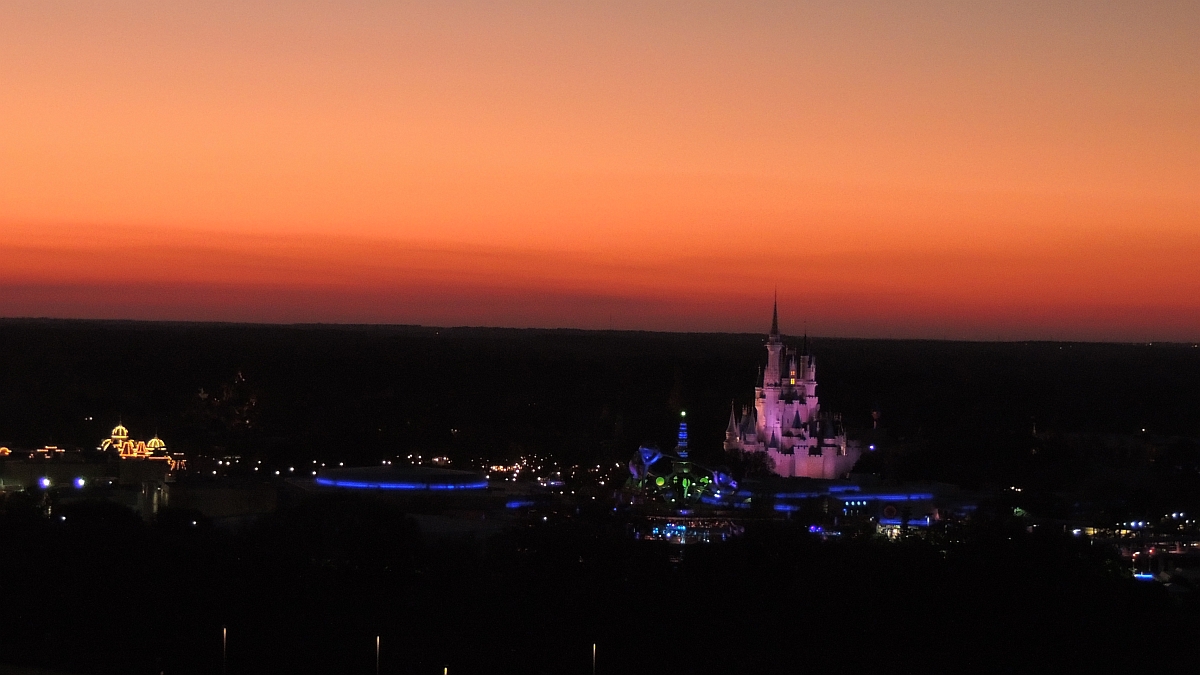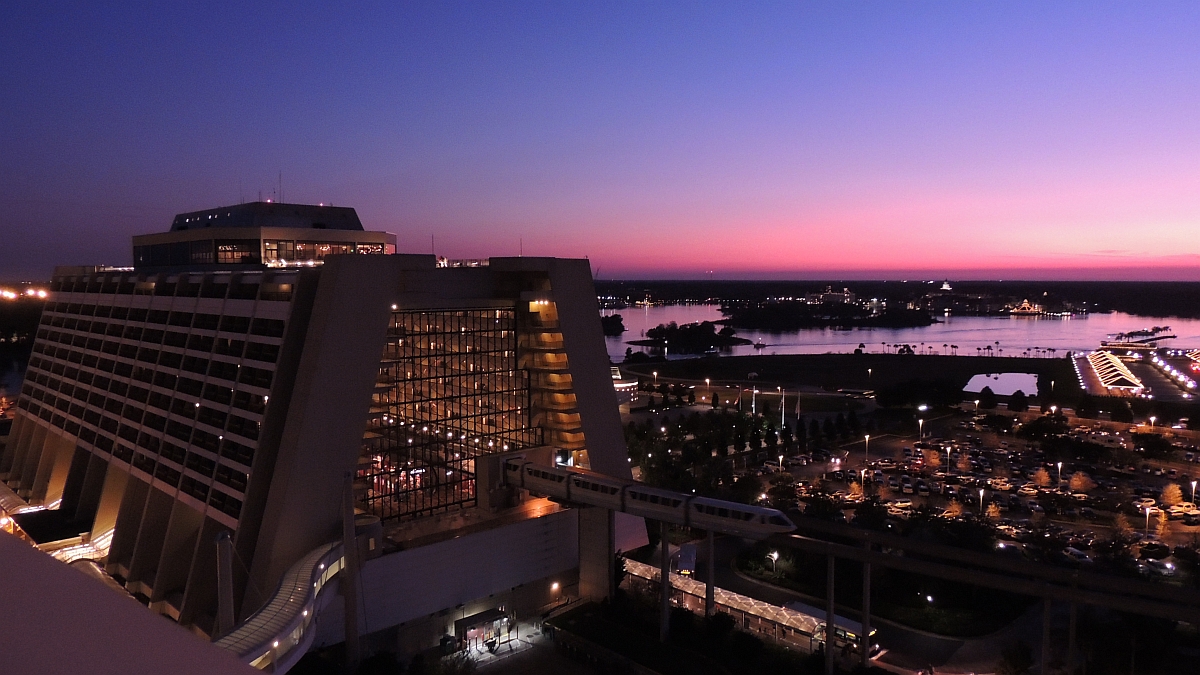 I promise you that the colours have not been altered in any way. It really did look like this.
I start with a Smoked Turkey and we look at the menu. It's changed from the last time we were here. They used to do very nice flatbreads, but these are no longer an option. We order Beef Tenderloin Sliders and Chicken Skewers to split between the 3 of us. Both of these are very good indeed, so we get another of the Beef Sliders. Mind you, it is not the easiest thing to divide 2 small sliders between 3 people.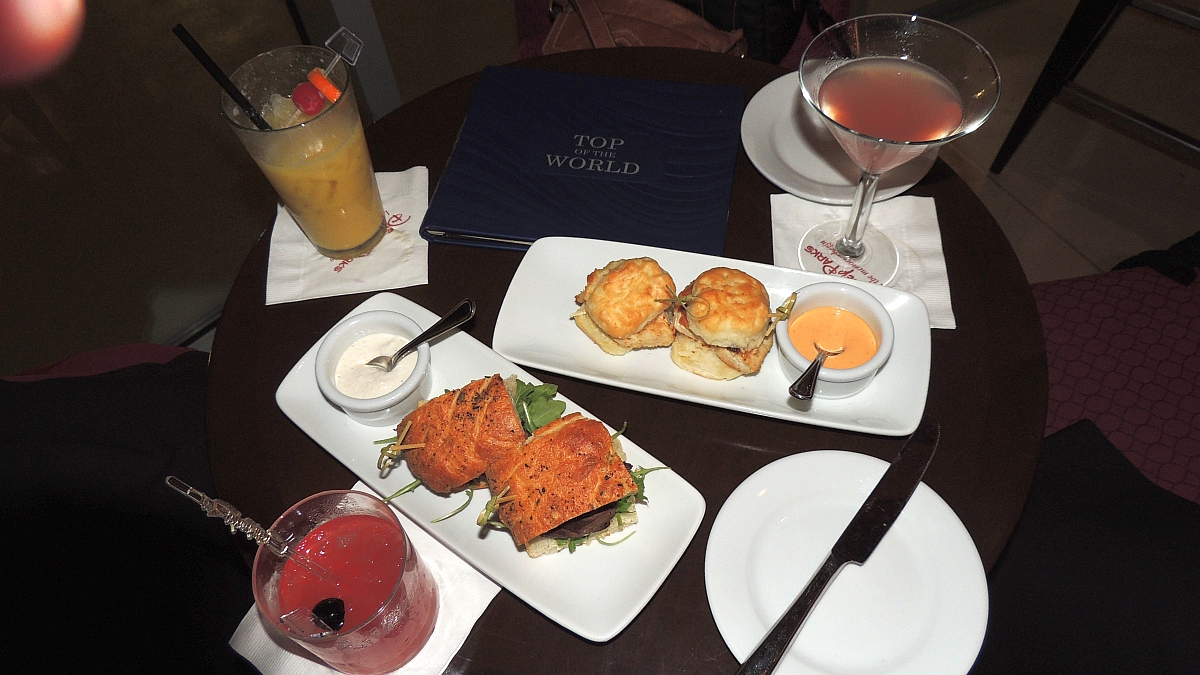 I have a Captain's Mai Tai and an Agave Nectar Margarita while we wait for Wishes. It's always fun watching it from here, but as soon as it's finished we leave for the Magic Kingdom. As we enter the park I understand exactly how a salmon must feel. The crowds are streaming down Main Street as we make our way up.
We arrive in the hub just in time for Celebrate the Magic. I think this has become my second favourite nighttime show after Illuminations.
We walk through Adventureland, where I stop to buy a shirt I've had my eye on all week. It doesn't meet with Tam's approval though as she's not fond of anything with Disney characters on (boo, hiss to the woman) and has Mickey relaxing on a sunny beach and the words 'Mickey Mouse in Paradise' emblazoned across the back. Subtle and tasteful I feel.
We continue to the Jungle Cruise, which we think will be fun in the dark. It turns out to be not that good as the guide is not the best. It's strange, they mostly follow the same script with the same corny jokes, but the way it's delivered makes a lot of difference to the experience.
On to the Haunted Mansion, which is the only 'must do' ride for me tonight. The Mansion is a 'must do' for me every time I'm in the Magic Kingdom.
Now comes the highlight of the evening for Tam. She has been wanting a Hot Fudge Sundae for a few days and is determined to get one tonight. She achieves her aim in the ice cream shop at the top of Main Street. It's nice enough, but could be better. I fear this has not slaked the woman's thirst for hot, fudgy things. We may be looking again in the next couple of days.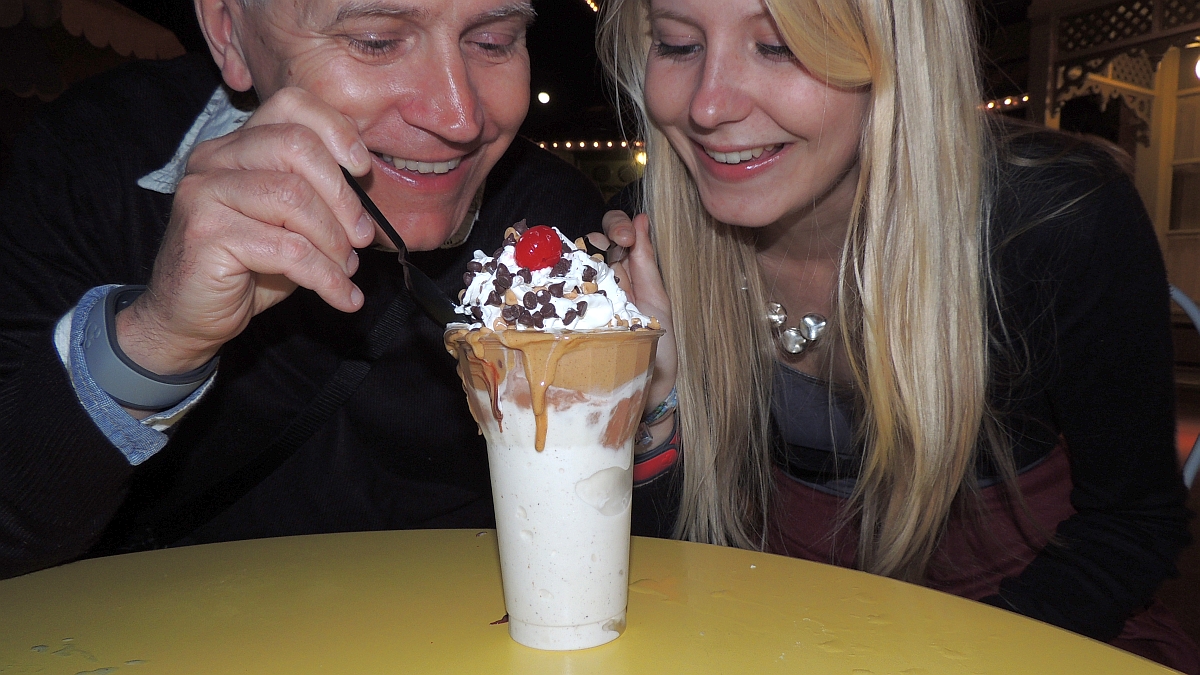 Kev and Georgia kindly help out Tam with the sundae.
We make our way out of the park and catch the bus back to Kidani Village, clambering into bed at 12.45am.