DAY 9 - TUESDAY 20TH JULY
written by Tammy
After breakfast we get ham and cheese slices from the bakery and get boat tickets to Lokrum at 20 kuna each return.
At 10am prompt the boat leaves – literally only a 15 minute ride across the water to the island of Lokrum. When we land we buy a map of the island for 10 kuna and follow the route half way round the island before stopping for a swim and for our lunch of ham and cheese slices, before completing the second half of the island.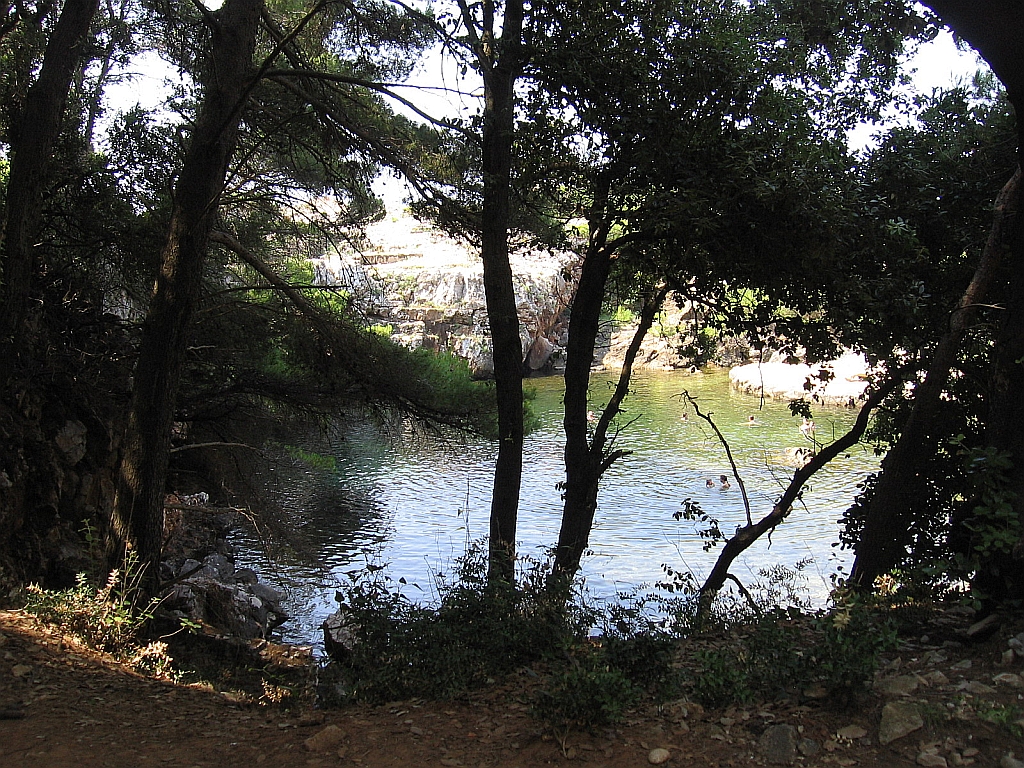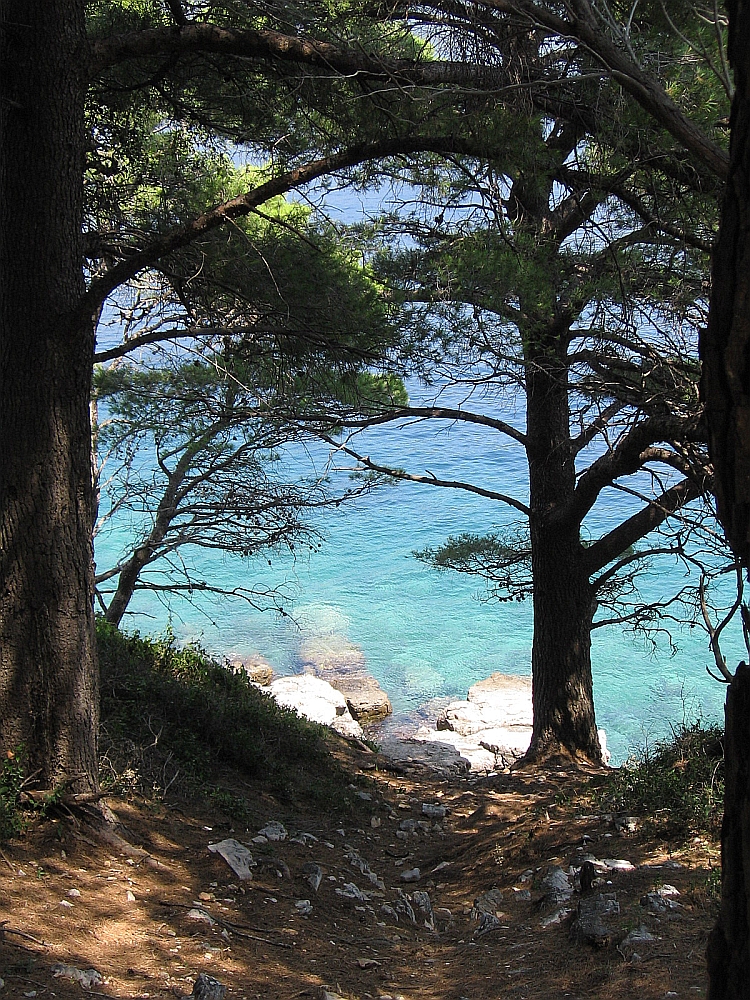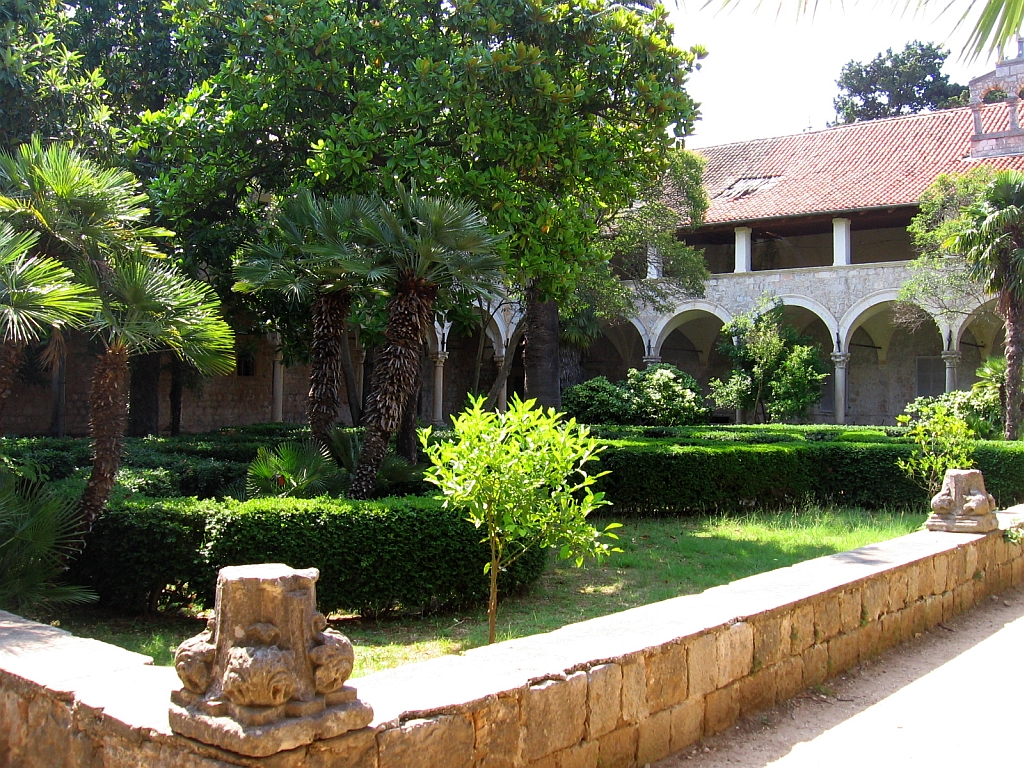 We saw some tortoise, peacocks, beautiful azure seas, the fort and some beautiful coastline. It was incredibly hot and we were grateful to get to the monastery at around 1.30pm where we were able to enjoy a cold drink in the outdoor café/bar inside the monastery ruins. It was very pretty with flowers.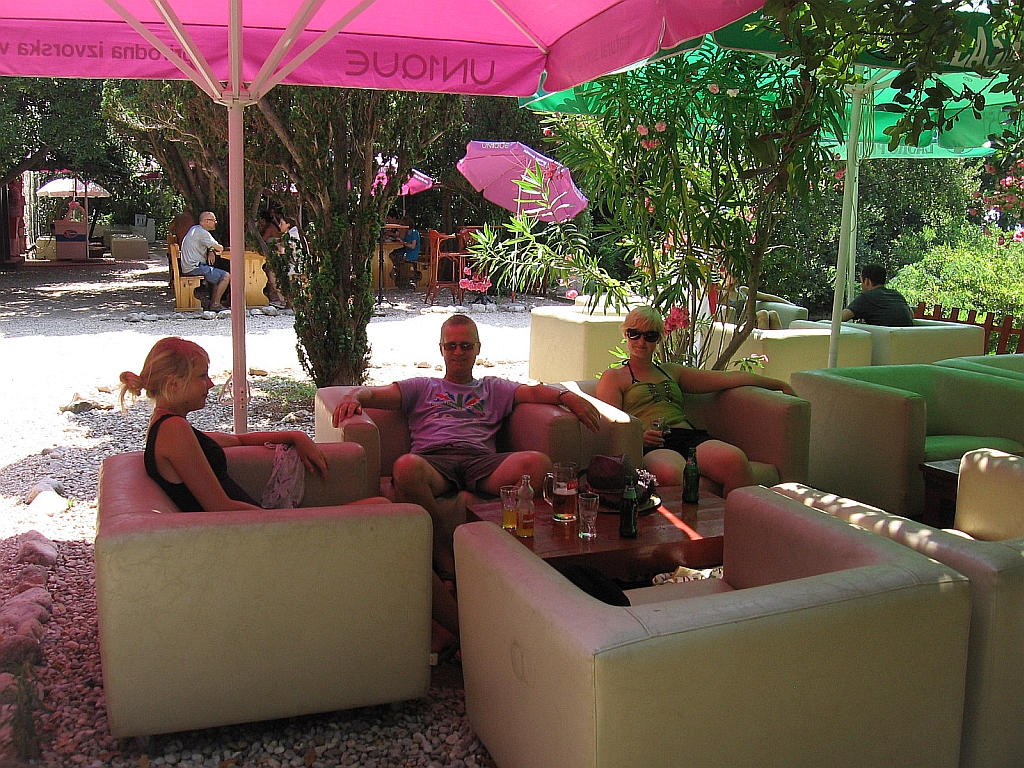 [Kev - a trip to Lokrum is well worth it. I can't remember what the ferry cost, but it wasn't much. The climb up to the fort is quite an effort, especially in the hot weather, but the view of Dubrovnik from there is very nice.]
Catch the ferry back at 2.15pm and stop at the bakery for the biggest synthetic cream cakes, which we eat in the room before going down for a swim by the little pool.
Rum and coke on balcony as we get ready.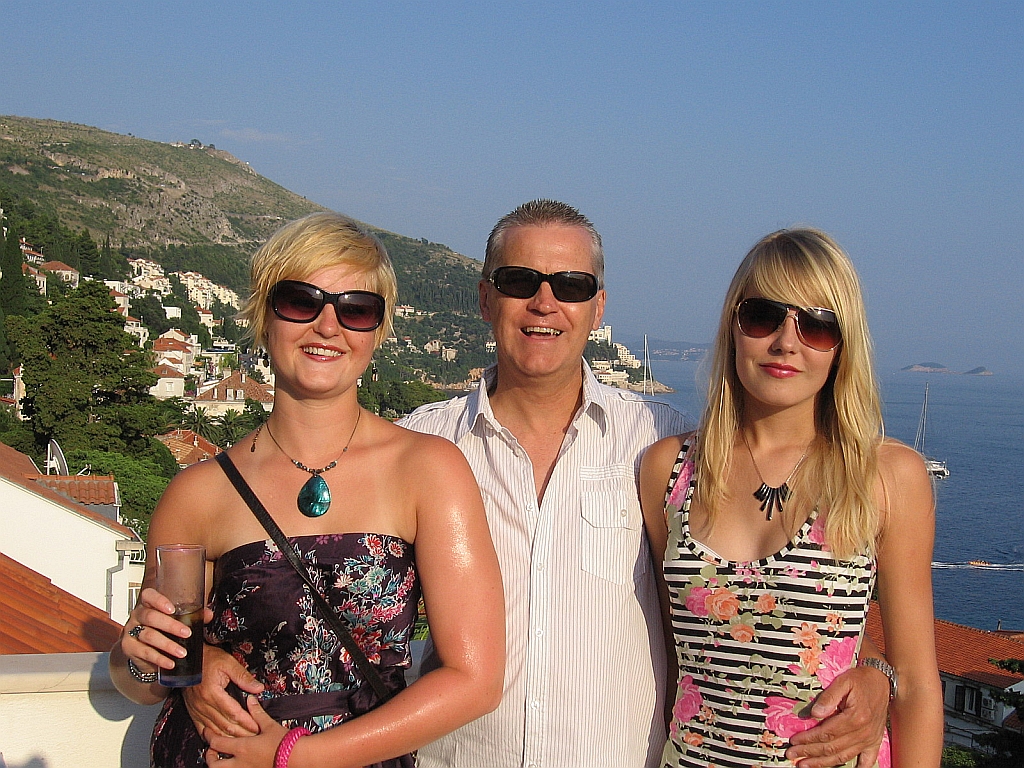 Today's mission is to find the original Buza bar – scene of my "accident" 2 years previously, We do find it and enjoy a cold beer, whilst watching people swimming off the rocks, parasailing and sailing their yachts.
[Kev - for those of you that don't know - by 'accident' Tam means jumping into the choppy seas like a total prat and knackering up her neck. Took months for it to heal properly. If you go to Dubrovnik you must visit the Buza bars. One is more 'polished' than the other with actual railings to stop you falling into the sea! But this one is also very expensive. I much prefer the more basic Buza, you might fall to your death, but the beer is cheap!]
[Kev - I nearly forgot, there are often a lot of very attractive, nicely dressed young ladies in Dubrovnik old town. As we enter through the main gate this evening there is a woman in a skin tight, short, sheer dress walking in front of us and there is nothing left to the imagination. I'm sure you'll understand how disgusted I am. I had to look away after 10 or 15 minutes.]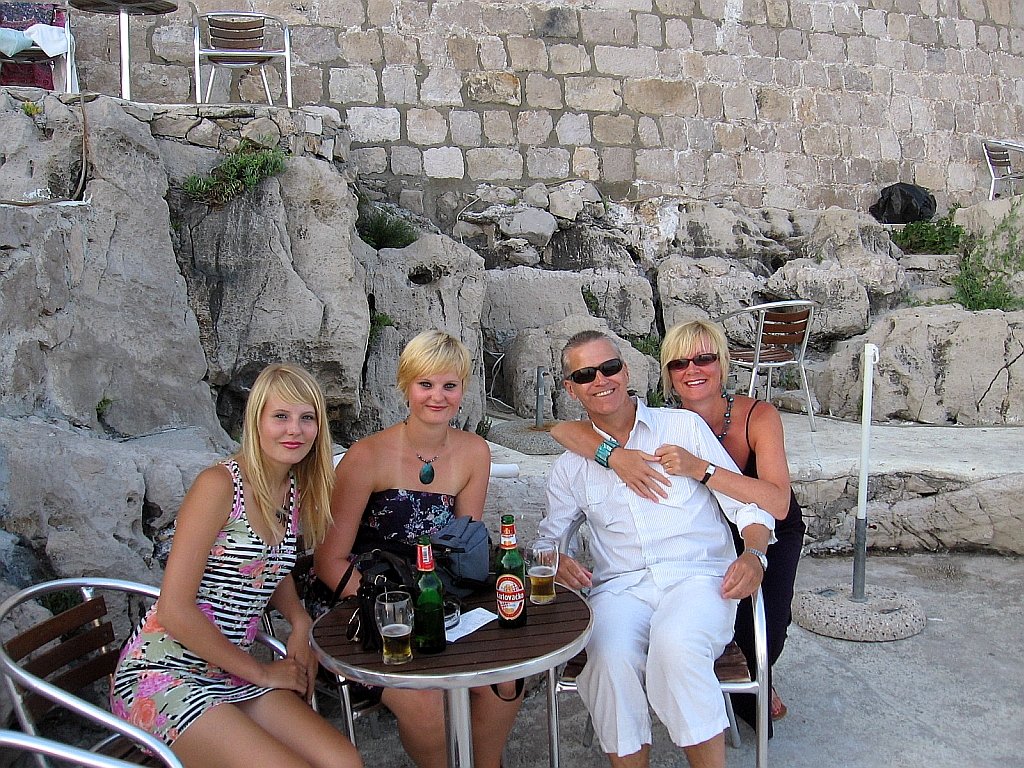 Below are a couple of photos of the 'cheap' Buza bar taken the last time we were in Dubrovnik.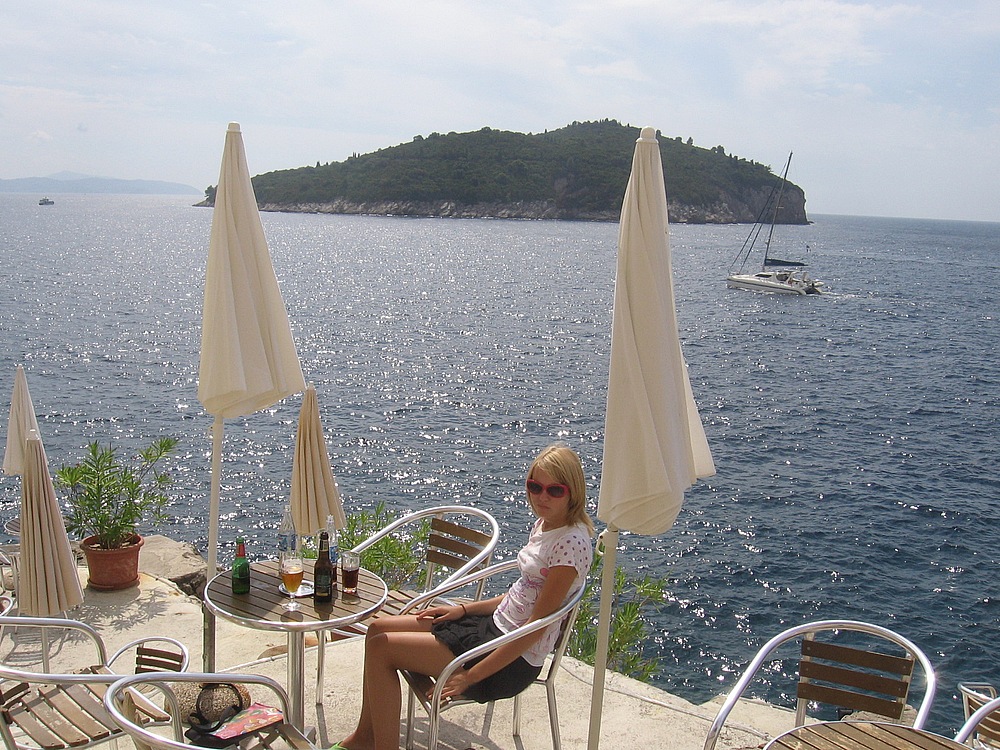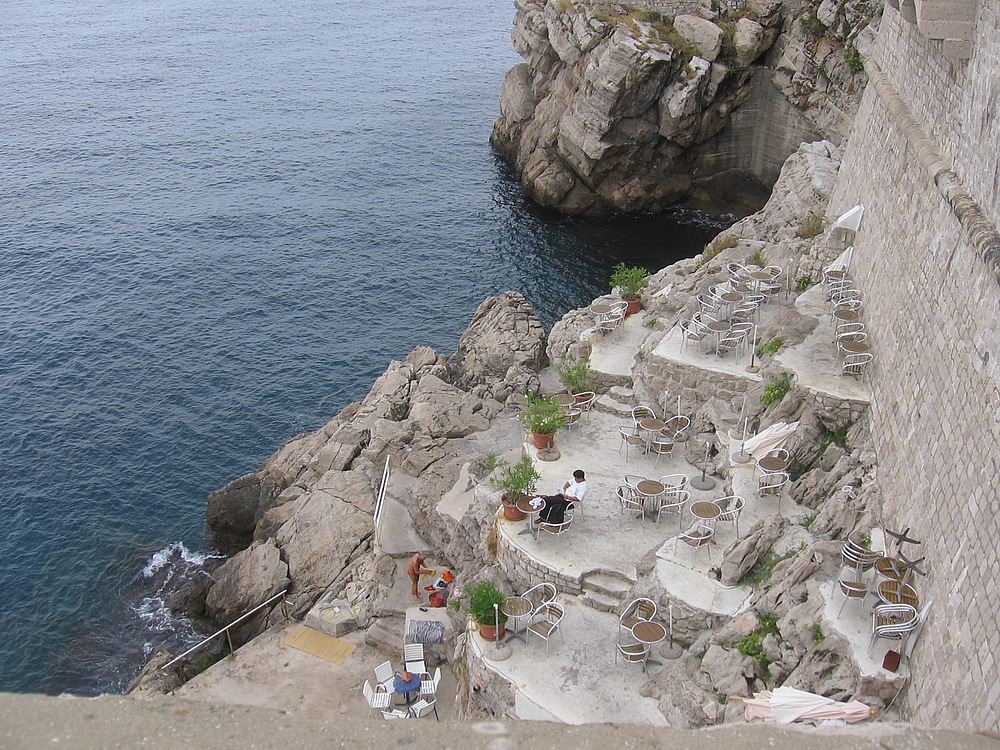 Then to Restaurant Rosarij where we share a big bowl of mussels In wine and garlic sauce and bread. India has steak which she says is cooked just right for her in a fig and honey sauce, gratin dauphinois and vegetables, Kev fillet of blue fish, potatoes and chard, Georgia chicken in a prosseco and raisin sauce and I have scampi in wine and garlic sauce (which are enormous shell on scampi – so rather messy to eat) The girls share 2 sides of fries and we have a carafe of 1 litre of red win the bill comes to 800 kuna including tip.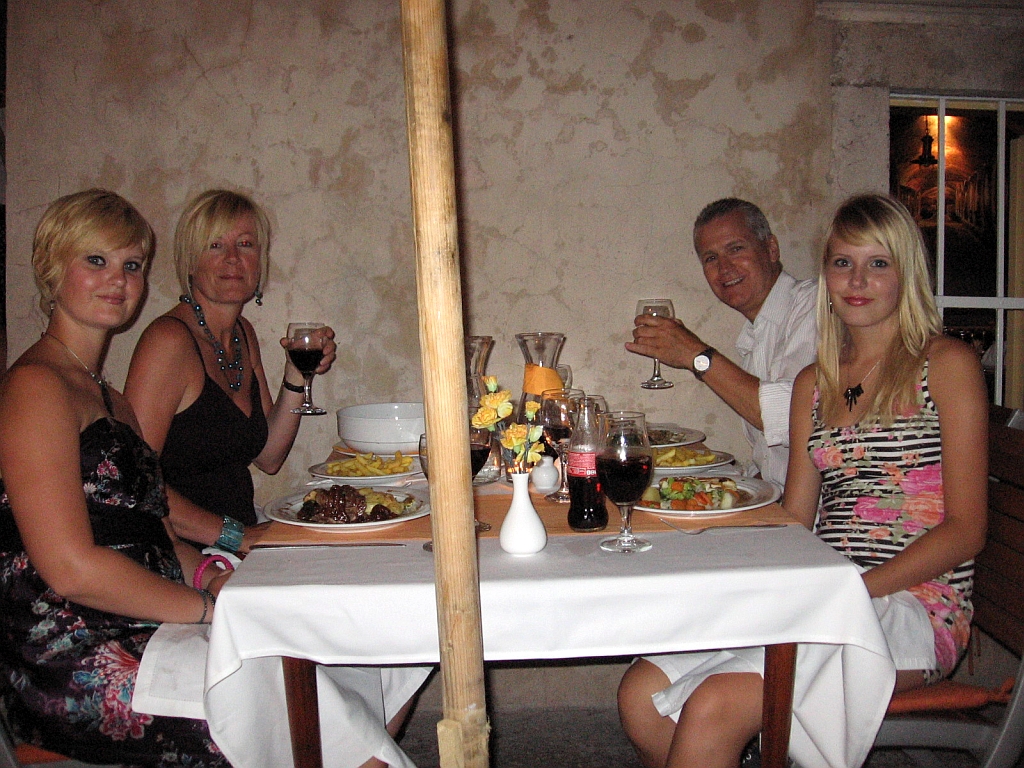 Go to La pokisar for drinks then back to the Buza bar to see it at night. Bed around 12.30