DAY 5 - FRIDAY 16TH JULY
written by Tammy
Fruit salad for breakfast then we set off on what we hoped would be a good walk around the island, but proved to be a mammoth trek of epic proportions. It takes around 45 minutes to get to the fort following the map we had. A pretty walk but quite stony.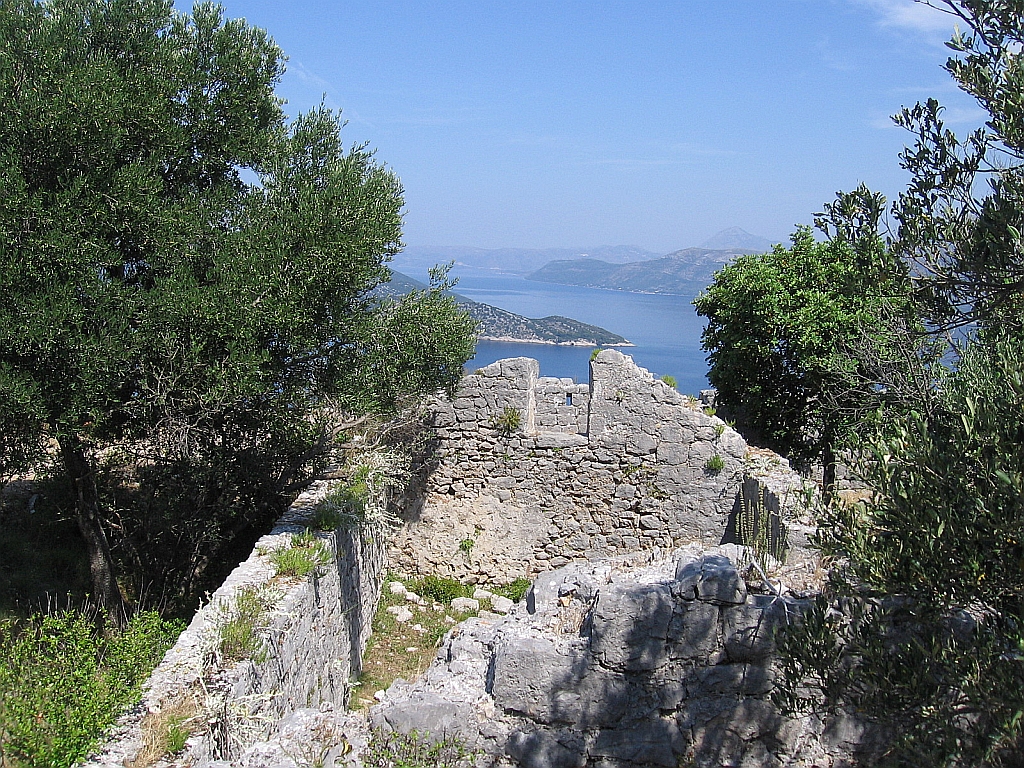 From the top of the fort there are great views of both sides of the island and terrific views looking down to Lopud village and our apartment.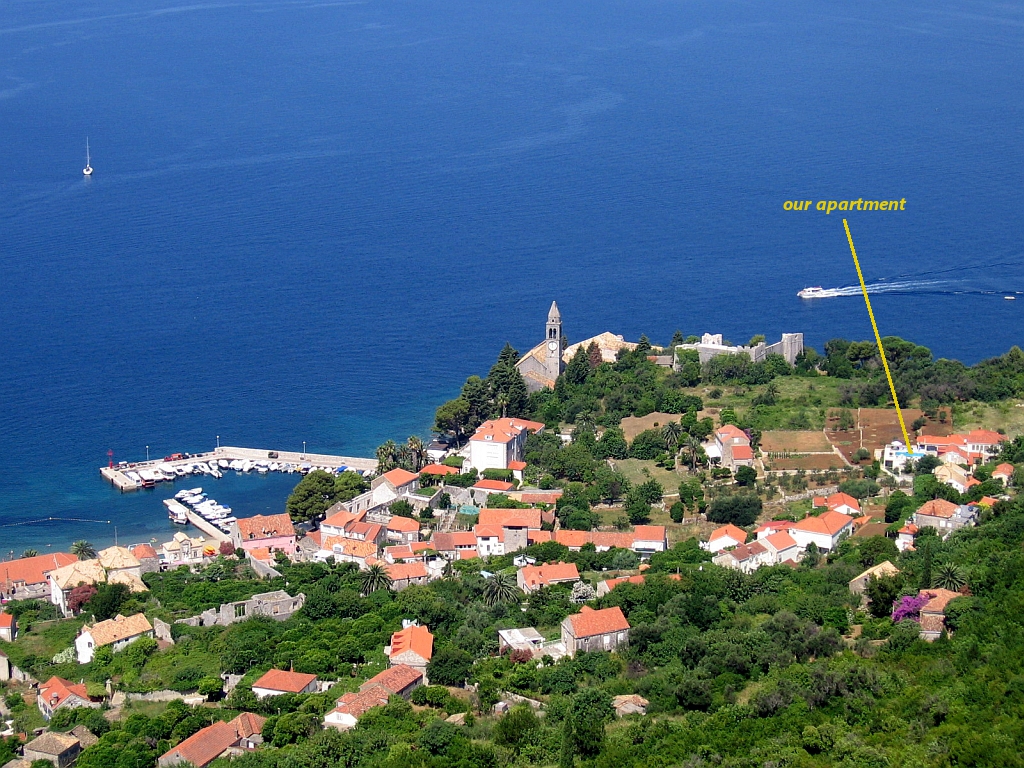 A long trek sees us re-join the main track and we pass ruins of houses and lots of tiny churches.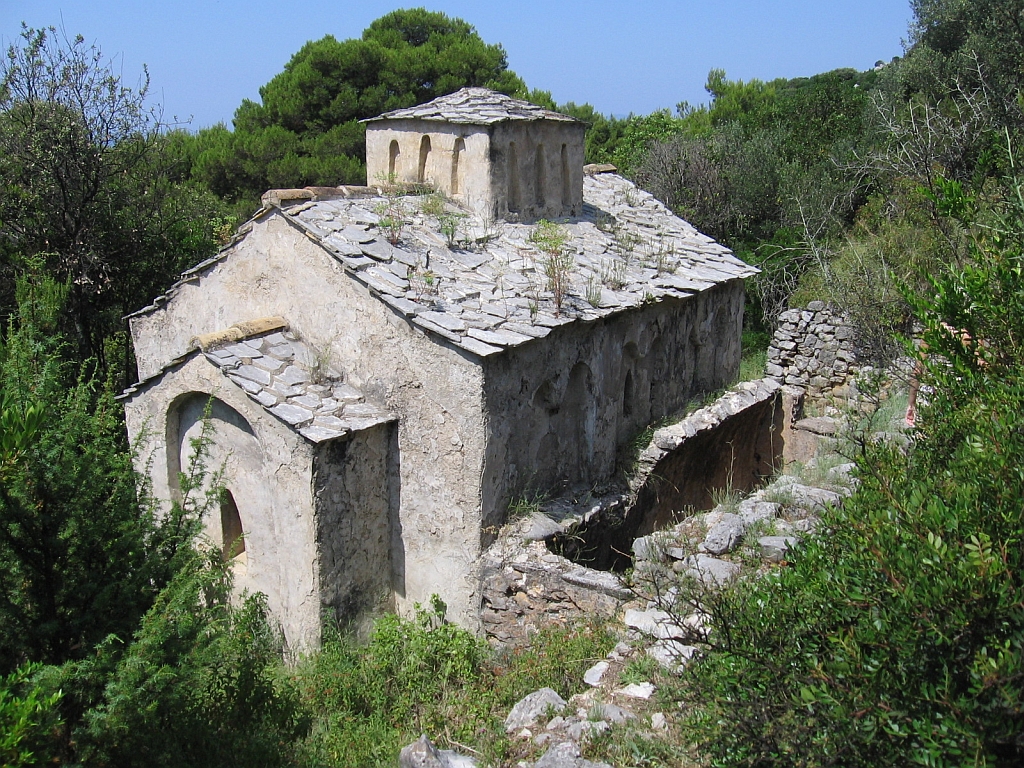 At the end of that track were large swatches of broom and loads of beautiful butterflies and then we faced a dilemma – the track branched off in two directions – the map suggested that we should take the left track but it takes us into what looks like a small hamlet of houses and peoples' gardens – these are so inaccessible it is hard to envisage anyone living here but it is obvious they are inhabited and we guess they must get around by golf cart as it just too far to walk here daily from the shop and harbour. We turn round and re-trace our steps down the track and the map suggests this should only be a short hop to the main track leading to Sunj Beach – our ultimate destination. But we walk on and on, along the stony track, through bushes, and prickly undergrowth and down small rocky steps and still we cannot see the main track. Eventually we see the mainland in the distance and the small harbour where we caught the speedboat the first morning. The sea looks really appealing and as we are by now severely overheated and in need of a cool down we would all love to take a dip but there is just no way through the undergrowth and down the steep cliffs to the sea from this point.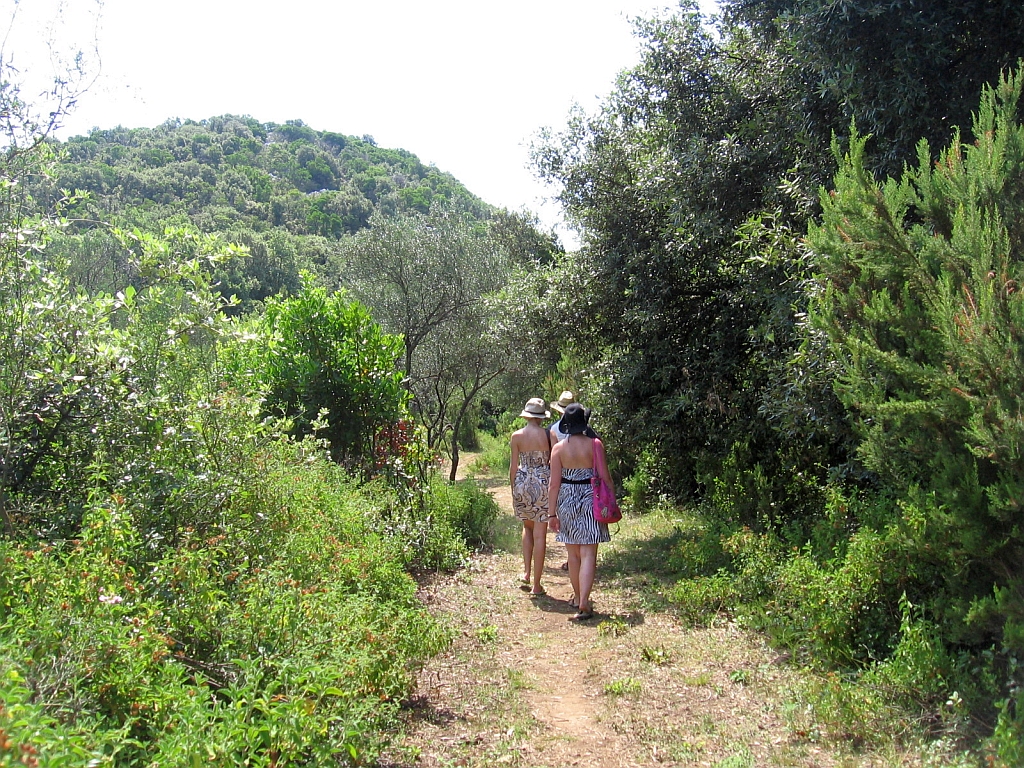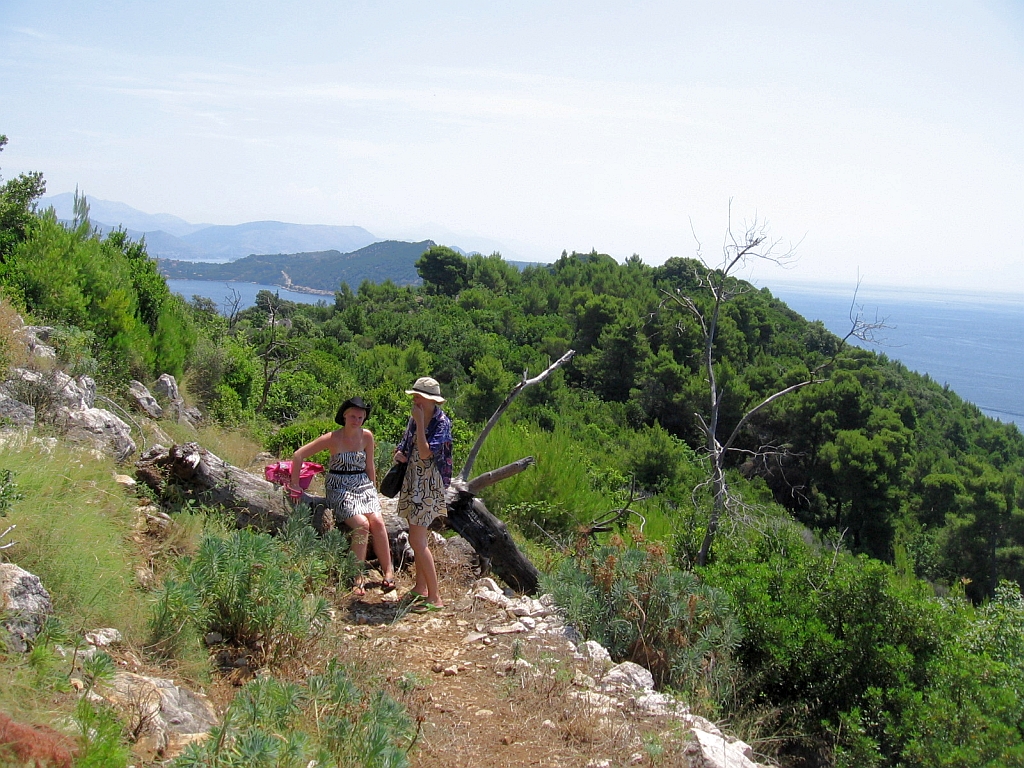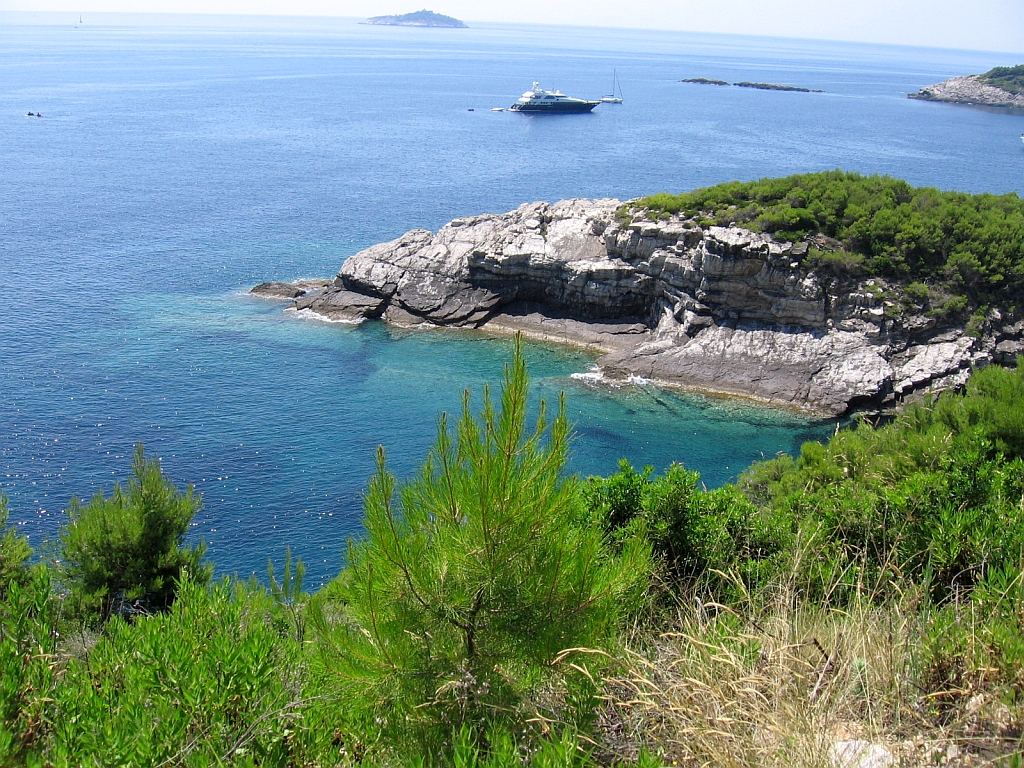 We carry on but India begins to feel ill and sick and the bottles of water are beginning to run out. We are beginning to feel very despondent about the situation when at last we see the main track in the distance and Sunj beach some distance away. We gratefully take respite on some benches (obviously strategically placed to take advantage of the stunning views – however this was totally lost on us at this point as all we could think about was shade and a cold drink). Kev is lagging behind trying to support Georgia so India and myself force ourselves onwards – the thought of ice cold water ensuring that we walk as quickly as possible. Once there, I give India some money to go straight to the bar and get a drink whilst I buy a bottle of water and head back to find Kev and Georgia. Even the exorbitant cost of a bottle of water for 25 kuna, which wasn't even cold, didn't upset me as I was on a mission to find the weary travellers and give them some liquid refreshment. Georgia was very grateful, as she had also been feeling faint and ill. Suitably rehydrated we went to meet India at the beach restaurant. We then ordered lunch and ice cold beers, which certainly made us all feel better but we decided we had enough of the sun, and just wanted to head home.
[Kev - Georgia was really quite ill. She nearly passed out several times. Tam and Inds go on ahead to get water while Georgia and I walk for 100 yards or so and then have to stop to allow her to sit down. Never has an expensive bottle of luke warm water ever been so welcome. After a long drink and the rest poured over her head she feels better.]
Being the ever-loving parents we stumped up 20 kuna each for the girls to catch the golf cart back across the island while we walk – this time we decide to time it and it only takes 15 – 20 minutes.

We take a slow walk back along the esplanade and we arrive back at the hotel it is 3pm – so we relax and enjoy the calm tranquillity of the pool before enjoying a rum and coke on our terrace.
[Kev - oh deepest joy! The fridge is fixed! Cold beer and rum!]
Tonight we decide to return to beach bar Sidro to enjoy mojito, pina colada and beer whilst watching the sunset.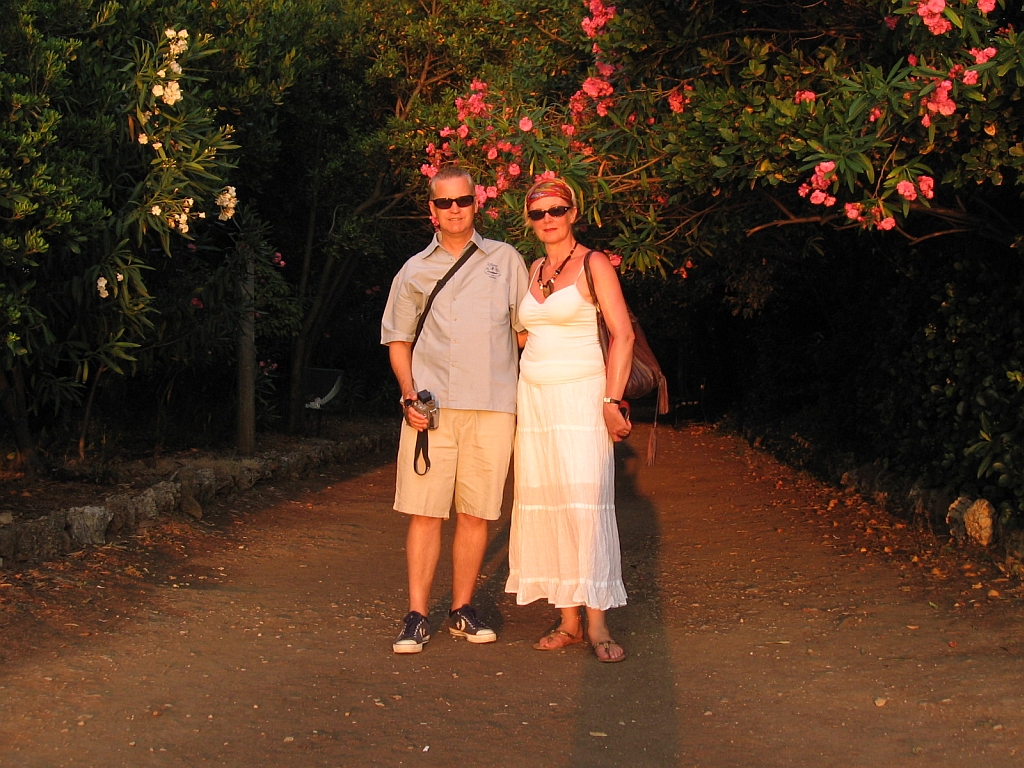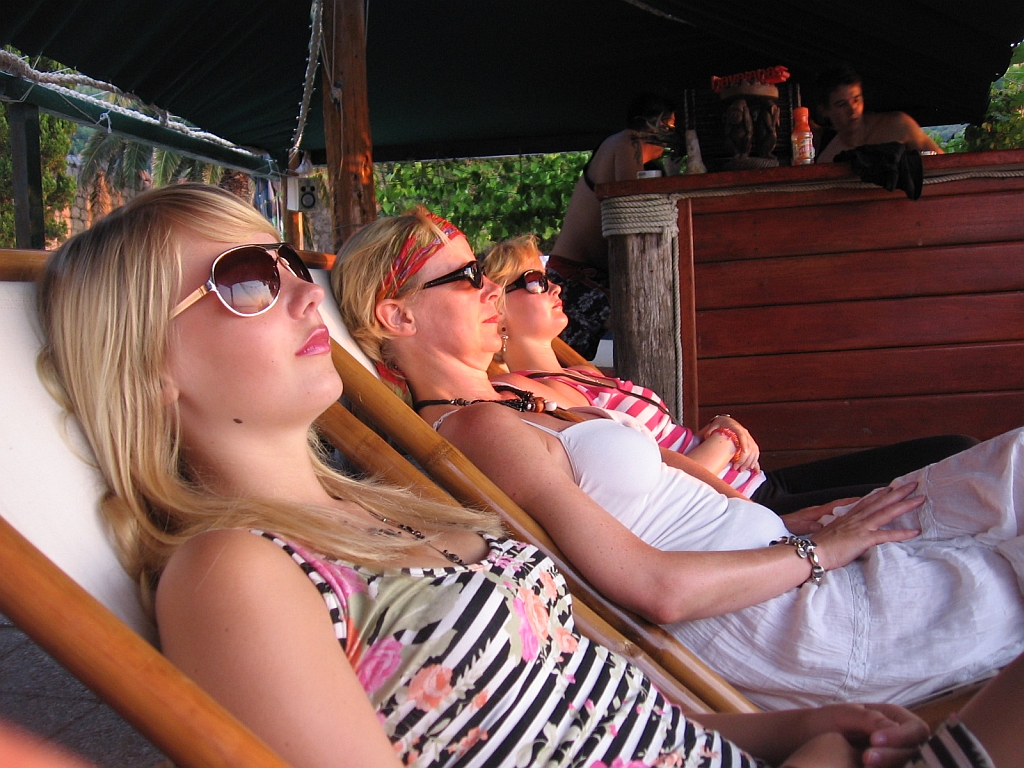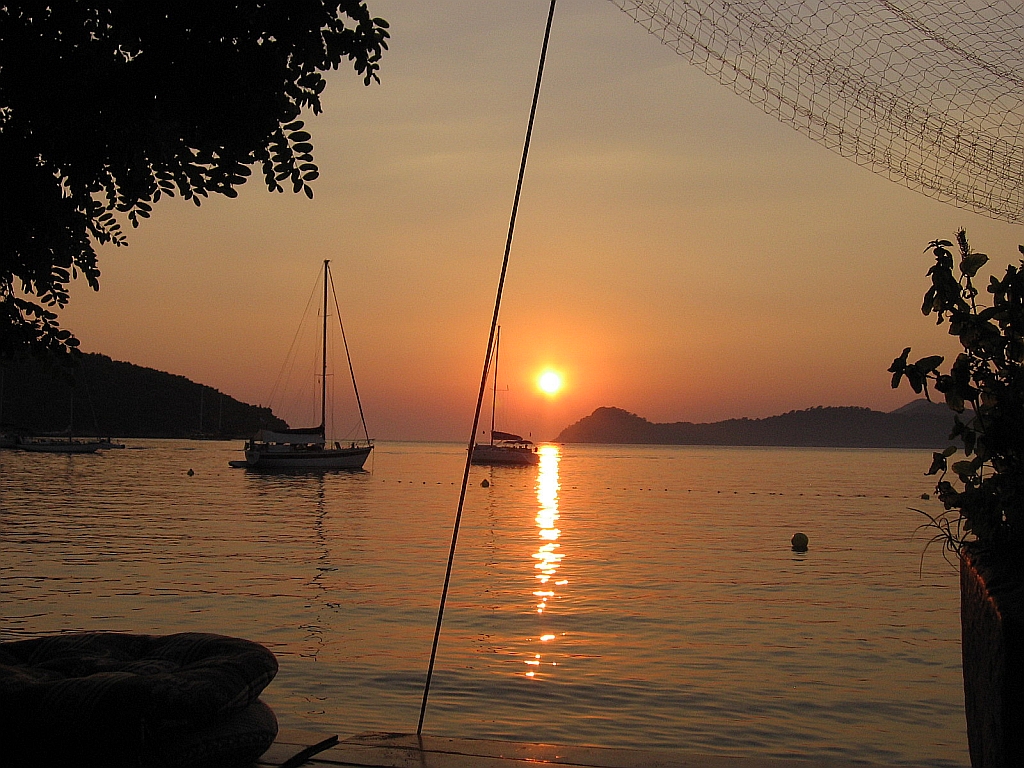 We eat at Pizzeria Anajklo – Kev and I share a large ham and mushroom and pizza, Georgia has a Hawaiian one and India a veggie option. We all share calamari sticks and tartare sauce with a side salad to start. The pizzas were good but by no means the best we have had – there doesn't seem to be enough tomato sauce on the base and the cheese is cheddar-like not mozzarella. 300 kuna was the bill including tip.
[Kev - the server at this place is very good. Tam orders a large beer while I fancy a white wine. The server puts the beer down in front of Tam and then places the wine next to me - '...and the wine for the lady' he says. Ho, flippin' ho. Later I ask where the toilet is. 'The ladies is the the door to the left'. Double ho ho!]
We wander to Restaurant Dubrovnik for 2 rum and cokes, 1 small beer and a soft drink – this comes to 100 kuna – obviously as the coke was in the small glass bottles we have been charged significantly more than normal.