DAY 3 - WEDNESDAY 14TH JULY
written by Tammy
We all sleep well and India is up for a swim before breakfast.
[Kev - well, I could have done with another hour or so. The Dutch people upstairs are moving around early and by the sound of it they've left their clogs on.]
We then meander to the harbour and trek across to Sunj Beach. It is a beautiful walk across the island, but quite hard work especially with the sun beating down. Sunj beach is a beautiful cove with 2 beachside cafes, sun beds for hire. We decide to hire 4 beach beds and a large umbrella, which cost 140 kuna.

The beach is lovely and shallow surrounded by pine clad hills and no buildings anywhere in sight. We have lunch at the right hand beach bar and sit looking down at the beach. Burgers were 20 kuna, ham salad, tuna salad – each at 15 kuna and ham and cheese sandwich 18 kuna were enjoyed with 2 sides of fries, 2 pina coladas (not the lovely cream cocktails I was expecting more like shots of Malibu with a tiny splash of mixer), Kev enjoys a chilled beer and Georgia a coke. We then have a margarita and a large draught beer – the total comes to 260 kuna including tip. We found this a lovely place to eat with great service and it was wonderful to leave the heat of the beach and sit under the shade just enjoying the views.
[Kev - I agree with Tam, it's lovely to be in such a peaceful place with no cars! It means a spot of walking, but it's well worth it. It's also great to have no buildings (other than the beach bars) to spoil the view.]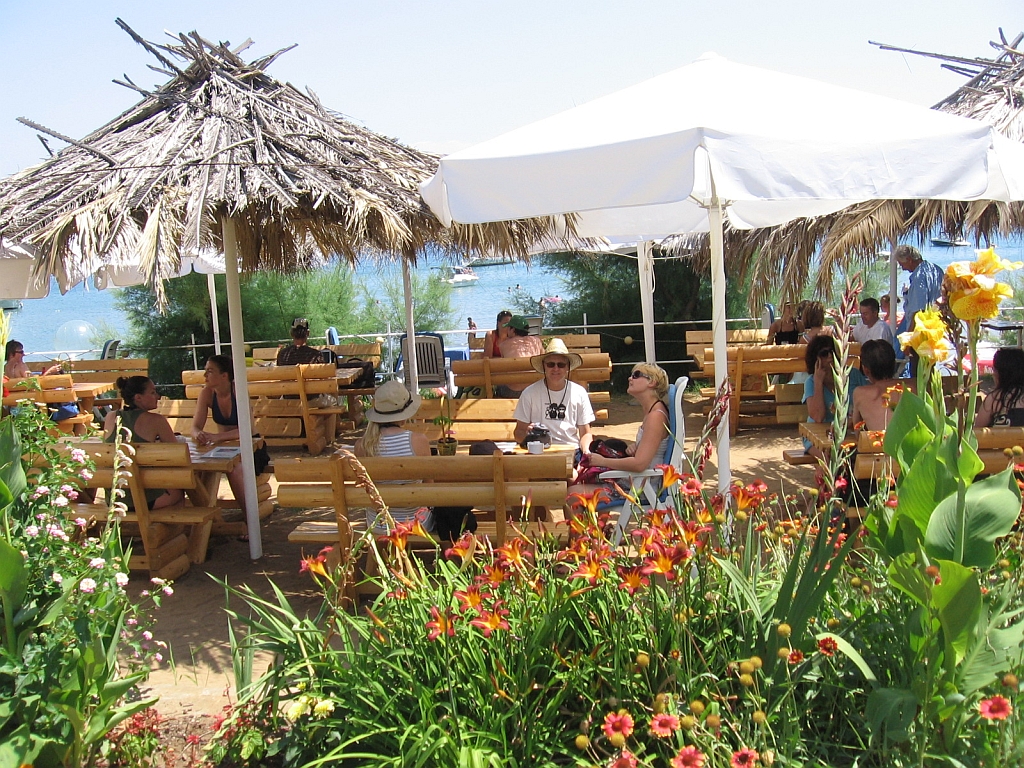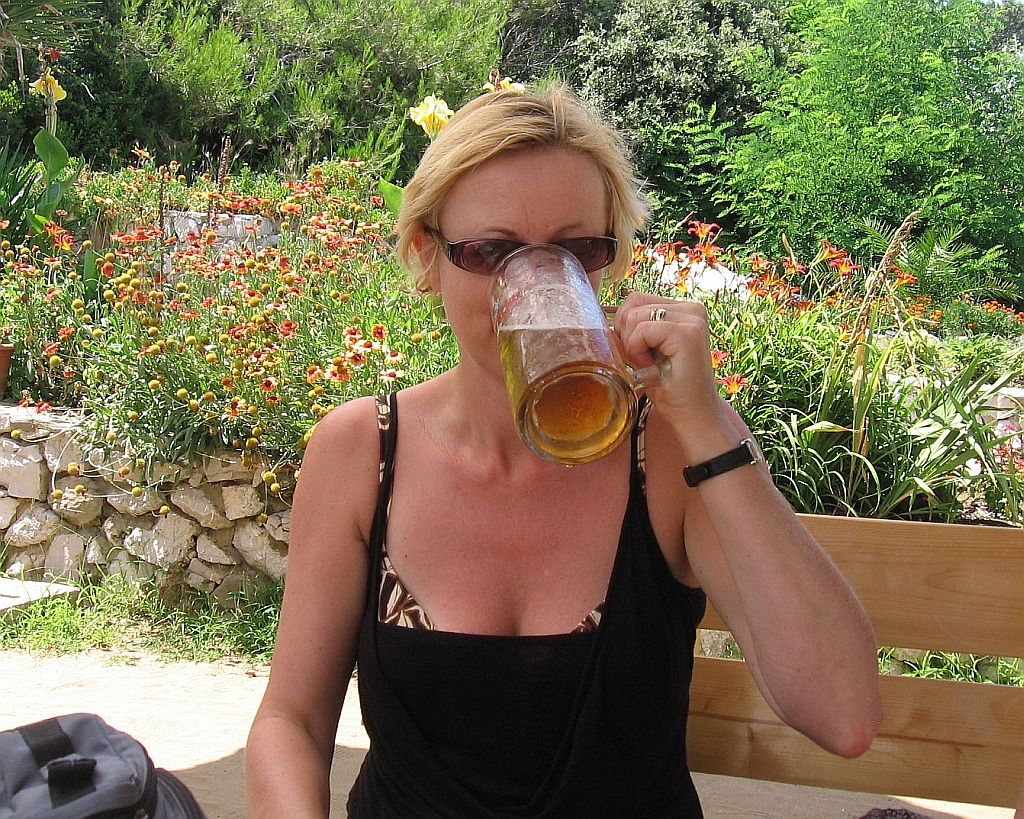 [Kev - Hey! Hang on, half of that is supposed to be mine!]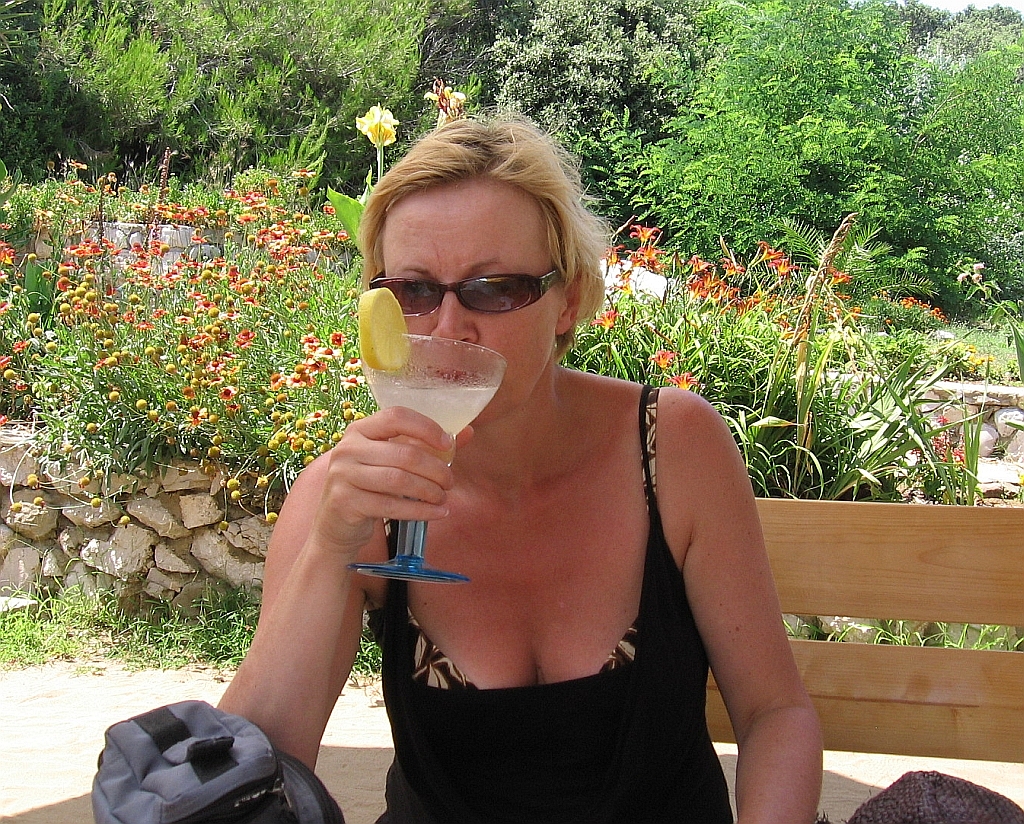 [Kev - there's no stopping her now. An afternoon of snoozing in the sun looks very likely after this lot.]
We go back to our sun beds to chill some more. There are also banana boats, kayaks and a hydro ball thing to hire for those who want to enjoy more active pursuits. As the day progressed lots of yachts moored in the harbour and people swam to shore to enjoy the beauty of the beach and its surroundings.
We decide to head back, but this time instead of following the track that the little golf carts take we found the track through the woods, which means that some of the walk home is in the shade, which was a welcome respite from the heat.
We relax by the pool with rum and coke while the girls swim and then get ready to go out. Our plans were to eat in Villa Villina restaurant or on the terrace but the place seems to be overrun with children so we decide that it would be best to give it a miss on this occasion.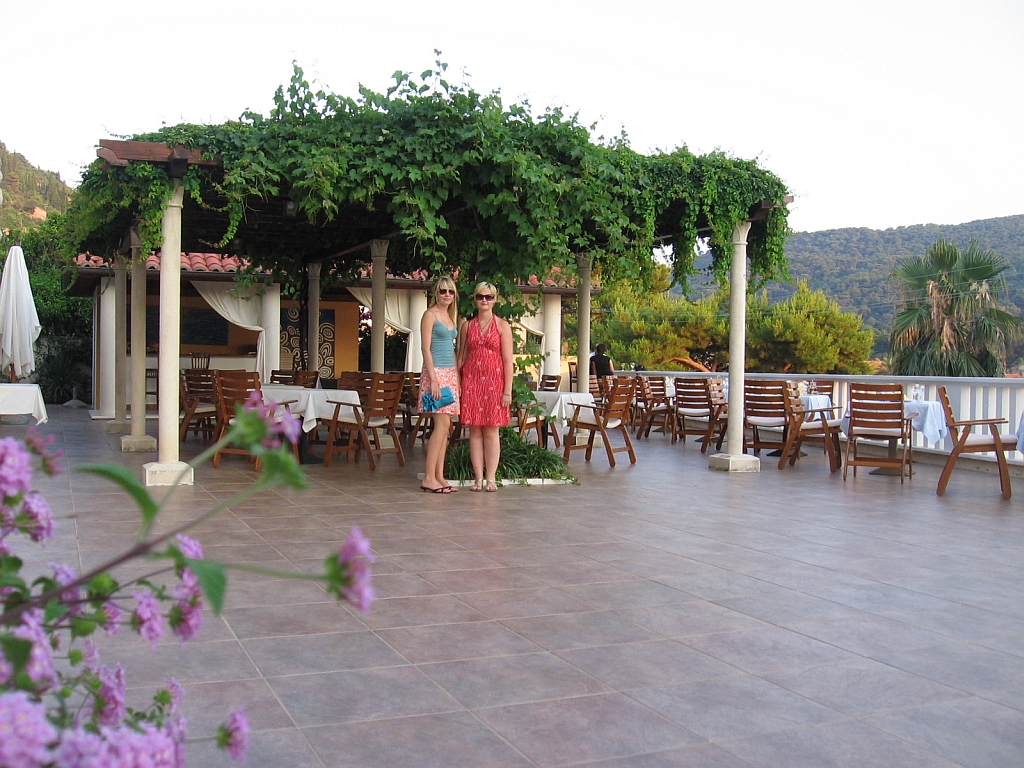 This is the terrace on a quieter evening
We find the restaurant Obalsa on the harbour front where we are all given a taster of fish pate and cheese with bread and salad.Georgia then has scampi risotto, India has mushroom and truffle risotto (both of which were starters but were plenty big enough for them), Kev has a shislack – beef, chicken and pork skewer with large chips/roast potatoes, tomato/pepper sauce and roasted vegetables – a real plate full. I have chicken in gorgonzola sauce with gnocchi and carrots and courgettes – all very tasty. The funny thing we found was that the menus are all very basic so when you order you have no idea of all the lovely things that are included with your choice but we were pleasantly surprised by our meal. To top it off we all then have a complimentary glass of limoncello mixed with lemon sorbet – which was a nice touch. Total bill 790 kuna including the tip.
[Kev - I very much enjoyed this meal. If you get there early (or book) you can have one of the tables directly by the waters edge.]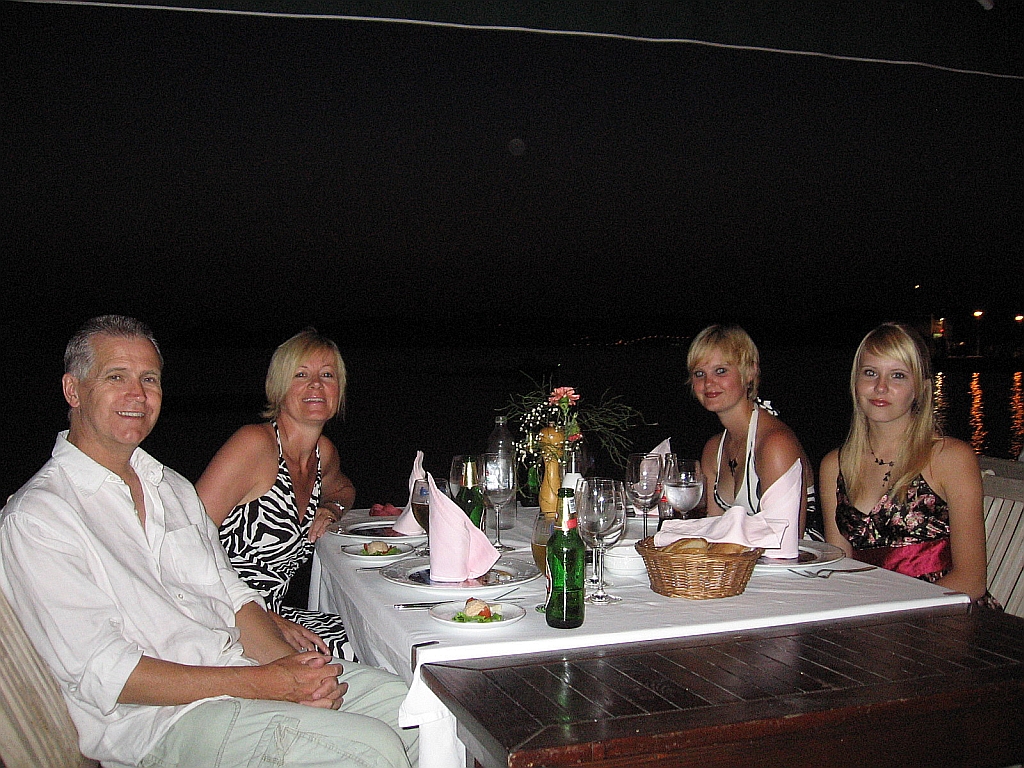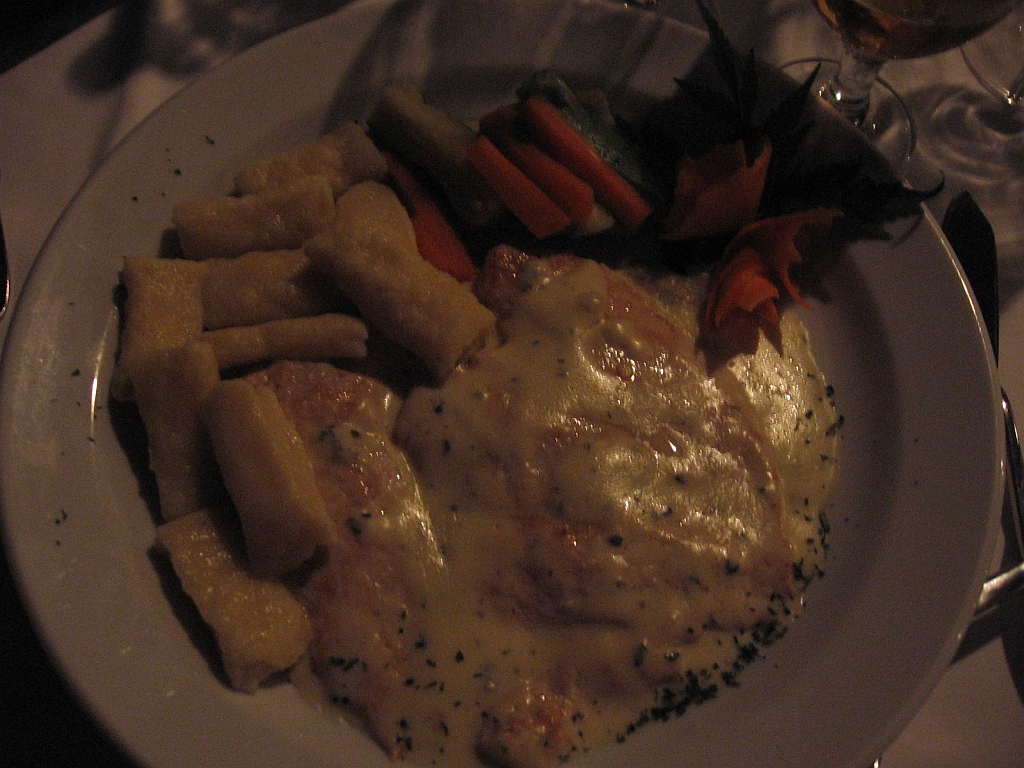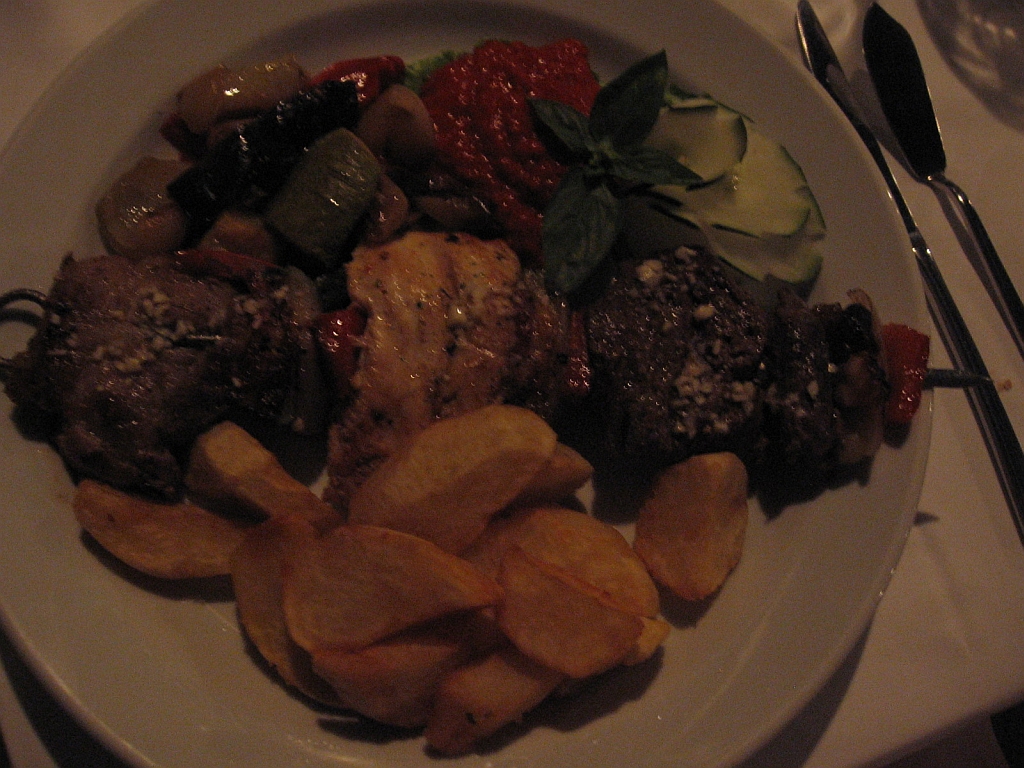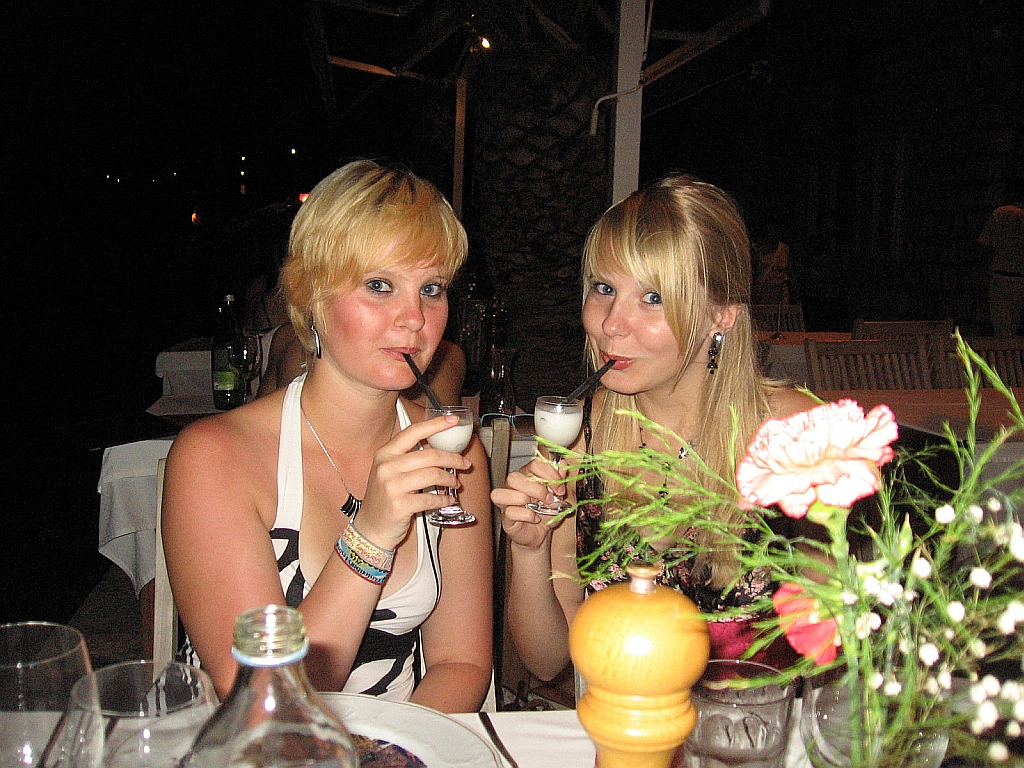 Whilst eating the sea suddenly got much rougher for no apparent reason. We also noticed strange phenomena in that the small sliver of moon got deeper and deeper red as the night progressed and then disappeared. Another amazing sight was that of a diver coming out of the sea with a bag of fresh fish, scallops or similar which he delivered straight to the restaurant's kitchens – this proved that the fish simply couldn't be any fresher here
Wander back to hotel bar but decide to go back and sit by the pool – this was later proven to be a bad move as the many insects we watched flying over the pool decided to enjoy us for their dinner and we all got bitten that night.
[Kev - Tam has forgotten to inform you of the big disaster waiting on return to the room. The fridge has packed up! No ice for de rum! Off to bed sulking.]