DAY 2 - TUESDAY 13TH JULY
written by Tammy
Up at 3.45 am - a restless nights sleep for everyone and we question the merits of staying in a hotel the night before – however at least we don't have the worries of travelling on the same day as the flight and all the problems that can incur. Also without doubt we would still have a relatively bad night sleeping at home with worries of getting up on time etc. etc.
[Kev - a restless nights sleep? I should think so. Tam wiggles non-stop. At one point I count the time between wiggles (there was nothing better to do) and it's 20 seconds. Not a good night thanks to the 20 second wriggler. Hmmm ..... that could be Batman's next arch-enemy - The Wriggler]
Anyway after a quick cup of coffee and a cereal bar in the room we drive to the Short Stay Car Park – where we had already booked a great deal to park for the duration but at a great rate. To Easy Jet check in and just have to do bag drop as we have already booked in on line the day before. A quick shop in duty free and we manage to nab 2 bottles of rum to enjoy and some sweets – these were funded by my World Cup lottery win – "thank you Spain"
To gate at 5.15am and take off at 6.35am nearly ¾ hour late. Uneventful flight – passing over Germany, Austrian alps and then down the Croatian coast over lots of gorgeous islands – including Lopud which we recognise because of its distinctive bow tie shape. Land just after 10am and find Dubrovnik airport to be modern and efficient – meaning we pass through passport control, baggage reclaim and customs in no time.
We are met by our driver who loads our luggage into a mini van and then drives us along the coast road past Dubrovnik and then off a slip road to a small bay with a jetty. There we get on the speedboat that we had booked via the Hotel Villa Villina. What a great journey – speeding through the water – sun shining, blue sea and seeing the beautiful island of Lopud getting ever closer – we all agree that the €120 was definitely money well spent as it was surely the best way to reach our destination.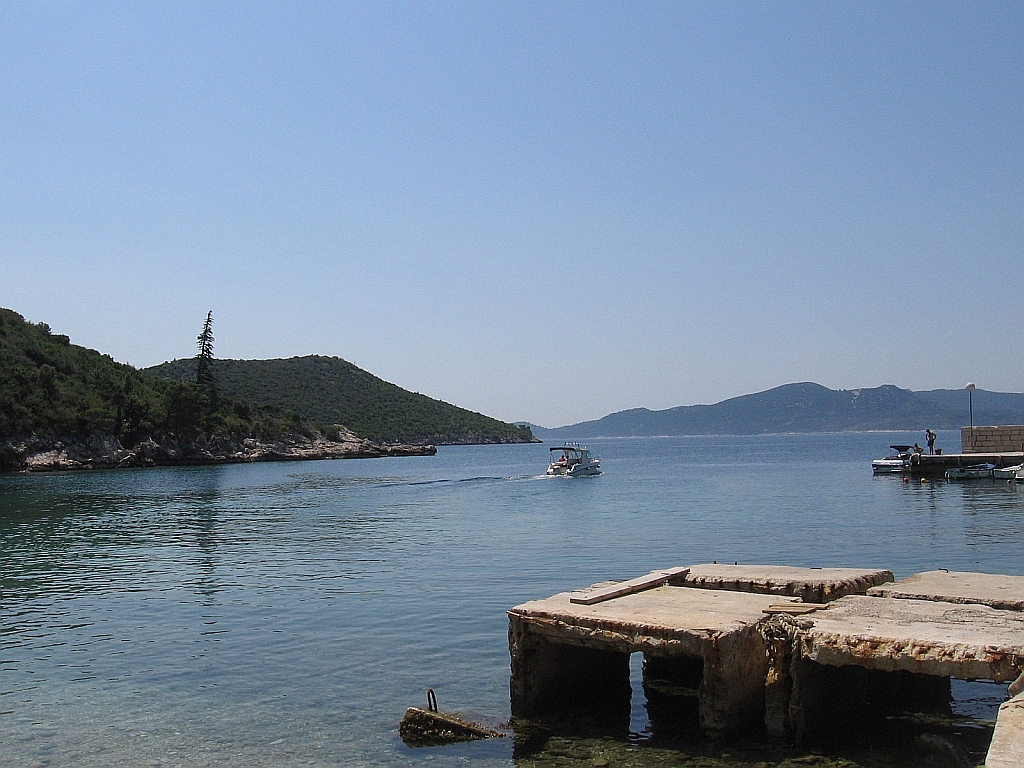 We haul cases up the small cobbled road and the very steep steps to Hotel Vilina and we are told our apartment will be Miho. Unfortunately it is not ready yet and we are not surprised as it is still very early. We chose to sit in the shade of the beautiful vine clad terrace enjoying the stunning views over Lopud bay and listening to the insects – which were the loudest of any place we have ever been. We then meander up to the apartment block which sits to the back of the hotel right by a beautiful pool and sun deck – the church bells chime midday and we really couldn't be in a more picturesque unspoiled setting. It makes us think that so many places must have looked like this did before the ravages of commercial tourism turned them into high-rise concrete jungles.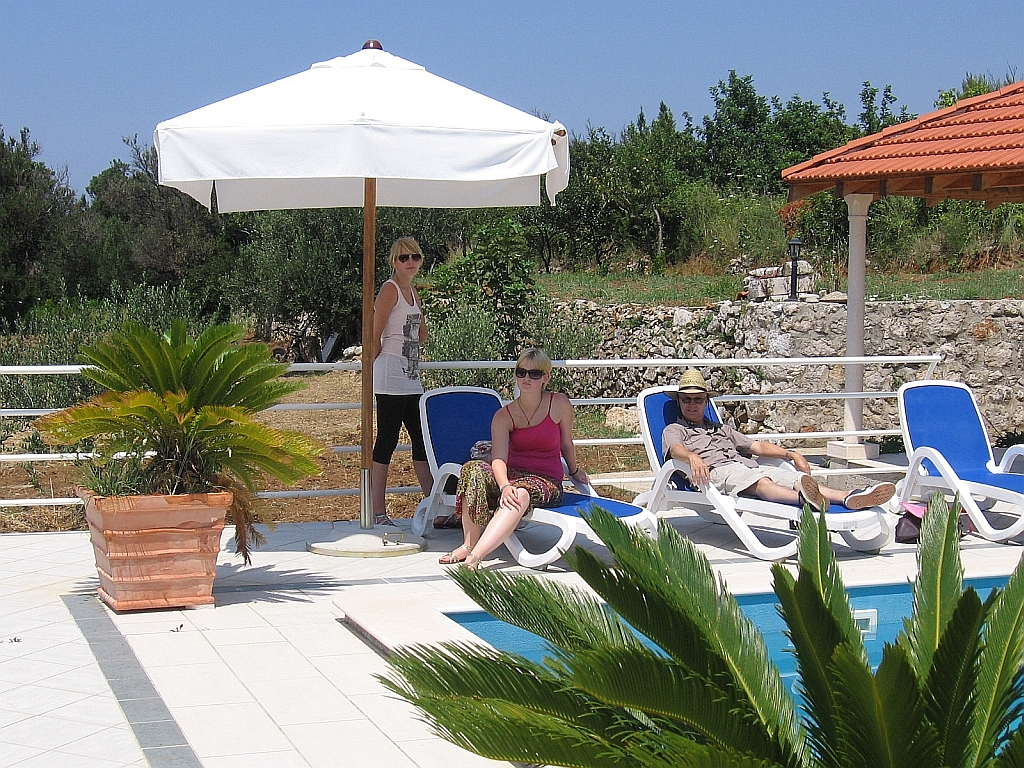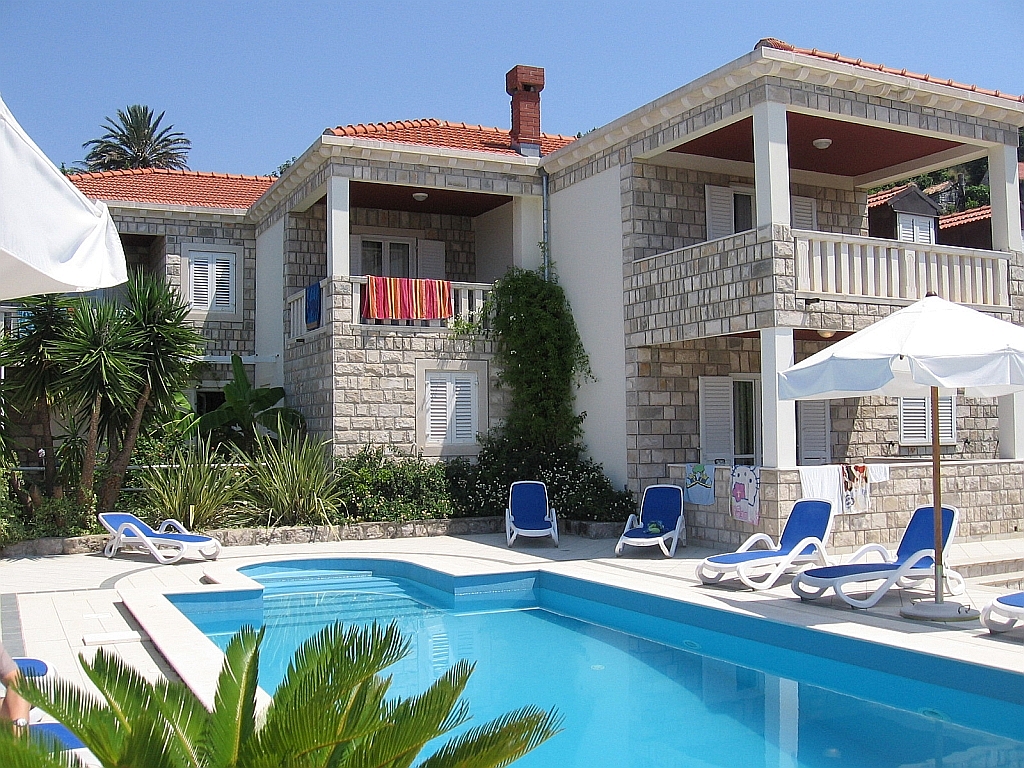 The apartment is ready at 1pm so we get in and unpack. Having not seen any real pictures of the apartment before we are struck by quite how small it is. Our bedroom is fine but the main sitting/kitchen is really small and we have a job to skirt around the sofa bed to get to the bathroom. Also we have never had to cook in a kitchen in a cupboard – which it quite literally was! It also seemed to be relatively dark due to the fact there are only the patio doors giving it any light – however I guess this helped keep it cool, together with the fact that there was a decent air conditioning unit. However, on the plus side we are on the ground floor and our patio area is just steps away from the pool – which is surrounded by very comfortable sun loungers.
[Kev - there are a couple of Dutch families occupying two of the apartments and they seem very friendly, if a little noisy. Their young children enjoy splashing around energetically in the pool, which is a bit of a pain when you are trying to have a relaxing time, but they are just having fun. Let's face it, they have to put up with me in swimming shorts - that's enough to frighten anyone.]

The view from the pool deck
After slipping into cooler clothes and unpacking we decide to go and explore. Having investigated various dining options on the internet previously, we had a good idea of where we wanted to try and where they were situated – so armed with all the information we went in search of somewhere to eat lunch. We ended up at Restaurant Barbara, which was on the lane leading across the island to Sunj Beach. We settle on a selection of ham, bread, half cow/half sheep cheese and mixed salad – which was very basic and not that great. We then shared waffles with fruit – which didn't look very appetising and didn't taste much better – total cost 251 kuna (at the time of travel £1 bought nearly 9 kuna) – however this was made infinitely more palatable with the addition of iced cold Ozuksko Pivo beer for us adults and real lemonade and Fanta for Georgia. The real lemonade seemed to consist of just lemon juice in a jug of water with a small bowl of sugar available to taste – however nothing could prepare us for the sharpness of this.
[Kev - I can't recall anything really memorable about this meal at all - there are other nicer restaurants on Lopud.]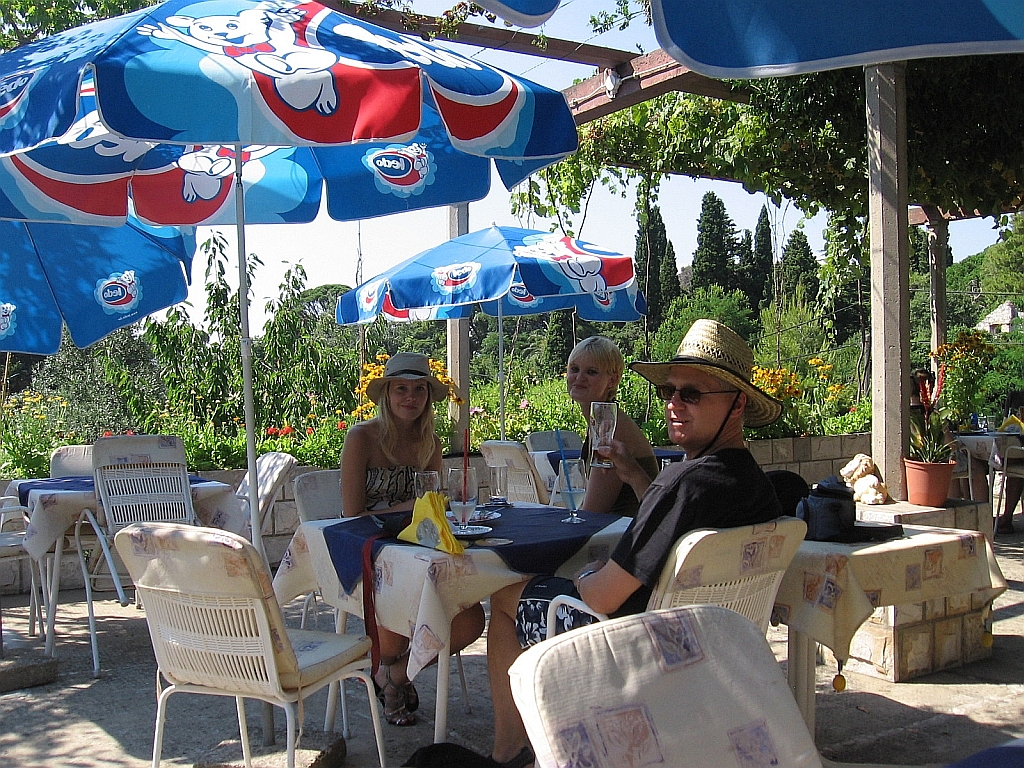 At 4pm we head off down to the harbour and walk along the esplanade. Lopud doesn't have any roads – the only method of transport apart from feet and bicycles are some little golf cart type things – which makes it so pleasurable. We find a small supermarket and buy coke (for the rum), beer, Fanta, milk and cereal –not cheap at 230 kuna.
Back at the apartment we swim and relax in the glorious sunshine before getting ready to go out for a meal.
[Kev - at one point India exits the pool by flopping the top of her body onto the edge of the pool then swinging her legs around rather inelegantly. When I comment on this she tells me it's how all the Hollywood stars do it. I'm not sure I believe her]
We go to Peggy's Restaurant, which is literally up a small lane by the side of our apartment – reached by some steep steps.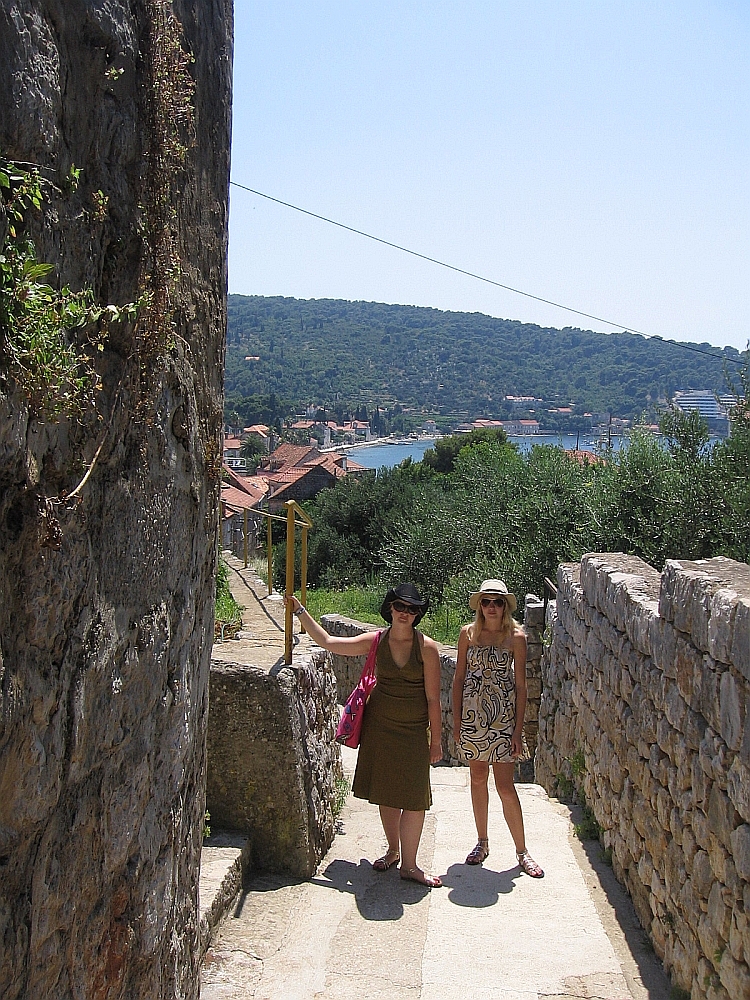 This was one of Kev's finds on Tripadvisor and lived up to expectations with seating on a large terrace with a large wood fired pizza oven and great views down to the harbour. We were given a small shot glass of liqueur, which was very citrusy. We had a job to identify it but later when we asked we were told it was mandarin We ordered cheese in oil to share for starters. This proved to be very different to the poor offering at lunchtime and was served with lovely bread, pickles, tomatoes and a side salad each. Kev and I enjoyed grilled sea bass with boiled potatoes and swiss chard (both of which seem to be staple vegetables in Croatia). Georgia had turkey fillet in sauce with potatoes, India pork medallions with mushrooms with potatoes and rice. We also had a carafe of house red which was very drinkable. Georgia decided she had room for pudding and had chocolate pancakes. All in all it was a very enjoyable, relaxed meal and we left at around 11pm.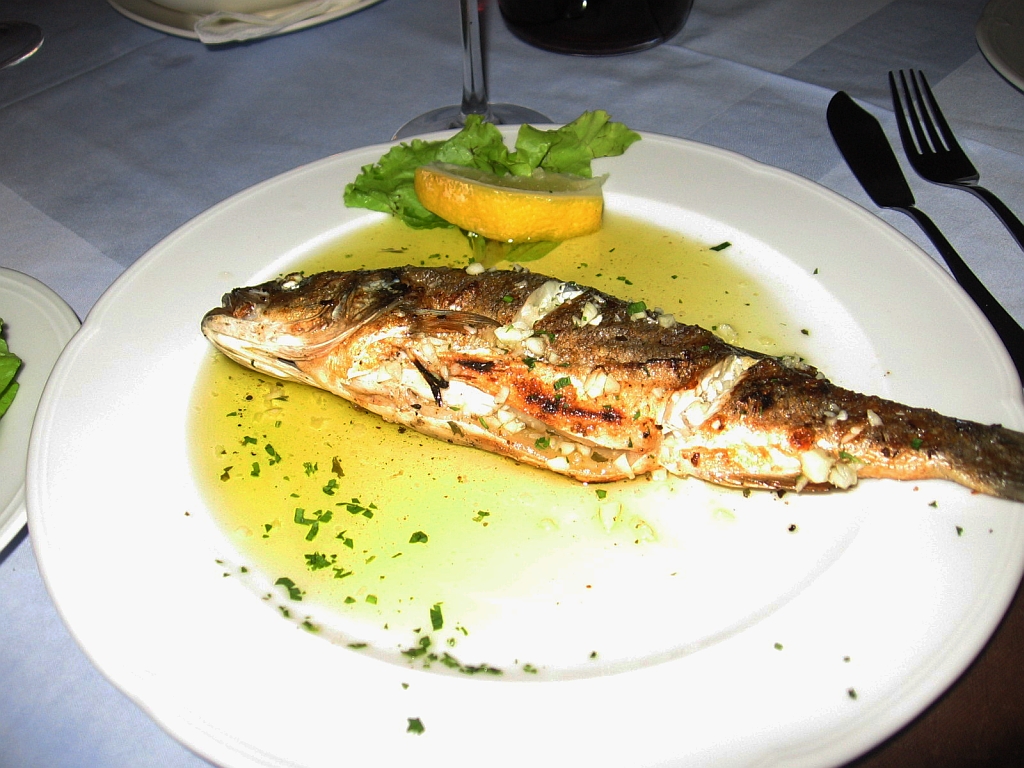 We had a wander down to the harbour, which looked fantastic and made us truly appreciate the beauty of this place with no traffic noise spoiling the tranquillity. Back to hotel for a beer on the terrace of the hotel before bed.