DAY 5 - WEDNESDAY 21st AUGUST 2013
Written by Tam
Up at 7.25am as the alarm that we had so carefully set the night before failed to go off. Join the already alarmingly long queue for tender tickets and end up with ticket no. 28 - unfortunately not 28th off the ship but the 28th tender. Anyone failing to get a tender ticket must surely spend most of the afternoon just waiting for their number to be called and as we only have half a day until 10pm, this must really impact on your time touring.
We decide on coffee and a sticky bun at Cafe Al Baccio followed by some fresh orange juice and a banana.
Find a lovely lounger up on the Solstice Deck where it is nice and peaceful..... that is until two ladies find the adjoining seats and state "let's stay here it's so lovely and quiet" - well that was true until they proceed to talk in raised voices for the duration. Haven't they heard of indoor or "deck" voices?
It's pretty blowy up on deck today so at 12 noon we go to the Opus dining room and split short ribs, fries and coleslaw and udon noodles with beef and shrimp - all very tasty and I accompany mine with a very lovely Beringer White Zinfandel whilst Kev enjoys a rather classy glass of Coke.
We return to the cabin to watch our approach to Santorini from the balcony Some guests who have shore excursions are tendered off, then we continue to the port of Fira. Disembarkation for passengers who are doing their own thing starts at around 2.15pm but it seems really slow so we take advantage of the delay and enjoy a Bali Hai and a rum and coke from the bar.
Eventually at 2.45pm our number is called and we tender over to the port. We had read about a speedboat that is available from the port to take you straight round to Oia. As this would save the time having to queue for the cable car, donkeys or having to walk up the steps and then catch a bus we felt this would be €20 each well spent with the additional advantage of getting there before bus loads of other tourists getting off the ship.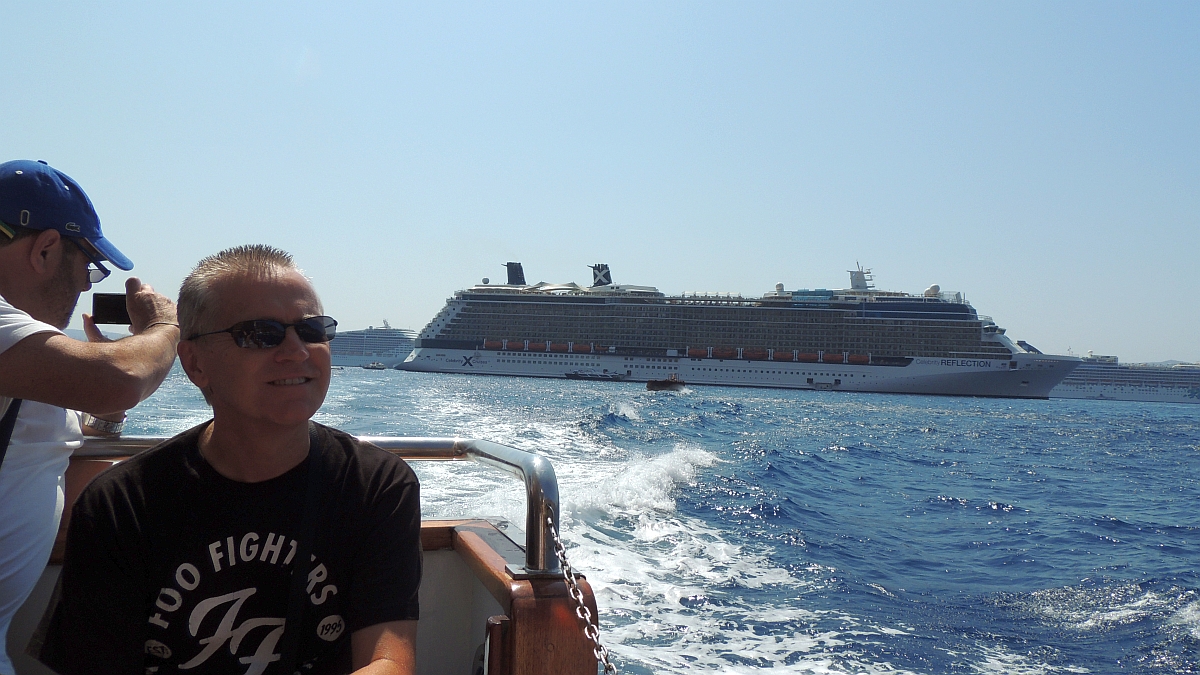 Having purchased our tickets it's just a short wait until the boat arrives - we get a seat on the open top deck and enjoy the invigorating ride over to Oia. What a lovely way to arrive and you certainly get a different view of it looking up from the sea. When we get off we are amazed to see all manner of vehicles going up and down to the harbour - the road is lined with parked cars but the taxi and bus drivers are quite happily manoeuvring between them with little room to spare.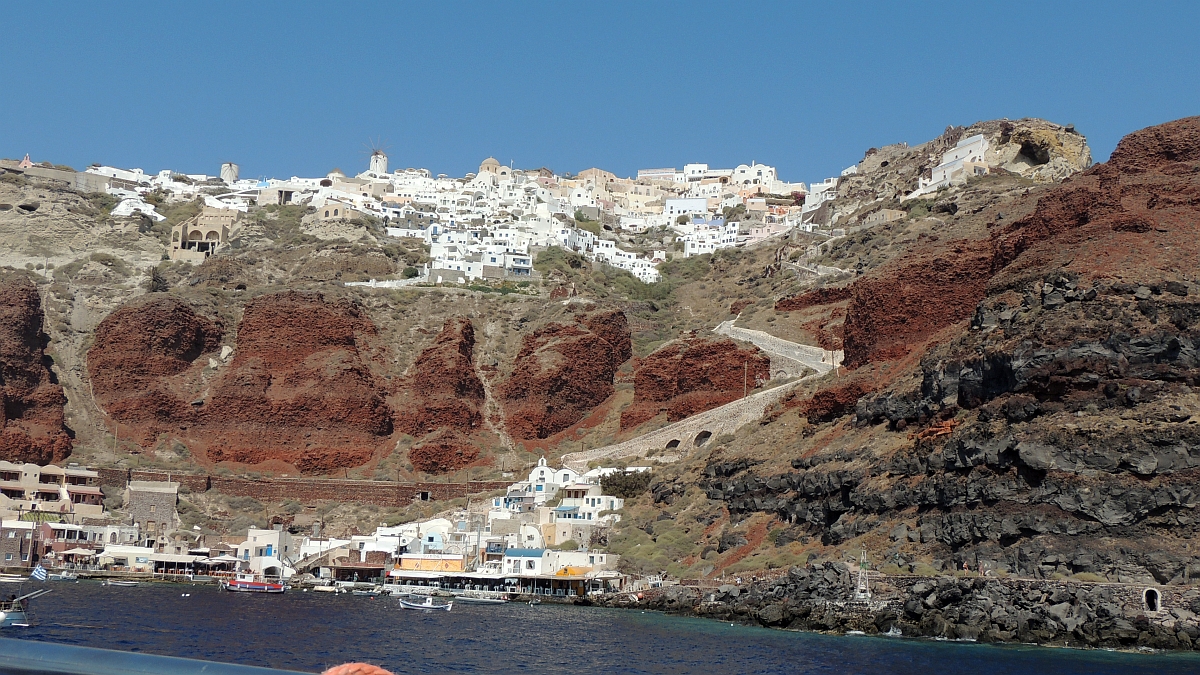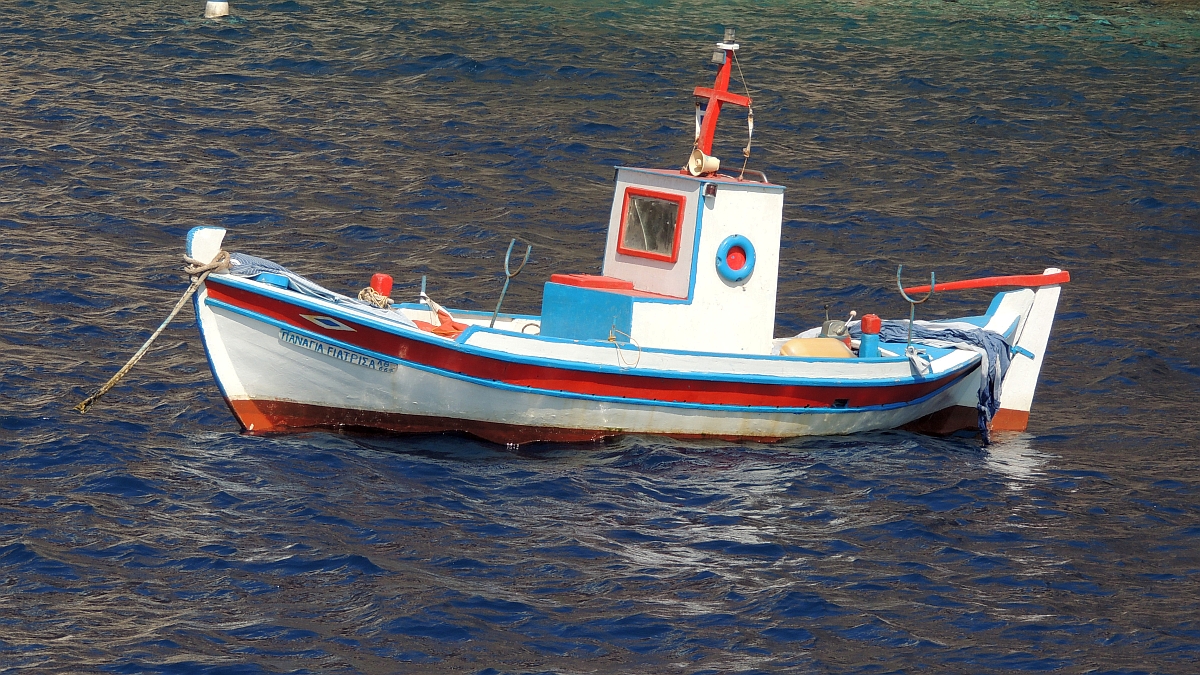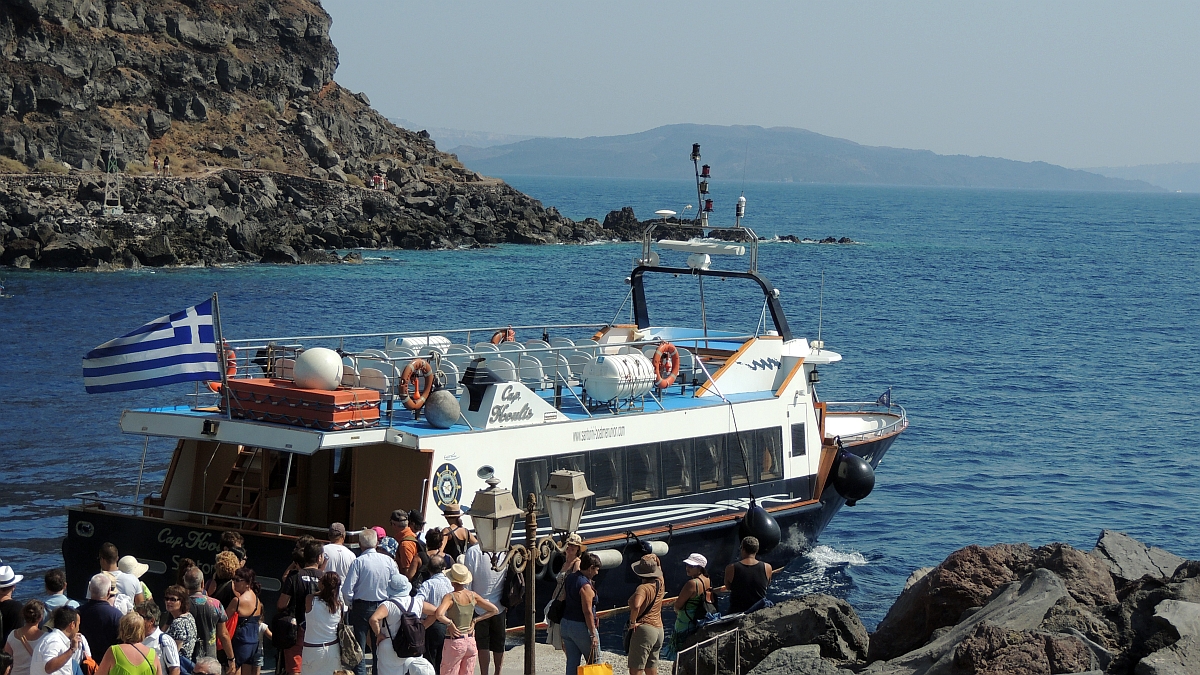 [Kev - I think Tam's description of this as a 'speedboat' may be not entirely accurate, although it does zip along the coast at a reasonable speed.]
We enjoy having a wander around Oia - such a pretty place - take lots of photos as around every corner there is another "must take" shot. Buses return to Fira on the hour so at 5pm we take one back and before too long we are back.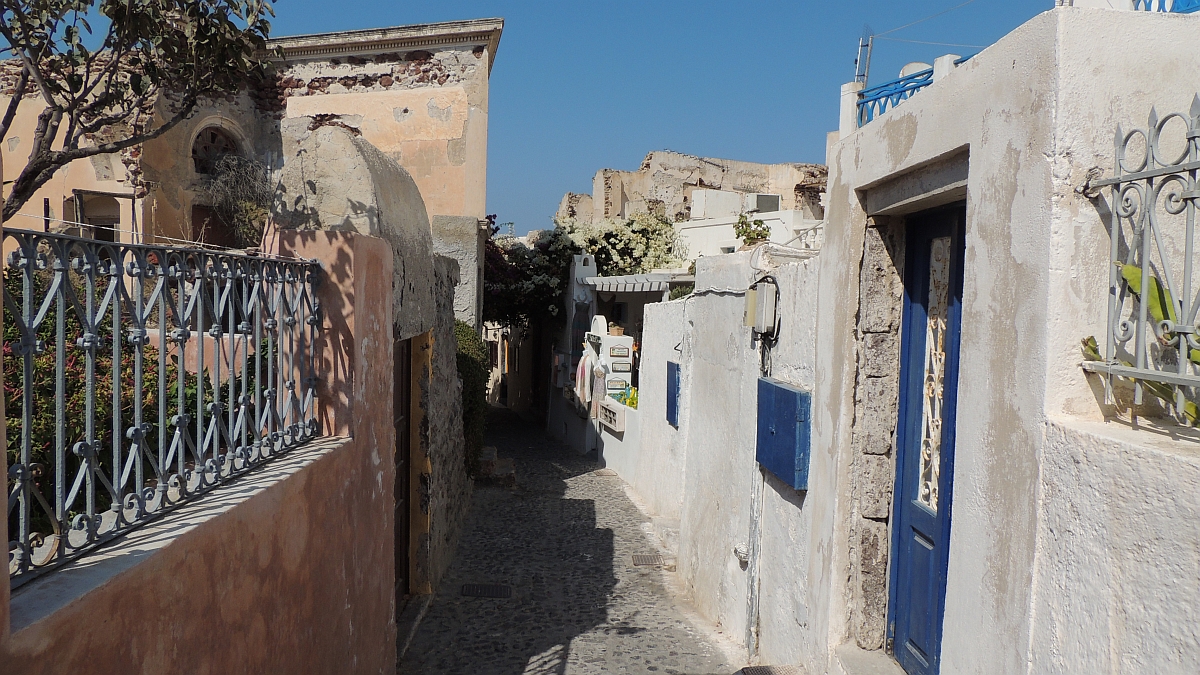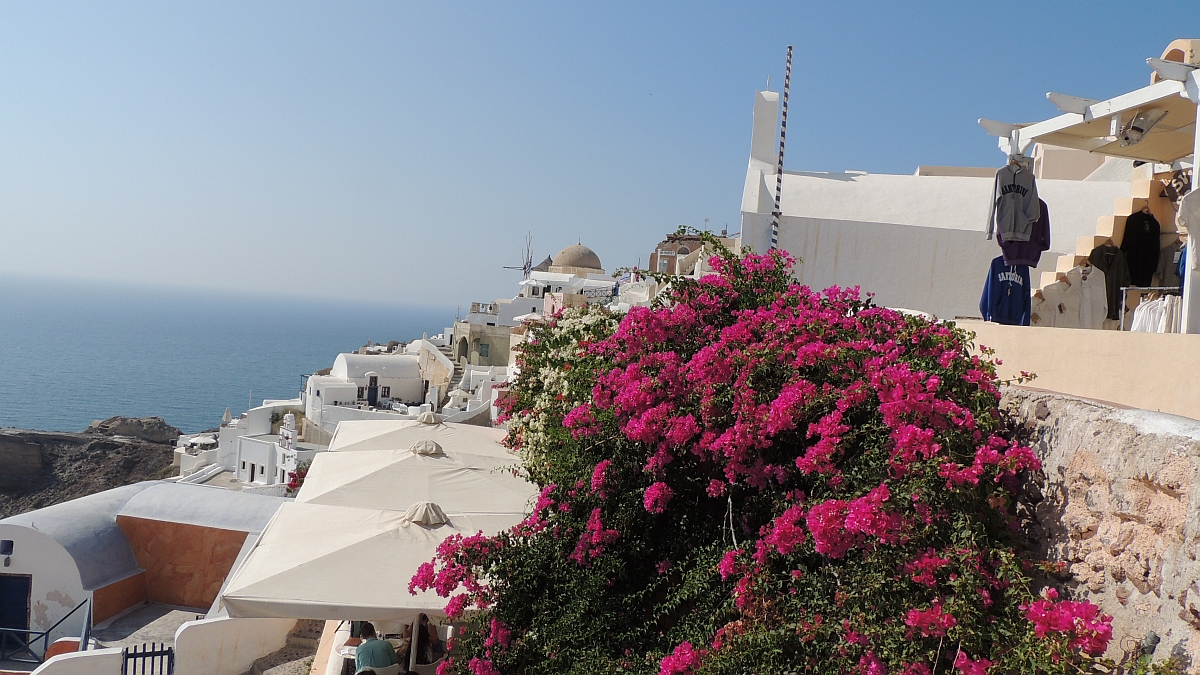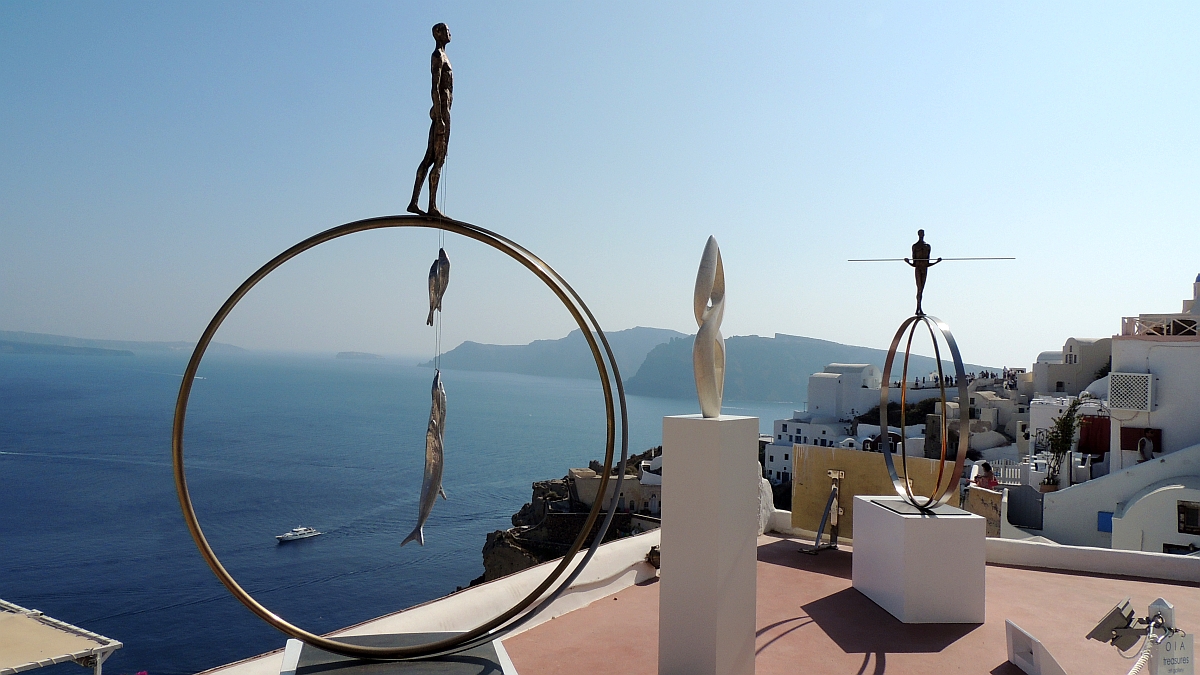 Wander around taking more photos and then we return to the wonderful cocktail bar where we went on our last visit- Palia Kameni Cocktail bar. We share a large Mai Tai and a Yellow Donkey Santorini beer whilst enjoying the views from the terrace. With the beautiful Celebrity Reflection down below us - the sun shining, a glass in hand and music playing it truly feels like we are in paradise. If visiting Santorini we highly recommend that you make an effort to find this bar and enjoy it's wonderful location.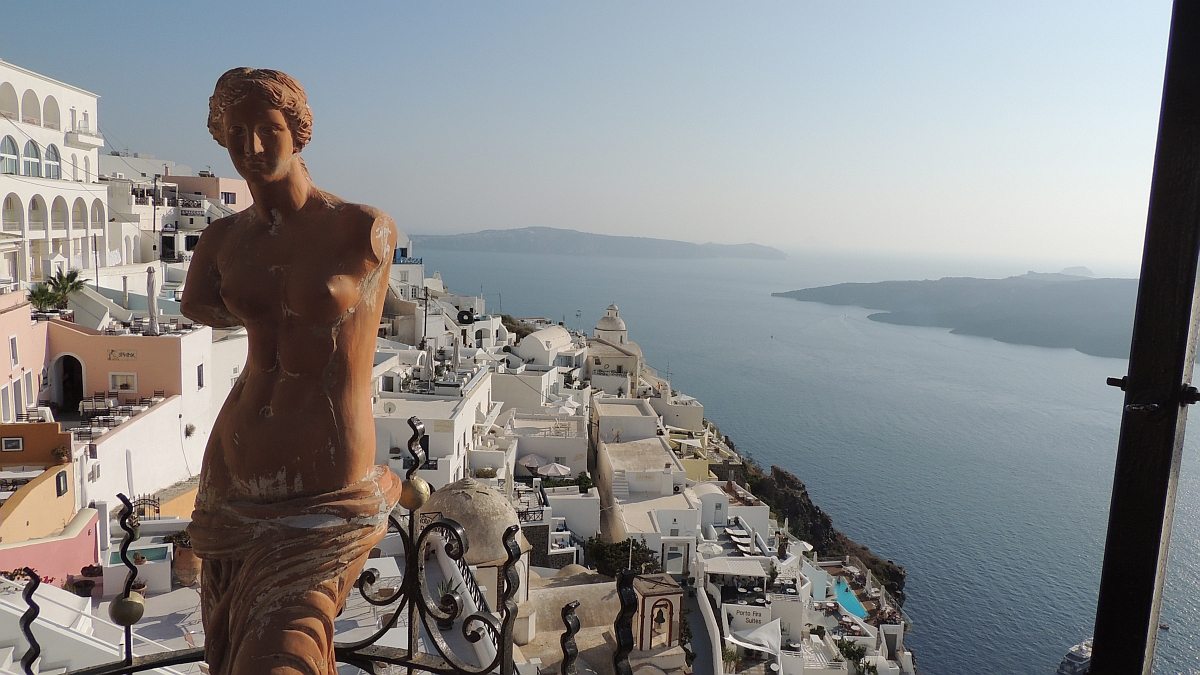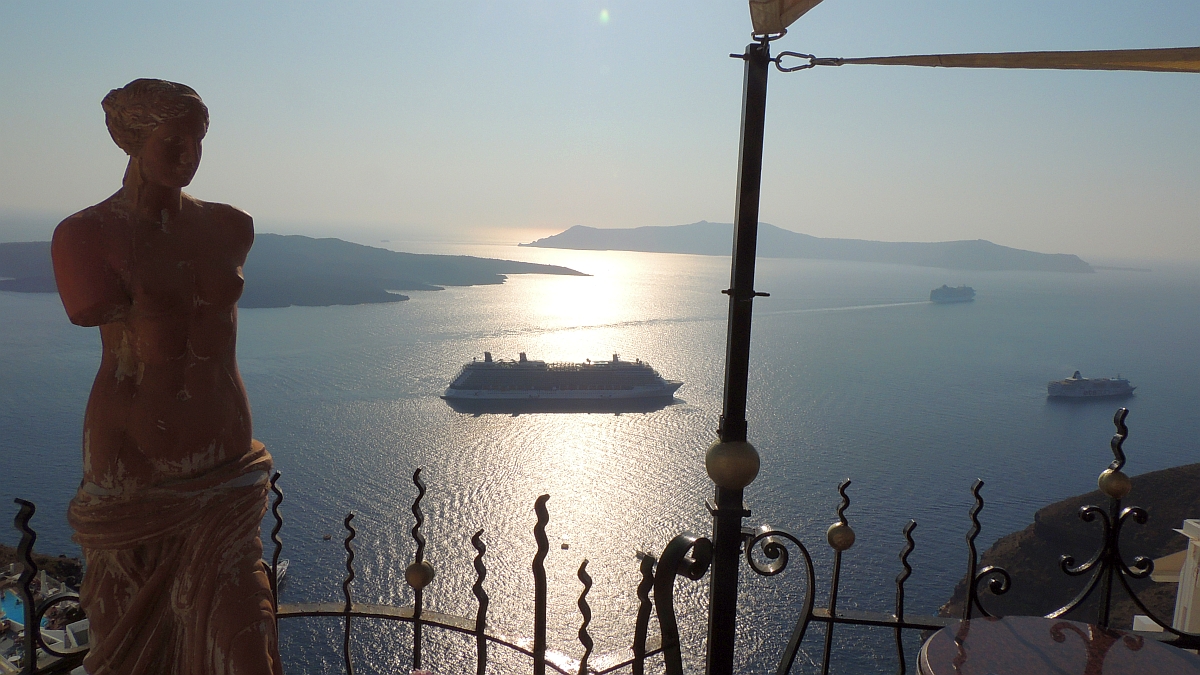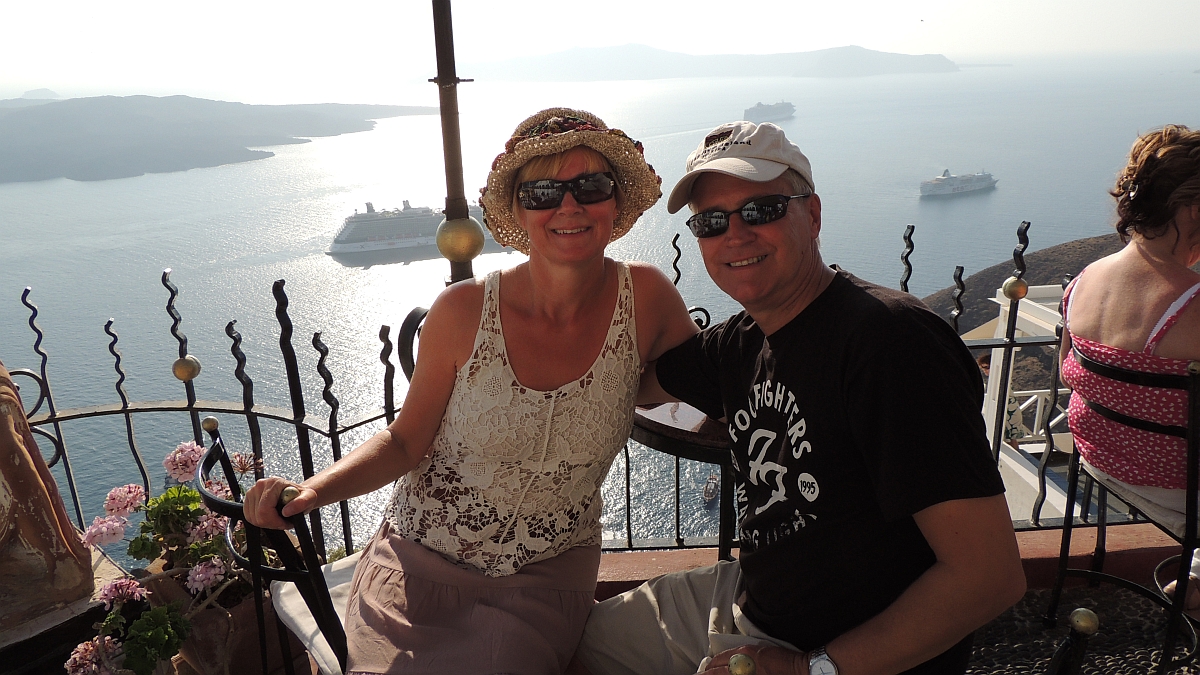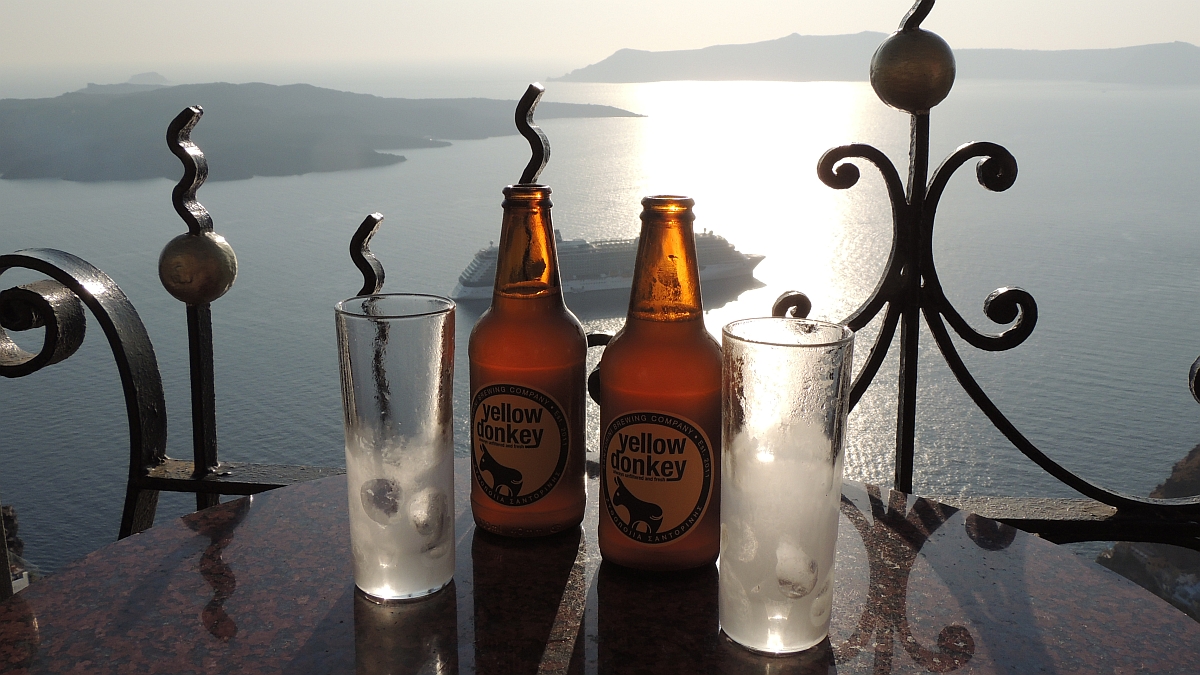 [Kev - I'm not sure if I've ever sat in a bar with a better view than this one.]
By now it is time to think about returning to the ship as tonight there is a concert on the lawn.
We decide to take the cable car back down but there are massive queues so make the decision to walk down the steps. There are loads of donkeys en route but very few carrying passengers, the steps are pretty slippy in places, where all those feet and donkeys traipsing up and down wear them. By the time we get to the dock the sun has started setting and looks amazing behind the ship. The cold towels and drinks are a welcome sight after the sweaty walk down and before too long we are on the tender heading back to the ship.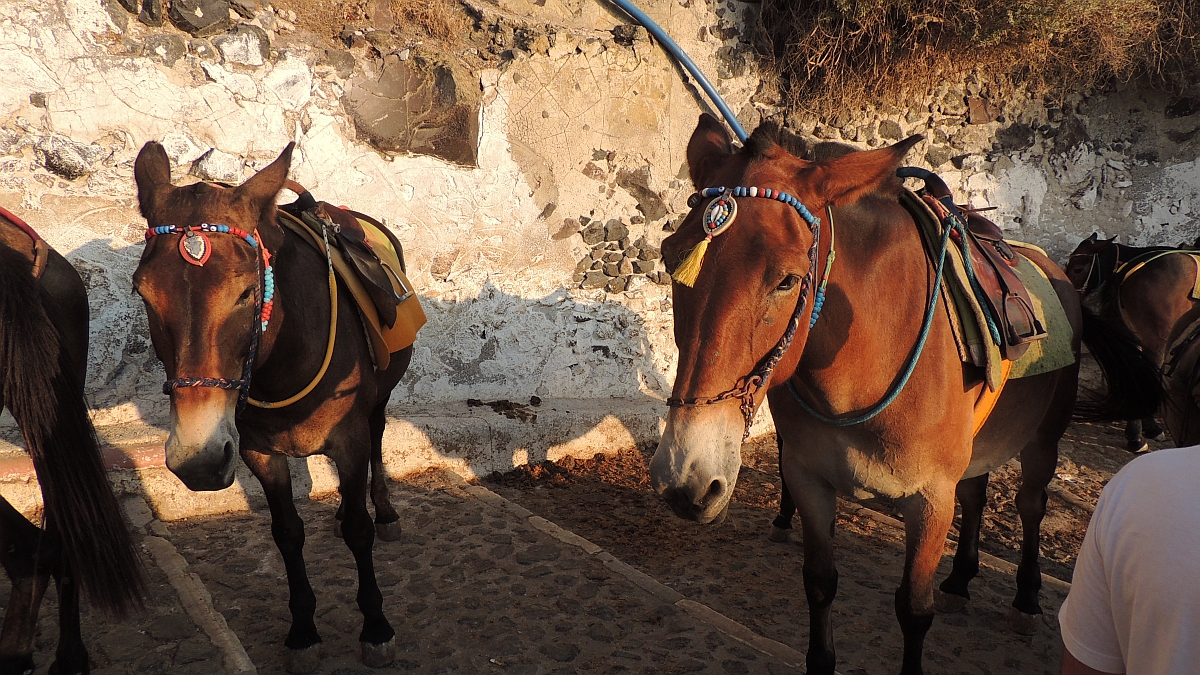 [Kev - what Tam hasn't told you is that I am wearing flip flops. These are not the sort of footwear reknowned for their grip and the cobble stones have been worn down by donkeys over the years, so they are really slippery. At the top of the walk down the first thing I do is fall straight down on my arse! I have to take off my flip flops and walk down bare foot. This would be ok if the steps were not covered in donkey poo. The feet are definitely not looking their cleanest by the time we reach the bottom.]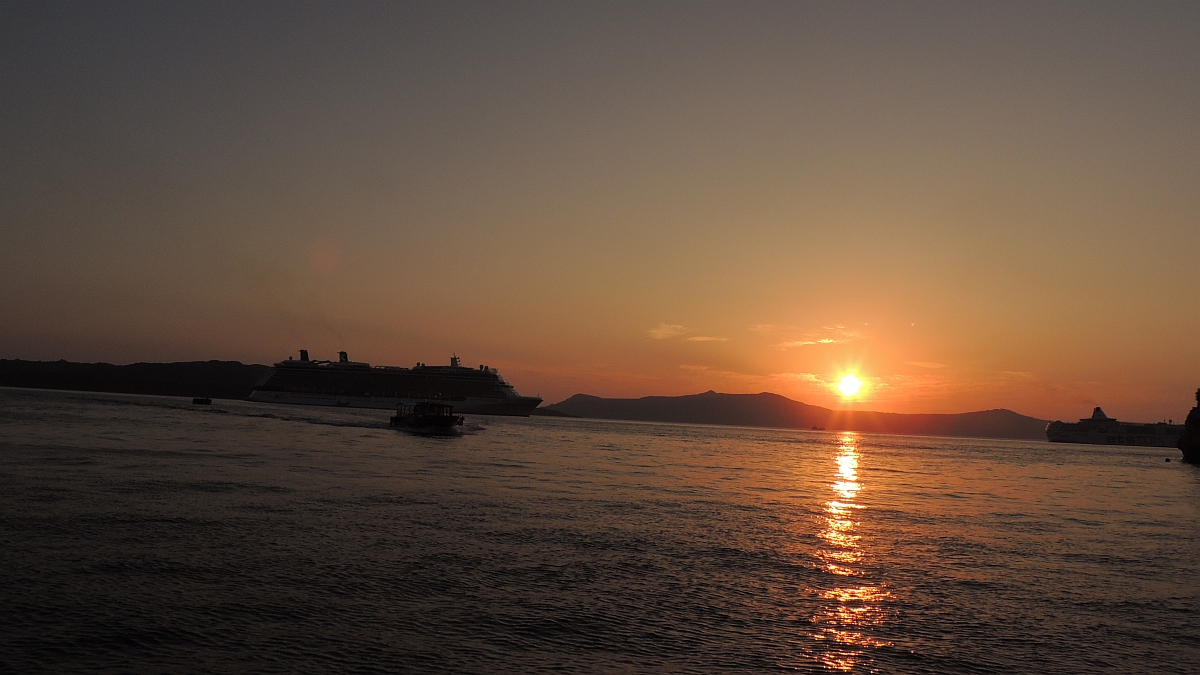 Back on board at 7.45pm and after a quick shower and changing into black and white clothes, which are the theme for the evening, we head upstairs to the concert on the lawn. We had read about this before the cruise and it was most definitely something that appealed. This, added to the fact that the backdrop was to be the lights of Santorini, made it a must do. There are rugs on the lawn and a band playing. We are surprised at how few people are making the most of this free event, but we settle ourselves down on a vacant rug which also has some collapsible back rests. A waiter takes our order and we enjoy a bottle of Chardonnay and a plate of cheese, biscuits and fruit. What a wonderful way to spend an evening – the lights of Santorini are twinkling in the background, the relaxing music and the chilled wine and cheese and biscuits make this a memorable time.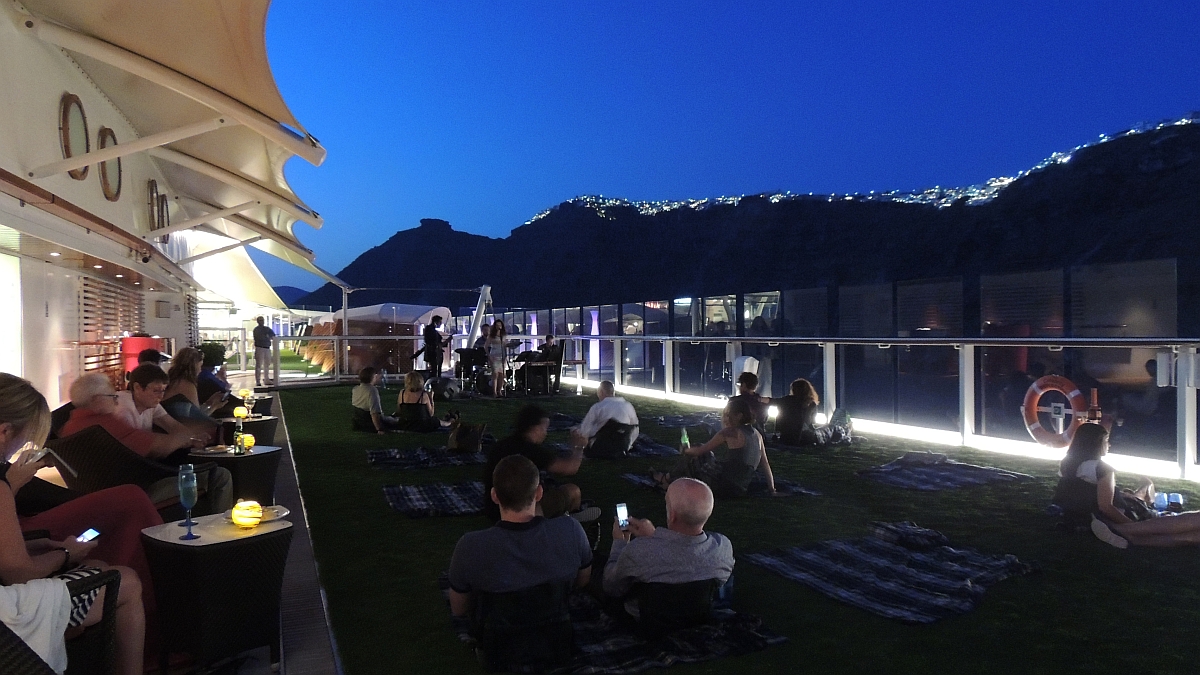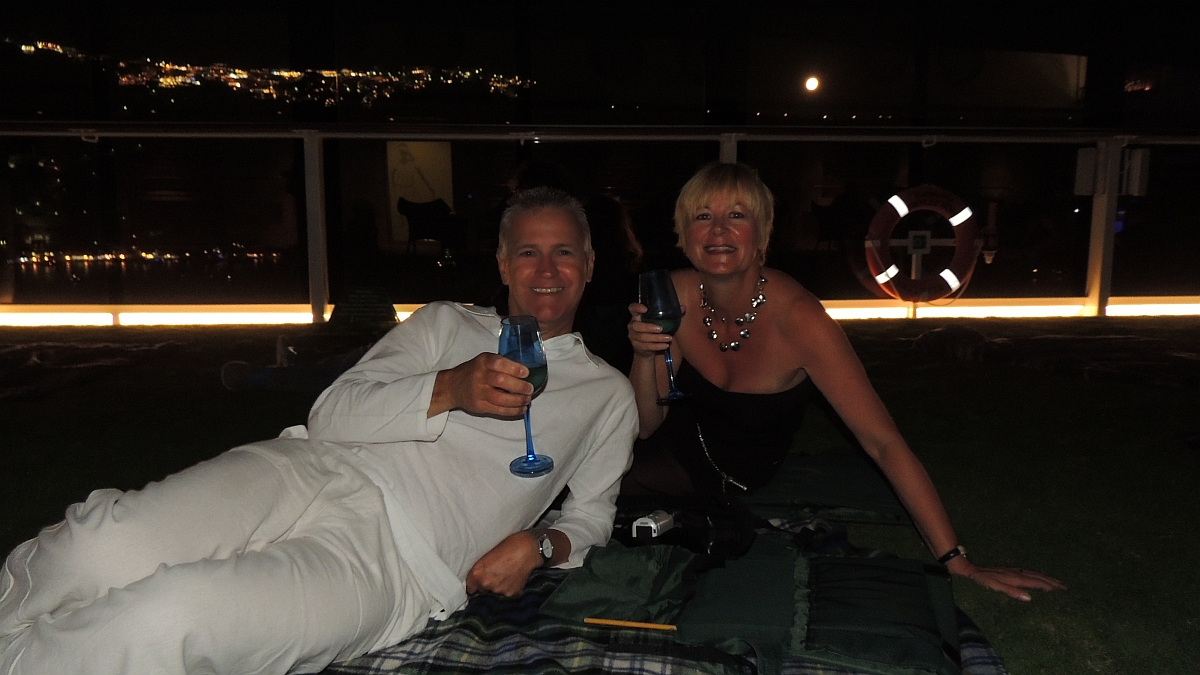 [Kev - you'll be pleased to know I had a shower and washed my feet very thoroughly before making our way to the lawn for wine and cheese.]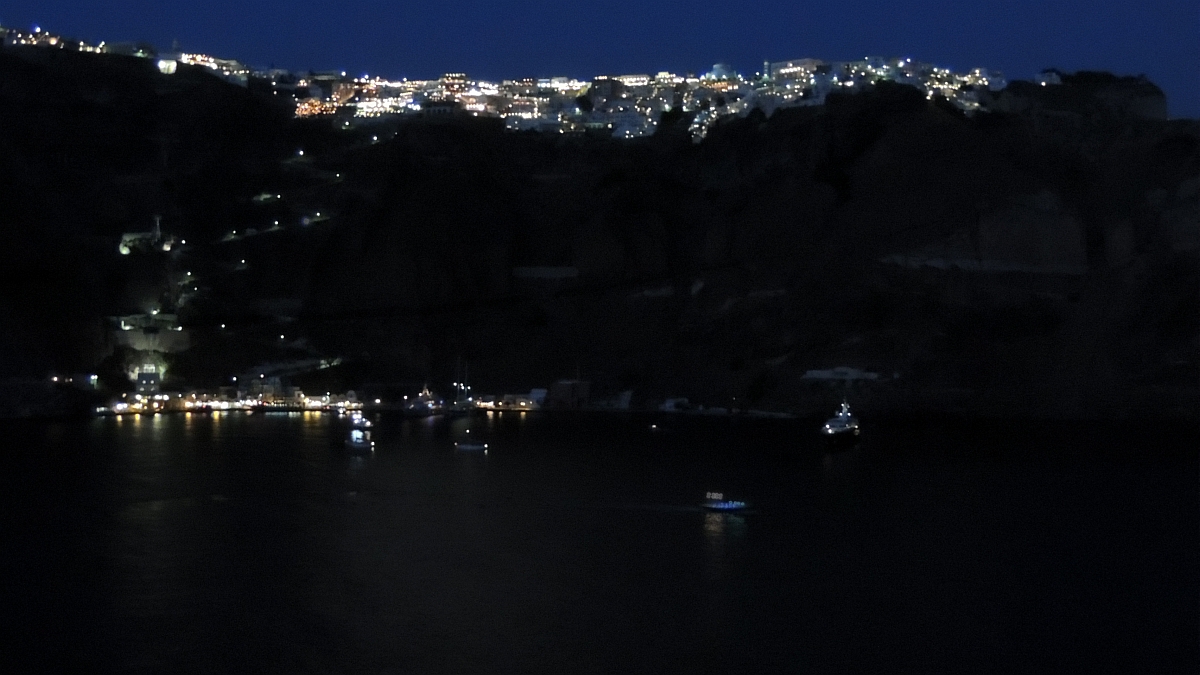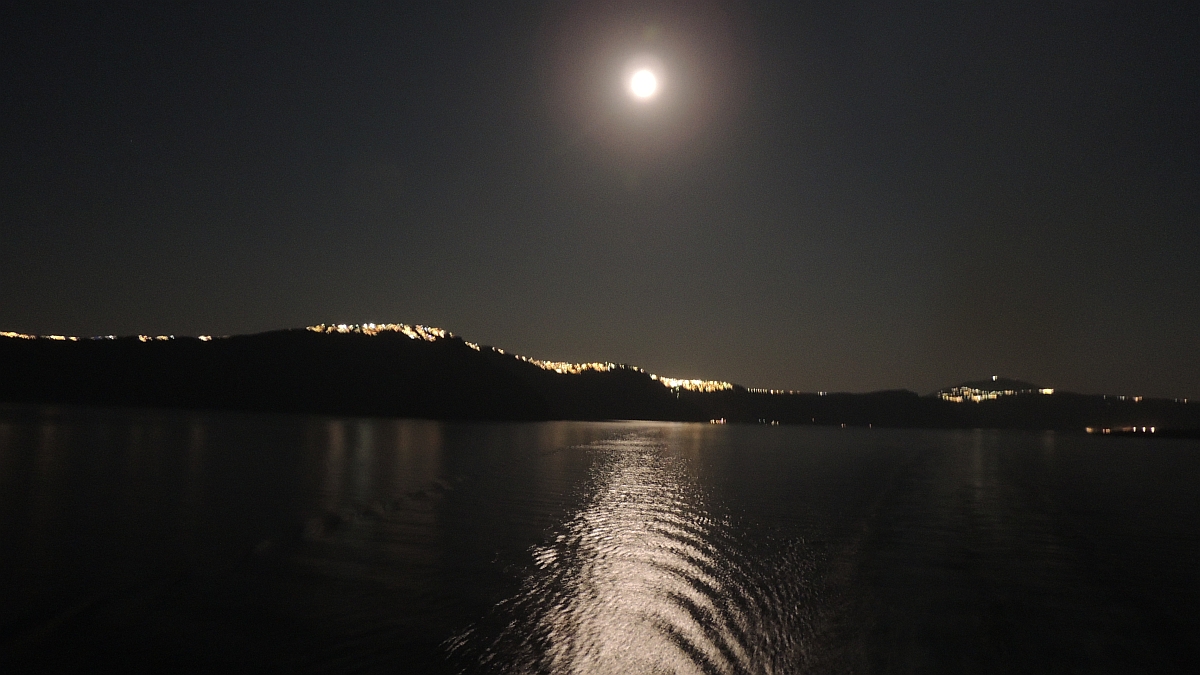 We decide to make tonight a more casual affair and head to the buffet to help ourselves to sushi and there is also a Greek buffet together with the normal offerings. It makes a nice change to just graze instead of having a sit down meal. After we have had our full we go to the Molecular Bar to enjoy cocktails and get chatting to the couple we met yesterday.
Bed at 1am.
[AUGUST 2013 REPORT HOME PAGE]