DAY 6 - THURSDAY 22nd AUGUST 2013
Written by Tam
Up 8.45am looking forward to a lazy at sea day.
We have brunch in the Opus dining room – a lovely spread as always and plenty of choice. We try not to over indulge, as there are so many tasty dishes to tempt us and some of the carved ice, fruit and vegetable displays are stunning.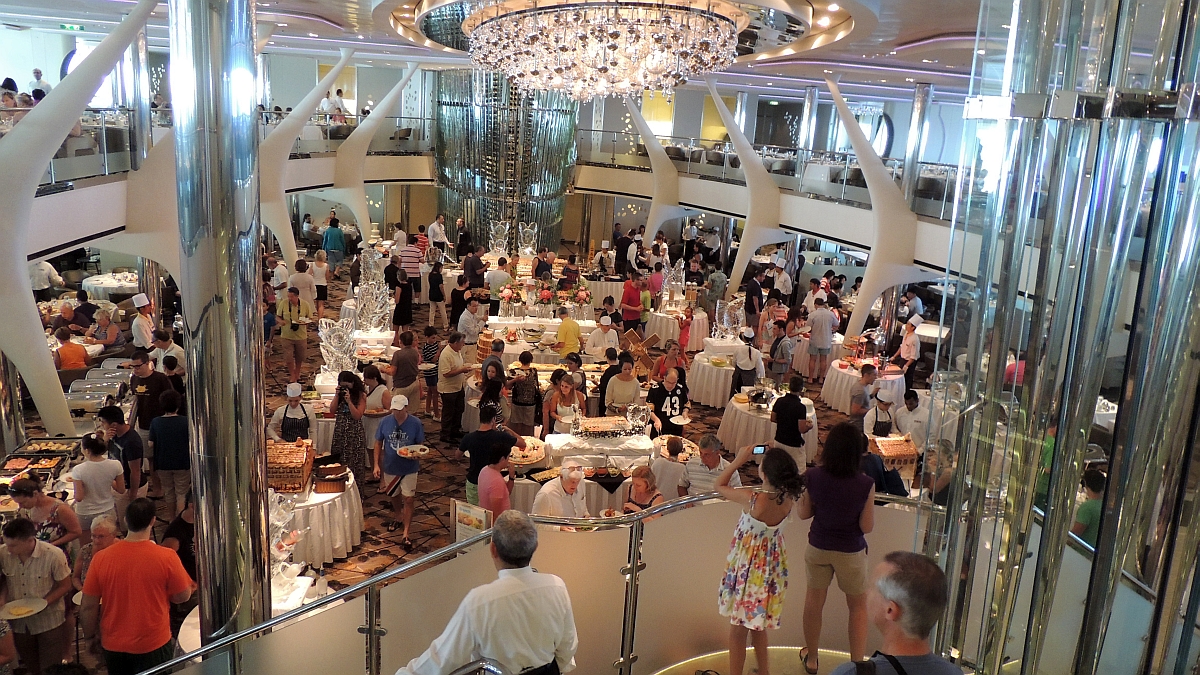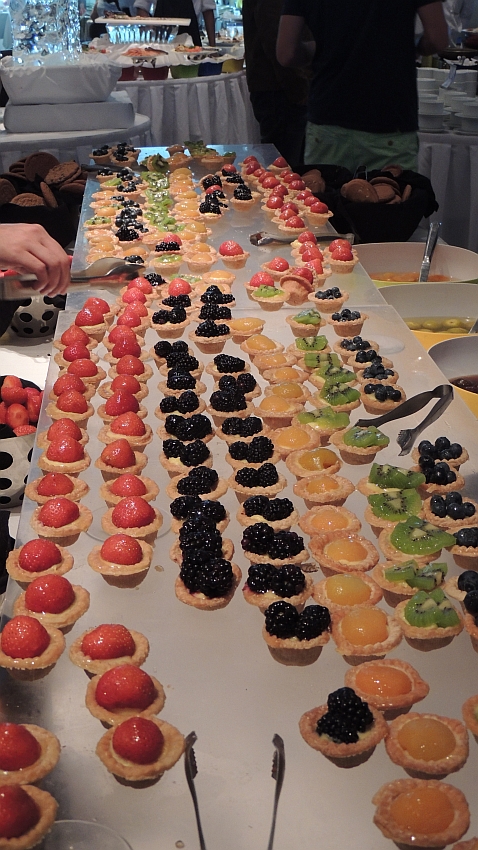 [Kev - Tam decided to take things steady, so she only ate half of this display. I ate the other half.]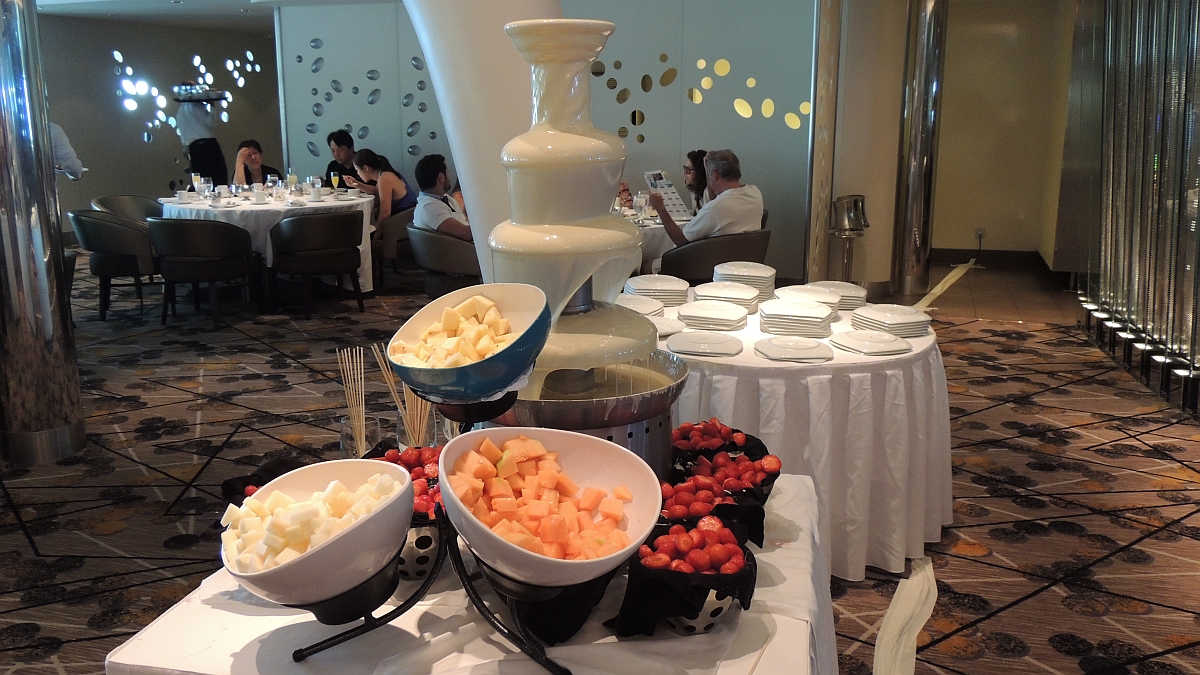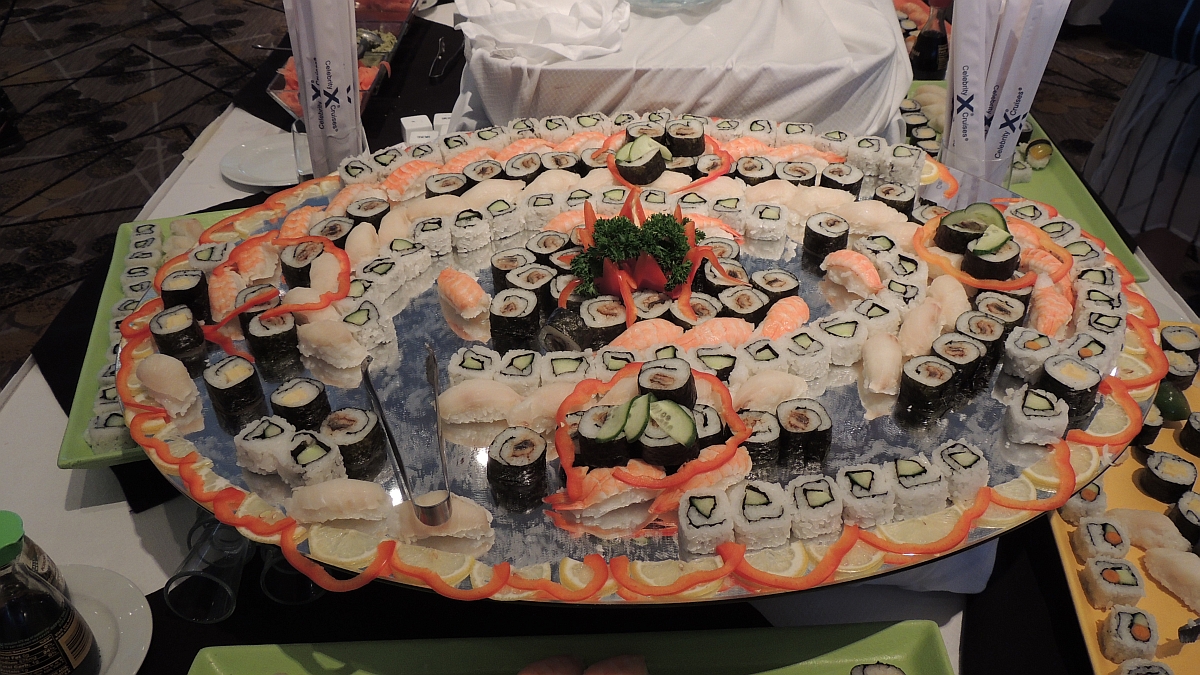 Next stop is the Thalossotherapy Pool for a laze around in the quieter surroundings, enjoying our books and ipods. We then make a visit to the Sunset bar to partake in a rosemary pear lemonade in the sunshine before finishing the afternoon session with a rose and white wine from Café Al Baccio, which we take on deck. We are now passing through the Straits of Gallipoli so sit on the lounger chairs and watch as the pine clad hills and pretty towns either side of the straits slip passed.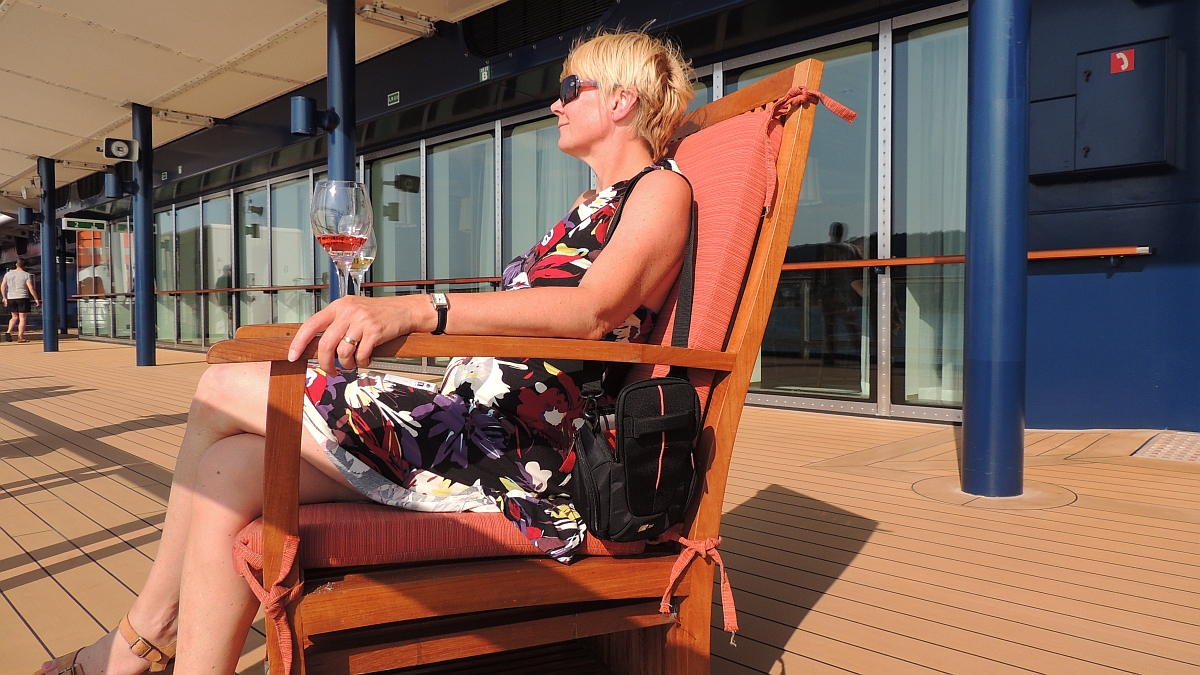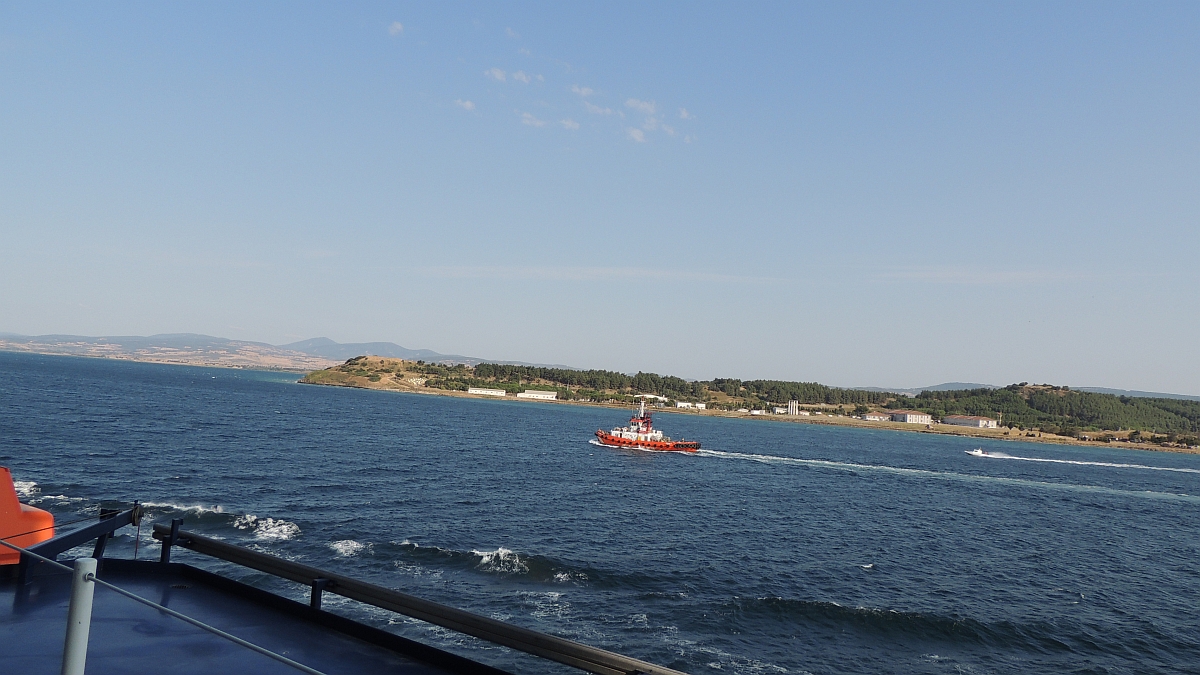 We dress for the evening and enjoy some Raspberry lemonade martinis at the Martini bar before going to Michael's club for the bar quiz. Another fun quiz – all very light hearted and a fun way to pass some time before heading to Q Sine for another speciality restaurant meal.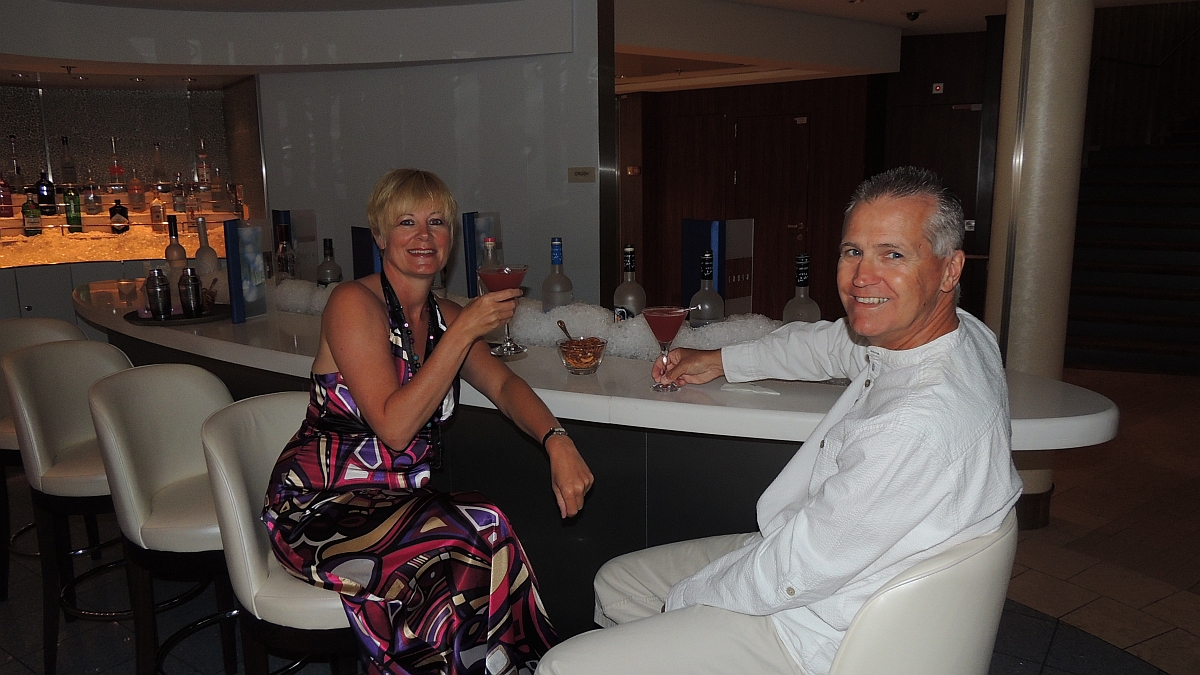 We had purchased the Celebrity Speciality Dining package before leaving home and the cost for that was roughly 30% cheaper than doing it separately. Having dined here before on our last Celebrity cruise we wanted to give this another go as we ate far too much last time and this somewhat detracted from the experience. We were determined to pace ourselves and only order a few dishes at a time so that we didn't over do it and we could fully appreciate the occasion. We had a glass of Conundrum to start with and enjoyed Lava Crab (Alaskan King Crab, Sweet Yellow Corn & Scallions, Kataifi with Old-Bay Lobster Sauce), Painter's Mignon (filet mignon with side dishes looking like an artist's palette), Salmon Cataplana (Salmon "Cataplana Style" with Saffron Broth, Tomato Ravioli, Chorizo, Garlic Confit, Fennel & Leeks), this was more than enough to satisfy our hunger and ensure we still had some room left for pudding. So we chose a Silver Bullet – a bullet shaped flask filled with gelato, served with berries and a chocolate sauce and also we had some chocolate dipped strawberries.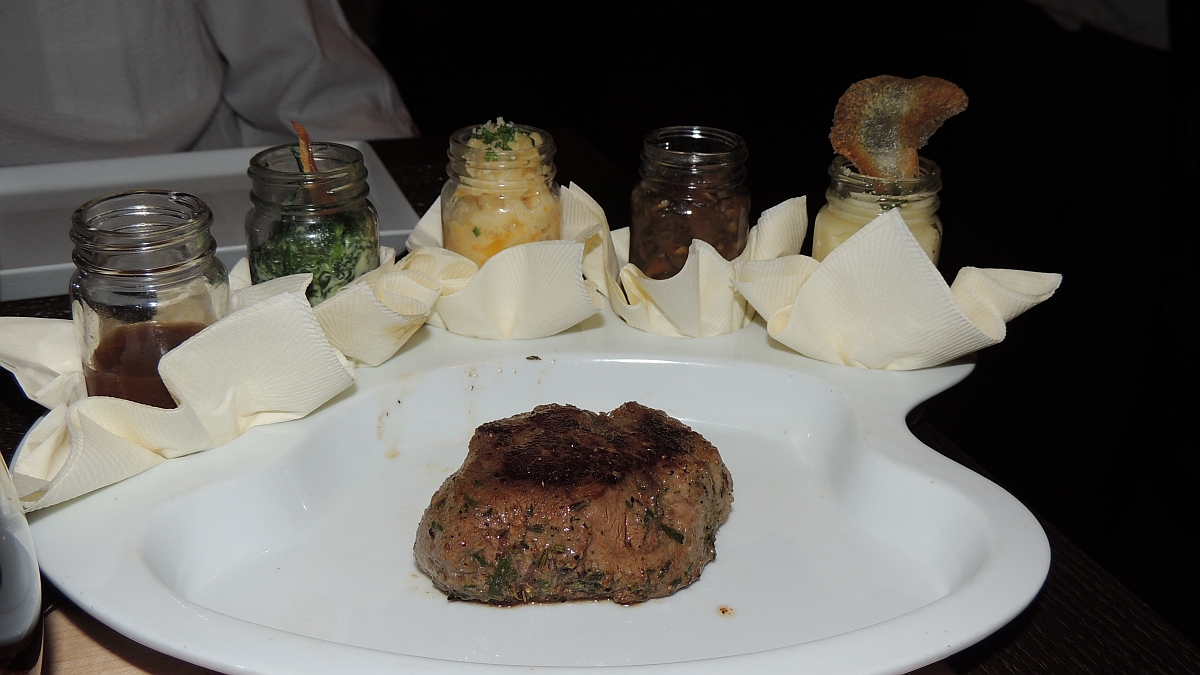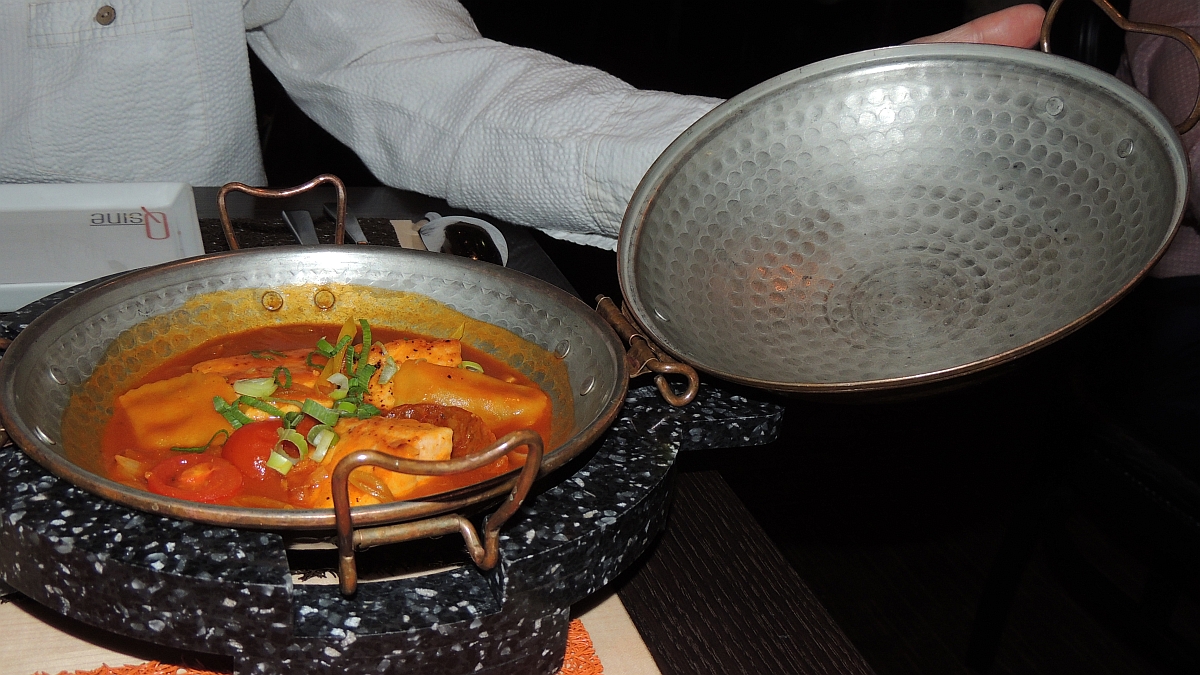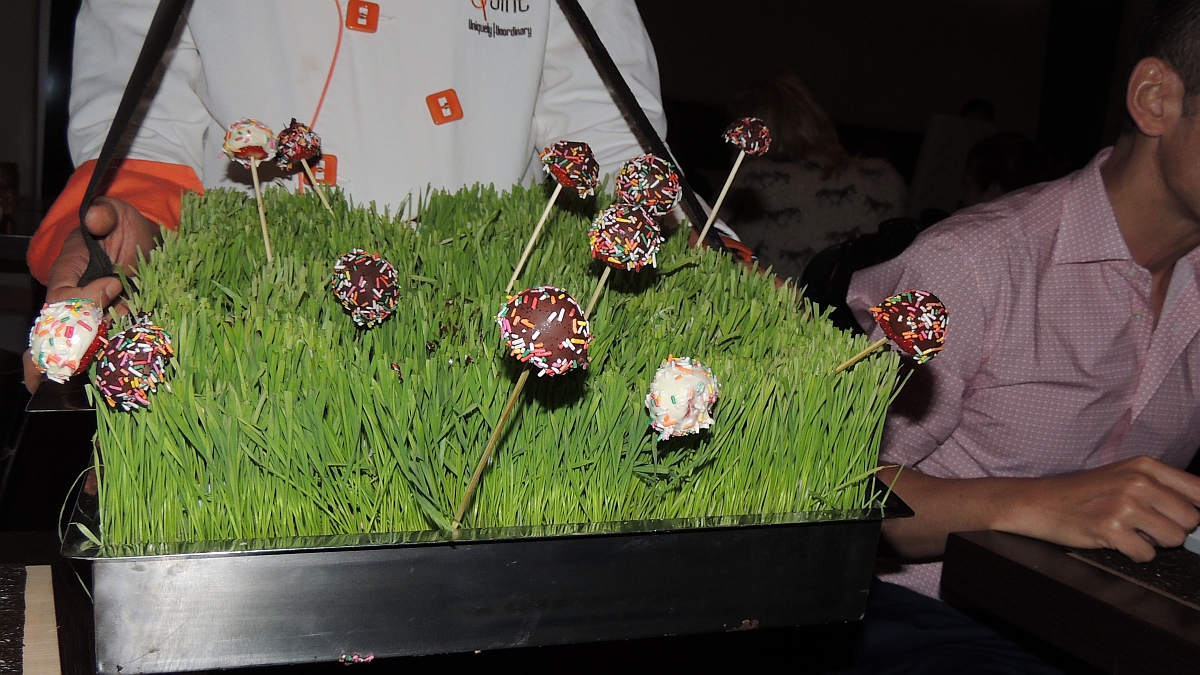 Suitably full we head to the Molecular bar where we get chatting to some people who have frequented the bar as much as us. Very humorous evening, which culminated in us discussing the differences in the way Australians, and New Zealand people talk. To prove the point each couple had to say "six for sex" – this caused much hilarity especially for Sergey who kept repeating it.
[Kev - It's funny, but Tam seemed to forget the 'six for' part every time Sergey came close to her She also had a desperate, pleading look in her eyes.]
We went to the theatre but there was a flamenco show on, which didn't appeal so into Celebrity Central for a US comedian and burlesque type dancer – it is very busy in there and no chance of sitting down so after drinking a strawberry margarita and a rum and Coke for Kev, we retire to bed.
[AUGUST 2013 REPORT HOME PAGE]