DAY 4 - TUESDAY 20th AUGUST 2013
Written by Tam
Wake at 8.45am and as we look out our balcony doors we see we are going through the Straits of Messina.
Breakfast is taken in the Oceanview Cafe; ham, mushrooms, beans and scrambled eggs all washed down with coffee and fresh orange juice.
We go to Guest Relations where we hand in the forms for the Extend your Stay programme. For $59 each we get to stay on the ship for longer on the last day and can use some of the facilities - far better than trying to either lug our luggage around Rome, put it in left luggage and get a few hours in the heat or alternatively spending most of the day at the airport awaiting our evening flight home.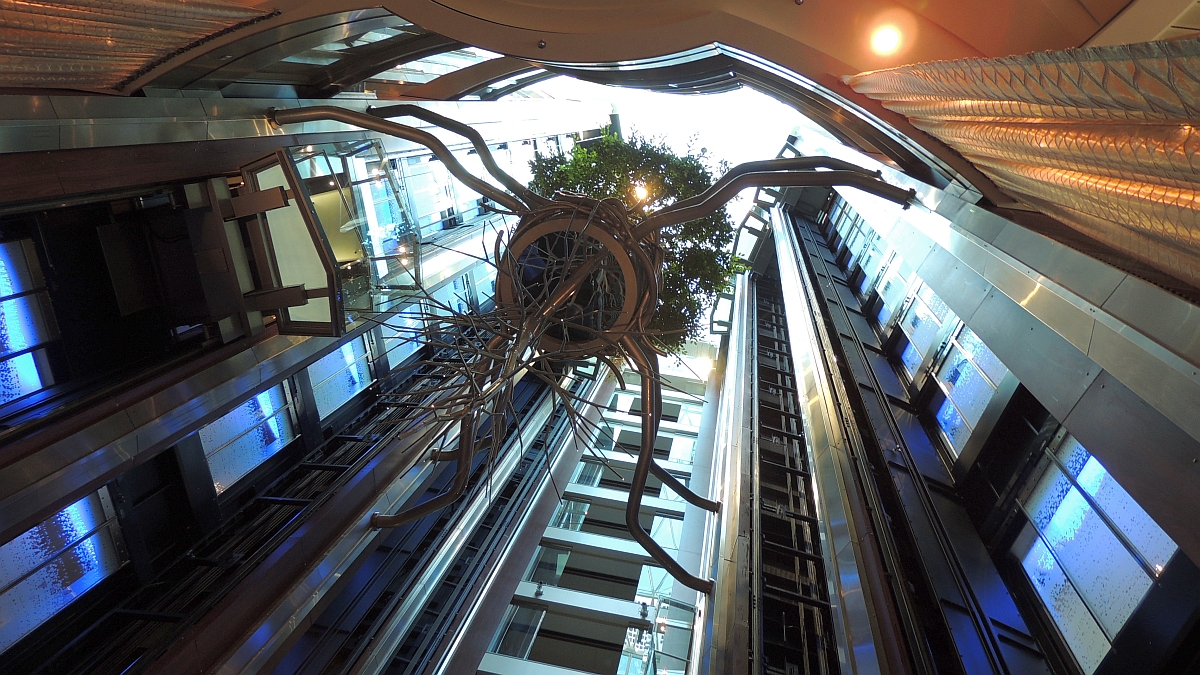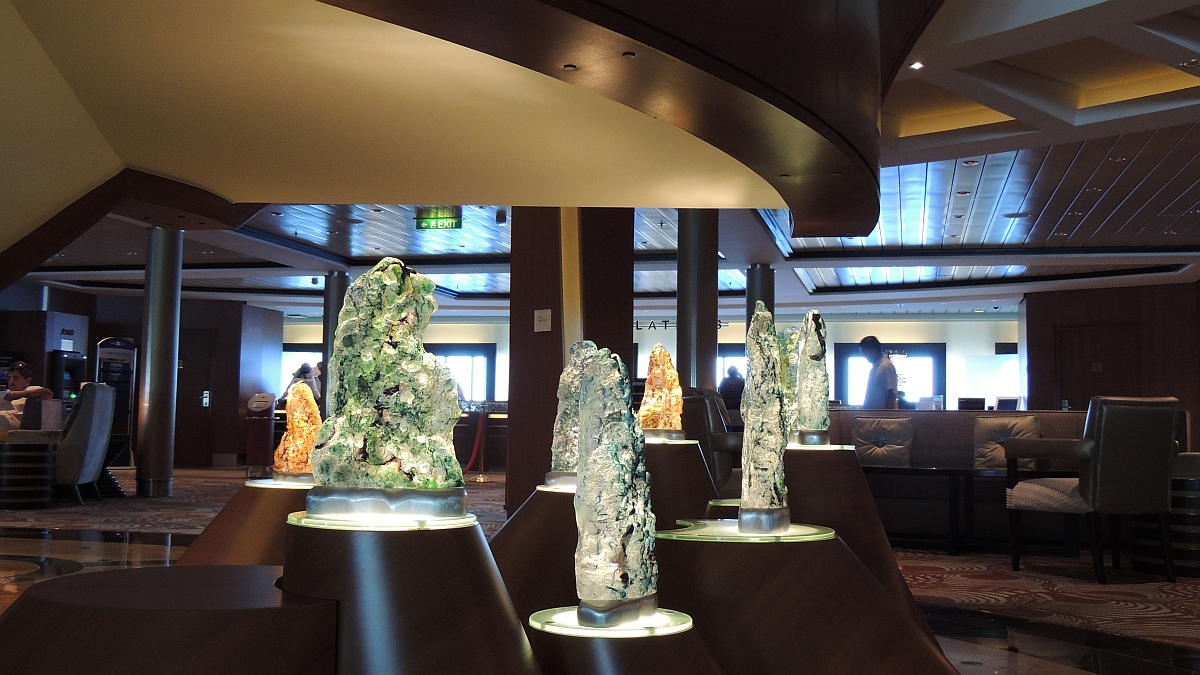 After dealing with that all thoughts of the end of the cruise are banished as we head to Deck 16 - The Solstice Deck where we enjoy the sunshine and read and relax. At 1pm we go to The Porch where we have reservations. This is a new addition to the Celebrity Ships - a restaurant like a conservatory but with some open walls to allow the breeze in. They mostly serve paninis and salads. We have a Caesar salad each and split a chicken, pesto and pepper panini - with a lovely refreshing Corona. There is a small cover charge of $5 at this restaurant, like The Bistro on 5, but it is somewhere different to enjoy lunch and not as crowded as other places so we did enjoy it even if the menu is somewhat limited.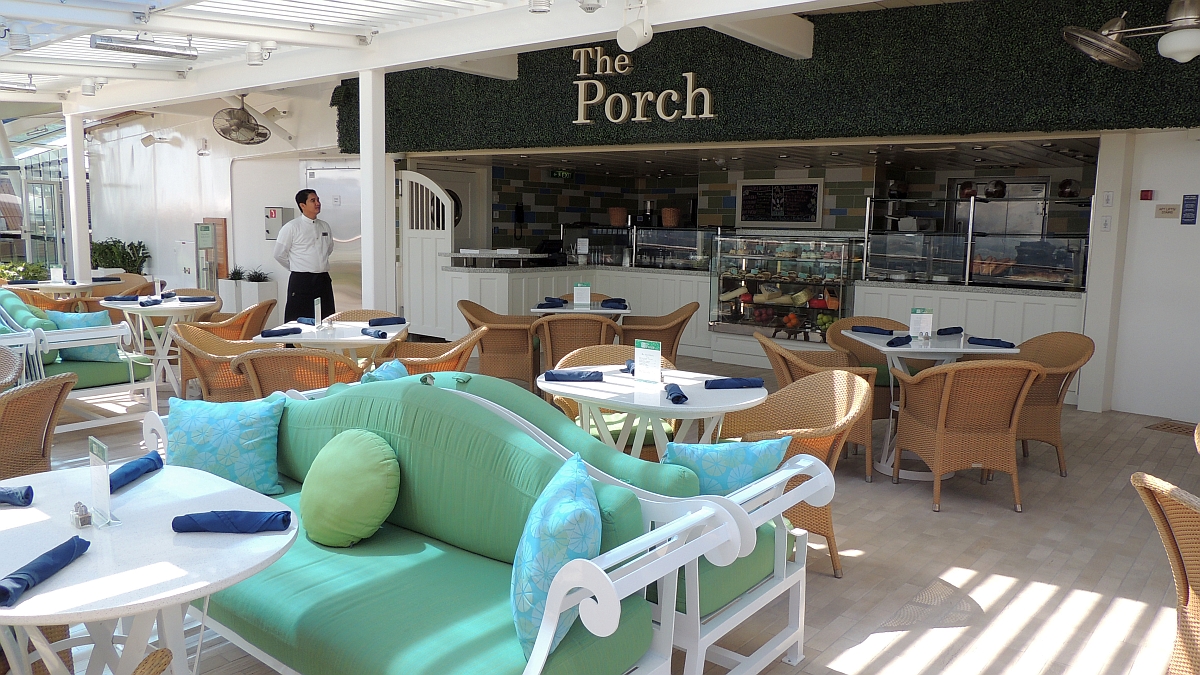 Later on we go the Passport bar for some cocktails and then on to the Martini Bar. I had some cocktail with vanilla vodka and Kev has a Key Lime Martini.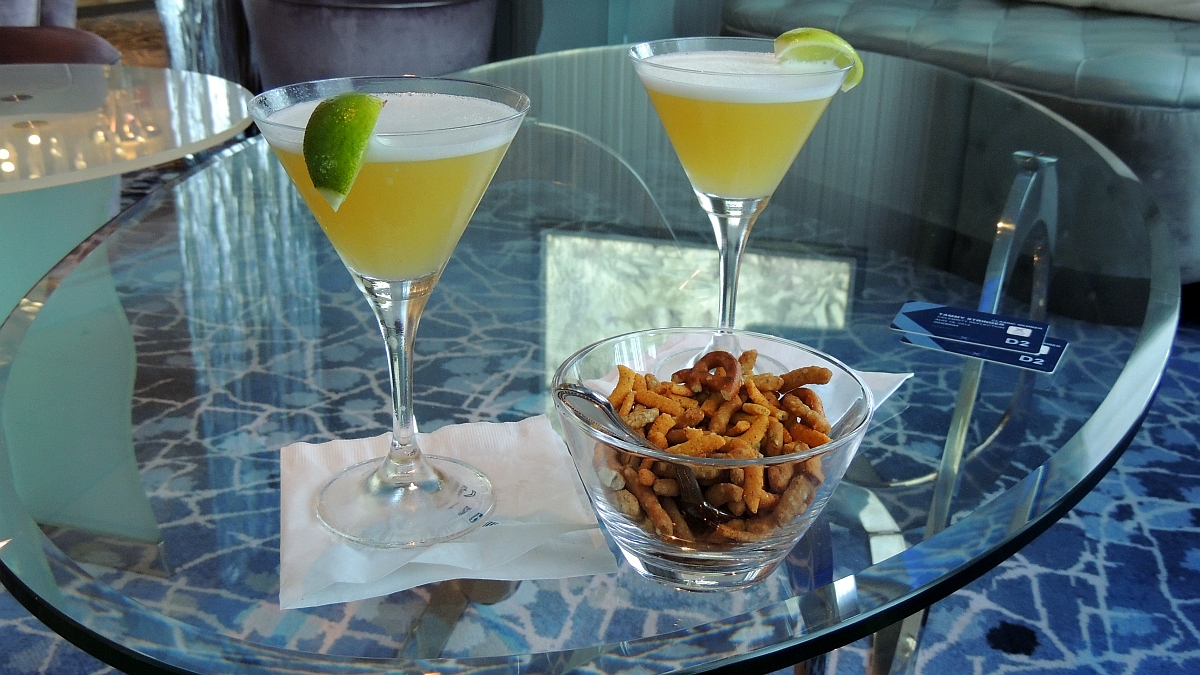 After preparing for dinner we have a visit to Michael's Club where there is a quiz tonight. Drink Blue Moons and enjoy the quiz which is very light hearted.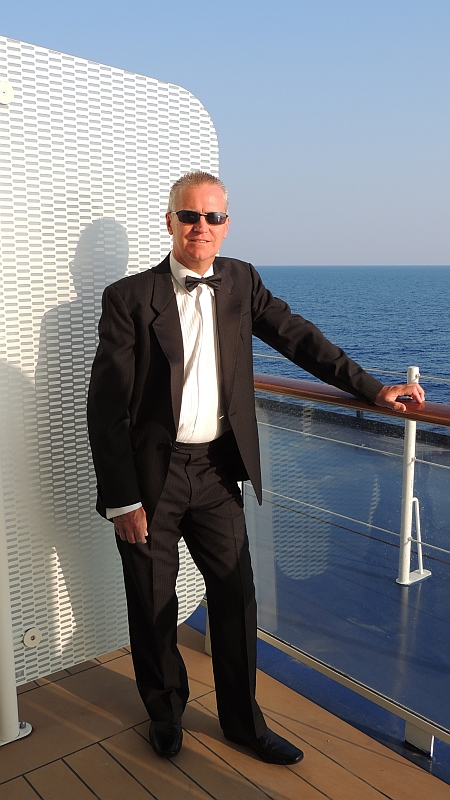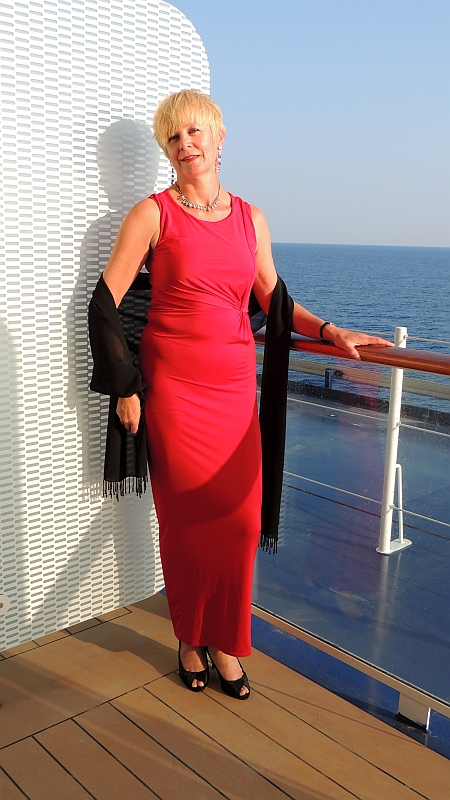 Tuscan Grill is our speciality restaurant of choice tonight. We have a wonderful table for two right at the back of the ship and we can watch the wake slipping away in the moonlight. We start with antipasto, sun dried tomatoes, marinated mozzarella, different meats and marinated mushrooms. For starters I have crab cake and Kev has beef ravioli, then I enjoy a filet mignon with a lovely mushroom, marsala sauce and Kev has barola sauce and these are accompanied by parmesan truffle fries for Kev and garlic mash potatoes for me which were sublime, together with roasted vegetables.
We had prosecco with the starter, then a nice bottle of red wine with the steaks. Unfortunately we were far to full of both food and alcohol to manage a pudding tonight. Needless to say I was thoroughly ashamed of myself.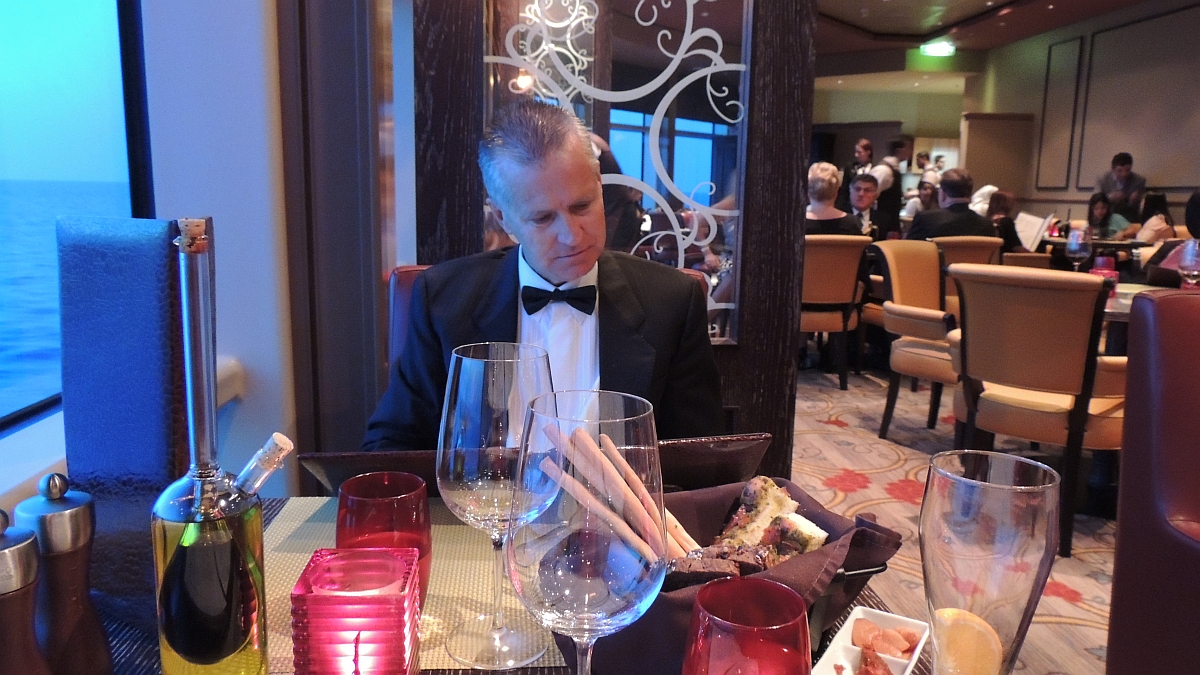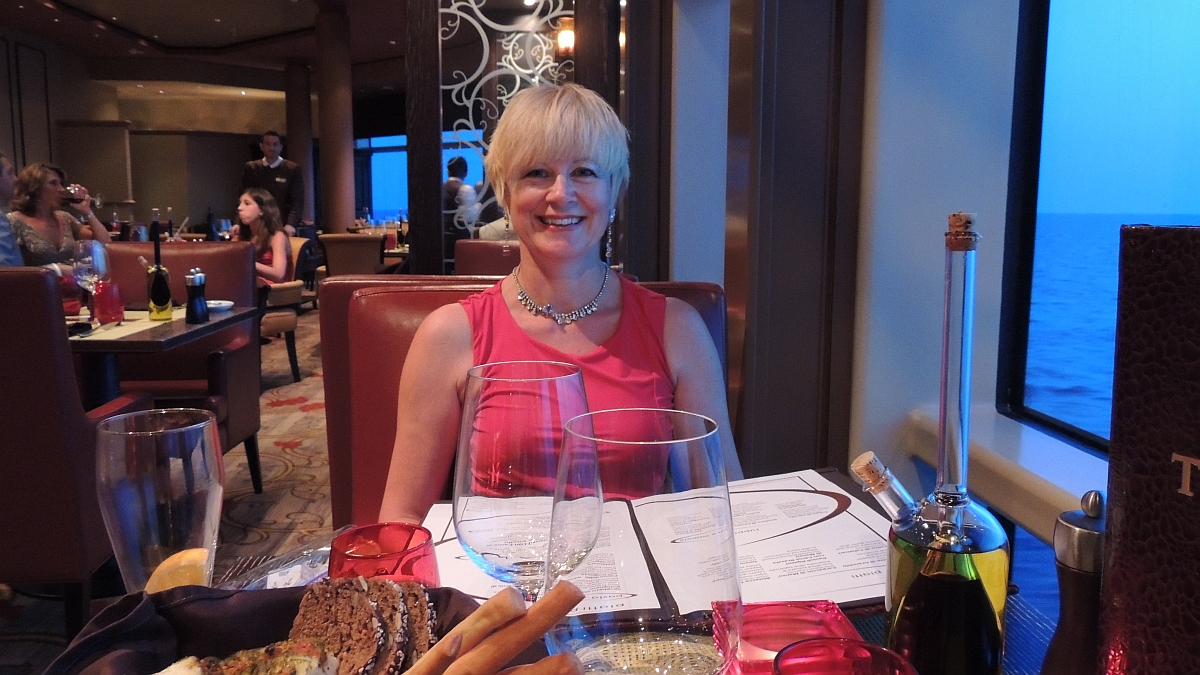 In the Molecular Bar we get chatting to a nice couple - he is an airline pilot from England but he lives in Austria with his Austrian wife - this was their first cruise and they were enjoying it very much.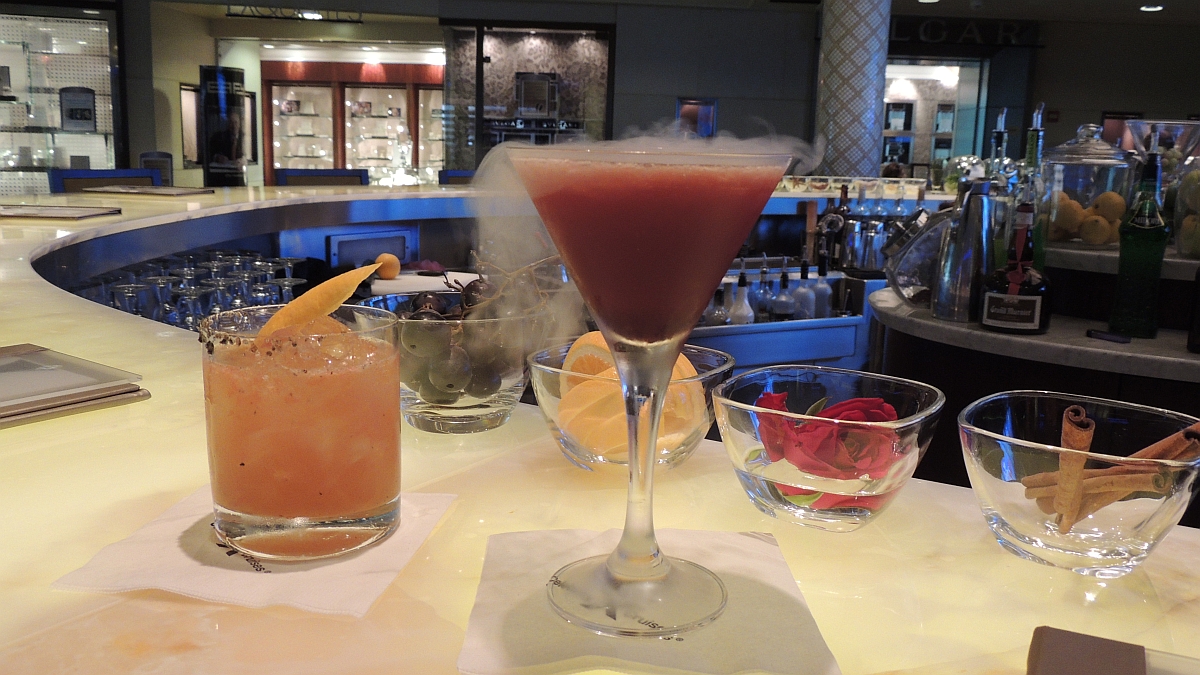 [Kev - the little baby on the left is a Hawaiian Lava. I grew to love these beauties.]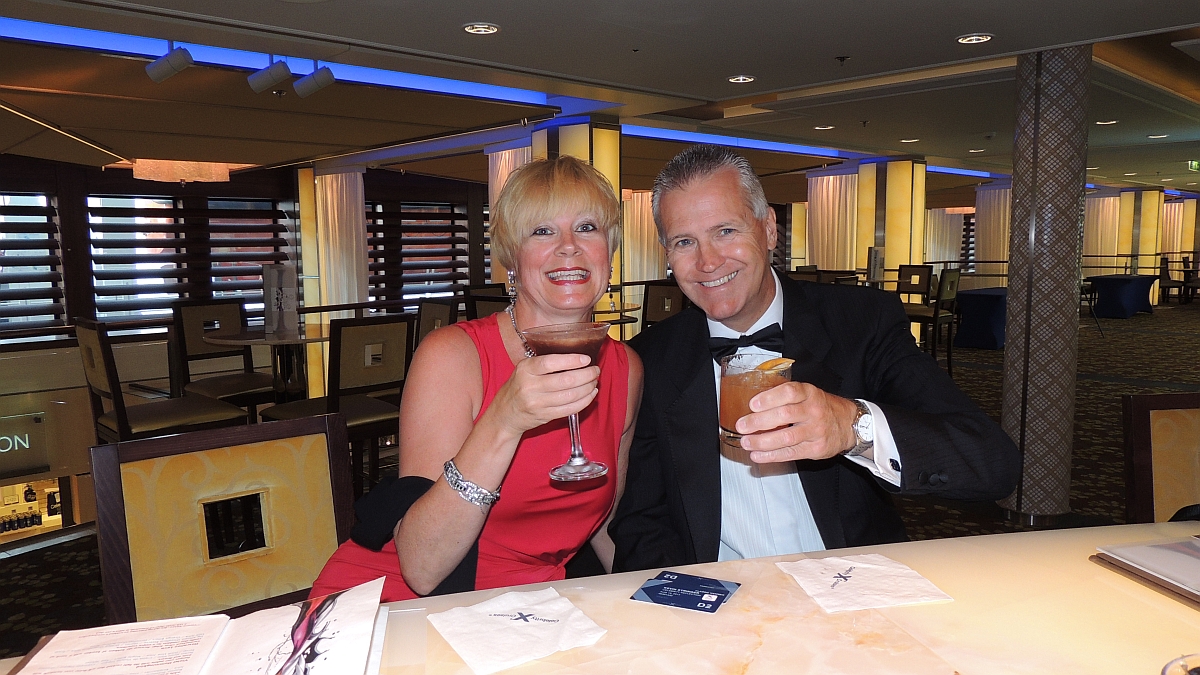 [Kev - as you can tell from Tam's slightly manic smile, the drinks are realllllly good!]
In the Theatre tonight we watch the musical show with songs from Les Miserables, Wicked etc. I do love being able to sit there and enjoy a drink while watching - made even more pleasurable as they are already paid for in the drinks package.
To end the evening we go to Cafe Al Baccio which becomes a regular stop on our way back to the cabin. Caramel Machiatti for me with a piece of coconut cake (don't forget we didn't have any pudding tonight so I didn't feel too naughty).
Back to the cabin and set the alarm for 7am as we read that it is worth getting up early to get tender tickets for Santorini otherwise you can waste a lot of time on the boat waiting to leave.
[AUGUST 2013 REPORT HOME PAGE]