DAY 3 - MONDAY 19th AUGUST 2013
Written by Tam
Not a bad nights sleep but when we awake at 7.30am Kev goes to the curtains and declares that it's raining. I groan – that definitely wasn't part of the plan and thoughts of dragging our luggage through the rainy streets back to the station was not appealing in the least. Ho, ho he laughs it's raining sunshine.
[Kev - Now that's proper humour, not like that fool of a tour guide yesterday.]
We enjoy the breakfast buffet in the hotel which was included in the price – a typical European breakfast with cold meets, salads, bread, danishes, toast but also some bacon and scrambled eggs. As we are planning on enjoying lunch on the ship we decide not to eat too much so I have fruit and toast whilst Kev has cold meats and toast. There is also a coffee machine available to make a variety of coffees so we enjoy a cappuccino each.
After packing up the rooms we check out and only have €6 (€3 each) room tax to pay plus the bar bill – then we head off to the station. We liked the hotel and it was in a good position for the area we wanted to explore – we found all the staff to be friendly too.
[Kev - Although we had a few problems with the room, they dealt with it well enough and were, as Tam said, polite and friendly.]
Tickets for the train to Civatecchivia are only €4.60 each and take about 1 hour. Lovely to watch the Italian countryside whizzing by with the Cyprus trees and farms etc. At 10.20am we arrive and take a leisurely walk to the port entrance where we load our luggage in a shuttle bus. We are dropped in the terminal by 11 am and are given number 65 for check in. There are already quite a few people waiting but it doesn't take too long for our number to be called and we deal with all the necessary paperwork before getting on board.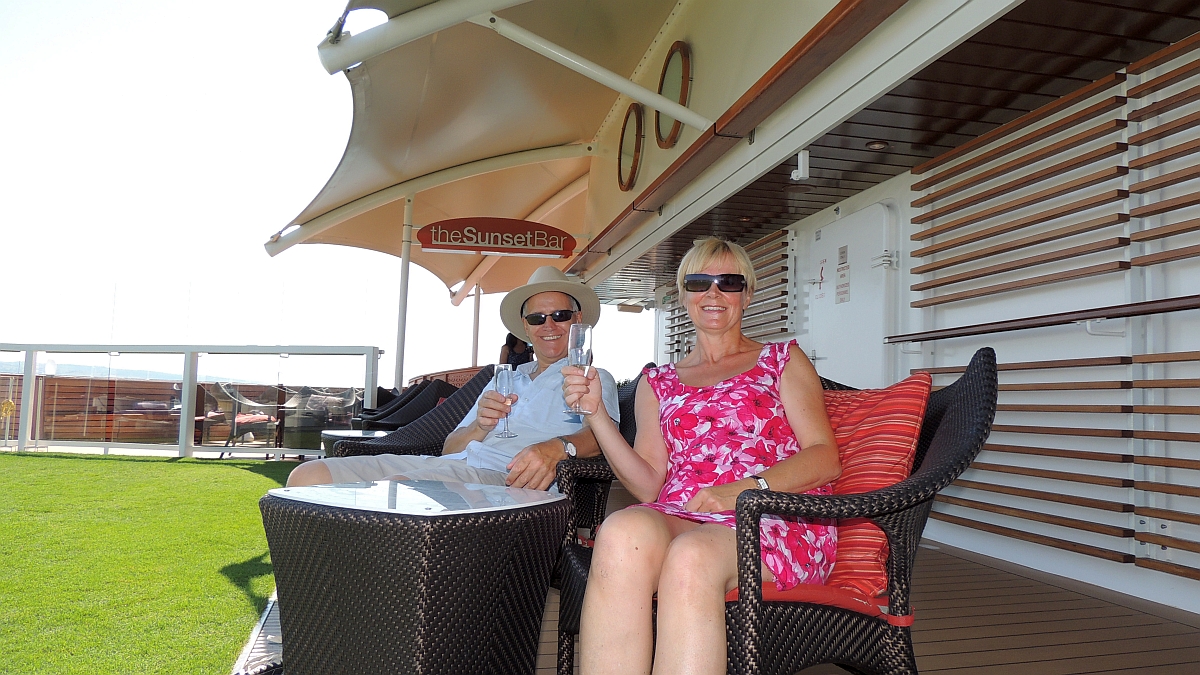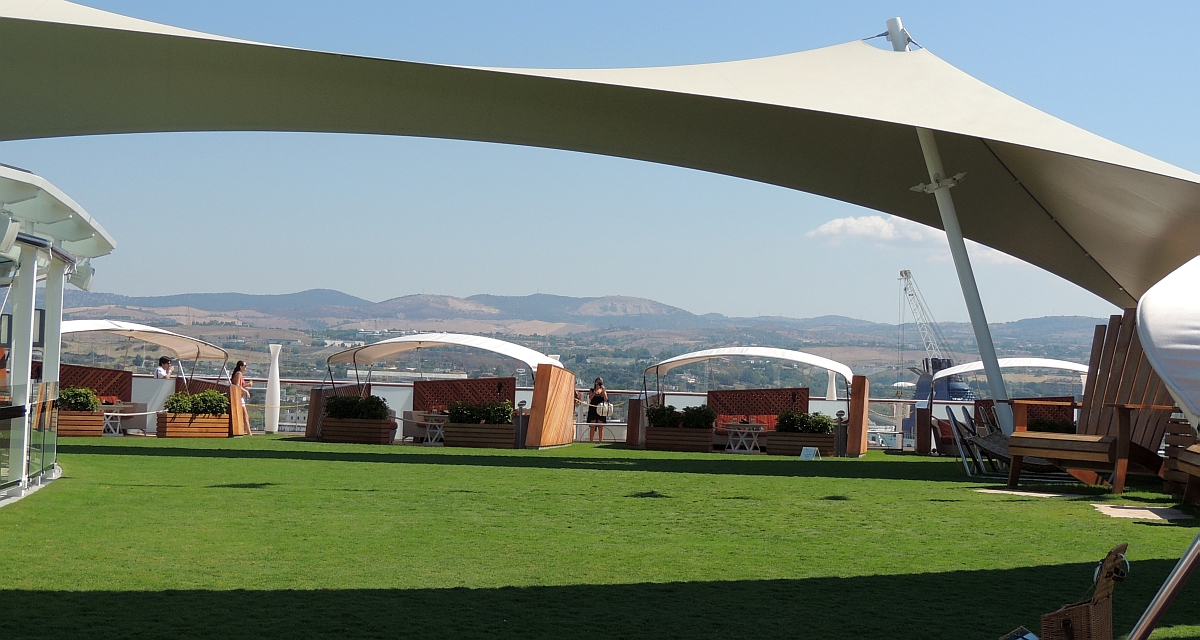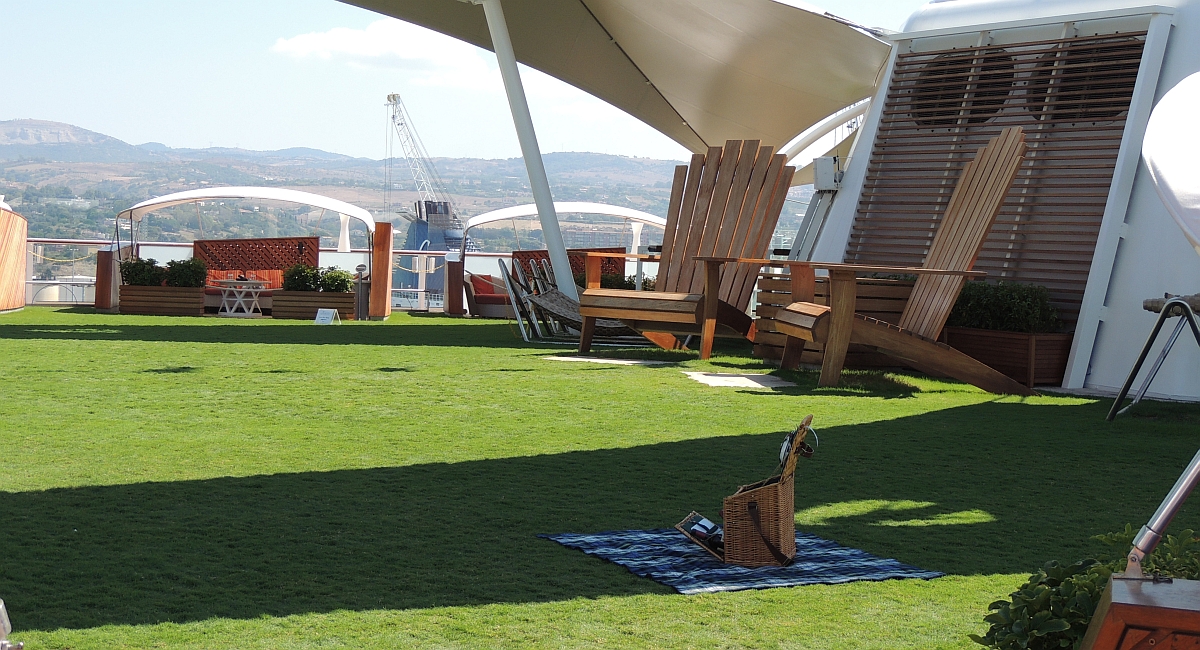 We take the opportunity of the ship still being quiet to walk around taking photos and admiring the beautiful artwork and décor. We also do the most important thing namely purchase the Premium Drinks Package and also enquire about the opportunity to stay on board later on the last day. Once we have done those things we head to Bistro on 5 – a favourite from our previous Celebrity cruise. I have salad nicoise and Kev has a wonderful steak salad. We then split a nutella, pistachio and banana crepe. This is all washed down with a couple of beers and coffee. At only $10 cover charge each – we have no hesitation recommending this place for a wonderful civilised lunch at the start of the cruise – far superior in our minds than the hustle and bustle of the buffet on embarkation day.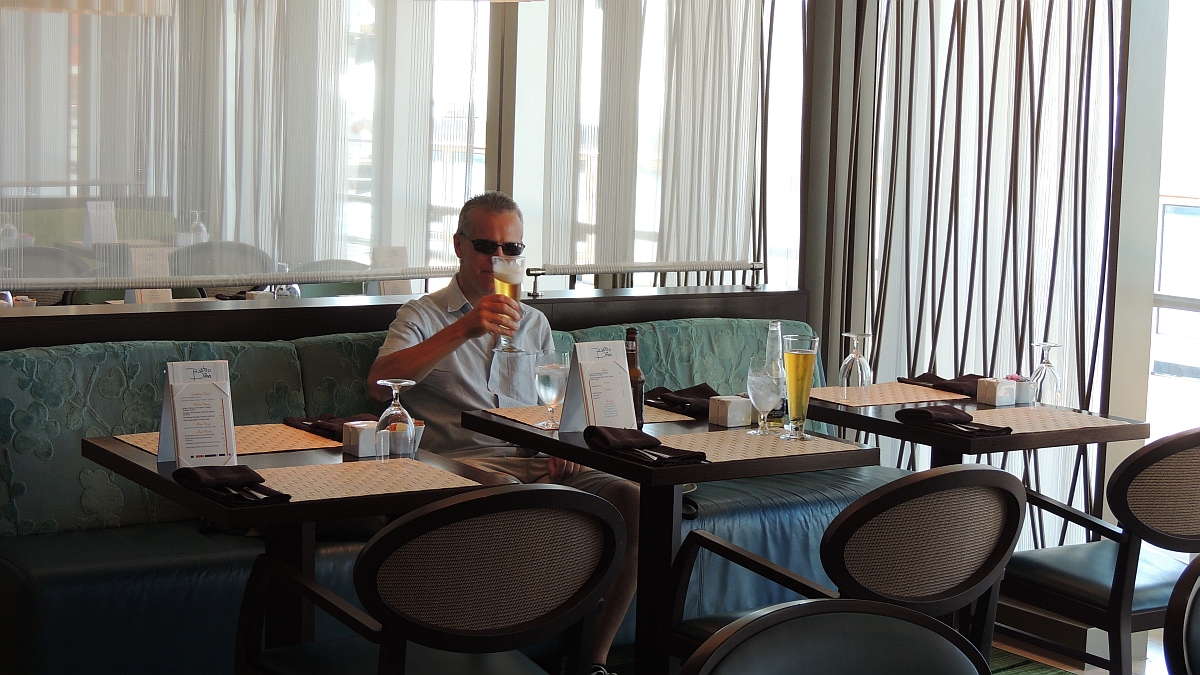 [Kev - I'm not sure if I'm raising my glass in a toast or checking the clarity of the beer. Either way, I'm looking a bit Ray Charles.]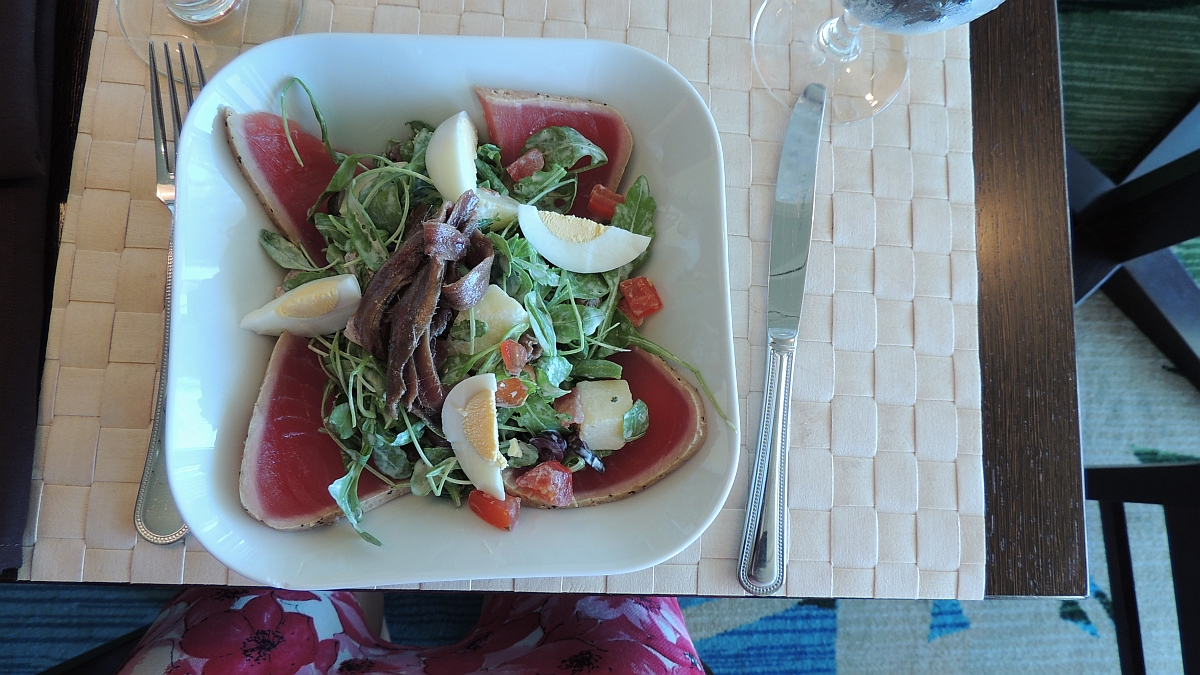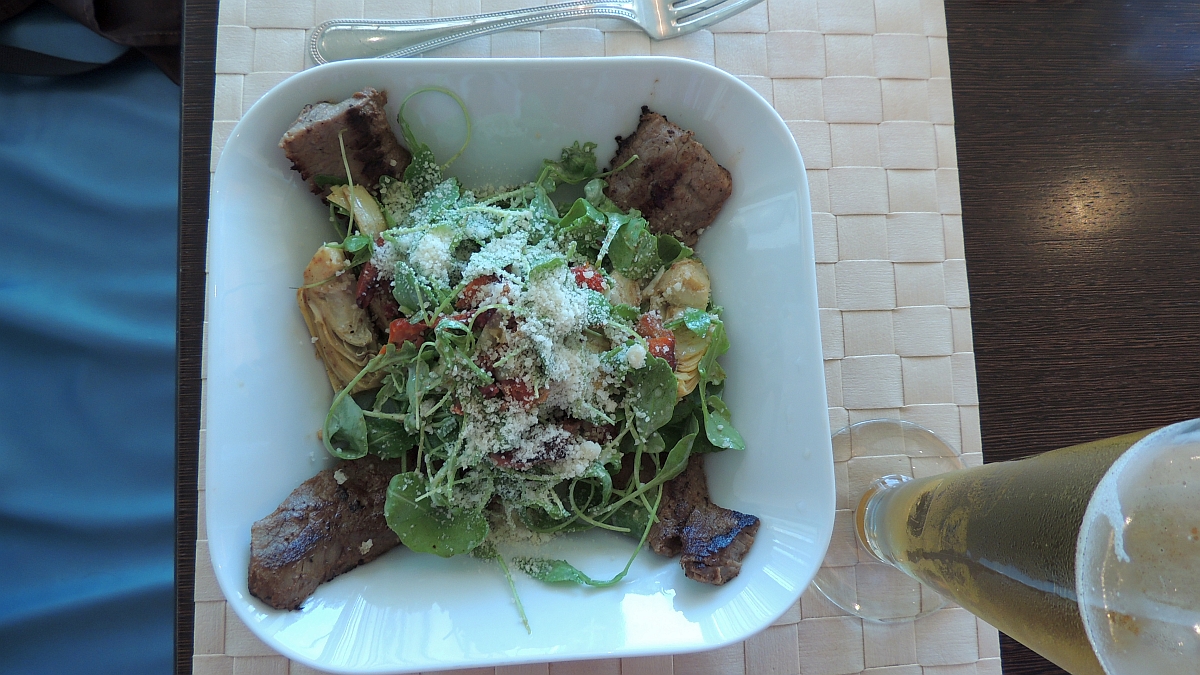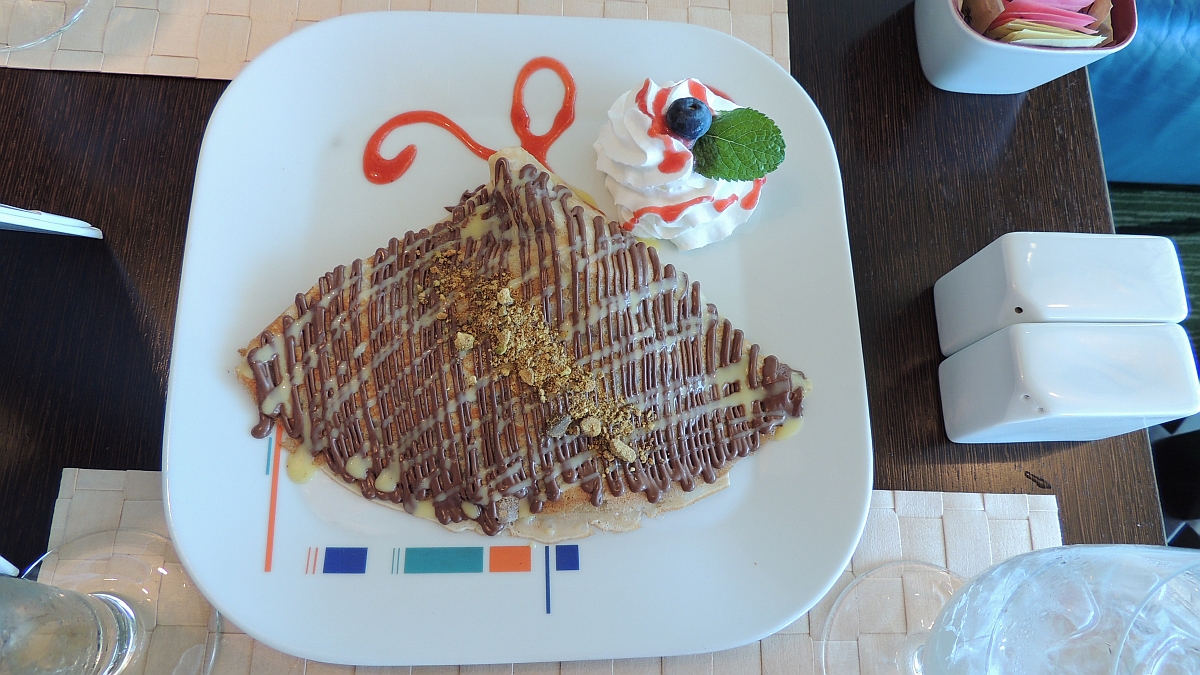 We take a tour of the Aqua Spa and sample a sea weed wrap – which to my dismay was only demonstrated on our arms – I was hoping for an instant 4" decrease in my waist measurement! We also have a sample of a hot stone and bamboo massage to give us a taster of what it might be like.
[Kev - A 4" waist reduction? Hell woman, what did you expect them to do? Trawl the Meditteranean for it's entire stock of seaweed?.]
The cabins are now ready so we head to cabin 6292 – we are very happy with the layout – the bed is near the doors to the balcony, and although we knew it had the blue roof below the balcony, we still have a great view of the sea and would definitely book this cabin again – better than looking out on the orange lifeboats in our opinion.
Our luggage hasn't arrived yet so deciding that we ought to make full use of our drinks package we head to the Molecular Bar and our server of choice for the cruise – the wonderful Sergey. I have a Violet Hummingbird and Kev has a Mr B.
We find Sergey to be great fun and a really good mixoligist. He asks what sort of things we like and suggests cocktails to try including some that aren't on the menu like a White Cloud and various other things. I suggest if you fancy something not on the menu ask the bartender and see what they suggest as we found some lovely cocktails this way.
[Kev - Tam certainly has a liking for something not on the menu. His name is Sergey and he comes from the Ukraine. I know this as she giggles like a schoolgirl every time she sees him. Thank the lord she didn't ask him for a Long Slow Screw Against The Wall.]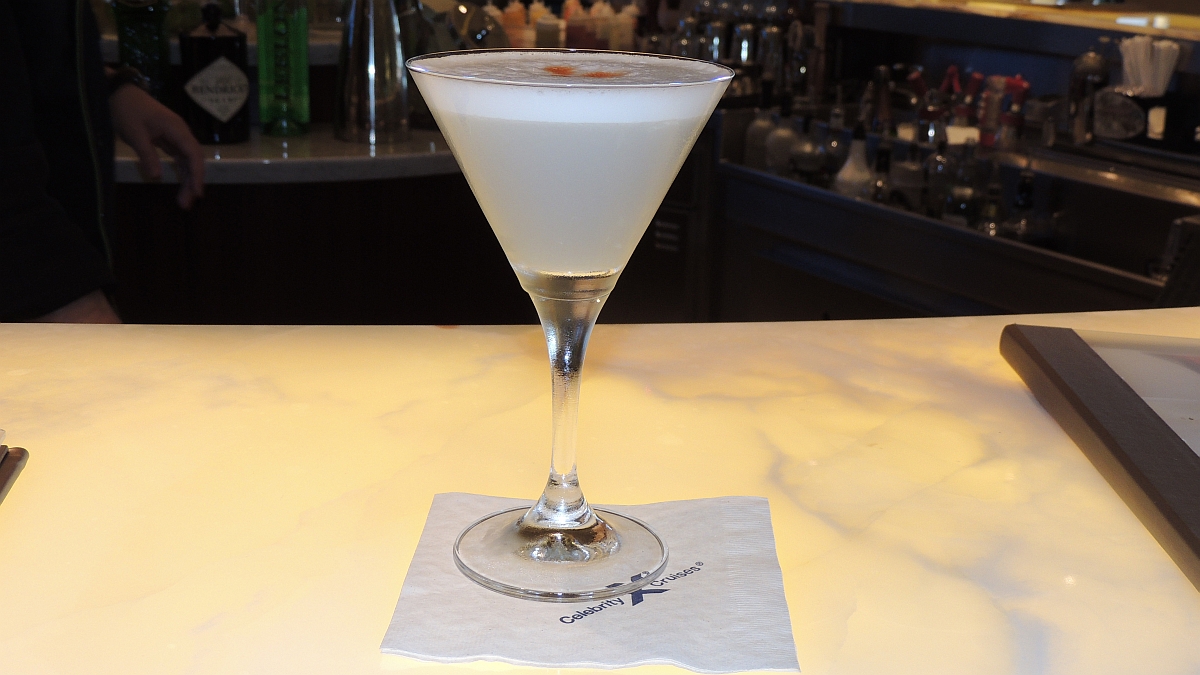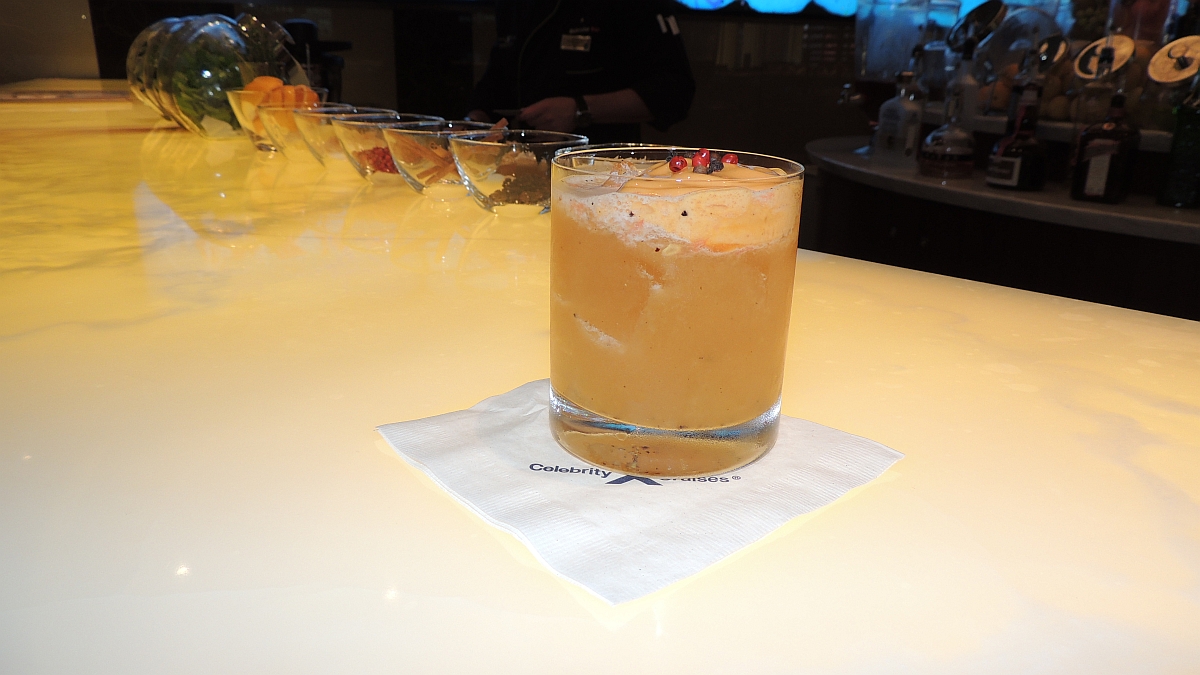 Up to the Sunset Bar for a rum and coke before going back to the cabin to unpack the majority of the stuff before the Muster Drill which for us was in Qsine. Celebrity's muster drill we always find to be very painless. None of that standing on the deck in the scorching sunshine with a lifejacket on.
After the formalities are over we head up to the Sunset Bar for a corona for Kev and a cocktail of the day which is a Cool Caribbean to drink whilst we sail away.
We finish unpacking and relax for a bit before getting ready for the evening. Decide to try the Martini Bar where we have a Flirtini and a Jaliscotini. Then we realise we have time for one more so go to the Molecular Bar for a Black Mamba and a Berry Patch.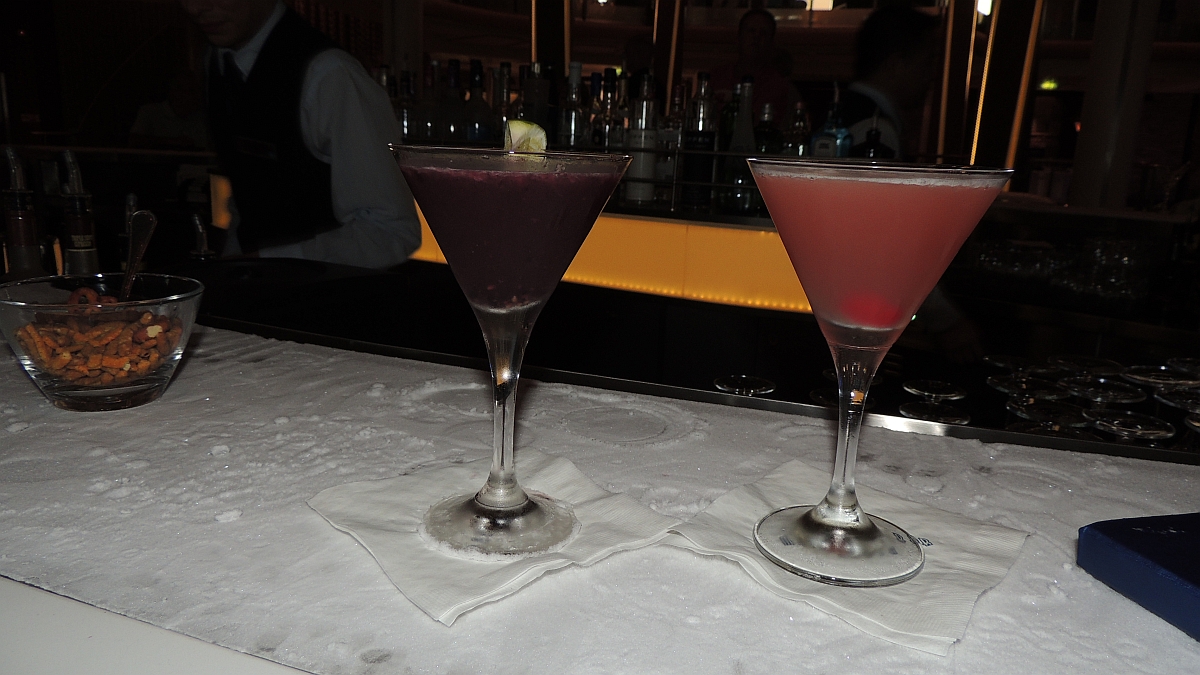 [Kev - I think this is the Flirtini and Jaliscotini.]
Tonight we are just going to eat in the Opus Dining Room – the main one. We have select dining which means we have no set dining time or table but we don't have to wait long to be shown to our preferred table of choice - a table for two. To start Kev has a Thai beef spring roll with a ginger noodle salad and sweet chilli sauce, I have wild mushroom soup with a truffle foam. For our main course we both choose prime rib with mash potato, beans and carrots – which was absolutely delicious. This was accompanied by a glass of Jackson Kendall Cabernet Sauvignon.
We go to the Ensemble Lounge after dinner and Kev has a smoke and ginger and I have a grapefruit blush whilst listening to some pleasant music.
[Kev - I feel I should clarify here. The name of the cocktail was a Smoke and Ginger. I wasn't puffing on a cigar whilst chewing on lump of ginger root.]
Upstairs the Sunset Bar and lawn is beautiful lit up but we don't stay long as we plan on catching the show tonight. One of the acts is Journey South – a one time contestant in X-Factor – they were accompanied by a backing band and a guy who looked just like Don King (the boxing producer). It was good fun and made even better by the fact that I enjoyed a Tia Maria and Kev a rum and coke whilst we watched. We had certainly made the most of the drinks' package today but to top it off we get a speciality coffee from Café Al Baccia (which is also included) Kev has a white chocolate and I have a Caramel Machiatti with a tiny lemon tart. The accompanying pastries are free and there is a wonderful selection to choose from so we made the most of these treats on this cruise.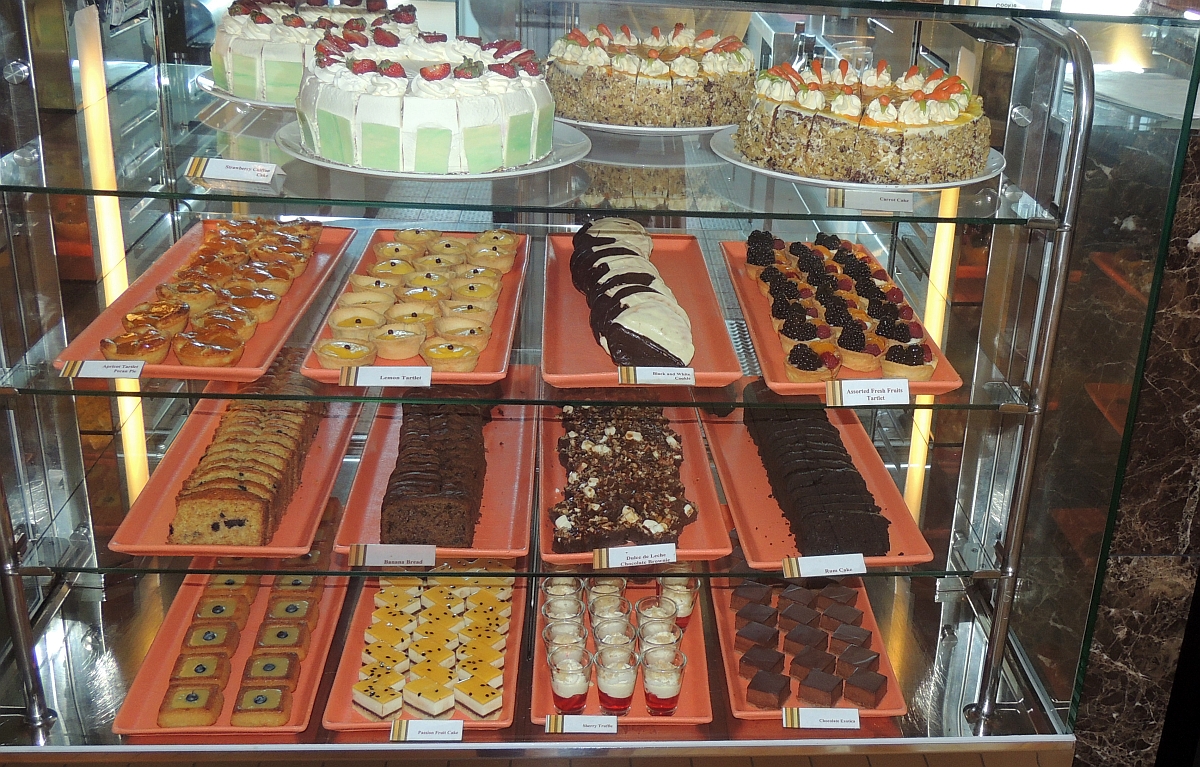 Back to the cabin as we lose an hour tonight by the time we get to bed it is 2am.
[AUGUST 2013 REPORT HOME PAGE]