Day 3 - Saturday 12th September 2015

Written by Kev
I wake and look at my watch – 2.30am. Oh dear. I doze off again until 4.30am. At 5.45am I give up and Tam and I get up. We re-pack the suitcases and meet Deb and Matt at 6.30am for breakfast.
It's still dark outside as I eat my eggs, hash browns and green ham. I only had this to see what the green ham was like and it's not as exotic (or green) as it sounds. It's just a thin piece of gammon really, I was hoping for something a little more Dr Seuss.
After breakfast we check out and walk across to where we've parked The Beast. This is an apt name for it as I'm sure it's been intimidating the other cars. I reckon they've been edging away from it slowly in the dead of night.
At 7.20am I clamber into the driving seat and press the 'start engine' button. The Beast grunts, belches and roars into life.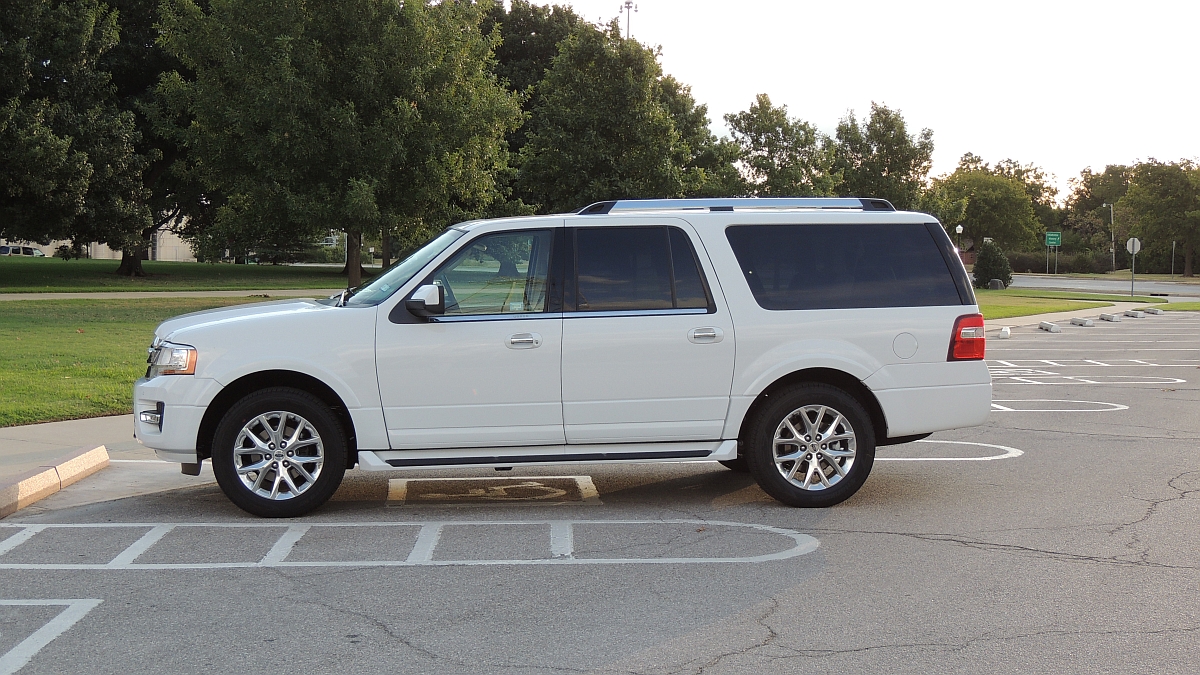 220 miles later we arrive in Oklahoma City and pull into the National Cowboy and Western Heritage Museum at 10.10am, just 10 minutes behind schedule. As the name suggests this place celebrates and documents the cowboy way of life through the ages as well as focusing heavily on the Native American culture.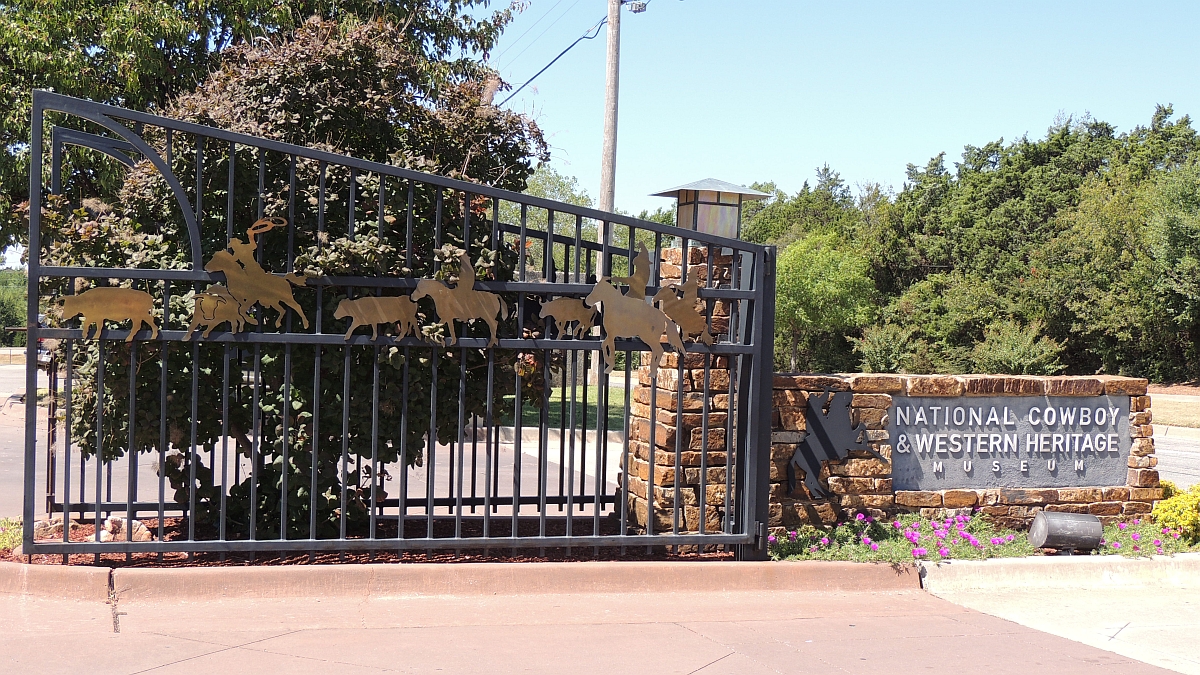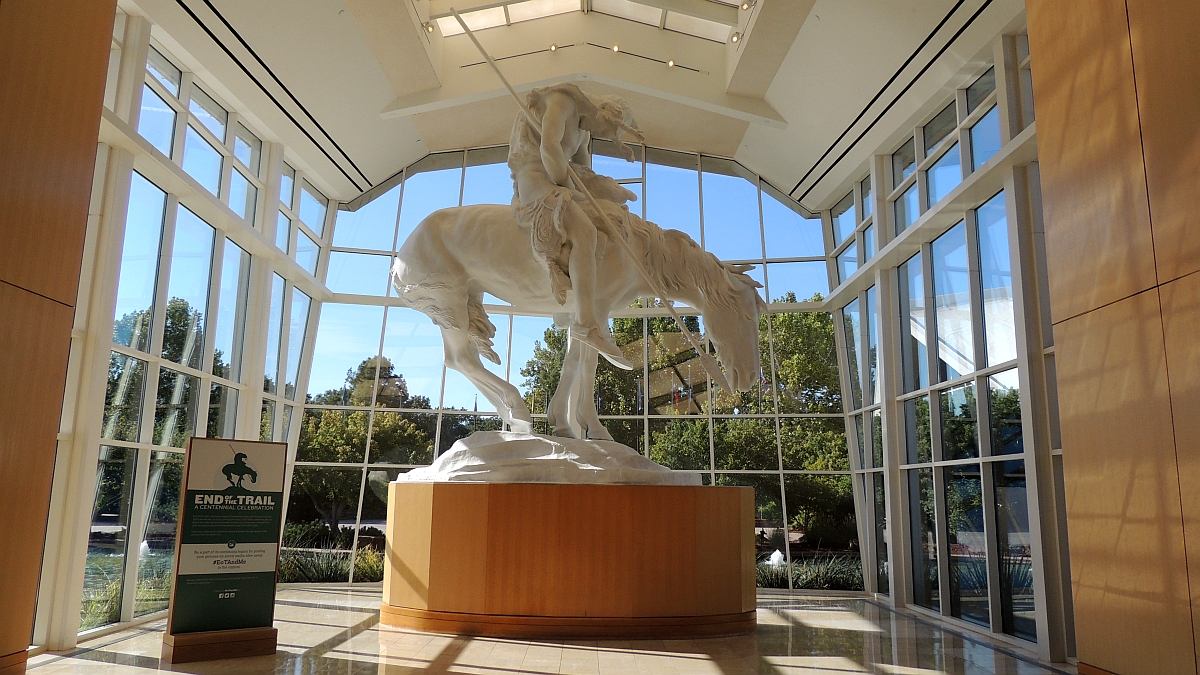 We are meeting Susan (our Oklahoman friend and one of the main reasons for this trip), but she's running late and hasn't arrived yet. We pay the $12.50 each entry fee and start to explore the exhibits of clothing, weapons, art etc. As we are part way through, Susan rings to say she is here. We walk up to the entrance hall to meet her and get a surprise when she has with her Sally (her sister) and Shelly, who Deb and Matt have met several times before and are good friends with.
Introductions are made and we all continue to tour the museum. For Tam and I our favourite part is a reconstruction of a typical Wild West town at night. You walk through the town and go into all the buildings such as a blacksmith, a schoolhouse, church etc. They even have a jail and Deb, Matt and I mysteriously find ourselves locked up by the Sheriff.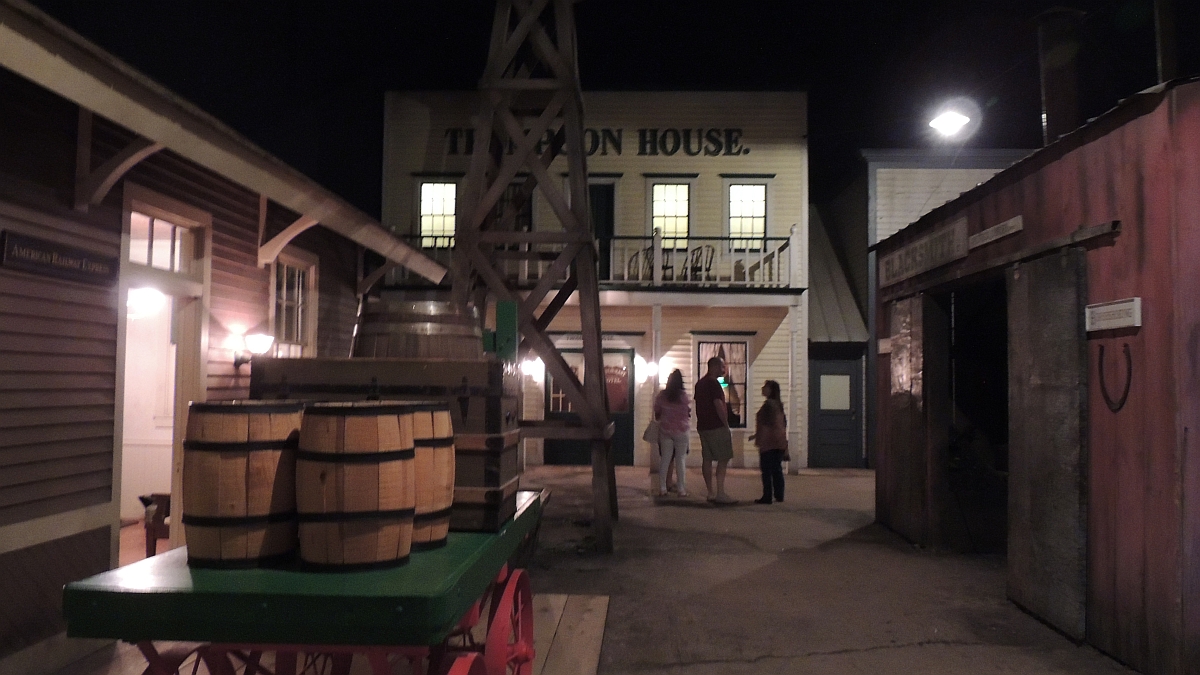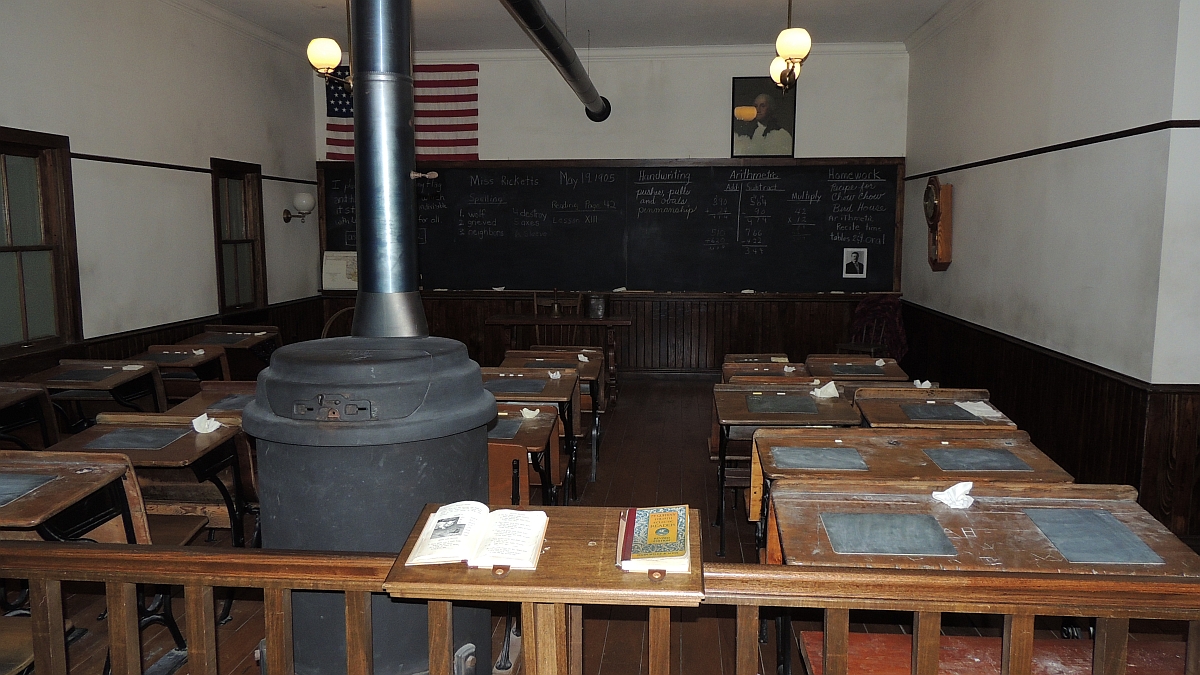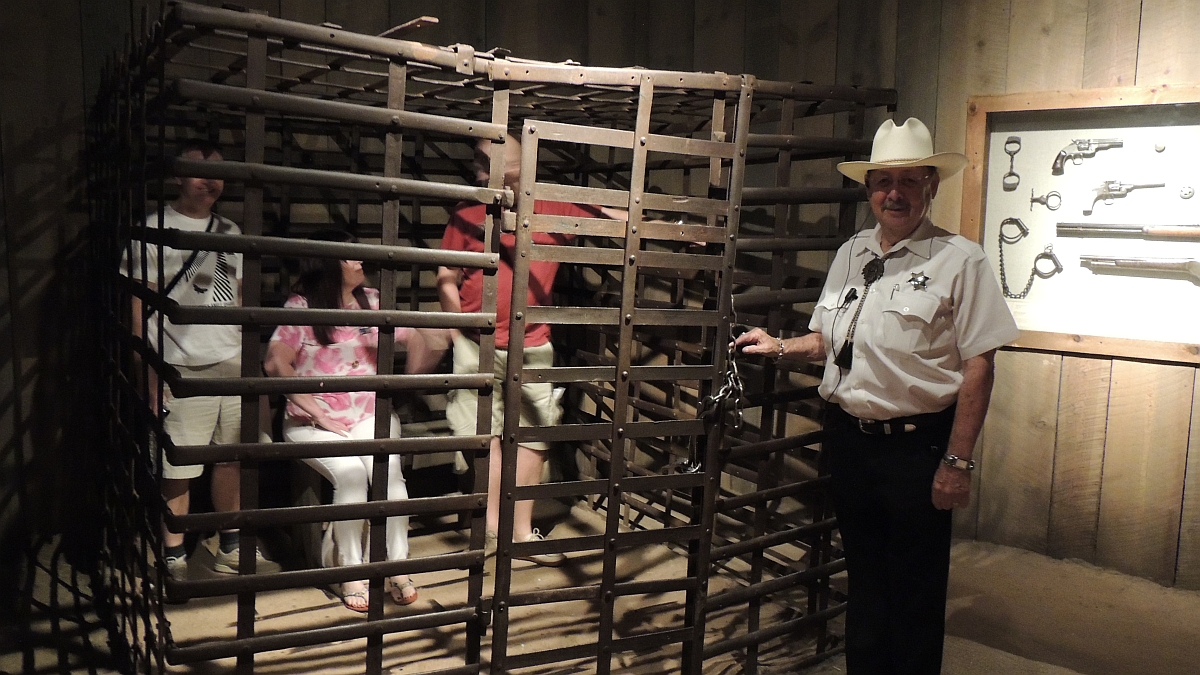 Next we walk around the gardens, which are very pretty and have more sculptures as well as a sort of horse graveyard for famous horses through the ages.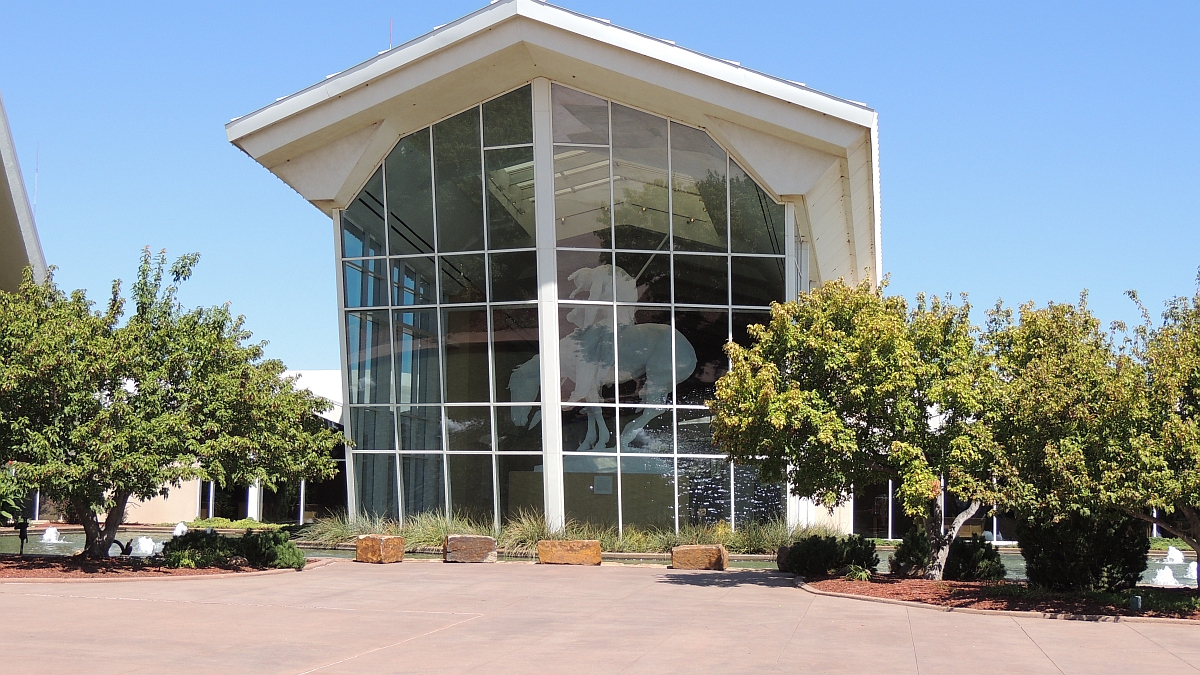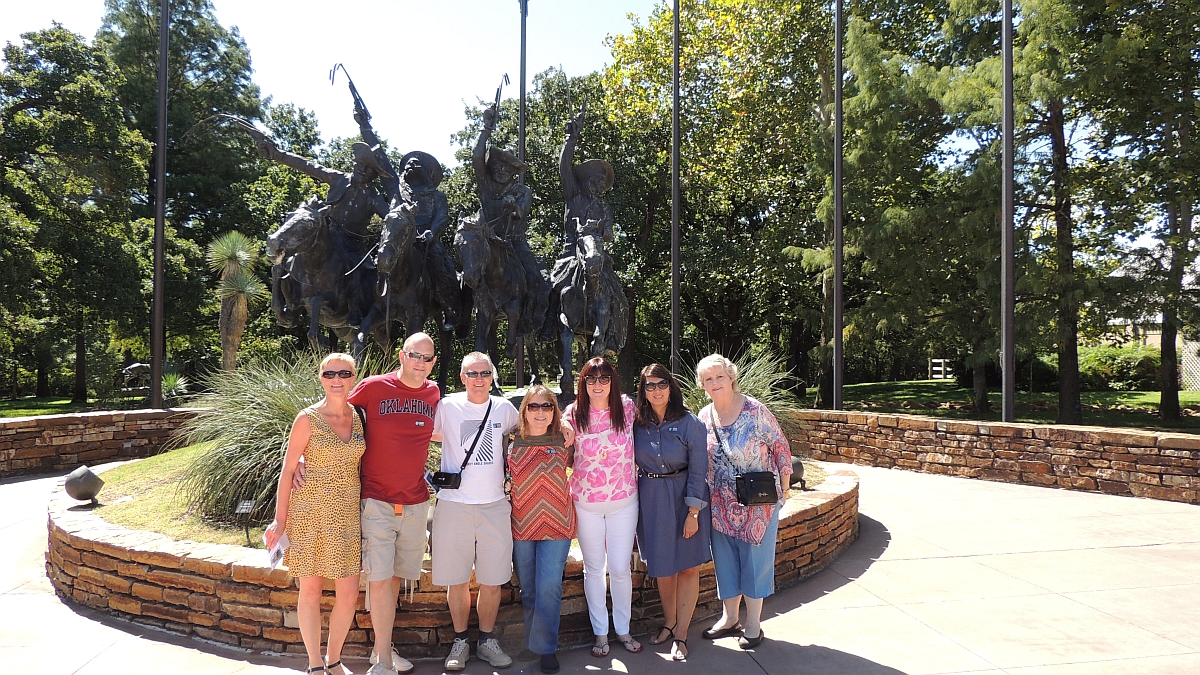 From left to right: Tam, Matt, Kev, Susan, Deb, Shelly, Sally.
It's getting close to lunchtime now, so we all drive to Irma's Burger Shack. I bet you can't guess what they are famous for here. It's been a family run business for many years and even has old black and white photos of family members over the years along with witty comments underneath.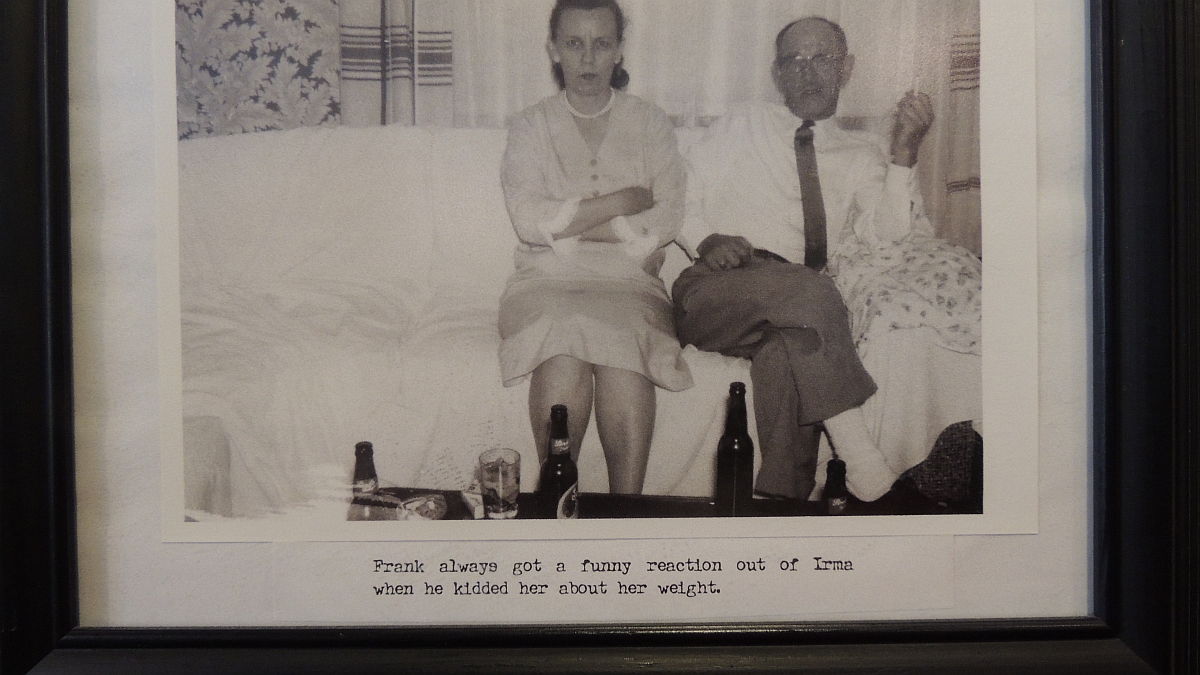 This one tickled Tam's fancy.
The food is very good and we all have burgers of various sorts. Part of the way through the meal Shelly gives us all presents. I get an Oklahoma University T shirt. OU is the college football team that Matt follows. Shelly and Sally also follow them enthusiastically. Thanks very much Shelly, I'm now an honorary Oklahoma University fan.
At the end of the meal Sally declares that she is picking up the check. I'm beginning to think these Oklahomans are a generous lot.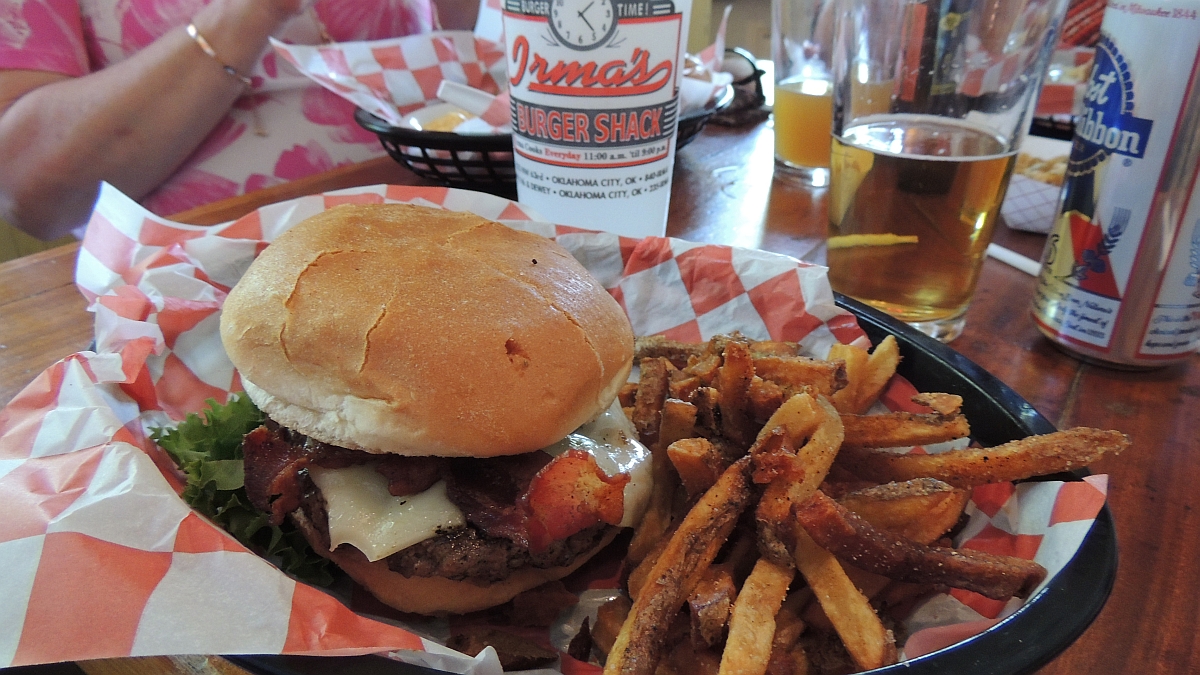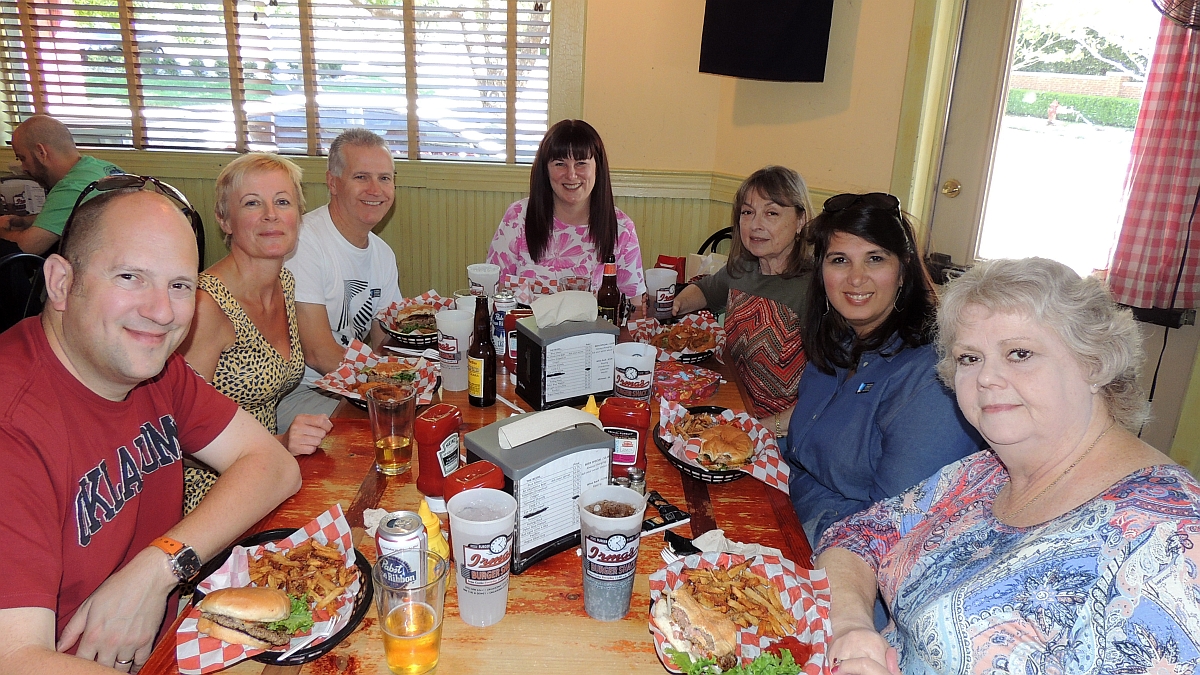 We drive into the centre of Oklahoma City next, where we check into the Skirvin Hilton Hotel. Susan is staying here tonight as well, but Sally and Shelly are leaving us later to drive back to their hometown of Muskogee, about 100 miles away. We drop off our luggage in the room and return to the lobby to meet Deb, Matt and Susan. The Beast has been safely caged by valet parking ($26 for the night) because Sally is kindly ferrying us around the various sites.
She drives us to the Oklahoma City National Memorial on the site of a federal building that was destroyed in 1995 by a bomb planted by Timothy McVeigh. 168 people lost their lives including 19 children. There is a museum, which we don't go in, and a memorial garden. Either end of a reflecting pool are twin bronze gates. One end says 9.01, the other 9.03. The bombing was at 9.02am; so one end reflects the last moments of peace and the other the first moments of recovery. On the site of the actual building that was destroyed is a lawn with 168 chairs – one for every victim. 19 of the chairs are half size to represent the children. It's very well done and very respectful while still getting across the story of the awful events.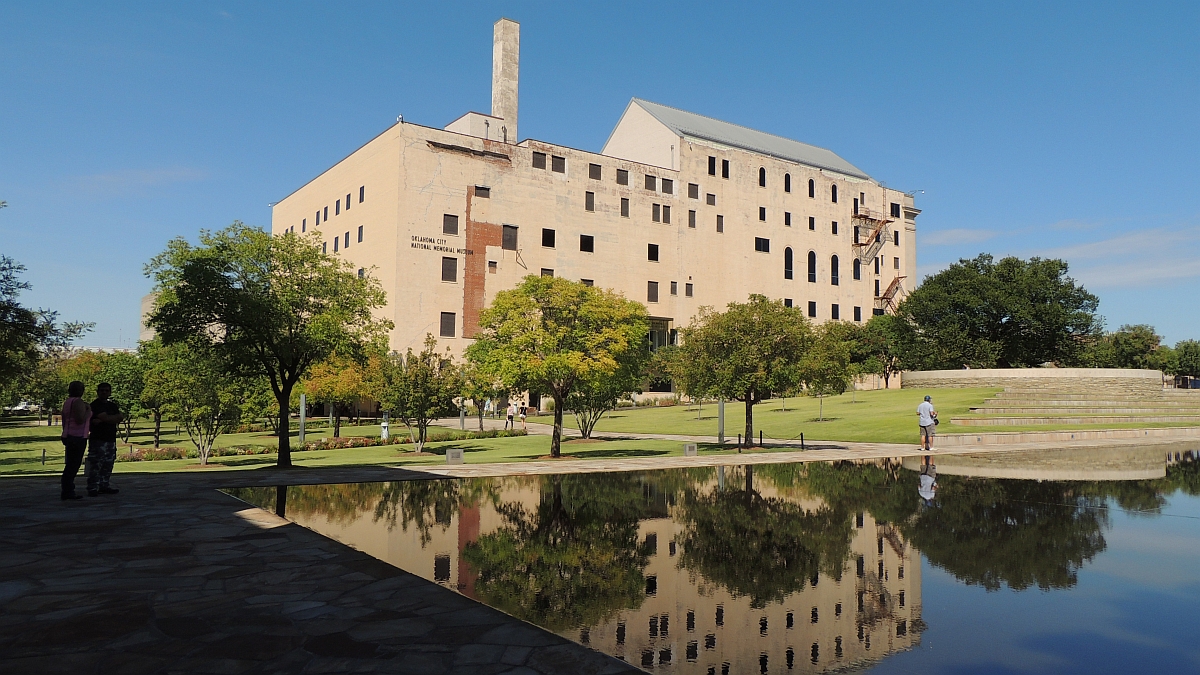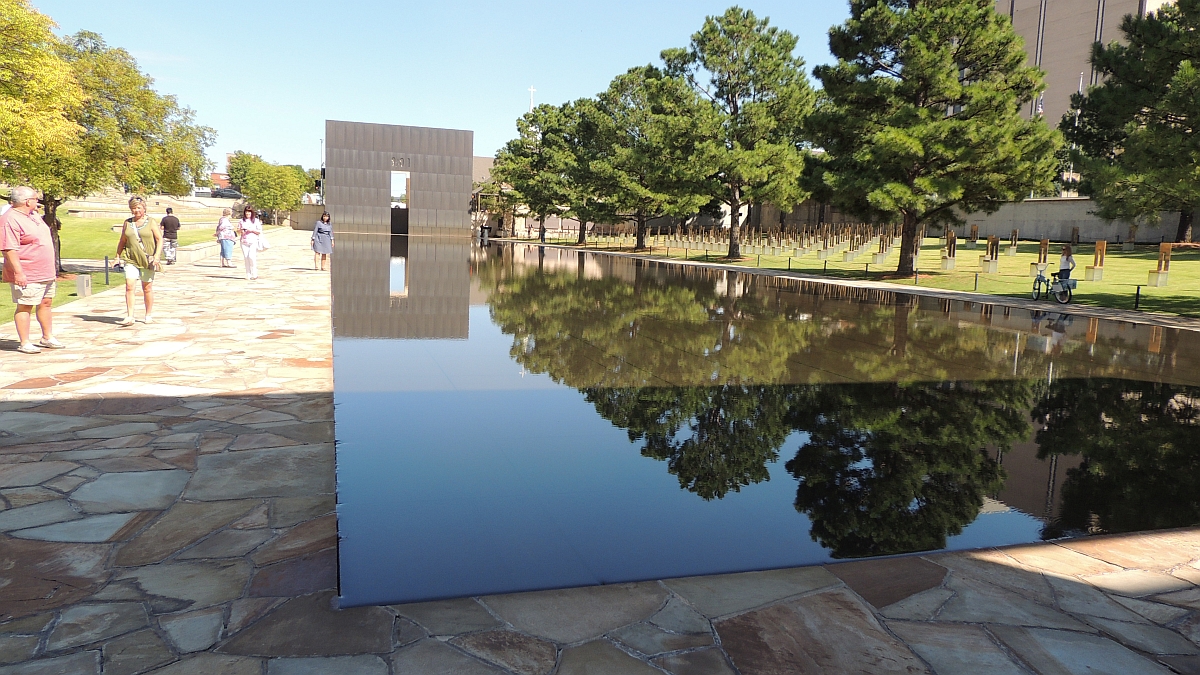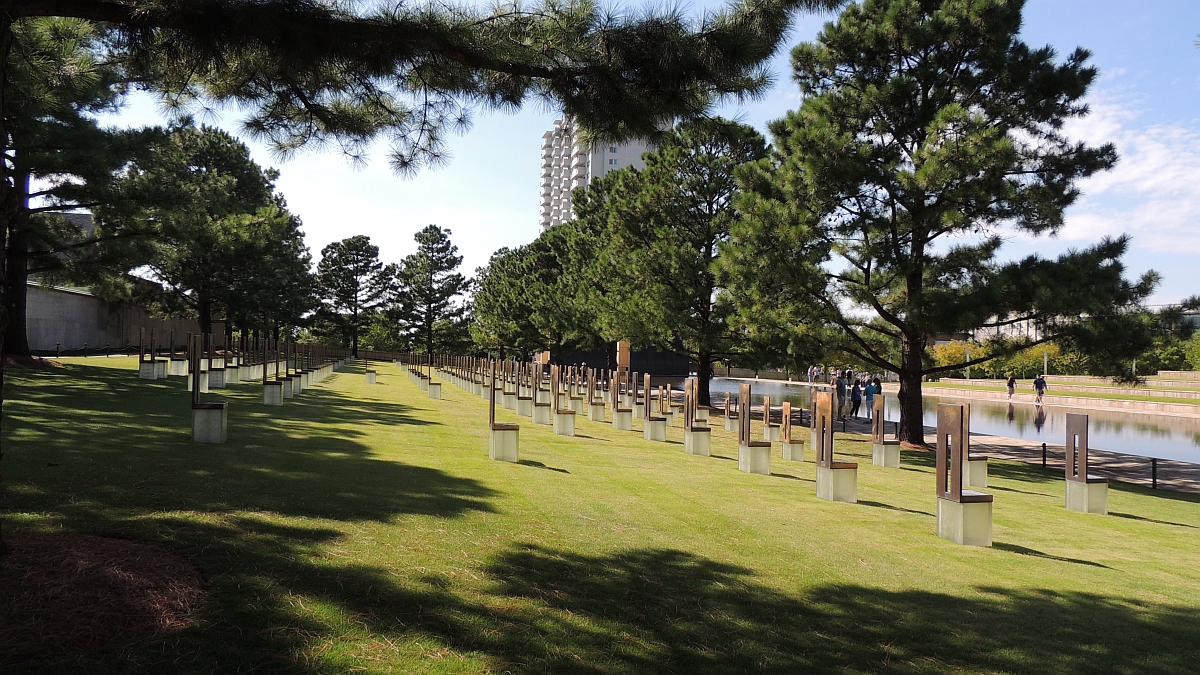 After a while Sally drives us to the Oklahoma Museum of Art where we briefly stop to see the huge glass sculpture in the lobby.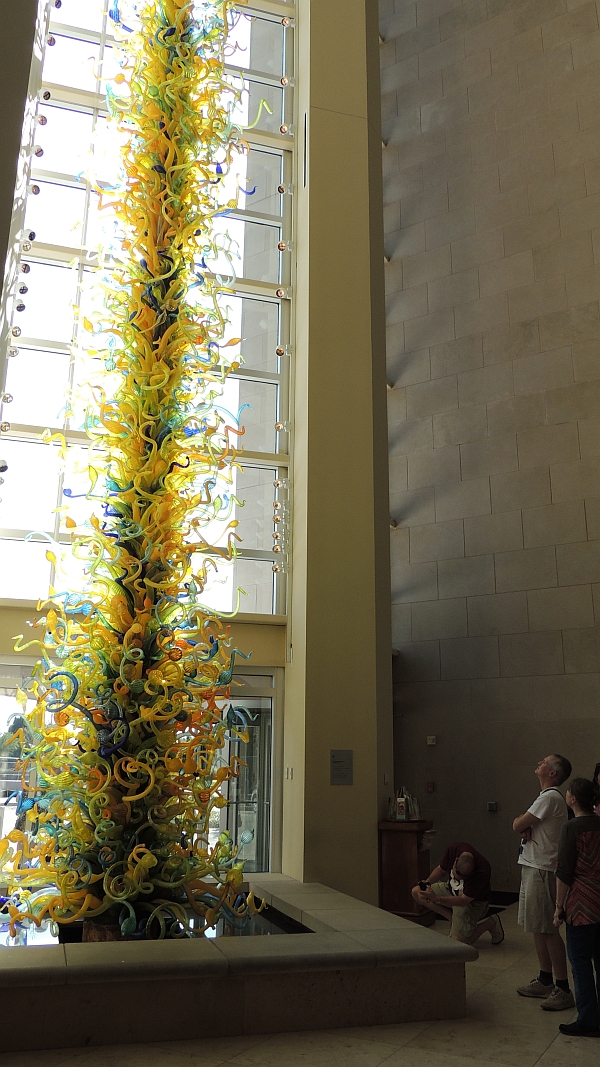 Sally's taxi service then drops us off in Bricktown where we say goodbye to Sally and Shelly for the time being, we will be seeing them again later in the holiday.
Bricktown is an area that has gone through considerable regeneration and houses many bars and restaurants alongside a small canal. We take the boat ride where the guide tells us about the history of the area. At least she would if I could hear her. There is a family next to us with a little girl about 2 years of age. She certainly knows about ducks as she screams 'Duckies' every time we pass one. There are a lot of ducks on this boat journey. I'm none the wiser about the history of Bricktown by the end of it, but now know a lot about ducks. Just ignore me; I'm being a miserable curmudgeon as usual. The little girl is just excited and having fun.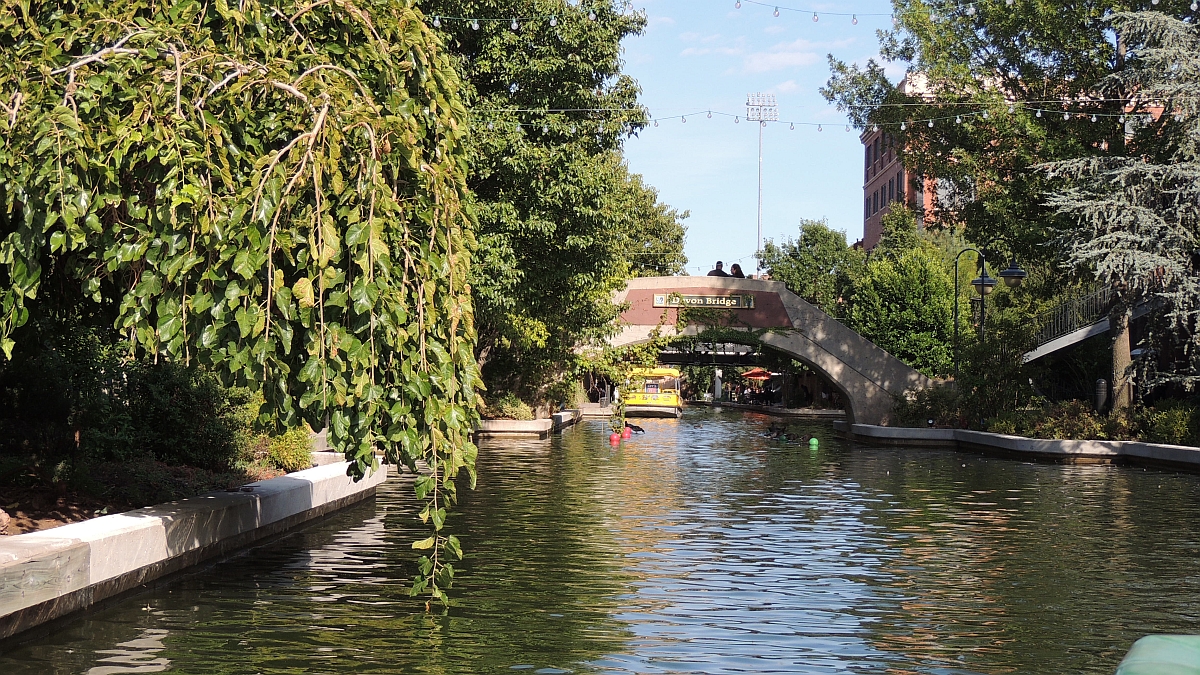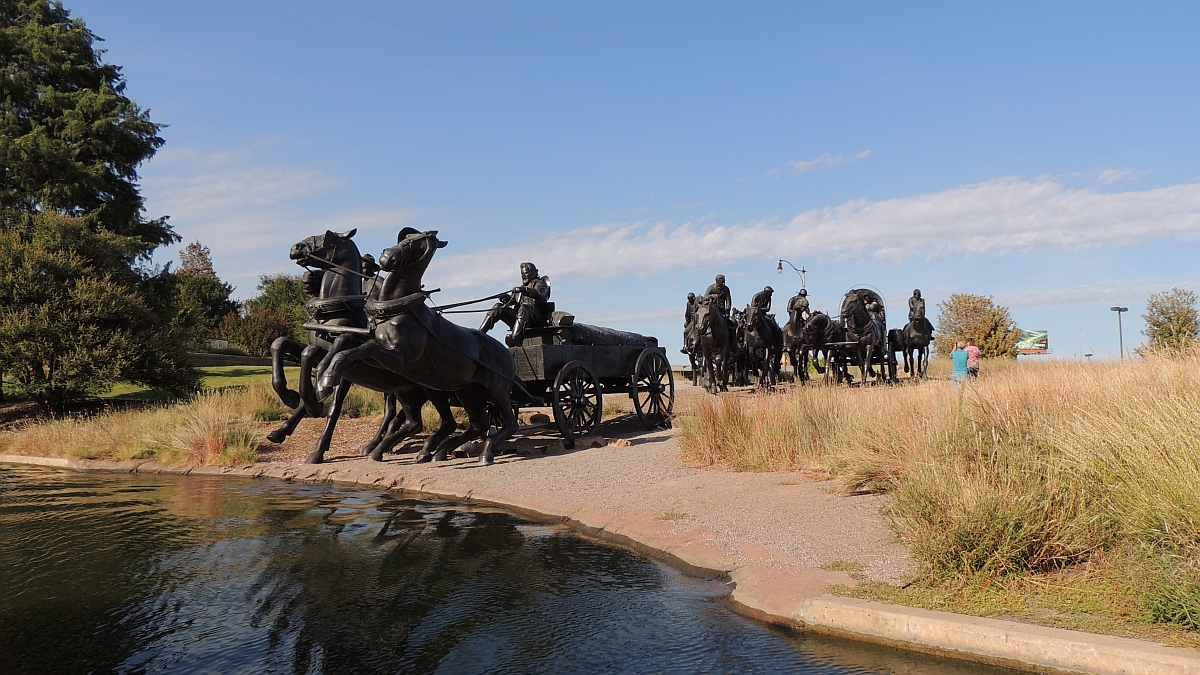 After the boat ride we sit and have a beer in Captain Norm's Dockside Bar, where a couple of guys are playing guitar, before we return to The Skirvin.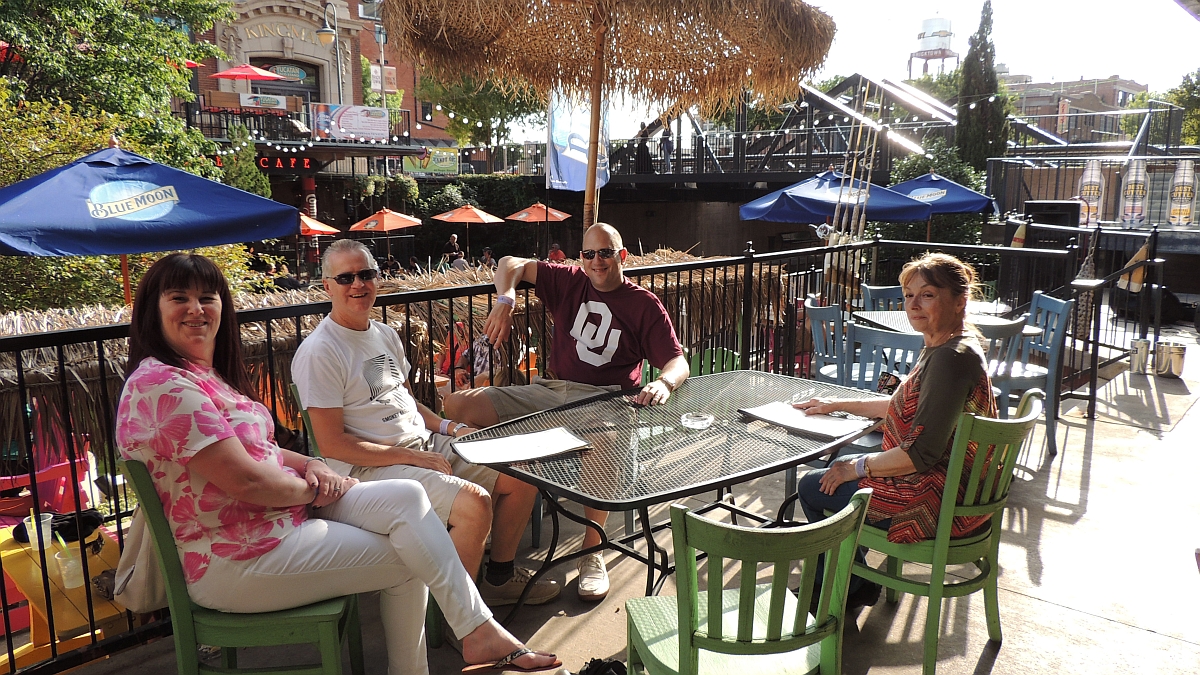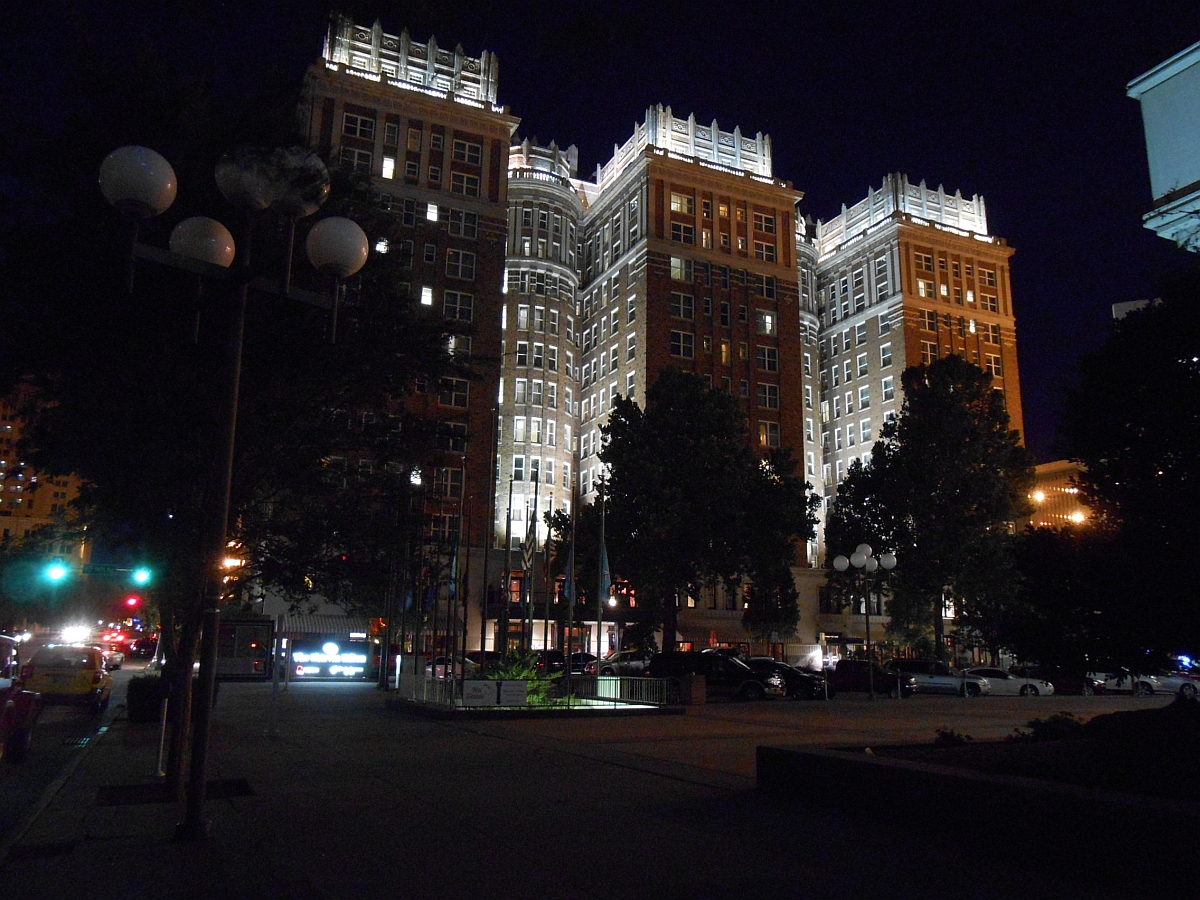 Here we shower quickly and meet up again in the bar where we watch the college football game – Oklahoma University v Tennessee.
We eat various snacks while we watch, but Oklahoma are very poor in the first half ending up 17 – 3 down. Matt is not happy and neither are most of the people in the bar. One lady seems especially upset and screams out 'Fu?$%* referee' really loudly before realising what she's said and apologising profusely to all around. Matt and I are particularly offended, as we've never heard such language before.
Susan has given me the gift of an Oklahoma University baseball cap to go along with my T-shirt, so I definitely have to root for them. Oklahoma are much better in the second half and score a touchdown with a few seconds left to take the game into overtime. They eventually win, so all around are happy.
The air conditioning is a little chilly, so we end the evening outside where it's warmer.
Back to the room at 11.00pm and in bed by 11.30pm.
[SEPTEMBER 2015 REPORT HOME PAGE]