DAY 12- SATURDAY 12th MARCH 2011
Written by Kev
Participants: Tam and Kev
Back to me (Kev) doing the trip report, which is either a good or bad thing depending on your point of view.
Up at the ungodly hour of 6.00am as we are doing express disembarkation, which means we can take our luggage off the ship instead of leaving it outside the stateroom last night.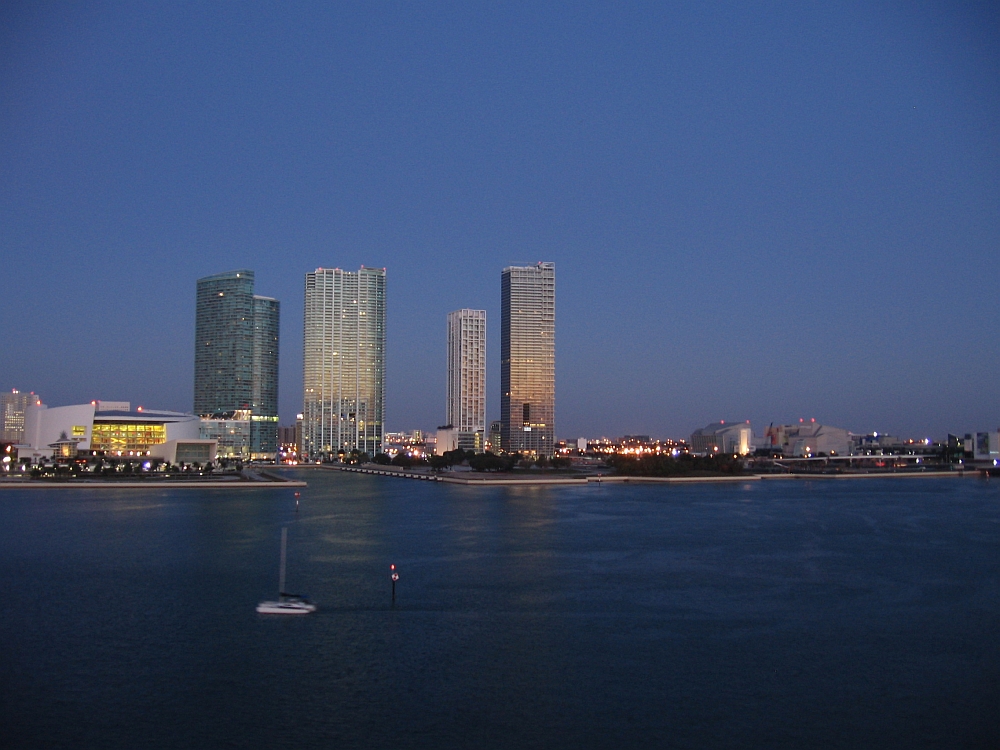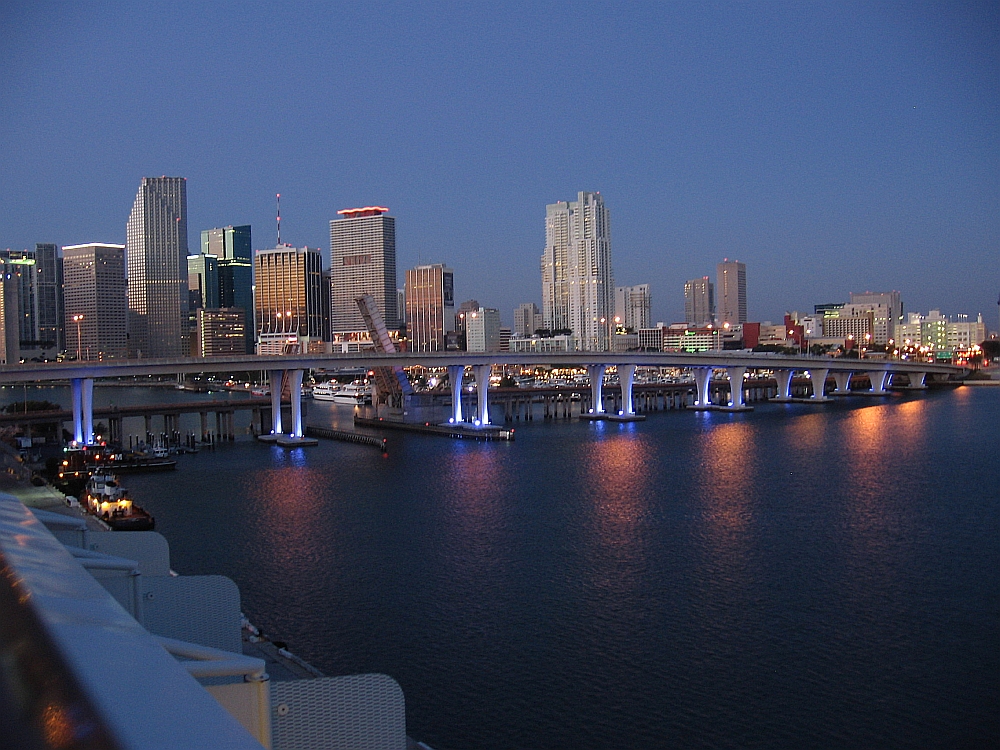 Miami in the early morning light
We first go to the Oceanview Café for a brief breakfast. In reality 'brief' is the last word you should use to describe this particular repast as I have two eggs over easy, English bacon, baked beans, two pieces of toast and marmalade. I also can't resist a waffle, which I duly cover in maple syrup, cinnamon and whipped cream. Now that's what I call a breakfast!
Back to the stateroom where we pick up our luggage and exit the ship at 7.30am. 5 minutes later we are through immigration and waiting for the Dollar bus to take us to the car rental centre at Miami airport. Both embarkation and disembarkation have been very swift and efficient.
The Dollar bus arrives after a few minutes and deposits us at the very impressive car rental facility at the airport after a short ride. There is only a small queue and we are being processed 10 minutes later. The lady behind the desk checks everything out and advises us that we have ordered a child seat. Now I know Tam can be a bit immature, but I wouldn't go that far! Desk lady then jokes that maybe we would need it if we come back next year. This would be most inappropriate, as I have had a certain procedure involving a surgeon, a scalpel and a very delicate area of my anatomy. Let's just say that there are no little fish swimming in the pond. If Tam suddenly announces she's pregnant, I will suspect foul play or prepare for the second coming. Foul play is probably more likely.
Car picked up (a black one for those of a technical nature and an enquiring mind) we are on the I95 and then the Turnpike in double quick time. 2 ˝ hours later we stop off in Vero Beach at a Walmart for some beer and cereal (not to be used together) before arriving at Disney's Vero Beach Resort around 11.30am.
Check-in is swift and friendly, although our room is not yet ready, so we head to the pool for lunch, a couple of cheeseburgers. Yeah, I know, after that huge breakfast I should be embarrassed, but I blame Tam as she wanted a cheeseburger and I couldn't see her eat on her own. I'm a saint. I have to force down a beer as well.
A lie by the pool is now called for as it's 70°F with clear blue skies. This goes well until a bloke sets up a disco directly above our heads, so we move to the other side of the pool. Undeterred, he starts to blast out music, followed by limbo and hoop la games for the children. Time to beat a hasty retreat to the beach where the waves are thundering in. Although it's warm in the sun, the brisk wind off the sea is quite chilly. I make the mistake of dipping my toe in the surf; it's certainly no Caribbean. Swimming would not be for the faint hearted.
At 3.00pm our room is ready, 2415 – an ocean view room. It's on the 4th floor and when we walk in we are amazed. It's probably 3 times the size of a studio with two sofas in a large living area across from the huge bed. It's also beautifully clean with no scuffmarks to be seen anywhere. The balcony is also larger than expected and looks directly out over the beach and ocean. I'm sure this isn't a normal Inn Room, so we really have been lucky.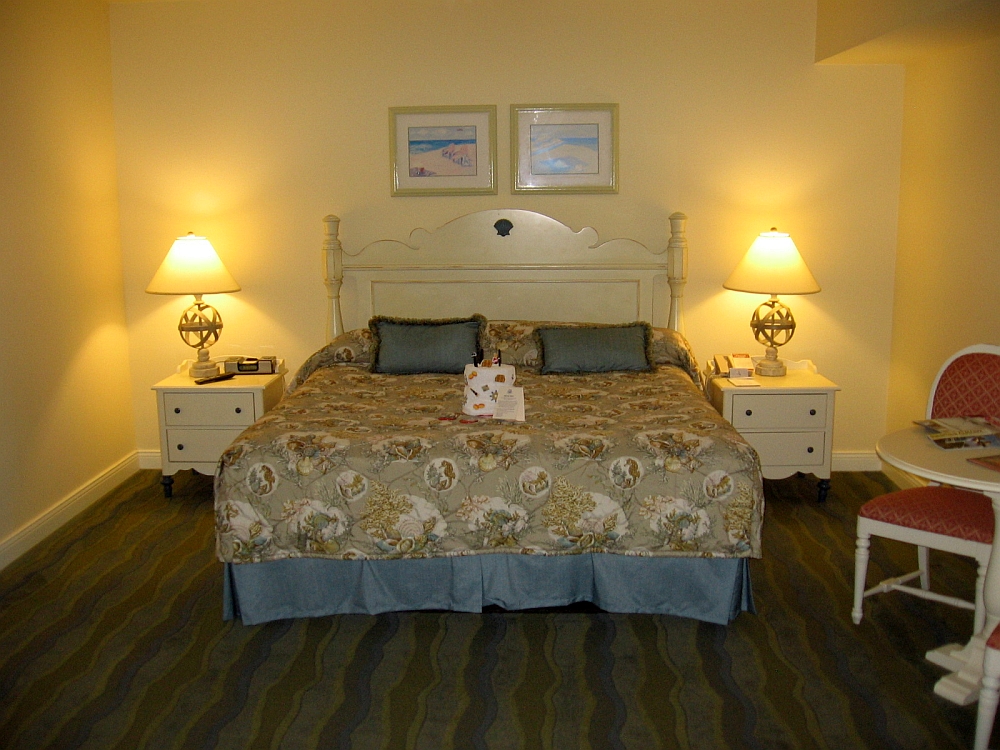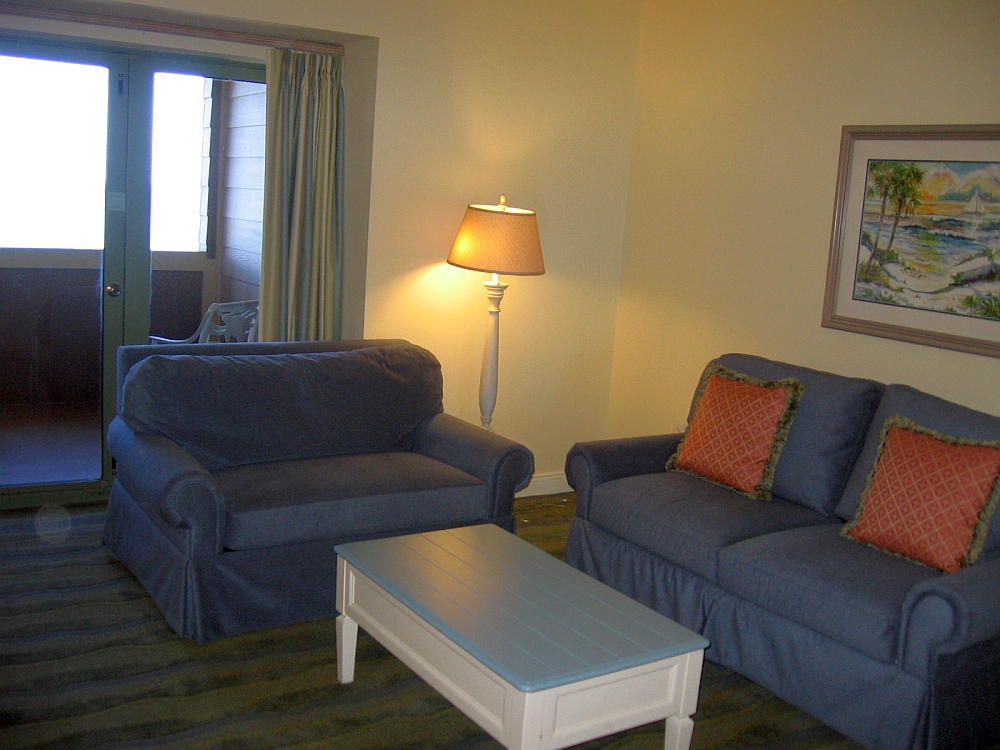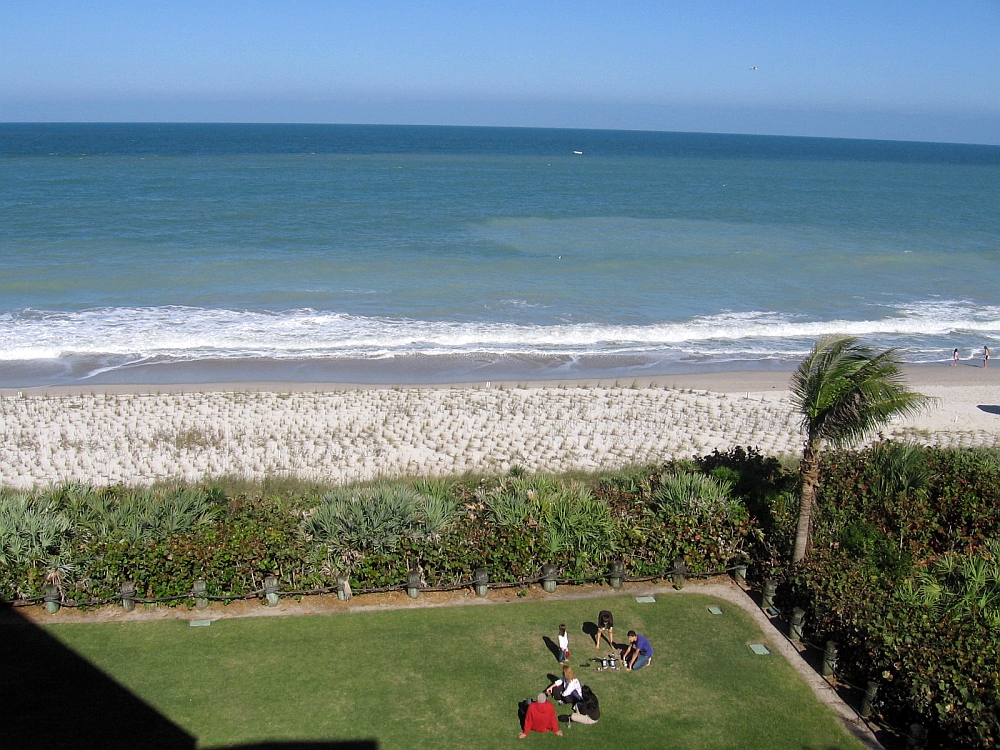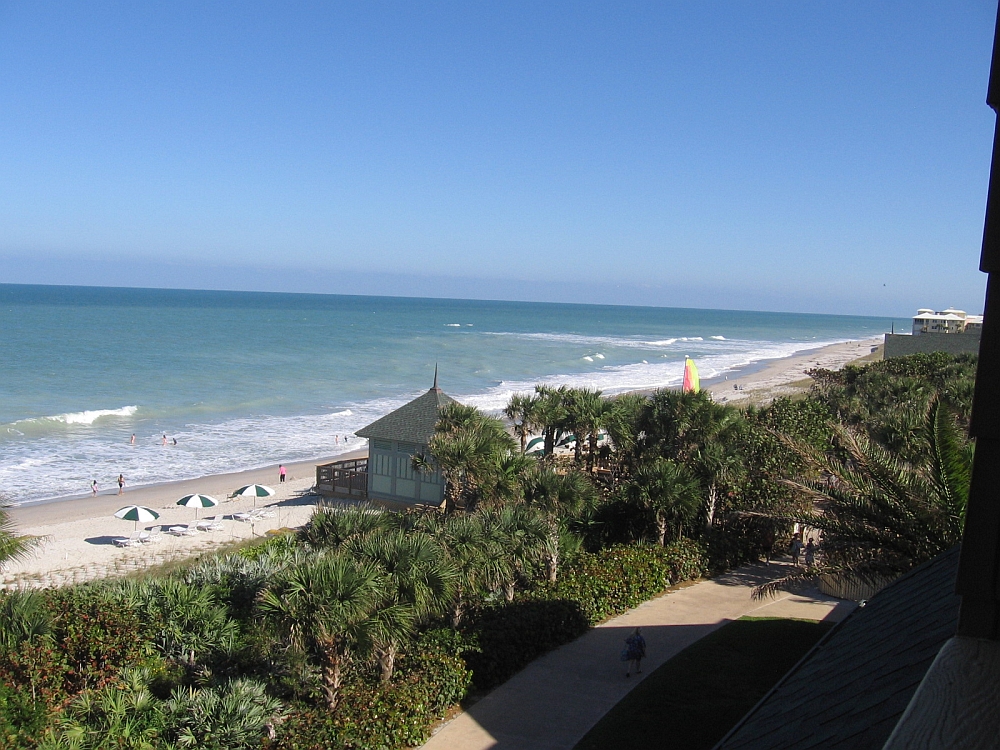 Views from the balcony
We unpack and Tam is happy as she can connect to the internet through the free wi-fi.
After unpacking and showering we are ready to go out for the evening. Ever since we knew we were coming to Vero Beach our intention was to spend this evening at Captain Hiram's, so we go to the front desk to arrange a taxi. Considering it is a Saturday night I thought this would be quite easy, but it turns out that there are only two local taxi firms. Luckily one is available and he turns up 20 minutes later.
As we drive along we arrange for our return journey and I'm again surprised to learn that the latest we can be picked up is 11.00pm. It's a little earlier than we would have hoped for, but the best that can be done.
We arrive at Captain Hiram's around 7.30pm to find a 20-minute wait time. This is ok as it gives us time to look around the shop, where I buy a t-shirt.
For those that don't know about Captain Hiram's, it is a restaurant, bar and outside music stage set on a marina. It's hard to explain the place, it's very fishing oriented with lots of photos of huge fish caught by people going out on the charter boats. It's also very laid back with the outside music stage set on the small sandy beach beside the marina.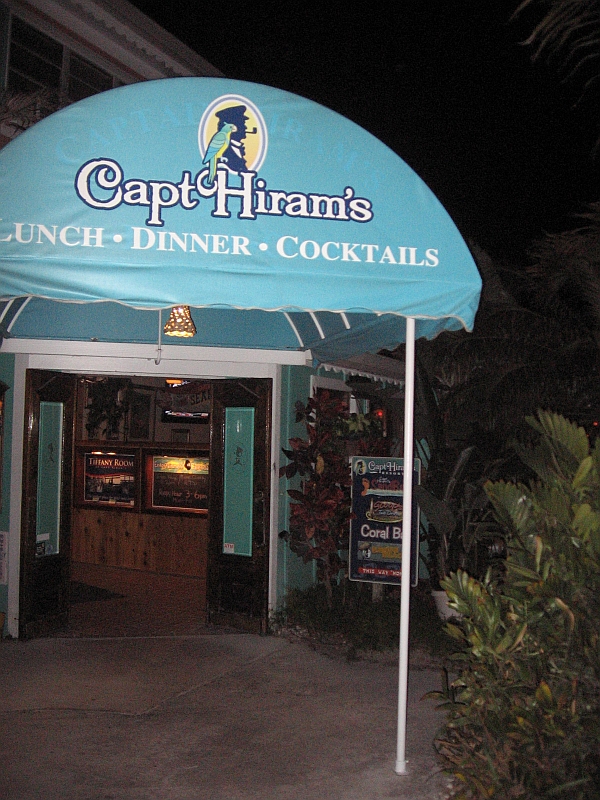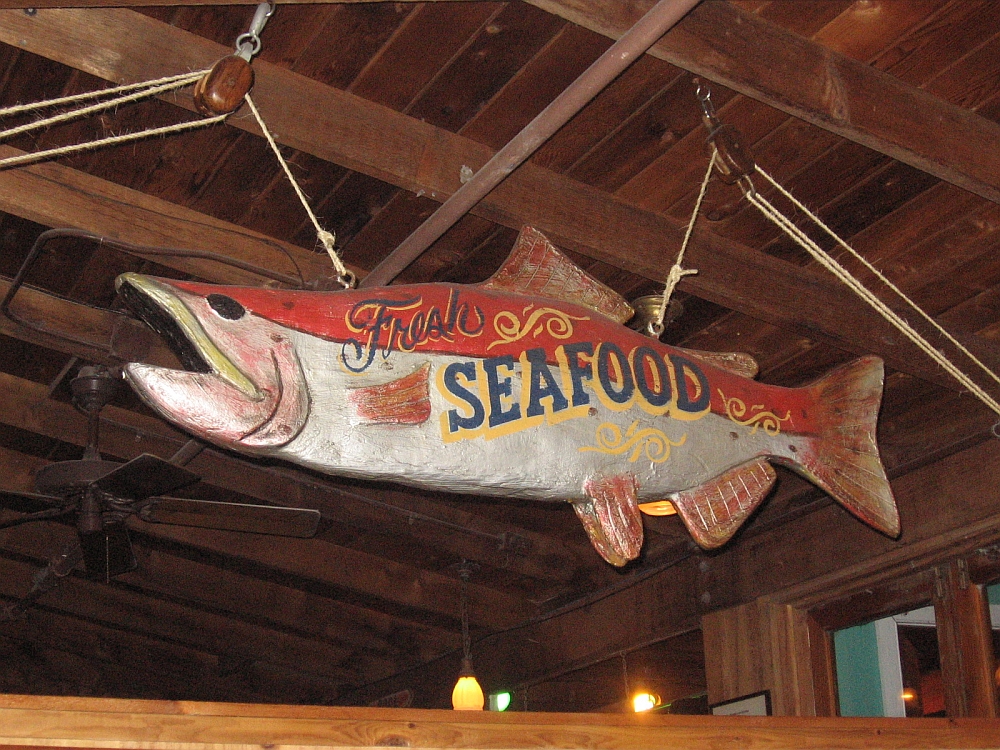 Our evening starts in the restaurant where a couple of margaritas set things going nicely, even more so as they are the drink of the day at $4.75 each. We split several dishes between us. These are buffalo chicken wings, clam chowder, chicken quesadillas and shrimp with creamy garlic pasta. I'd forgotten that 'buffalo' should be translated into 'this will burn your mouth off' when talking about chicken wings. A cooling beer is required.
The food is very good, as is the price with the total coming to $70 including drinks and tip. Don't come here for a quiet meal (except maybe at lunchtime), but if you want a buzzing place with good food and a great atmosphere you will not be disappointed.
After the meal we head to the outside bars where the music is in full flow. The band are called Kings County and play covers ranging from Michael Jackson through Bon Jovi to The Violent Femmes. They are very good and some of you may have unknowingly come across them before as they were once the house band at the Rock 'n Roll Beach Club in Pleasure Island.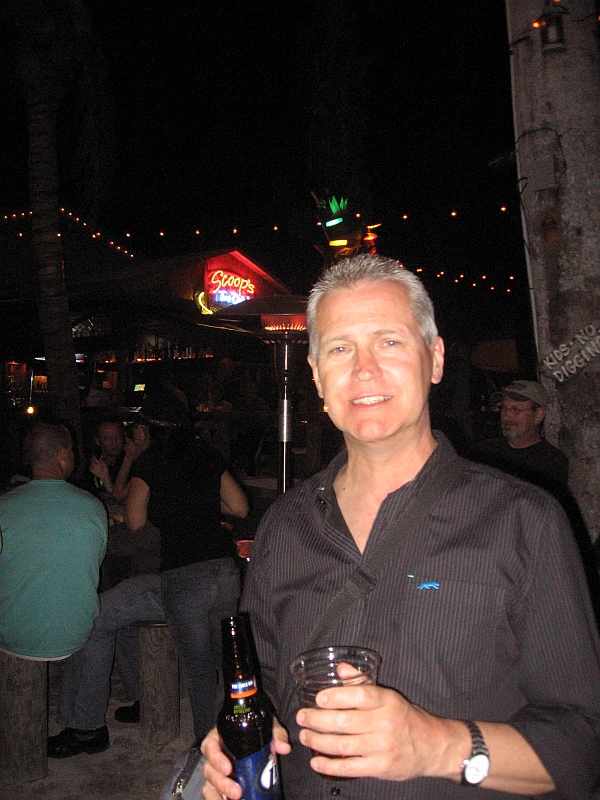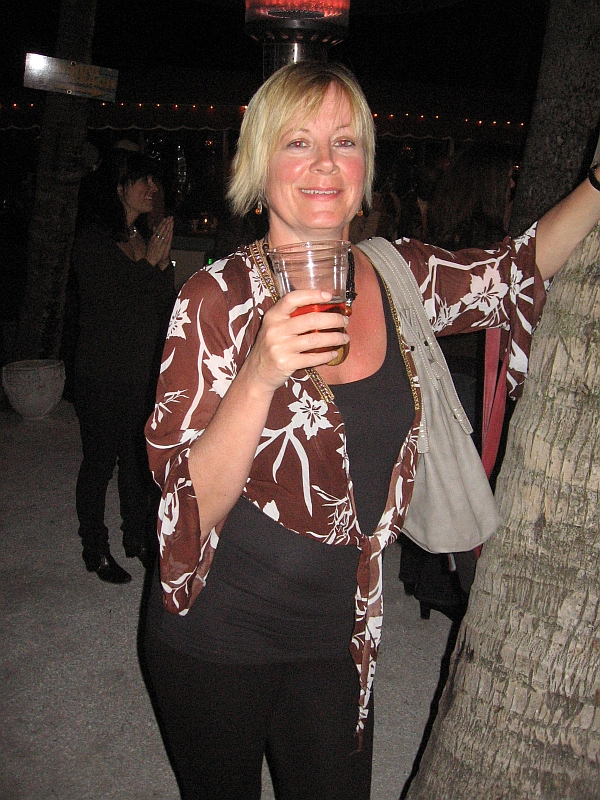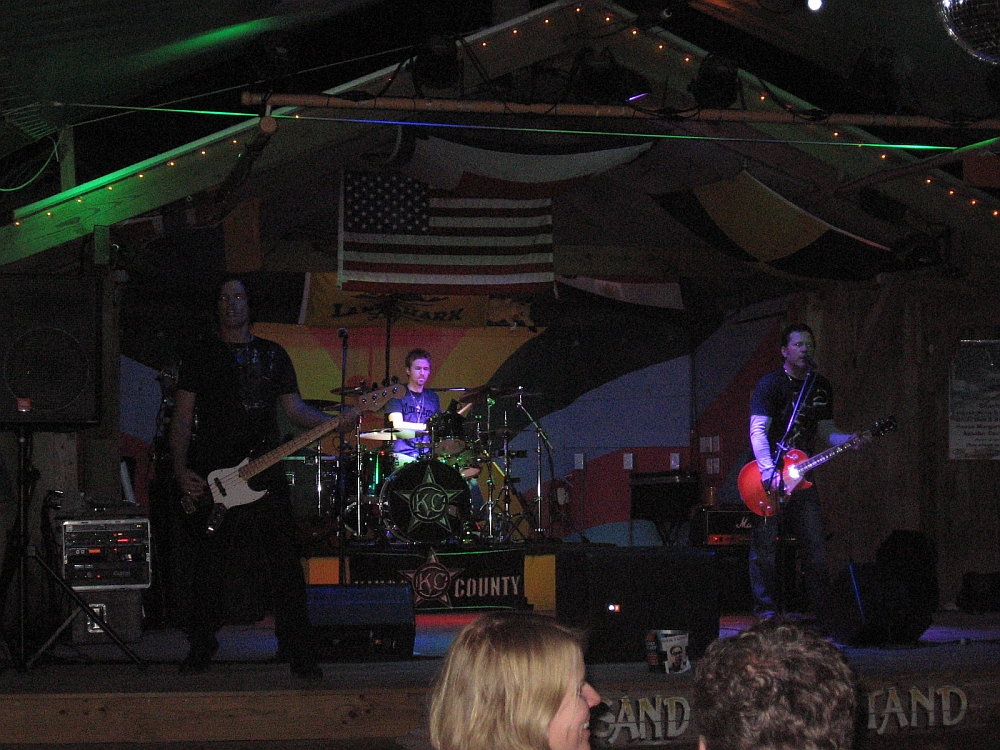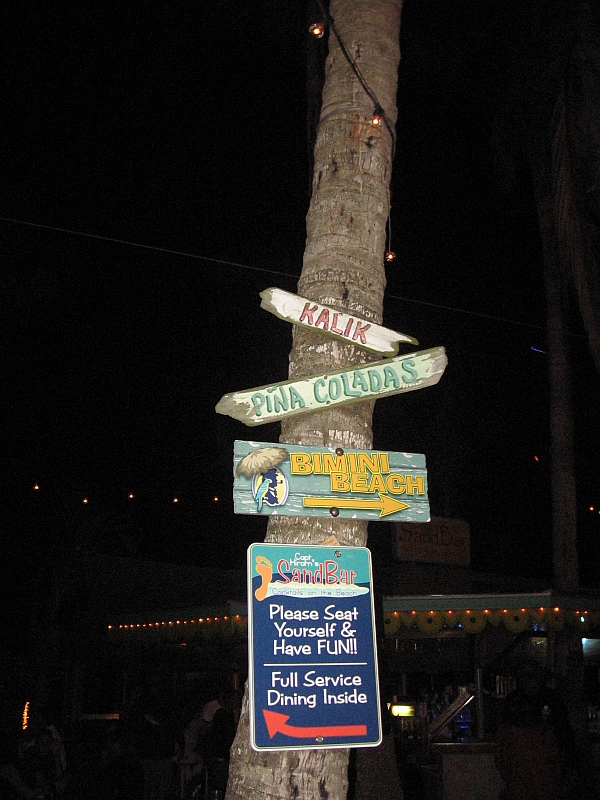 Although it's not freezing cold, there is certainly a chill in the air, but a number of patio heaters dotted around the place keep things pleasant. A few beers later we are nicely relaxed and fully enjoying the music. The place is pretty full, mostly with locals and I mention to Tam that it must be great to be able to come here on a Saturday night to enjoy rock music under the stars with cheap drink (a pint of Miller Lite is $3). The alternative in our local town is a trip to the pub for an overpriced beer and a moan about the weather.
Around 10.30pm we ring up the taxi to confirm our 11.00pm pick up. Hmmm….. just time for a nightcap. I choose a Cuba Libra and once again forget to ask for dark rum and so end up with a Bacardi and coke. The disappointment is soon forgotten at the first taste. It's a half-pint glass with more Bacardi than coke.
The band kick it up a notch and the dance floor (it's the sandy area in front of the stage) is now full of happy people letting rip. We would dearly love another hour here, but alas our carriage awaits.
The drive back is interesting as I chat away to the driver about American football. Given that my knowledge of the subject is not great and the alcohol I have imbibed is very great, I suspect I got more out of the conversation than he did.
Back in the room we turn on the TV to find out that the clocks go forward an hour tonight. Ah well, at least we haven't got anything planned for tomorrow, so we don't have to get up early.
Bed at 12.00am – net 1.00am.