Day 6 October 2017
Written by Kev
Up at 7.00 am today as Charlie and I are off to play golf at the 9 hole Oak Trail course. This is another freebie we get with our package, although we do have to pay for club and shoe hire, $33 each.
We walk to Goods To Go and get breakfast on our dining plan.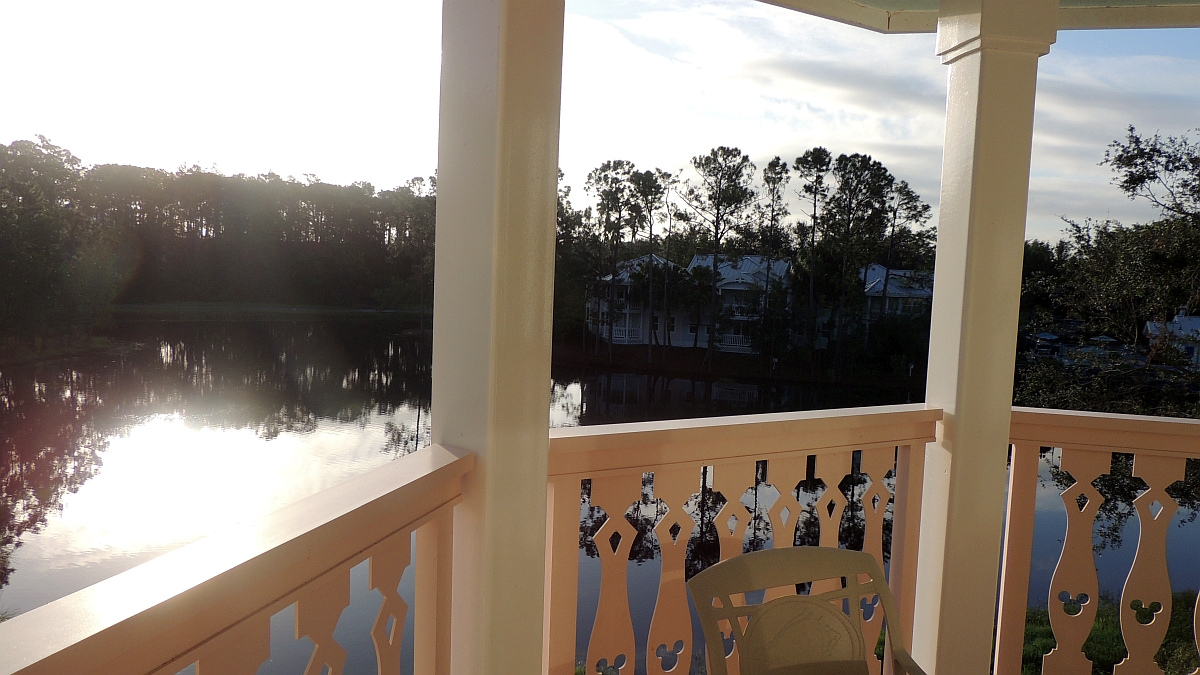 This is the view from our balcony that we enjoy every morning.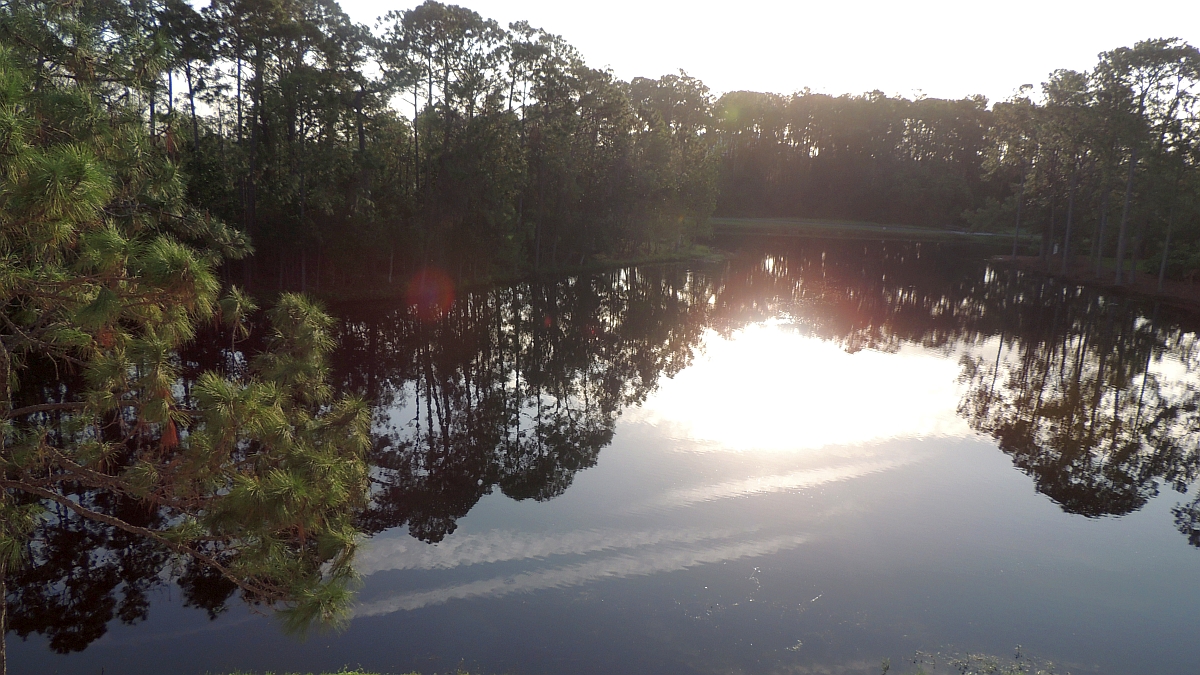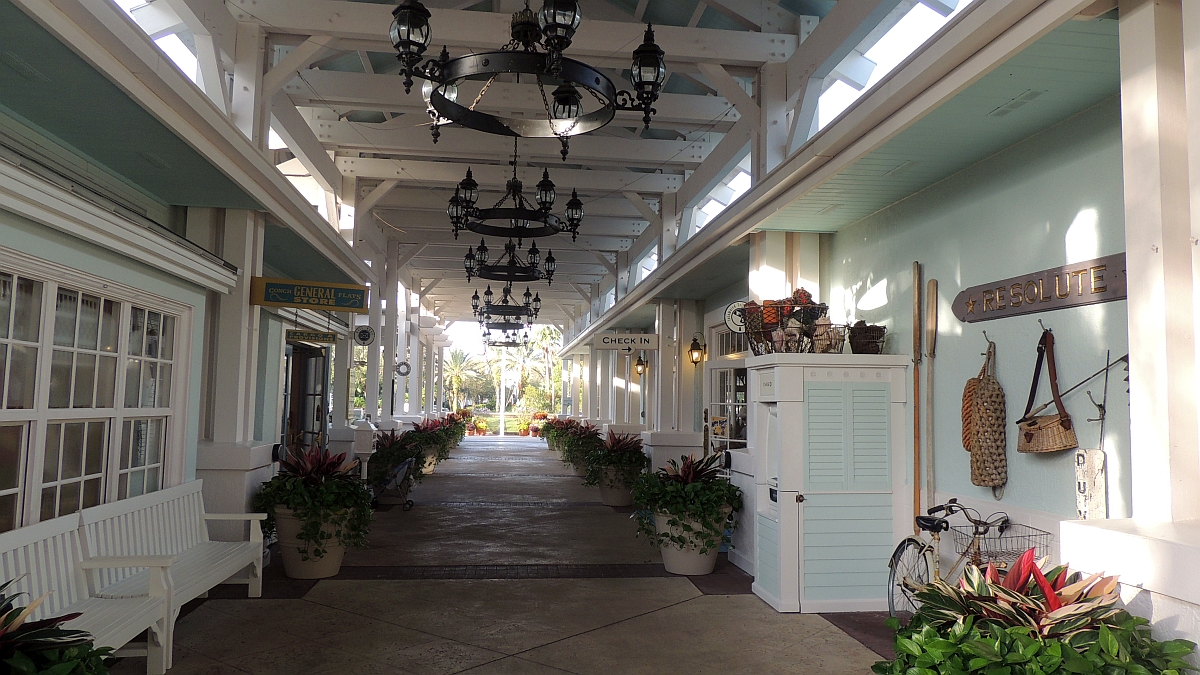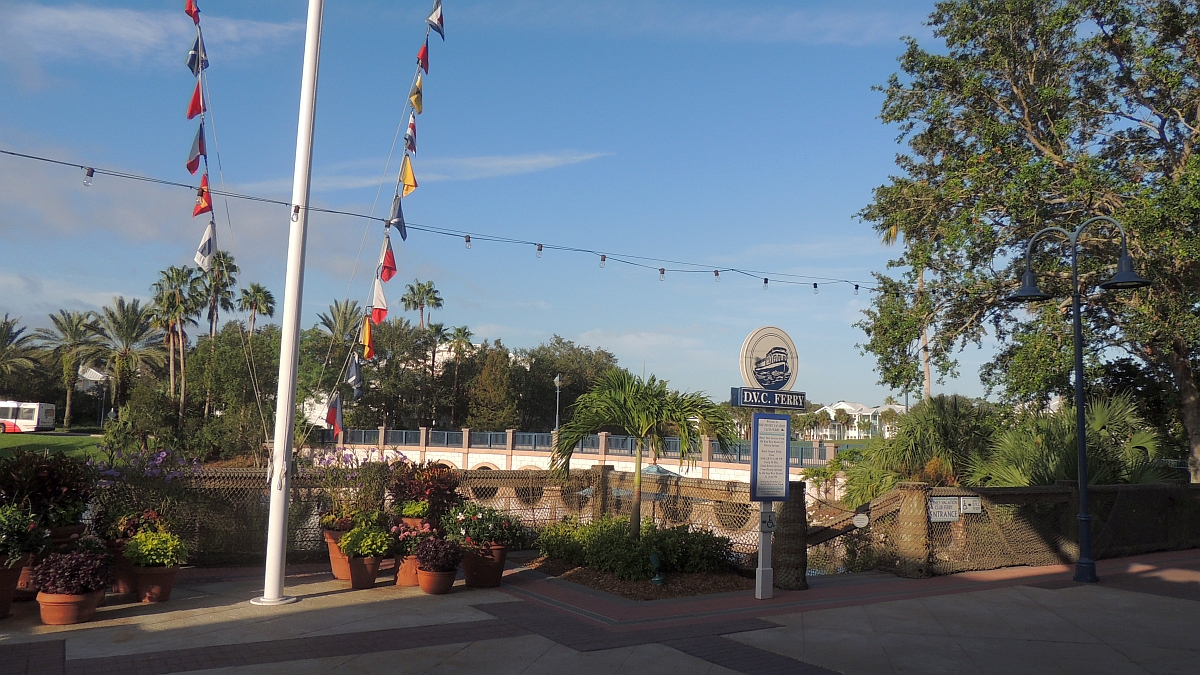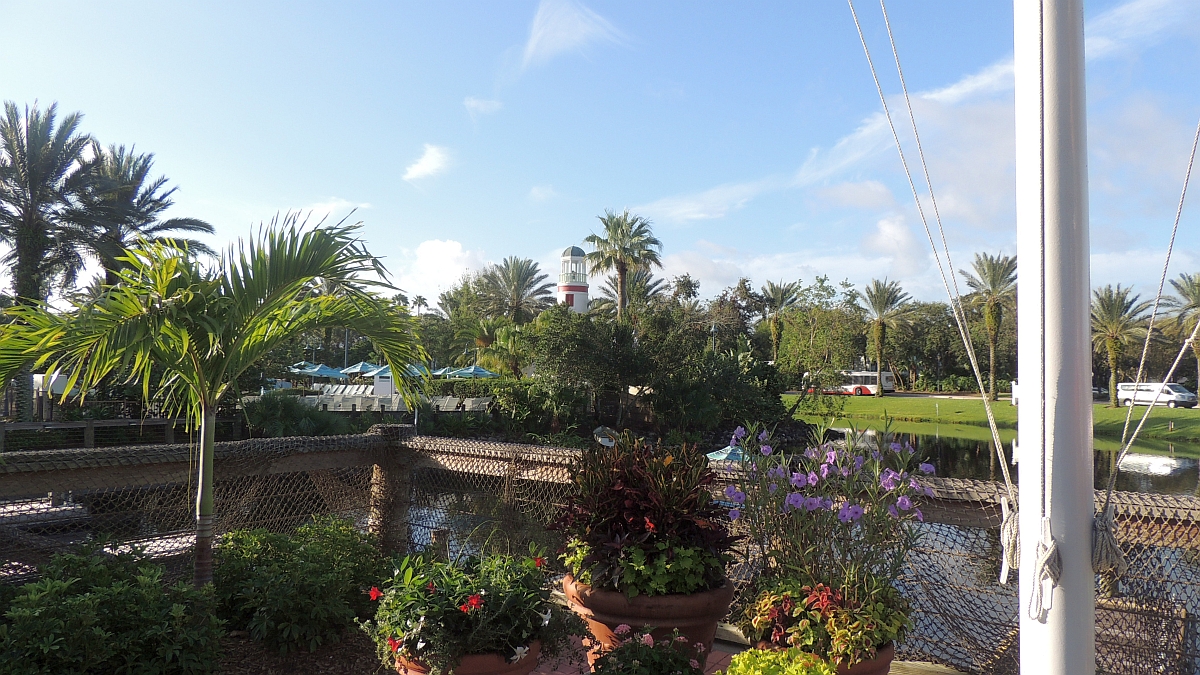 A free taxi takes us to the Shades Of Green Resort where the course is. This is a walking course and it's obvious there has been an awful lot of rain in Orlando in the last few weeks as it's very soggy in places and one hole has been reduced from a par 5 to a par 3 as it's flooded. The game surprisingly ends in a draw, although we are both below average. That's a kind way of saying we're awful. Still, we enjoyed it anyway.
A taxi takes us back to Old Key West and Charlie and I relax around the quiet pool closest to us while we wait for the ladies who have enjoyed a morning at Disney Springs. It's the first time they've seen the revamped Downtown Disney and they say that's it's done very well.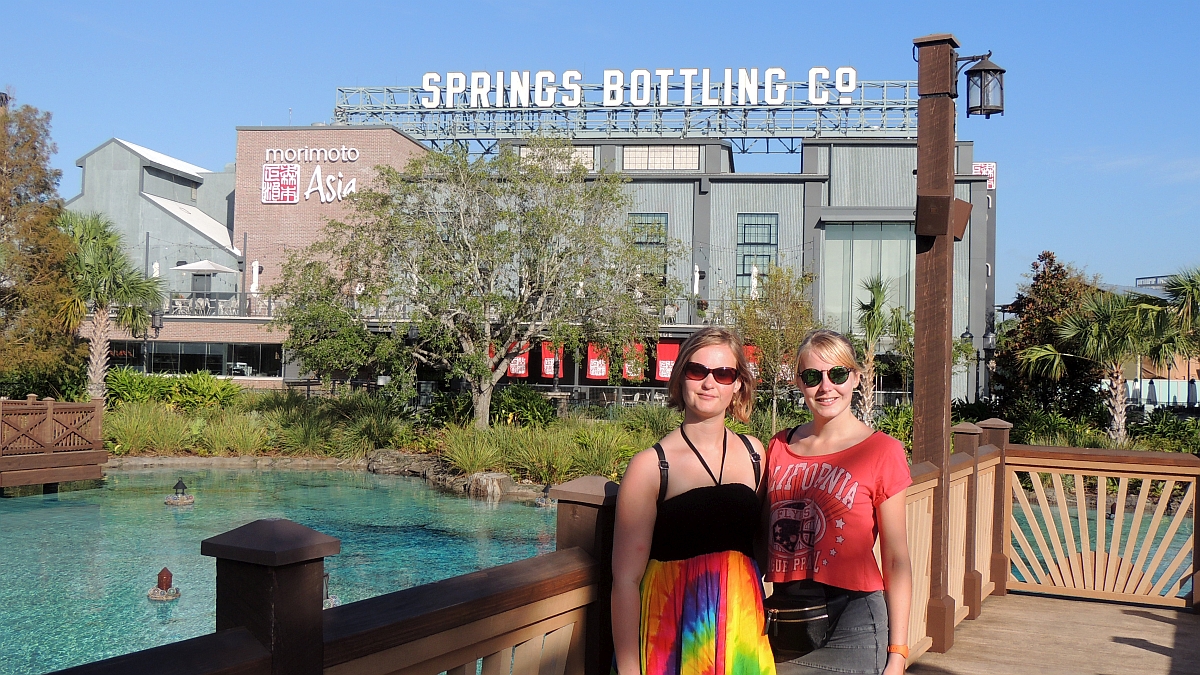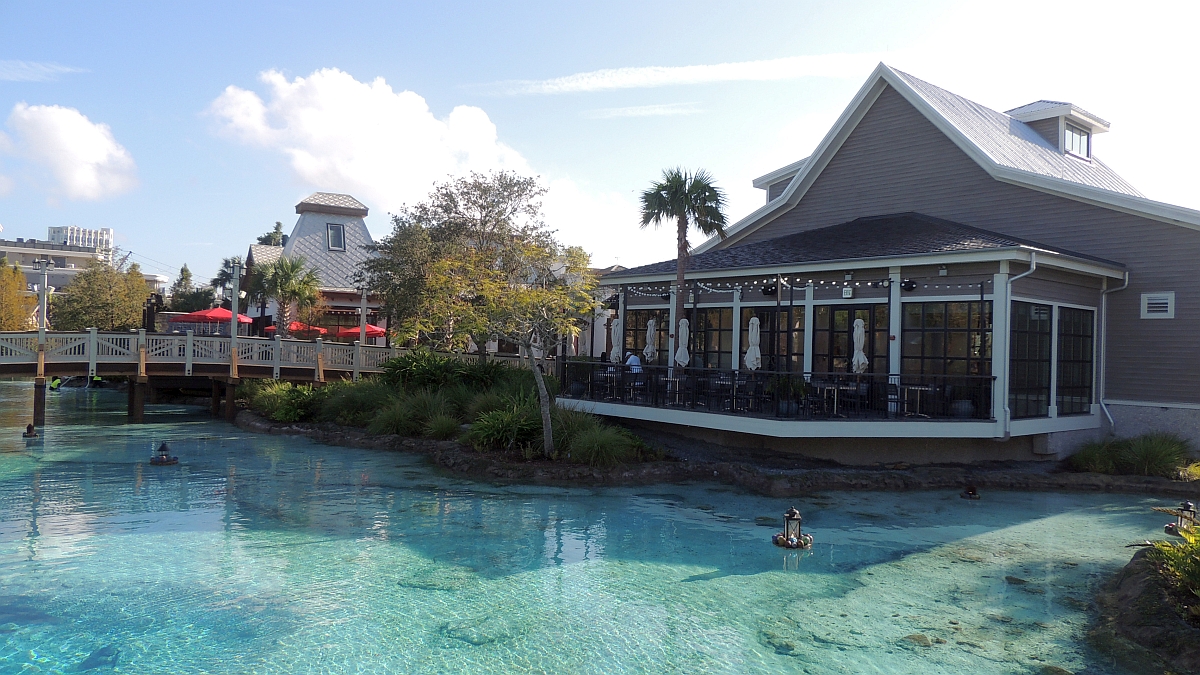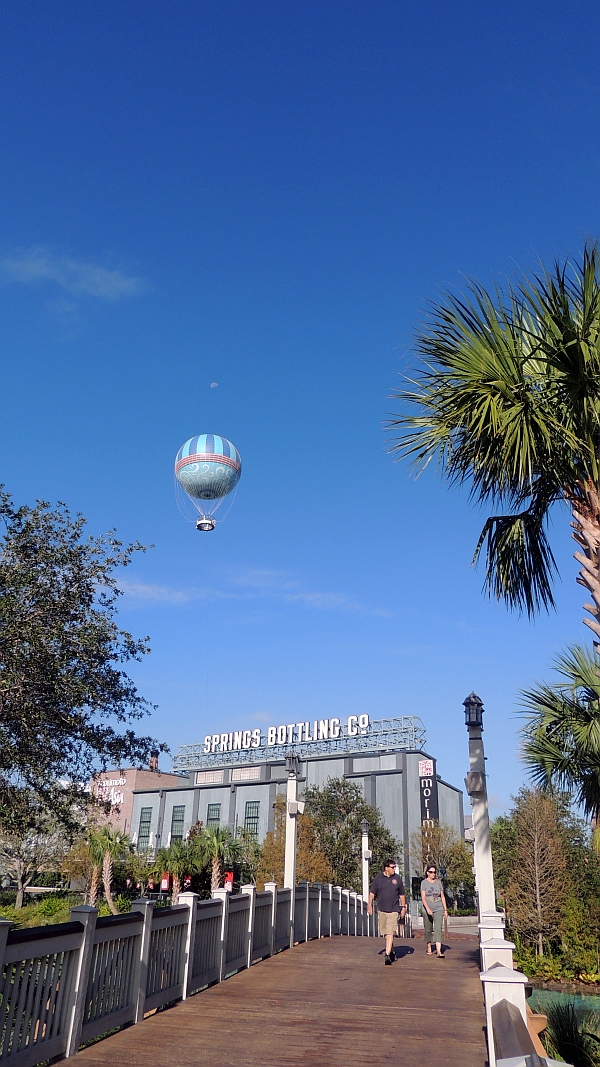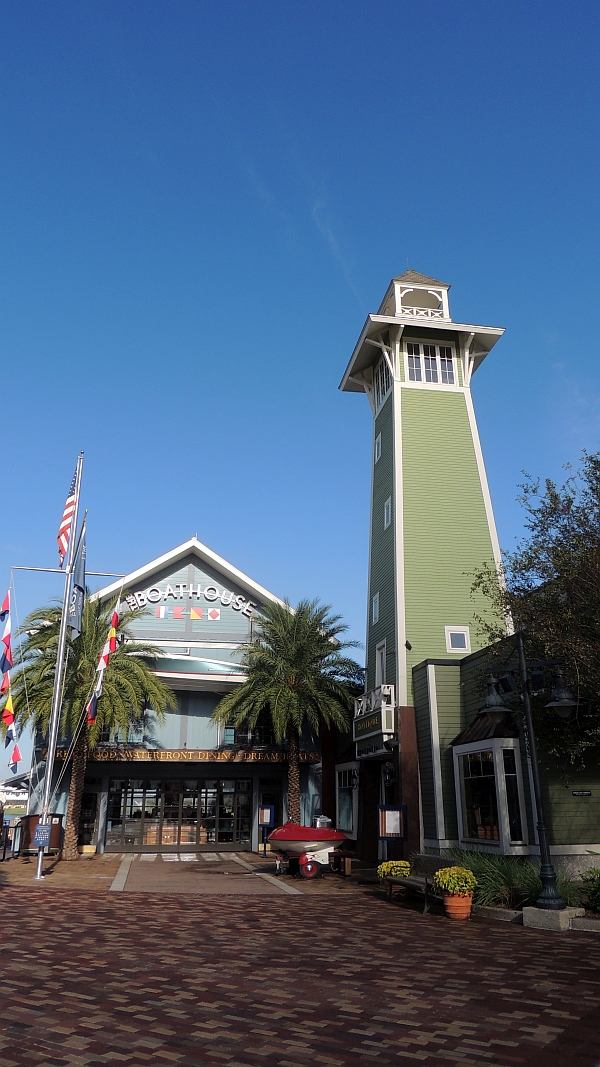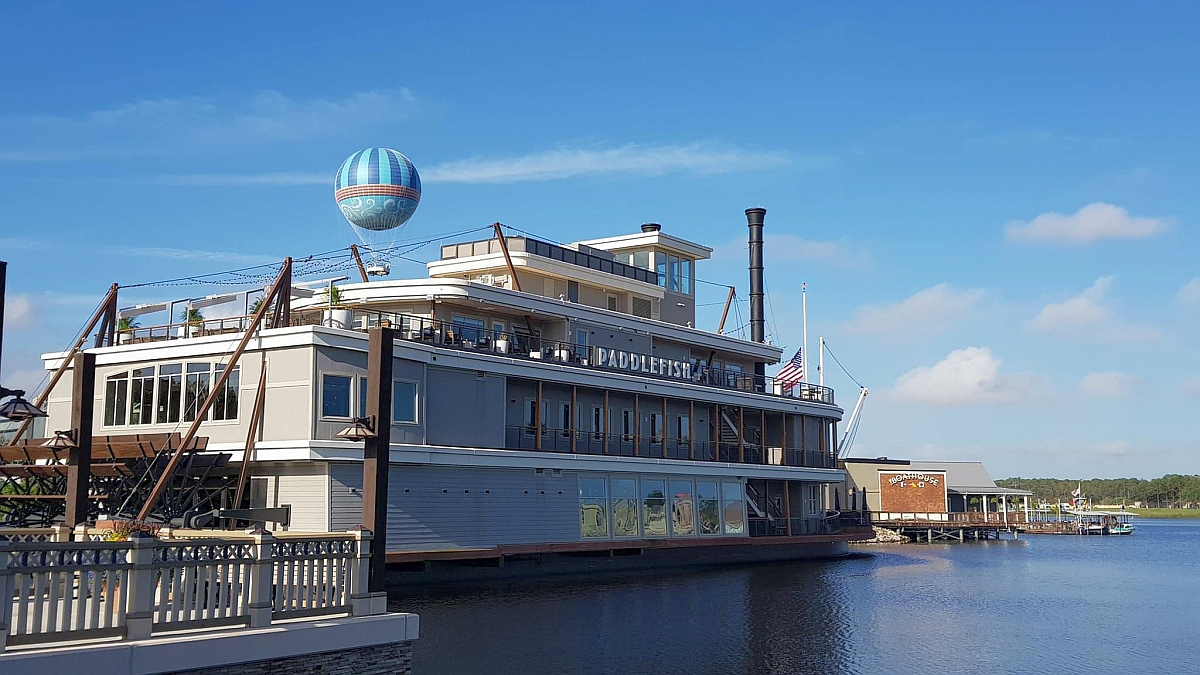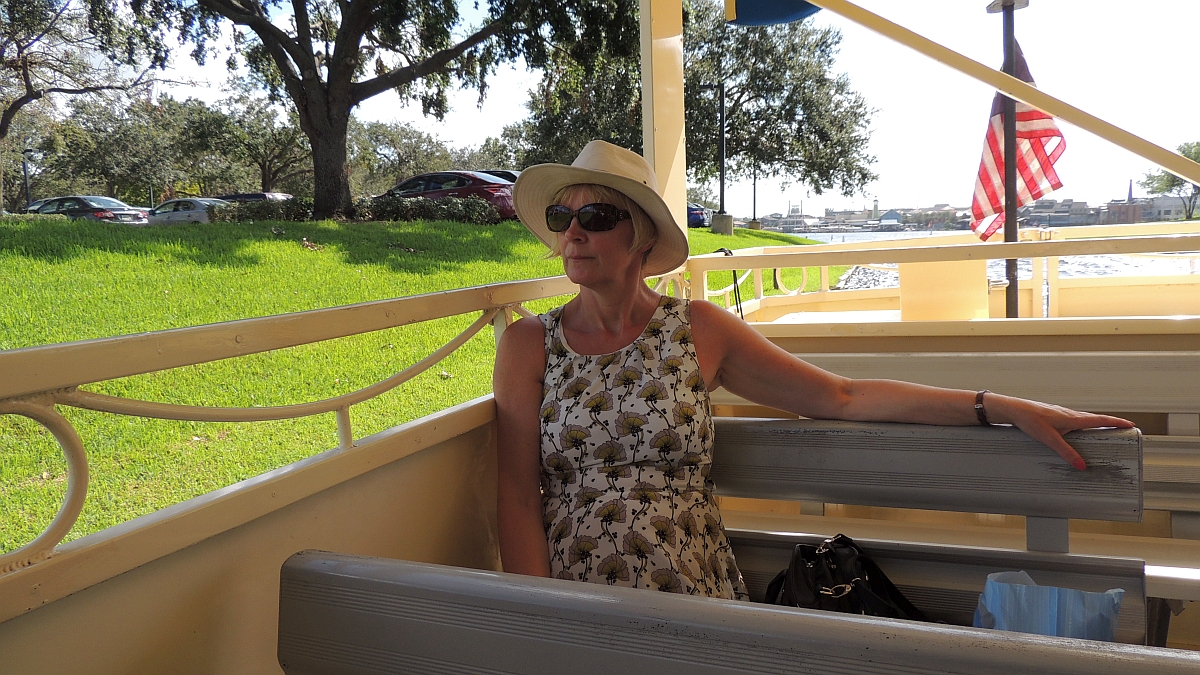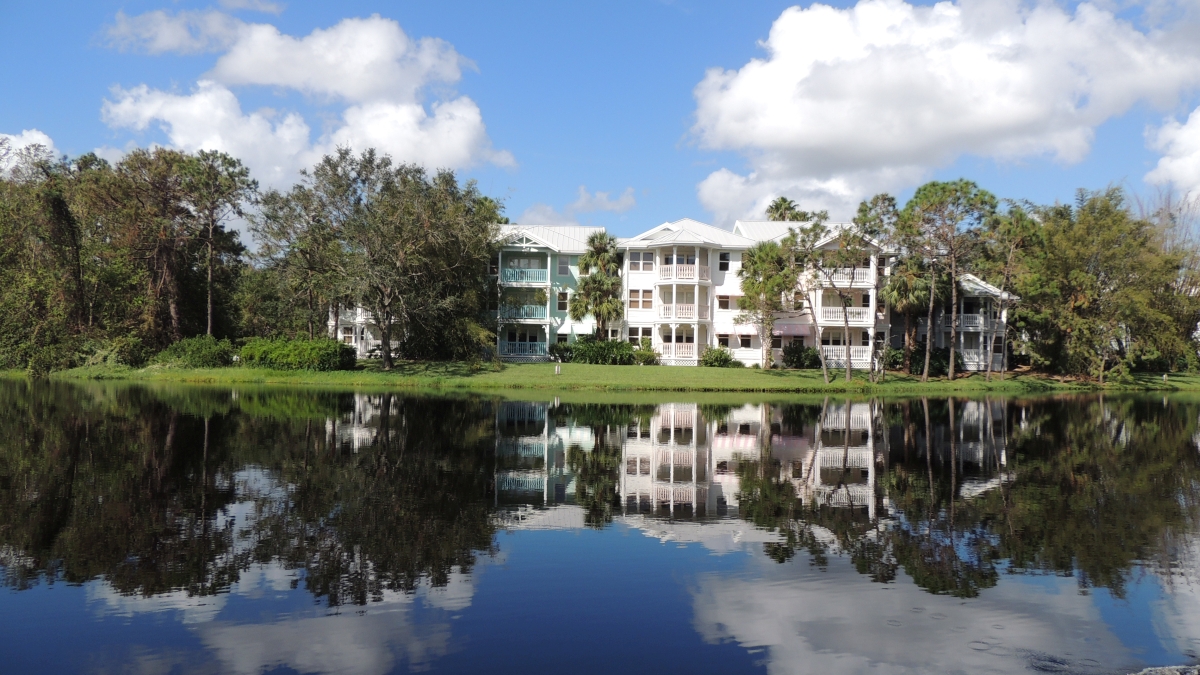 Our two bedroom unit is the top floor of the pink building in the middle of this photo.
We spend some time around the pool before going back to the room at 12.45 pm to shower.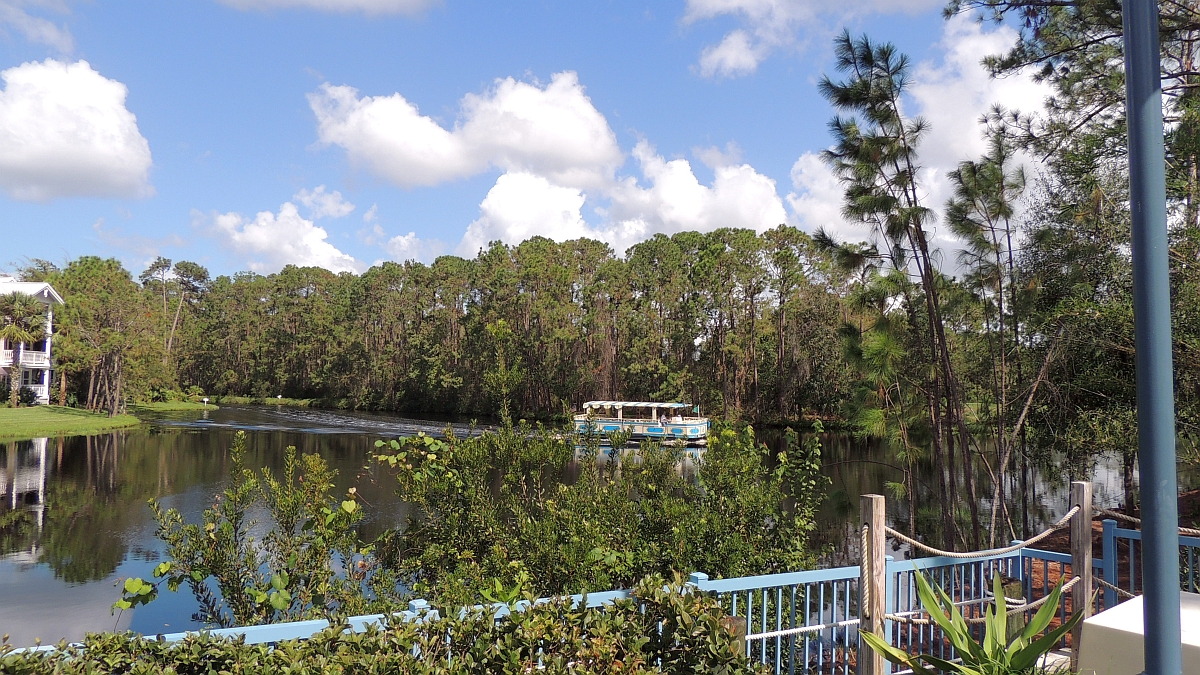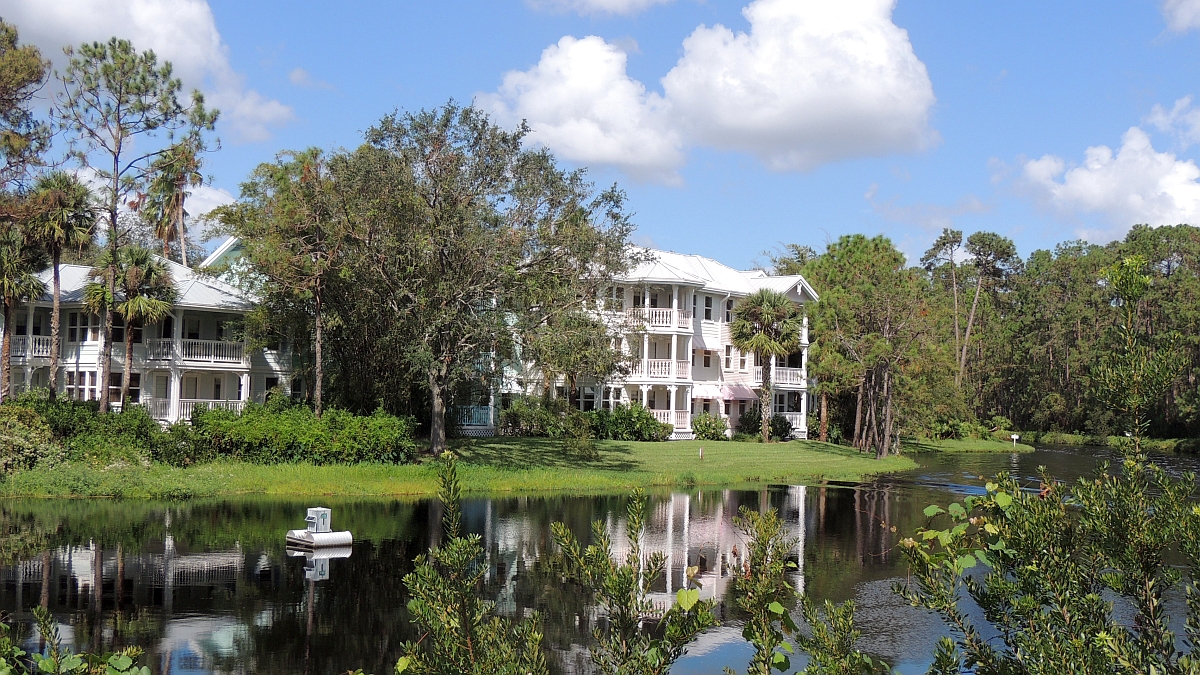 The view from the pool is quite nice too.
After getting ready to go out I sit and enjoy a beer on the balcony and write up some trip notes and watch the boats go by. It's all rather lovely.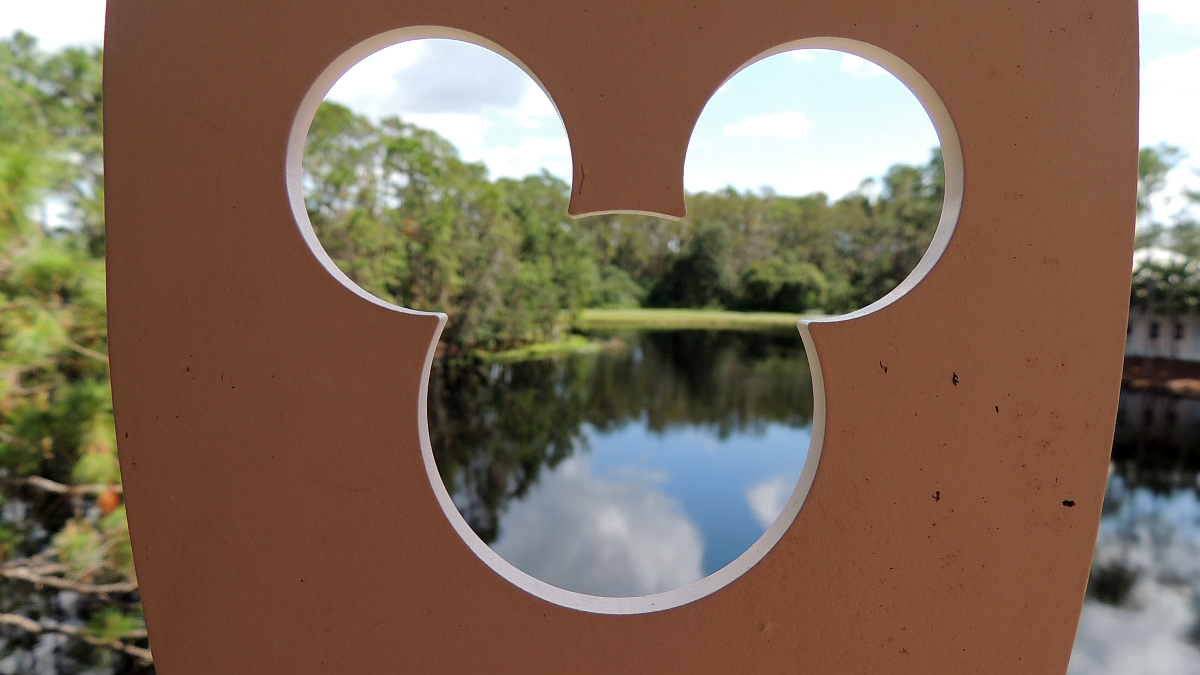 We leave at 1.45 pm and get the bus to Animal Kingdom where our first ride is Dinosaur. Everbody rides except Tam who has to be a bit careful because of her weak neck.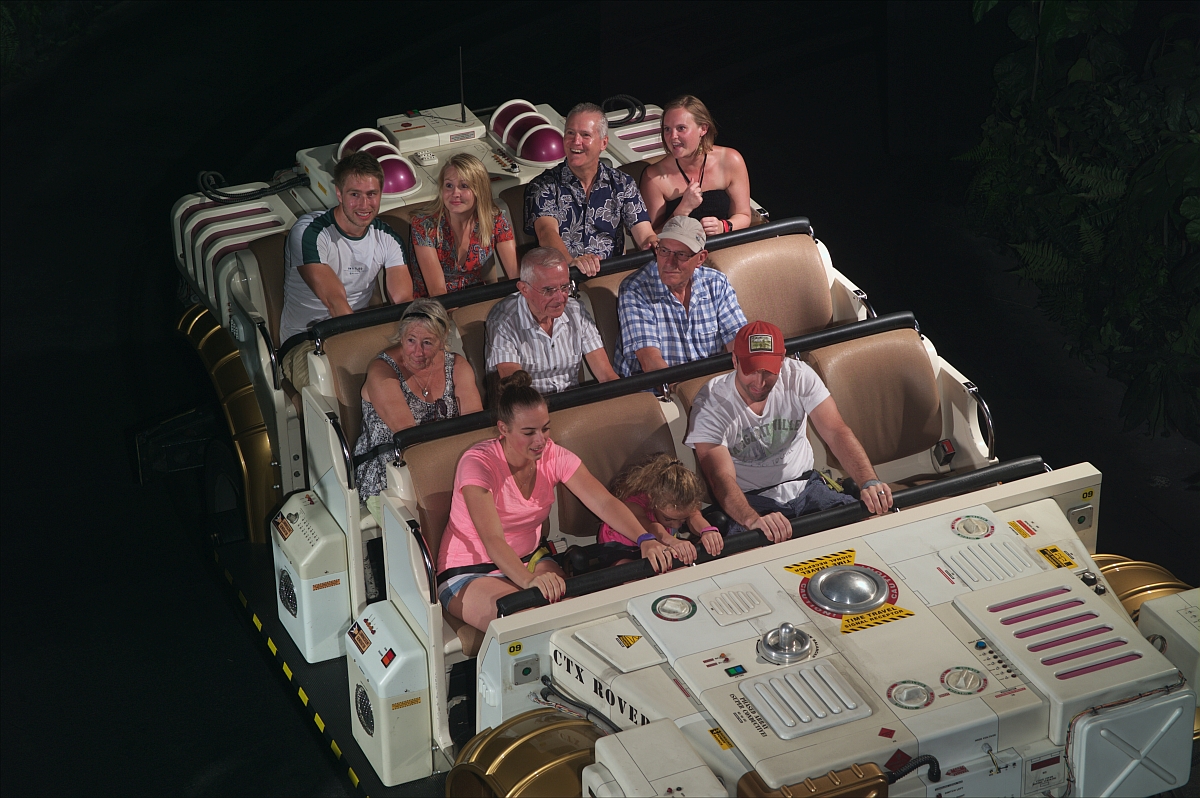 It's Tough To Be A Bug is next where we have the customary photo with the monkey.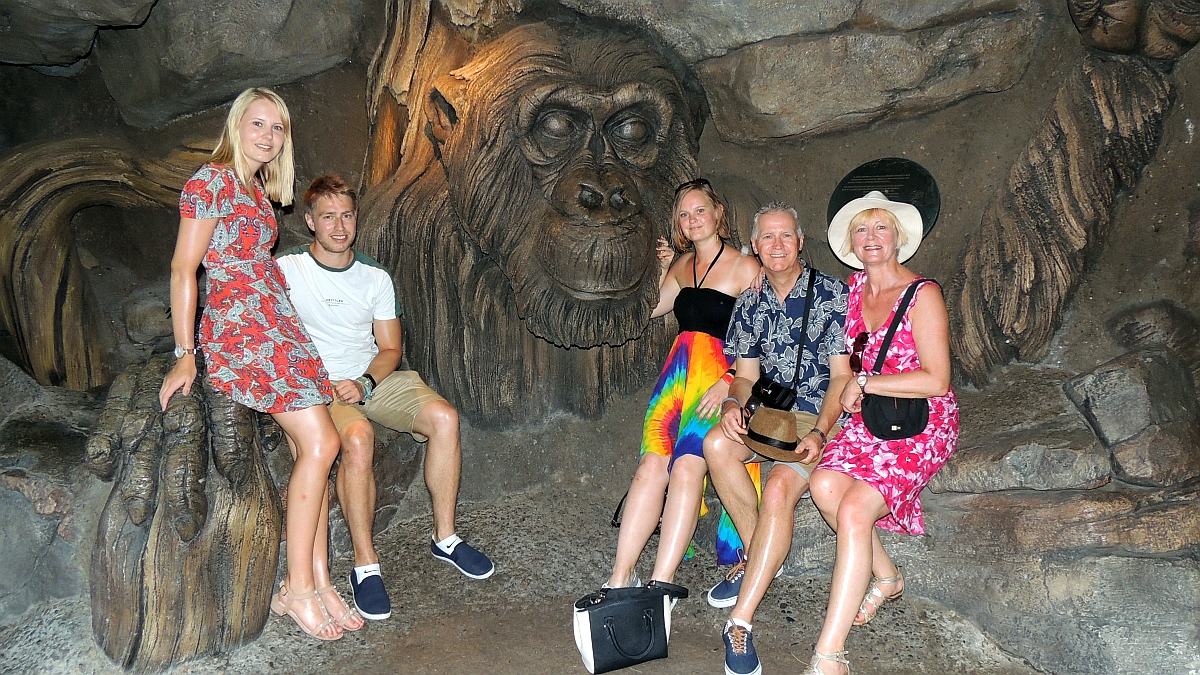 India, Georgia and Charlie now head off to Expedition Everest while Tam and I take a look at Pandora and I have to say we are very impressed. It's very beautiful and has so much to look at.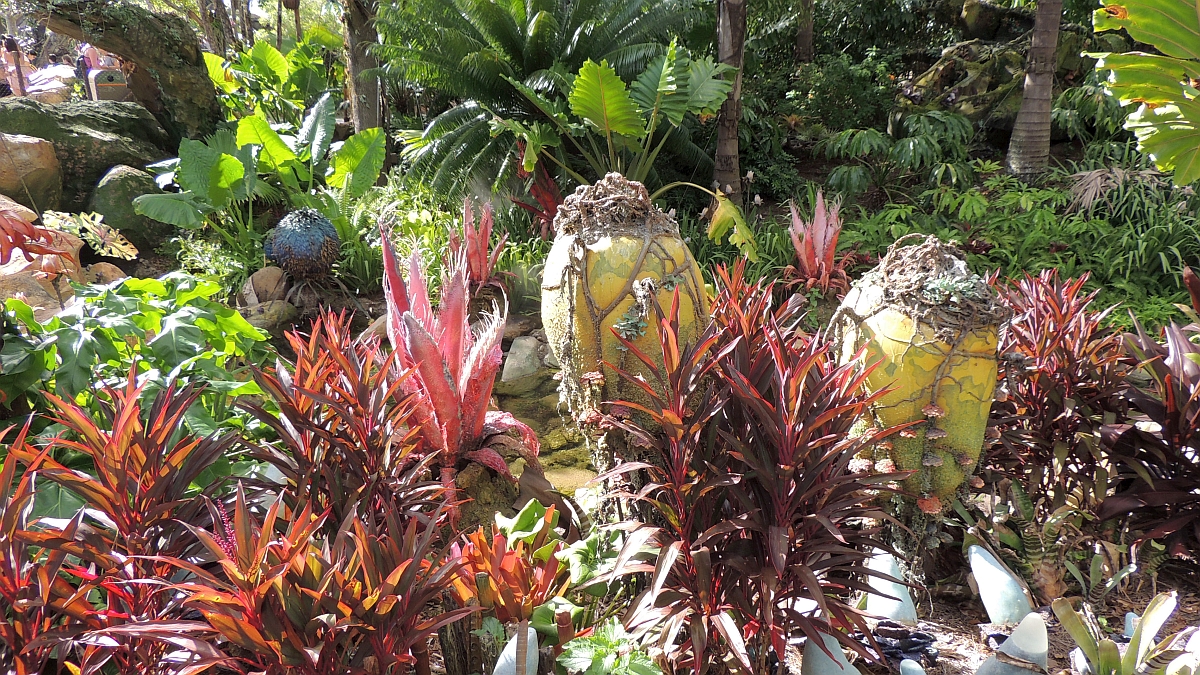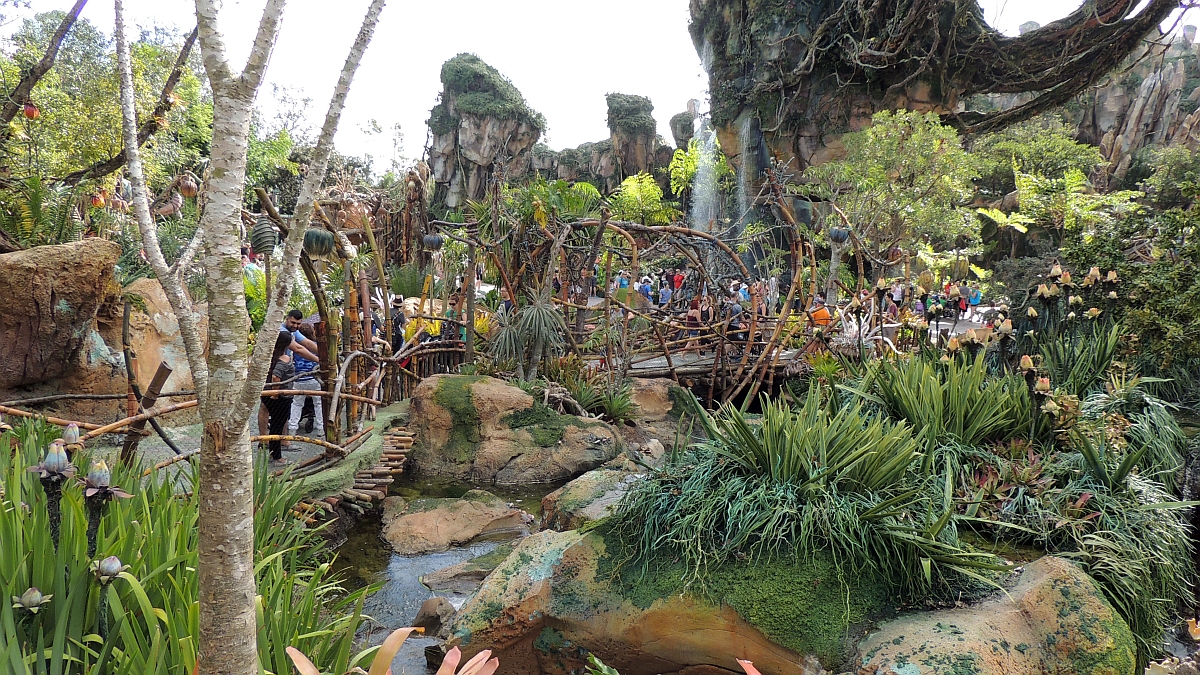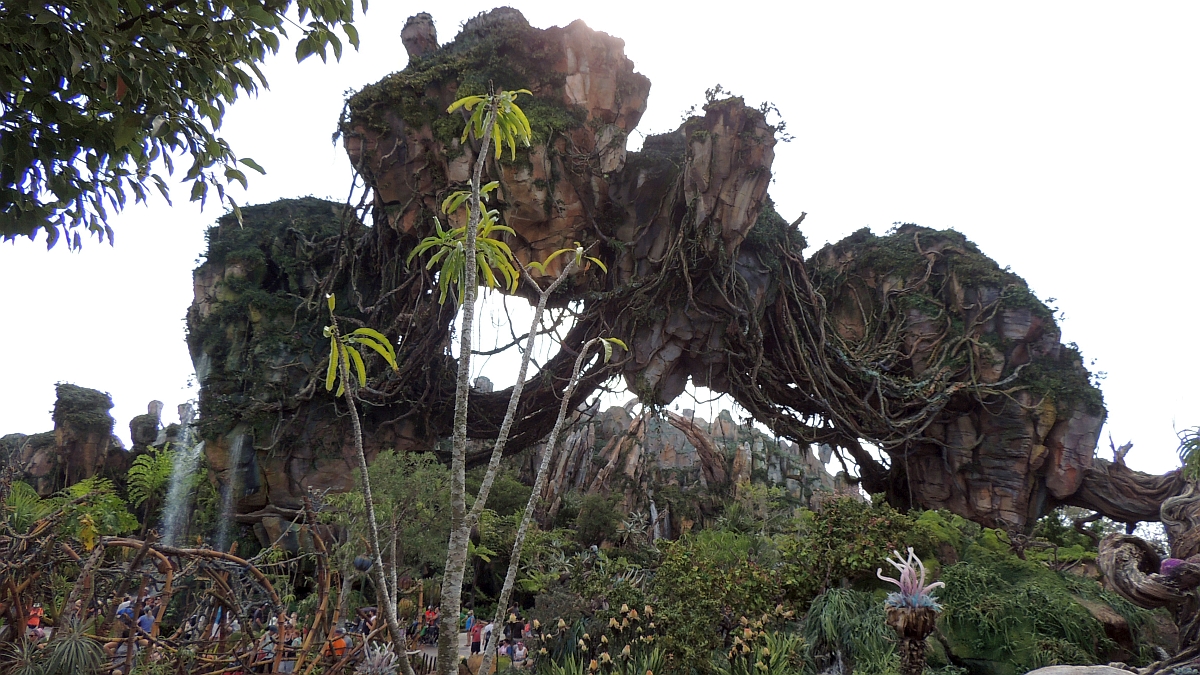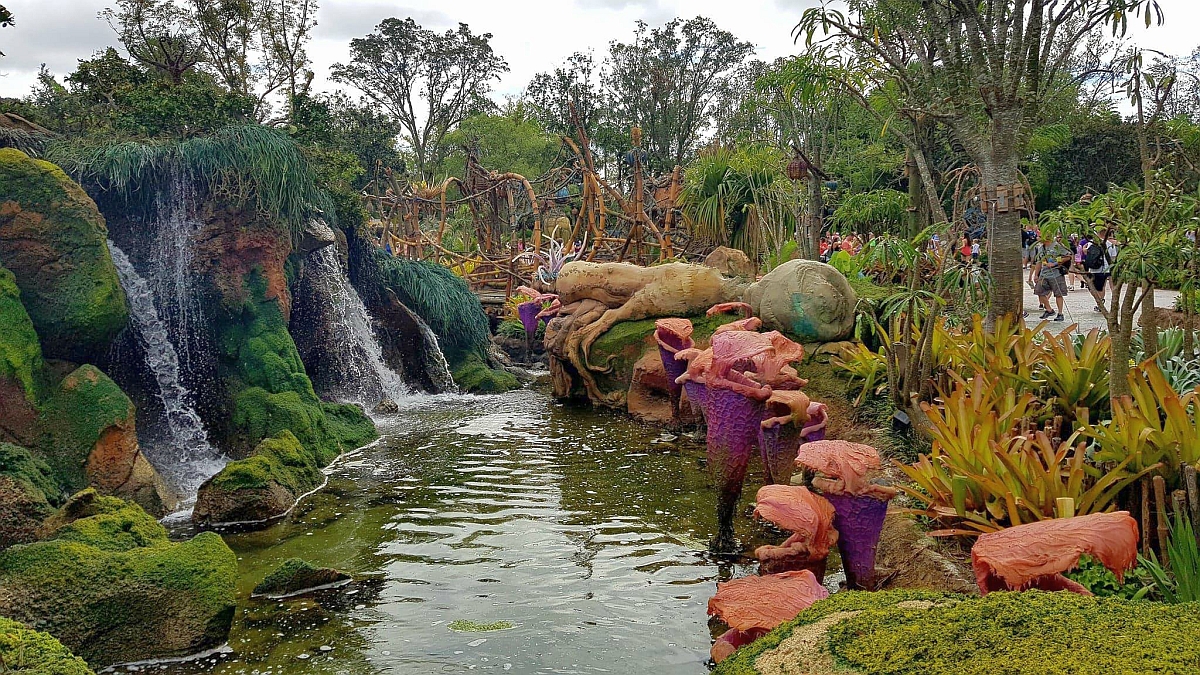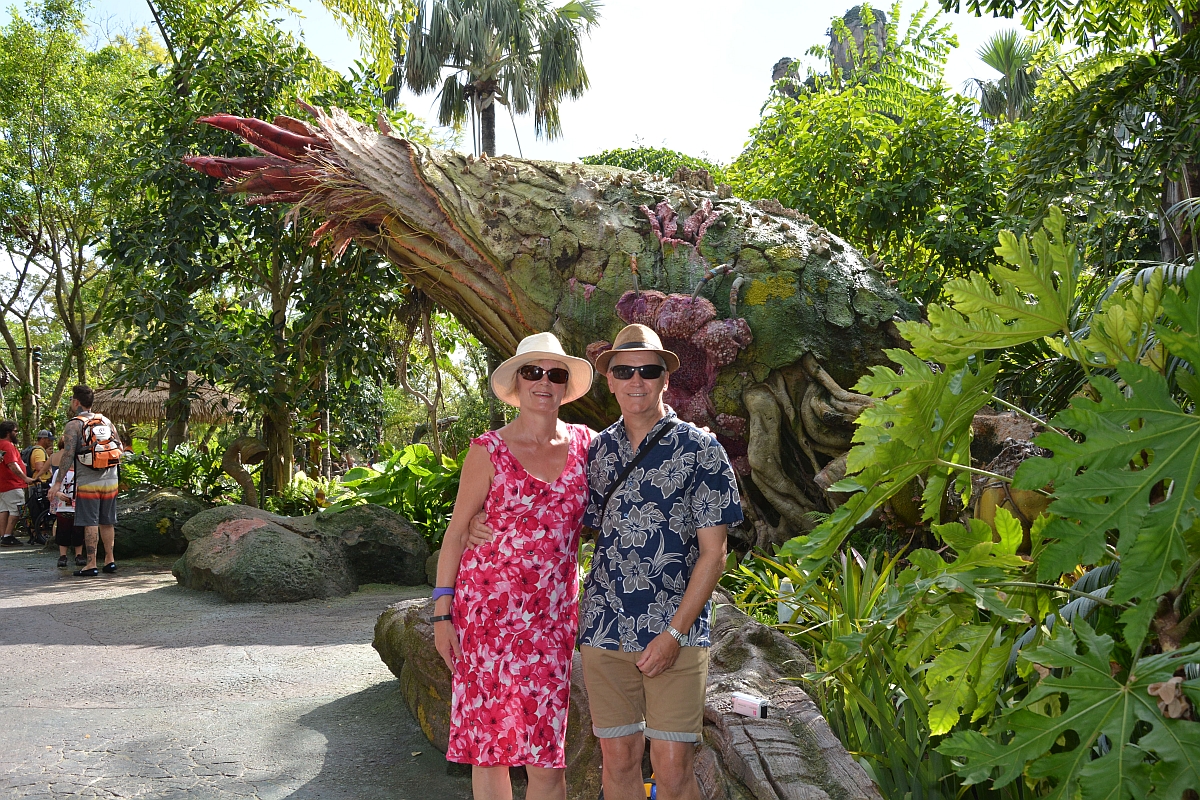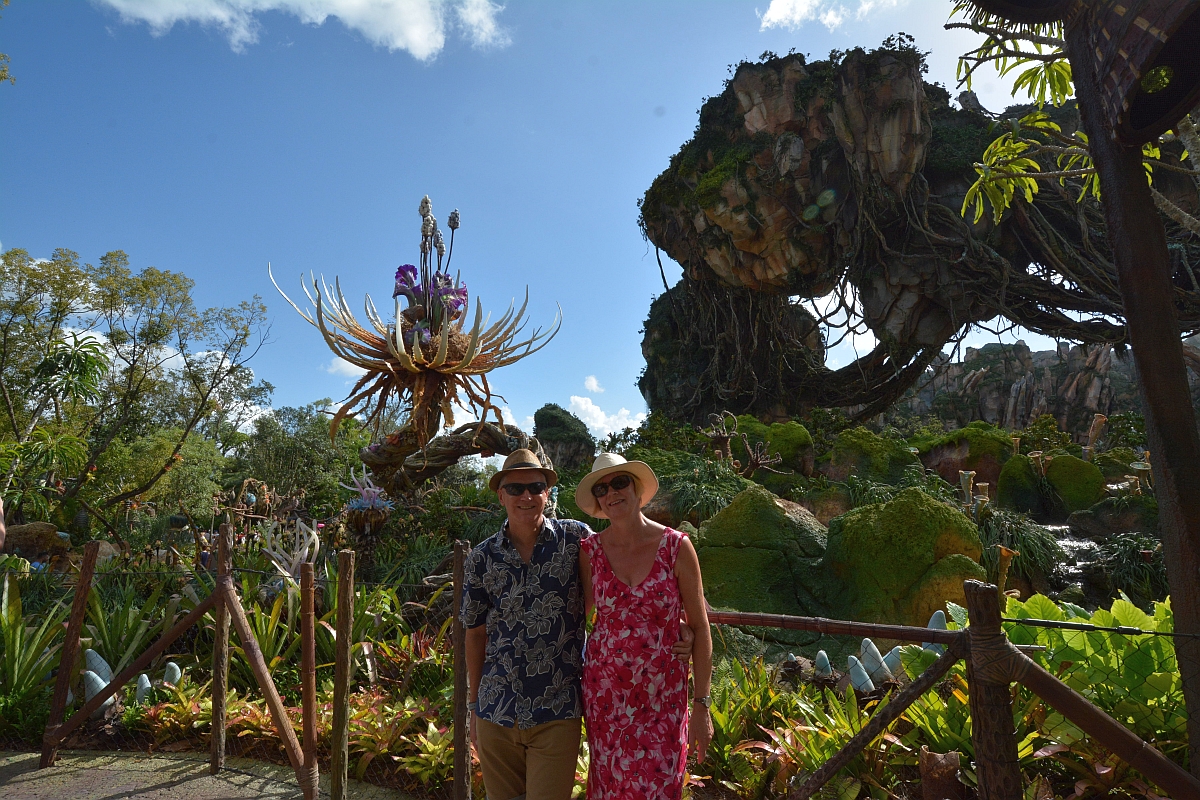 The girls and Charlie meet up with us and we all ride Na'vi River Journey. A lovely, pretty attraction, but not one to queue for hours for as some are having to do. We walk on with our Fastpass.
Off to the Nomad Lounge where we sit outside and enjoy a cocktail.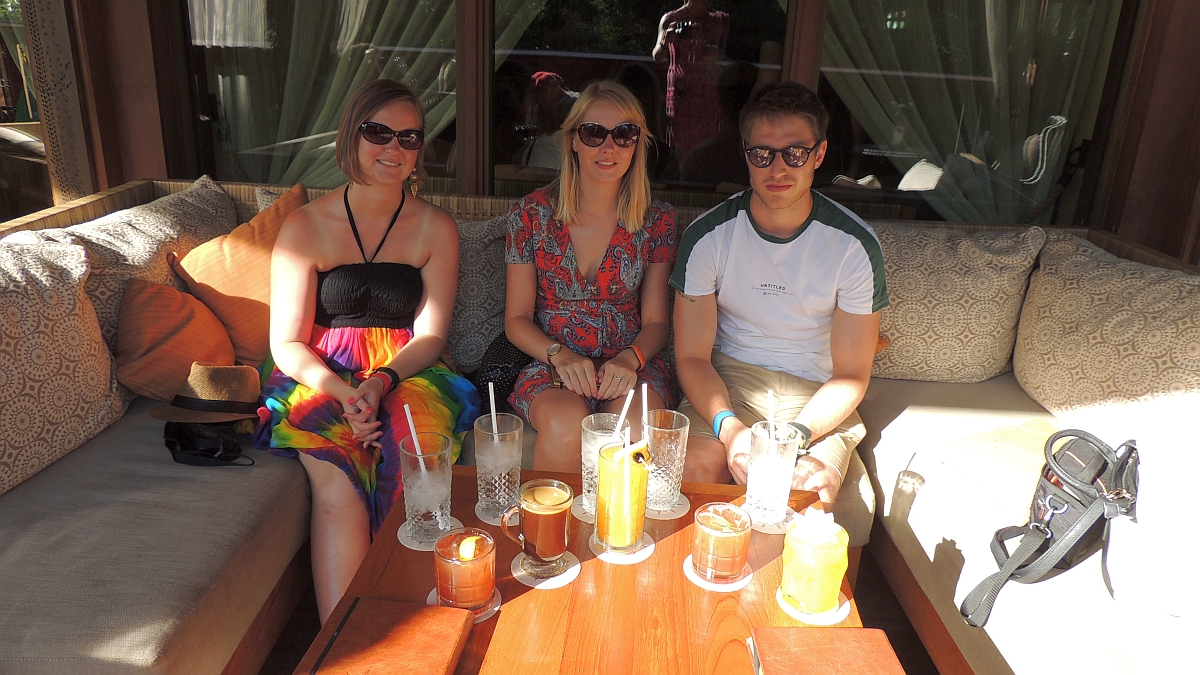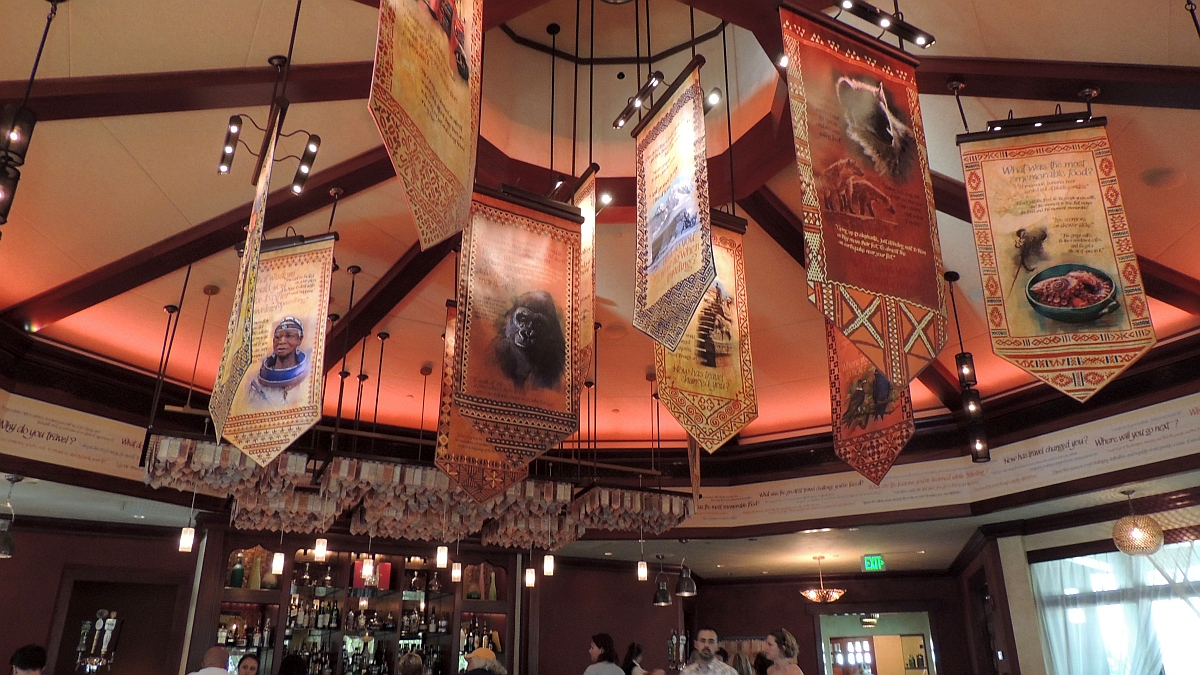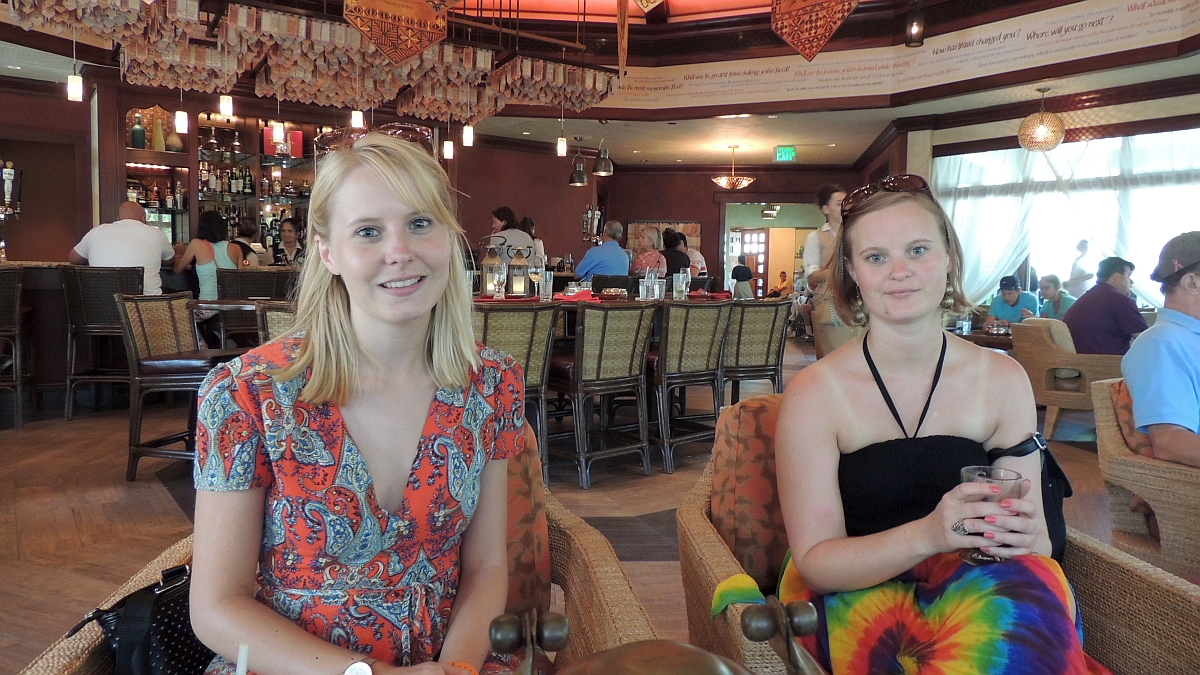 This place is a wonderful addition to the Animal Kingdom. A really nice place to relax a little, away from the crowds.
Our meal at Tiffins Restaurant is next. We have booked the Rivers of Light dining package for 2 credits on the dining plan. You get three courses and seating for RoL later this evening. I have Fish Causa, Beef Brisket with Strip Loin and the cheese board. I have to say that we all think that this meal is excellent. There are 3 dining rooms and we are in the Grand Gallery, I would say this is the nicest of the three rooms. The food is excellent as is the service and you are not rushed at all as we take 2 hours to enjoy our meal.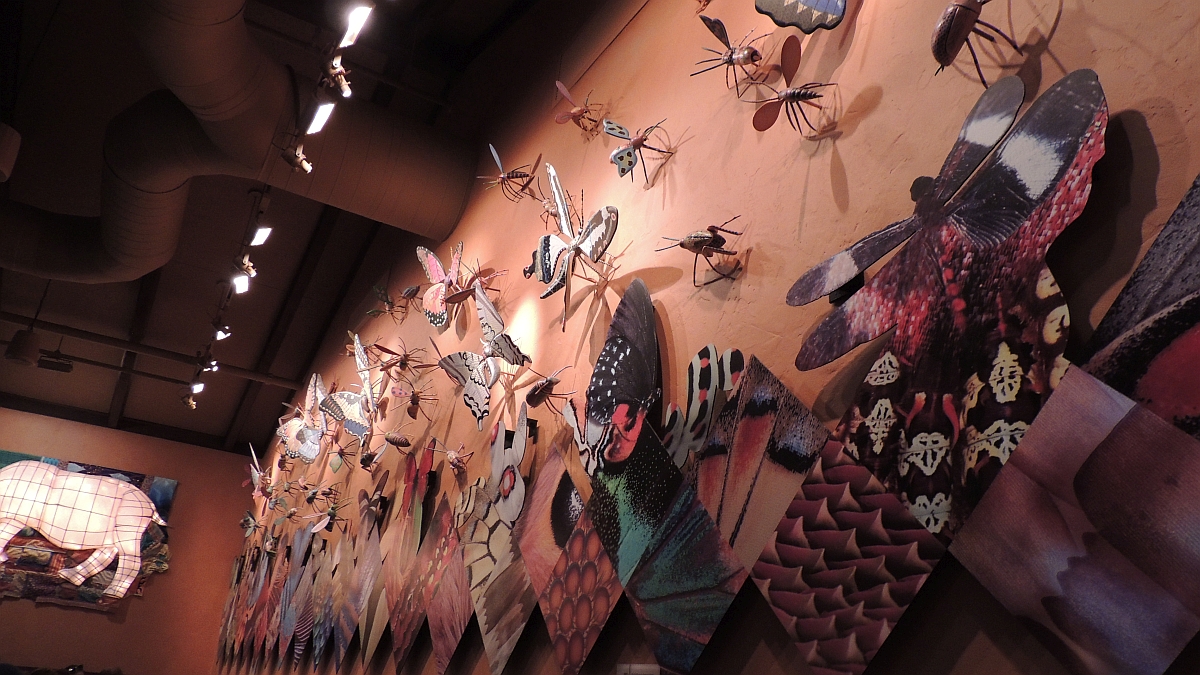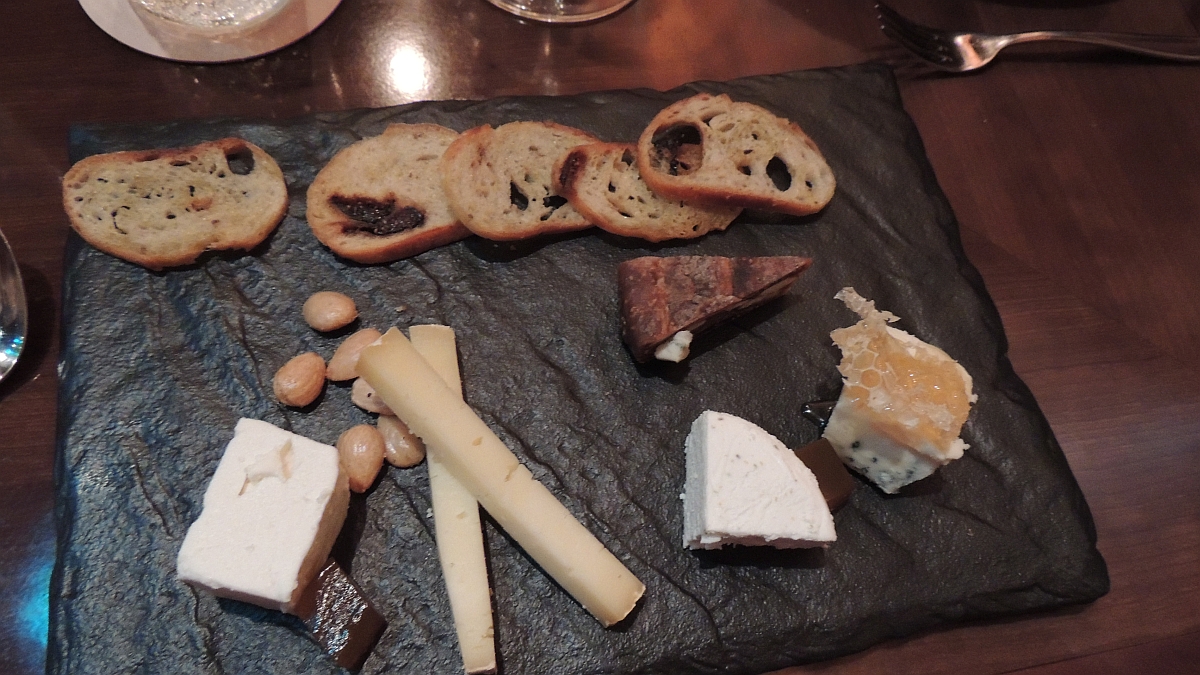 Whilst we were having dinner at Tiffins something happens that I find rather amusing. It's not altogether a very tasteful anecdote, but it certainly is something that I'll remember for ages.
During the meal I go to use the bathroom. The urinal is next to the stall and as I'm stood there pondering life I hear the sound of rather lengthy flatulence. Now I'm not sure about the ladies, but we men usually find such things comical for some reason, I guess we're all still little boys at heart. Anyway, I have a small smile on my face and think to myself "Oh dear, that chap's having a few problems". The sound stops for a few minutes and then starts up again. Another brief pause and away he goes again. By this time I'm struggling between laughing out loud and calling for a doctor. It's at this point that I realise that the sound isn't coming from the stall at all – it's the door! Every time anyone comes into the bathroom the door makes a sound of loud and lengthy wind! Of course this just makes it even funnier and I'm really struggling not to just burst out in gales of laughter, which is probably not appropriate behaviour when in a bathroom.
Back at the table I tell everyone about it because … well, just because I can. The meal progresses and we are all ready to leave and decide that a trip to the loo is required before we head off for the rest of the evening. Bad mistake. Charlie and I enter the bathroom and the door greets us with a resounding fart. That's it – he looks at me and I look at him and we're immediately done for. Every time anyone comes in it just makes it funnier. There are tears rolling down my face and the more I try to keep it in the worse it gets. Charlie says he looks round at one point and all he can see is my back and my shoulders are going up in down in helpless silent laughter as I try to hold it together. Somehow I manage to make it out without collapsing on the floor and the ladies seem rather concerned at why I have been crying in the toilet. It's one of those things that I only have to think about and it sets me off again.
Can I make a plea to anyone at the top of the Disney organisation? Please never grease the door of the Tiffins restaurant bathroom. In fact, please can you make all bathroom doors do exactly the same thing? It could be the next big attraction at WDW.
We walk round to the Rivers of Light area and finding the reserved seating for the dining package. Charlie and I make a swift exit to find a beer. We enter Dinoland to find the only redeeming feature in this otherwise awful place - a beer cart!
The stadium for Rivers of Light is full to capacity, but we have a good view. I'd read a bit about this show and it seems to get very mixed reviews. I'm not sure why as we all enjoy it immensely, it's beautifully lit and there's so much going on that you don't know where to look next. I can see why it took so long to get right as there are so many pieces moving together at the same time. I guess some people might find it a little slow moving, but I think that's part of the attraction for me - it's not all 'flash, bang, wallop'.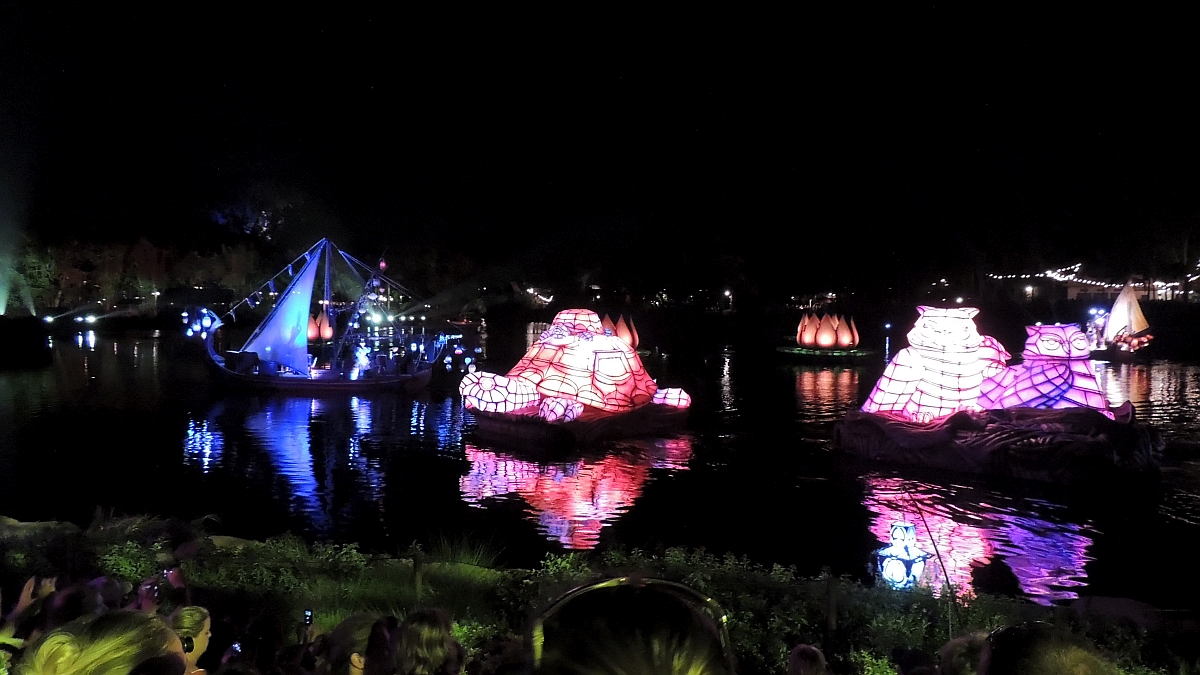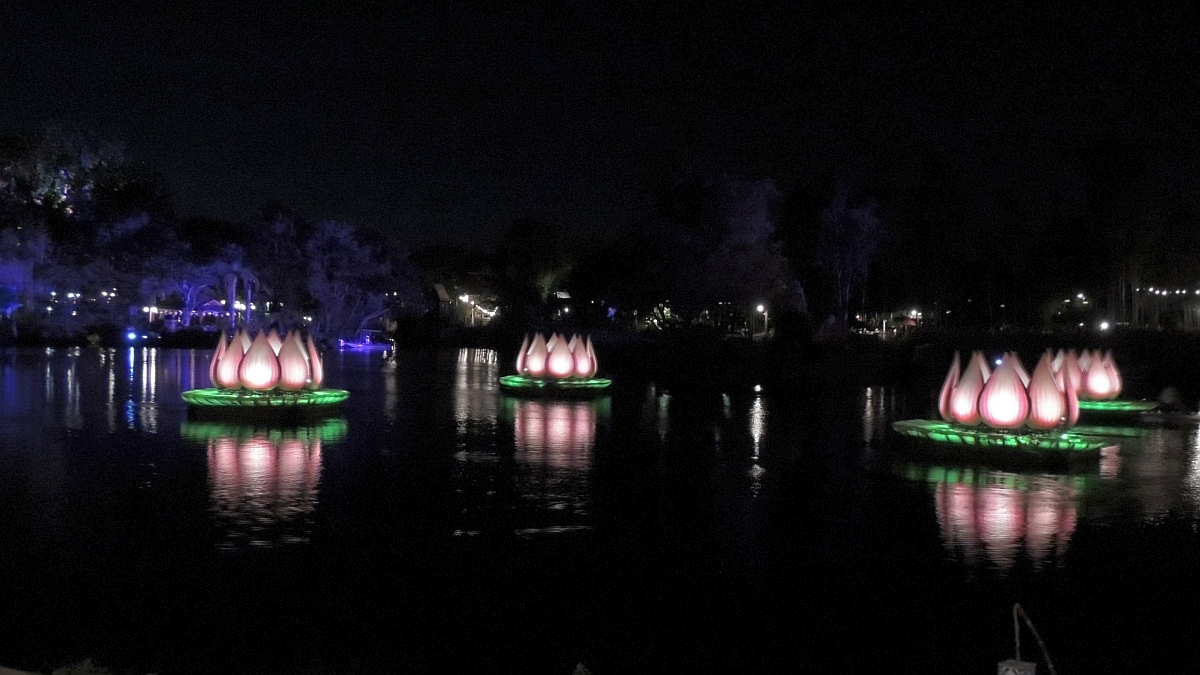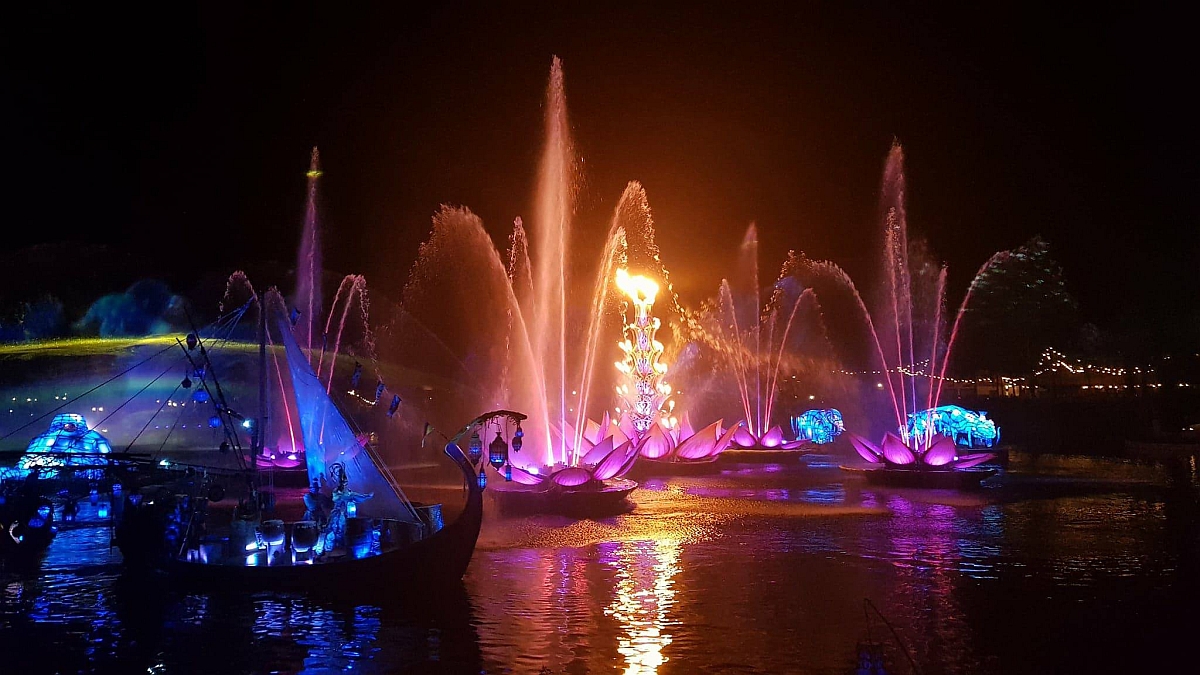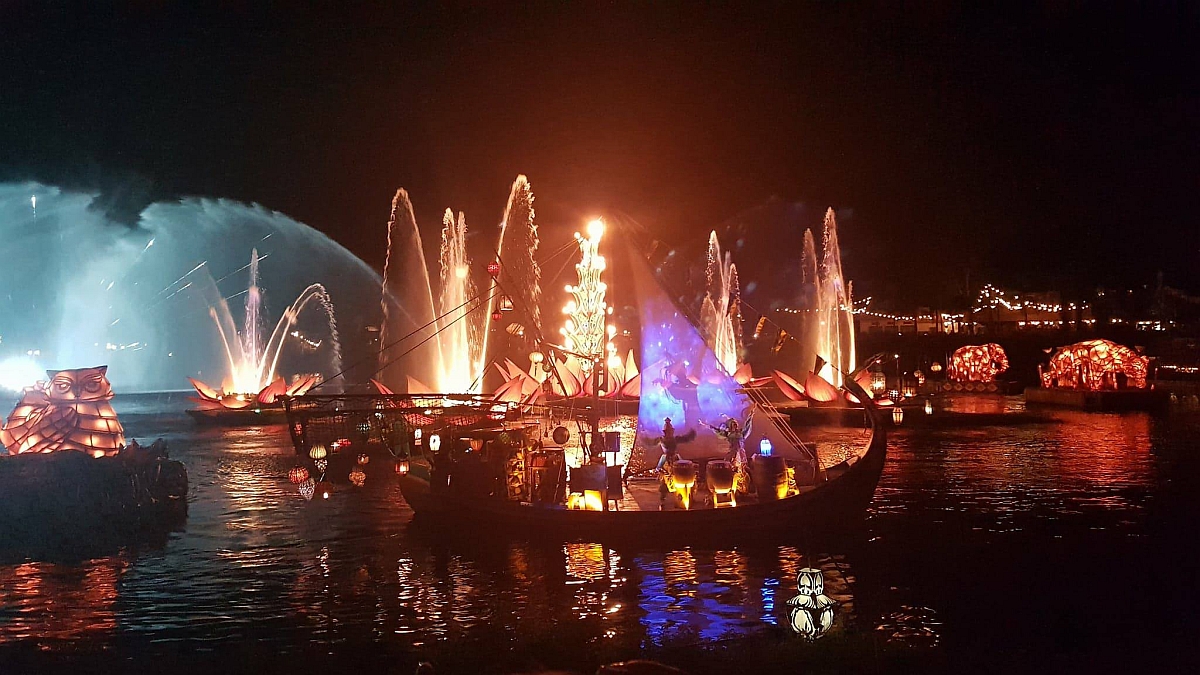 As soon as the show finishes we go straight across to Pandora as we want to try and ride Flightof Passage. We have a Fastpass for later in the week, but we want to ride it twice as everyone raves about it. The wait time is listed at 140 minutes. There are some rumblings amongst the troops, but I advise them that it probably won't be as long as that as the park is about to close. In the end it's just over an hour, but doesn't seem like it as the queueing area is an attraction in itself.
Wow! What a ride! All of us come off smiling and amazed at what Disney have done. I've not ridden any of the Harry Potter attractions at Universal (we've not been there for many years), but this knocks Spiderman into a cocked hat. I don't know if I've ever had my hat cocked before or even how you go about getting one. Perhaps you have to visit Titfer, Bonnet and Chapeau, hat cockers to the gentry. Anyway,so much for all the naysayers who thought Disney were making a big mistake with Pandora. The whole land is a pleasure and the ride just tops it off. I must admit to feeling a little queasy afterwards, so I can sympathise with those that struggle with motion sickness. It's nowhere near as bad as Mission Space, but enough to upset those of a delicate disposition such as my good self. Still, I'd ride again in an instant if given the chance.
The park has been closed for a while now, so we make our way out and get the bus back to Old Key West where we are tucked up in bed by 11.00pm.
Day 6 video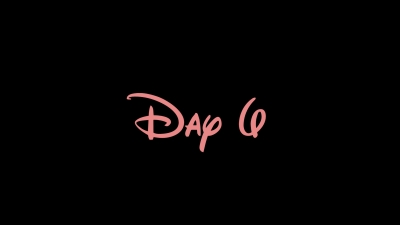 [OCTOBER 2017 REPORT HOME PAGE]