Day 2
23rd November 2018
Written by Tam
After a good night's sleep the alarm wakes us at 7.30am. It's an easy walk to the metro and we choose some delicious looking danishes for breakfast from one of the many little shops down there.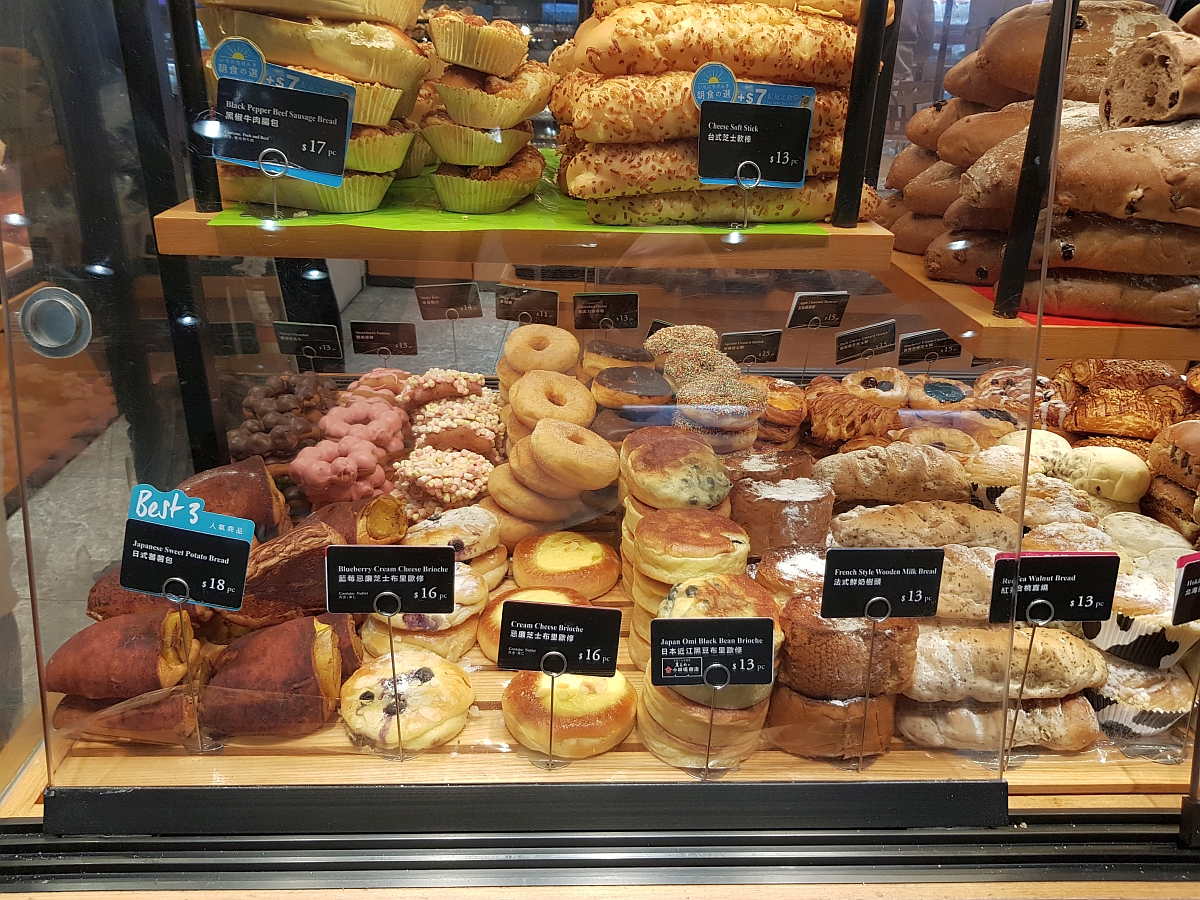 We arrive in good time at the stop for the Peak Tram, where we believed we would be in time for the first tram at 9am. However we soon discover that it actually opened at 7.30am. Still we're not too worried as there are only a handful of people in line for tickets. The Big Bus ticket does entitle us to a free ride on the Tram but as it isn't valid until 10.15am we make a decision to just pay so that we can get ahead of the crowds. The cost is just $37 hkd which we pay for on our Octopus card.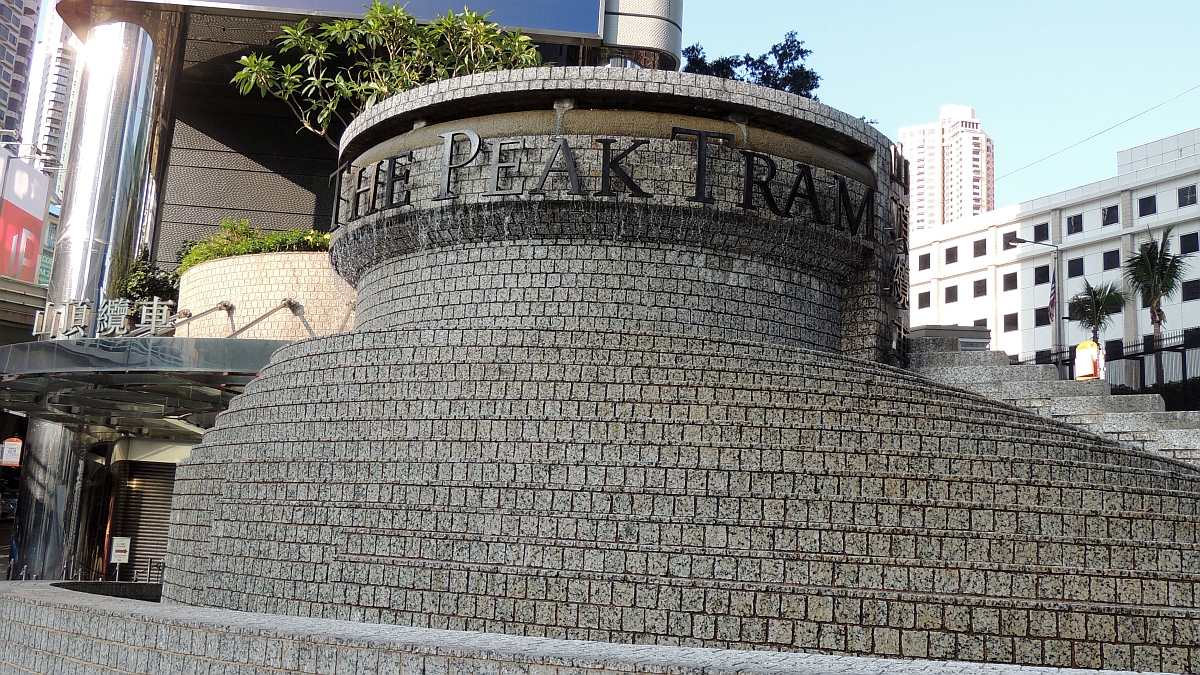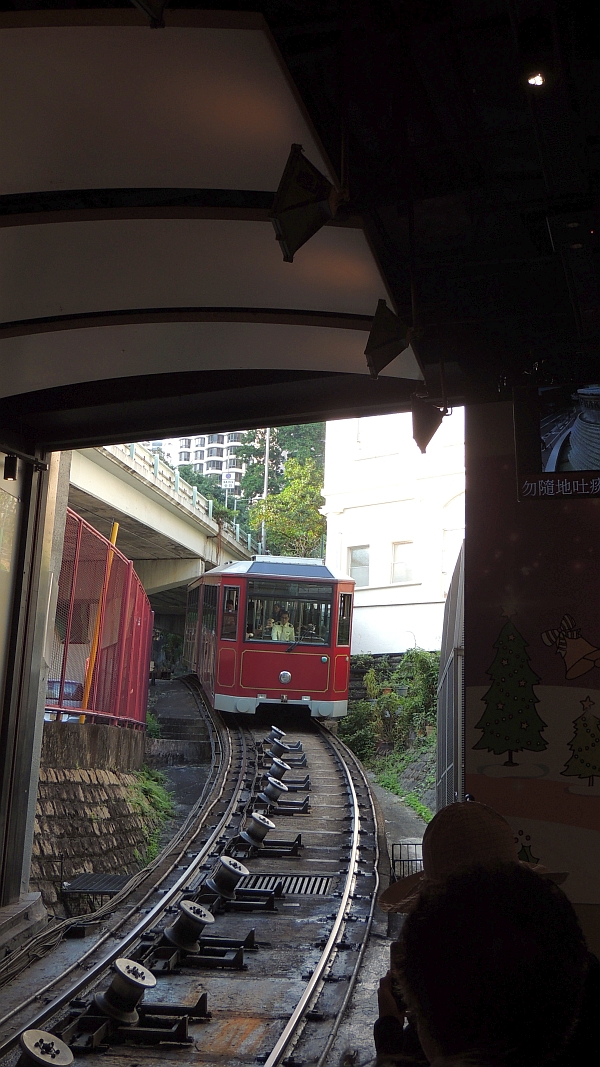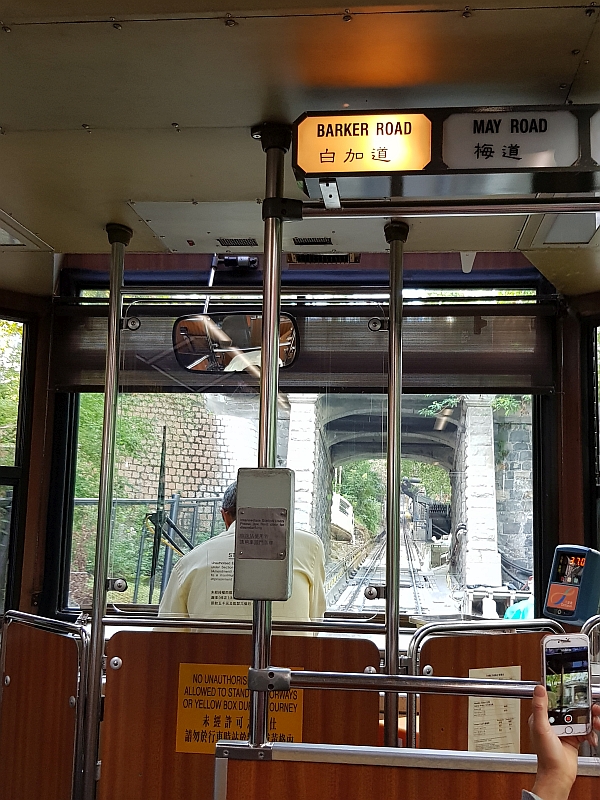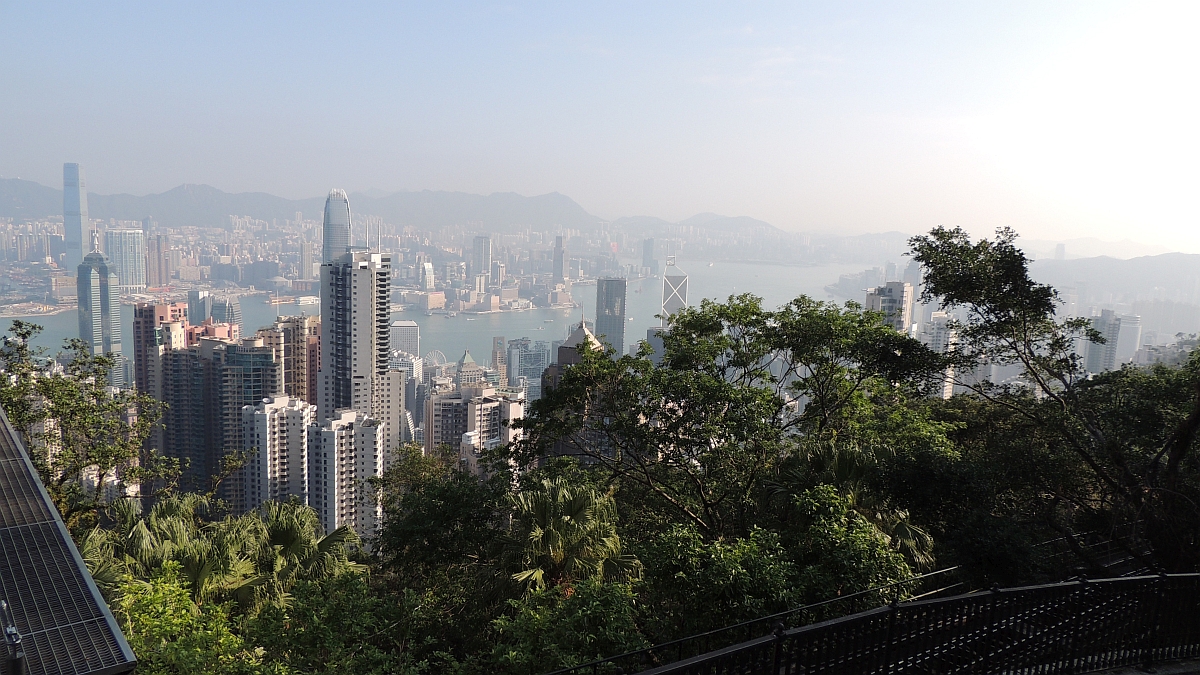 It doesn't take too long for the lovely old tram to come trundling into view and we hop on and enjoy the ride to the peak. It's remarkably steep and stops at four intermediate request stops before arriving at The Peak. It's a glorious clear day and we do the circular peak hike which is about 1.6 km in total - not a long walk but it was very quiet with spectacular views of the city and some stunning houses perched high on the slopes. We take masses of photos along the way and pass mostly locals walking dogs in the clear morning air and a handful of tourists enjoying the walk.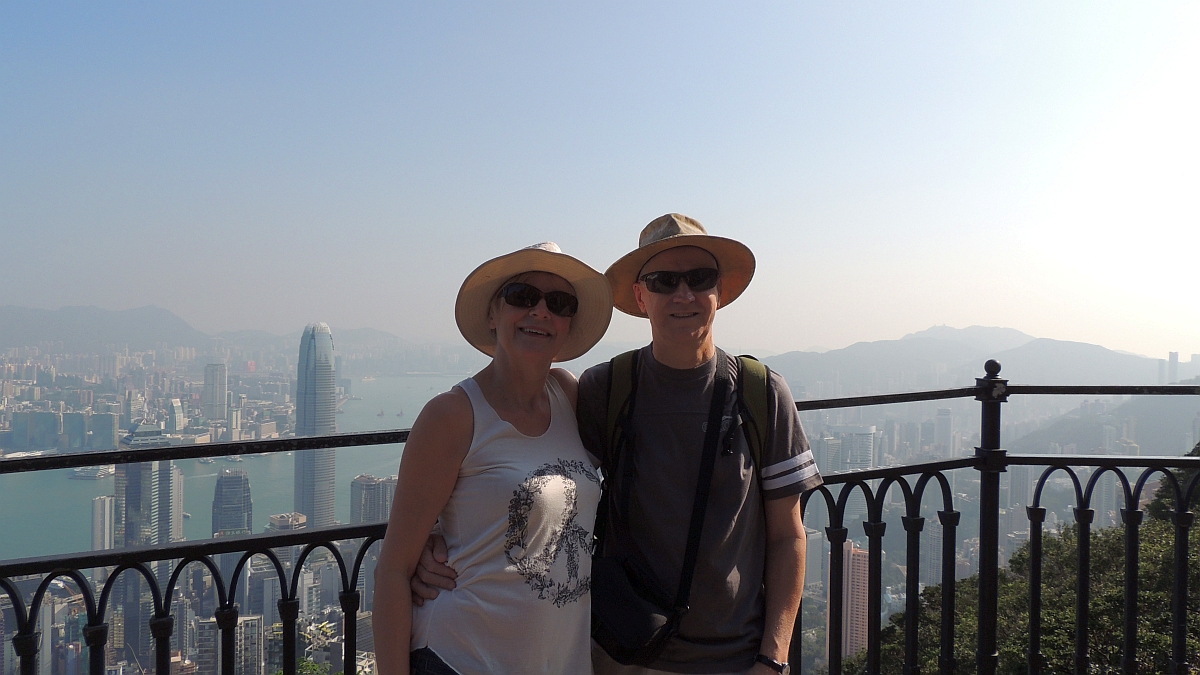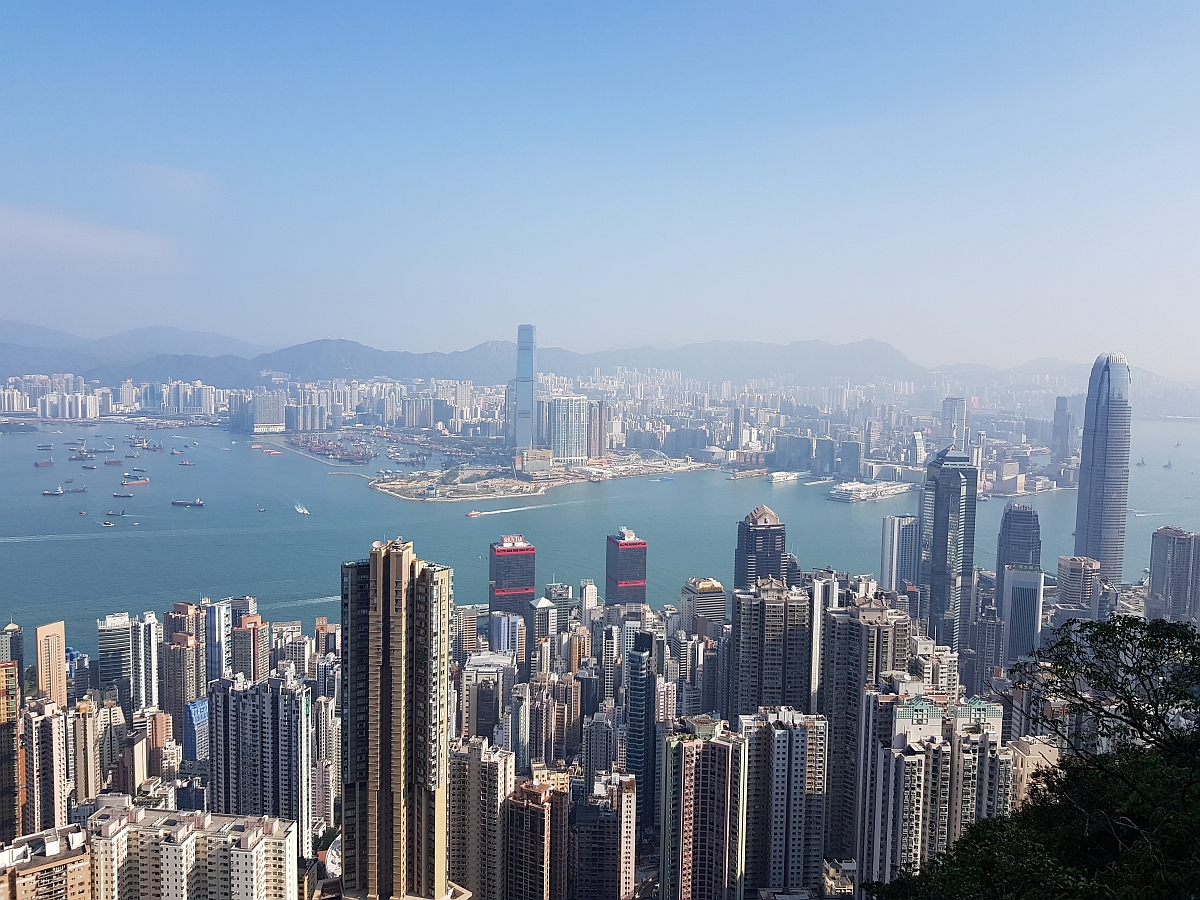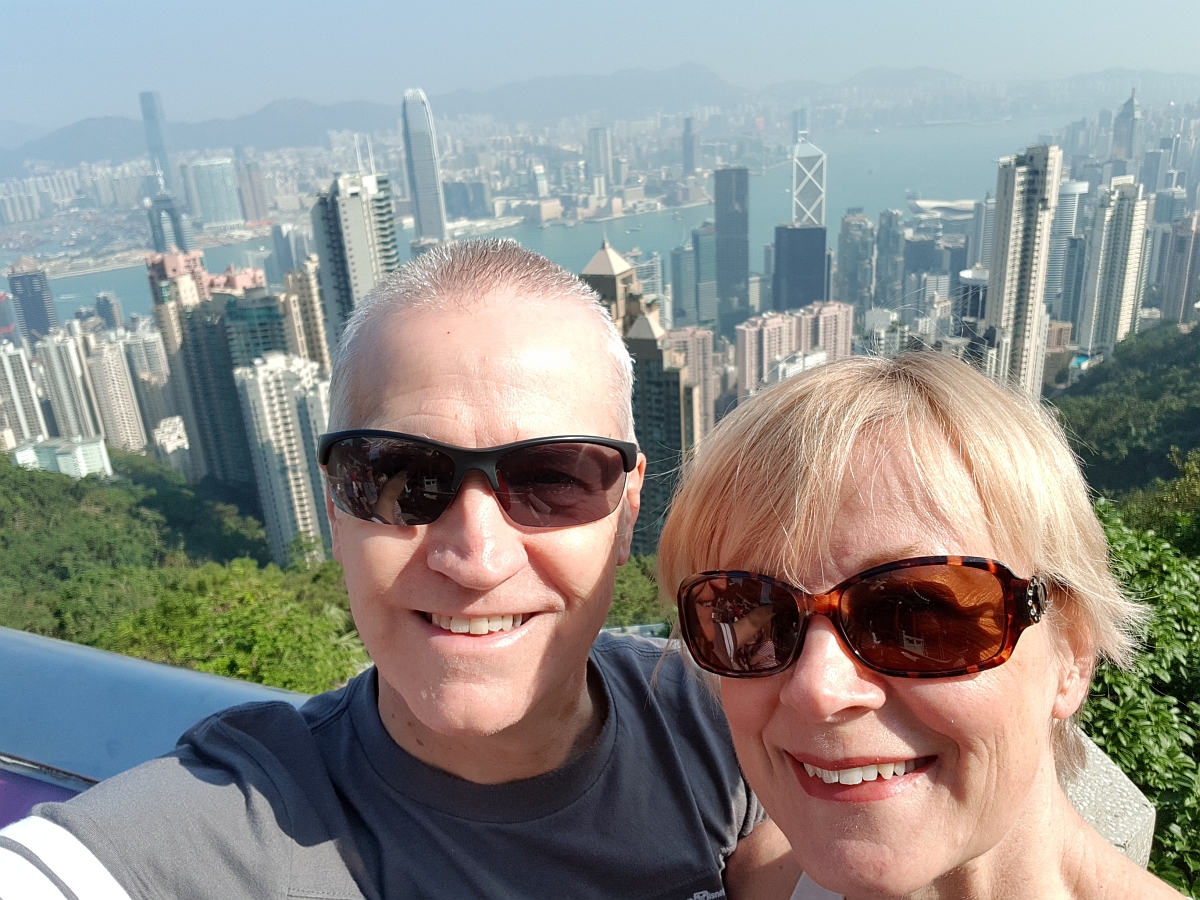 [Kev - as Tam has said, if you ever intend to get the tram up to The Peak make sure you arrive early, before 9.00am if possible. It was so lovely walking around with very few people. We were also incredibly lucky with the weather. A beautiful warm and clear day.]
Once we arrive back at the Terminus we realise just why they advise getting here early - it is absolutely rammed and the whole peaceful atmosphere we encountered when we arrived has changed. We enjoy a refreshing ice cream before heading down on the tram in time to catch the next Big Bus tour doing the red route which passes through the city and we catch glimpses of the mid-levels escalators and the Man Mo Temple, together with some amazing skyscrapers.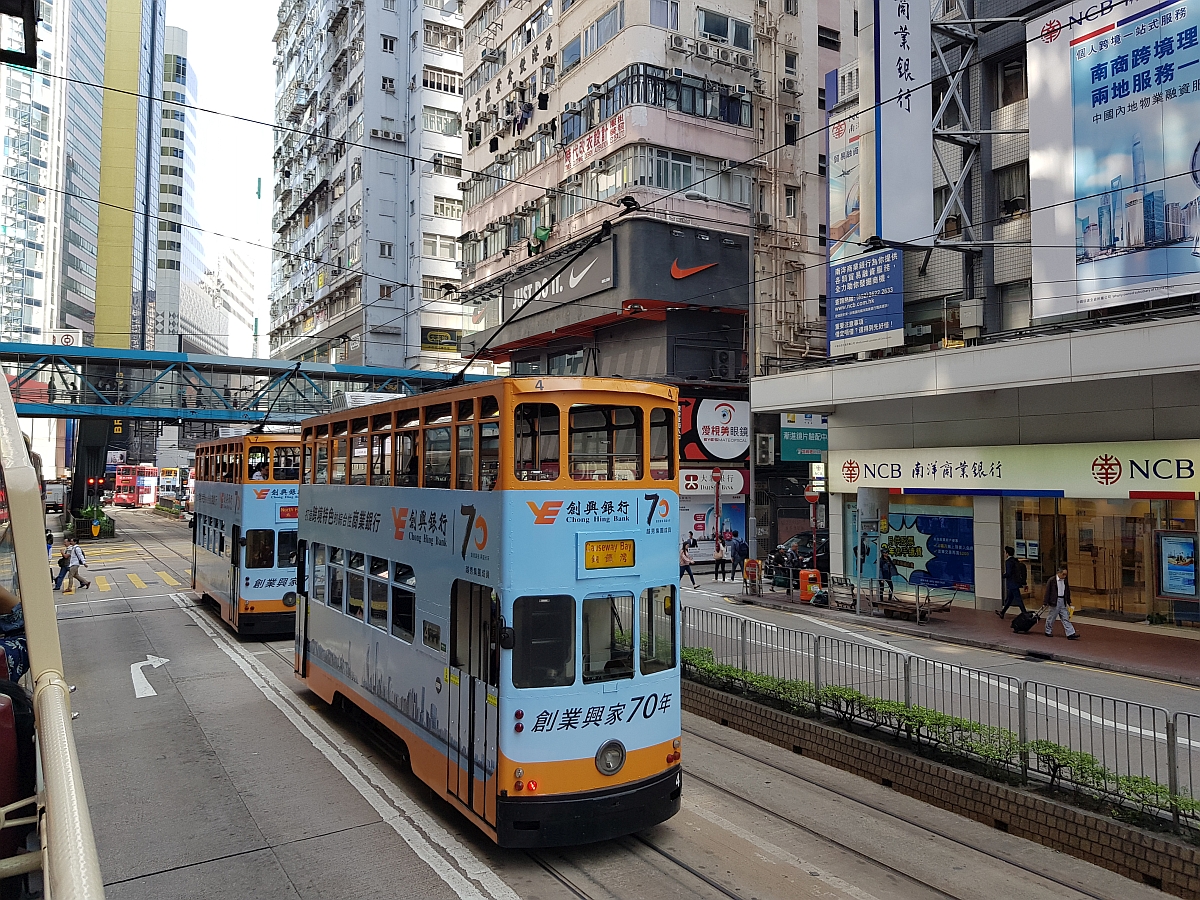 [Kev - I loved these trams, they are so narrow! We didn't actually get to ride on any, but what a lovely form of transport.]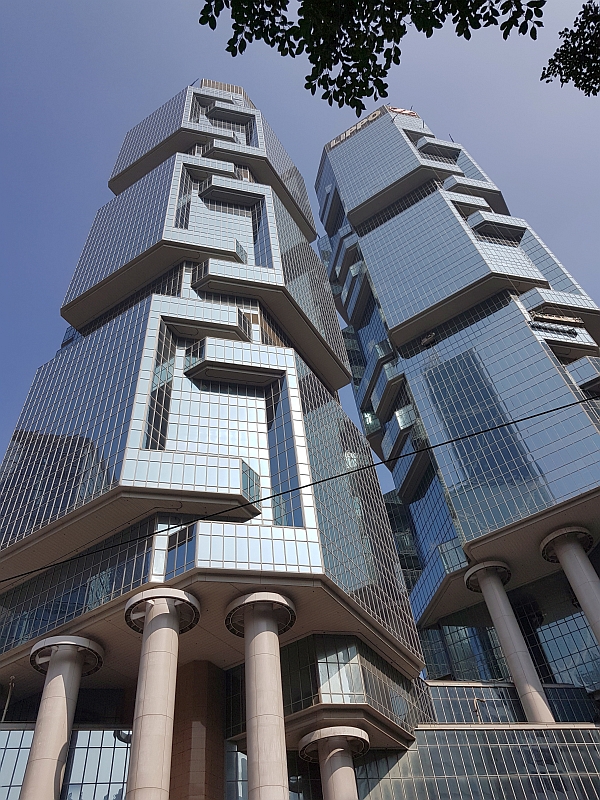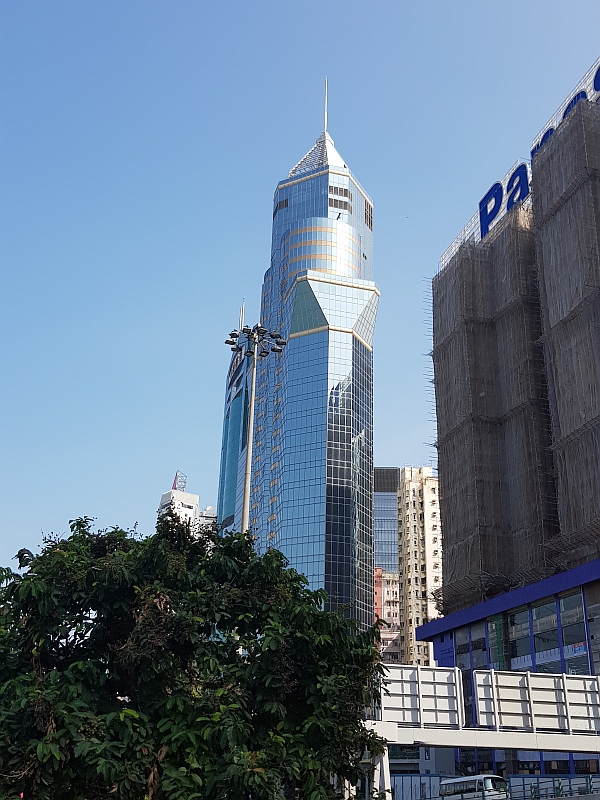 Our final route is the green route which takes us past Ocean Park (a large amusement park, oceanarium and animal park spread over two islands where there is a cable car connecting the oceanfront section to the summit section) and then on to more rural coastal areas. Unfortunately there appears there's been some sort of incident that results in huge delays (it later turns out that we pass the problem and a tourist coach has broken down on one of the very narrow coastal roads heading towards Stanley and Aberdeen). We try and make the most of the stop/start journey and the fact that we are sitting on the top deck of a bus in the glorious sunshine in Hong Kong whilst we'd be at work in cold England on a normal Friday - this makes it seem a whole lot sweeter. We pass a lovely looking seaside resort which bizarrely is called Repulse Bay and it is the most expensive residential area in Hong Kong and certainly has some amazing looking houses overlooking the ocean. We are running late now so decide not to stop at Stanley - another lovely looking seaside village with a market and many shops and restaurants. Later we came to regret this decision and wished we stopped here and skipped Aberdeen, but should we return to Hong Kong we will definitely make an effort to see more of Stanley.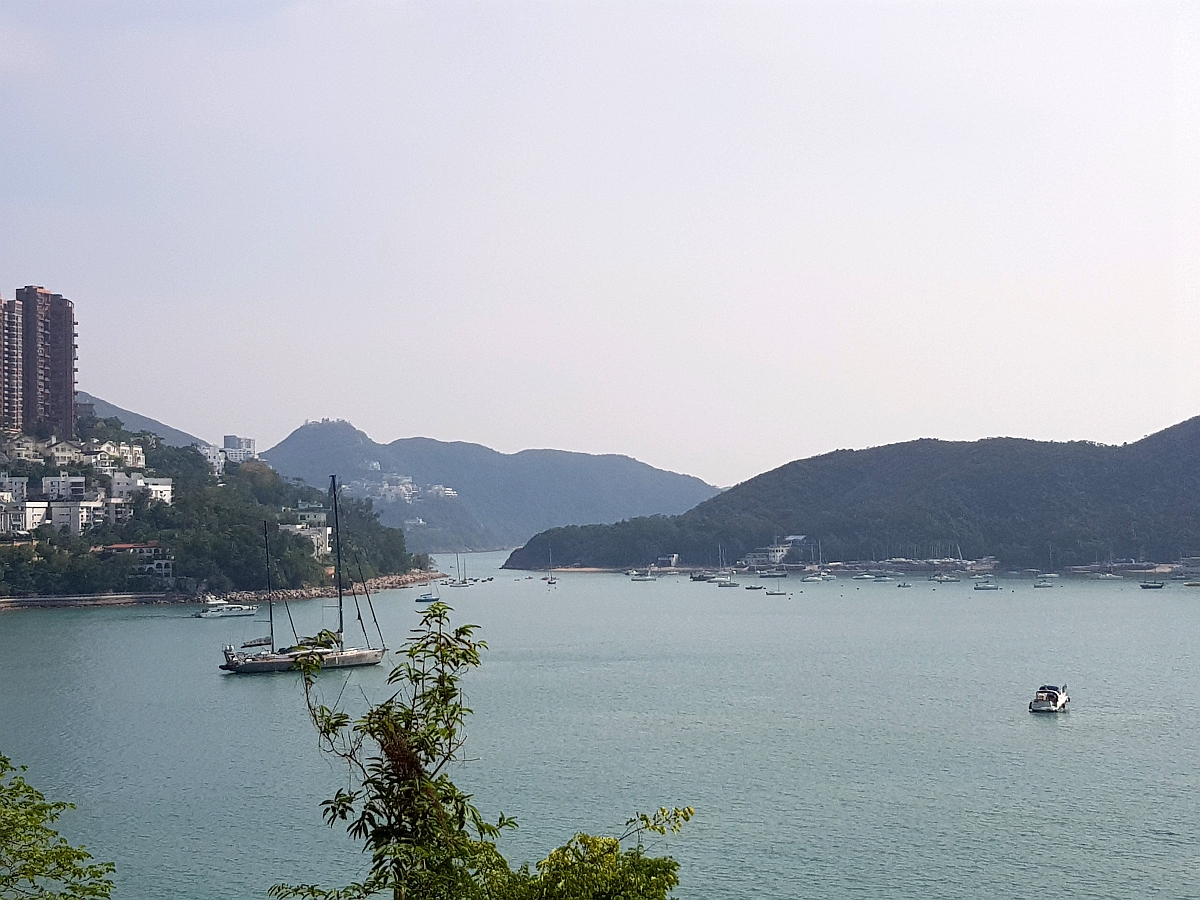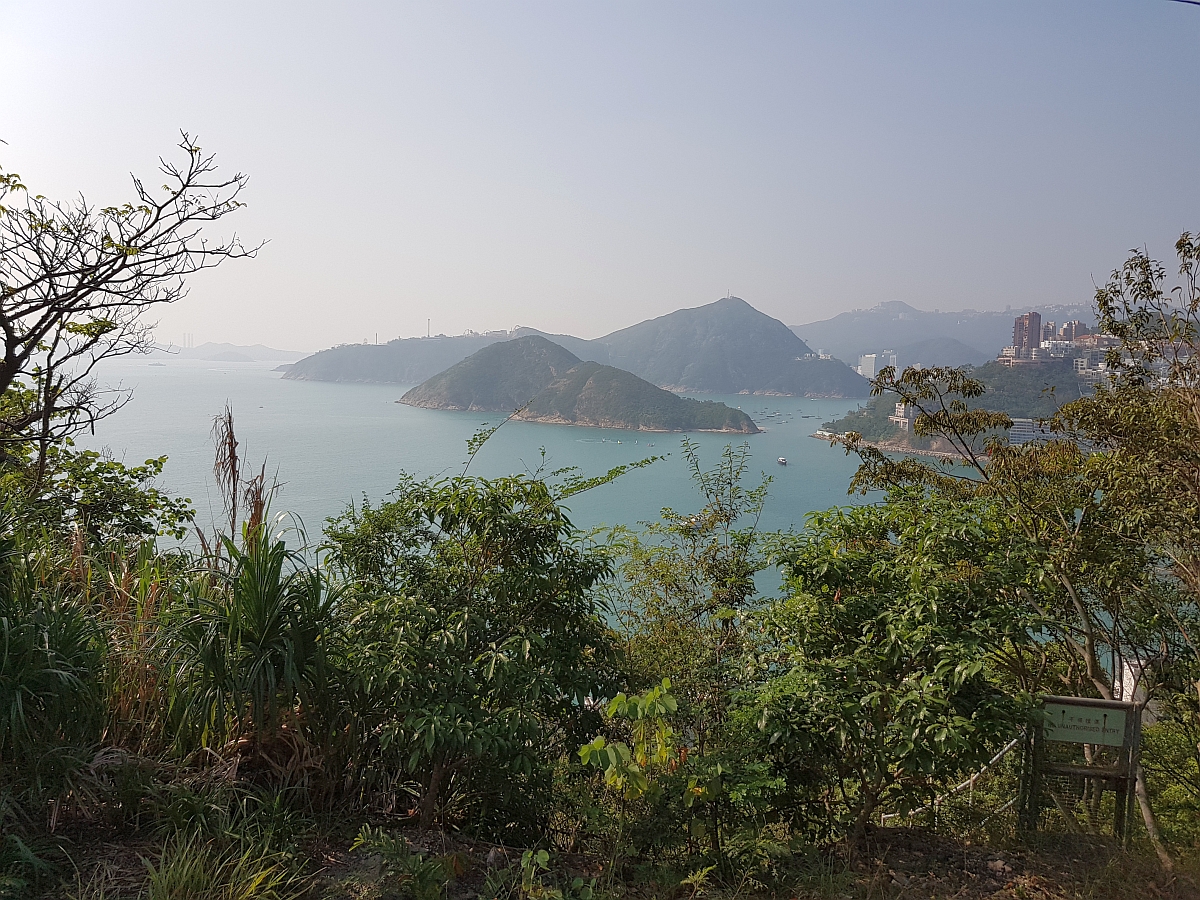 Arrive at Aberdeen around 3.30pm which looks quite industrial when compared to Stanley and Repulse bay with the Aberdeen Harbour bustling with boats of all shapes and sizes. As part of our Big Bus ticket we get a free sampan ride which takes us out on the river and around the Jumbo Kingdom - a large decorative floating boat restaurant. This is our restaurant of choice for a meal, but because of building work once we get out of the sampan we have to take a long detour to find the place we need to catch their boat shuttle to dine. We were hoping to eat Dim Sum but are promptly told they stop serving them at 4pm. Although it's very decorative from the outside we find it cavernous and a bit soulless inside. The food was poor and it obviously is a catch with tourists as it is an iconic venue, but we wished we'd dined elsewhere. Even the menu wasn't that inspiring and we started with crab and sweetcorn soup which was ok in flavour, but not hot enough for our liking, then shrimp balls with thousand island dressing which were chewy and also sweet and sour pork which was pretty tasteless. Luckily the Tsing Tao were cold and we took some comfort in that!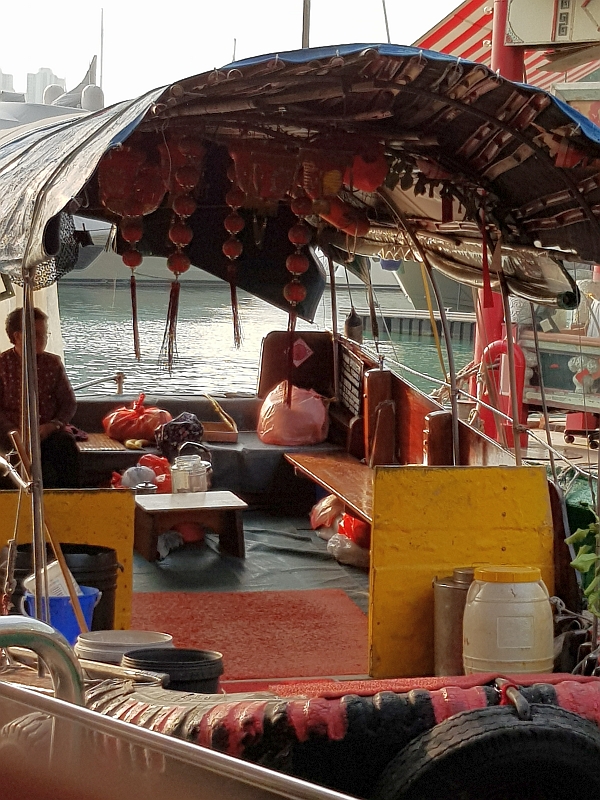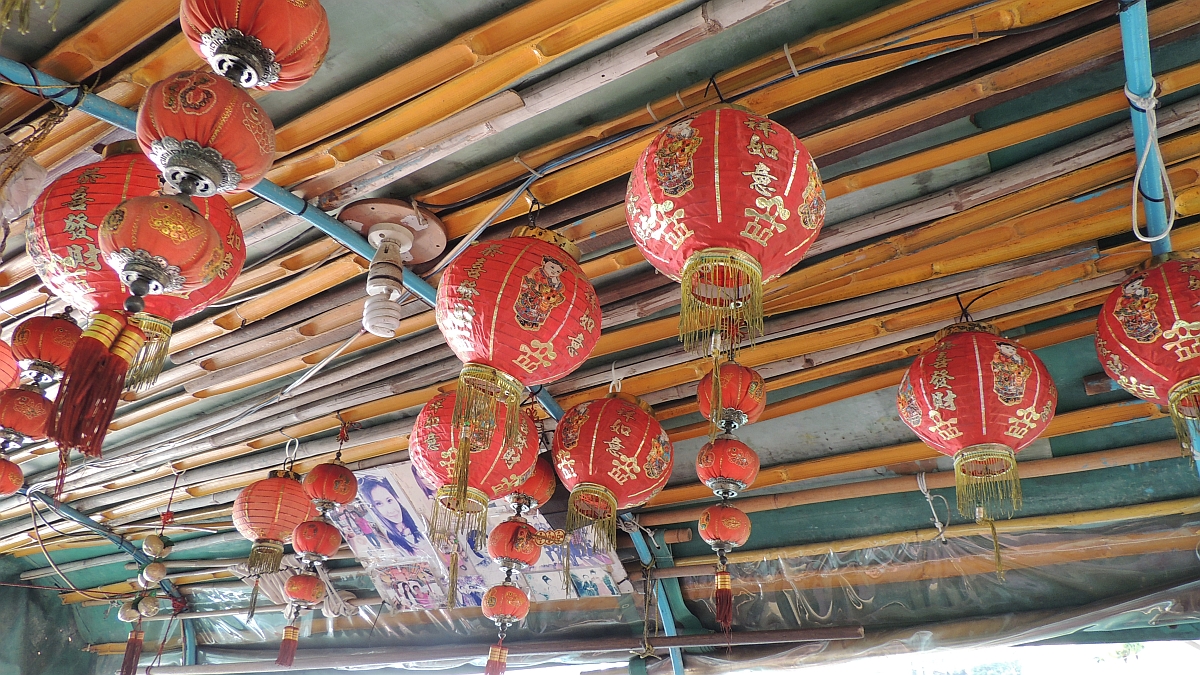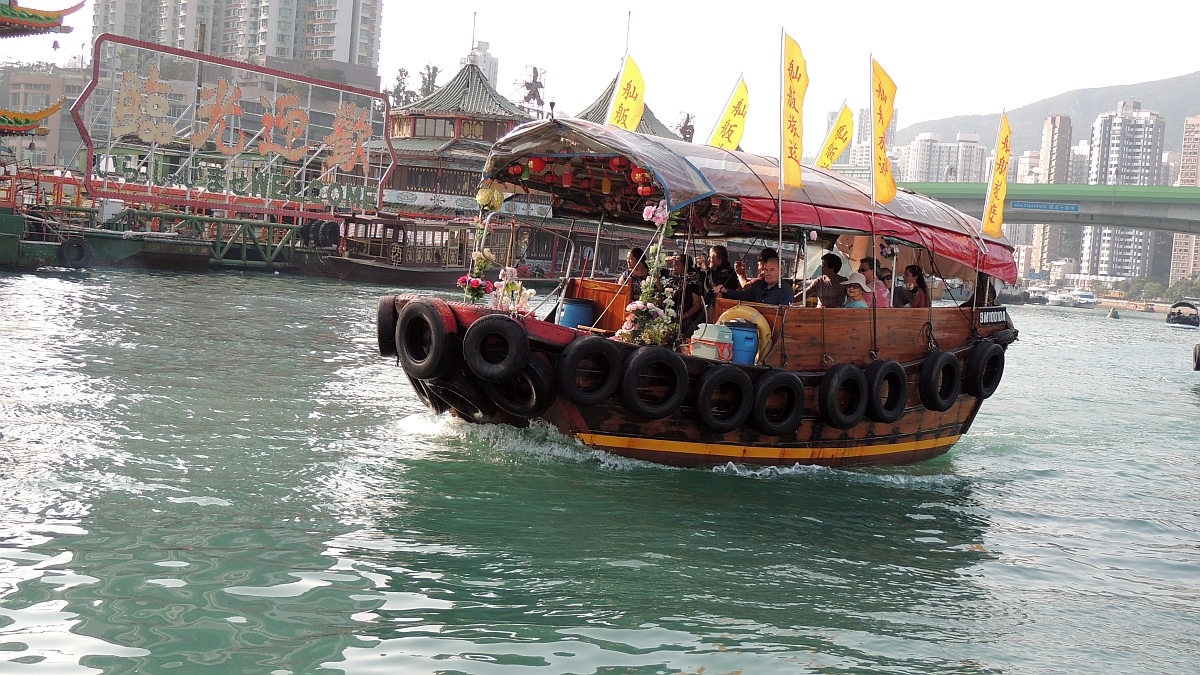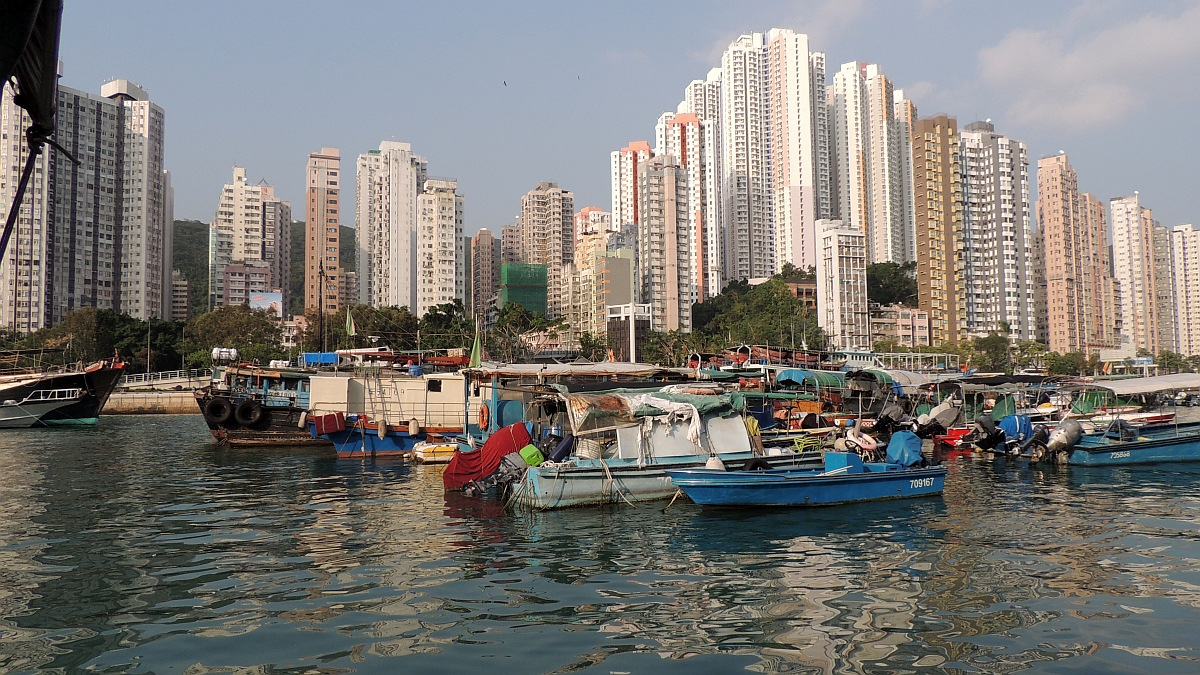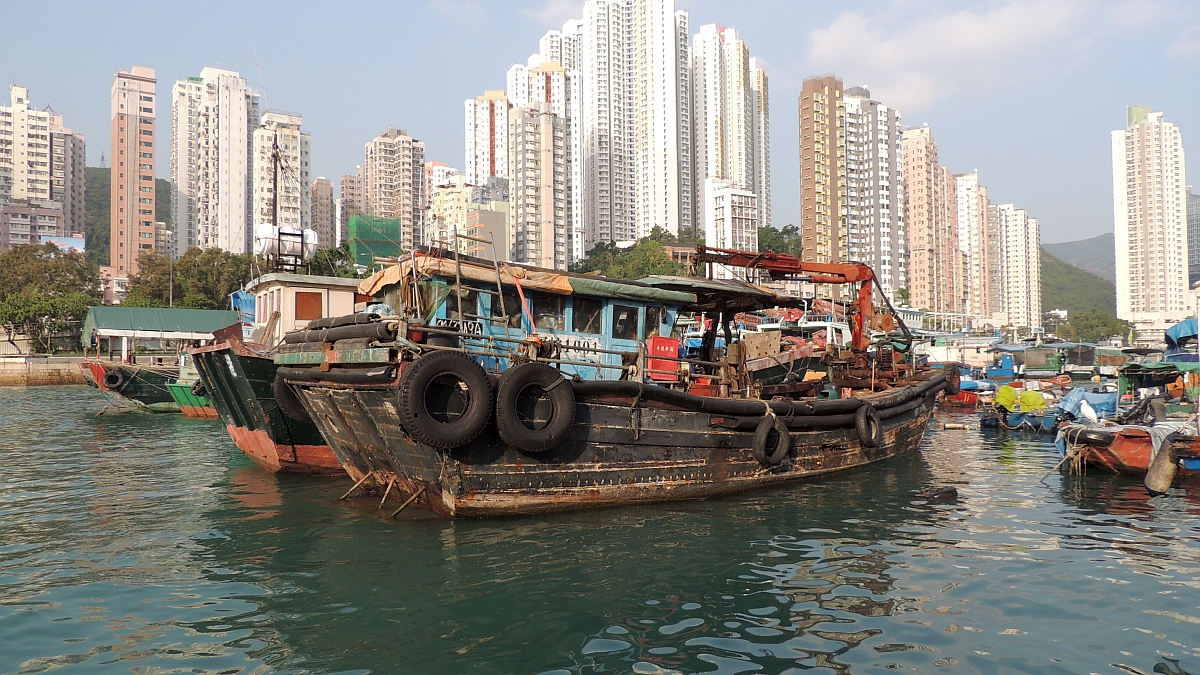 [Kev - the ride around the harbour in Aberdeen really shows the 'old' and 'new' Hong Kong side by side.]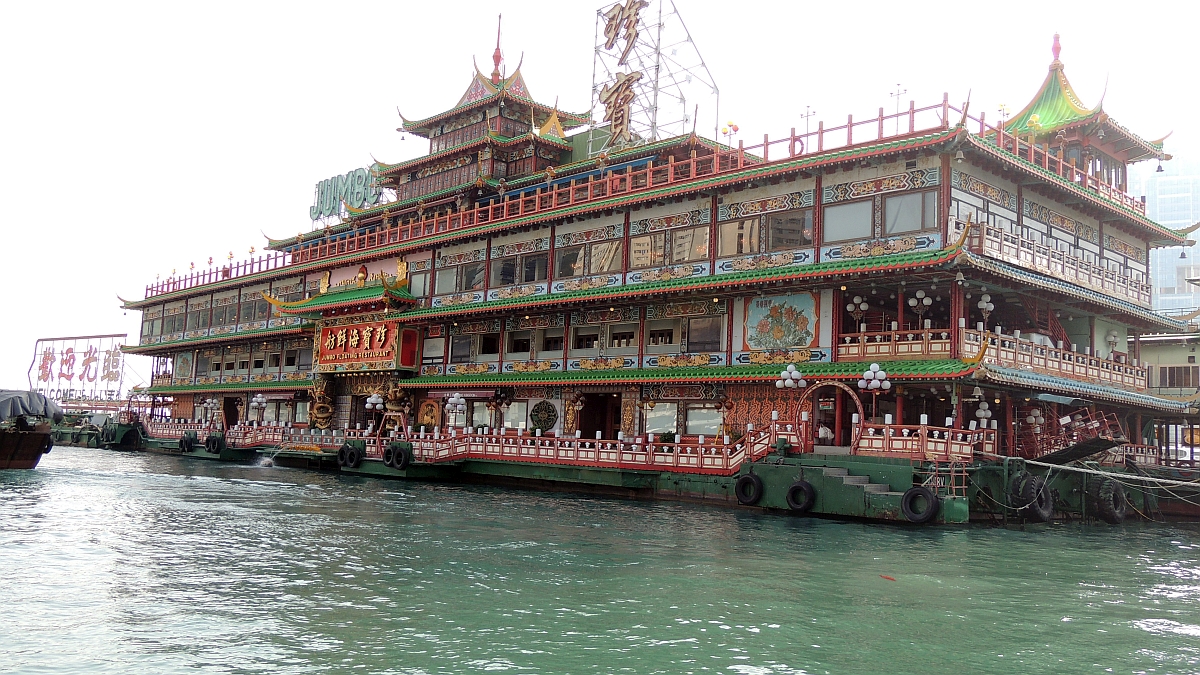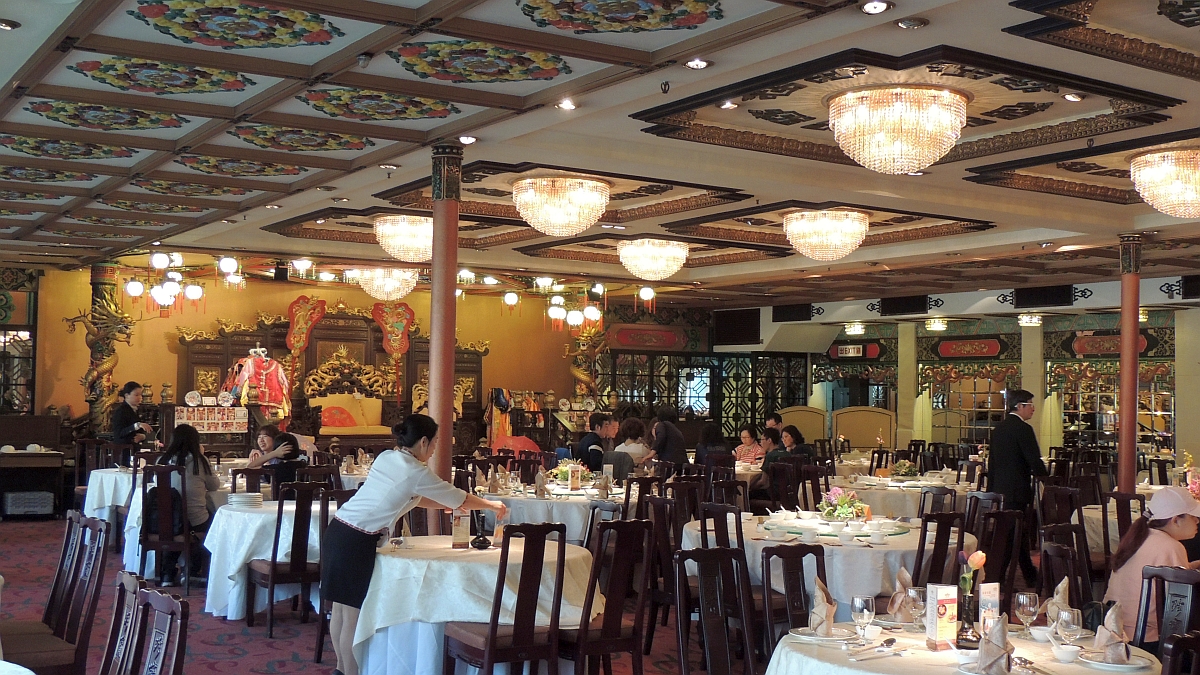 [Kev - this is inside the Jumbo Restaurant. It looks nice, but my shrimp balls were like chewing on a lump of elastic. Nobody likes chewy balls.]
Take the boat shuttle back to the riverside and decide to catch a normal bus to catch the star ferry. It is dark by now and the streets are rammed with people but it's fun people watching and looking in all the unusual shop windows as we pass by. Hop on the star ferry and again are enthralled by the beautiful skyline lit up agaisnt the night sky.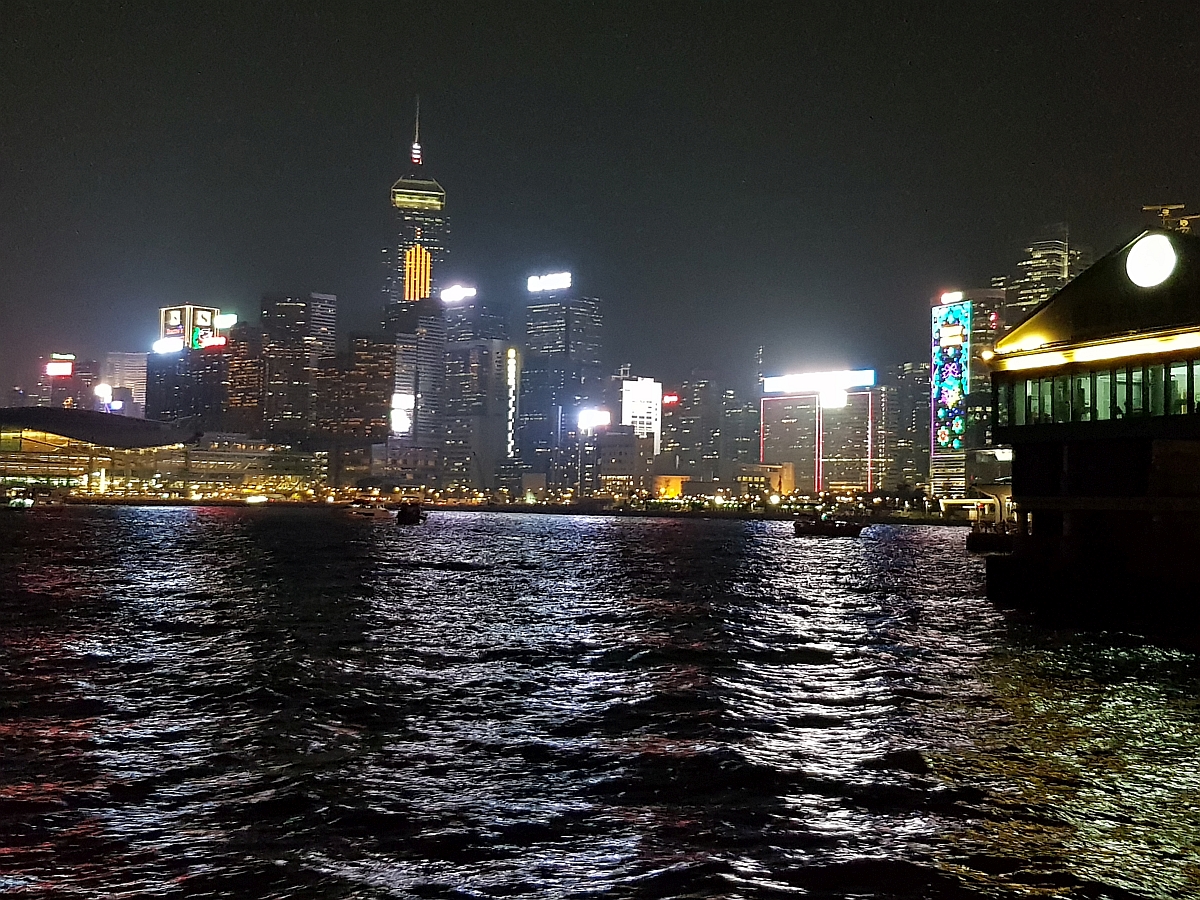 Back to the hotel to freshen up and head out to find a bar. We walk up Nathan Road famous for its shopping and I manage to get some silk kimonos that were on my shopping list as gifts.
[Kev - I lost count of the number of times I was approached in Nathan Road by people asking if I would like a hand made suit or shirt. They stopped short of saying 'You look like you need one'.]
I am now on a mission to find dim sum so we wander the side streets until we find a little bar in the back streets that is nicely lit with good music playing but when we go to pay we definitely feel we've been ripped off for the two draft beers we had and still no dim sum. Hey ho onward and upward - we then head to the Eye Bar which was on our list of roof top bars that might be worth a visit. We go into a fairly normal looking shopping complex and get the lift up and the views don't disappoint and as a bonus we find they also serve dim sum. So we enjoy a cocktail and some food whilst marvelling at the views. This more than makes up for the disappointment at the previous bar and we head home happy.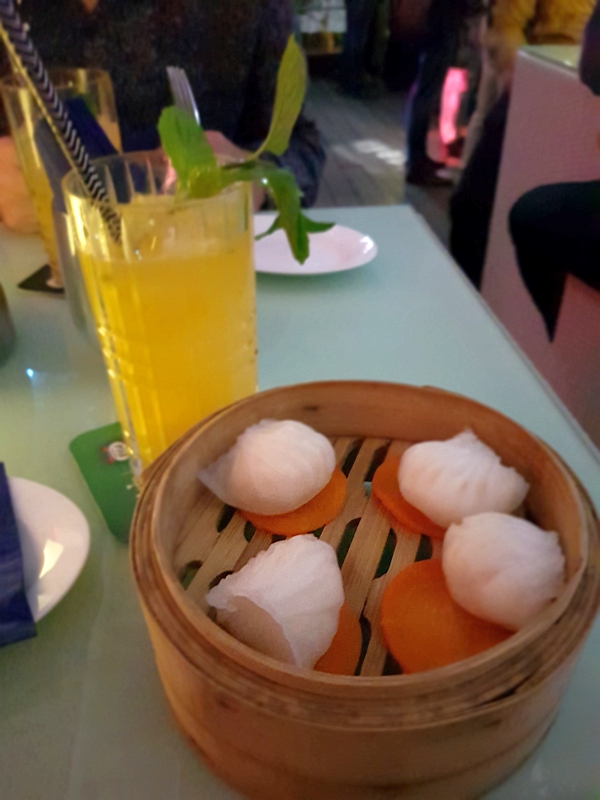 [Kev - hooray! Finally some dim sum. We traipsed across most of southern Kowloon looking for these bad boys. Once Tam gets her mind set on something she doesn't give up.]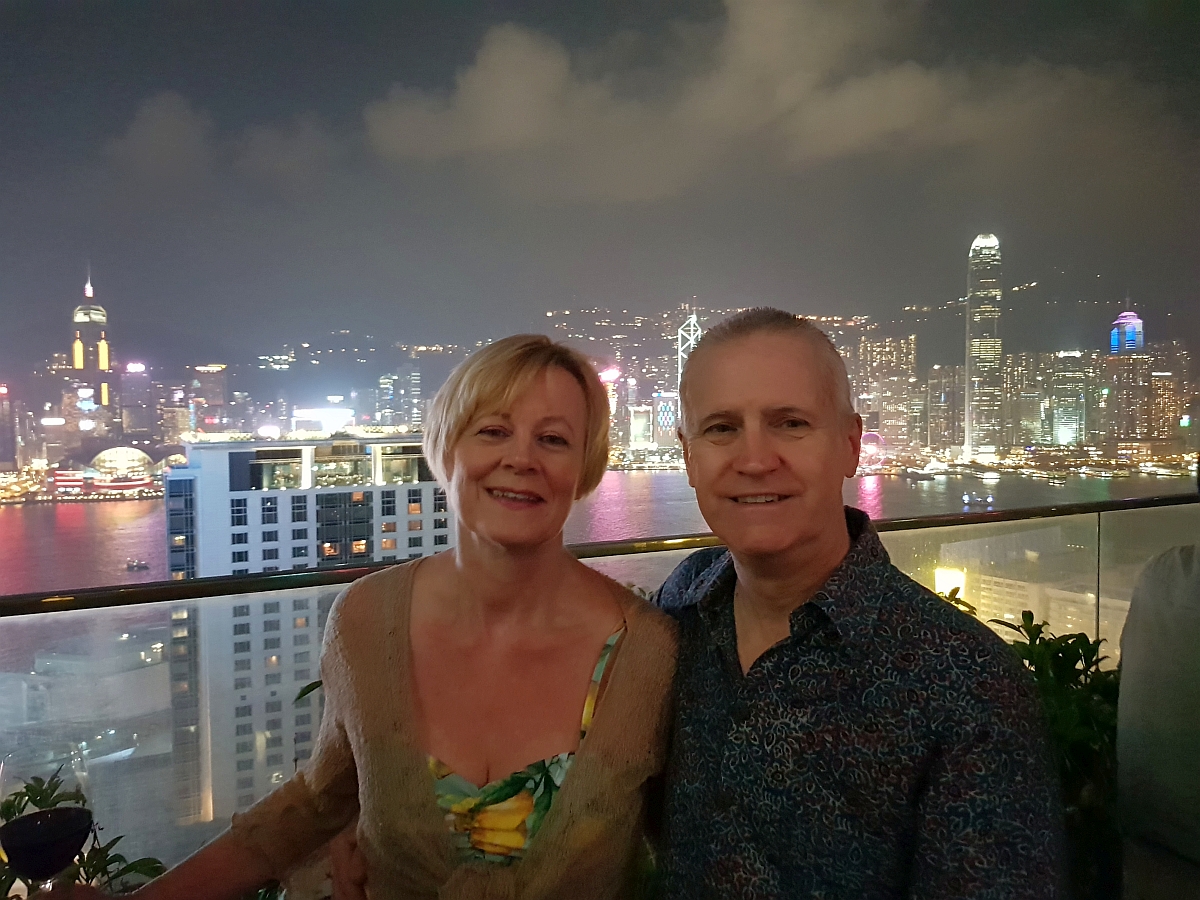 [Kev - I'm really glad we went to the Eye Bar. There's a large restaurant with quite a small external bar area and it was packed when we got there. The manager took our names and we waited for a table. There were quite a lot of young trendy types and I wasn't too sure if it was going to be the place for us. I thought we might have just been ignored, but give him his due, it didn't take long before we were led to an available table. I guess ke knows young and trendy people when he sees them. In the end I thoroughly enjoyed it - the dim sum was nice and the drinks were very good as well.]
[NOV/DEC 2018 REPORT HOME PAGE]