Travelling Day & Day 1
22nd November 2018
Written by Kev
So, it's been over a year since our last holiday – oh, the hardship. I think Tam and I booked this latest jaunt before we left for our 2017 trip, so we've had plenty of time to plan and look forward to it. We are going on a cruise on the Celebrity Millennium from Hong Kong to Singapore. We chose this cruise as we really liked the look of the itinerary and it is quite unusual in that there are overnight stops in 4 different locations.
We will fly into Hong Kong where we will spend a couple of nights in a hotel before boarding the Millennium. It stays in port overnight, so we get 3 nights to explore Hong Kong.
We then get 3 stops in Vietnam and this is the primary reason for booking the cruise. I really wanted to do a Mekong River cruise up through Vietnam and into Cambodia, but it was just working out to be too expensive. This way we at least get to see a little of Vietnam. We will visit Halong Bay, Danang and Ho Chi Minh City.
Next is an overnight stop in Bangkok before finishing off in Singapore where we get another night on board before departing for our flight home.
We have to work until lunchtime and it's a bit worrying when I look out of the window to see it snowing heavily! Luckily it stops before too much damage is done and it's clear by the time we drive home where we shower and change before driving to Heathrow.
We drop our car in the short term car park where we leave the keys and they drive it away to park. They bring it back on your return, so it's really convenient to walk out of arrivals and straight into your car. It costs a little more, but it's well worth it in my opinion.
We are flying with British Airways and check in is smooth, although there is a bit of a worry when our first suitcase is slightly overweight at automated check-in and it wants to charge us £65! Luckily there is someone there to help out and we don't have to pay anything as the two cases combined are within the limit. Only just mind you. That's the problem with going on a two week cruise; you need a lot of clothes including evening wear.
We get through security fairly smoothly and we're airside at terminal 5 with 3 hours or so to spare before our 18.25 flight. We decide to have something light to eat at the Fortnum and Mason bar. We split the Smoked Fish Platter, Beef Carpaccio and Comte cheese with walnuts and honeyed grapes. With a 500ml carafe of Chardonnay and 12% service charge, the bill comes to £82. A little extravagant, but it's a really nice way to start off the holiday.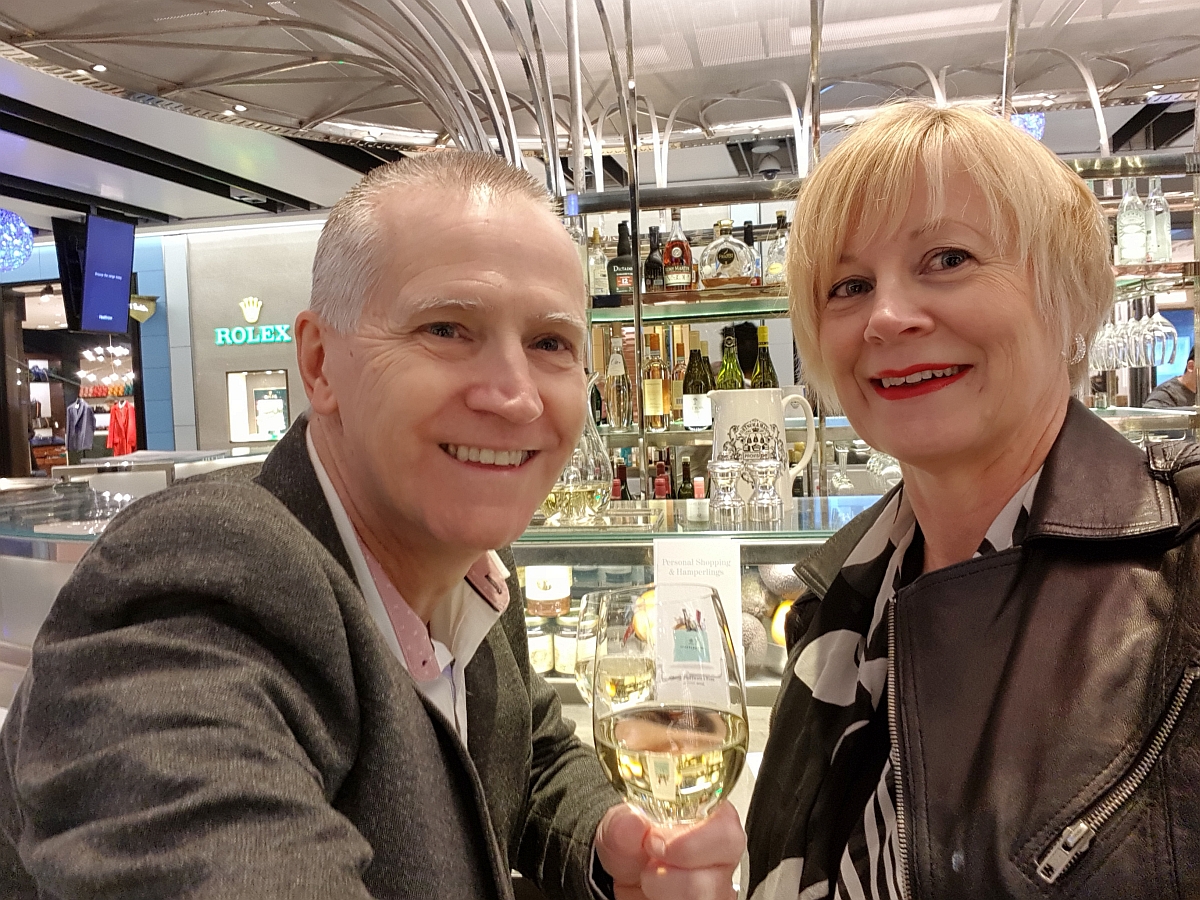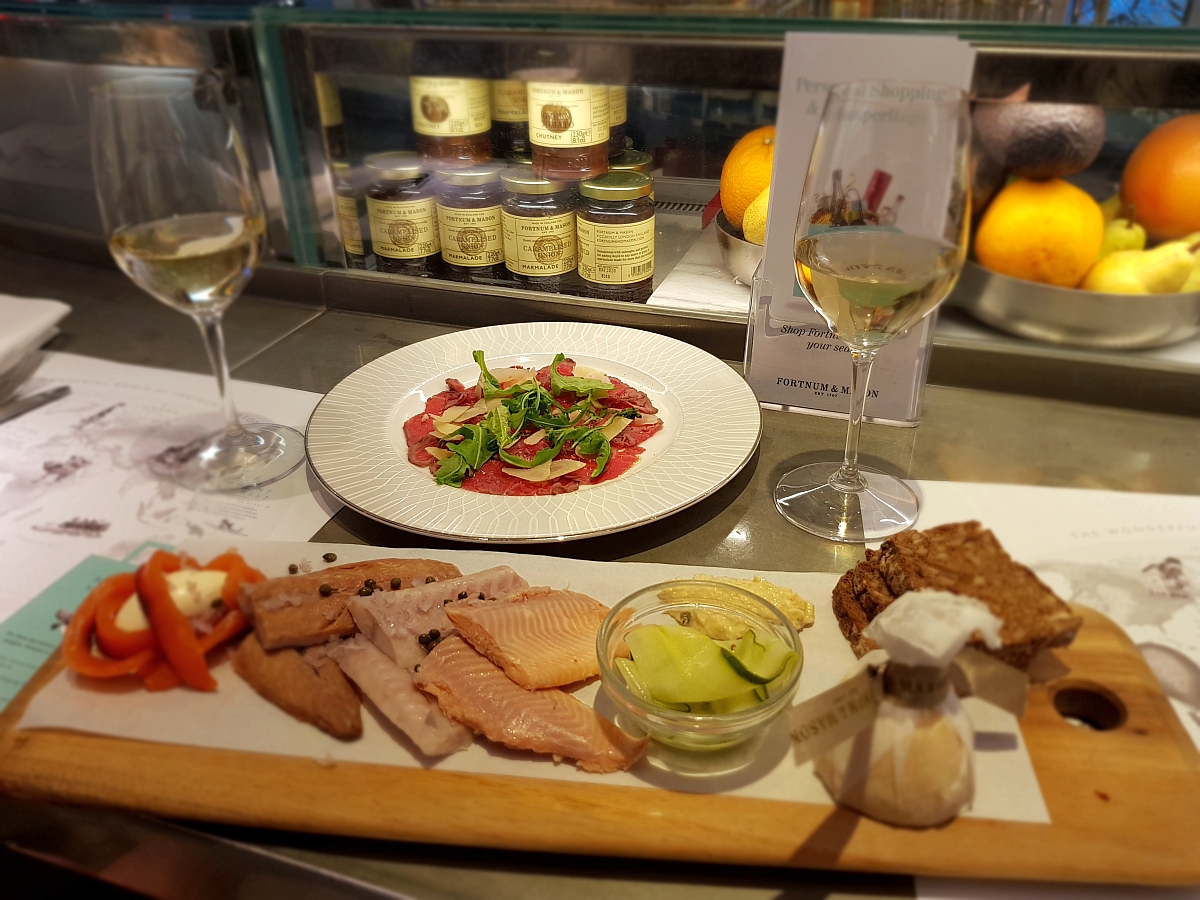 Our flight leaves near enough on time and it's as good as flights of this length can be. We paid extra to have two seats in the back of the plane, so we don't get disturbed too much. After a couple of films and something to eat I even manage to doze off for 3 hours.
After arriving in Hong Kong we have to wait a little while for our luggage and then get Octopus cards from the tourist information booth. These little beauties allow you to use nearly any form of public transport including the metro, buses and ferries and prove to be well worth the outlay. You top them up in a similar way to the London underground.
We don't actually use them to get into the centre of Hong Kong as we have the luggage with us, so we get a taxi instead. This is very easy as there are ranks outside divided into different areas. We are going to Kowloon, so queue up in that line.
The taxi only takes around 30 minutes and we are soon at our hotel – The YMCA Salisbury. This is a very well located hotel in Tsim Sha Tsui, very near the Star Ferry terminal. I even manage to resist doing a Village People impression much to Tam's relief. We picked this hotel because of the location and reasonable price. The room is fine and quite large by Hong Kong standards, but there's no time for loafing around, so we drop the luggage and are out the door and off to get on the Big Bus for our first tour. We are stood where we think the stop is for a little while before a Big Bus employee comes round and we are able to buy our tickets just before the bus arrives. We get two day tickets for $64 (US) each and this is well worth the money as we do all 3 bus routes over the next two days and it also includes a couple of trips on the Star Ferry each day.
We do the blue route first, which takes you around the southern end of Kowloon and lasts about an hour. The hustle and bustle in the streets is something to behold and the views around the harbour are possibly one of the most iconic sights in the world. Skyscrapers galore. I thought New York had densely packed buildings, but it's nothing compared to this. The tour lasts about an hour and we return to our hotel straight after for a shower.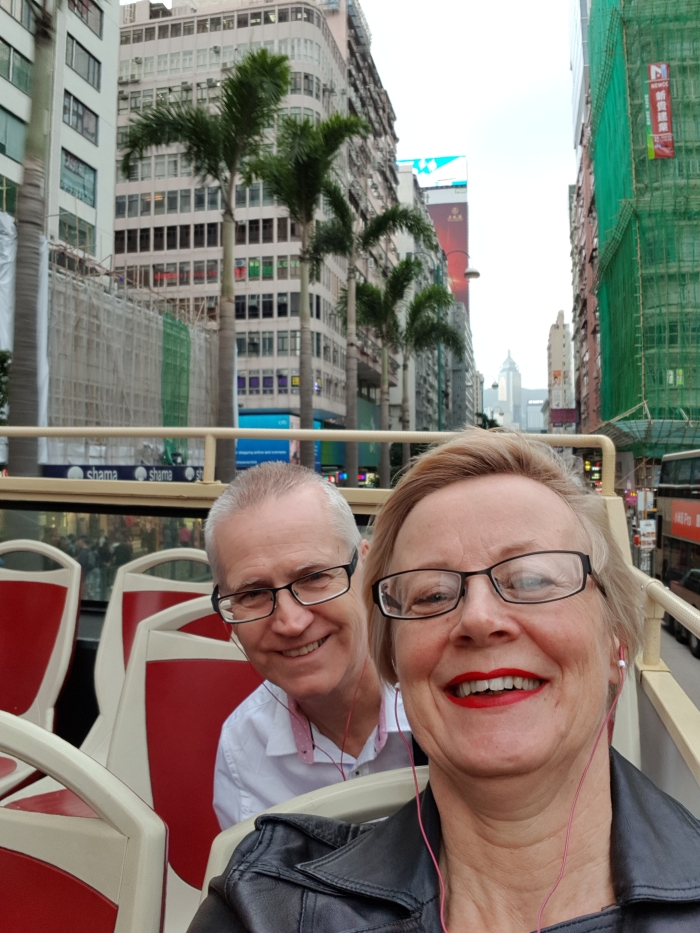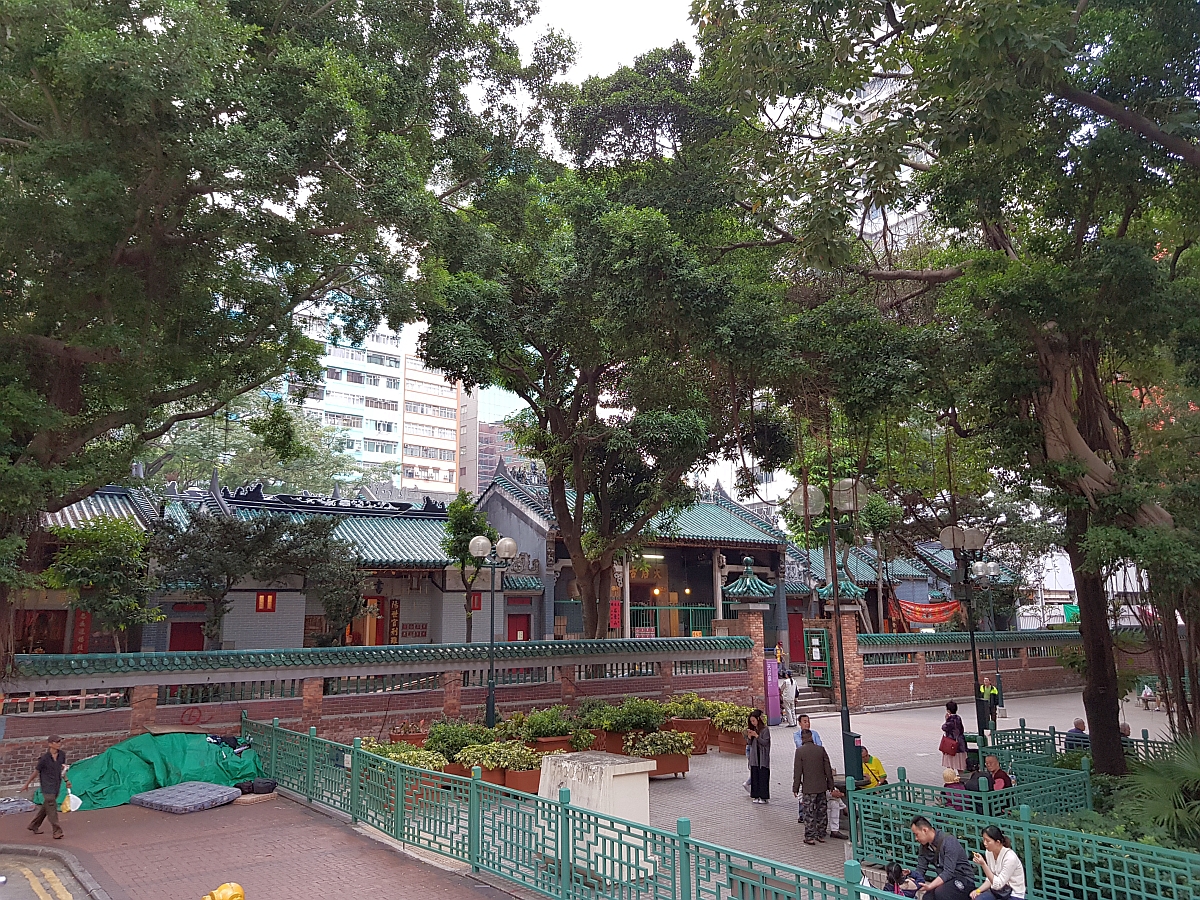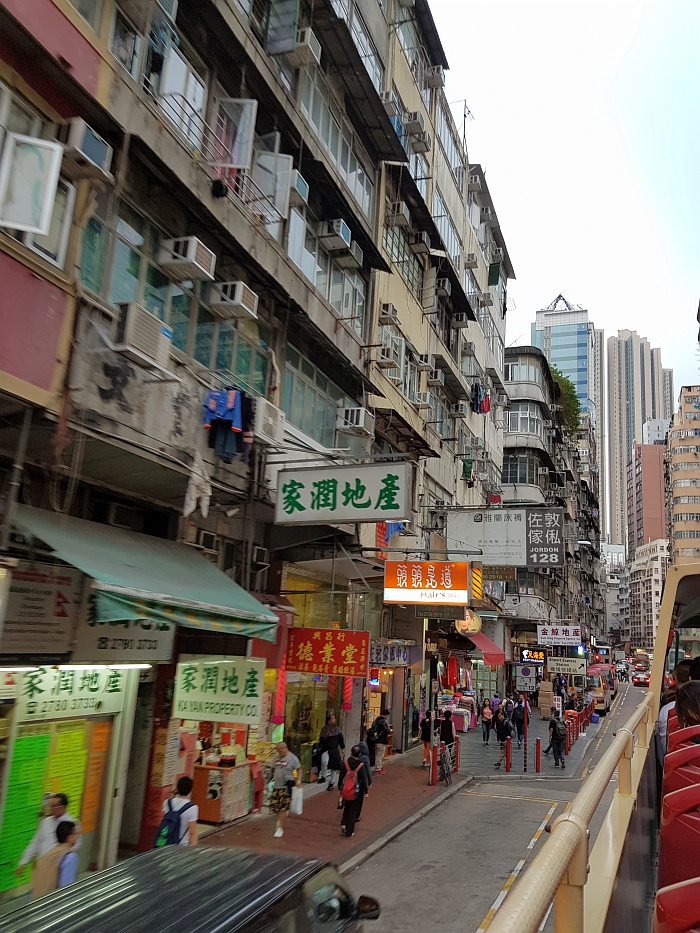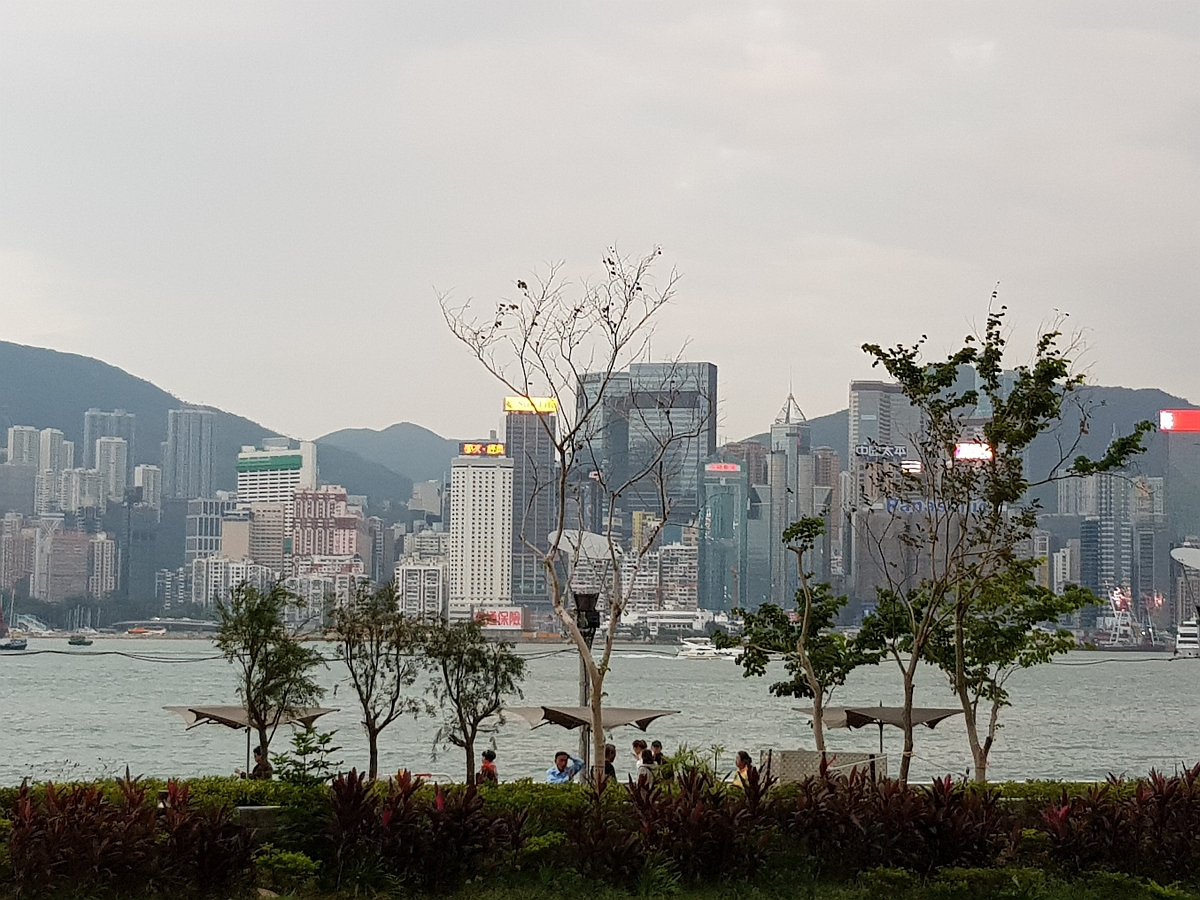 There is a small shopping centre next to our hotel with an ornate Christmas display. We find over the next couple of weeks that Christmas is celebrated everywhere we go in South East Asia.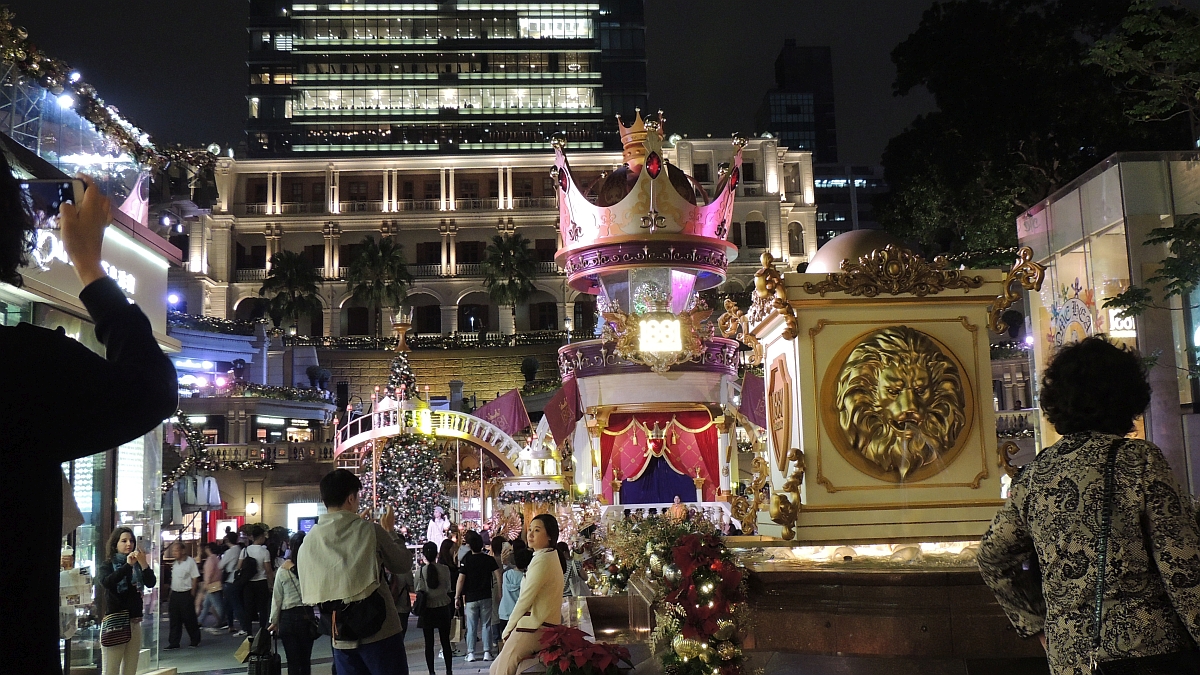 We walk to the promenade (just across the road) to watch the nightly Symphony of Lights show. There is a soundtrack playing and lights and lasers on the skyscrapers across the harbour on Hong Kong Island. It's nice to see, but the real star is the skyline itself. In the next couple of days we spend in Hong Kong, the view around Victoria Harbour never fails to impress.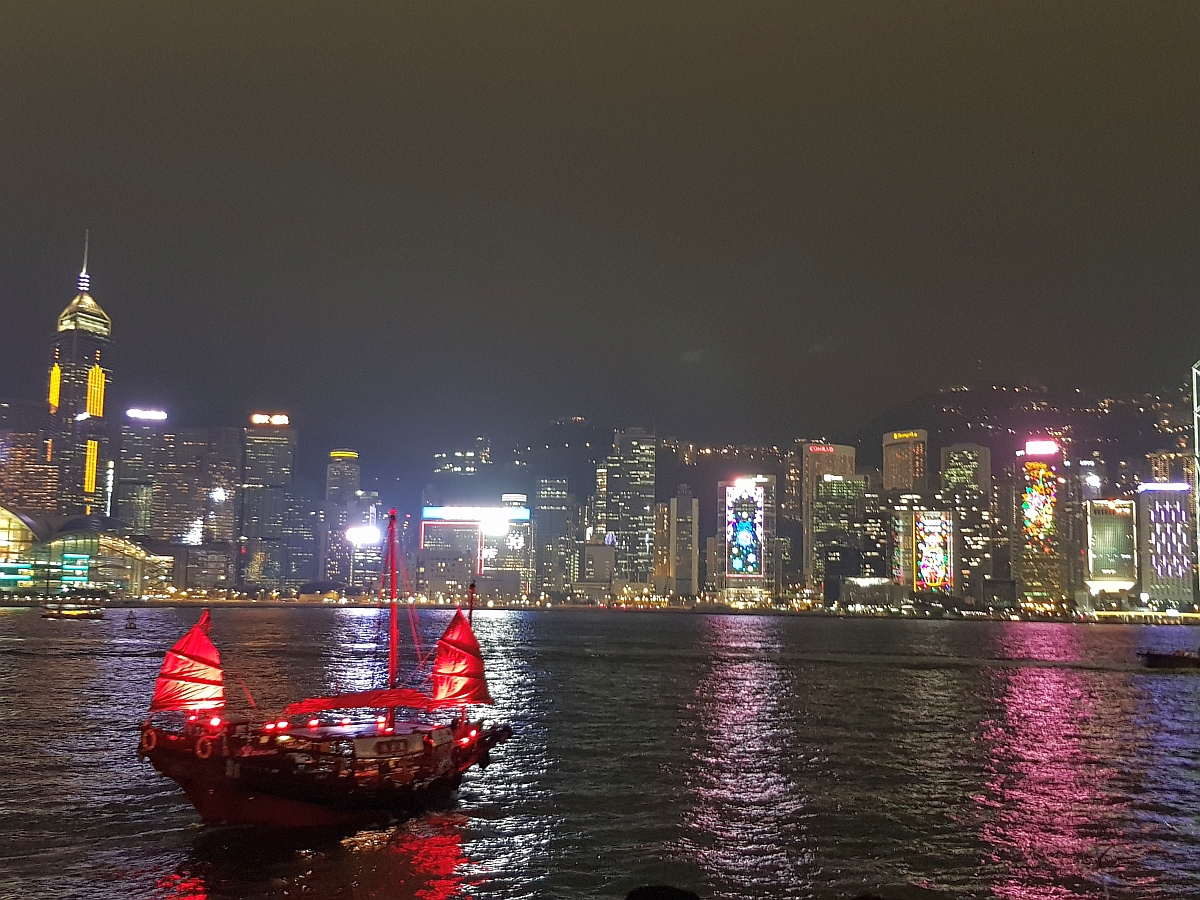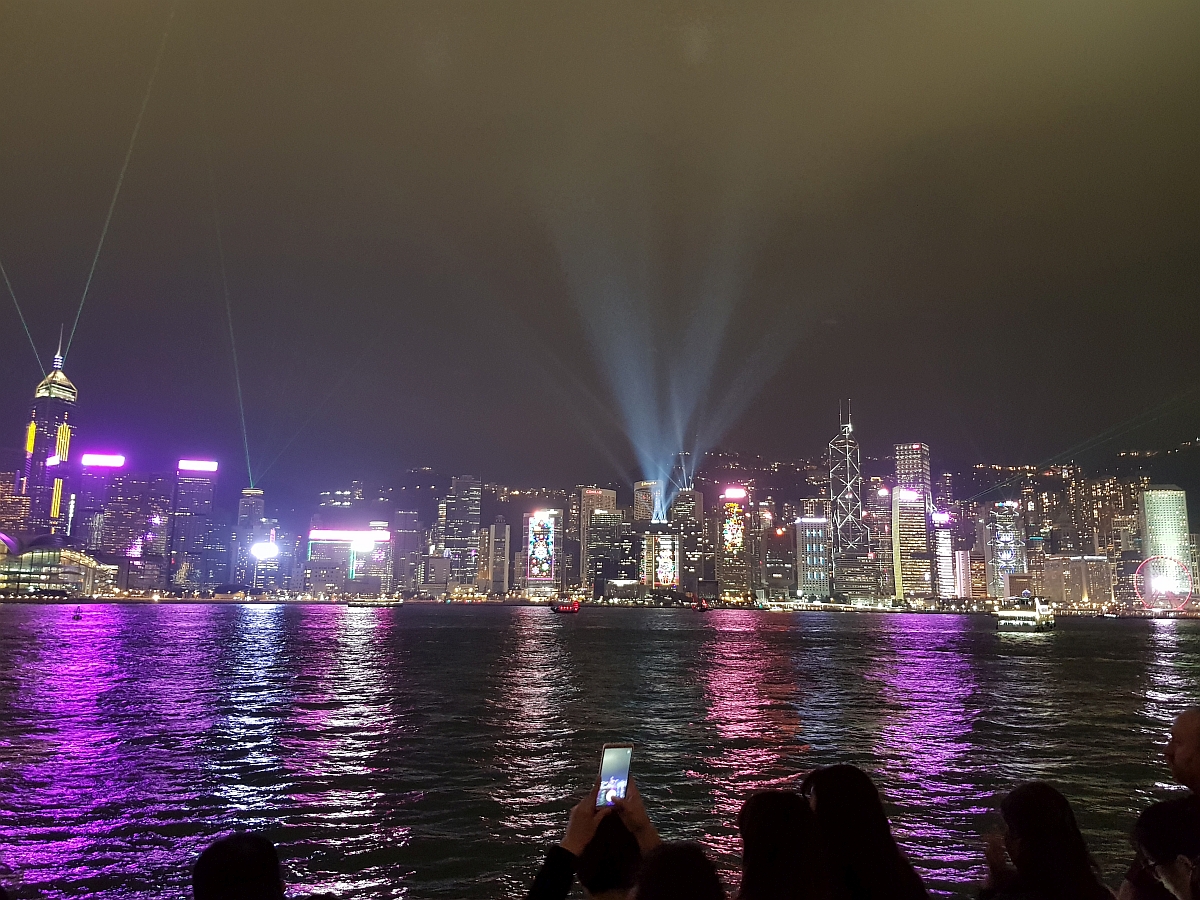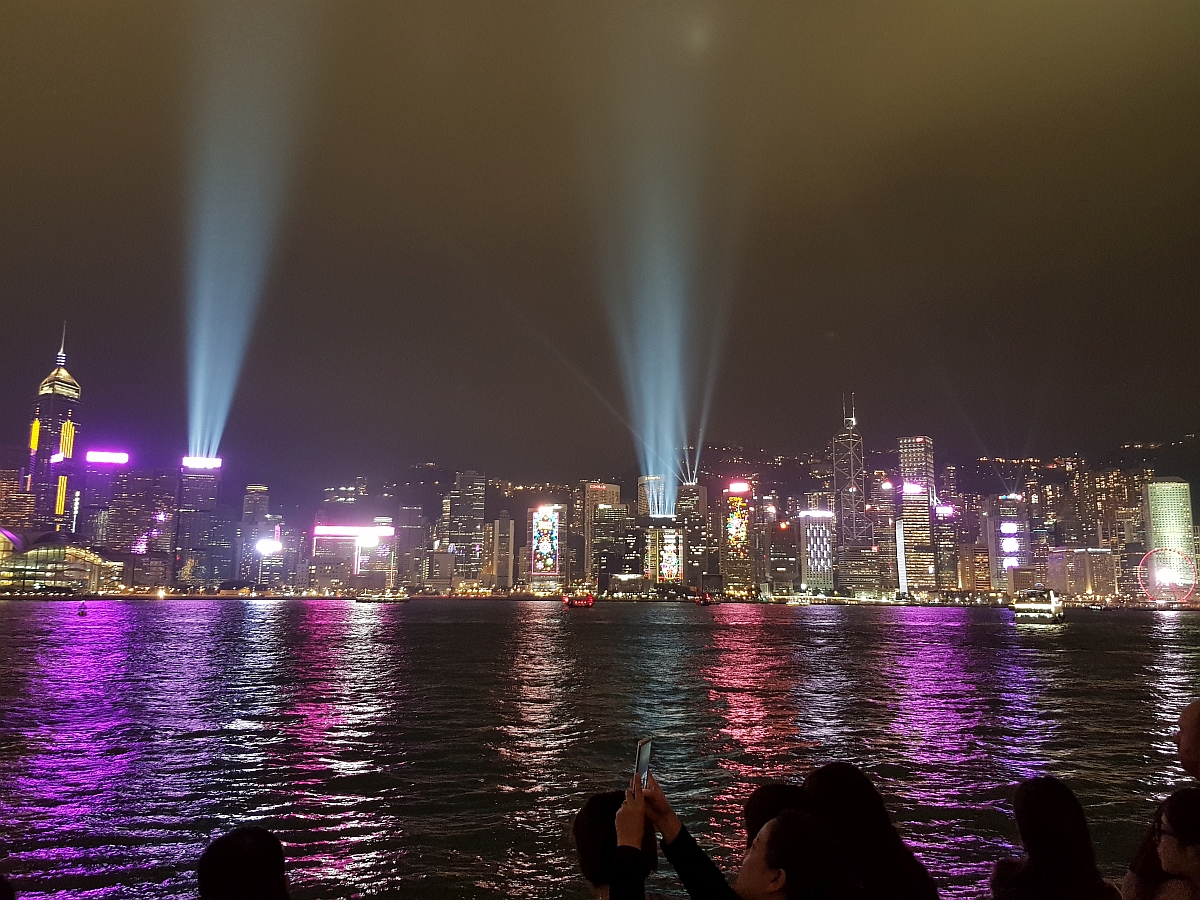 We walk to the Scarlett Restaurant, which we booked several weeks ago as it is the number one rated restaurant in the whole of Hong Kong (or was at the time of writing). It's quite small with an open fronted downstairs and a dozen or so tables upstairs. This turns out to be a bit of a disappointment as we are seated upstairs next to a large table of young Americans (cue the David Bowie song), who are VERY loud. We ask the server if there is a table downstairs and she tells us that unfortunately there isn't and apologises for the rowdy group. To her credit she manages to move us a little while later to a table by the window a little way from the party crowd. It's still very loud, but an improvement.
We order the Chateaubriand for two with potato wedges and spinach, which is excellent as is the two glasses of Merlot. We finish by sharing the Apple Tart Tartin. The bill comes to around £100. The meal was very nice, but spoiled somewhat by the raucous atmosphere.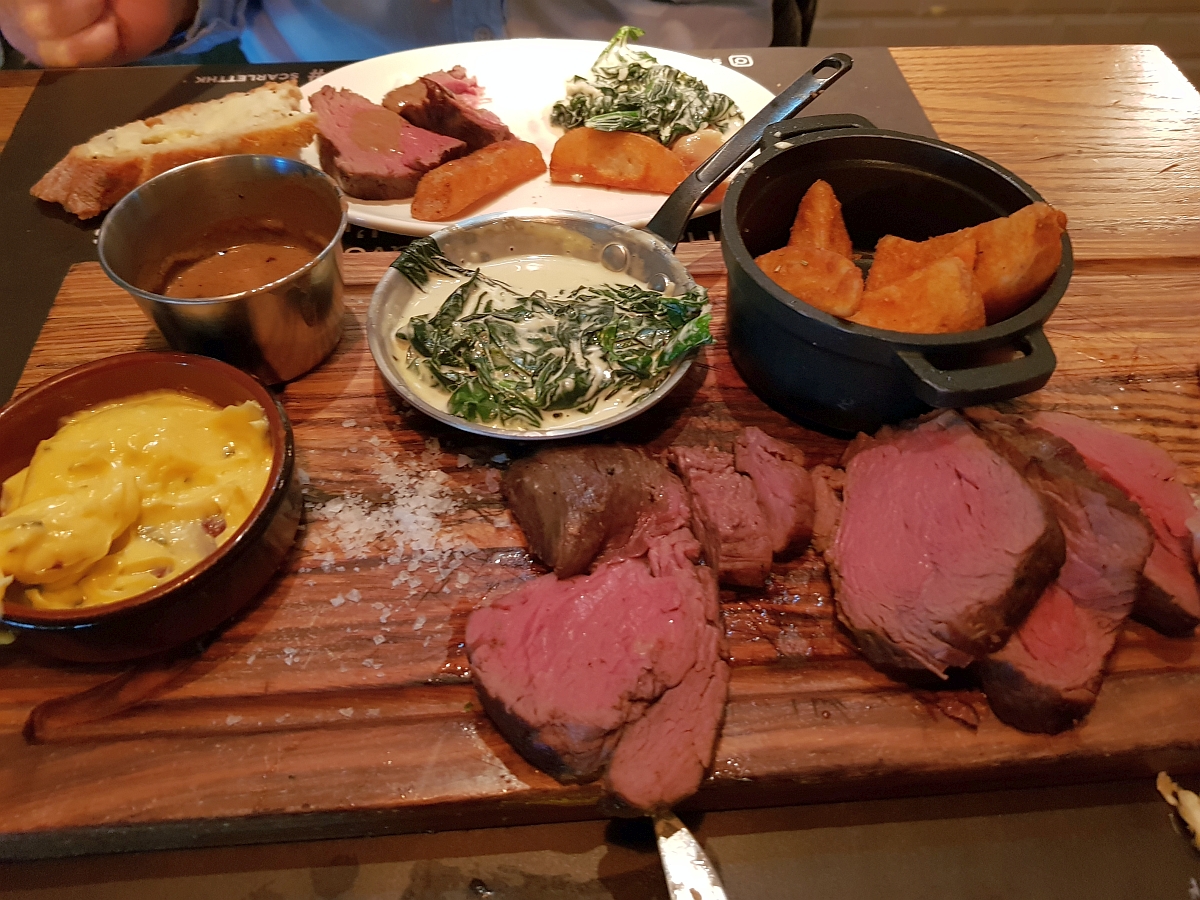 It's getting late now and we've been up for many hours, although neither of us feels too tired, so we decide to stop off at the Peninsula Hotel, which is next to the YMCA (where it's fun to stay). We go to the Felix Bar on the 28th floor which has wonderful views over Victoria Harbour and order a couple of beers. Luckily we are given a table right by the panoramic window. Not so luckily the two beers cost £20. Still, you get free nibbles of olives and cashews and the view and relaxed atmosphere is worth the money.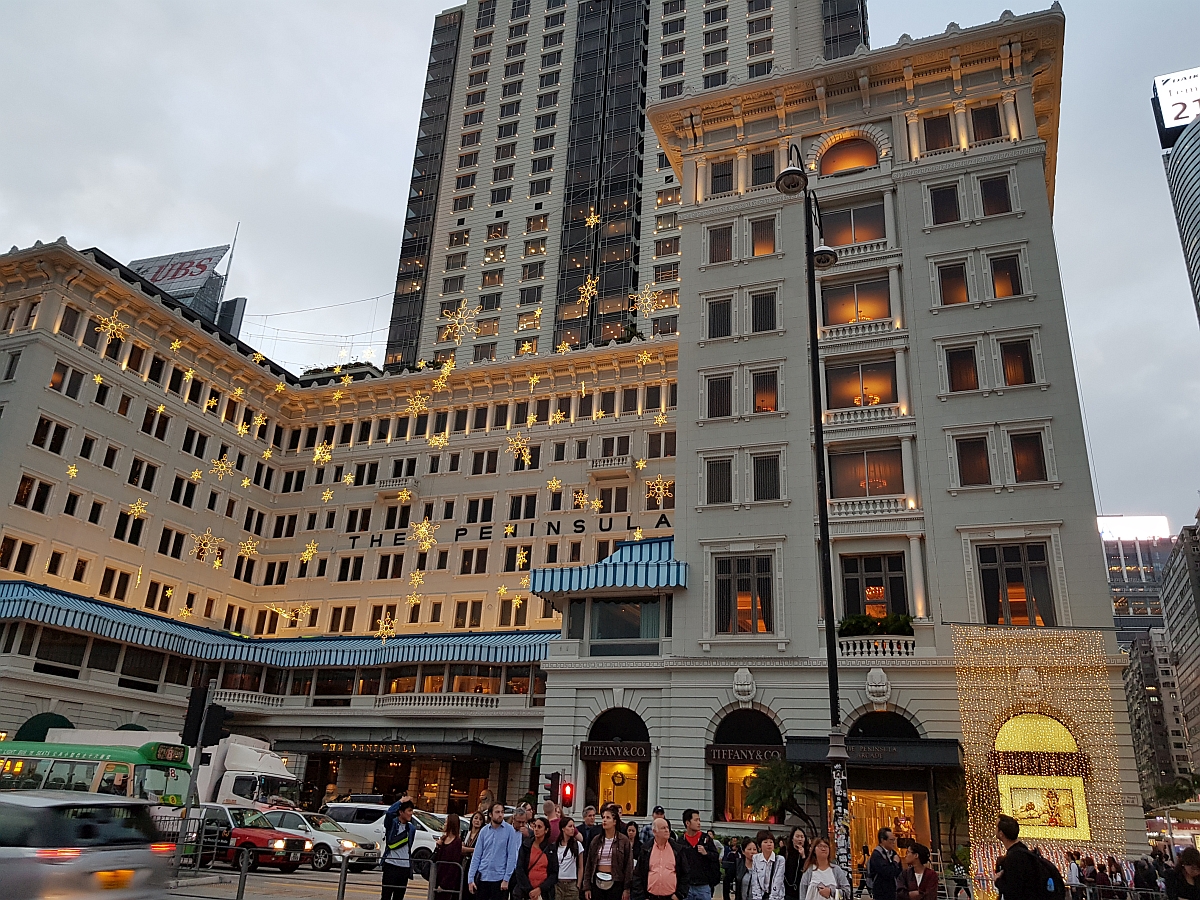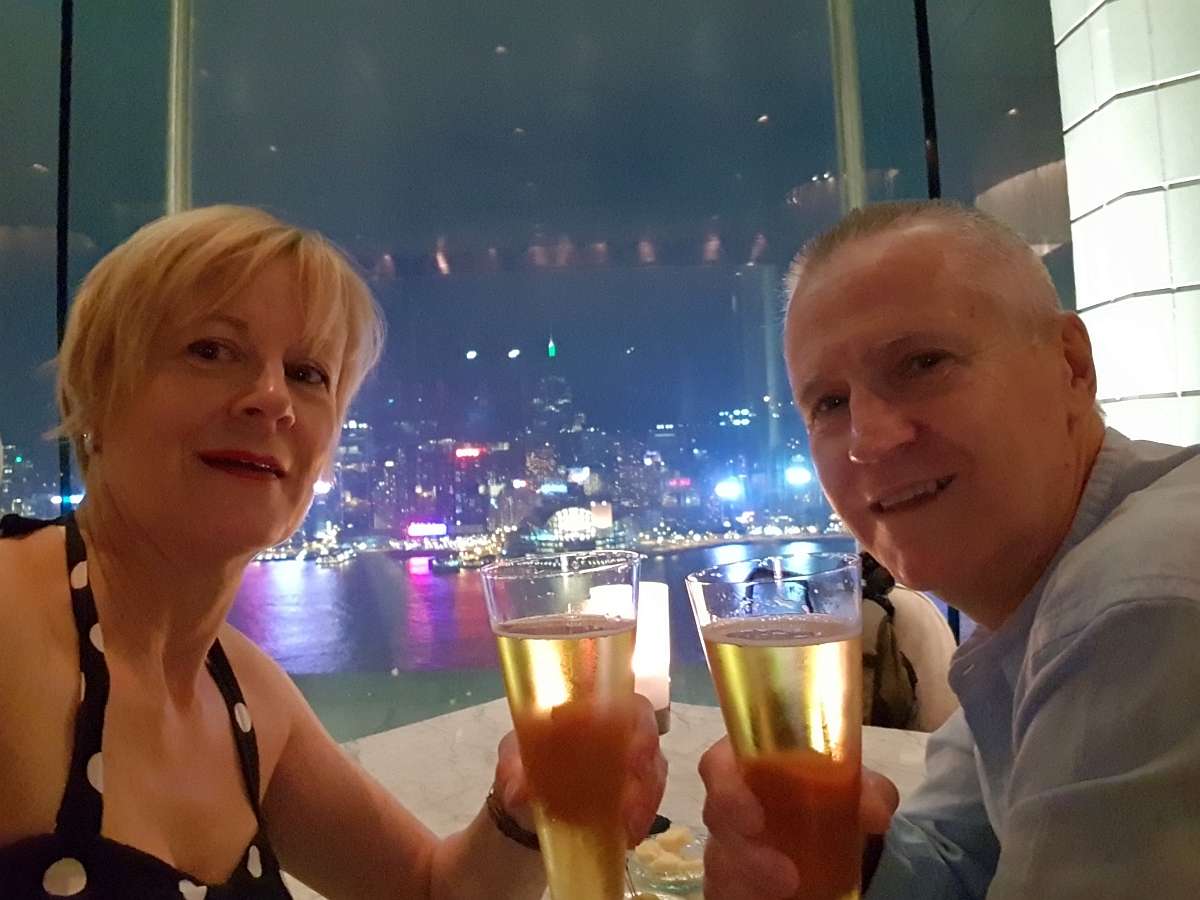 Back to the YMCA (it appears that they have everything for me to enjoy and I can hang out with all the boys) where we fall into bed around midnight. Quite a start to our holiday.