Day 13
4th December 2018
Written by Tam
We are woken by the alarm at 6am and head to the restaurant for breakfast. What an amazing spread there is - egg stations and all traditional English breakfast options, then Asian delicacies like dim sum, fruit etc., etc. Plenty of choice to suit everyone's tastes. We pack up and check out and meet our fellow travellers at 8am outside for the minibus.
[Kev - I was still feeling out of sorts and just to finish things off I got an attack of sciatica as well, so the hours spent in the bus wern't all that pleasant either.]
We arrive at Ayutthaya Historical Park a UNESCO World Heritage Site - this was once the capital of Thailand until the Burmese ransacked it in 1767. It is where the Royal Grand Palace and the Royal Temple once stood. It's quite a contrast looking at the ruins of Ayutthaya and comparing them to the opulence of Bangkok Royal Palace - these same buildings would have been as grand as those of Bangkok now. The large stone tower like spires which look like something you'd see in Cambodia are apparently called prangs. It's quite incredible to think that all these remnants are still standing and they certainly provide a stunning vision against the clear blue sky. It's lovely to be here so early - there are very few people around and there's a sense of peace and tranquillity on the site. Ms. Aom leads us around the ruins and tells us what the buildings would have been used for when occupied.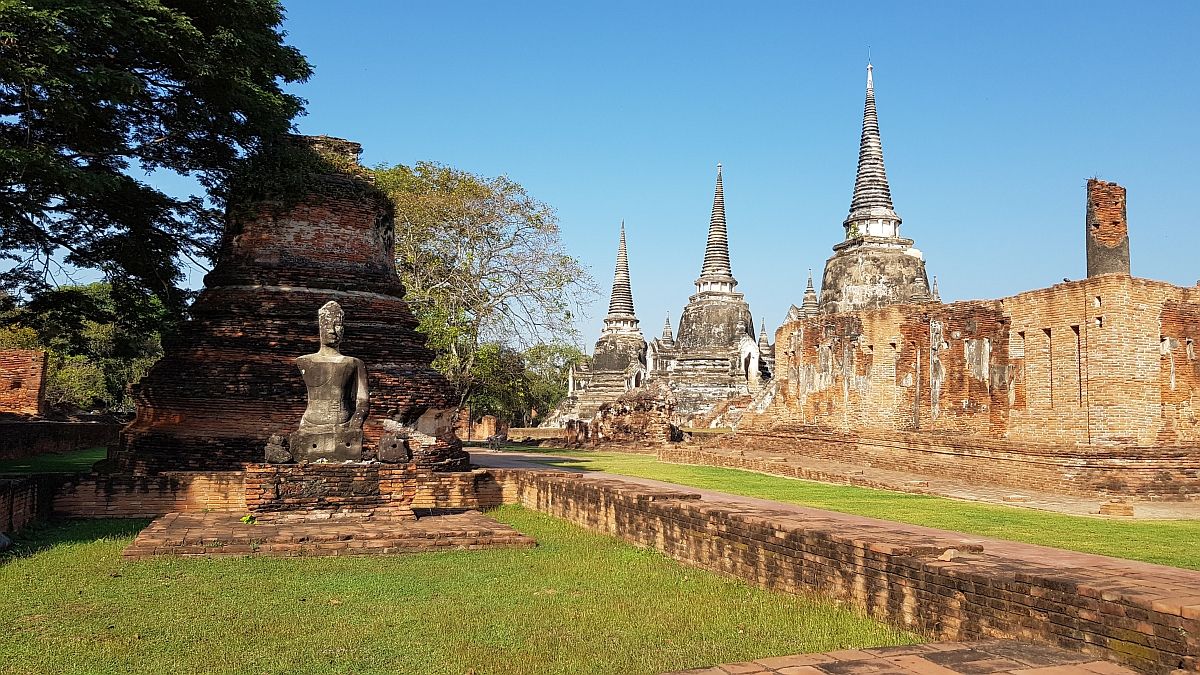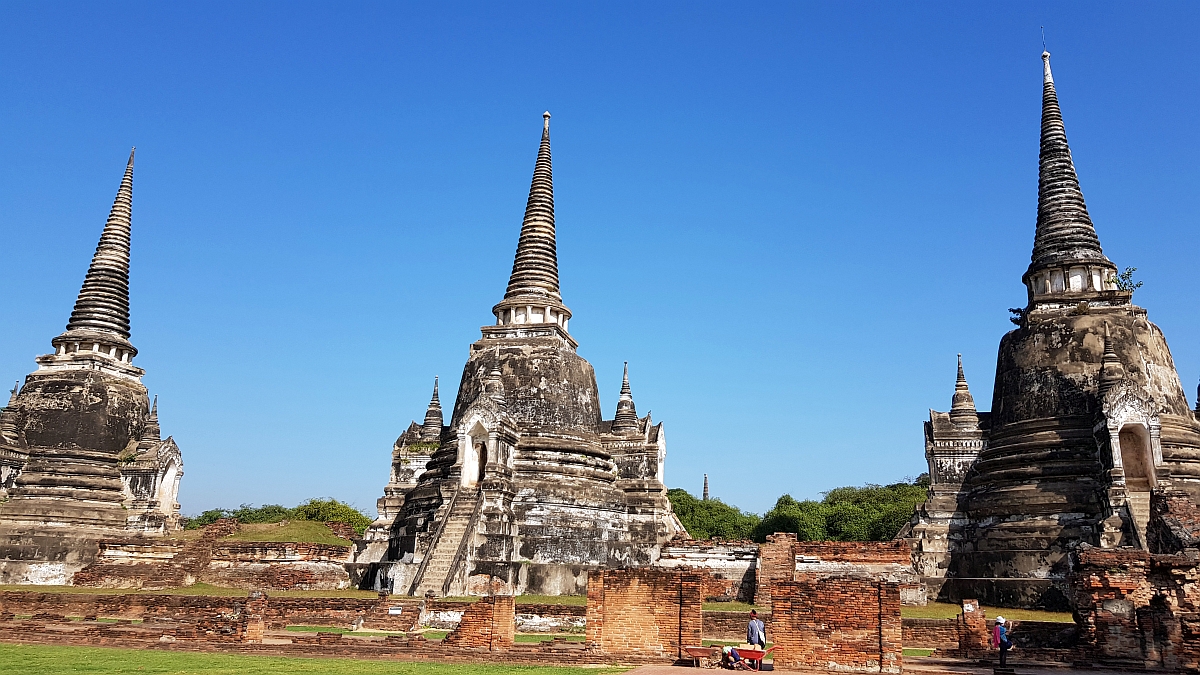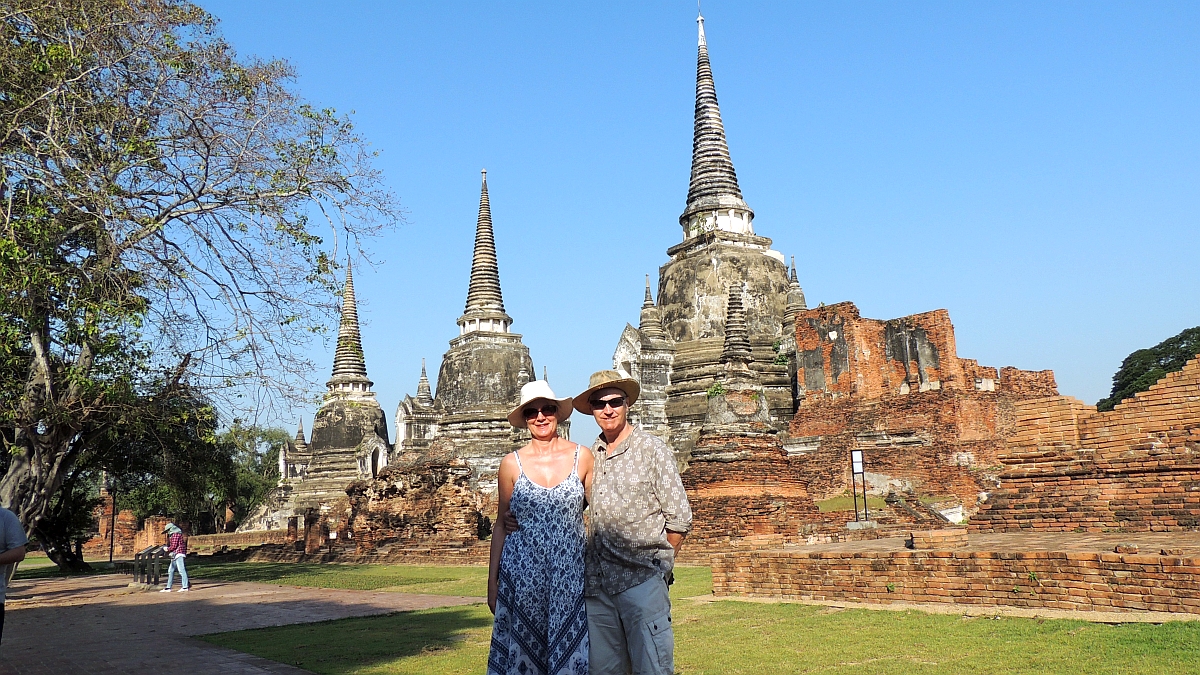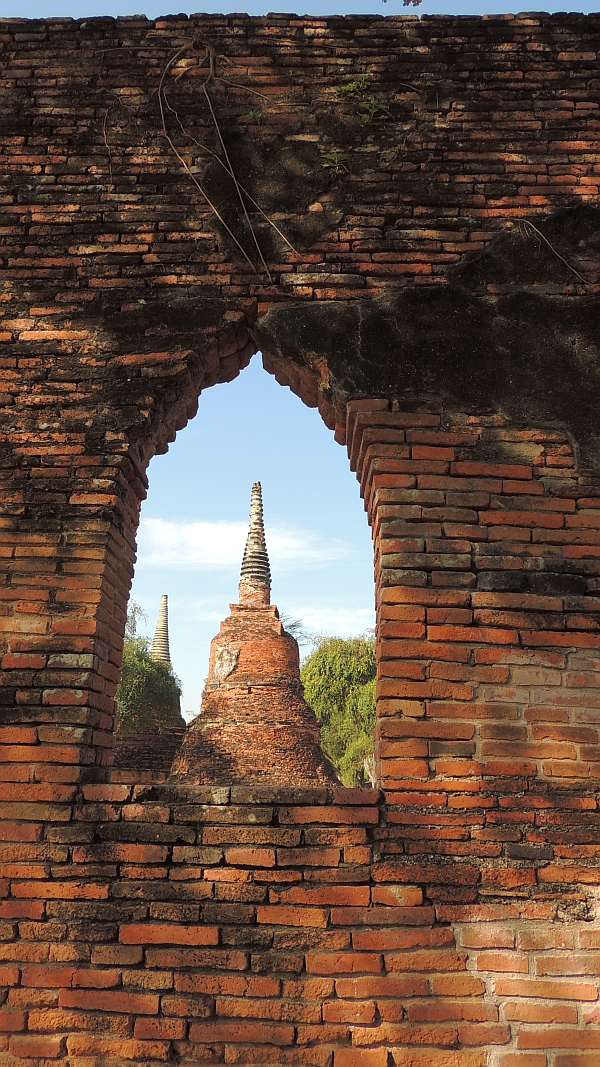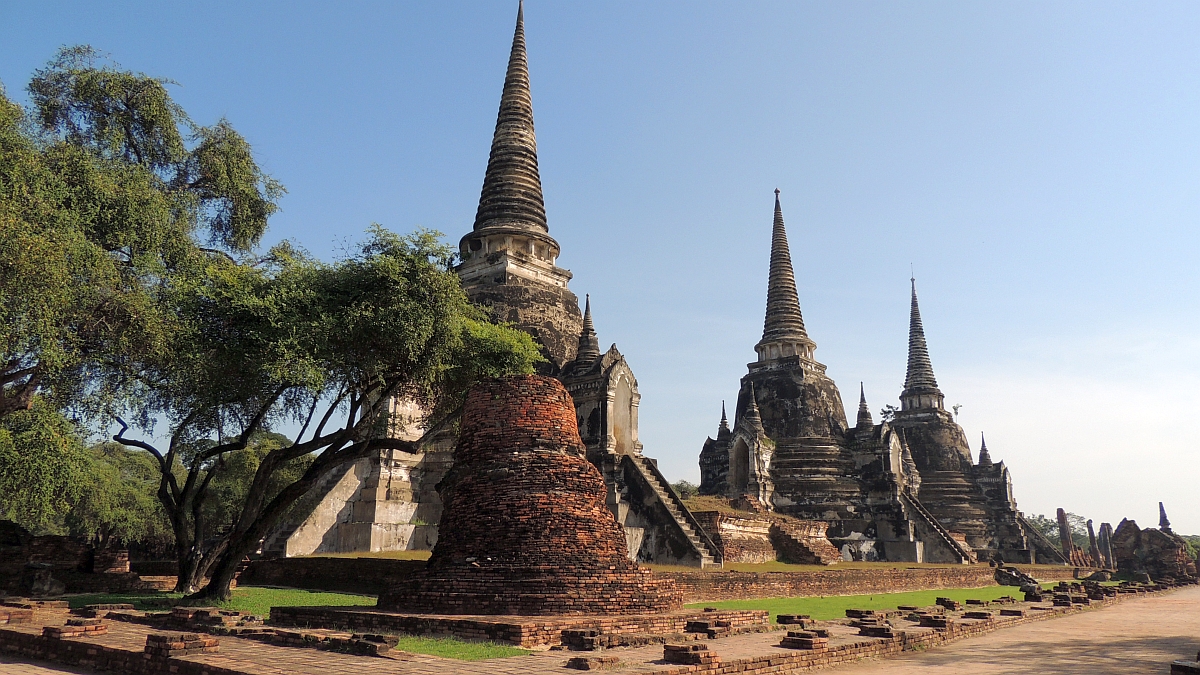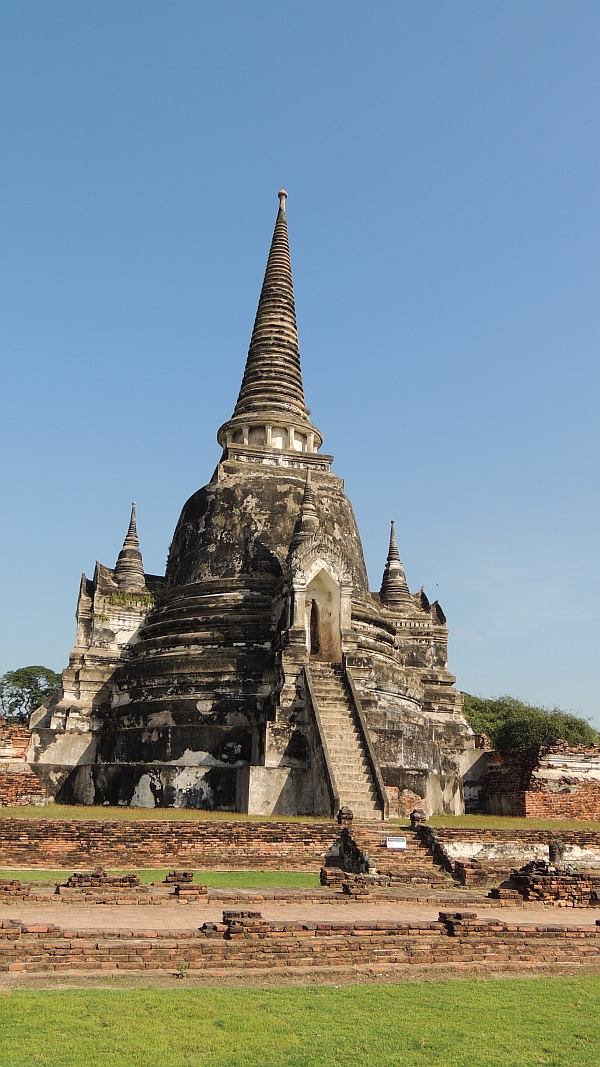 [Kev - as you can see it was absolutely stunning morning. As we were there so early there were very few people about in complete contrast to The Royal Palace in Bangkok. The structures may not be as shiny and pristine, but probably more atmospheric and interesting for it.]
In one area Wat Mahathat is one of the highlights of the tour and one of the most photographed aspects in Ayutthaya - a stone Buddha's head nestles in the roots of an old banyan tree - when we sit to take photos we were told not to have our feet higher than the Buddha's head as this is seen as a sign of disrespect. This truly is an amazing place to visit and we're so glad we decided to do this 2 day tour to see the contrasts of Thailand's past and present capitals.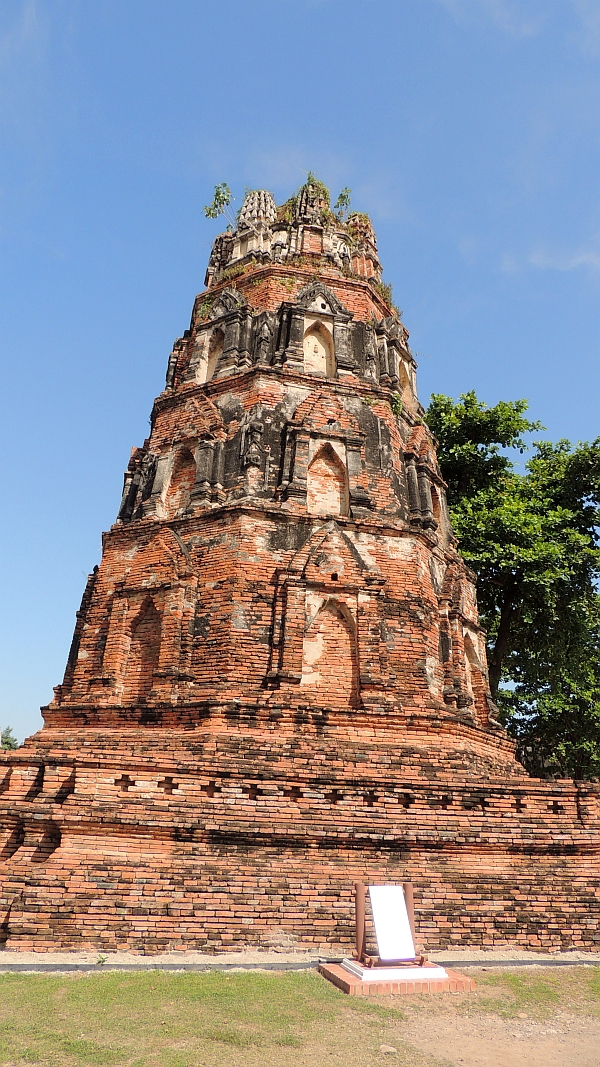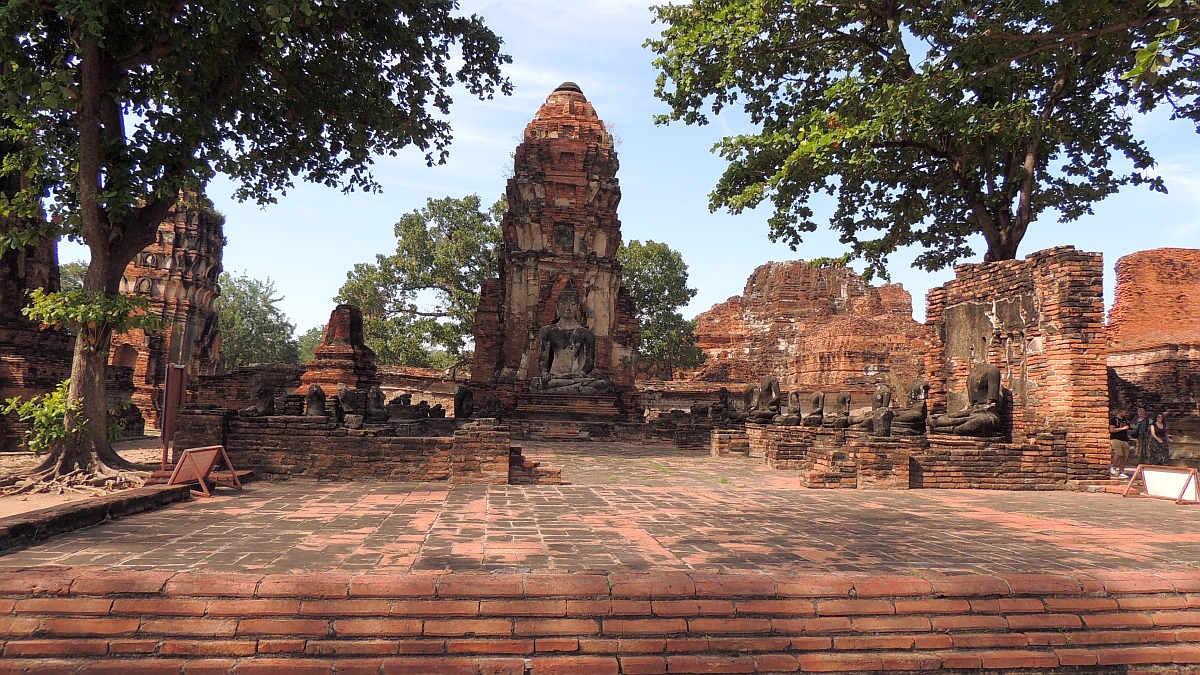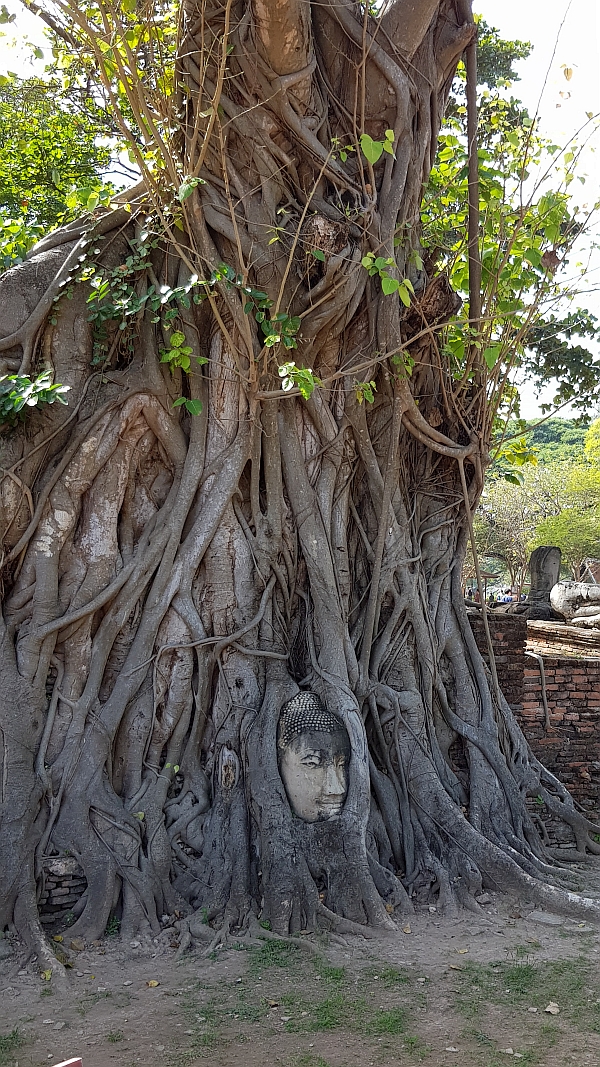 [Kev - when the Burmese sacked the old royal palace they destroyed a lot. This buddha has his head cut off and the banyan tree grew around it.]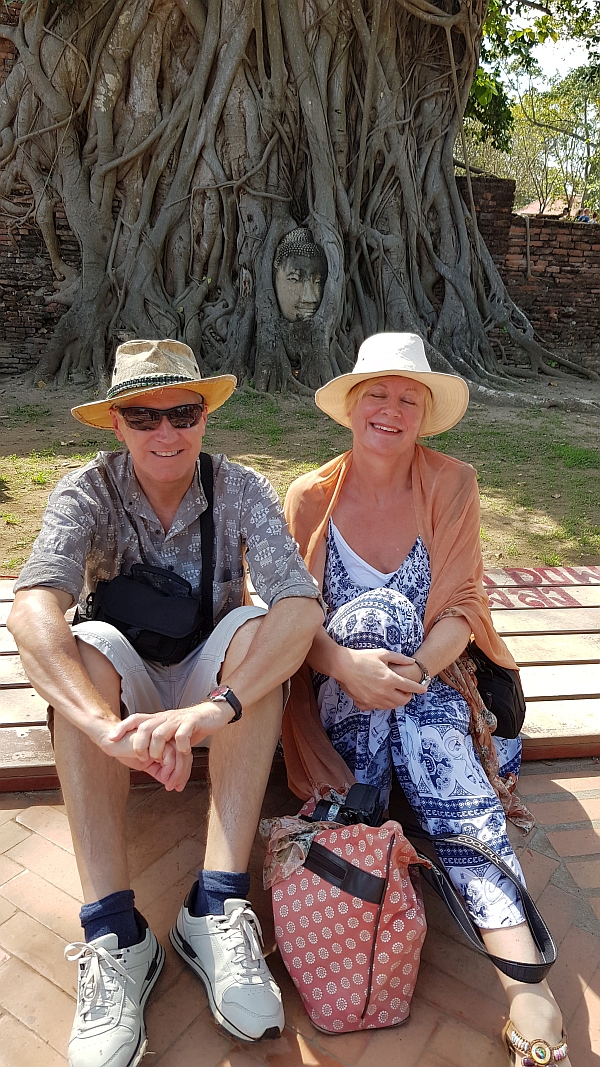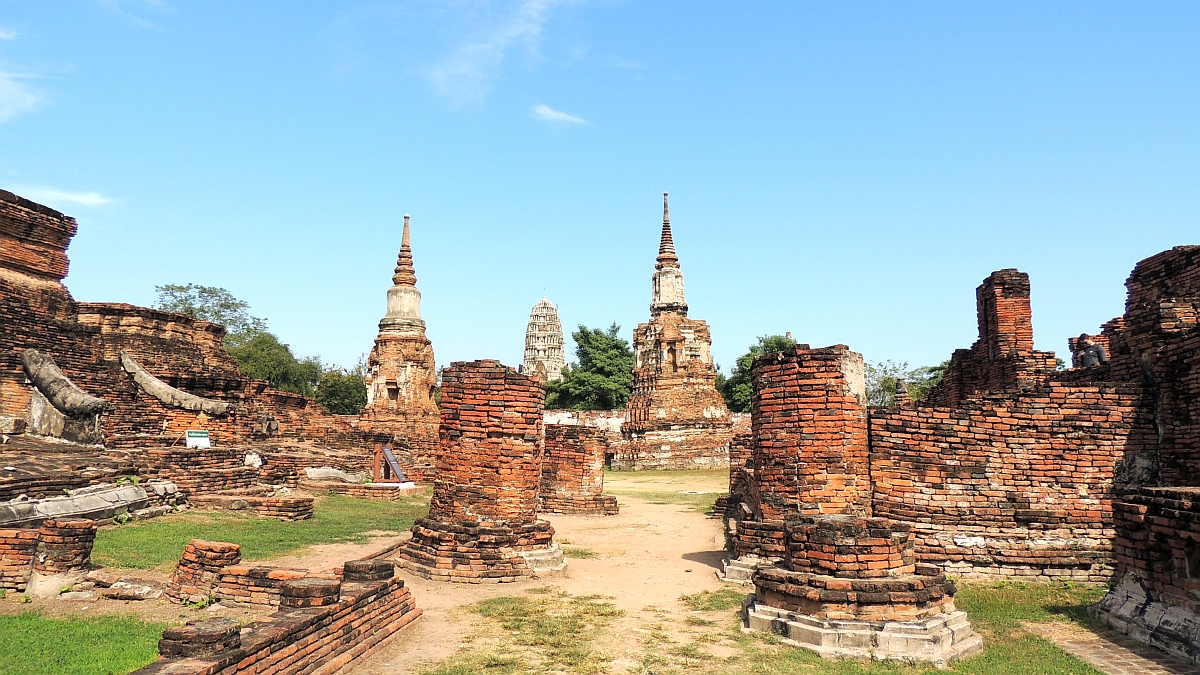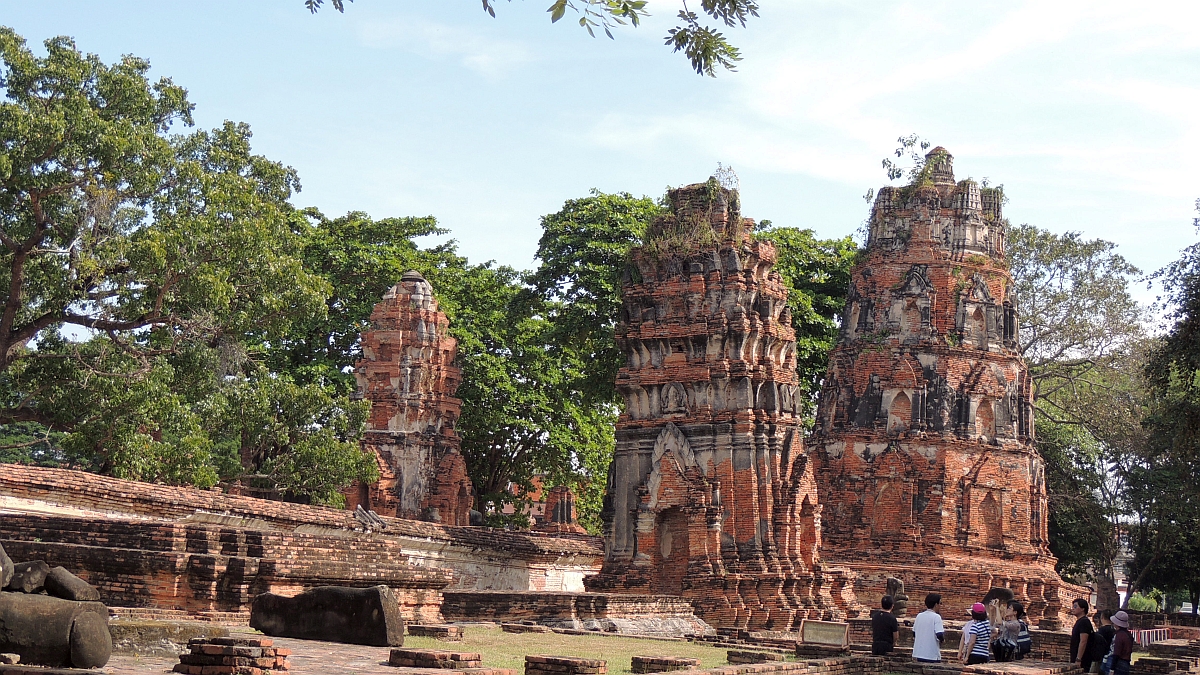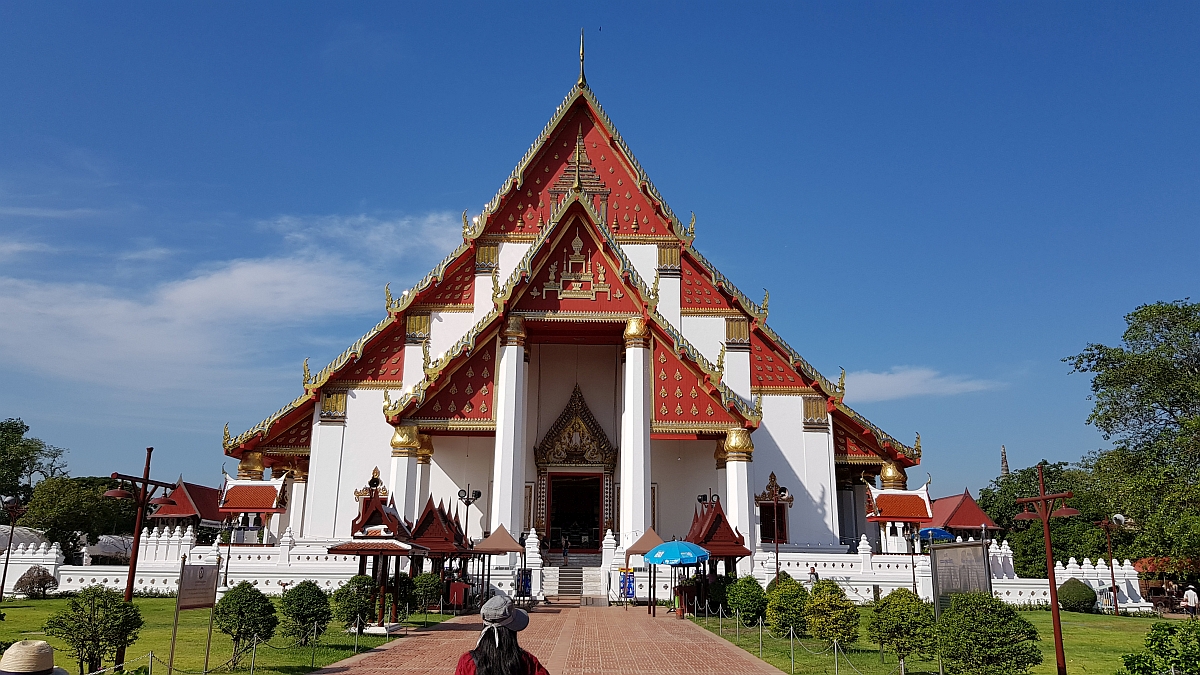 [Kev - we also visited this more modern temple for more Buddhaing.]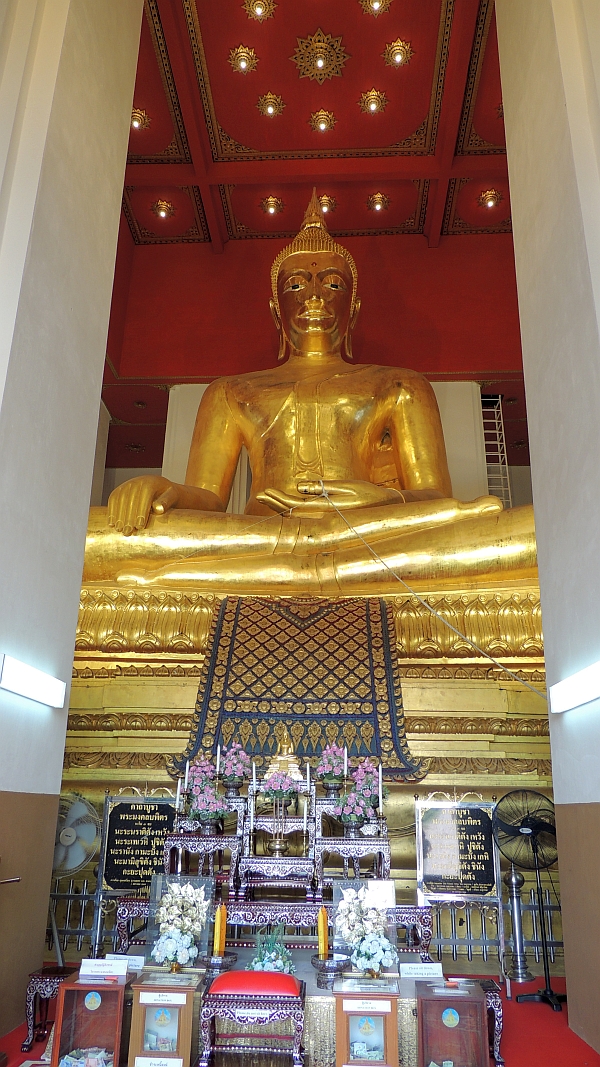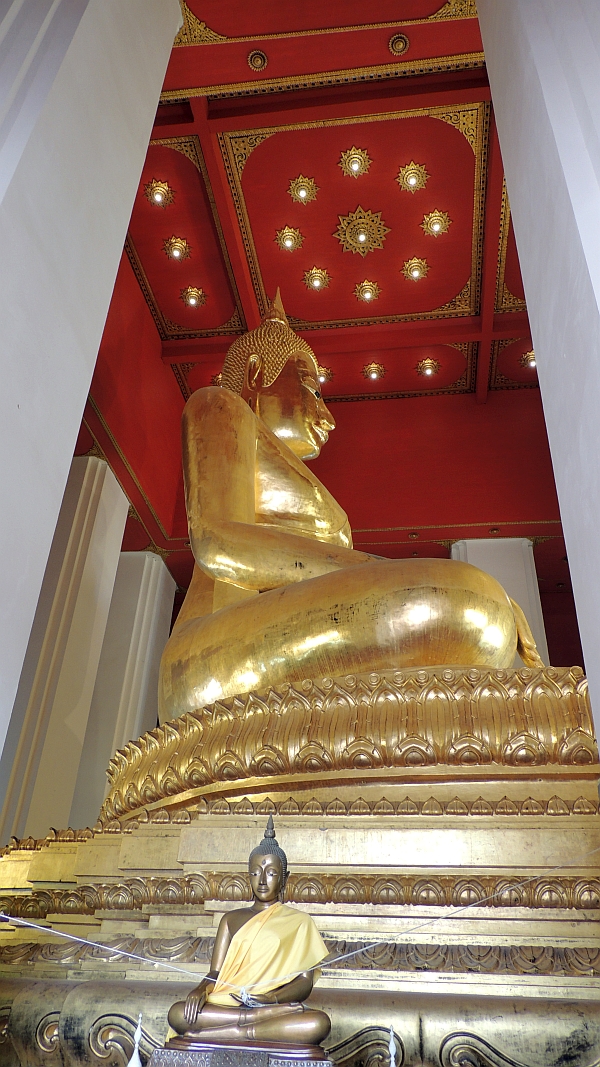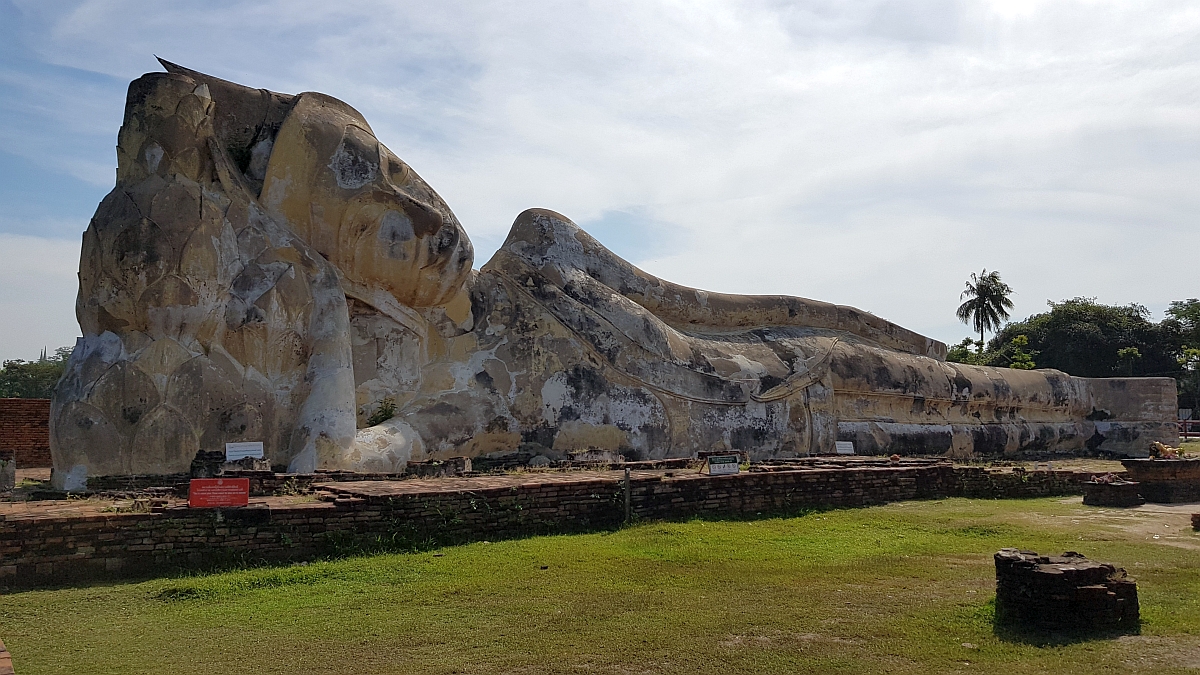 [Kev - another reclining Buddha - or as I like to call them - lazy.]
We stop at a little cafe so people can have a break before the next part of the tour, whilst here we go and look at the elephants that are nearby and we're encouraged to feed them corn on the cob which they seem to really enjoy. It's a bit disconcerting having a hand full of elephant slobber after feeding them, but thankfully there's a nearby sink to wash in. I have my photo taken with a young elephant, but I was dismayed when the trainer tried to make him do tricks as that's not what I wanted at all.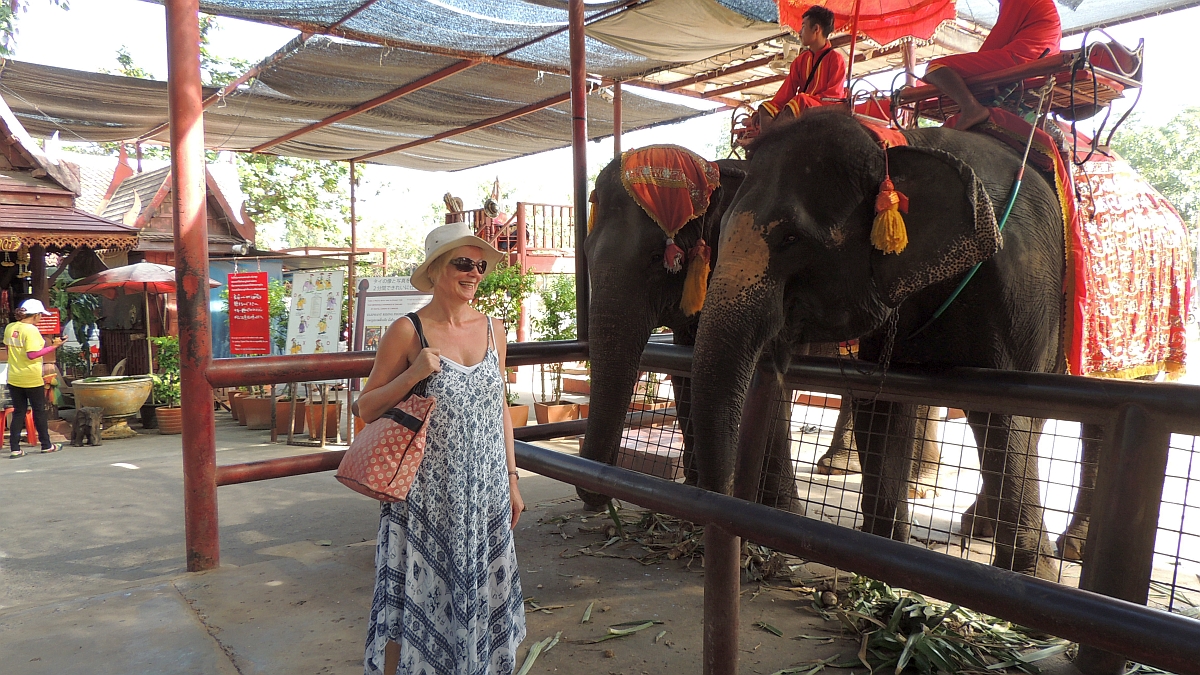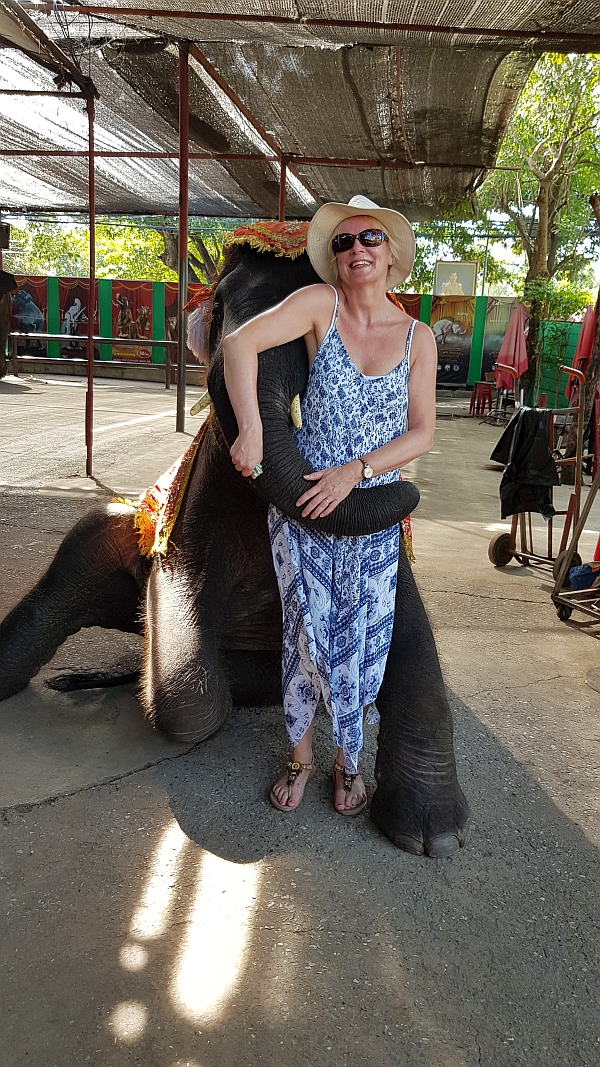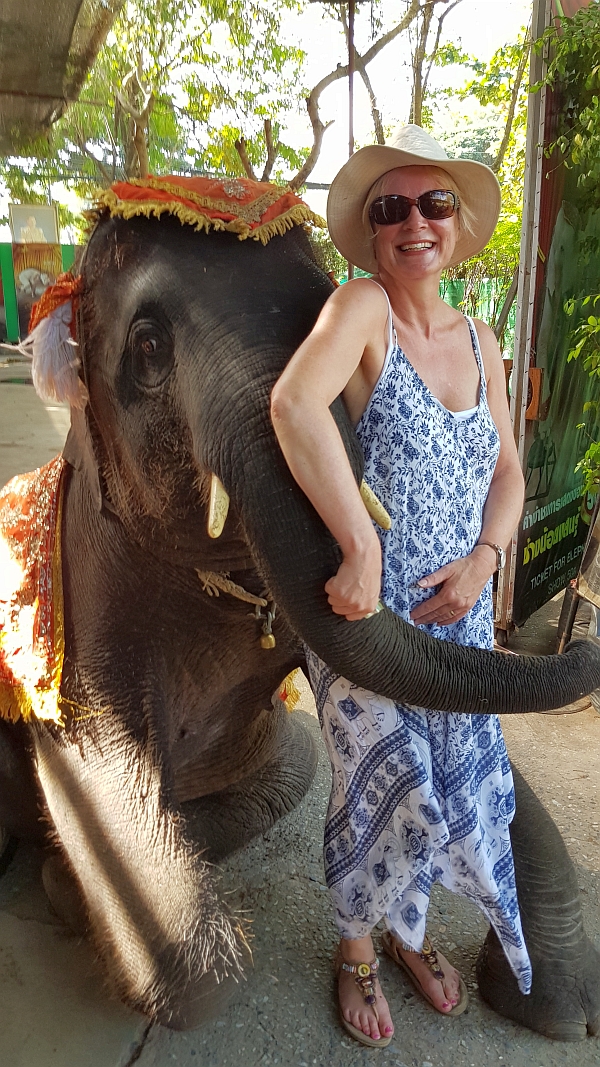 [Kev - the elephant seemed top be enjoying it a little bit too much for my liking.]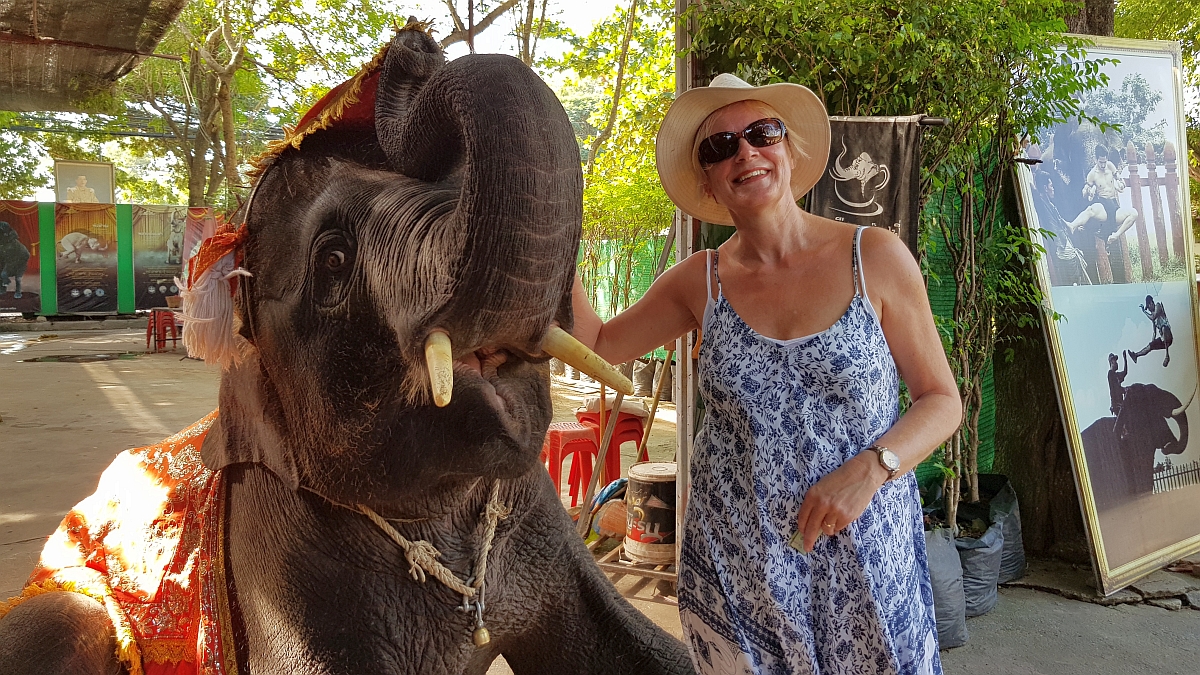 Back onto the minibus we are taken a short distance to go on a private Long-Tail boat ride which takes us around Ayutthaya as it is located on an island - it's a refreshing treat and great to see the relics from the water looking in at them.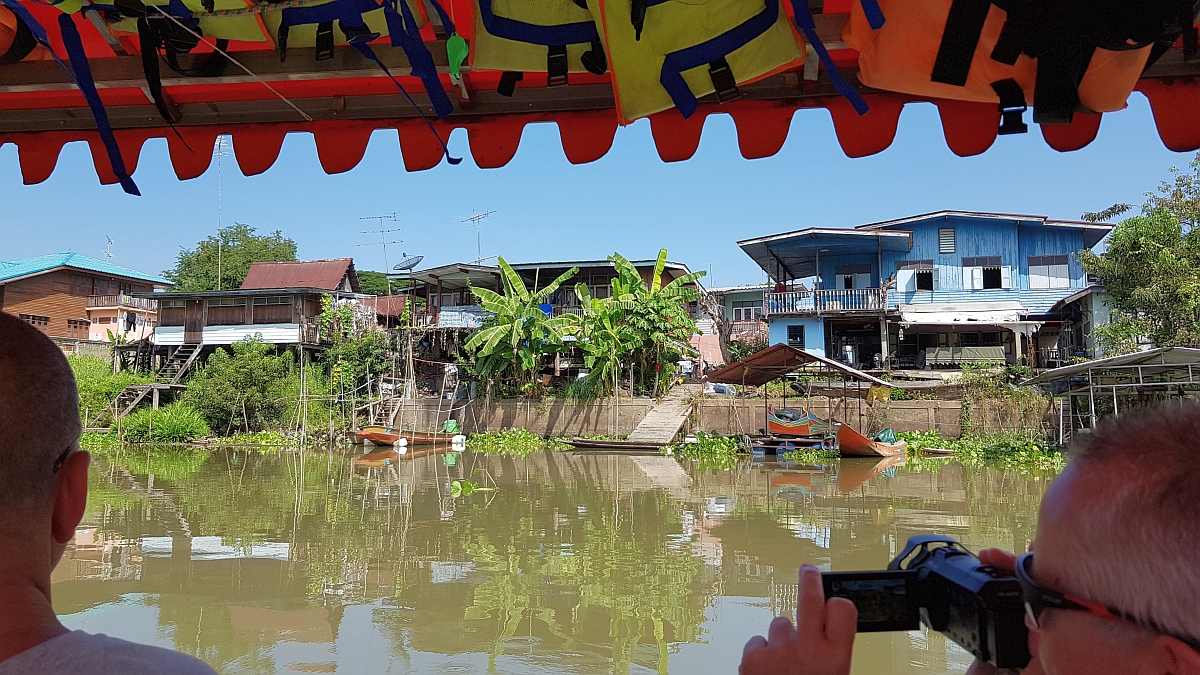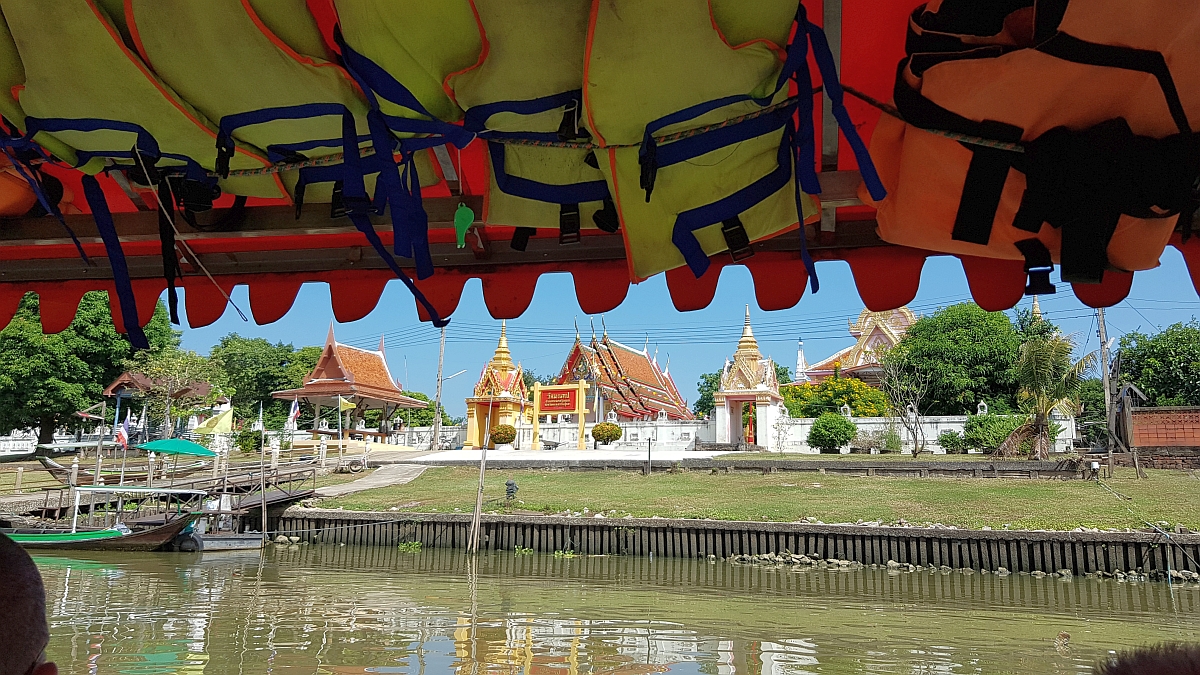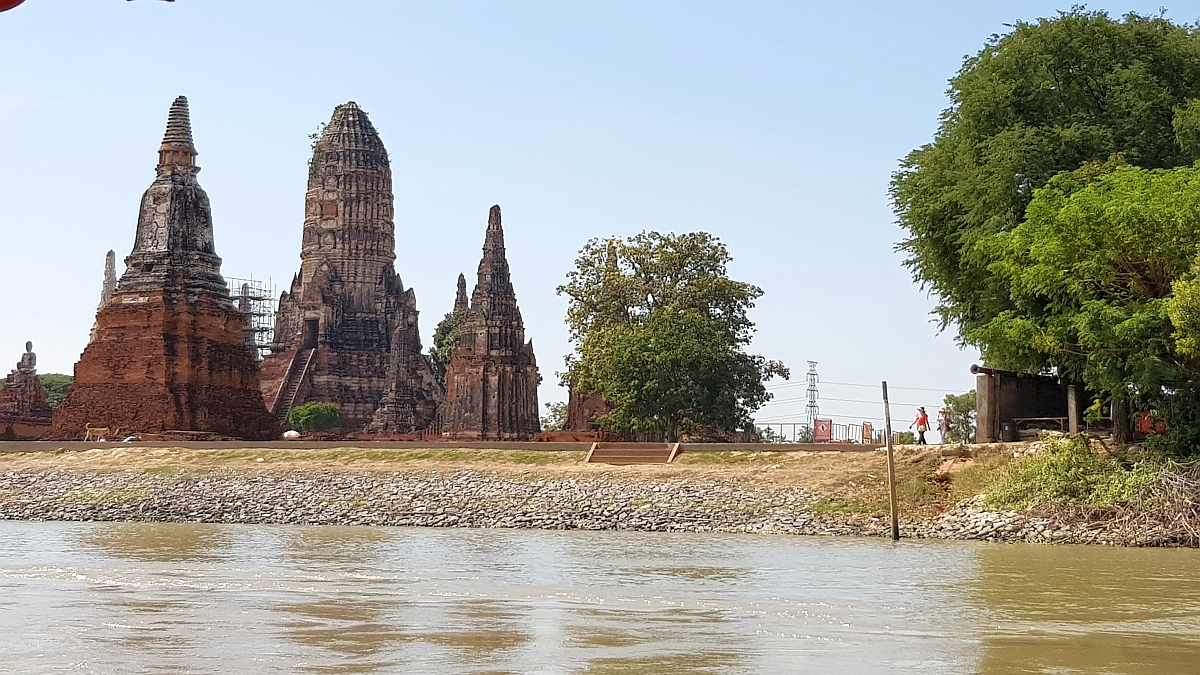 It is noon by now and time to head back to port to ensure that there is no doubt about missing the ship's departure. We stop on the way at a supermarket and Ms. Aom buys a variety of drinks, snacks and sweets to keep us going for the journey. It's a 3 and a half hour drive from here as it is north of Bangkok and we are back at 3.30pm so thankfully we didn't have to worry.
After thanking Ms. Aom and her driver she hands us some lovely photos she had taken at The Royal Palace and also a small bag each which contained two tiny brass elephants. What a lovely reminder and we thank her for her generosity. She was such an enthusiastic tour guide and you could tell she had a real passion for her country and it's long and colourful history.
Time to relax so we sit on the balcony for sail away and decide to cancel tonight's reservation for Tuscan Grill as Kev is still not feeling 100% and it would be a shame not to enjoy it fully. Instead we go to the main dining room for dinner and then see the show in the theatre - which tonight is Diamonds - the three girls who are the main roles are very good and we do enjoy it. We decide to call it a night though and hope an early night might be the cure Kev needs to feel better in the morning.
[Kev - it didn't quite work out that way. The sciatica was quite bad and I couldn't settle. It was at this point that our extra large balcony came into its own. I went outside and spent some time just walking around the balcony. It was so warm it was like being wrapped in a blanket. I eventually laid down on a sunbed with just a towel for cover and managed to sleep for 2 or 3 hours.]
[NOV/DEC 2018 REPORT HOME PAGE]