Day 10
1st December 2018
Written by Tam
We're up at 6.30am and have breakfast before going to Cafe Al Baccio to meet the rest of our Tour with Xuan group.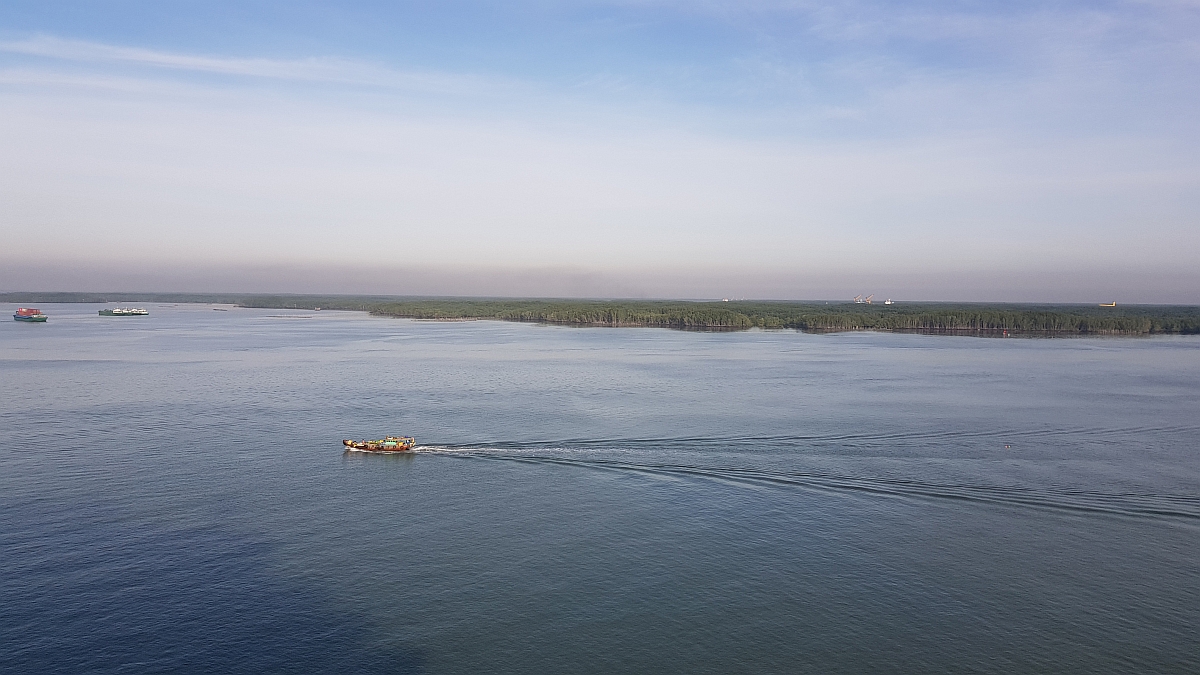 [Kev - this is the view from the sude of the ship. The view from the back was not so pretty - a typical industrial port.]
Today is the second of our tours booked with Xuan - unfortunately he was already booked for this day, but has left us in the very capable hands of Lee. We get the shuttle to the port gate where we are met by Xuan who introduces us to Lee who escorts us to the comfort of the air conditioned mini bus driven by Mr Ching.
[Kev - Lee was an excellent tour guide, friendly and infomative. He called our group his 'family' for the day. 'We are crossing the road my family' etc.]
We're off to Ho Chi Minh City or Saigon as Lee and Xuan still call it. I prefer this - sounds much more exotic. It takes about 90 minutes to arrive there and in the meantime Lee tells us all about his 5 month old baby boy who he is obviously besotted by. It was lovely to watch him talk so animatedly about his family, but he also told us about the history of Saigon and what we would be doing today.
We arrive at a temple - which is richly decorated with fantastic stone carving, painted shrines and models of temples in glass cases. The place smells of incense and we find out that the spirals hanging from the ceiling are actually incense - we are given pieces of paper to write the names of our loved ones on - these are then attached to the spirals and hung from the ceiling of the temple. We are told that after about 2 days the incense will have burned away and when the piece of paper burns good luck will come to those on the paper. I rush to think of all my loved ones and scribble them frantically on the paper until there is no room left - I think I left some people off, but I'll never tell them - I can't bear that they will think I'm responsible for any bad luck coming their way.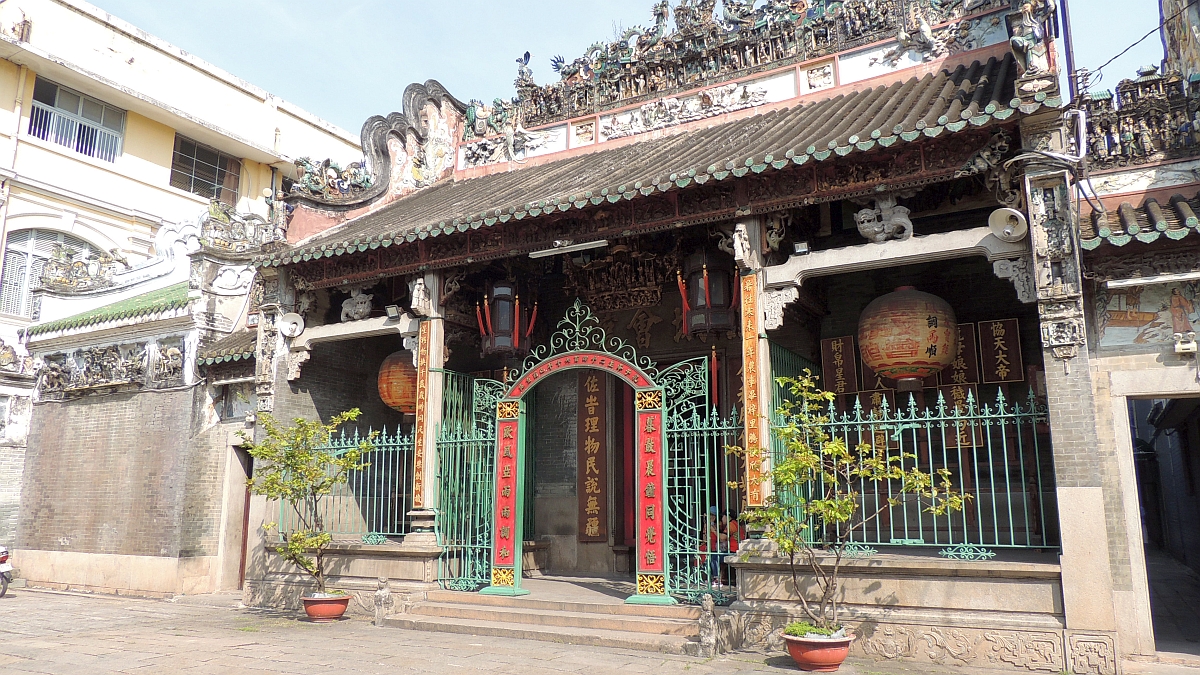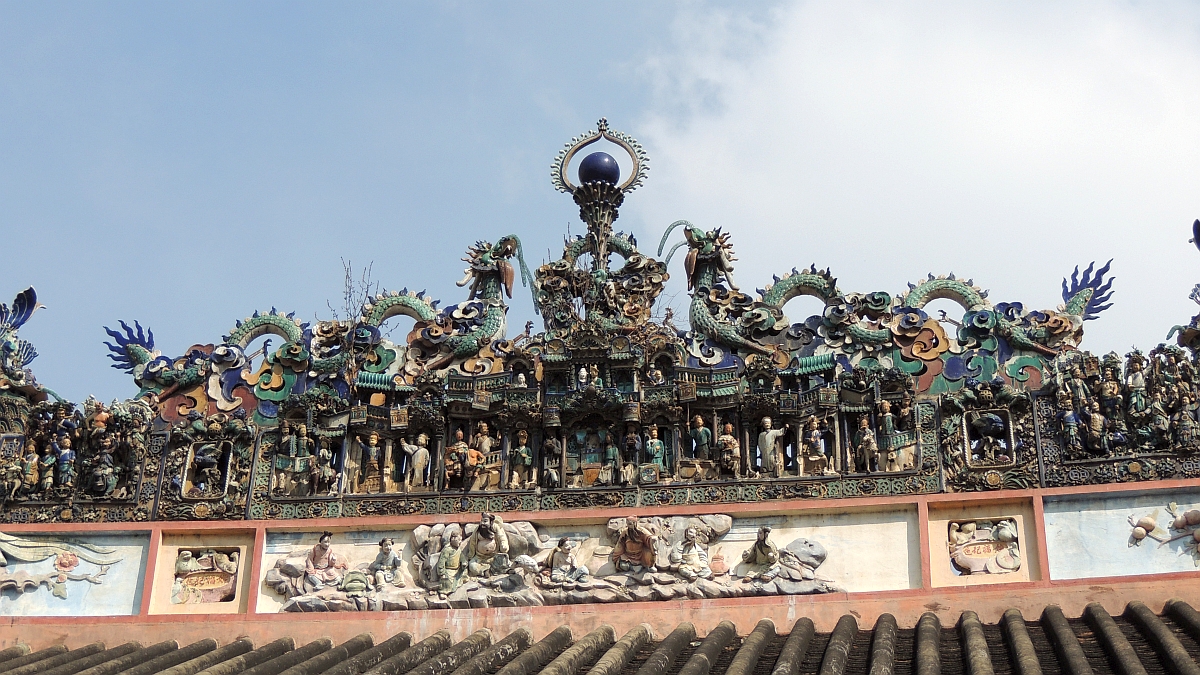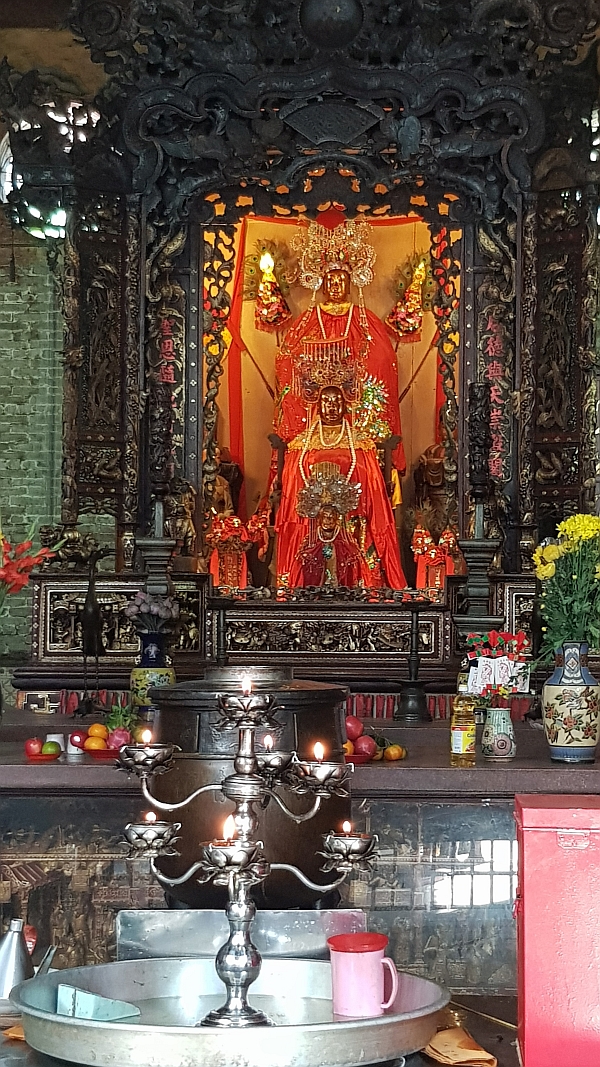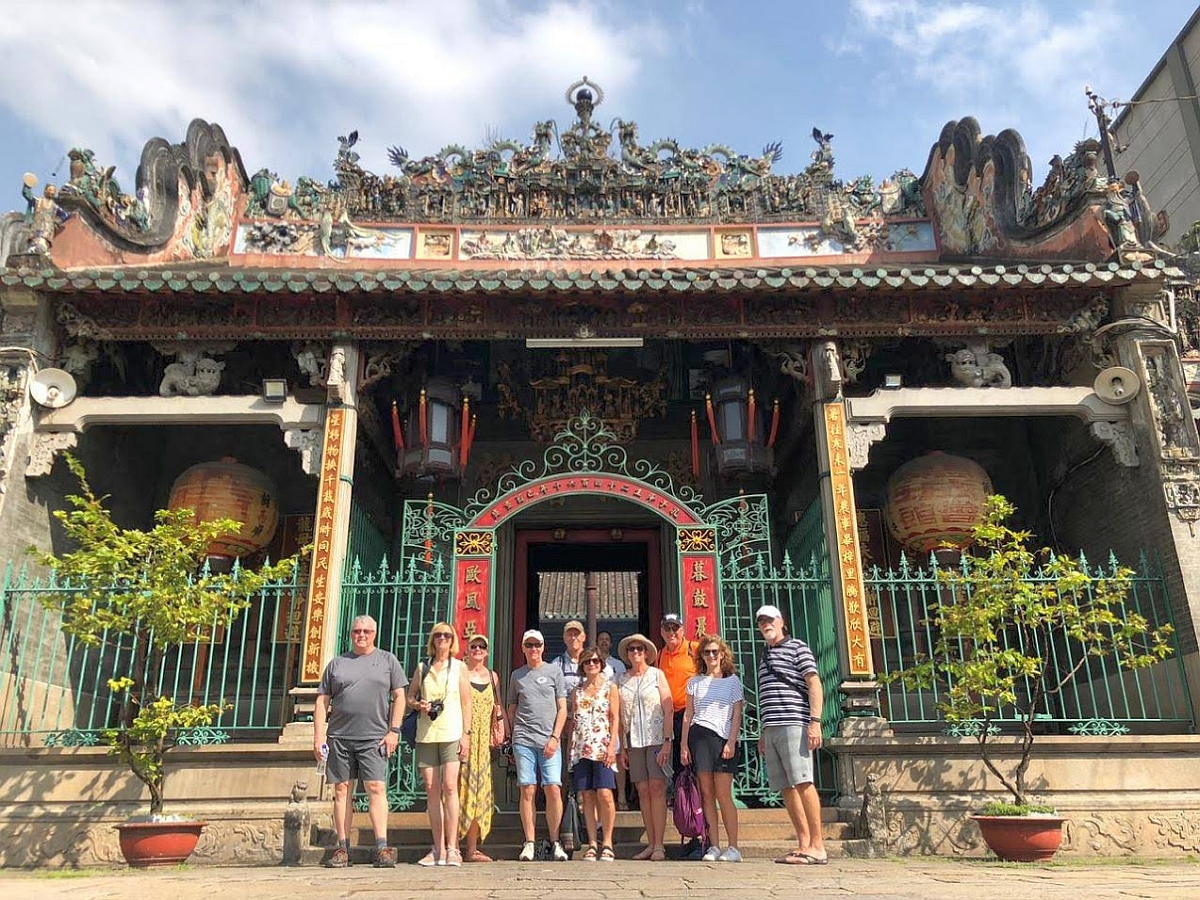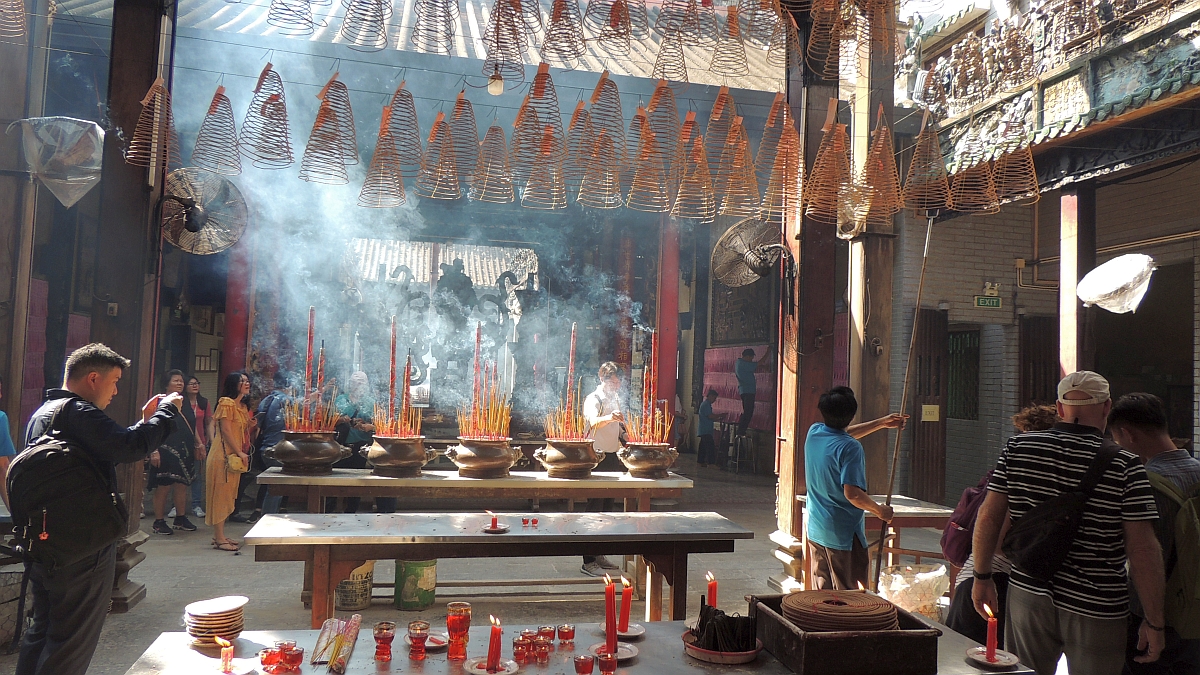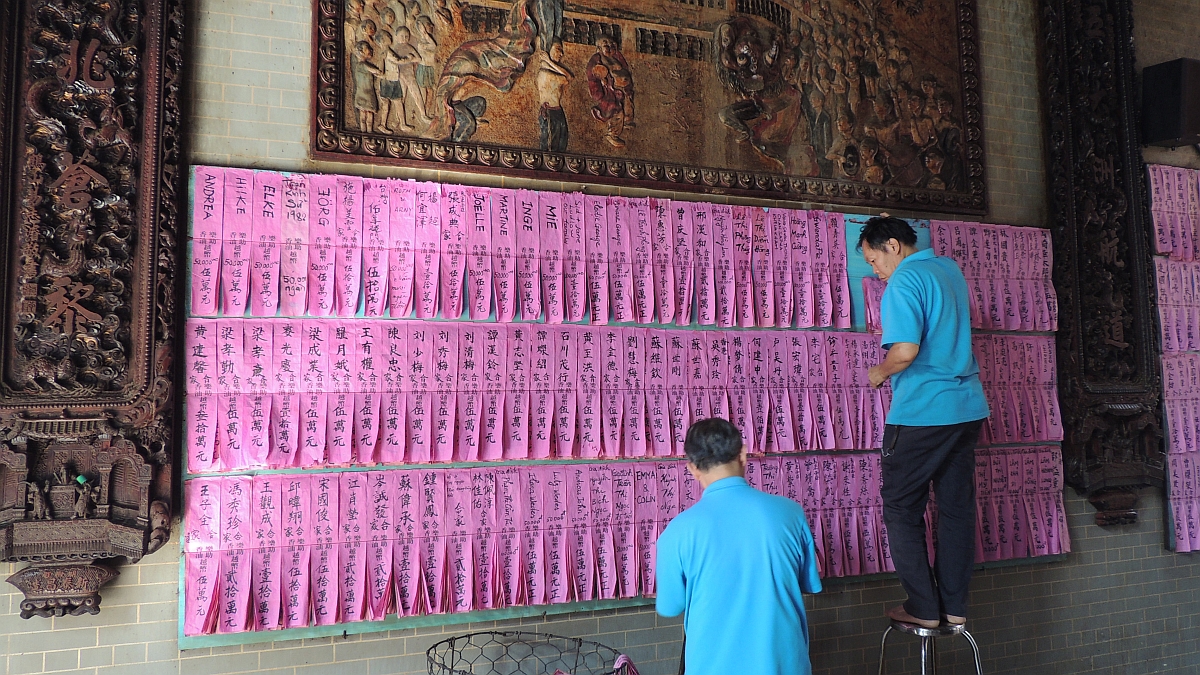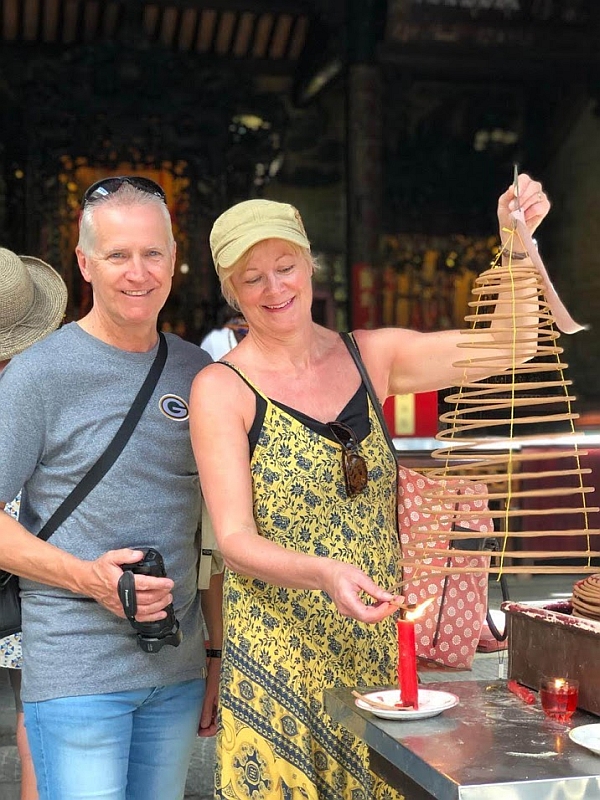 [Kev - you can just see the piece of paper with our loved ones names on next to Tam's left hand. Unless I receive an envelope full of used fivers from Tam I will be revealing the names she left off the list.]
We head out back to the street which is a mass of people. Bikes, mopeds, trishaws, pedestrians, cars and buses jostle for position on the crowded roads and streets and what these people can carry on their mopeds is a sight to behold and defies gravity.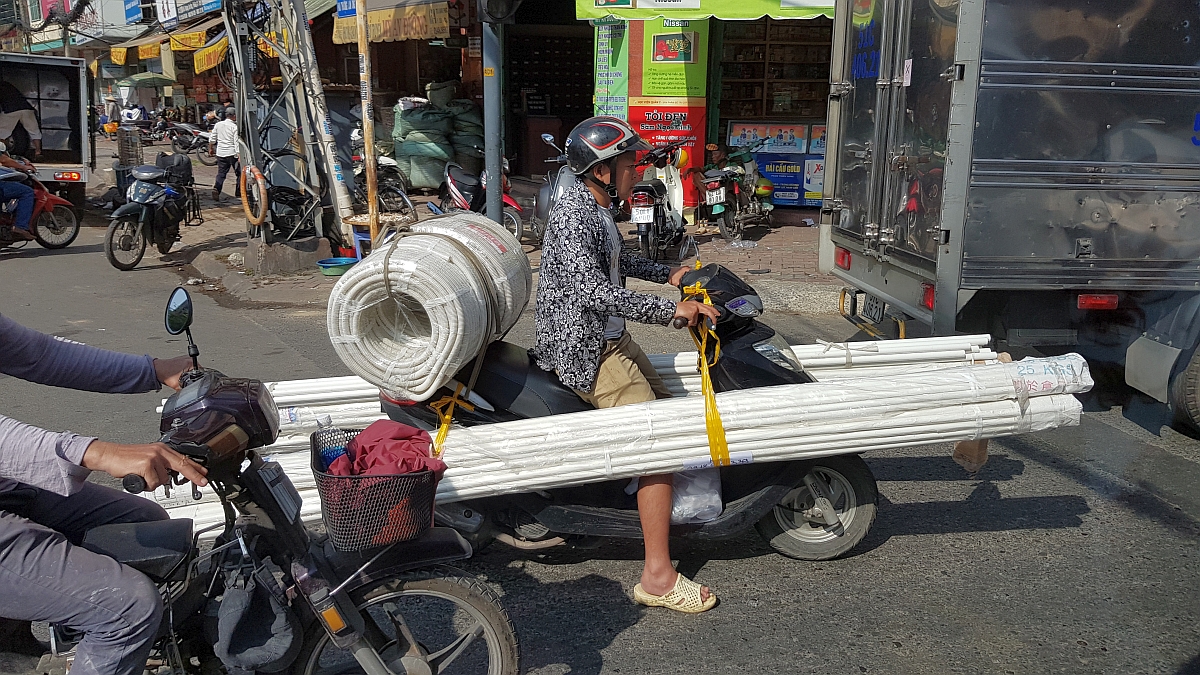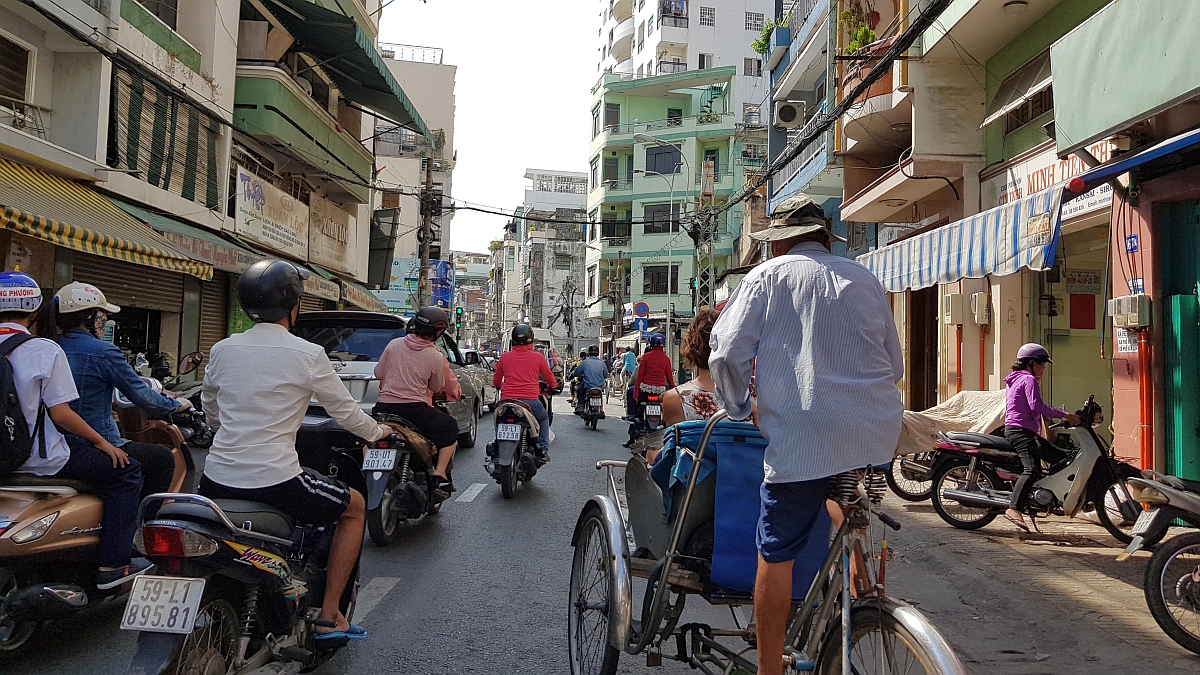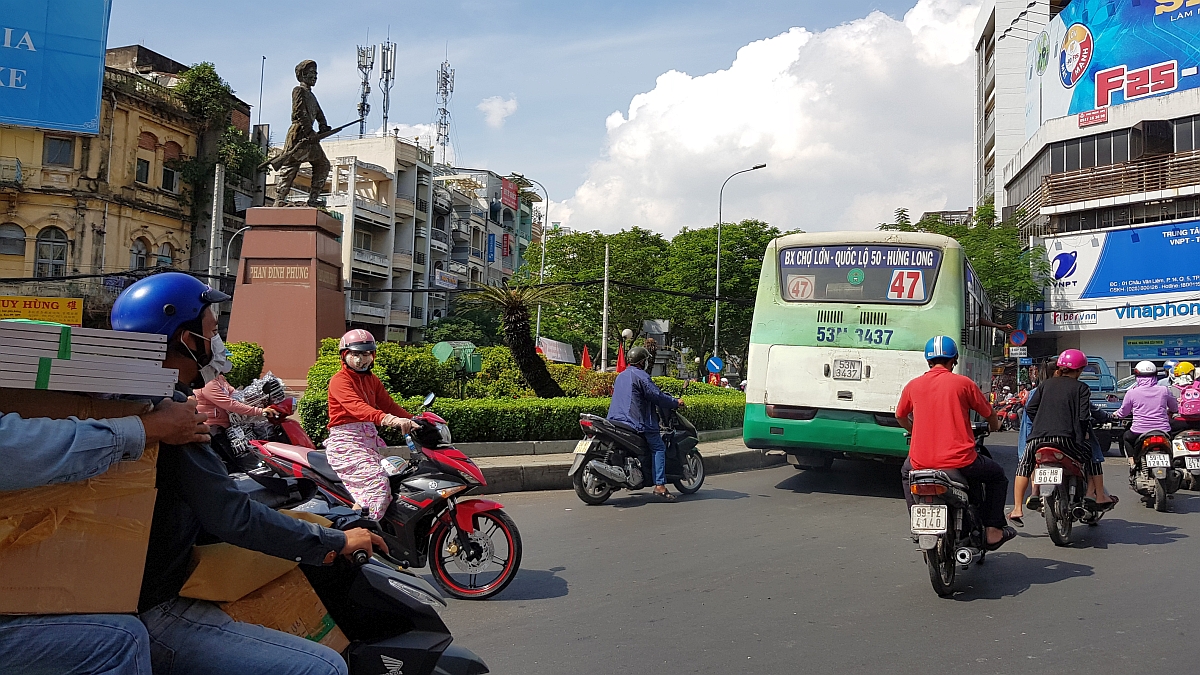 We really haven't seen anything like this before. We head down a side street where a group of tri-shaw guides are awaiting our arrival - we all get in individual tri-shaws and embark on a 30 minute whirl wind ride around Saigon. What an experience - having seen the traffic you would think we'd all be terrified, but no, it's totally exhilarating and we have complete faith in our guides as they manoeuvre skilfully into the traffic and around all the obstacles in their way. There seems to be some unwritten rules about letting them pass - possibly it's because the locals realise that it's mostly tourists on them or maybe it's just an age old custom. Either way it really is a fantastic way to see the city and we venture past small shops selling everything from live fish, fabrics, food, motorcycle spare parts and Christmas decorations - you name it there's a shop for it here in Saigon.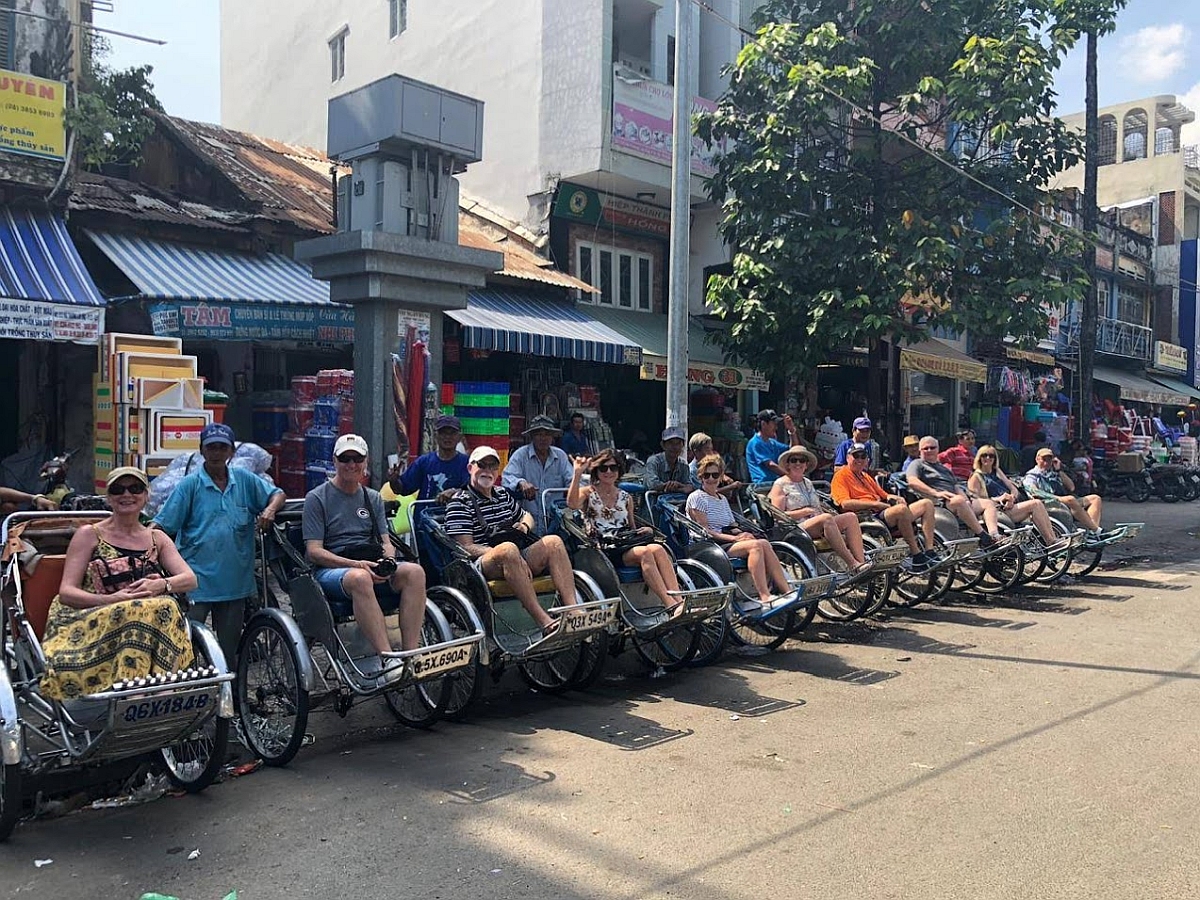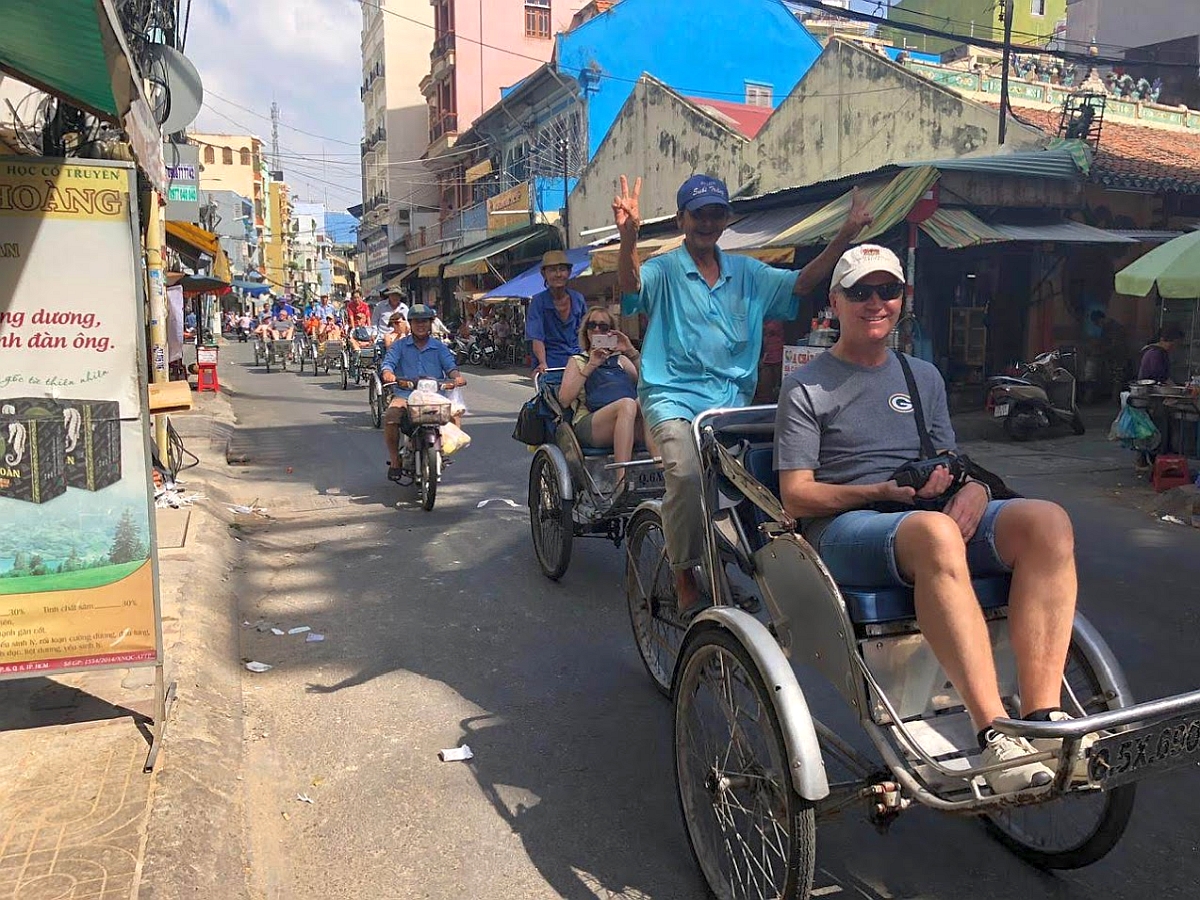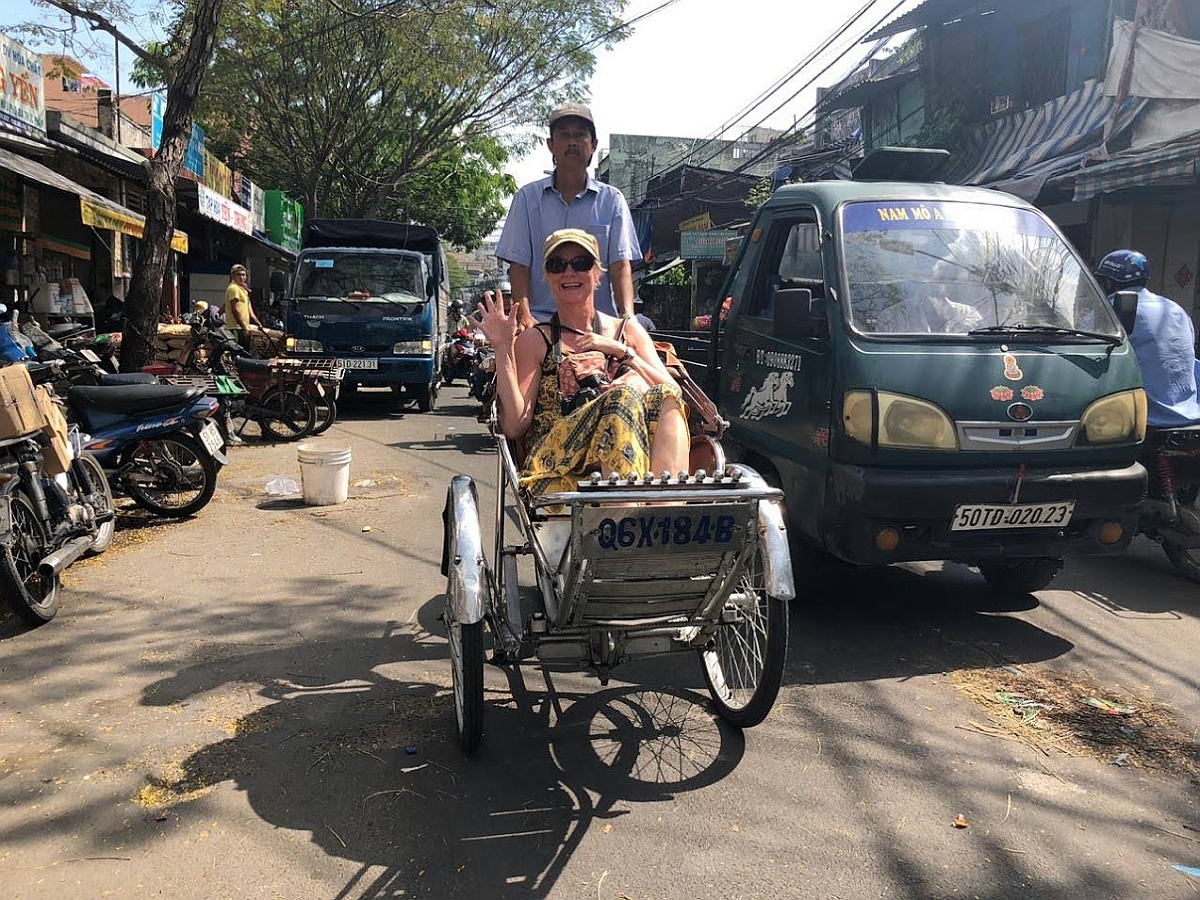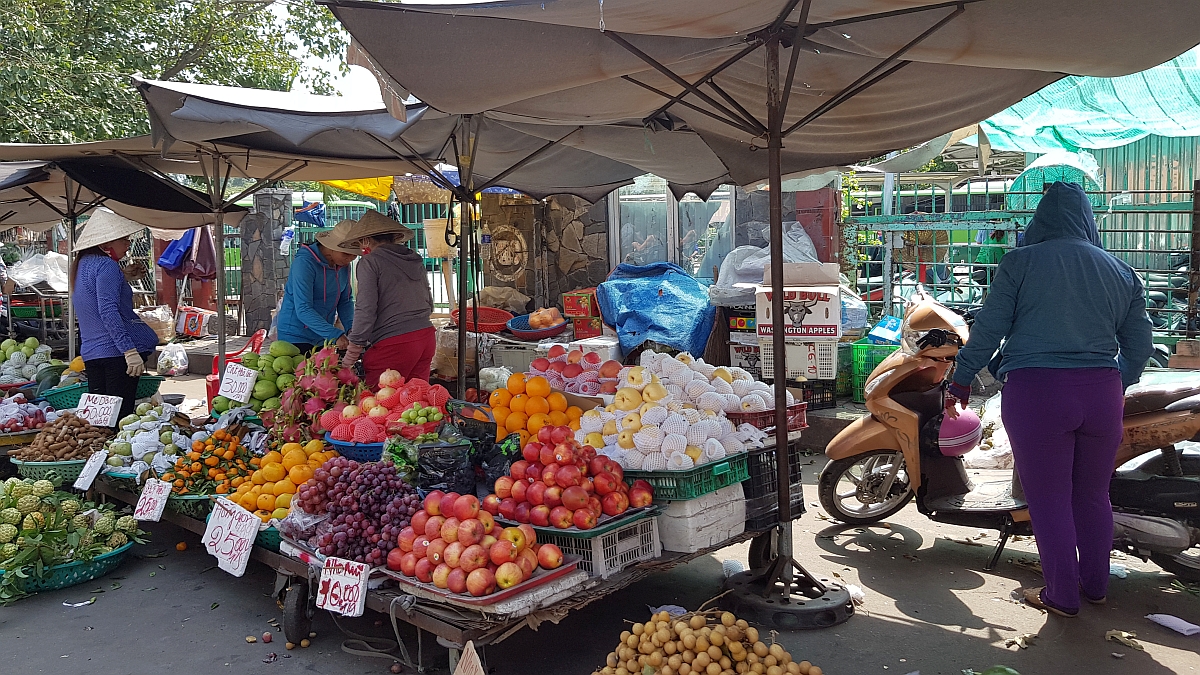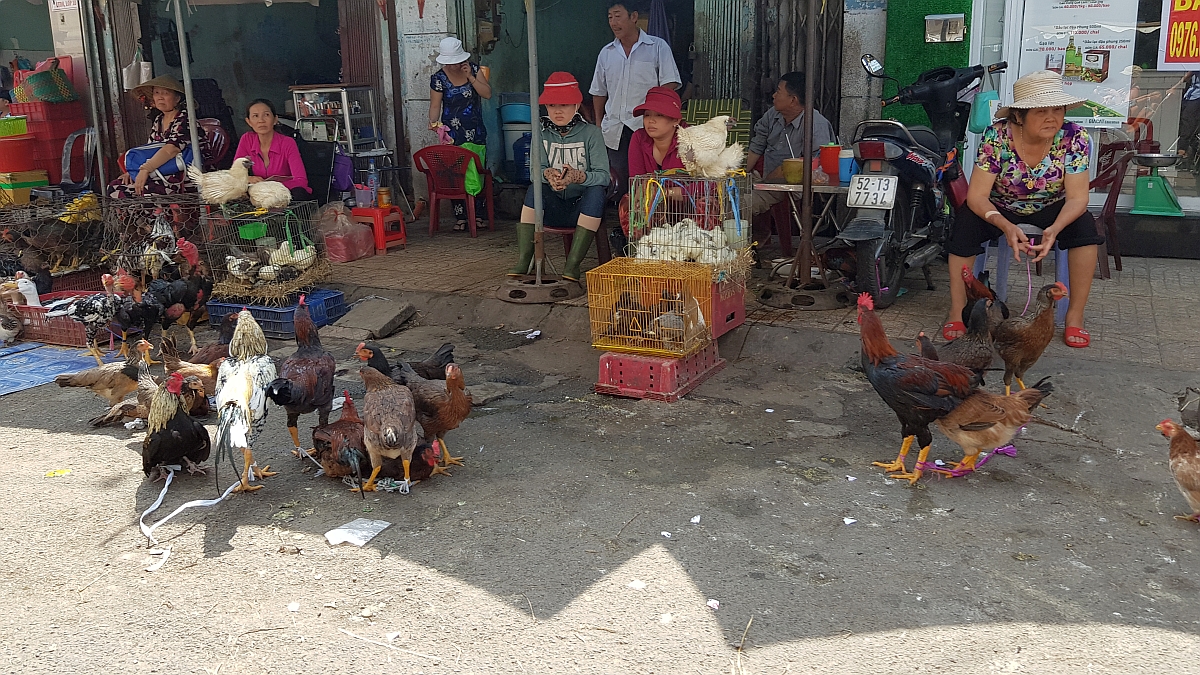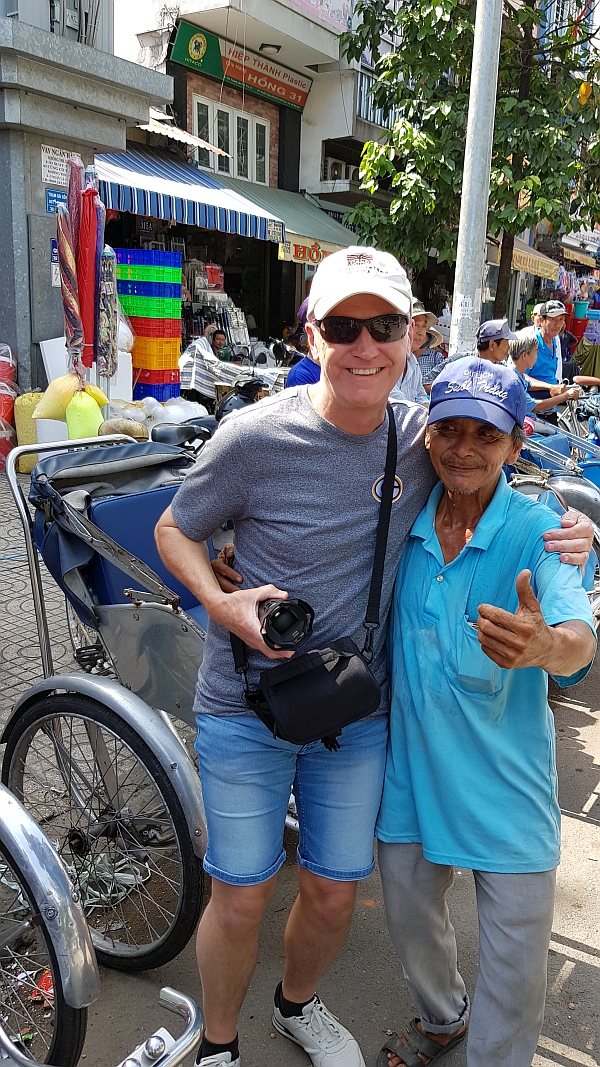 [Kev - this was the highlight of the tour for everyone Exciting, interesting and so much to see.]
After being taken back to our starting point we walk to a nearby street market after thanking and tipping our trishaw guides and having photos taken. Lee was great on this tour he followed our group on the back of a scooter and took loads of photos of us all on our trishaw adventure. On our way to the market we pass a group of 3 little girls who have their hands out - I'd read that children in Vietnam can be in need of basic school materials so I'd packed some pencils, rubbers and notepads for just such an eventuality and it was a delight to see their happy faces when I gave them some gifts. The market is incredible with everything for sale, fresh fish, meat, rice and all sorts of amazing fruit and vegetables that we'd not seen before. We stop at a fruit stall and Lee pays for us all to sample some of their delicious fruits - the flavours are fantastic and it's great to try new things.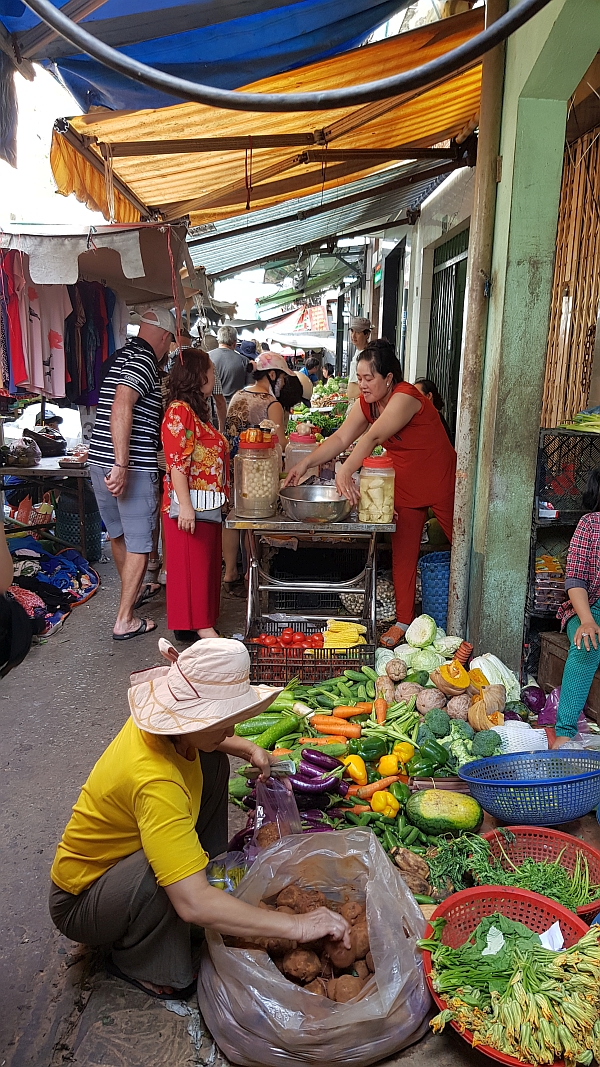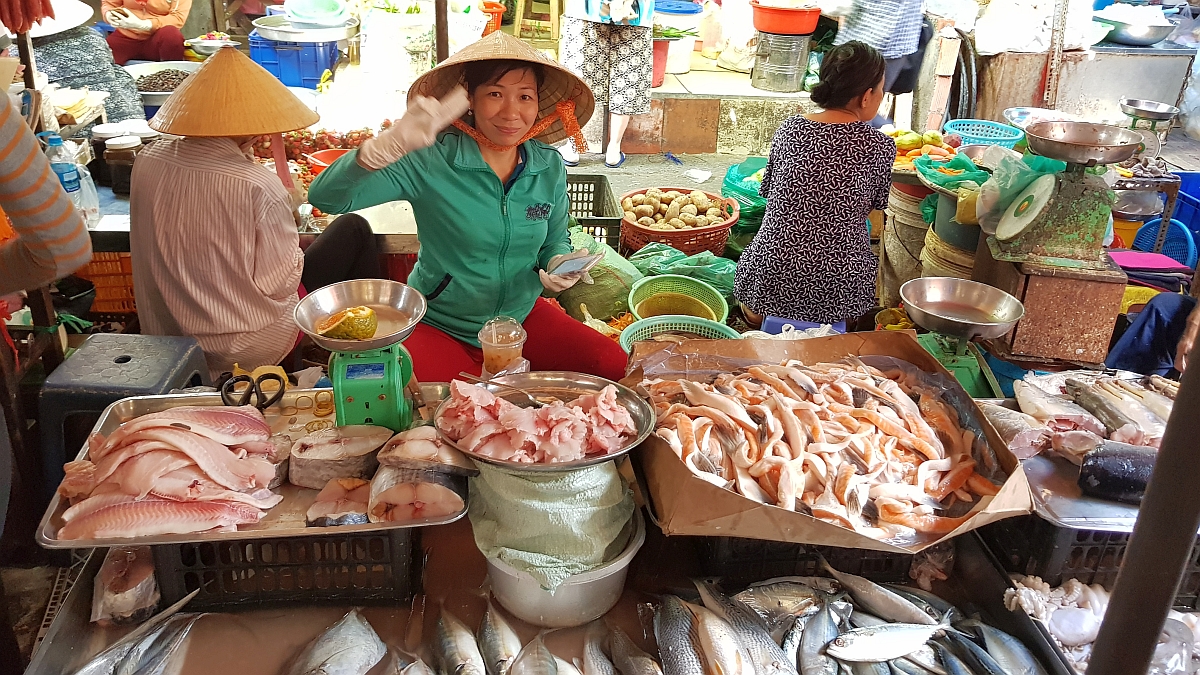 Lee tells us we must try the Vietnamese delicacy of pho and takes us to a nearby restaurant. Here we have a local beer, beef pho and crispy spring rolls. There are some very hot chillies that can be added to the pho - Kev assures me that were every bit as hot as Lee had warned. You can also add soy paste, fresh herbs, bean sprouts and lime juice to make the pho just the way you want it. It was all very tasty and obviously came highly recommended as there was a photo of Bill Clinton on the downstairs wall, who had also had the pleasure of eating here.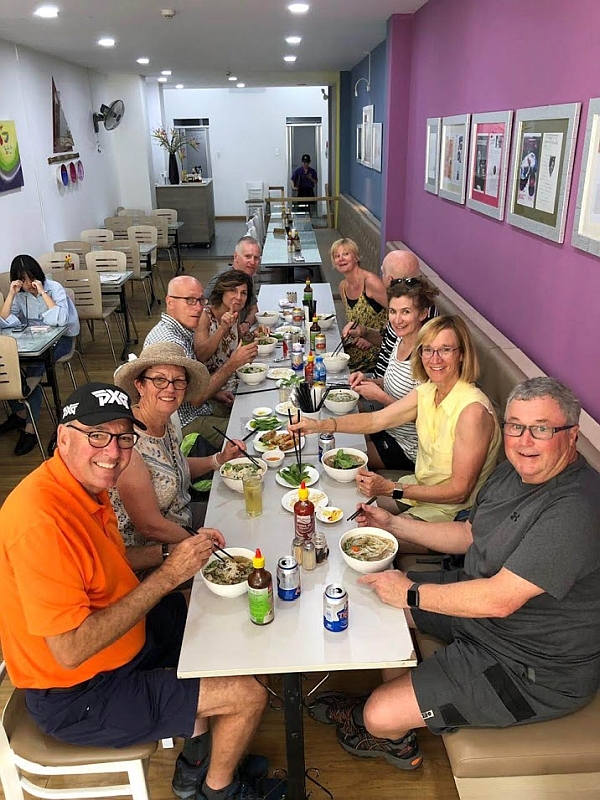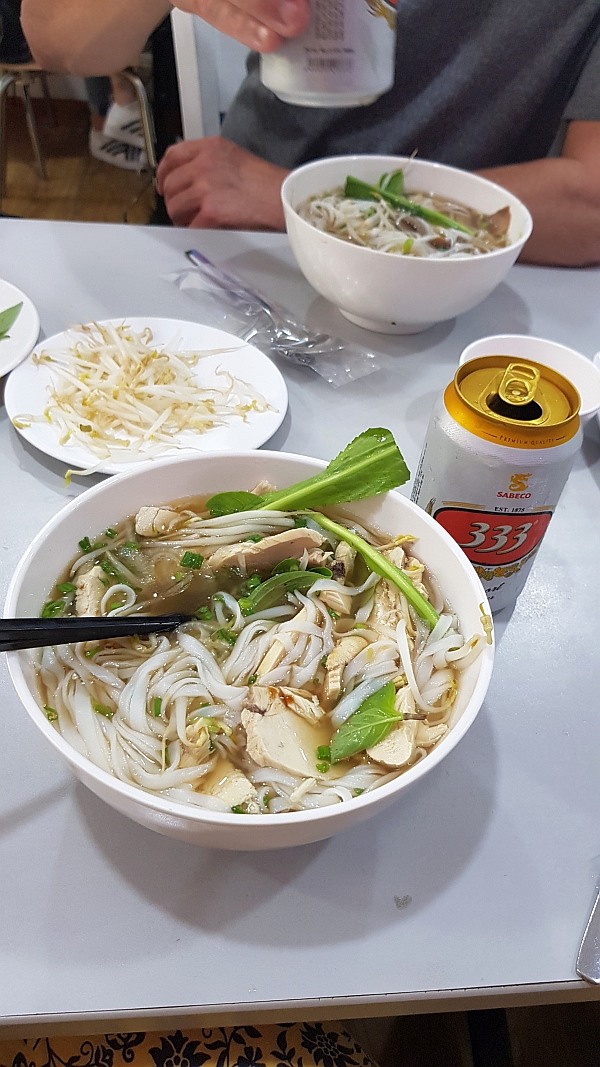 The day is incredibly hot and humid now so we get picked up in the minibus and taken to the War Remnants museum - firstly we stop in the cafe outside to enjoy an iced coffee and some watermelon that Lee buys for us all. Lee tells us to start on the top floor of the war remnants museum and do the rooms in order so that we fully appreciate the time line of Vietnam and the war. It was a very emotional tour and the pictures and writings on the wall certainly had a profound affect on us both. Whilst you know bits of what happened in this beautiful country the images and stories housed here bring it home in a really graphic way. It made us feel very humbled that the Vietnamese are such friendly people, that they welcome all visitors to their country, when in the not too distant past they suffered such atrocities from other nations. We decided that it would be completely irreverent to take photos of anything inside the museum but in the front of the building there were a lot of old planes, tanks and helicopters which we took photographs of to show the scale of them.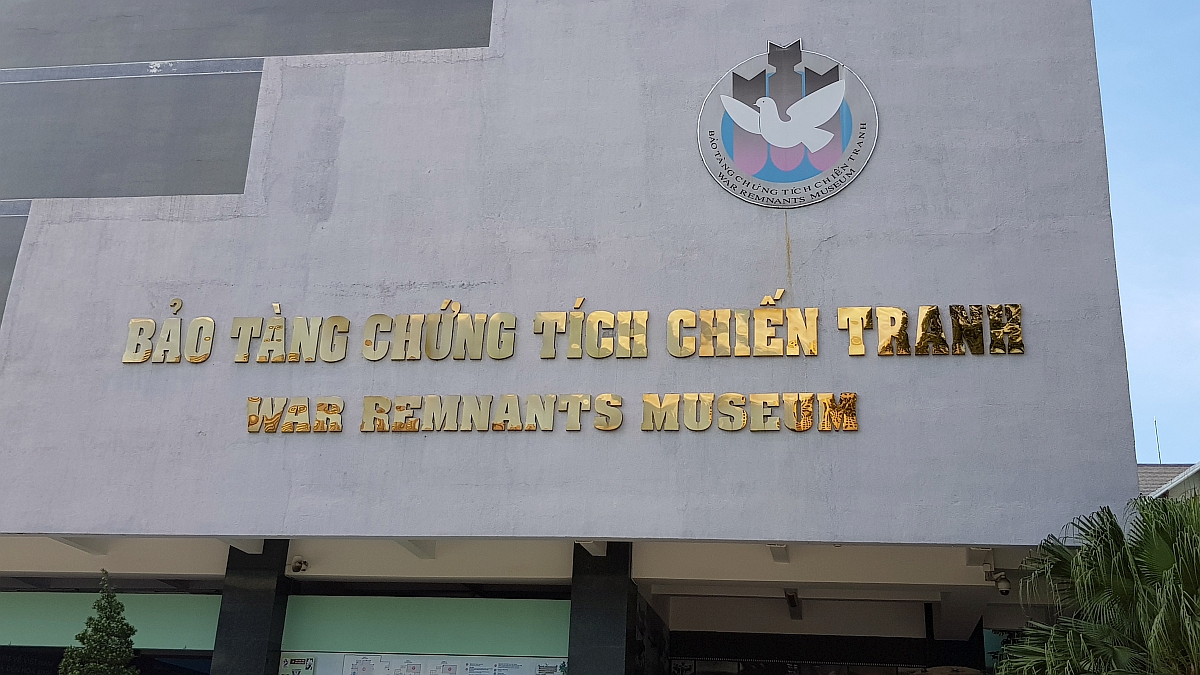 [Kev - Harrowing would be the word I would use to describe this museum. The photographs didn't hold anything back. I remember so much of this war being played out on tv every night and the names of the places sound so familiar. I thought it was presented in a reasonably even handed way considering it is clearly representative of the Vietnamese view of the war.]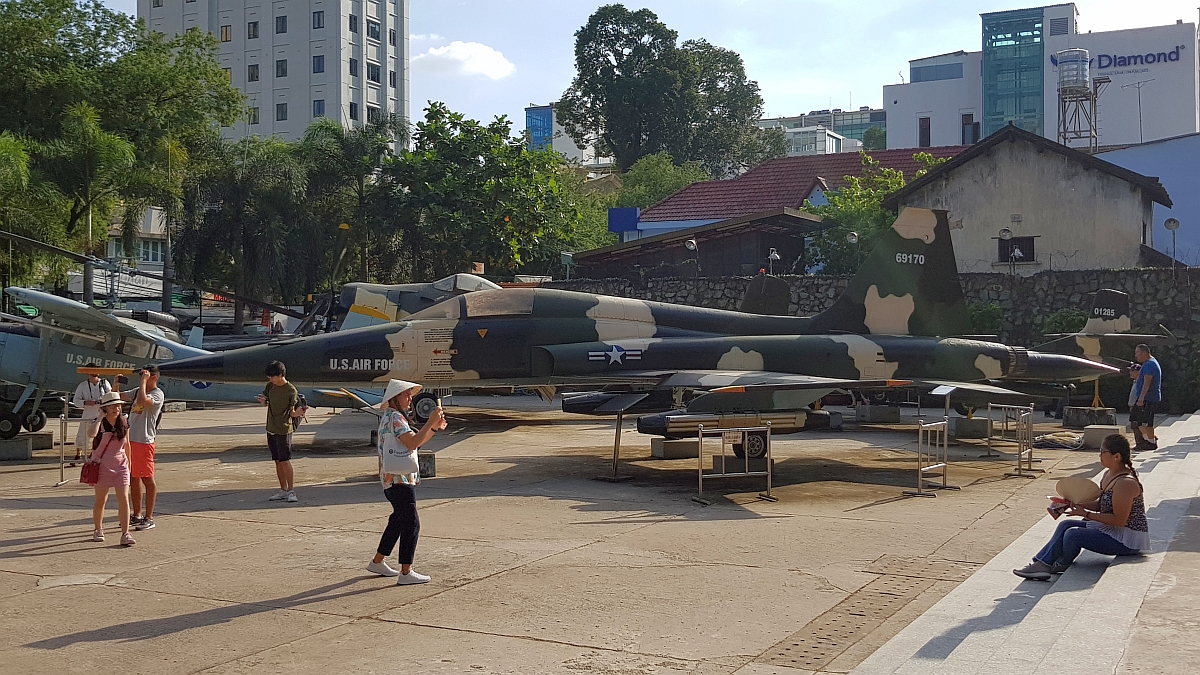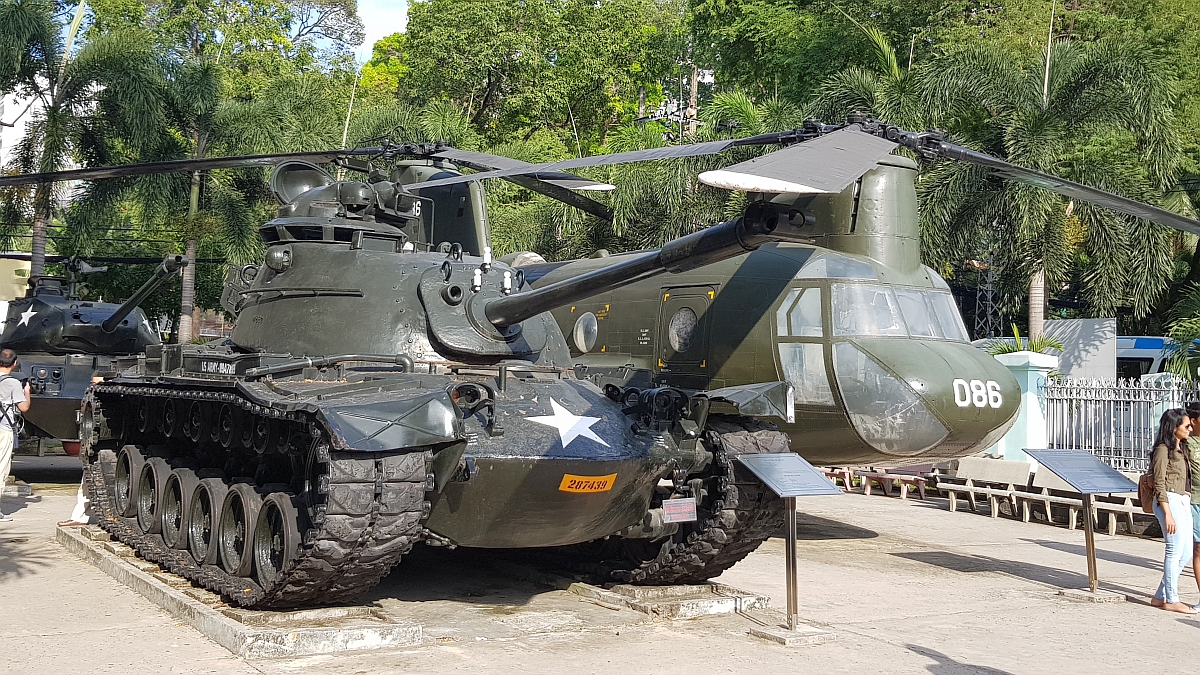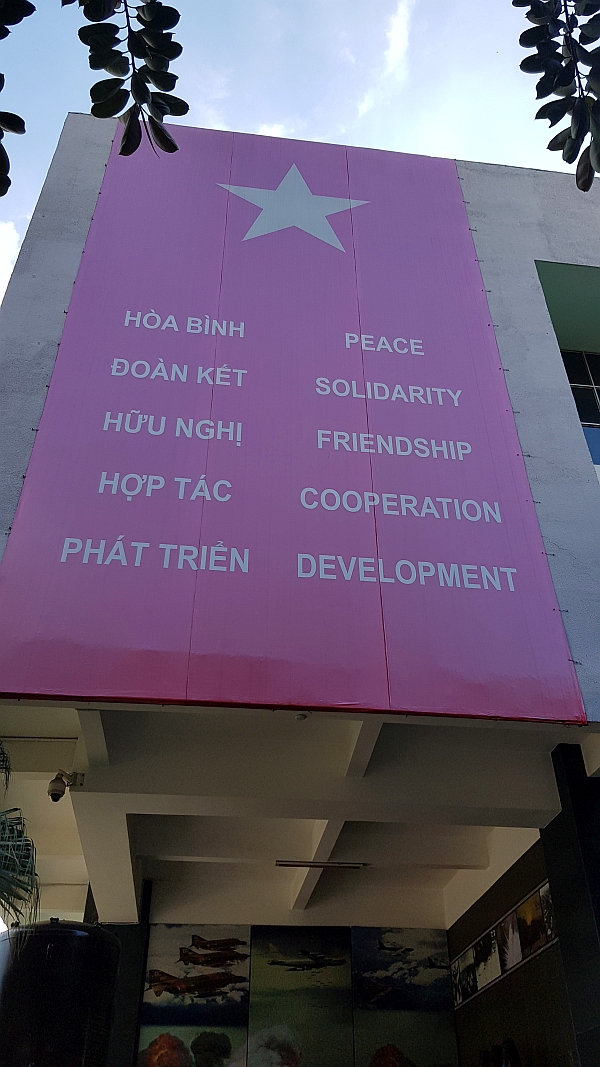 [Kev - I really liked that we came across this sign as we left the museum. It finished on a note of optimism]
Feeling very sombre we get back to the comfort of the minibus with cool wipes and ice cold water. Our next stop is the old CIA building, which supposedly was where the last of the American troops were evacuated from Saigon. Lee says actually the famous picture depicting this scene was actually a few days before the final troops flew out. Lee knows someone who knows someone and we got access to this building which isn't normally open for tourists. It's a dingy little concrete building and we go up to the roof 5 at a time in a rickety old lift. From the top we can see exactly where the picture was taken and also views to the nearby Notre Dame cathedral and the picturesque post office.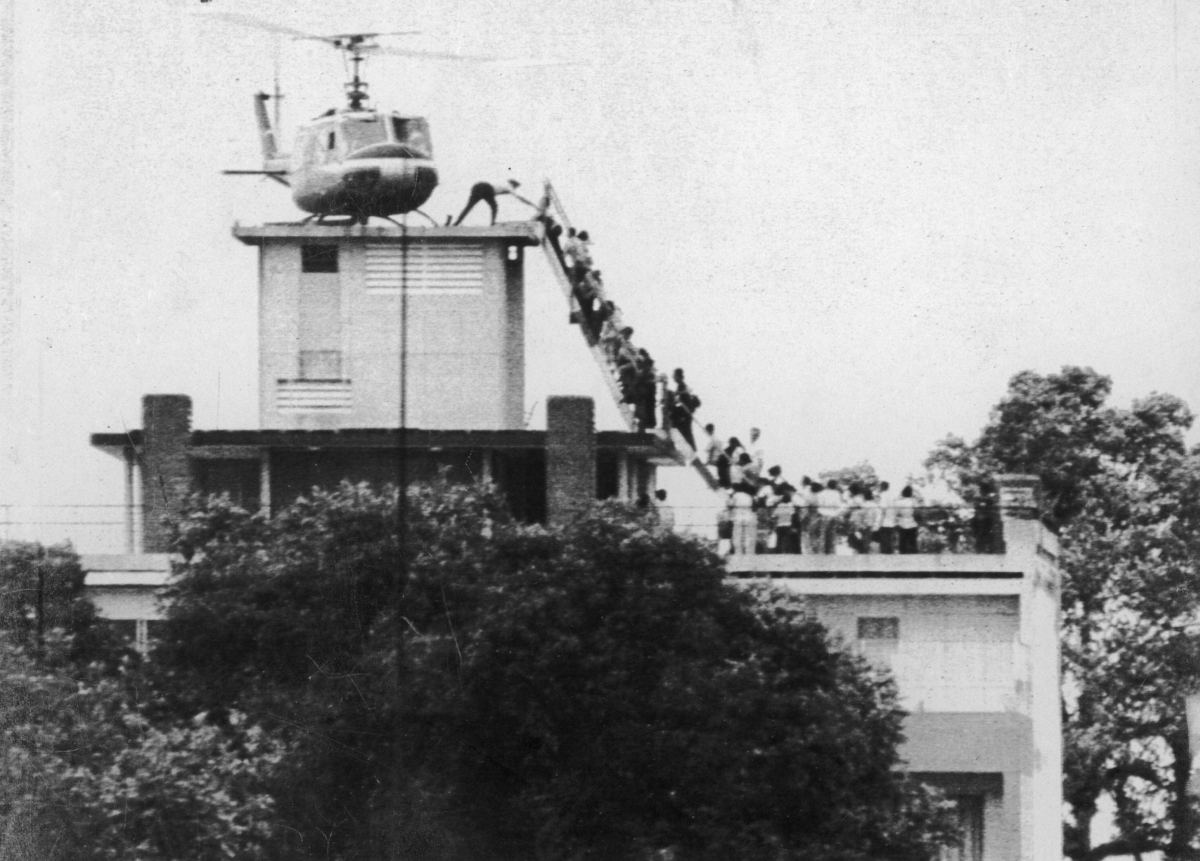 [Kev - this is the famous old photo.]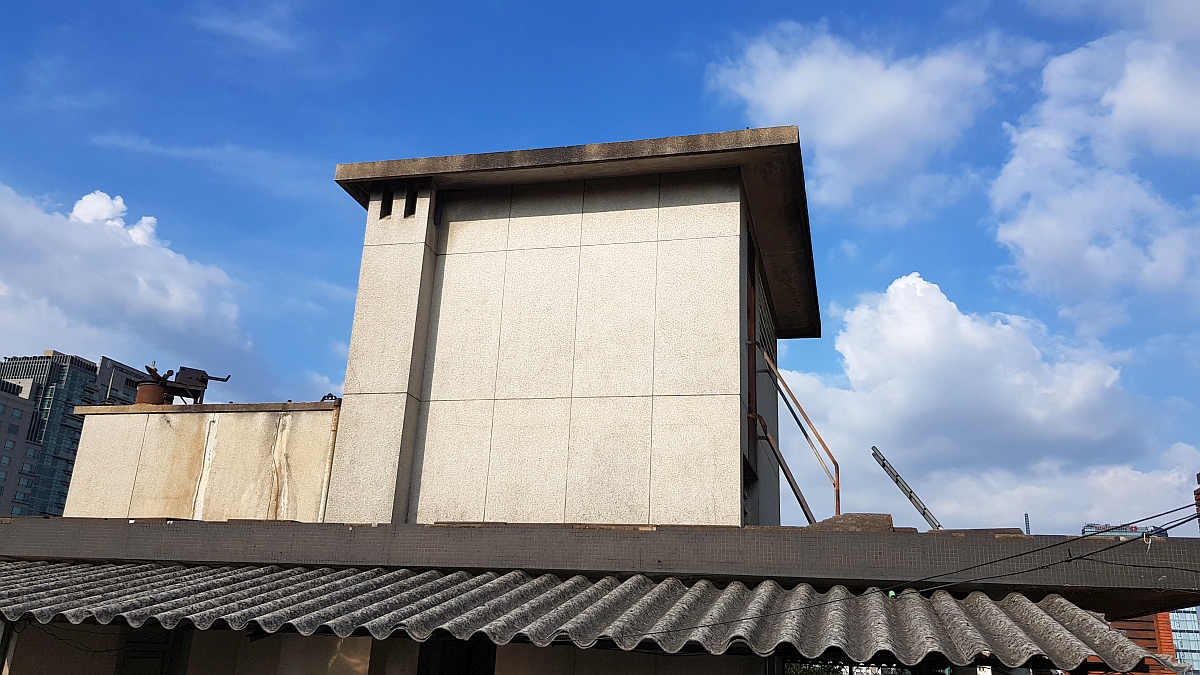 [Kev - ..... and this is the same building today.]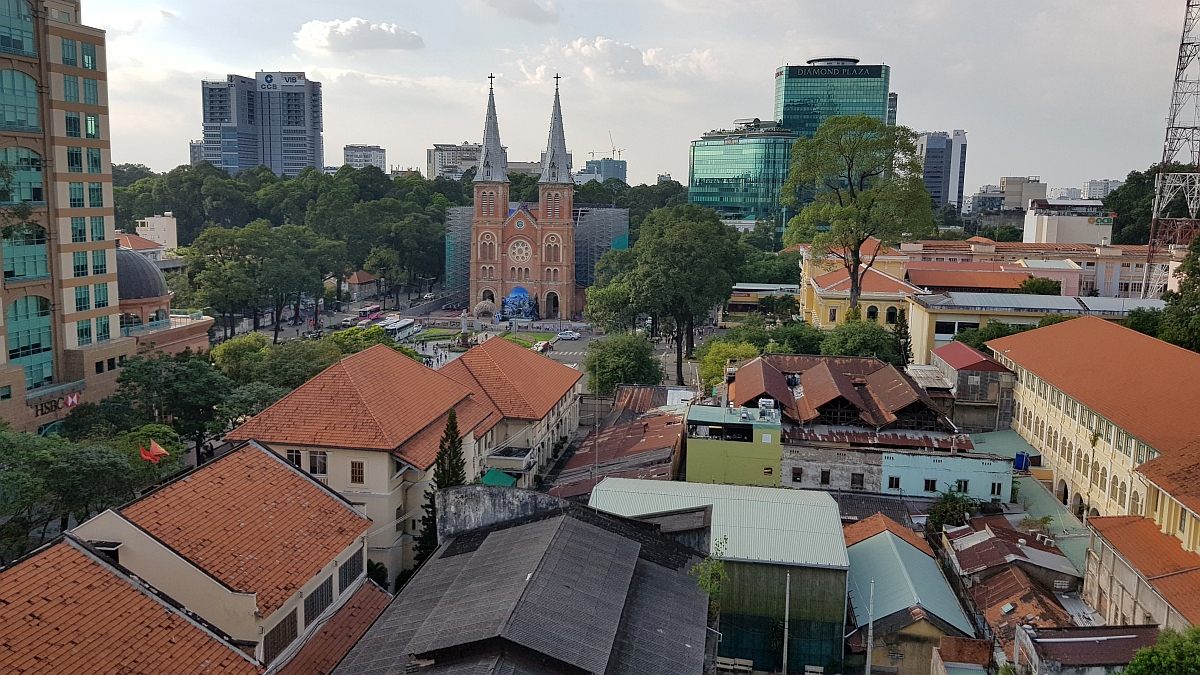 We head back down and walk to our meeting place where Mr Ching is waiting - on the way we pass the opera house and art deco Caravelle Hotel.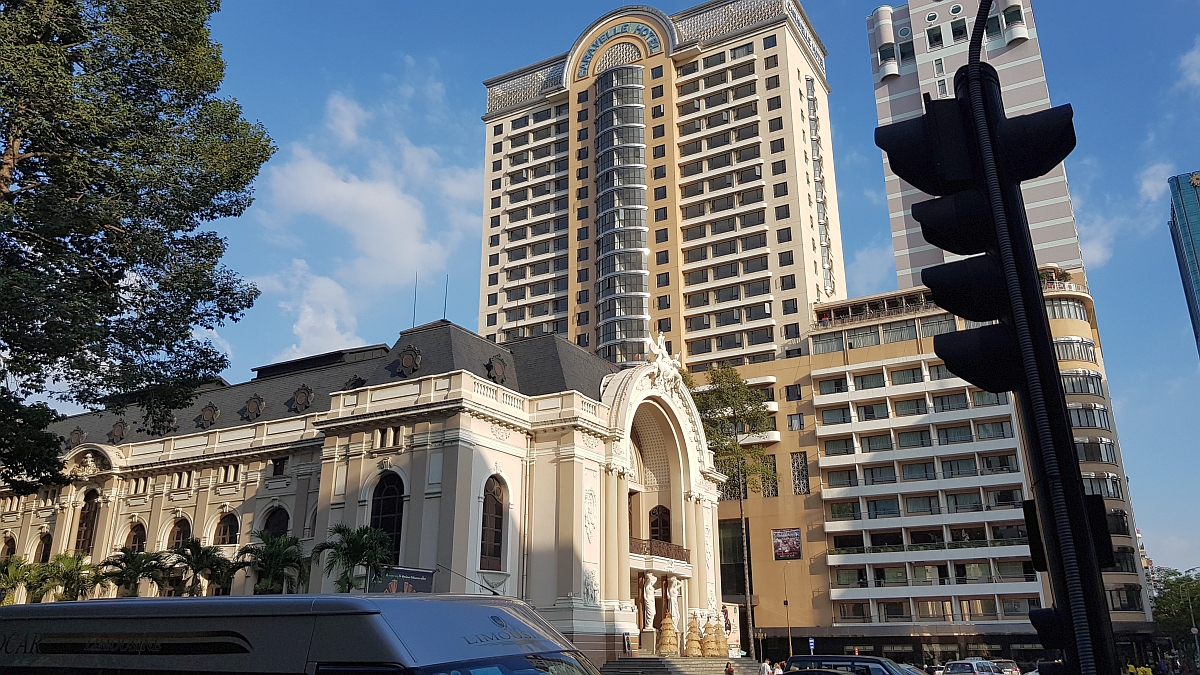 We certainly have fitted a lot in today and enjoy the comfort of the minibus for the journey back to port where we thank Lee and Mr Ching for a fabulous tour. It's now 5.30pm so we go to the cabin to get ready for the evening and have a drink on the balcony. This is actually a container port as well and from our cabin we can watch the enormous cranes loading and unloading containers from the huge cargo ships - it really is amazing the speed they can load and unload these massive vessels. We sail away from our last stop in Vietnam - what a fantastic country it is and one we definitely hope to return to - the friendly people, the delicious food and the jaw dropping scenery is something we'll never forget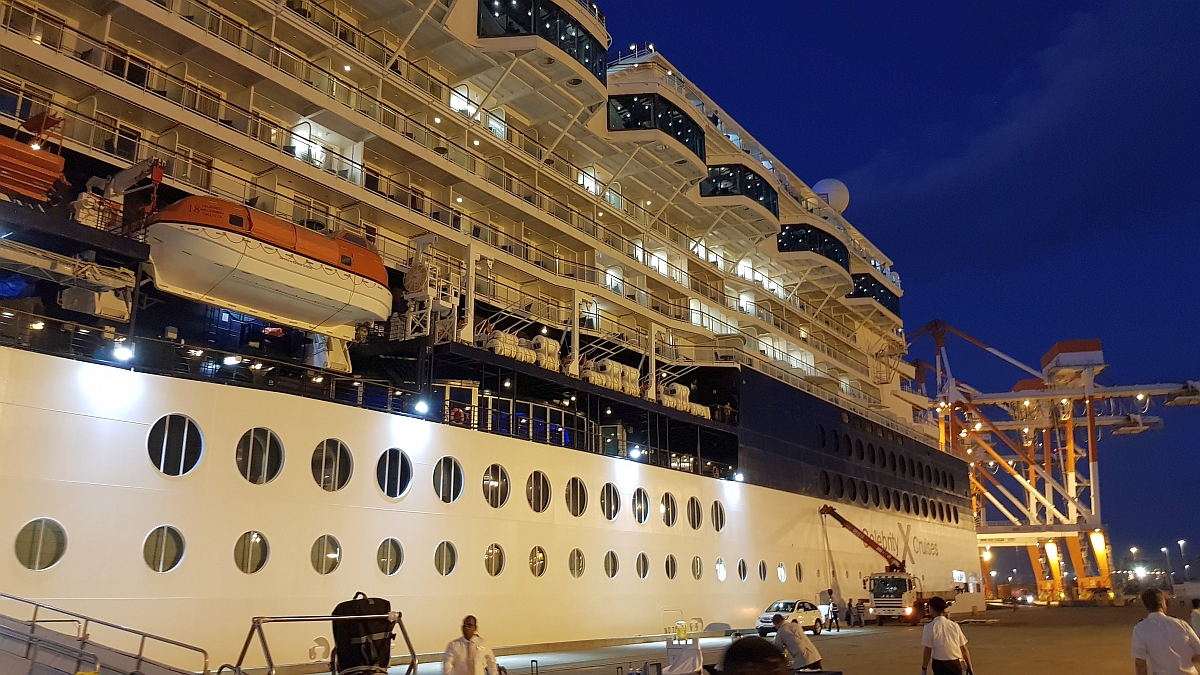 There's lightning on the horizon as we leave port and we head to the Martini Bar to enjoy a pre dinner cocktail before a meal in the main dining room. I think I have seafood bisque and a herb crusted chicken with cornbread. We finish this exhausting day in Cafe Al Baccio with cake and Tia Maria coffee before heading to bed.
[NOV/DEC 2018 REPORT HOME PAGE]