DAY 3 - FRI 18th SEPT

A combination of the time difference and my bad shoulder has me awake at 4:30. Everyone else wakes up at various times until we are out of bed by 6:00. Weather is overcast again and the forecast is for rain for the next 3 or 4 days. Hey, if I wanted miserable weather I would have stayed at home.
We shower then go to the food court for breakfast. The girls choose big sticky cinnamon buns, oh well, they are on holiday, nutrition will have to take a back seat for a couple of weeks.
In the car and off to Publix on 192 to get a few essentials. Beer, cereal, beer, squeeze breeze, beer and postcards. Trouble is, have we got enough beer? At this point I should say that it is a drawback not having a fridge in the room but I am not paying $6 a day as this adds up to a lot of money over a 14 day stay. This could jeopardise the purchase of other more important items such as.......ooh, I don't know, beer perhaps!
Back in the car and off to Sea World.We have not been here for about 5 years but I find that it is quite a relaxing park to do first as it allows you to move at a more leisurely pace between large shows and attractions, not having to worry too much about lines. We are ready for the opening at 9:00 and head straight for Journey to Atlantis which doesn't start running until 9:30, which defeats the object of being there for the rope drop somewhat.Tammy chickens out and takes Georgia off to see the manatees but India decides to ride with me. Brave girl! This is a fun ride but not a patch on Splash Mountain which seems to be the nearest Disney equivalent. My main problem with it is that it seems that it's number one priority is to get you wet. Not just damp but absolutely soaked! We were in the front of the boat and after the big drop you come around a corner to a very small drop whereupon a wave engulfs the boat. No kidding we were wet from head to foot, I had to wring out my t-shirt and empty the water from my trainers. It is probably worse in the front but I saw people all day coming off it drenched. Never mind, onward.
After the Penguin Encounter we go to Pacific Point Preserve. This is very pleasant watching the seals and sea lions waiting none too quietly to be fed by fish buying tourists. It is a nicely themed area with many of the seals lining the edge of the pool hollering and barking to be fed. Reminds me of meal times in the Stringer household.
We move on to Shamu Stadium where we get ice creams and drinks and sit down to wait for the show. As I wait a man comes up and asks if I want to be in the show. He says that I may get a bit wet and then gets me to sign a disclaimer. Now, I may be a bit daft but I am not stupid, I can see another soaking coming. My worst fears are confirmed when he stands up and says 'The fool..... er, gentleman is going to do it!' (Thanks to Blazing Saddles for that joke). It is a sort of men v women thing with the men being set up as the fall guys. (Isn't that typical of life in general, eh guys). As expected I end up soaked but I get to stroke a killer whale and is well worth it for that alone. I also get given a towel.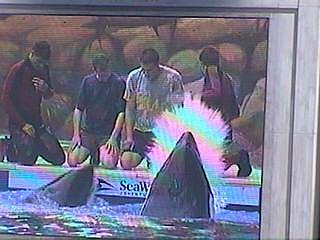 The fool second from left is me. Tammy took this picture of the large video screen that you watch all the action on.
The girls are itching to play in Shamu's Happy Harbour which is a play area for children. They spend a very happy hour or so while I go off to get us lunch. This is a great place to let children blow off steam, about the only place Disney has on a par with this is the Boneyard in the Animal Kingdom.
We head over to the Hospitality Center for our free beer, just the one, I'm driving. At this point it starts raining and doesn't stop for the rest of the night. While we sit and drink our beer we get chatting to a friendly, elderly American couple and it turns out that in the war he was stationed a few miles from where we live. Small world isn't it.
After a few more shows we go to Wild Arctic. This will be a test for Georgia as she has not been on a simulator ride before. She comes through with flying colours, which is more than can be said for her father who feels a bit green afterwards. I do get slight motion sickness so always avoid Body Wars but never seem to have a problem with Star Tours. I was a bit concerned about the polar bear we saw there. (Wild Arctic that is, not Star Tours). It was on its own in an area that did not seem that big and was swimming back and forth in a very repetitive manner. For all of you that criticise the Animal Kingdom because you do not see all the animals on the safari, please stop to think that it is better for the animal to be able to roam freely. You may or may not be able to see it every time you ride but isn't this a small concern when compared to the animals welfare? There is always plenty to see so what does it matter if you don't see a lion or cheetah, maybe the next time you will be lucky.
We see Shamu Rocks America at 7:00 then head for the exit as the park closes.
Georgia is in the stroller we brought with us. This turns out to be a mixed blessing as we hoped she would only use it when she was tired but she wanted to be in it everyday from dawn 'til dusk. It was just easier to let her have her way on this one in order to be able to move around faster.
Back to the All Star Music and straight to bed for the girls at 9:00. Tammy and I follow soon after.