DAY 13 - MON 28th SEPT

Up at 7:45 (an alarm call was definitely required this morning) and breakfast in the room before leaving for the Magic Kingdom.

Our plan is to head straight for Mickey's Toontown Fair but as we walk up Main Street the dwarfs are out in one of the side streets so we stop for Dopey's autograph.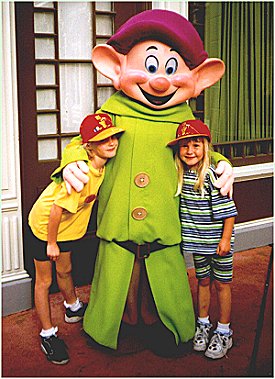 We are stopped again by the tea cups by the Queen of Hearts. She seems very impressed with our autograph books and shows them to the Mad Hatter and the CM that is with them. I think what pleases her most is the fact that her picture is in the books but the Mad Hatter's is not. We thank her for her time and she dismisses us with a flick of her hand. As we leave she looks even more haughty and smug than usual.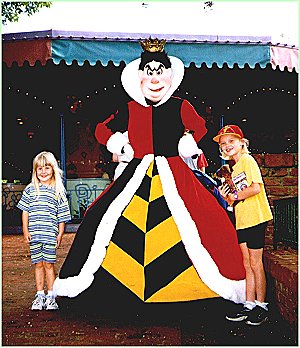 We finally make it to Mickey's Toontown Fair and we all ride Goofy's Barnstormer. This is Georgia's first roller coaster and she thinks that it is fun.
Donald's boat is down for rehab so we continue into the Toontown Hall of Fame and queue for 20 mins just to get Donald's autograph.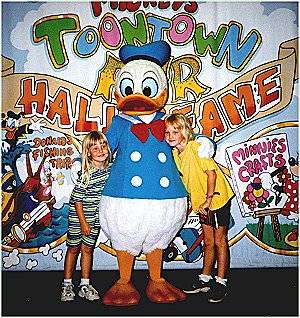 On to Mickey and Minnie's houses. Of the two I think Minnie's is better, especially the kitchen with the refrigerator full of cheese and the microwave cooking popcorn.
I know many people do not like Toontown but I would imagine that most of them don't have children. Mine had a blast and loved looking in the houses.

There are more people in the park today, probably due to a combination of Early Entry and the lovely sunny weather.

We move on to Tomorrowland and the Timekeeper.
Tammy does not think much of this but I quite like it. It is just a shame that on a hot, tiring day you are not allowed to sit down in any of the 360 degree cinemas. Perhaps the next generation of this type of attraction will be 3D 360 degree cinemas with comfortable fully rotating seats.
The Carousel of Progress is next. This is still a great , fun attraction, I hope they never close this.
A ride round on the Tomorrowland Transit Authority is relaxing.
The queue for Space Mountain is only about 15 mins. Tammy has been debating whether to do this or not, this is probably going to be her last chance as India and I are doing E ticket tomorrow night but Tam has decided it is pointless to take Georgia as she will not go on anything. They will probably go to Epcot and attempt to find more sweet delicacies.
Anyway, she decides to ride. India does not want to go on, so we do the child swap. Tammy rides first and comes off smiling. It was down for rehab last time we were here, so we have not ridden for about 5 years.
It is rougher and better than I remember, probably helped by the fact that I am in the back seat. At one point I thought I was going to take off. Definitely more thrilling than I expected and, although it is slightly lighter, I could not really see the track ahead. Unfortunately this is the only time we get to ride this trip but we will make it must-do on our next visit.

Next stop is Tom Sawyers Island. The girls get to run around for a while, exploring the caves and windmill. At the fort Tammy spies the wooden building blocks laid out for the children to play with. Elbowing a few youngsters out the way, she is in her element so the girls and I explore.
The girls massacre many tourists with the guns. Funny how India doesn't mind the loud bangs they make when she is the one making the noise.
We return to find Tammy looking pleased with herself at the poor excuse for a dwelling she has constructed. Sigh, 3 children to look after is a bit much.

Aunt Polly's is a disappointment. Tammy queues up to find that the only thing they have left is a peanut butter and jelly sandwich. The girls have this and we return to the mainland to watch the parade.
While we are waiting Tammy and I share a baked potato.
The parade is much better in the sunshine and we get the full show with the stops for the children to play. Unfortunately we are in the wrong place for the girls to take part but they enjoy watching anyway.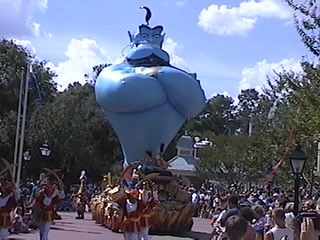 After the parade we leave the park, along with thousands of others. I am actually surprised how few people there are at the bus stop and we get back to the All Star Music quickly.
A swim and a shower and we are ready for the Wilderness Lodge.

We get the bus to the Magic Kingdom and the boat from there.
It is a lovely evening and the boat ride is very pleasant. I have never arrived at the Wilderness Lodge from the water before and it is a lovely sight as the sun sinks lower in the sky.
We have a look around and then take the girls to the Cubs Den. There is another elderly lady in charge but she is very nice, more like someone's granny or perhaps a fairy godmother? The whole place is much more pleasant than the kids club at the Boardwalk. The children get a meal and animals are brought in from Discovery Island. The girls are eager to tell us about their encounter with a skunk (Flower, of course) and a baby alligator. They would have no problem returning here.

Once we have got rid of the girls, er.... I mean, placed our little darlings in the children's club, Tammy and I explore some more. We have been here before on a previous trip but this visit just reinforces our existing thoughts. What a wonderful place.
This place must be great at Christmas. The big comfy chairs, huge fireplace and cosy seated areas on the upper floors make it feel so welcoming despite it's size.

We have Priority Seating for 7:30 at Artist Point and are told our table is practically ready, so we take a pager and go to the lounge next door where Tammy has a cocktail made with Kahlua, cream and coke, while I have an unusual choice, beer.
20 mins later and the pager has not gone off, so we go to see what is happening. The lady apologises and we are shown to our seats immediately.
First impressions are that it is not as ornate as I expected it to be, nice enough but just not spectacular. Warm bread is brought straight away with butter, salmon pate and apple butter.
You are obviously aware by this time that I am referring to Tammy's notes for this part of the evening. If I make any mistakes please forgive me as it is a little hard to read her writing which is smudged. I think she's been reading it in bed and drooling again.
We were considering a bottle of wine to go with our meal but decide against it after seeing the prices. We do have a glass of red wine which is excellent but I'm glad that we did not have the bottle as it is full bodied with a strong flavour, one glass was just about perfect. (Accompanied by a beer, of course.)
We split two entrees. Buffalo strip loin with gratin dauphinois and baked caramel onion.
Salmon on a cedar plank with baby sugar snap peas, squash and carrots.
Both are excellent, the buffalo tastes very similar to beef.
For dessert we share the fresh berry cobbler with cinnamon ice cream. This was good but too much for the two of us, it included blackberries, strawberries, blueberries and black currents.
I honestly can't remember how much it cost (I have probably subconsciously blocked it out) but it was not cheap. However, it was a very nice meal.

If I had to make a choice between 'Ohanas and Artist Point, I would probably choose 'Ohanas. The food may not be quite as sophisticated but it is better themed and more fun, especially for the children. Artist Point would be better for a couple after a nice, romantic meal.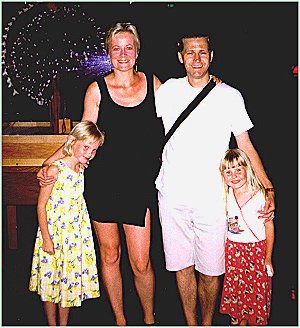 We pick the girls up and they have had a great time. It cost $28 for 2 hours which is not bad considering they were given a meal as well.
Another wander round finds us down by the waters edge as the Electrical Water Pageant begins, so we watch it again, which is a very pleasant way of passing a few minutes on a balmy evening.
The girls want a drink so we go to Roaring Forks where they see the arcade, so in we go for a while. India has never played air hockey before so I give her a game. Whooped her good! (I bet you thought I'd let her win. No way, my pride is at stake here!) Truth is, she probably let me win, she doesn't like to see her father cry.

Eventually we find our way to the shop. With Tammy around this is an inevitability. While there, a lady tells us that the reception desk has a list of hidden mickeys for the children to find. Apparently there is one around the large fire place but even with the list we couldn't find it. Observant lot, aren't we.

After a lovely evening we get a taxi back at 10:45.