Day 8 Friday 23rd September 2022
Written by Tam
Today is an at sea day although technically we will dock in Ibiza town early evening. So we have one thing planned a day of relaxation.
We start the day with breakfast at The Wake and have a lovely table at the back so we are able to look out at the wake as we sail towards Ibiza. I have French toast with caramelised bananas, with berries and crème fraiche and Kev has eggs benedict. We also enjoy a delicious looking fresh pastry– a bit like a cronut.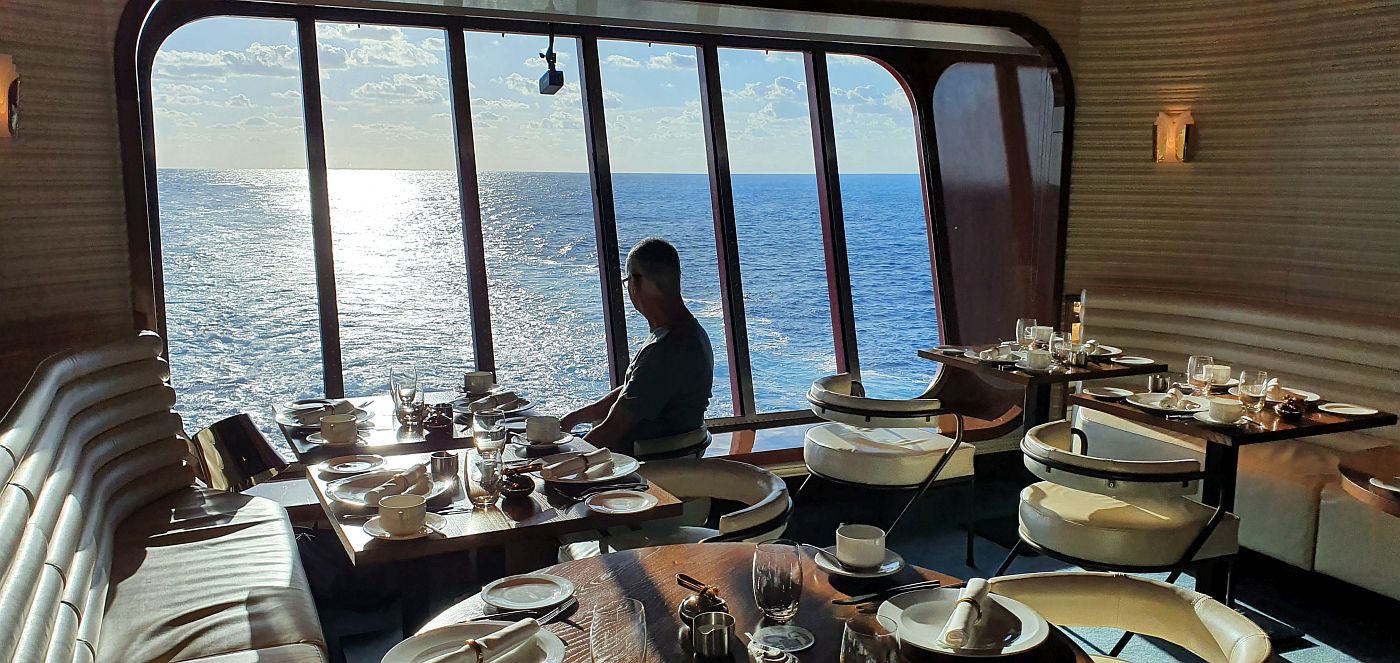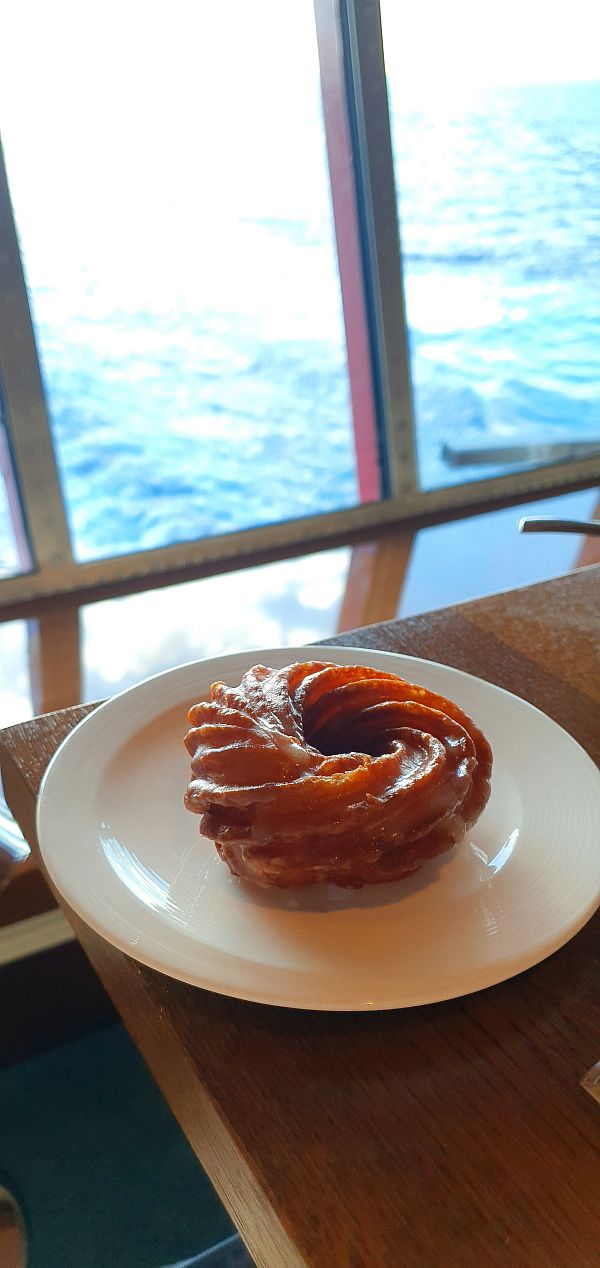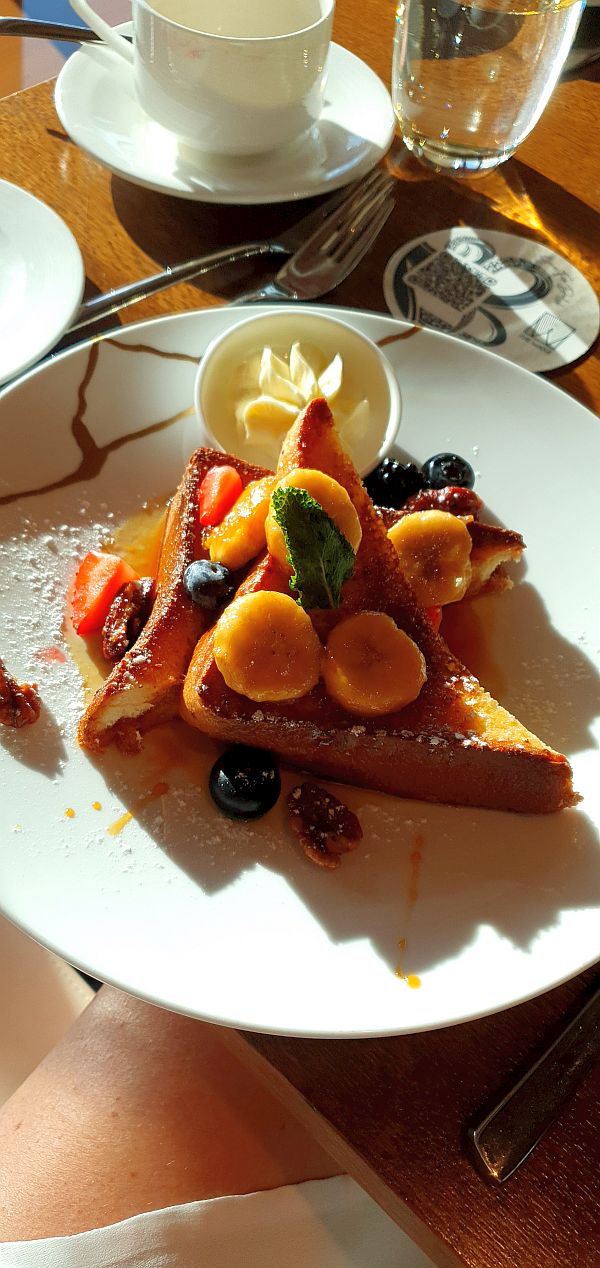 We collect our books and music for the day and head to The Dock but being an at sea day it is already busy so we head up to the top decks to find somewhere to lie with a sunbed. Luckily we manage to do this and whilst not as nice as The Dock it's far more acceptable to us than having to lie near the pool with the music and noise on that deck. We listen to our audiobooks – I downloaded Where the Crawdads Sing as unfortunately I've already managed to read all the books I brought with me.
We go to the Galley for lunch, we both decide on tacos – Kev has fish tacos and I have pork and pineapple salsa – both of which were very tasty. Then we go to the salad bar which has a good selection of salad choices which you can choose exactly what you want and they mix it for you – Kev chooses tuna (he's on a fishy streak today) and I have chicken. [Kev - a fishy streak? Does that involve a haddock with no clothes on?.]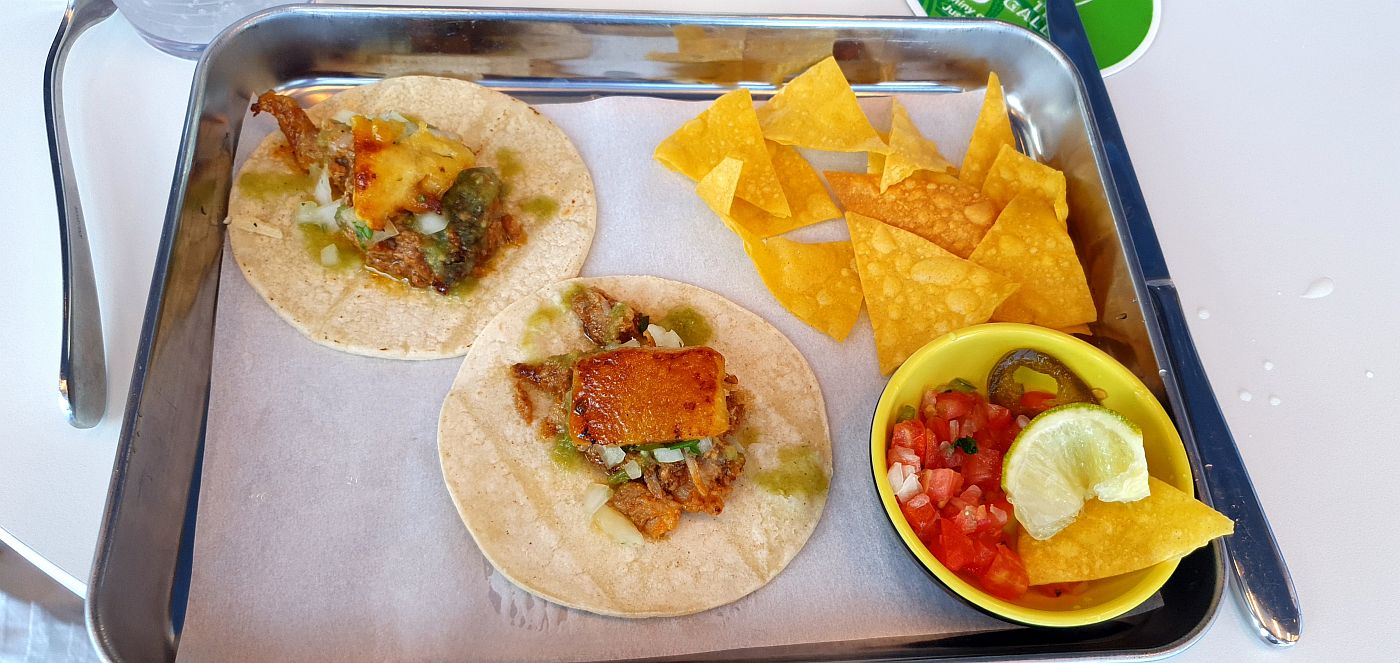 We head back to the sunbeds but it's quite warm so I decide to take my first dip in the pool – which helps refresh me. We get some coffees to have on the balcony and are sidelined by the tasty looking sponge cake shaped like an ice cream. We then head back to the cabin to relax and enjoy the coffee and cake before 6pm when we want to be on deck as we sail in to Ibiza.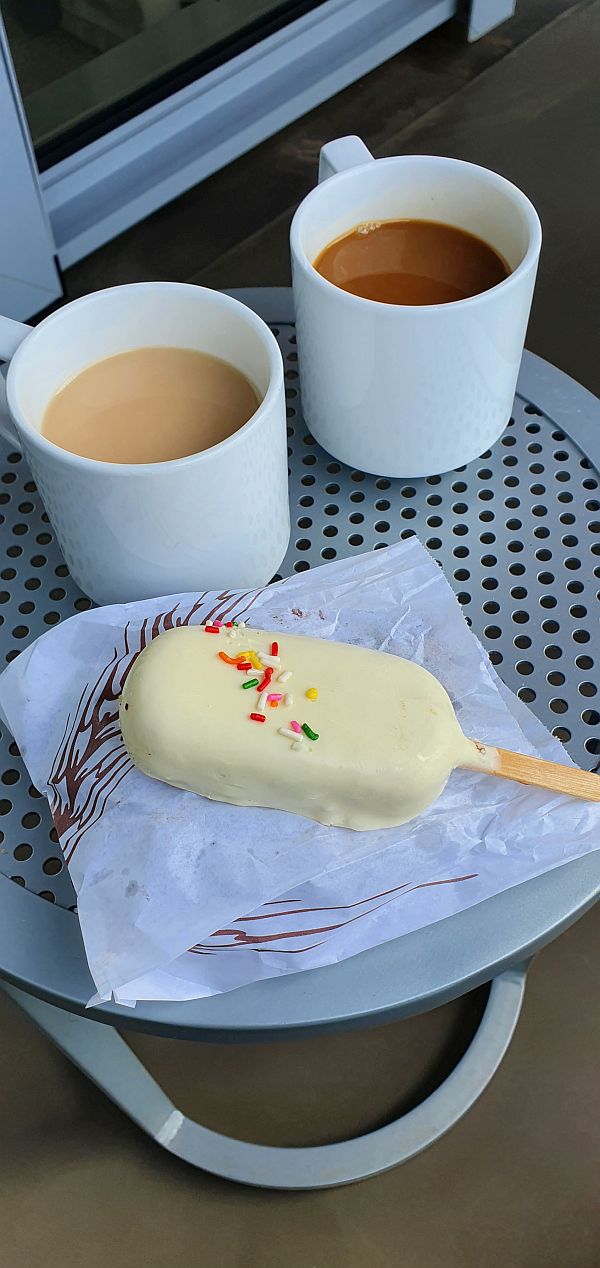 Near the pools there's a party vibe with disco music playing loudly but we have a drink before heading to The Wake for our meal at 7pm. I start with a corn custard and black bean salad, Kev has ceviche which pickled rhubarb, hibiscus and basil, then Kev has salted baked fish and I have salmon with roasted beets. The meal was very tasty and we had a bottle of wine with it but decide against a pudding – I think the cake at tea time might have been a touch too much.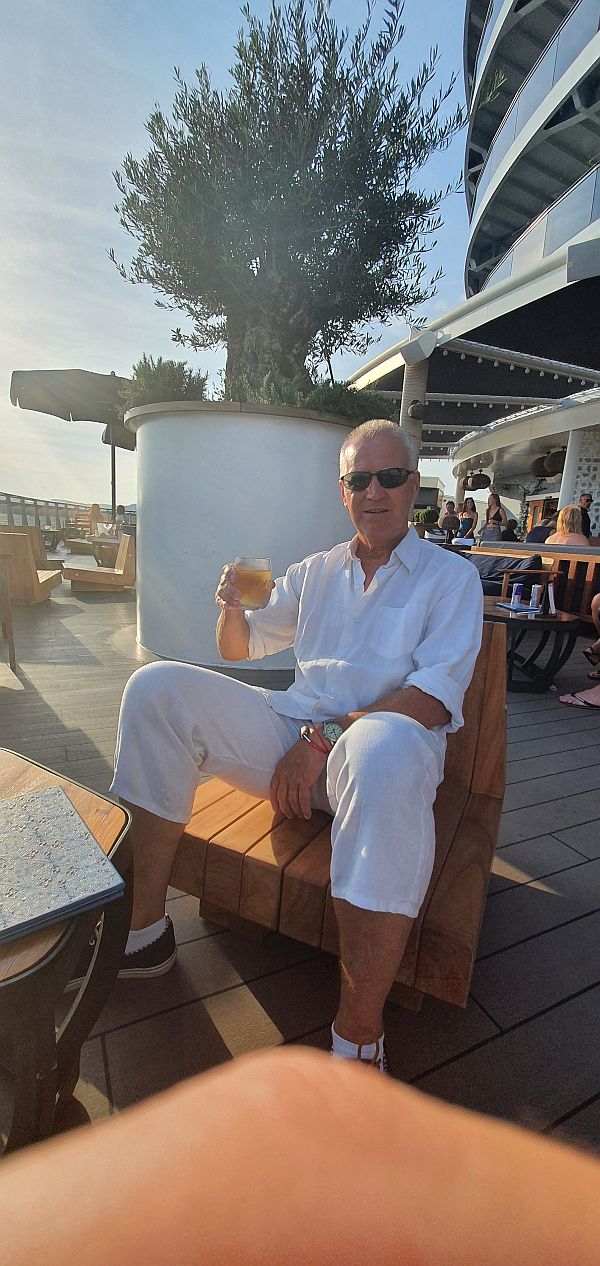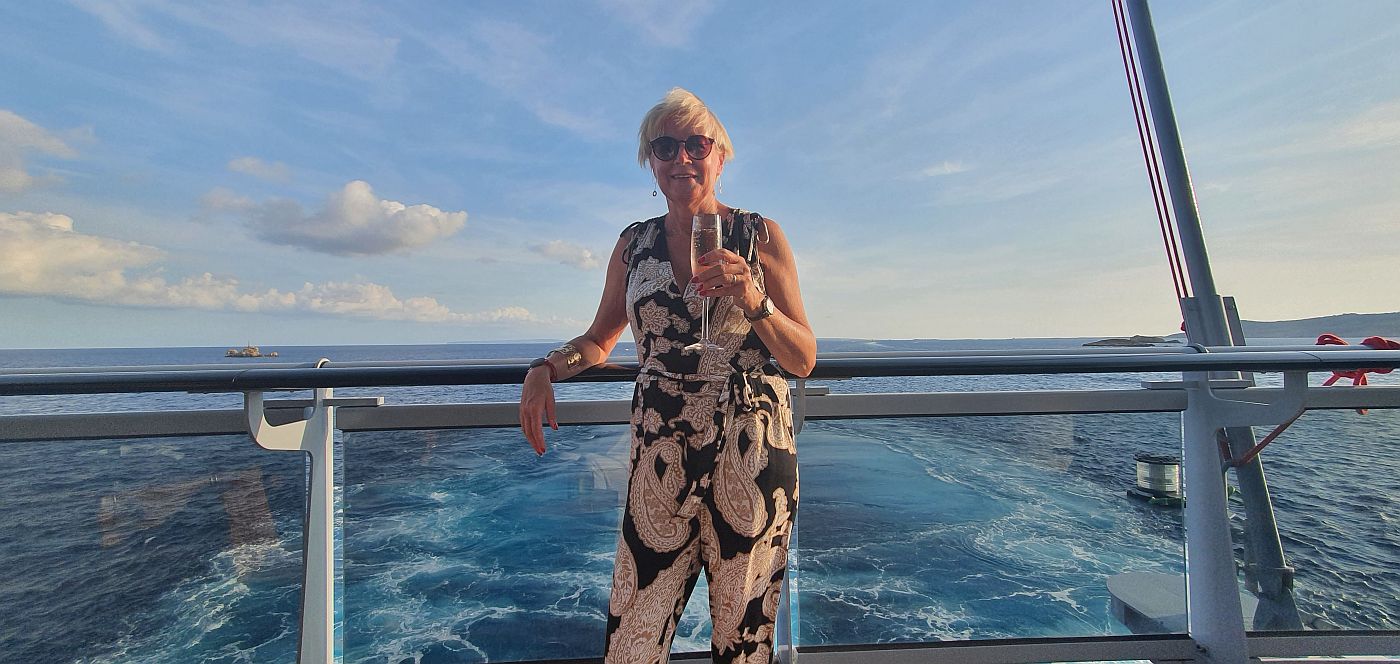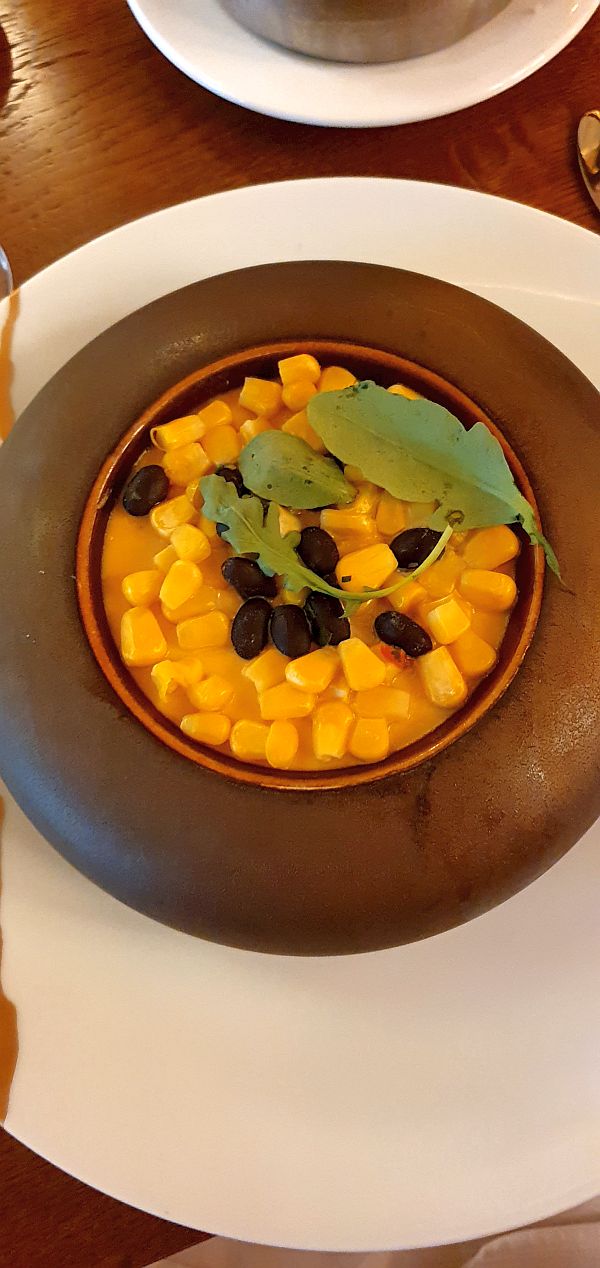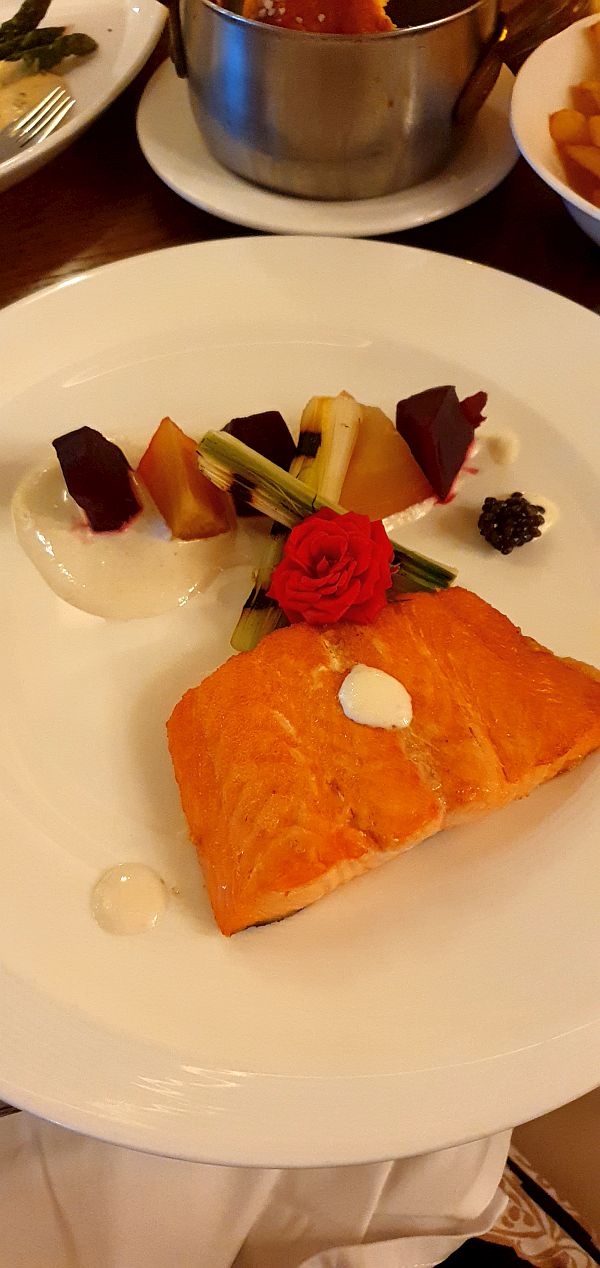 Having docked in Ibiza old town they are running shuttles into town – so it's simple to just disembark at the dock and catch the buses which are running regularly back and forwards to the centre of the old town. We take a slow walk from where we are dropped to find a rock bar I'd found on line that sounded right up our street.
As we walk along the harbourside we can see the ship in the distance and as a nice touch they've lit up the windows to spell I heart Ibz (I love Ibiza), it's very effective and a nice touch.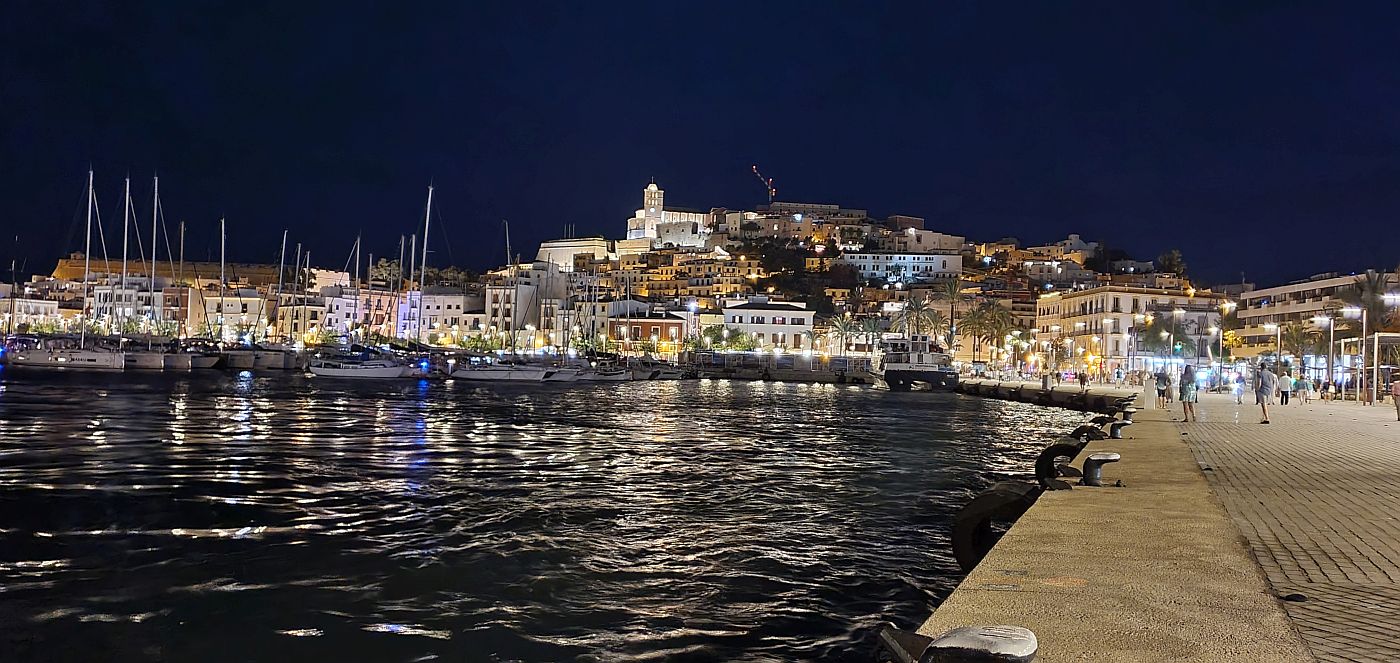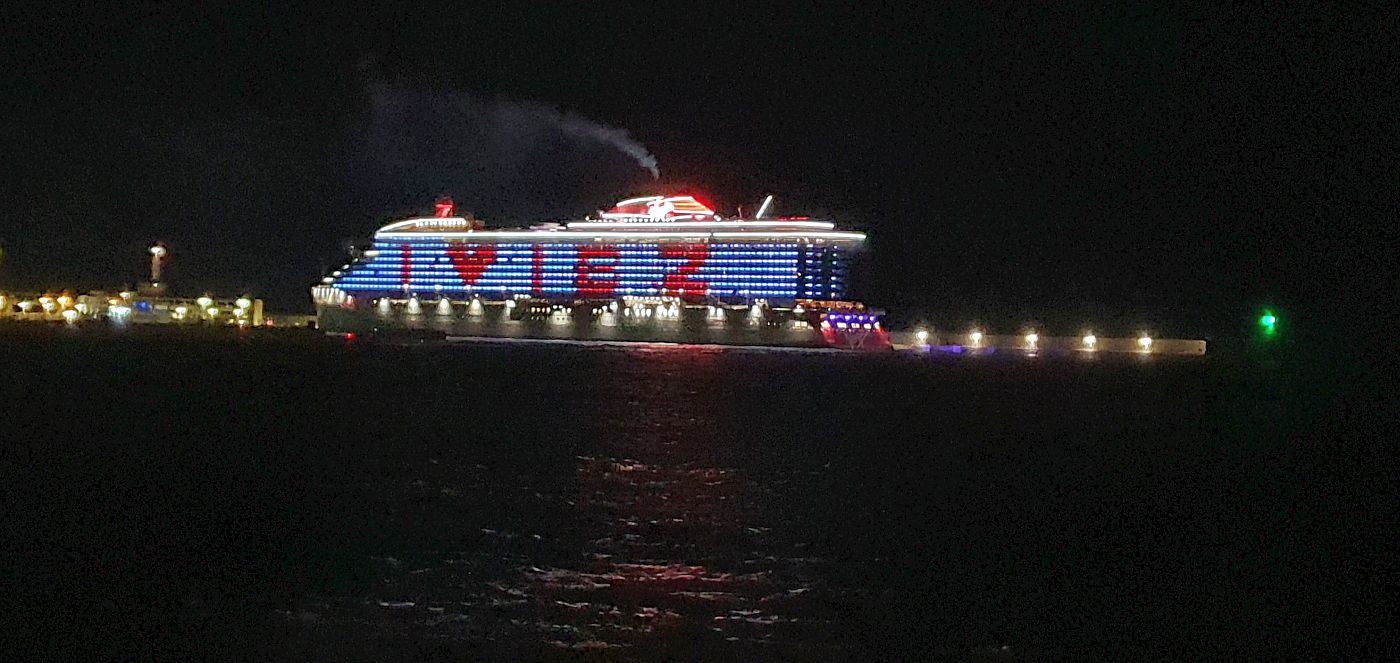 I've not visited Ibiza before and Kev had once when he was 21 so a good 40 plus years ago. [Kev - hang on, hang on .. this can't be correct ... 40 plus years ago? Add 21 to 40, divide by 3, carry the 2, takeaway the square on the hypotenuse - damn, she's right you know. How did we get so old?] I loved the feel of Ibiza old town with the harbourside bars, restaurants and shops and lots of little streets going off from the harbour with beautiful flowers and intimate restaurants. We find De Miedo Rock Bar but it's not yet open so we head down another street and find a little table outside another bar/café where we enjoy a delicious ice cold local beer.
We wander the streets afterwards and I decide I'd like to come back tomorrow and mooch around the shops for a bit as there are some lovely looking things. By now though the rock bar is open. We head inside but it's incredibly hot so instead we sit on a hightop table outside, it's not very busy but a few people soon join us outside and there is some rock music playing so we enjoy a tinto de verana – which is similar to sangria a mix of red wine and a mixer. After this we get back on the shuttle and head back to the ship for 10.30pm.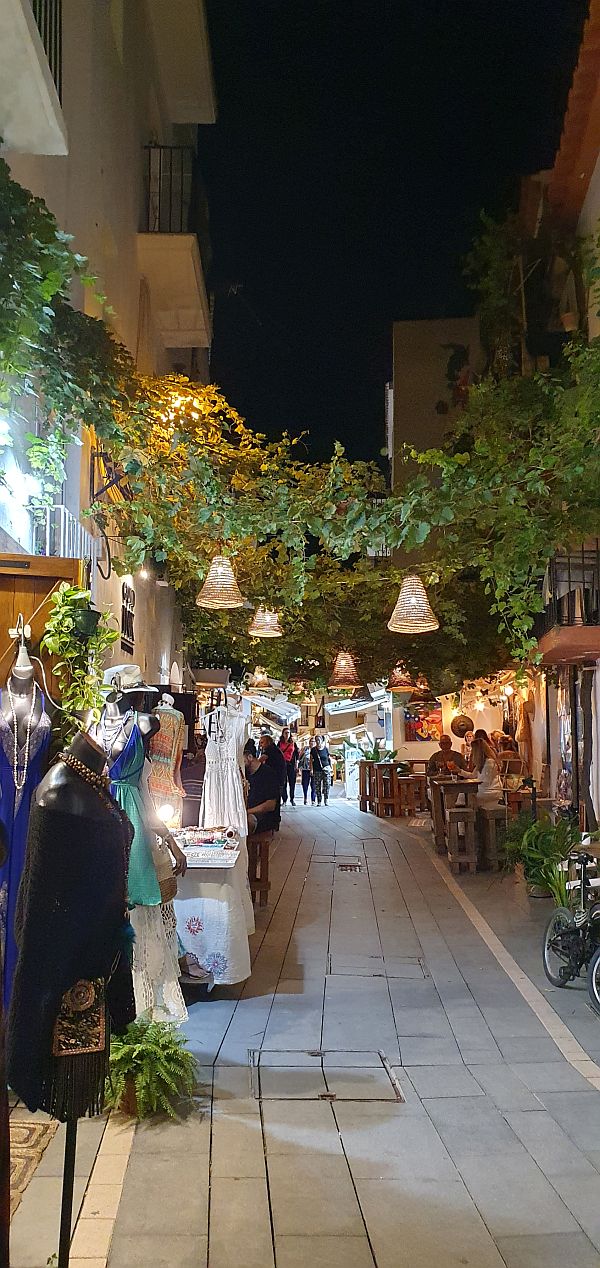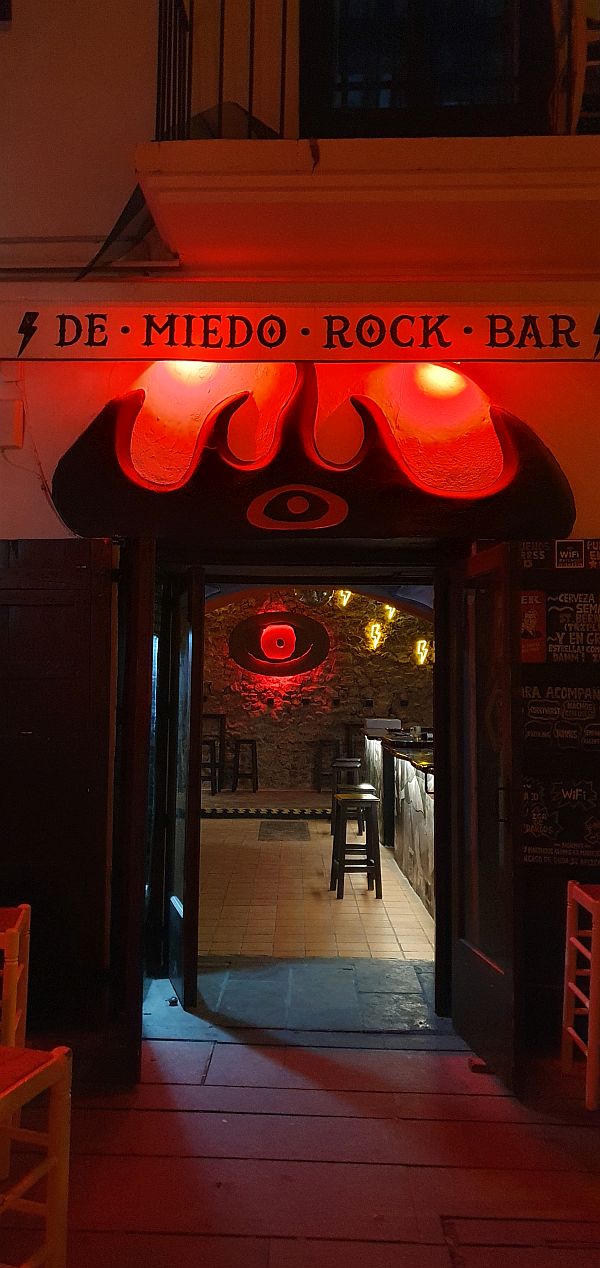 [Kev - for a rock bar it wasn't exactly rockin' but the music was fine and the drink reasonable.]
On the way back to the cabin we go past the cake and sweet stall and I get some peanut brittle which is fantastic – I can't believe you can get all these extras for free. Back to the cabin to enjoy the brittle and watch the end of Jumanji.