Day 9 Saturday 24th September 2022
Written by Tam
We're up at 8.30am and ready to enjoy our last day on board. Breakfast today is in the Galley we both have tacos with mushrooms, soft boiled egg and Manchego cheese which are very tasty.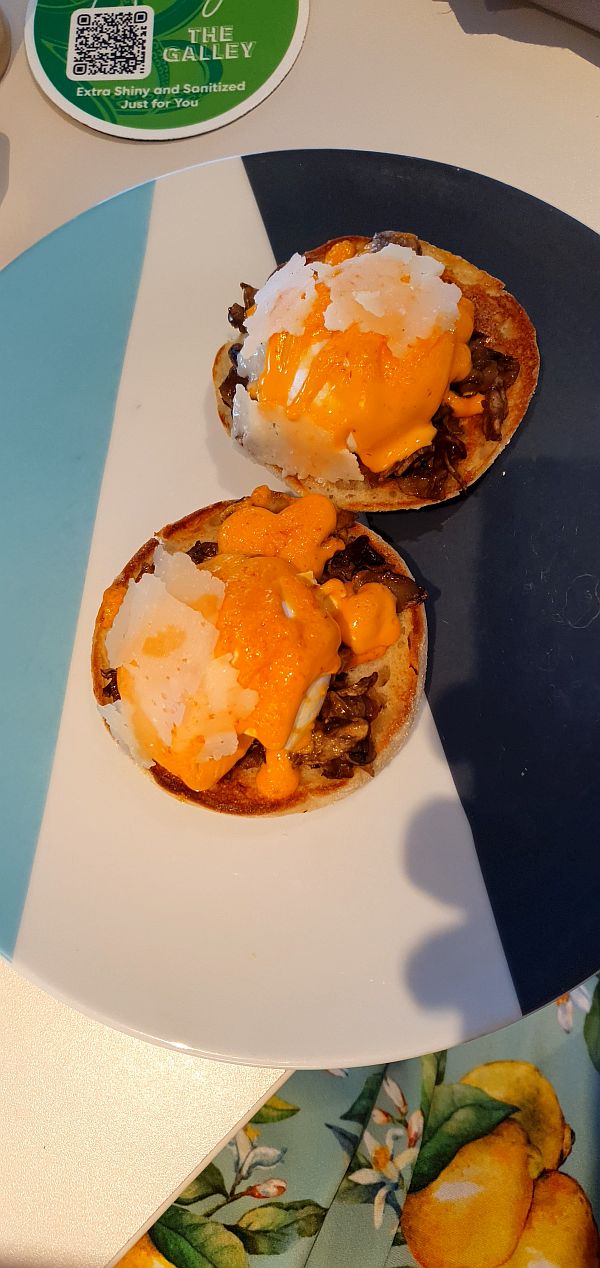 We go up to The Dock and Kev secures a daybed and I head off on the shuttle to explore the old town some more, take some photos and video and obviously have a look in all the wonderful boutique type shops that we went past yesterday.
I walk up to the cathedral and up to the highest point by the fort – I can see the ship far off and ring Kev to see if he can see me waving but no luck. I enjoy wandering around this area as it's not too crowded and the beautiful flowers are hanging down the walls everywhere.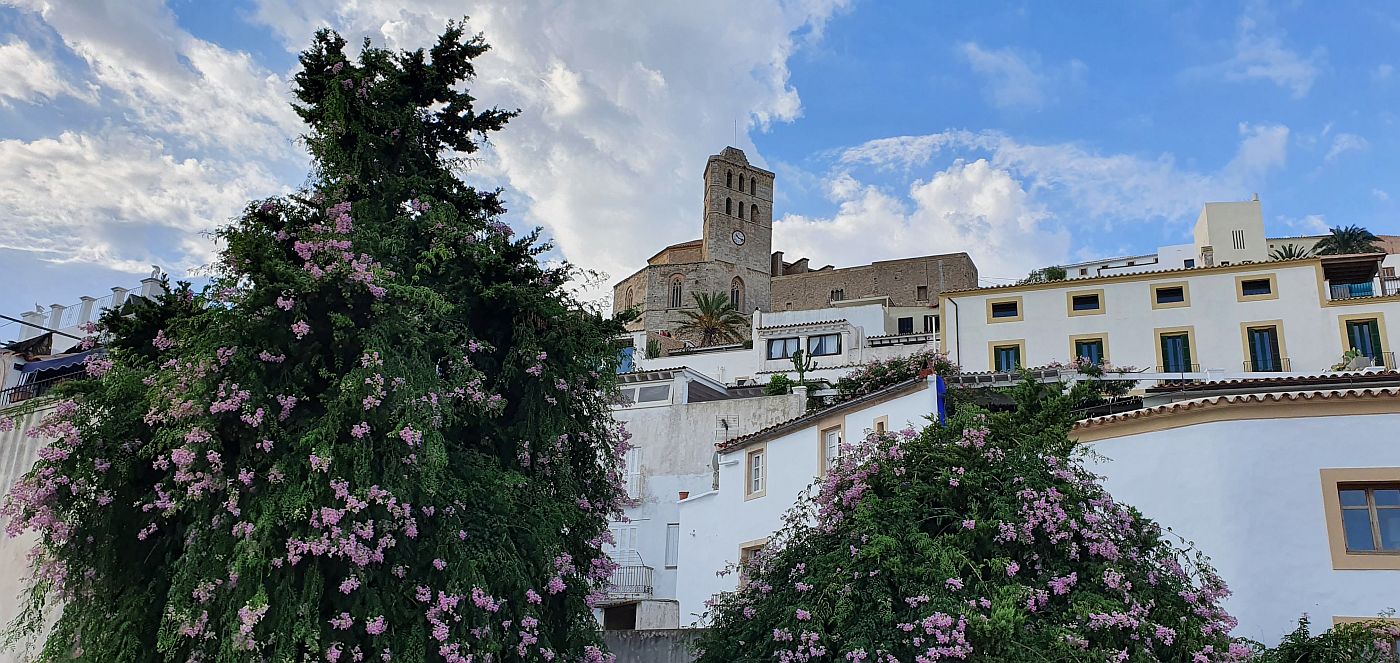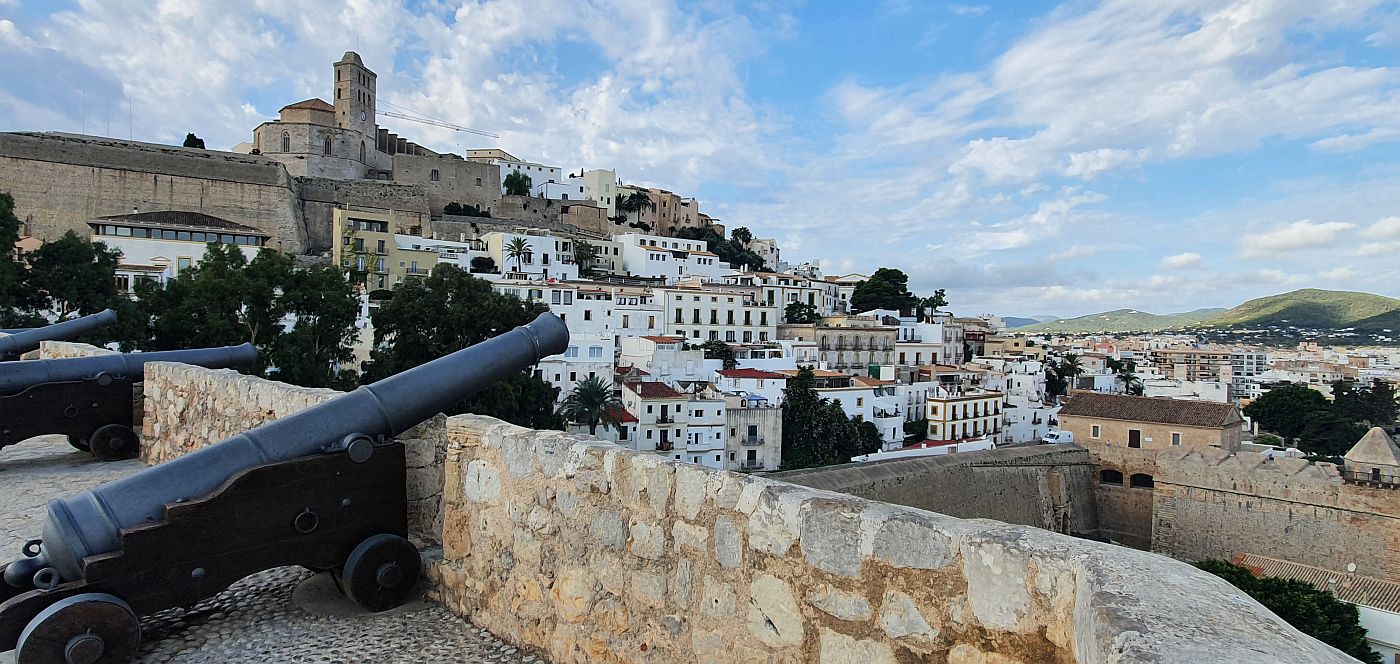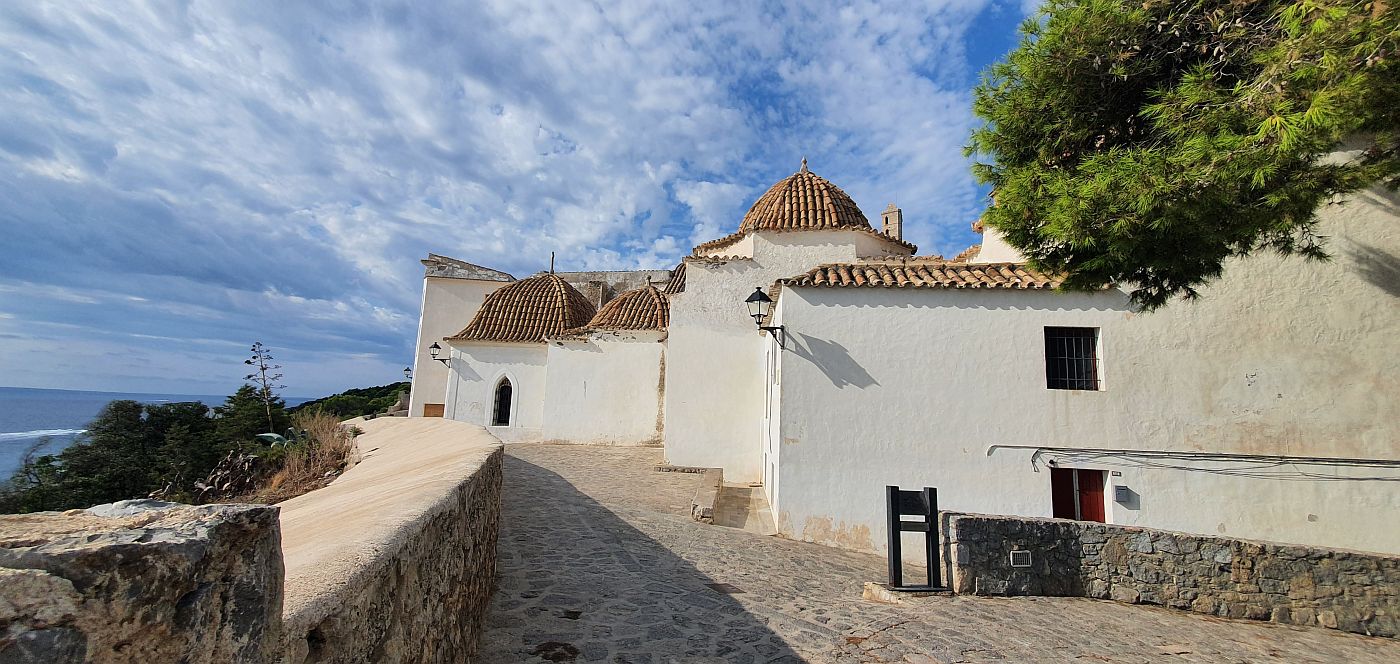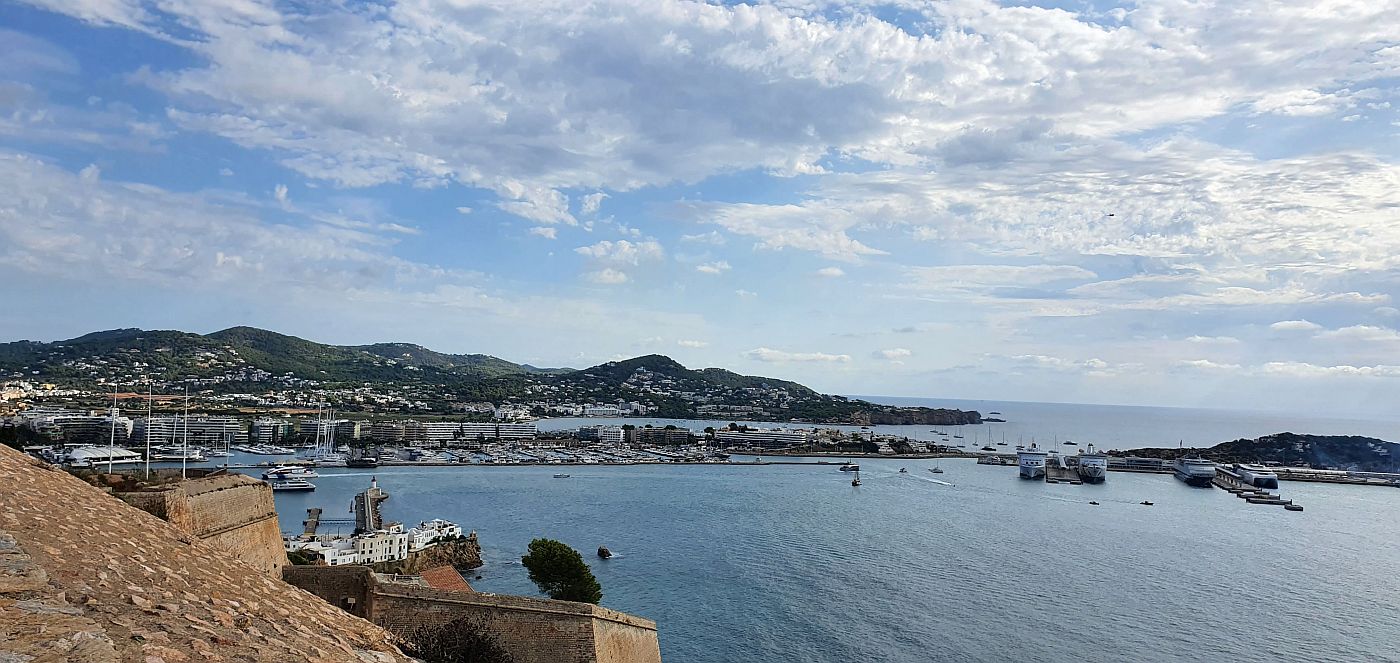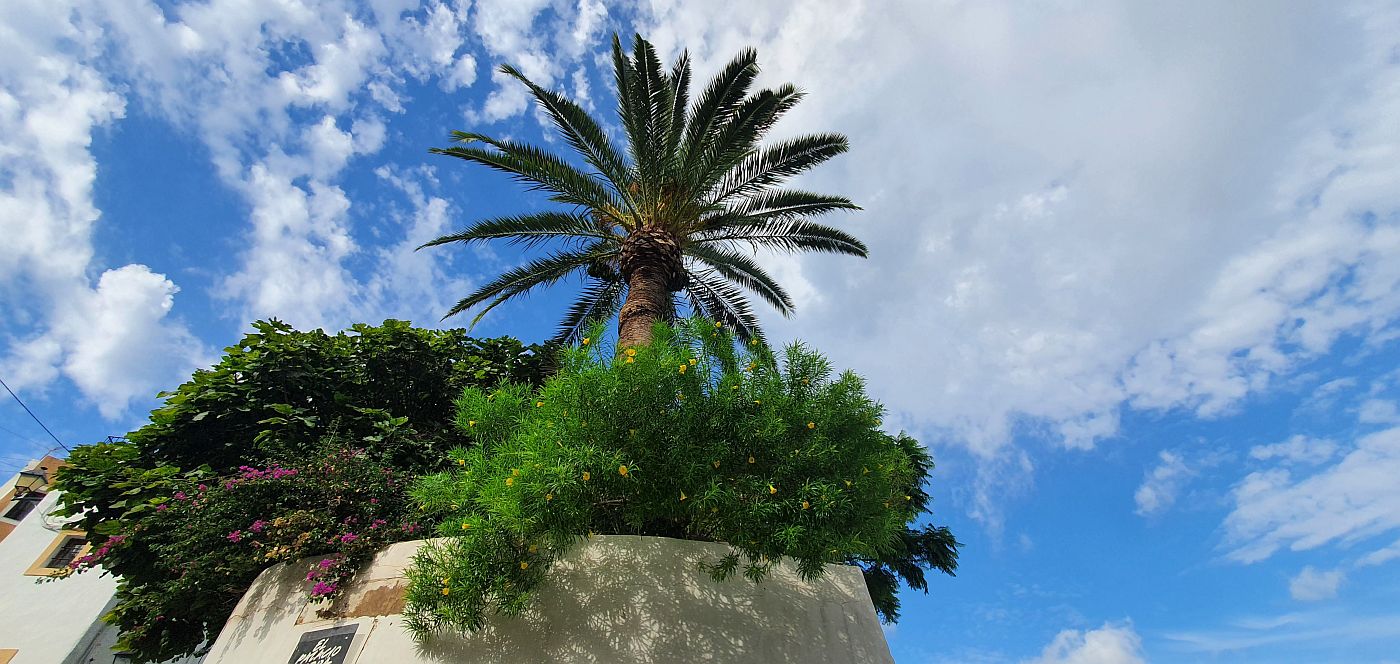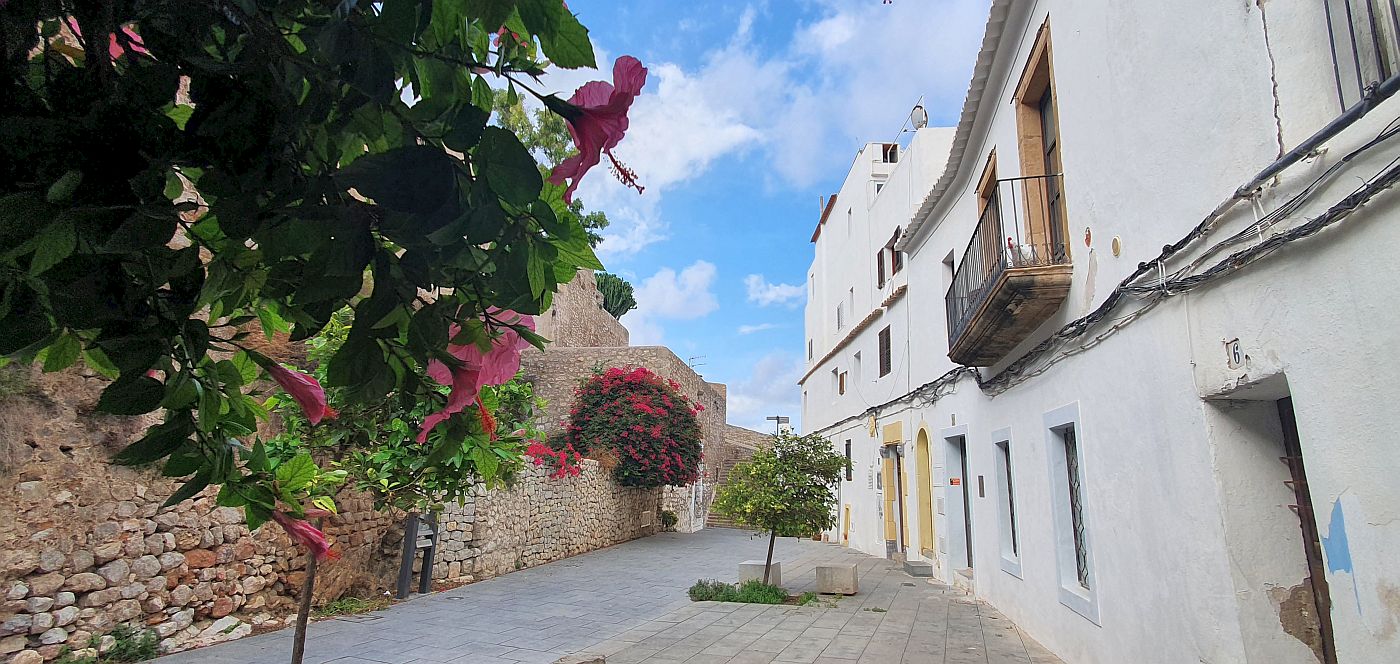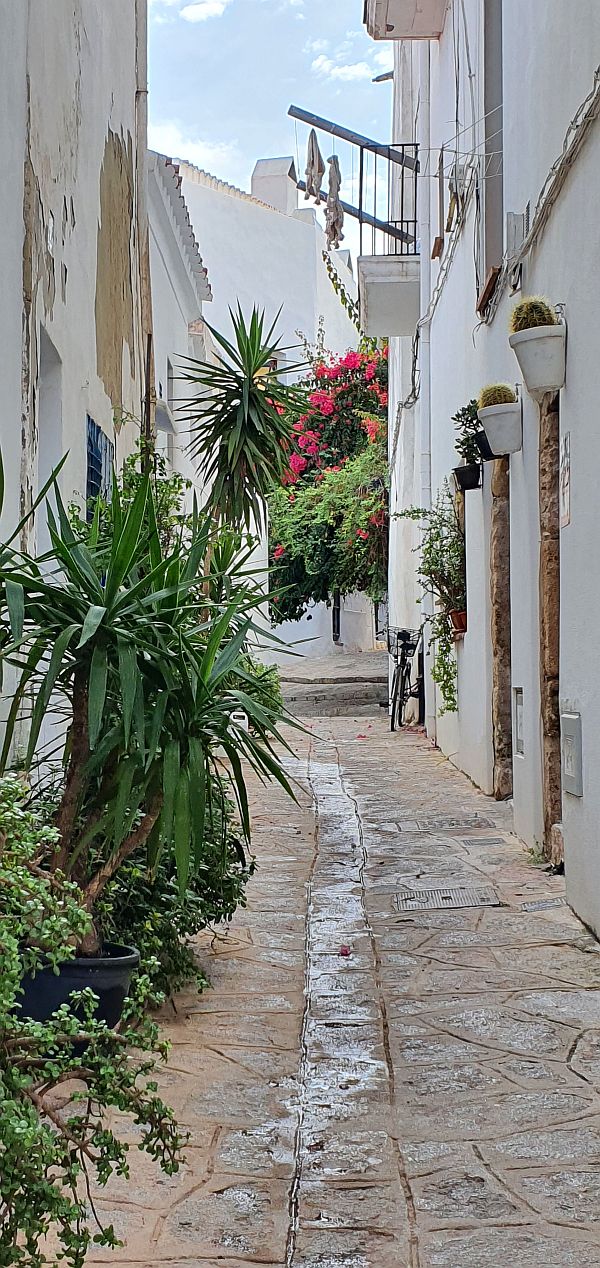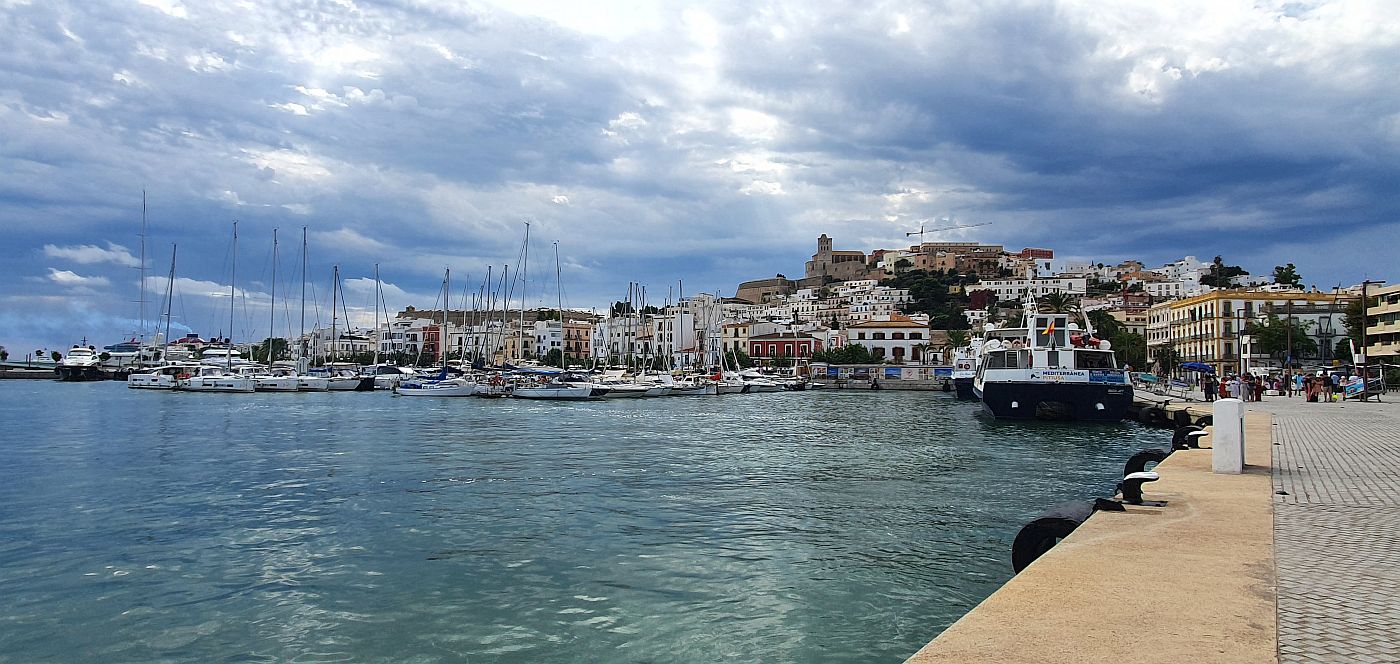 [Kev - as Tam says I stayed on the ship relaxing at The Dock. I can't remember exactly why .....]. I head back down the cobbled streets to the main area and try on some clothes before deciding on a lovely wrap round top with kaftan type sleeves. [Kev - and now I remember why - there was always likely to be some sort of shopping involved.] Happy with my purchase I catch the shuttle back to the ship and get back on board at 12.45pm. We get some salad and a turkey sandwich from the grab and go boxes and then some watermelon and goats cheese salad . This is all washed down with a lovely bottle of chilled rose wine.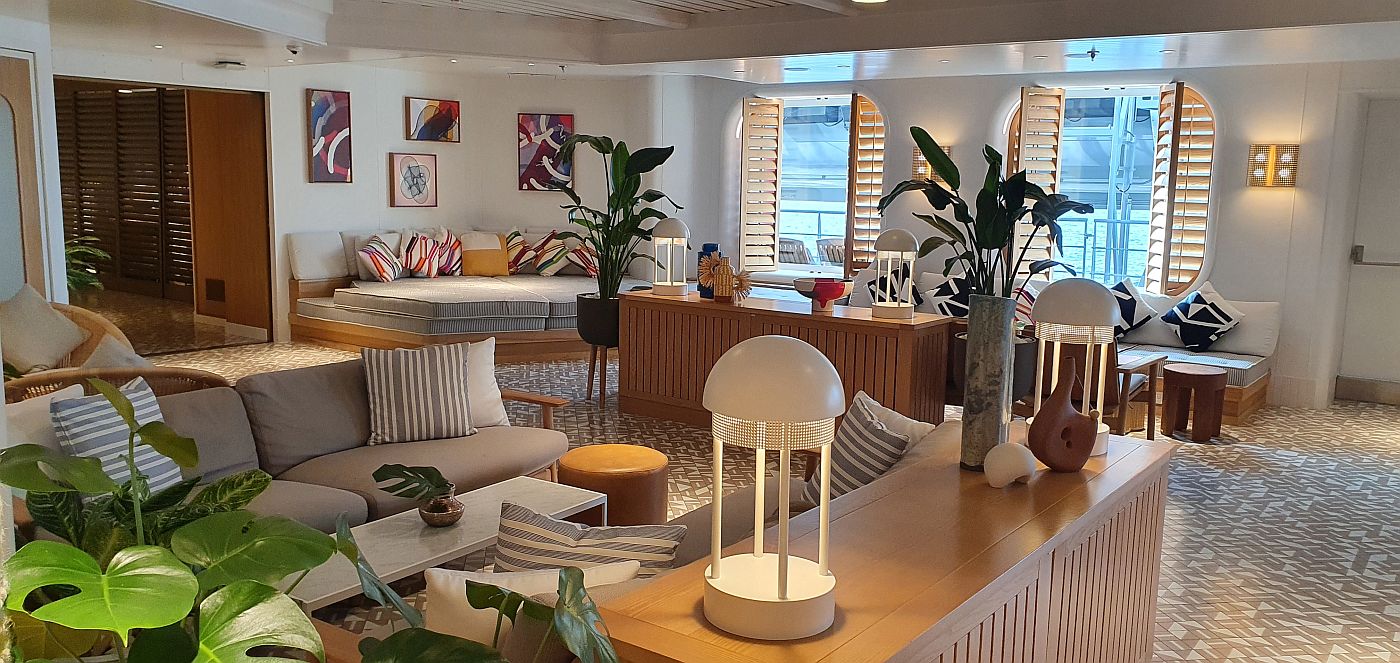 [Kev - the lounge area behind The Dock..]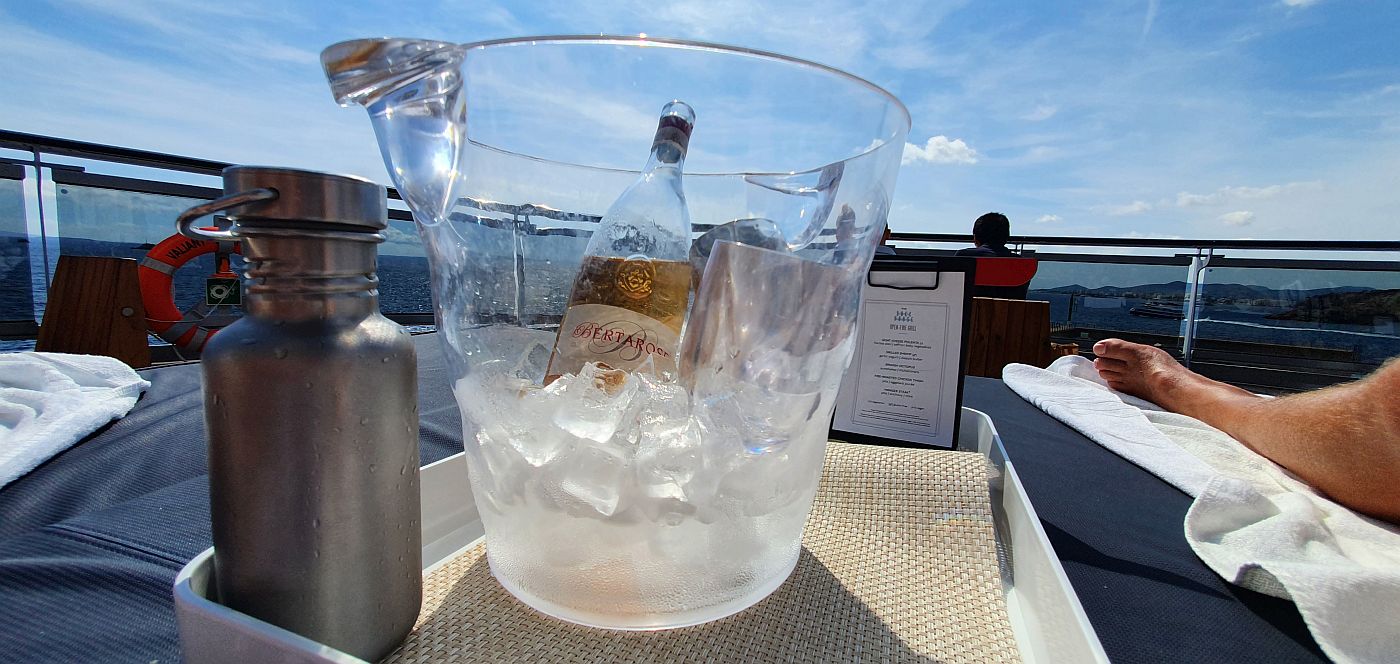 [Kev - this photo would have been much nicer without Tam's Glastonbury water bottle in it. And possibly without the hairy leg. I told Tam she could do with a shave.]
At 6pm it's time for sail away – we listen to Flute Loopz and reflect on what a wonderful time we've had on this cruise, such an amazing itinerary, delicious food, and all in all we enjoyed this Virgin cruise.
We're changed and out for our 8pm Pink Agave reservation. Pink Agave is a Mexican restaurant on board. We start with Esquites – grilled corn with spicy aioli and lime which was good, then we have chicken enchiladas with salsa verde – which were disappointingly cold, also potatoes and chorizo for starters. For our main course I have smoked pork with sour orange haberro pico de gallo and Kev has duck with mole and smoked yam puree. We really enjoyed the corn which we shared so order another portion as the idea is to order like you would tapas, small dishes until you are full. We still have space for the pudding and choose tamal de chocolate – like chocolate tacos filled with dulce de leche and chocolate cream – yummy.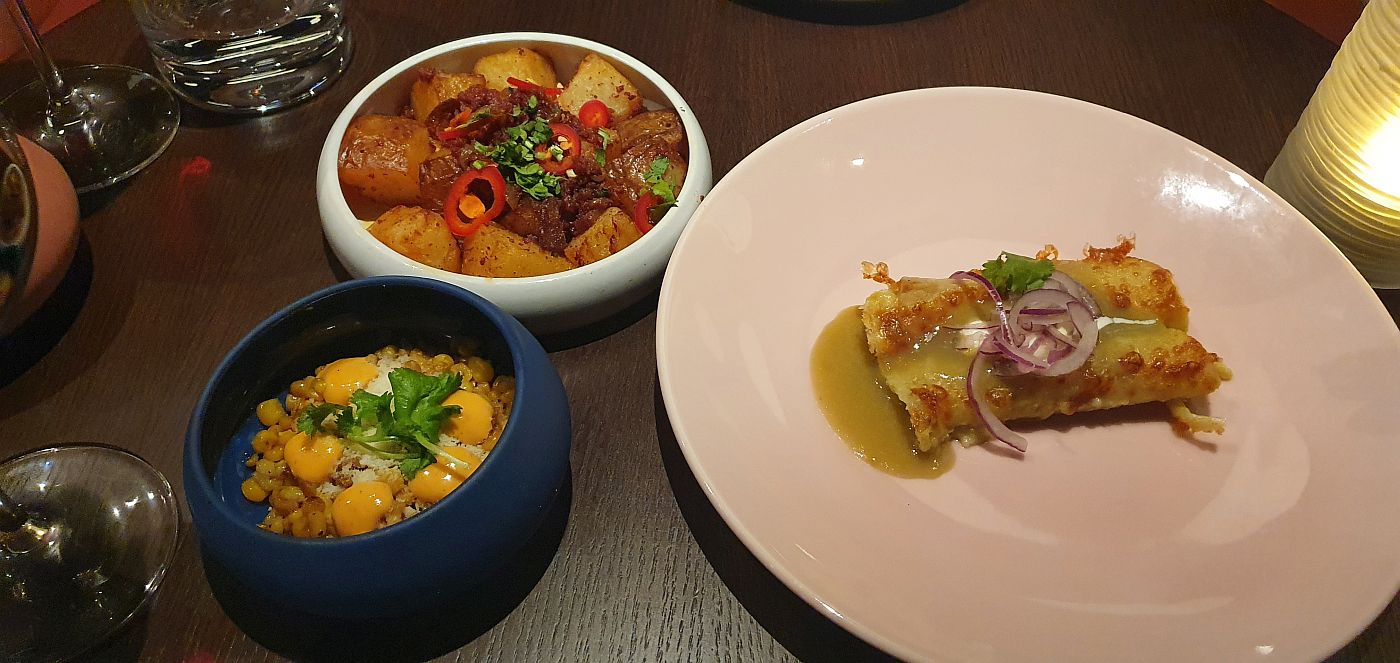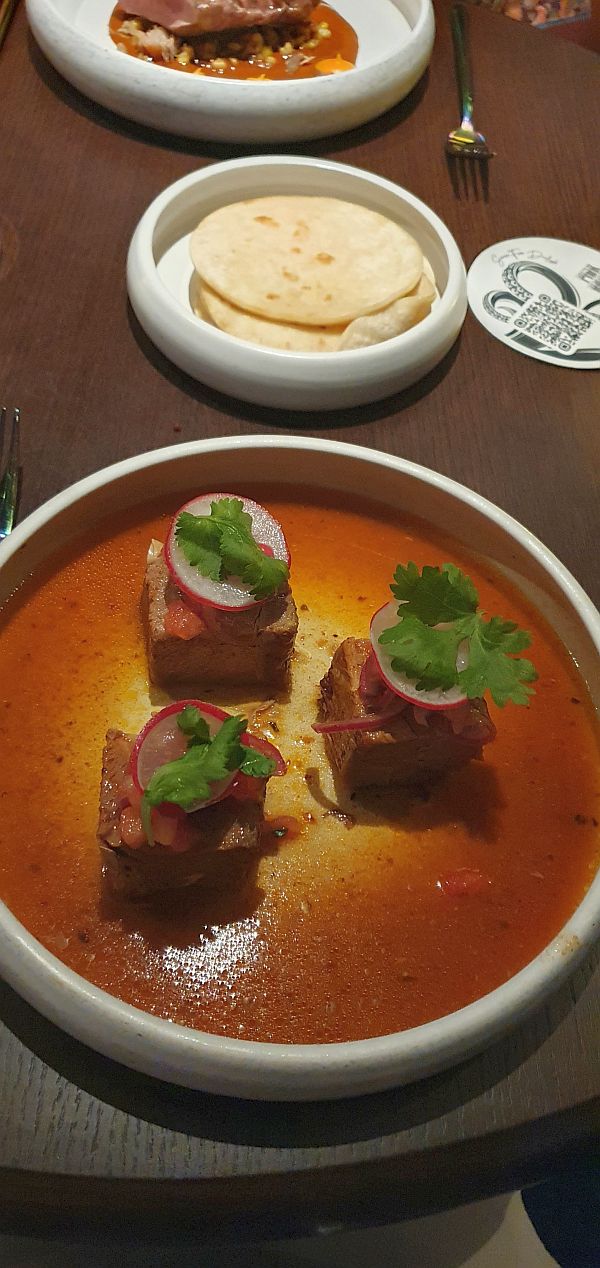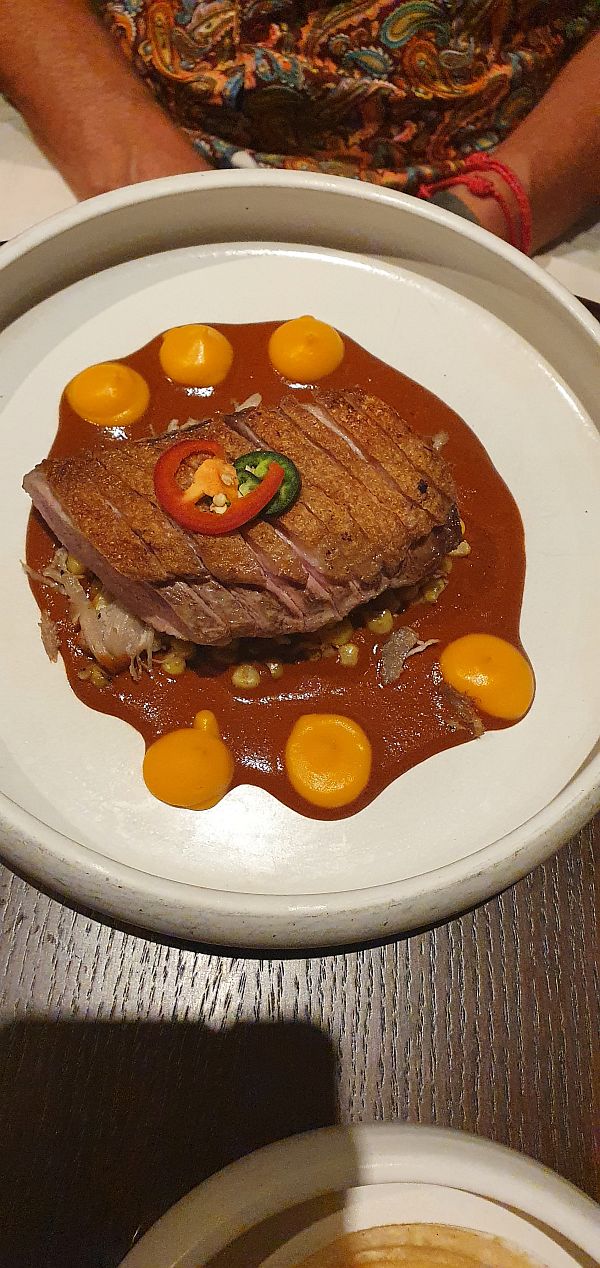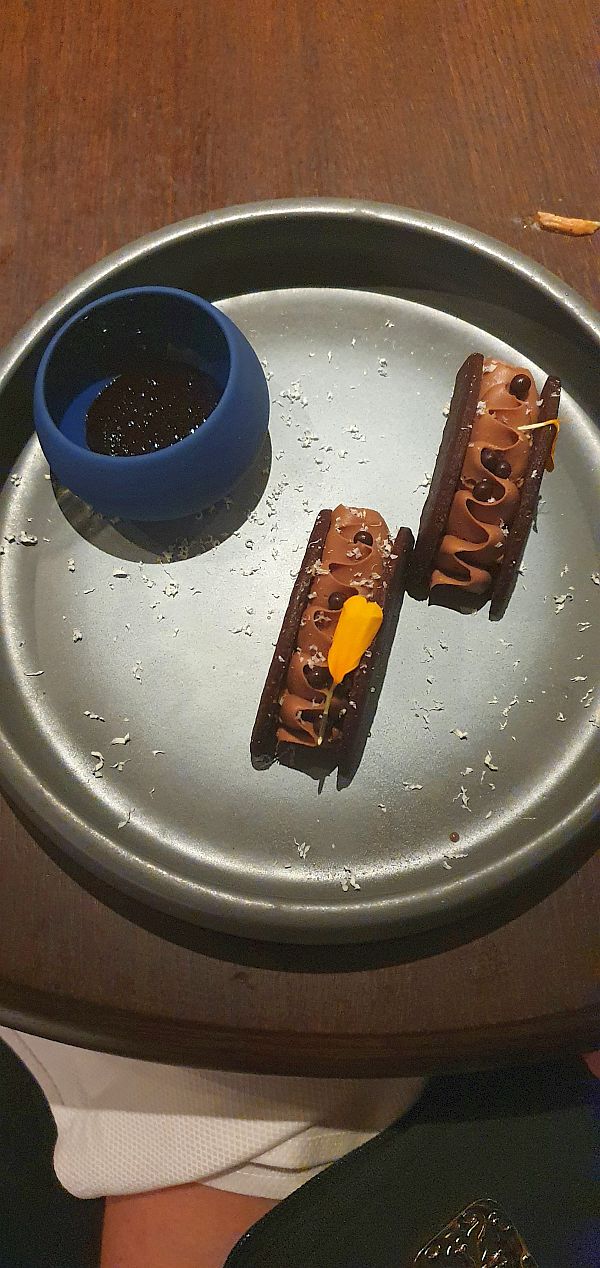 After the meal we go to see The Diva in The Manor who's doing around the world in 80 days. There's a lot of innuendo and some singing but we only stay for 20 minutes as we've seen they're doing stargazing at The Dock. Unfortunately it's pretty cloudy so not too many stars to see, however there are a couple of the crew telling astronomic stories and they've placed lit up globes on the tables and provided blankets so you can get cosy whilst listening to the stories and gazing at the sky. No stars tonight but we do see lightning off in the distance.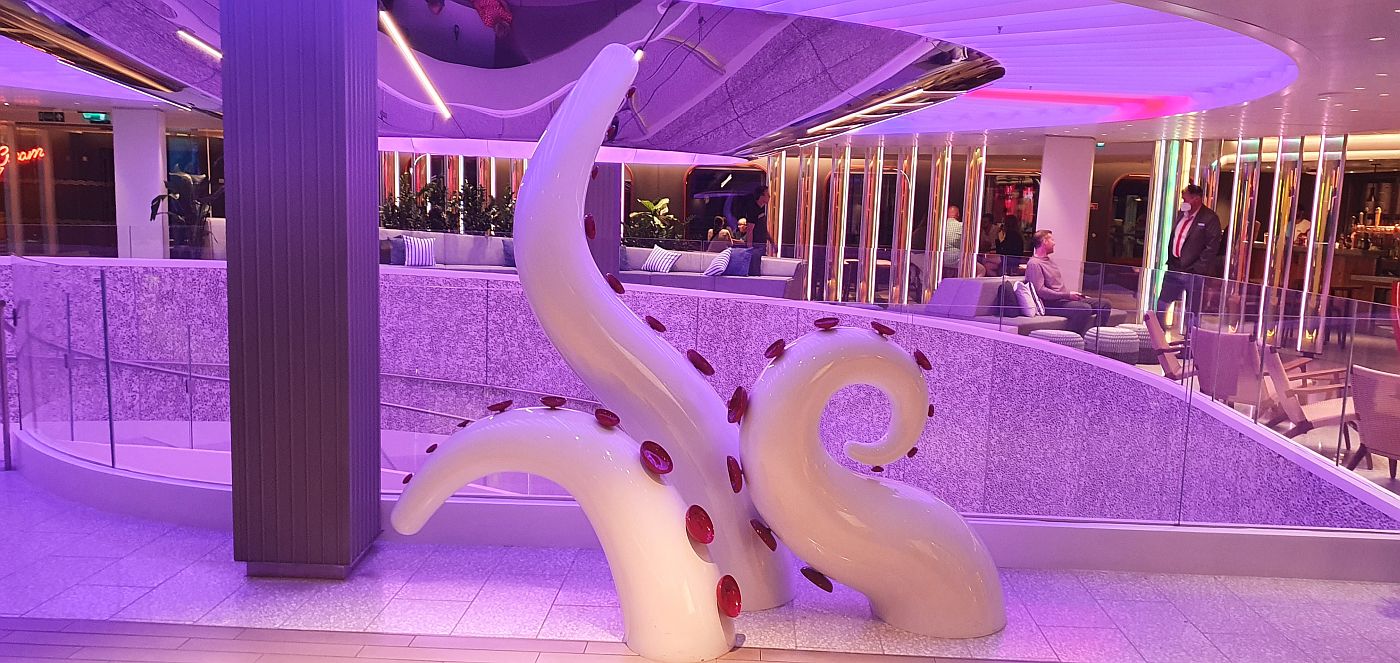 [Kev - this is the closest thing to an atrium that they have on the ship.]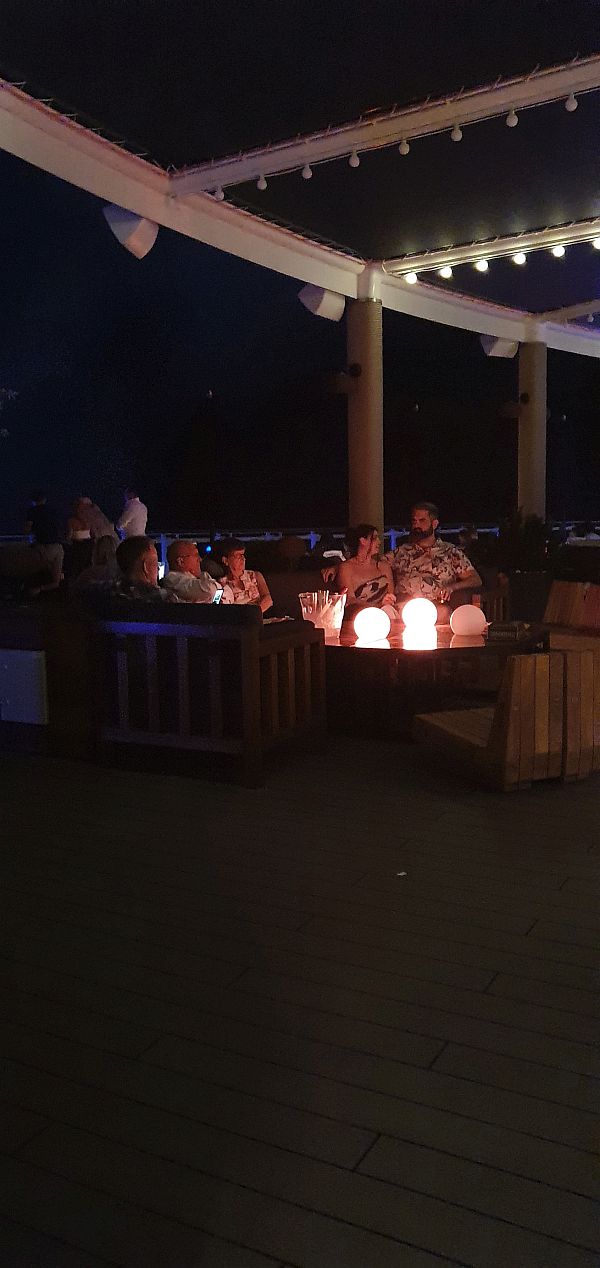 [Kev - the stargazing (without the stars) was actually very pleasant and another example of how they do things slightly differently on Virgin ships.]
We go back to the cabin and watch the lightning in the distance before bed.