Day 7 Thursday 22nd September 2022
Written by Tam
Breakfast again today is in The Galley, Kev enjoys another omelette and I have chia seeds in coconut milk with overnight oats and fruit, then we both have a pastry washed down with coffee.

Head out to explore Cagliari, Sardinia. There are some booths set up on the dockside selling tickets for various excursions and included in those is an open bus tour of Cagliari which with the audio tour is €15 each. It is a good little trip but it started badly when the commentary was about something we'd already passed. Luckily though it did catch up. The tour takes us out of town towards the salt flats where there are large pools of water full of flamingos. This apparently is where they go to breed.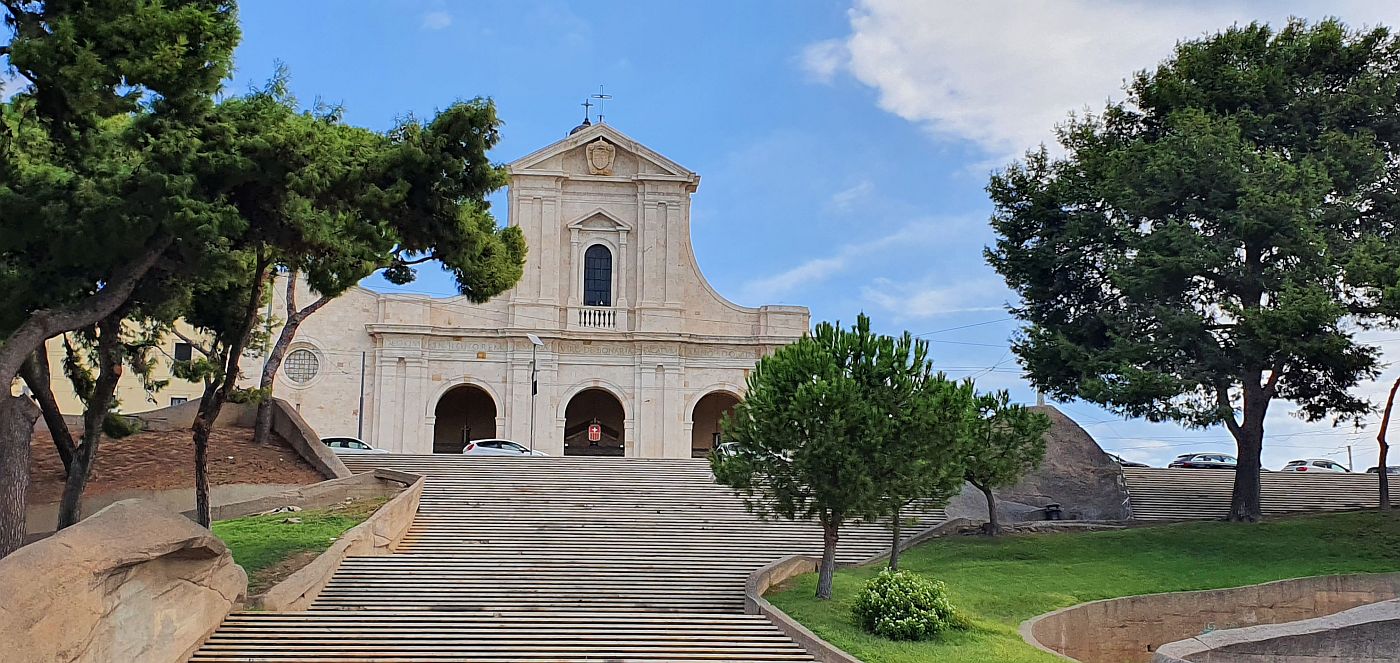 [Kev - this is not where the flamingos breed - that would be posh indeed.]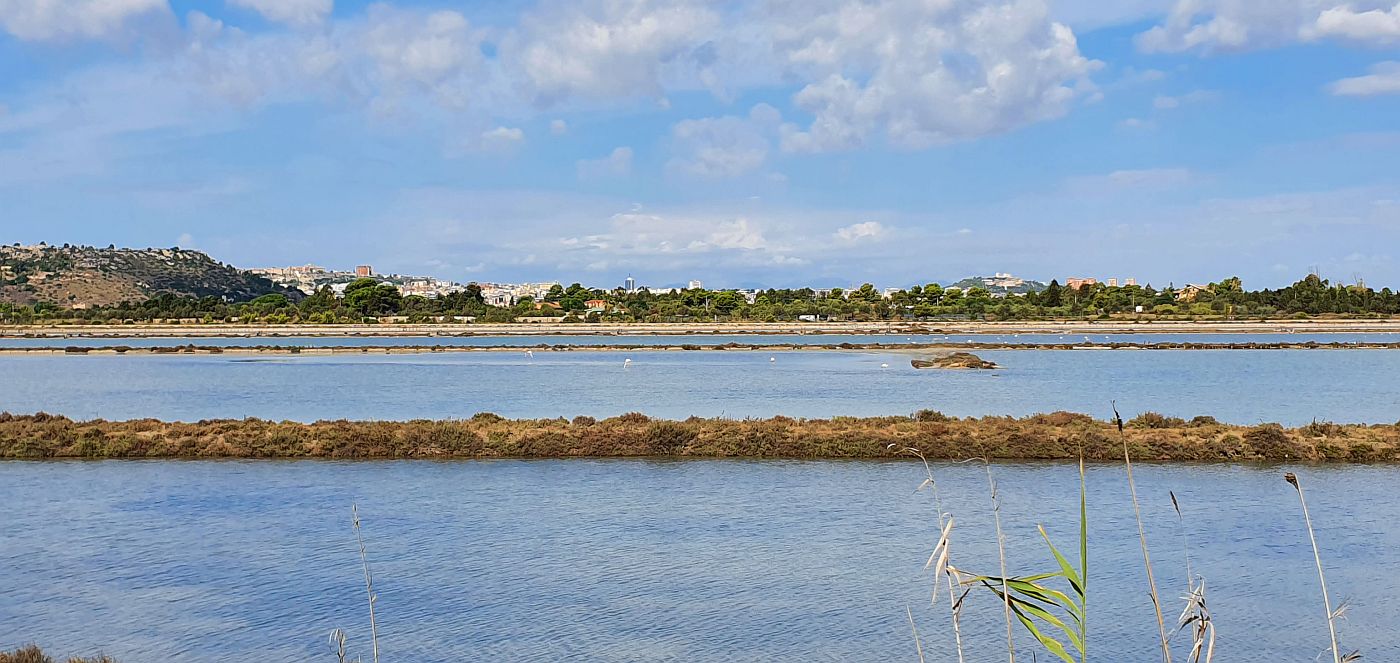 [Kev - this is where they breed. They don't need much - two flamingos, a bit of water and bob's your uncle.]
The bus then heads along a beautiful beach and up a large hill where there are great views looking down on the city.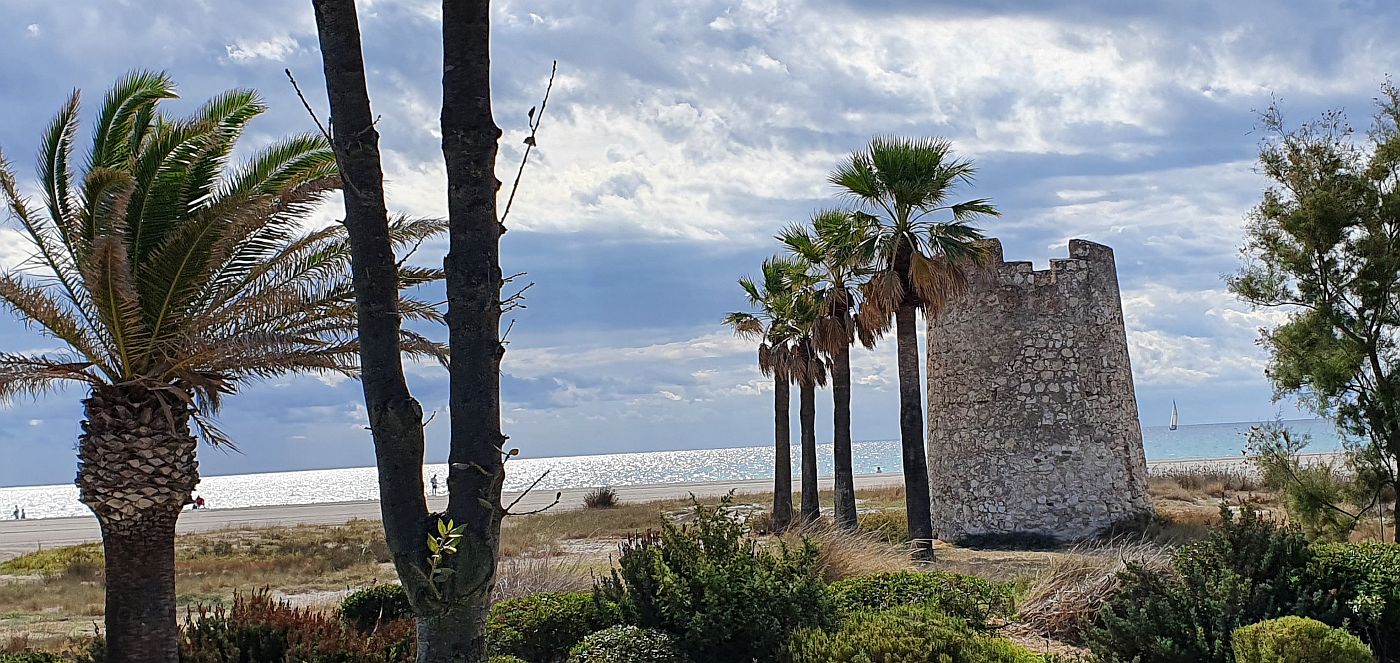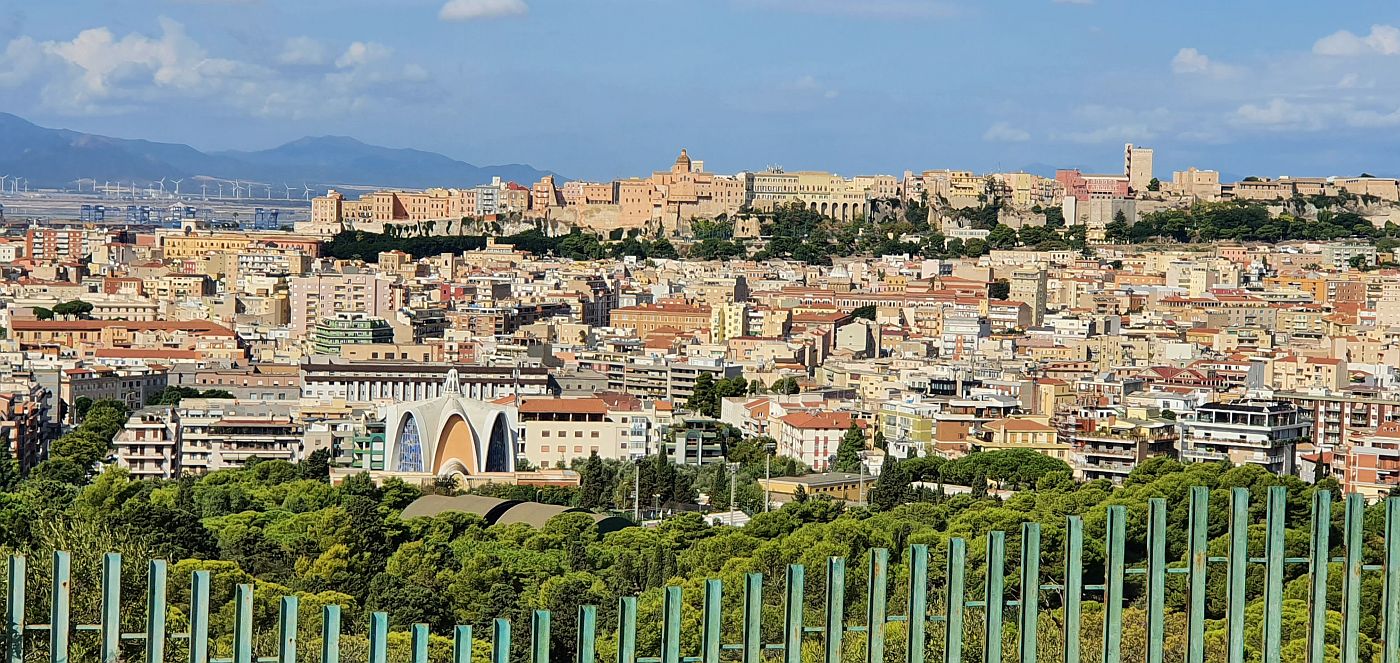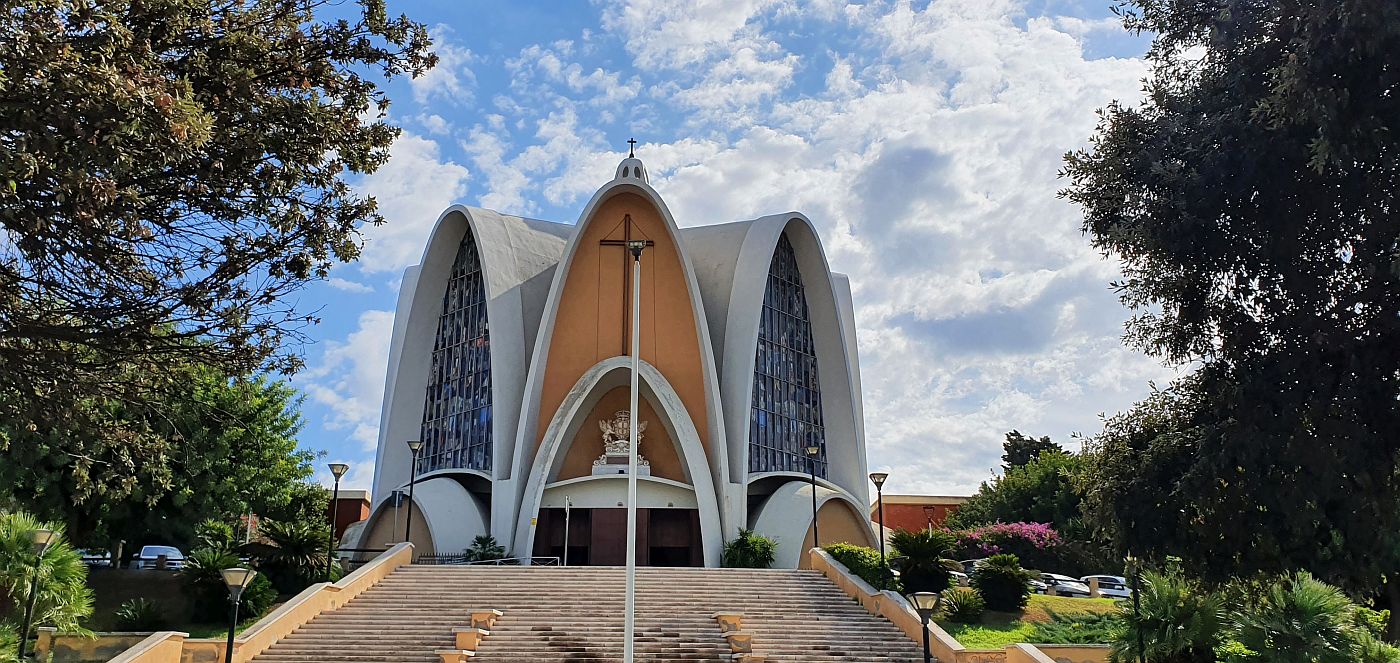 It then drops down to the old town. This is where you can actually hop on and off at and we decide to do just that so we can explore further on our own. I'd downloaded a walking guide to Cagliari on my phone and that together with the map we'd been given on the bus meant we were able to see some lovely parts of the old town including a glimpse into the Cathedral. It was fun wandering the streets and heading back down towards the port.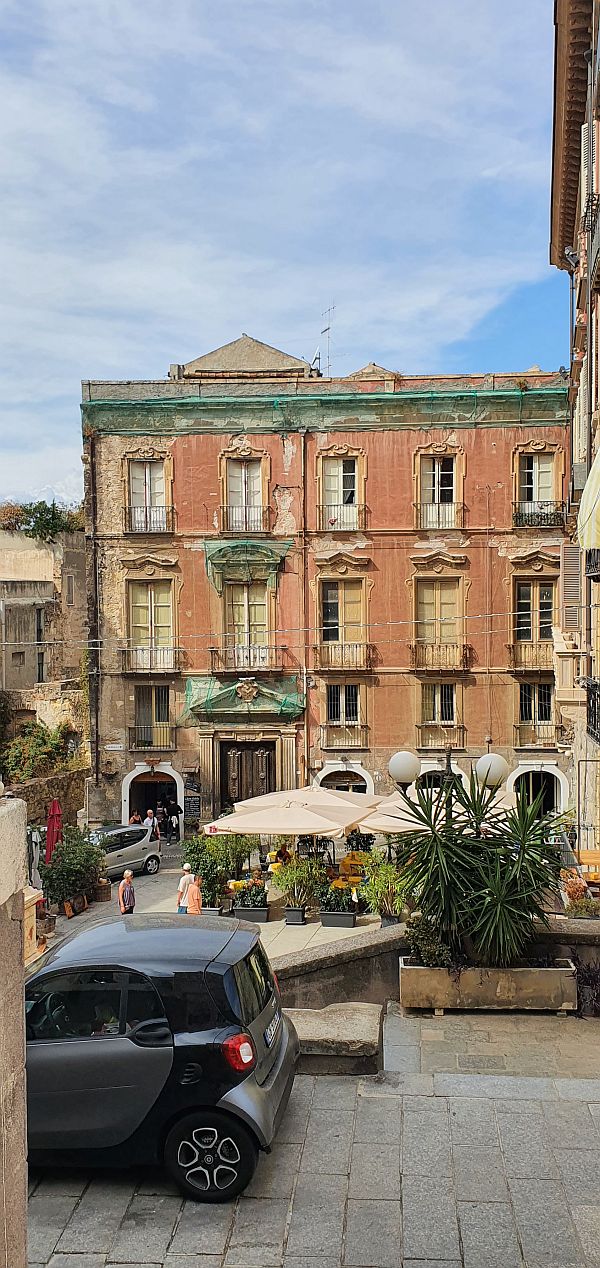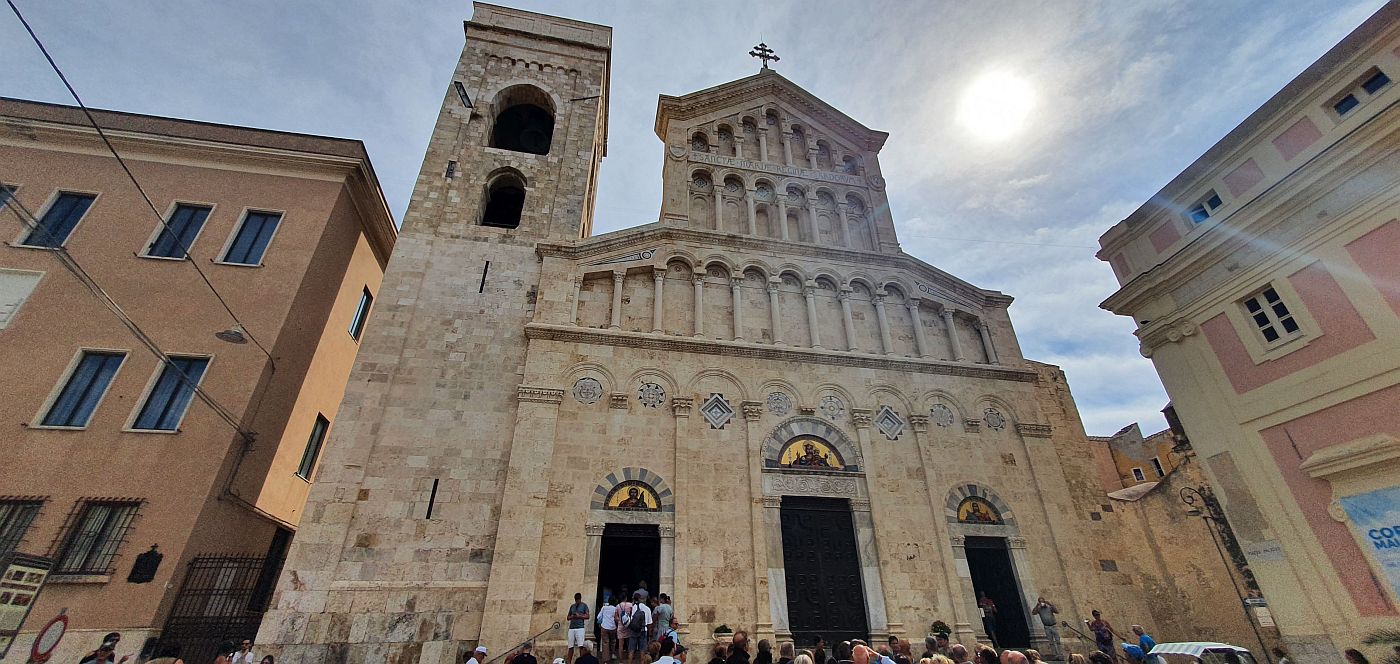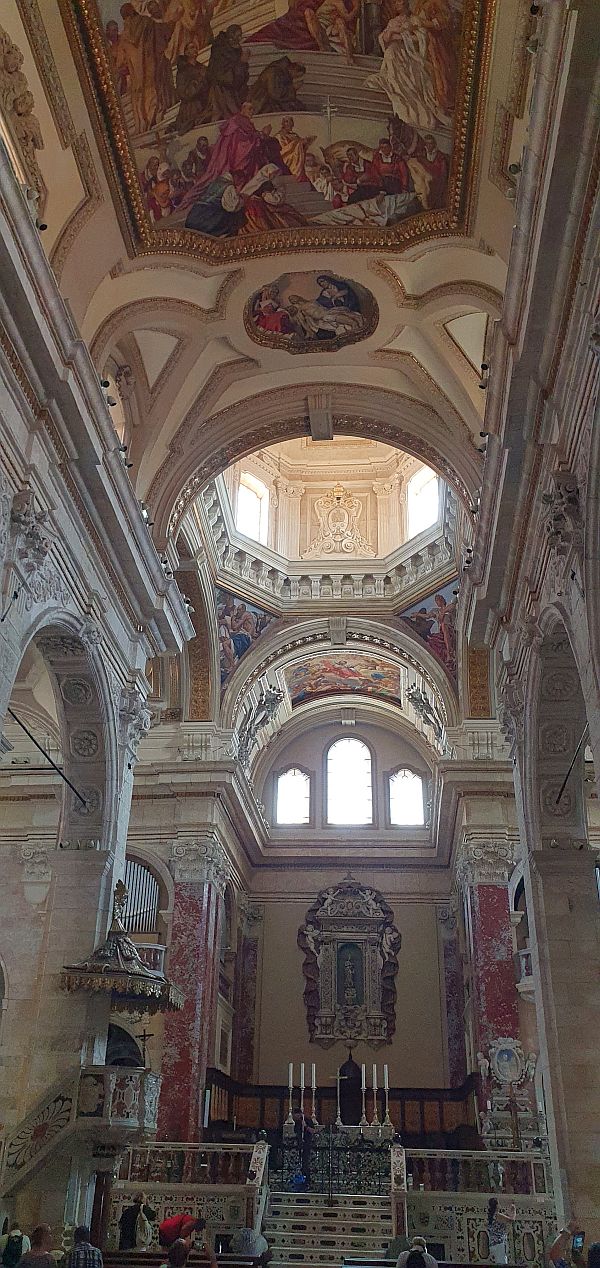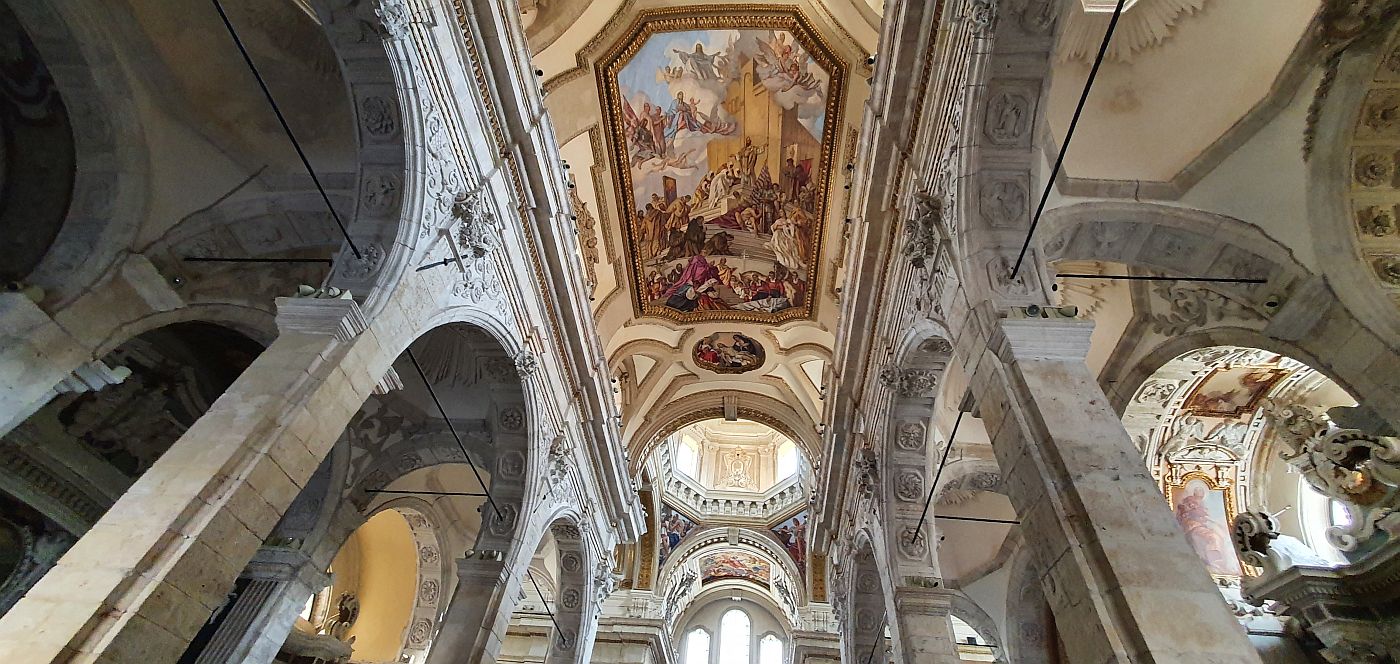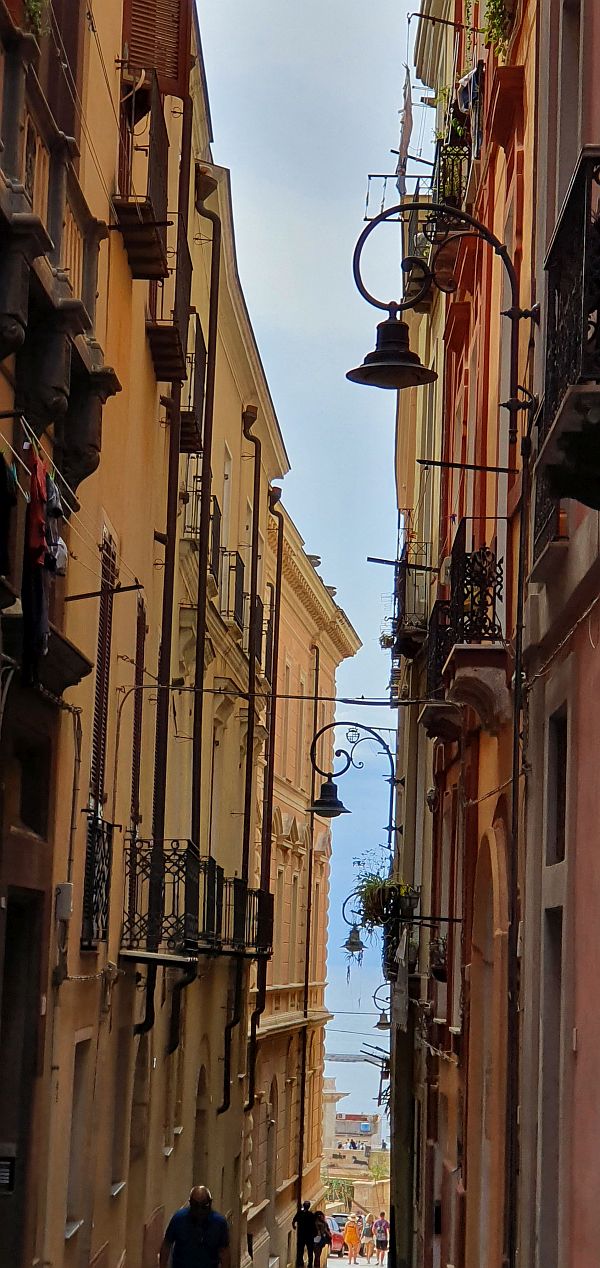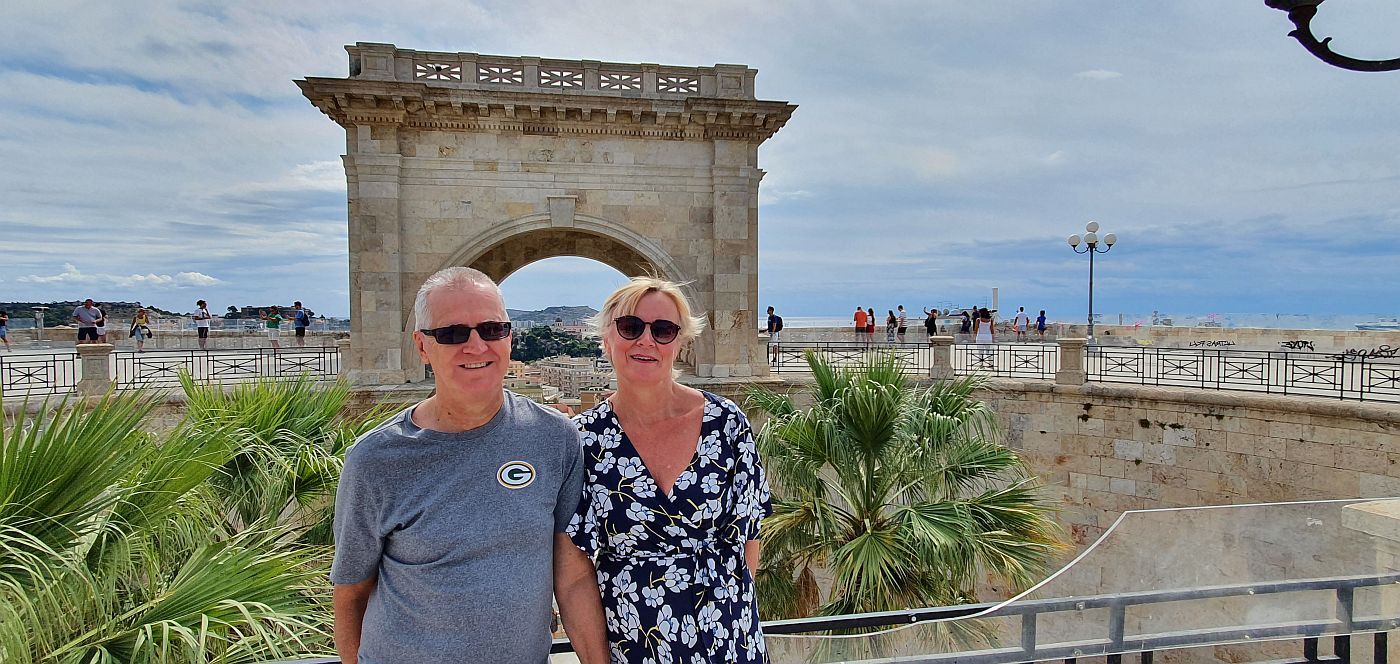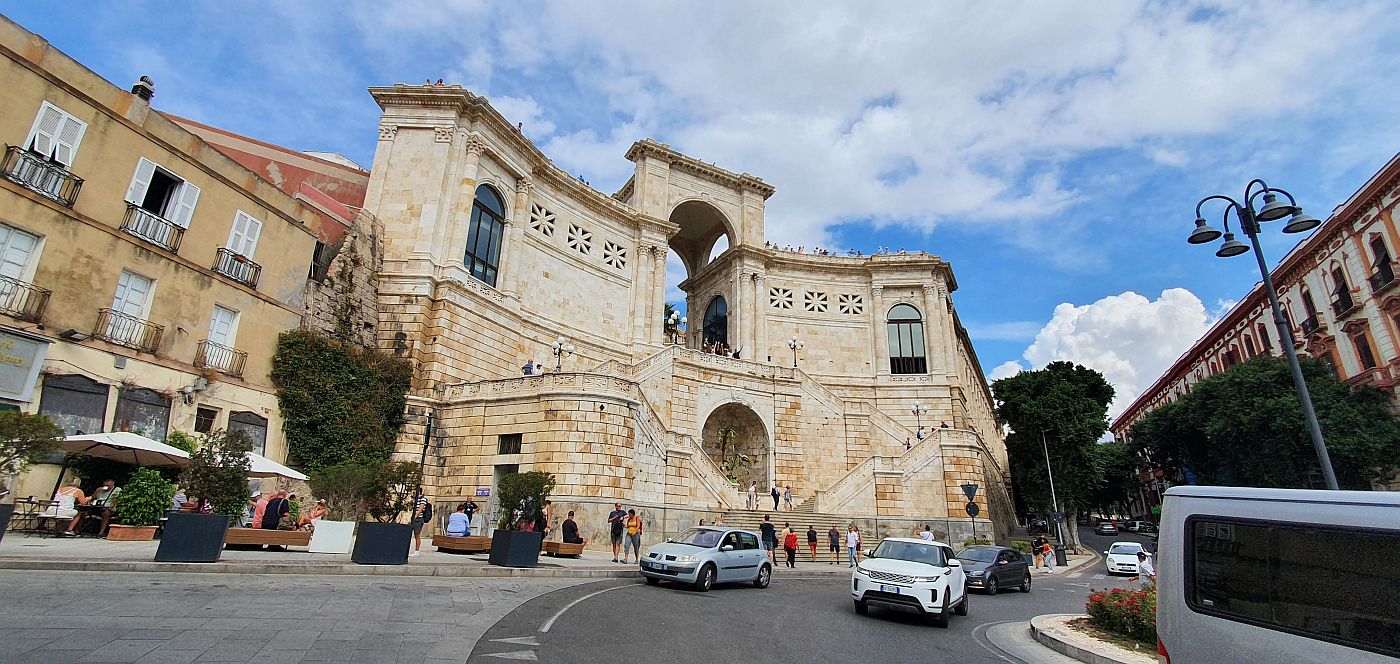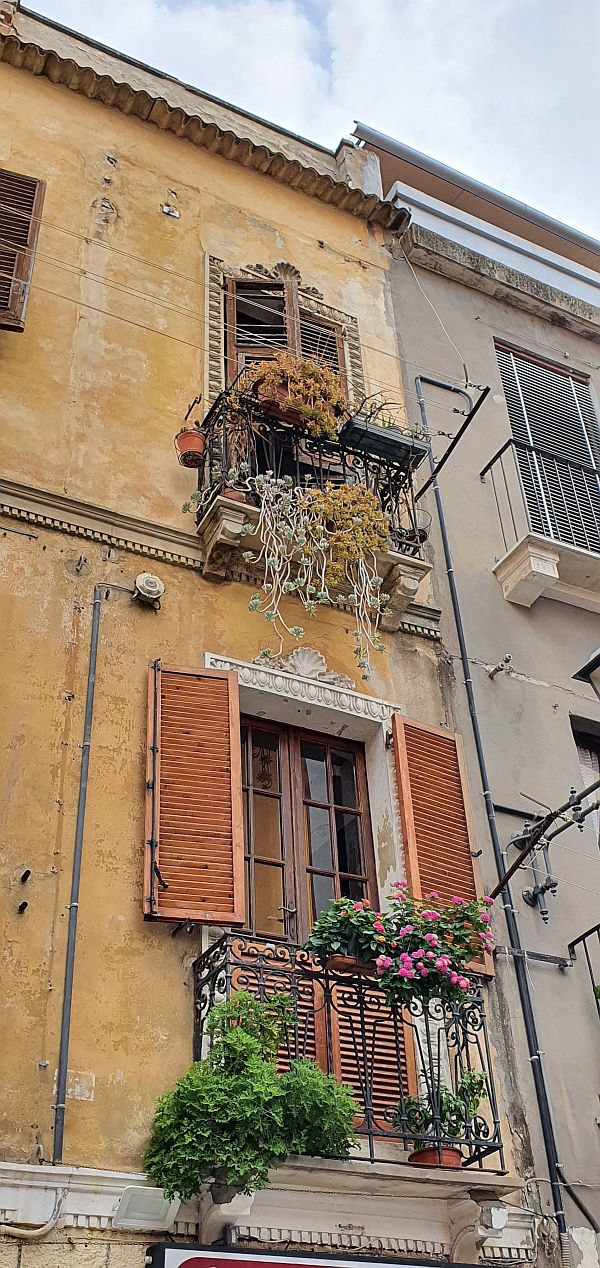 We're back onboard at 12.30ish and get some of the grab and go sushi boxes which are very good from Bento Baby, they are served with plenty of pickled ginger, wasabi and spinach and quinoa salad side which is really good. There's a nice selection and it tastes very fresh and tasty.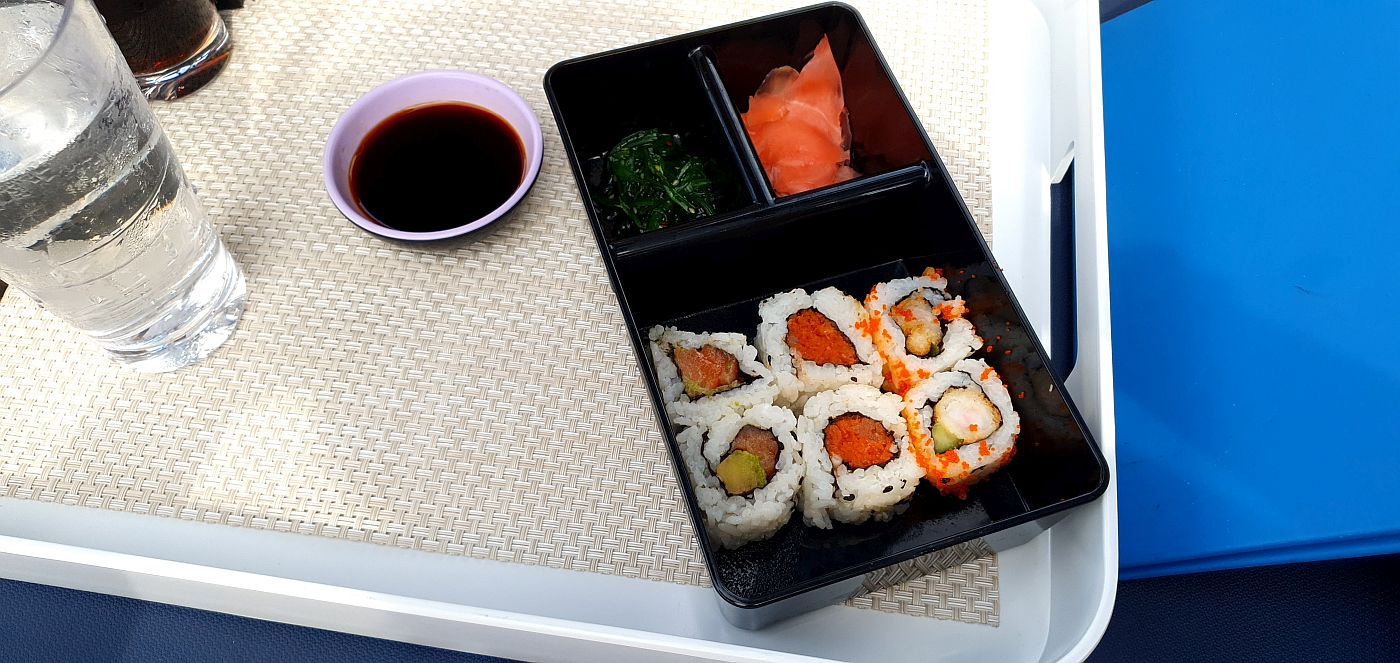 After eating we decide to explore the other outdoor seating areas as tomorrow is a sea day, until we dock in Ibiza in the evening, so we wanted to see what other options there are if we can't get a day bed on The Dock. We have a little go on some of the more unusual seating options including having a lie on the net which is suspended over the water. However, Kev says it's really uncomfortable and he can't see anyone wanting to spend any time on it. Which means that's an awfully big area wasted on such a novelty item that no one would actually want to spend time on.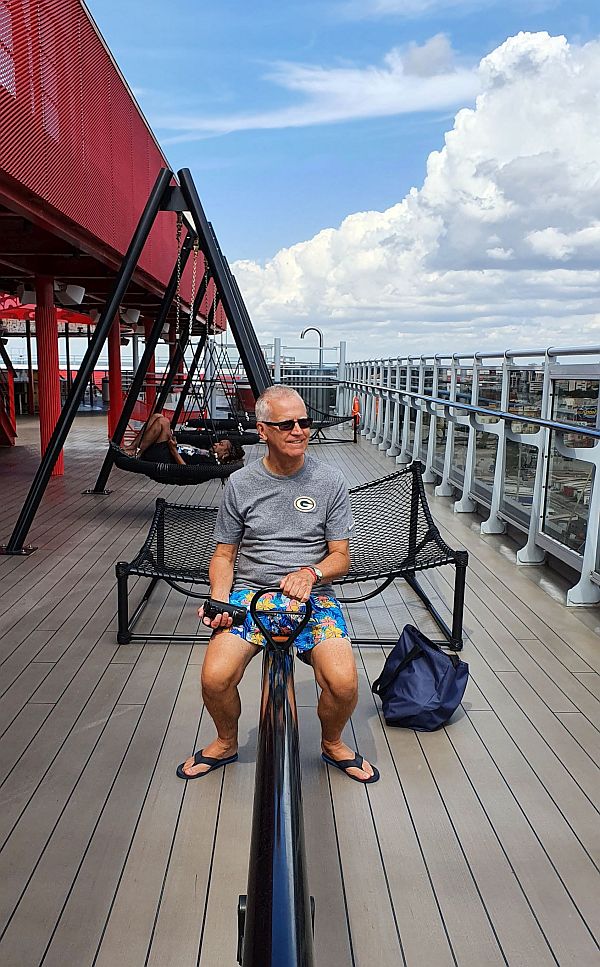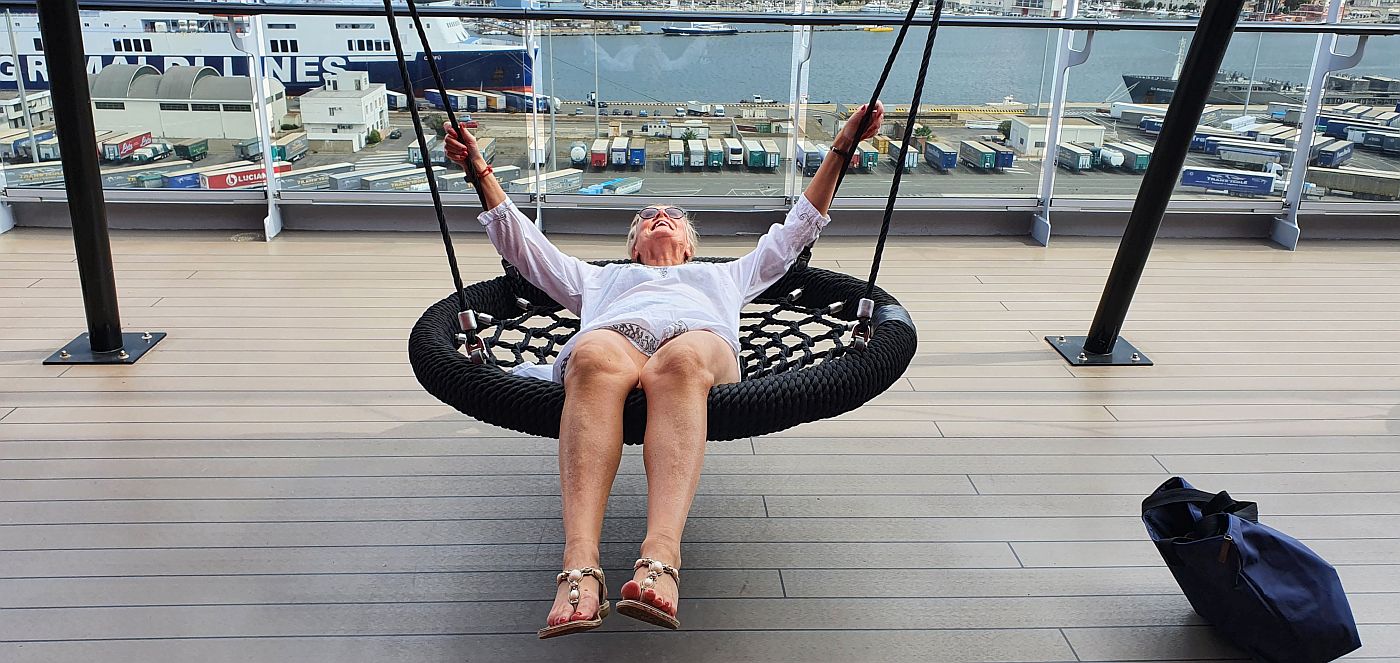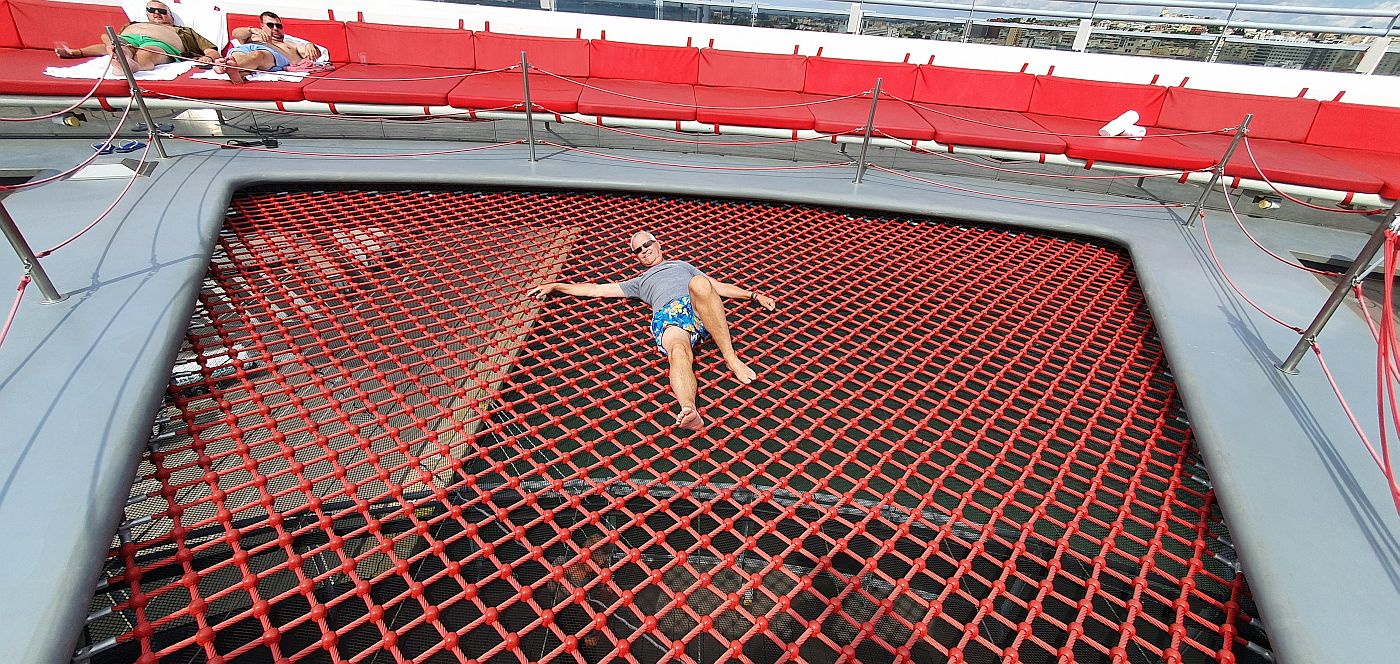 [Kev - Those damn balls are painful as hell. It hurts getting on, it hurts lying on it and it hurts getting off.]
Whilst there are a number of areas to chill and relax, we agree that none appeal as much as The Dock, it just has such a lovely vibe, from the furniture, bar, music and general feel it's without doubt our favourite place to spend time on the ship. So we spend the rest of the afternoon relaxing on a day bed on The Dock and later pick up another of the grab and go boxes of the walnut dip with crackers as it was so delicious yesterday.
Sailaway is at 5pm – again it's enjoyable to watch as we slip away from the port and listen to Flute Loopz singing and playing guitar in the sunshine.
Back to the cabin as tonight is Scarlet Night. It's the big party of the cruise, everyone is encouraged to dress in red and the whole of the ship becomes part of the venue, and there's roving entertainment everywhere. Unfortunately as we head back to the cabin the skies darken and it starts to rain which doesn't bode well for tonight's activities which centralise at the end of the evening around the pool. Suitably dressed in our red attire, as in fairness do the majority of passengers, we go to explore the changes in the ship. There's a huge inflatable red octopus with tentacles in the central area with the tentacles heading up the stairwell.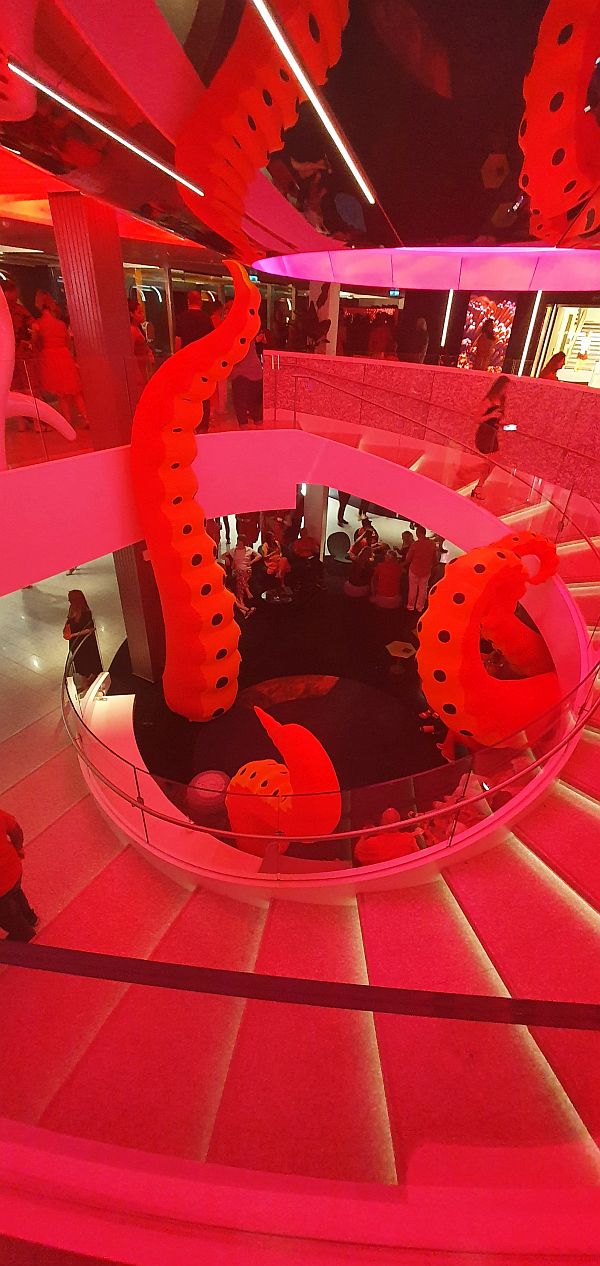 Tonight's meal is at Extra Virgin. We start with delicious giant and fluffy focaccia served with olive oil and balsamic oil – which is possibly one of the nicest we've had. Kev then has the salad of soft boiled egg, anchovies, endive and parmesan crisps whilst I have mini meatballs in tomato sauce, with pancetta and smoked mozzarella. I have to say I wouldn't class them as mini - even though there were only 4 it was more like a main meal than a starter, but very tasty. For mains Kev has seabass, baked fennel, Yukon gold potatoes and I have gnocchi with head of the woods mushrooms, spinach and truffle butter sauce. Thankfully they weren't too big a dish so we were able to manage it all. This was accompanied by wine as usual, but at the end rather than having a pudding we decide instead to share a charcuterie platter which was amazing, prosciutto, salsiccia di finocchio, salami cotto, 24 month aged parmigiano, pecorino romano, gorgonzola all served with wildflower honey, pear mostarda, rosemary spiced nuts and eggplant caponata. When you consider that all the meals on board are included in the price it really is amazing as this was top quality food that would normally be served in a speciality restaurant on any other cruise line with an additional charge.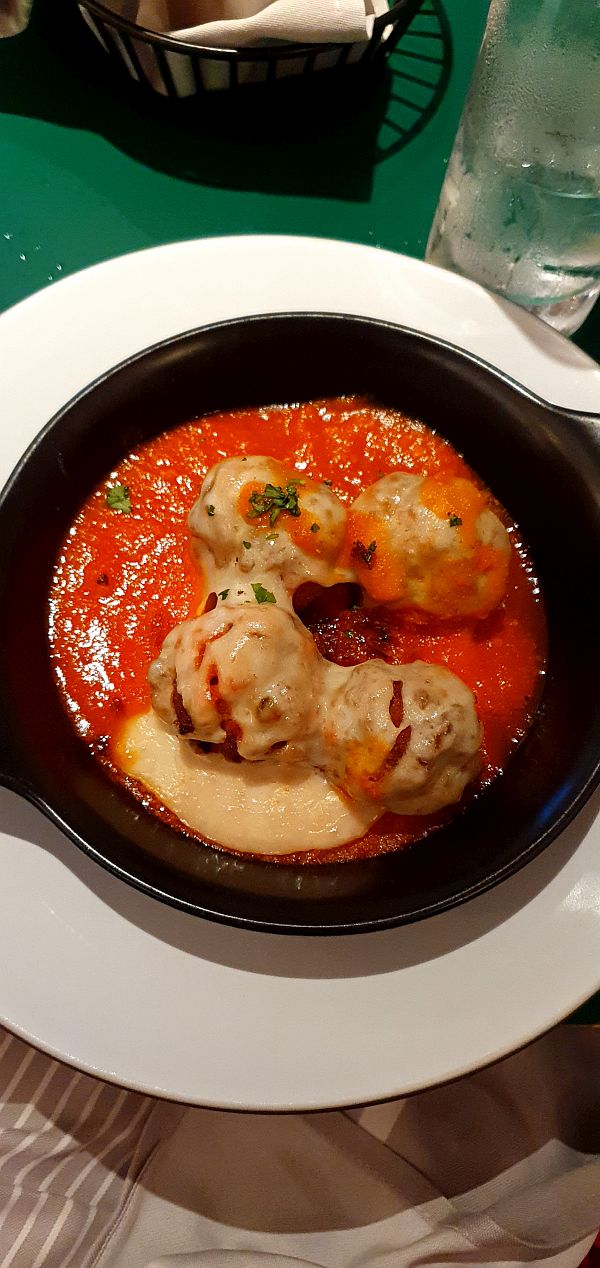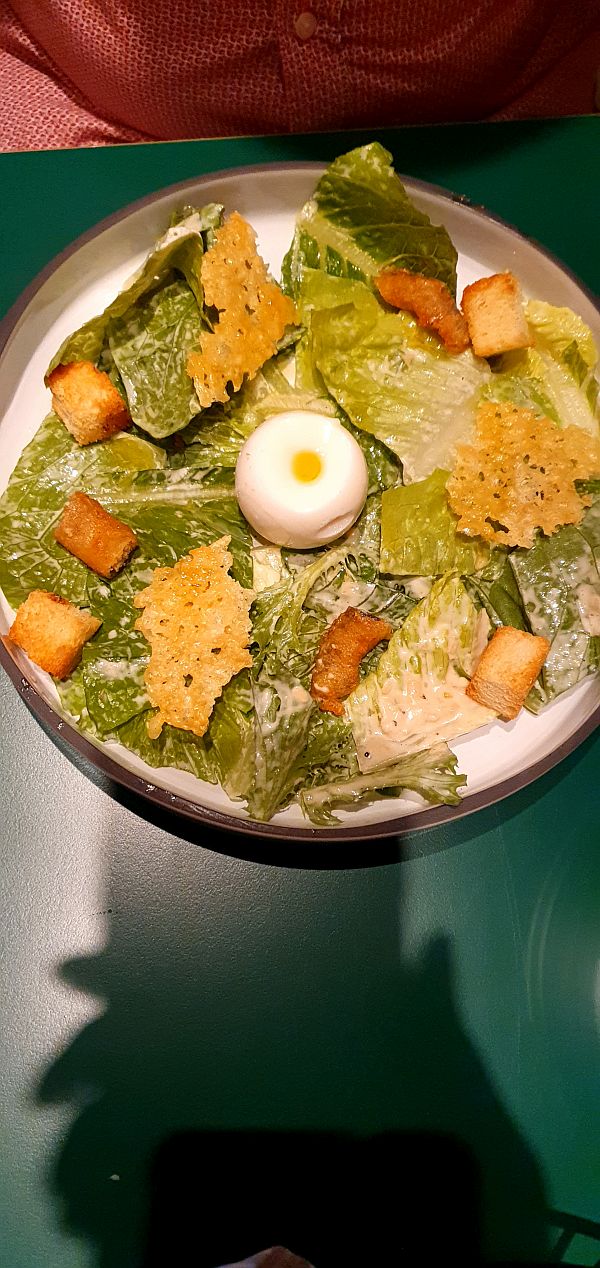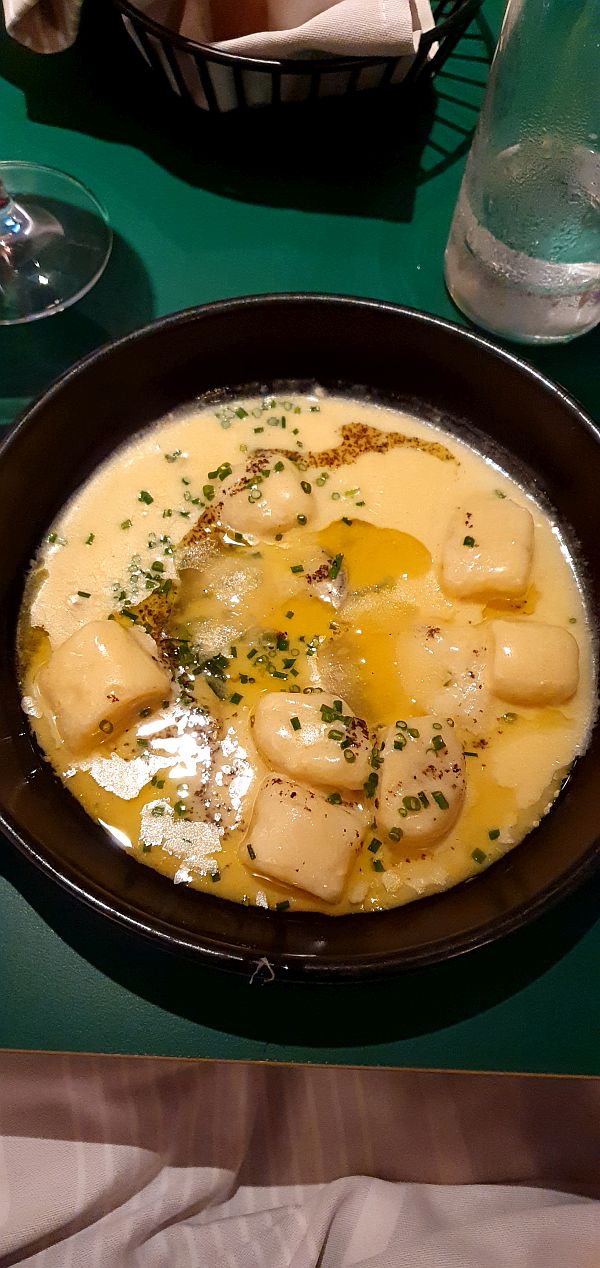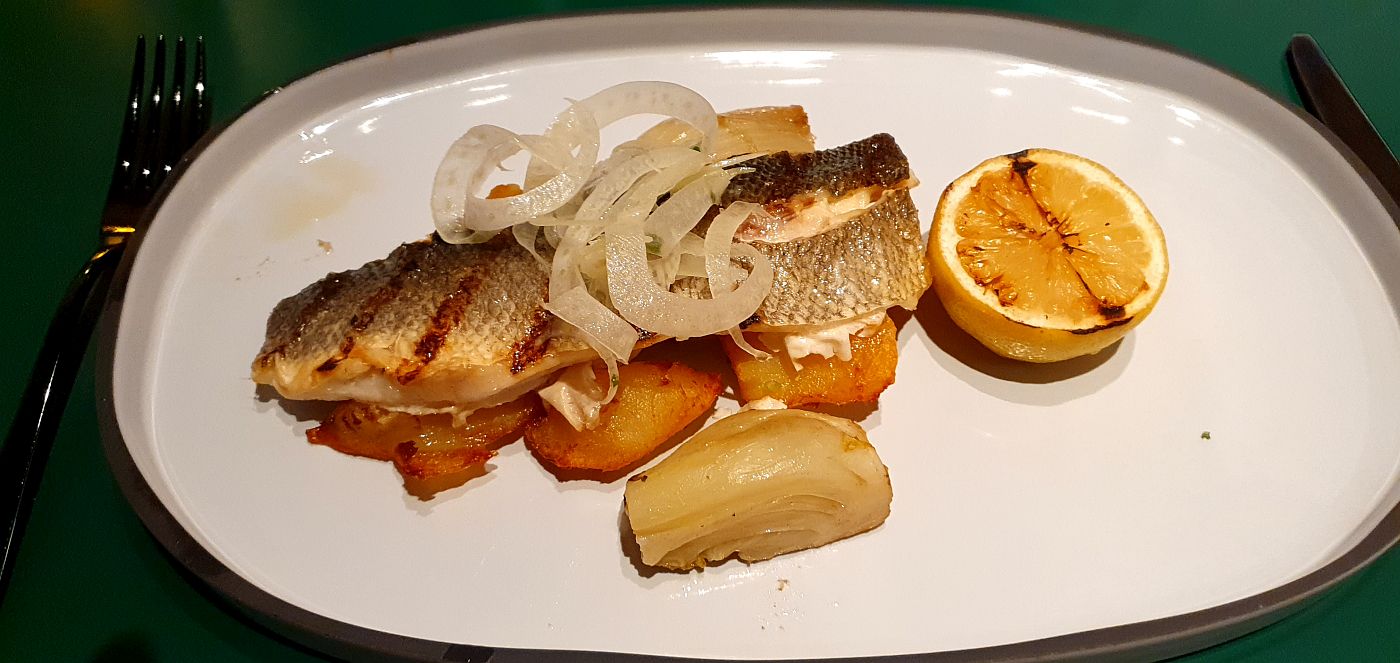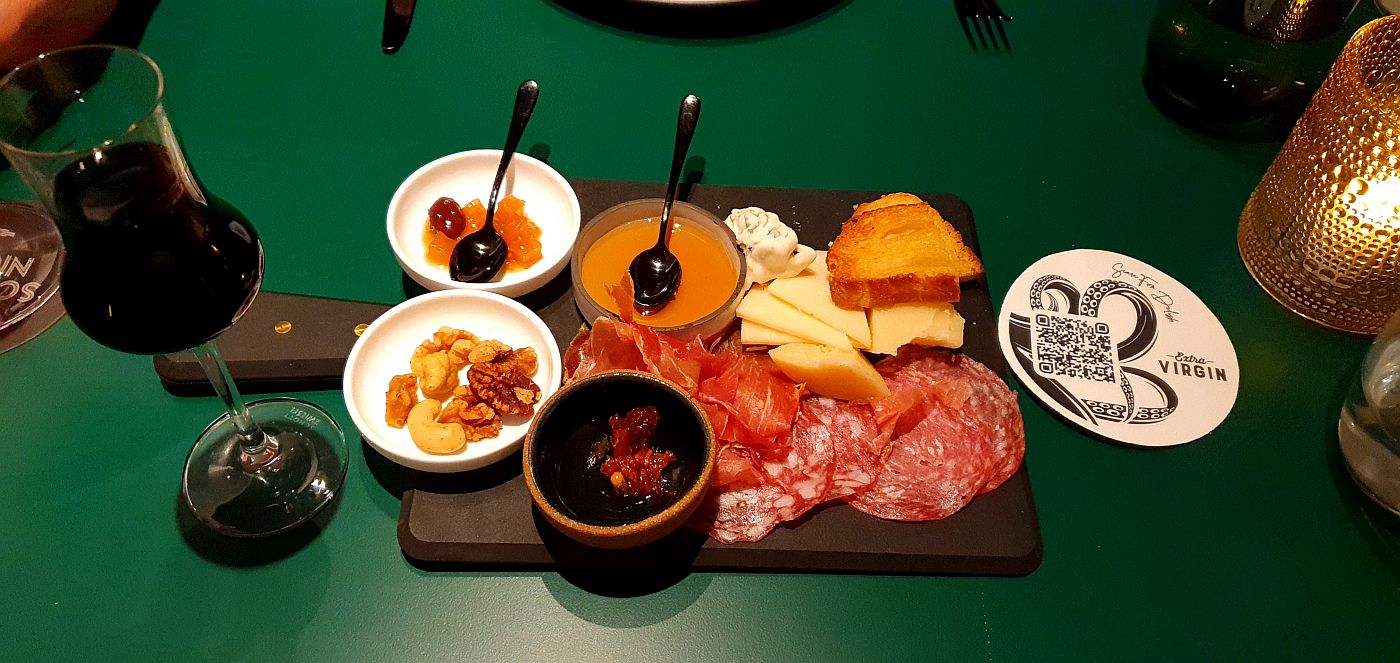 [Kev - Ooohh .. I love a charcuterie. This one was very good.]
Whilst we were eating we received an alert on our phone Virgin app to say that due to the weather they were going to move the pool party for Scarlet night to an inside venue The Red Room. It's worth saying at this point that the Virgin app gives you updates as to what is on and when, which means you can check all your dining reservations and book things, but they also give you updates when things change on board. As wi-fi is included throughout the ship there's not any problem relying on this and for the majority of time we found that we were able to access the app and check on everything that was necessary.
We fancy a coffee but rather than stay in the restaurant we go to The Pink Agave bar and then follow this with a Corona.
At 9.15am we go to the showing of the Myth of Scarlet night. The singer is very good and it was an enjoyable interlude. As we walk around the ship we look at all the decorations in place, inflatable fish in corridors and bars, roaming singers and dancers. People appear to follow them from venue to venue and we'd heard that they do secret sets in strange parts of the ship that you can get invited to if you are lucky enough.
We go up to the pool as the rain has now stopped although we can see lightning on the horizon – it seems a shame that the party out here isn't going to happen as videos we have seen look fun with people ending up in the pool and lots of enthusiastic dancing, still they've got to keep the crew and passengers safe so it's totally understandable.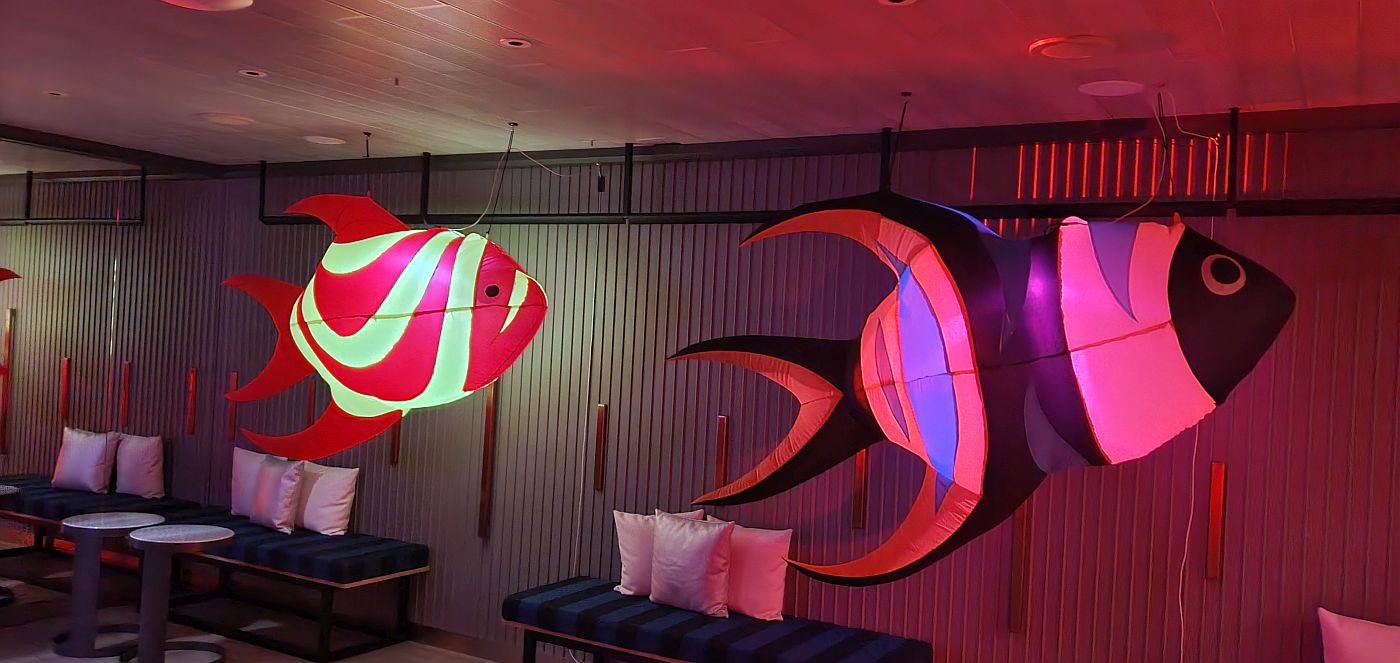 At 10.20 we head towards the Red Room as the party starts at 10.45pm. It's been totally transformed from the theatre style set up of the other night to a large hall with no chairs but just a bar and DJ. In fairness it's a decent disco with a good sound but being all herded together rather than being out in the open wasn't for us especially once it became quite crowded so at 11.30pm we head back to the cabin and watch about 30 minutes of Jumanji on the TV before bed.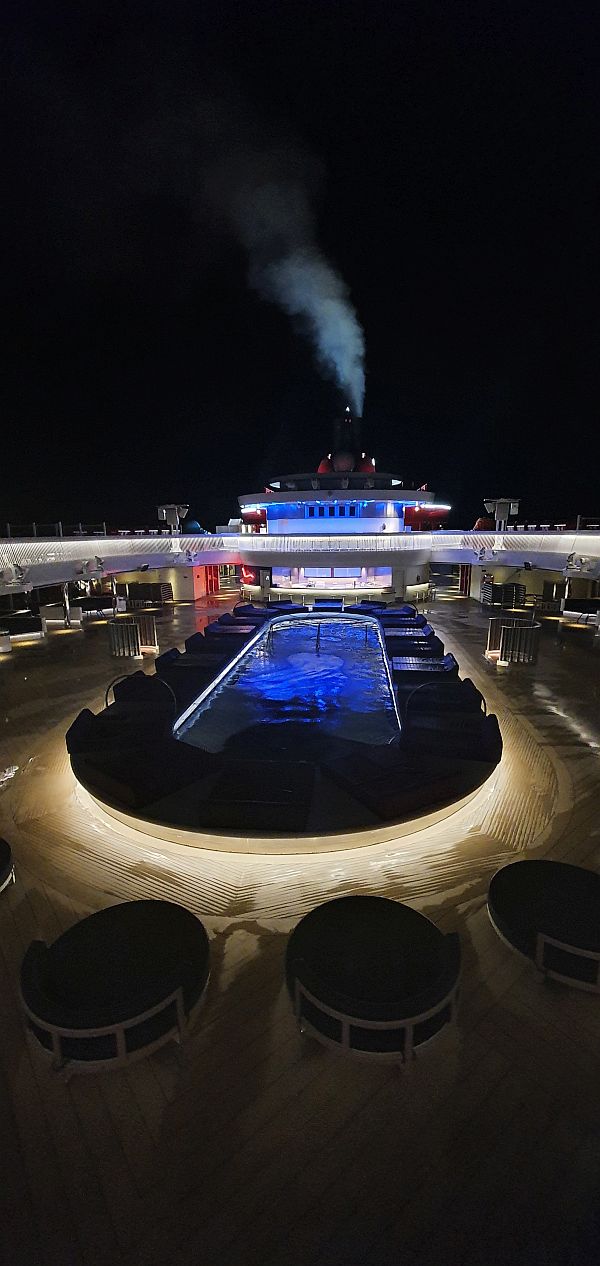 [Kev - this is where they are supposed to have the big party.]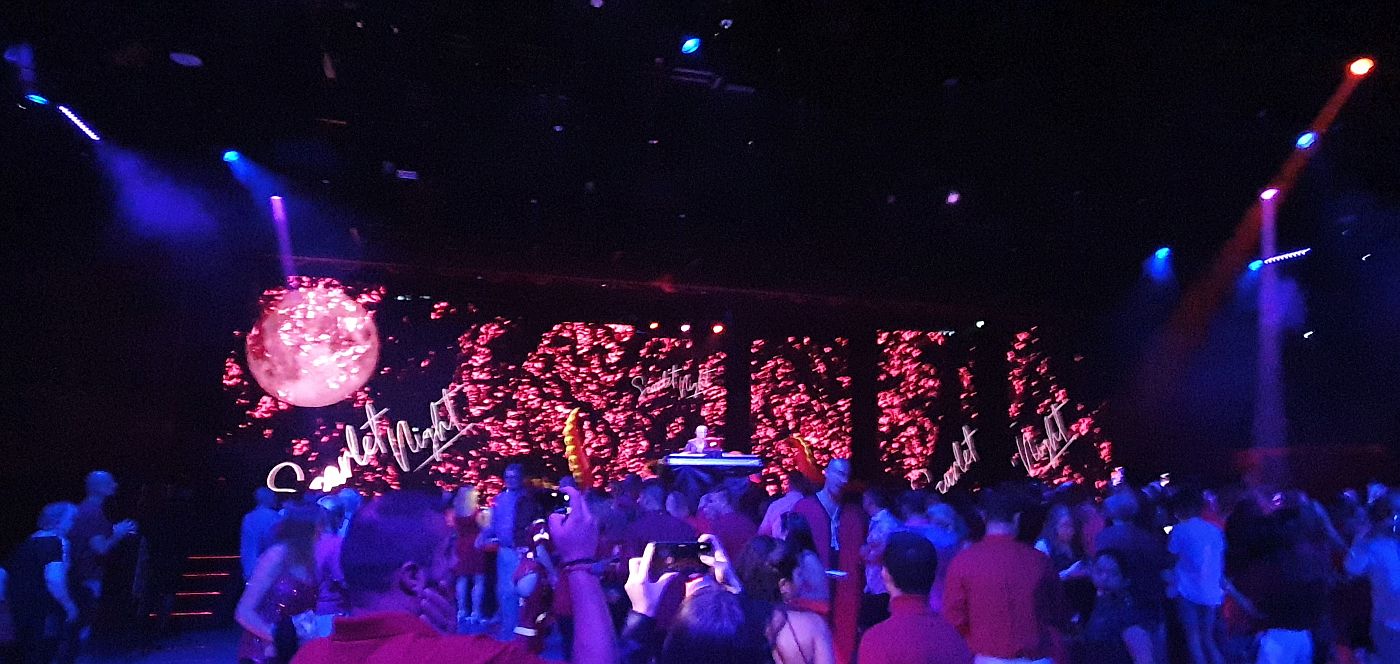 [Kev - and this is where they actually had it. Not a great photo, but not a great venue either. I think it would have been good fun if the weather had allowed it to be around the pool.]