Day 3 Sunday 18th September 2022
Written by Tam
Kev had a bad night's sleep and was up at 5.15am. After showering and packing we check out to explore but thankfully can leave the luggage in the hotel as we can't board the ship till 2.30pm.
We have a wander through the streets and end up in a little square where we find the Ocana bar. The square is surrounded by typical Spanish buildings and in the square are trees full of pigeons and brightly coloured parakeets and market traders are selling their wares. We both enjoy a fresh orange juice, coffee and baked eggs with potatoes and Iberian ham. A good way to start the day.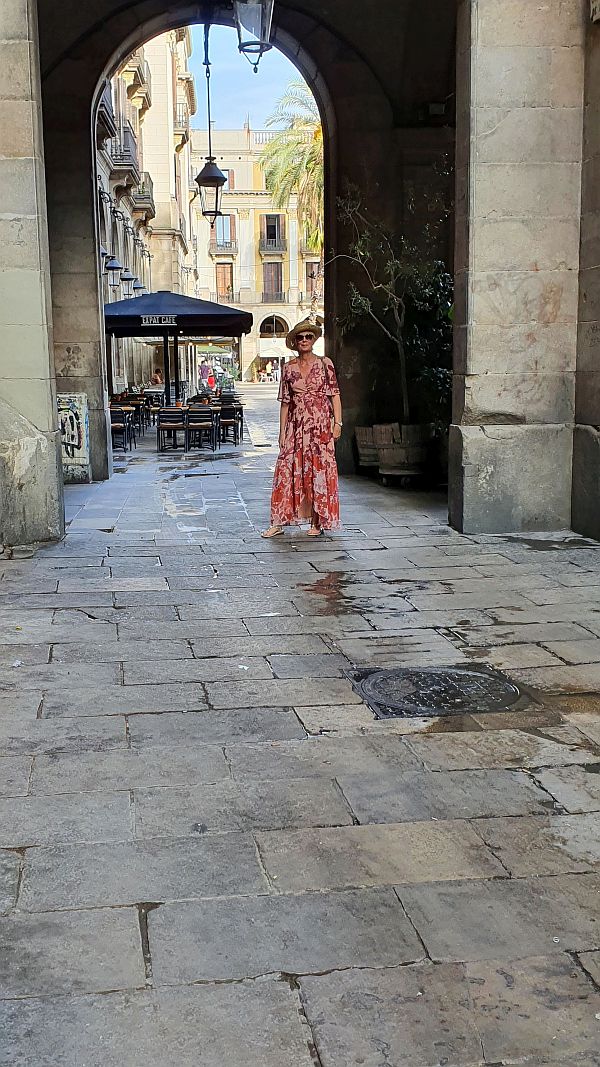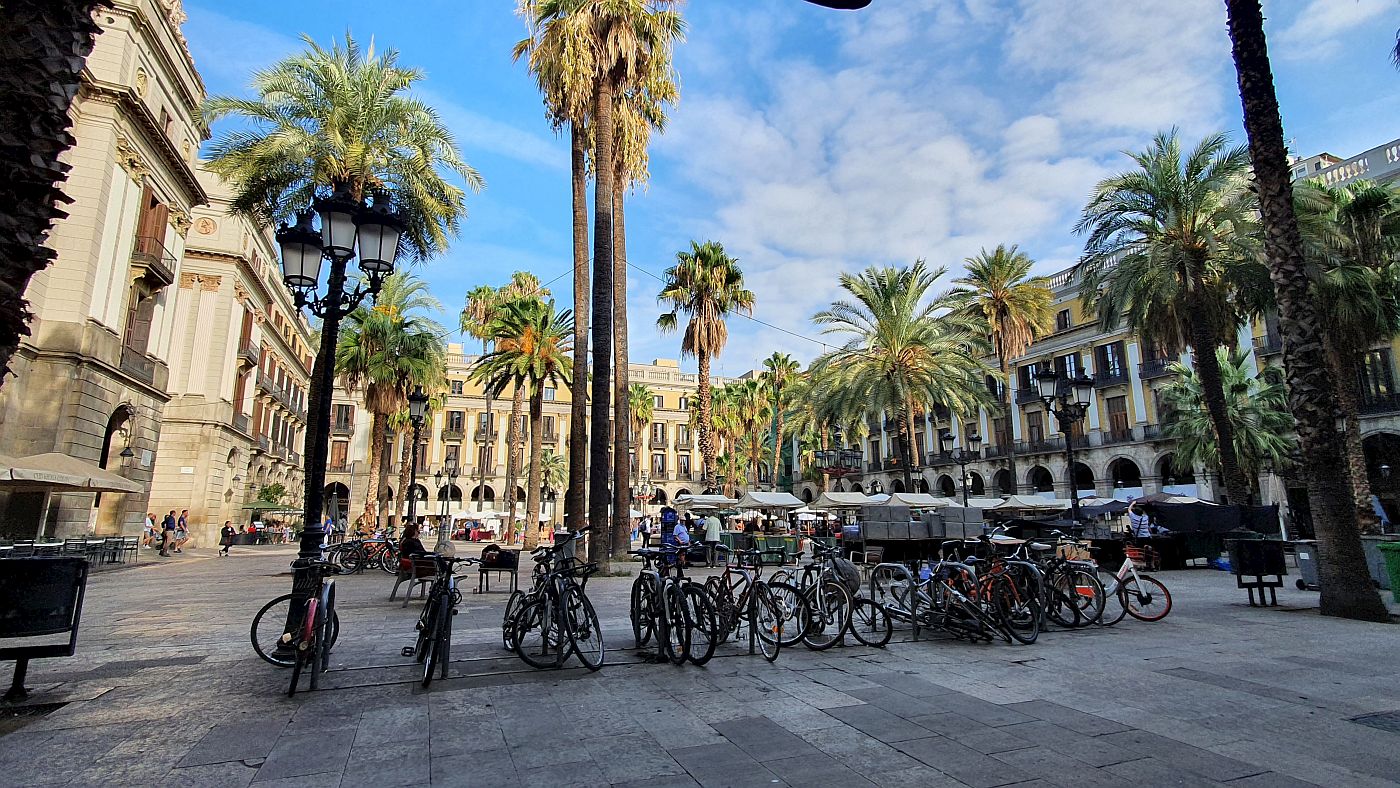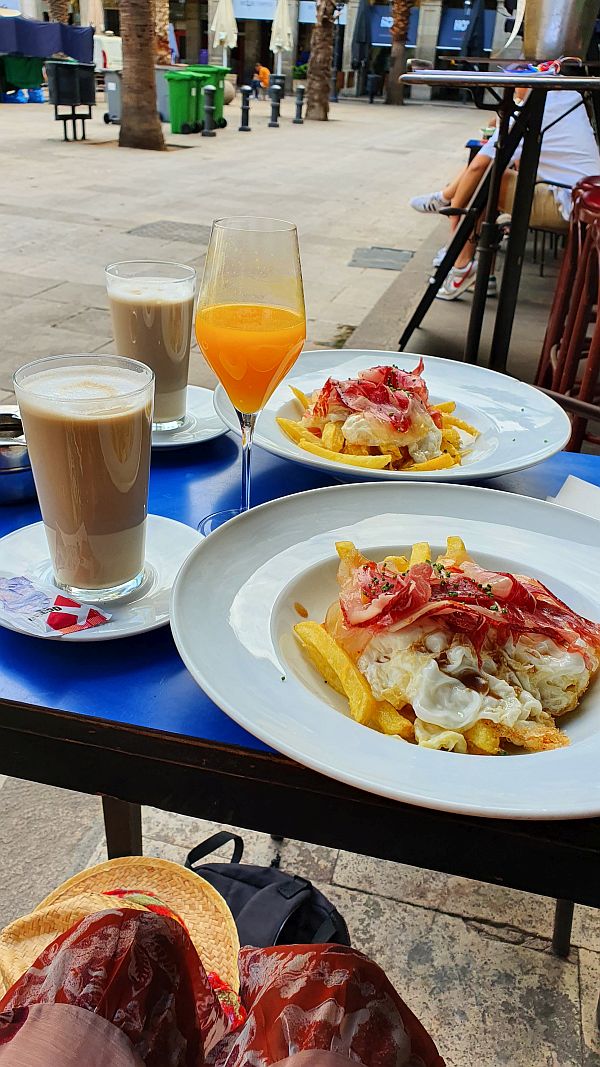 [Kev - ham, egg and chips. Now that's a proper breakfast.]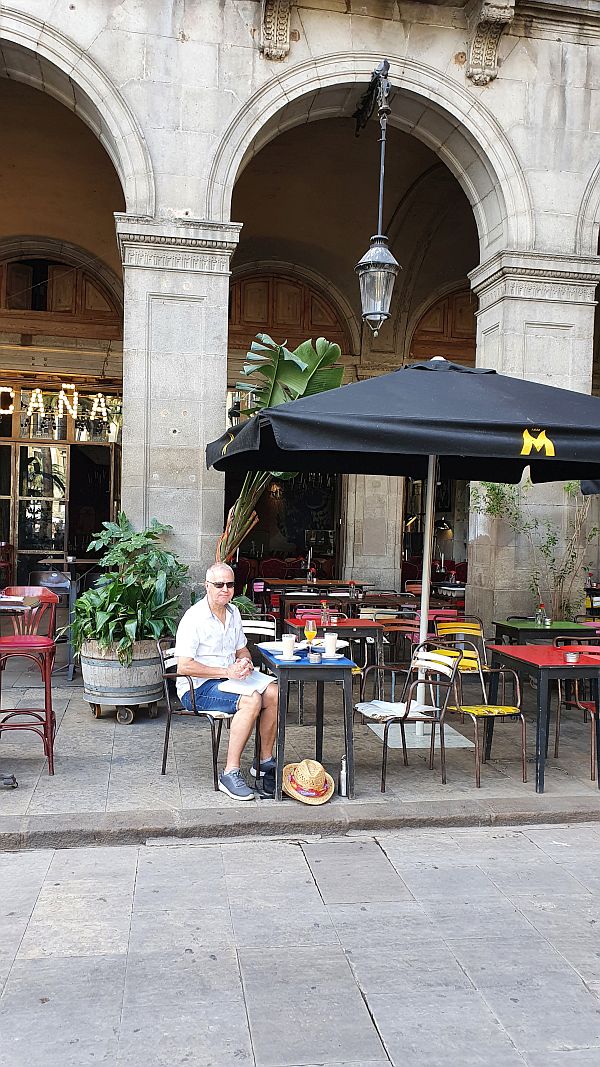 We leave and wander up Las Ramblas and round to the Gothic quarter. Then to the Cathedral again where there is a man playing beautiful Spanish music on his guitar.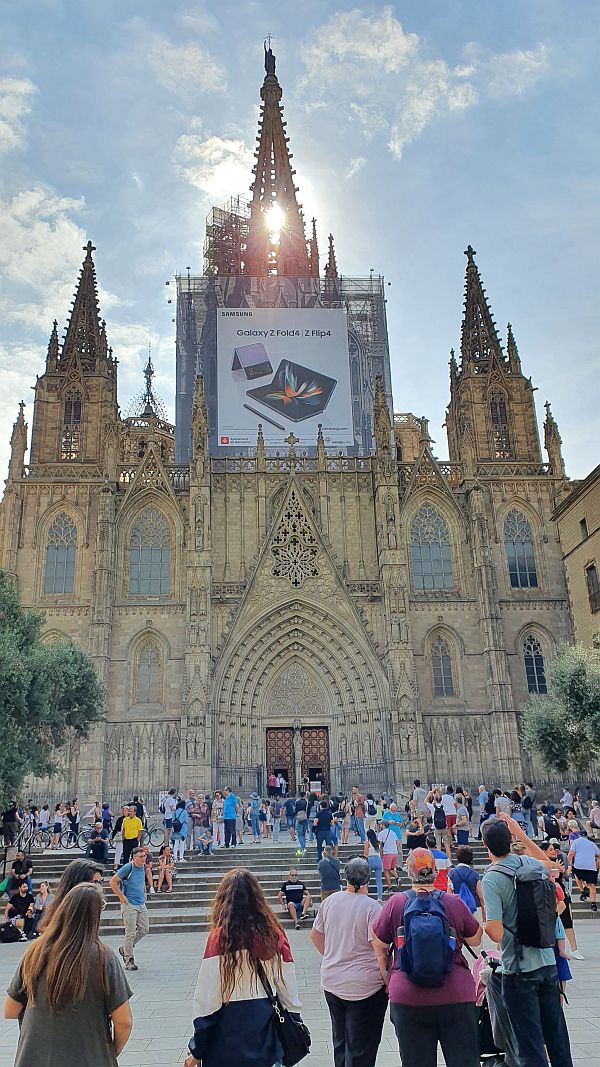 [Kev - the advert for Samsung spoils the view somewhat.]
We continue our ramblings, along narrow alleyways, lined with flower filled balconies and head down to the waterside. We're amazed by some of the mega yachts that are moored up here. In particular a huge one which Google tells us is owned by the heiress to the Walmart fortune. We can see the Virgin Valiant Lady in dock and decide to go and have a closer look. It appears that people are already dropping their luggage so we head back to our hotel to pick up our luggage and walk back to the ship. When we get there we are told we can drop the luggage straight away so we do, however we will still need to wait until our embarkation slot is announced before we can get on board.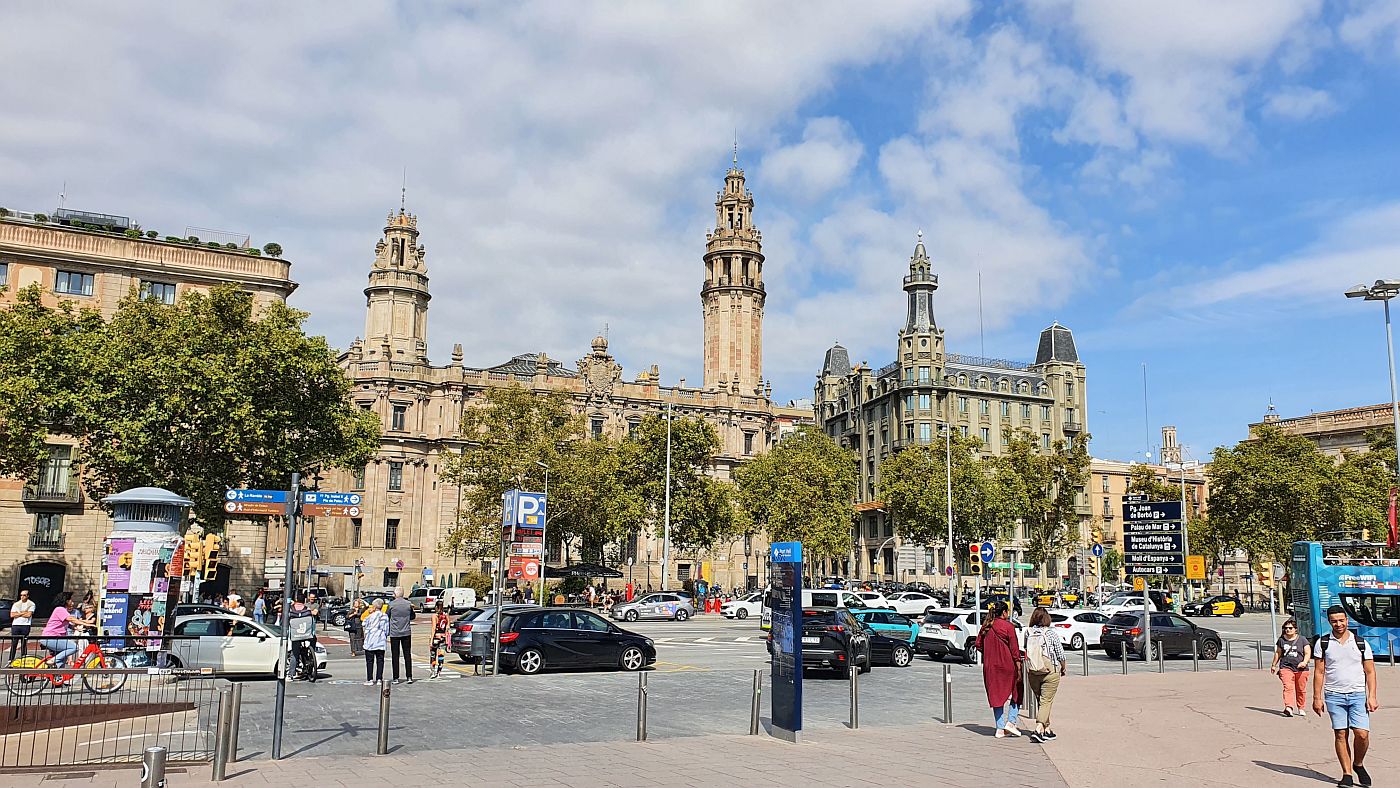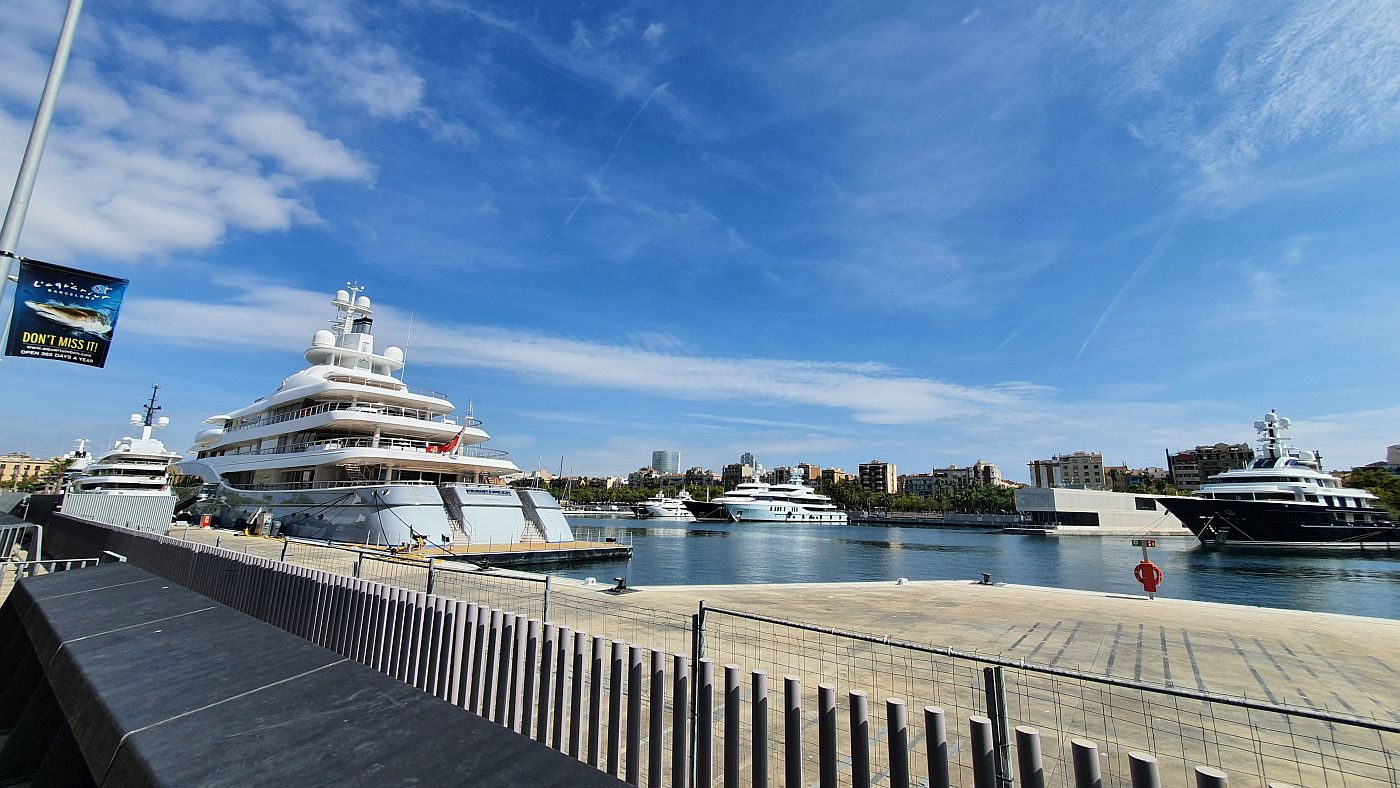 [Kev - these things are more like small cruise ships than private yachts.]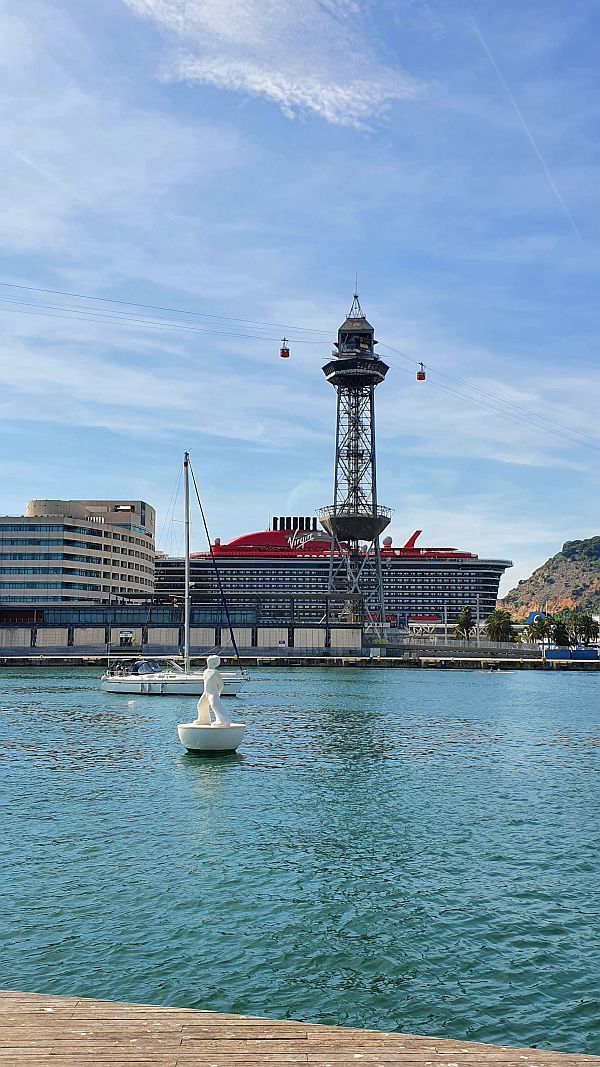 [Kev - I love the old cable car that goes over the port.]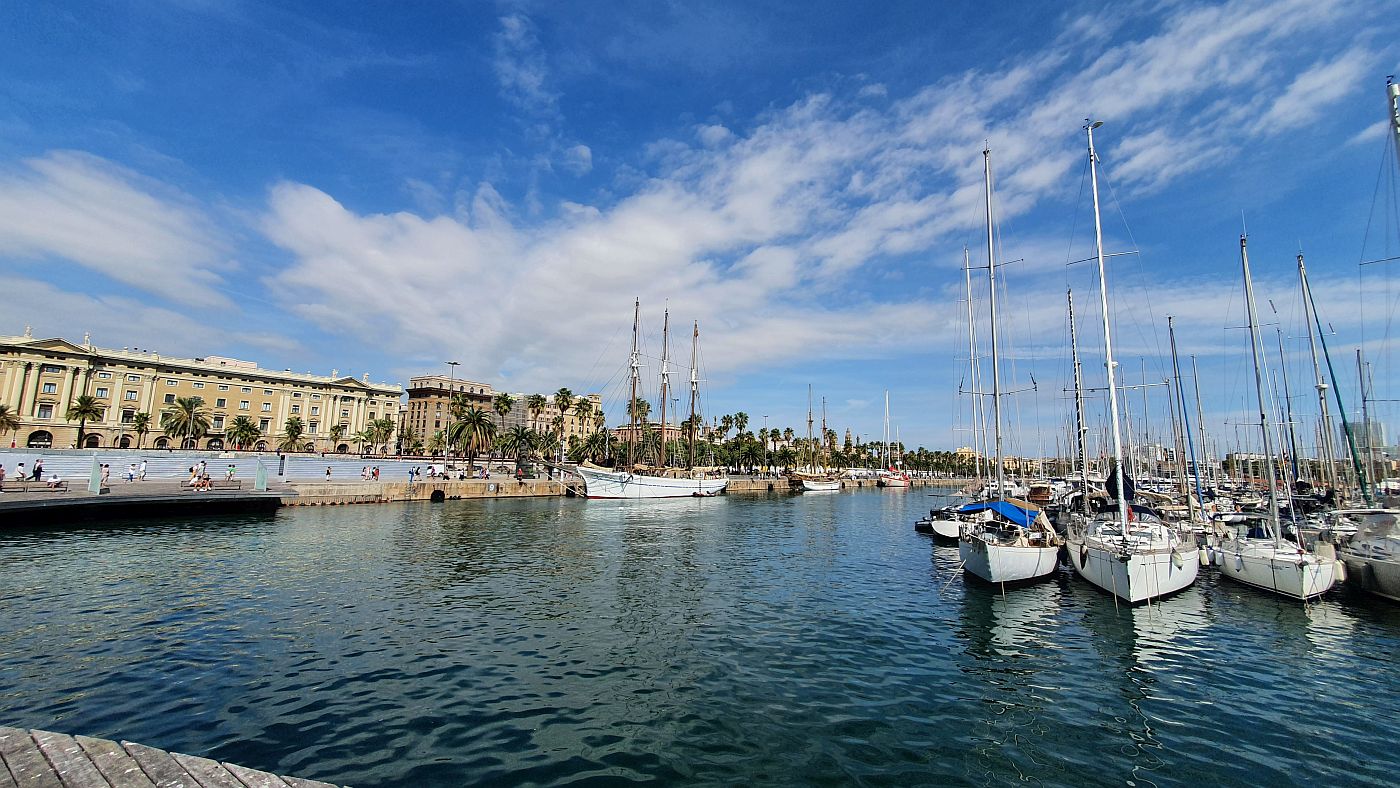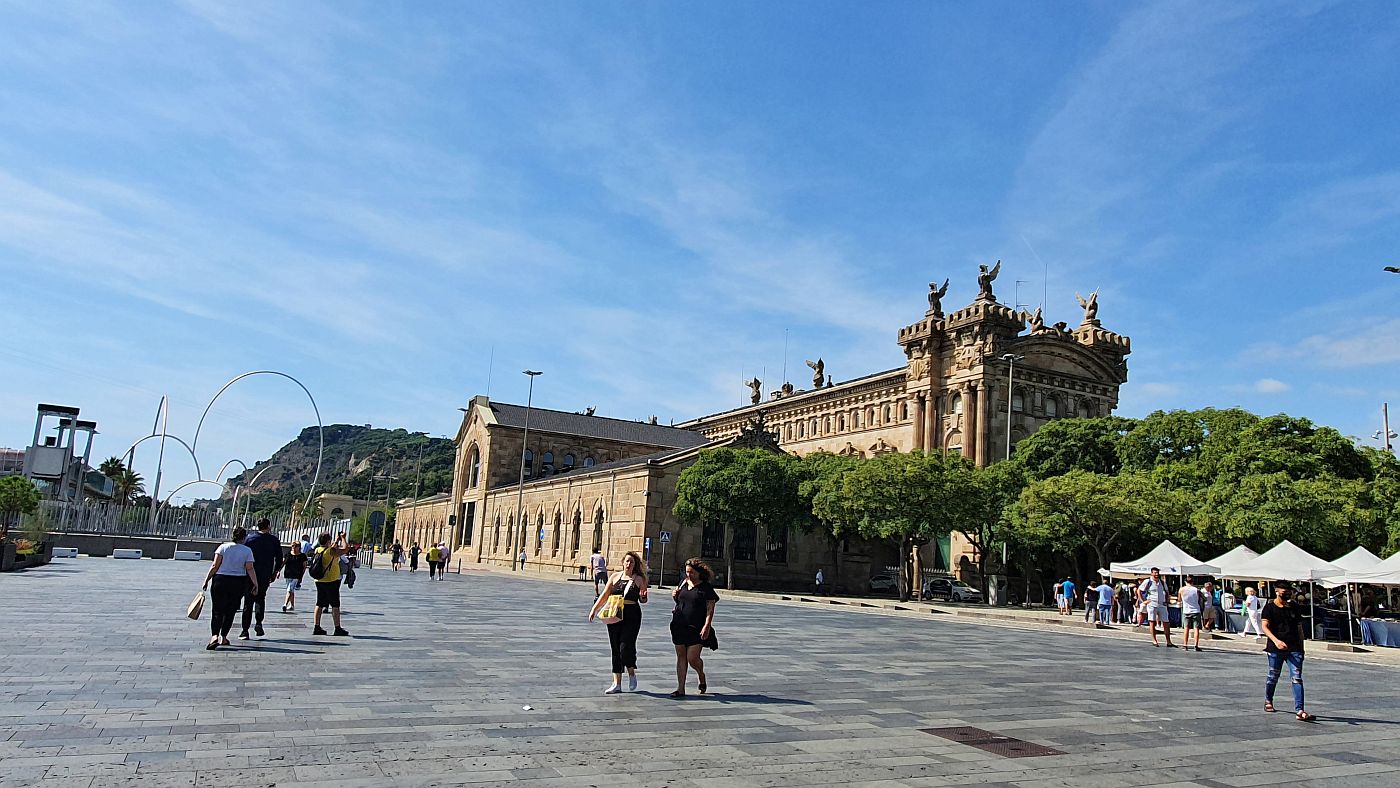 [Kev - I think this was the old port building.]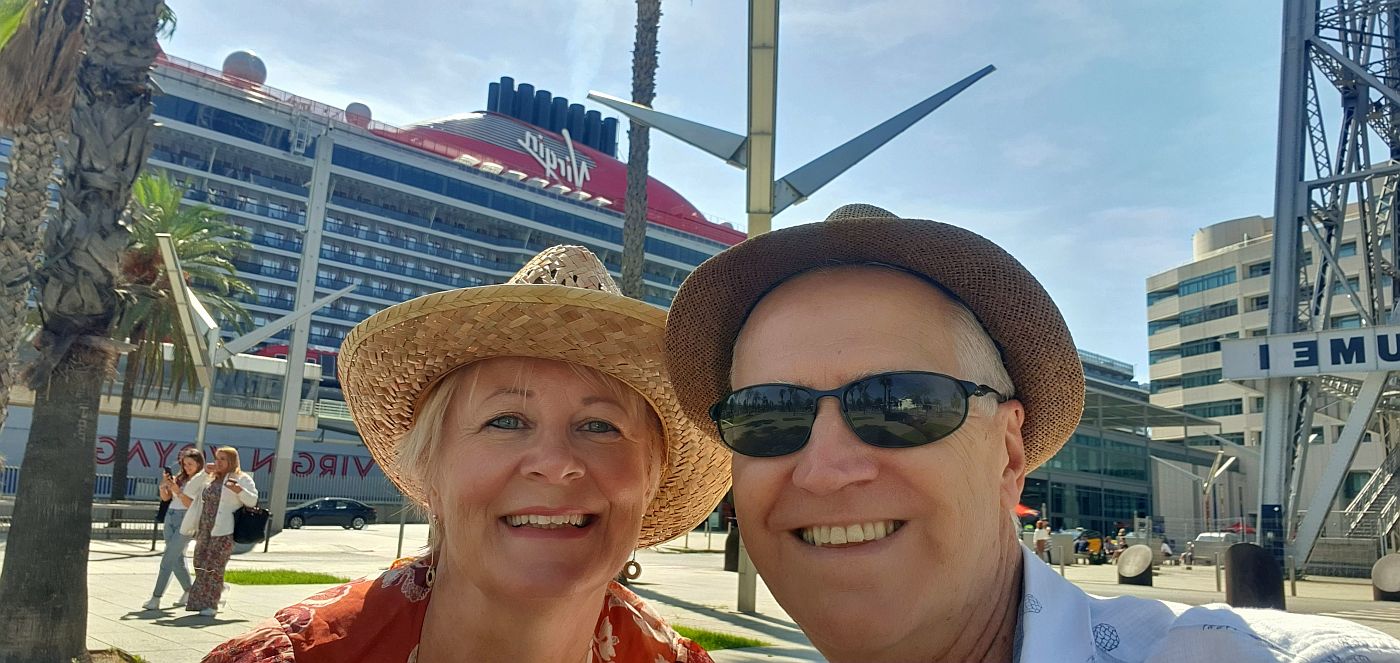 So far we are impressed, it's all been very fast and efficient and there's been good communication from the staff, of which there are many in the area. At about 2.15pm our boarding slot of 2.30pm is announced and we join the queue but it moves very quickly and we are actually in the terminal just before 2.30pm.
At check in we are given our bracelets, which act as our door keys and are used to charge extras against, they are actually red string bands fastened with a silver colour anchor with a fob on it that obviously holds all the electronic info. All so much easier than a room key as you can keep it on at all times. Once we've completed the check in we go straight to deck 7 so we can change some of our dining plans as we could only book some of the restaurants we wanted at home with late dining times. Now we needed to change some so we could do the shows we wanted to do. Once we'd signed into the ships wi-fi it was very easy to change everything we wanted and book the shows, but there are people there to assist if there are any difficulties.
Next stop the cabin. We're not disappointed – it is very new looking, very clean and the hammock on the balcony is such a great touch and something we thoroughly enjoy throughout the cruise.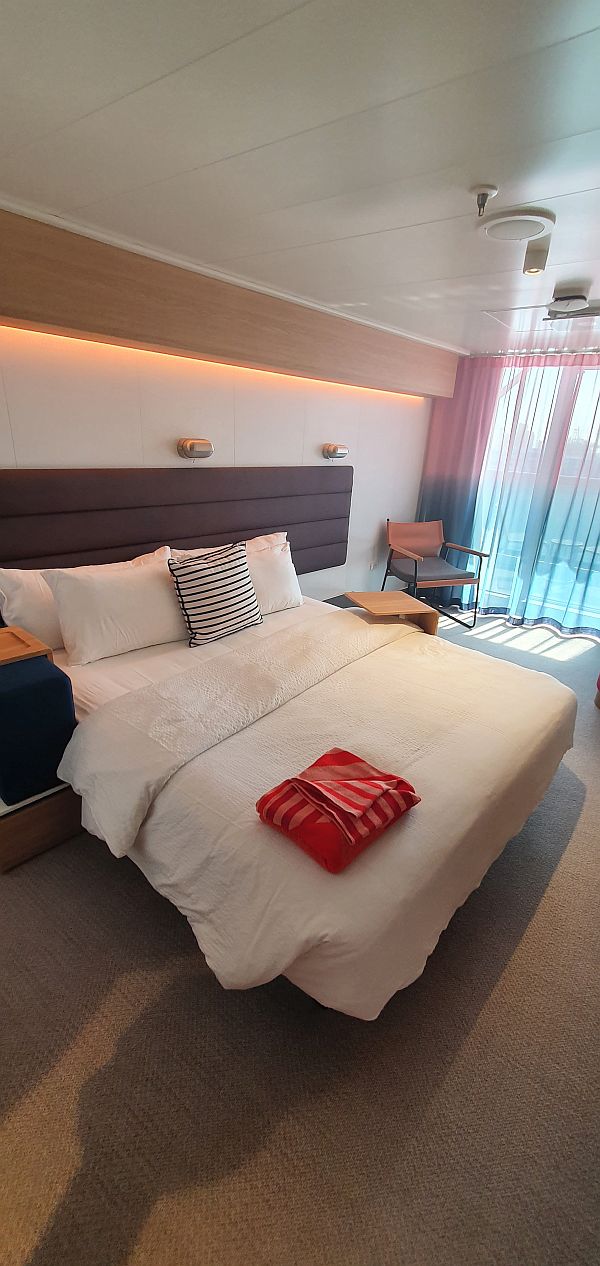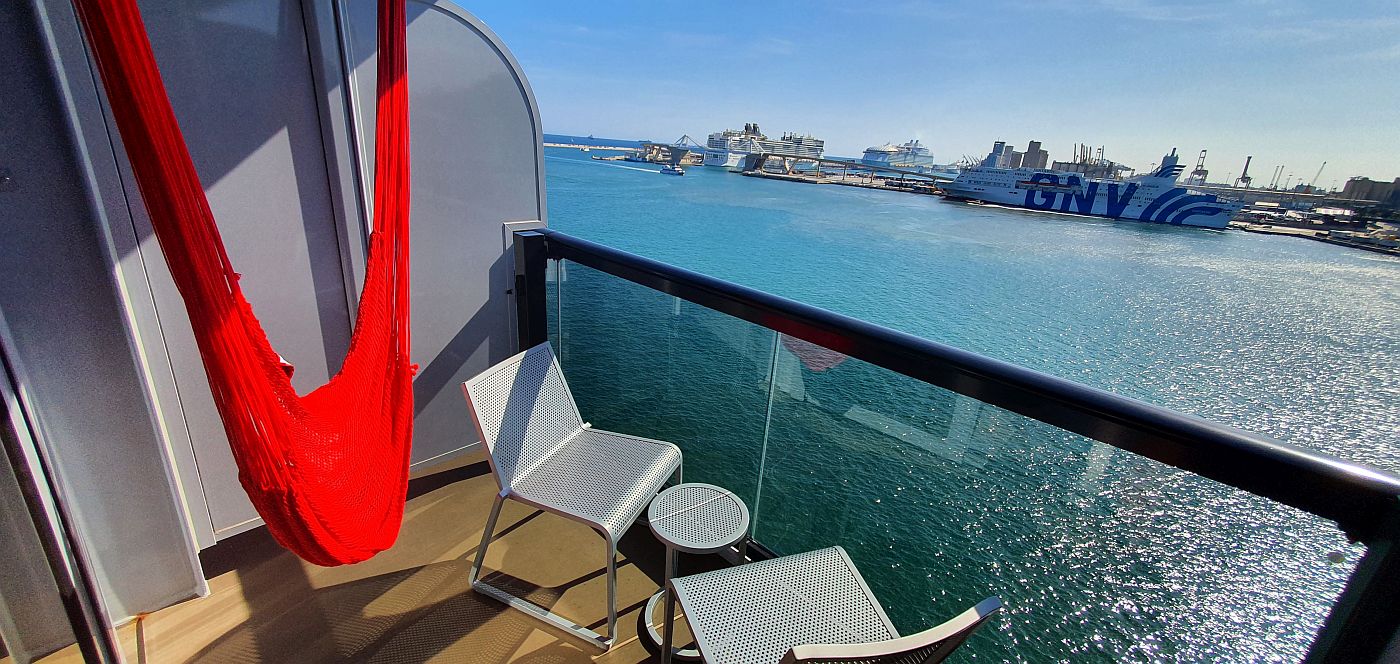 [Kev - Tam wasted no time in trying out the hammock. I've got to say that I thought it would be a bit of a novelty, but it was anything but. Lying in this thing and looking out to sea was very relaxing.]
The luggage hasn't turned up yet so we go to explore the ship and take some photos. The pool area is as expected with really loud music playing but the back deck area – The Dock is gorgeous, just the sort of place we'd hoped for, Chilled music, lovely day beds and seating areas all around and great mezze options. To summon the waiters you just need to raise the flag on the mezze menu and they'll come and serve you with drinks and any meze eats you fancy.
We have some sangria and from the menu which includes Goat Cheese Polenta, harissa aioli, saffron baby vegetables/ Grilled Shrimp garlic yogurt, Aleppo butter/ Spanish Octopus sunchokes, muhammara/ Fire roasted chicken thigh, pita, eggplant puree/ Hanger steak, pita, anchovy, mint – we pick some shrimp and the flank steak, both of which are delicious.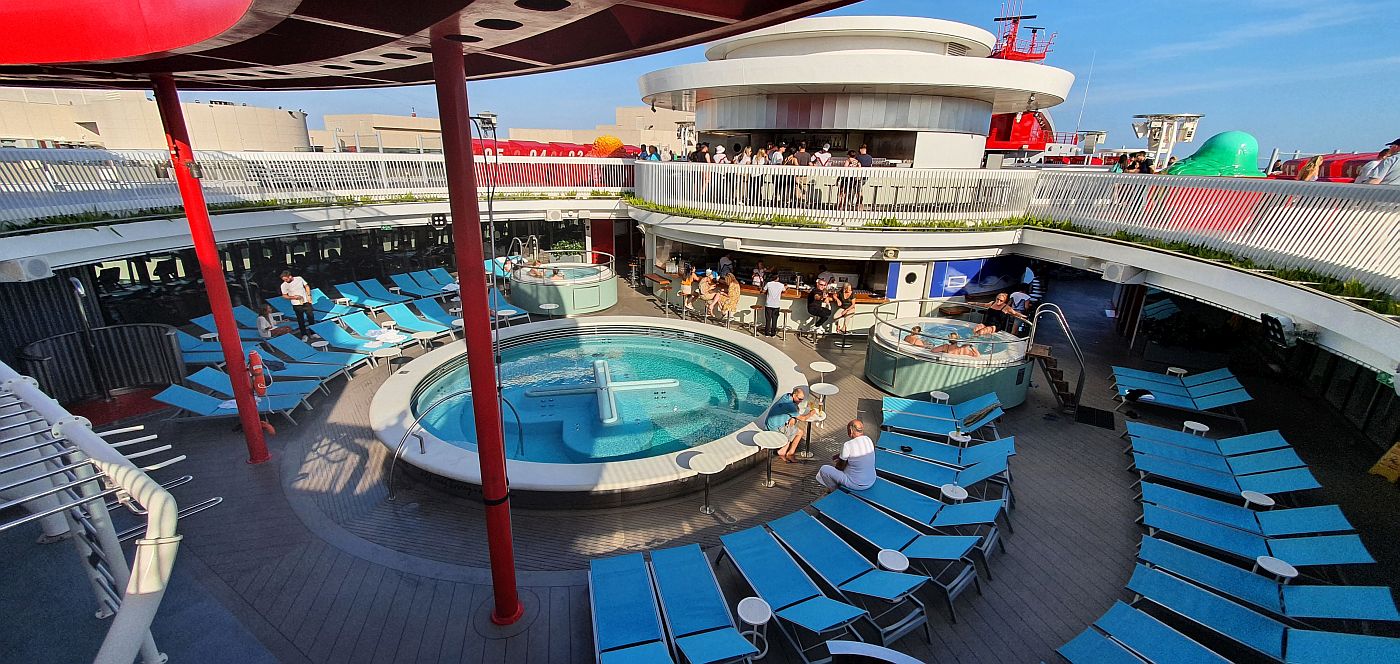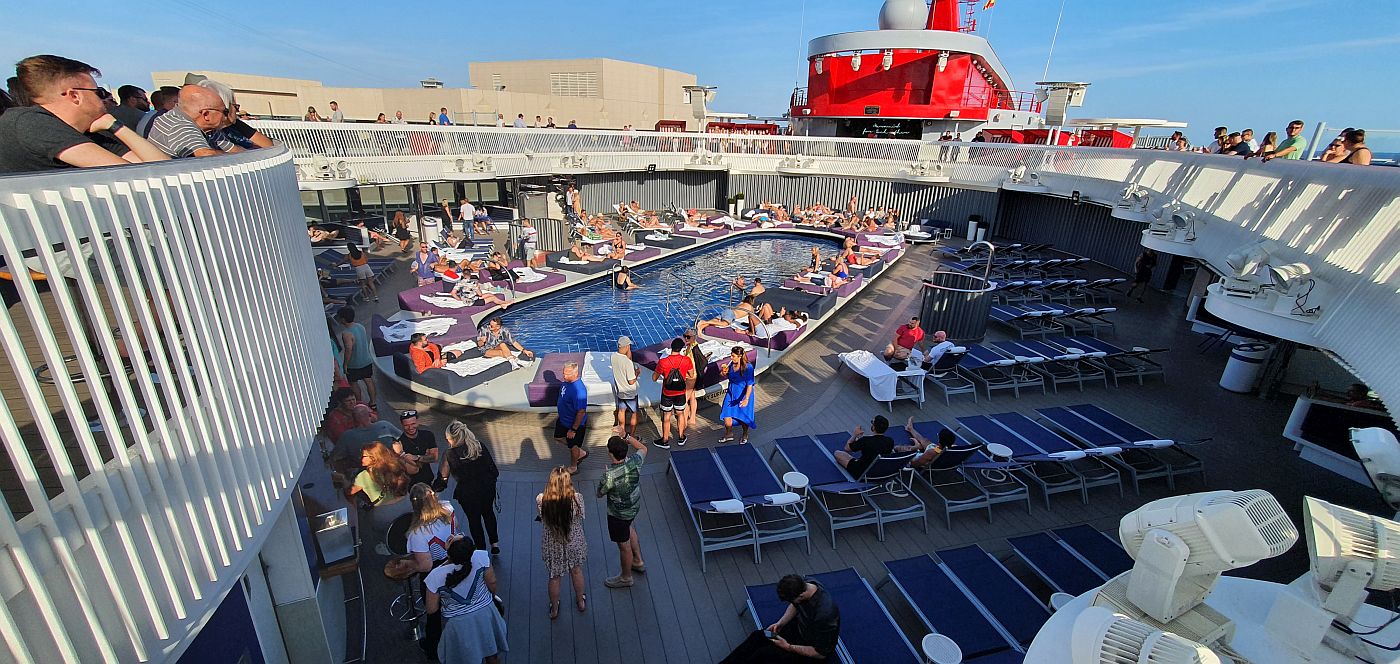 [Kev - as cruise pools go this is not bad, but it's not really my thing. They always pump out really loud music as well - not really conducive to a relaxing time.]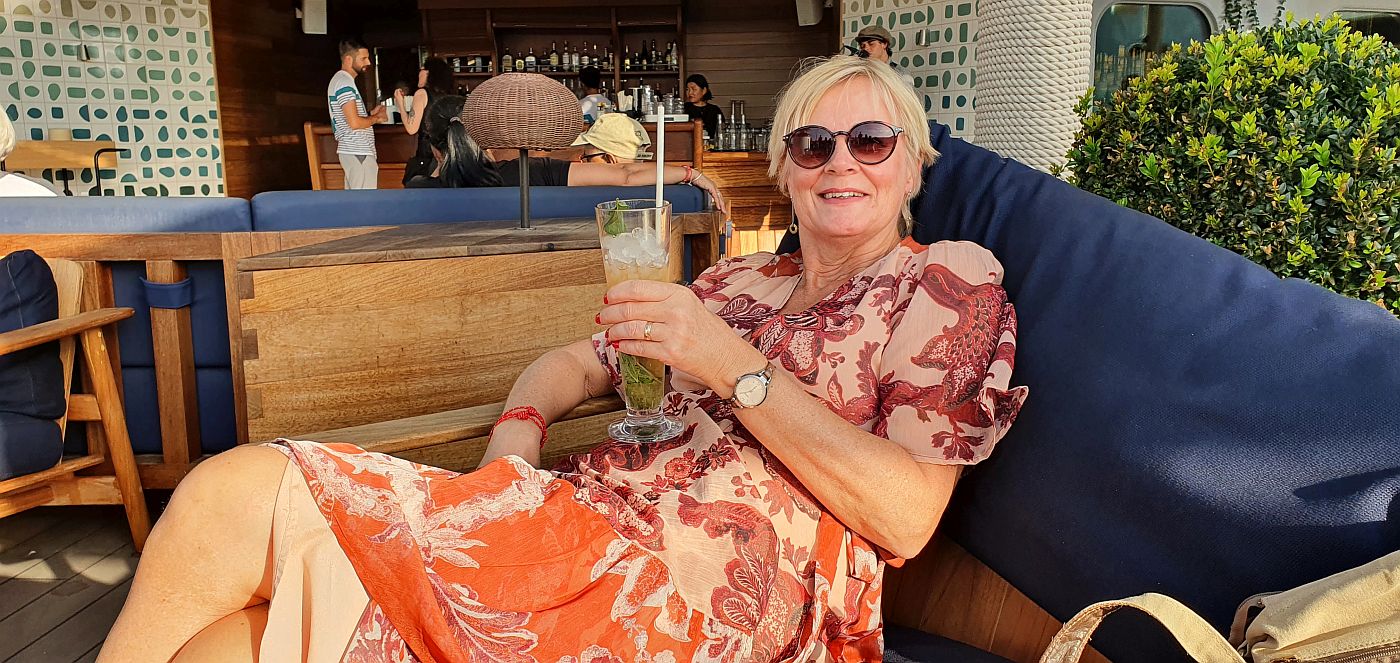 [Kev - now this is more like it. The Dock at teh back of the ship is our sort of bar. Nice quiet music with food and drinks brought to your bed/chair.]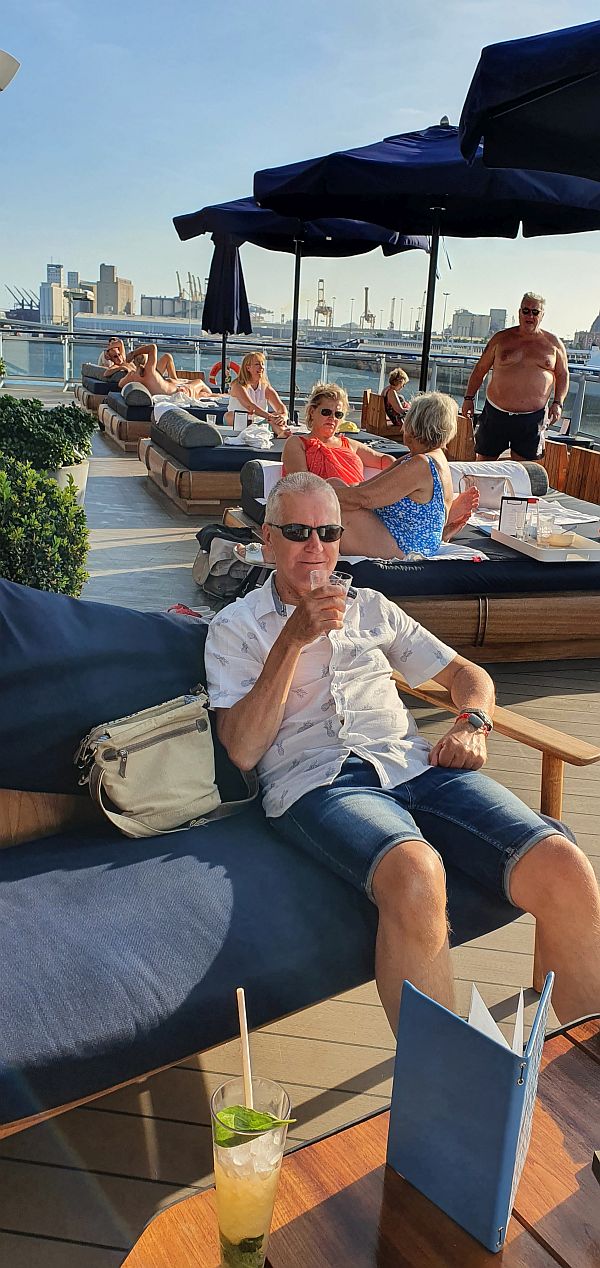 [Kev - just to be clear, I'm the one sat down - not the gentleman standing in the background. And that's not my handbag.]
Back to the cabin to look for luggage and Kev's suitcase is there so he unpacks. We then head back on deck for the Sail away, we go to The Dock first and enjoy a cocktail and listen to the live music – Flute Loopz – a guy from Dublin with a guitar who sings covers. We really enjoyed his sets throughout the cruise. We then head up to the deck above the pool to have a glass of the free champagne that they are giving out for Sailaway. They make an announcement that this cruise has the most passengers of any Virgin cruise so far.
Back to the cabin to get ready for this evening and we're concerned as my case still isn't outside the cabin door, but then Kev spots it further down the corridor outside another cabin so we retrieve it and I unpack before we shower and dress.
Our first port of call is the On the Rocks cocktail bar where we enjoy some delicious cocktails. Another thing we enjoyed about the Virgin cruise is that the different bars had different cocktails, which made a nice change when it came trying something different.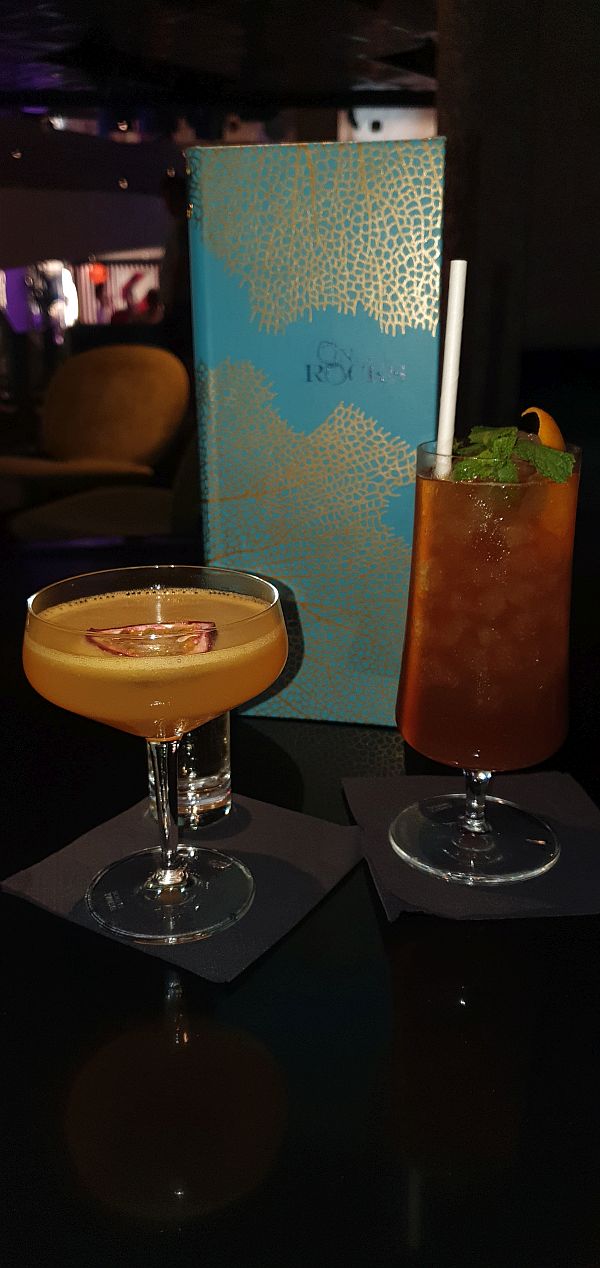 At 8.45pm we had a reservation for Test Kitchen. The dining on Virgin is somewhat different to any dining arrangements we've had on other cruise lines. Essentially there is no main dining room but a number of smaller restaurants which are more like speciality restaurants on other cruise lines. The difference being that you don't have to pay to eat anywhere , but as there aren't set dining times it does mean you do need to book a time at each one as you aren't guaranteed a table at a set time. We liked this set up as a whole. There is also a pizza place and some grab and go options throughout the ship as well as the Galley which is more like a conventional buffet with a difference in that you actually choose what you want from the various stations but then a waiter takes your order and retrieves it for you to bring to you table. This saves the difficulty of having a tray and piling up your plate with every offering you fancy while trying to balance it and then find somewhere to sit and eat.
Anyway, on to Test Kitchen – this is set up to look like a laboratory and the menu consists of 6 courses. The unique concept is that only the main ingredient is listed on the menu. We are seated on stools facing a counter where the courses are brought out to us. It's communal dining so we had around 6 of us sitting at our counter.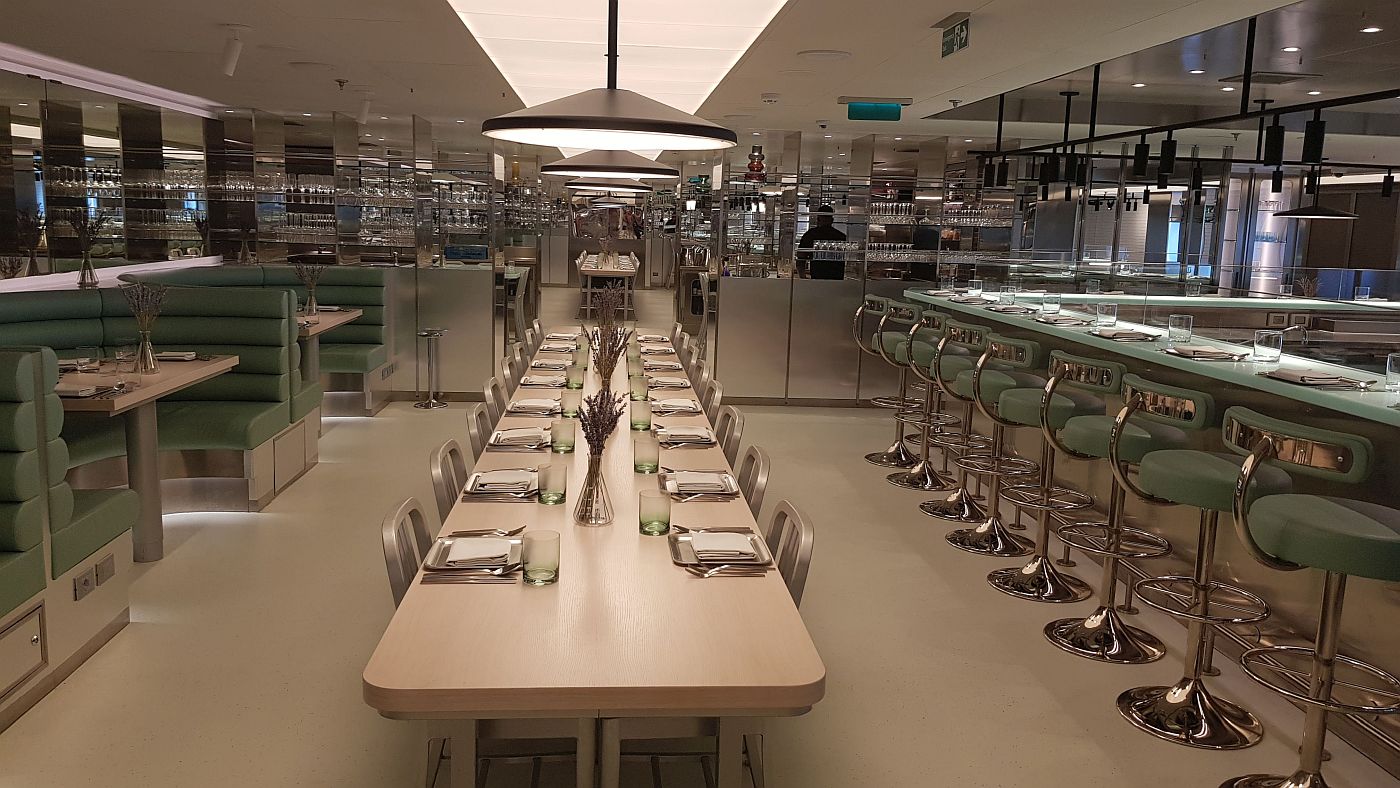 [Kev - I'm not sure the photos do it credit as it looks a little sterile here, but it certainly wasn't. In fact I think it was my favourite of all the restaurants we tried.]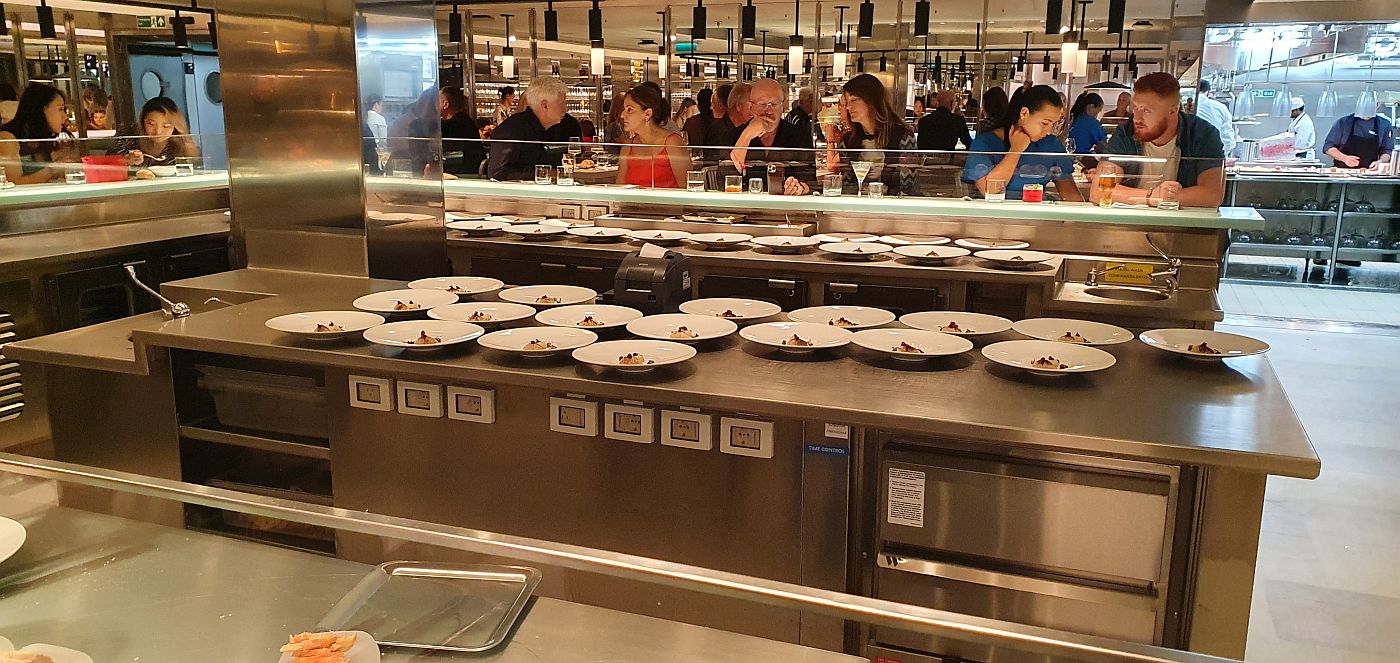 We decide to pay an extra $35 to go for the wine pairings (you can also choose Beer, cocktail or alcohol free pairings) with the meal. Our first dish is Mushroom – this consists of creamed portobello mushroom, served with buttery crustinis and two tiny mushrooms and a dust over it – the main cream is made to look exactly like a mushroom – very clever and very impressive and tasty.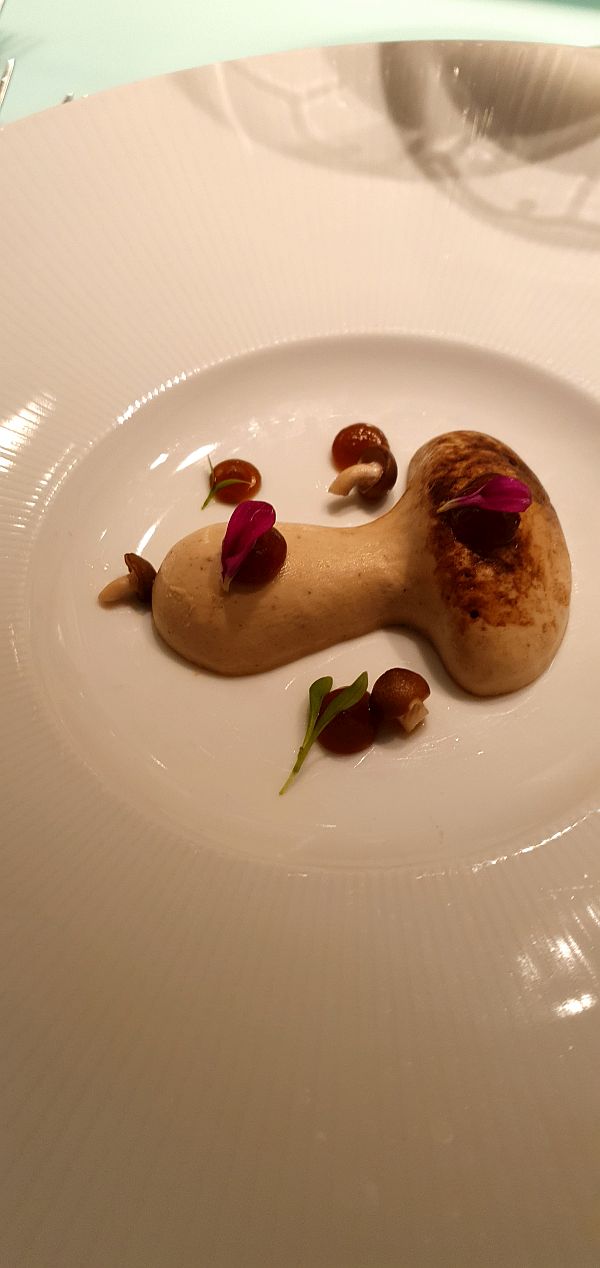 [Kev - mushroom pate in the shape of a mushroom. Ho ho.]
The next course was Egg – this was presented under a dome with smoke piped in. When the waiter opened it the aroma of woodsmoke was intense. The egg yolk is smoked and served over blanched peas with a caviar mix and served with Guinness beer bread on the side. Again we both enjoyed this course.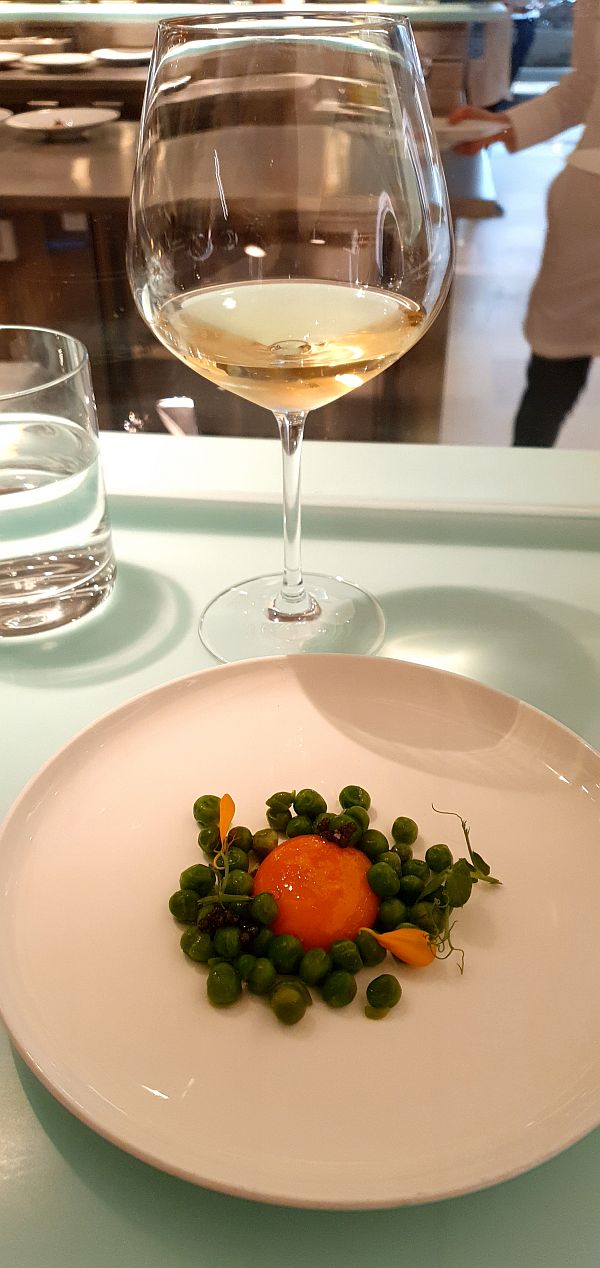 [Kev - a weird combination, but it was lovely.]
Course 3 was Scallop – this consisted of perfectly cooked scallop cooked with serrano ham, seaweed and sea lettuce covered with a ham infused sauce.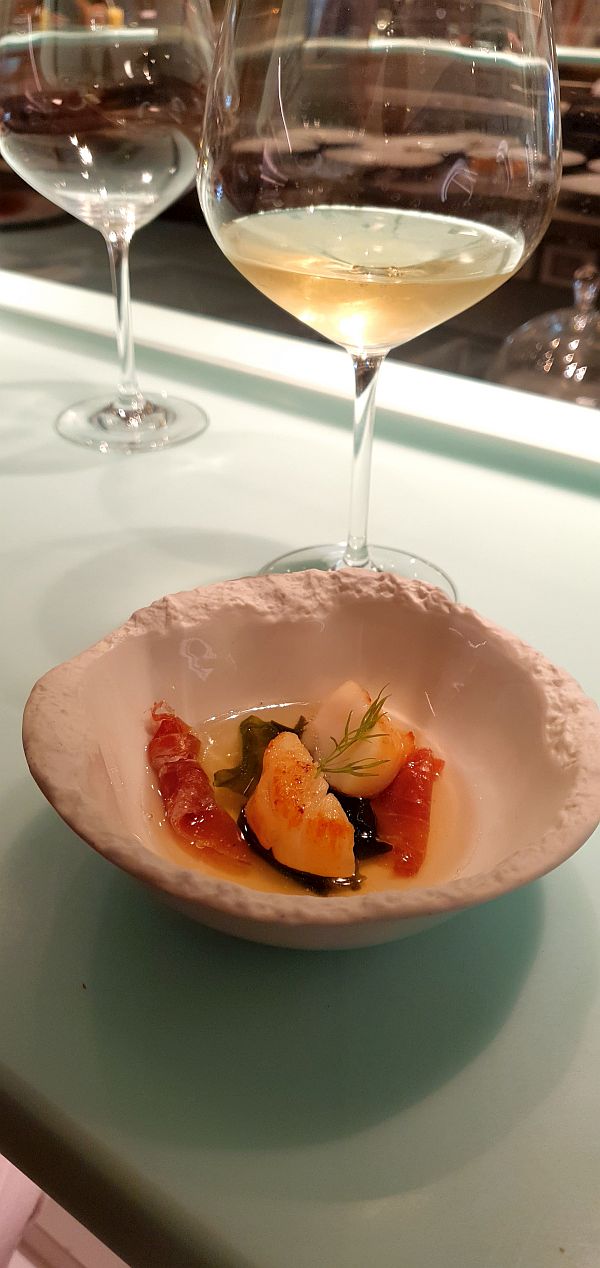 Course 4 was a choice of either Venison or beef served with berries Unfortunately I don't have any photos of this course – it was obviously so delicious we didn't wait to take any. The beef option was beef tenderloin, beetroot puree, pickled blueberries, chocolate twigs and a jus. The venison dish was accompanied by thin layered potatoes and a red wine jus. Course 5 was a true surprise and I guess would be a "Marmite" course depending on your liking for blue cheese. It was a sort of semi frozen mousse containing gorgonzola cheese, cream, candied pecans and served with a citrus syrup. We really enjoyed this – it certainly tested our taste buds being both blue cheesy and sweet.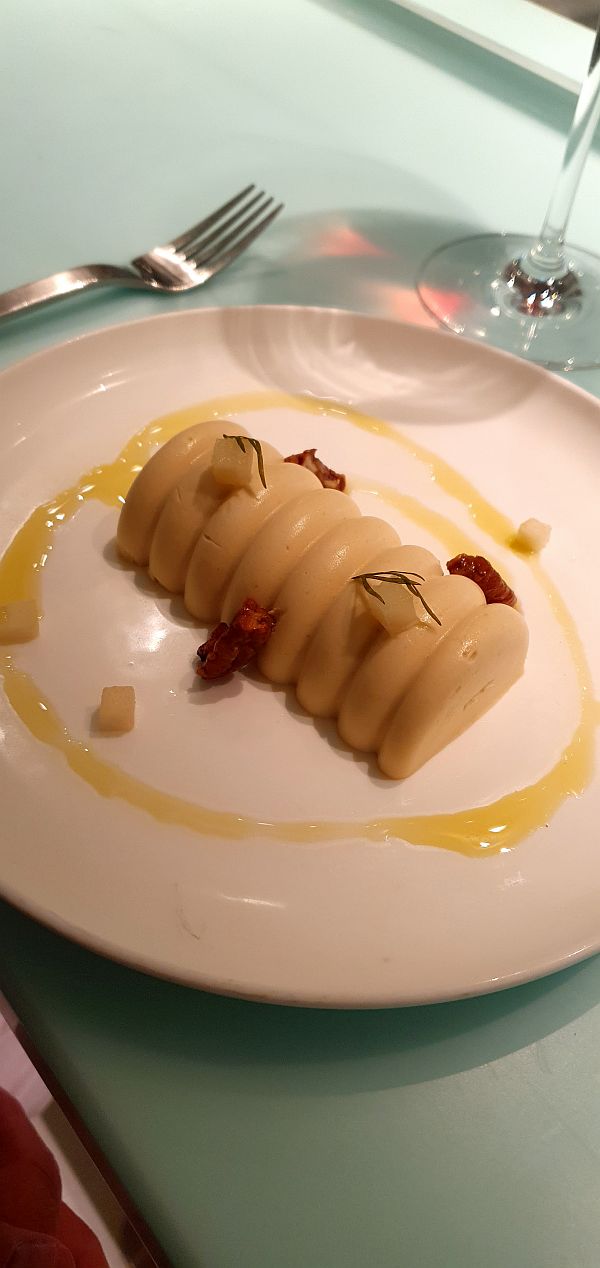 Course 6 was desserts and we were given a zesty orange sorbet served in the orange skin which really refreshed the taste buds before enjoying a very rich chocolate pudding. It was a chocolate layer cake with strawberry jam and coconut cream inside, a strawberry coulis and a microwave vanilla sponge decoration.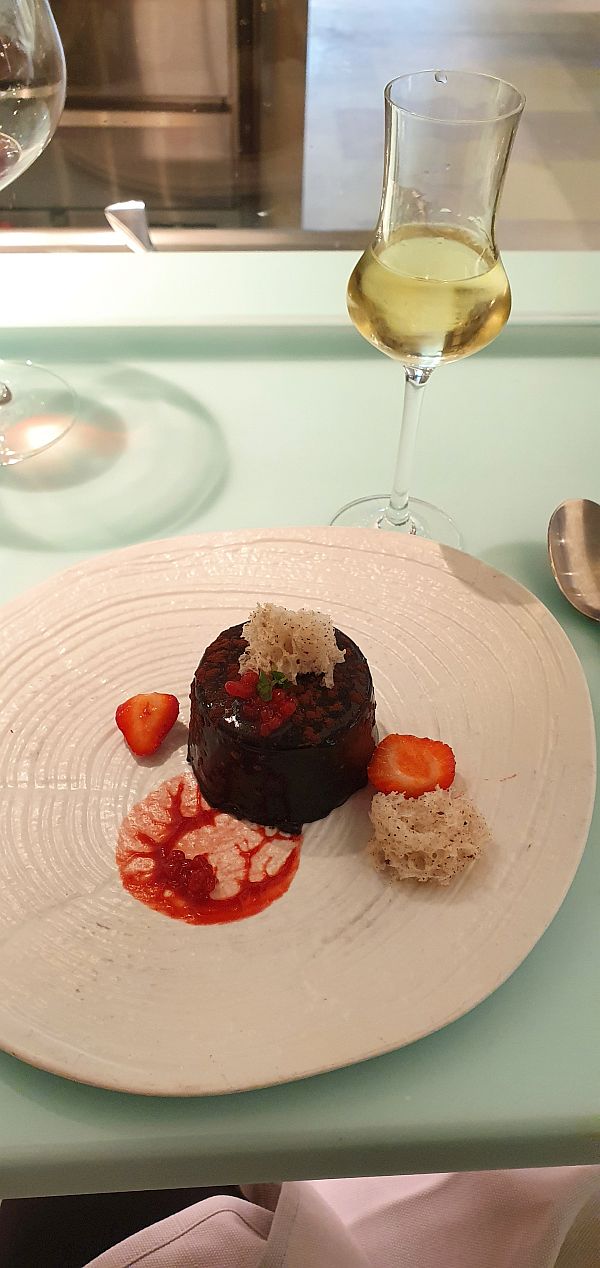 We thoroughly enjoyed the whole experience of eating in the Test Kitchen, I seem to remember that we enjoyed the accompanying wines and for $35 per person extra we felt they were a good addition. Apparently Virgin do a second menu on Test Kitchen so in theory you can re-visit and get a whole different food experience, unfortunately though we didn't get a chance to dine there again but we'd definitely go back. [Kev - I think the most impressive thing is that all the restaurants are included in the price - no extra cost for speciality restaurants.]
After the meal which took some time we had a quick walk on the top deck to view the lighting by night but as it was now midnight we decided to return to the cabin for bed.