Day 4 Monday 19th September 2022
Written by Tam
We both have a good night's sleep. The beds are very comfortable, the cabin is dark enough and quiet – so perfect for us. We watch the sunrise from the balcony and watch as the ship heads in to Toulon at around 8am. We are docking in the Old Town.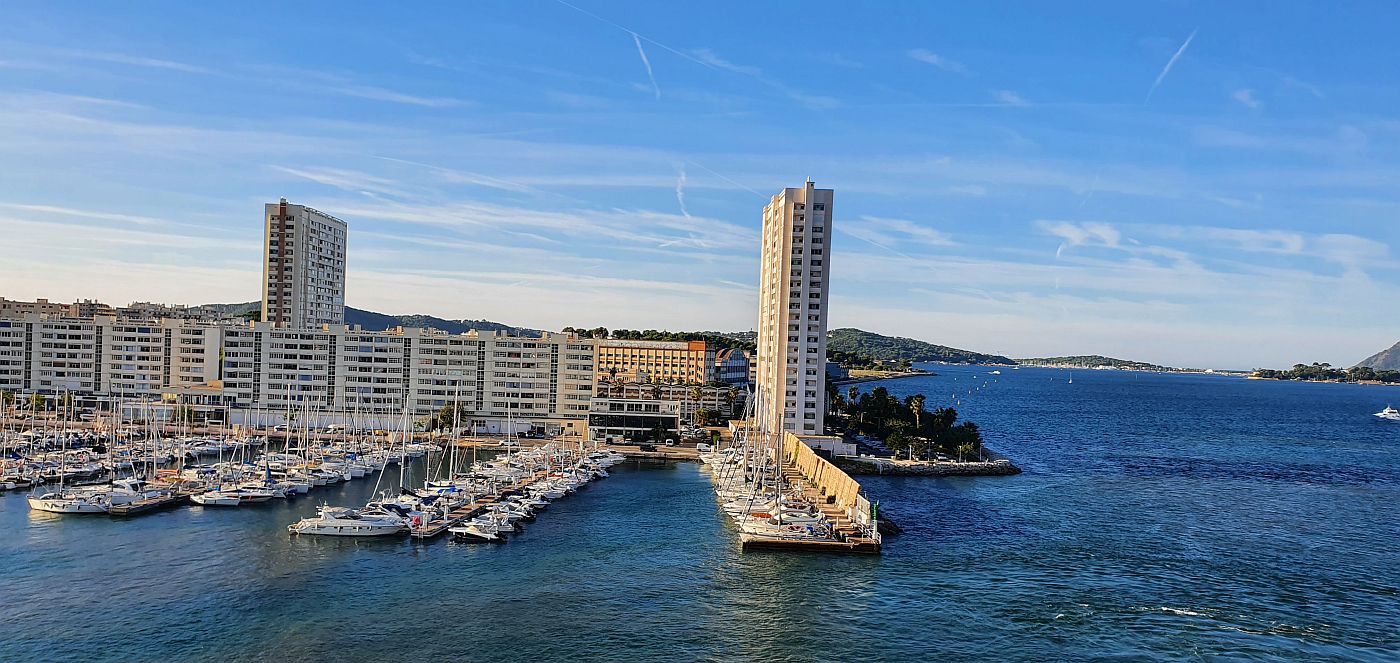 Get ready and head for breakfast in The Wake, we are asked whether we had a reservation, which we hadn't, but as it was empty we were allowed a table towards the back of the restaurant overlooking the sea. We both ask for soft shell crab benedict as we'd read about this before the cruise and really fancied it, although it was listed on the brunch menu sadly they say they don't have it on this cruise. Never mind, Kev chooses Avocado benedict which is avocado, asparagus and lime hollandaise and I go for "The Wake" benedict, which is crispy pork belly, sauteed spinach and bone marrow hollandaise. Very tasty. This is followed by a selection of delicious fresh pastries. The menu is small but ranges from Clam Chowder, Poached shrimp to Coconut panna cotta. We didn't get to eat here for brunch later in the day but if we'd not had such a port intensive itinerary I think this would be a nice place to sit and watch the wake whilst eating delicious food.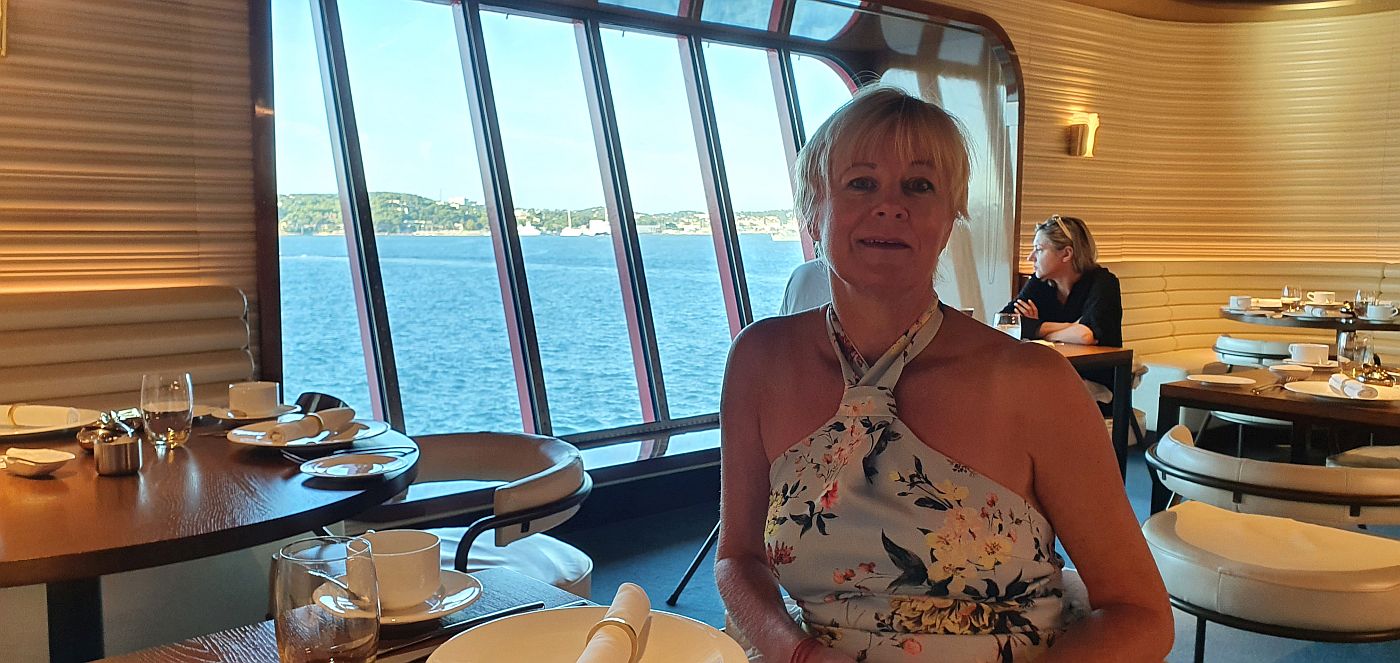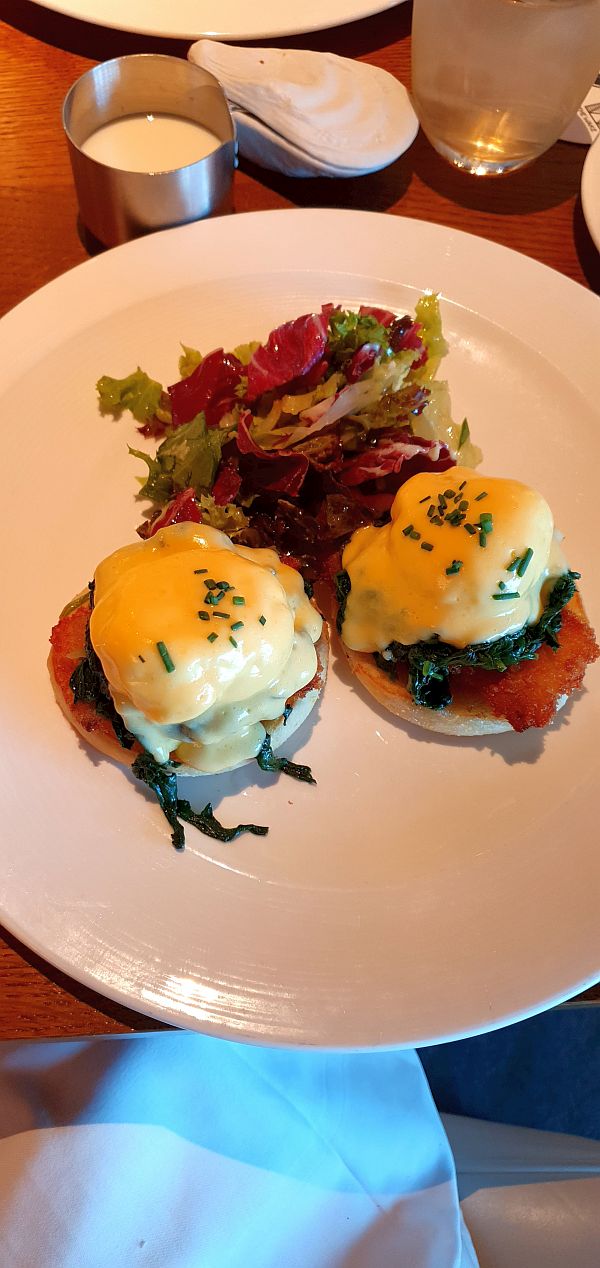 We pick up everything we need for the day from the cabin and head to the gangway on deck 4 which should open at 8.30am but doesn't actually open till 9am. We have a planned itinerary for the day which meant catching a bus at 9.10am but unfortunately due to the late opening of the gangway we missed it and the next one isn't coming until 10.40am which is a pain. We therefore walk from the original bus stop to the bus station where we buy tickets for the 7801 bus to Bormes-Les -Mimosas. We sit patiently and wait, but thankfully it turns up on time and it takes around 1 hour to complete our journey and we exit at the bus stop that we know is nearest for the walk up the hill to the village. By now it is in the mid 20's so we take a slow walk up the picturesque road, with houses draped in bougainvillea and lots of trees. The view is across to the beautiful blue twinkling sea in the distance. The village is gorgeous – lots of tiny alleyways and in the main street a number of cafes, restaurants and gift shops but nothing tacky and the place is relatively quiet.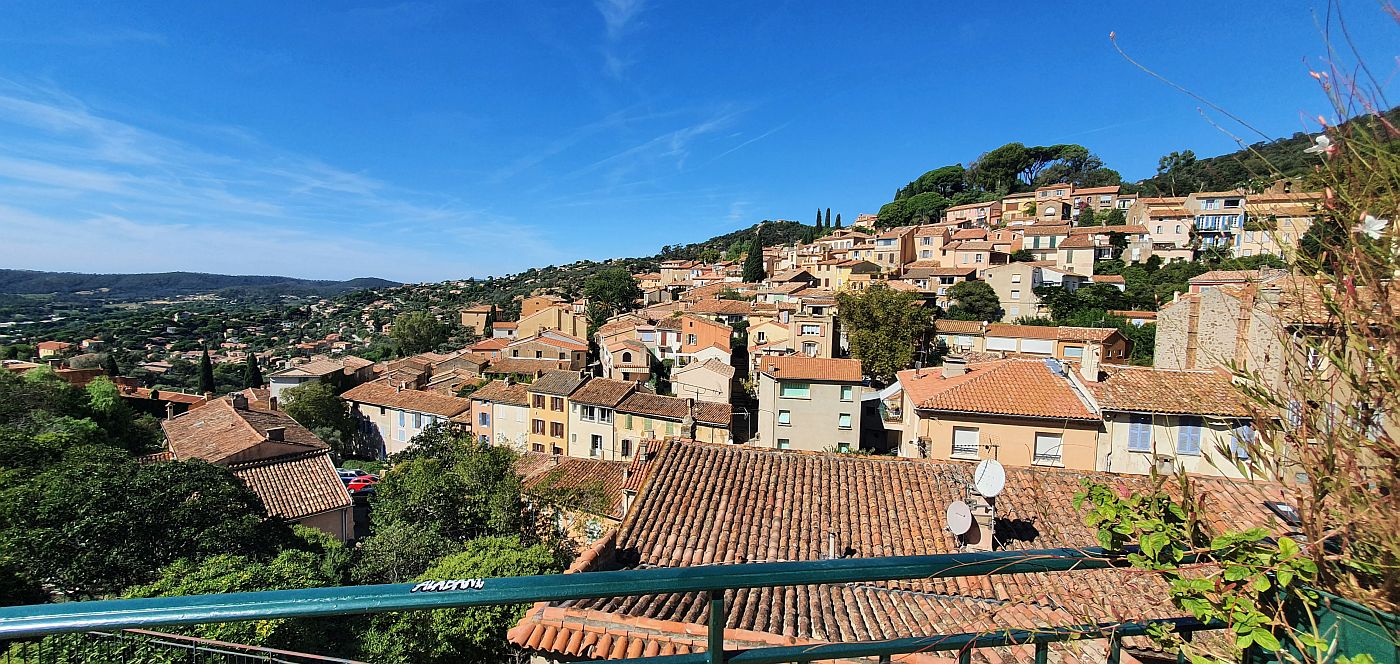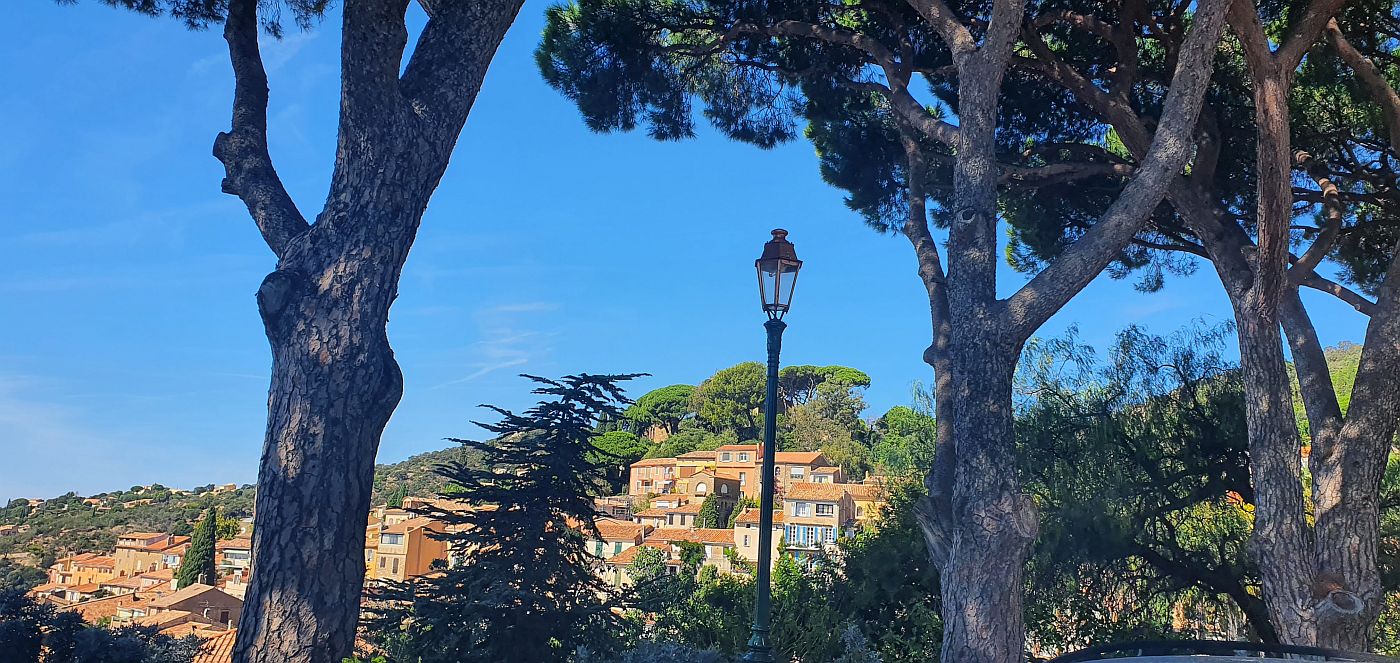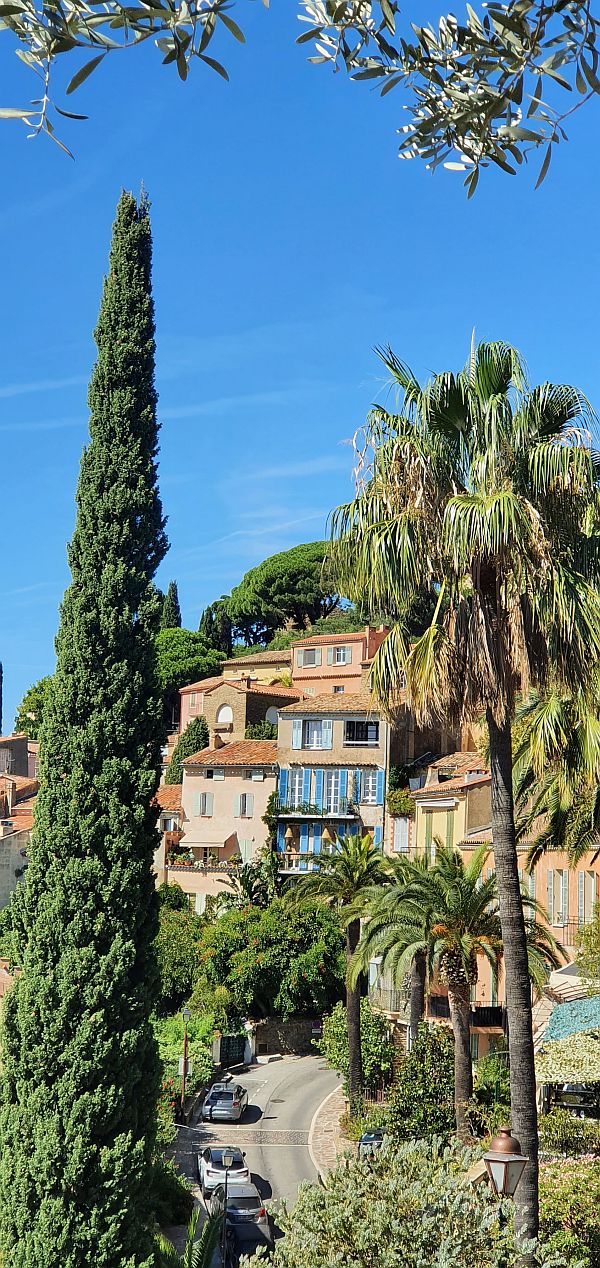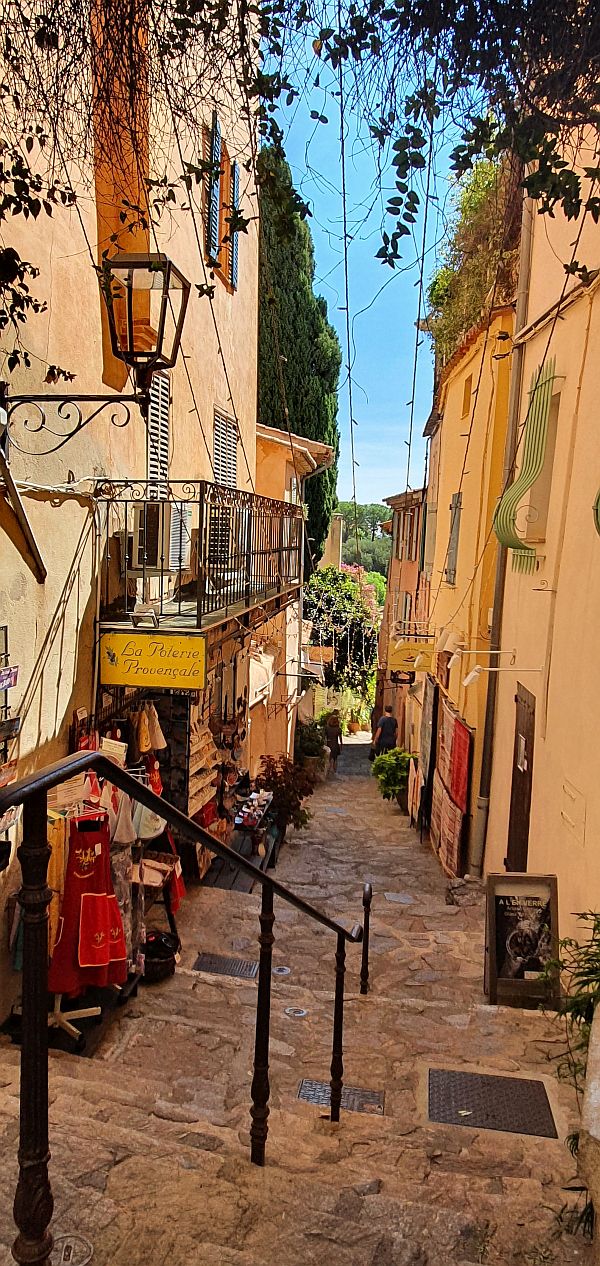 We find a wonderful little restaurant up some steps off one of the streets – Le Cafe de la Cueva. I have the tomato salad with focaccia and Kev has a curried chicken wrap with salad. We also have a local beer, amber for me, blonde for Kev. It really is a delicious meal and served in the most picturesque setting. We are near a little church and we enjoy hearing the bells chime during the meal. The total including tip is €63.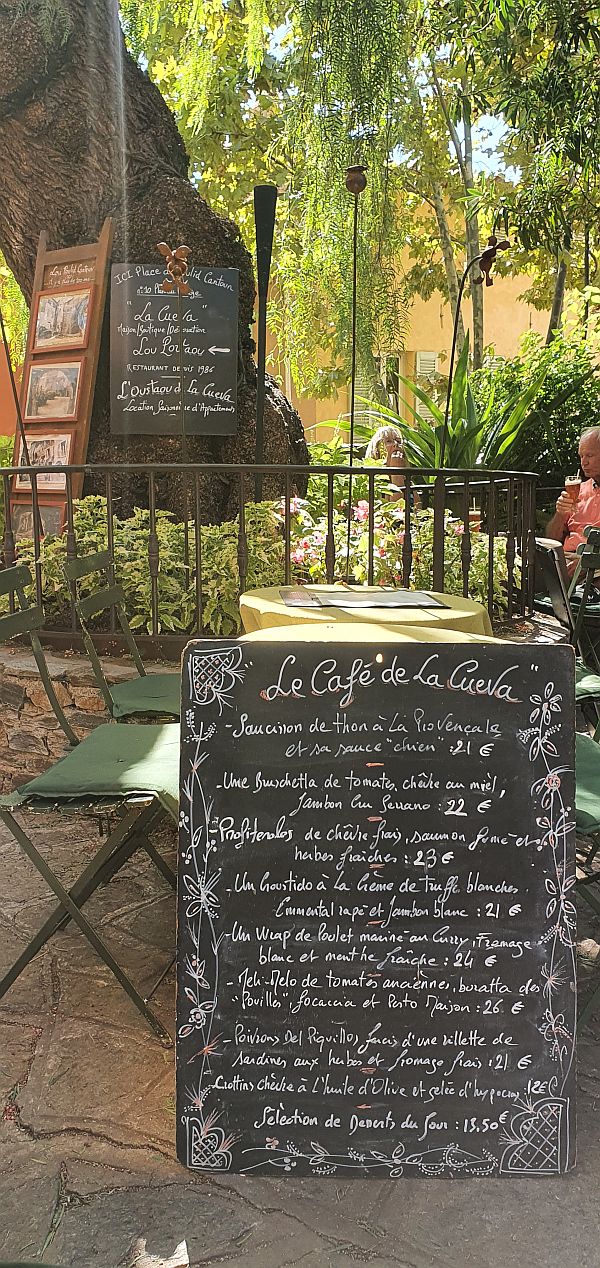 We wander around some more taking more photos and video but as we still have 1 hour before our return bus to port we have a glass of rose in a café by the roadside.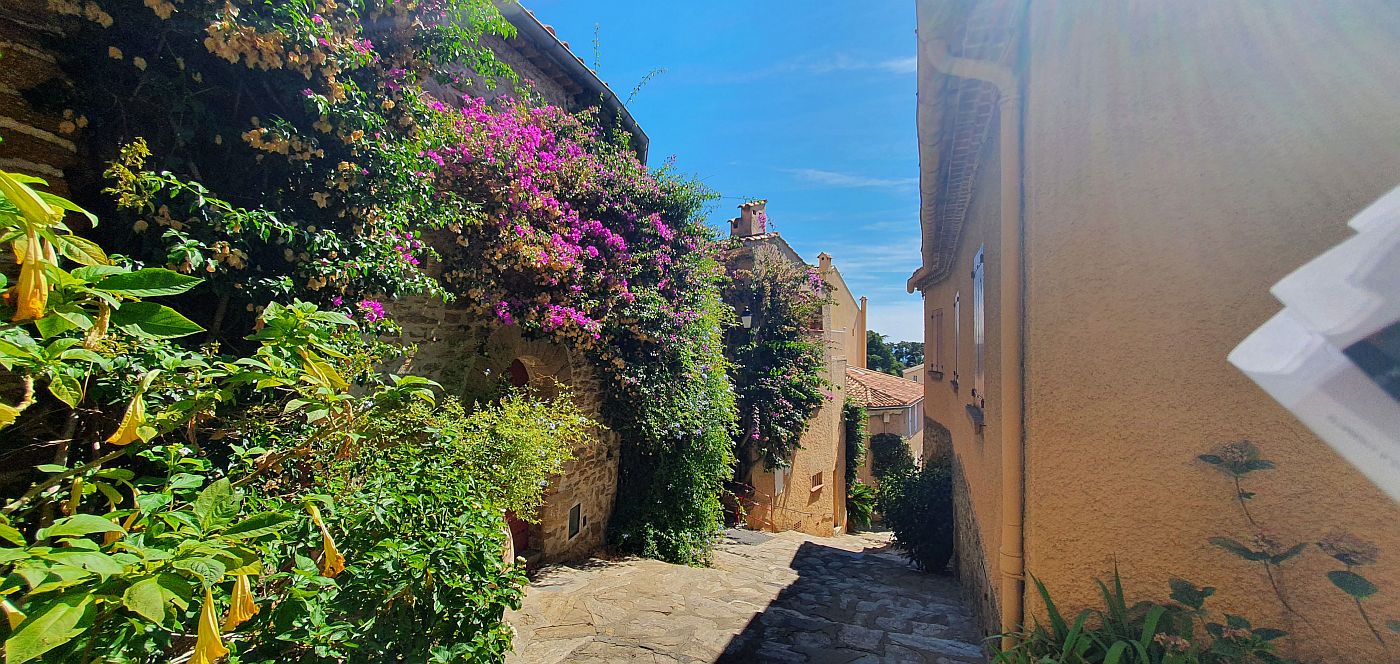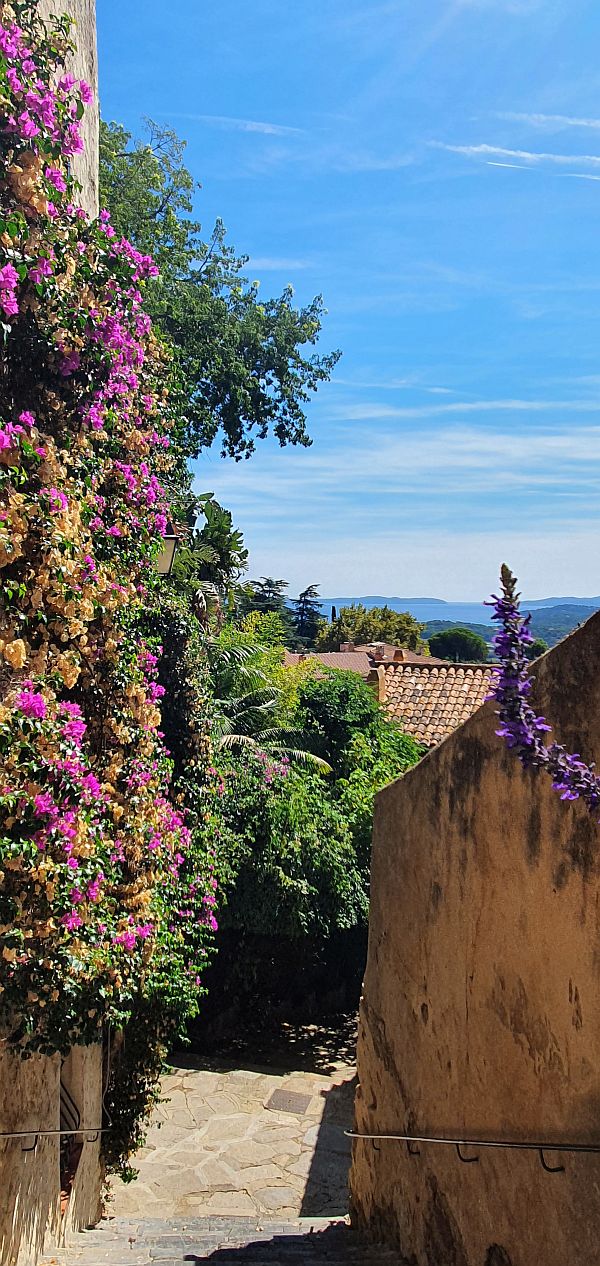 [Kev - Bormes is a very pretty place, but I don't think I'd rush back. If I was staying in the area I might, it must be very pretty at night, but the hour each way on the bus makes it a long day.]
After that we have a slow meander down the hill to the bus stop and at 2.45pm we are on the return journey which is actually half an hour earlier than the timetable said, just as well we were there in good time.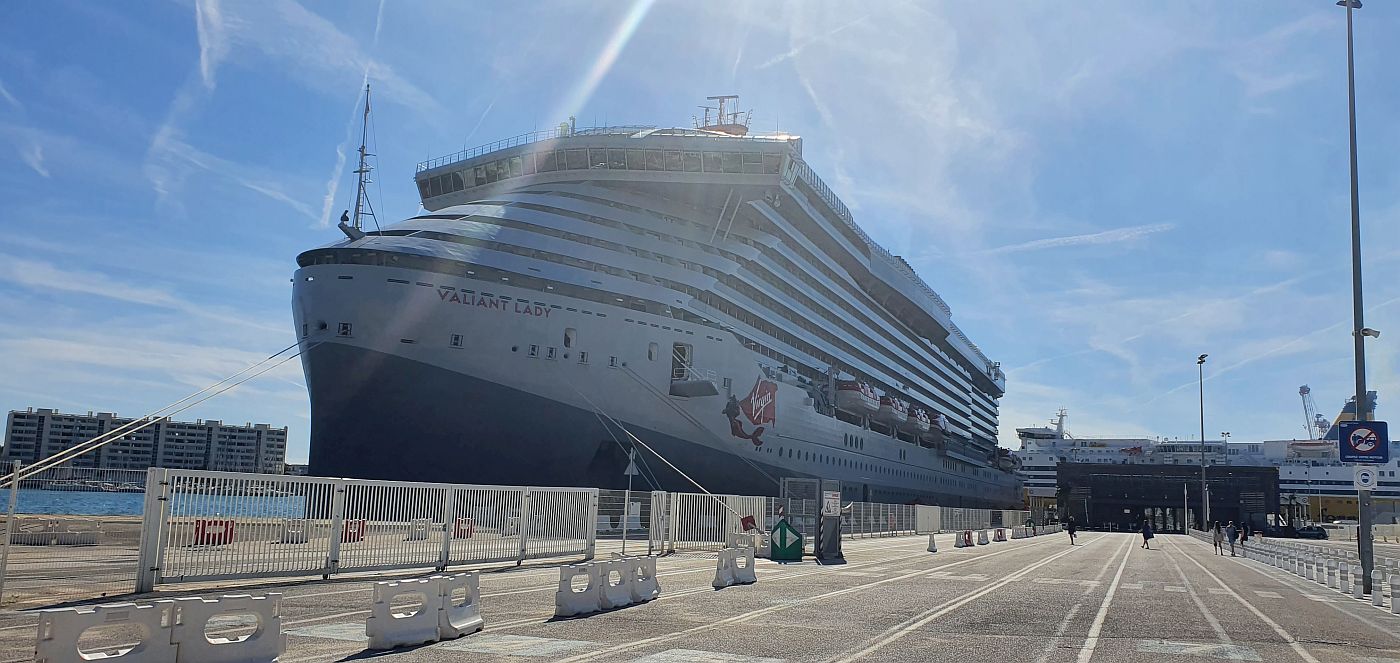 Back on the ship I have a hankering for ice cream, which is another free perk on Virgin cruises. The ice cream counter is Lick me Till Ice Cream and it's got a comprehensive choice considering it's free. You can either have a tub or bowl of ice cream with 1 or 2 scoops of ice cream (Although we saw a number of people asking for 3 and being given it), there are 3 choices of cone, red velvet, vanilla or salted blue corn and a choice of ice creams, vanilla, brown butter financier, orange ricotta, green machine, malted strawberry milkshake, key lime, chocolate and butter pecan. We both have a small scoop in a tub as we are still relatively full from lunch and we have orange ricotta and also a Sprite which along with all soft drinks are free on Virgin cruises. Again I don't think we made the most of the ice cream parlour on this trip but it was really tasty.
We take the ice cream back to the cabin to eat on the balcony, then we shower before sail away at 6pm.
Out to The Dock for cocktails to enjoy as we sail away from Toulon.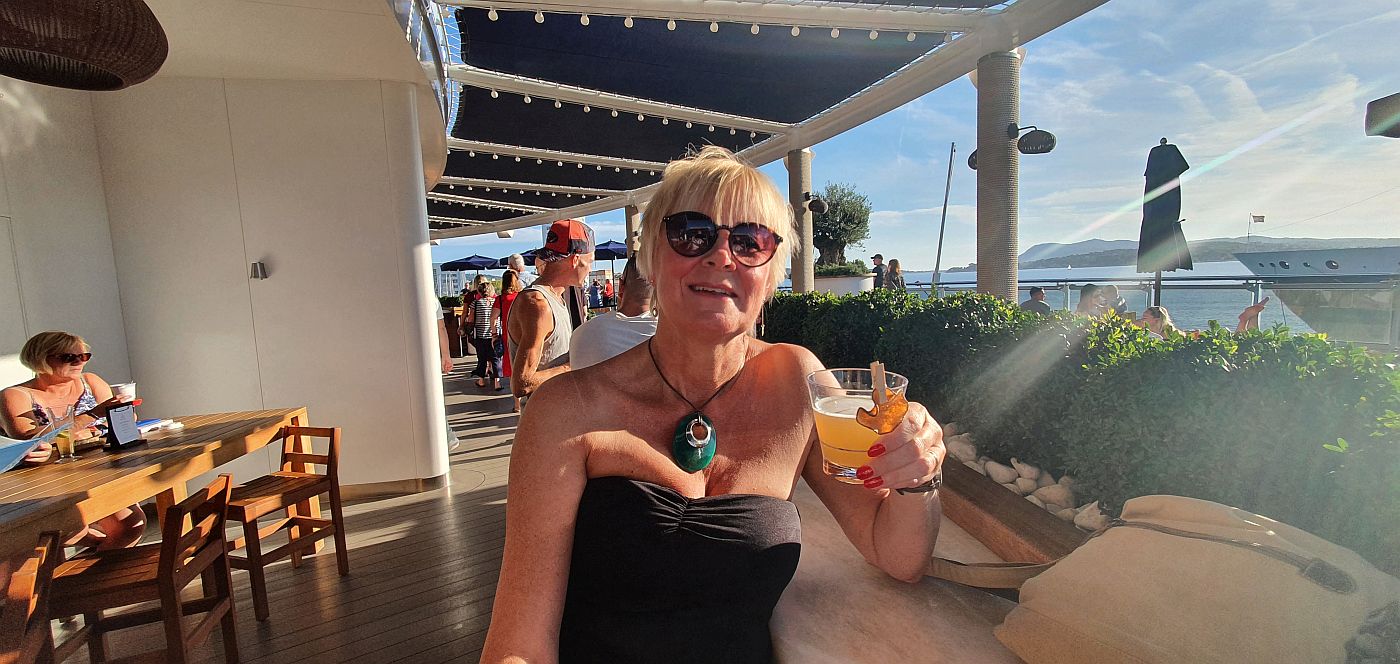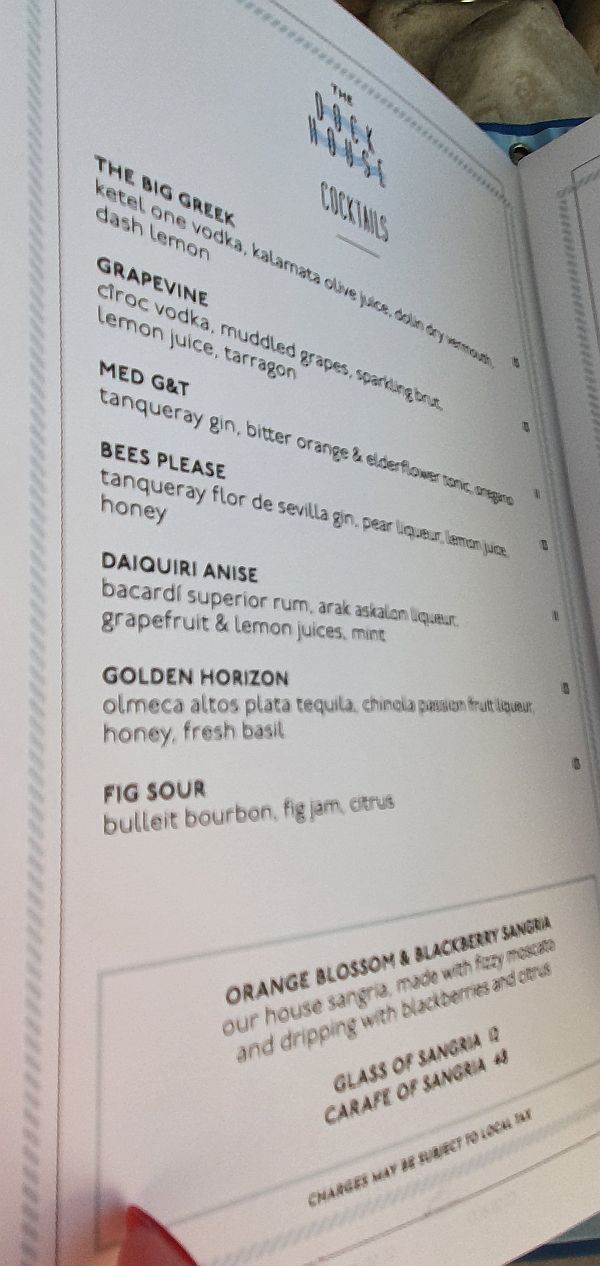 [Kev - This is the cocktail menu at The Dock. I particularly enjoyed the Fig Sour.]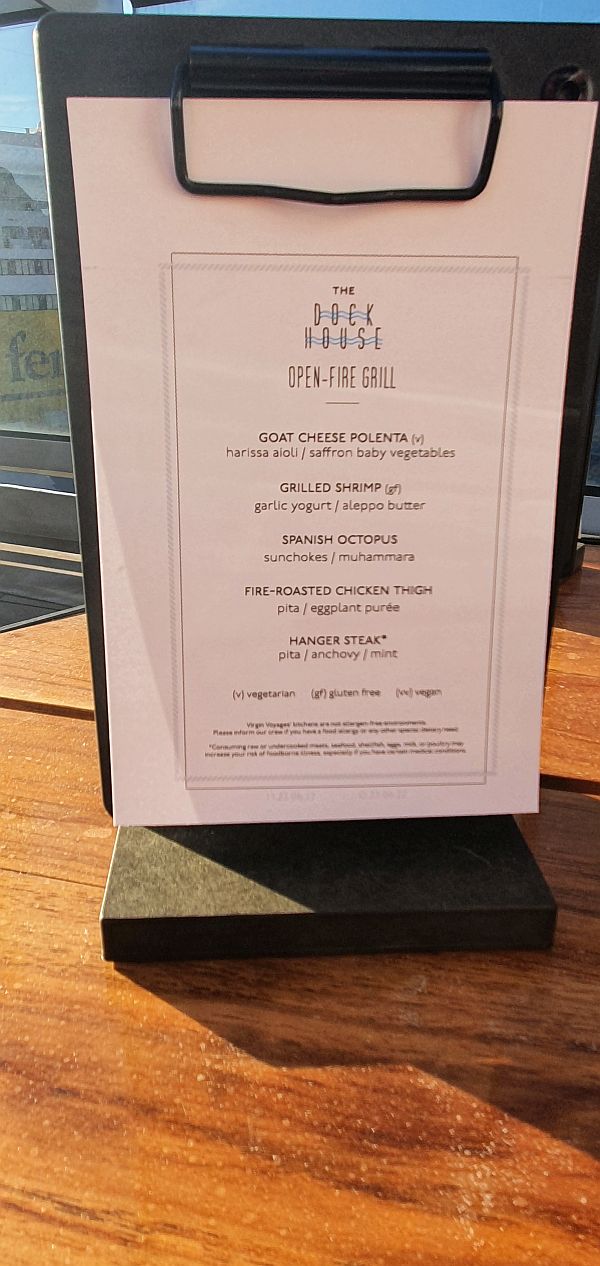 [Kev - And here's the mezze menu. Of course you could always go off and get food from one of the other options and bring it back to your chair/bed.]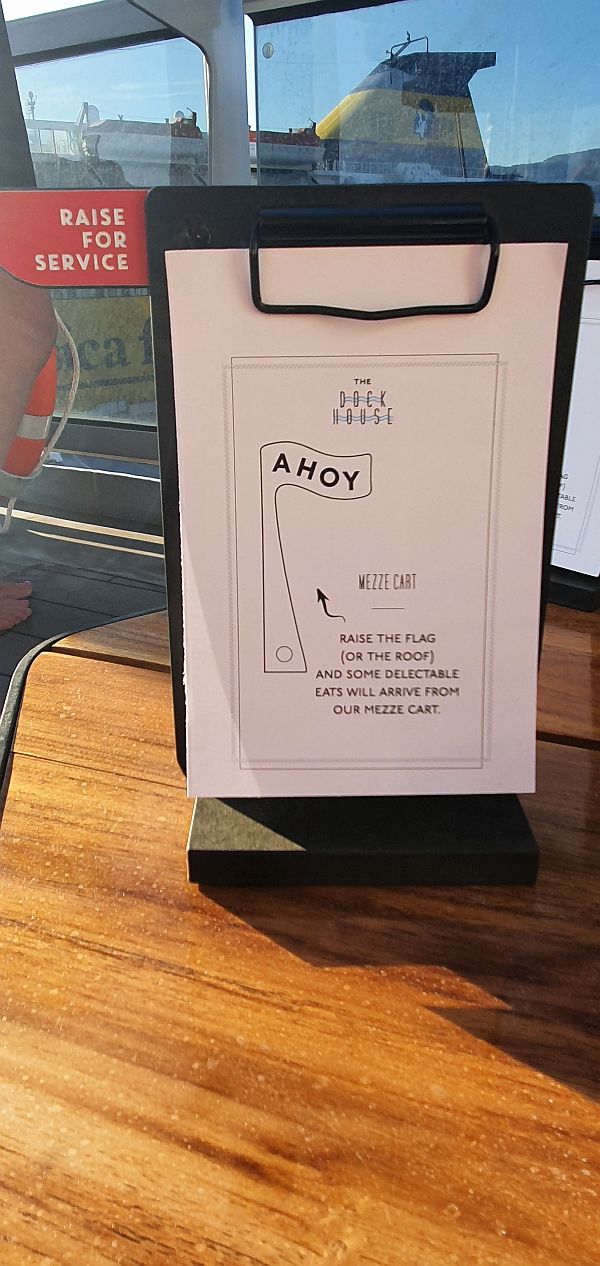 [Kev - The best part about The Dock was the little flag that you raised and a member of the crew (on Virgin all the staff memebers are called crew) would take your food or drink order.]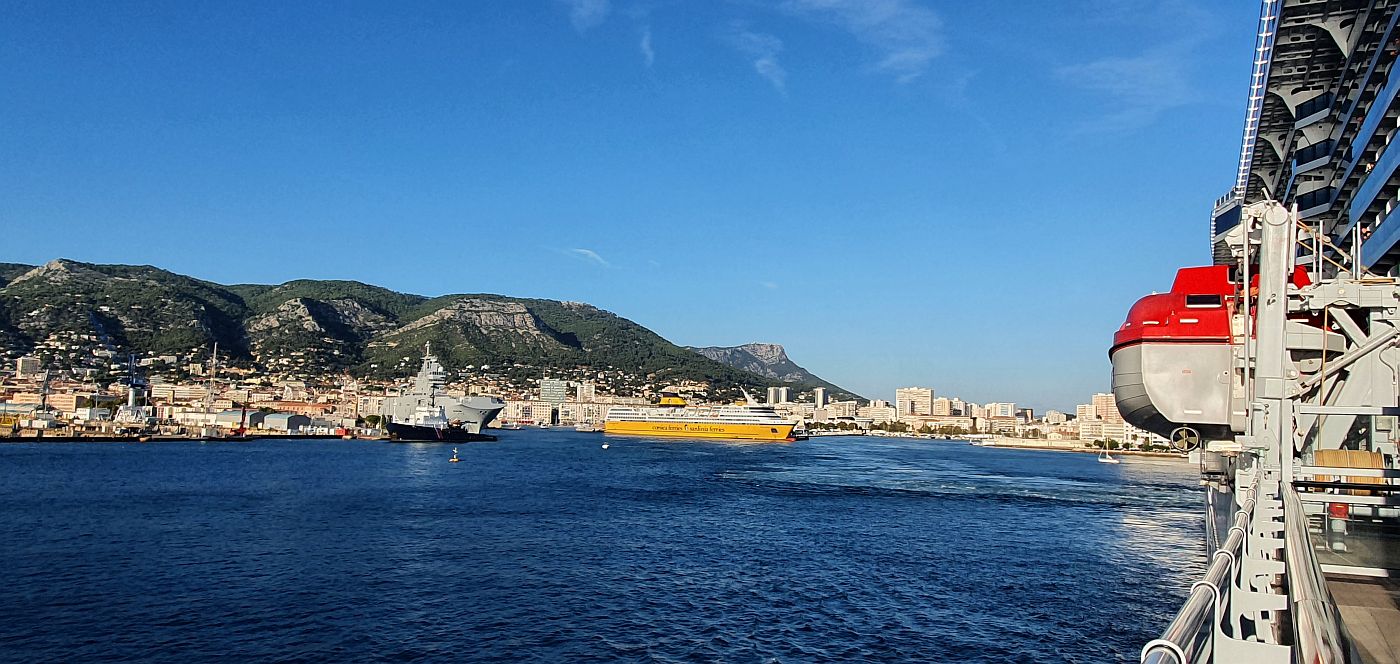 Then we have some cold Chardonnay before going to Razzle Dazzle for our meal. We end up sitting next to a lovely lady who works for Virgin cabin crew and her daughter, who have both got the cruise as a freebie as she is employed by Virgin, they offered free cruises to various members of staff so that the cruises would be busier and to put the crew through their paces. Lucky them, and we thought we'd got a bargain paying in points!. So Razzle Dazzle is advertised as a predominantly vegan and vegetarian restaurant and it's very striking with it's black and white colour scheme with red and metallic finishes throughout including the red bar. Thankfully though the menu does include a "naughty" section which includes some meat dishes. Kev has strip steak, kale and sweet potato tots, I have butter chicken and naan and we both have a glass of red wine. The food was good and we enjoyed it but it didn't blow us away like The Test Kitchen.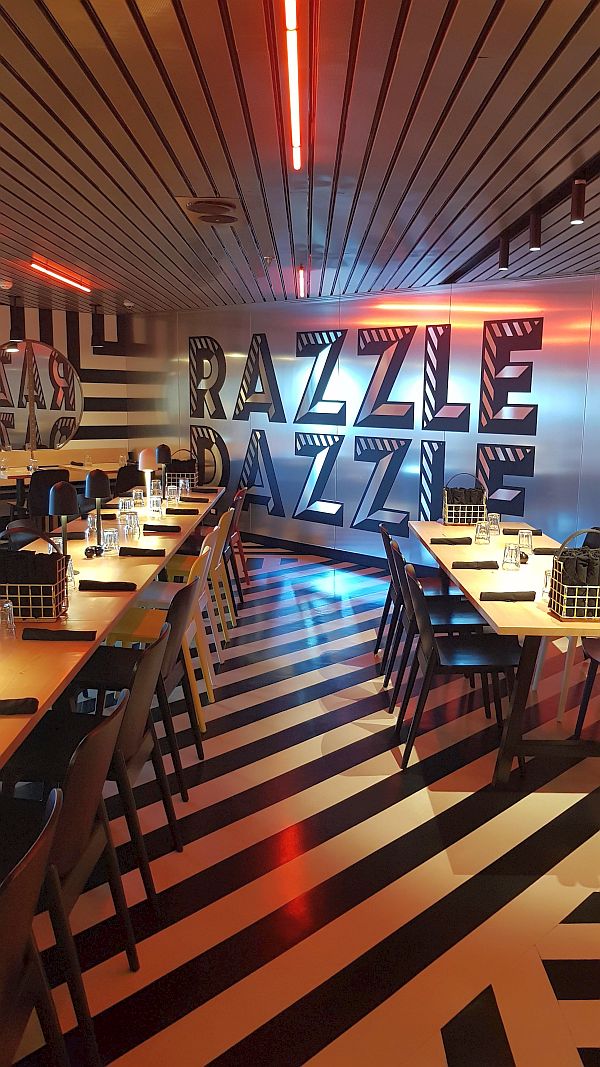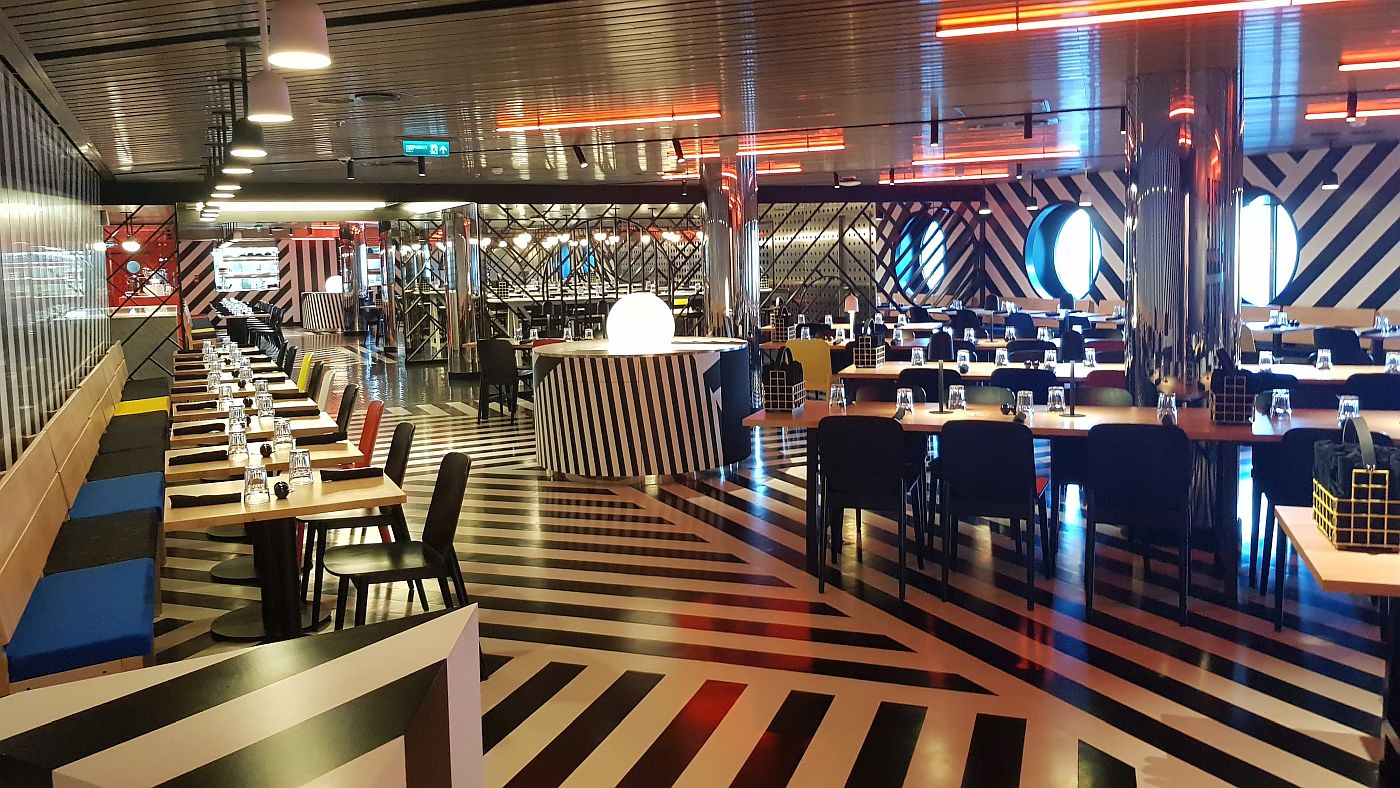 [Kev - the black and white stripes are based on the painting on Dazzle ships in World Wars 1 and 2. The stripes wern't meant to camouflage but to confuse attack vessels trying to work out speed and heading.]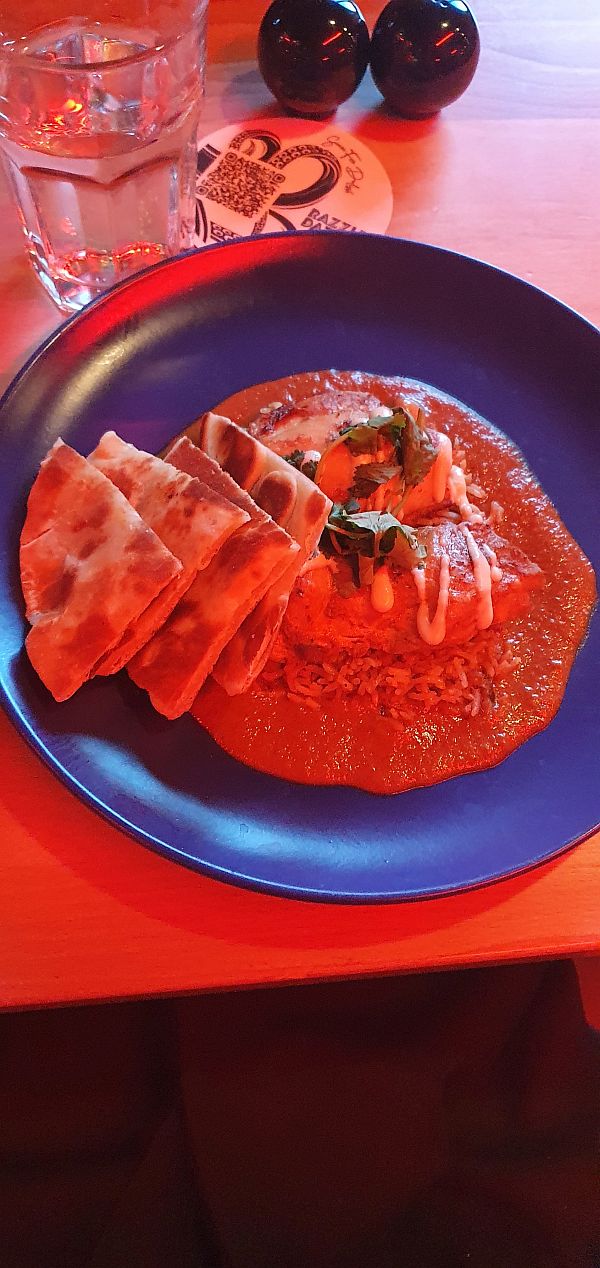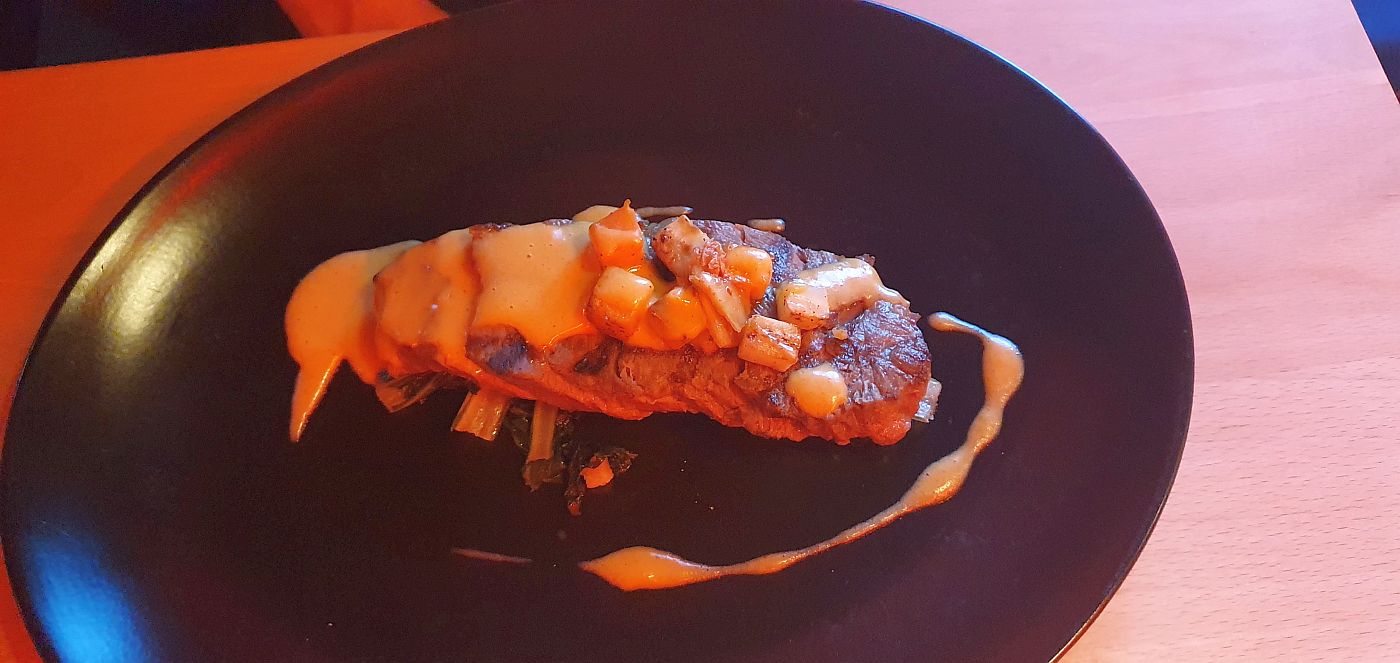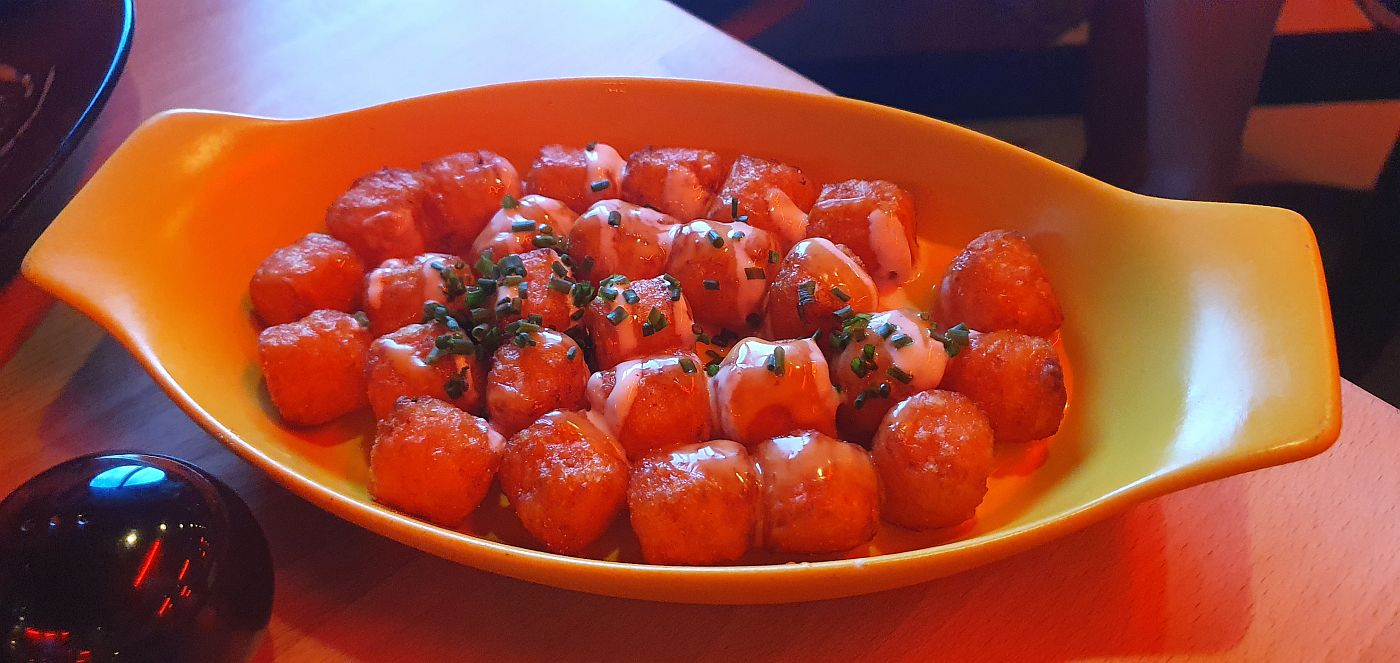 There's a lady singing at the On The Rocks bar, which is a nice darkish atmospheric bar with a good selection of whiskey, bourbon and rye together with the usual wines, cocktails and spirits. Then we are ready for one of the shows in The Manor – Never Sleep Alone. The entrance way to The Manor is fun, lots of glitzy mirrors line the passageway. The show didn't really float our boat, We are given a venetian style mask and some condoms on the table and are asked by the hostess how adventurous we are. We figure that we don't want to say very or we'll no doubt be part of the show which really doesn't appeal to us. Well, the first thing you had to do was to turn to a stranger and explain your first sexual memory – OMG excruciating and embarrassing. Then the hostess comes round and asks us both to shut our eyes while we answer 3 or 4 sexual questions each. Some things were quite funny others weren't. There was a funny scene when some of the more daring audience members had to do a simulation with a banana and a watermelon. But all in all we both agreed this wasn't a show for us really, even though actually the choice of music in the show and the singing voice of the hostess was great.
[Kev - I agree with Tam, I wouldn't bother with this show again. The part where you have to get up and walk to the next table to tell them your first sexual memory was pretty cringy. I talked to a middle aged woman who told me that her first experience was riding a bike! Thanks for your honesty madam, but I could have done without that particular image in my brain. I told her that mine was watching the Mighty Swindon Town for the first time. I don't think she understood that I was joking.]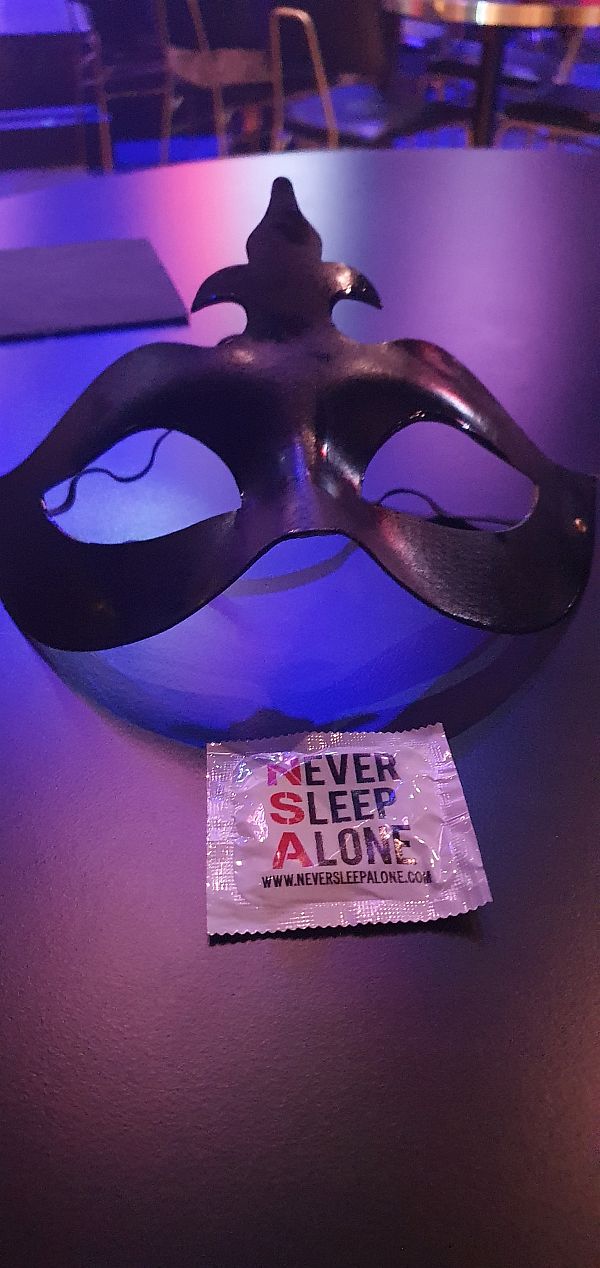 Back to the cabin and bed.