DAY 2- THURSDAY 1st NOVEMBER 2012
Written by Tam
Participants: Tam, Kev, India and Georgia (a brief appearance by Deb and Matt)
Not a great night's sleep. Although the beds are comfy it is that typical "night before the holiday", restless sleep that doesn't seem to refresh.
We shower, check out and go to the road in front of the hotel to catch the bus to the airport - this costs £2 each. Living in a small town we stand in awe looking at the electronic bus timetable – wow the wonders of technology – what the other passengers must think at the bus stop who knows.
We have breakfast at PrÍt A Manger – Kev and India have a posh bacon baguette, with bacon, cheese and tomato in a tasty baguette, Georgia chooses a duck and hoisin sauce wrap and I settle on a chicken raita wrap. Together with 2 coffees, a smoothie and water the bill is £24.
We have time to shop and Georgia manages to get a cover for her Kindle, which she was given for her birthday, sunglasses as she managed to leave 4 pairs at home, and makeup. I get some sunglasses and makeup, India make up and a travel pillow and Kev some aftershave. Head to the gate at 9.50am where we board fairly quickly and take off at 11am – 20 minutes late.
Mademoiselle Rouge is a new plane with the Vera Entertainment system. This is a real bonus and I watch Ted, The Best Exotic Marigold Hotel. Hunger Games and Don't Trust The Bitch in Apartment 23 – all of which I thoroughly enjoyed. Lunch was tomato, cucumber, red onion salad with mint – which wasn't great as it didn't have any discernable dressing, main was diced chicken with cheese and leek sauce, garlic and thyme potatoes and creamed spinach, which I thought was particularly tasty, dessert was a Gu Black Forest pudding. A vodka juice cocktail accompanied this.
Later in the flight we had a Mini Skinny Cow ice cream and for tea a cheese and onion finger sandwich with a Great British Cupcake.
[Kev - It's at this point that you must be glad that I didn't do this section of the trip report and bore you with an in depth report of all the films I saw.]
Land at 4pm local time and get to the gate at 4.15pm – the lovely man at security said to Kev "What an attractive family you have sir" – we all beamed and I handed him the $10 as promised for the compliment.
[Kev - $10! You must be joking! I had to slip him a $50 bill before you got there to stop him from laughing.]
Straight out and to the Dollar Express lot as we had remembered to re-activate our Dollar Express card - so by 5.15pm we are driving out the lot in a Black Ford Escape. Everything went so smoothly and we were happily checked into room 8342 at Bay Lake Towers in no time. It had great views over the lake but we could also see Epcot and Wilderness Lodge.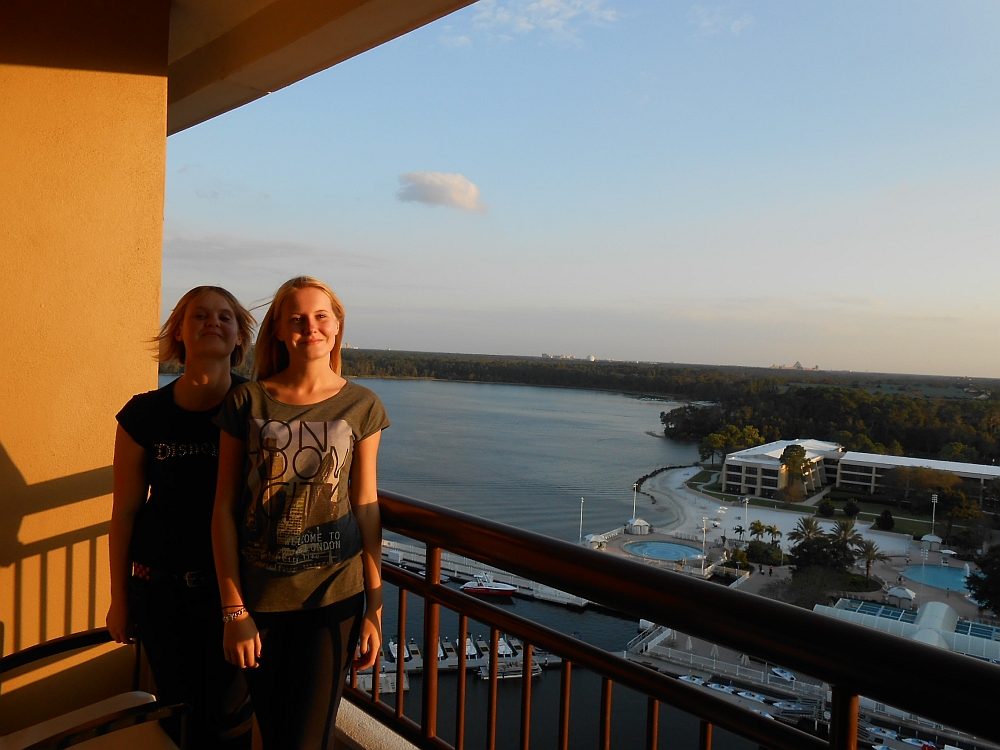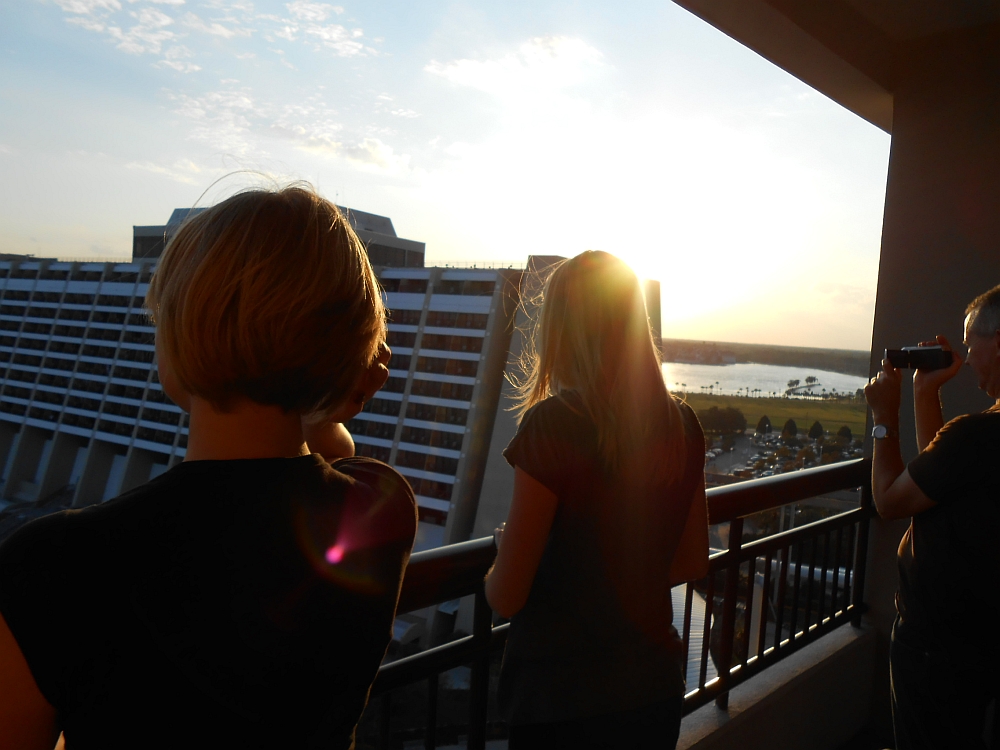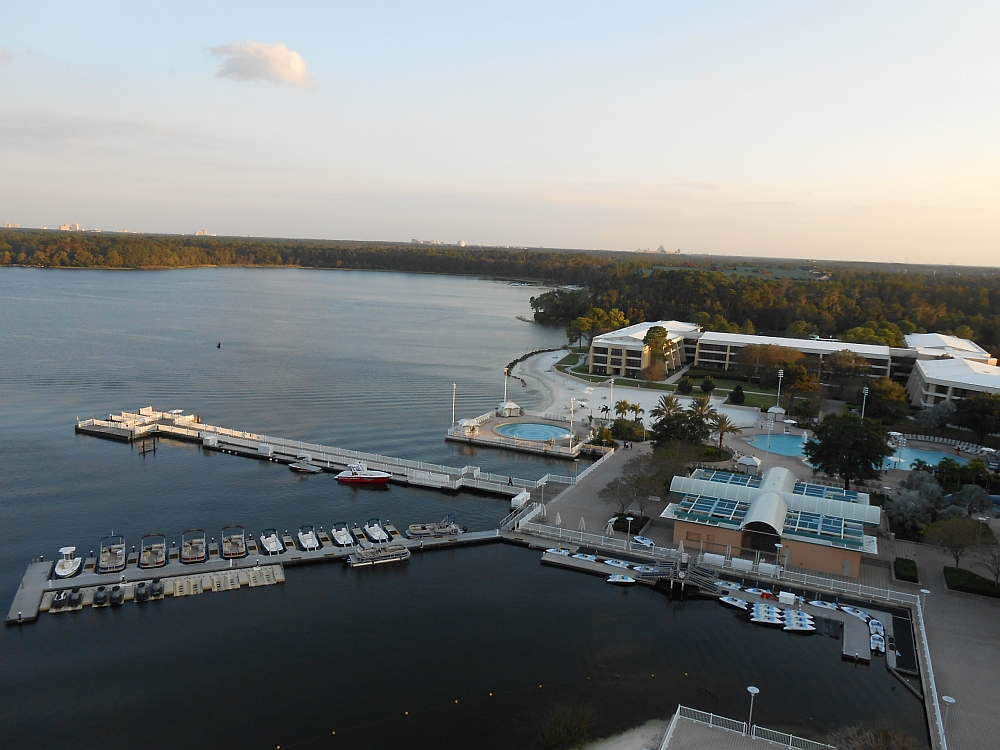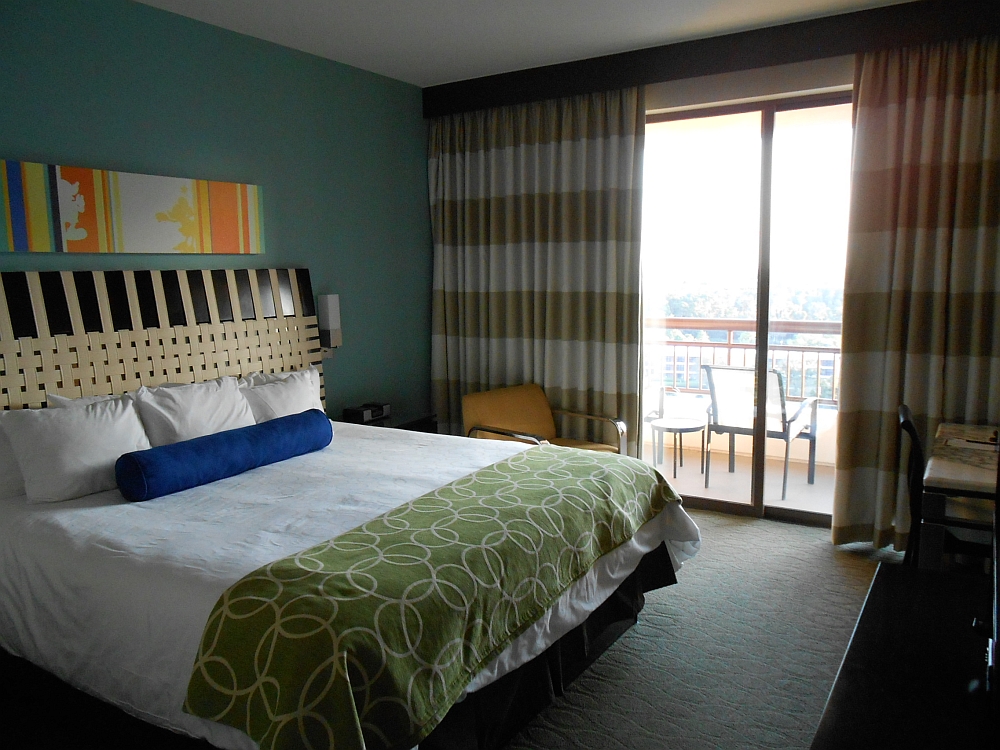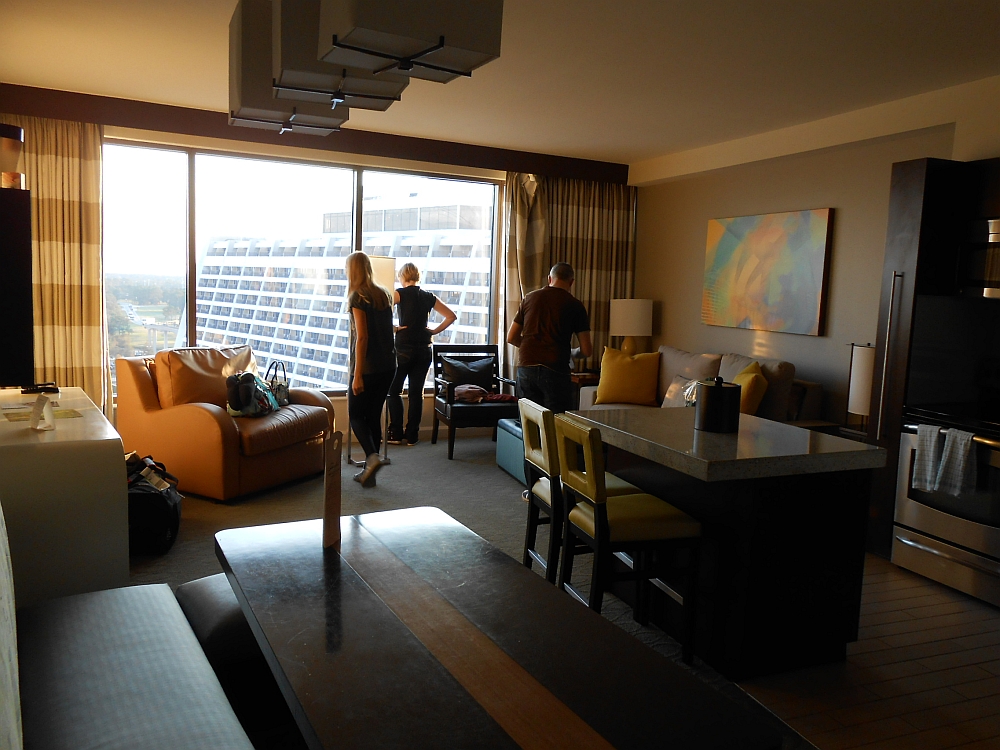 [Kev - not a particularly good photo, but it shows the great view of The Contemporary resort we had.]
Straight out and onto the monorail to the Poly – but it was so crowded at the bar that we decide to head to Mizner's at the Grand Floridian. Unfortunately this has been moved due to refurbishing of the area outside, so it is now situated by Citrico's. Definitely not as nice an area and it felt more like sitting in a passageway than in an actual bar. Still it was India's first time for a legal alcoholic drink in America so she didn't really care where she was sitting. So a Miller Lite for her and Kev, Sam Adams Octoberfest for me and a coke for Georgia.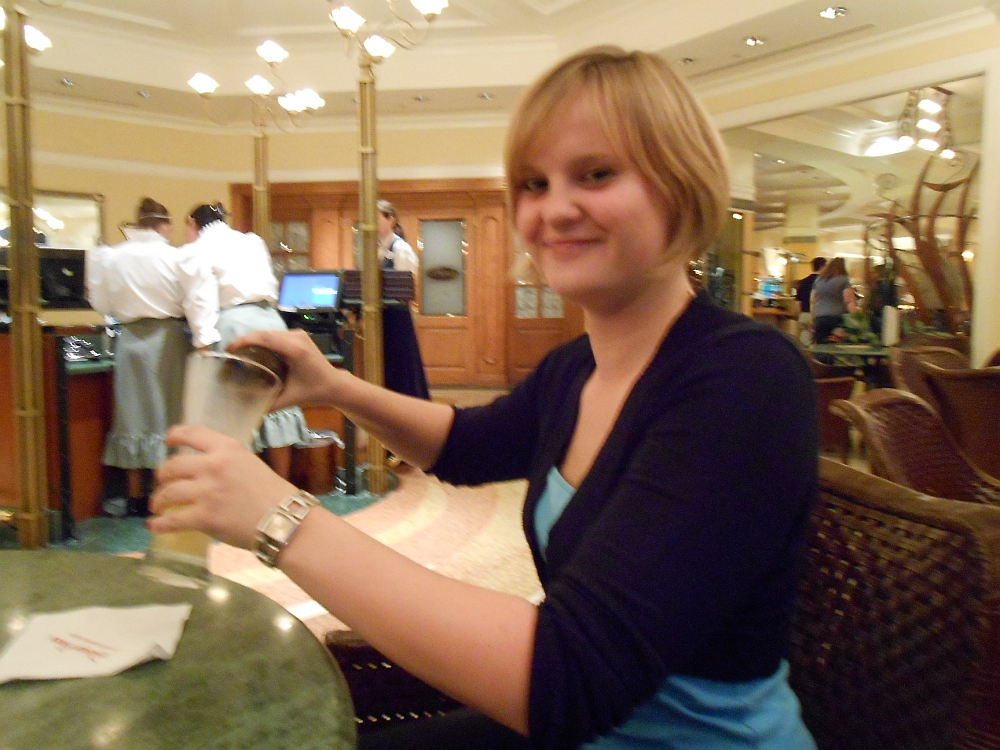 [Kev - India looks a little fuzzy in this photo, which is a coincidence as it's exactly the way she looked to me later in the evening.]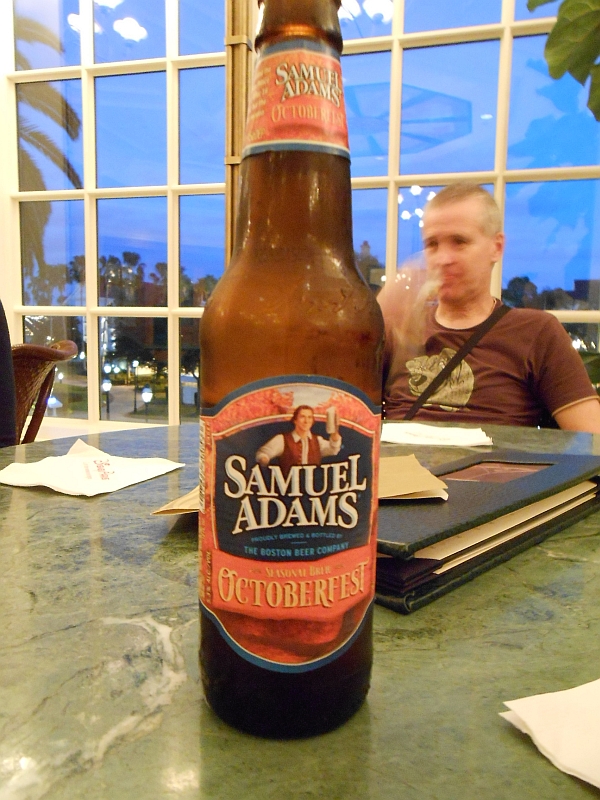 [Kev - look at the speed that man drinks! Even the camera can't keep up with his hand.]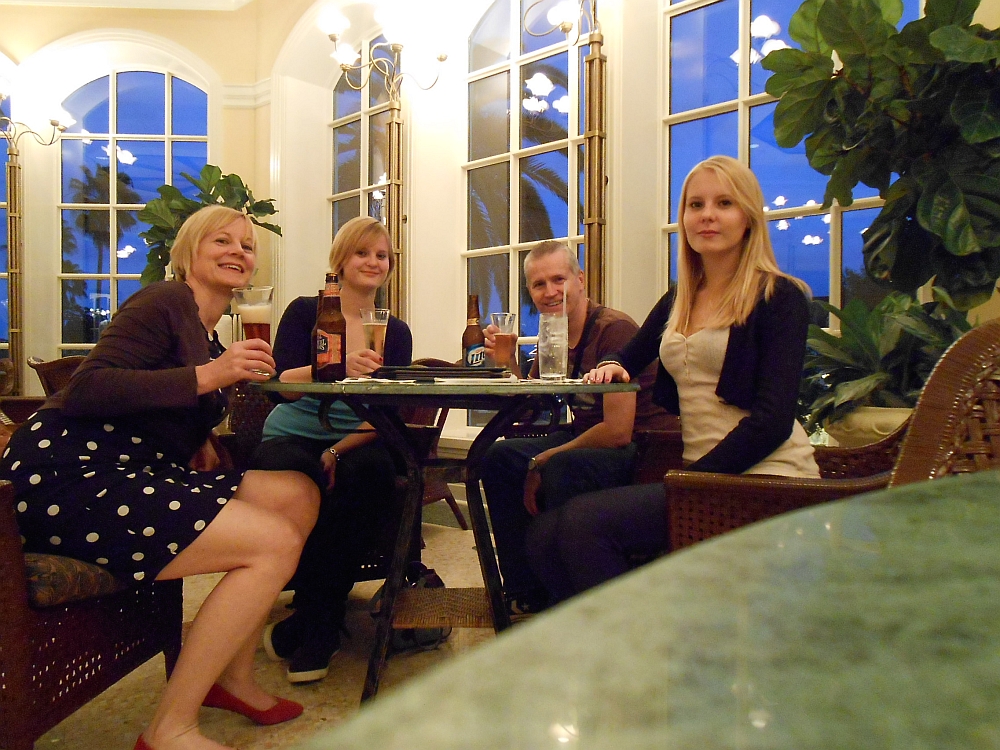 [Kev - Tam set up this photo on self timer and it turned out better than the photo the server took for us. I quite like the different perspective it gives.]
We then go back to BLT and head up to the Top of the World Lounge. We 3 have cocktails – a Forever Young – for Kev (very apt), Strawberry Julep for India which was too strong and she asked for it in a longer glass, I have a Magical Star Cocktail – complete with colour changing light cube – those pretty lights get me every time. We also order food – 2 Beef Flatbread - goat cheese, onion jam, mushrooms, beef tenderloin and balsamic reduction which were lovely, and Soft Pretzels and Dip - spicy-sweet cream cheese and mustard dipping sauce – which we didn't like very much.
Out onto the balcony to watch Wishes – even though it was pretty windy, it was good to see it and realise this was the first proper day of the holiday and we had so much to look forward to.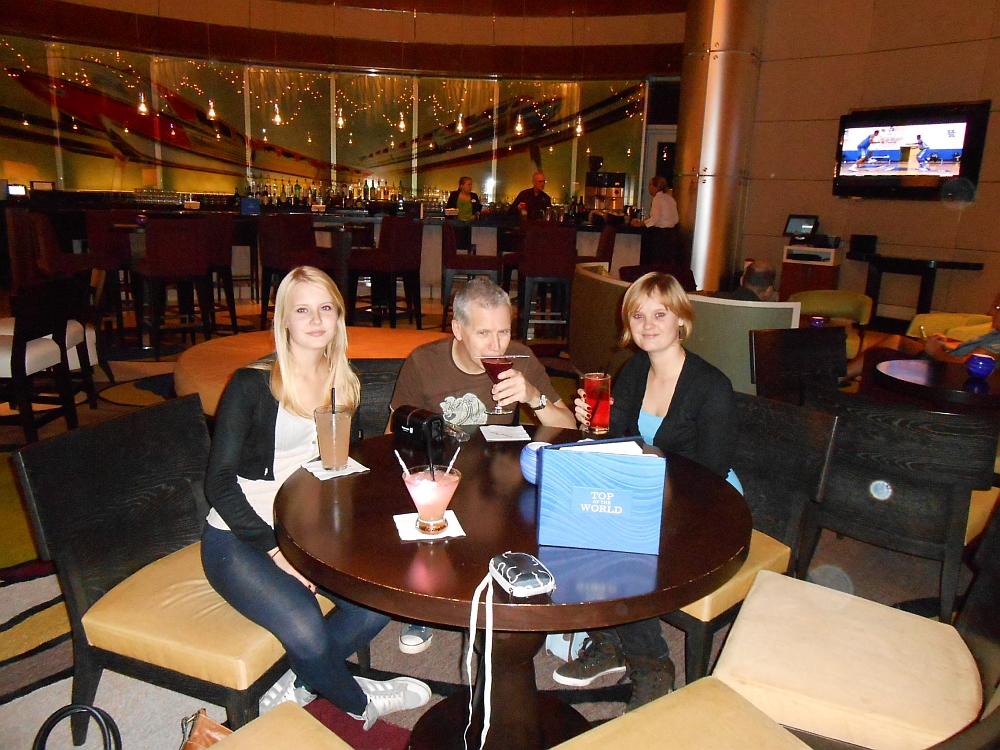 [Kev - not sure what's happening here, but it looks like I'm trying to balance a letter opener on my upper lip.]
Around 9.45pm Deb and Matt stroll in – another surprise for the girls – we had told them they were staying at Saratoga Springs. We compare notes on the flights (they left on the later flight) etc., and they give us some lovely goodies from Susan – birthday presents for the girls and some lovely snacks, which we thoroughly enjoyed throughout the holiday – Georgia's favourite being the candy corn M & M's which are white chocolate, I loved the nutty praline and trail mix as I love anything nutty. After another drink we leave them to it and head to bed at 11pm as we want an early start in the morning.
[NOVEMBER 2012 REPORT HOME PAGE]