DAY 1- WEDNESDAY 31st OCTOBER 2012
Written by Tam
Participants: Tam, Kev, India and Georgia
Leave home just before 1.30pm and arrive at Reading Station at 2.40pm – perfect timing as India's train gets in at 2.50pm – as she is now living and working in Cornwall it was decided that a train to Reading would be the best place to meet her as it saves her having to trek across London with her luggage to get to Gatwick.
Easy journey and arrive at Gatwick at around 4.30pm. We park at the South Terminal passenger drop off where Ace Meet and Greet are waiting.
A chap gets out of his car and walks towards us and I say "Are you Ace?" to which he replies "Thanks, yes. I have been called many things in my time but it's nice to be called Ace".
This is the first time we have done a drop off and found it very straightforward – we got a good price this time and wouldn't hesitate to do this again if the price was right.
Go straight to the Virgin desk for Twilight Check in. We had done on line check in earlier in the day. All goes well – no excess baggage and we passed all the security questions – until …… the lovely lady at check in states "So can you confirm your first night will be spent at Bay Lake Tower". My face drops, as this was one of the surprises we had kept for the girls. As far as they were concerned we were staying at some cheap motel on I drive. Much as I feign surprise and say, "Oh is that what it says" – Kev realises that the game is up and as we have put that information on our API we must tell her she is right. The girls are delighted – especially as having looked at our faces they thought we had done something wrong. The poor check in girl was mortified though and said she had to check the details matched. We said it wasn't her fault we forgot that they check that information at check in otherwise we could have distracted the girls or given her a note confirming it. Still a lesson learned.
The girls are so excited at the thought of staying at BLT and we tell them that the plan was to come clean as we passed under the Disney arches. Little do they know, at this stage, that there are more surprises planned – a lot bigger than this one.
[Kev - Tam was trying desperately to brazen it out with the poor lady on the desk, but we had to come clean. I did feel sorry for her though, she kept apologising. I nearly asked her if she felt so sorry that she could upgrade us to Upper Class, but I suspect her sympathy wouldn't have gone so far.]
A quick trip to Travelex desk so India can pick up a bit of currency she had ordered and then we head to the Wetherspoons. There is a real ale festival on so three of us have one of those and Georgia has a cider – relishing her last taste of alcohol for 18 days.
For supper we decide on Giraffe, as we haven't eaten here before. India chooses a minute steak sandwich with sweet potatoes fries but the rest of us have a particularly tasty Chicken Parmesan Schnitzel with garlic mash, rocket and roasted lemon. Wash this all down with Brooklyn lager, Red Stripe, Corona and Georgia has a Kim Sha – Finlandia vodka, peach liqueur, pomegranate juice, passion fruit and "love". This was a really tasty meal and we would definitely return.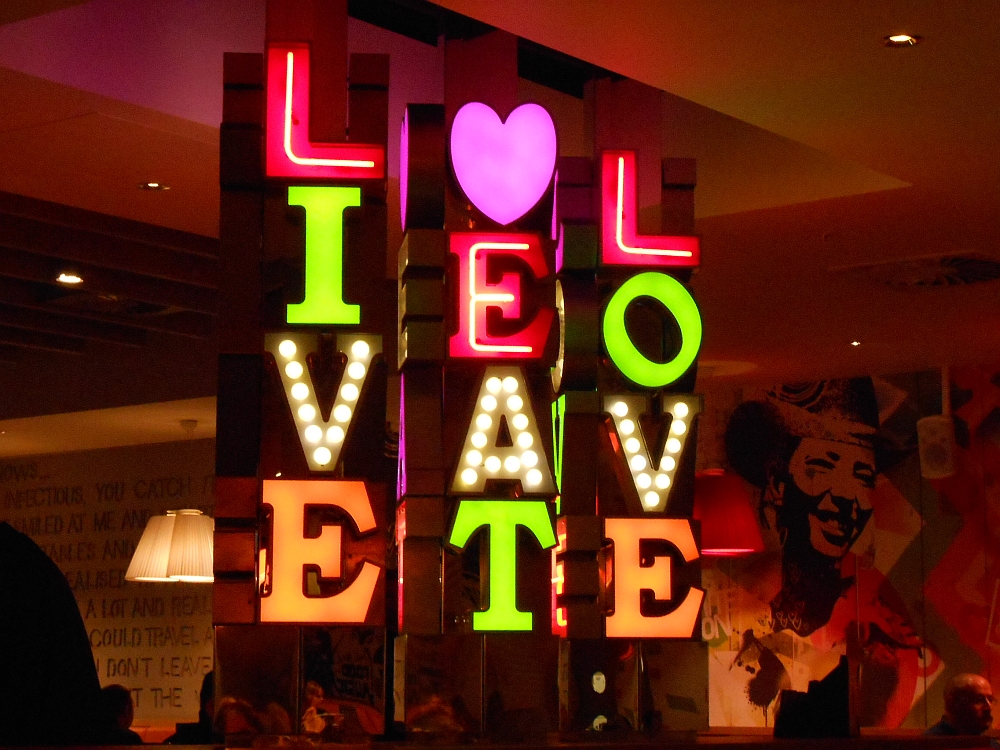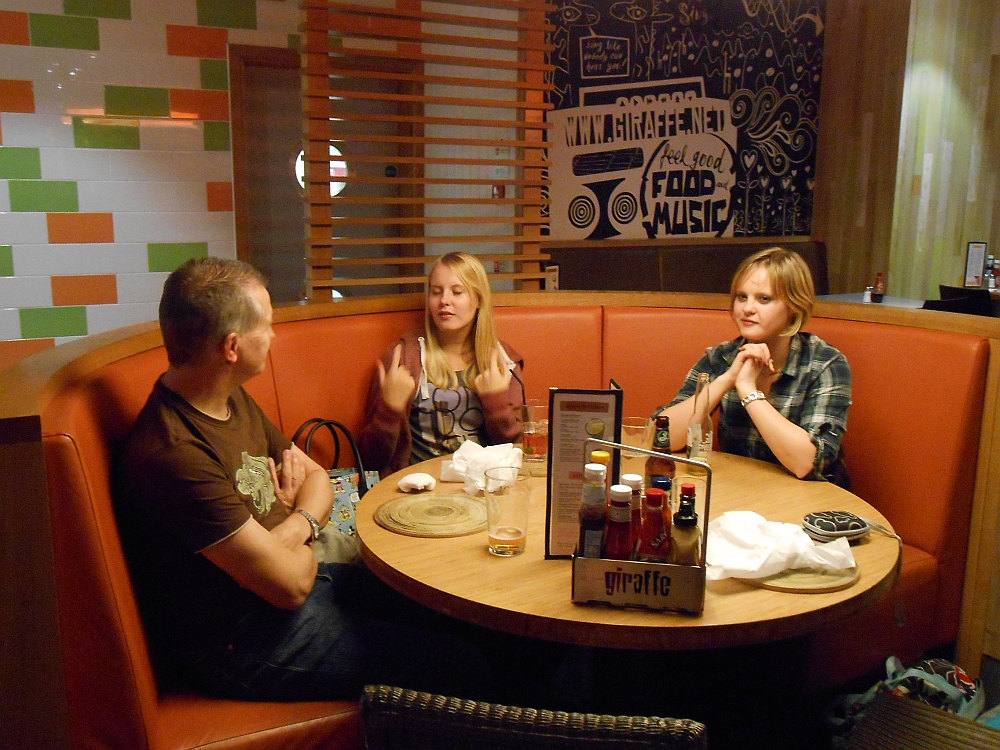 Back to Wetherspoons for another round of drinks before heading out to walk to the Travelodge that we booked in their £19 sale – 2 rooms at £19 can't go wrong. It's not a bad walk but as it is now dark and drizzly I must confess I wouldn't be keen on doing this again – particularly as we realise there is a huge Premier Inn now open right near the terminal.
[Kev - I don't know what the woman's complaining about. A pleasant walk along a muddy path on a dark and wet night with only a 50% chance of being run over by a passing lorry is an ideal start to anybodys holiday.]
The Travelodge Gatwick Airport Central looks newish with very long corridors and it seems to have lots of wasted space – the bar area looks a bit sterile so we go straight to the rooms to watch Michael Palin's Brazil and a bit of the Inbetweeners, but as we are all tired we are in bed by 10 ish.
[NOVEMBER 2012 REPORT HOME PAGE]