DAY 14 - TUESDAY 13th NOVEMBER 2012
Written by Tam
Participants: Tam, Kev, India and Georgia
Wake at 7 am to calm seas and land looming on the horizon. There is much rejoicing, as with the high winds of the last few days we worried that Castaway Cay may not happen.
We have breakfast on the outside deck of Cabanas – the perfect turquoise sea of Castaway Cay never fails to take my breath away and we were excited to get a chance to share the joys of Serenity Bay with the girls.
We go to the disembarkation deck only to find we are first in line – we get out about 8.20am and take the tram to Serenity Bay. Gorgeous clear, blue water and white powder sand but alas no hammocks are out. We grab a load of loungers and umbrellas at the far end of the beach and get settled for a day of total relaxation in the glorious sunshine. Georgia straight away spots a large ray idling in the water. We spend the morning snorkelling, swimming, reading and chilling in the sunshine. We also manage to swim/wade out to a sandbar off shore.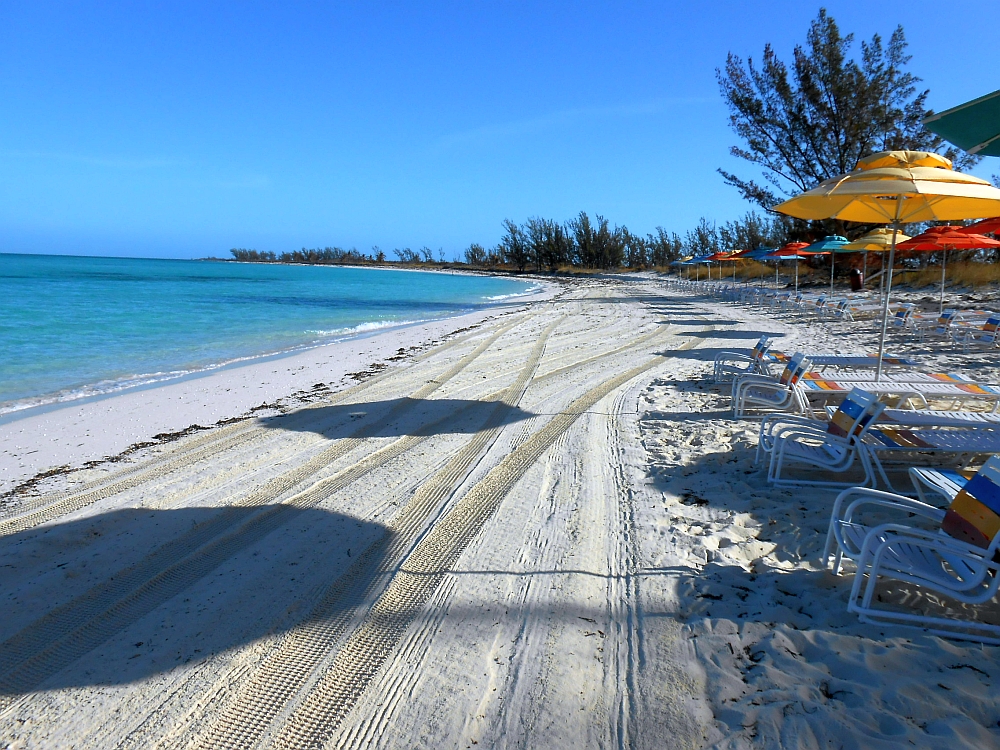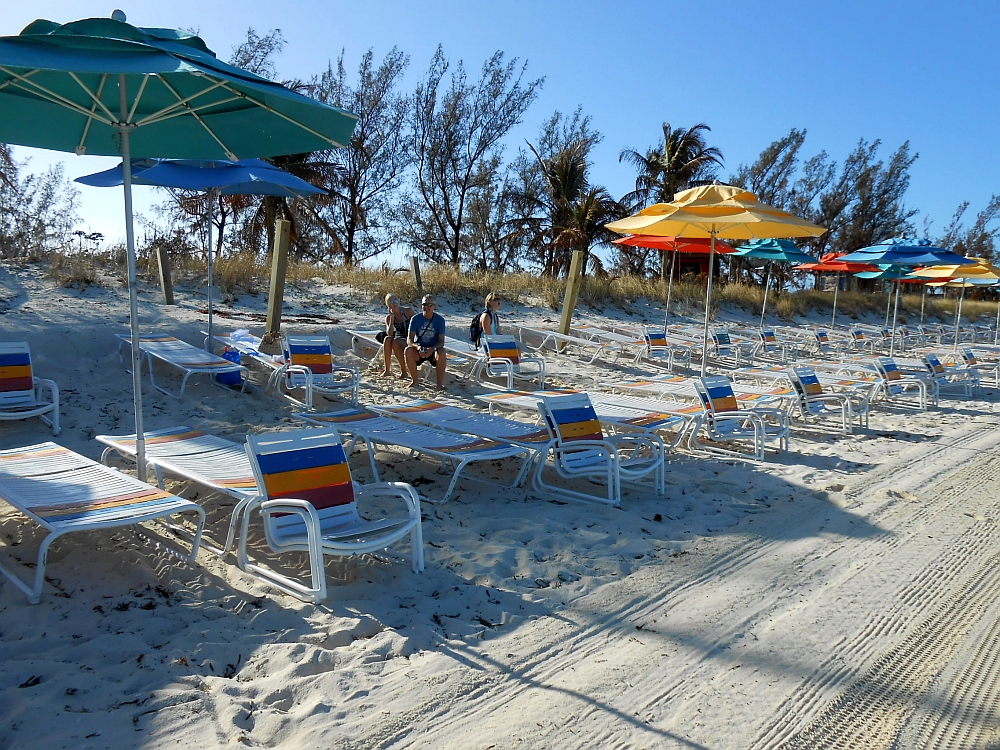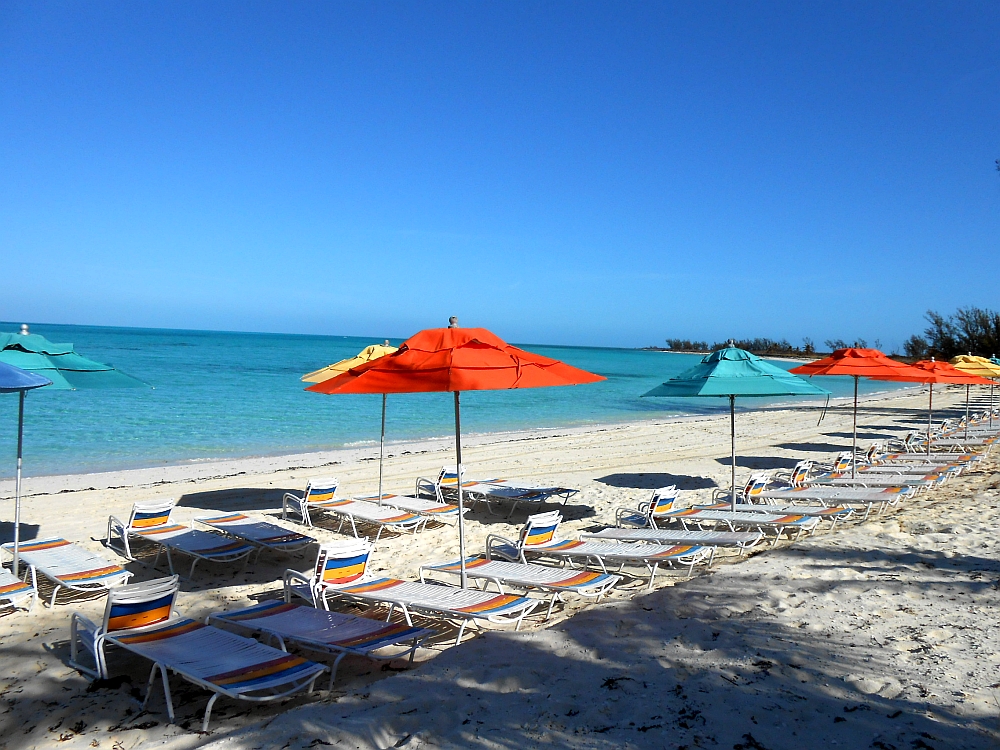 [Kev - obviously these photos were taken early in the day when there was no one around, but we moved up to the very end row of sunbeds later on and it was incredibly quiet all day. Lovely.]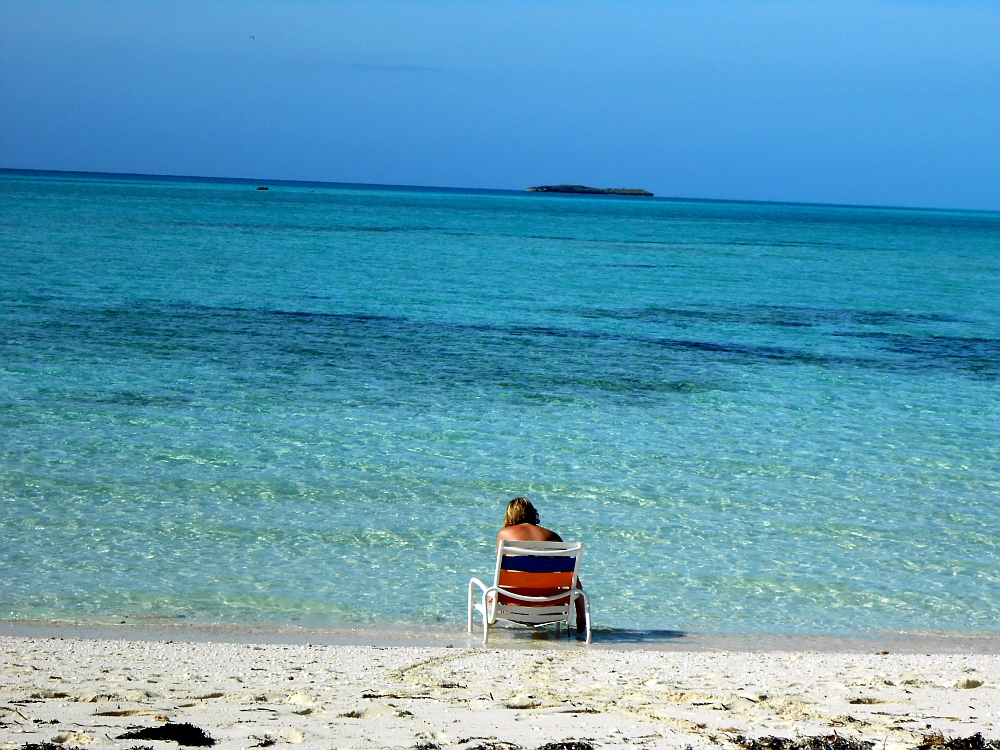 At 12.30 we go in search of sustenance and at the BBQ there is a wide selection of foods, hot dogs, bratwurst, burgers, chicken, mahi-mahi, steak and ribs with all sorts of salads and breads. For pudding there are a variety of fresh fruits, cakes, cookies and soft serve ice cream.
Back to our loungers before Kev and I have a walk further up the beach to where the rocks start – we seem to recollect that this area was roped off before but there is nothing to stop people wandering up there now.
At 3 ish we take the tram back to the first family beach where we have a drink at the Heads Up Bar – India has a coconut cocktail and Kev and I ask for Conch Coolers and Georgia a virgin conch cooler. The bartender got confused and made 3 conch coolers and Georgia's – so he makes the cocktail India asked for and gave us the third Conch Cooler for free. Unfortunately by this time the Bahamian Retail shop that I had wanted to look in has shut – so no chance to buy any goodies today.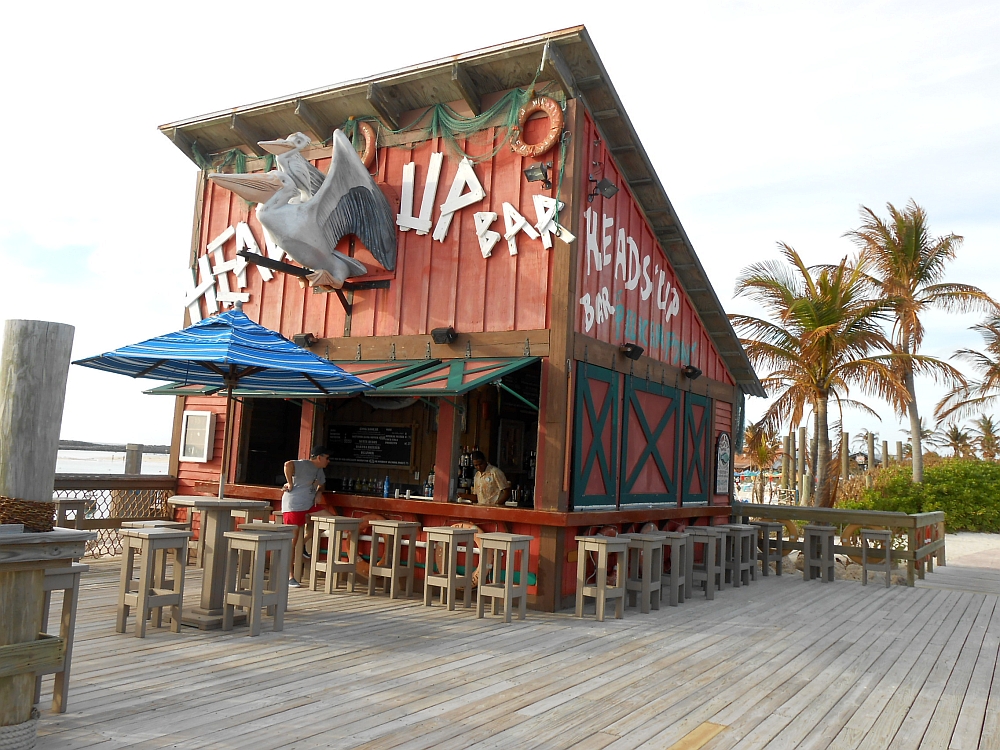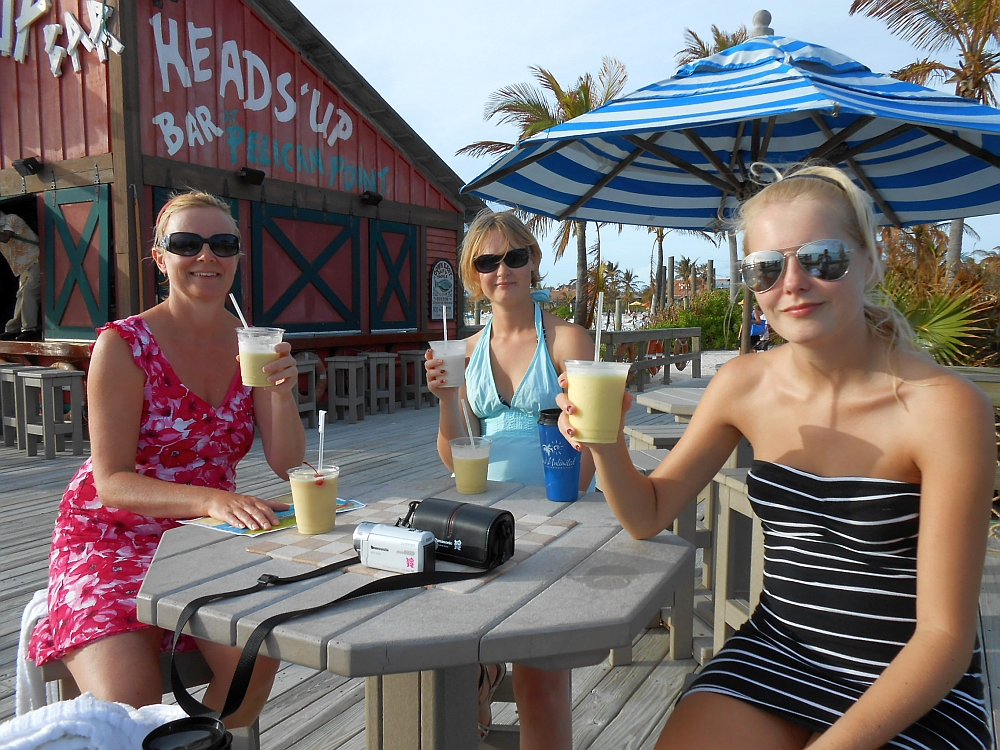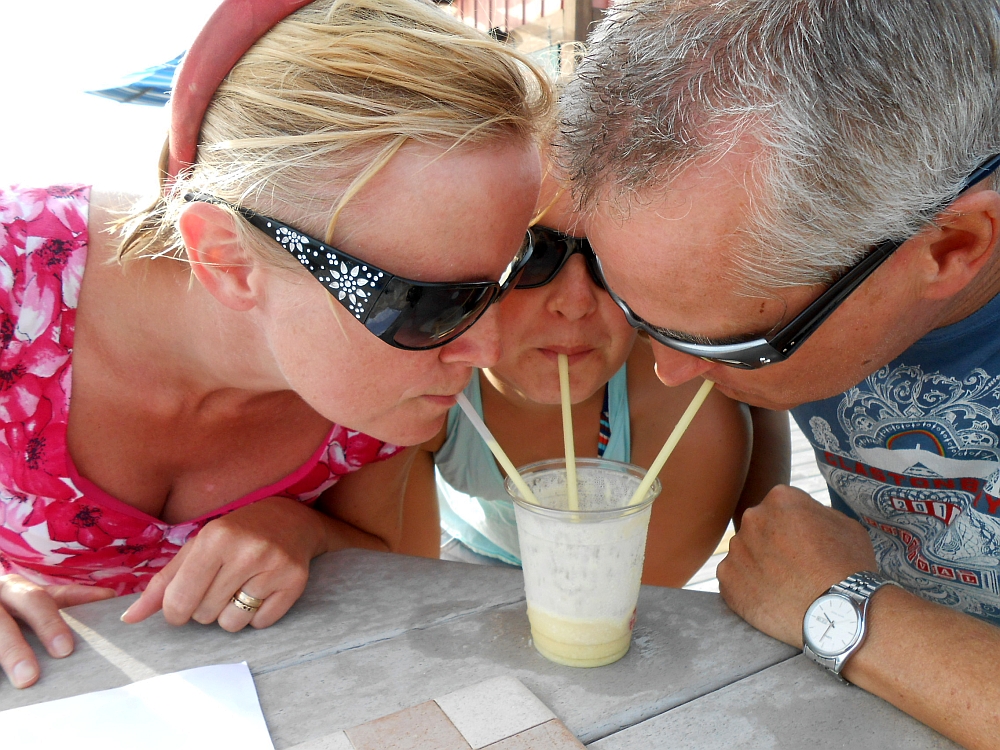 [Kev - this was the free Conch Cooler, so the three of us attacked it. It's amazing how hard I can suck when it's required.]
Walk back along the path slowly towards the ship – there has certainly been a large amount of expansion in the family areas since we last visited them with the children back in 2003. We would have liked to have experienced the snorkelling reef and the rays but we really enjoyed our day at Castaway Cay and I am so happy that the girls got to see Serenity Bay. My only disappointment was the lack of hammocks – since booking the cruise my one dream was of lying in a hammock enjoying the sunshine. Kev did ask the bar man but he said that it was odd as they are normally out. When I emailed Disney on our return they stated that it could be due to damage to the hammock storage facilities in the last hurricane – this seemed unlikely as all the hammocks were up on the family beaches and indeed on the family beach nearest the ship we found some hammocks to have a lie on.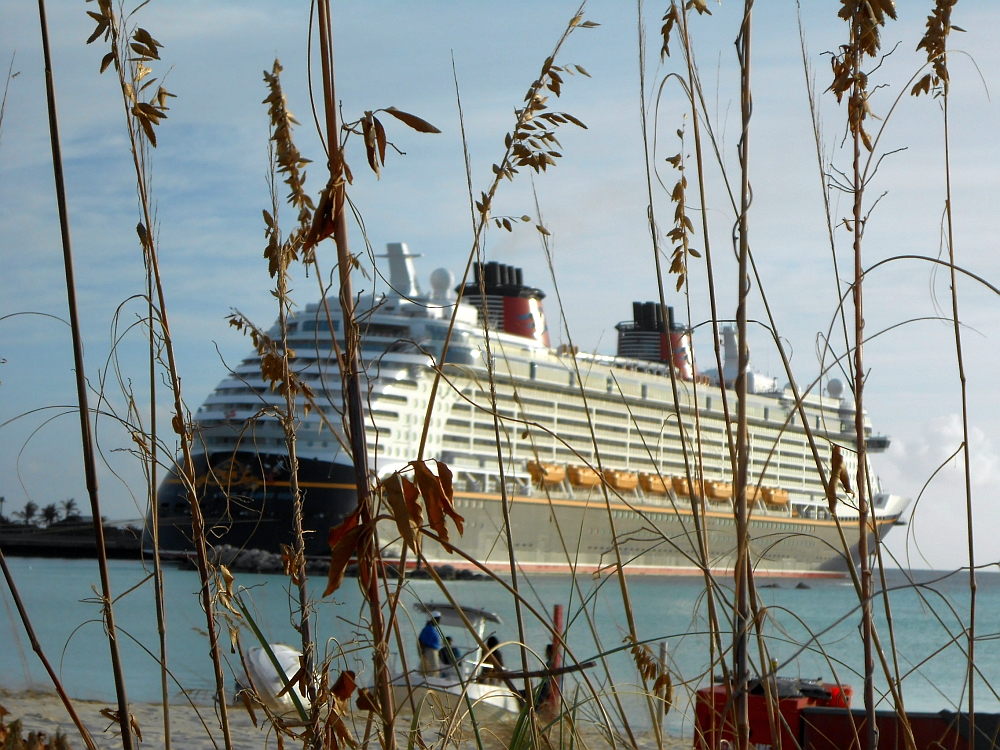 Back on board at 4.30pm and on the bed are bandanas for tonight's Pirate Night. We are dressed up and ready to leave just after 6pm and go to the Meridian Bar for a glass of Rosa Regale for me $9.50 and a Crème Brûlée Martini - Grey Goose Vodka, Bailey's, Amaretto, Caramel Syrup for Kev $9.25, India tries a Balsamic Grande - Grey Goose Vodka, 5 Years Old Balsamic Vinegar, Fresh Muddled Strawberries $9.25. Kev's is very sickly and India isn't keen on hers – so bad choices on their parts – whereas I was very happy with mine.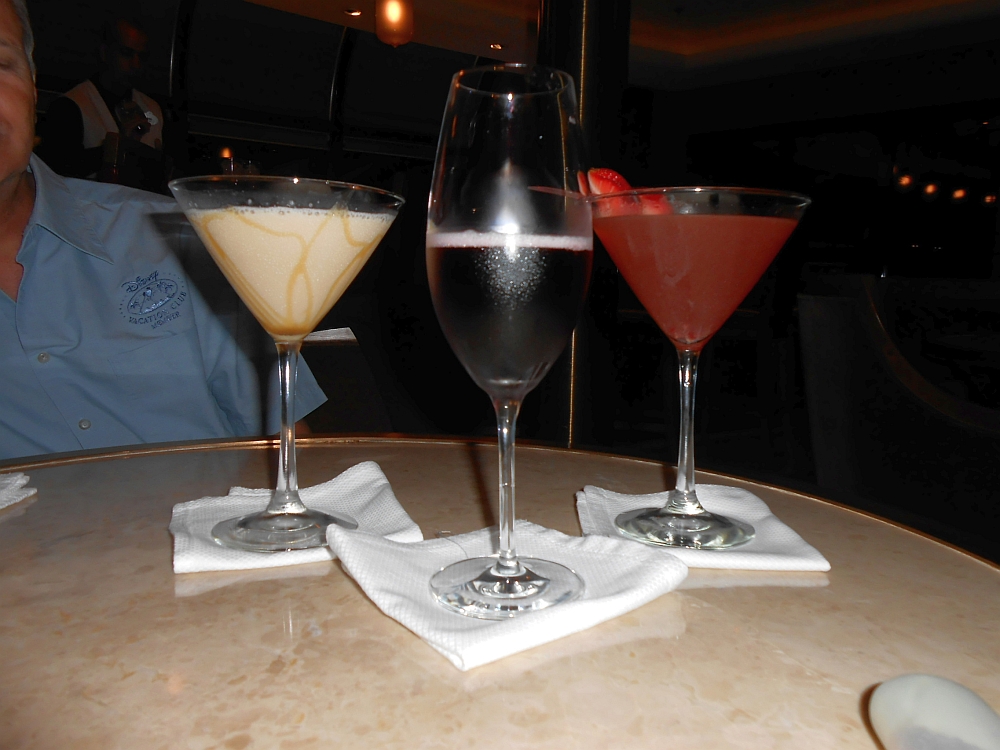 [Kev - who would have thought that a cocktail made with Bailey's, Amaretto and Caramel Syrup would be too sweet.]
Tonight we have reservations at 8pm for Palo – the cost was $20 each plus tip.
To start we are offered a lovely selection of breads served with dips. Grissini Sticks, Olive Rolls, Ciabatta Rolls and Six Grain Whole meal, we then choose Specialita' Del Palo: Antipasto Freddo: Prosciutto, Bresaola, Parmesan Reggiano, Marinated Olives and Sun-dried Tomatoes– all drizzled in 8 year old balsamic with a choice of flavoured olive oils – we choose rosemary.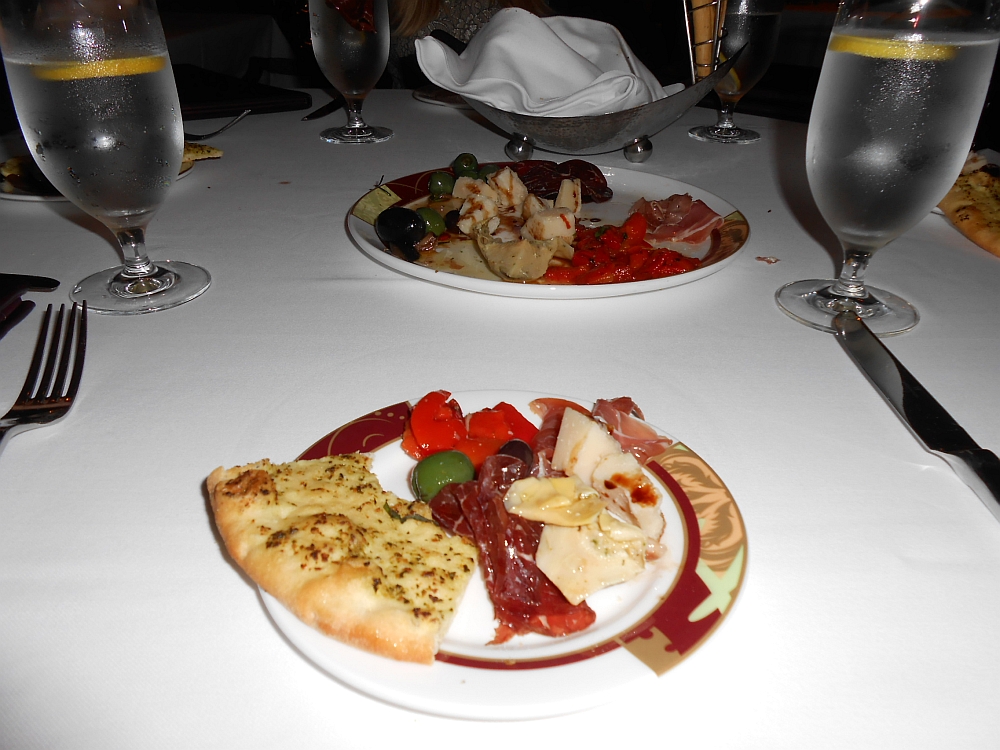 We have a hard choice deciding on the menu as there are so many things we fancy the sound of. India and I pick the Grilled Portobello Mushroom and Polenta with a Roasted Shallot Sauce: a light creamy Polenta served with Grilled Portobello and Parmesan shaving – this was delicious. Kev and Georgia have Fritto di Calamari: lightly-crusted Calamari served with Deep-fried Cherry tomatoes – which isn't as good as they would have liked.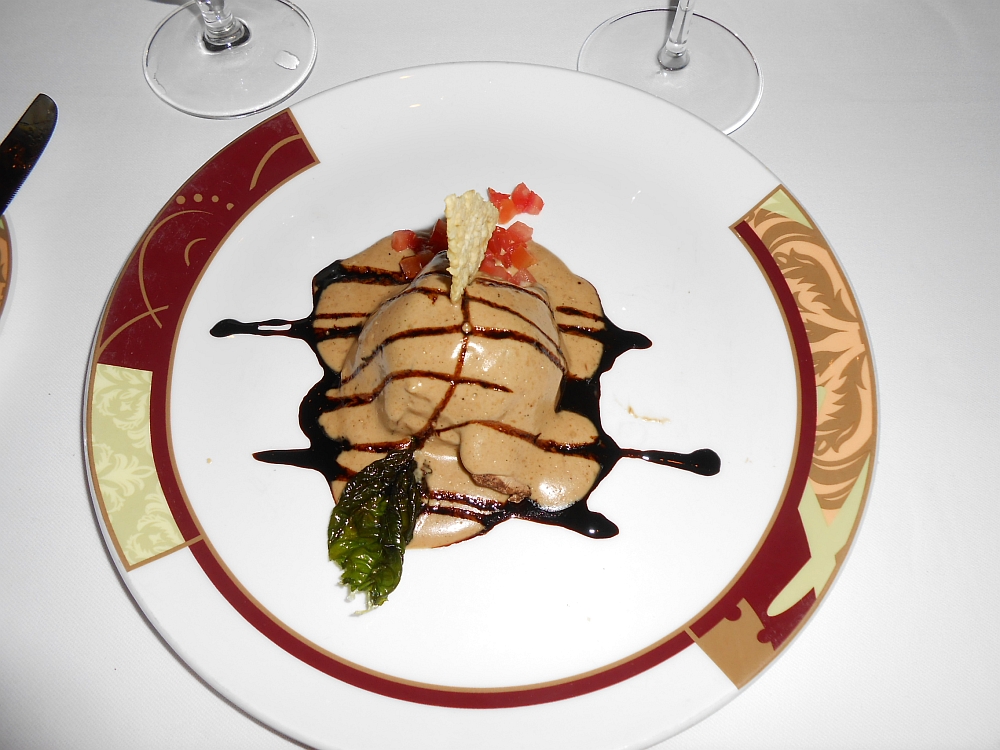 [Kev - see, to me this looks like a dumpling covered in caramel sauce, but Tam says it was a mushroom.]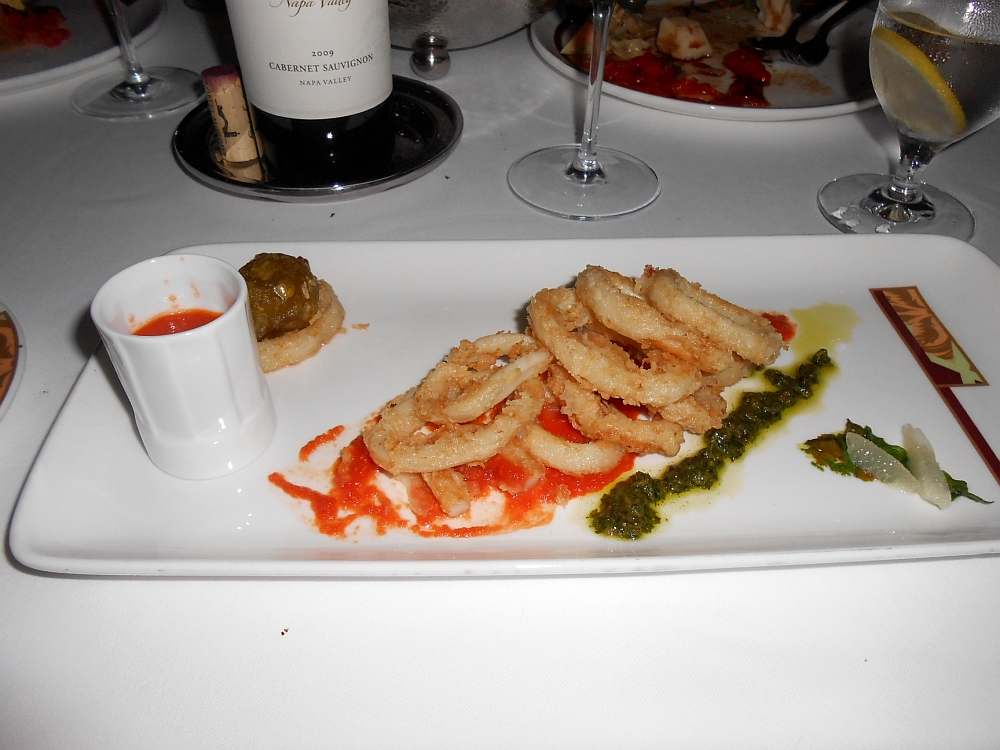 For main course I choose the Wild Mushroom Risotto - served Creamy with Freshly-shaved Parmesan and a Chianti Reduction – very similar to my starter but I just couldn't decide what I wanted – this was very tasty but very rich – so unfortunately I don't finish it. Kev has Branzino in Cartoccio: Sea Bass Papillote with Spaghetti Vegetables and Ginger Orange Glaze. He says it was nice and light but not particularly flavourful. India enjoys a steak but again cannot finish it so takes the rest away in a "doggy bag", Georgia meanwhile goes for Risotto di Mare: Saffron Risotto served with Fried Zucchini, Shrimp, Mussels and Clams which she really enjoys.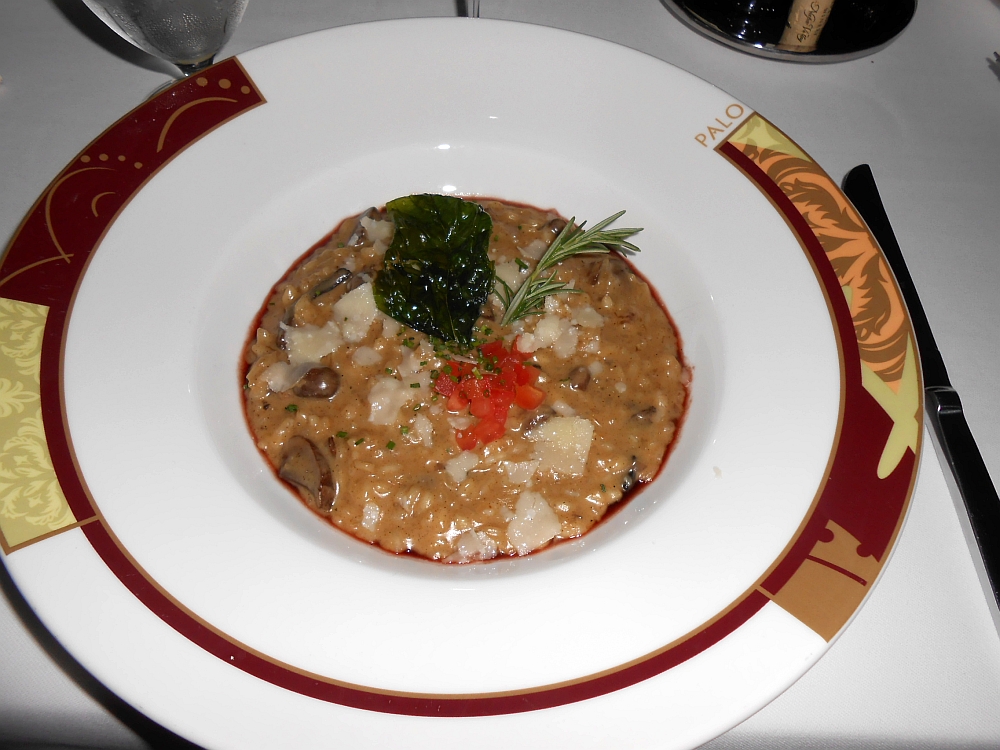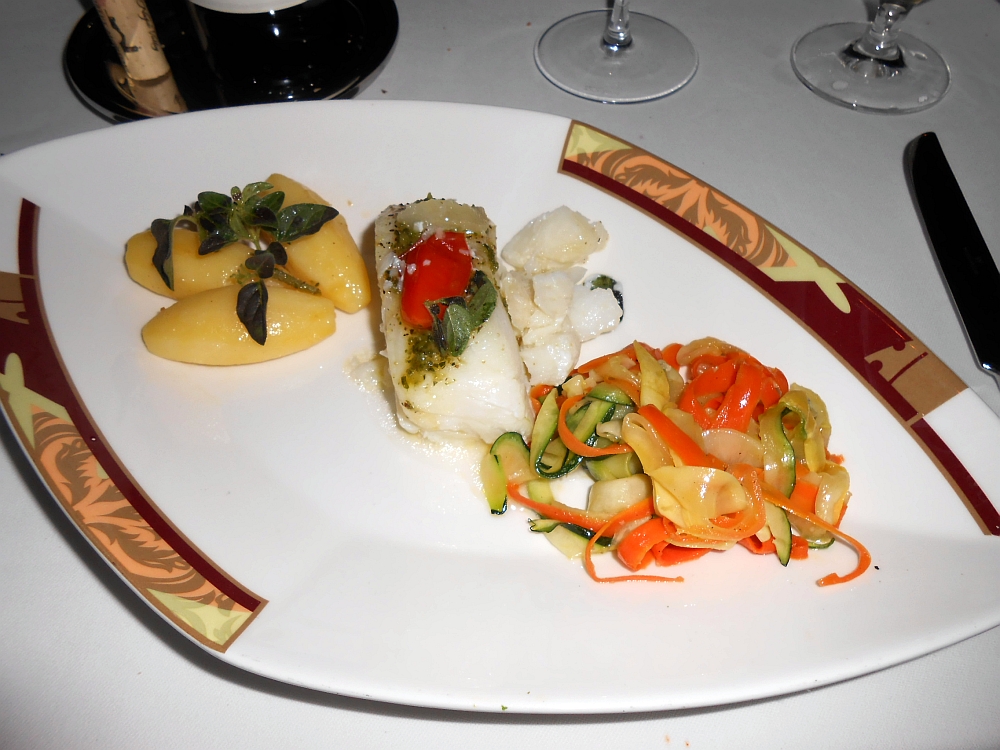 [Kev - the fish tasted like it looks in this photo - insipid.]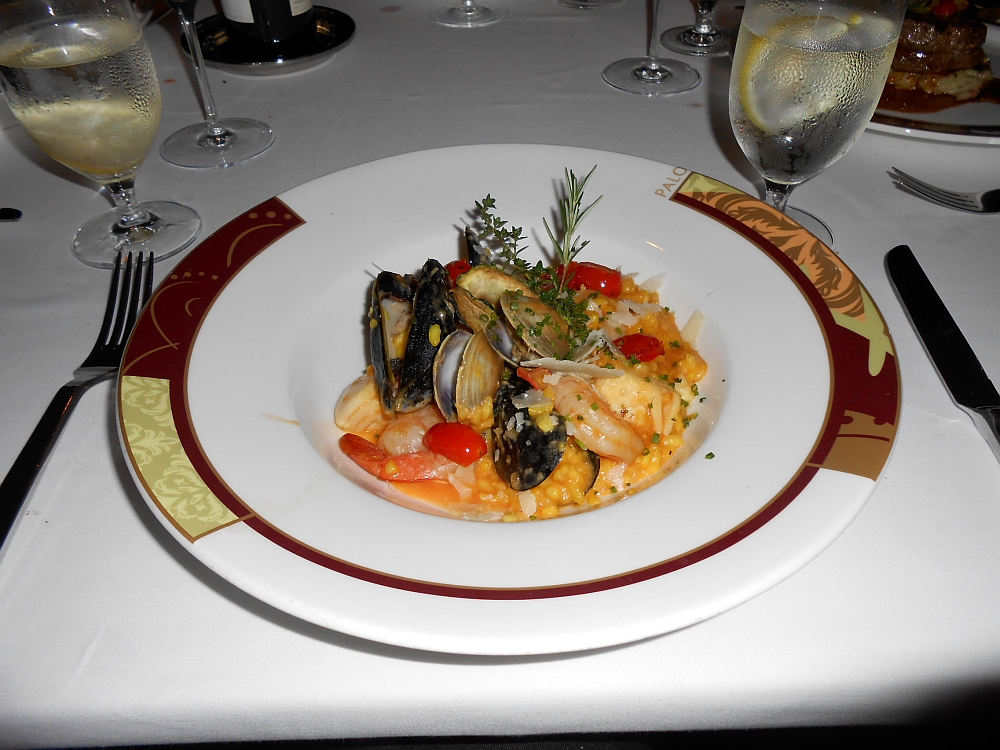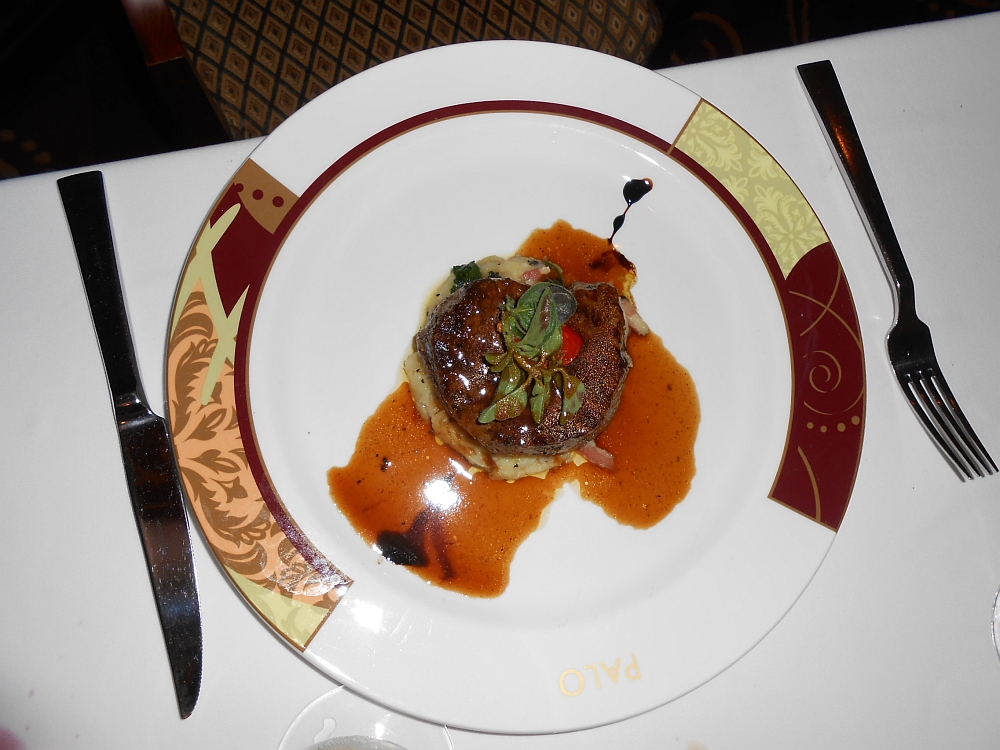 Before the main course was served our server asked if we knew about the chocolate soufflé – which of course we did having eaten it before in Palo. As they have to be prepared ahead of time they needed us to say if we wanted it then. At that stage we all fancied it and they didn't disappoint – it was just a shame that by this point we were all too full to do it justice. The little jugs of chocolate and vanilla bean sauce and the milk gelato – make this a wonderful dessert.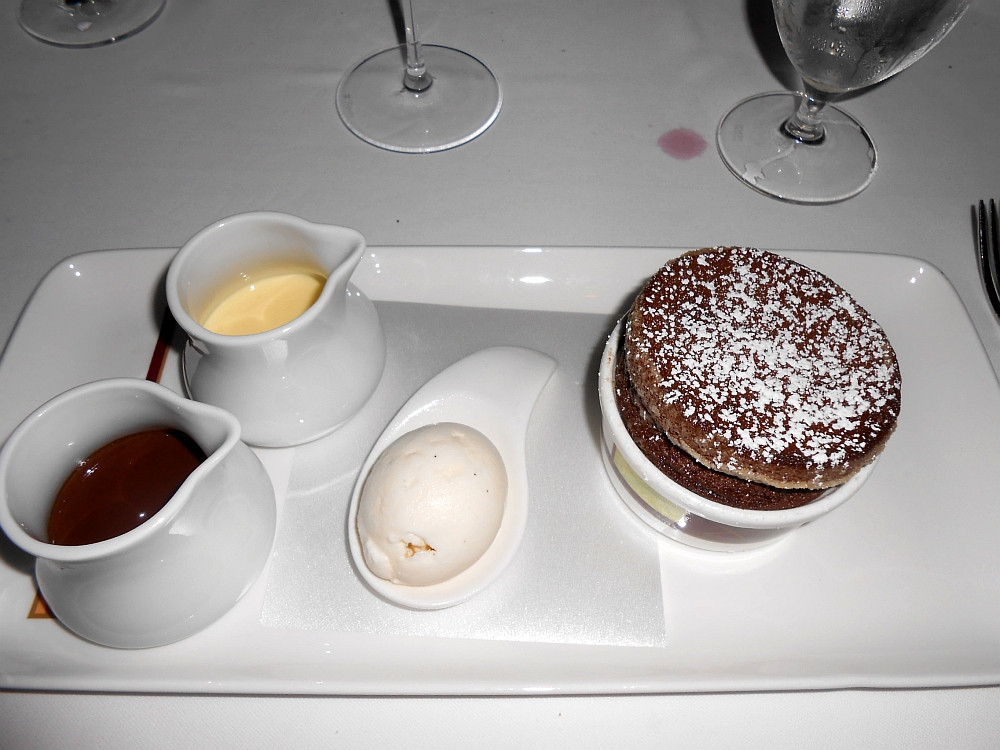 Feeling very full and a bit dozy we go out on deck for some fresh air and to see what is happening at the Pirate Party. We put our bandanas on and step out on the deck – it is really blowy tonight but the deck is crowded with pirates in all shapes and sizes – some of the costumes were brilliant – if we hadn't booked Palo I think we would have bought costumes with us to join in the fun. Although the party doesn't start till 10.30pm and it is only 10pm people obviously don't want to miss out on the entertainment and it is very difficult to get around so we go up to deck 11 but this proves to be equally busy. The big screen over the pool, which is boarded over, is showing things about Pirates of the Caribbean and then there is a stage show with Jack Sparrow fighting etc. It all climaxes in a wonderful fireworks display. It's amazing to see such a thing at sea and with the lights of the Aquaduck changing against the night sky it really is quite dramatic.
Then the party starts properly with a thumping disco and the deck starts to rock as people dance.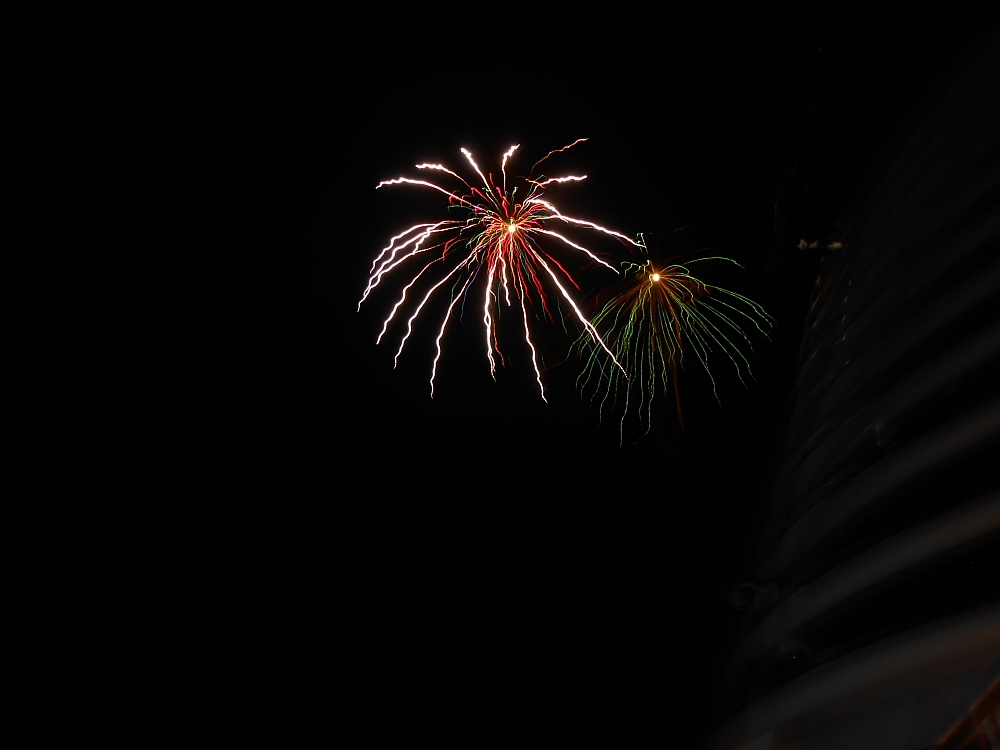 It is just too windy and crowded for us and not our sort of music so we go down to the District, which by contrast is very quiet indeed. Obviously most people are staying on deck for the disco. We have a drink in the 687 sports bar (it gets it's name from the keel number on the Disney Dream) – I have strawberry margarita which is OK, Kev a margarita which he declares too limey, India a raspberry mojito which she loves. Georgia and I play checkers then we all play Connect 4. Kev and I play against the girls. The girls trounce us, which is probably my fault. At 12 in spite of our intentions of going to watch the film we started watching the other night - Wreck-It Ralph we decide to call it a night and go back to the cabin.
[Kev - not really my night for drinkies - cocktail too sweet, margarita too limey - just as well the beer was cold.]
[NOVEMBER 2012 REPORT HOME PAGE]