DAY 13 - MONDAY 12th NOVEMBER 2012
Written by Tam
Participants: Tam, Kev, India and Georgia
Kev and I awake at 7 ish and we can see Nassau appearing through the porthole. Although the sun is shining there are a lot of clouds and the wind is still blustery and the sea looks choppy.
Decide to go to the Royal Palace for breakfast after watching the ship navigate the unfeasibly small entrance to Nassau and then spin on its axis and back into the dock between the Carnival Ecstasy and the Allure of the Seas.
We have a table for two and enjoy coffee, orange juice, I have a mango oat yoghurt smoothie, which was delicious, then we both have eggs benedict but Kev also had the sausage. To finish we couldn't resist the lure of the glazed doughnuts. It was a lovely breakfast and good to have it in such an attractive setting.
Back in the cabin at 9.40am and the girls only respond when we knock on their door, as they had still been asleep. Thankfully Georgia feels a lot better so Kev and I scope out the adult only areas whilst the girls get ready and go to Cabanas for various breakfast delights.
Unfortunately as the wind is still very strong there are very few loungers out and it isn't as warm as we would have liked. Still we manage to find 2 together and settle down until the girls join us. Before too long though there is a short rain shower – so us girls go in the hot tub, which has a glass floor and is cantilevered over the ship so you can see right down to the sea. The shower only lasts minutes so back out into the sun, which is now out, to read. We are still contemplating whether to get off the ship or not. Originally when planning the trip we thought we would get off just to go to a bar so Georgia could have a drink if she wanted, as the drinking age in the Bahamas is 18. However having been to Nassau before there was no other reason we particularly wanted to disembark. As Georgia had felt so rough last night she had no desire for any alcohol so we decided not to get off and instead go up to the top deck of the adult only area. Found 4 loungers and as it was so quiet up there we spent a blissful time relaxing in the sun. We all got lunch from Eb and Flo's. Kev had a grilled chicken sandwich and fries, I had a mango chicken salad and half a brie, bacon and tomato grilled sandwich with a slice of melon, Georgia had burger, fries and carrot sticks and India had a greek wrap and chicken and mango salad, carrot sticks and a blue cheese dip.
Back to the cabin at 3.30pm we get ready for the Mixology class at 4pm. It is being held in the Skyline Lounge. Georgia takes notes whilst we listen to the rather tasty bartender explaining the ingredients. He then asks for volunteers to make each cocktail and then we all get one to try. It is very good fun and we have a B52, Metropolitan, Chocolate Martini and a Long Island Iced Tea. It was particularly good when people got to try pouring multiple cocktails out of the shakers. It finished around 5pm and India made our Long Island Iced Teas with peach schnapps, Curacao, and sprite instead of coke with a rum float – delicious.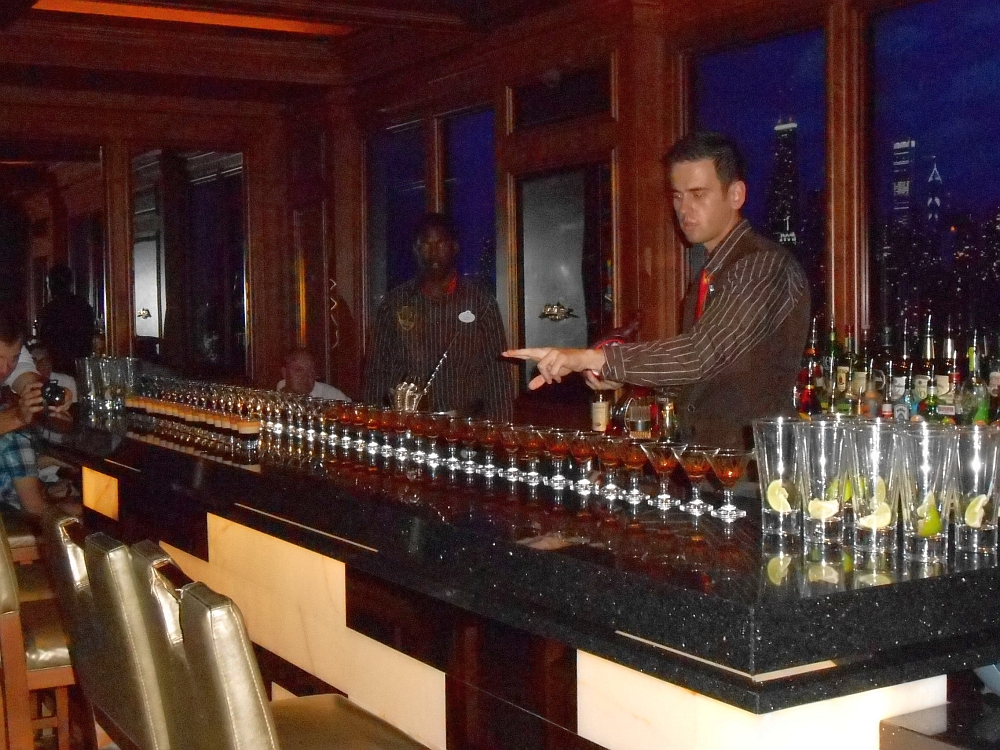 [Kev - the ladies all had a bit of a thing for the barman.]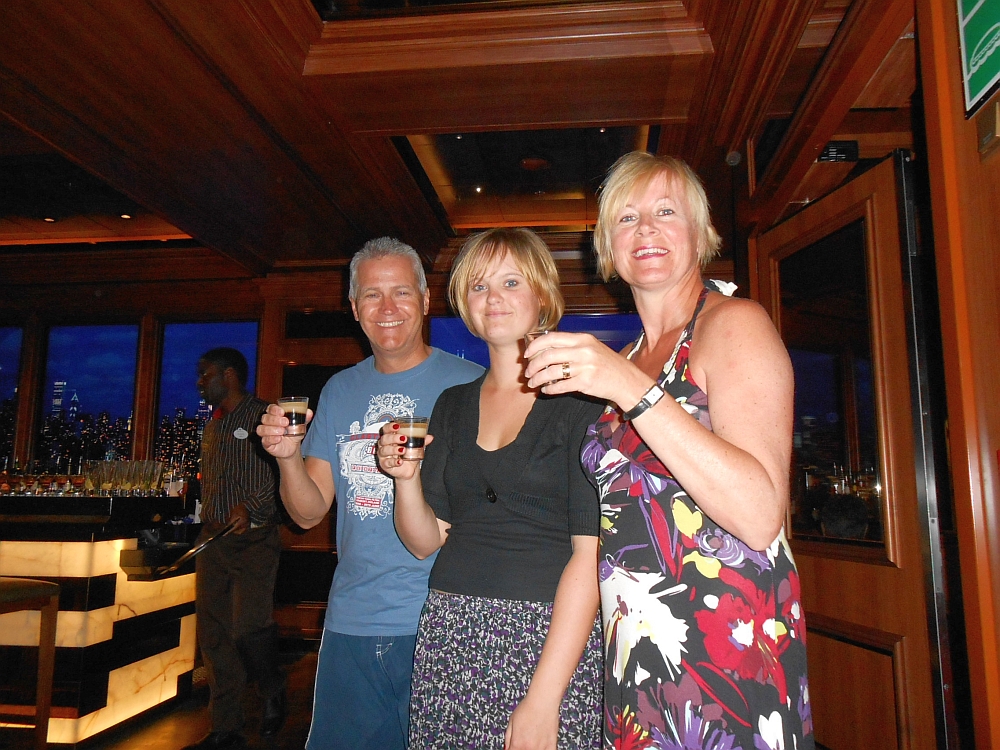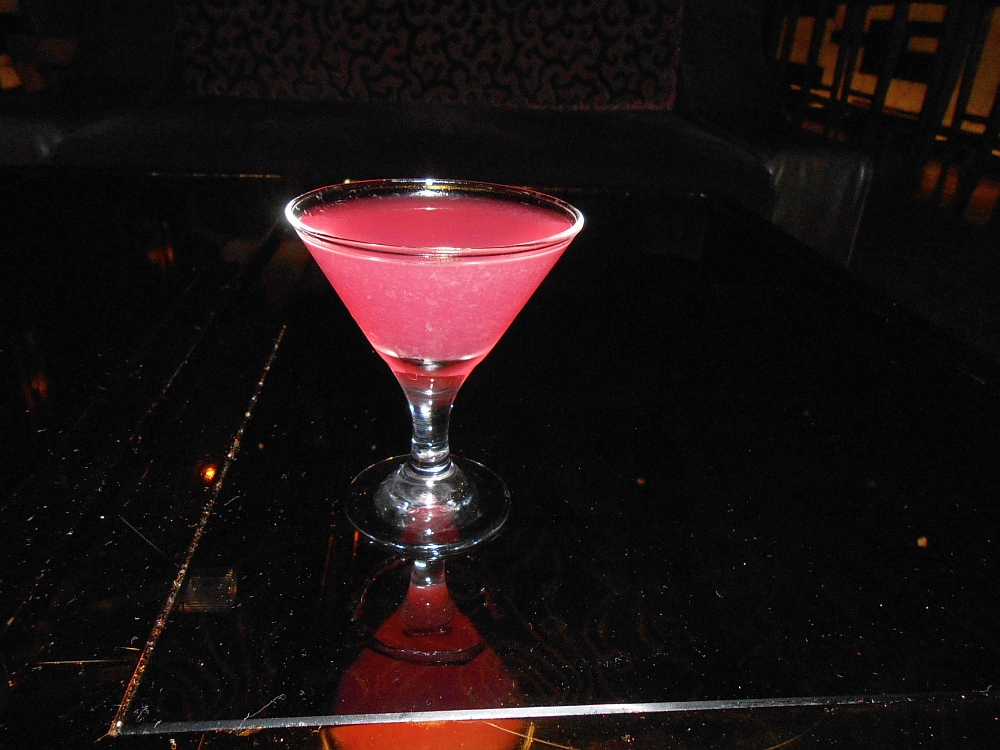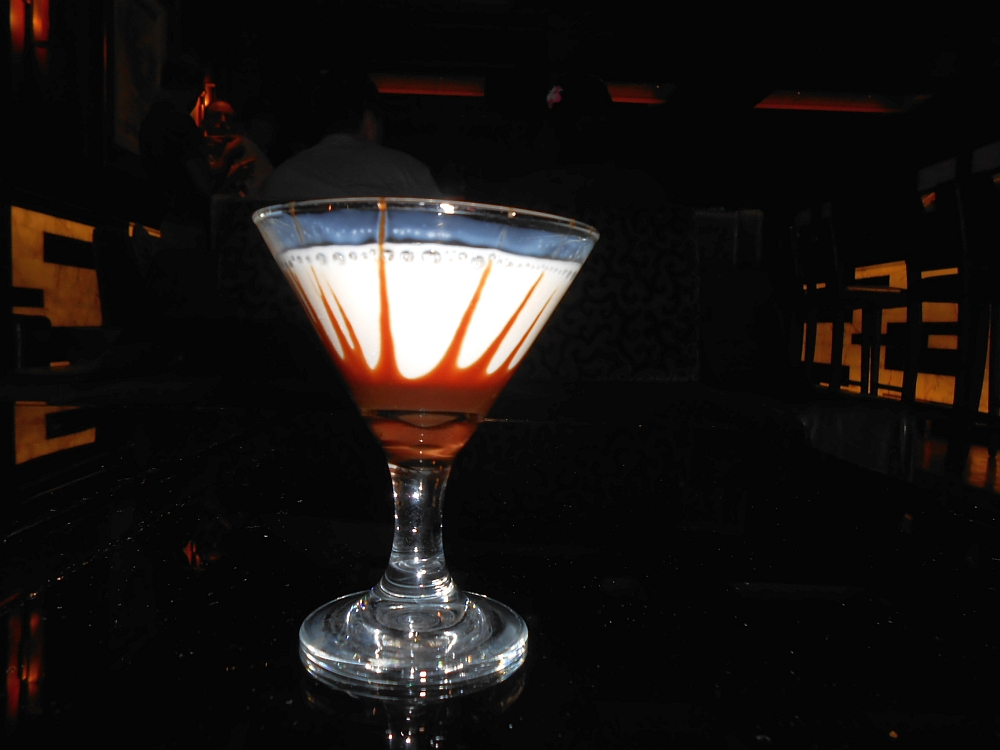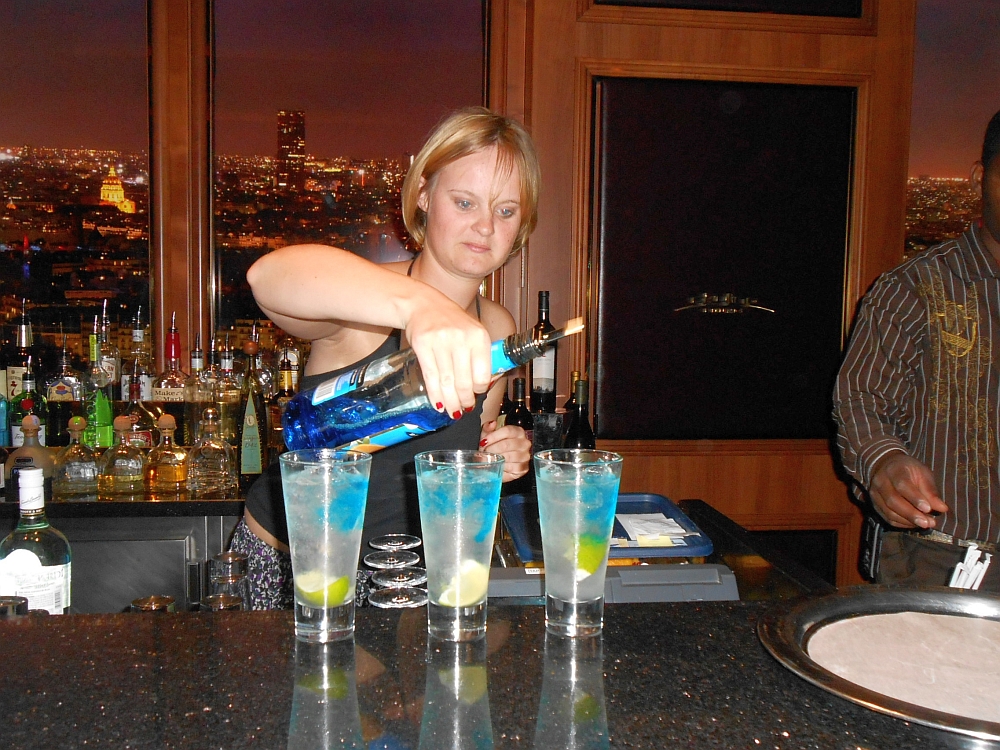 [Kev - that's my girl!]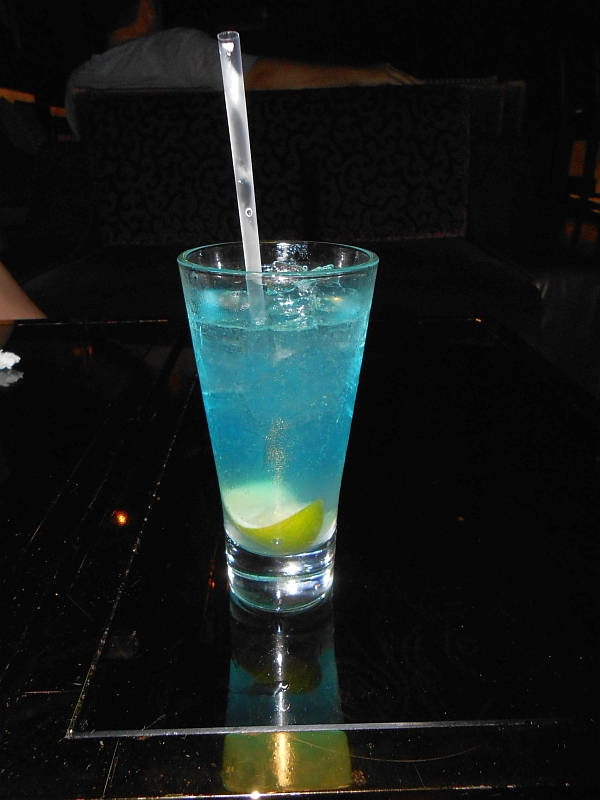 [Kev - this was the barman's particular take on a Long Island Ice Tea. He called it a Serbian Iced Tea. I've no idea why Slobodan decided to call it that. Anyway, he was an excellent host for the Mixology class and pretty much allowed people to make drinks with whatever they wanted in whatever quantity. India made this with every white spirit as well as peach schnapps and blue curacao. Apart from a splash of Sprite it was all alcohol.]
We go to the Outlook Bar, which we had found on our first explore of the ship, but again it is not open so we head instead to the Theatre to watch the Villains Tonight show. It was OK but not as good as others we have watched.
After showering and changing for dinner we go to tonight's venue, which is The Royal Palace – inspired by classic Disney films with a French style. We are shown into a smallish side room, which has about 8 tables. It is quite small and intimate but the downside is that the servers get the plates and cutlery etc., from the cupboard to the side of our table so it is quite busy.
The décor is lovely with pictures of all the Disney princesses on the walls and the lovely bread comes out in a basket in the shape of Cinderella's carriage. For starters we all go for the pomegranate glazed duck breast with gewürztraminer gelee, then I have goats cheese salad with raspberry dressing, Kev has cauliflower cheese soup and India and Georgia have the French onion soup with a crouton which is thick and totally delicious.
[Kev - hold on - gewürztraminer gelee? What the heck is that? Do I eat it, play with it or use it to make my hair look sleek and glossy?]
For our main courses three of us have the beef tenderloin, snow peas and a cognac reduction but instead of the marquis potatoes that are listed we ask for the gratin potatoes that are on offer with the wild boar – this is the choice for India. For pudding we have a trio of peanut butter mousse, crème brûleé and mango cheesecakes. It was a lovely meal and we all enjoyed it very much.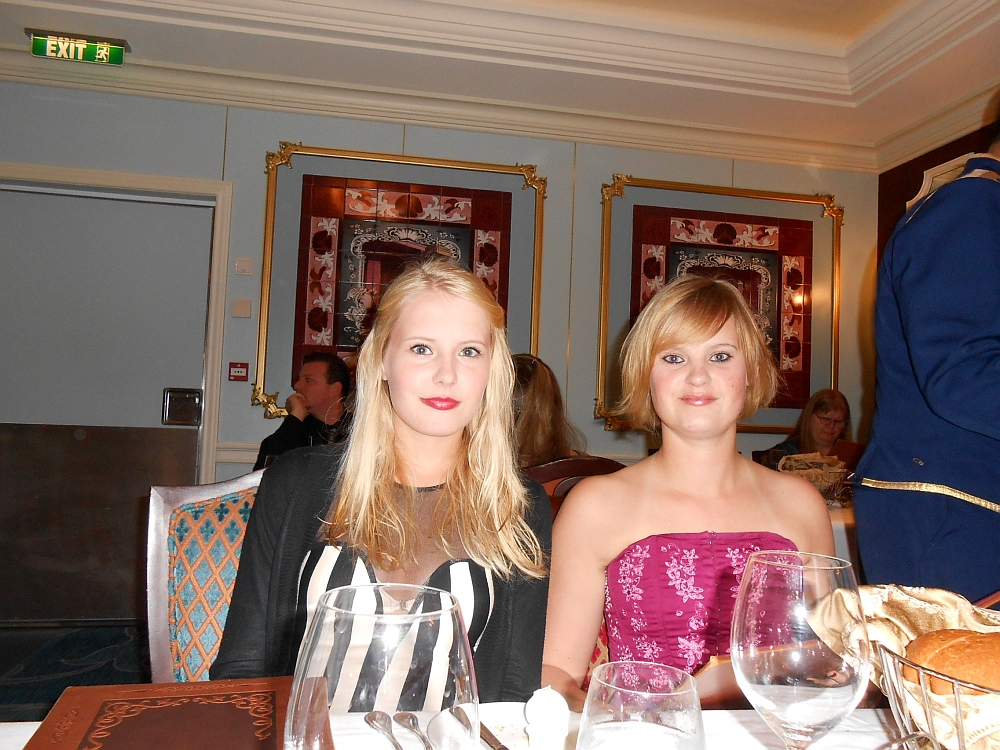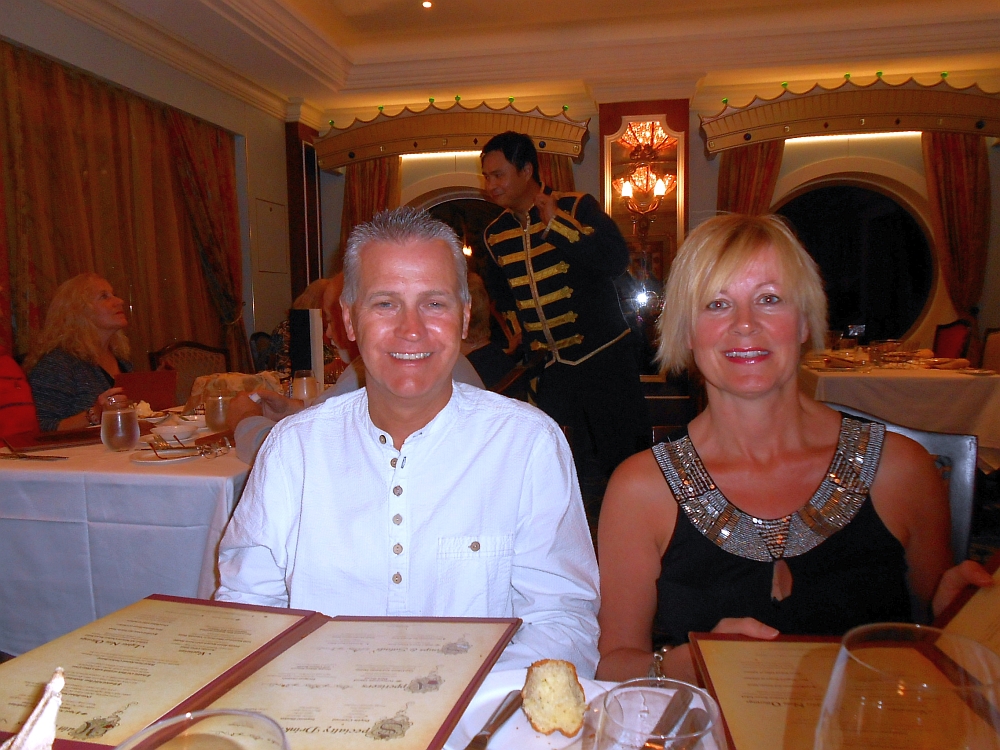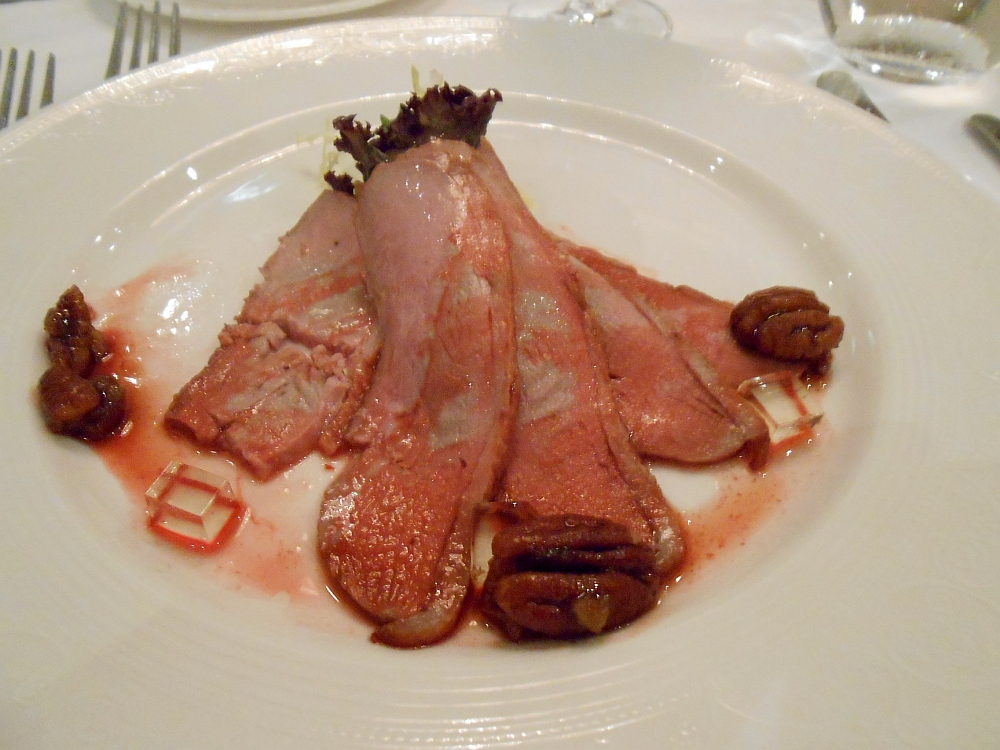 [Kev - the duck with the little cubes of hair product.]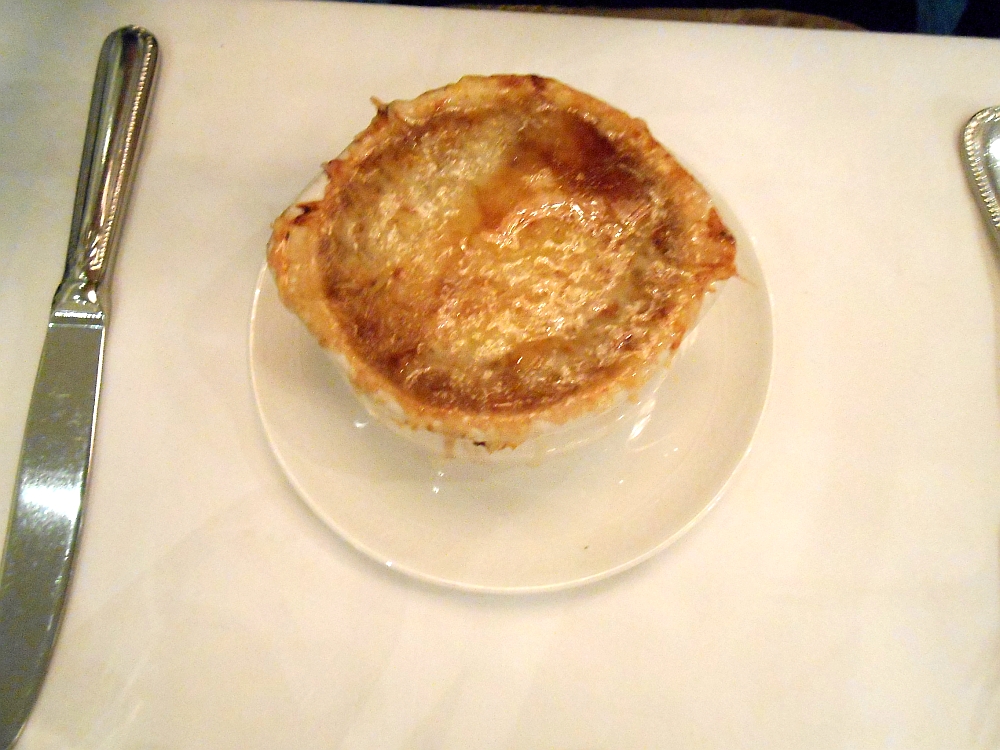 French onion soup.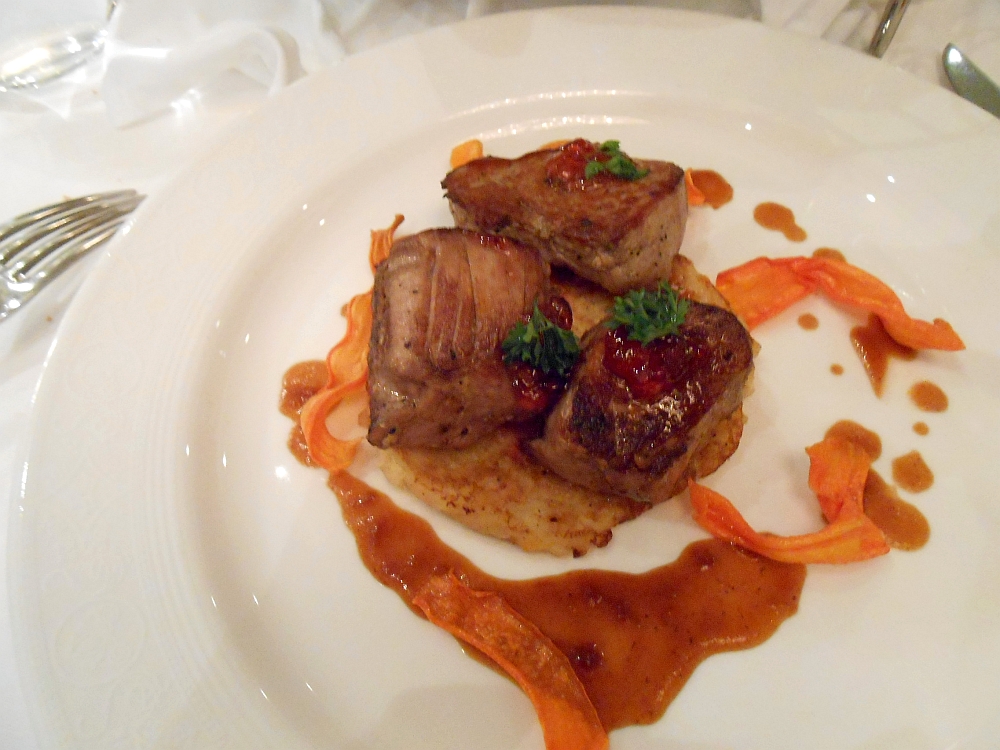 [Kev - we think this was the wild boar.]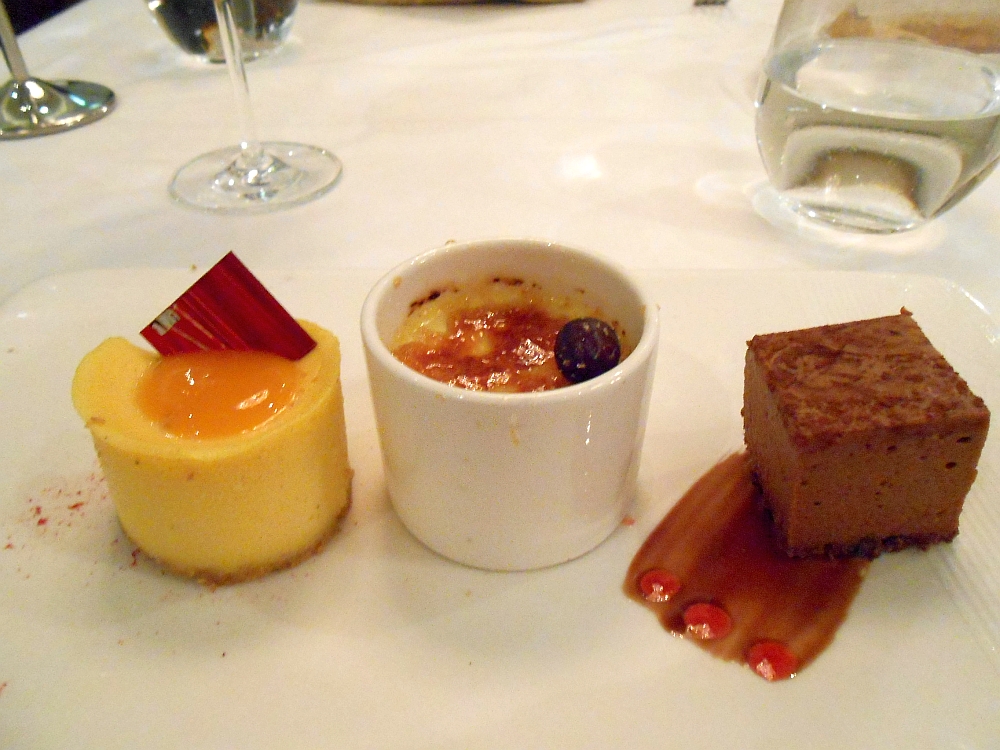 We then retire to Pink for cocktails – I had the mango one but preferred India's Pomegranate Passion: pomegranate passion liquor, passion fruit sorbet, champagne – when the server noticed he was brilliant and took my mango away and replaced it with a passion fruit one at no charge. Kev had a Blue Angel - grey goose vodka, cointreau, blue Curacao liquor, freshly squeezed lime juice, champagne. Georgia is feeling much better today as she took a pill before we sailed – so it was nice to enjoy a meal together and some drinks without having to dash out on deck.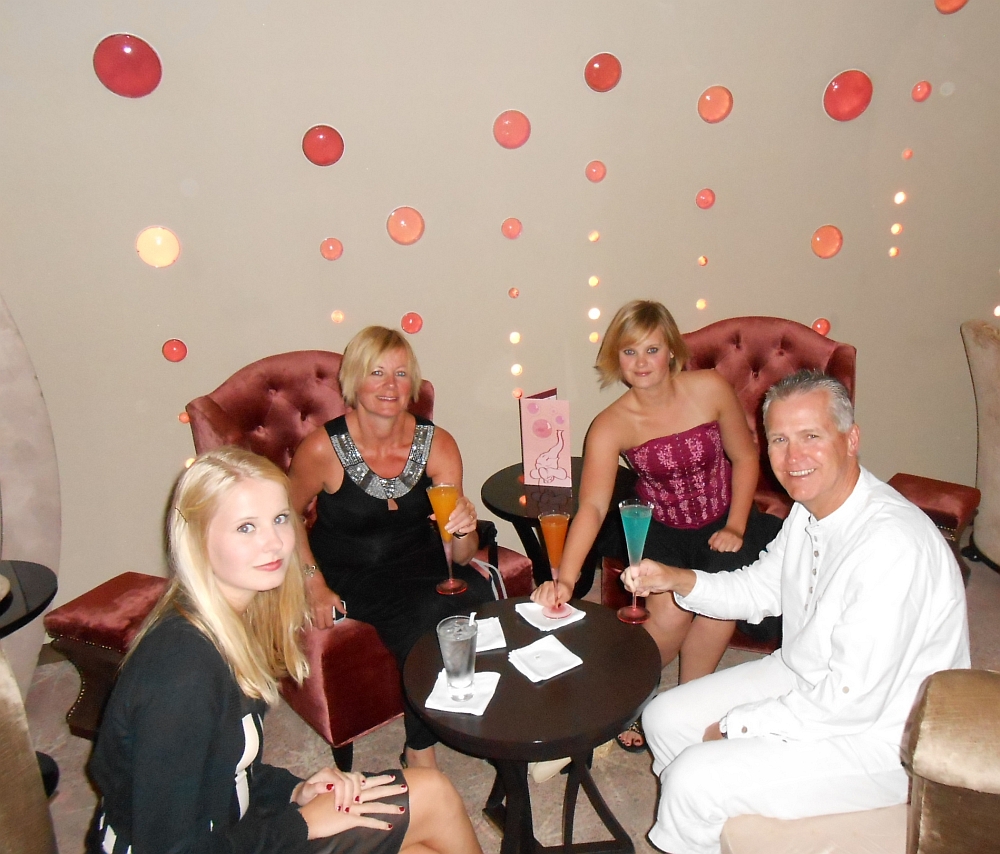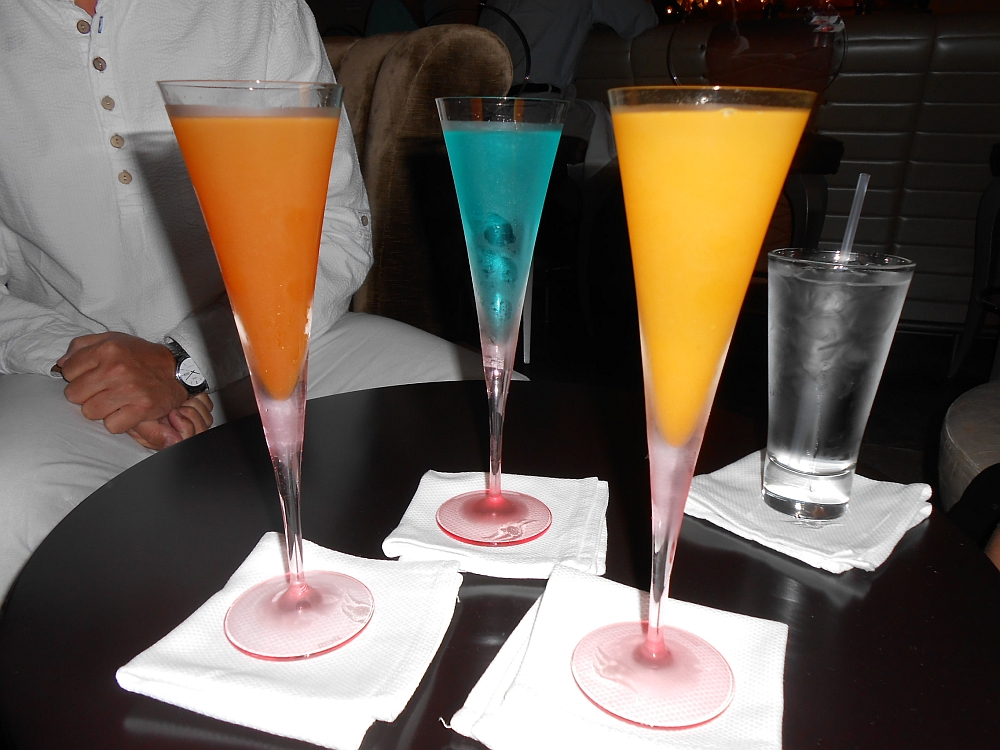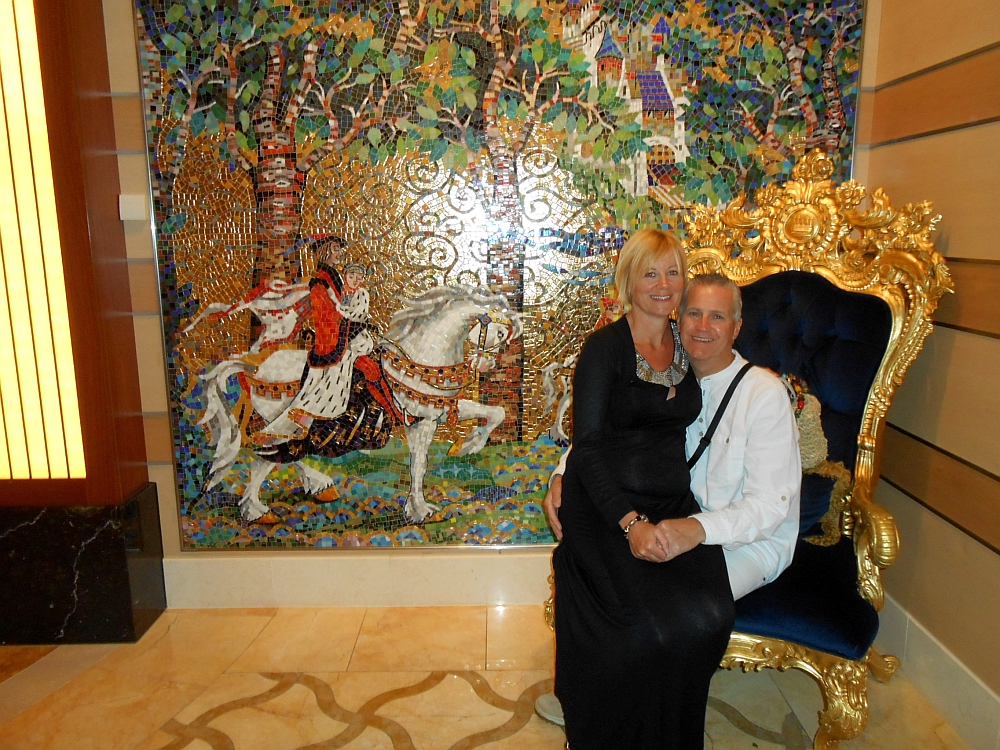 [Kev - the royal throne. A seat I was always destined to fill.]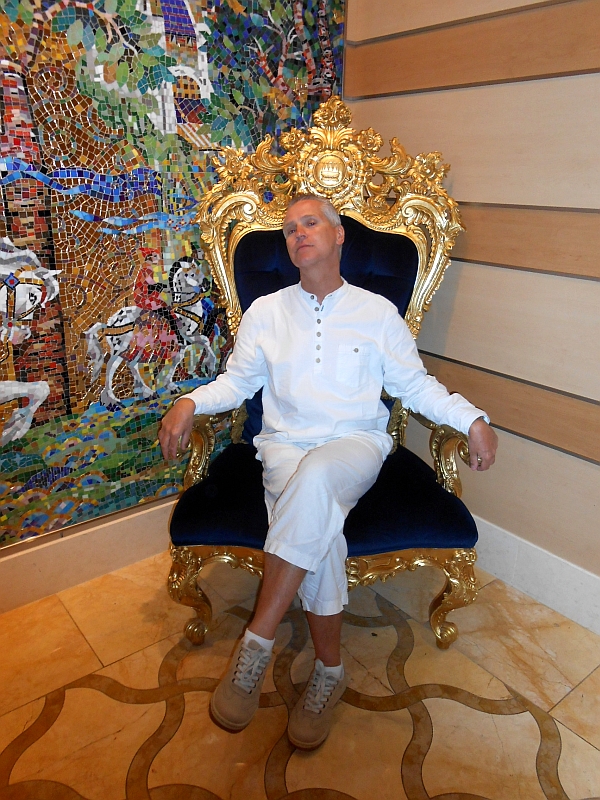 [Kev - I was going for the regal, haughty look. Unfortunately I ended up with a cross between simple and constipated.]
[NOVEMBER 2012 REPORT HOME PAGE]