DAY 11 - SATURDAY 10th NOVEMBER 2012
Written by Kev
Participants: Tam, Kev, India and Georgia
Tam and I are awake by 7.30am, so I get a chance to catch up on my trip report while Tam checks out the finances, which are looking like we're on budget, surprisingly. I wake the girls just after 8.00am and Georgia says that India was talking in her sleep. Apparently she was muttering about fish. At least she didn't carp about it. It cod have been much worse.
Bad jokes and breakfast over with, we pack and are checking out of Vero Beach by 9.30am.
The drive along the A1A to Port Canaveral is easy. On the way we pass Patrick Air Force Base. Wow, is that place big.
We check into the Ron Jon Caribe Resort around 11.15am and are pleasantly surprised to find our room is available. It's on the 5th floor and although it's only a 1 bedroom, it's a reasonable size with a separate sitting room and kitchen. Although the balcony overlooks the car park, in the distance we can see the massive vehicle assembly building at Cape Canaveral and to our left is the port where the Disney Fantasy is moored.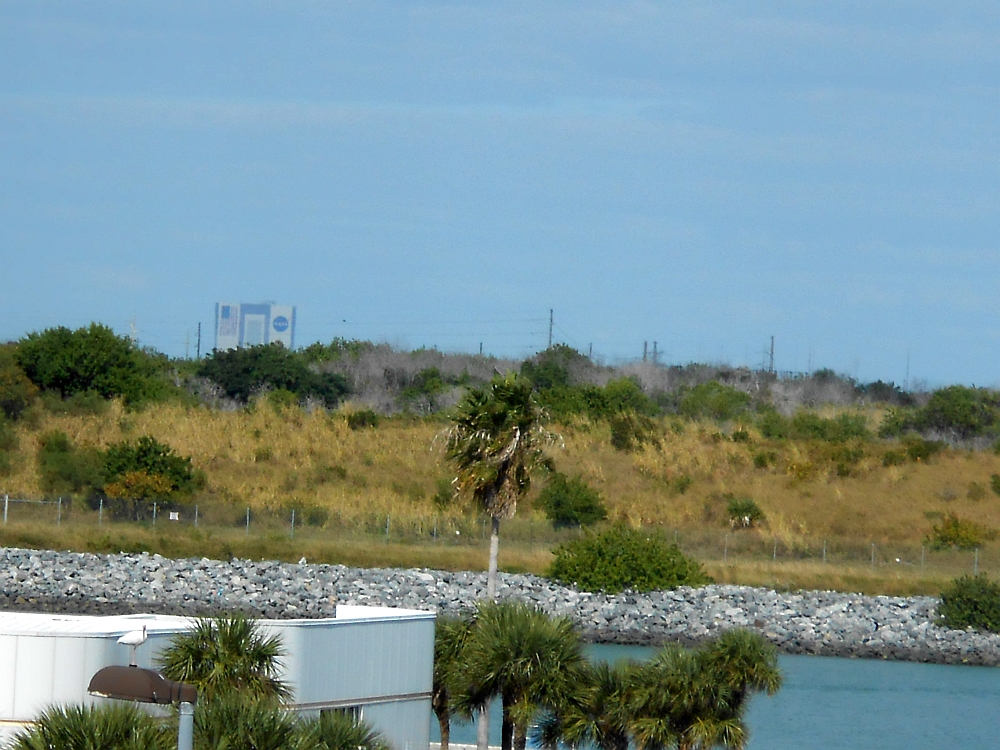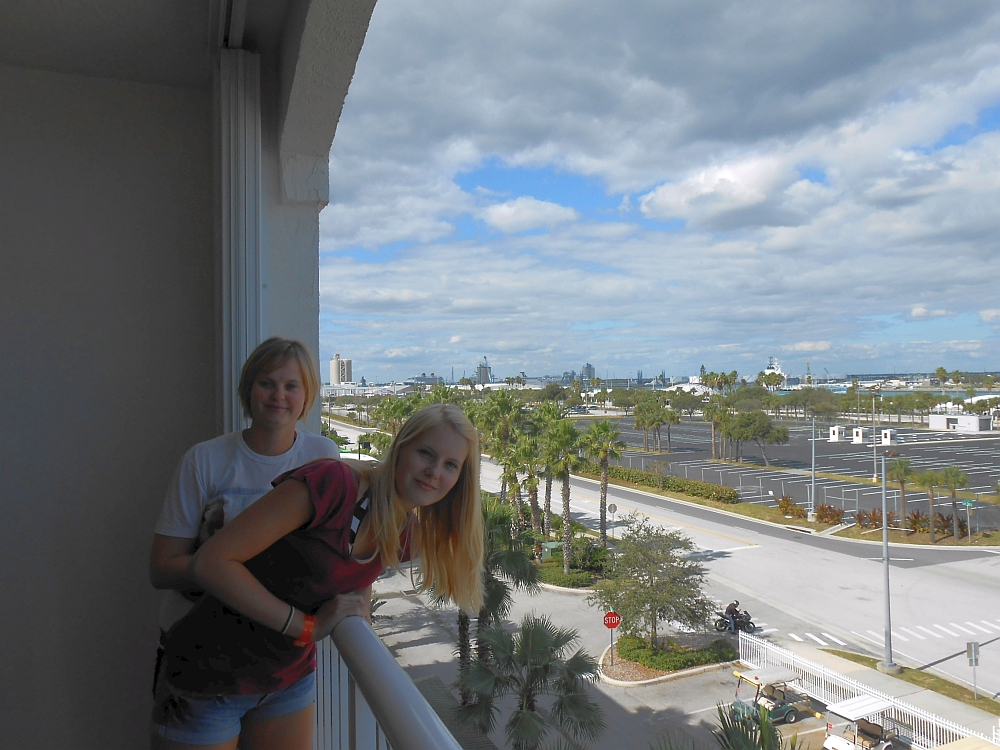 The Fantasy is just above Georgia's head.
We are only here for one night, so there's no time for messing around – it's straight out to investigate the resort and then spend a little time by the pool. The pool area is pretty impressive. Along with the main pool there is a decent size lazy river and a water slide. The resort was obviously meant to be much bigger as the main building is a little walk from the ocean front building. In between is scrubland where they intend to expand in the future. We walk to the beach and it's much nicer than I expected, fine white sand and not many people on it.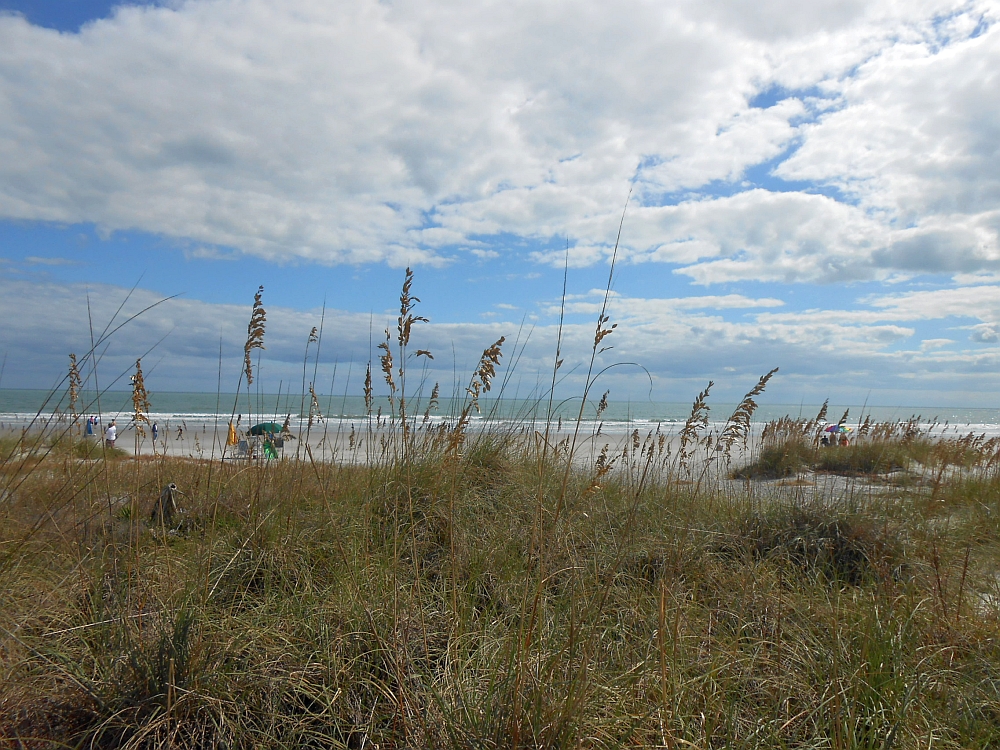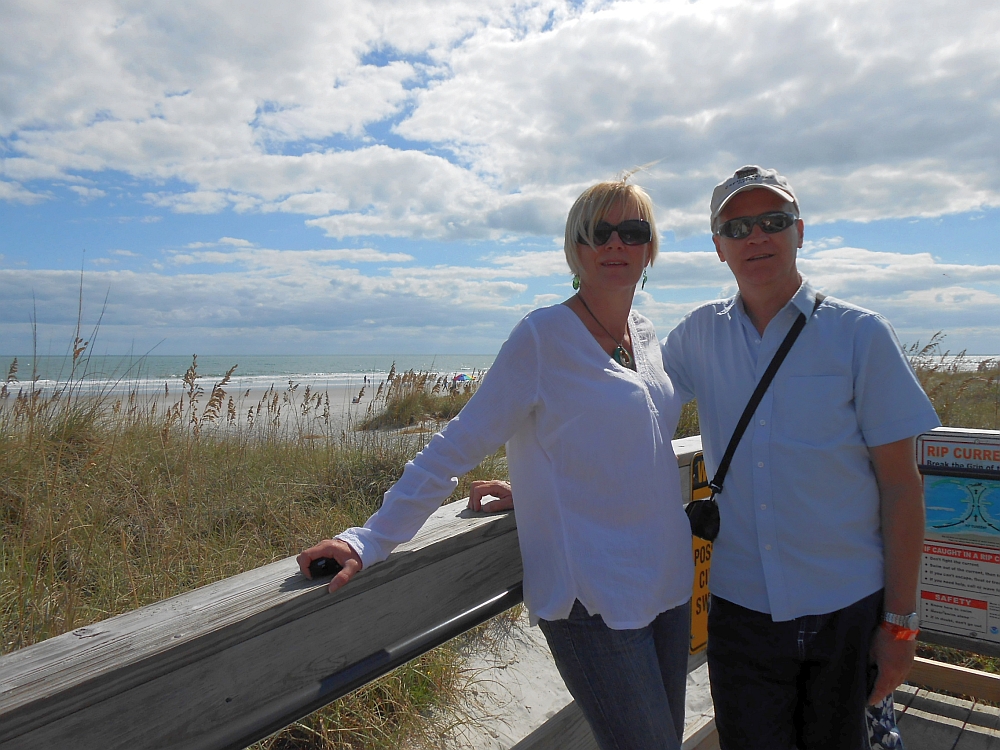 Back at the pool we find some sun beds – this is not a problem as it's very quiet and we can sit wherever we want.
We all ride the lazy river and the slide. There are various devices around the river designed to get you wet. The best of them being a series of buckets that fill up and then dump their contents onto the innocent floaterby. (I think I just made up that word). I am sooooo praying that Tam gets a bucketful. To my intense disappointment she gets sprinkled, but not drenched.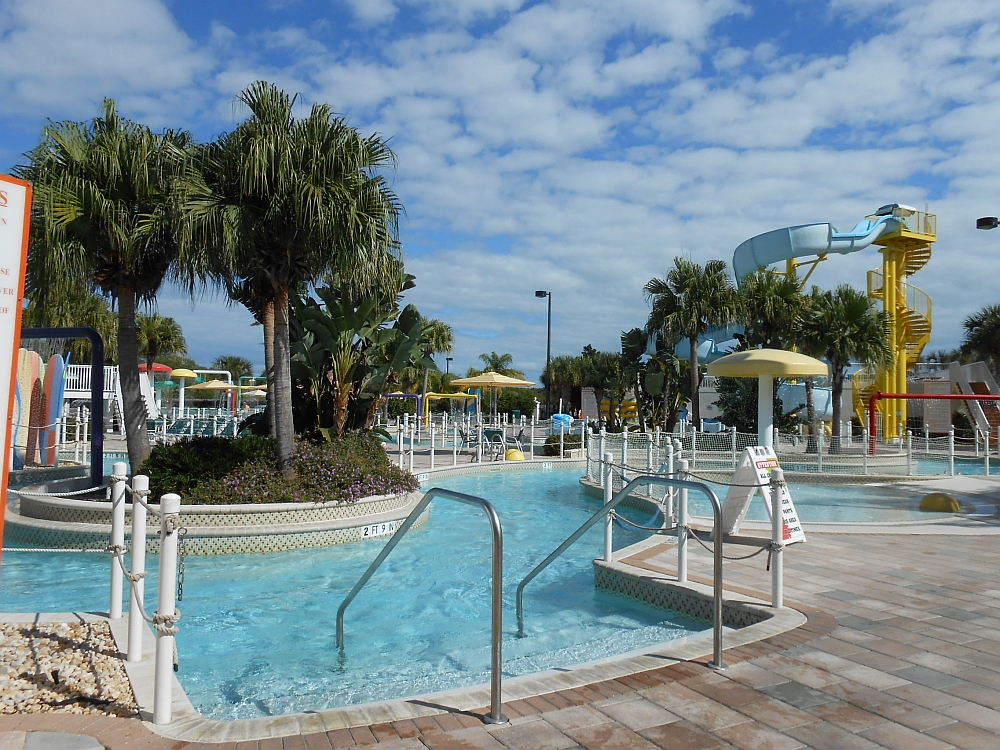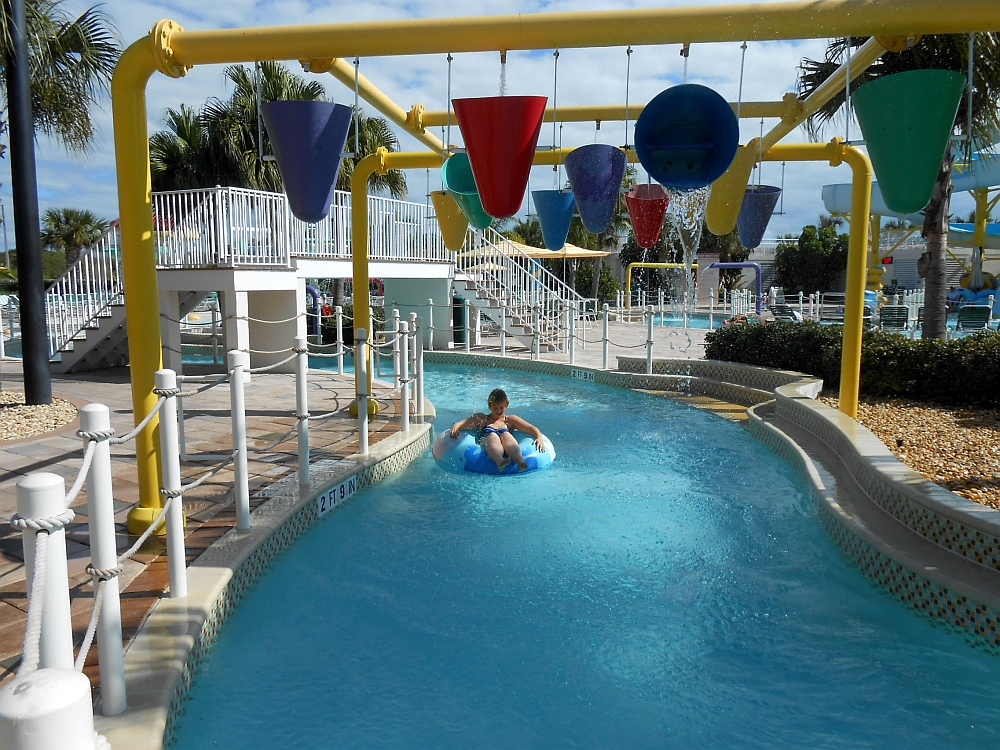 The rest of us are sat on our sun beds when Tam returns from the waterslide. She says it was fast and even though she held her nose, the water shot up into her brain. When I offer the opinion that it would only take a thimbleful of water to drown her brain, I'm met with a look of disdain. Don't worry though; I'm still in the good books after buying her a handbag she liked in the shop in Vero Beach. I reckon I've got a few more witticisms in credit before the handbag fund is diminished.
Back to the room at 2.00pm where we have a beer and some Sour Cream and Cheese Lays. Refreshed, we head out to walk to the bars close to the port to have an afternoon of drinking and eating while watching the ships leave. The Disney Fantasy is meant to leave around 4.00pm and we are hoping to watch that.
We walk all the way along to Milliken's Reef as this gives the best view of the port. We sit outside and listen to the reggae band while enjoying a beer along with some chicken wings and coconut shrimp. I progress to a French Kiss – the young lady serving looks a mite perturbed until she realises I am asking for a cocktail – while Tam has a Margarita and India has a Caramel Apple Martini. Georgia actually gets to have something other than a soda as she tries a virgin Pina Colada.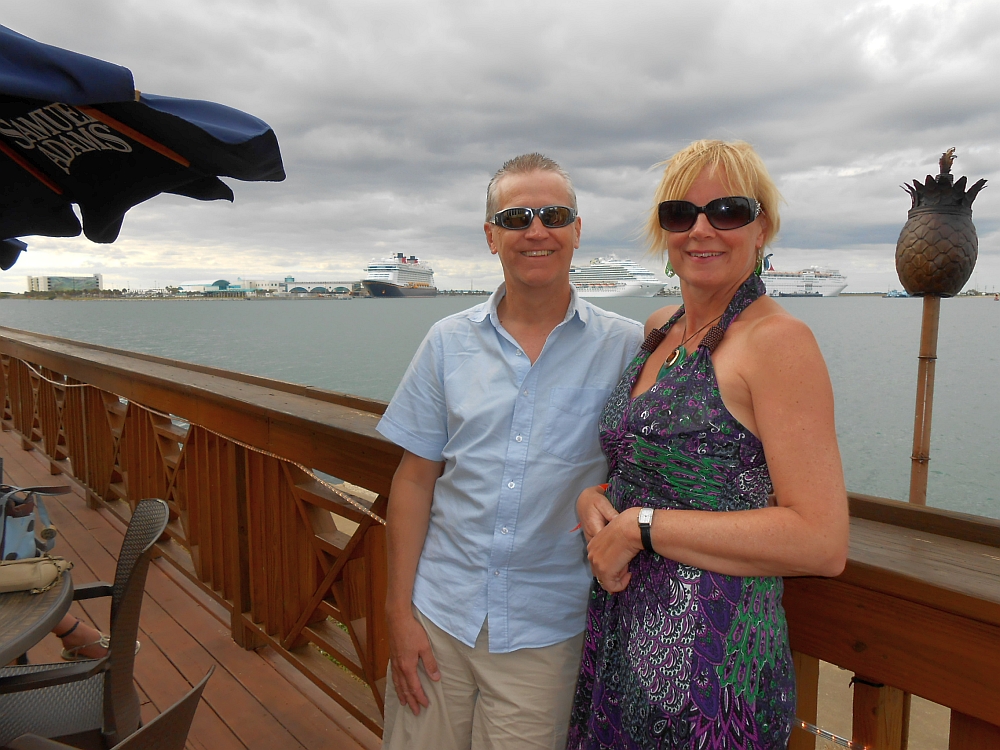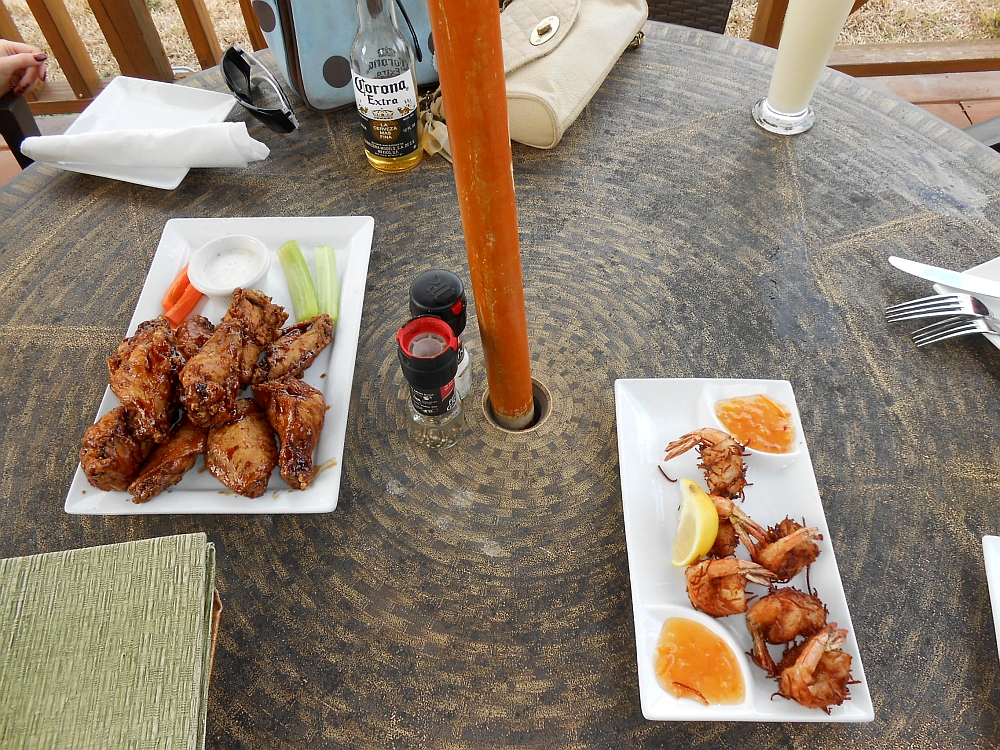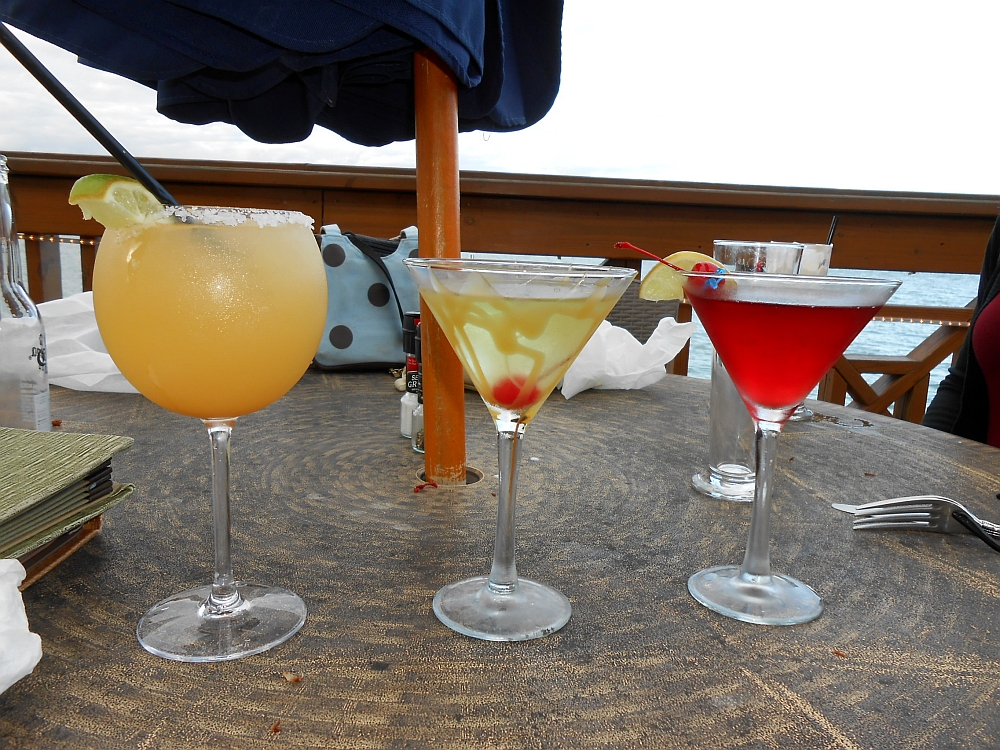 We watch the Carnival Dream leave port, which is impressive in itself, but the main attraction starts as the Fantasy moves away from its mooring. Now, at this point the girls still think we are going to St Augustine for the next 4 days. Tam and I have spun an elaborate web of deceit over the last 12 months, including investigating things to do and making fake bookings for hotels. It's all been leading up to this moment. Ever since we reached the Ron Jon Resort and the girls saw the ships from our balcony, they asked if we could get down to the port in time to watch them leave. As the Fantasy glides past there are many comments about how they would love to go on a Disney cruise again some time in the future.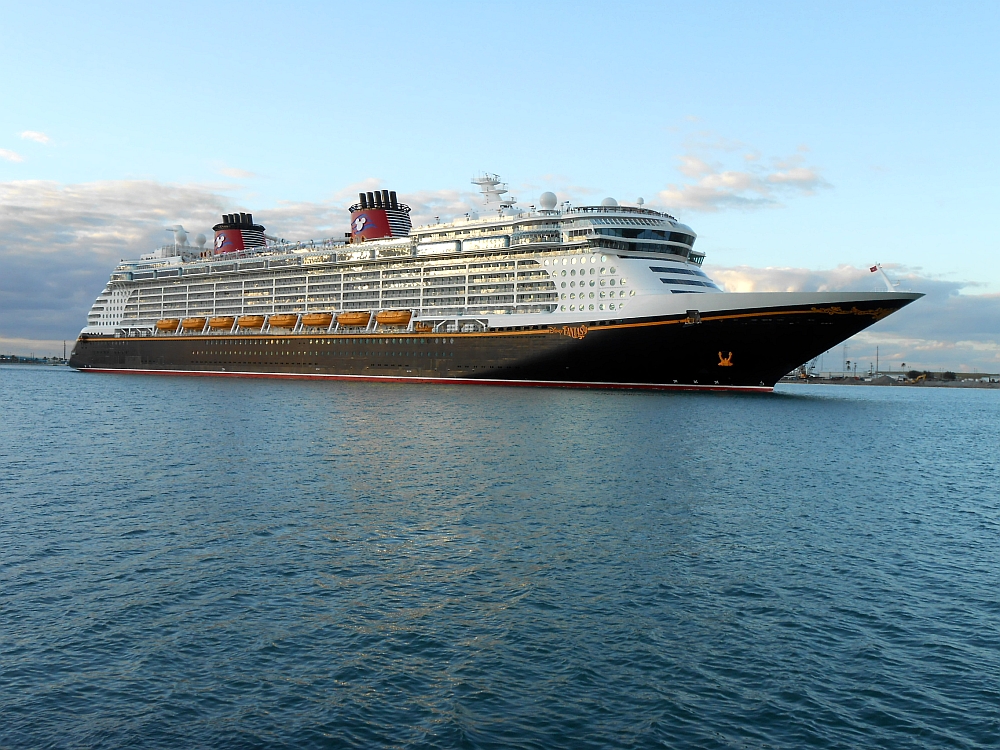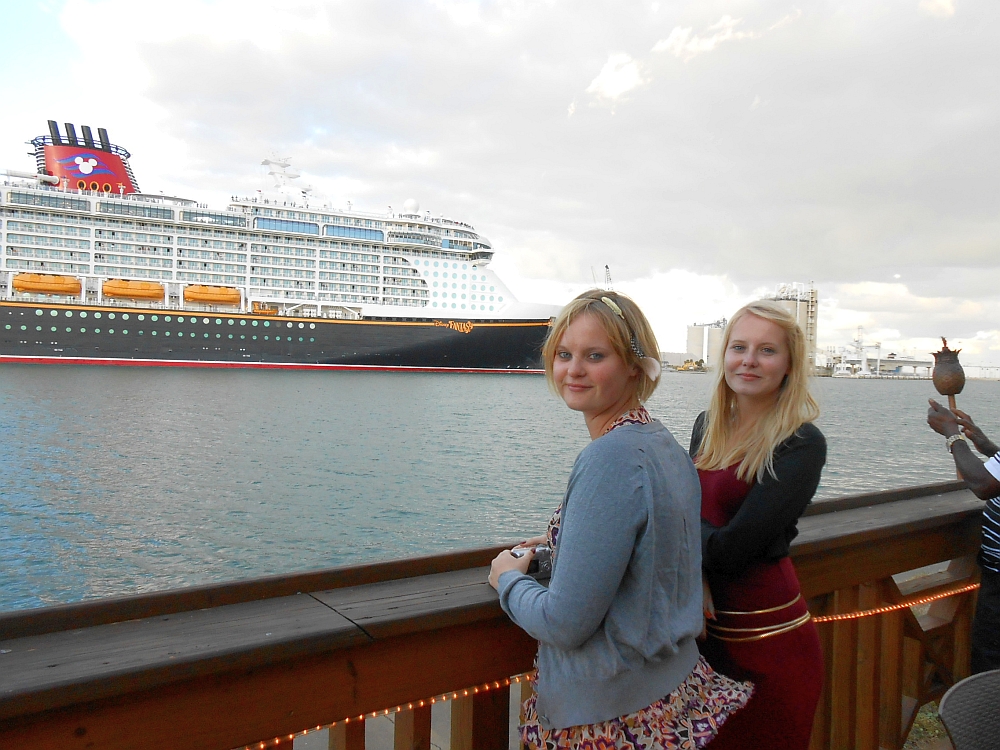 Once the Disney ship has passed we sit down and I give Tam her cue. She tells the girls we have some bad news – we will not be able to go to St Augustine after all. She then hands each of them the 'Welcome Aboard' documents from the Disney cruise line. We are going on the Disney Dream tomorrow for a 4 night cruise. It takes a few seconds to sink in, but the shock on their faces says it all. India sheds a tear, quickly followed by Georgia and Tam. I must admit I feel quite emotional too, but that's mainly because I'm videoing the whole thing and so can't reach my beer.
The next hour is spent filling the girls in on all the details of the cruise. They will have their own stateroom and we have booked both Palo and Remy. To say that excitement levels are high would be a gross understatement.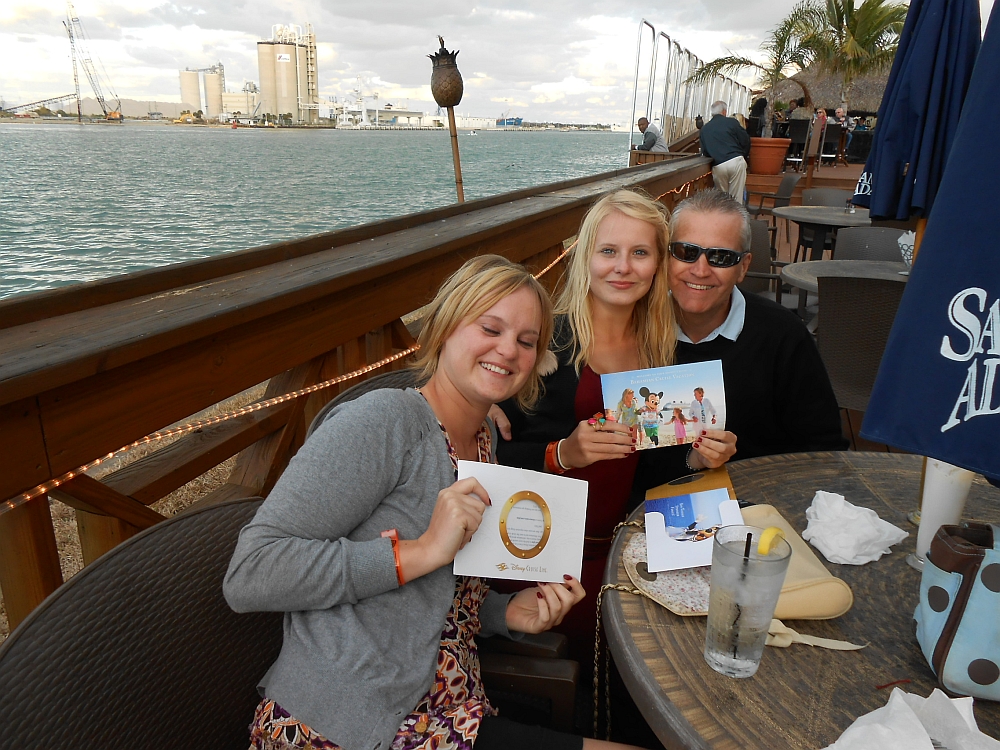 We celebrate with another beer before paying the check and moving on to the next bar, Fishlips.
This place is more of a down to earth bar (at least upstairs) with loads of TV's showing sport and neon bar signs. As India says, this is the sort of place that she imagined drinking in when in Florida. It's also absolutely packed at 6.00pm. As we try to find a table we start to notice some rather strange behaviour. Some couples are kissing and not in a purely affectionate way, if you get my drift. There is more tongue being used than in a large tin of pressed tongue. One man has his hands on the bottoms of two women stood either side of him. There is also a fair amount of writhing of bodies against each other. Now, I'm not a prude, but any writhing should be carried out in the privacy or your own writhing room. Tam reckons we have walked into the middle of a swinger's convention.
We find a table and order drinks and, luckily, the place thins out soon afterwards and returns to normal bar conditions. India and I go to look in the room next door where a band is playing. There is a sign half hanging down and we tilt our heads to read it. It says 'Freedom Cruise Meet 2012'. A woman sees us reading and comes over and says to India 'I saw you rip down that sign'. She's only joking, but she is a large woman wearing an incredibly plunging top revealing a cleavage as deep as the Grand Canyon. If I'd have tripped and fallen in, I'd never have been seen again. India and I scuttle back to the safety of our table as fast as we can.
We order fried calamari (the first time Georgia's tried this), clam chowder, mozzarella sticks and a Brie platter to share. Tam and I also discover the delights of Florida Lager, which is fairly hoppy and not bad at all.
Georgia has been holding her cruise documents all night and I ask her if she wants me to put them in the backpack I'm carrying, but she wants to hold on to them so she can keep looking at them from time to time.
Fishlips is actually quite a fun bar. Our server, Shane, is very friendly and ensures that our glasses are never empty.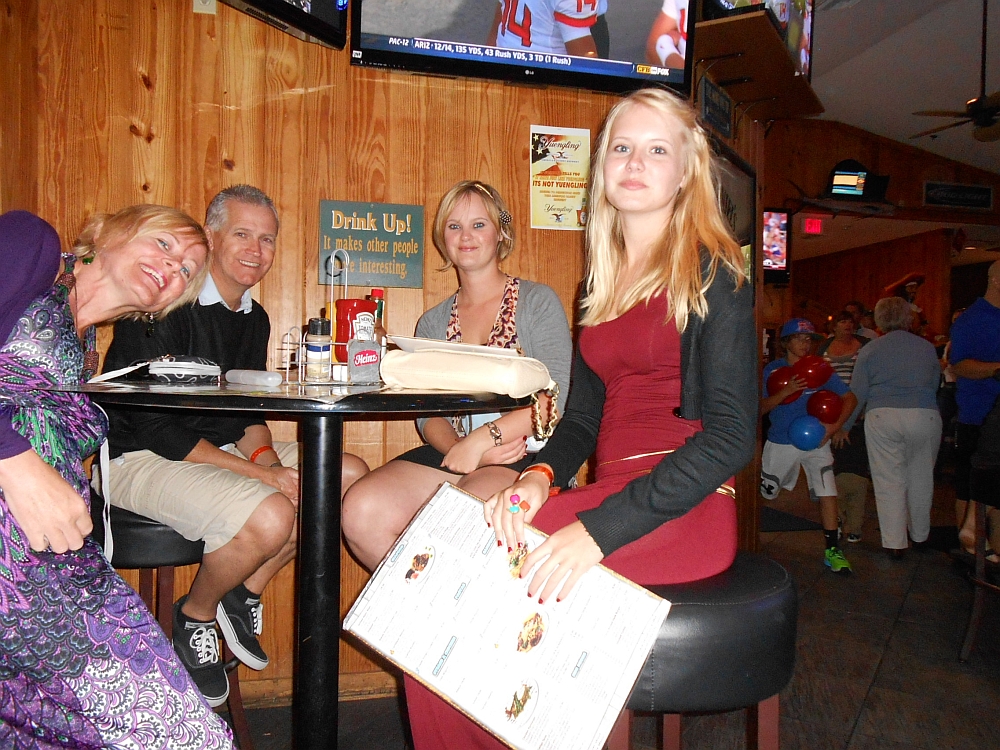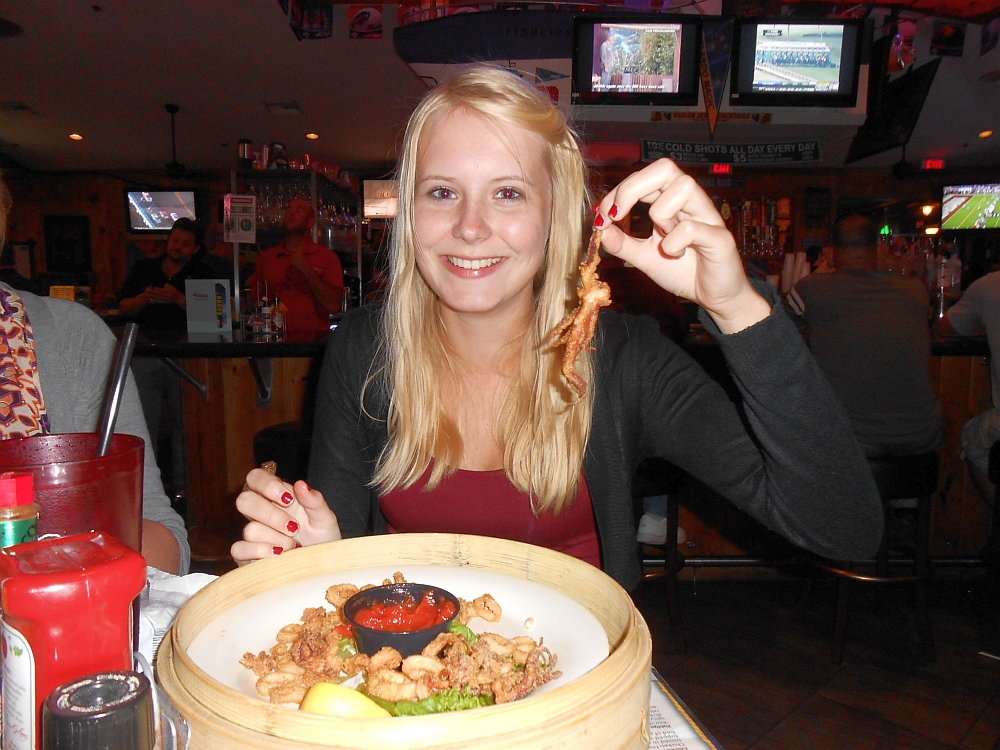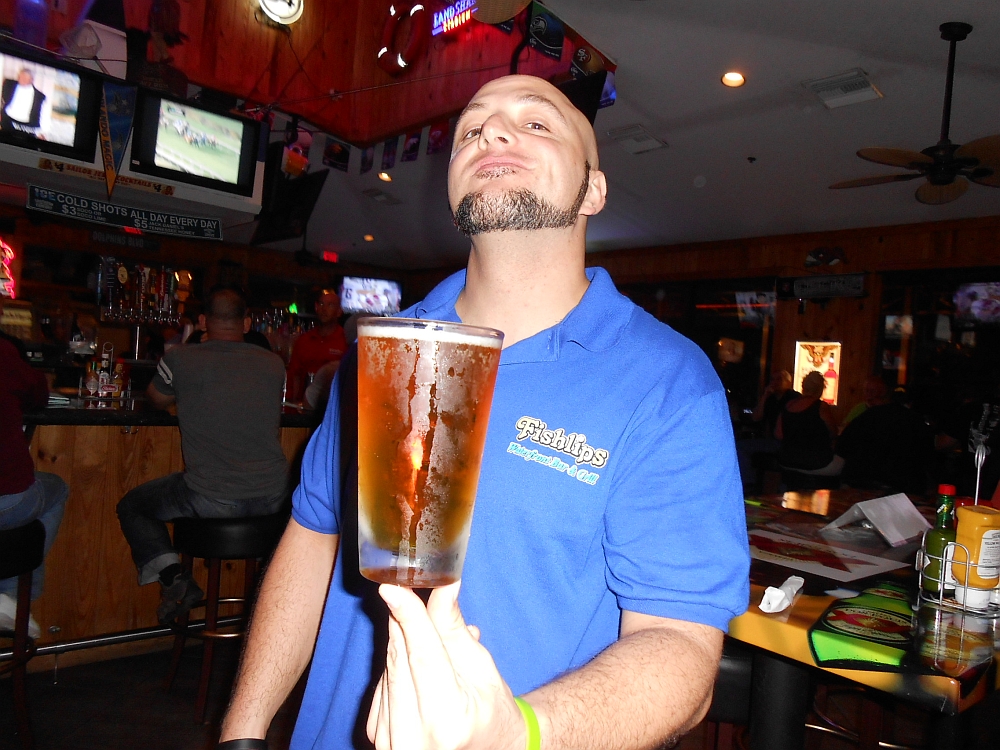 We move on to our last venue for the evening – Grills. This proves to be a good choice as it's quite similar to Captain Hiram's in Sebastian and this is where we had first intended to spend tonight until they imposed a two night minimum stay for the weekend. The bar is outside and there are many tables, some of them with patio heaters. A band is setting up on the outside stage. Tam and I continue on with the Sailor Jerry's and coke that we had started on at Fishlips. We also share a plate of wings between the 4 of us.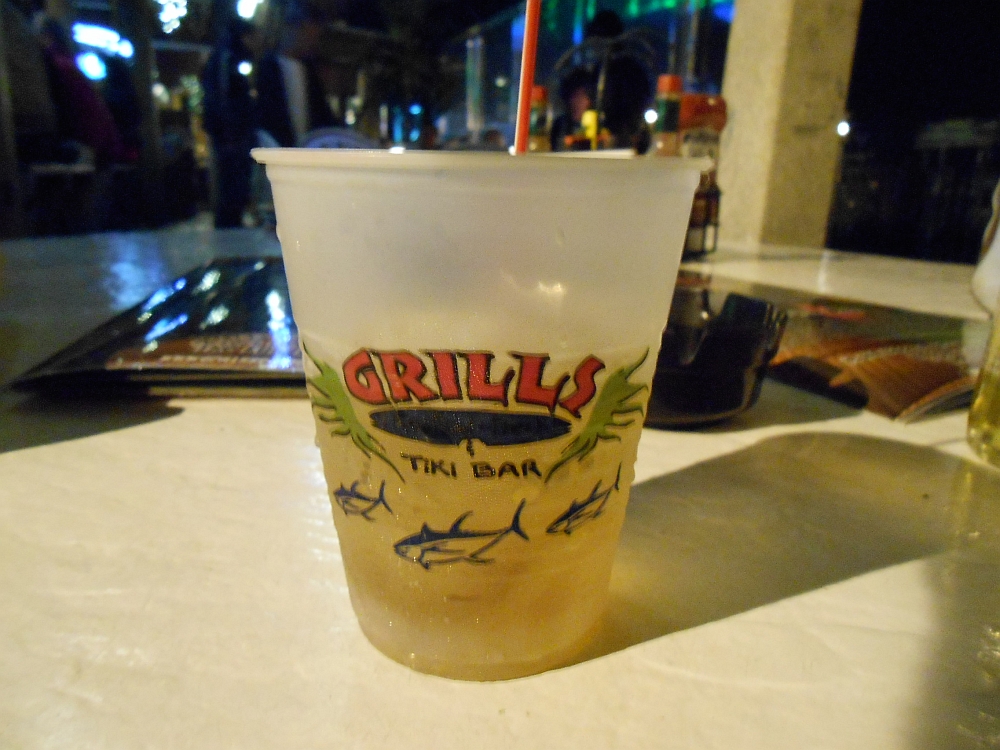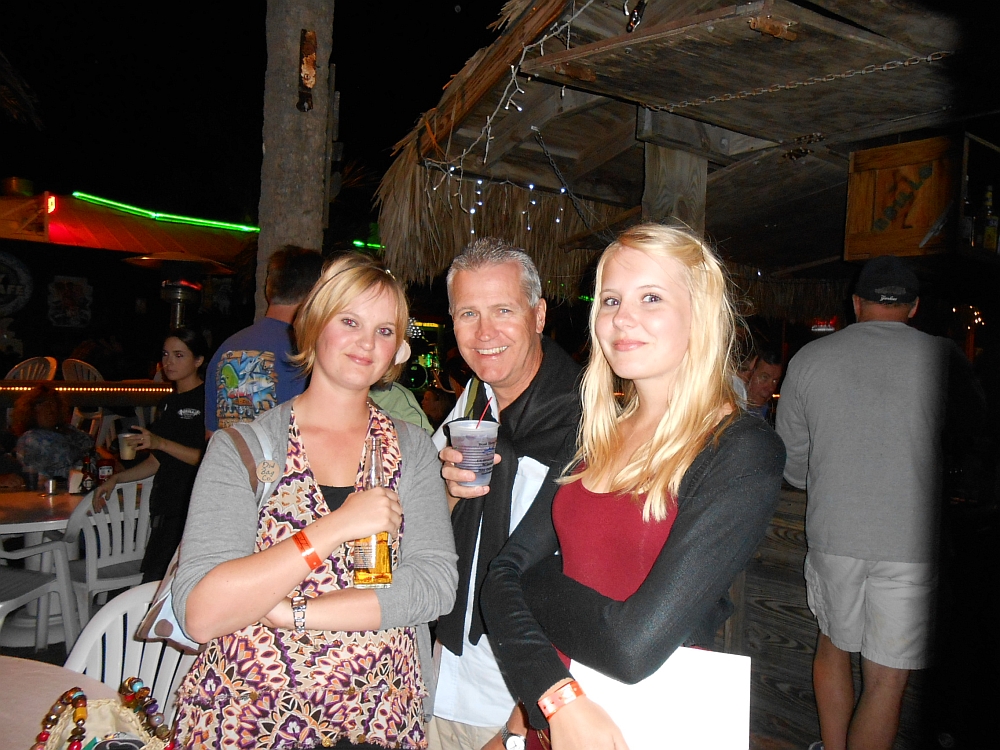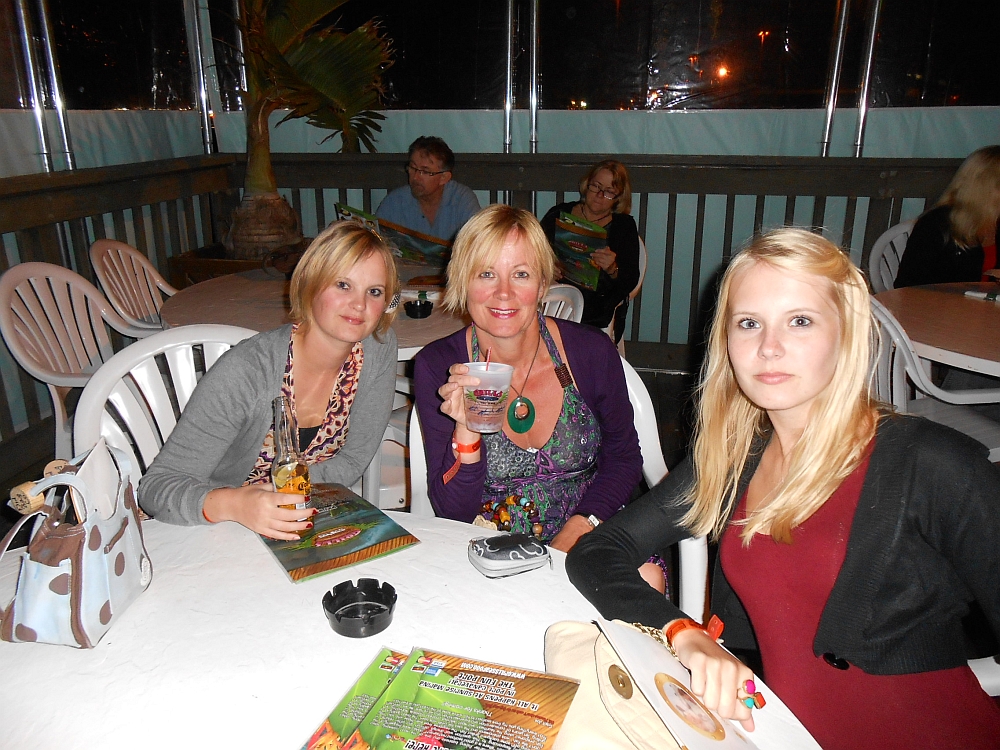 The band is called Even Odds and is not bad. You know things are going downhill fast when Tam and I get up to dance to 'Last Dance With Mary Jane' by Tom Petty. I'm afraid the girls caught the whole shameful episode on video. Perhaps Tam and I could rush back to the swinger's bar – it might be less embarrassing.
Another couple of lagers and we agree that the night should be brought to a close before the parents do anything more to shame the family name, so we pay the check and walk back the couple of miles to the Ron Jon Resort. It's actually a very pleasant evening, the breeze is not cold. It's the closest to a balmy Florida night that there's been since we arrived.
Back in the room the nosey cows …. er ….. I mean the inquisitive ladies, go straight on the internet to Google 'Freedom Cruise 2012'. Sure enough, the Freedom of the Seas is leaving port tomorrow for a swinger's cruise.
The website gives details of the activities including a pyjama party and a black and white fetish night (ouch!). The 'ouch' part is a direct quote from the website, not added by me. I suspect it is quite accurate though. If someone whacked me with a riding crop, I suspect I would say 'ouch', closely followed by 'do that again and I'll stick that riding crop where the sun don't shine', although there is a possibility that this reaction may well appeal to those taking part in the swinger's cruise.
Crikey, I hope they haven't got the ships mixed up. If we clamber aboard the Dream tomorrow to be greeted by Mickey in full leather gear and a gimp mask, I'm off a bit sharpish!
On that note, it's off to bed. Goodnight.
Oh, by the way, Tam will take over the trip report for the duration of the cruise. Considering the way this particular instalment has gone, this may not be a bad thing.
[NOVEMBER 2012 REPORT HOME PAGE]