Pre-trip Report
& Day 1 - May 2022
Written by Kev
This trip has been a long time coming. Our last holiday in Florida was in October 2017 and we planned to return in October 2021. That turned out to be optimistic as Mr Biden had not yet opened up the borders to visitors and we had to postpone. He finally relented and opened up the country 3 weeks later. Thanks a lot Mr President.
We rescheduled to May 2022 and started the planning accordingly. This time it would be me, Tam, India, Georgia and Charlie. We also planned to meet up with our friends Susan, Anne and Rob and Sharon and family in Walt Disney World.
As normal for us we planned to split our time between the coast and Orlando. Last time we went to Anna Maria Island, but we wanted to show Charlie a bit more of what Florida has to offer, so the intinerary this time is as follows:
7 nights in Captiva
3 nights in Sebastian on the east coast to include a trip to Kennedy Space Centre
10 nights in Walt Disney World - 4 nights in Kidani Village and 6 nights at The Boardwalk
Now the build up to our holiday was a bit stressful to say the least. The weekend before we were due to leave I went to Valencia on Charlie's stag weekend. A great time was had by all and Simon (Charlie's step dad) and I shared an apartment while the younger guys all shared dormitory style accomodation.
3 days before our scheduled Saturday flight to Florida, Simon messages to tell us he has Covid. To say I have been in close contact with Simon is an understatement. We stayed in the same accomodation, sat next to each other on the plane and shared the same car to and from the airport. I get this news while at work and naturally fear the worst. Remember this is still at a time when you have to have a supervised negative Covid test 24 hours before departure in order to be allowed to fly. As soon as I'm home from work I take a Covid test and to my amazement it is negative. We test again on Thursday and Friday - still clear.
Our supervised test is booked withDoc HQ for 9.40 am on Friday morning. Tam and I take it together via a video link where the very pleasant lady runs us through the procedure and watches us test ourselves. We wait anxiously for the outcome staring at the little pink line and hoping it doesn't appear in the wrong place. We're clear! Yahoo!
We finish work at 3.30 pm and rush home for the last bit of packing. Tam's mum generously gives Tam and I a lift to the station and we're on the train to Reading safely.
Now Georgia and Charlie have recently moved to London - a very nice apartment in Tottenham Hale - so they will be joining us a the airport tomorrow. We have a brief wait in Reading station for the connection to Gatwick and this is where we meet meet up with India who has caught the train from Chippenham. We see her approaching and she greets us by dropping an empty beer can on the floor. Classy as ever.
The three of us get on the train to Gatwick and enjoy Prosecco and pretzels to pass the time.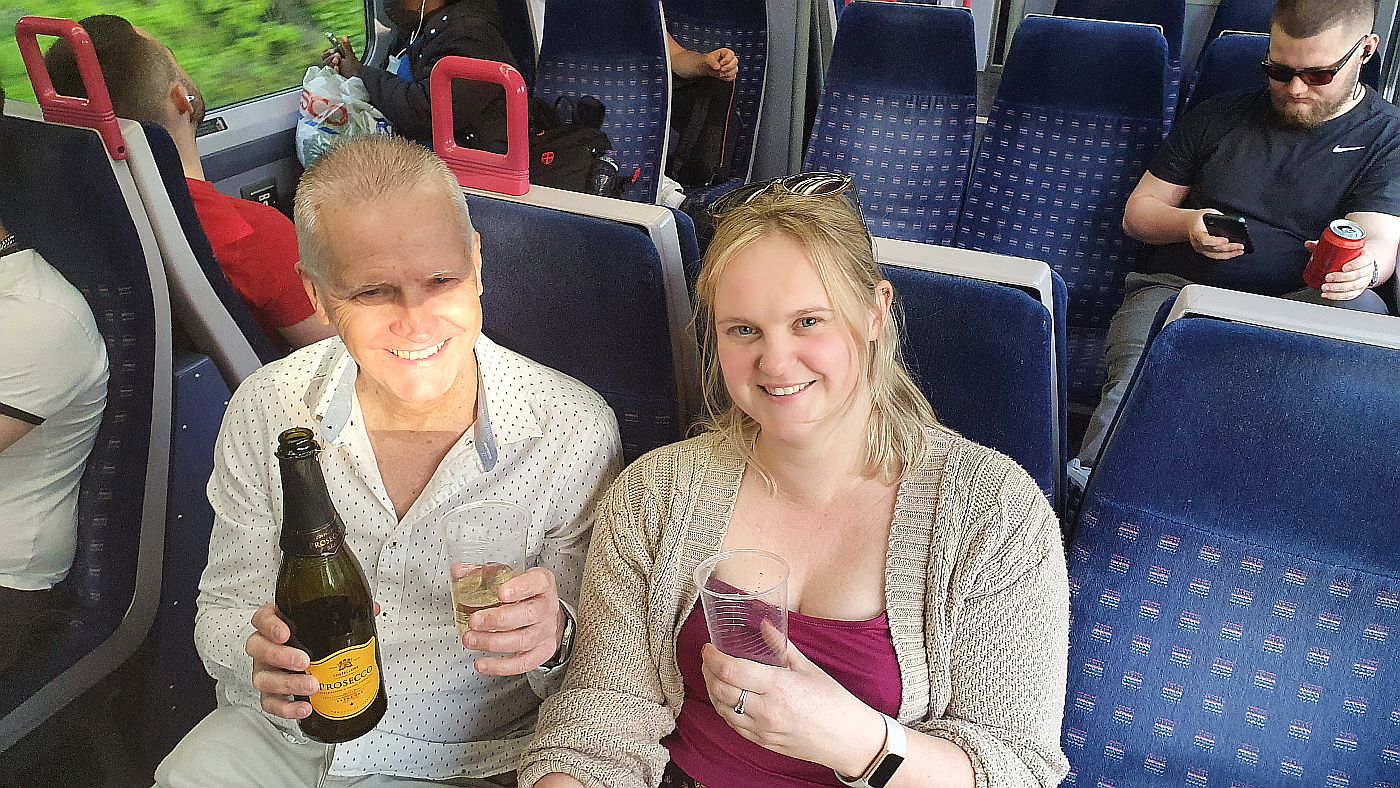 We stay the night in the Premier Inn at the north terminal where we eat at the restaurant as it's not bad and very convenient. A quick walk next door to The Sofitel where I have a Negroni to finish the night.
Bed at a sensible time as we're off to Florida tomorrow!