Day 20 - Wednesday 1st June 2022
Written by Kev
We're awake at 3.55 am again as me, Tam and India try to get tickets to see Bruce Springsteen in Amsterdam. No luck this time as the website decides it's not going to play and keeps crashing. I try to get back to sleep and finally get up at 9.00 am. Breakfast is cereal in the room and we're ready for a full day in the Magic Kingdom. Our plan is to stay until 2.00 pm when we will try to get into Trader Sam's at the Polynesian followed by a visit to Enchanted Rose at the Grand Floridian. We will then return to the Magic Kingdom for the fireworks and extra magic hours.
We leave the room at 11.00 am and Tam and I stop at the front desk and talk to Gabrielle about the stolen goods. She's going to arrange for someone from the Orange County Sheriff's Department and someone from WDW security to meet us on Friday (our leaving day) at 11.00 am. It seems a bit over the top and doesn't leave much margin for error, but we'll see how it goes. She also gives us all Genie+ for the day to make up for the time we've lost trying to deal with the problem.
We get the bus to the Magic Kingdom and go to Buzz Lightyear where Charlie gets the highest score. My lazer gun seems to be defective every time I go in this ride now. How else can you explain my inability to win? We wander for a while and get a Dole Whip before going through the Swiss Family Robinson Treehouse.
Unfortunately there is some upsetting news from Sharon. Her father has been serioulsy ill and has taken a turn for the worse. They are cutting short their vacation and flying home immediately. It's so sad and we wish them the best, we've not had enough time together.
We briefly meet Susan, Rob and Anne and do the Hall of Presidents. It's quite an interesting history lesson for us Brits although the bit where they run through the names of every president is a bit boring and gets longer as they add more.
We say farewell to Ron and Anne as they are going home tomorrow and have managed to get on the virtual queue for Guardians of the Galaxy and so are heading over to Epcot along with Susan. Rob and Anne have been wonderful company and we hope to see them again soon.
We leave the park at 2.00 pm and get the monorail to the Polynesian. We try to get on the waitlist for the 3.00 pm opening of Trader Sam's, but the CM tells us it is already full and will be for 90 minutes or so after it opens. Popular place. We put our names down and walk to the Enchanted Rose in the Grand Floridian, which is due to open at 3.30 pm.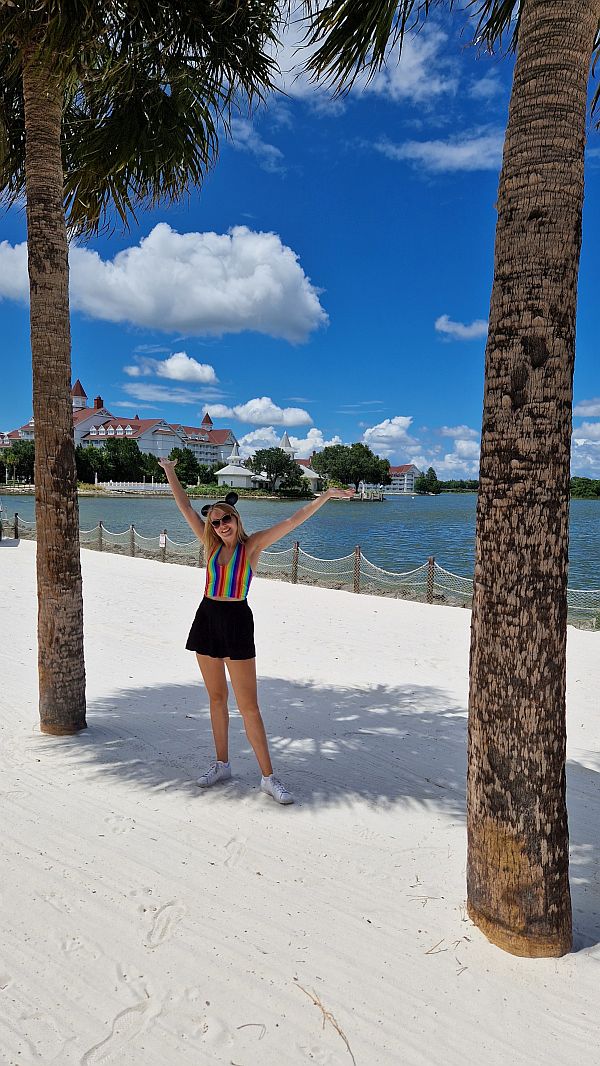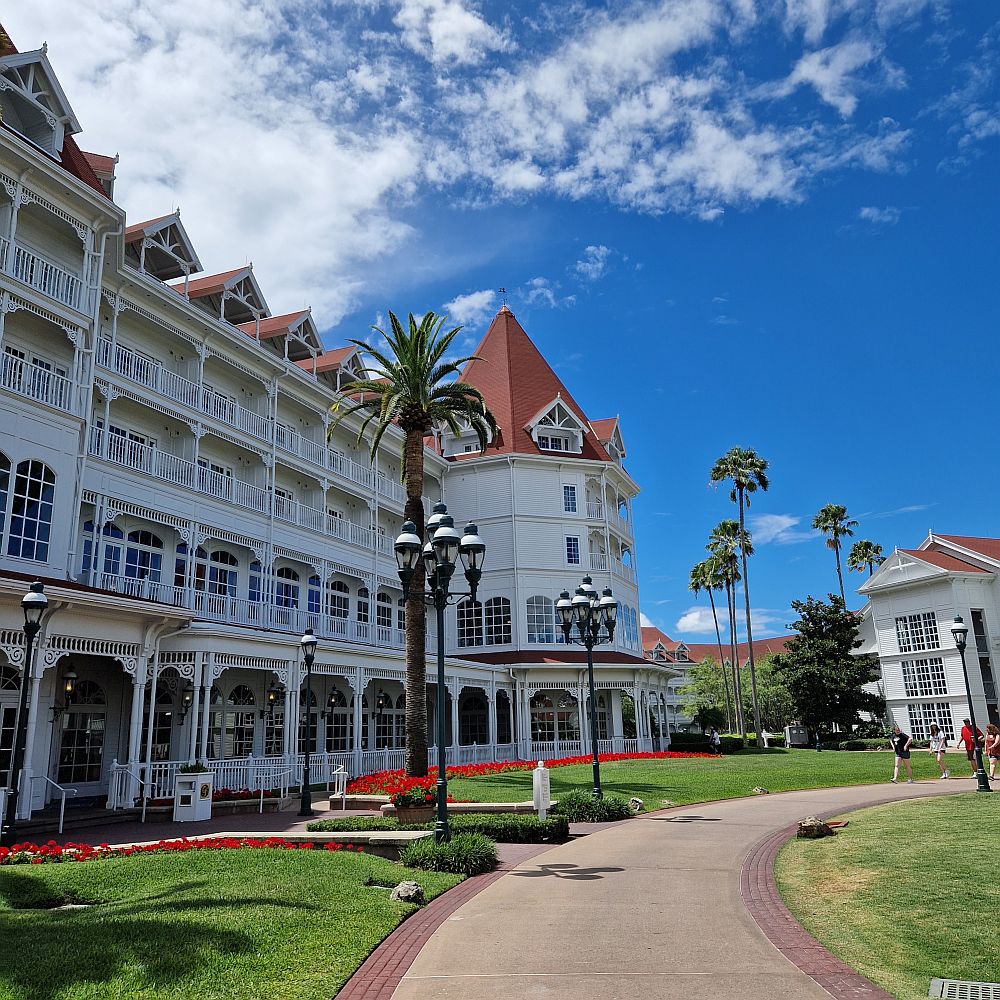 It's nice to just relax in the lobby as there's a pianist playing, so we sit and listen until the bar opens. It's surprising how quickly it fills up, everyone must be as thirsty as us. I have a Sunshine Margarita, which is made with orange and it's very nice. We're all impressed with the changes they've made here. We liked Mizner's, but this is an improvement. Of course the prices of the drinks have also risen. Our bill for 5 cocktails is $120 including gratuity.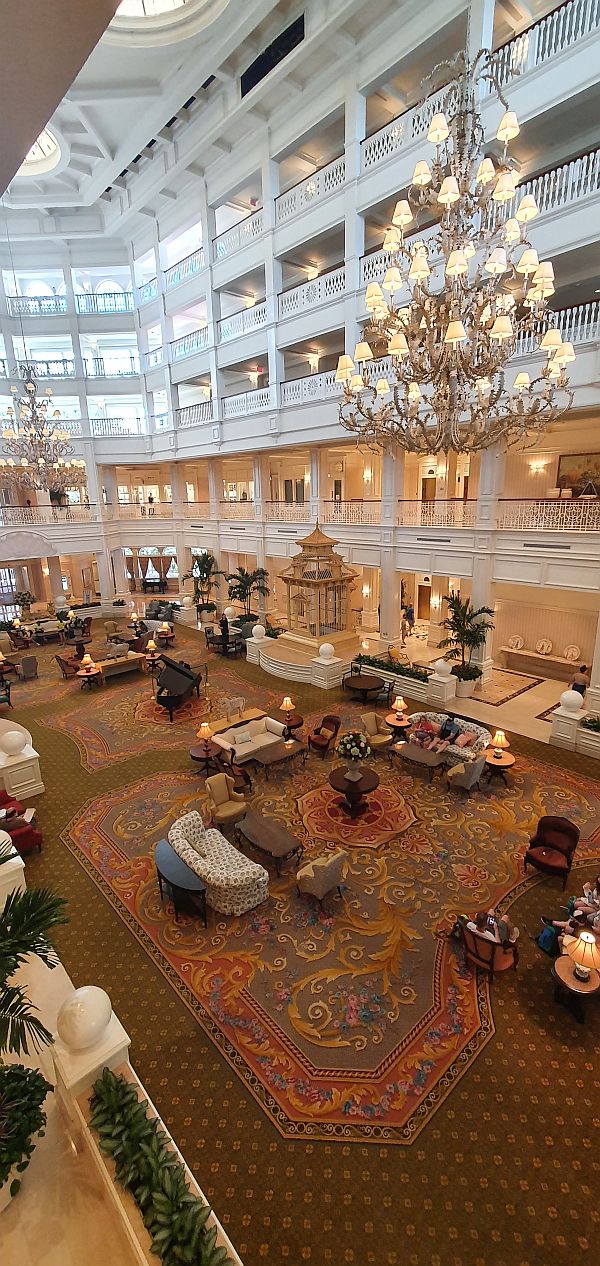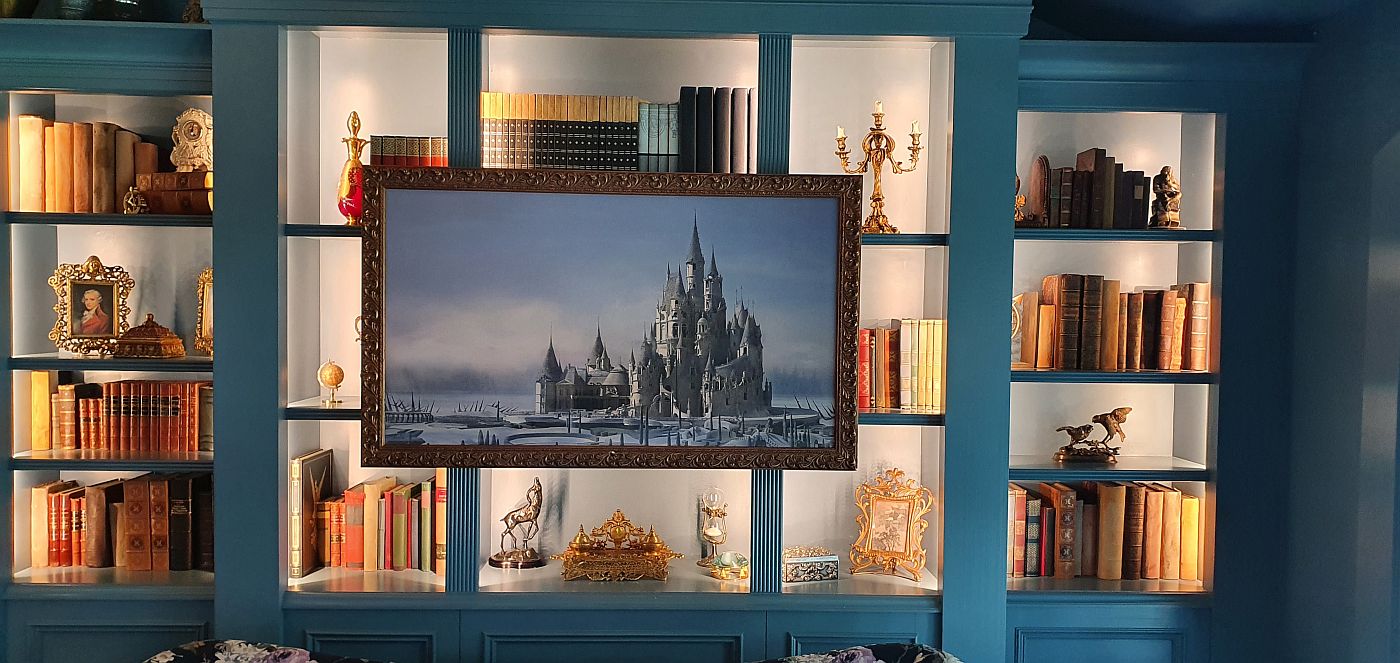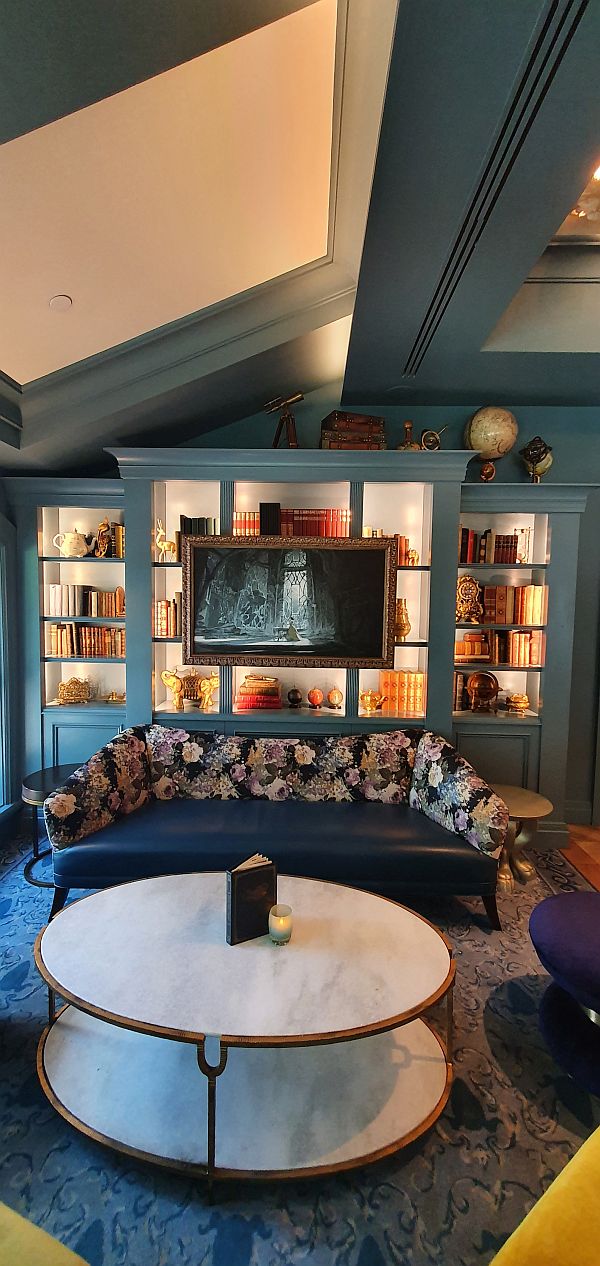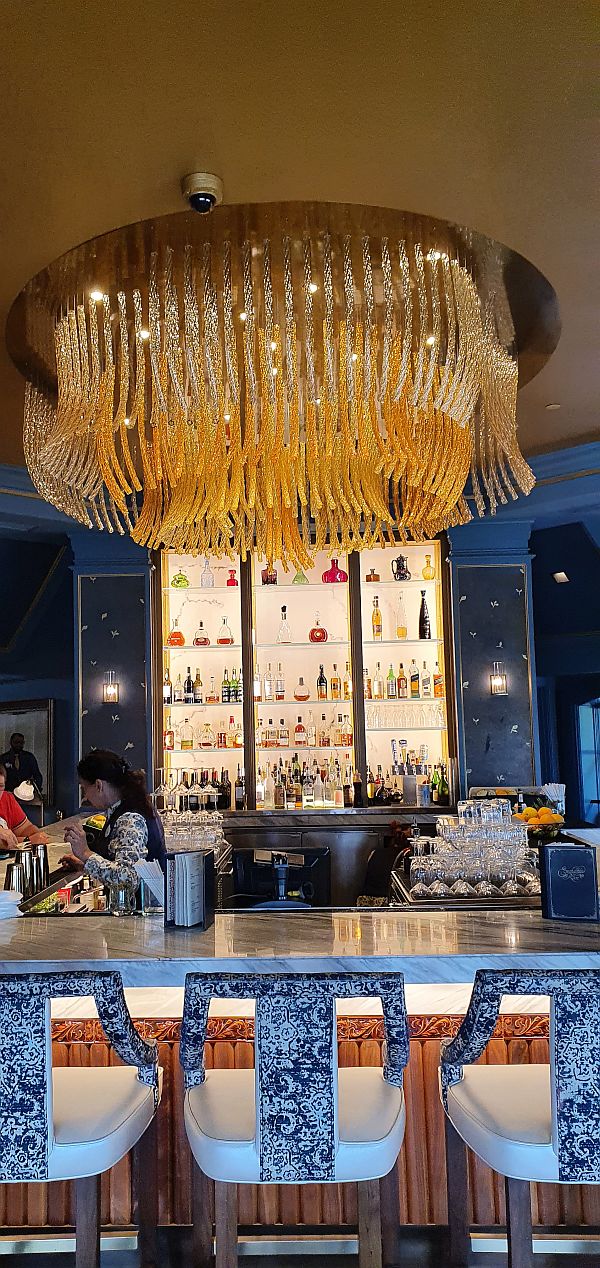 We walk back to the Polynesian and are shown straight into Trader Sam's at 4.30 pm. We stand at the bar, but a table becomes available almost immediately. We love this place straight away. It's the closest thaing that Disney have to the old Adventurers Club. There's a small tear in all of our eyes at the thought of the demise of that wonderful establishment. At least there is in me, Tam and the girls - Charlie never went to the Adenturers Club, so he's just wondering why we're so sloppy.
The servers and barmen interact with the guests and various things happen when certain drinks are ordered. We stay for a couple of rounds and have a Spiced Island. a Hippopotto Mai Tai, a Krakatoa Punch and the girls share a Nautilus. We also have some sushi, a flat bread, pork tacos and two lots of fried dumplings. The bill is $281. We have a great, fun time and are in there for 90 minutes.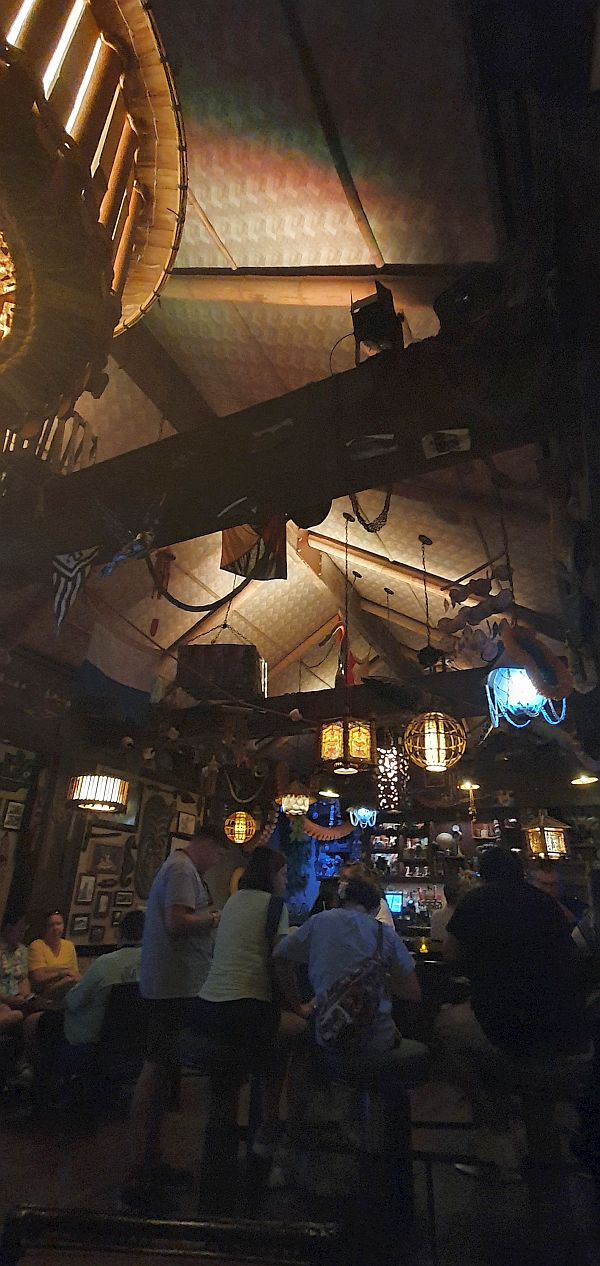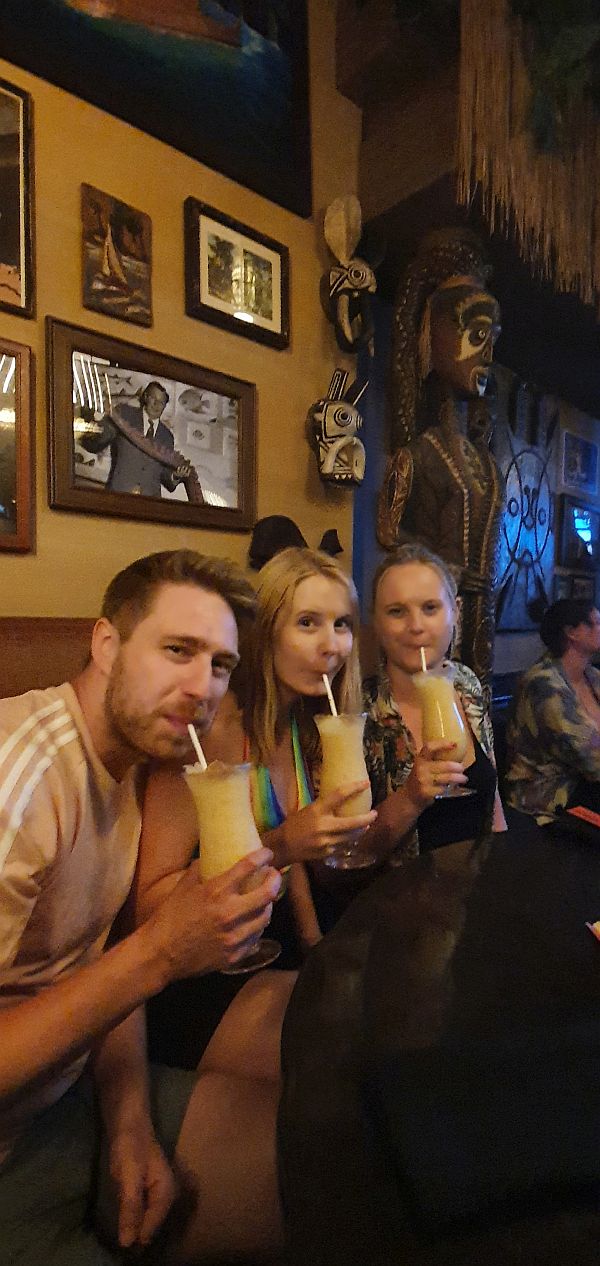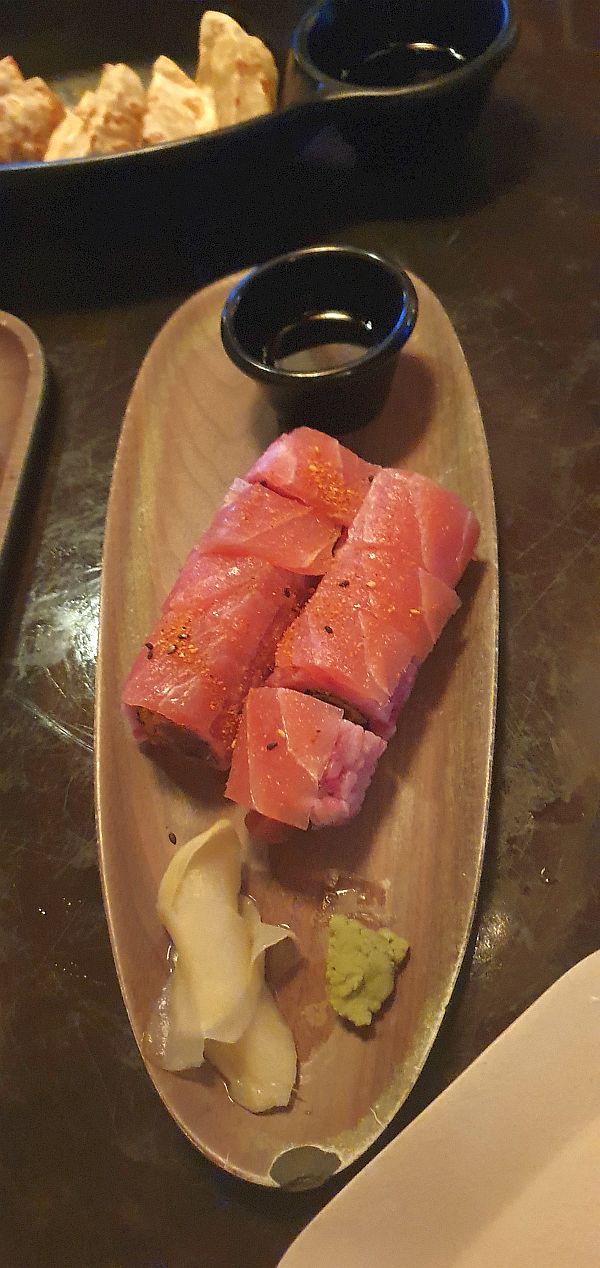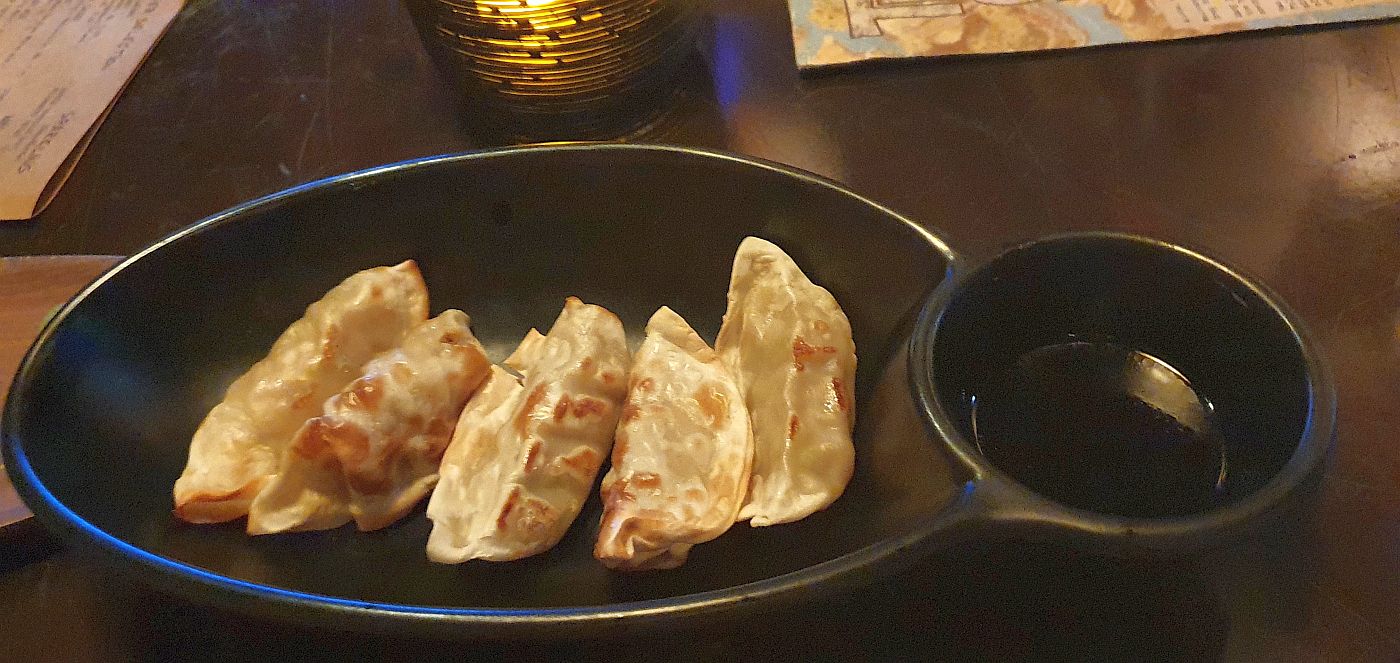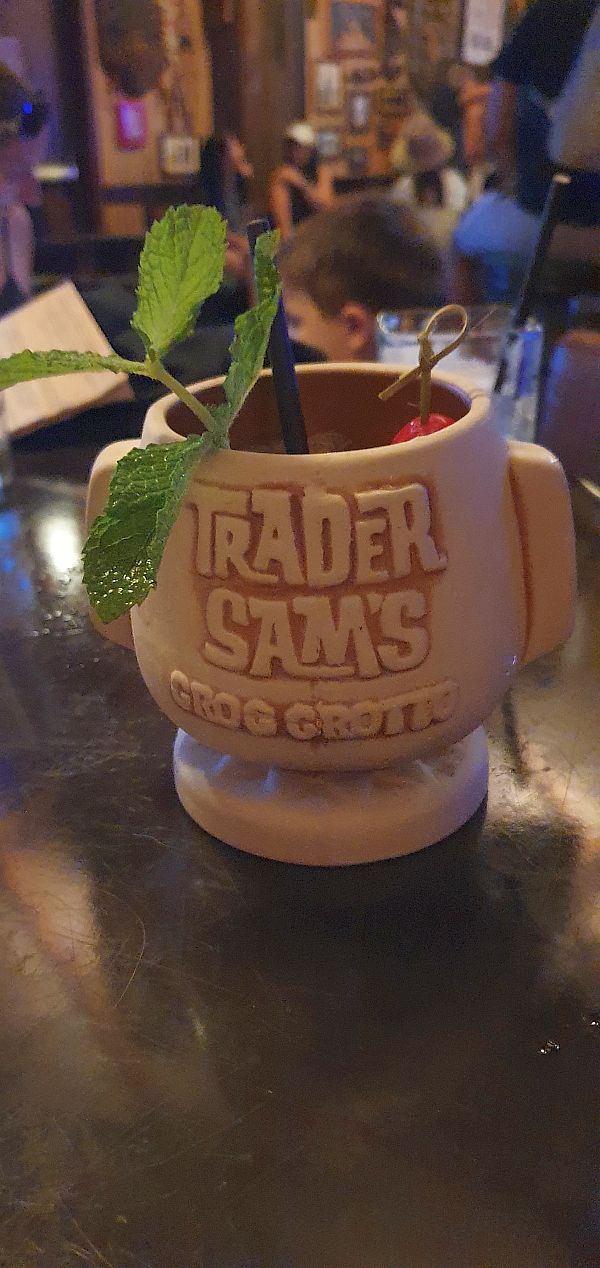 On leaving we all fancy a beer and get them from the pool bar. We walk to the beach where we sit in the Adirondack chairs facing the lagoon and the Magic Kingdom. This is one of those special times. We're not doing anything except enjoying the sunshine and the view while talking and laughing together. Funny how the little things are sometimes the best.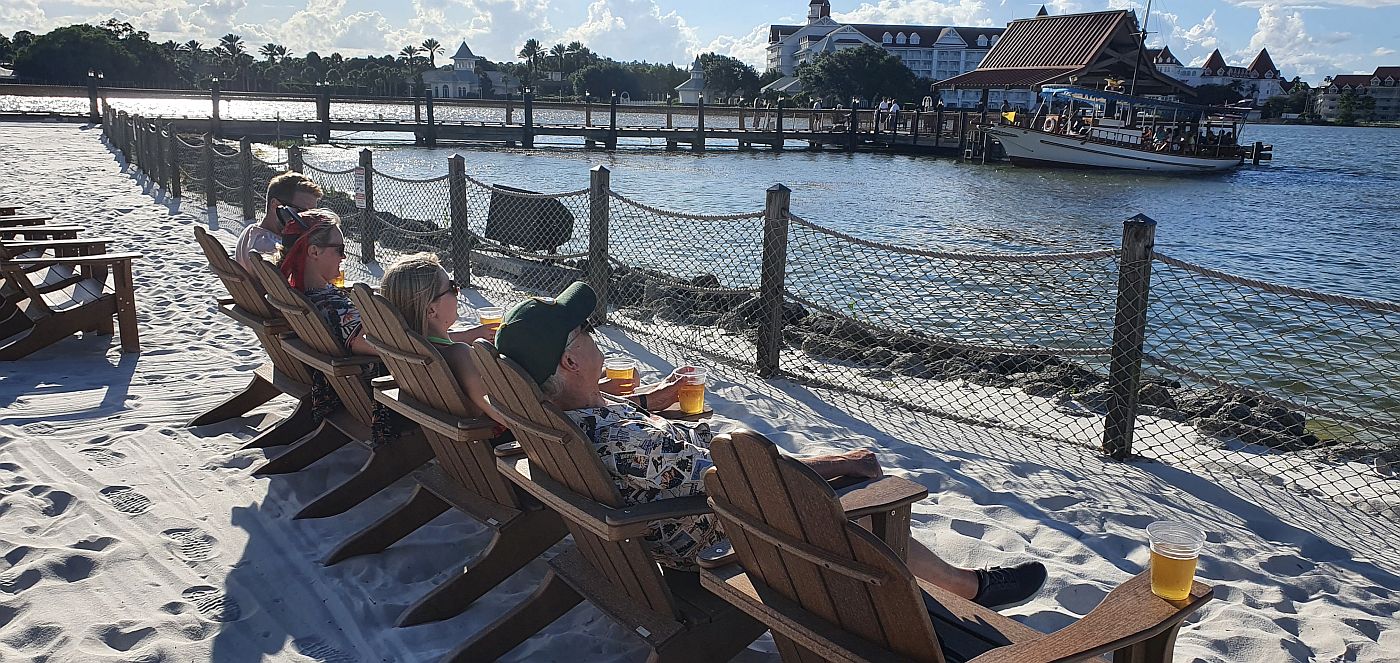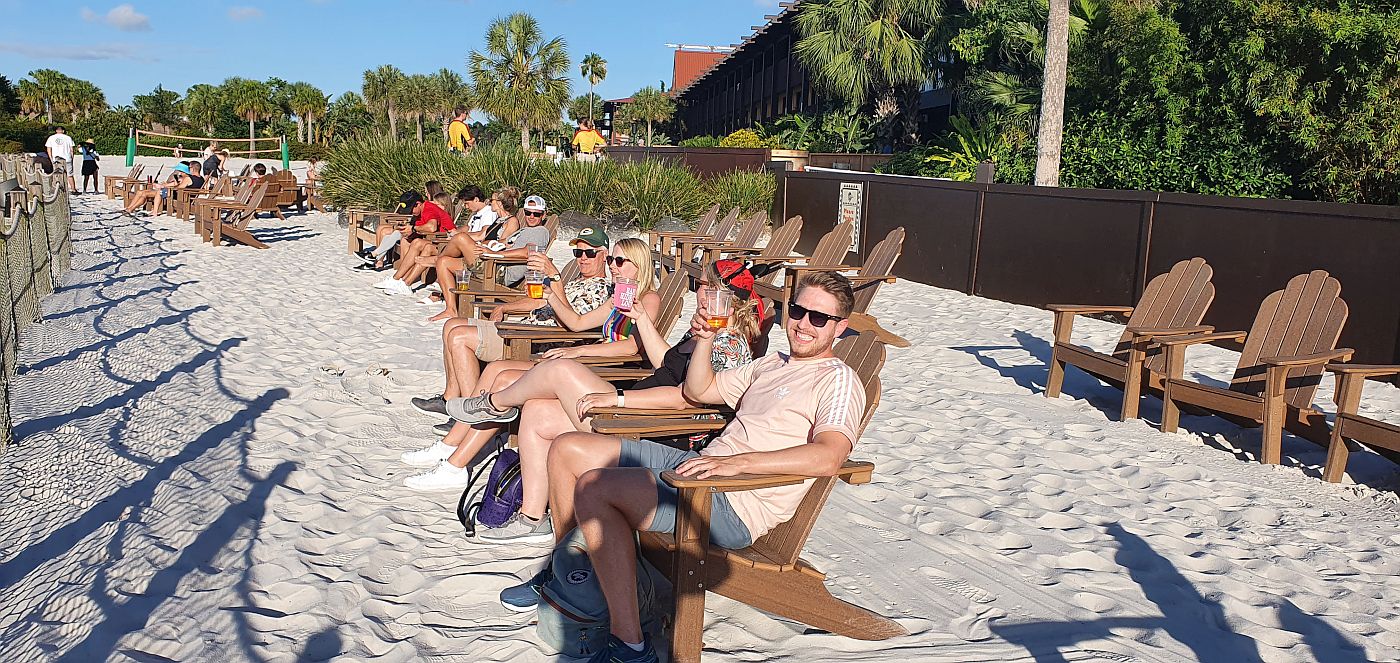 We catch the little boat across to the Magic Kingdom and even this seems perfect as we sail along in the late afternoon sunshine.
In the Magic Kingdom we walk to the hub. Tonight is about seeing Enchantment close up. There's still 80 minutes until it starts, so Tam and I sit and wait while the girls and Charlie go to ride Peter Pan. On their return the area starts to fill up and it's quite busy by the time it's due to start. We have just about the perfect spot just in front of the Partners statue.
Enchantment is much better from here as you get to see the projections more clearly, but we're not too close that you can't see the fireworks. It's a very good show, but most of us think that Harmonious is better.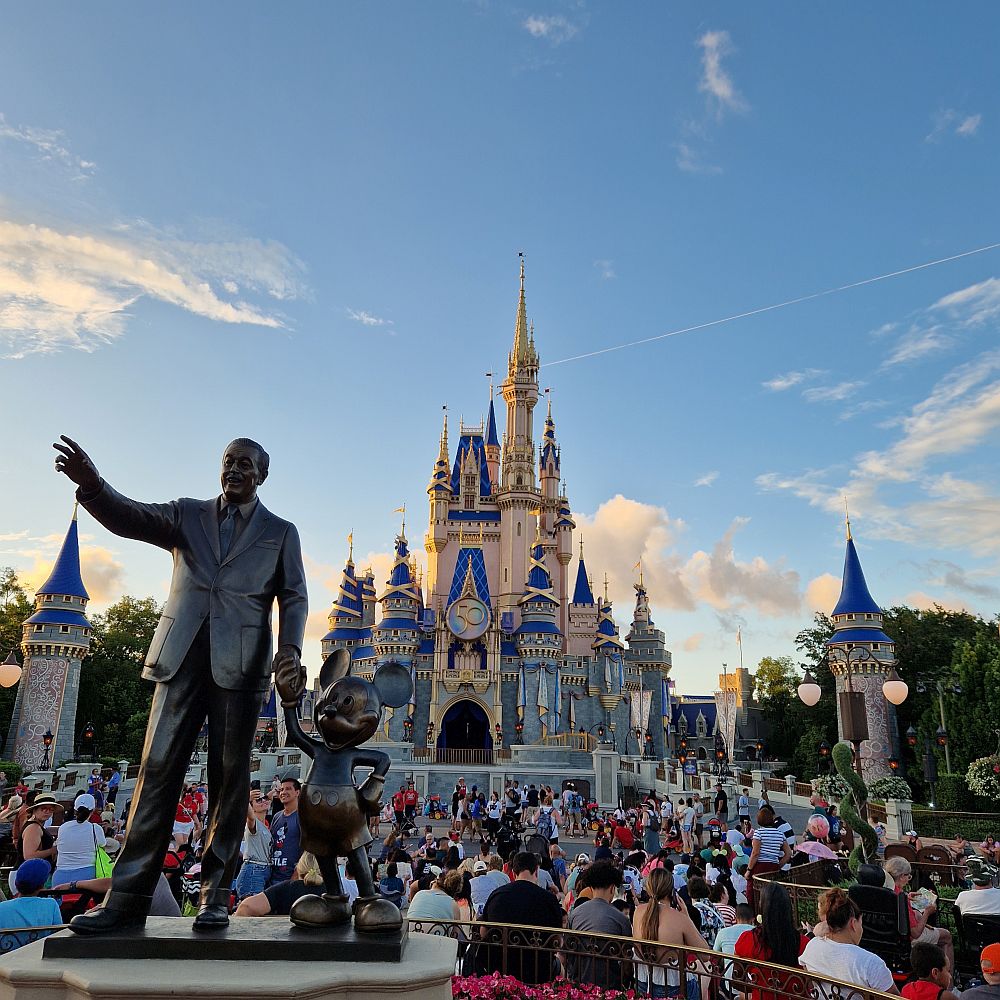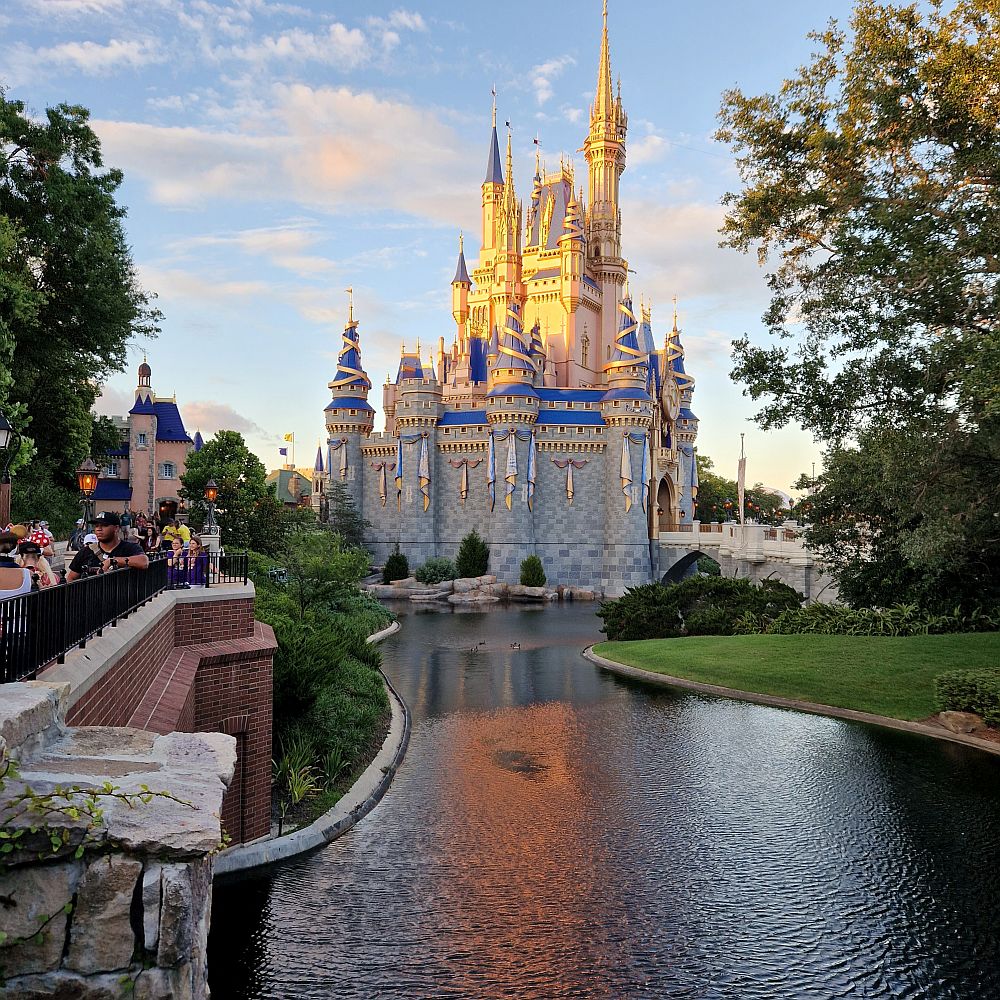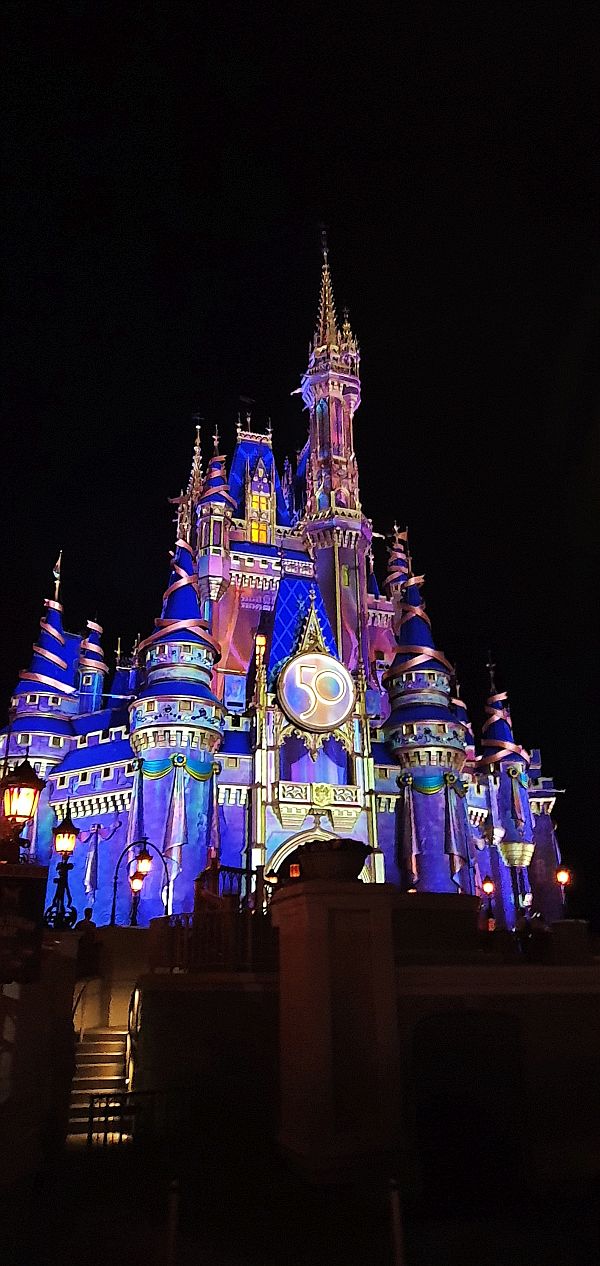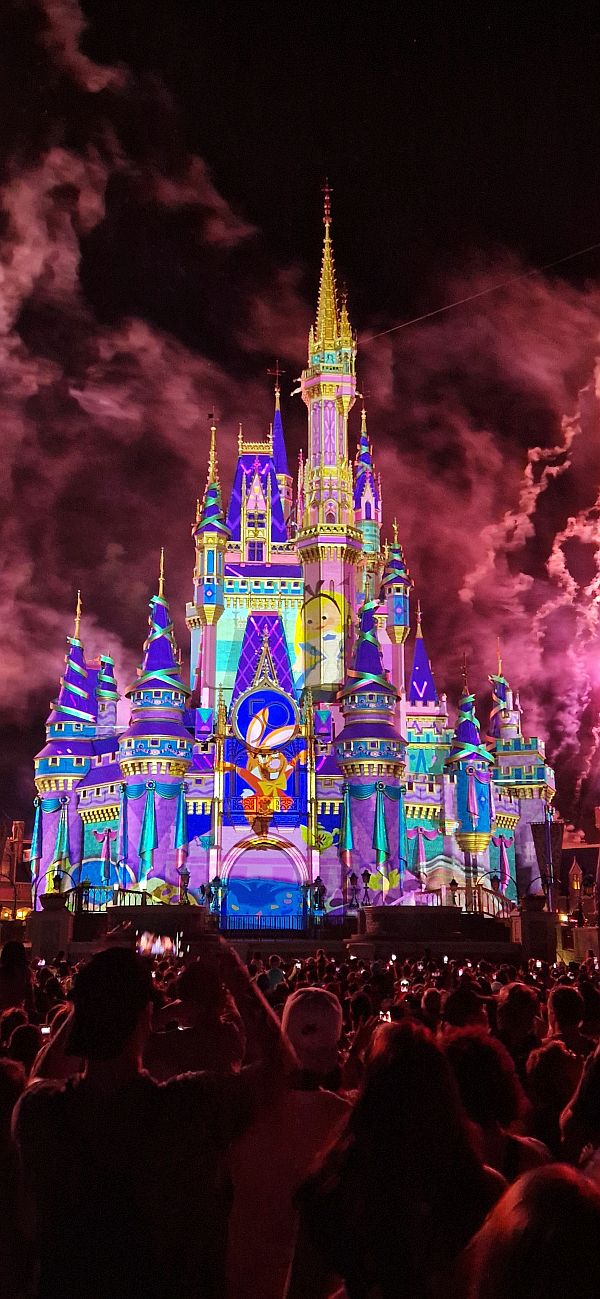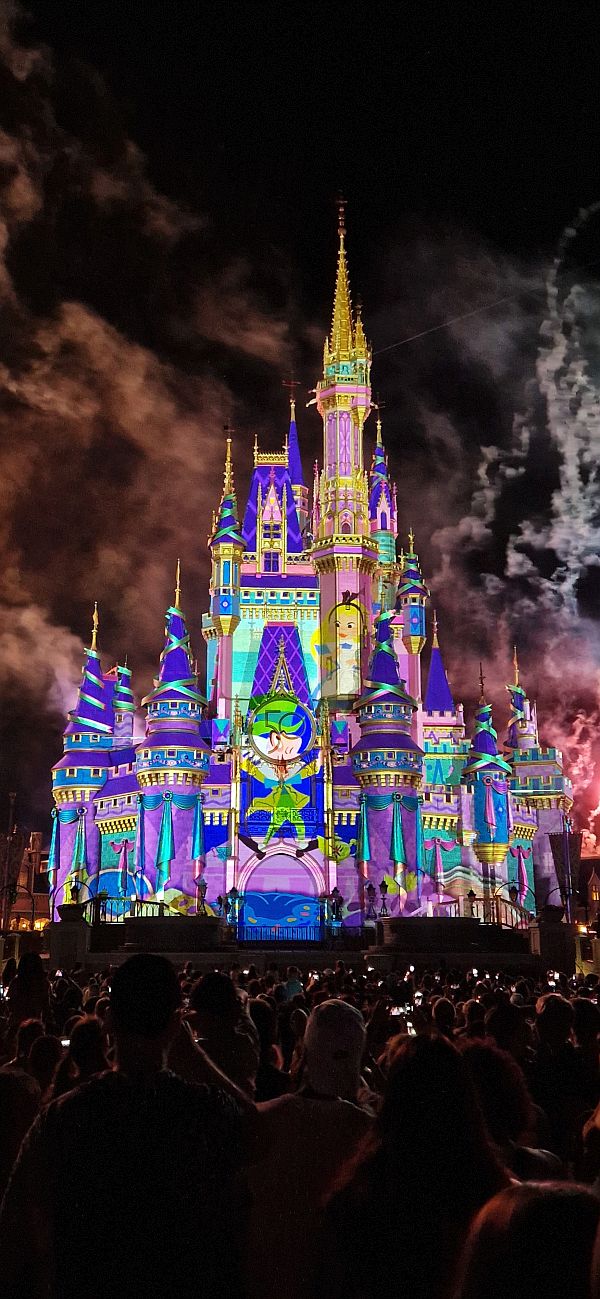 We have Genie+ for Big Thunder after the show and do this followed by Pirates. Of course it's almost compulsory to have a hot dog from Casey's Corner around this time of the night as well. It's now 11.30 pm and Tam is pretty tired and says she wants to go back to the room. I say I'll go with her, but I'm nearly swayed when India says they're going to the Haunted Mansion. Being a good husband I resist and accompany Tam back to the Boardwalk and we're in bed by 12.30 am. The girls and Charlie return after having done the Haunted Mansion, It's a Small World (don't ask, it's one of Charlie's favourites!) and 7 Dwarves Mine Train. It's certainly been a long and fun filled day.