Day 21 - Thursday 2nd June 2022
Written by Kev
The plan for today is to stay in Epcot as this is always our last day park.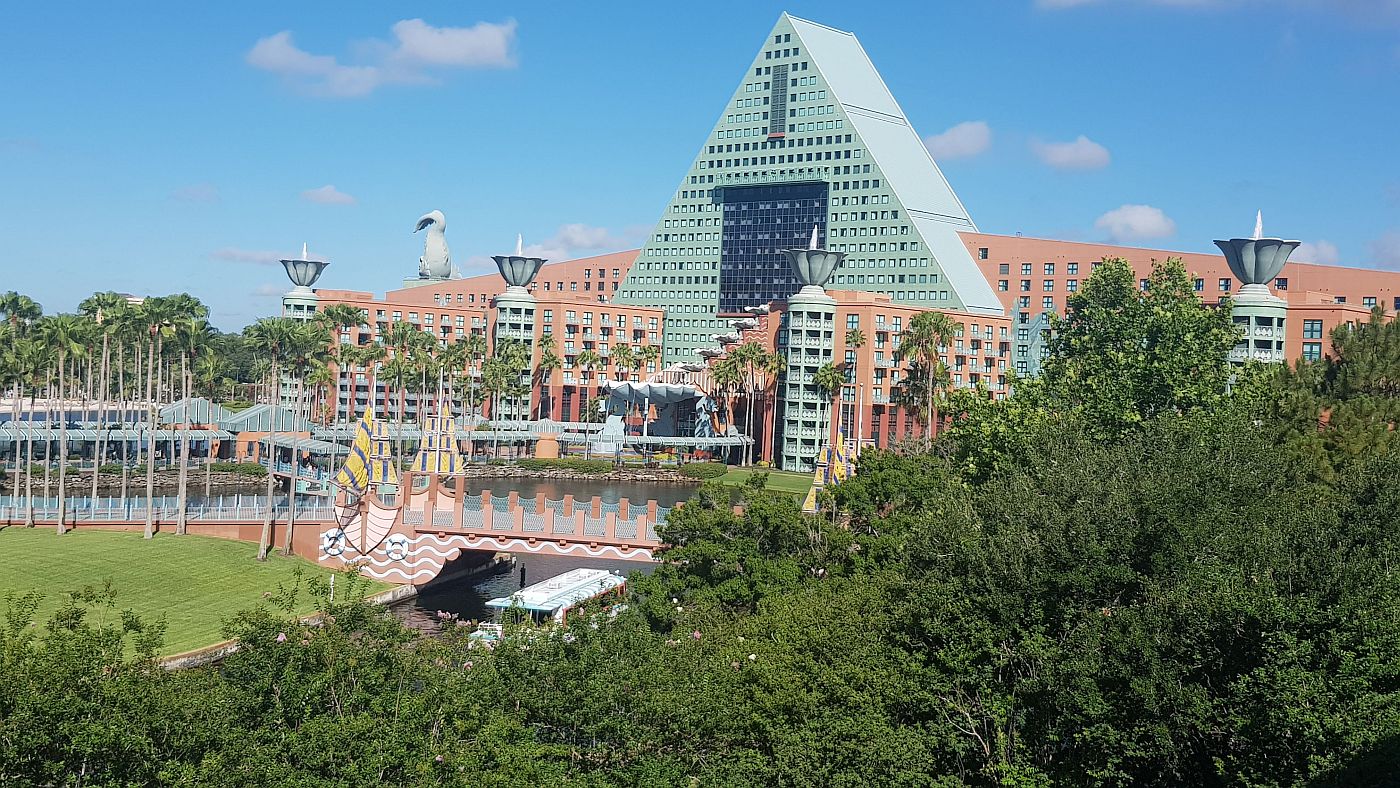 We are in no real hurry to enter as we'll be there all day, so we have breakfast and a shower and enter via the International Gateway at 11.00 am. We meet up with Susan and head to France to try and ride Ratatouille as this is the only ride left that we really want to do. Unfortunately the wait is 90 minutes. This will not work as India wants to try for the 1.00 pm virtual queue for Guardians of the Galaxy and we might not be out in time. Georgia renames the ride Rataqueuey.
We walk to the Amercan Adventure where we hear the Voices of Liberty at midday. We hang around for the 12.30 pm show. Susan and I watch the whole thing, but the rest have to sneak out just before the end to try for the virtual queue. They make sure to have seats all the way along at the end of a row so as not to disturb anyone when they leave. They manage to get a boarding group estimated at 3.15 pm. This works well as I'm not going to ride, so Susan can go instead of me.
We wander round World Showcase and have some snacks and beers. We also go into a few shops as it's very hot and humid and the air conditioning is most welcome. In China Tam buys a dress and I buy a Tsing Tao beer. It's all about priorities.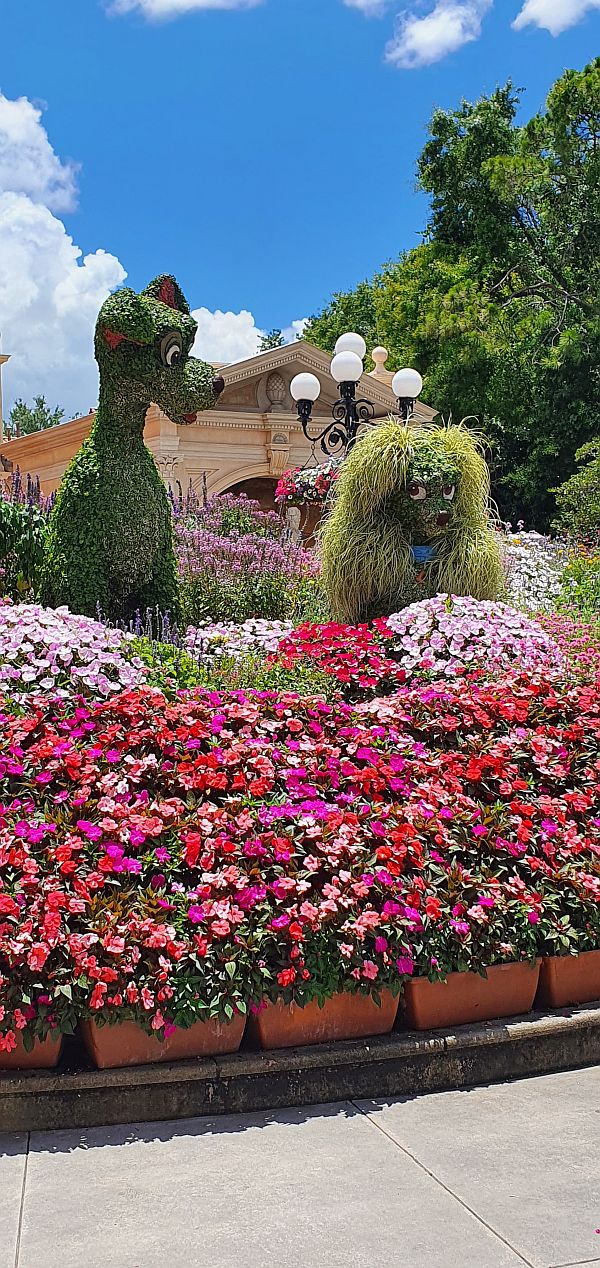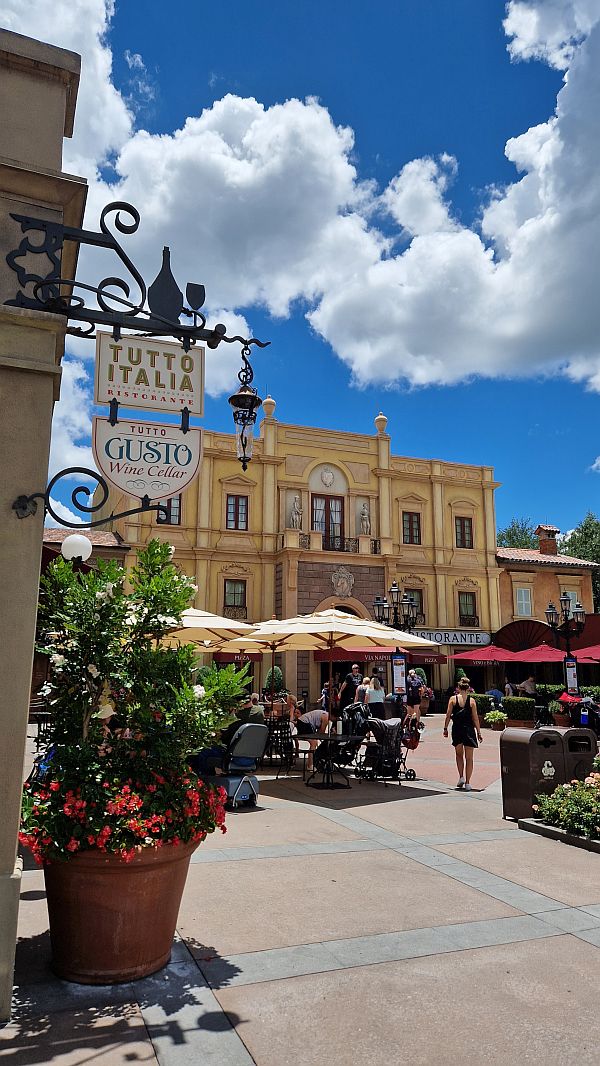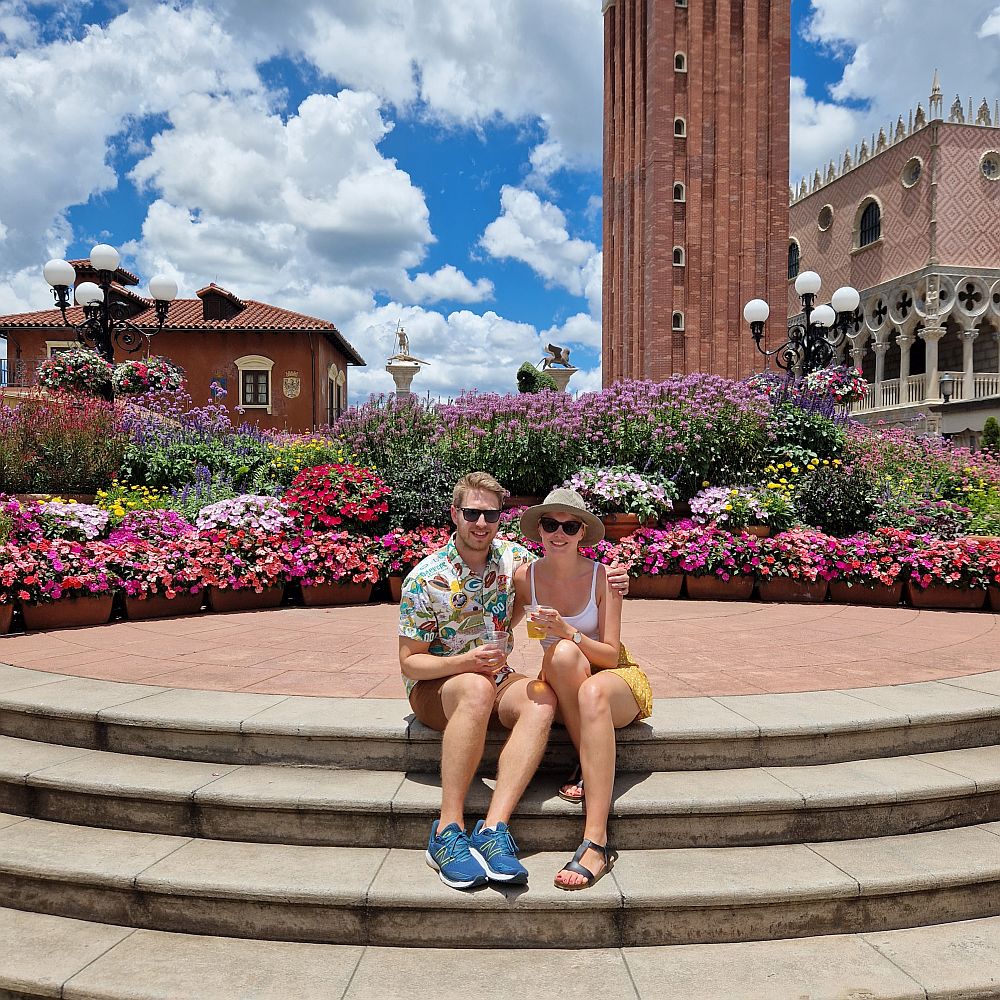 We managed to get an ADR for Space 220 and head there next. The elevator into space is a cool idea and the restaurant is fun with the views out the windows back to earth. We are sat in the bar area and so are split onto 3 tables of two.I can't remember exactly what we ate and drank, but I know it was pretty good.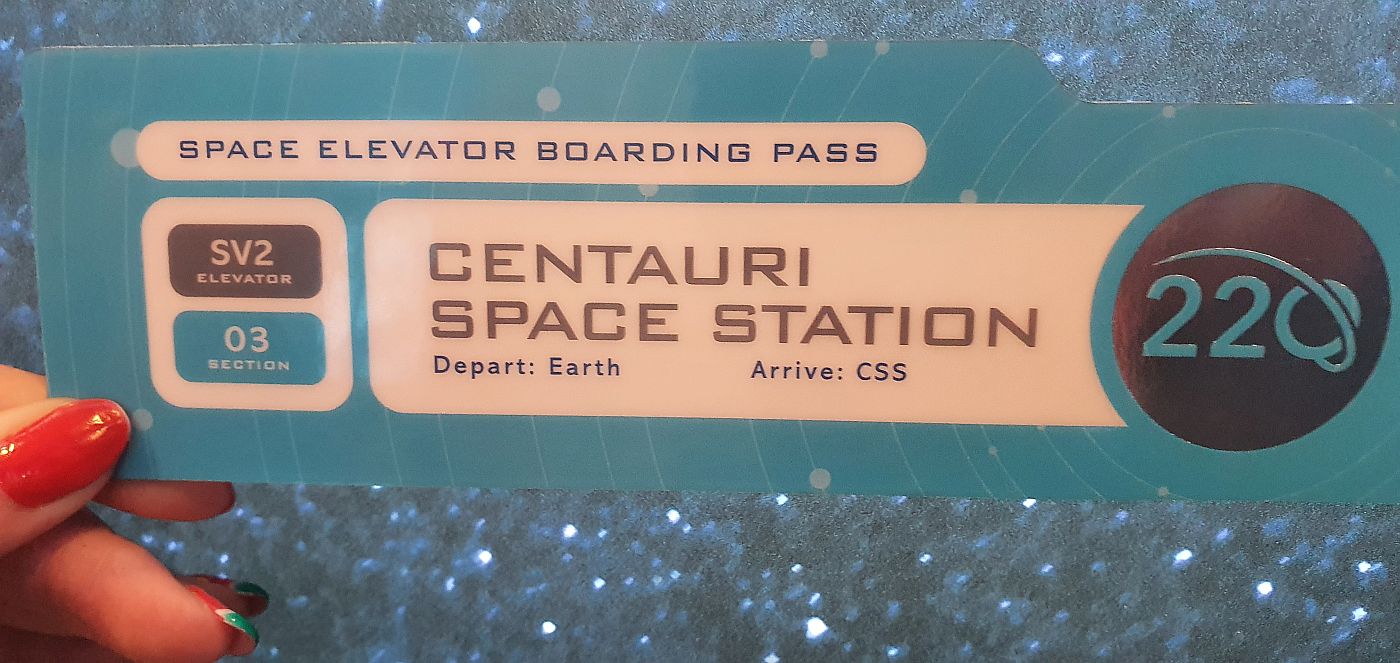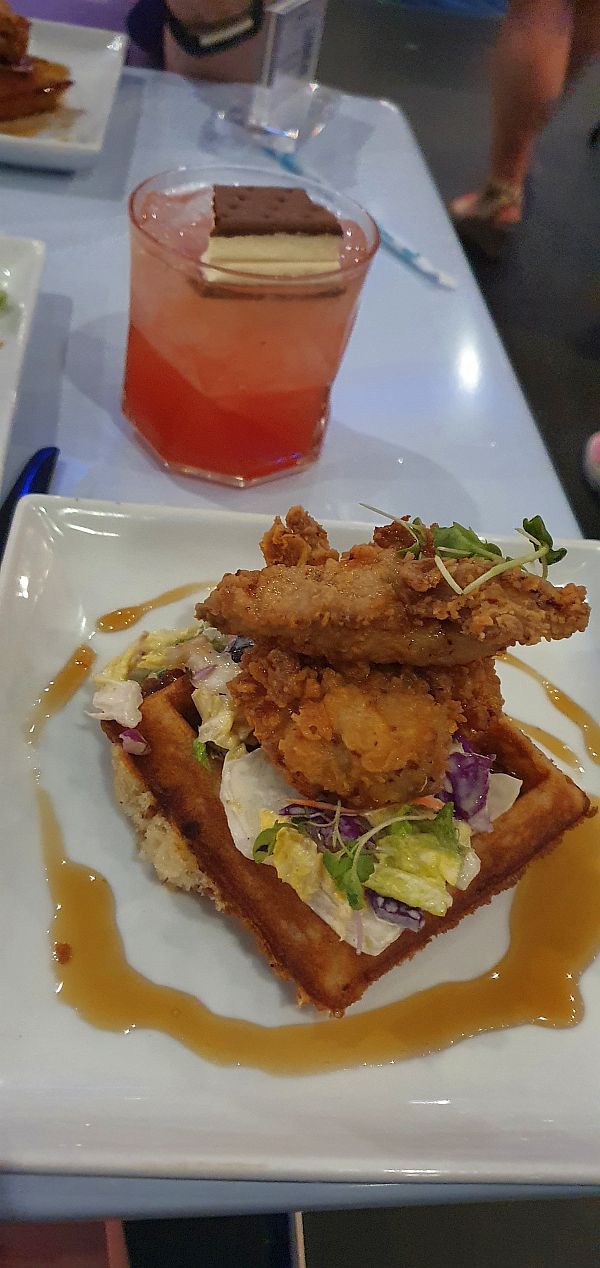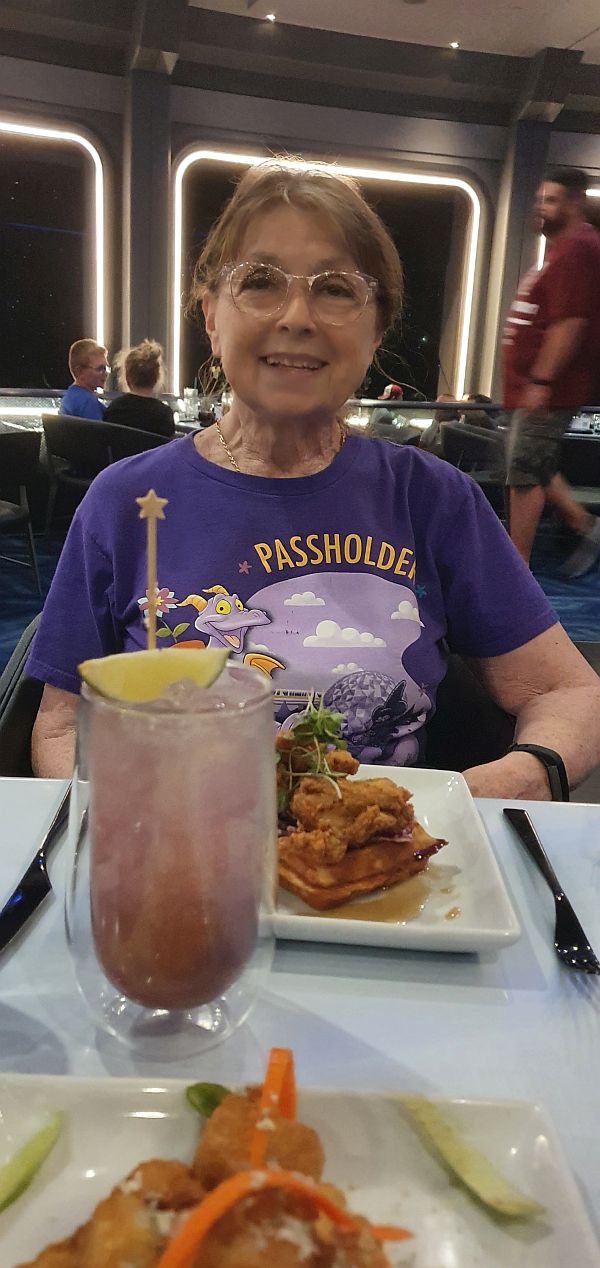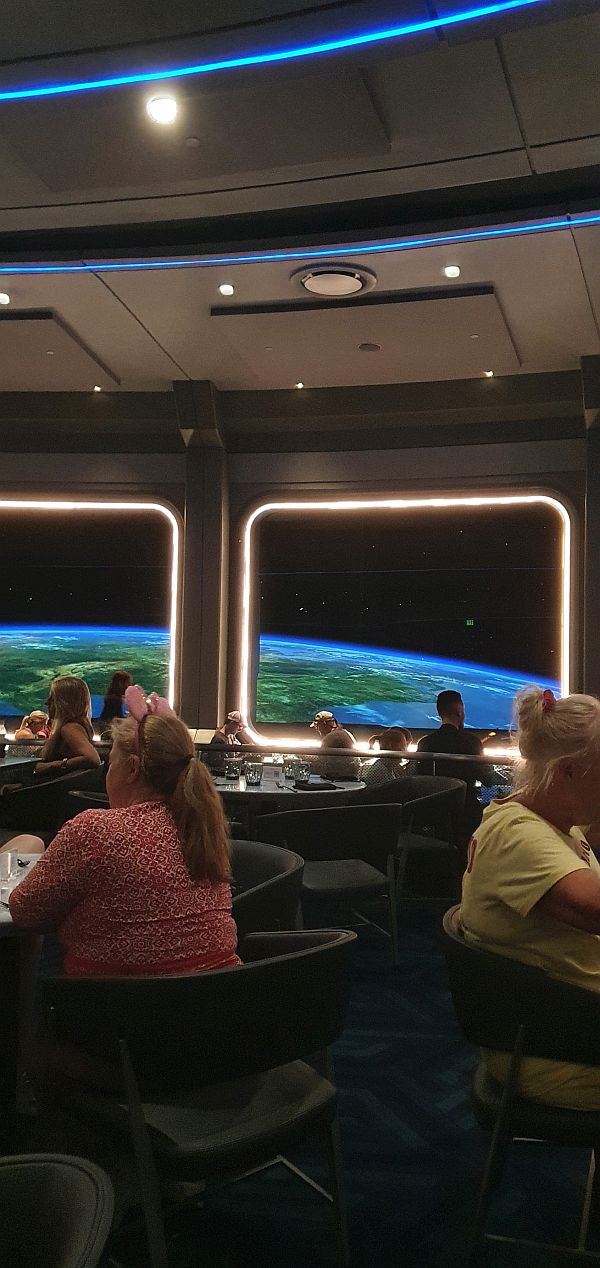 As we approach the time for the Guardians of the Galaxy boarding group I get a beer from a stall and settle down near the exit of the ride to wait. I'd love to do it again but I really don't want to risk feeling ill for the rest of the night. It takes them nearly an hour to get through, but they all enjoy it again, this time riding to Everybody Wants to Rule the World by Tears For Fears. On to Mexico where we get a table at La Cava Del Tequila and I have the Blood Orange Margarita. It's fun sitting here for an hour and chatting. The girls have been keeping an eye on the Ratatouille wait times, but it hasn't dropped below 80 minutes all day. Perhaps we're just destined not to ride it this holiday. Susan is wearing a pass holder T shirt and tells us a story of a few years ago when she and Anne did a 4 hour tour in Walt Disney World. You had to wear a name tag and towards the end of the tour a lady approaced Anne to tell her of the unfortunate positioning of her tag. It was obscuring part of her T shirt and so it read 'I am Anne Assholder'. Apologies if your surname really is Assholder.
After the tequila bar we walk round to find a place to watch Harmonious from between the two shops at the Spaceship Earth side of the lagoon. We get Moosehead beers from Canada and settle down on the floor as we have about 1 1/2 hours to wait. The sky is looking very dark and after a while it starts to rain, not heavily but enough to make everyone put on ponchos or put umbrellas up. Once again our luck holds and the rain passes. 3 weeks since we arrived and all the rain we've seen is 2 storms. One in Captiva during the night and one on the blacony of Wine Bar George while we were eating a meal. I reckon I should buy a lottery ticket when we get home.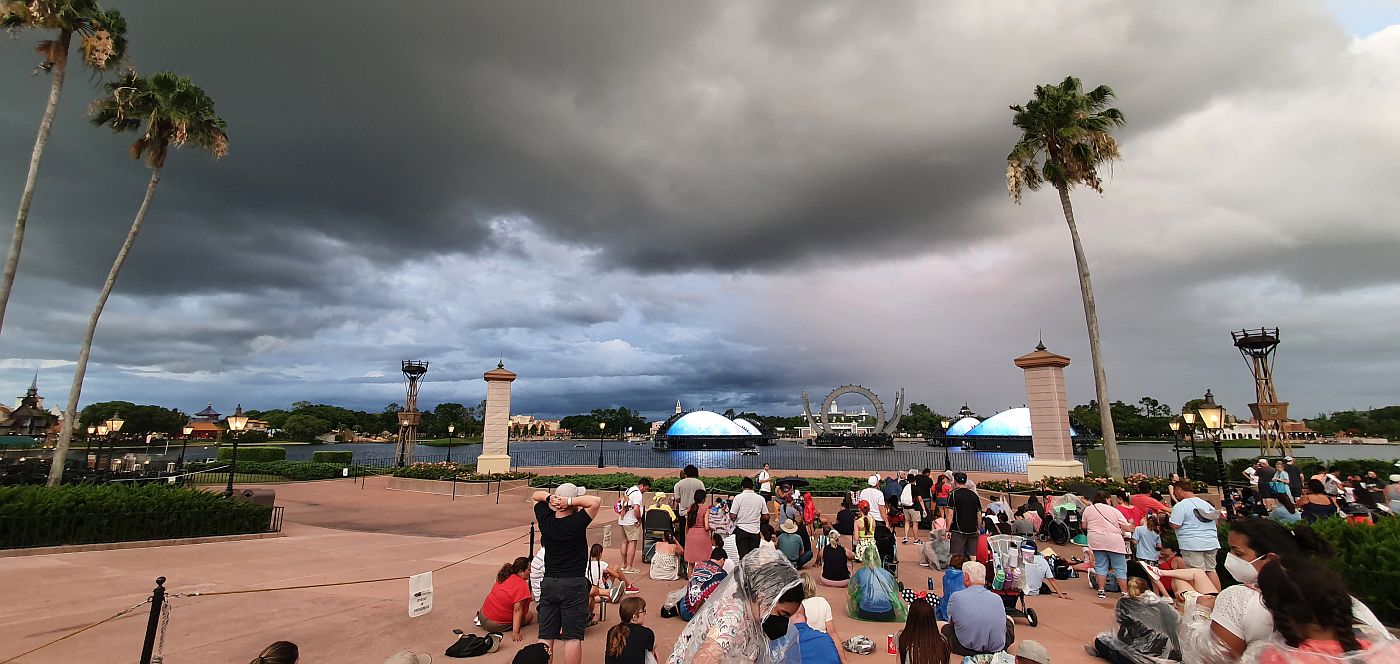 Harmonious is wonderful. When we watched from Norway we liked it, but from this spot square on to the projections on the big ring we love it. What bright spark at Disney invented a beautiful show such as this and then prevented 50% of the audience from viewing it fully?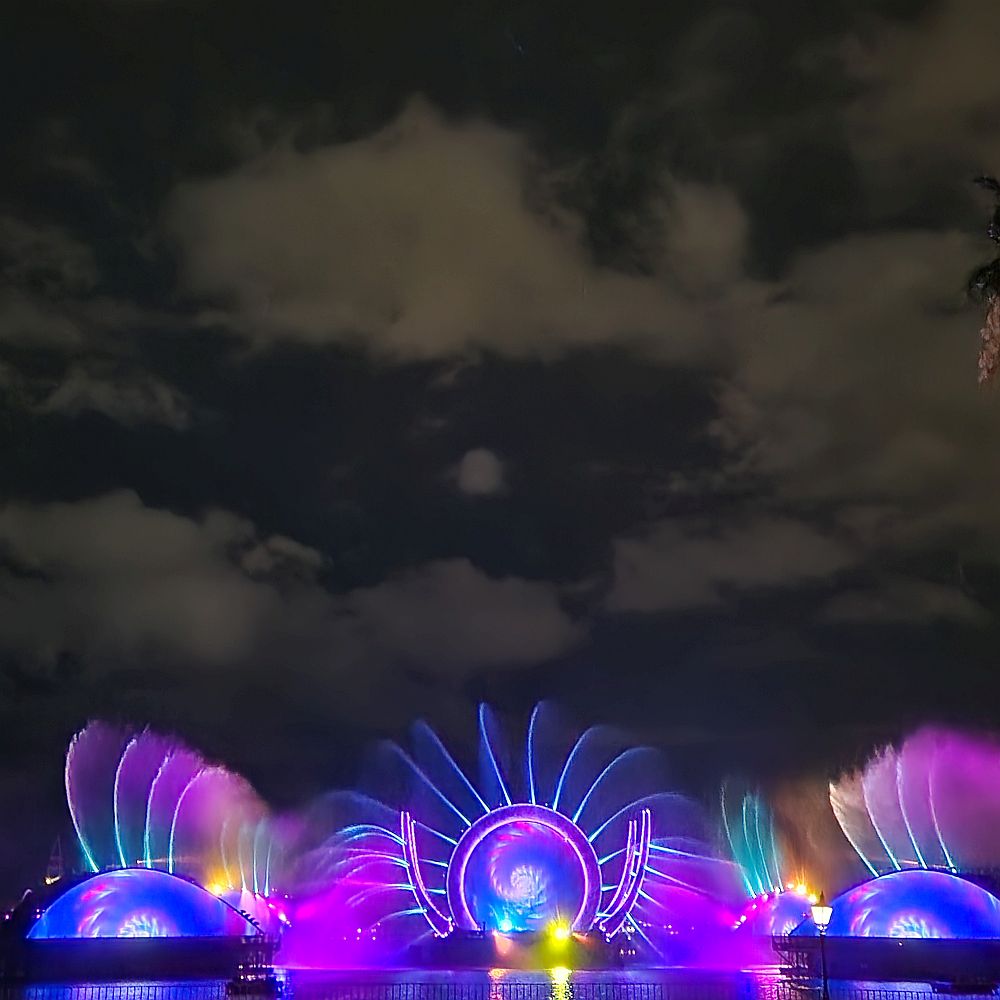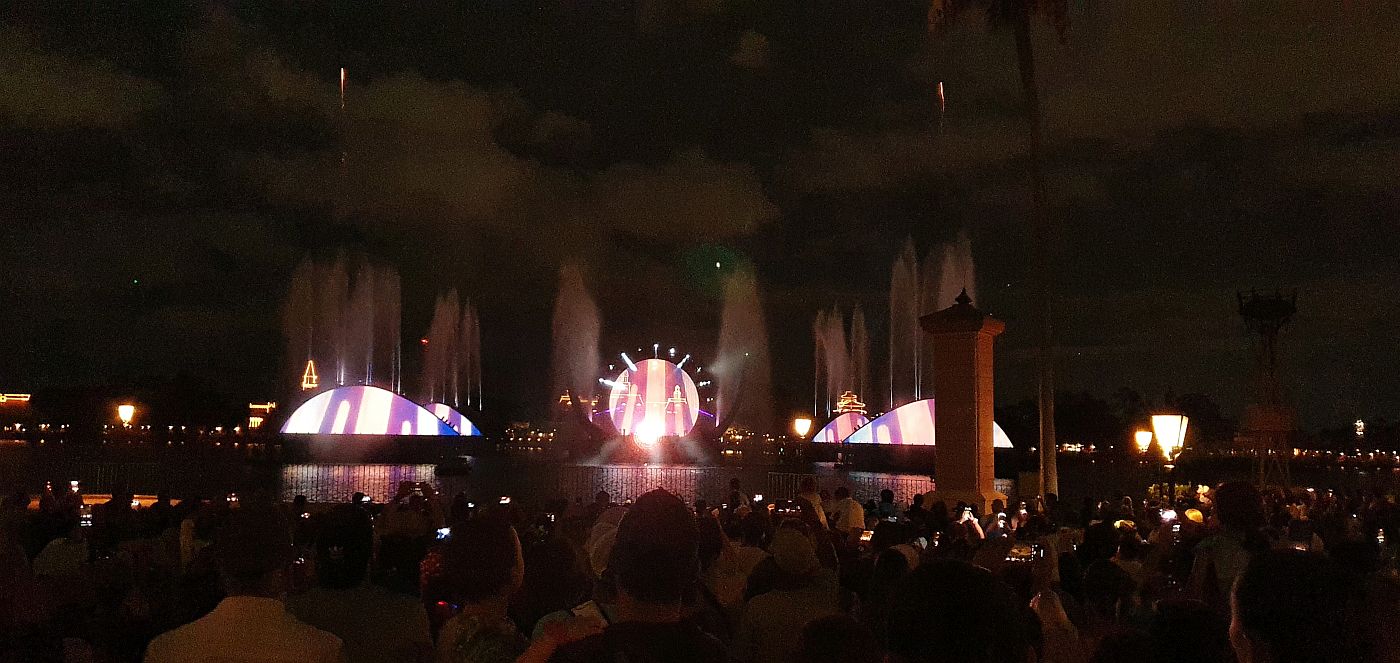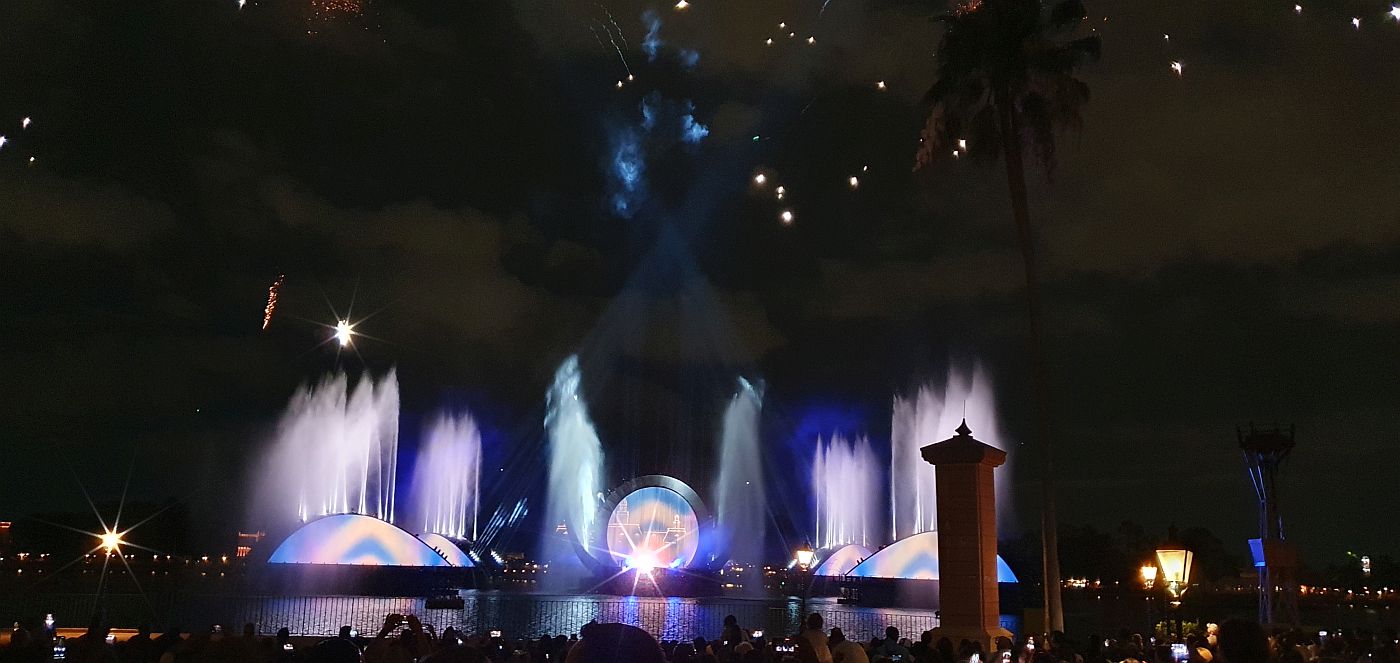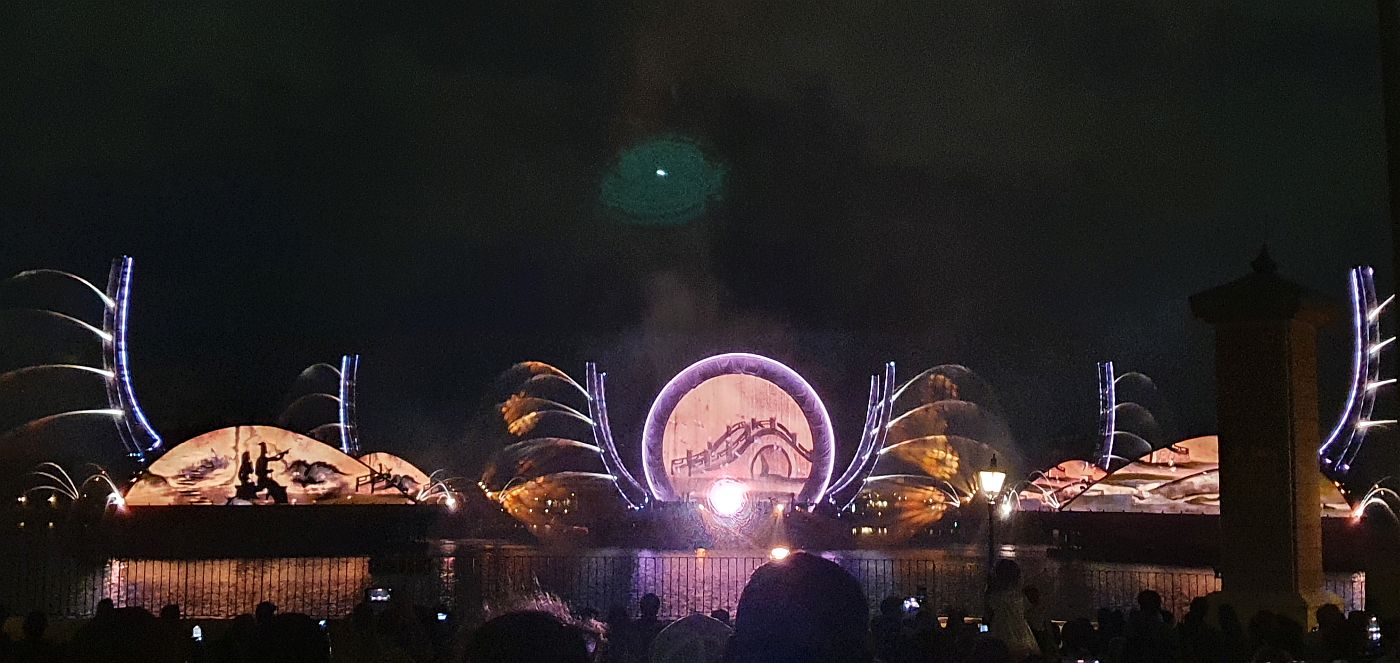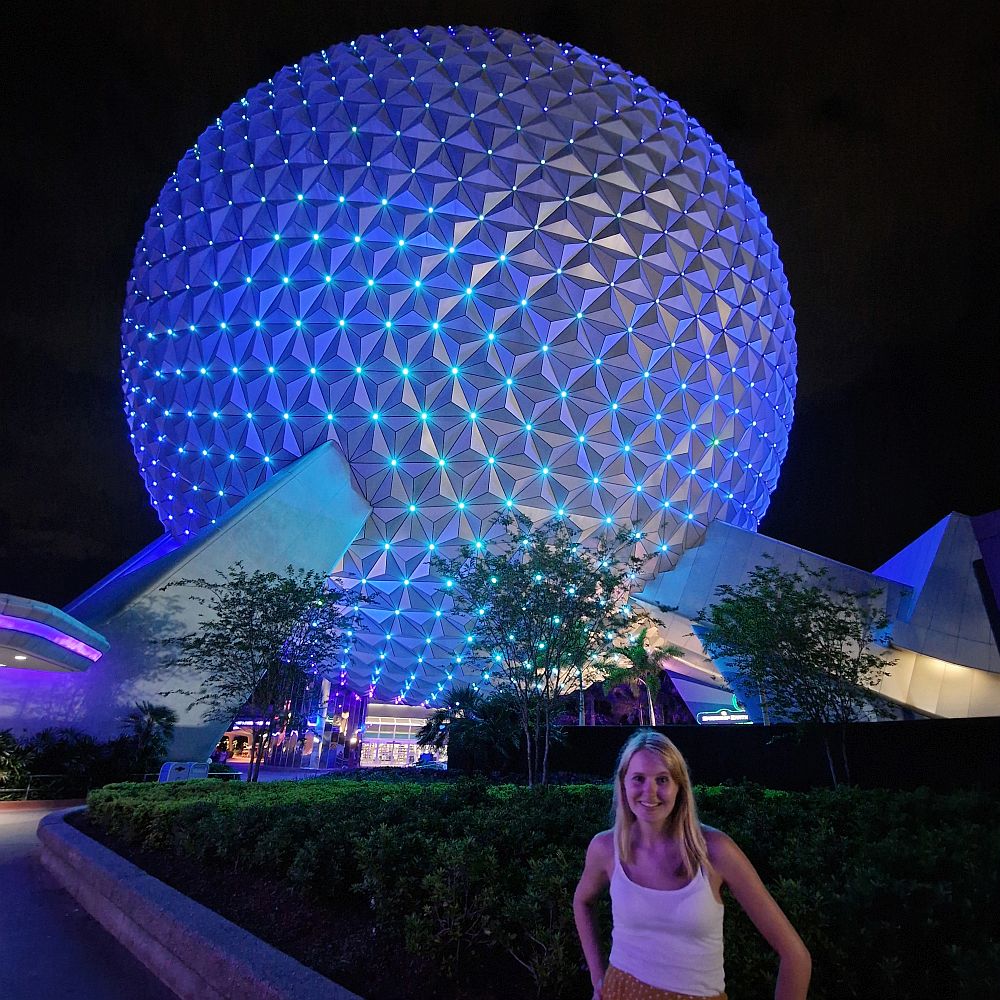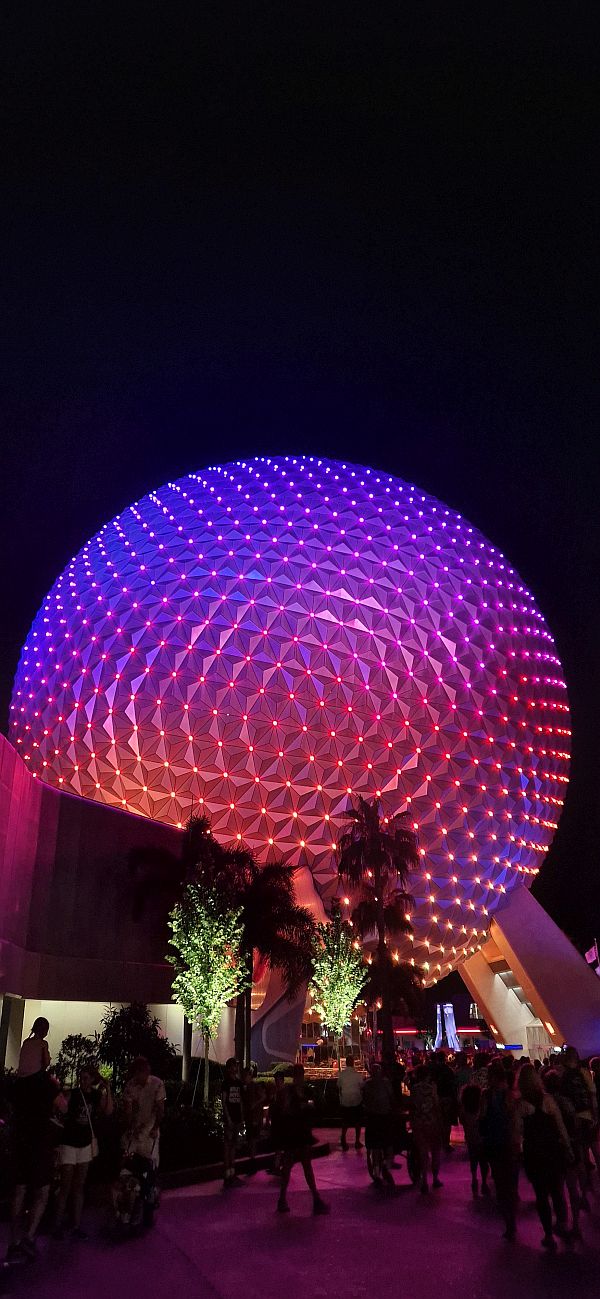 Our holiday is nearly over and we end it as usual with a walk around the large shop by Spaceship Earth before strolling slowly to the International Gateway. We walk Susan back to The Swan and say our farewells. It's a shame that circumstances have reduced the amount of time we had to spend with our friends, but are grateful for the time we did get to spend together.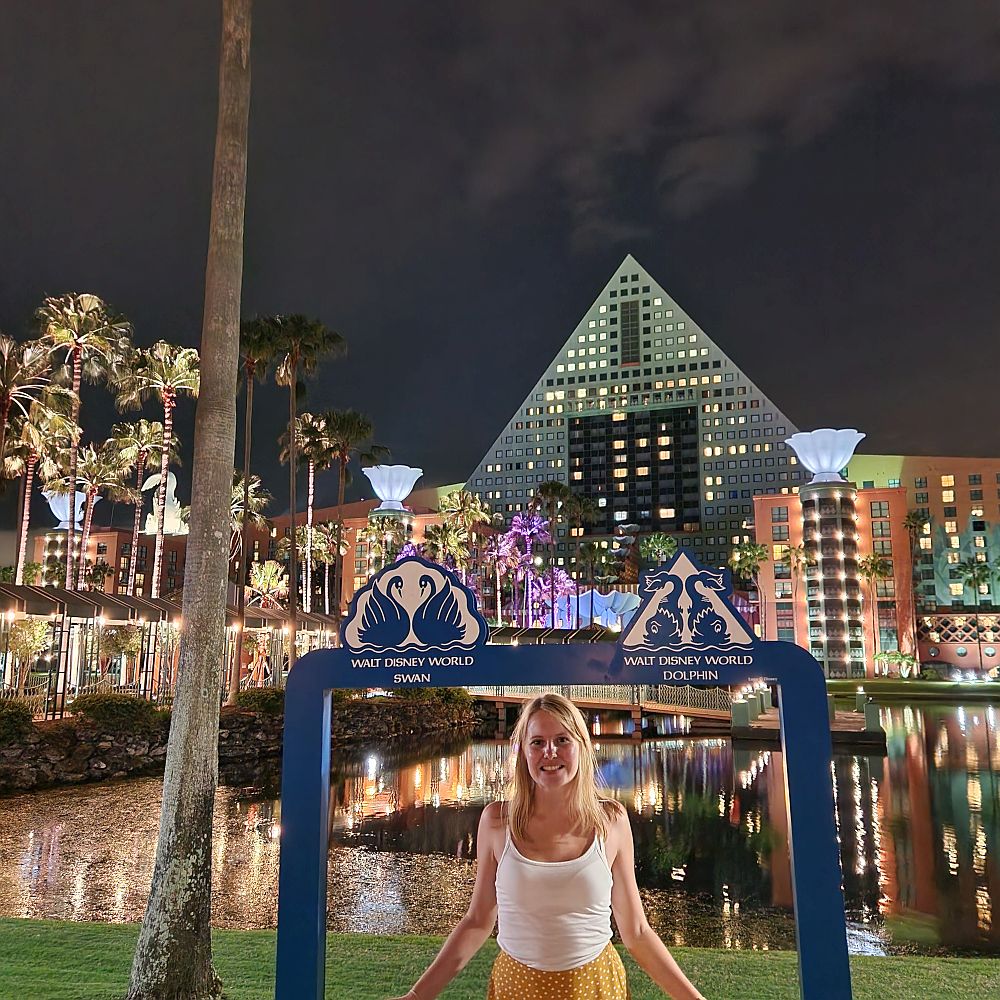 Back to our room where India says we should finish with a rum and coke on the balcony. Who am I to argue with her? Bed at midnight.