Day 18 - Monday 30th May 2022
Written by Kev
It's an early start today as we're trying for Individual Lightning Lane reservations for Guardians of the Galaxy. We're on line at 6.55 am and are lucky enough to get thenm for 6.05 pm this evening.
We have breakfast and we're out of the room around 8.00 am. We're going to the Animal Kingdom, but it looks like we've just missed a bus and the wait time is showing as 30 minutes, so Charlie calls an Uber, which is there in less than 5 minutes. The journey to AK is swift and costs $14 - not bad when split between the 5 of us.
Once inside we meet up with Susan and walk to Dinosaur where we all ride with a 25 minute wait. As we exit the ride we meet up with Anne and Rob who are old friends of Susan and ours. The girls and Charlie disappear to ride Expedition Everest using the single rider line while the rest of us walk across to It's Tough To Be A Bug where we meet up with Keith, Sharon, Evan and Keith and Sharon's grandaughter Nava. After greetings we watch the show. Last time we did this Hopper wasn't working, this time the spiders fail to descend. Whether this is indicative of poor maintenance by Disney I don't know, but certainly there are more rides down or with issues than on previous visits.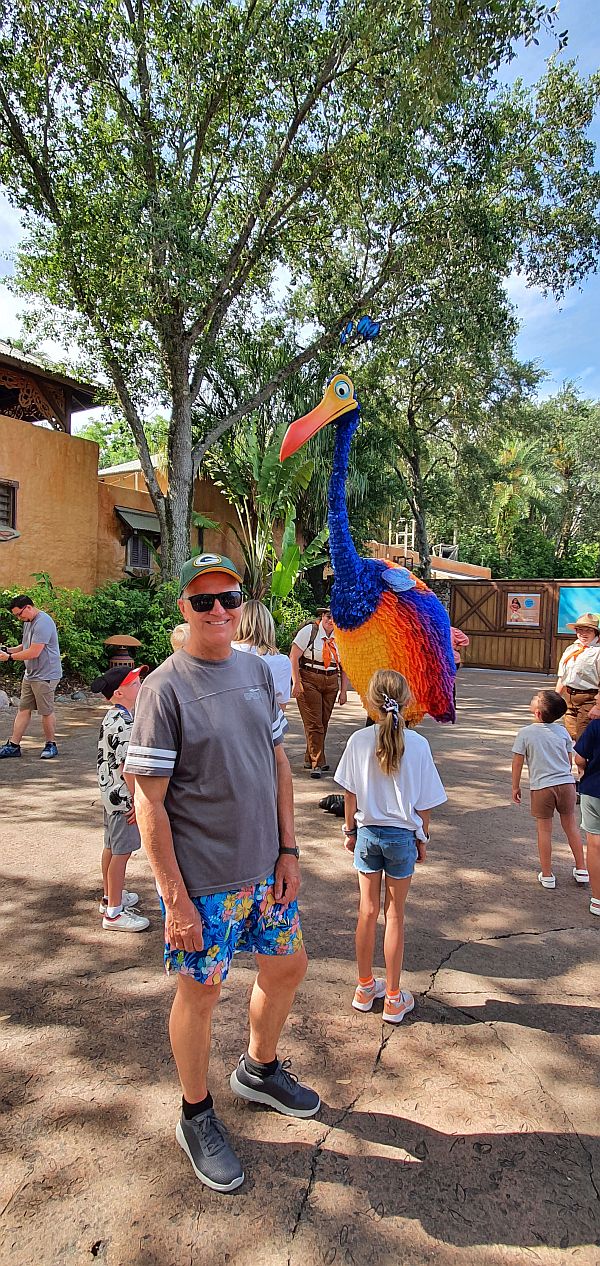 Kevin meets Kevin. Apologies for the shorts, I thought they might help me to blend in.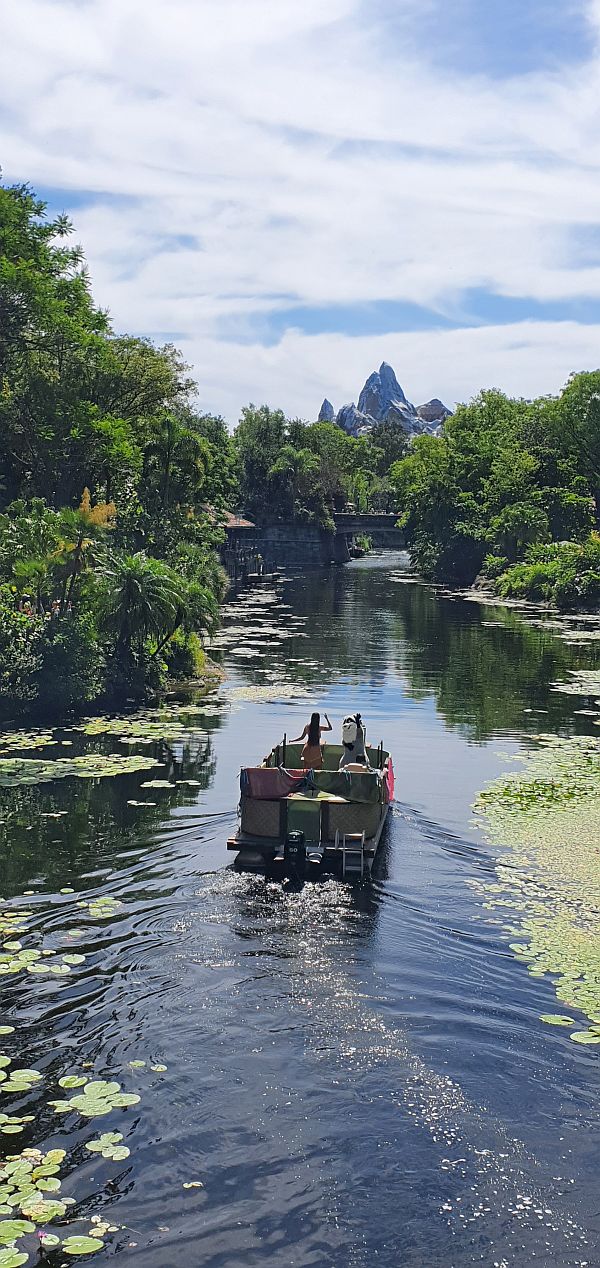 Meeko seems keen to say hello. Pochohontas not so much.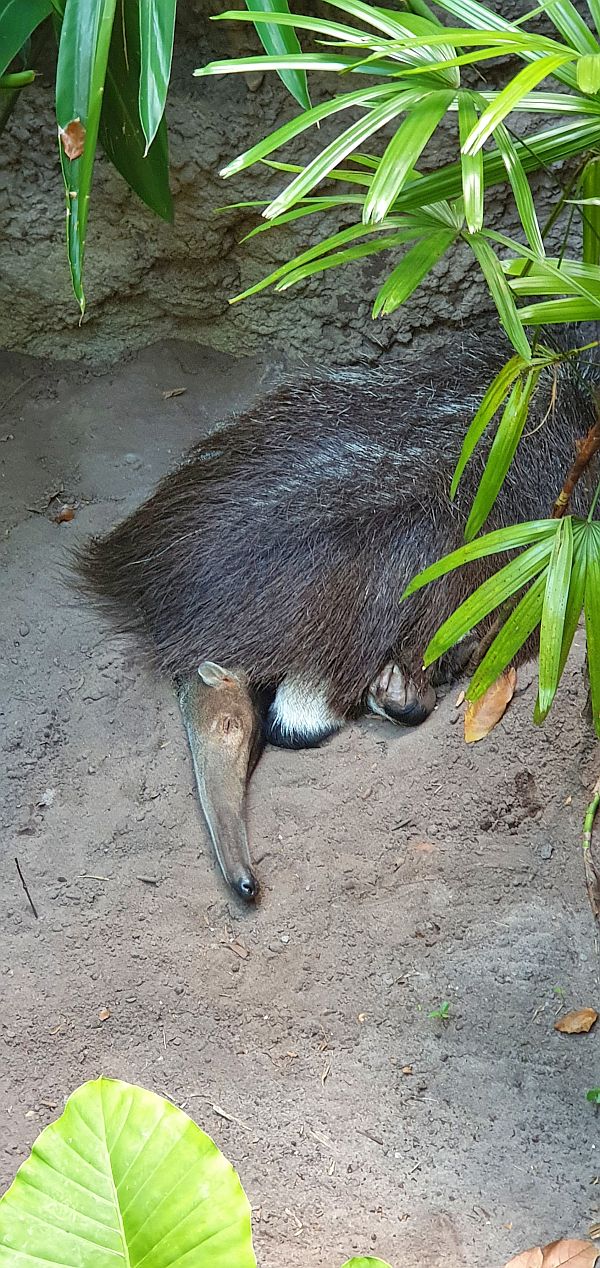 Of course we always have to visit Ethelbert every holiday.
After the show the girls and Charlie join us and our large party is complete. This is only brief as Sharon and party have Lightning Lane for Flight of Passage and so go off to do that. The rest of us queue for Kilimanjaro Safaris in the standby line. Bad mistake. It's Memorial Day, so the crowds are very big - the wait is posted at 75 minutes. After 90 minutes we are still not at the front and Anne, Rob and Susan have to leave as they have an ADR at Tiffins for 1.14 pm. We hold firm and eventually get to go on safari after 1 3/4 hours. I've never waited so long for a ride before and I don't think I ever will again. The time wasn't entirely wasted as we've had a great time chatting to our friends while in the line. It's been lovely to catch up as you don't often get much time to do so when in a Disney park except at sit down meals.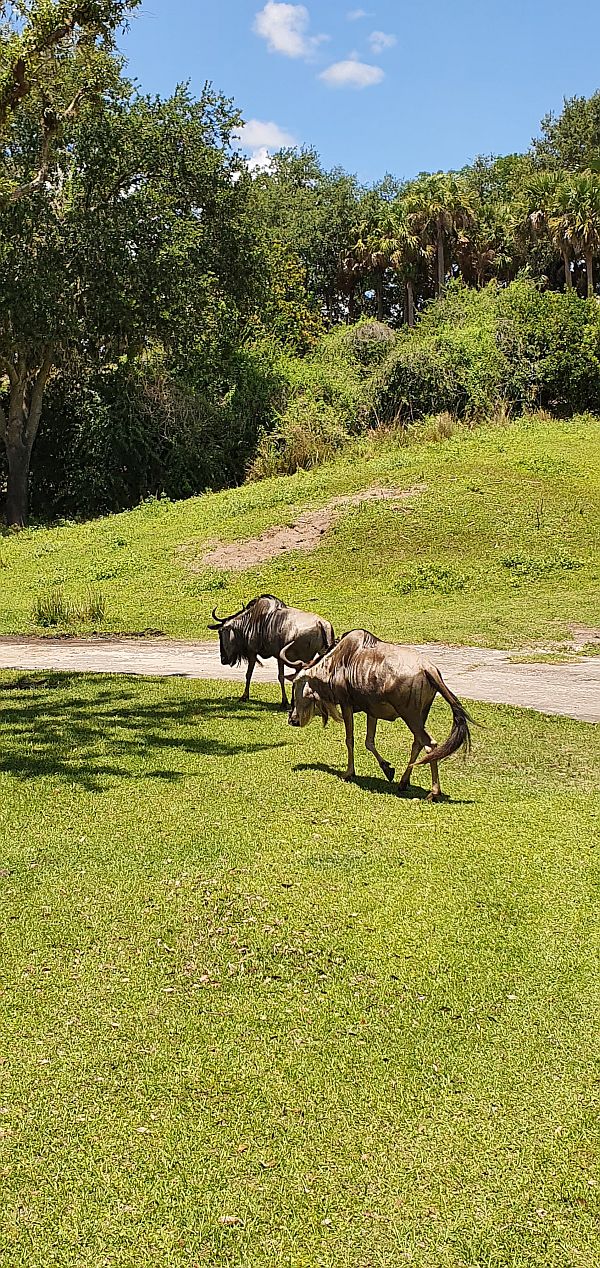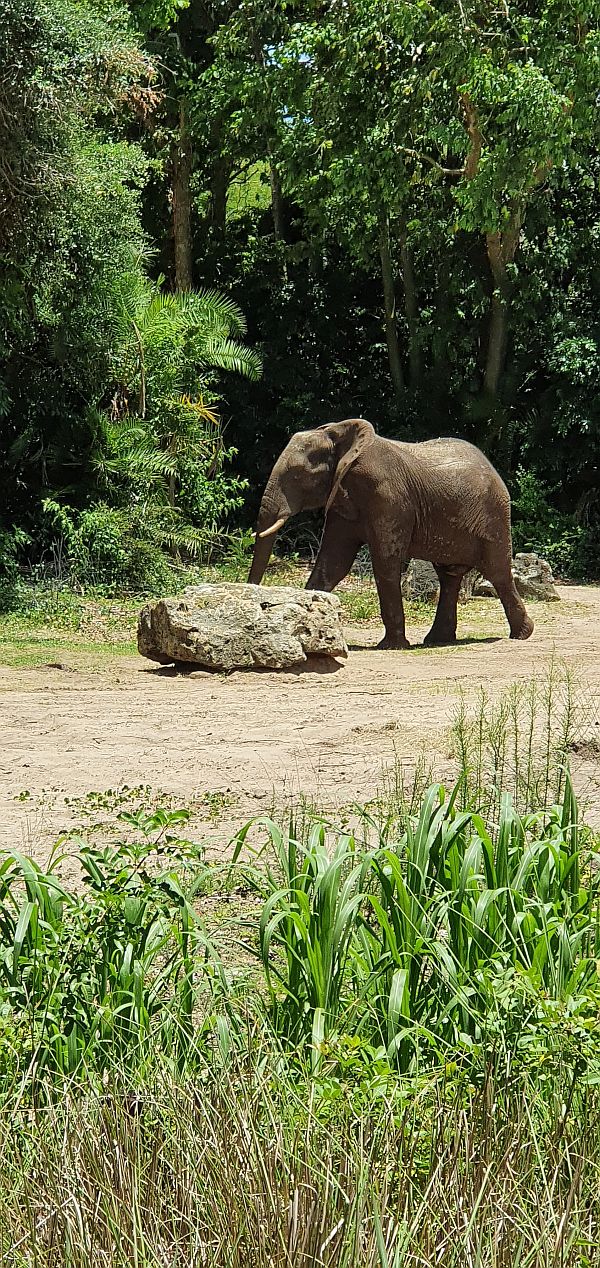 The safari is as fun as ever and we then decide to get something to eat before leaving the park. Charlie suggests the Satu'li Canteen in Pandora, so we order off the mobile app and head over. I have the beef with noodles, which is very good.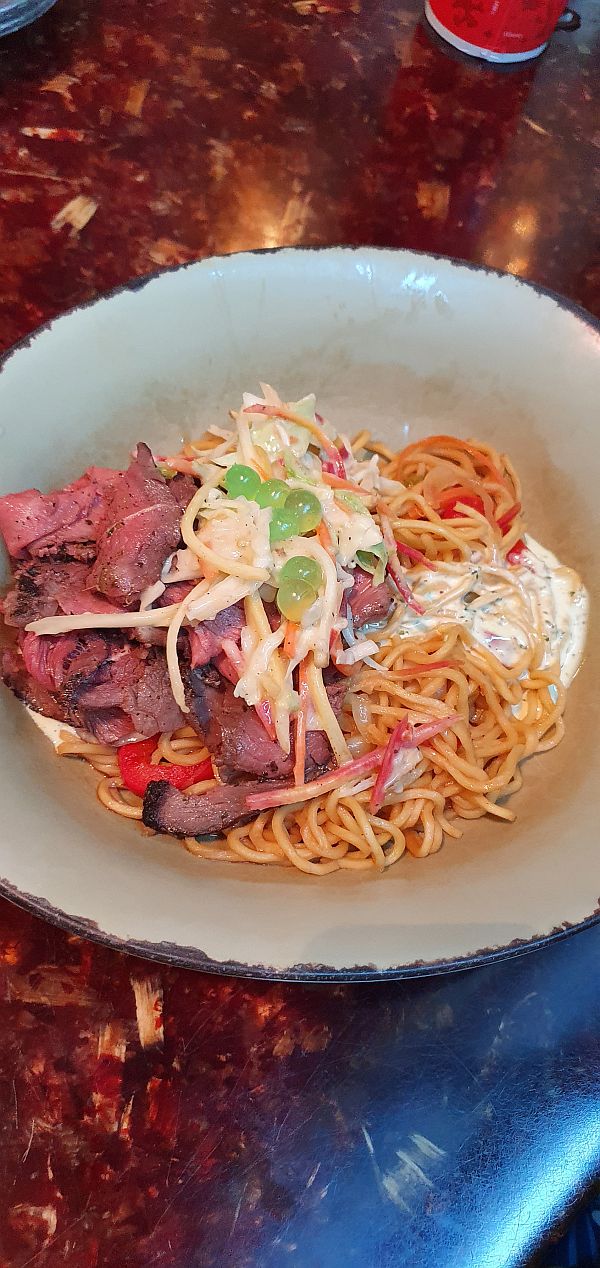 As we go to leave the park they are doing the small bird show in front of The Tree of Life. It's not much, but parrots and macaws fly in low above your heads, which is really cool. We finally get to leave and a bus is just about to depart, so it's quite full. A lovely guy from Louisiana offers Tam his seat and he and I chat for a while on the journey back. My faith in bus passengers is restored as so often these days everyone just stares at their phones and doesn't seem to care who is left to stand whether they be old or infirm. Not that I'm intimating that Tam is old, I value my health far too much for that.
Back at the Boardwalk Tam and I go to the front desk to try and sort out the stolen items because we still haven't heard anything. Brittney is the CM we talk to and she's very good. She calls Housekeeping at Kidani immediately. They promise they will get back to us before the end of the evening.
We join the girls and Charlie at the main pool. What was going to be 90 minutes of relaxing has turned into 30 for me and Tam. A quick write up of the trip report and it's time to return to the room to shower.
We leave for Epcot at 5.30 pm and enter via the International Gateway. We walk to Guardians of the Galaxy where we meet up with Sharon and Evan as we are all going to ride together. I've taken 2 Dramamine and I'm riding with Tam who knows nothing of the ride and is as nervous as me, but for different reasons. She's not keen on some roller coasters and I'm not keen on feeling ill afterwards.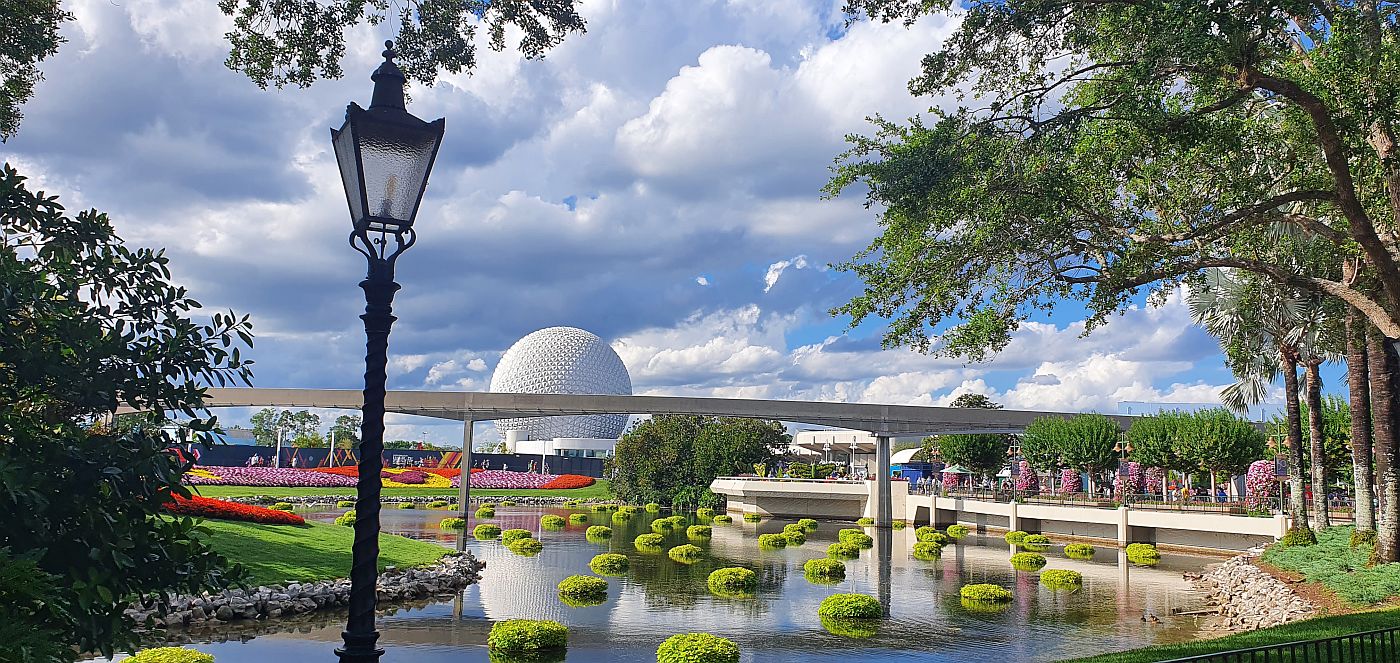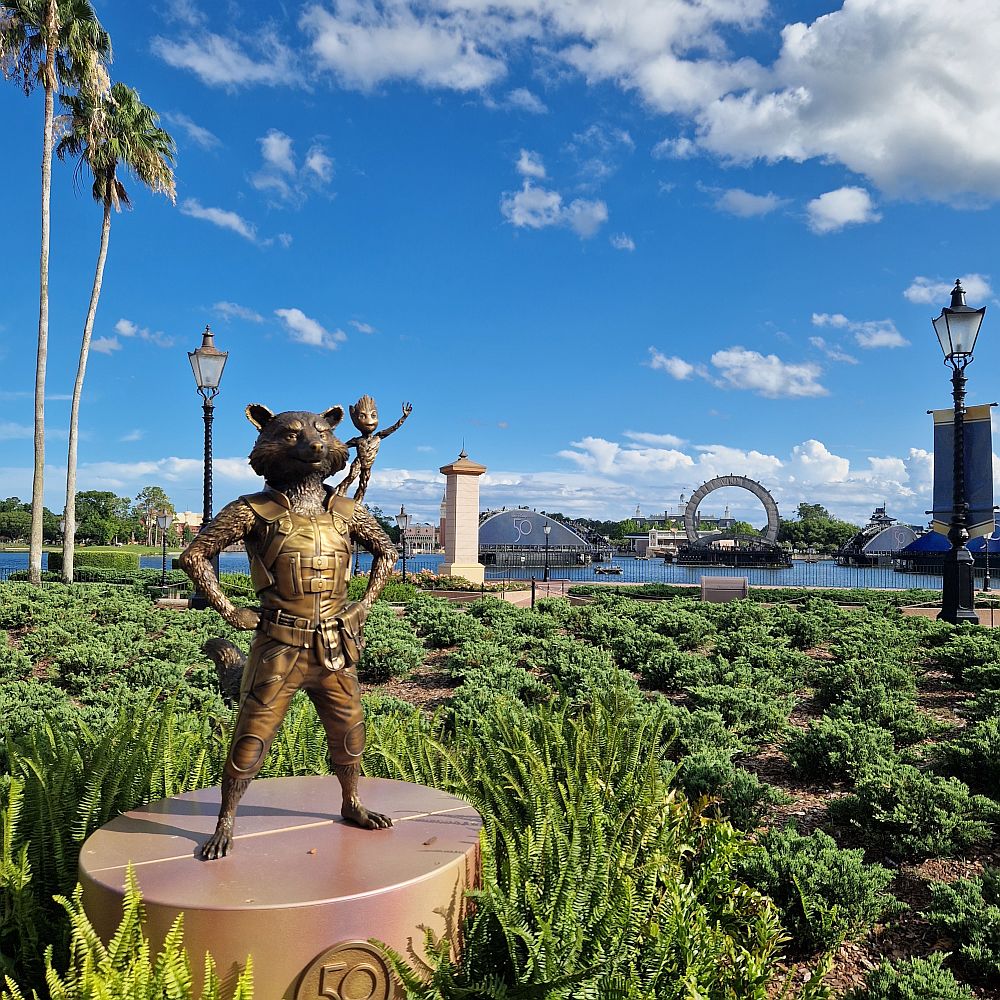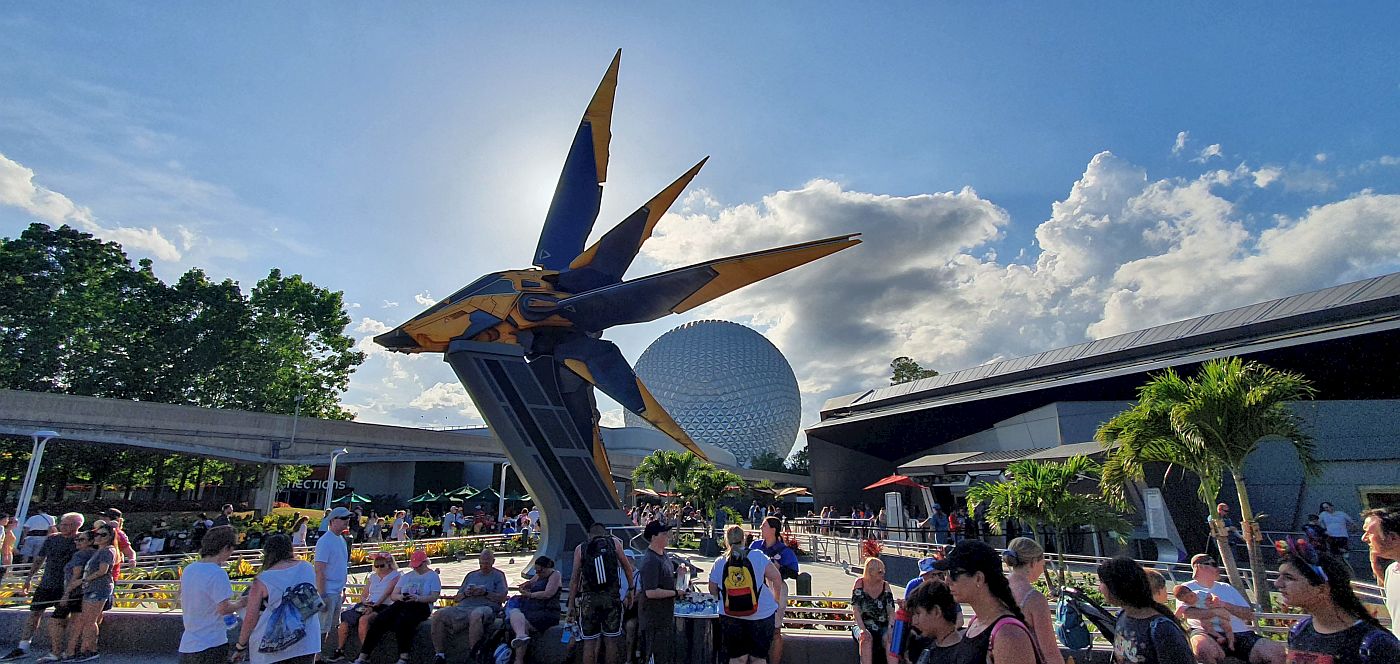 The pre-shows are very good and we're soon loading. The cars pull out of the loading area, but we then stop on the first small rise. We're sat there for at least 5 minutes, which does nothing at all for Tam's nerves. We're finally underway - oh my goodness, what a ride! It's very smooth, but there are times when you don't know whether you're going forwards, backwards or sideways. I get off feeling dizzy and wobbly, but at least I'm not sick. This isn't as bad as Mission Space for motion sickness, but it will definitely make some people ill. Tam loved it as it blasts Disco Inferno really loud throughout the ride and she's singing along at the top of her voice.
A quick look in the shop where Charlie buys a T shirt, the man really is into shopping this holiday. We walk to Spaceship Earth and meet up with Keith and Nava and the ride is a walk on. I'm amazed that the crowds seem to be much smaller than I expected and is in total contrast to the rammed Animal Kingdom this morning.
It's now 8.00 pm and we walk to our favourite spot by Norway to watch Harmonious. This will be our first ever viewing of this show and I know it's not the perfect spot, but it holds a sentimental attachment for us. We take turns to go off and get food and drinks and enjoy watching World Showcase lagoon as night falls and the lights start to come on. The show is nothing if not spectacular. At last all that machinery in the centre of the lagoon that looks so ugly in the day shows its true purpose. Fountains, projections, lights and fireworks produce a wonderful display and the girls especially enjoy the Disney film music.
I think if Walt could see the show he'd say something like 'That's fine boys, now find a way to get rid of the barges during the day'.
As we were watching Keith has taken Nava back to their hotel as she's falling asleep trying to watch. It's easy to forget that it's a long day for young children walking around the Disney parks.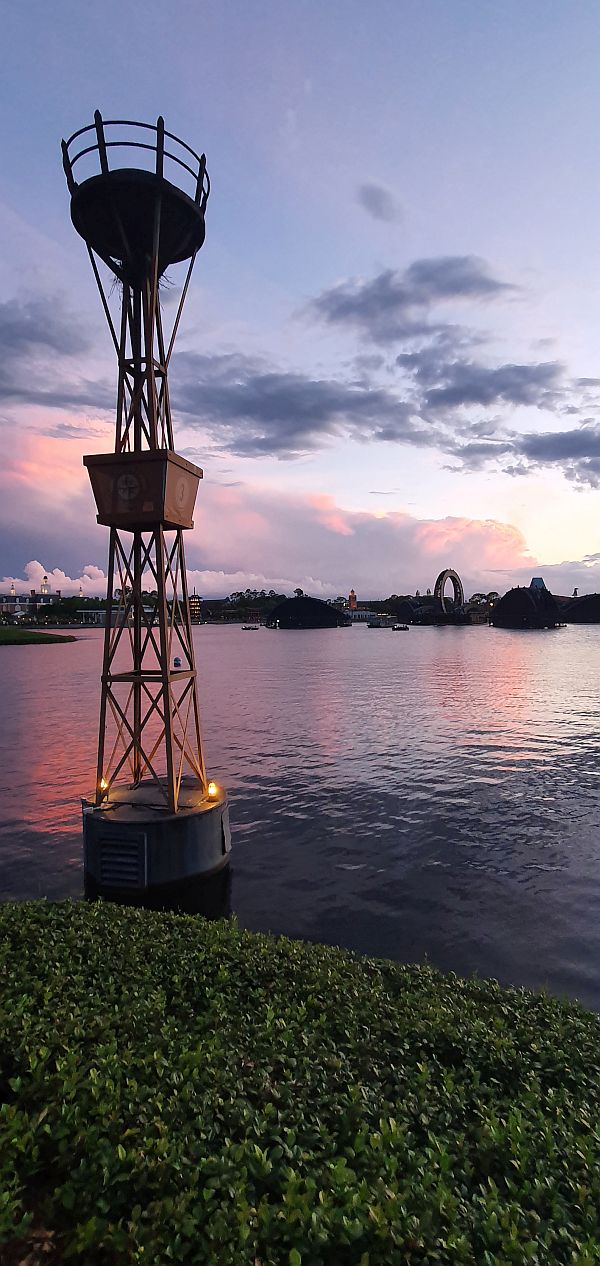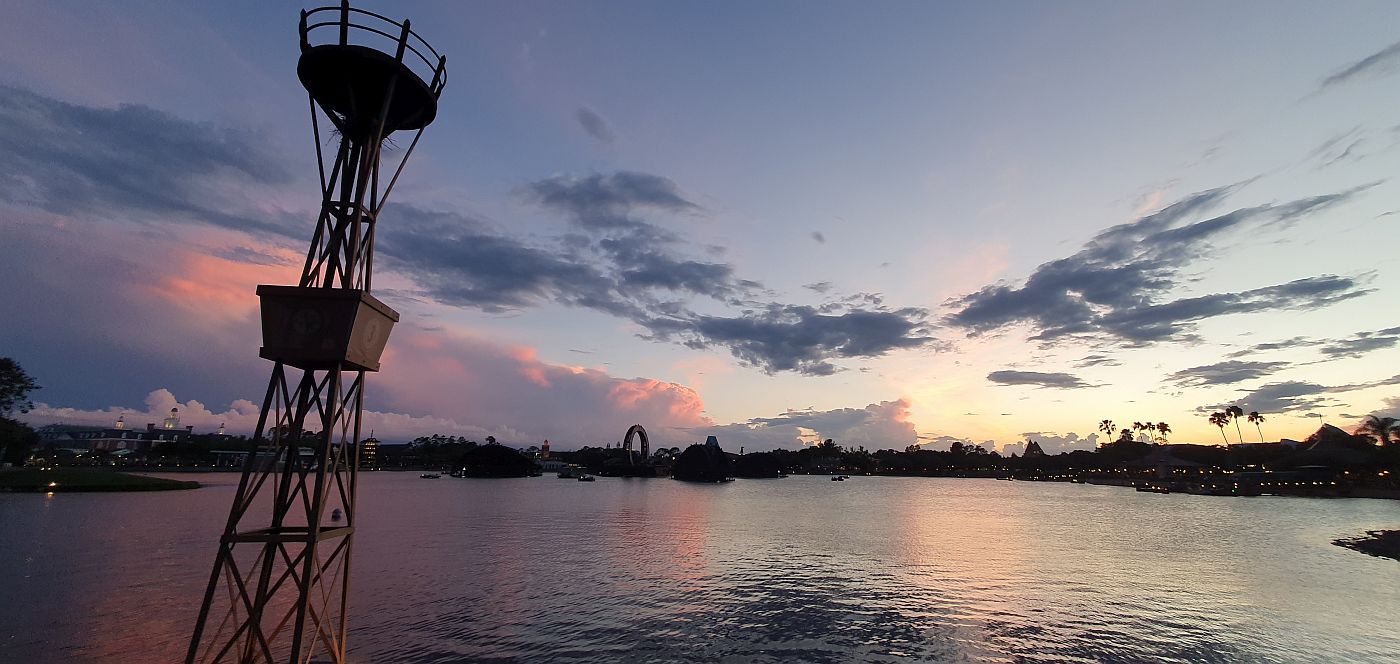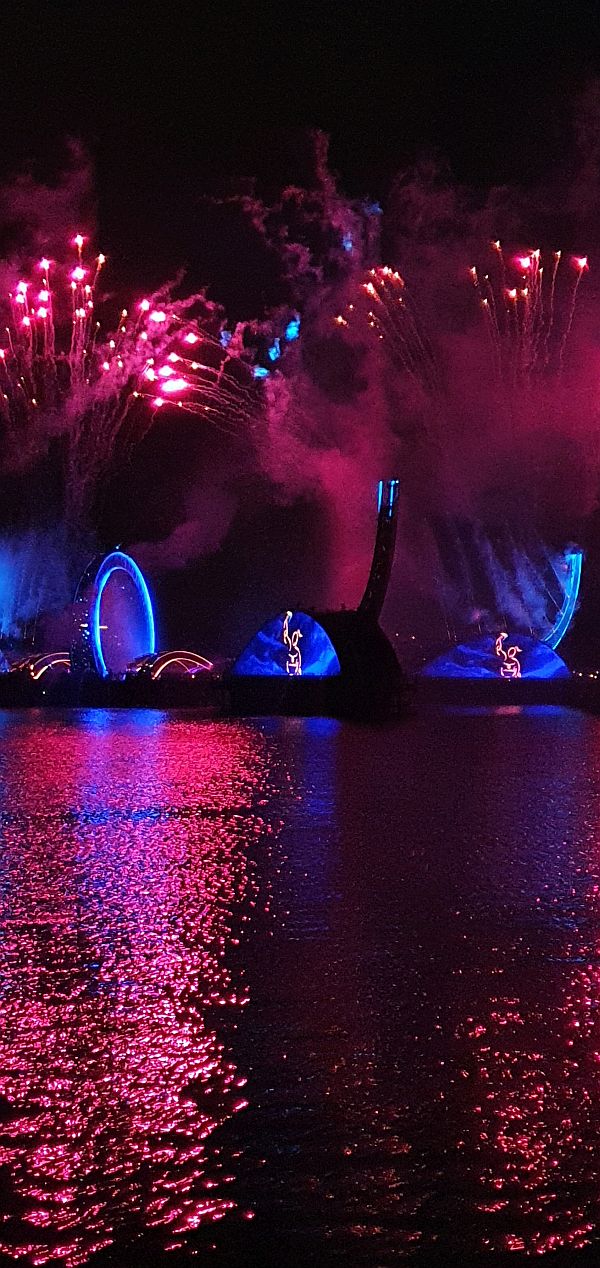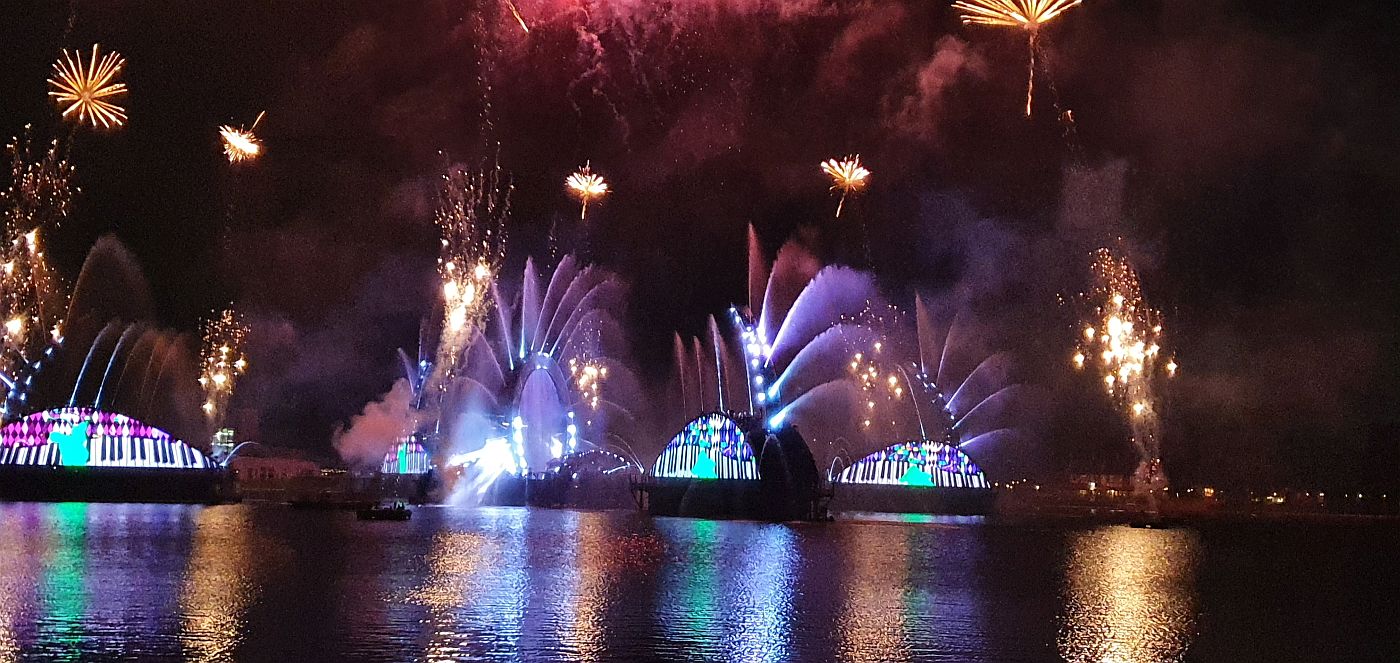 It's now extra magic hours for those staying in a deluxe resort, so the rest of us walk round to Soarin' chatting as we go. Soarin' is as great as ever, a true original. Because of the distance between rides in Epcot it's harder to get lots out of extra magic hours, especially if you watch Harmonious and so we plan for our last ride of the night to be Ratatouille and we arrive in France at 10.40 pm. As we are in the queue outside we are told the ride is down and won't be opening up again tonight. They really do need to sort out their maintenance issues. Rides have always gone down, but once in a blue moon. Now there are multiple rides breaking down mutiple times a day. Not good enough. A cynical India says 'Why would they let us ride for free during extra magic hours when they can force us into paying for Lightning Lane'. She has a point. Georgia says 'Ratatouille? Ratapooie more like'.
A quick stop for fish and chips in the UK and we are out of the park and back at the Boardwalk.
Back in the villa we sit on the balcony and have a bit of Gideon's cookie. It's very nice, quite salty, but I don't mind that. Lord knows how one person could eat one of these on their own.
Bed at midnight.