Day 16 - Saturday 28th May 2022
Written by Kev
Up at 7.30 am and out on to the balcony to write up the trip report and watch the giraffes wandering around in front of us. The ostriches come by to say farewell as well.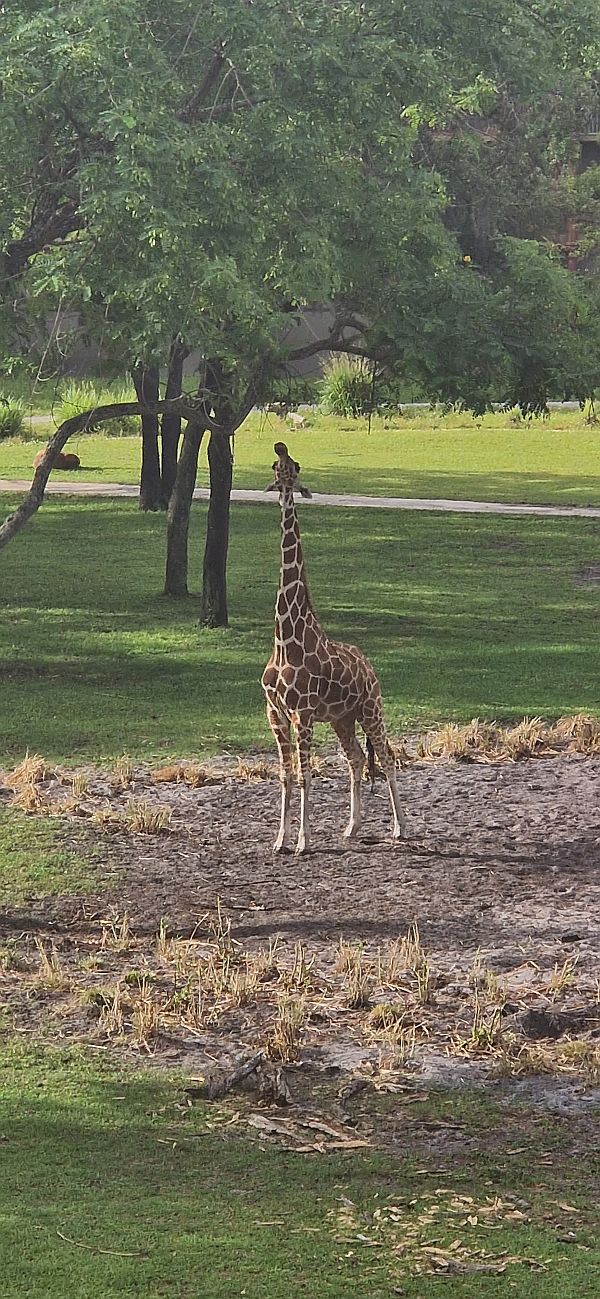 "Don't go!" I'm sorry Mr Giraffe, we have to.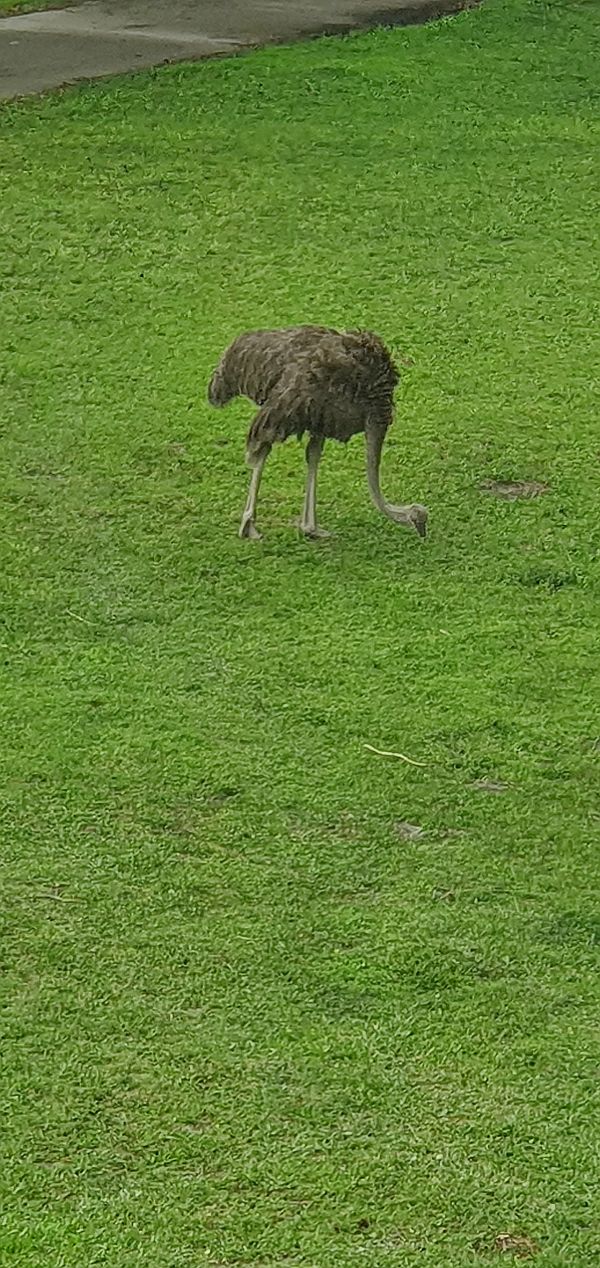 Breakfast and packing follows and we leave the room just after 9.30 am. As we're packing Tam notices that her perfume is missing. Georgia looks and says hers has gone as well. We'll wait until we unpack in the Boardwalk to be sure.
We leave the bags with Bell Services and catch the bus to the Magic Kingdom where we go straight to Splash Mountain and ride after a 30 minute wait. It's a first for Charlie and he enjoys it.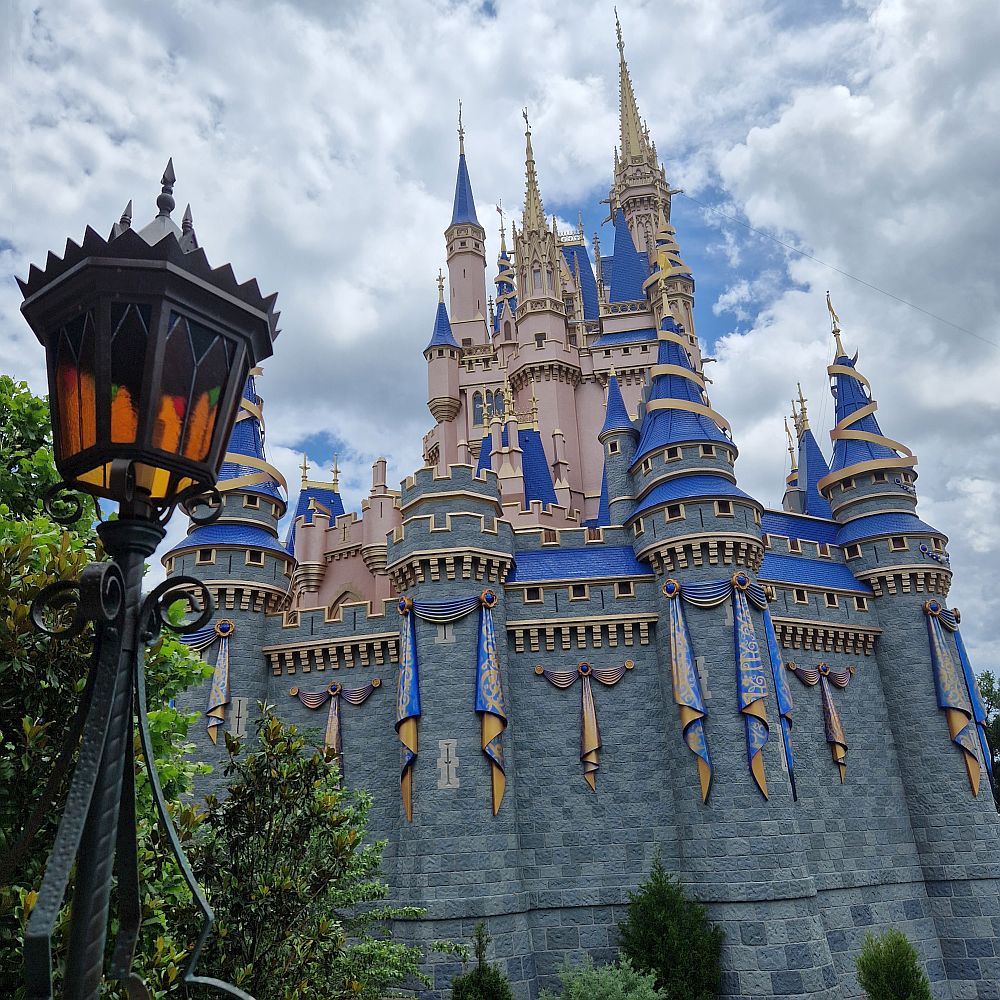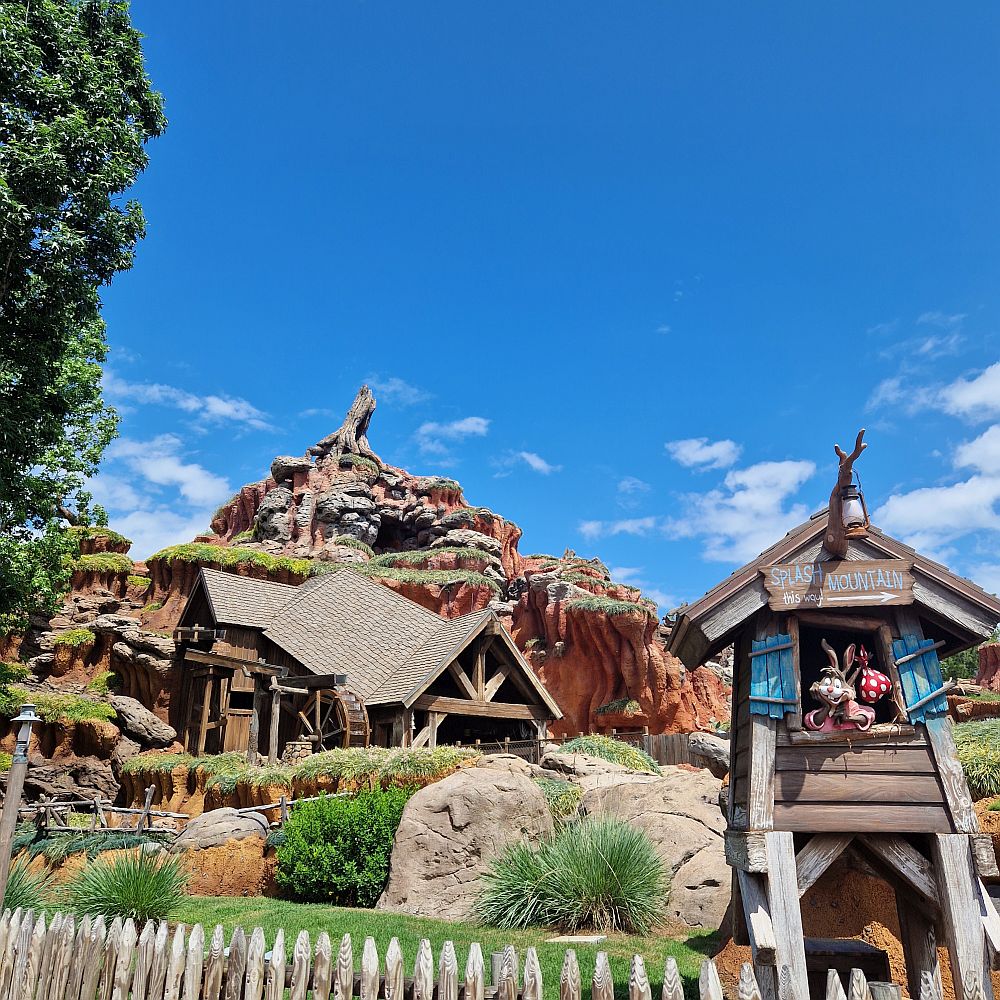 We meet up with Tam (she doesn't like the drop) and she's sat with Susan our friend from Oklahoma who has flown in and will be getting together with us for various things over the next few days.
We go to Pirates where there is a 40 minute wait which enables us to chat and catch up with Susan.
Mickey's Philarmagic is next and the new Coco scene is colourful and fun. After a quick trip on the TTA it's time to leave the park. Charlie is wearing his Liverpool shirt as it's the Champions League final at 3.00 pm. There's a few others with Liverpool shirts and he's chatted to a few of them about the game. Charlie and Georgia walk to the Contemporary to get a bus to Disney Springs where they intend to find a bar to watch the football, while the rest of us go back to the Boardwalk. Susan heads off to the Swan (where she's staying) and we go to Bell Services, but our luggage hasn't arrived from Kidani yet.
We go to our rooms (5008 and 5010) and these are exactly as we requested - top floor overlooking the little lawn with views of the river and the Swan and Dolphin.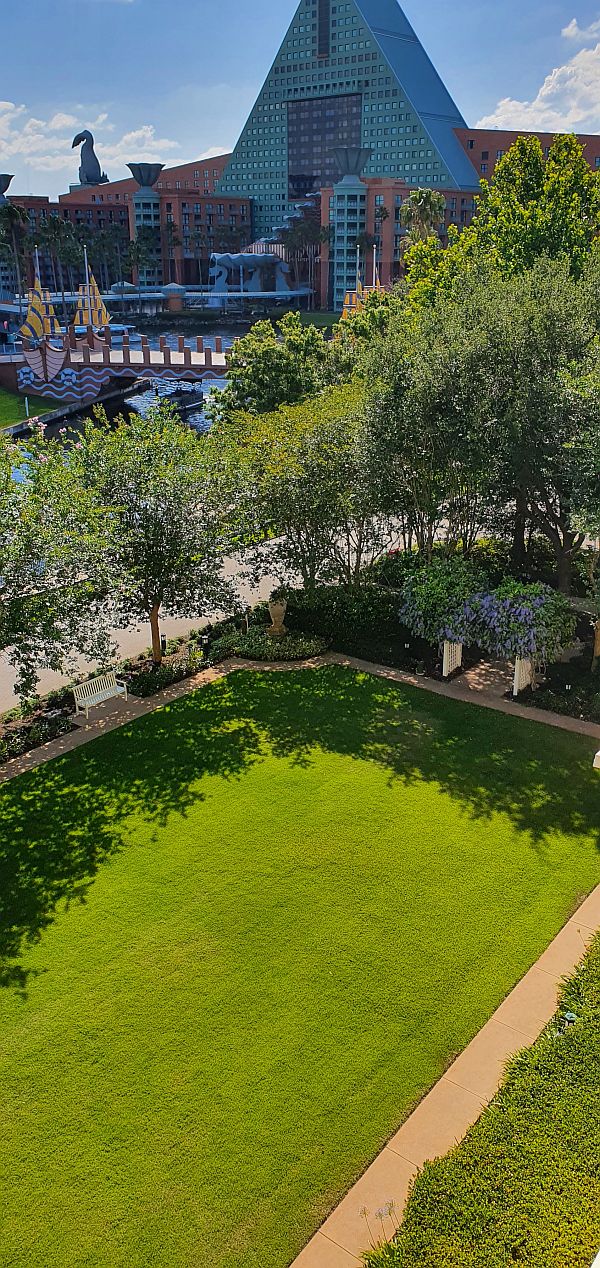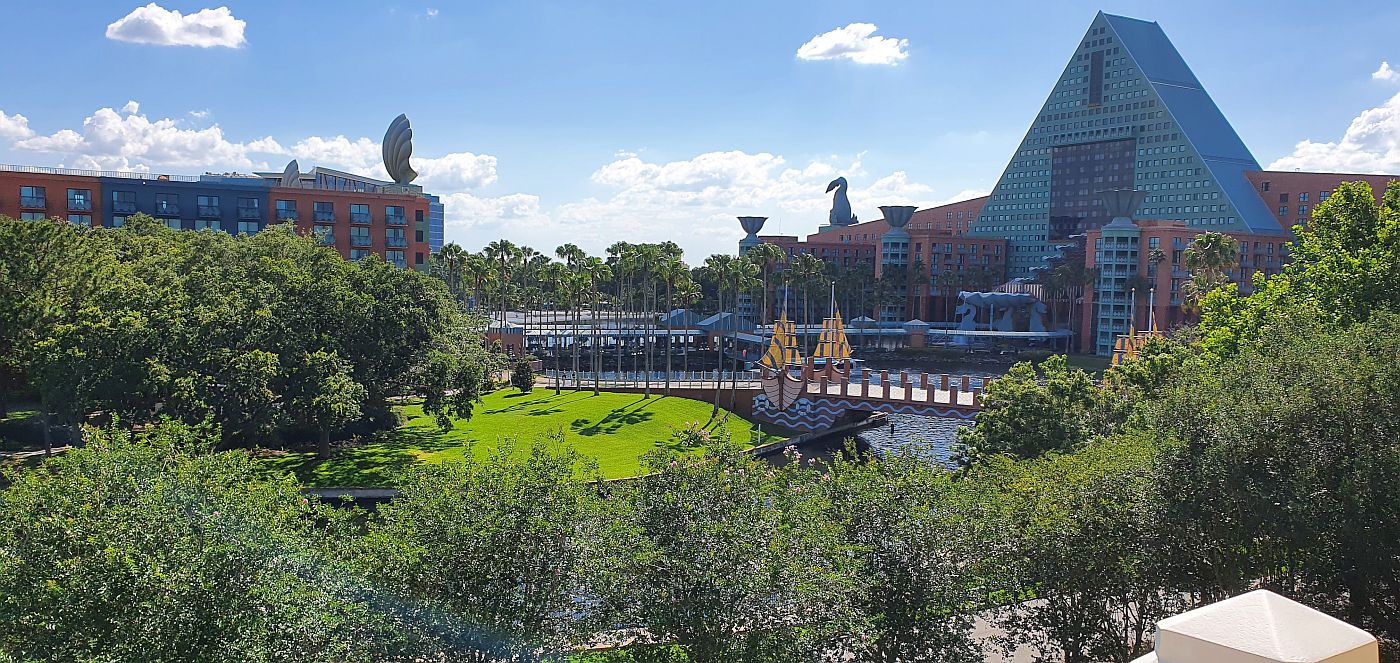 While we wait for the luggage we take a stroll along the Boardwalk and get a Seashore Sundae from the ice cream shop. It's huge and Tam and I can't finish with both of us trying.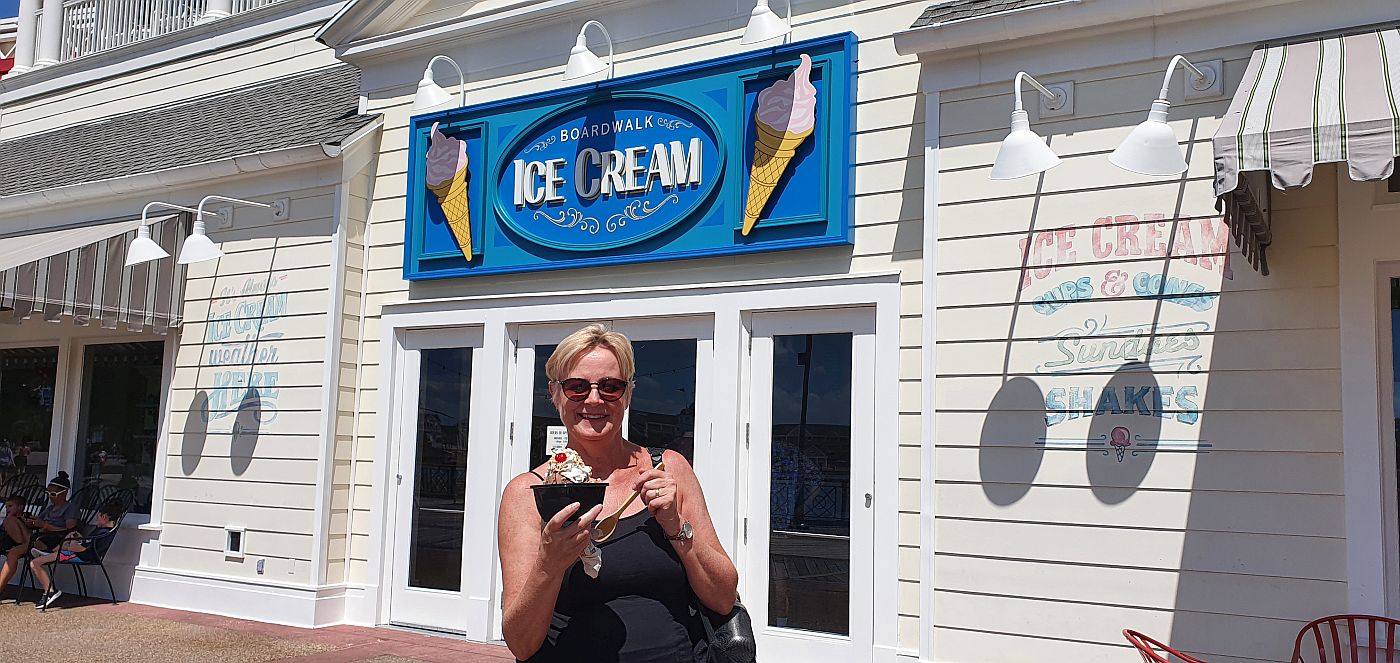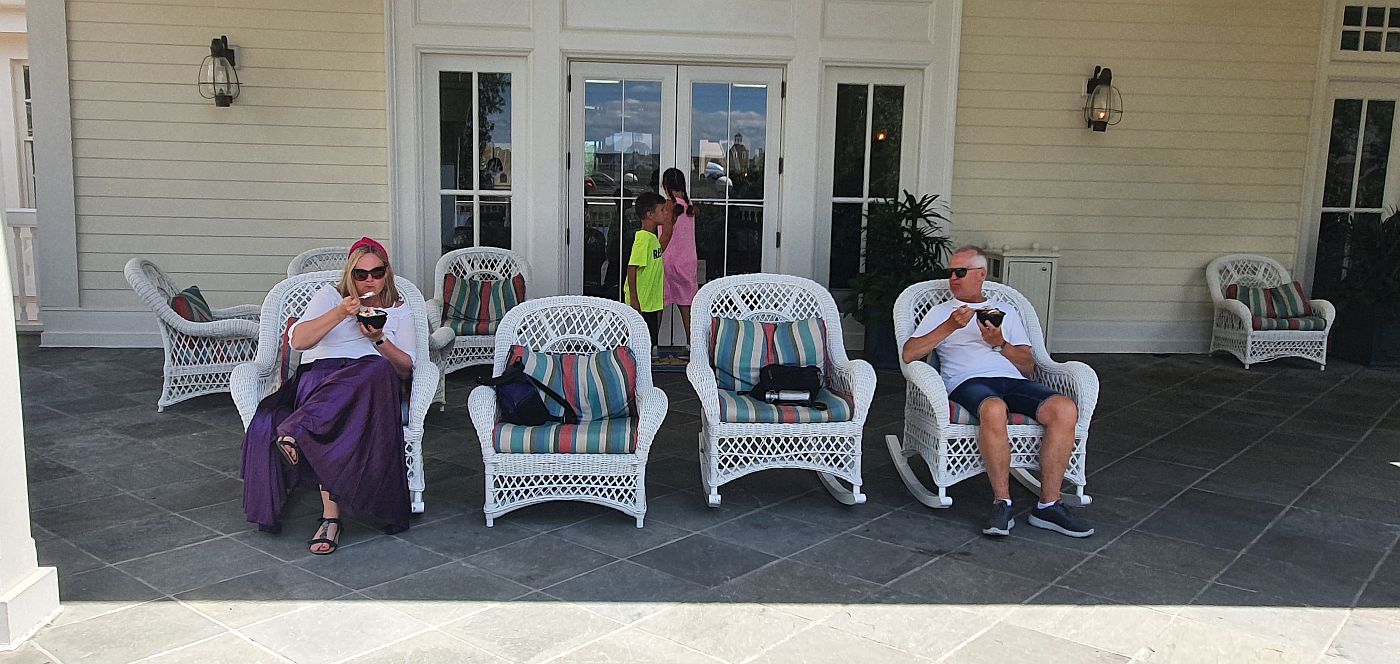 We get a message to say that our luggage is ready, so we return to the room and unpack. At this point India finds her perfume is missing as well - she has the top, but no bottle. This is too much of a coincidence. All 3 women have lost their perfume. Tam reports it to the Kidani Village front desk and they say they will investigate.
I watch the second half of the football. Oh dear, Liverpool lose 1 - 0. India and Tam are full of sympathy for Charlie:
"Poor Charlie" and "He'll be so disappointed". Hang on a minute, where was this level of sympathy when the Mighty Swindon Town lost to a very strong Port Vale team earlier in the holday? Real Madrid/Port Vale - very similar in my view.
On the plus side Tam receives a phone call from Disney offering compensation for the lost perfume. Will $100 cover it? Now it will not, Tam's alone is worth £100. To be fair the bloke is probably like me and thinks a bottle of Old Spice at £7.50 is top of the range for fragrances. India checks prices on the internet and Disney agree to credit £240. Fair play to them for such a swift response, it's just sad that something like this should happen on Disney property.
Tam, India and I shower and head out to the Belle Vue Lounge where we sit on the balcony and enjoy the early evening sunshine. I have an Old Fashioned and a beer.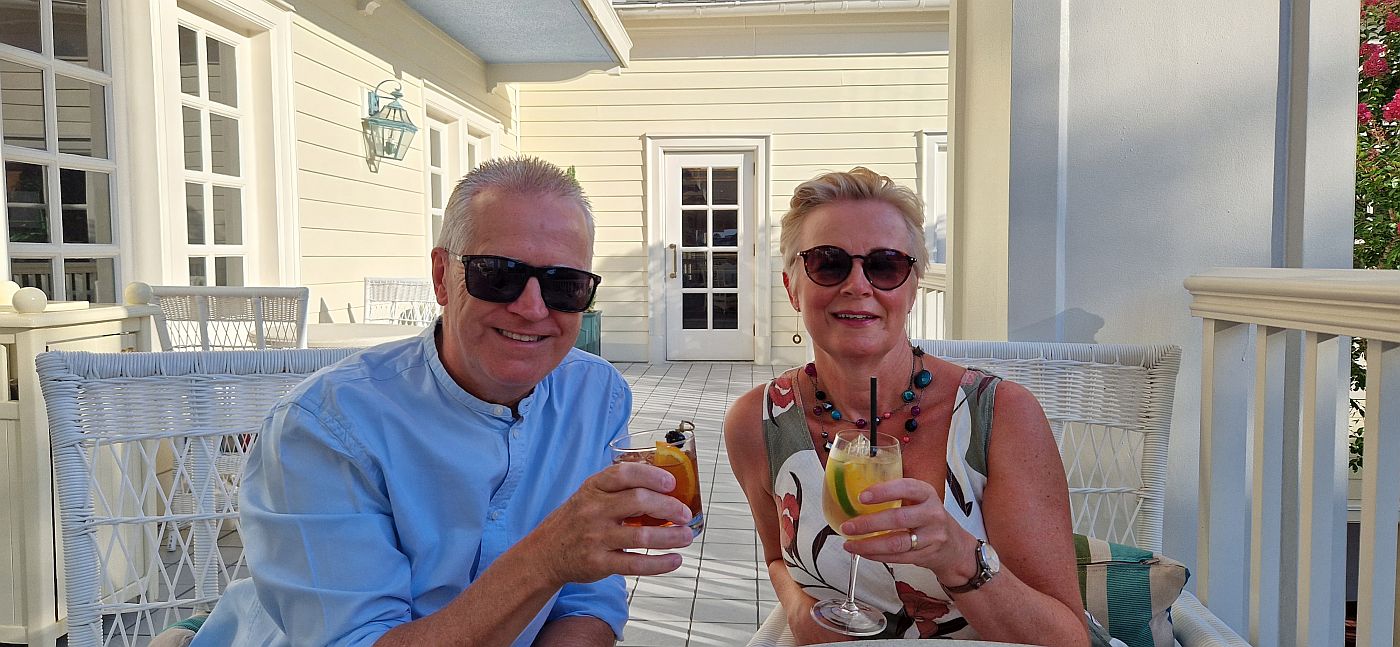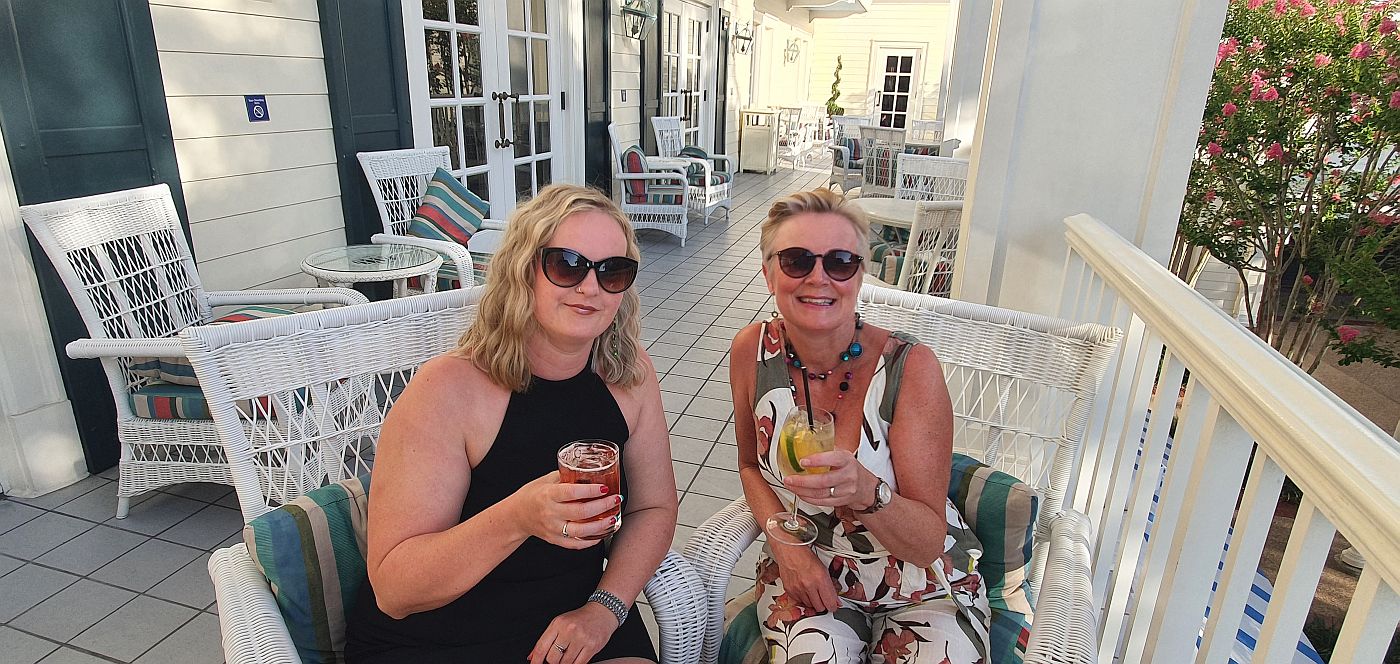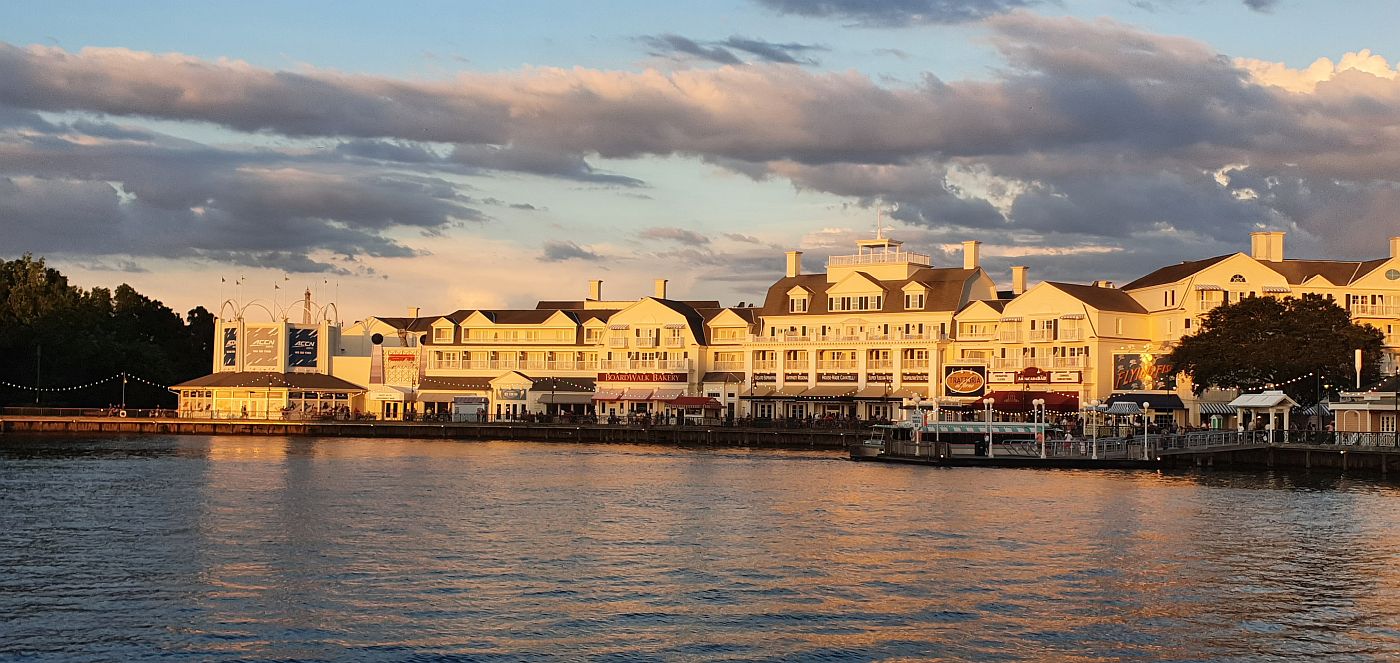 Just before 8.00 pm we walk across to Kimonos in the Swan. You can't book for this place, it's walk up only, but we are seated straight away at a table for 5 and Georgia and Charlie join us almost immediately. Charlie is sporting a brand new Tommy Bahama shirt he's just bought in Disney Springs.
Unfortunately Georgia says she's just unpacked and has found that some of her jewellery is missing as well. Tam says she'll ring Kidani again in the morning. We order sushi rolls as well as nigiri and sashimi. The food is lovely and the service excellent as well. Best of all we get a 20% DVC discount.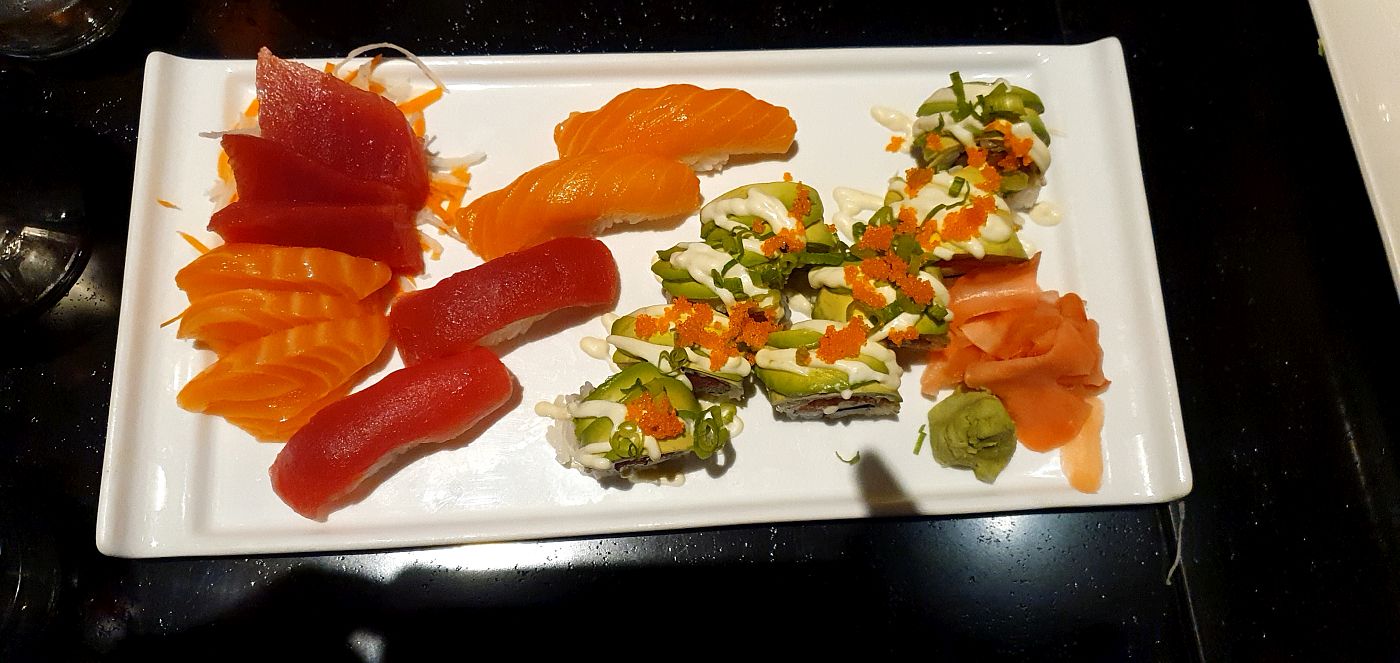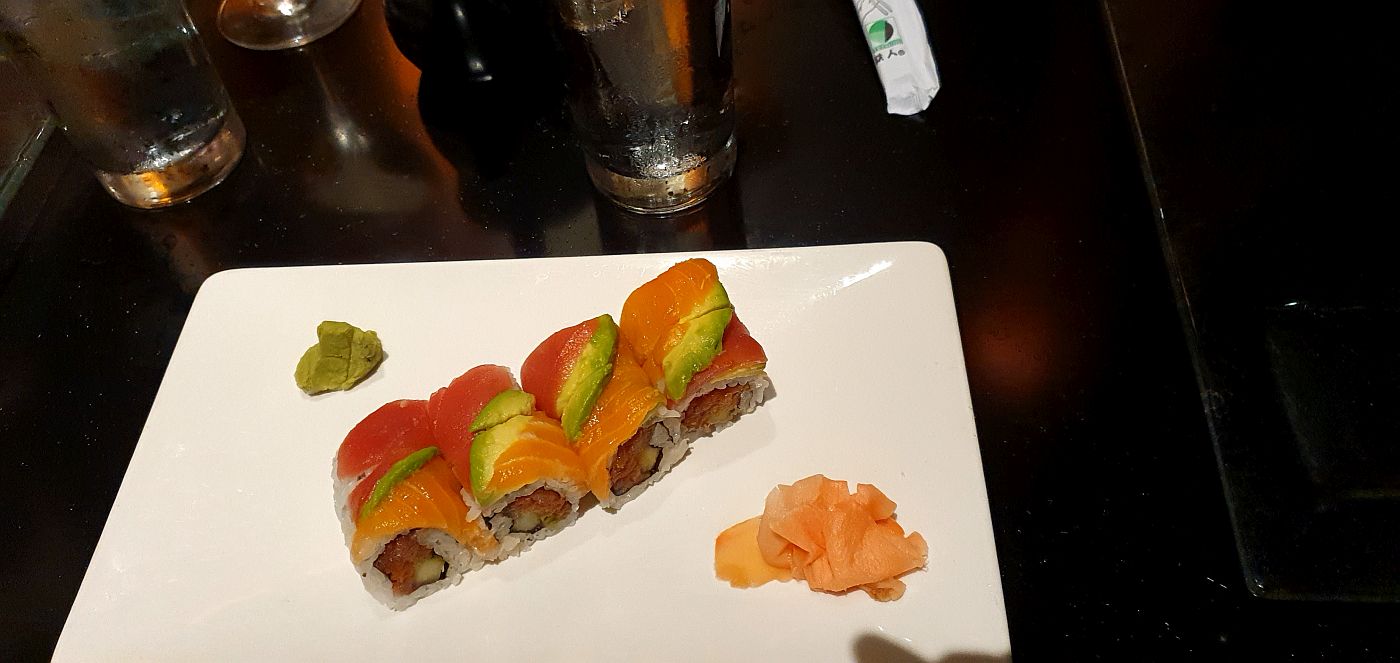 We're off to Jellyrolls now where the entrance fee has gone up a lot from the last time we were here, it's now $18. We get a table close to the stage and are soon joined by Charlotte and Shaggs. The evening is the usual fun filled affair with the piano players having a go at everything from Disney songs to The Killers.
The alcohol imbibed includes beer, rum and coke and tequila shots. The bill at the end is $307 for the 5 of us. I'm not sure whether to be proud or ashamed.
At one point I am dancing and I slip over and knock over a table. Luckily only one bottle is broken. Hmmm ... time to sit down old man. At least I get through the remainder of the evening without incident.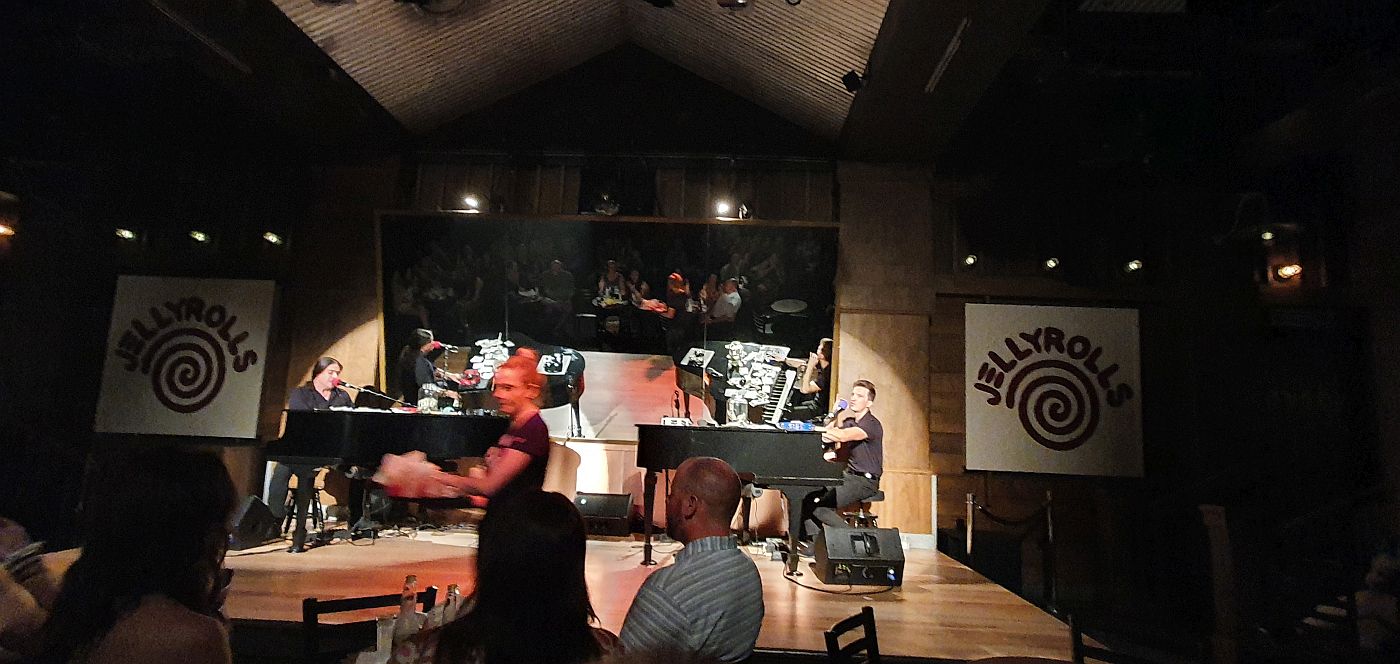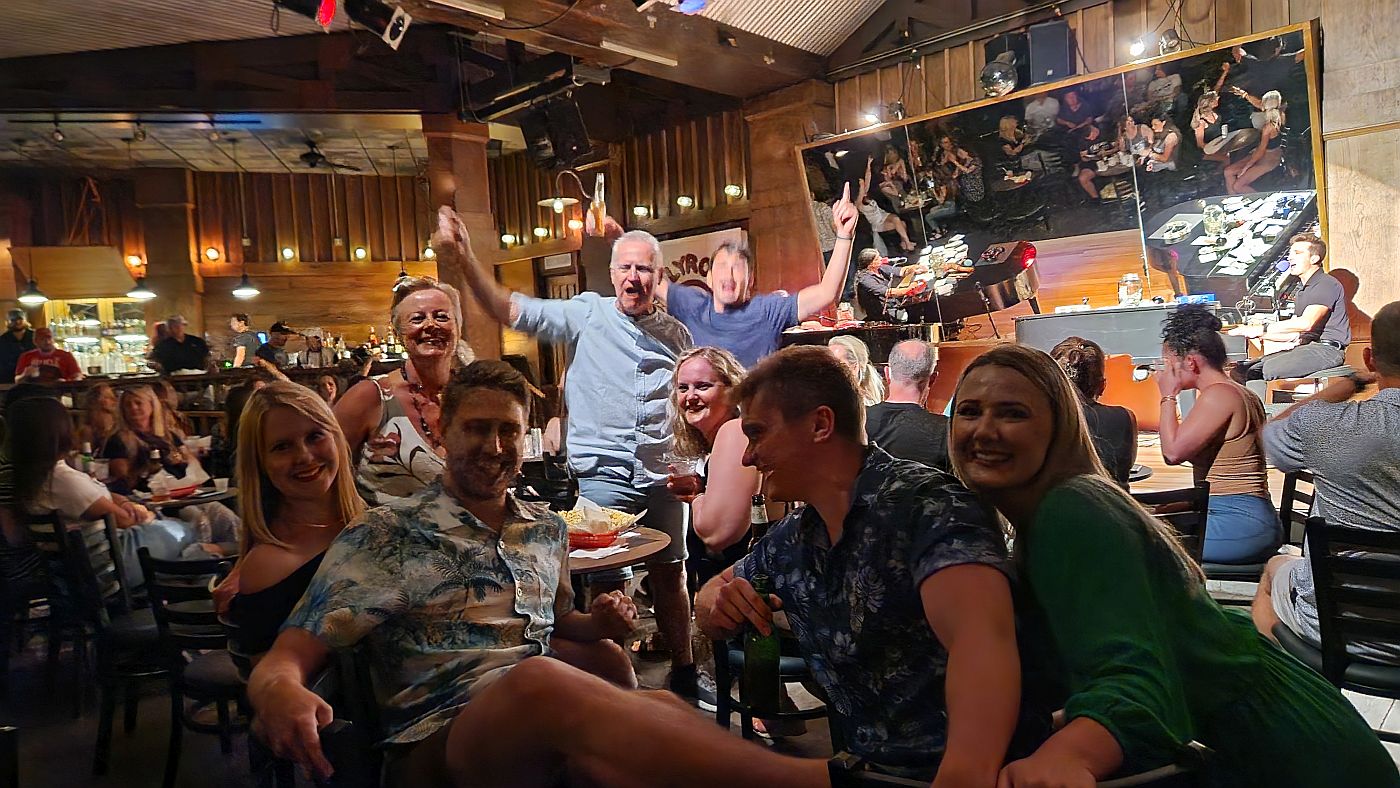 I'm sure you won't be surprised to hear that this photo was probably taken not long before the table incident. The gentleman in the background looks like he's not far off his own table incident.
We leave when the place shuts down at 1.45 am after another great Jellyrolls night. I'm not going to lie, we are all a little squiffy as we make our way back to our villa, hardly a taxing task as we are only a few yards from Jellyrolls.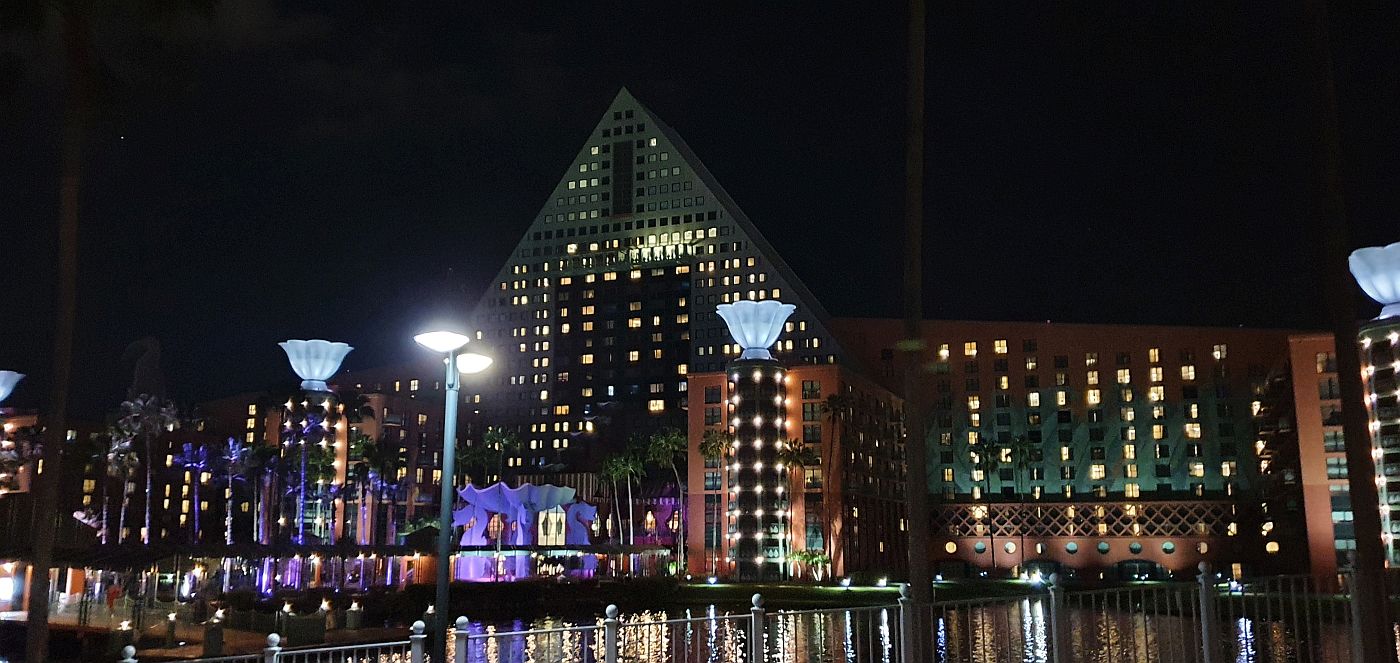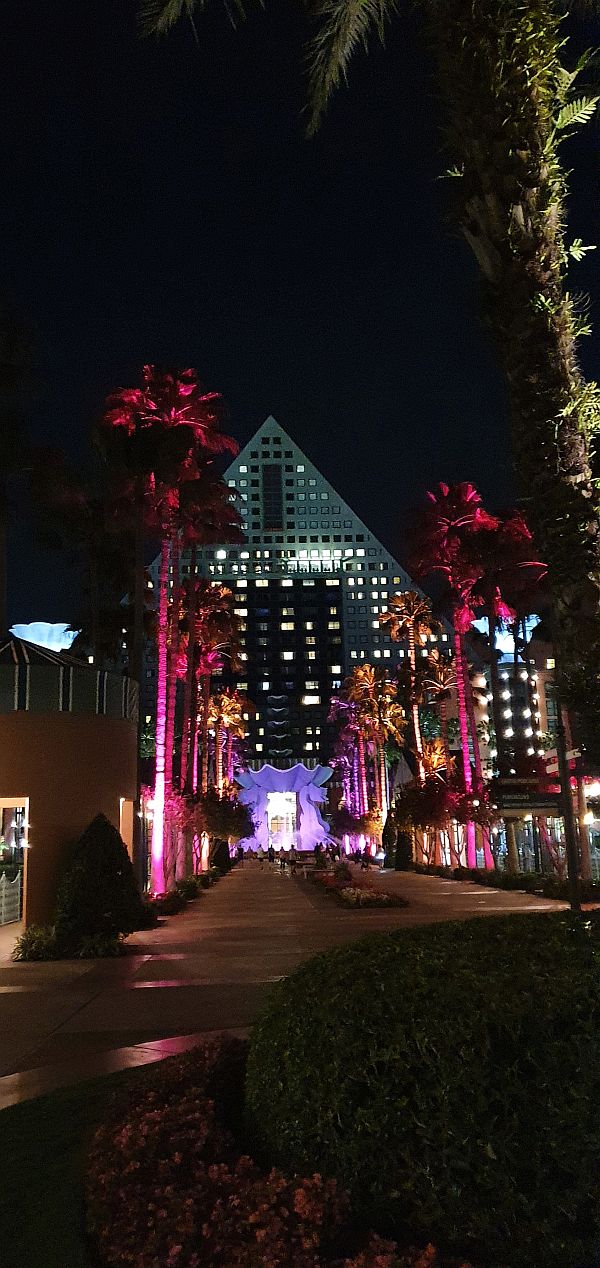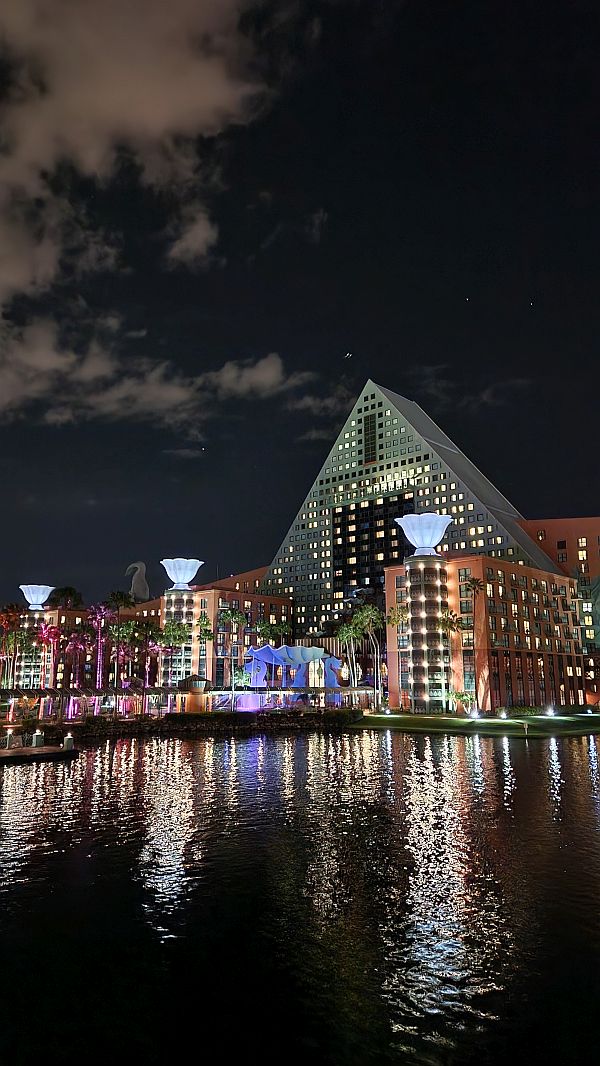 Bed at 2.30 am.