Day 15 - Friday 27th May 2022
Written by Kev
It's a bit of a strange start today. Bruce Springsteen has rather inconveniently announced a European tour for next year and we intend to do a few dates. Unfortunately the tickets for Copenhagen (where we want to go to both nights he's playing) go on sale at 4.00 am EST. Charlie and Georgia aren't going, so Ind, me and Tam are up at 3.50 am and logging on to try for tickets. India's friend, Liam, is also going to come, so he's trying from the UK.
We don't do too badly as Liam gets front of stage tickets for one night and we get normal standing tickets for the other. Back to bed at 4.30 am to try and sleep. I'm still awake at 6.00 am, but then manage to doze off until 9.00 am. I get up and sit on the balcony to write up the trip report while watching the zebra enjoying their breakfast.
Everyone is up soon after and we have English muffins for breakfast. Unfortunately Charlie has had some bad news from home. His grandmother has died. It isn't exactly unexpected as she's been ill for some time, but these things are always a shock. A quiet morning is called for, so we walk to Jambo House to relax around the pool.
India is putting on sun cream when she says "You can't suck in your back sponge". Your sponge is the fatty area around your midriff and back. According to India you can suck in your belly, but you can't suck in your back fat. I guess she has a point, although walking around sucking anything in would be difficult.
We sit in a quiet area at the back of the pool under a canopy of trees and the sunlight coming through the branches and leaves is really quite beautiful.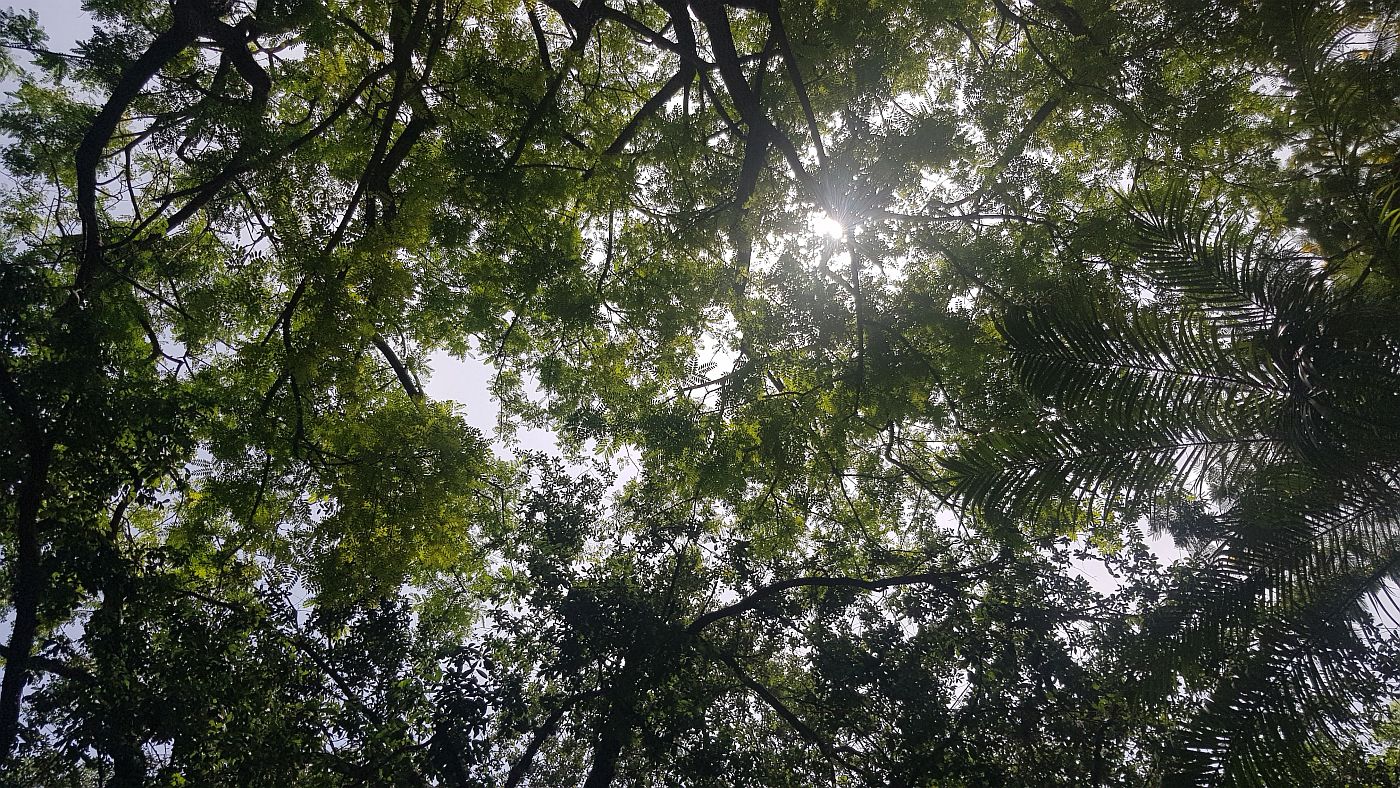 Georgia and Charlie have friends staying at Jambo House and they go off to spend some time around the pool with them. Their friends are called Charlotte and Shaggs. I'm assuming 'Shaggs' is a nickname otherwise his parents have a very strange sense of humour.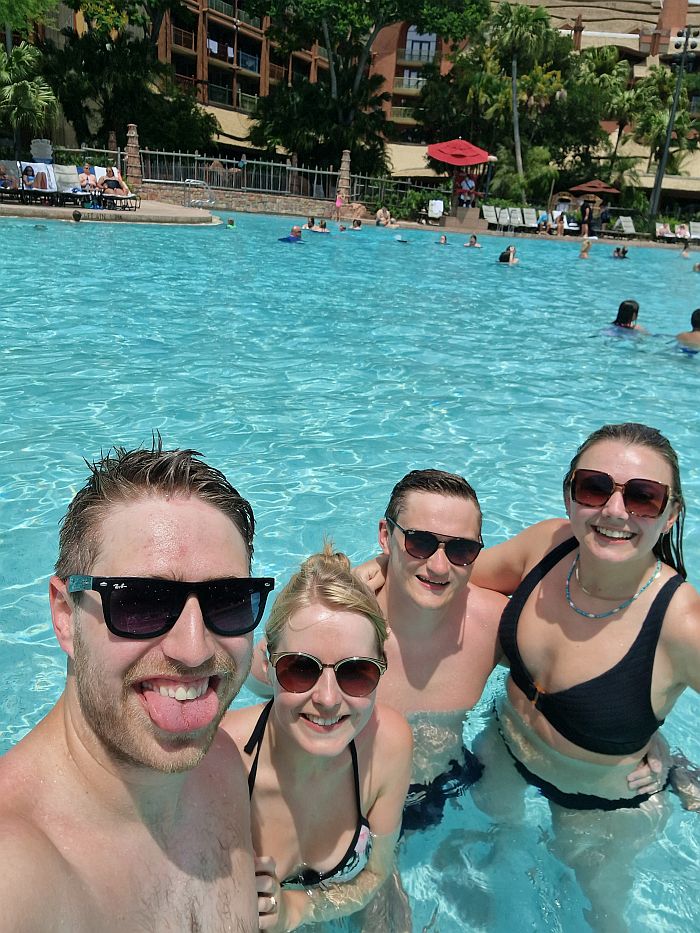 Back to Kidani where we shower and are out for the bus to Hollywood Studios at 2.00 pm. We go straight to Mickey and Minnie's Runaway Railway where the 50 minute posted wait is more like 40. Charlie particularly likes this ride. We tease him that he likes it better than Rise of the Resistance as he's such a Star Wars fanboy. The song is now stuck in our heads with Charlie singing 'Nothing can stop us now' in a squeaky mouse voice at every opportunity.
We get food and a beer from a stall near Echo Lake. I have a very nice prawn roll with crisps. We take this and go to watch the Indiana Jones stage show and eat it in the 15 minutes we have until the show starts. I haven't seen this in years, so I quite enjoy it, but I couldn't watch this multiple times. Still, it must soak up a lot of people as the theatre is nearly full.
Muppets 3D is next before we walk to Galaxy's Edge as we have a 6.30 pm ADR at Oga's Cantina. As we pass Smugglers Run I suggest everyone does the single rider line. I don't want to ride as I'd rather be feeling at my best for Oga's and don't want to risk coming off feeling queasy. There is a large standby line, but the family are in and out within 15 minutes and they all got to ride together.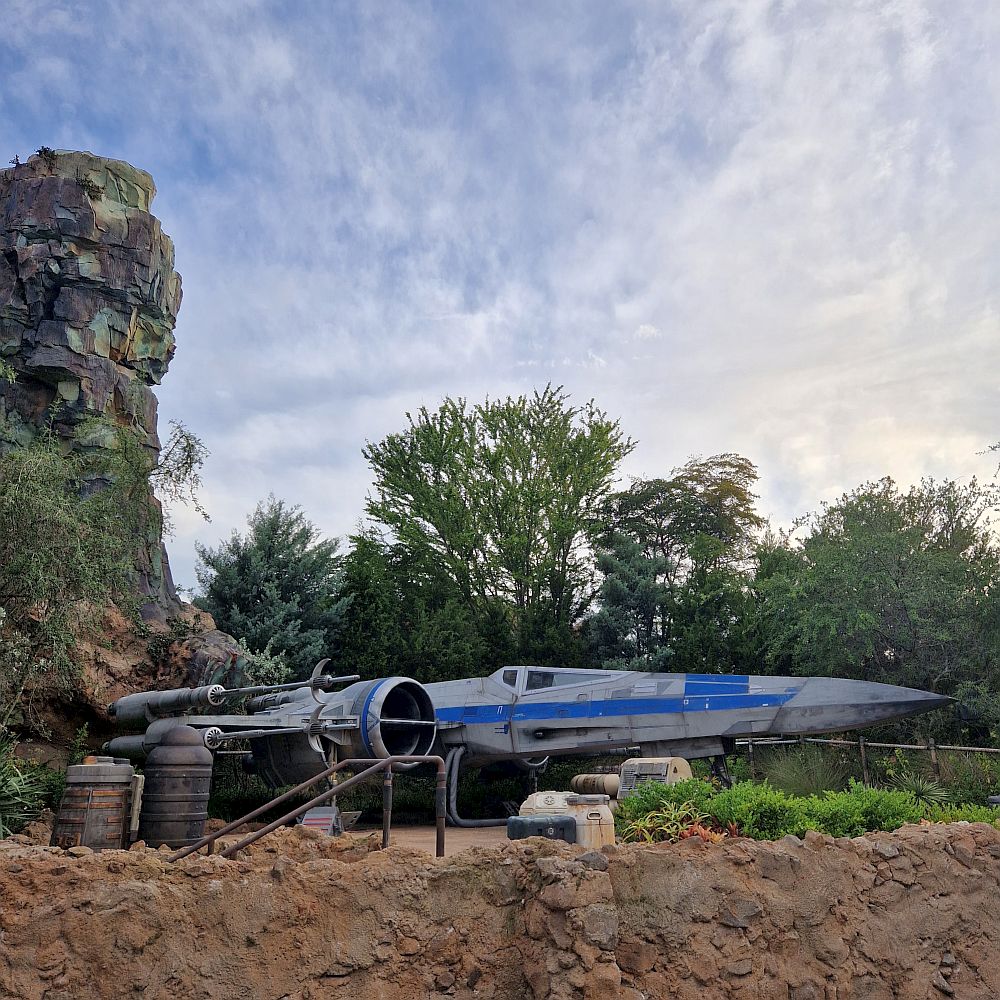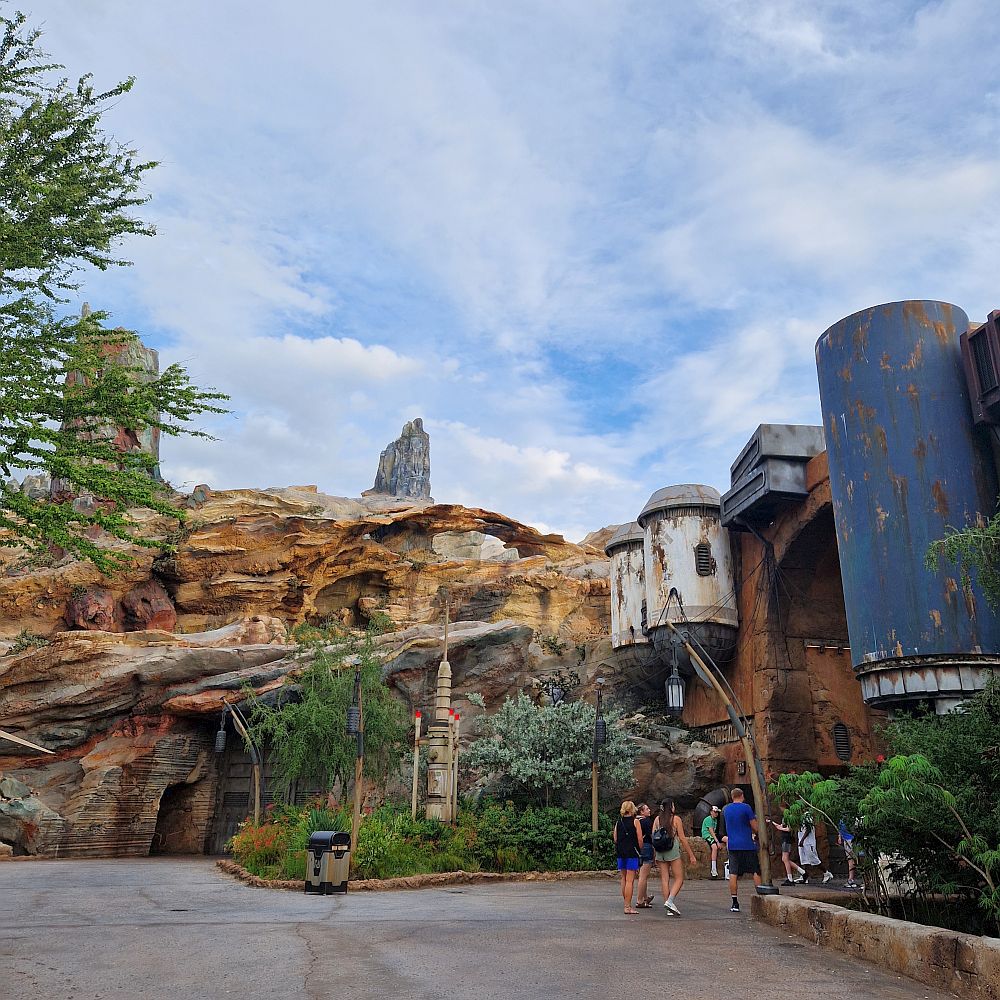 Into Oga's bang on time. Now this place is fun! The theming is great and we are stood at a table just below Rex the DJ. I have the Outer Rim, which is a sort of margarita. Georgia tries the Fuzzy Taun Taun. The server warns her that it's not for humans. The foam makes your lips and tongue go numb and tingle. We all have a great time and manage to split a Rodian Ration (green alcoholic jelly) before our 45 minutes are up. It's not cheap as the bill is well over $100 before tip, but we'd do it again in a heartbeat.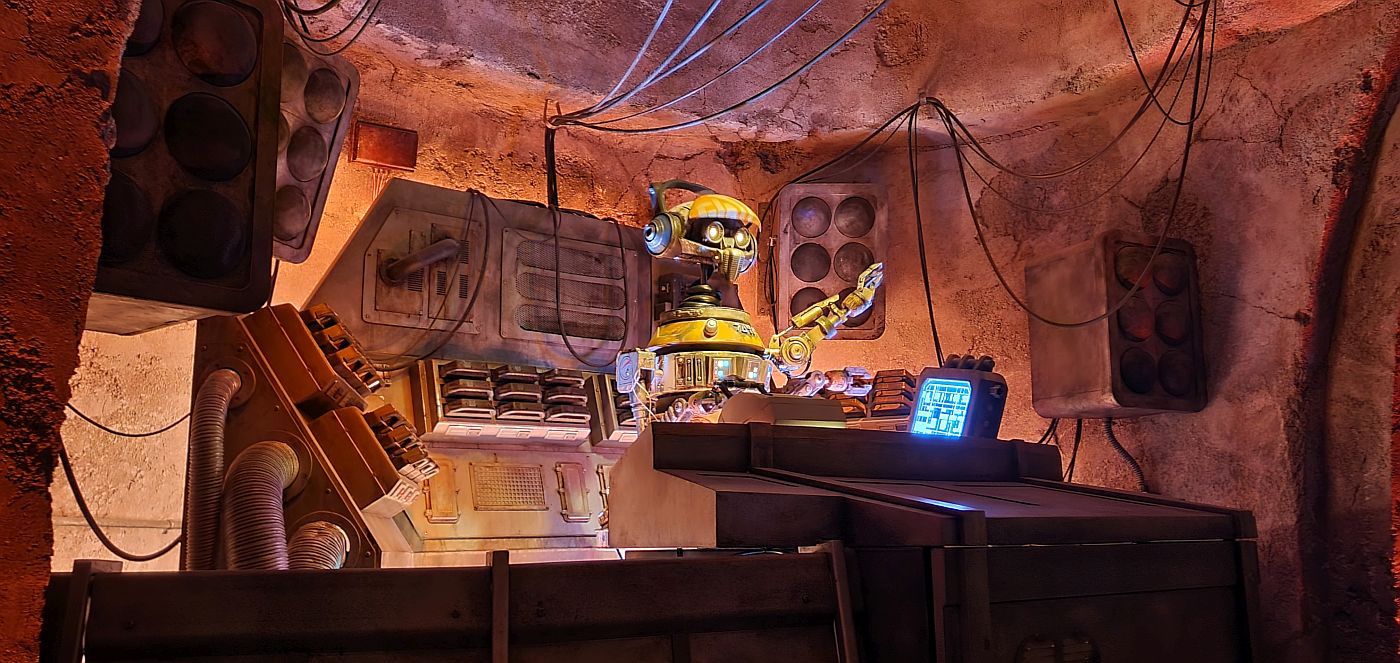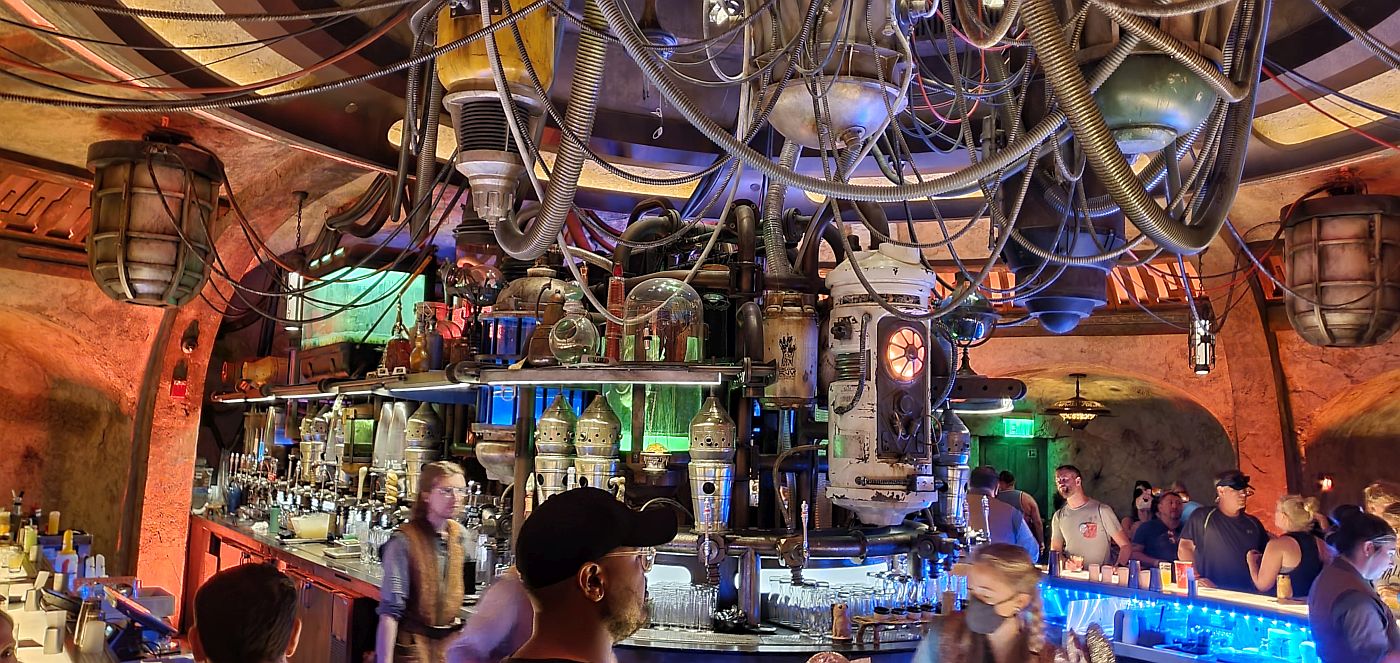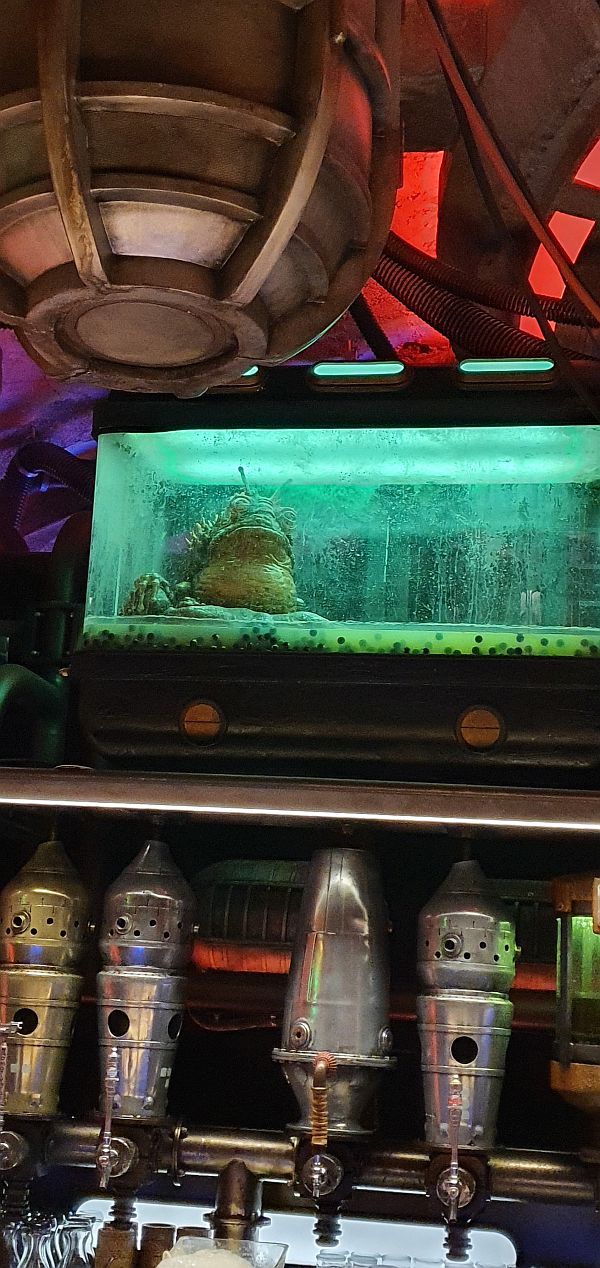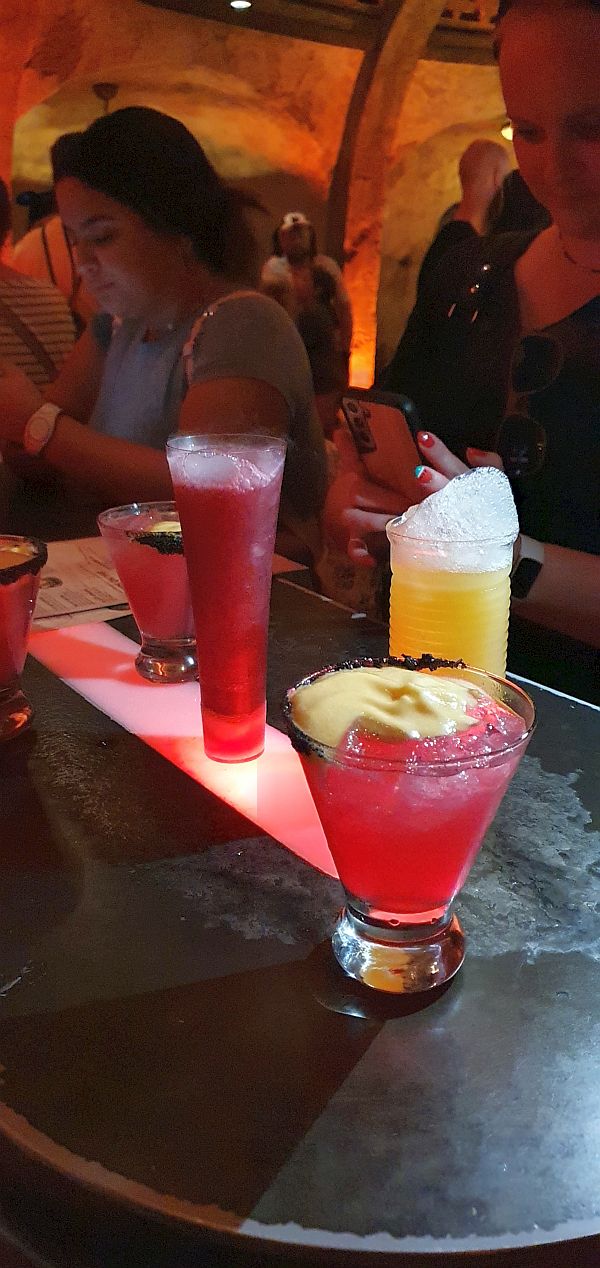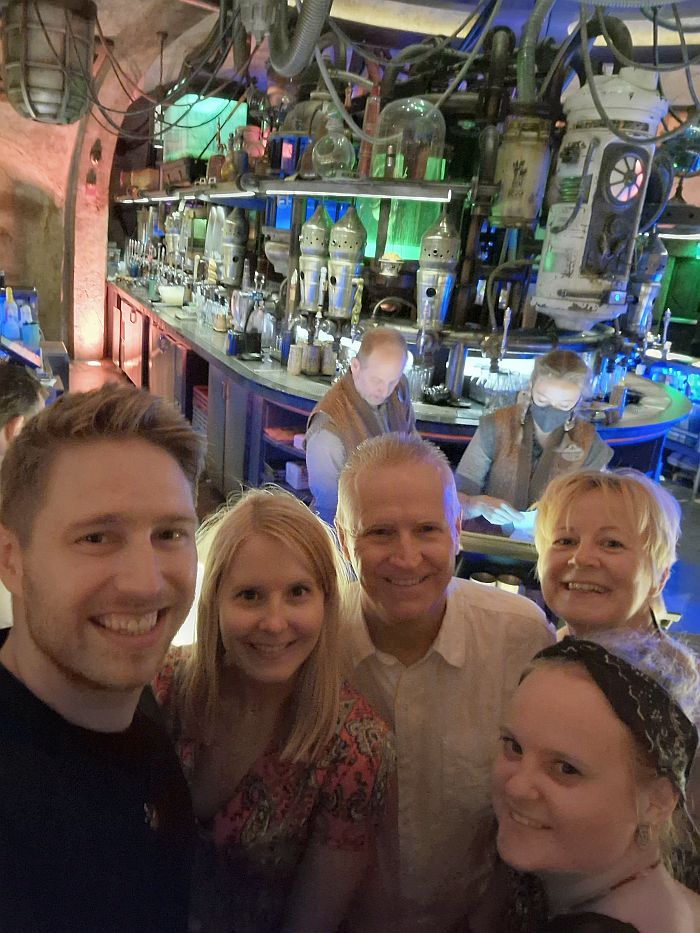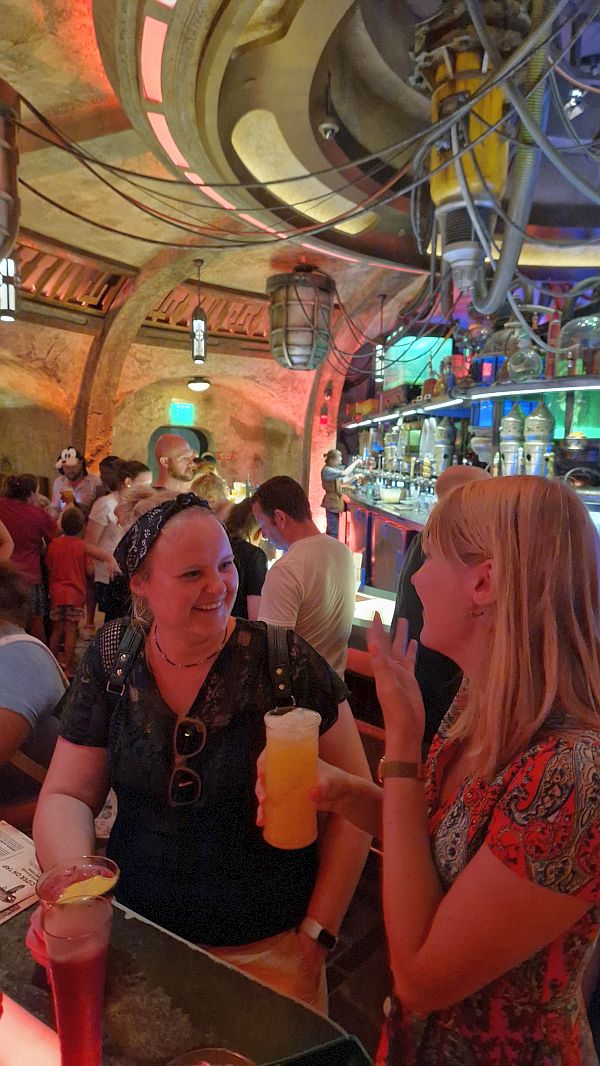 Georgia's drink starts to have an effect.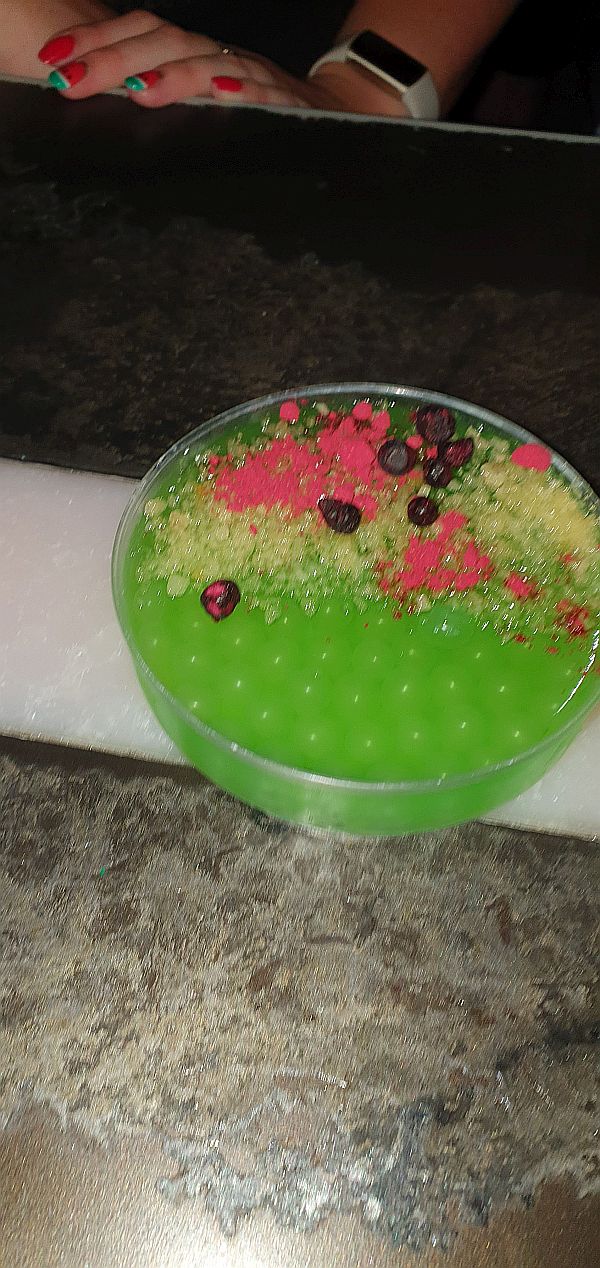 The Rodian Ration. It's a bit fuzzy. I think the alcohol must have started to affect the camera as well.
We walk back through a few shops and it's sad to see that the villains shop is no more, you could always find unique things in there. We get the bus back to Animal Kingdom Lodge and exit at Jambo House where we have a look around before going to the Victoria Falls Lounge for drinks and to split a goats cheese dip between the 5 of us that is delicious.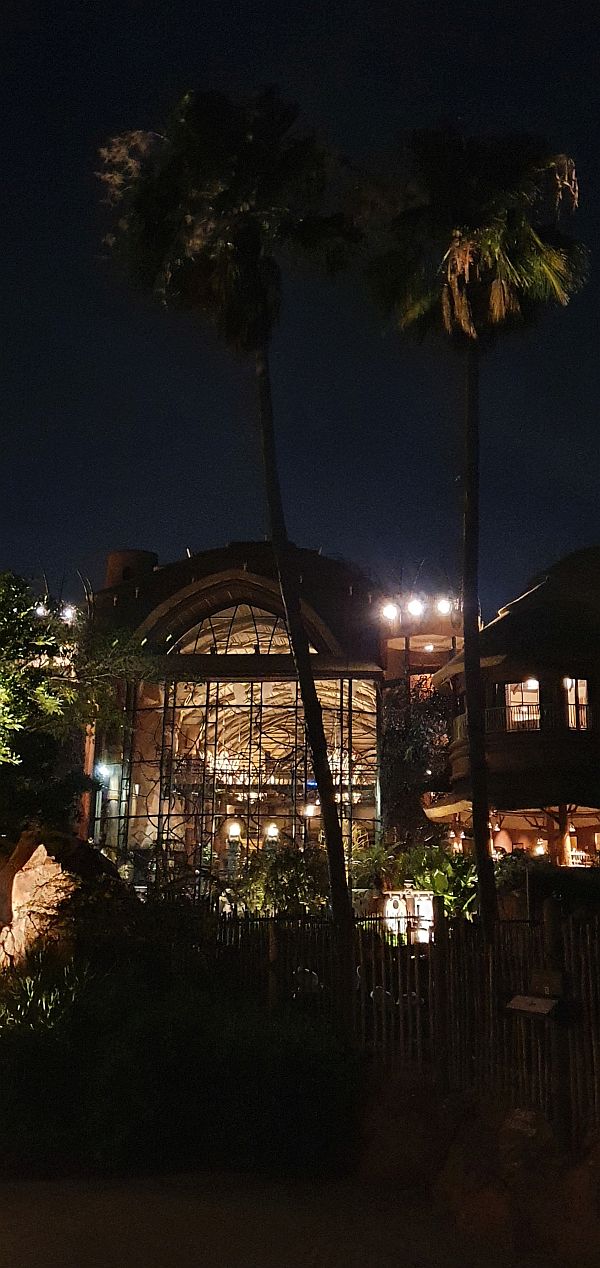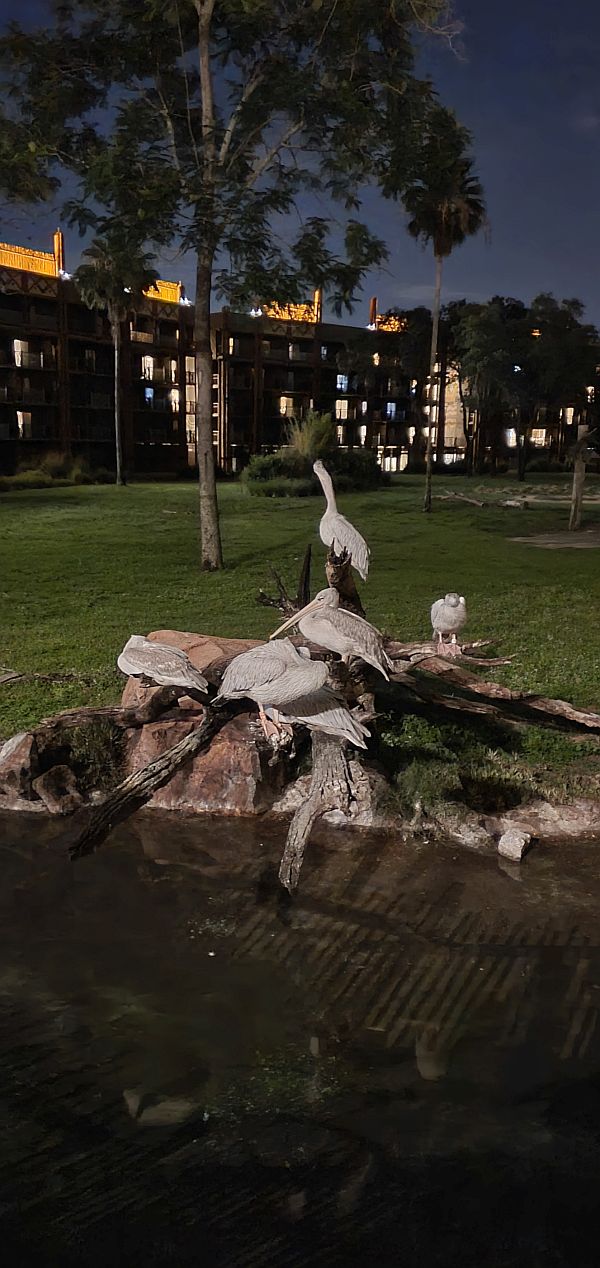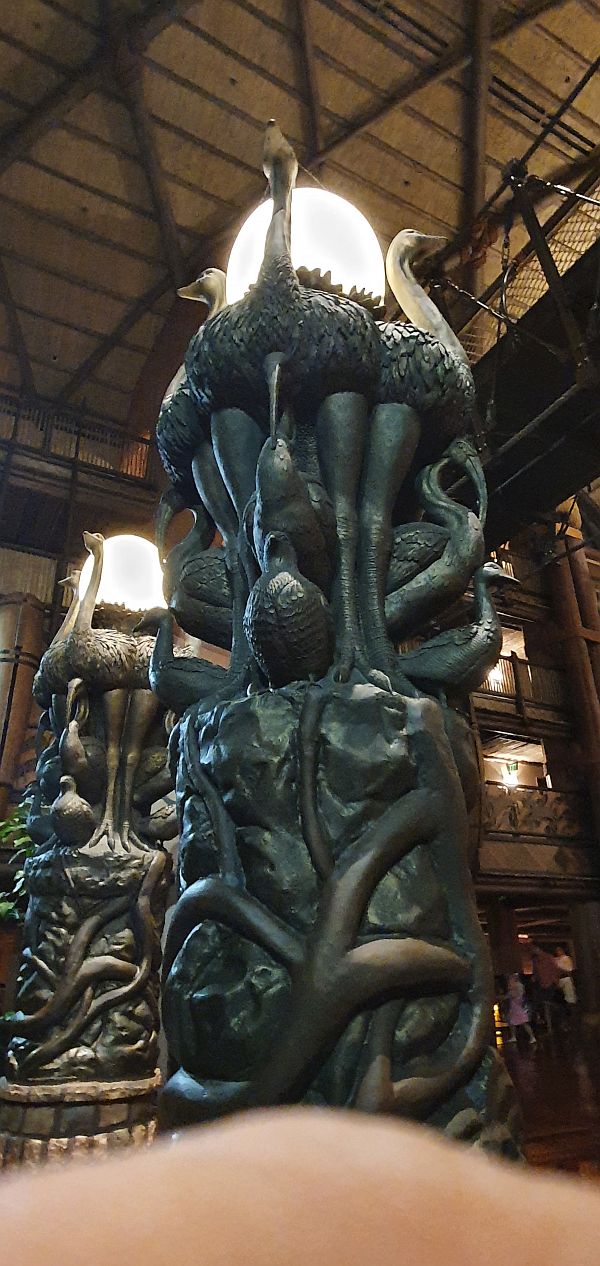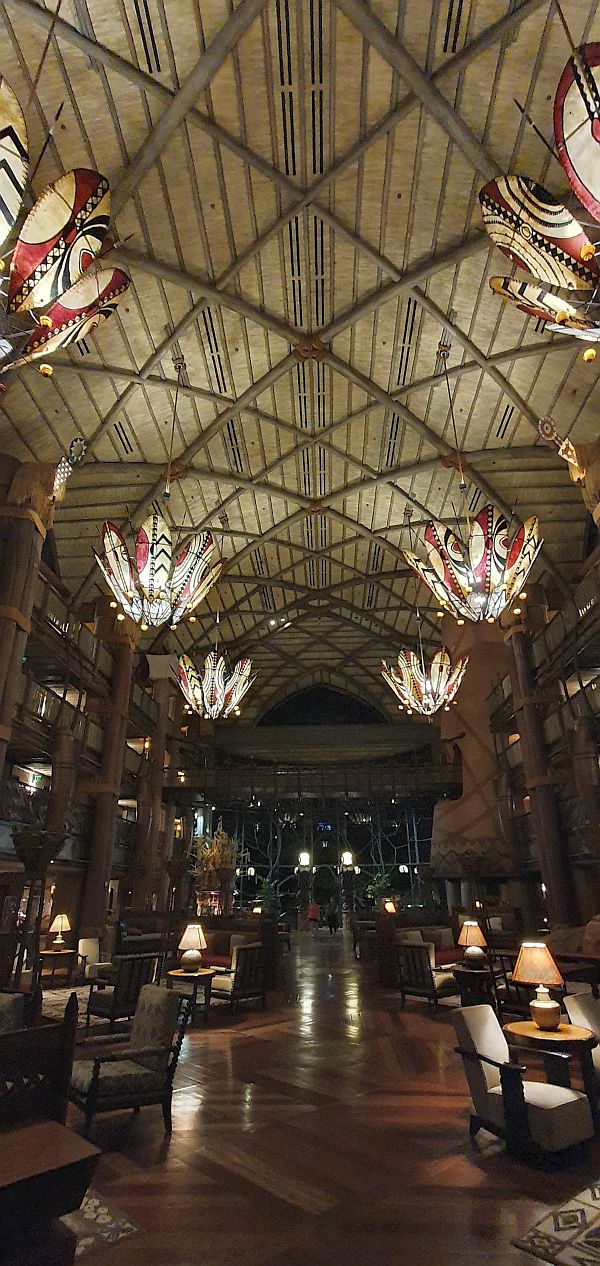 Back to Kidani to finish the evening at the bar in Sanaa where I have a Smoked Turkey. Again we split the food with a bread service and two orders of samosas. All are enjoyed enormously before we return to the room at 11.00 pm.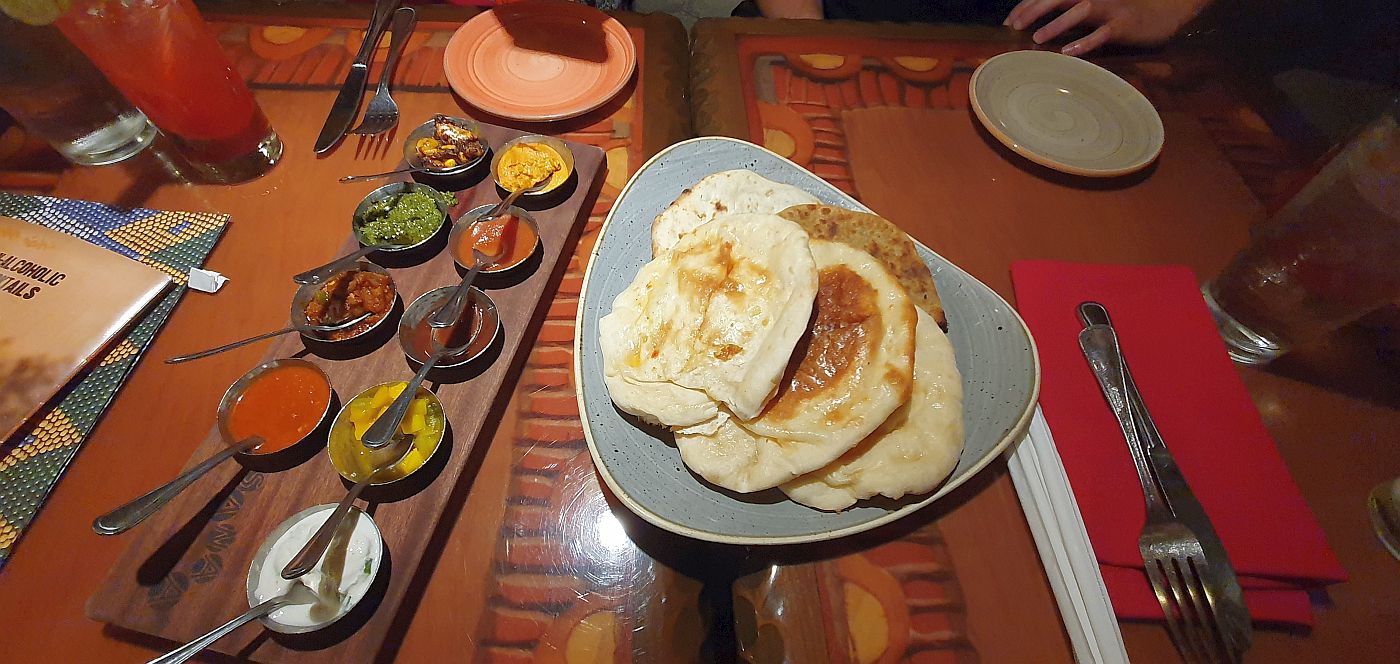 The bread service with dips is always good and good value for Disney food.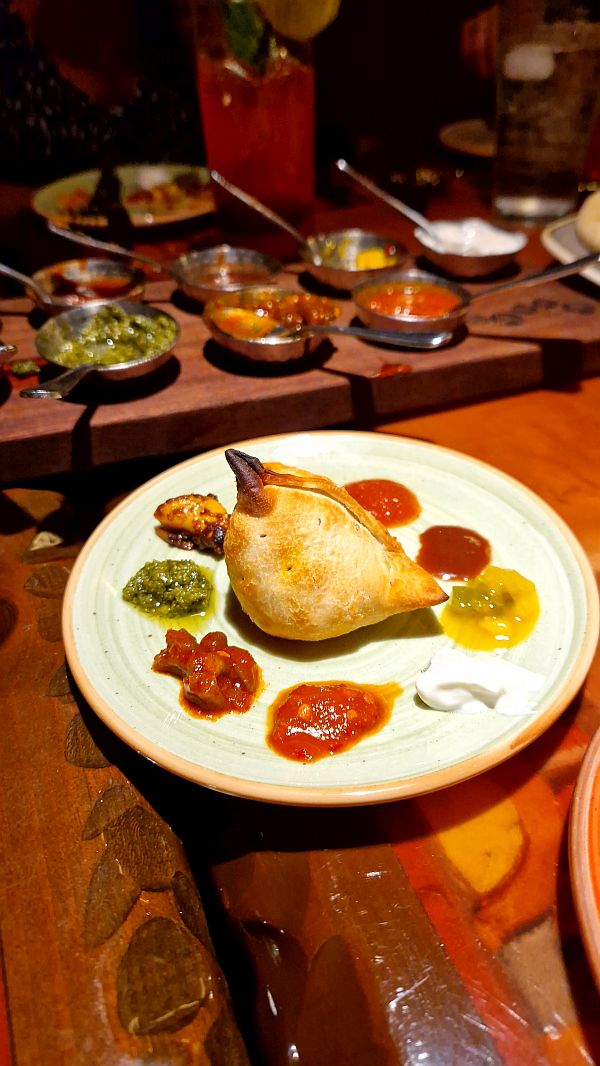 Thank you Animal Kingdom Lodge we've had a lovely time. It's off to the Boardwalk tomorrow, after all 'Nothing Can Stop Us Now'.