Day 14 - Thursday 26th May 2022
Written by Kev
We're up at 8.45 am and have a breakfast of cereal in the room before calling an Uber to get to Typhoon Lagoon. We've learned in the past that the buses are a bit of a pain as you have to go to Disney Springs before changing to another bus for Typhoon Lagoon and this can take a long time.
Our Uber XL arrives within 5 minutes and we enter Typhoon Lagoon at 10.10 am. We walk round to the right of the main pool to find a shaded spot. I'm sure they've set up more paid areas here, but we get some sunbeds under a roofed area near the now defunct Shark Reef.
We all do a few slides then relax before lunch. Tam and I split Fish Tacos and Shrimp and Mango in a lettuce shell. A cocktail is now required and I have a Rum Runner. The rest of our time in Typhoon Lagoon is spent doing nothing in the sunshine.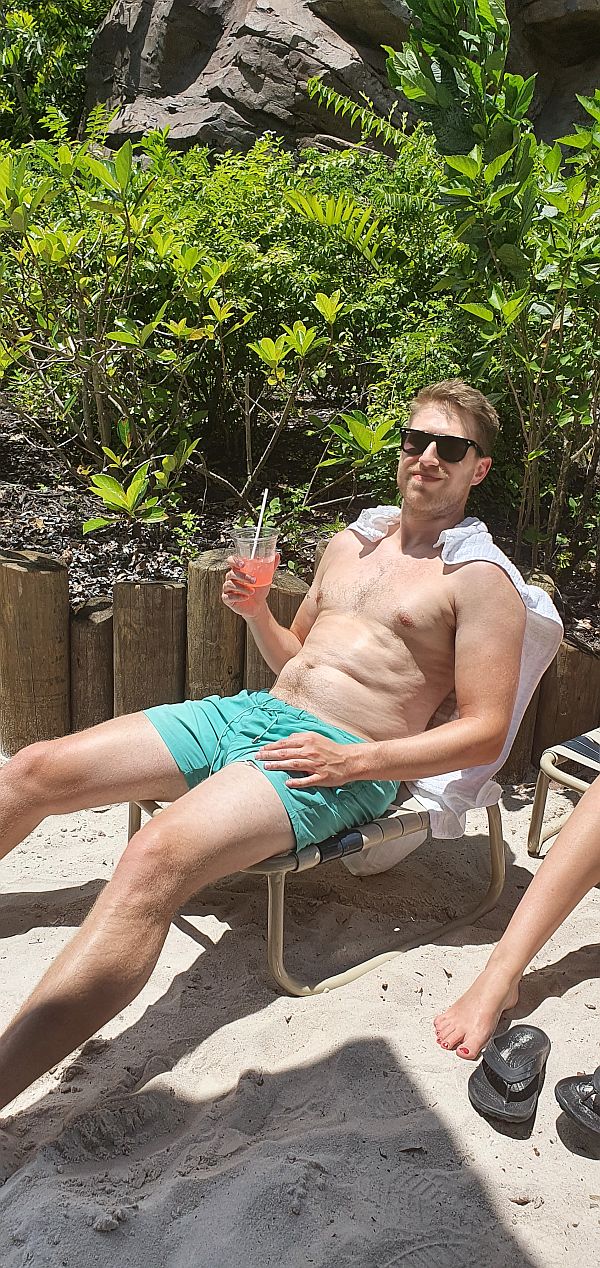 An Uber gets us back to Kidanin Village and we spend 90 minutes by the pool, which is very nice as the water is a good temperature, not too warm. There is lots of loud music and childrens games, which does detract from it being a relaxing time. They really should have a quiet area around all the pools.
Back to the room for a shower and rum and coke on the balcony watching the animals. We only have the rum and coke on the balcony - showering out there is frowned upon, still it might give the animals something to stare at as opposed to us staring at them.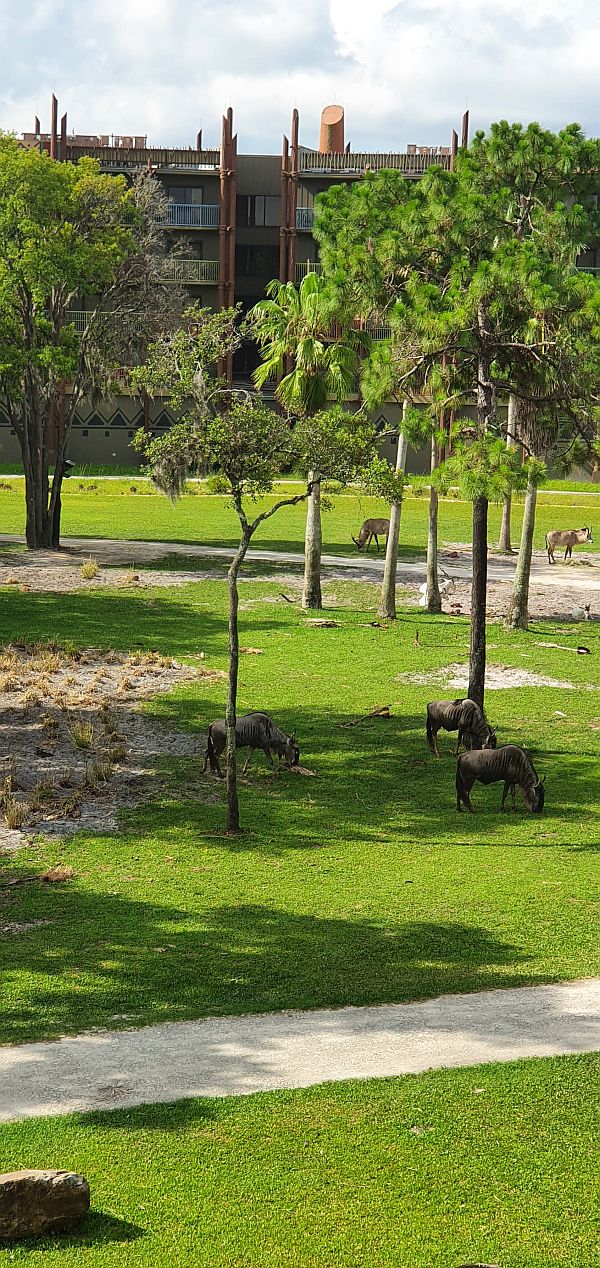 "Look Clarence, there's a man up there showering"
"Hmmm, not much to see"
Around 6.00 pm we leave the room. We have an ADR at Flying Fish tonight and we plan to get a bus to Hollywood Studios and then the Skyliner to Epcot. The bus part of the plan works well enough as we wait less than 5 minutes, but there is a long queue for the Skyliner. We spot a boat about to leave and walk over to just miss out as it's full. The captain says there will be another in 7 minutes. Despite my scepticism it arrives bang on time and as we are the first ones in the queue we get to sit outside and enjoy a lovely ride down to The Swan where we disembark and walk to the Abracadabar.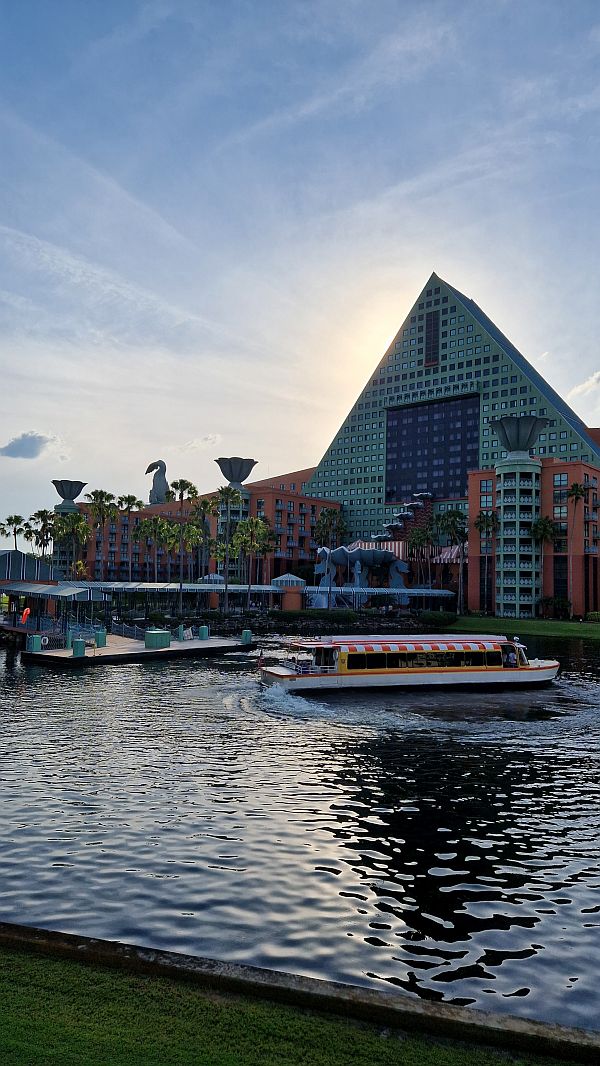 I have their version of an Old Fashioned. This is a nice bar, but we move on after one drink as we want to go to the Belle Vue Lounge. As we walk across I wonder if the bar tender is still the same guy that seems to have been there forever. It is (his name is Tim) and Charlie and I are amazed at the seemingly effortless way he serves drinks while chatting to the customers. I get flustered making margaritas for me and Tam at home. India is excited as the Smoked Turkey is still on the menu and she and I enjoyed them on our last trip. They are still as good as we remembered with a smoky/sweet bourbon flavour. What a great bar this is - the music, the service and the decor are all spot on.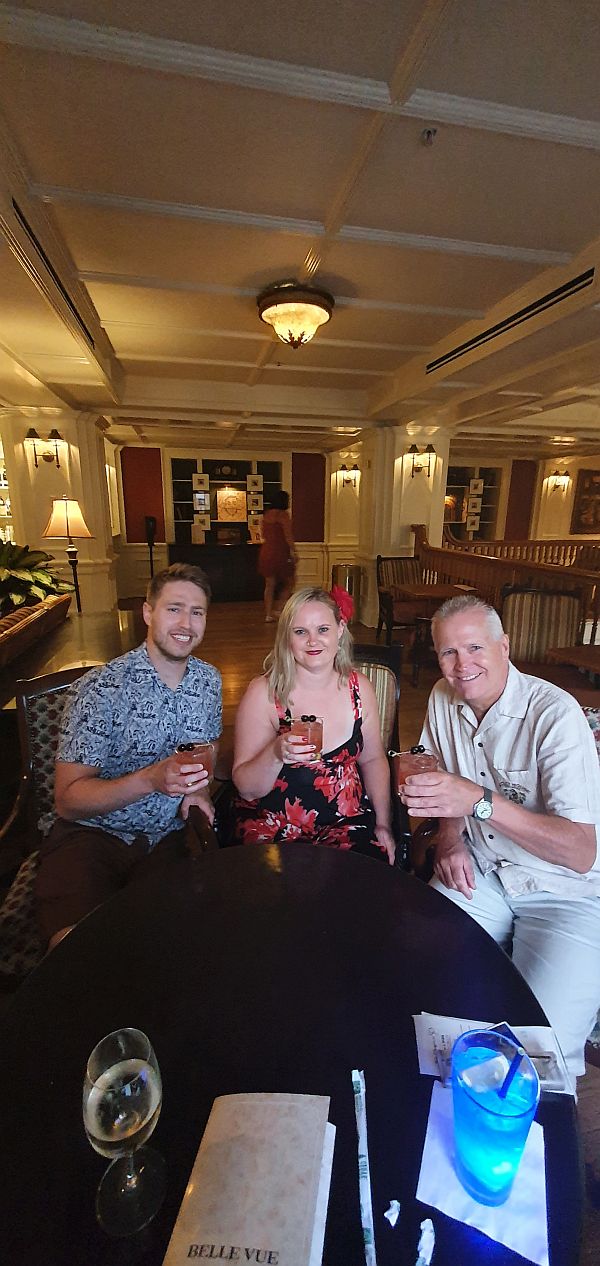 Smoked Turkey's all round.
Off to the Flying Fish for our 8.35 pm ADR. This proves to be somewhat optimistic. The lady tells us there will a few minutes wait. Half an hour later we are finally seated. Mind you the time hasn't been entirely wasted. We are standing in the area next to the Abracadabar and India insists that the poster of Lasdow The Lucky has changed since we were in there drinking. We watch for 15 minutes and nothing happens, so we do the expected in these situations and ridicule India. Charlie reckons the Manhatten and Smoked Turkey have gone to India's head. Low and behold smack on 9.00 pm the poster changes and Lasdow disappears. Cue India in smug mode. Apparantly the whole bar is themed around Lasdow and all the posters change, although we only see the one.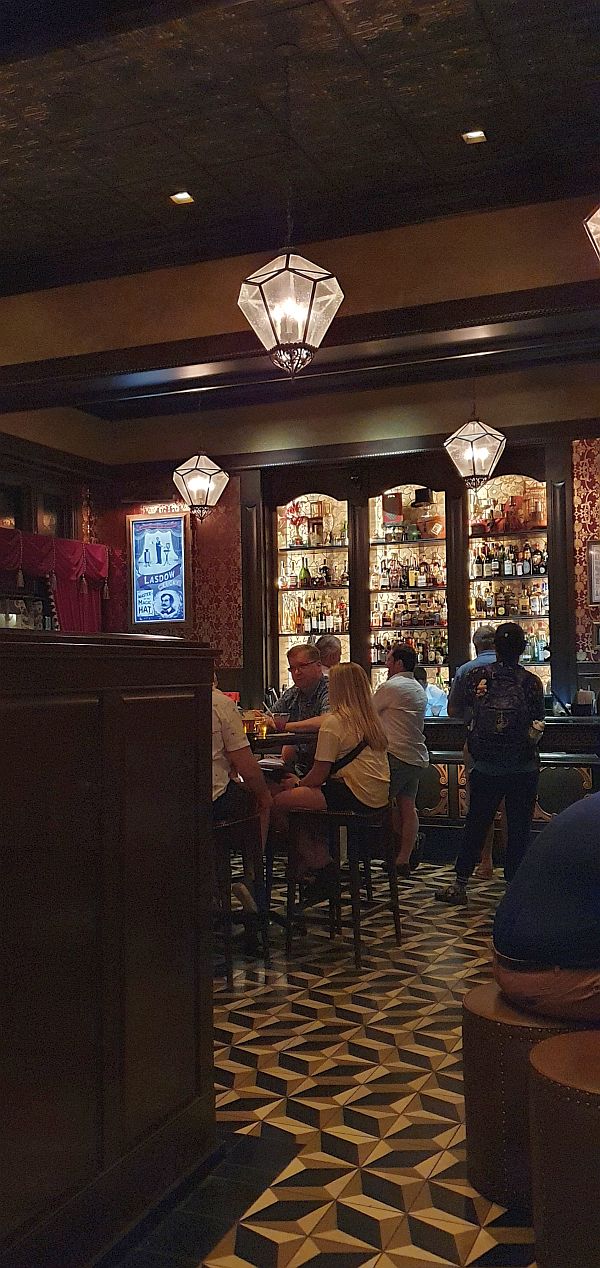 The poster before it changes.
The meal is very nice made all the better by the kind offer from the girls and Charlie to pay for it. I have the New York Strip Steak. This might seem a strange choice in a fish restaurant, but we had loads of seafood in Captiva. Charlie feels the same as he has the Filet Mignon. It's nice to have a proper meal in a proper restaurant, you can only have so many chicken strips before you hanker for good food in a good setting. Tam and I started by splitting the Shrimp Cocktail and we end by splitting a chocolatey dessert and a goats cheese cheesecake. Both are good but the chocolate dessert is outstanding.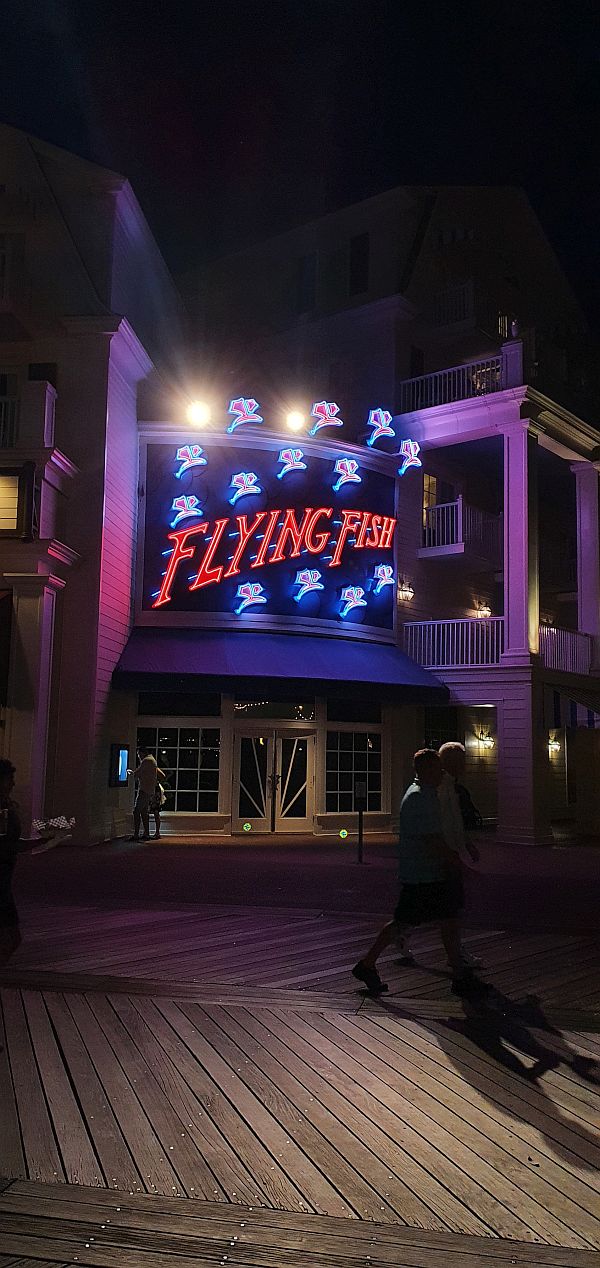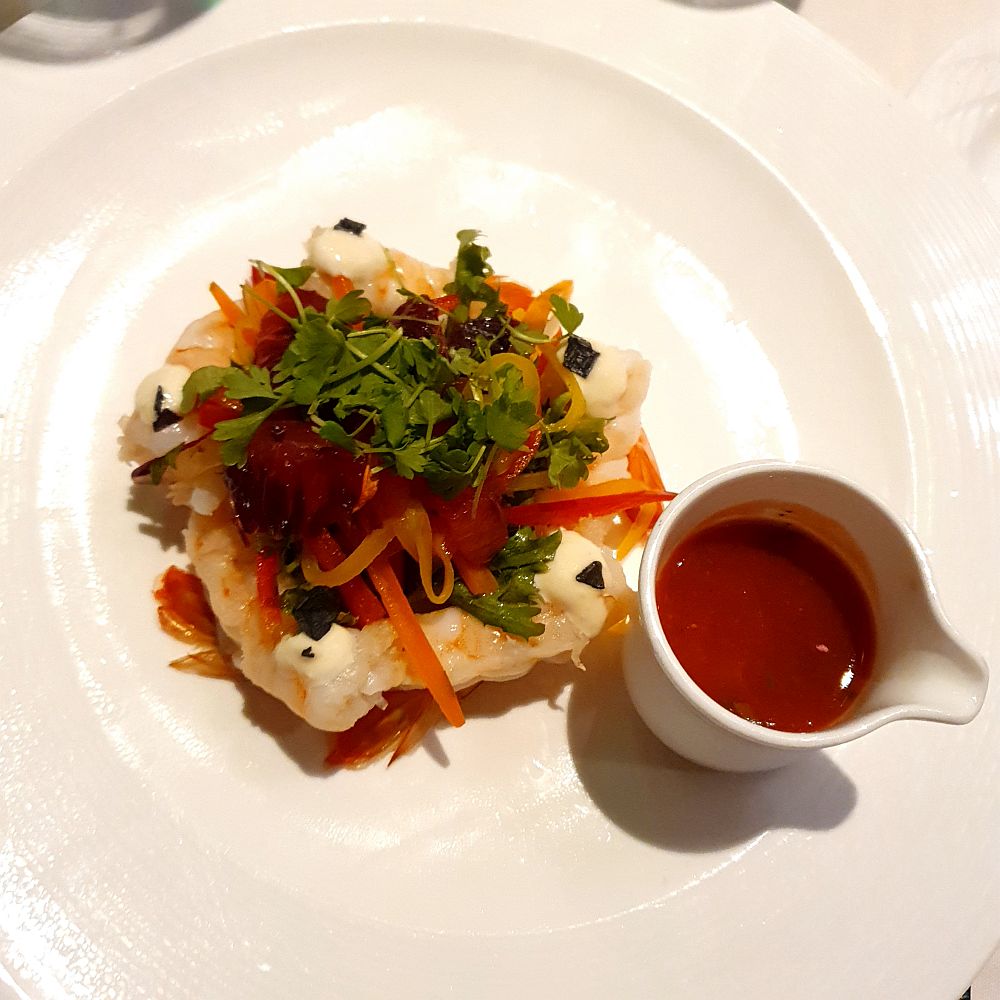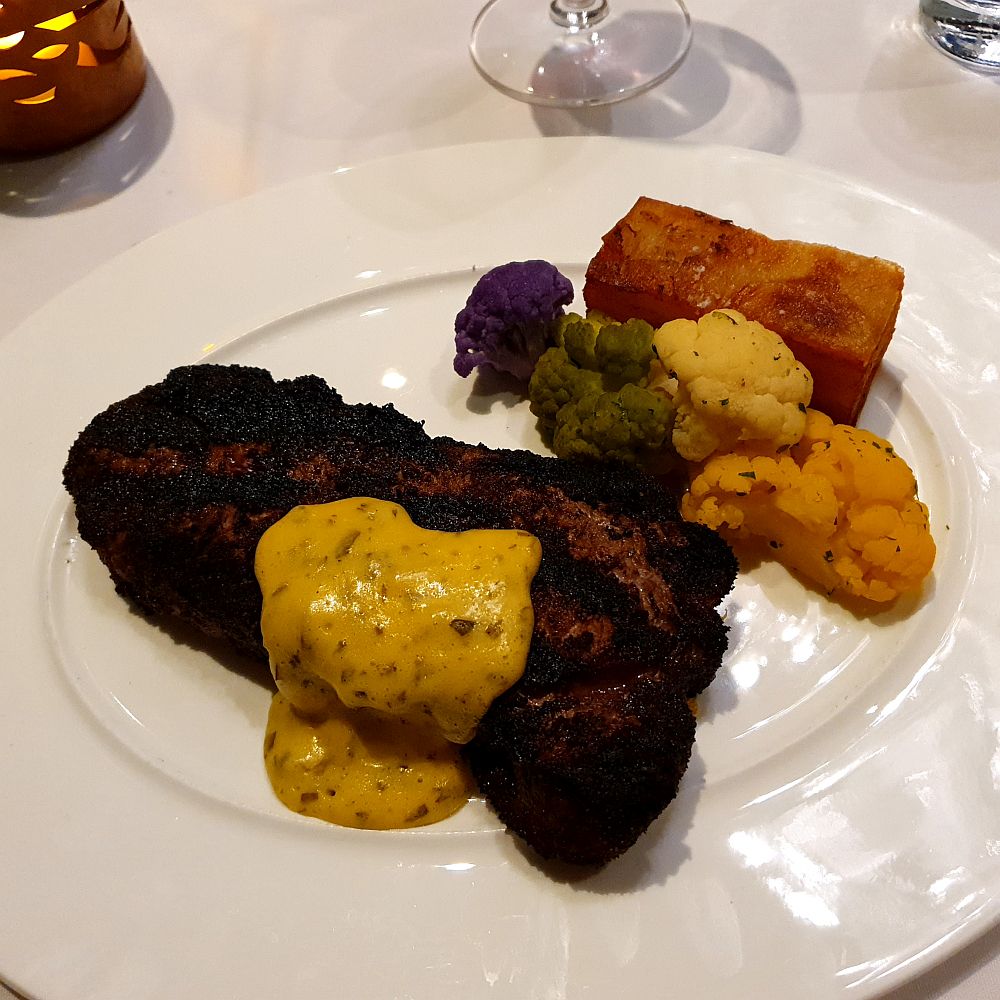 Who knew you could get multi-coloured cauliflower?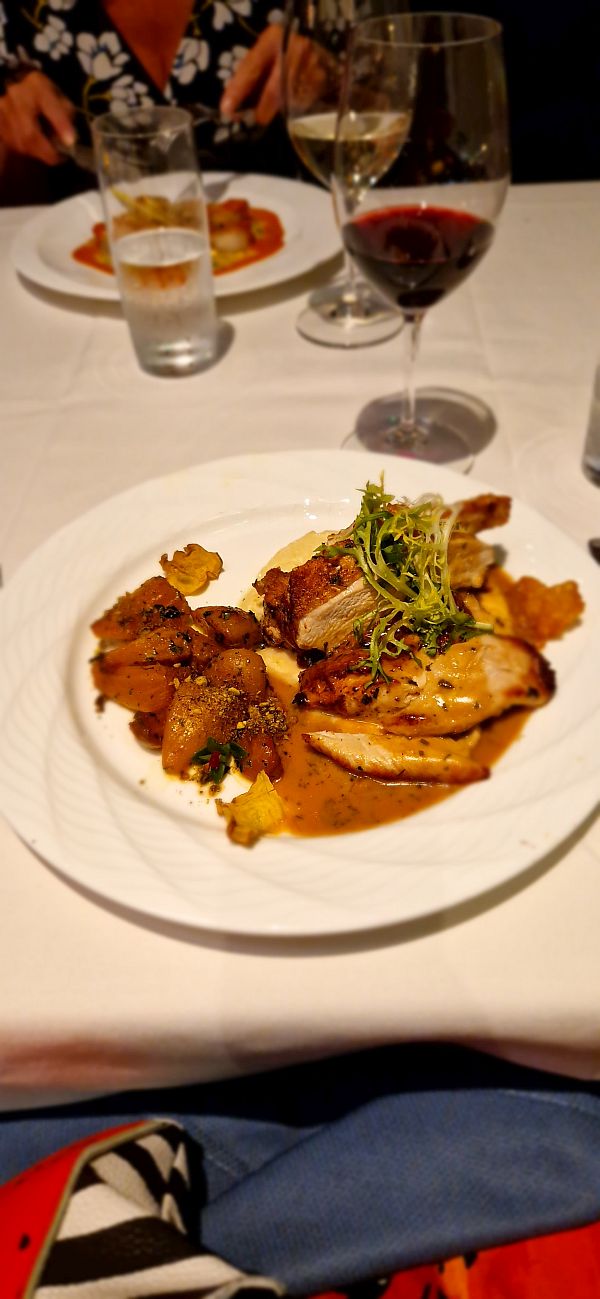 Somebody had this. Lord knows what it was.
After the meal we walk along the Boardwalk. It's very pretty looking across the lake to the Yacht and Beach Club, I'm glad we will be moving to our home resort for the last part of our holiday soon.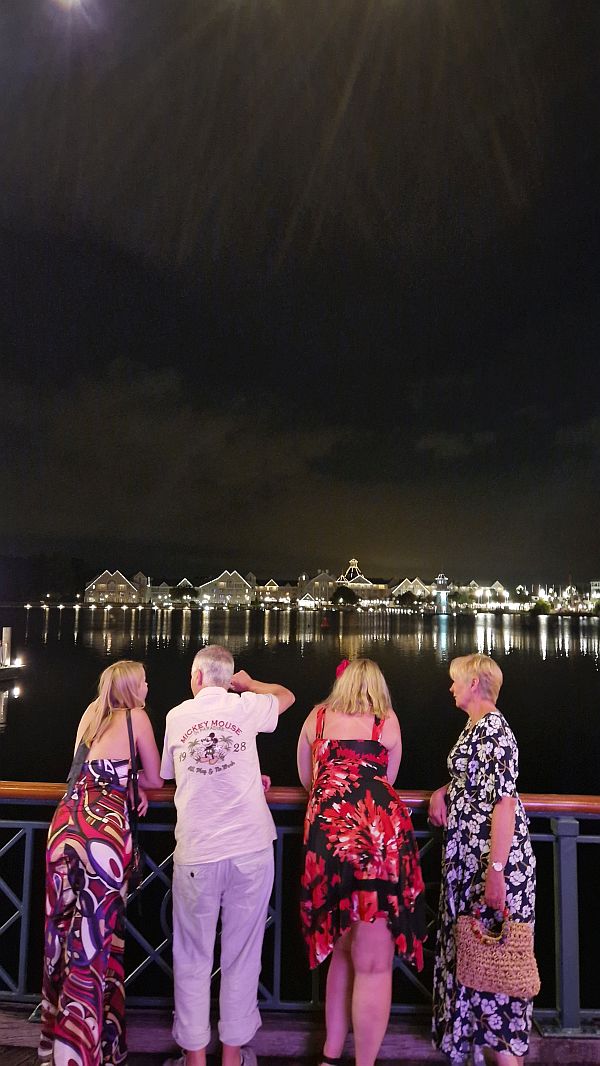 A quick look in the Atlantic Dance Club confirms that this hasn't changed much with a sparse crowd dancing to awful pop music.
Back in the Boardwalk lobby where we get an Uber back to Kidani Village where we walk to the firepit to look over the savannah in the dark.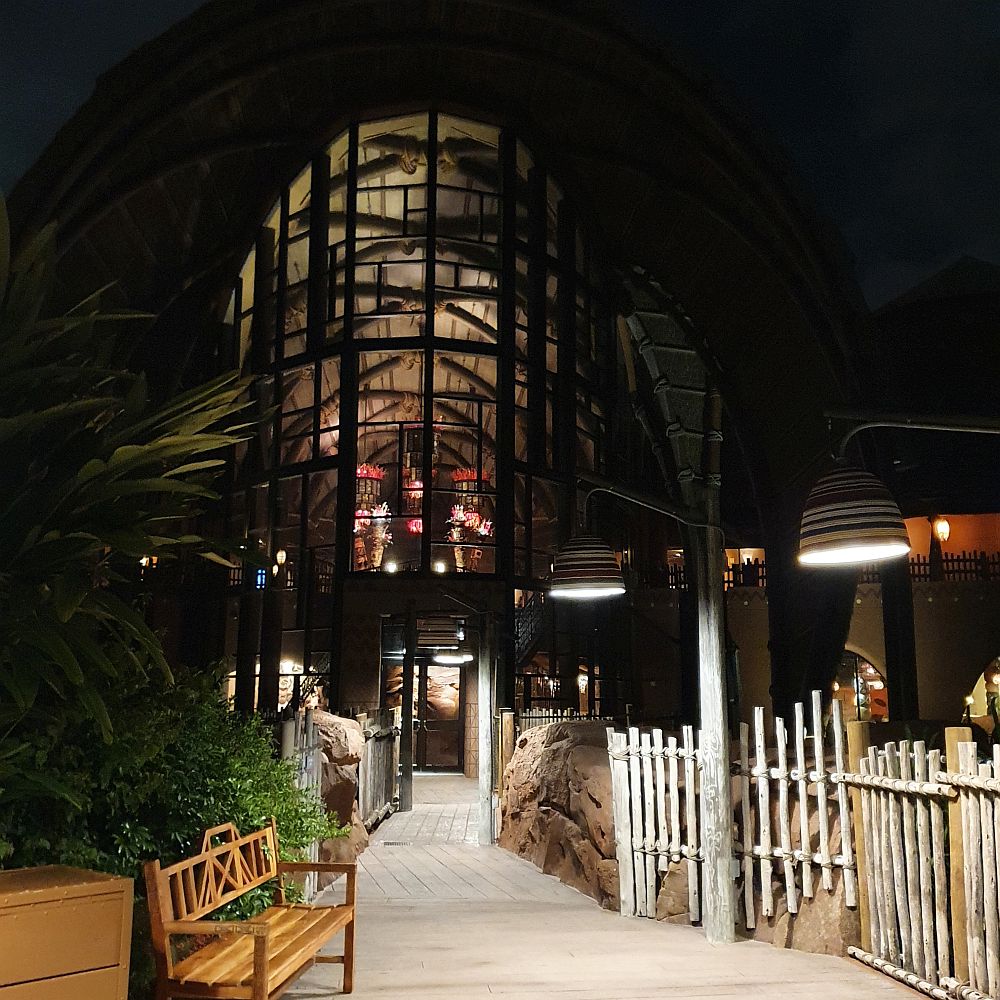 Bed at midnight.