Day 13 - Wednesday 25th May 2022
Written by Kev
We're up at 8.30 am this morning and sit on the balcony with a coffee. At 10.00 am we head out to Epcot waiting about 15 minutes for a bus. We have no specific plans today and only intend to stay for a few hours as we're going to the Magic Kingdom tonight as there will be extra magic hours until 1.00 am, so another late night is on the cards.
There's a 20 minute wait for Listen To The Land so we jump on that before taking a walk through the butterfly garden - the Flower and Garden Festival is on. It's worth visiting for the flowers alone, but the plethora of butterflies makes it amazing. Georgia is wearing a skirt with flowers on and the butterflies seemed confused between this and the real thing and she has many of them fluttering around her.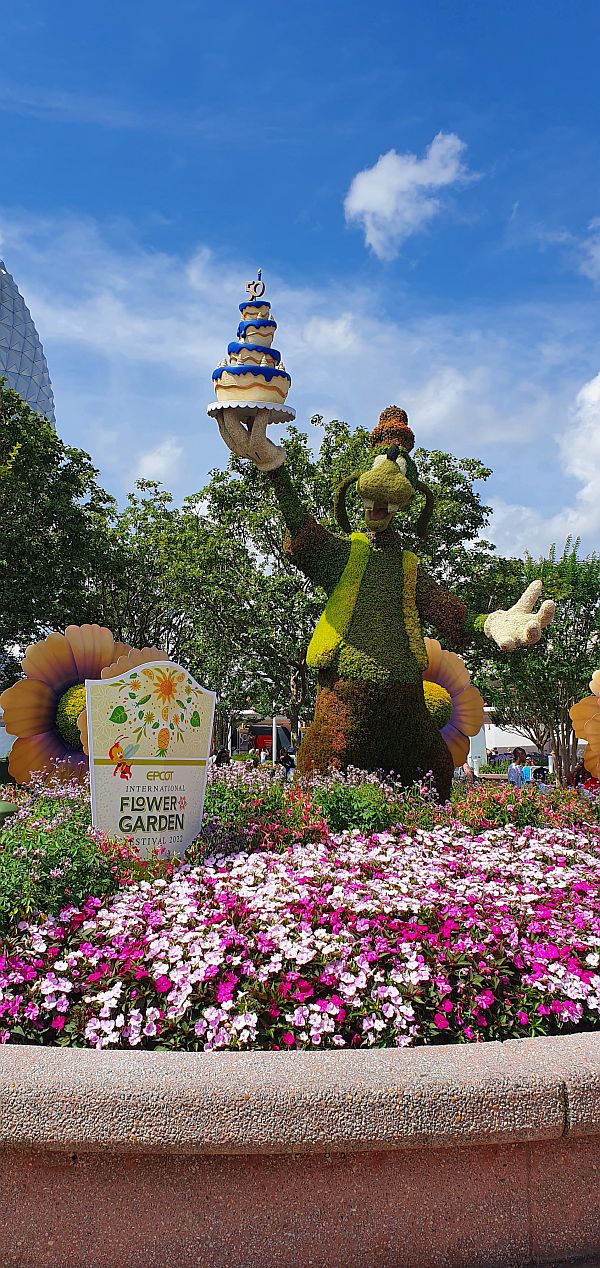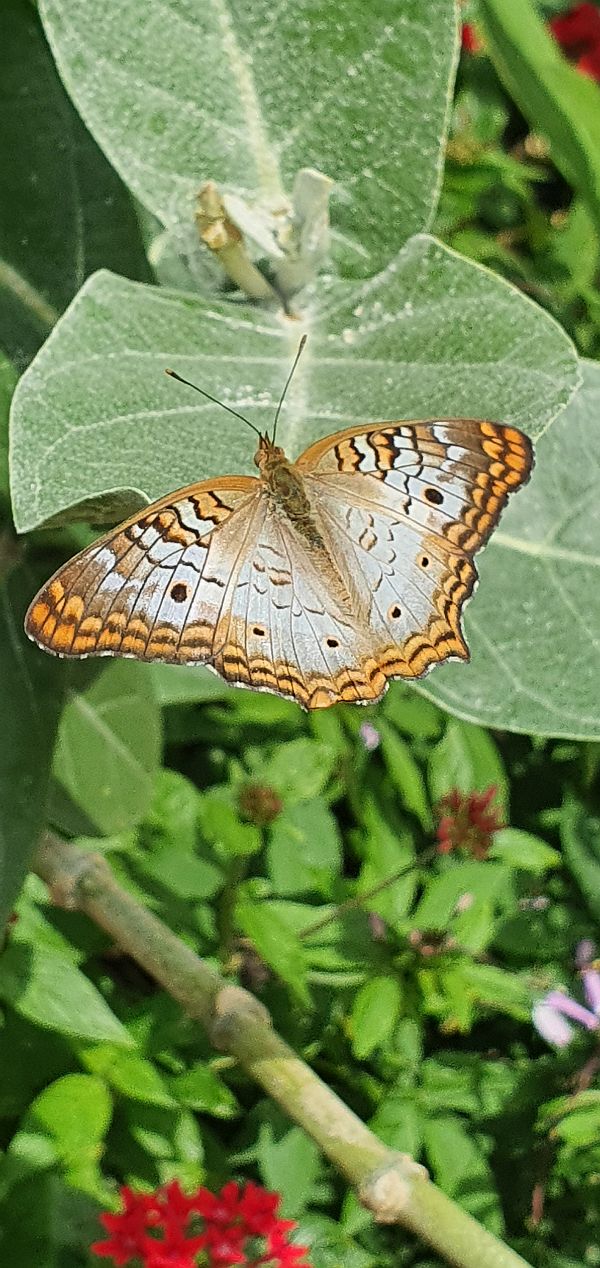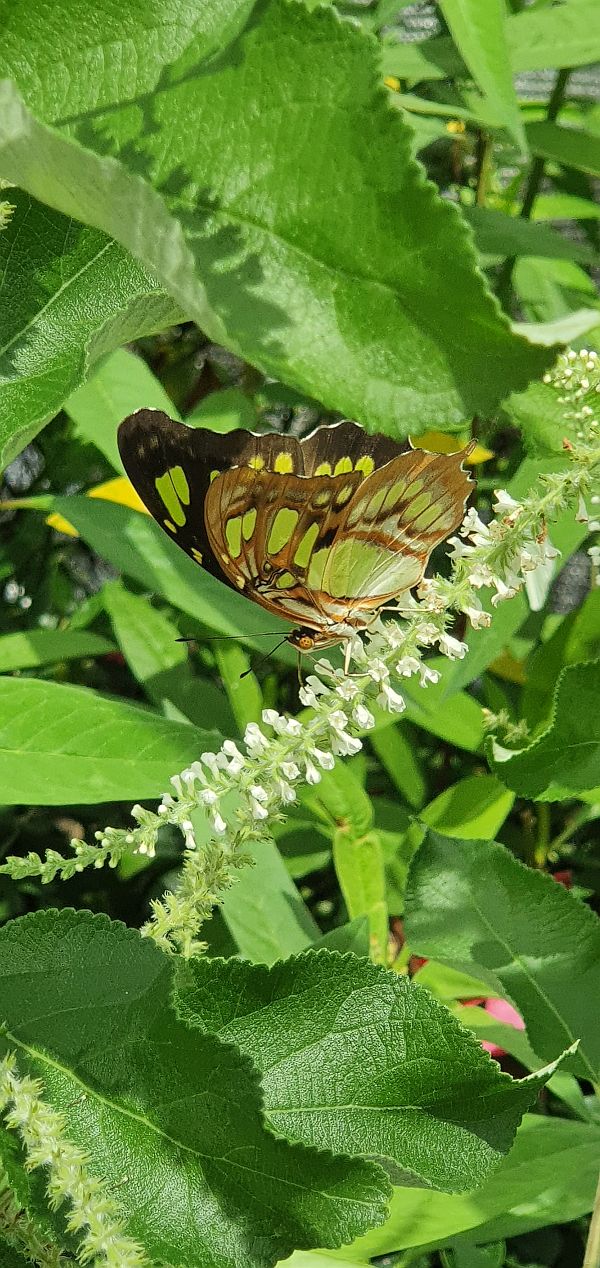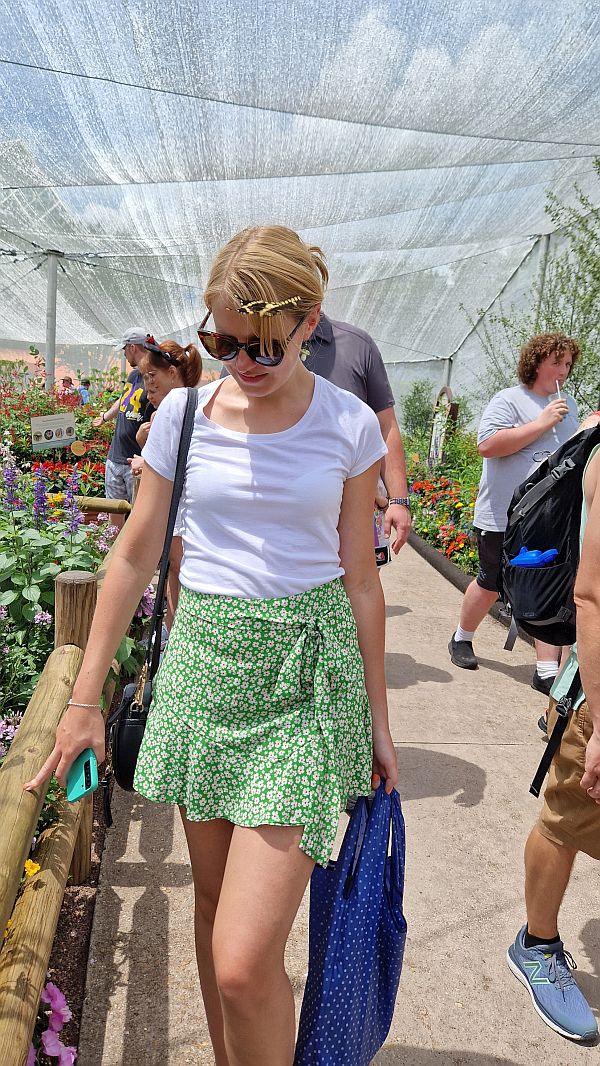 You can just make out a butterfly in front of her head.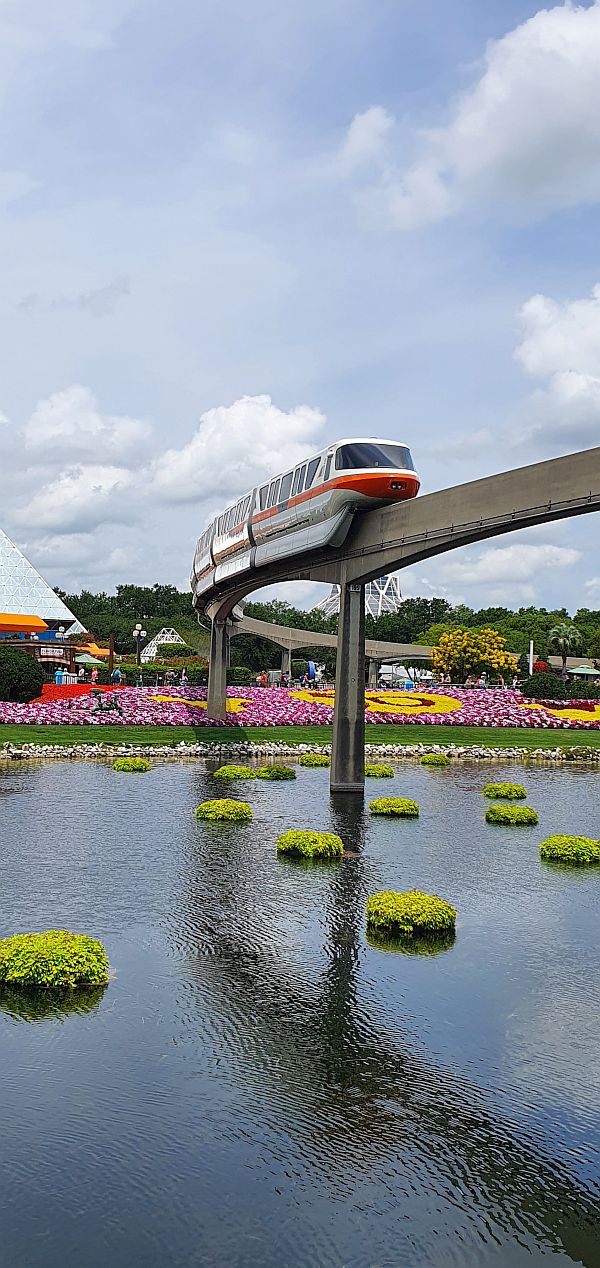 I bet loads of people do exactly what we did - wait for what seems like ages for a monorail to come along to get an enhanced photo.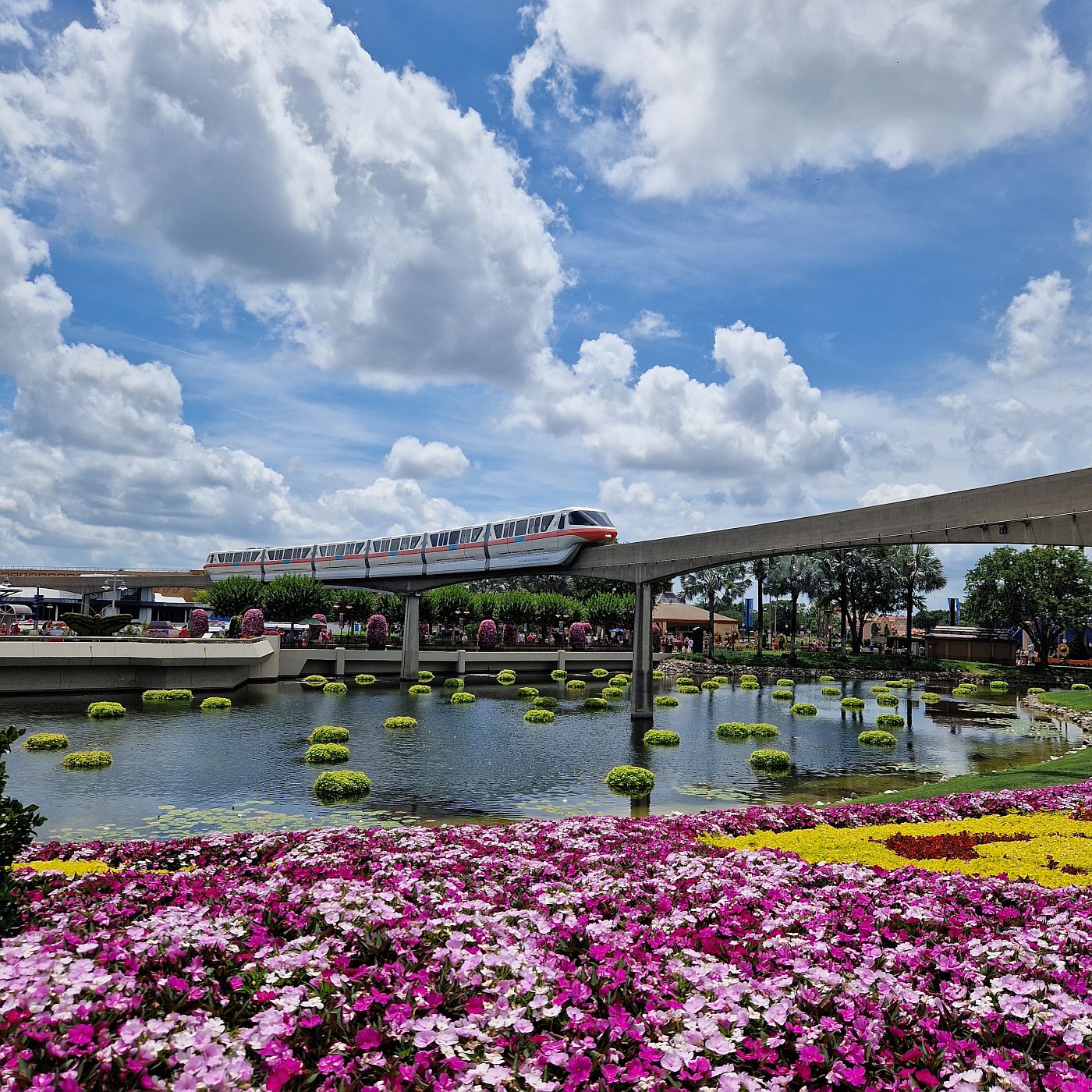 We pass one of the Flower and Garden Festival food booths and an Orange Citrus Wine Slush sounds too good to resist. It's very sweet, but lovely and cold. On to Canada where we see Oh Canada. This film does what I guess it is intended to do, in that we always come out saying how we must go to Canada one day.
We walk on to France to look around the new part with the Ratatouille ride. It's very nicely done, but we're not doing the ride yet as the queues are horrendous. I'm not waiting 2 hours for any ride.
Lunch is in Spice Road Table in Morocco. We have a bit if a wait (25 minutes), but it's worth it as the food is very good. I have the Spring Chicken, Tam has a sampler with chicken, lamb and a pastry thing with cream cheese. Georgia tries deep fried cauliflower in a pomegranete and red pepper sauce and says it's lovely. The last time we ate here we weren't all that keen on it, but this time is much better and being inside in the air conditioning is a plus, although I'm certain that it's not nearly as cold as on previous visits. Cost cutting I guess.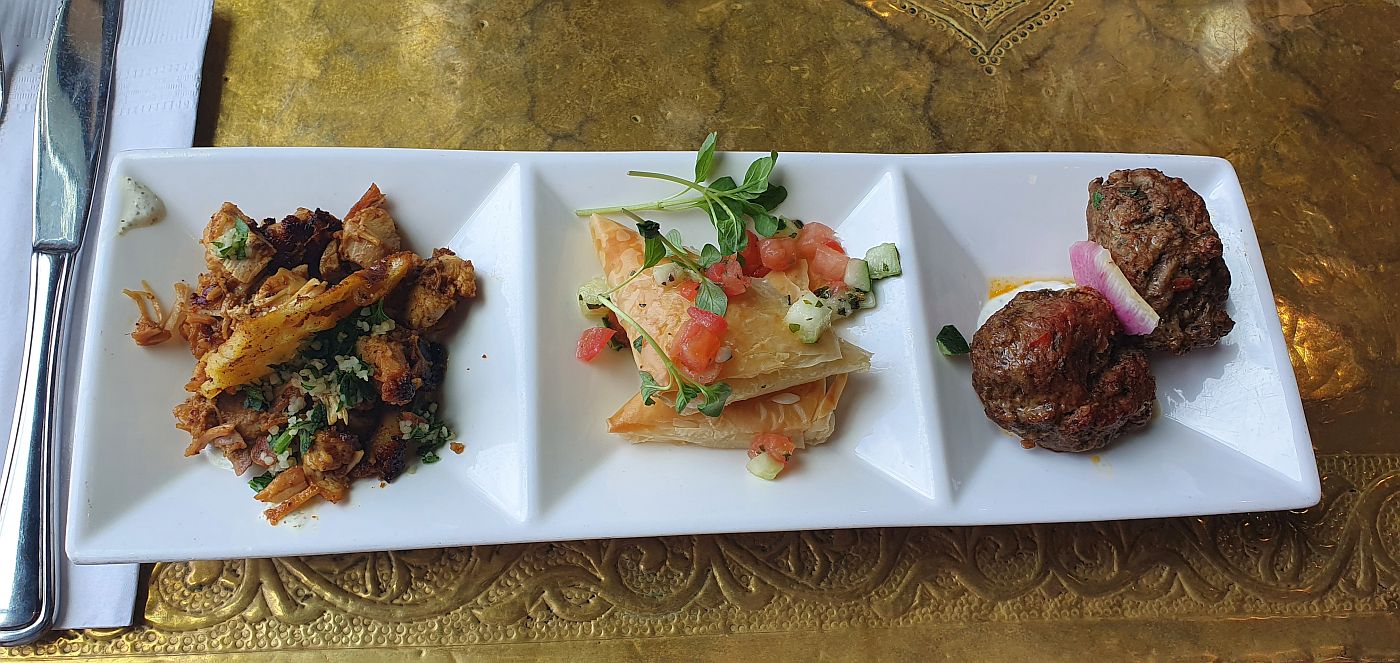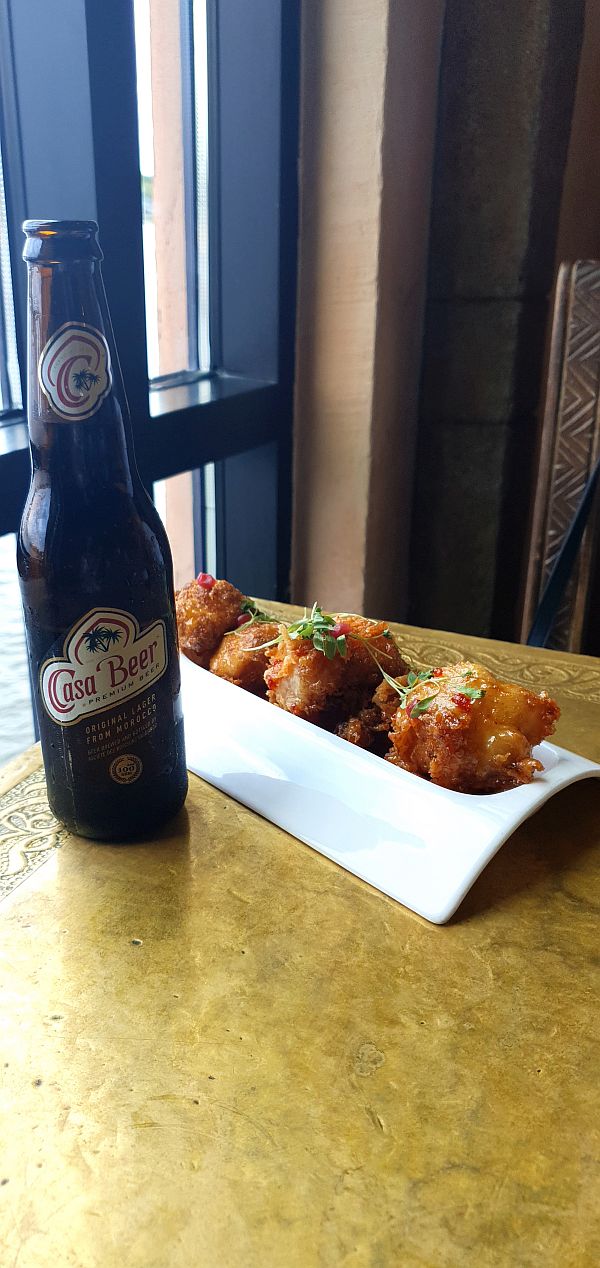 This is the cauliflower.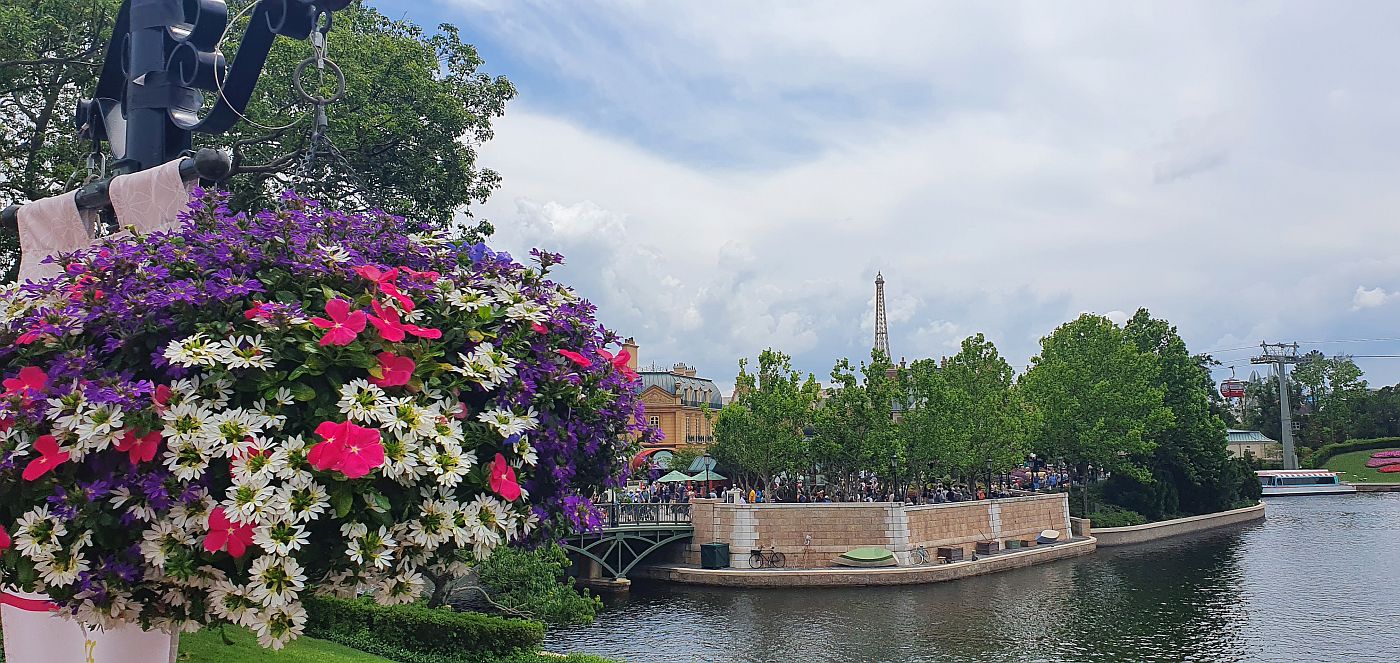 We leave via the International Gateway as we want to try the new Skyliner. We use this to get to Caribbean Beach and then change to Hollywood Studios. We really like this new addition to the transport system. I can see Disney extending this to other resorts.
The bus back to Kidani Village takes only a few minutes to arrive and we're back by 3.45 pm. There's a little while to relax watching the animals from the balcony with a beer. The keepers come out and place food in various places around this time every day and it's not long before the giraffes follow. There are 4 quite close to us.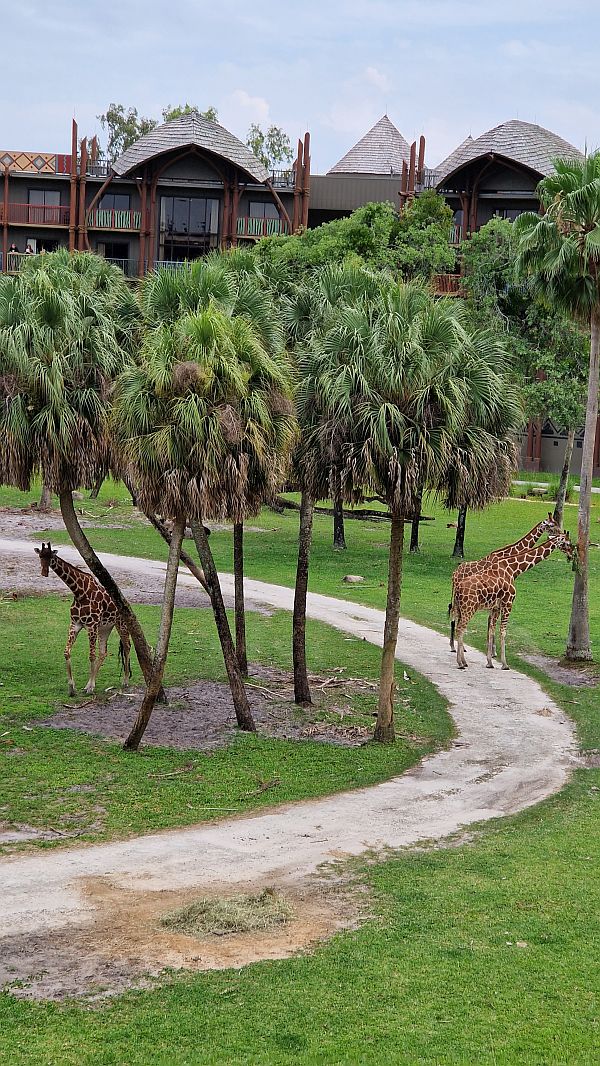 We're showered and out the door at 5.30 pm and catch the bus to the Magic Kingdom. We've been very lucky with the buses so far. The longest wait has been 15 minutes, but mostly we've either walked onto one or its pulled up almost straight away.
At the Magic Kingdom we catch a boat across to the Wilderness Lodge where we plan to eat at Geyser Point. India has tried to book on the app and it says a 10 minute wait for a party of 4, but a 75 minute wait for a party of 5. We walk to the desk anyway and the lady says 'Oh the app is always wrong'. Not much point in having it the really is there? She tells us it will be a few minutes and so we set off to look around the lodge, but we've only just reached the lobby when the app tells us they are ready for us. At least this aspect of it works.
We don't have a very good table as it's right at the back away from the lake, but the food is good as we all have the steak sandwich special. We also all get the margarita special as well. but this turns out to be a bit strange as it has chilli bitters in. I don't think this does much for the flavour, still at least it's not as sweet as most are.
There are 2 very friendly ducks waddling around from table to table looking for food. India tells them they are not going to get any of hers, but they are welcome to hang around in case anything gets dropped from the table. The ducks quack knowingly.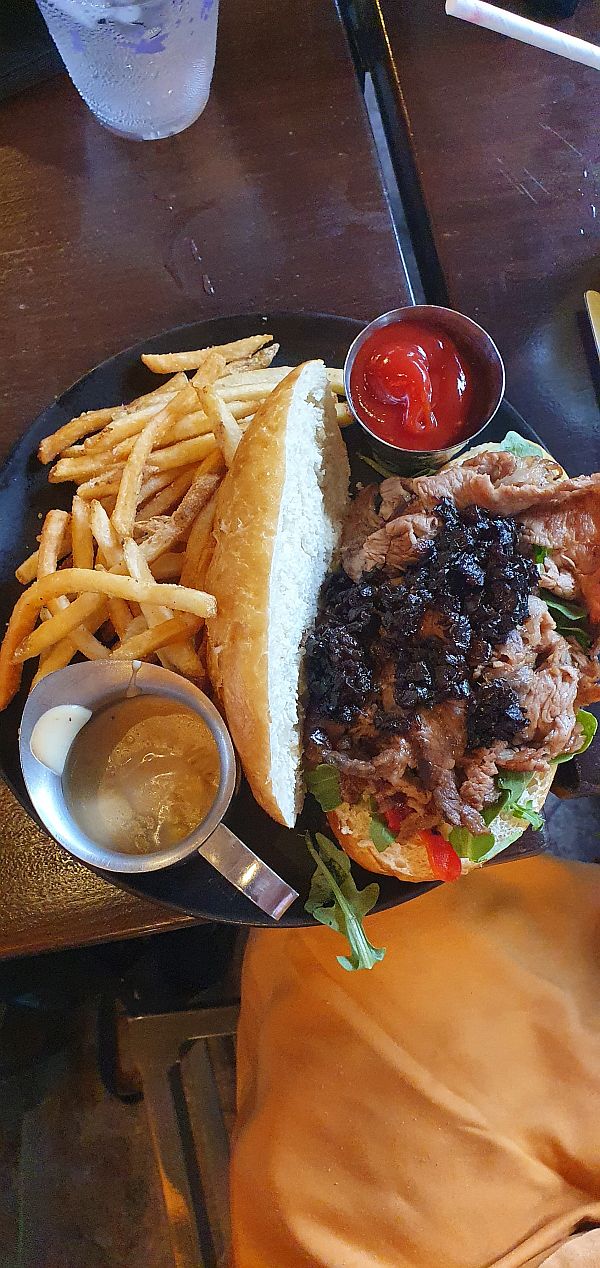 The steak sandwich - I don't think the ducks got any.
After eating we get the boat back to the Magic Kingdom. Again our transportation luck is in as there's quite a queue for a boat that's already loading and we are the last 5 on before they stop the line.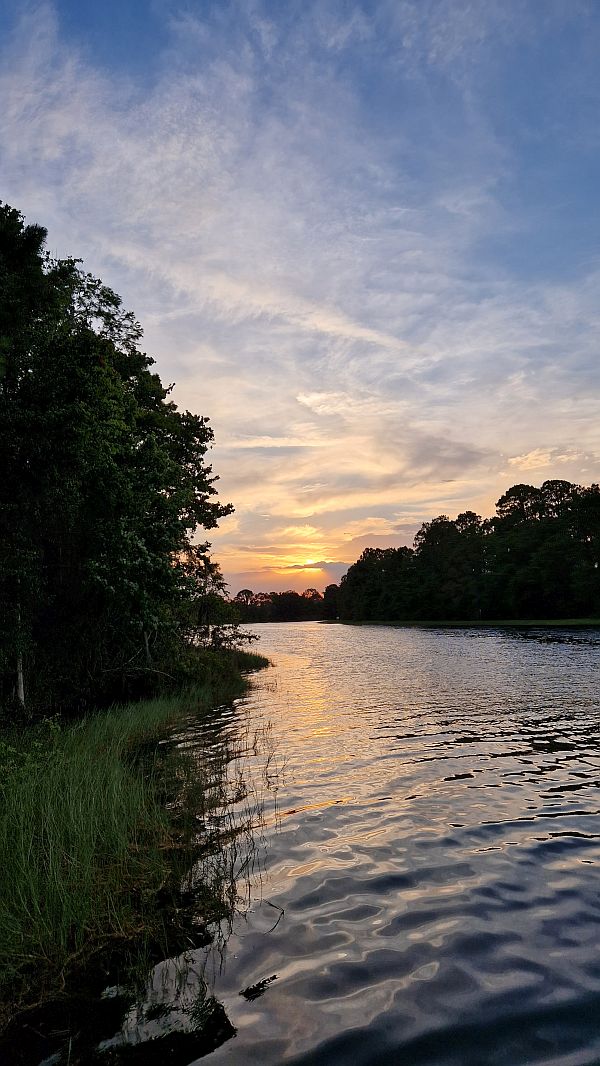 A lovely evening as we cruise back to the MK.
In the Magic Kingdom we have an hour to wait for Enchantment, so we ride Carousel of Progress mostly because we can walk straight on.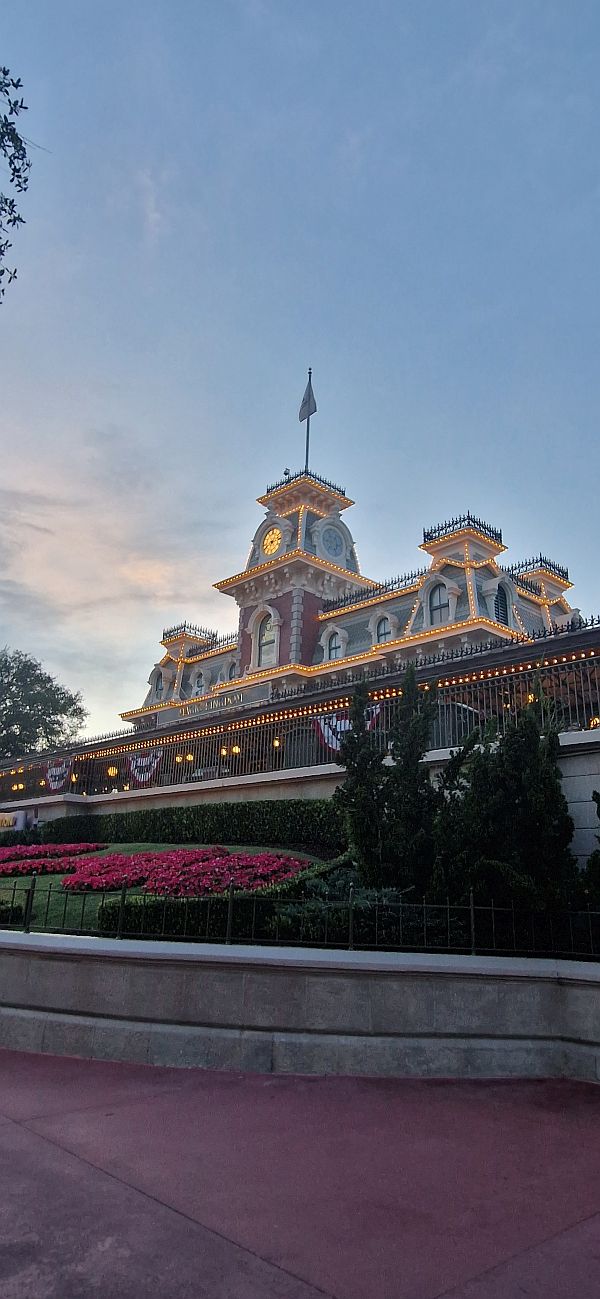 Back to Main Street where we take up a position about half way along as I've heard about the projections on the buildings down the street and we want to see them.
I like the show, but I don't really have the same emotional attachment to it as Wishes. The projections along the street are nice and I think they've toned down the porjections on the castle a bit in favour of more fireworks. Still, we all enjoy it and we'll try to see it a little closer later on in the holiday.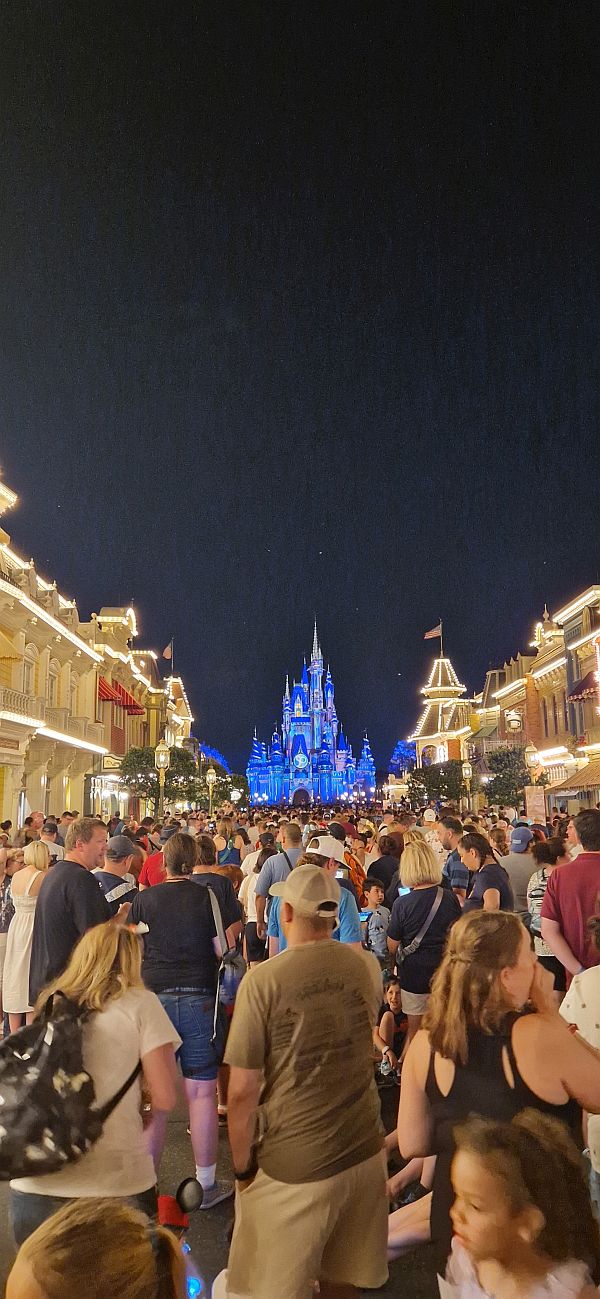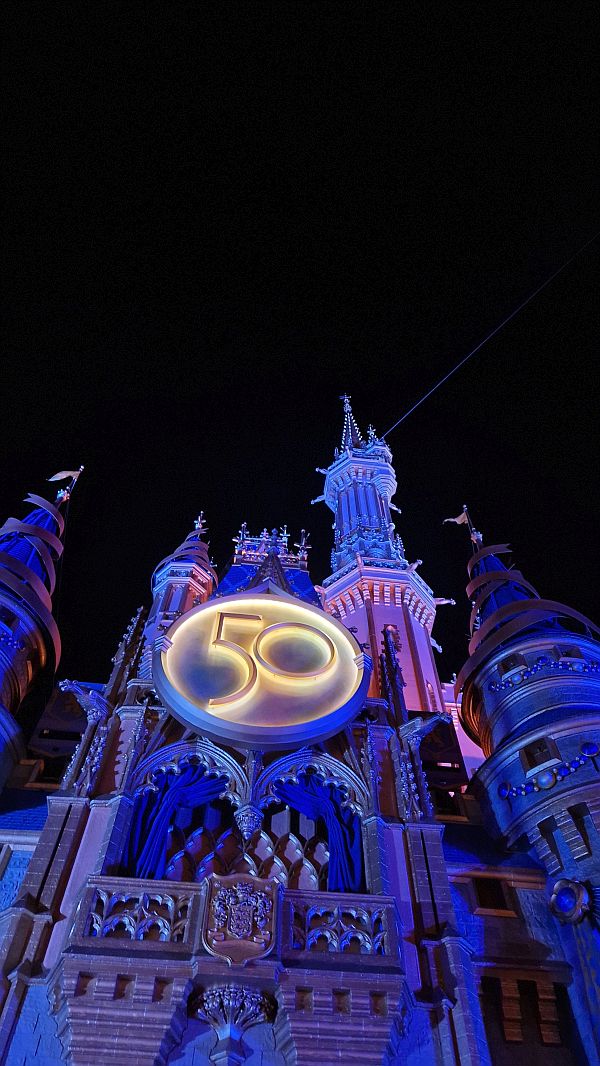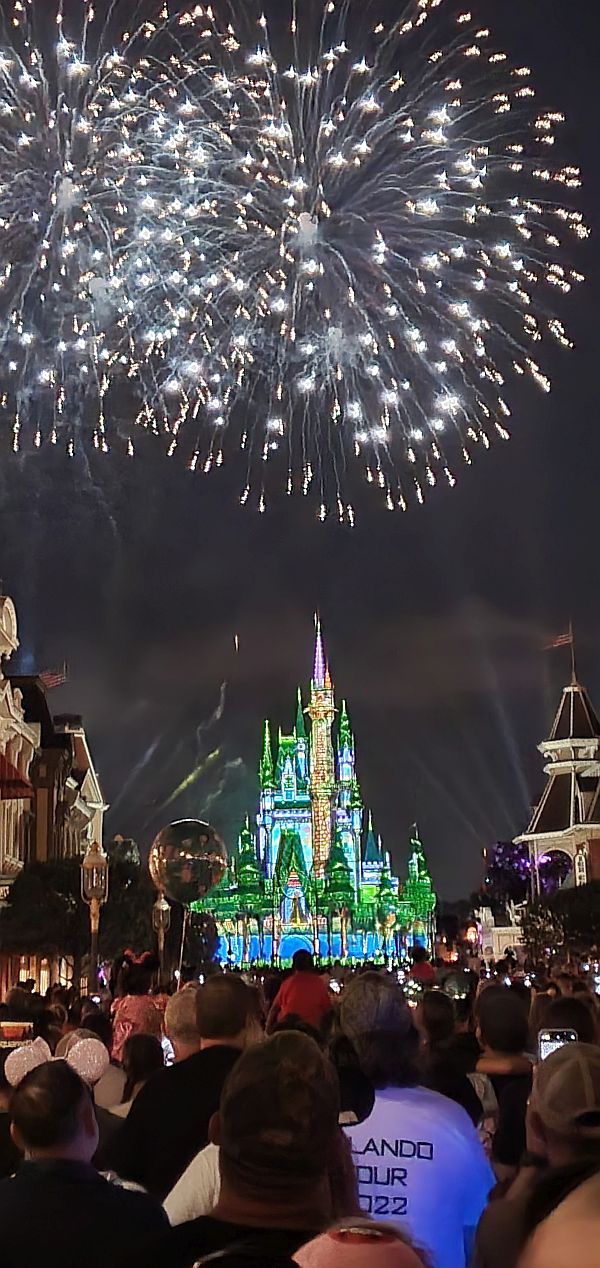 We head back to the hub against the flow of traffic, so it takes a little while. The park is closing at 11.00 pm and then there's 2 hours of extra magic hours for those staying in deluxe resorts.
It's still crowded and remains that way for most of the night. The big rides have 45 minute waits until late on in the evening. We still get a lot done including Buzz, Big Thunder, Little Mermaid, Winnie The Pooh and finish off with the 7 Dwarves Mine Train.
The girls and Charlie split from us after Big Thunder as they want to meet up with some friends and ride Space Mountain. They don't have much luck as they wait for their friends to join them and then join the 35 minute queue, but the ride goes down just before they get to the front. Splash Mountain has also been down for most of the night.
Tam and I leave the park and get a bus back. We arrive in the room at 2.00 am and the girls and Charlie get back not long after. It's been a couple of very late nights so something more relaxing is required tomorrow - a day at Typhoon Lagoon.