Day 12 - Tuesday 24th May 2022
Written by Kev
We're moving to Orlando today so an early start is called for. Yay, we're off to Disney! Up at 6.50 am and Inds and I log on to My Disney Experience and book paid for passes for Flight of Passage and Rise of the Resistance. It's a first using this system for having to book things on the day you actually need them and not one I'm too happy with, still, more of that later.
We're packed and ready to leave by 7.30 am so we go to Earl's for their excellent ham, egg and cheese rolls along with coffee and we're on the road soon after.
It's an easy trip and we pull into Kidani Village at 10.00 am. We go to check in and drop off our luggage as the room is obviously not ready yet. Charlie drives us to the Care Car Centre where we drop off our vehicle. There's really no need to have a car while we're on site and the costs of hiring one have gone up so much since Covid that it makes sense to rely on Disney transportation and Uber.
The process of returning the car is simple and a great guy who used to live in New York drops us off at the Animal Kingdom.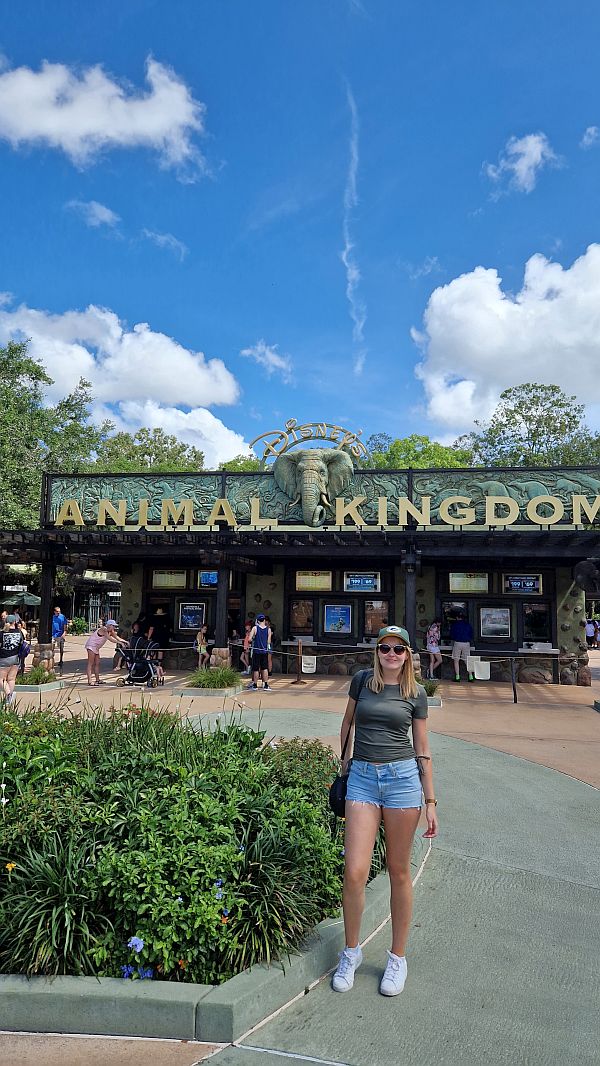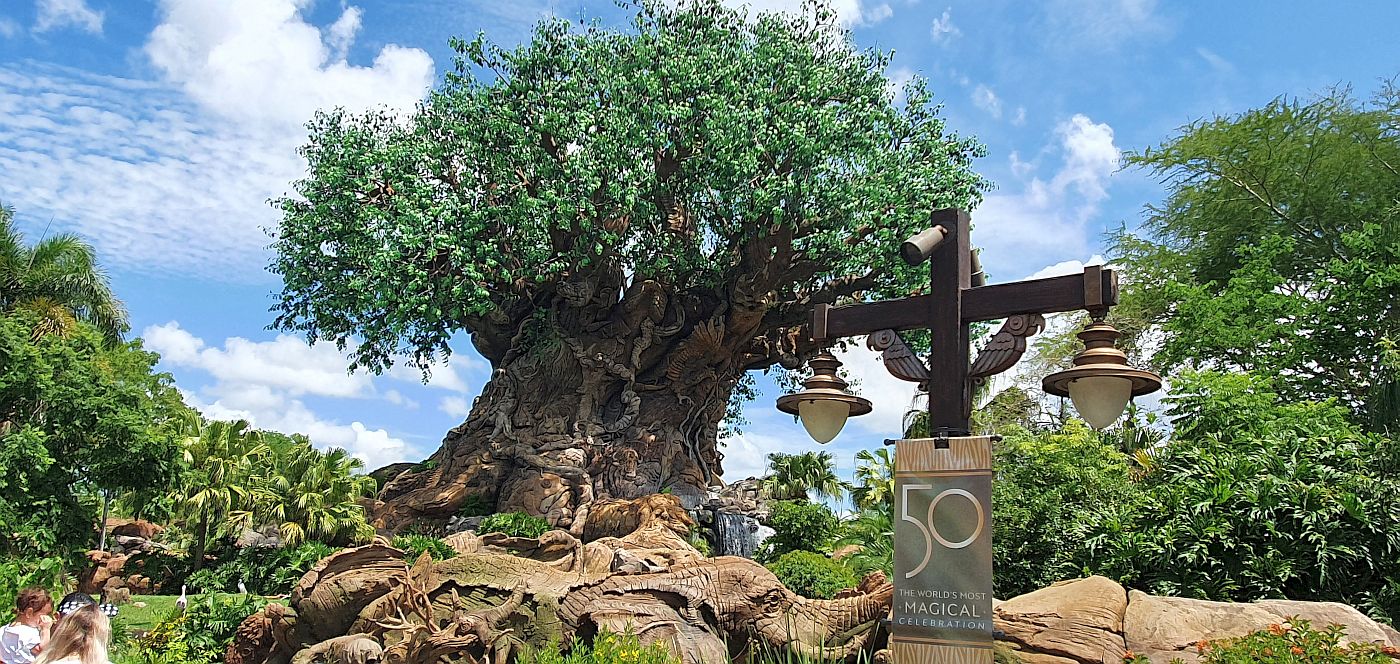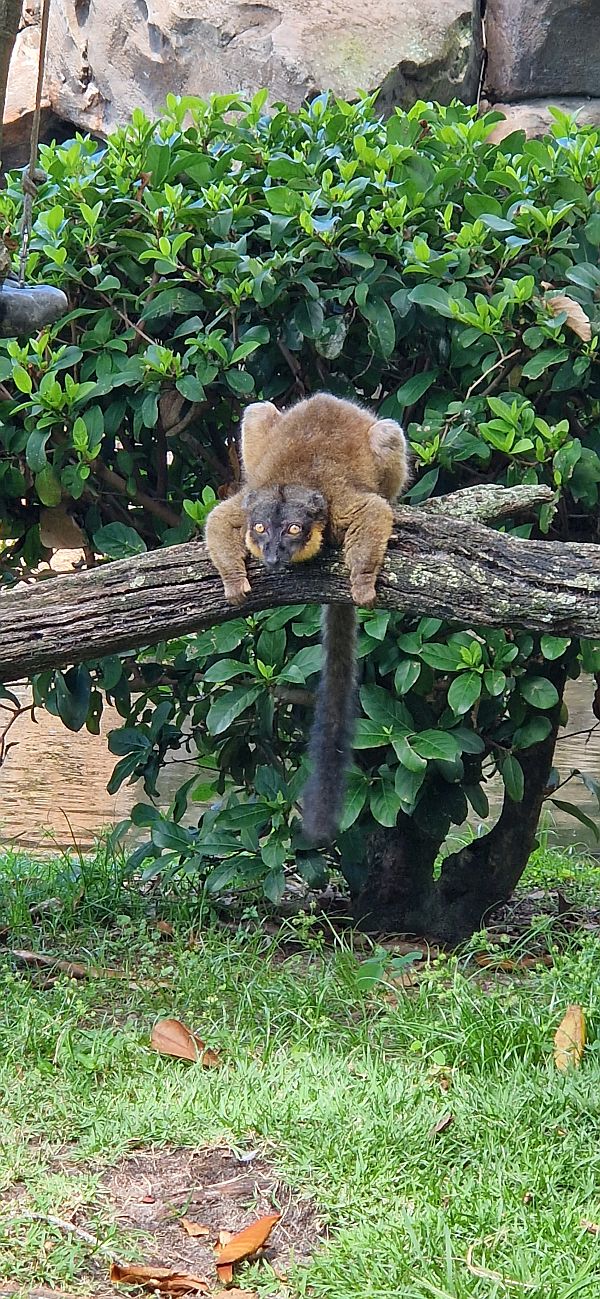 We stopped to watch this little chap. (or chapess)
Our first attraction is Tough To Be A Bug and we then walk round to see our friends the otters at play. One is taking the word 'play' in a very loose sense as he's somewhat frisky. Avert your eyes children.
We use our Individual Lightning Lane passes for Flight of Passage next and this is every bit as good as I remember. Over to the Nomad Lounge where we are told it will be an approx 45 minute wait for a table outside, so we wander around Pandora for a short while and Tam and I share a nice cold beer as it's very hot today.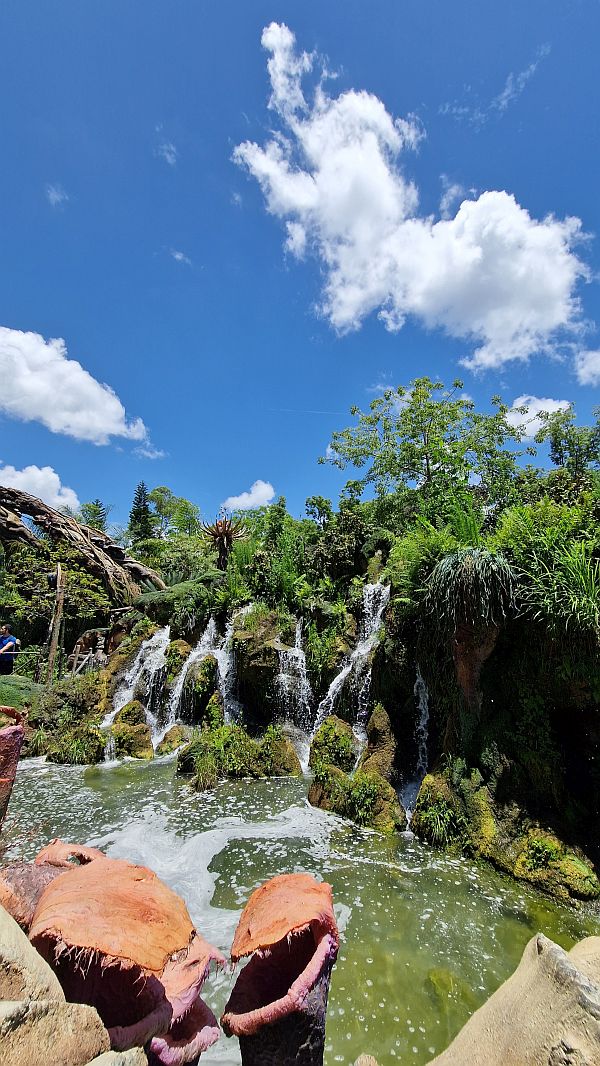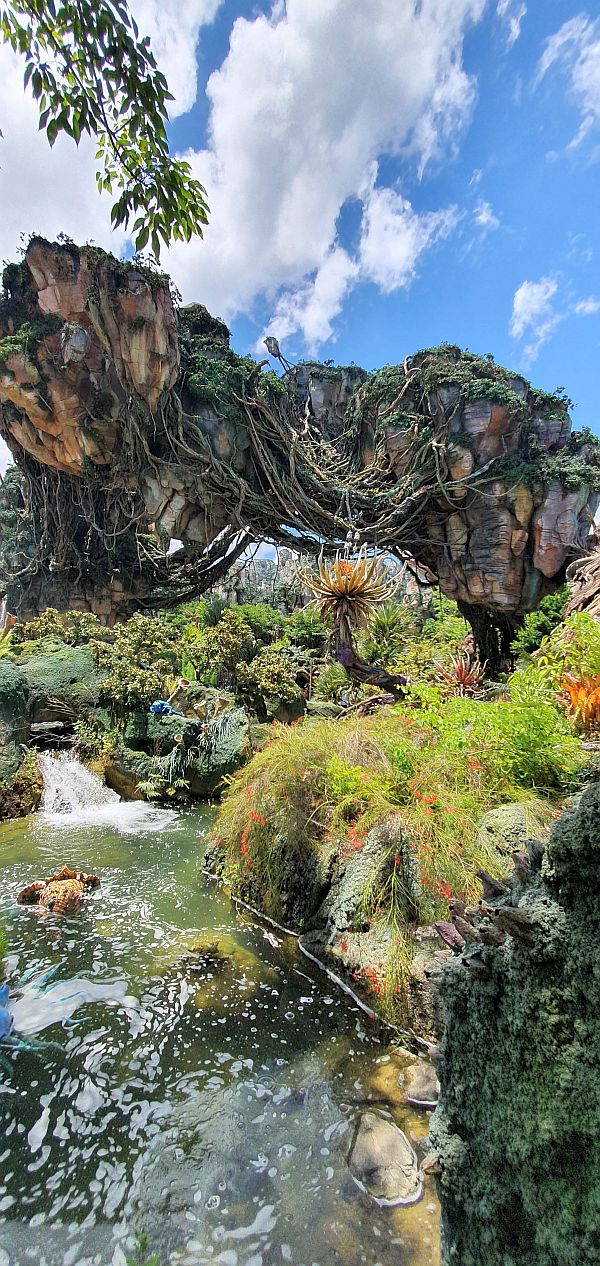 Pandora is still an example of something that Disney does very well - immersive theming.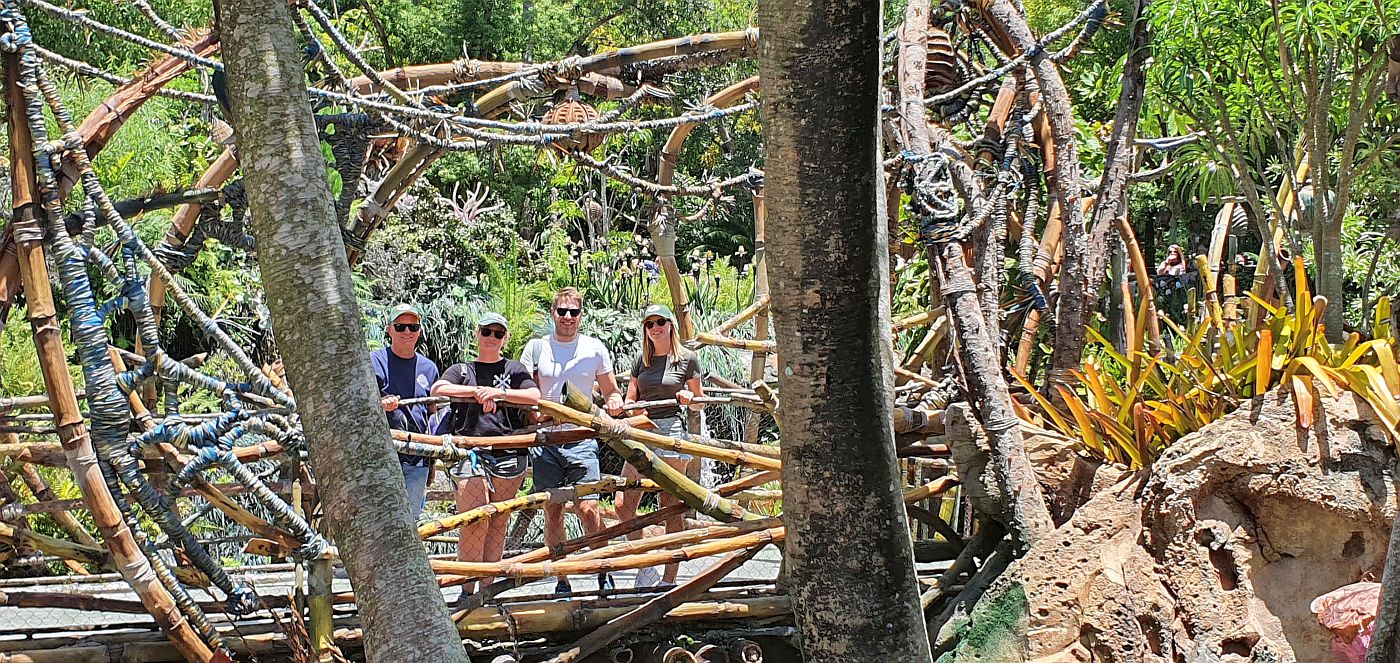 Back to the Nomad Lounge where I have a Tempting Tigress, which is bourbon based. Charlie says it's more of an evening drink. I could suggest that he gets a bit of fruit or a flower for his cocktail, but he's already got them. We split the beef sliders, 2 poke bowls and a charcuterie between the 5 of us and all are lovely. The total bill is $148 before tip.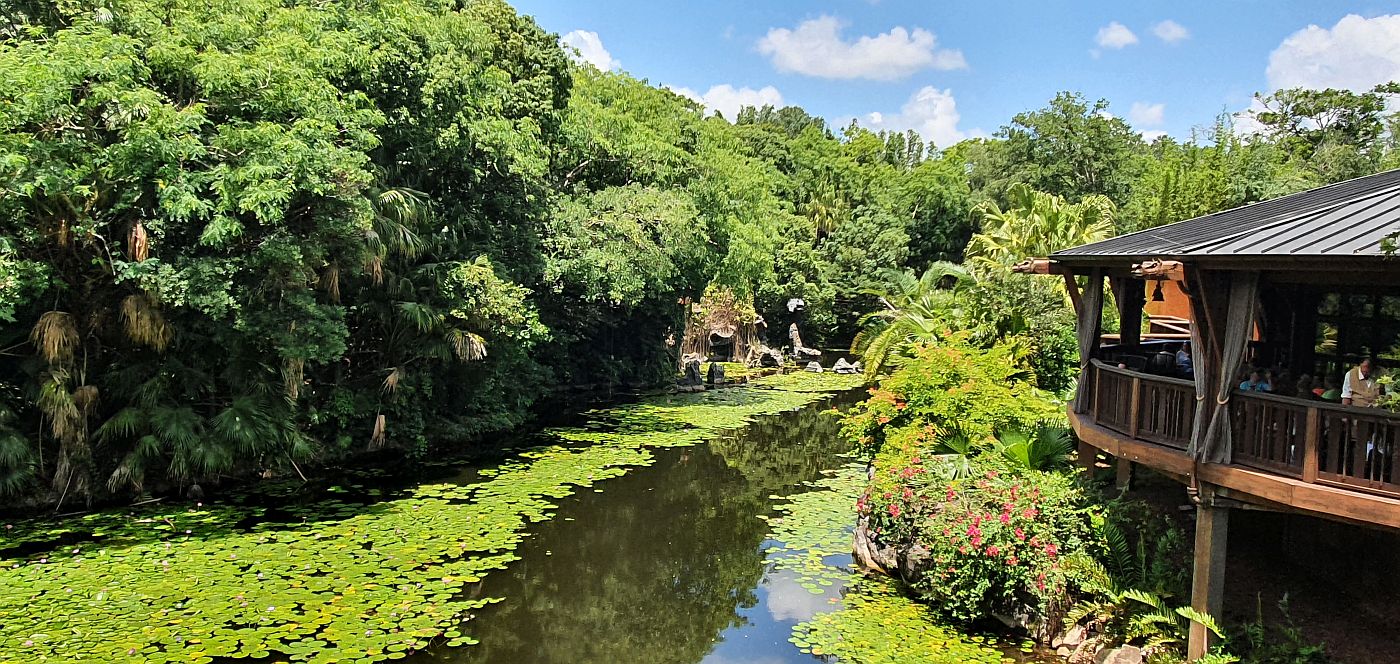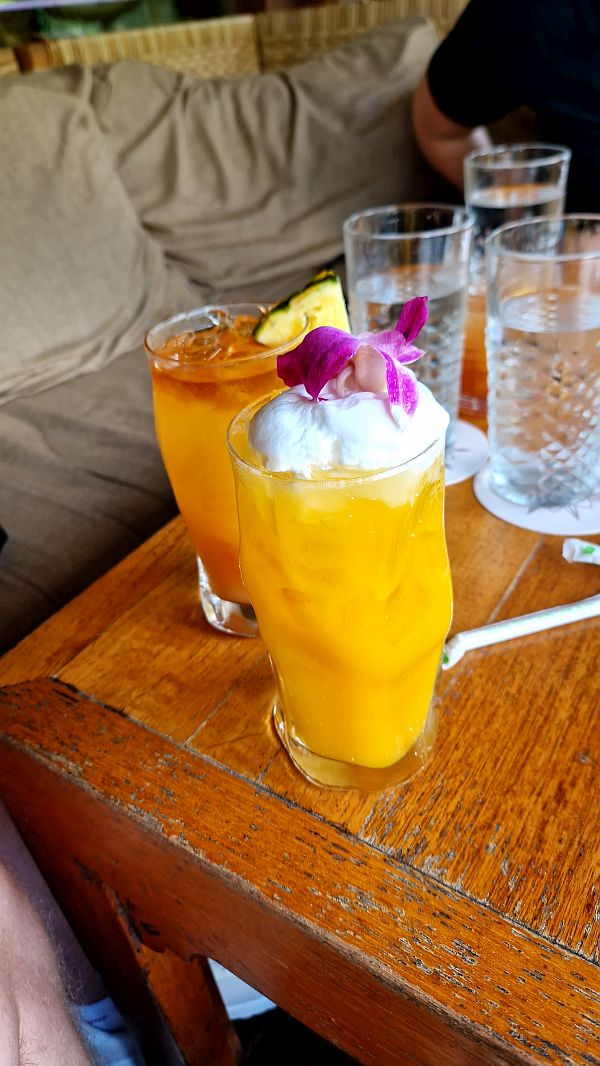 Charlie's flowery drink. Tee hee.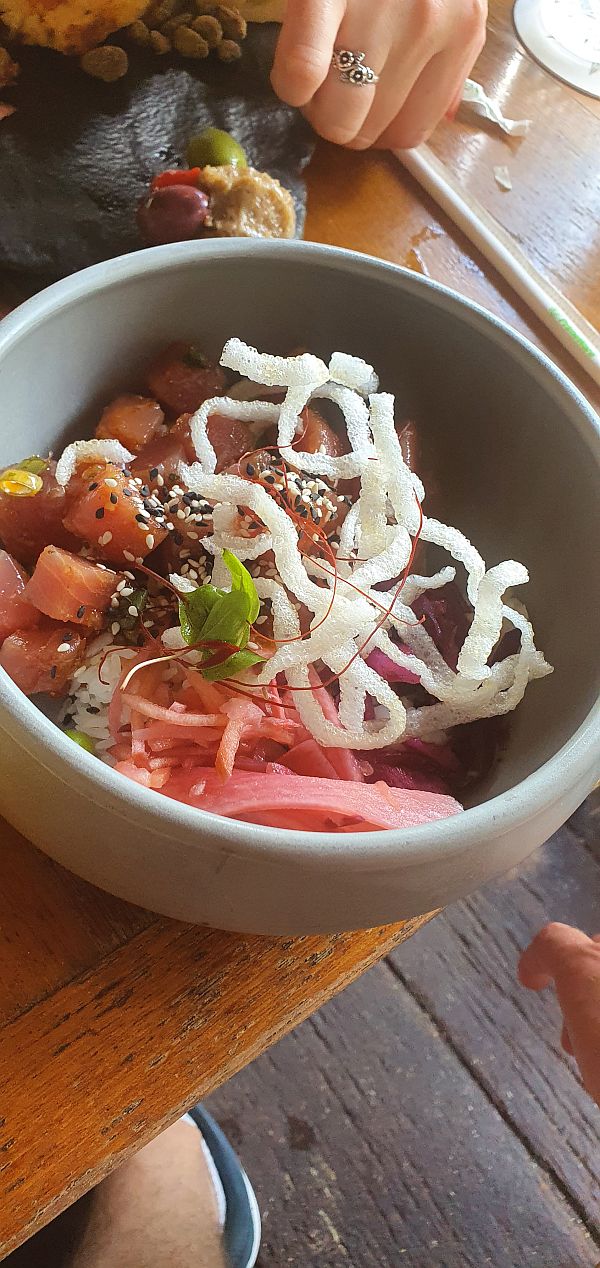 Poke bowl.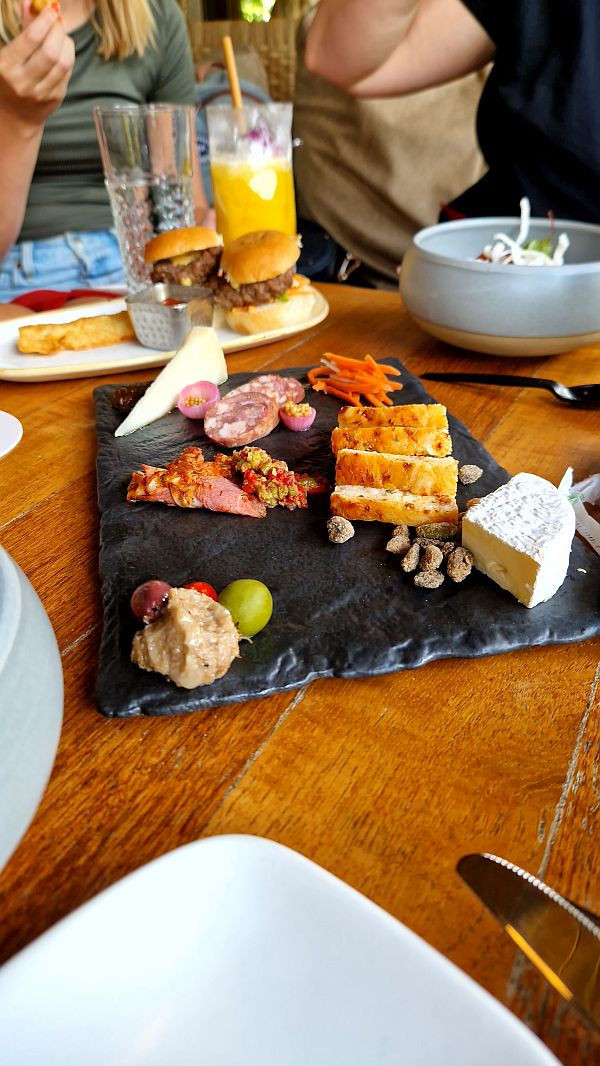 Charcuterie.
Now last time I was here I was in stitches when I went to the loo as the toilet door made a flatulent sound as it closed. The chances that the hinges haven't been oiled in 4 1/2 years since I was last here are slim, but I'm hoping for the best. Unfortunately the loo door shuts with a disappointing descending squeak similar to a mouse falling off a cliff. I guess I was hoping for too much.
We leave the Animal Kingdom and get a bus to Kidani Village where we have the luggage sent up to our room, 7312 on the third floor, sunset savannah and close to the lobby as we requested. It's beautiful and everyone is blown away by the view from the full length balcony.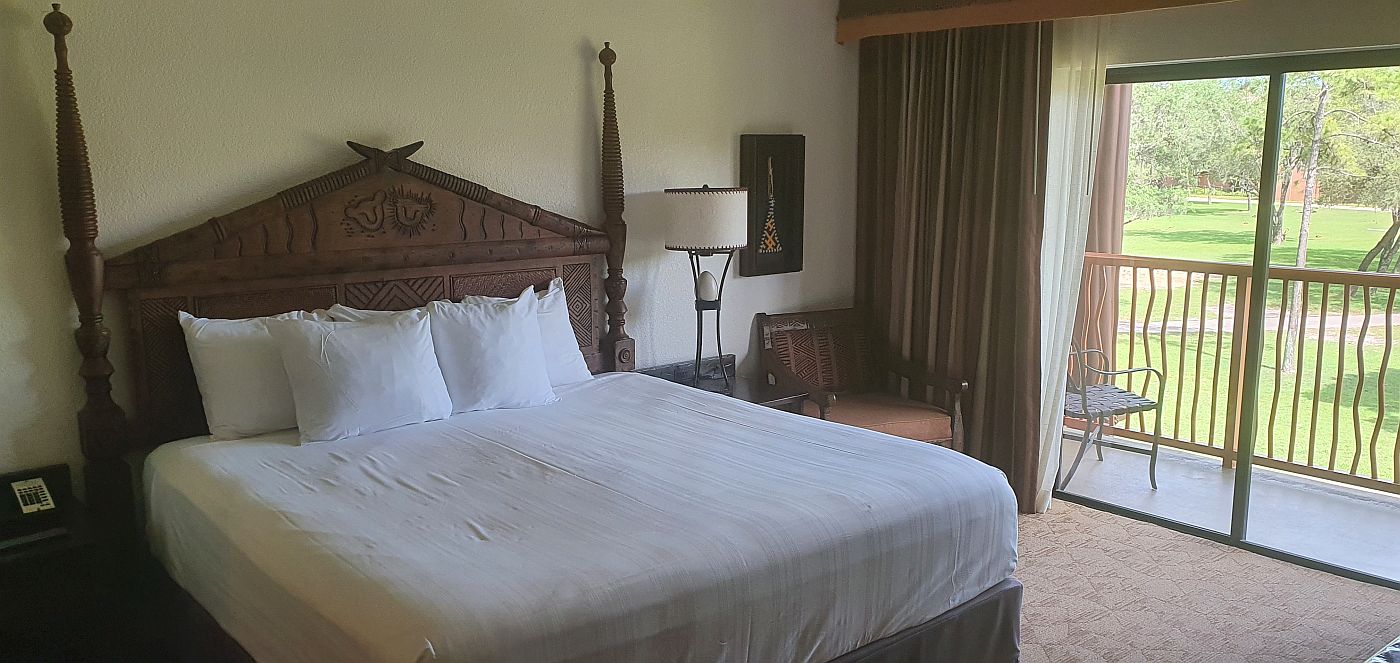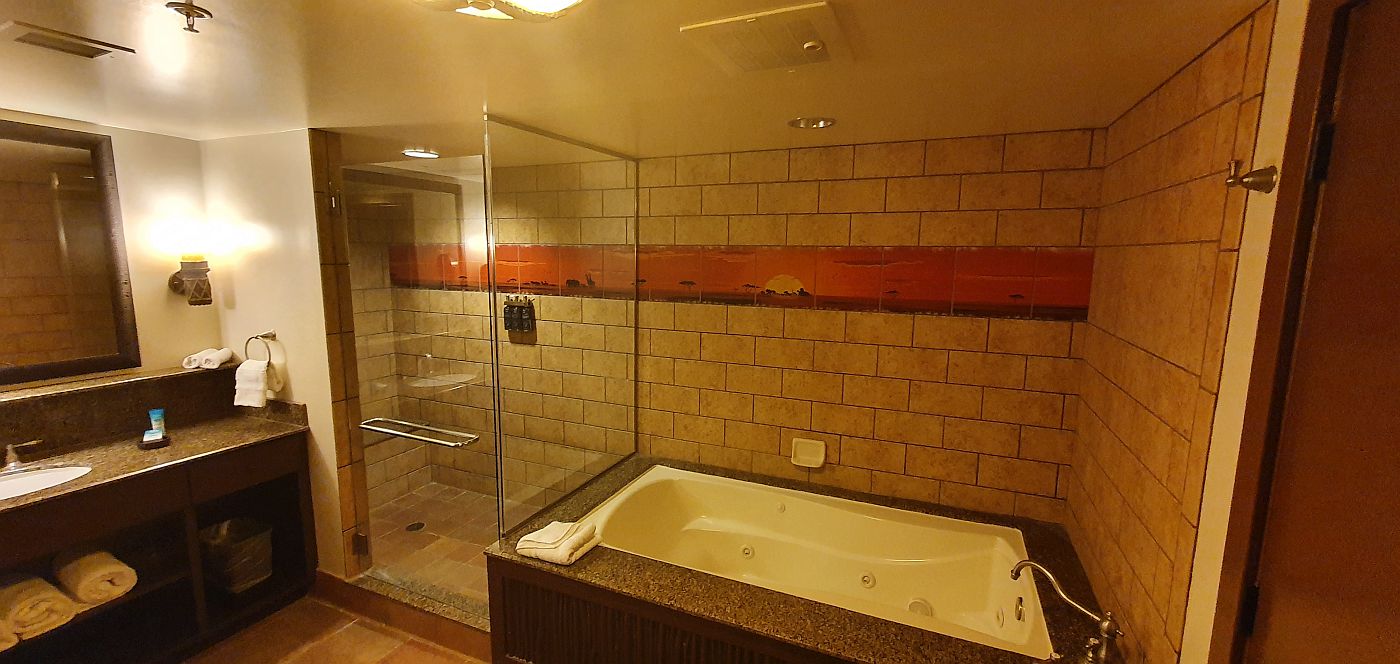 I quite like the bathrooms now they've done away with sliding doors that open the bath up to the bedroom.
And of course you can't beat the balcony view.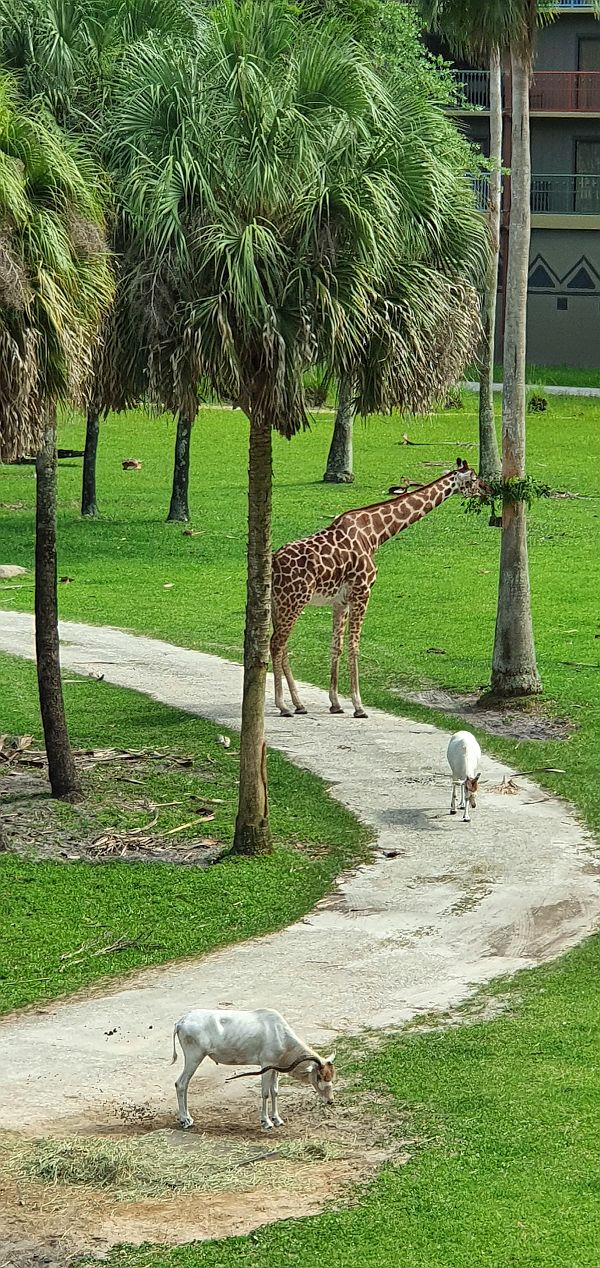 We unpack, shower and have a beer on the balcony before leaving for Disney's Hollywood Studios for the DVC member Moonlight Magic evening. This is free to DVC members, but numbers are limited and Georgia had managed to get us tickets with only a few to spare.
A bus pulls up almost as soon as we reach the stop and we are on our way. Outside the gates we get a wristband that allows us to go on the rides between 9.00 pm and 12.30 am. It's well organised and we're straight in at 7.00 pm. We walk straight to Galaxy's Edge as it's a first for all of us. Charlie is a huge Star Wars fan and he's like a child at Christmas as we walk through. To be fair we are all amazed at the theming and the size of the area.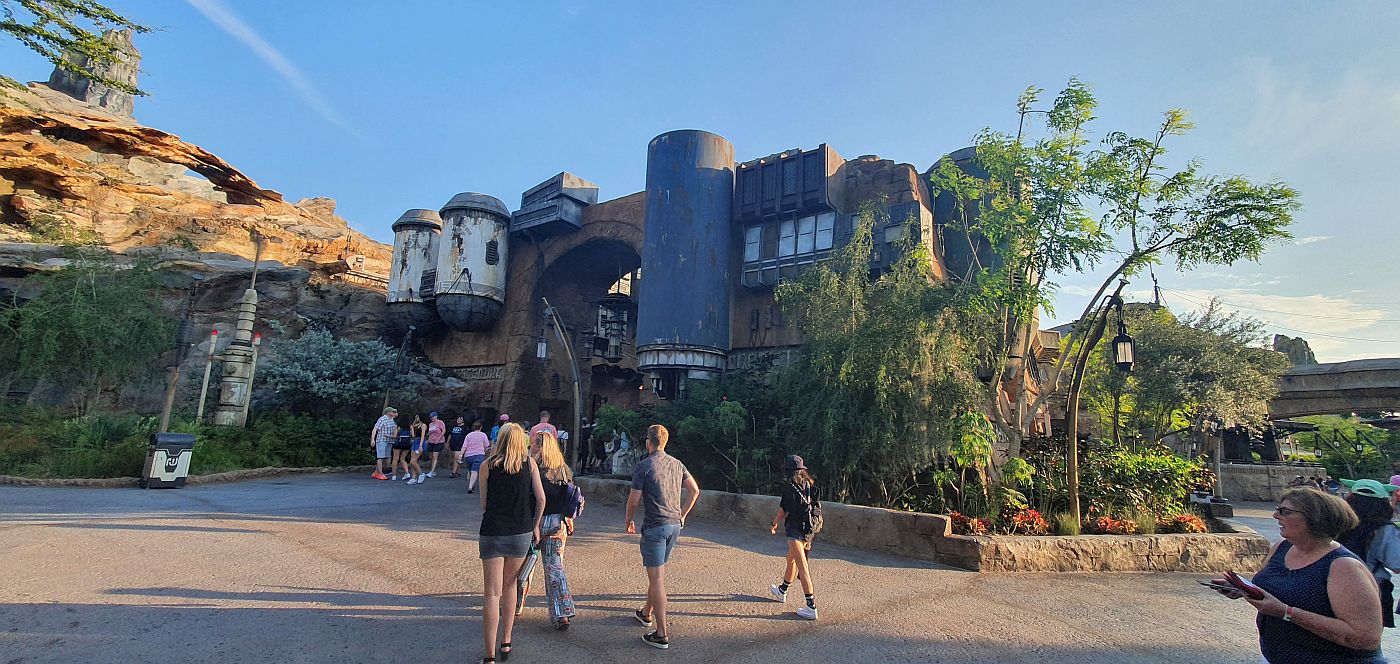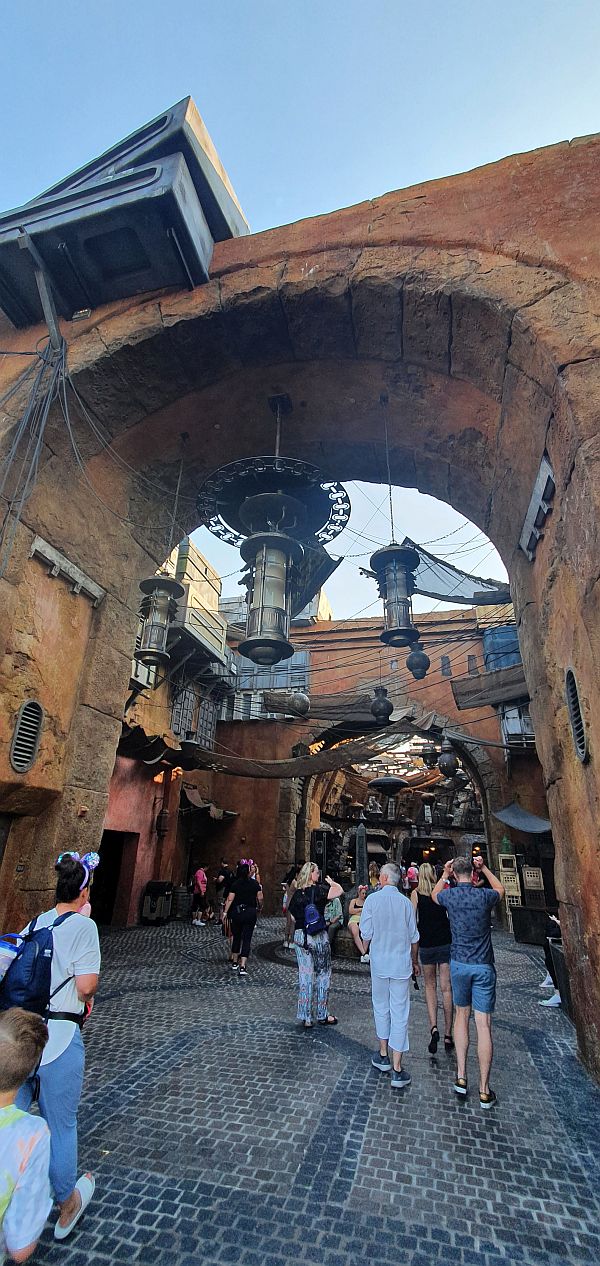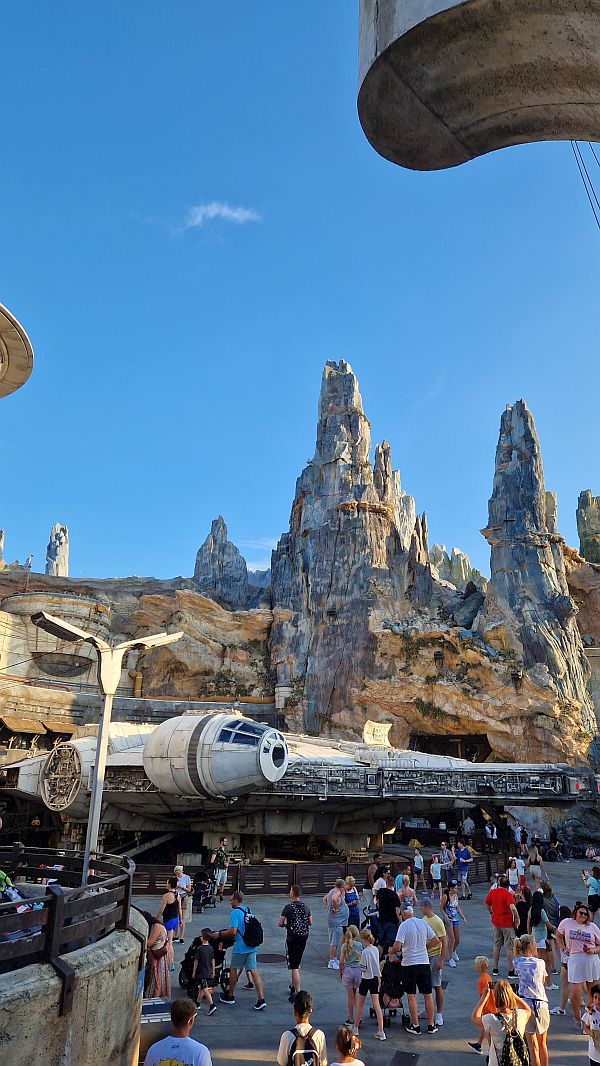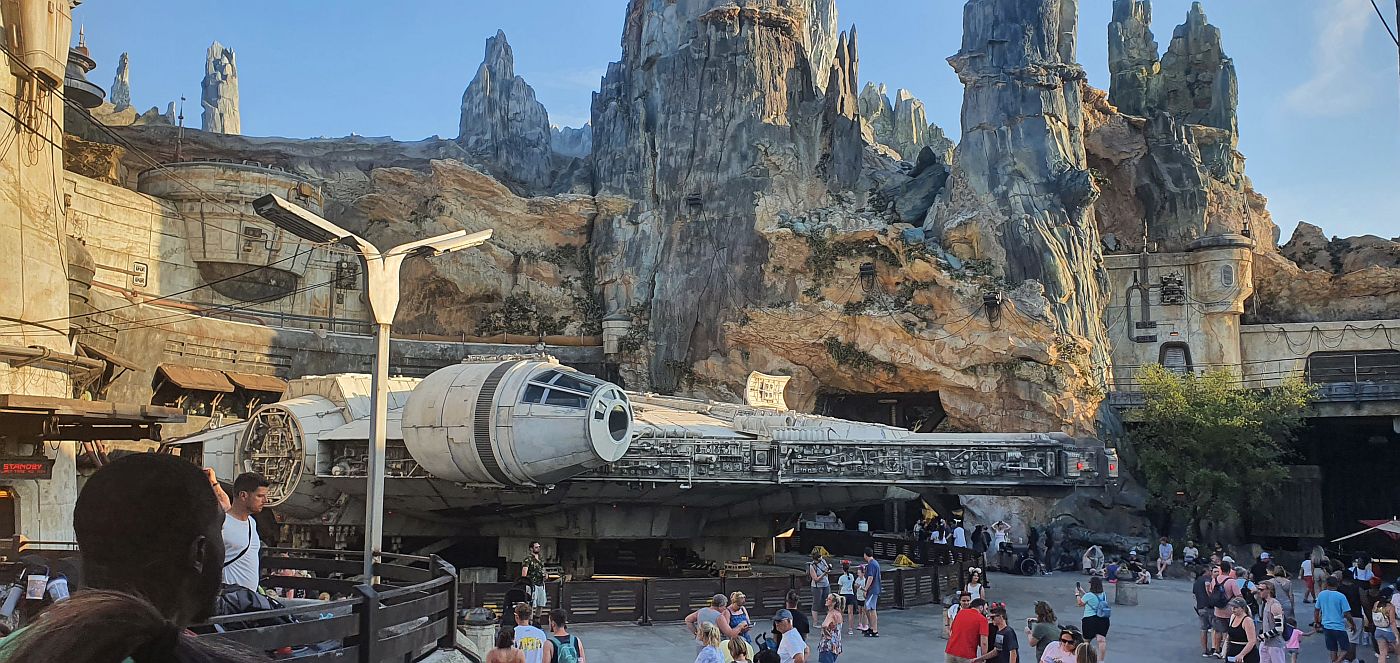 We use our second paid for Lightning Lane passes for Rise of the Restistance. Wow! I mean, just wow! What an absolutely amazing ride. The scale of some of the sets is jaw dropping.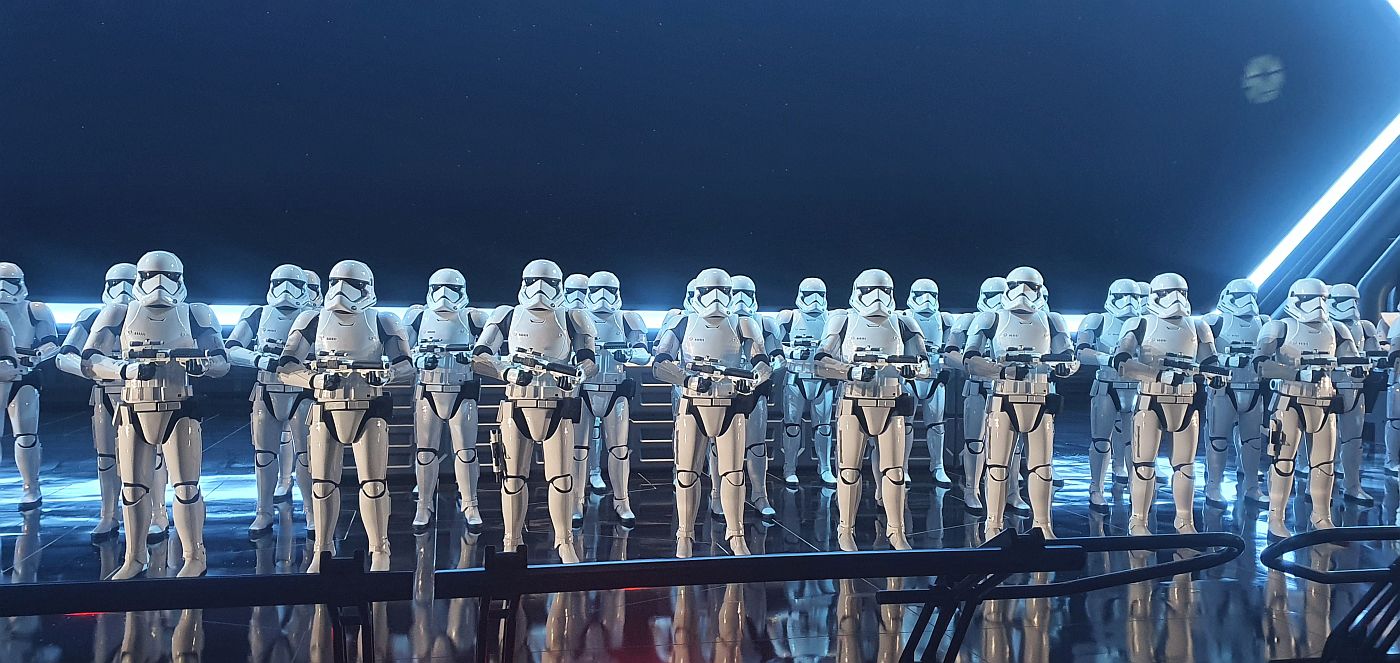 We go in search of something to eat. I thought you got a free meal voucher with Moonlight Magic (you used to), but the 3 vouchers we are each given are for snacks and a popcorn bucket, so we buy a meal from Backlot Express (just chicken strips for me) and a free Wookie Cookie. At this point Charlie comes up with the joke of the holiday:
Georgia - "How's your Wookie Cookie?'
Charlie - "Chewy".
Genius.
Off to watch the Wonderful World of Animation show in front of the Chinese Theatre. This is good, but there seems to be a lot going on at the same time, it's difficult to know where to look.
It's now the start of Moonlight Magic and we ride Toy Story Mania (India wins) then Mickey and Minnie's Runaway Railway, another first for us. Charlie likes it a lot, I think he may be a Hollywood Studios convert.
We walk towards Tower of Terror which looks lovely in its 50th anniversay colours. The girls and Charlie ride Rock 'n Roller Coaster while Tam and I get a Mickey ice cream bar from a cart. I try to hand over a snack voucher, but the girl tells me I don't need to as it's free. Very nice.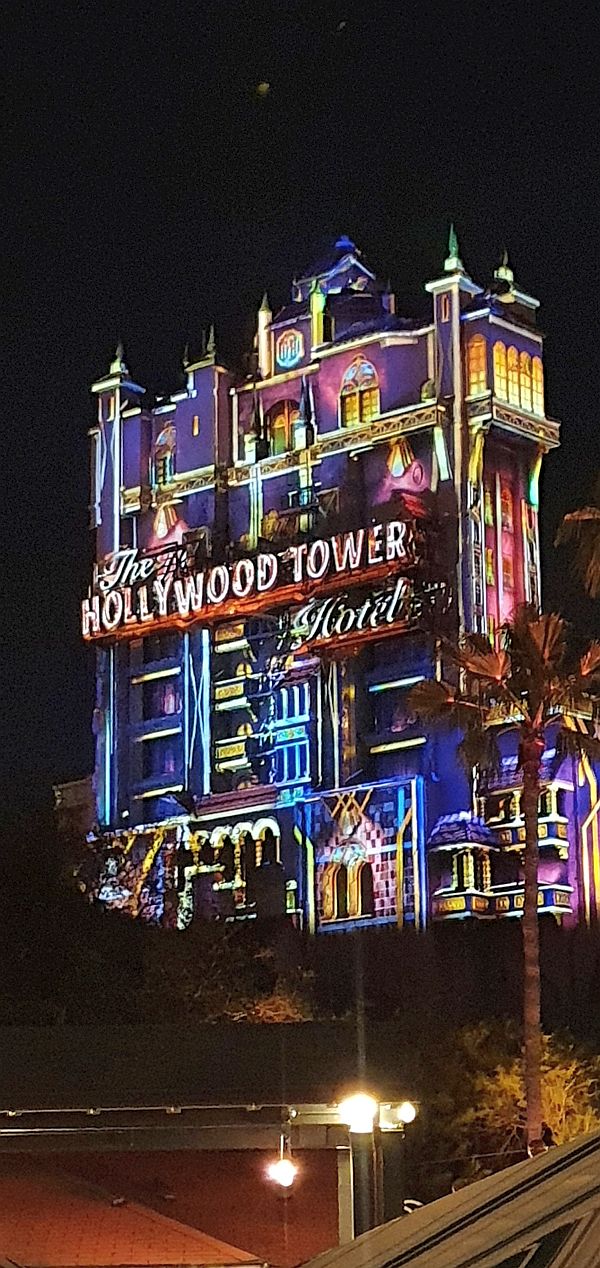 Tam and I are joined by Georgia for another go on Toy Story Mania (10 minute wait at most) while Charlie and India ride Tower of Terror.
It's now about 11.15 pm and we meet up outside Rise for another go as the queue shuts at 11.30 pm. The standby line says a 45 minute wait, but we are in the first pre-show after 25 minutes. It's just as good the second time round.
We reckon we can fit in Smugglers Run so we shoot round there at 12.10 am. It's a walk on. Charlie and India pilot, me and Tam are gunners and Georgia is the engineer. This is another fun ride - not in the class of Rise, but another good addition.
As we walk back through Galaxy's Edge we pass a stand selling blue and green milk so we use a snack credit to try them. We don't particularly want one, but it's free so why not. I can't say I'm a big fan, but at least it's really cold.
We believe everything is closed by this time, so we walk towards the exit through Toy Story Land. Charlie notices that Slinky Dog Dash is till running, so we walk quickly over and just get on. When I say 'just' I mean exactly that as they pull across the rope to close the ride behind us. None of us has ever seen Toy Story Land before and it's lovely in the dark.
I can now definitively tell you that drinking a load of ice cold green milk and going on a roller coaster at 12.30 am is not the best idea. I come off feeling slightly queasy, but not too bad. Even Tam has ridden, evidenced by her screaming 'Oh my God' in my ear all the way round.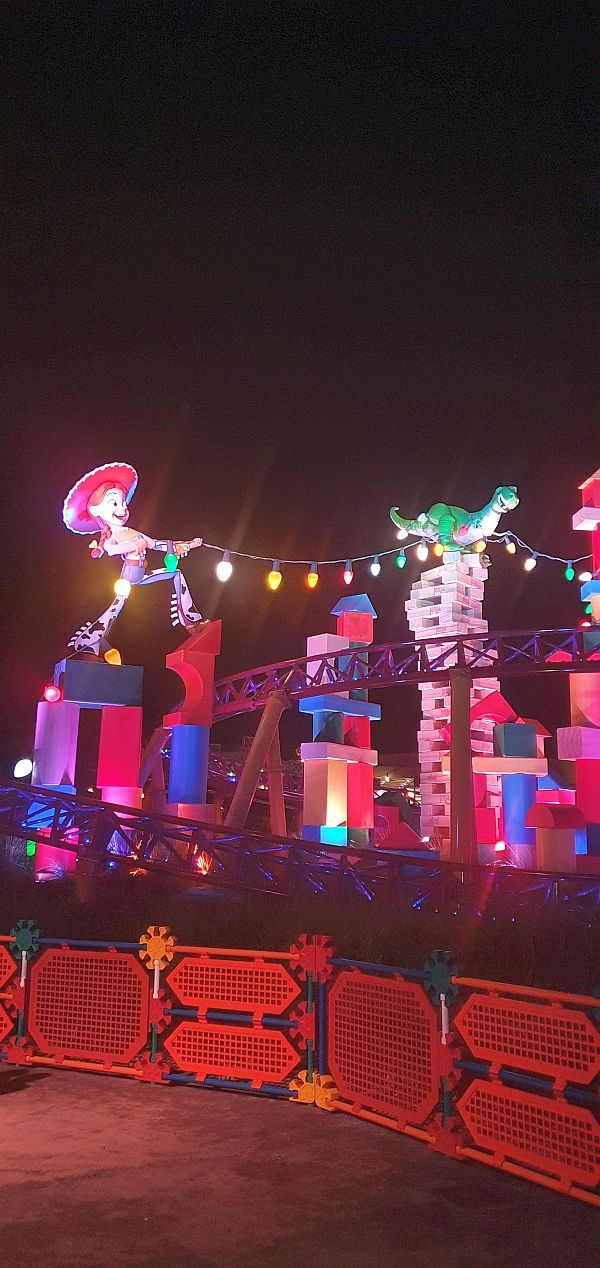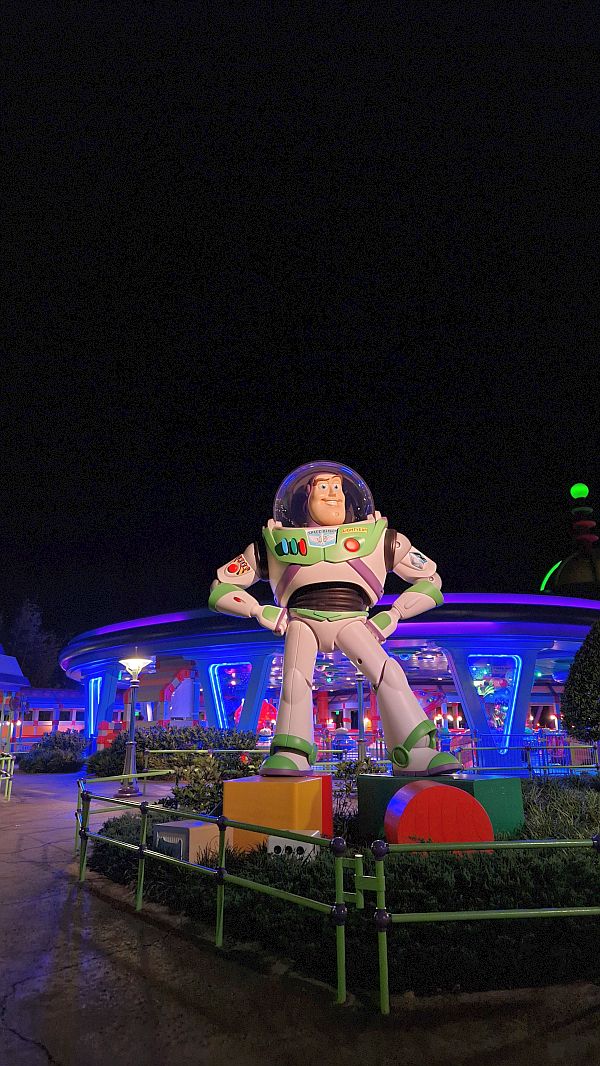 We make our way out of the park and a bus pulls up within 2 minutes, so we're back at Kidani Village and in bed at 1.30 am.
What an amazing day with many firsts for us. I'd read some less than stellar reviews of Moonlight Magic, but we all thought it was brilliant. Between us we've ridden, Rise of the Resistance twice (paid for once), Toy Story Mania twice, Mickey and Minnie's Runaway Railroad, Tower of Terror, Rock 'n Roller Coaster, Smugglers Run and Slinky Dog Dash. The longest wait was 25 minutes for Rise, everything else was at worst 10 minutes.
Some Disney days just work out perfectly and this was one of them.
By the way, I've really noticed how young many of the CM's are. Some were really good and some gave the impression of just doing a job. I miss the mix of young and older CM's.