Day 7 Thursday 6th October 2016
Written by Tam
We wake at 7am as the plan for today is to do the Manly to Spit Bridge walk. Prior to this holiday Kev had researched a number of walks that might be fun to do in the Sydney area and this one appealed in particular as it promises some spectacular views of the coastline. The total distance is around 10km and the idea is to start early so we can meet Serena, Fiona and Perry for lunch at the end.
We walk to Shelly Beach and have a delicious breakfast in The Boat House - we sit outside watching the swimmers in the sea and enjoy the wonderful scenery. I enjoy toasted banana bread with butter and mascarpone whilst Kev opts for poached eggs, grilled tomatoes and toast all washed down with a cup of freshly brewed coffee. Suitably refreshed and ready to start the day we walk along the Manly Scenic Walkway following the instructions that we have printed off.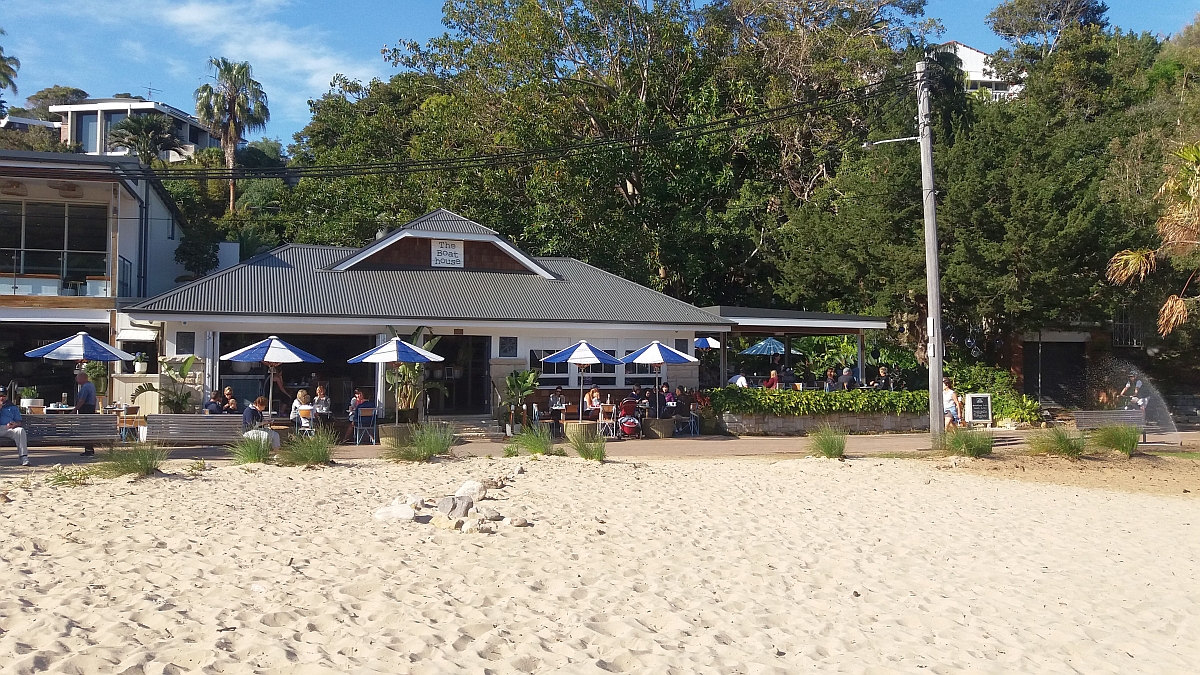 The walk is amazing, winding it's way along boardwalks, through brush land brimming with native flowers, up hills and along paths with views out to the sea. and north Sydney's harbour. The paths are very well signposted and easy to follow and along the way we pass an area with some original aboriginal rock carvings which we stop to look at. On the portion through the Sydney Harbour National Park we spot a sign showing the native wattle flower and Kev has much pleasure in quoting the famous Monty Python poem - "This here's the wattle, the emblem of our land. You can stick it in a bottle, you can hold it in your hand." - I could tell he'd be waiting all trip to say those words.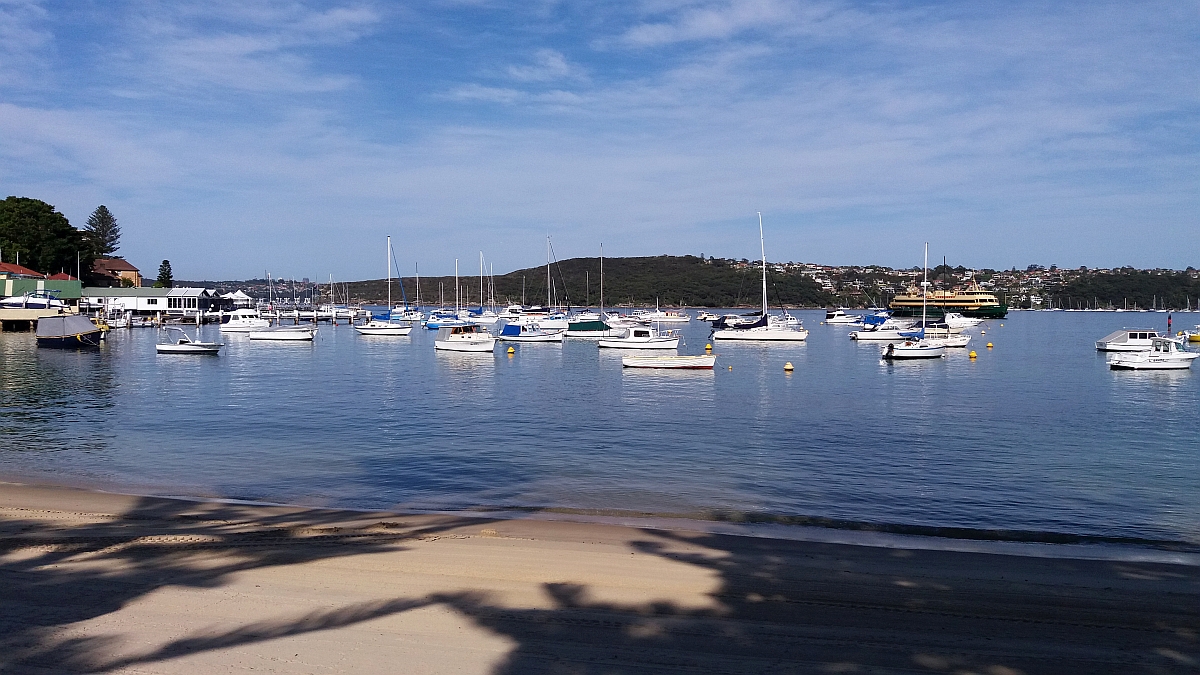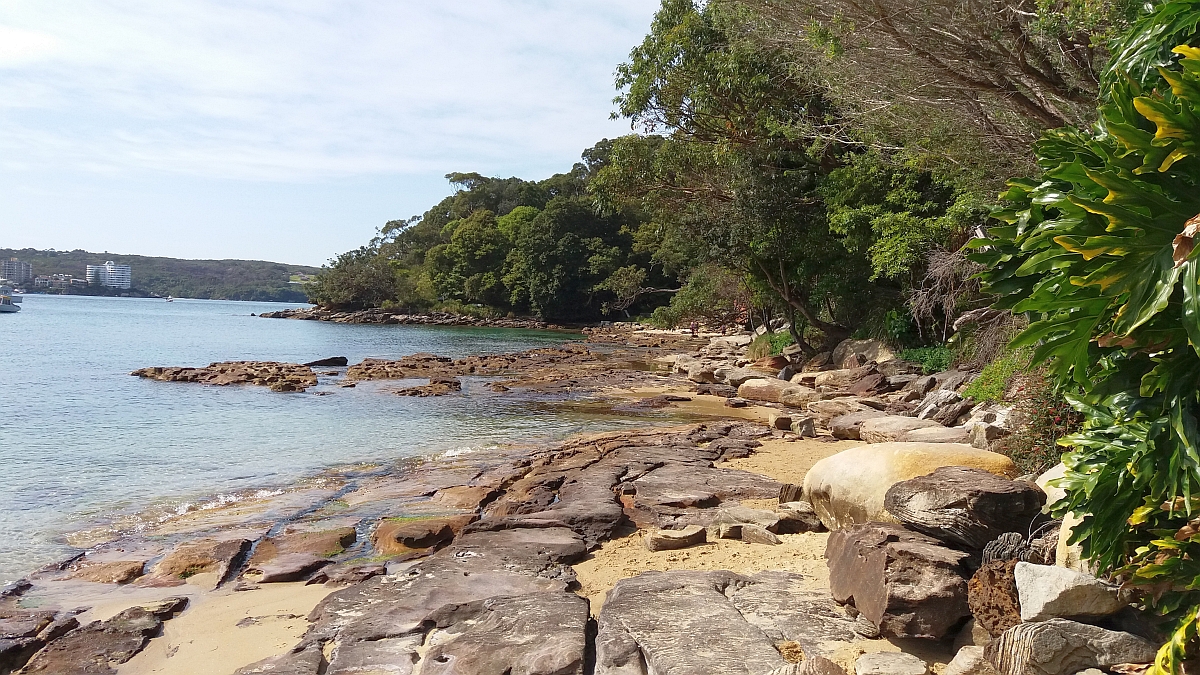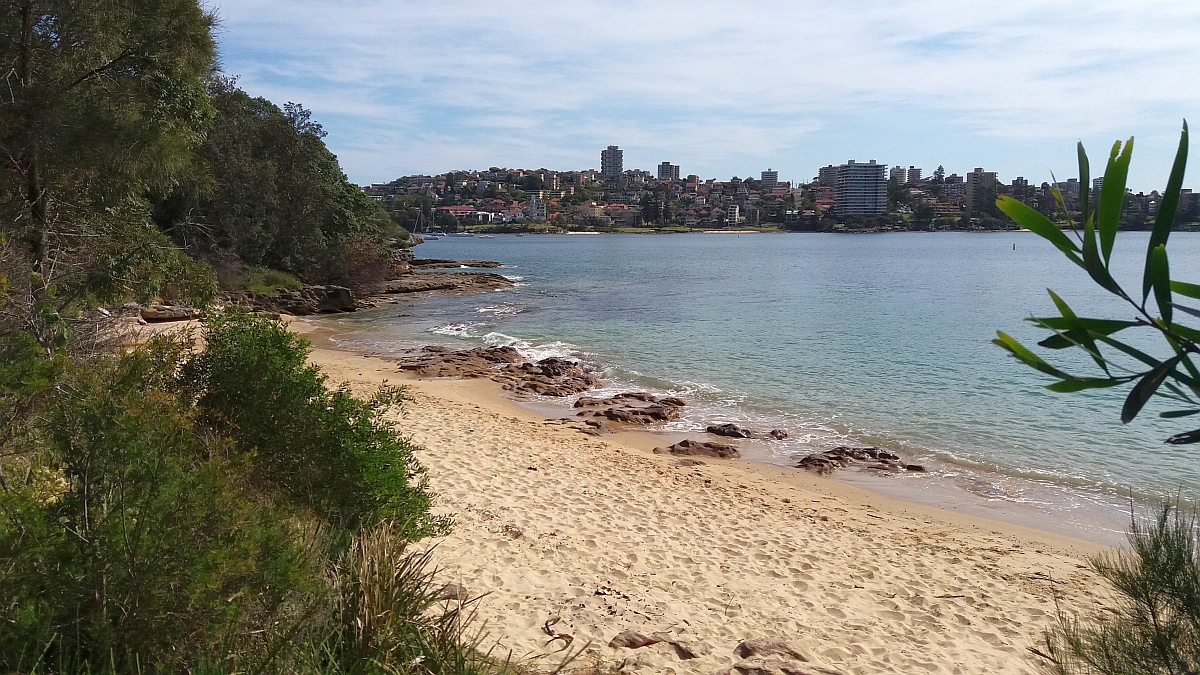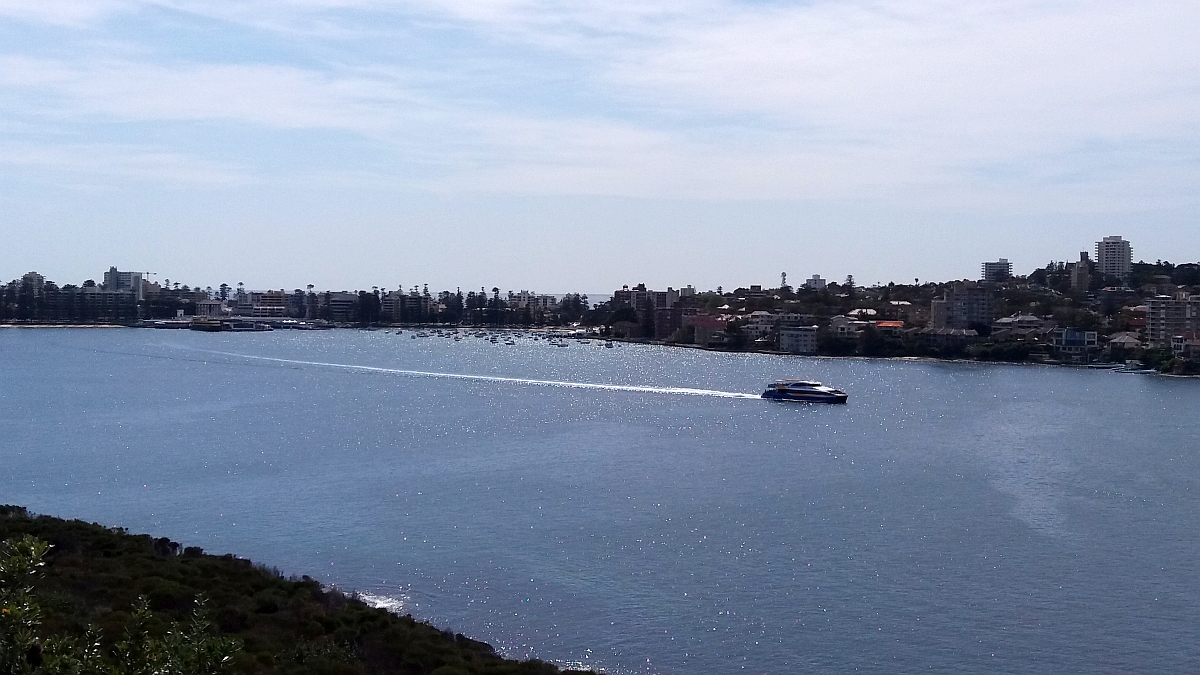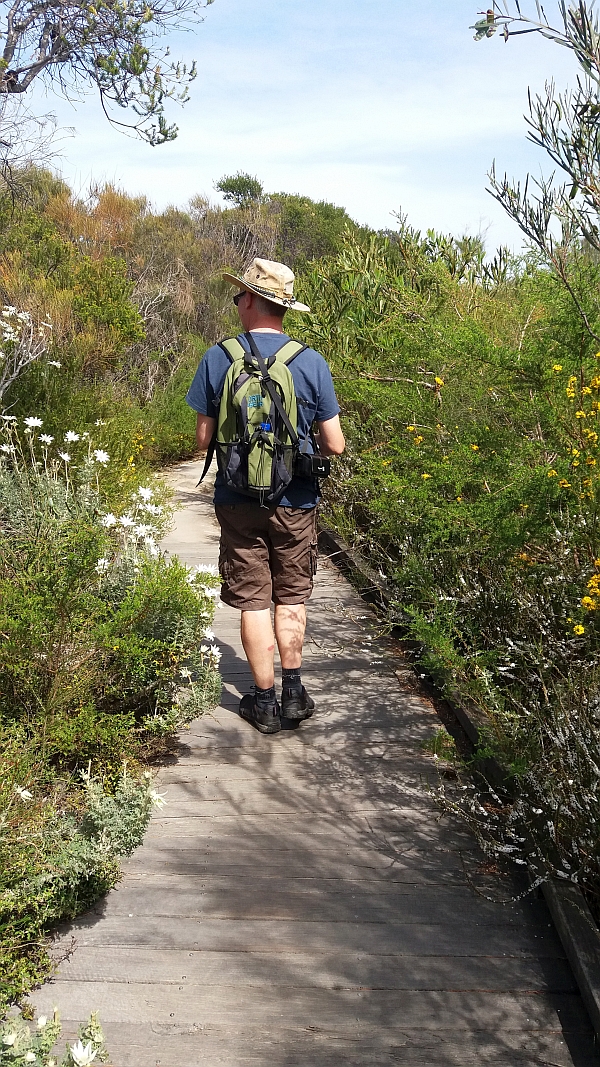 We stop for a rest and a paddle at a lovely secluded beach - it's blissful to be able to take off our walking shoes and socks and put our feet in the cool, clear water. But time is getting on so we don't stop too long and continue along the paths, it's so peaceful and all we hear is the sound of the bird song. We also spot a brush turkey and some large lizards but luckily none of the dangerous Australian critters that people warn you about.
We arrive at Spit Bridge around 12.30pm having rung Serena to tell her when we were half an hour away. Before too long they are in the lay-by where we are waiting and we hop in for the journey back to Manly Beach. By now the temperature has increased and we are grateful we started the walk earlier in the day when it was cooler and more pleasant.
In Manly we go to Ouzeria, a Greek restaurant that Serena, Fiona and Perry have visited on a number of occasions. It has street side tables and is just down the road from our hotel. We have souvlaki served with pita, tzatziki, humus, salad and fries. Serena and Fiona aren't impressed with the service and believe it's been taken over since their last visit. However the food was very tasty and it was well deserved after our long walk earlier.
We say our farewells to Serena, Fiona and Perry as they are going to take Perry for a swim on the beach and we are going back to our room to freshen up and have a rest before tonight's exploits. We have planned a tour of Sydney's best cocktail bars - but when we started researching these we realised that Sydney has an inordinate quantity of fabulous sounding cocktail bars - so we whittled them down to a shortlist of around five that we hoped to be able to see.
Back at the hotel standing on the balcony we can see Perry enjoying the sea - because it's the school holidays there are lots of families out and about making the most of the glorious weather.
We decide to go and investigate the hotel pool - but when we open the door to go through to it we realise we may have made a mistake. The pool is full of children - jumping and splashing and making lots of noise. We sit on a lounger and hope that some parent might control the brood but unfortunately this isn't the case and we decide that the calm of our room will be an infinitely better choice for a place to relax.
5.15pm we are dressed in our finery ready to hit the city and see what delights it has to offer. Again the ferry trip over is a real delight - being able to watch the harbour come into view with the sun glinting off the buildings and the boats and ferries travelling back and forth - so lovely being outdoors in the fresh air with the sea breeze in our faces.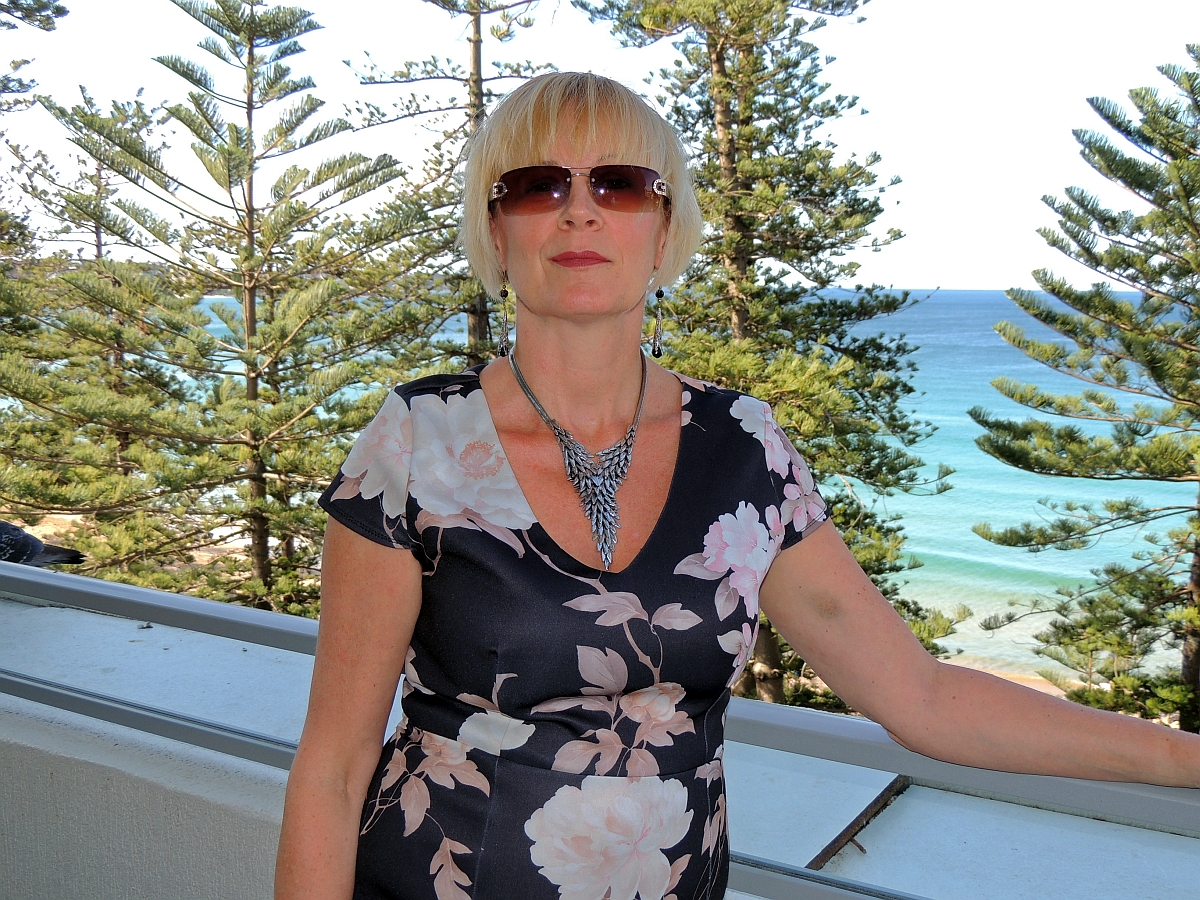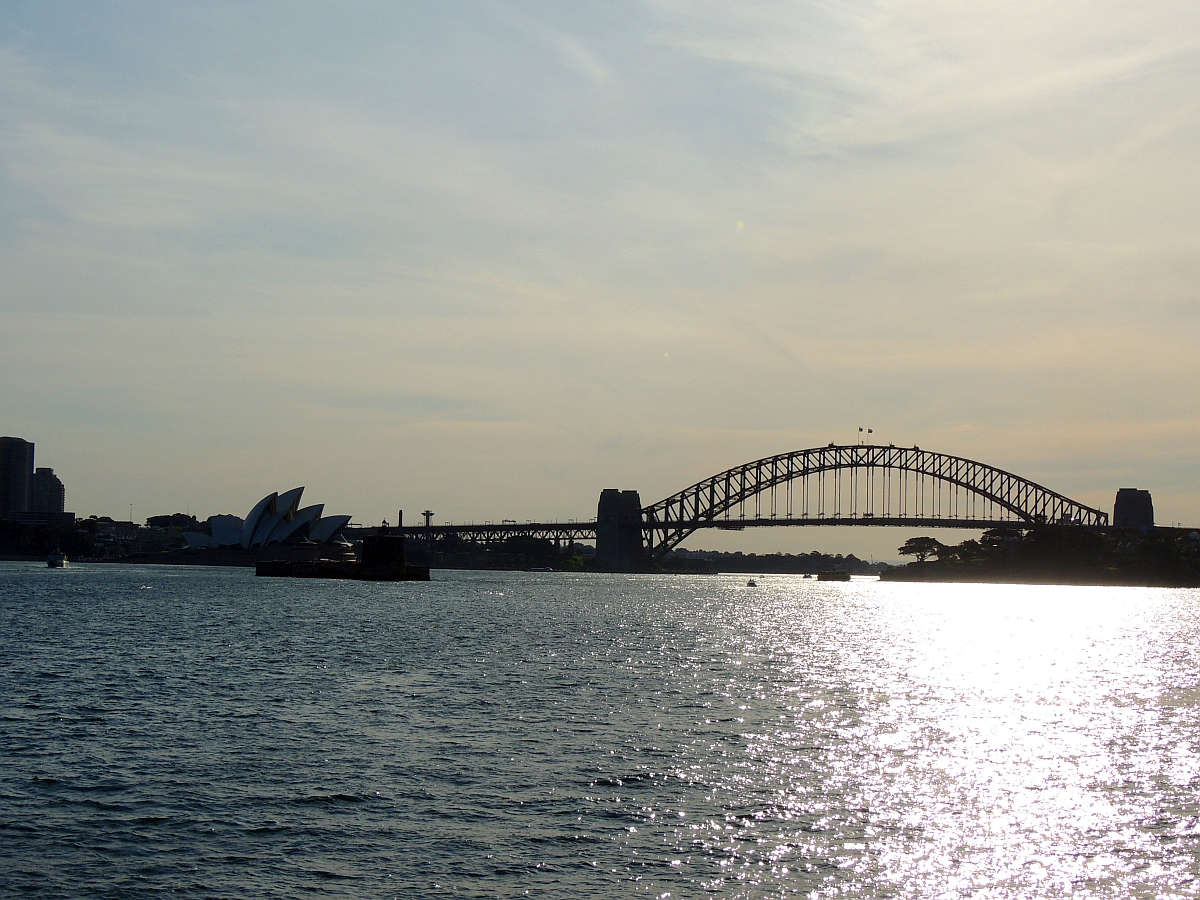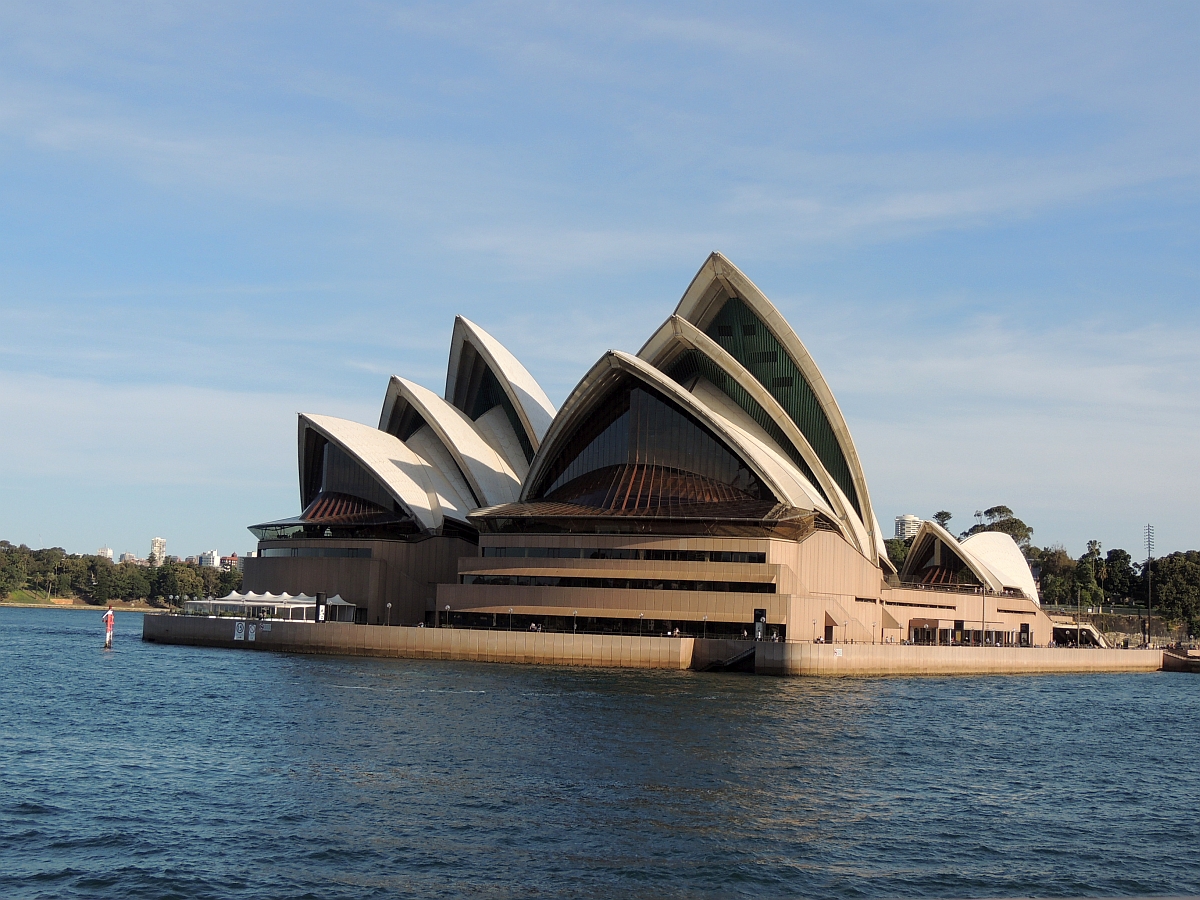 Our first port of call is The Lobo Plantation - described as a subterranean rum bar. Luckily we've got detailed instructions on how to find it as there are no signs outside - so we nervously walk through the heavy wooden doors and down the curved staircase, wondering if this is the right place. It certainly is and we're not disappointed. The Lobo Plantation is a sumptuously decorated bar with atmospheric lighting - there's a raised lounge area with a mural of a plantation house and the seats are decorated with material printed with exotic plants or rattan. The artefacts on the walls and the whole vibe is very much of a plantation in some exotic distant clime and the music matches perfectly.
The drinks menu is extensive - their speciality being all things rum based and they also offer rum flights for the rum connoisseur. Kev chooses a Shipwreck which has in it Chairman's Spiced Rum, Lobo's spiced pineapple syrup, fresh grapefruit and lemon juice topped with an old J tiki fire rum float and I decide on a Bajan Julep - Mount Gay Black Barrel Rum, blackberry liquor, passion fruit, fresh lemon, a touch of sugar and a dash of Strangelove ginger beer. Wow these cocktails are amazing - some really unusual choices and we could happily spend the whole evening here working our way through just a small portion of the menu. We are feeling peckish and the food sounds tasty so we share some croquettes - filled with 12 hour slow cooked pork and mushrooms and they are really delicious.
We had to steal some photos off the internet for some of the bars as ours wern't very good.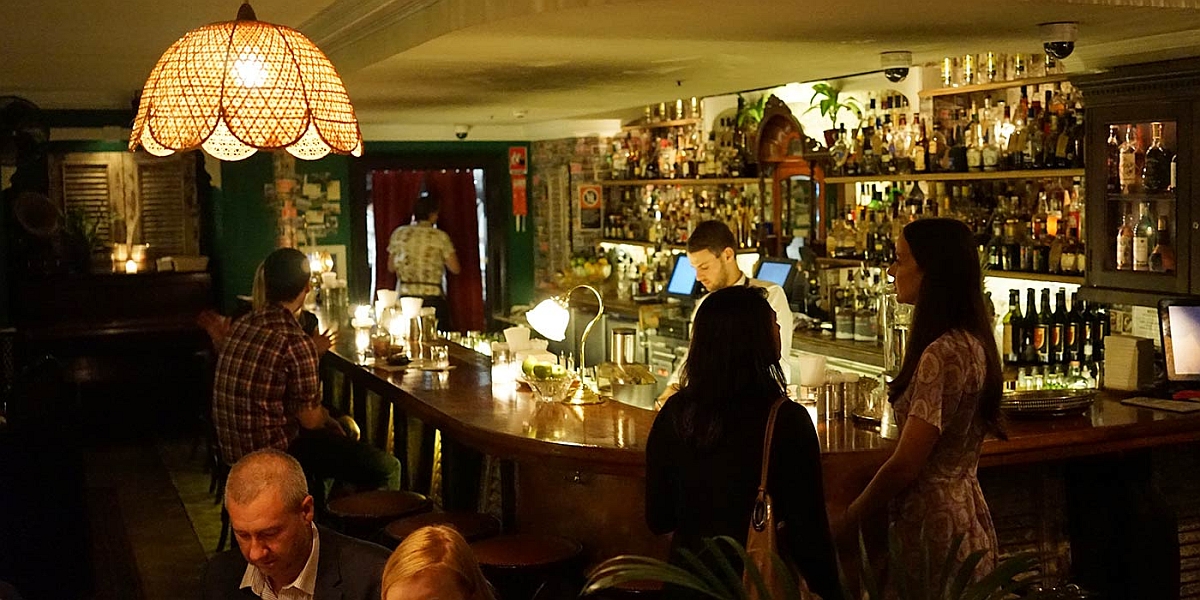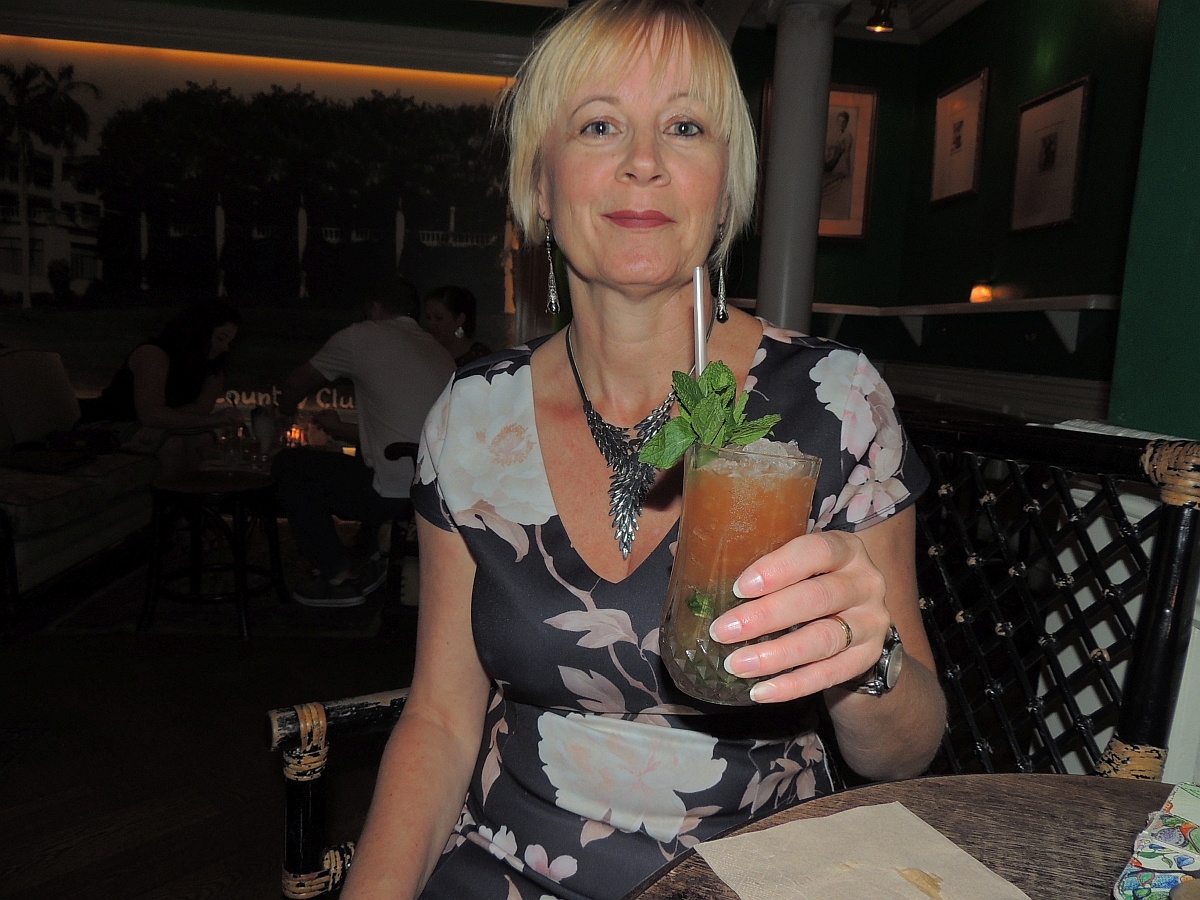 Dragging ourselves away we try to find The Baxter Inn - however the number of the building where it's situated is entirely missing from the numbers in the street. So we resort to modern technology and try and google map it - this makes us realise that it's actually behind the street line of buildings and sure enough we stumble into a small courtyard where there are obviously bars hidden away. We see people drinking and assume this is the Baxter Inn but when we sit down and look at the menu we realise we are actually in The Barber Shop. The Barber Shop has two entrances - this back one which we accidentally have stumbled into and also one through a working Barber Shop on another road. We actually had this bar on our shortlist and it's a speakeasy type gin bar and unsurprisingly they have pretty much every type of gin available from all over the world. Now our choices aren't so simple as everything is very alcohol based with not much mixings to dilute them and being gin based we're not convinced they are going to be as good as The Lobo's cocktails. However not being deterred we manage to find a couple of tasty sounding concoctions. Kev has a Smoke and Bandages - Bombay Sapphire Gin, Cherry Heering, Sweet vermouth, fresh orange and smoked rosemary, whilst I choose an Aviation - Aviation Gin, Maraschino, Violet and fresh lemon. Kev quite enjoys his but I find mind far too strong for my liking. Again we decide to choose something from the food menu to try and keep us standing upright at the end of the evening and we notice that they serve homemade sausage rolls here, so we order one to share and it is very good.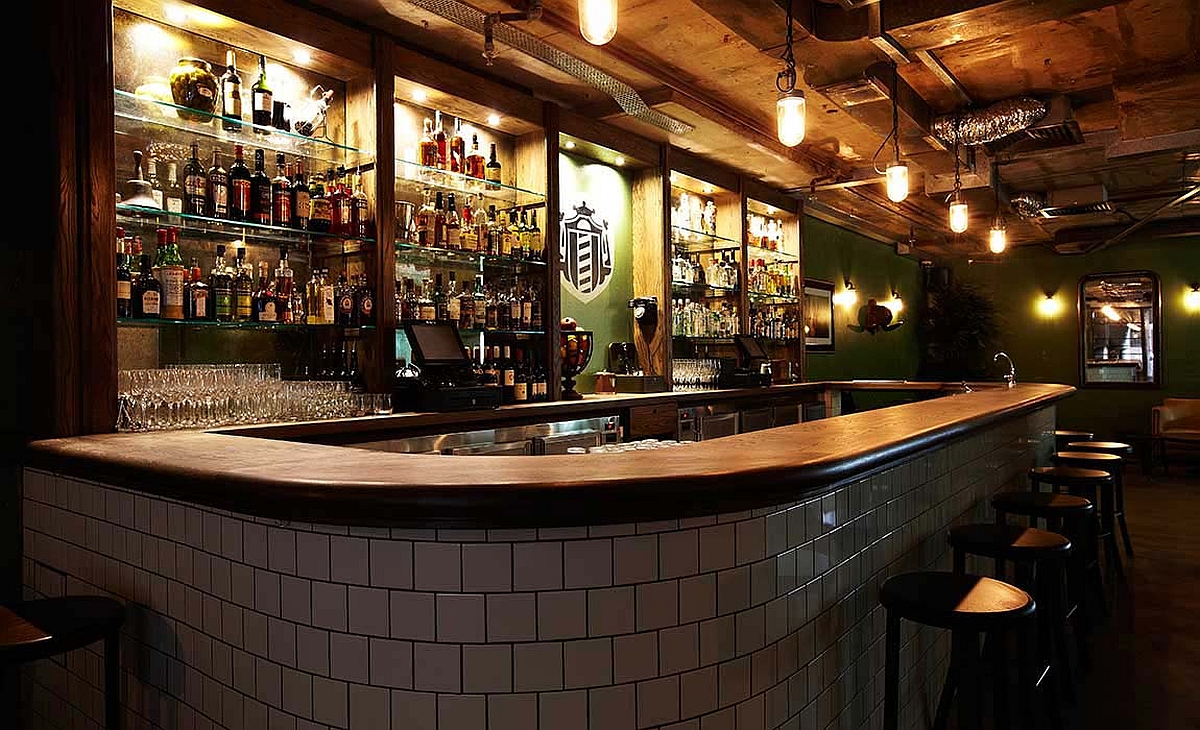 We get up and leave out of the entrance we came in to and notice people going to the far side of the courtyard, past a load of wheelie bins and through a door that looks like a fire exit. The only sign that this might be a bar is a randomly placed rope queue barrier like they have outside VIP areas. So we decide to investigate and see where everyone is heading. We open the door and it leads onto some uninspiring concrete steps heading down into a basement. The stairwell has empty barrels stored alongside it and we both look at each other as we imagine we must be in the wrong place but at the bottom of the stairs is another door and once we pull it open we realise we have found The Baxter Inn.
Behind the bar is a floor to ceiling wall of whisky from every country that produces the stuff and this is accessible by the rolling library style ladders. We watch in awe as the experienced bar tenders retrieve dusty old bottles with intricate labels and serve expensive portions to the willing customers. The huge blackboard lists all the whisky available and the prices and we're stunned to see that some of these can cost as much as AU $80 (roughly £50 at the time) for a small shot and other rarer ones are even more.
Away from the bar area is a vaulted room, dimly lit and full of tables with happy whisky drinkers imbibing in their favourite tipple. It really is a stunning bar and was listed in the top 50 bars in the world in 2015 which seems well deserved.
The dapper bar man takes our orders and Kev decides on a bourbon and beetroot cocktail whilst I have a draft beer. We enjoy sitting at a bar table, listening to the music and watching the bar staff talk knowledgably to the punters and serve the drinks - it's obvious they are all passionate about this product and know everything there is to know about it.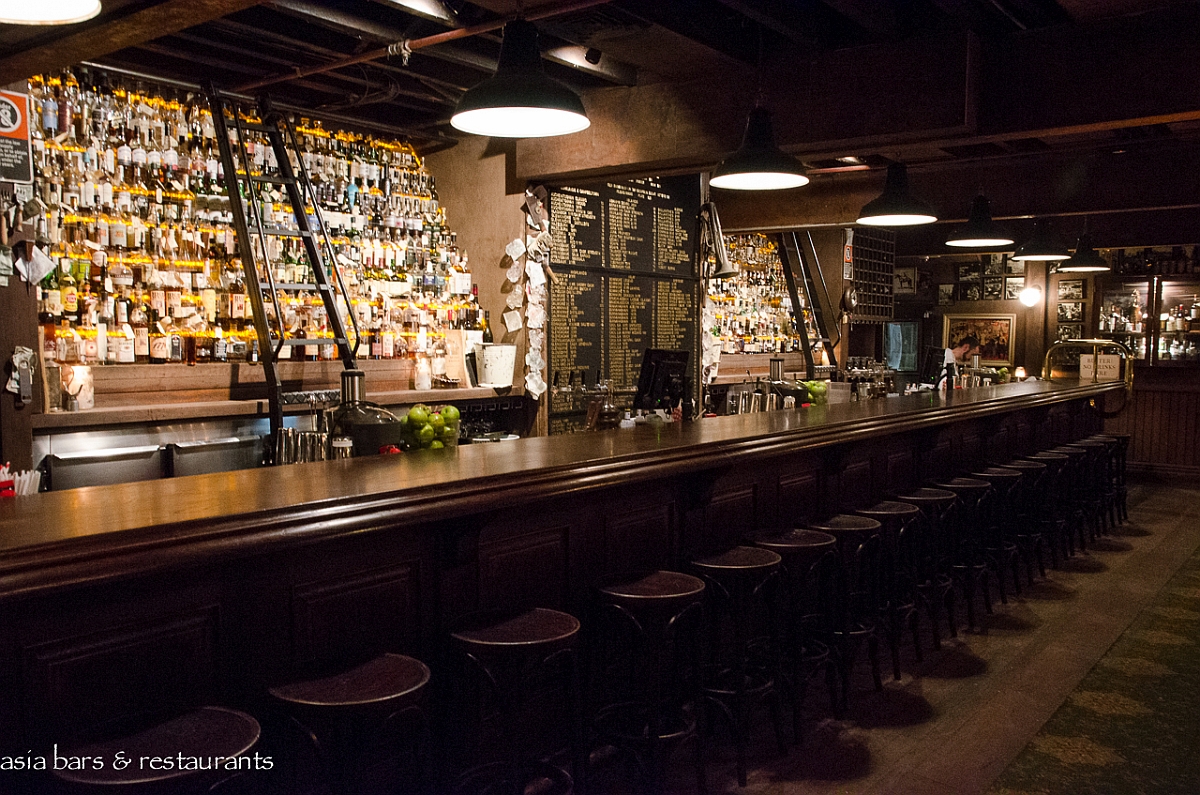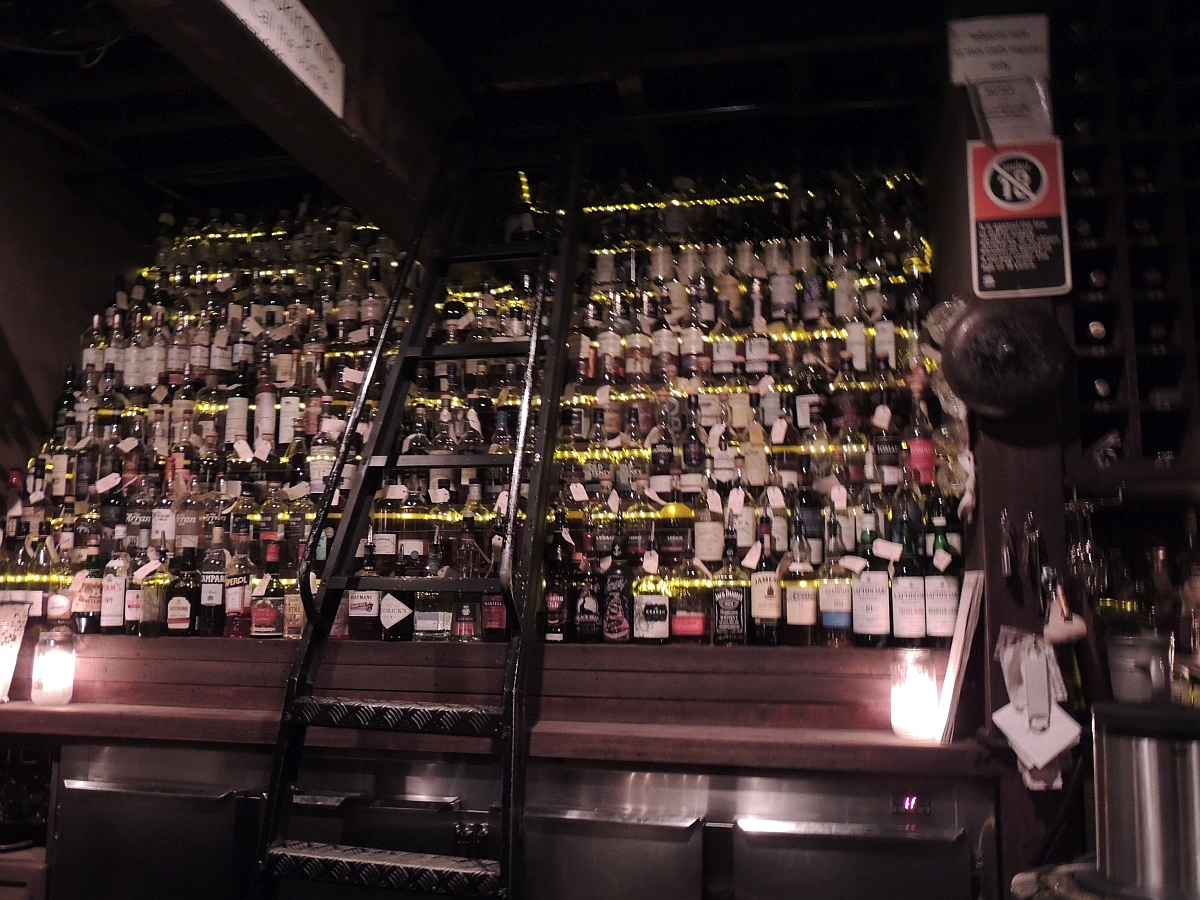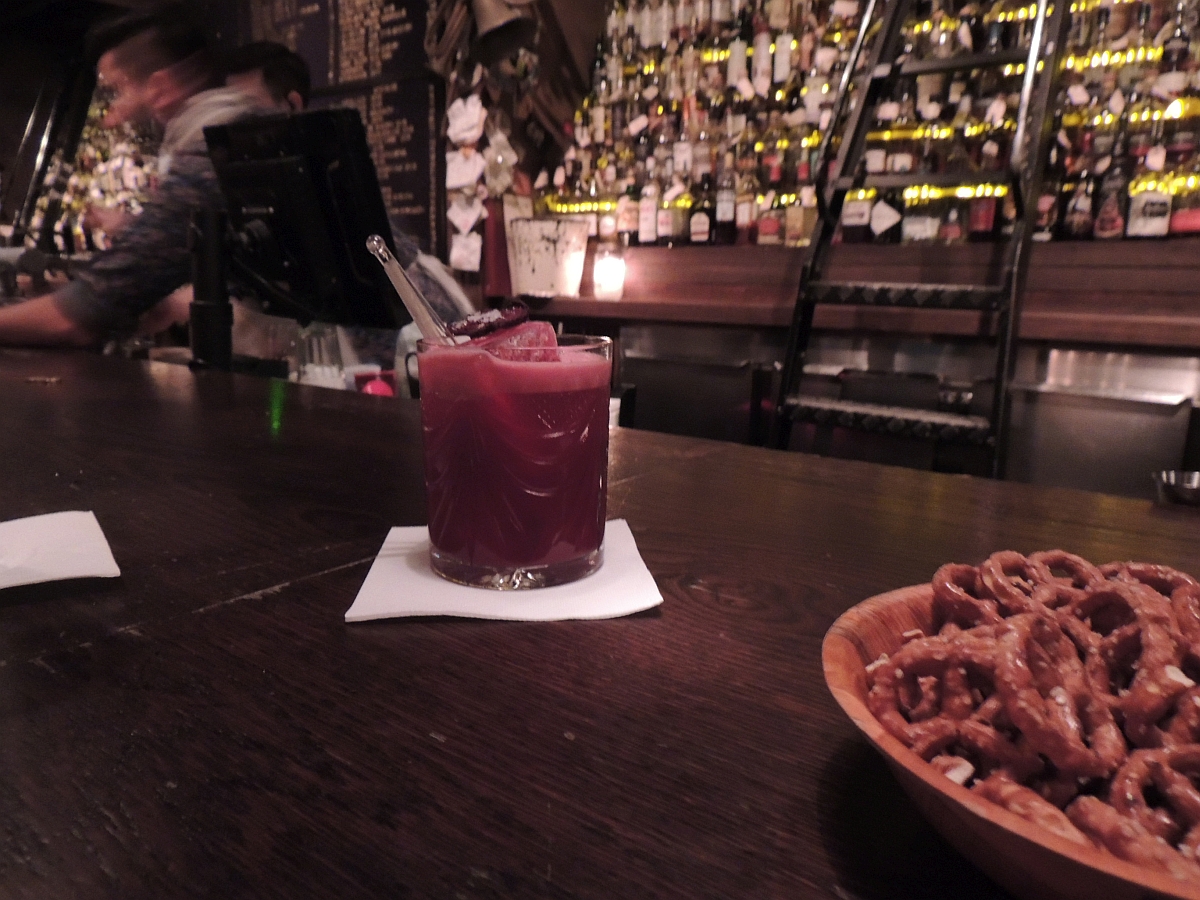 Next on the list of places to try and find is The Bulletin Place - so we set off on a quest to find it. Again there are no obvious signs outside but we notice a door with a notice saying ring bell and push door. So we do as requested but nothing, we have a couple more attempts but fail in our endeavours to get inside and decide to try elsewhere.
We walk through The Rocks area which is very atmospheric at night and full of people enjoying the bars and restaurants in the area. In the Haymarket in Chinatown we find a little alleyway that I had read about - Kimber Lane - it's called In Between two Worlds which by day is an unassuming narrow lane but by night transforms as the animated clouds and figures light up with an otherwordly blue and silver glow. There are floor murals, wall murals and suspended figures. How clever and what a lovely touch I am very pleased we got to see this - there's lots of glorious artwork like this to stumble across all over the city.
All this walking makes us thirsty and we decide to try one last drink at the top of The Shangri La Hotel. We catch the lift up to the 36th floor and we're then told there's a wait for the Opera Bar but within 5 minutes we have a window seat with amazing views out to the Opera House, Harbour Bridge and Luna Park - all lit up far below us.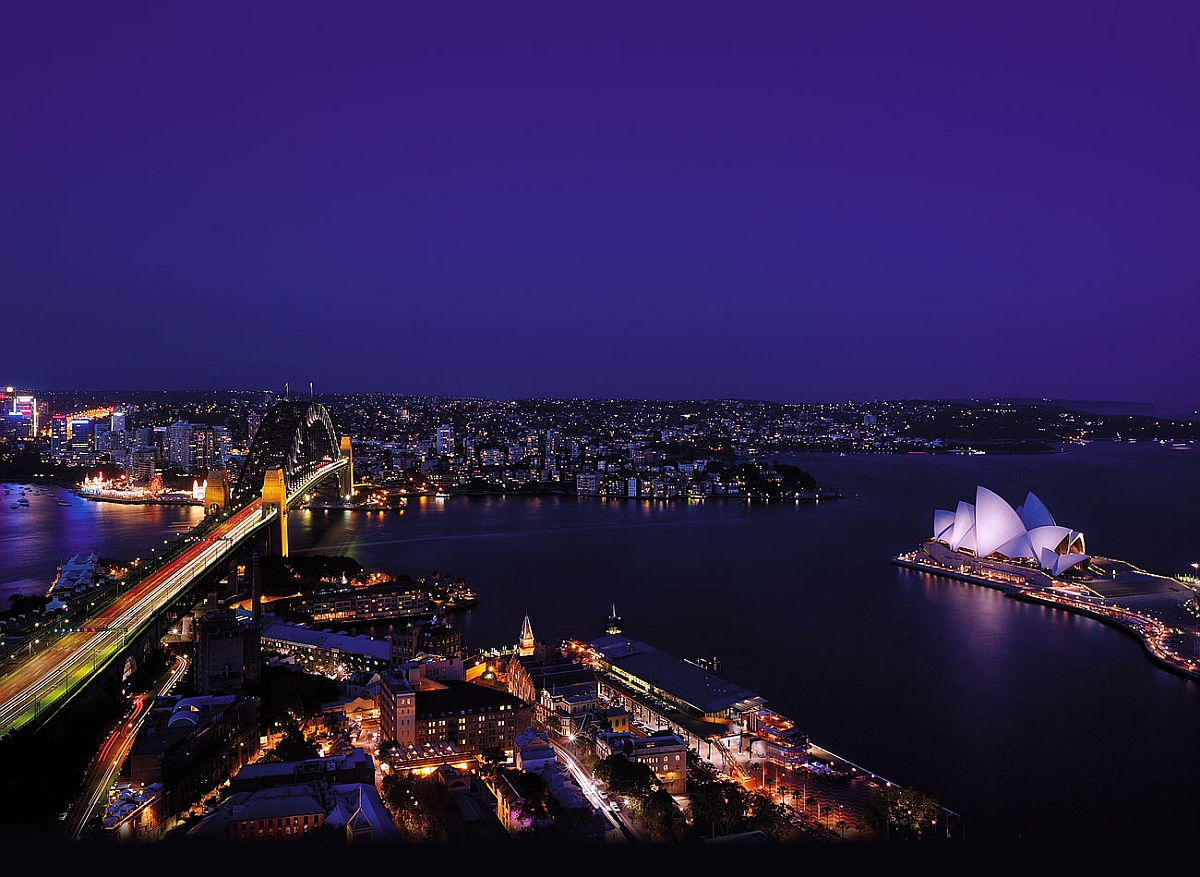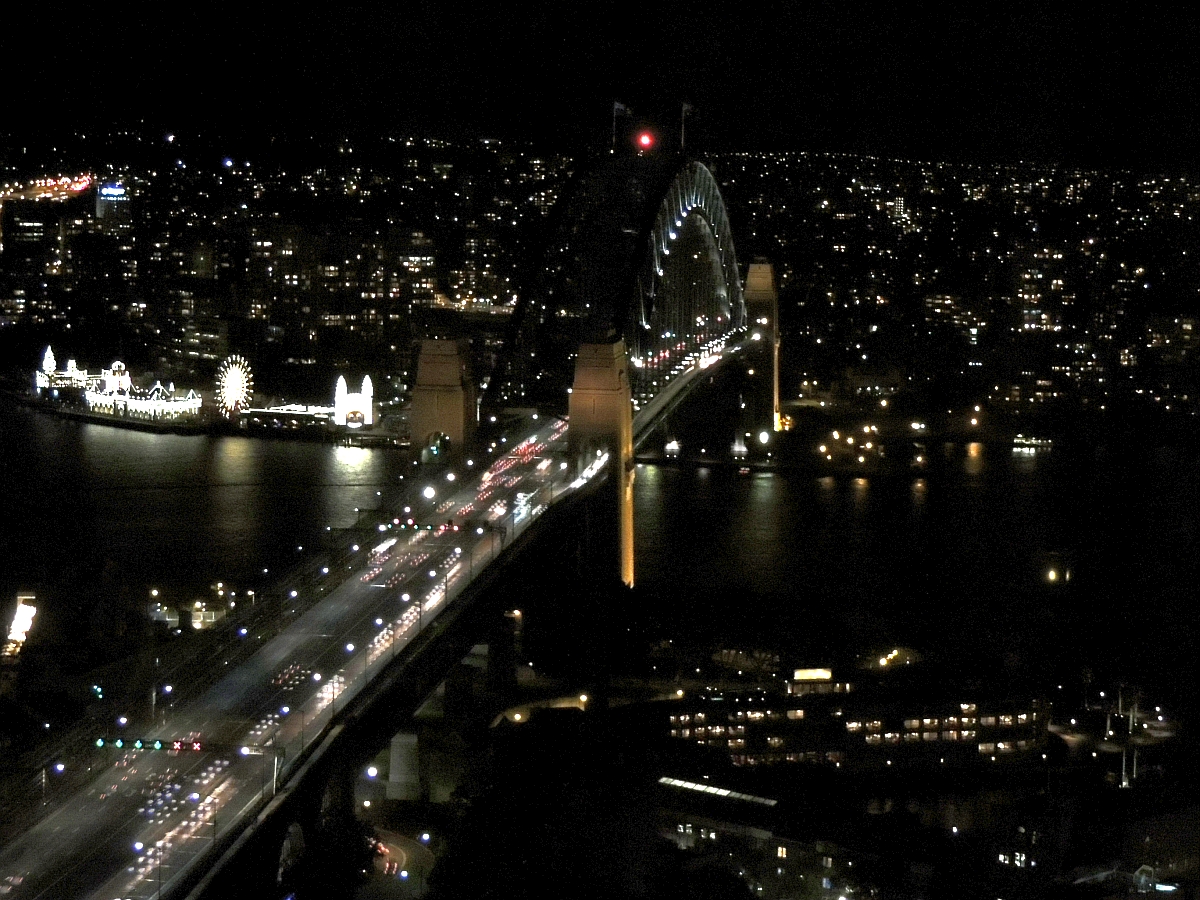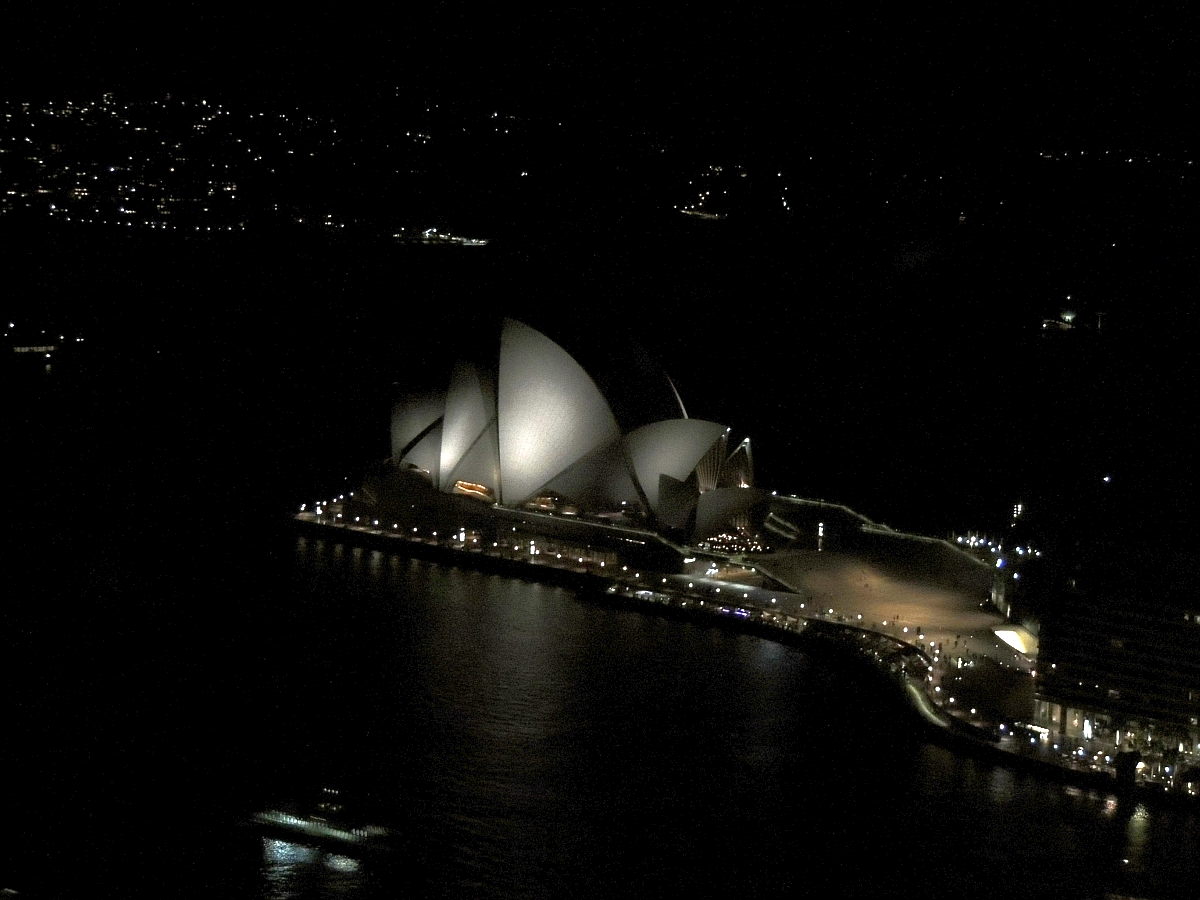 Kev enjoys an Old Fashioned while I sample a Two Birds beer and we order a charcuterie plate to enjoy whilst we sit and marvel at the incredible views this bar has to offer. To be fair we've not seen all the places we wanted to visit tonight but those we did see have been pretty unique in their own way and we've had a lot of fun.
Catch the ferry back to Manly and roll into bed - it's been a pretty full on day with a lot of walking.
[OCTOBER 2016 REPORT HOME PAGE]