Day 12 Tuesday 11th October 2016
Written by Kev
I wake up at 8.00am and Tam is already on the balcony. Today is an 'at sea' day and we have no plans other than to relax before our meal at Murano tonight.
We go to Blu for breakfast. Tam orders the parfait, but the server brings her muesli instead. 'I didn't order that, I ordered parfait' says Tam. 'That is parfait madam' says the server. No it isn't' says Tam 'It's muesli'. And so it goes back and forth for a while. Eventually it gets sorted out to an irate Tam's satisfaction. I need to get the girl some anger management classes (although she was right, it was muesli).
I have an omelette and toast and we are ready to face the rigours of a day doing absolutely nothing.
Our first stop is the Persian Gardens. With our Aqua class stateroom we get cruise long access to this area. It has heated ceramic beds that look hard and uncomfortable, but are actually really nice to relax on as is shown by the light snoring coming from the chap a couple of beds along from me. There are two sauna rooms and showers as well, although we don't make use of them on this visit.
After 90 minutes we leave and go to another indoor part of the ship that nobody seems to know about, as it's always empty. It's on deck 11 at the very front of the ship, the pointy end for those of a nautical nature.
It has big wide beds. Literally beds, not the sunbed type thingies and a large panoramic window facing out to sea. It's so quiet and peaceful, even the raging brute that is Tam is stilled for a brief while.
I'm not sure we can do sitting still for too long as 30 minutes later we move to the Solarium (the adults only indoor pool area), where we stay for a couple of hours.
It's now lunchtime and we both fancy a Caesar Salad, so we go to the main dining room. Unfortunately they don't do Caesar Salad at lunchtime, so Tam has a small bowl of mushroom soup and I have a Brik. This is a Tunisian dish that we last had on our honeymoon 30 years ago. I don't remember being like this in Tunisia. There it was a crispy pancake with a whole soft-boiled egg in the middle. The thing I have on the ship has bits of seafood in it including some very chewy squid. Ah well, never mind. You're never far from the next meal when cruising.
Up to the Solstice deck, which is again beautifully quiet. I must say I have seen very little evidence of sun bed hogging. When most people leave they pack up their things and leave the sun beds and chairs for others to use.
Tam makes sure she uses plenty of sun cream this time as we bought a factor 50 in Brisbane for her red bits. I call in a team of 5 maintenance staff and she's oiled up and ready to go after only 10 minutes.
Another period of time passes where we do nothing except read, listen to music, doze and stare out to sea. Come to think of it, that's quite a few things.
It becomes apparent at this point in time that there is a drawback to the Solstice Deck – the basketball court is right in front of it. When the ball hits the backboard, as it does frequently, there is a loud 'thwack'. What sort of genius ship designer thought to them selves 'Hmmm, there's this large spare area just in front of one of the quietest, most relaxing areas of the ship – what shall we do with it? I know, we'll stick in a basketball court'. The man (or woman) is a complete fool.
We go back to the Solarium for a dip in the pool and sit to dry off in a two person wicker round chair next to the window and stare out at the vast nothingness of the ocean. It's quite a spiritual experience until the woman in the hot tub next to us starts telling her hot tub companion rather loudly about her constipated dog. Spoils the moment somewhat.
Back to the stateroom for showers and we're out again at 6.00pm to go to the Sunset Bar where there's a man playing a guitar and singing. We have a Bahama Mama each while listening. It's quite breezy, but the evenings are starting to get warmer as we move further north.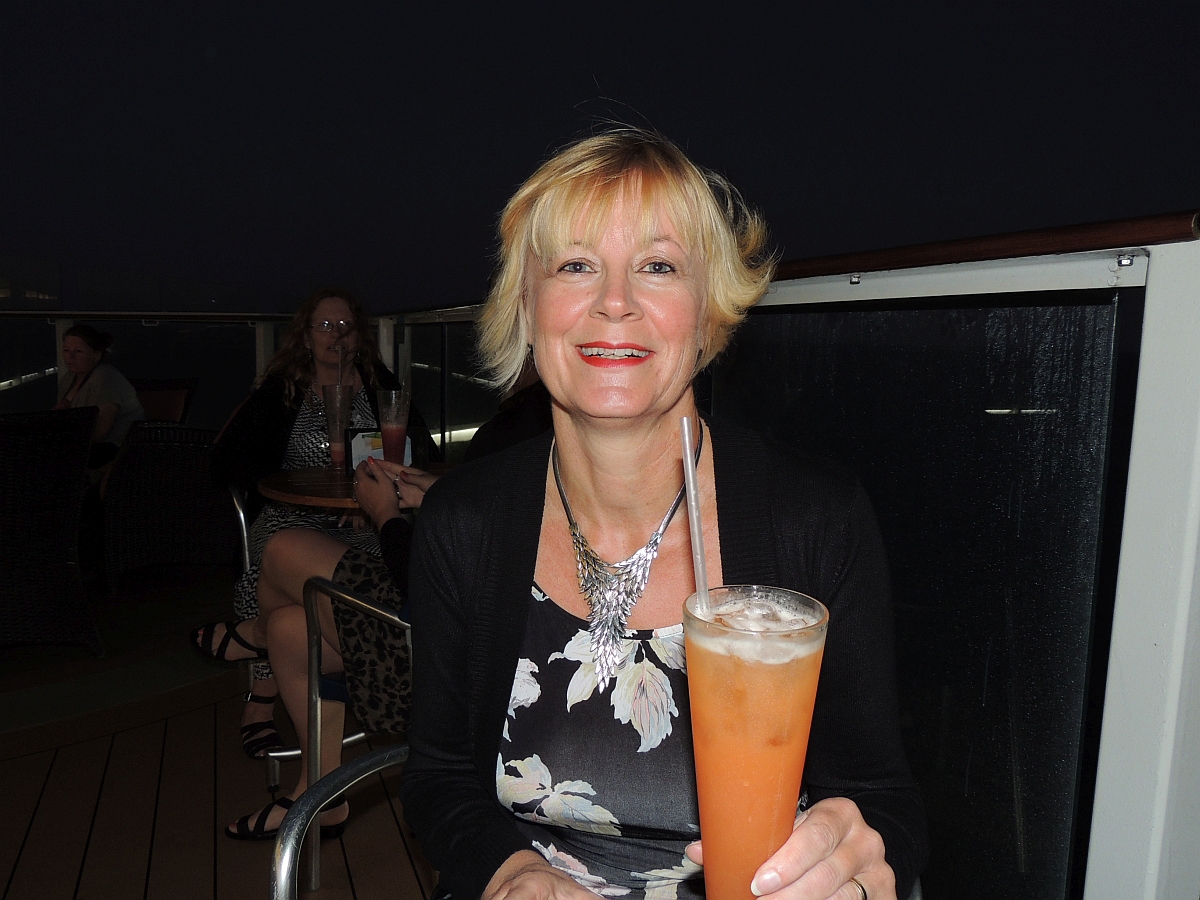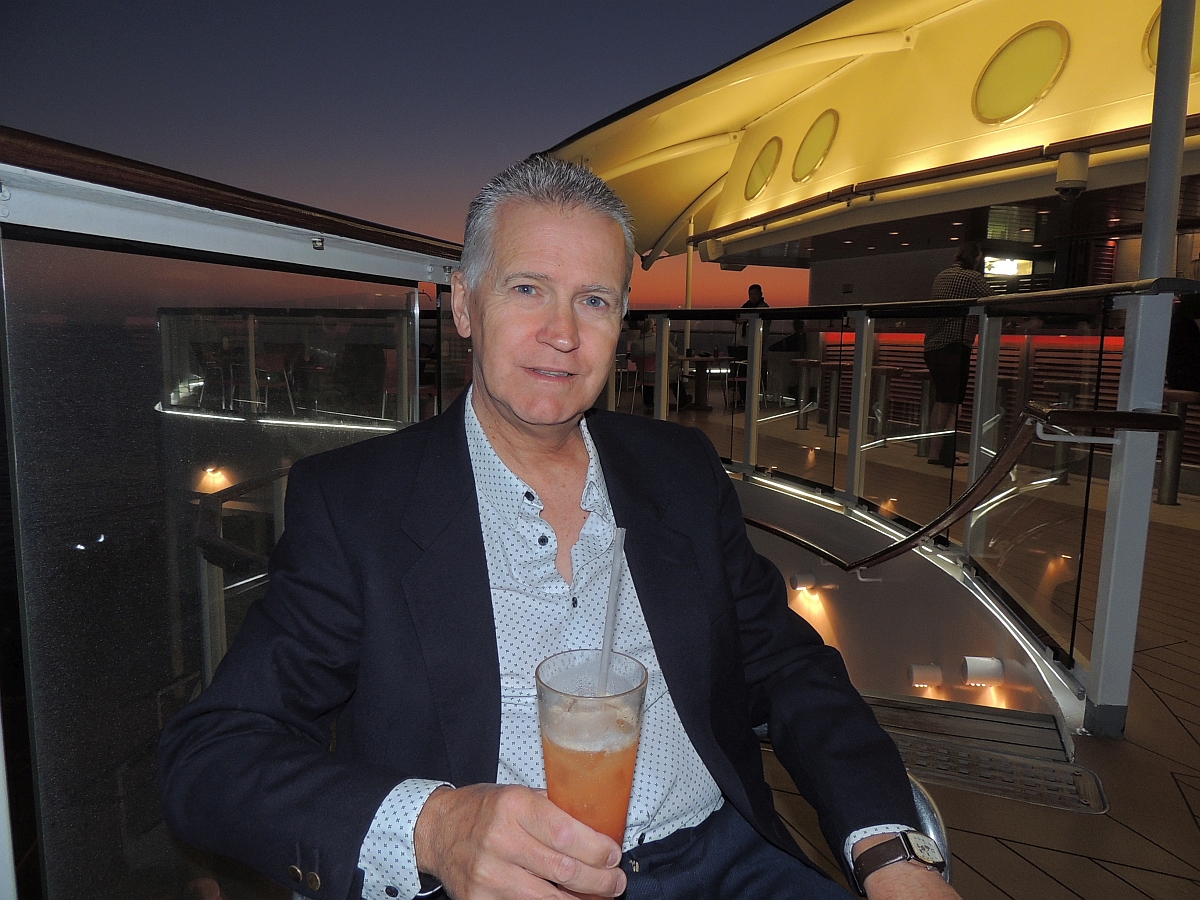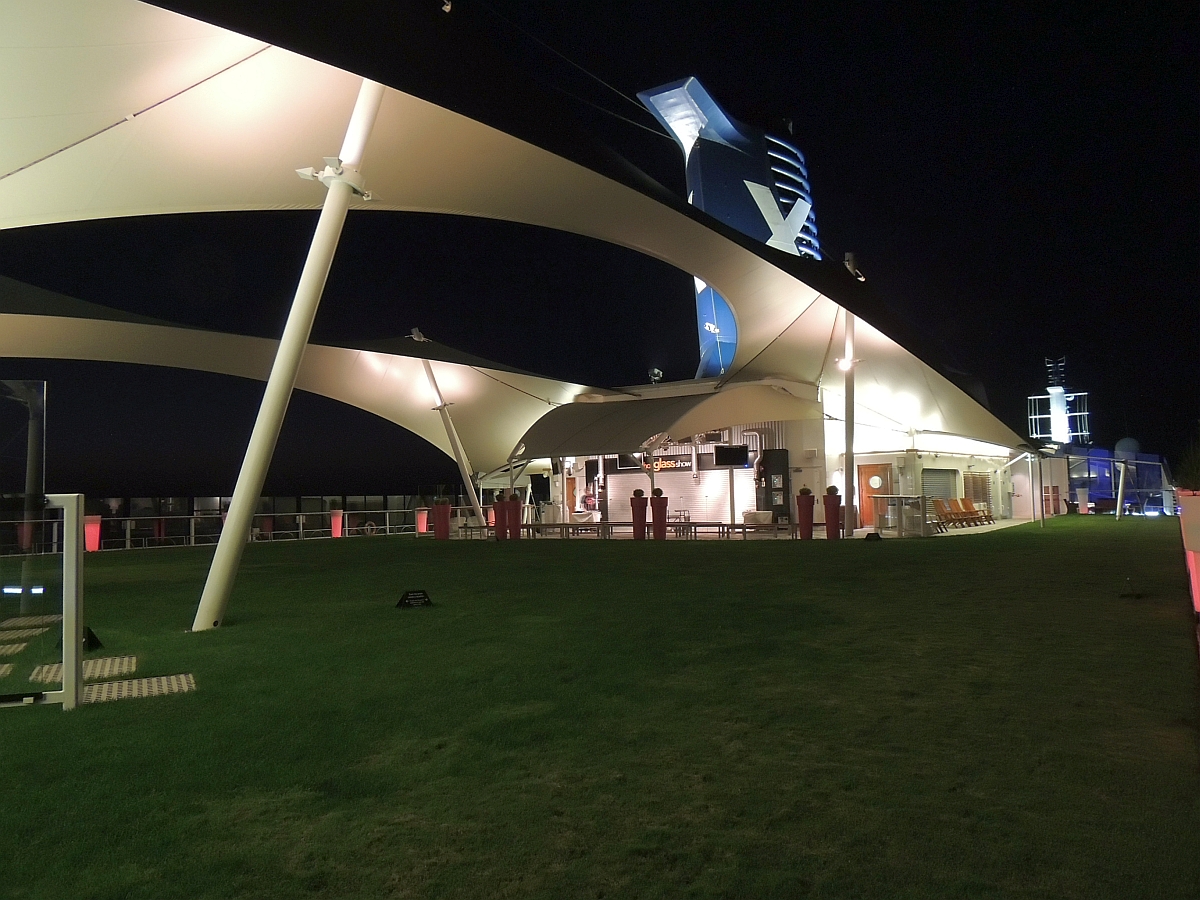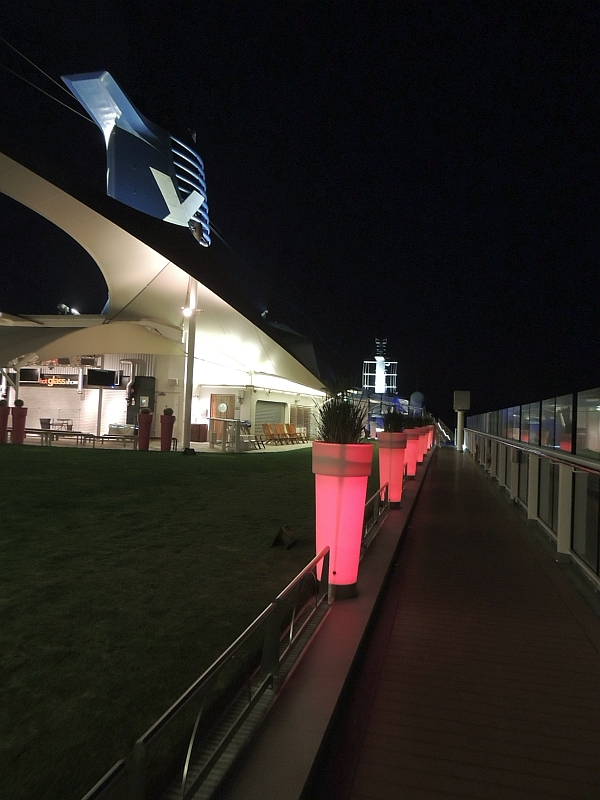 We head to Cellar Masters next, where we I have a glass of Australian Chardonnay and Tam has a sparkling Rose.
I decide to get an Old Fashioned from the World Class Bar to take with me to Murano, but this is a little different as it has a slice of lemon in it. Whether this is deliberate or not, I don't know, but it tastes good anyway.
We go to Murano just a little before our 8.00pm reservation, but are seated straight away. Murano is the most expensive and best (in my opinion) restaurant on the Celebrity ships.
After an amuse bouche, Tam has the Lobster Bisque and I start with the Crab Parfait with Salmon – both are very nice. We have the Chateaubriand for two as our main. The meat is tender and succulent, just as it should be. Tam has the Dark Chocolate Sorbet for dessert, while I have the cheese course.
It's a more leisurely dining experience than the other restaurants and we leave at 9.45pm.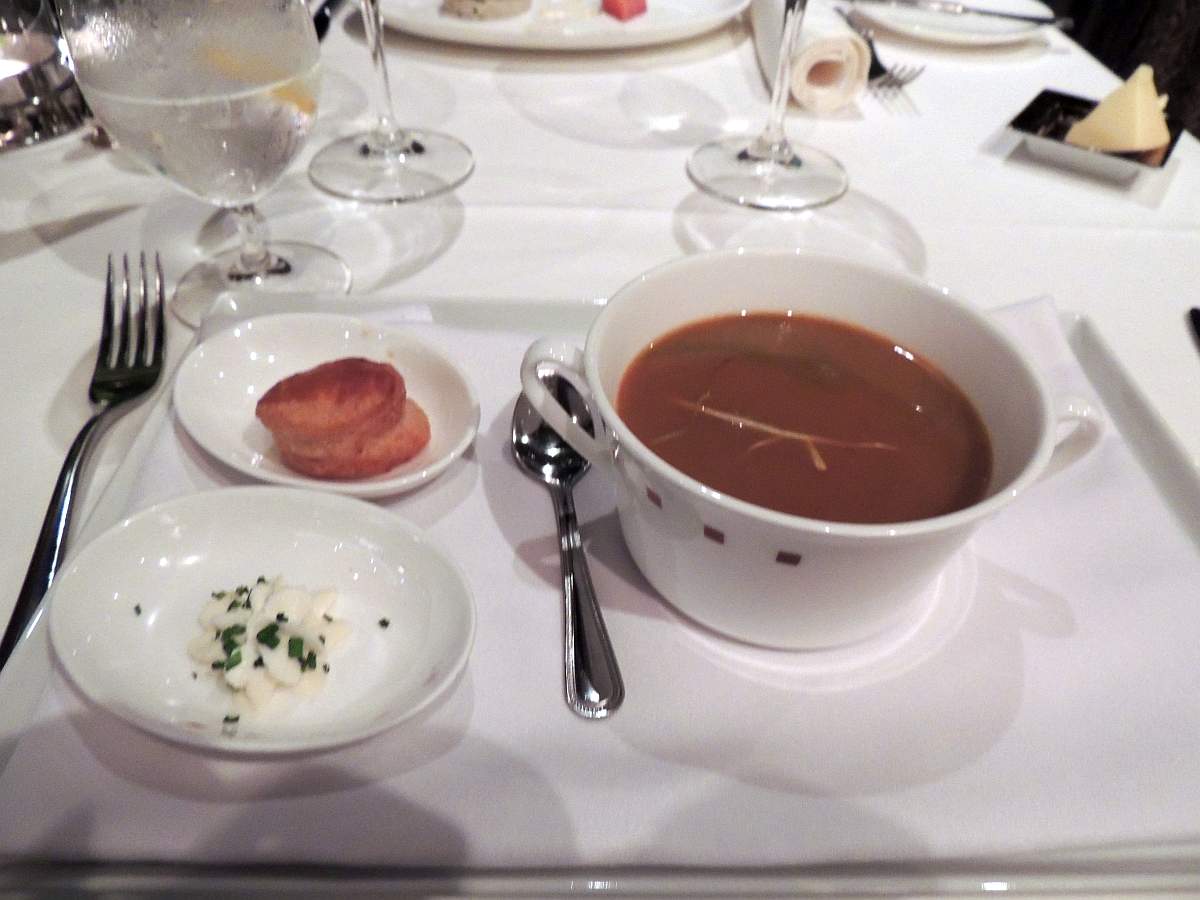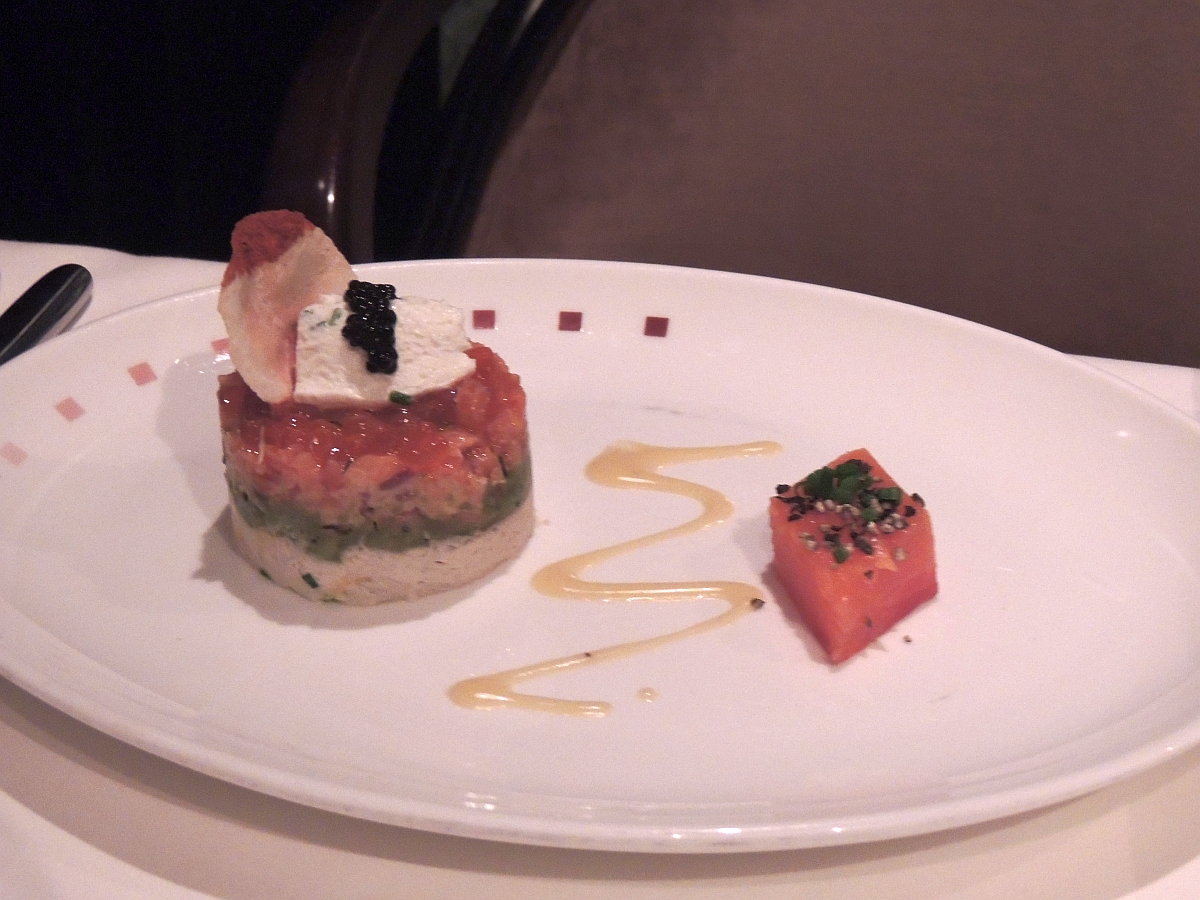 Just outside Murano is the Ensemble Lounge and this is the place for our last drink of the night. I have a Woodford Reserve Bourbon and Tam has a Tia Maria and Coke. The same guy from the Sunset Bar earlier is playing, so we enjoy our drinks in the darkened atmosphere of the Ensemble Lounge listening to acoustic guitar music.
We have a lot of 'at sea' days on this cruise, so there will inevitably a lot of 'did nothing, did some more nothing, ended up doing nothing' type reports for these days. My apologies for that, but I guess that's the nature of a relaxing cruise. The good news is that the next two days are port stops. It's the Great Barrier Reef next, so expect Jacques Cousteau style rampaging adventures battling Tiger Sharks and Moray Eels. In truth it's more likely to be me struggling to snorkel and coughing and spluttering on a mouthful of saltwater. That's about the full extent of my marine adventuring.
[OCTOBER 2016 REPORT HOME PAGE]