Day 11 Monday 10th October 2016
Written by Kev
We wake up at 7.00am as the ship is docking in Brisbane. It's not a pretty port as we are moored at the Grain Terminal, which is a 40-minute bus ride from the city centre.
We dress for the day. Tam's attire consists of a top and long, loose trousers to cover the red sunburnt patches on her legs. I take the opportunity to call her a 'spanner' for the 275th time, not that I'm one to take advantage of the situation.
Breakfast is in Blu, where we both have the Eggs Benedict. It's nice, but the muffin is slightly burnt - a little like Tam (276th). Still, the eggs are perfect.
We fetch the things we need for the day from our stateroom and exit the ship from the gangway on deck 2. A few minutes later we are on the shuttle bus and heading to the city centre. We booked the shuttle yesterday and it cost $22 (US) per person. 40 minutes later we are dropped off in Eagle Street. From here we walk to the shopping mall to find Queens Street bus station. This proves easier said than done, especially as there are different underground platforms and we go up and down the elevators and escalators trying to find platform 2. When we finally find it the machine will not allow us to buy the GoCard we require for easy transportation throughout the day and we end up with single journey tickets at $6.72 (Aus) per person instead. The bus pulls up just as we finish.
We are travelling to Lone Pine Koala Sanctuary and the trip takes 45 minutes, arriving at 10.30am. Tickets are $36 (Aus) for an adult.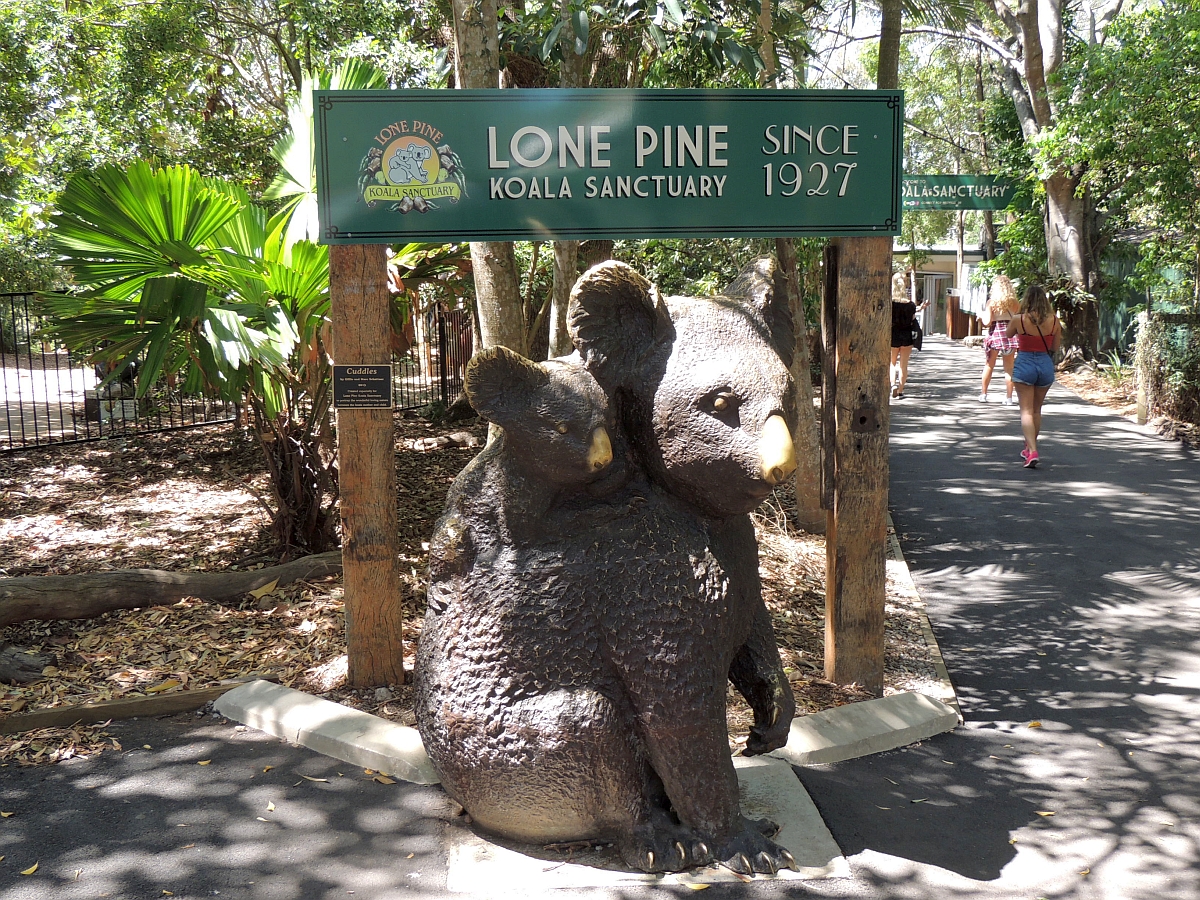 The first thing we come across is the free range feeding area for the kangaroos and wallabies. The 'feeding' part has obviously eluded us as we missed the place where you can buy bags of food. We decide to come back later and instead head for the Koala exhibit. There are loads of the cute little rascals snoozing in bushes just a few feet from you. Now, Tam has a peculiar smile that creeps across her face whenever she is exceptionally happy. The girls call it her dolphin smile as it is often on display when dolphins are around. I believe we may need to change this description to a 'koala smile' as she walks around grinning and saying 'Oh, how sweet' regularly. They are infectiously pleasant little creatures, that's for sure.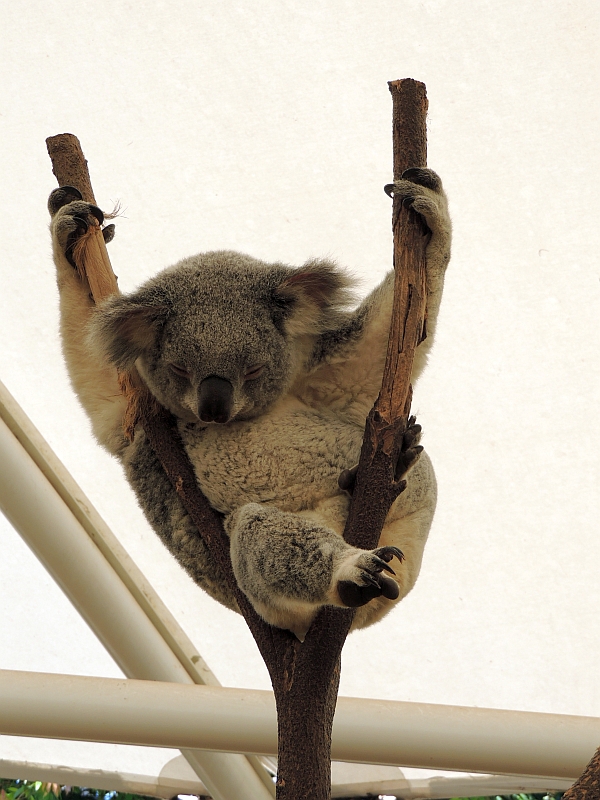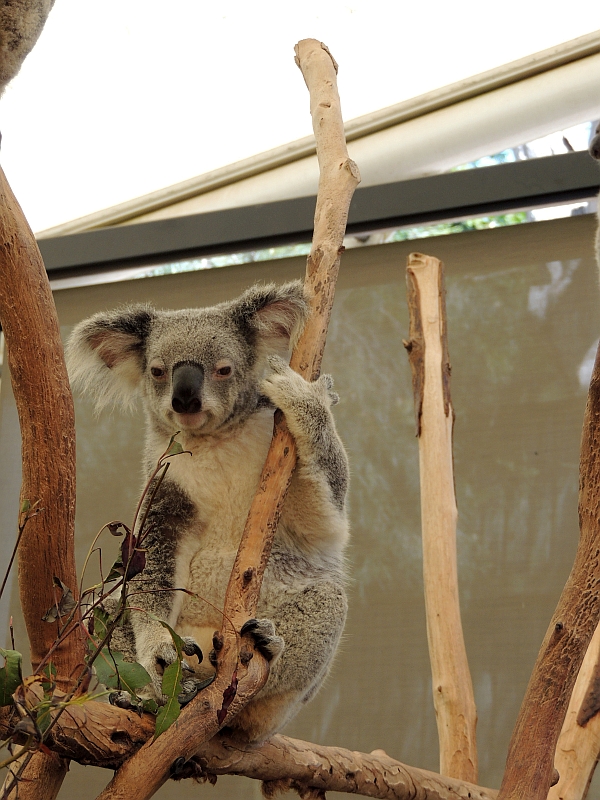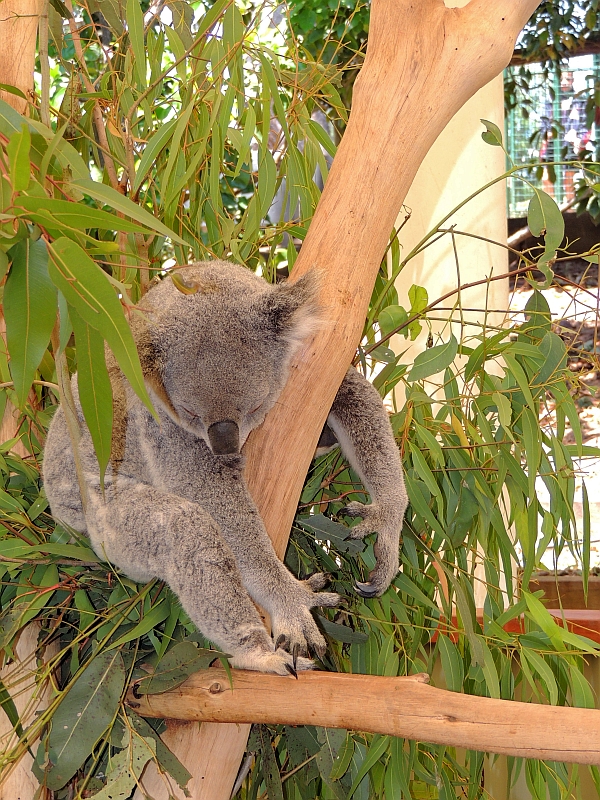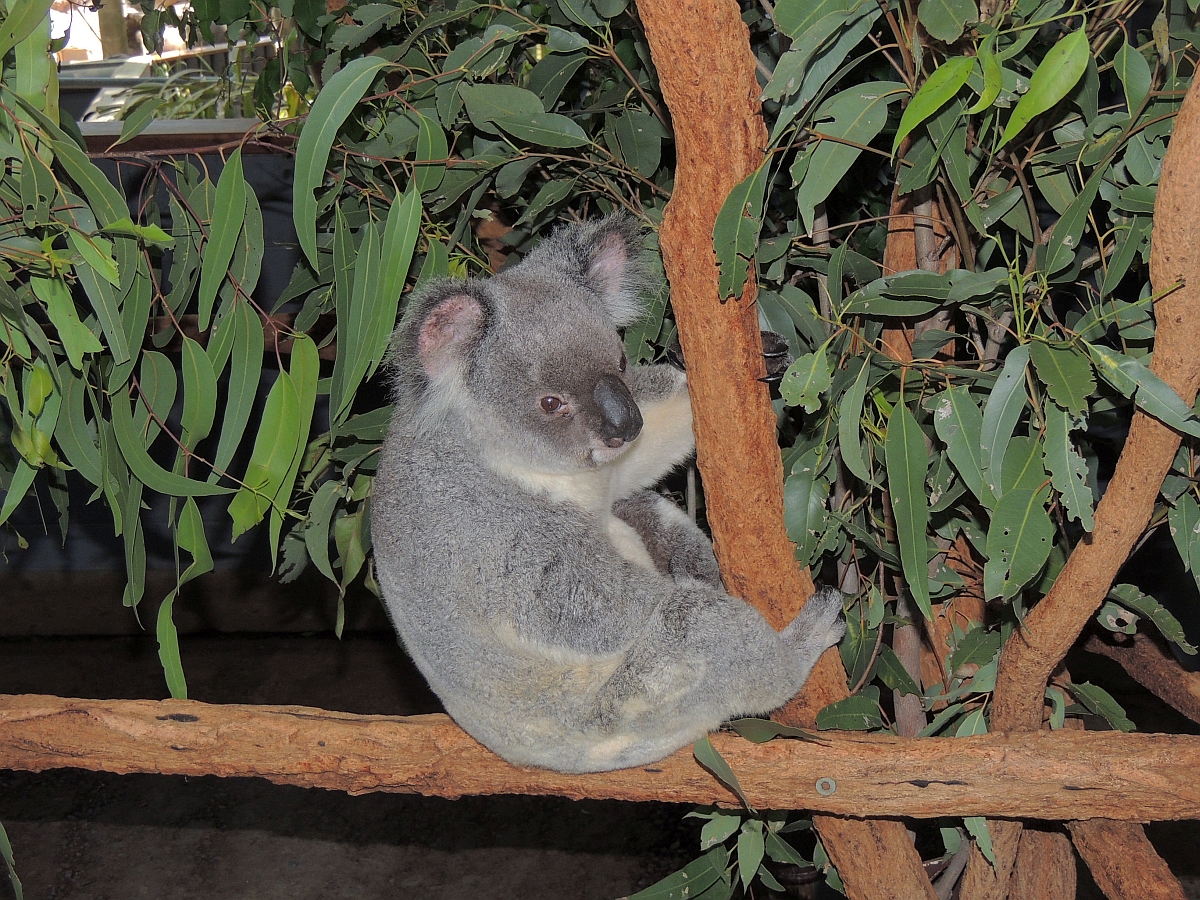 We stroll around a few of the other exhibits including various birds, dingoes, wombats and platypuses.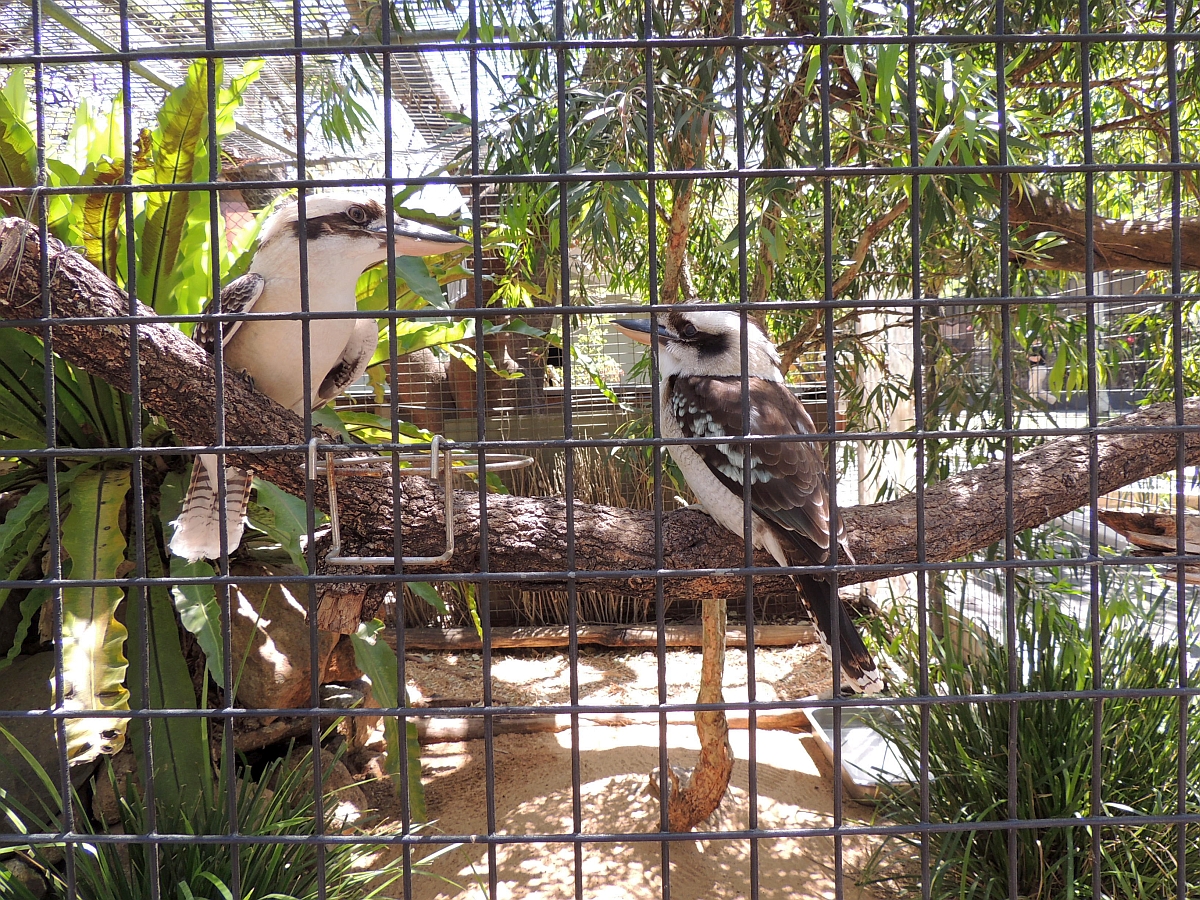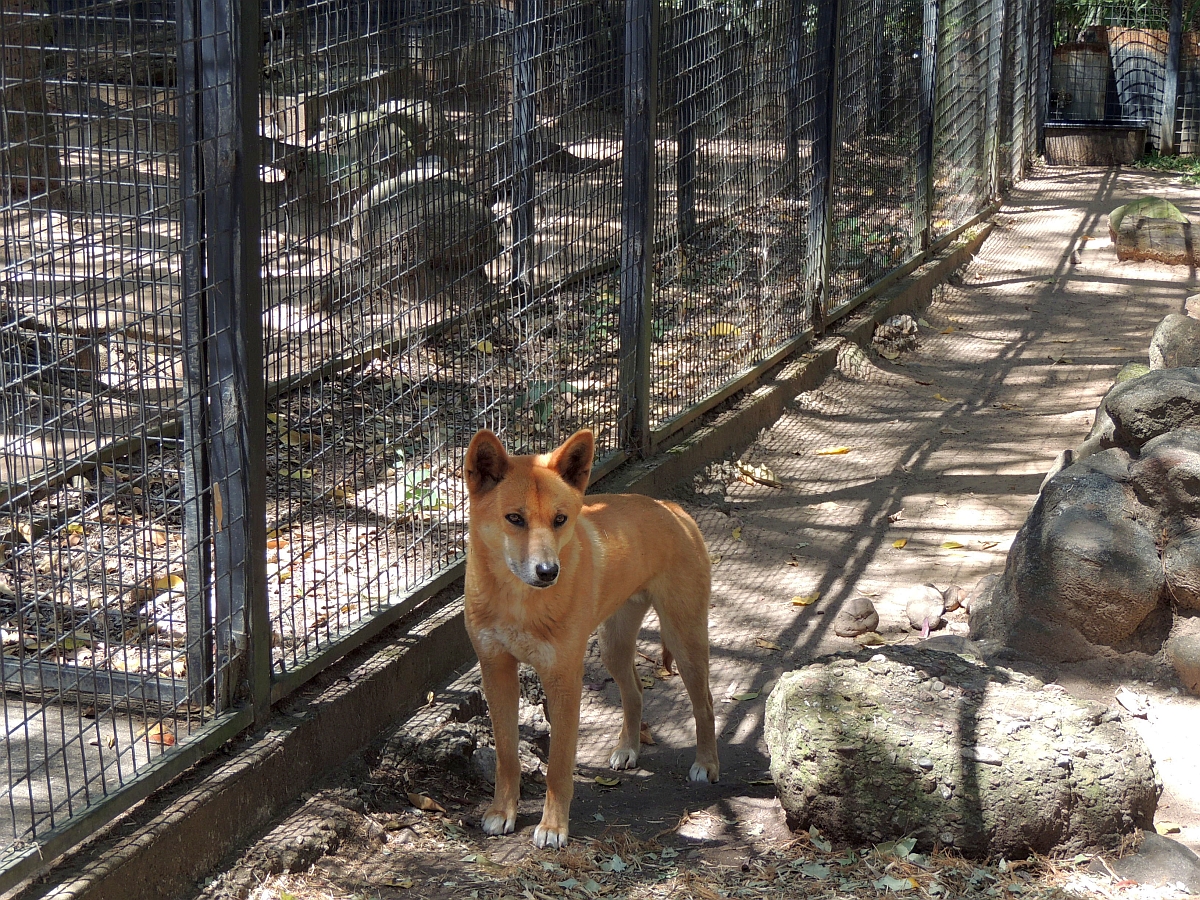 We finally manage to buy a bag of kangaroo food ($2 Aus and a lot like rabbit pellets) and walk back to the kangaroo area. This is a large field that you can walk freely around, feeding and stroking the kangaroos. I believe at this point Tam's koala smile changes to a kangaroo smile.
I can't really explain how much fun this is. The creatures are obviously very used to being handled and are quite happy to be stroked and fed. I look at one female and see a small head poke out from her pouch. I call Tam over, but it's gone back into its snugly home by the time she gets there. Tam then spends a few minutes suspiciously peering around the poor creatures nether regions. The joey doesn't reappear, but the mothers belly moves and squirms in a quite alarming 'Alien' style way. Tam backs away quickly.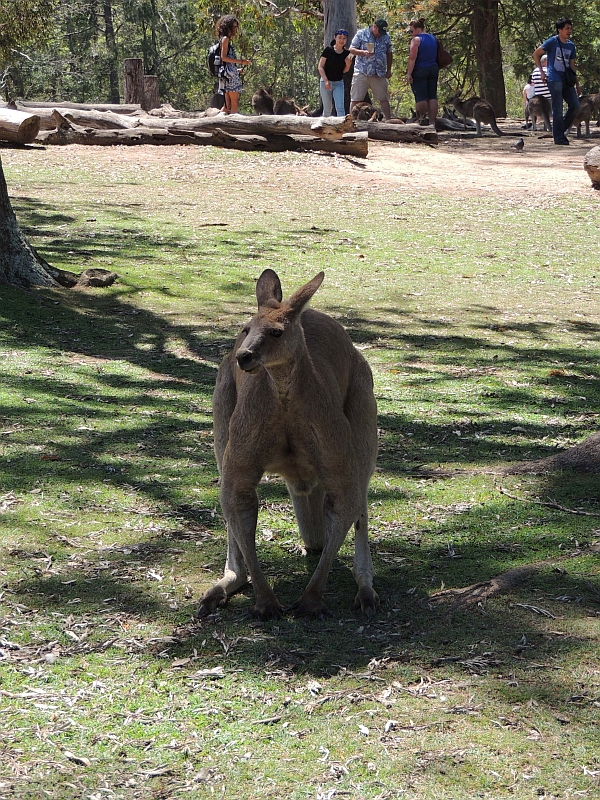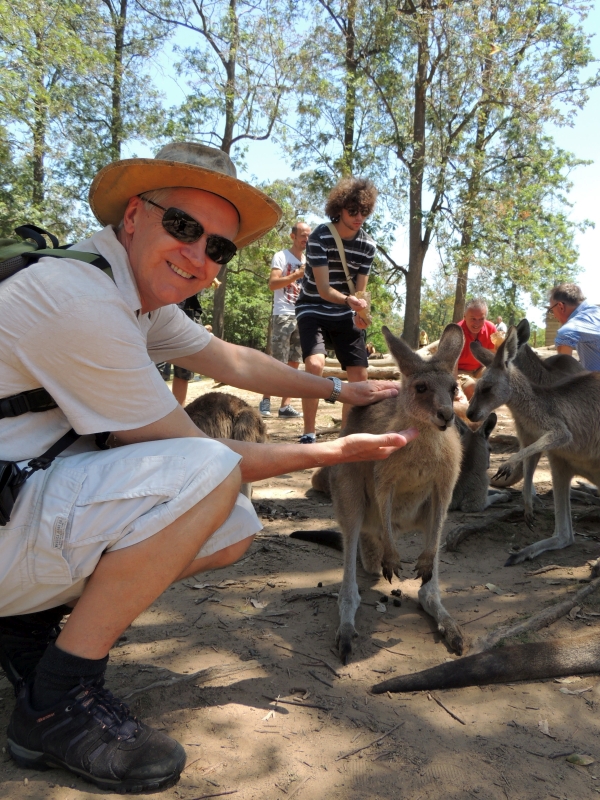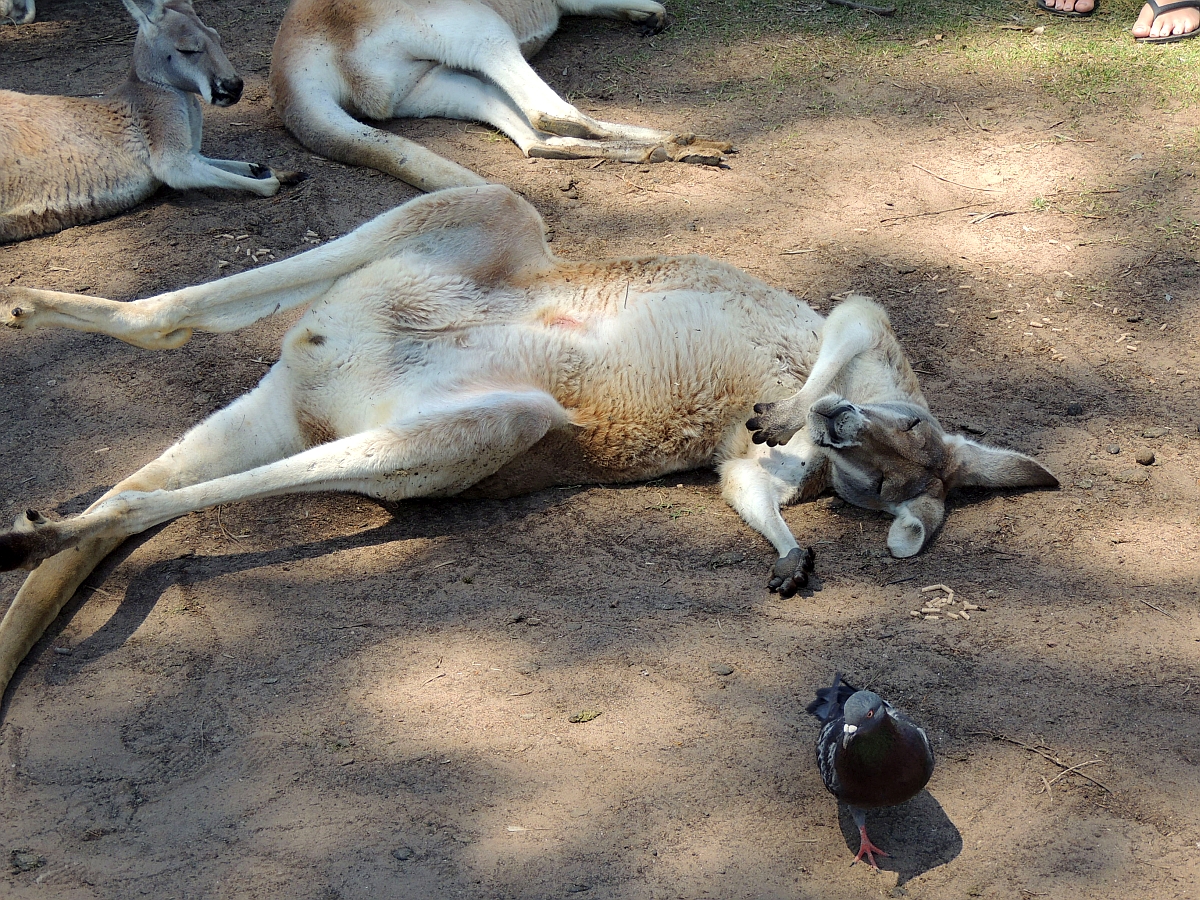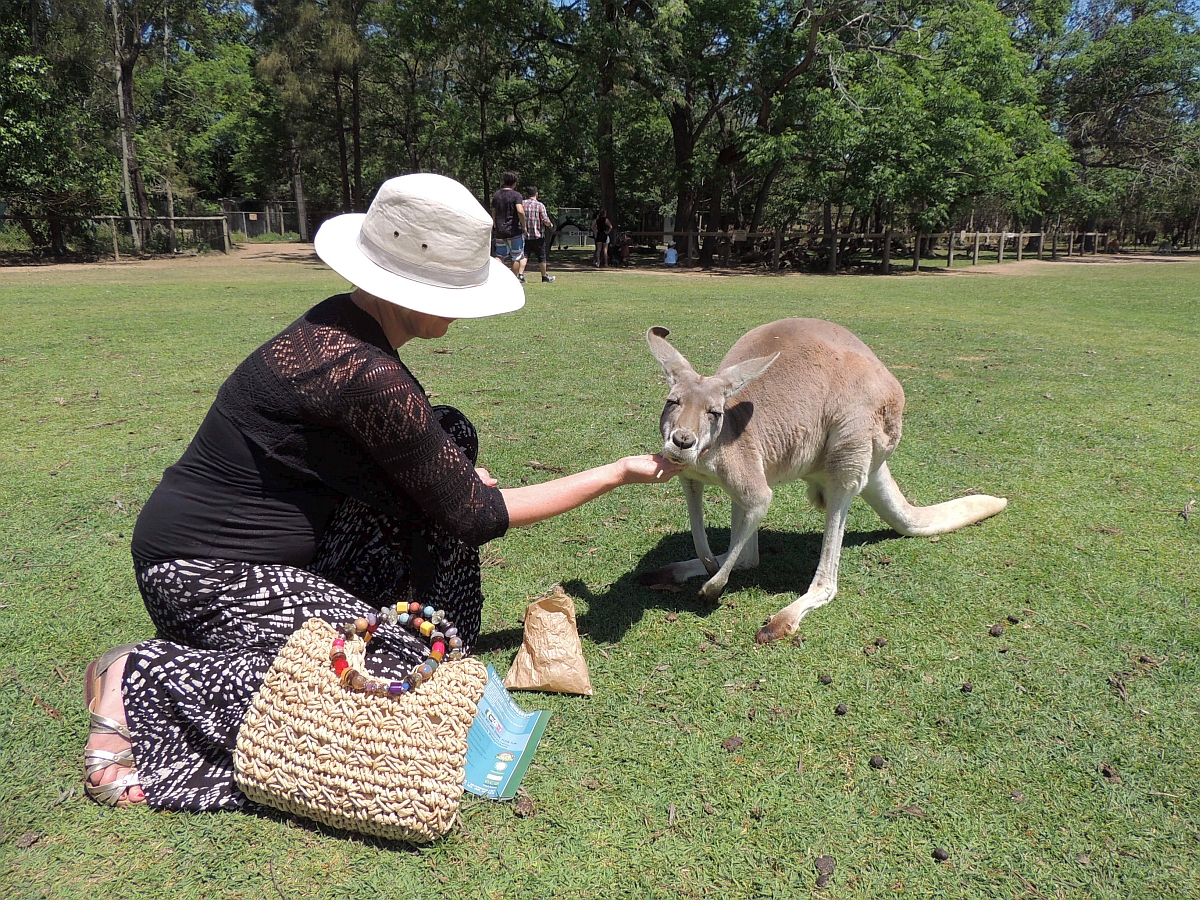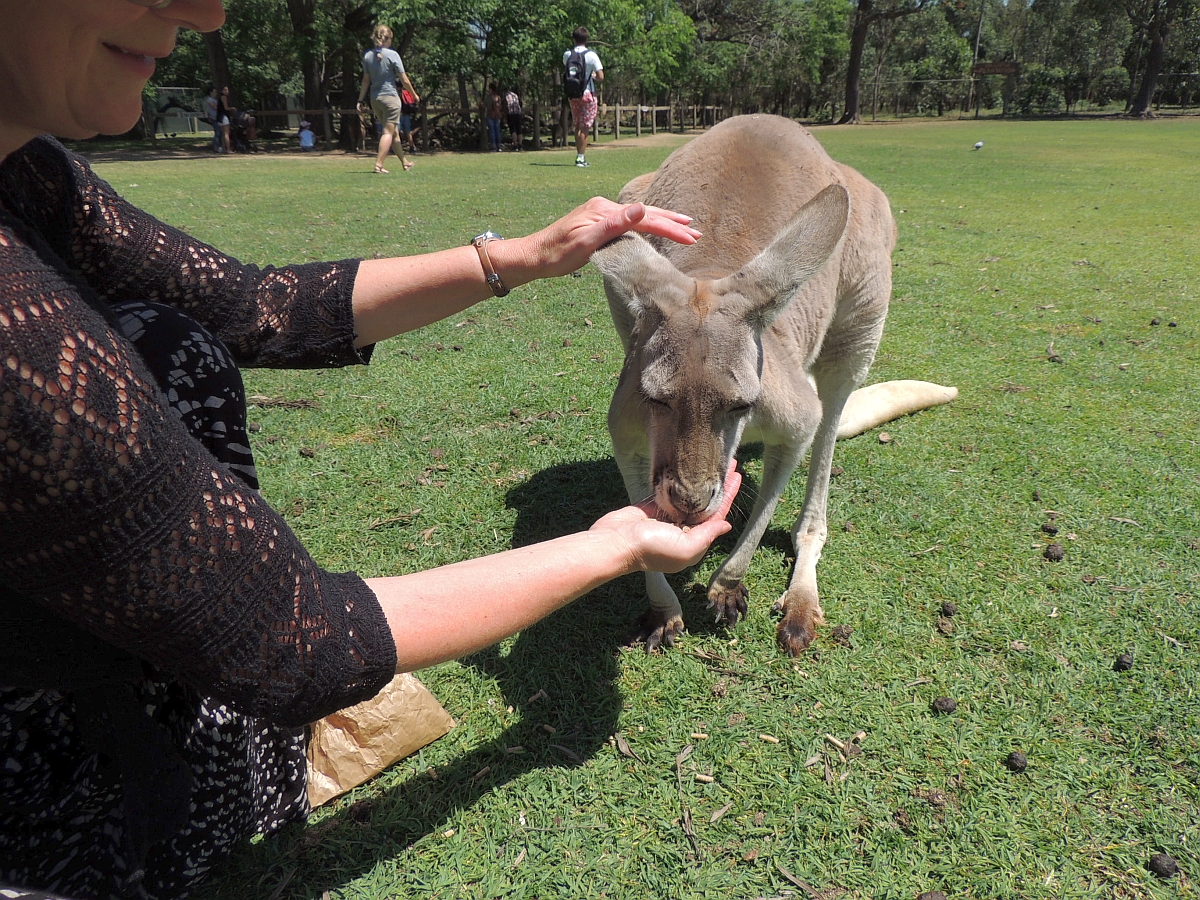 We have one more thing to do. You can pay $18 (Aus) to have your photo taken holding a koala. I think this finally puts to bed the 'dolphin, kangaroo, koala' smile debate. Tam is grinning from ear to ear as the lady hands her the creature to hold. I do believe that, with her life to live again and the choice between having children or a koala, the children might just win, but it would be a close run thing.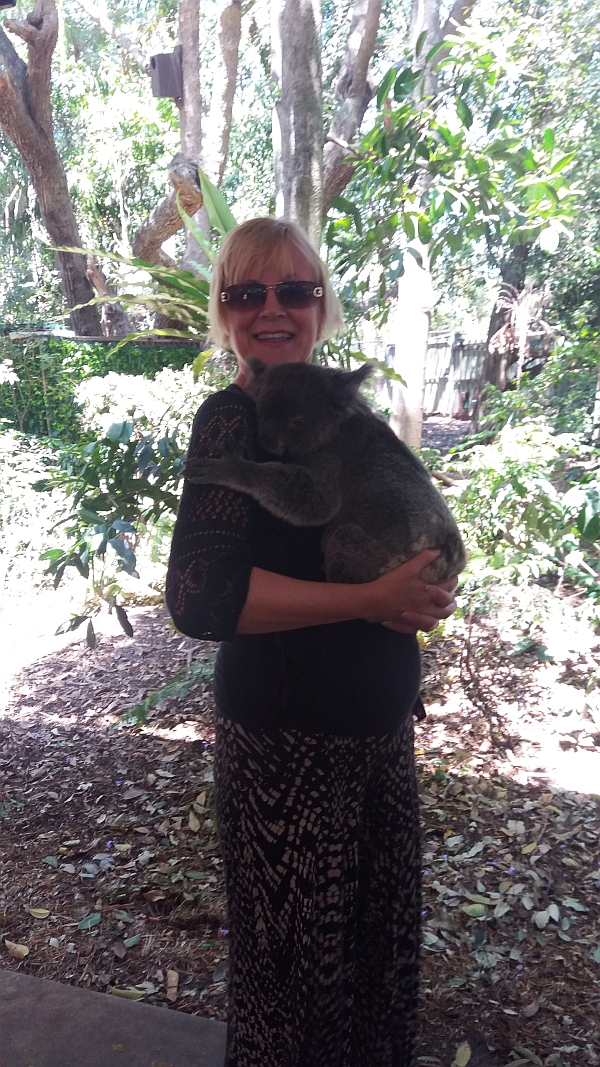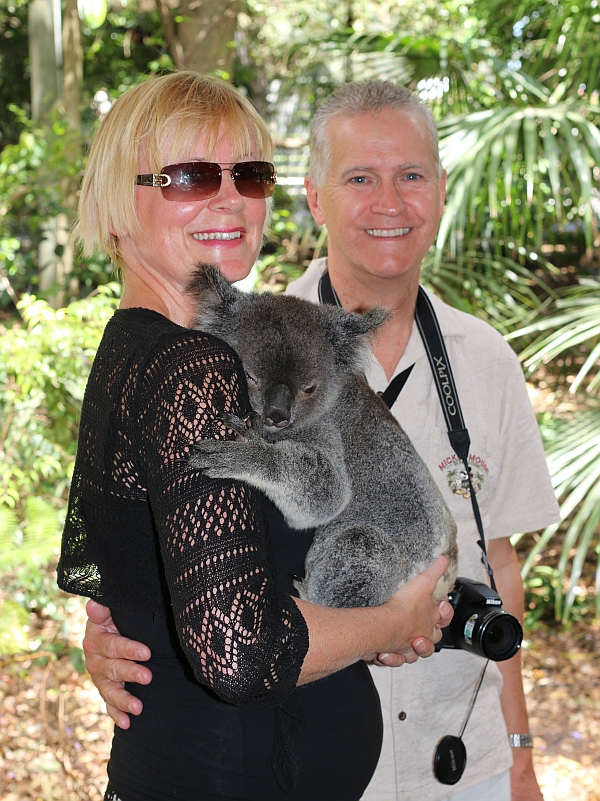 We've had a really nice couple of hours at this lovely place and Tam can't stop gushing about how much she's enjoyed it. Well worth a visit if you ever find yourself in Brisbane.
We have limited ourselves to two hours at Lone Pine as we want to ride the City Catamaran up the river as this is supposed to be a good way to see the city.
We catch the bus back to the city and walk to a 7-Eleven to get a GoCard. Unfortunately they cost $10 each and you then have to load them up with cash, so it's not worth it just for a couple of boat trips, we'll just pay onboard instead.
We split a very forgettable sandwich and walk to North Quay ferry stop where we catch the next catamaran through the city. This is a really good way to see the buildings and skyscrapers from a different perspective. We sail down to Mowbray Park (about 30 minutes) and then back again. Again, I would recommend this; it must be lovely to do at night.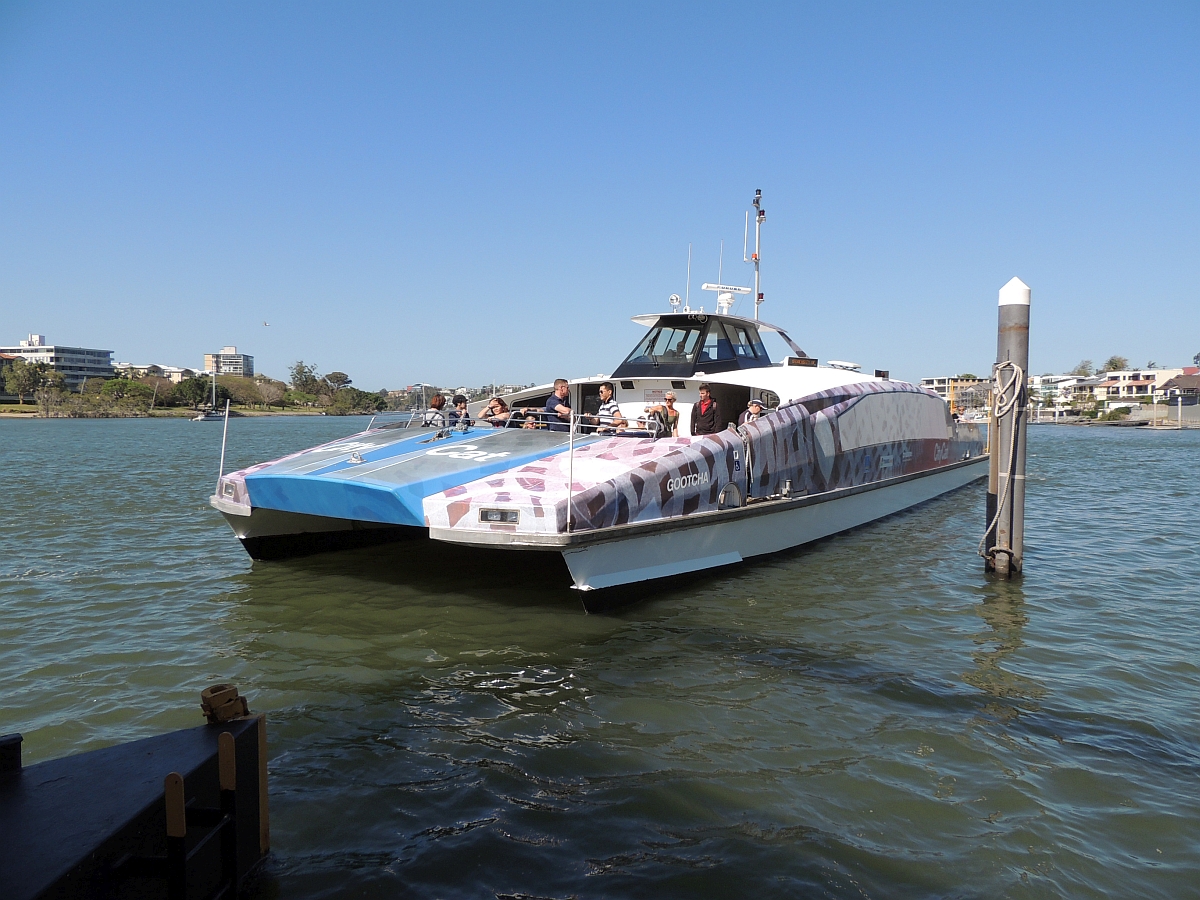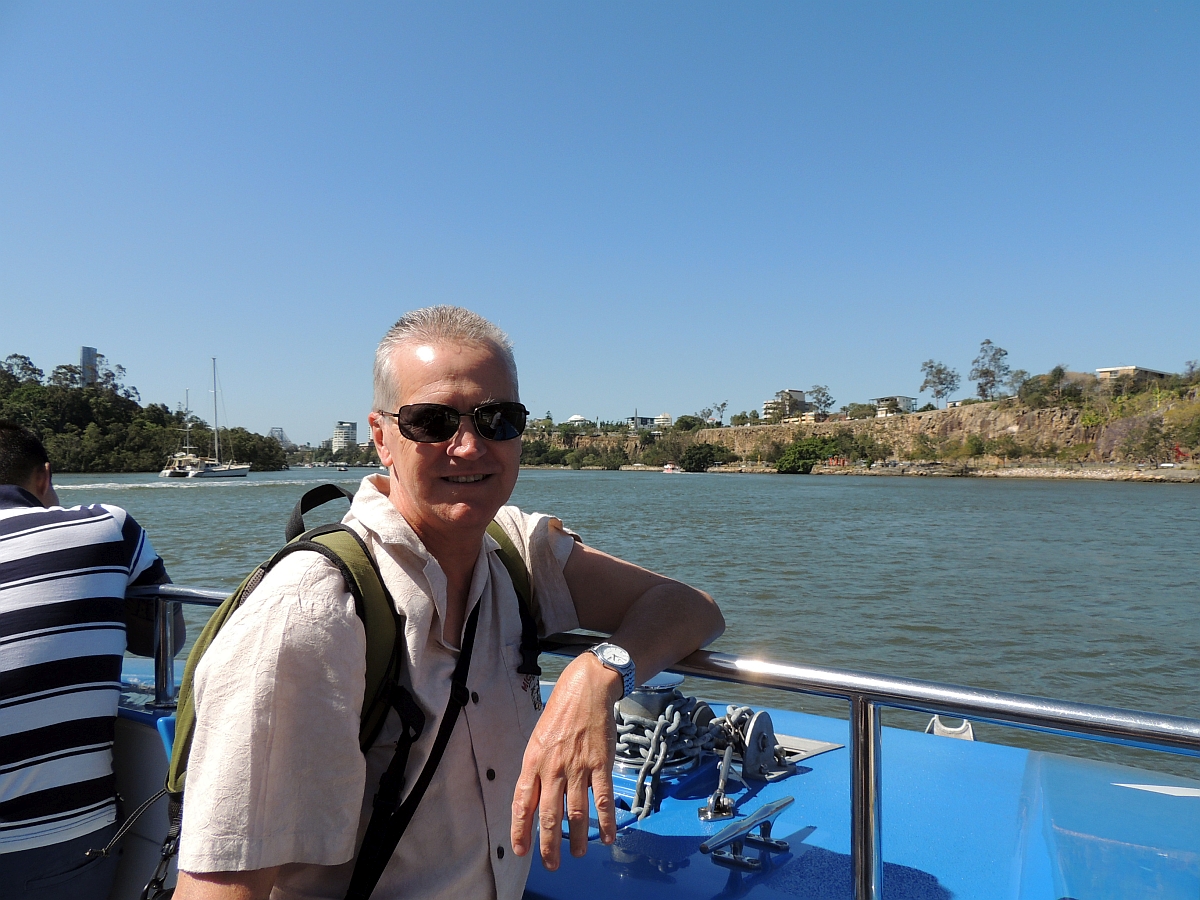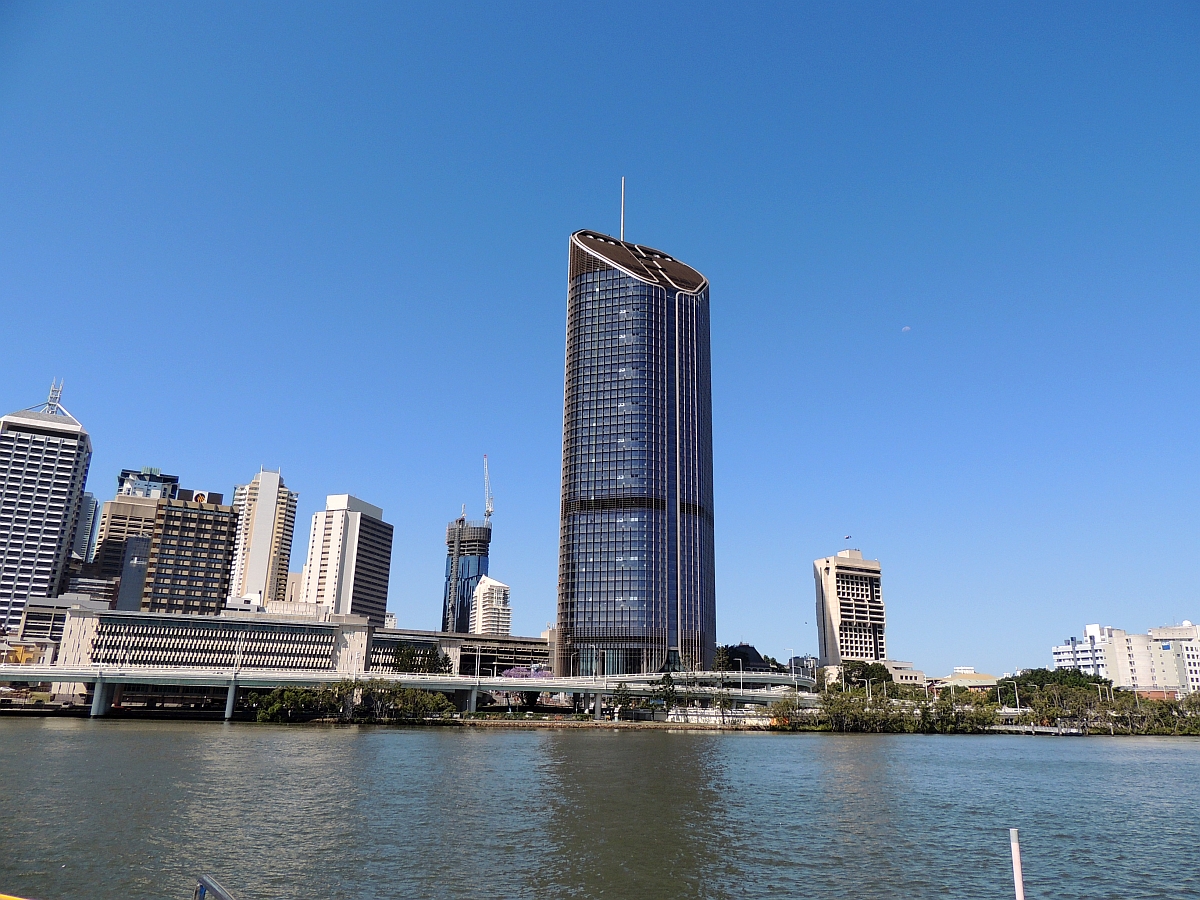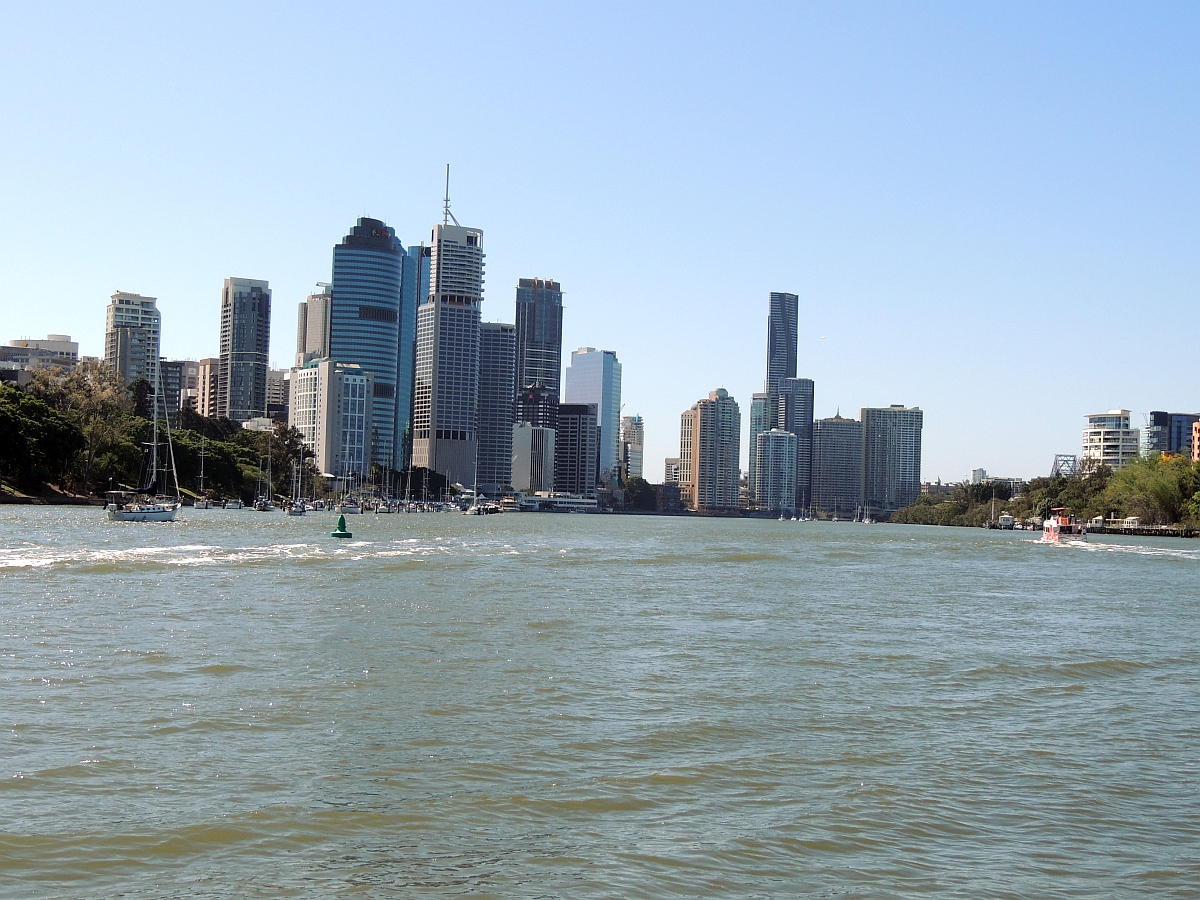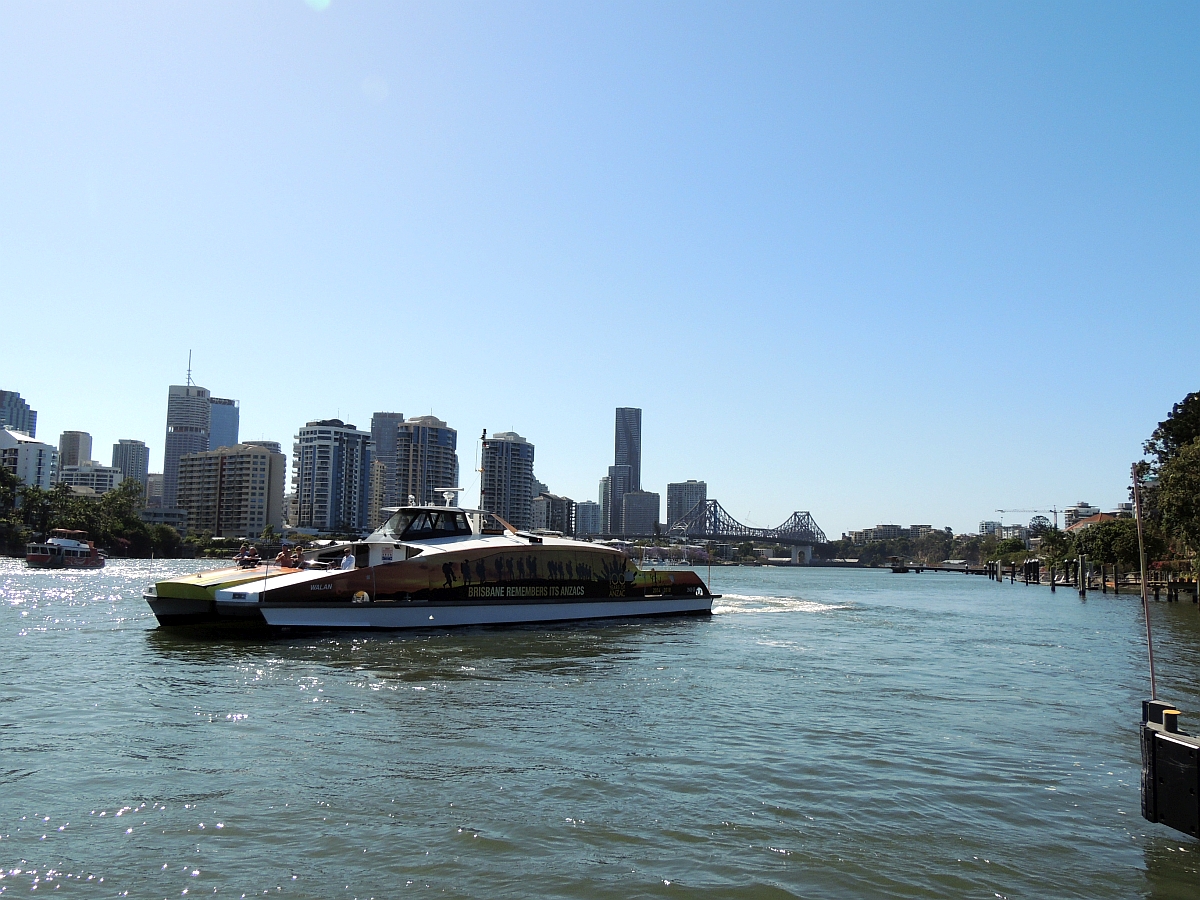 We catch the shuttle bus back to the ship at 3.15pm (the last shuttle back is 3.45pm) and go to the Sunset Bar for a beer each followed by a gin and tonic for Tam and a rum and coke for me.
The weather is beautiful. Not a cloud in the sky and 27°C. Unfortunately the view isn't quite so good as we look out on container ships and general port machinery. At least we can see Brisbane in the far distance.
We are joined at our table by a couple from Melbourne (Jo and John) and we chat to them as the ship departs at 5.00pm.
Back to the room where we shower and change and are ready to go by 6.45pm. This is quite an achievement as Tam now has multiple creams and lotions to apply to various parts of her body for cooling, conditioning, moisturising, lubricating and generally maintaining a healthy skin condition. A small bucket of each one suffices.
We are trying the Martini Bar for our pre-dinner drinks tonight and I have a Tropitini and Tam goes for a Sunset Martini. To be honest, we are not big martini fans in general and this bar is not our favourite part of the ship. The electronic dance music they constantly play here is not really in keeping with the general feel of the bar and we soon move across to a table just outside Cellar Masters to finish our drinks.
At 7.00pm we go to Blu to eat. We are seated by the window, although you can't see much as it's dark outside. Not long after I mention this to Tam we pass a container ship. We are both surprised at how close this is, we must be passing through quite a narrow channel to get that near to another large vessel. We also start to see lights along the coast, which are quite pretty, so our window table has been worthwhile.
Tam starts with the Tortilla Soup and I have Prosciutto with Fig Preserve. Our main courses are Pecan Crusted Duck Breast for me and Lamb Shank for Tam. Mine is pleasant enough, but I wouldn't have it again. Tam really enjoys hers, but it is very big and she can't finish it all.
There's no room for dessert, so we get a drink from the World Class Bar to take to the theatre. I have a Manhattan and Tam has a Tan Russian.
The show tonight is a bloke doing a tribute to Freddie Mercury. Now, Queen were the first band I ever saw in 1975 and I followed them through the years, seeing them 10 times in total including at Live Aid and their final ever show (with Freddie) at Knebworth. Given this, it was always going to be difficult for me to enjoy this unless it was really good.
It starts off ok with the resident band, but the Freddie impersonator (complete with false teeth) falls more into the parody category than homage. He plays up the gay thing far too much. Roger Taylor is the drummer with Queen and the impersonator makes lots of jokes about rogering. Tam enjoys it though – as she says, perhaps she's easily pleased.
When the show finishes we go to the Ensemble Lounge for a couple of cocktails. We must both be rather squiffy as neither of us can remember what they were called.
We take a walk around the ship for a while before finishing up in Café Al Bacio where we both have a Mocha Coffee. The squiffy thing takes over again as I'm sure we also have a little pastry of some sort, but neither of us recalls what they were either!
We're back in the stateroom and in bed by midnight. It's been an excellent day and we really enjoyed our visit to Brisbane.
Just before I turn off the light I glance across at Tam. I'm sure I see just the briefest glimpse of a koala smile on her face.
[OCTOBER 2016 REPORT HOME PAGE]