DAY 9 - SUNDAY 25th AUGUST 2013
Written by Tam
Up 8.30am and go to Opus Restaurant for breakfast. Eggs benedict, which were very good and set us up for the day.
Today we have booked a tour with Ephesus Shuttle – this was booked before we left and cost 178 euros in total, which included 10 euros for the tour of the terrace houses. We get off the ship at 9.45am and are promptly met by Melissa who has our names on a clipboard. She is a wonderful guide and very informative – funnily enough she met her husband who is also a tour guide during a tour in The House of the Virgin Mary in Ephesus – which sounds very romantic and a real tale to tell the children. Melissa is prepared with large umbrellas to use as sun shades and bottles of water – very much needed as the heat in the ruins of Ephesus is overwhelming. We wander along the streets of Ephesus whilst Melissa tells us about the plans to excavate the sight and the proportion of the place that has actually been unearthed – a very small percentage that is hard to believe when you look at the site.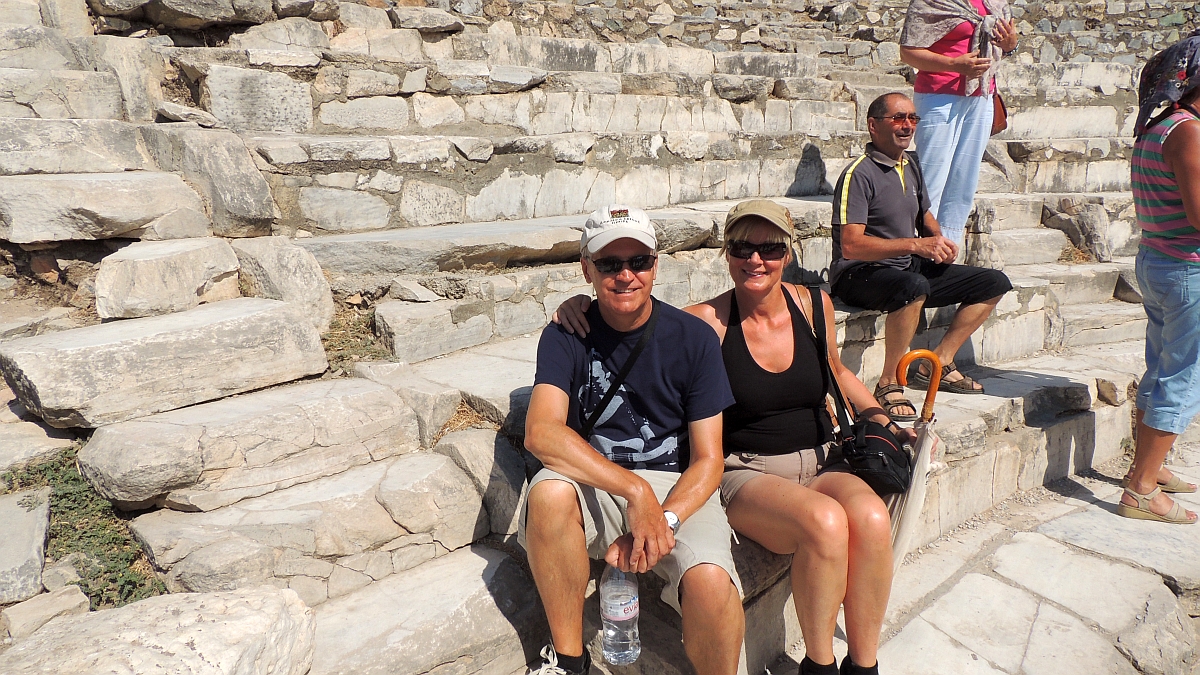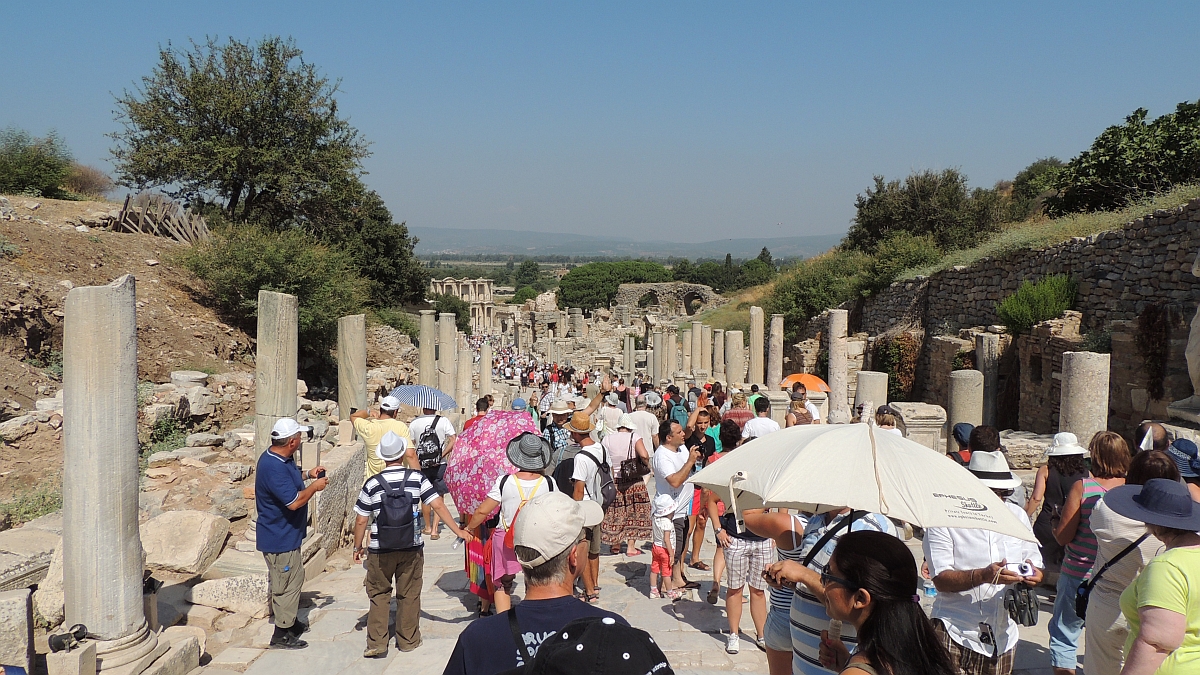 We decide to pay extra to visit the Terrace Houses.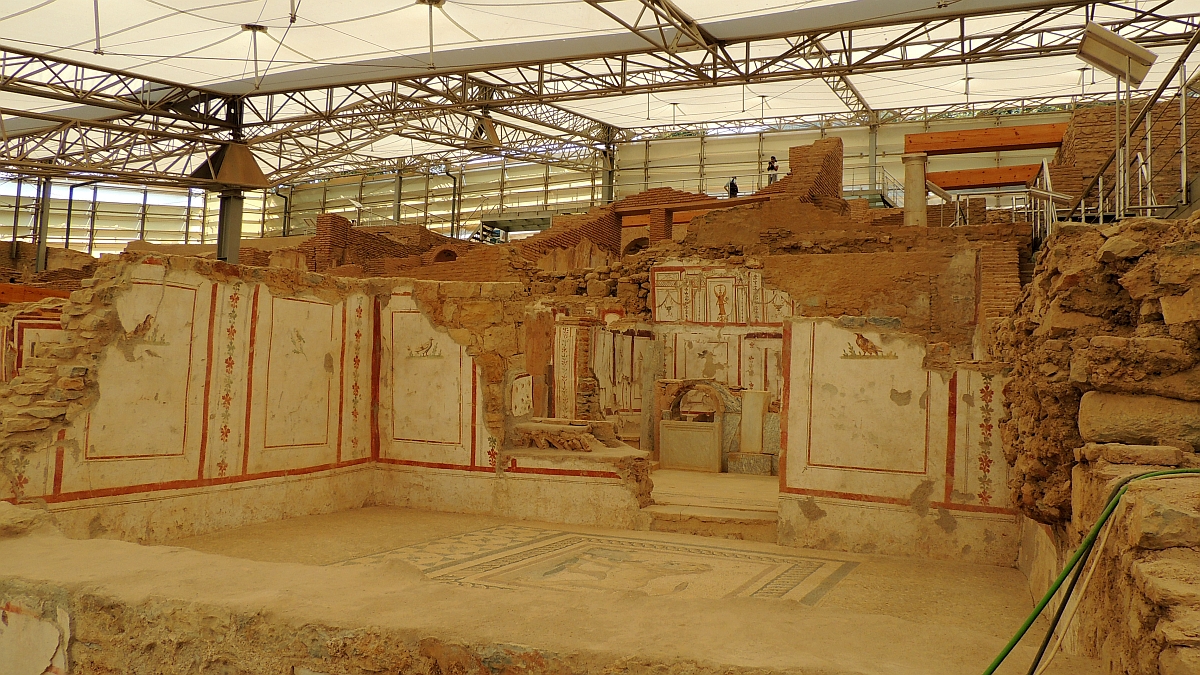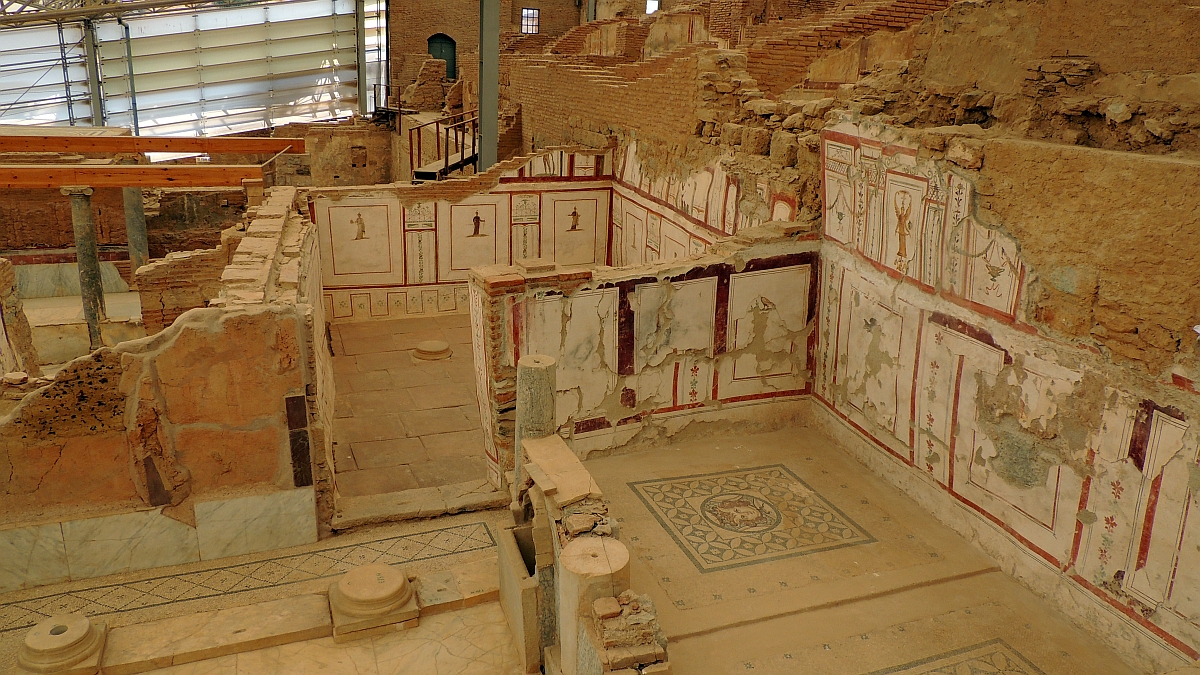 [Kev - The Terrace Houses were excavated out of the hillside and are in excellent condition. They had previously excavated some of the houses, but they were left open to the elements and were ruined. Hence they now sit inside a building to protect them.]
The whole site is a real archaeological treasure trove and we find it all very interesting but the heat has really taken its toll and by the time we reach the end of the walk through and the amphitheatre I am so washed out that I sit and wait for Kev whilst he goes up and takes photographs.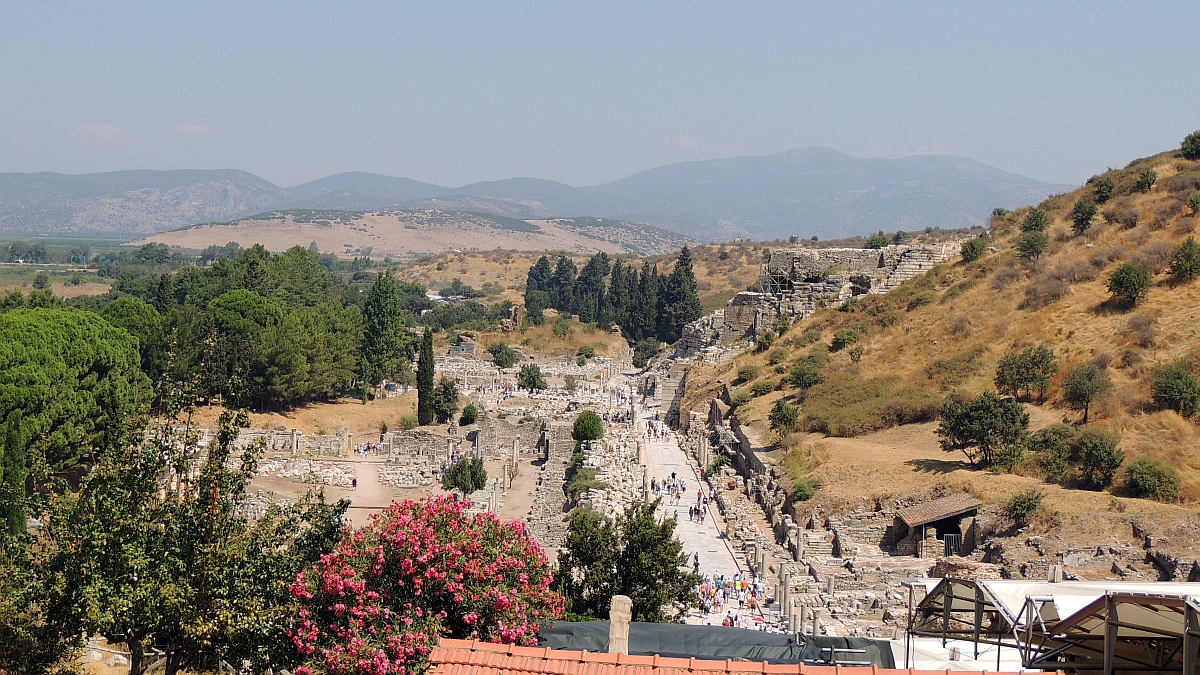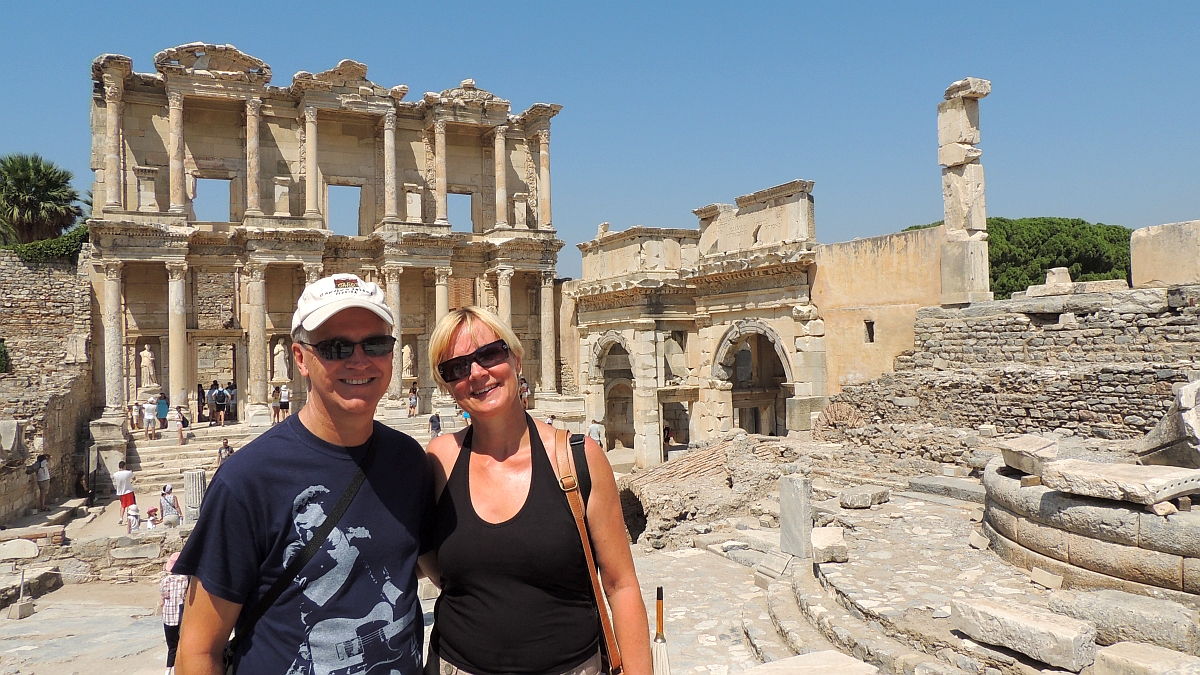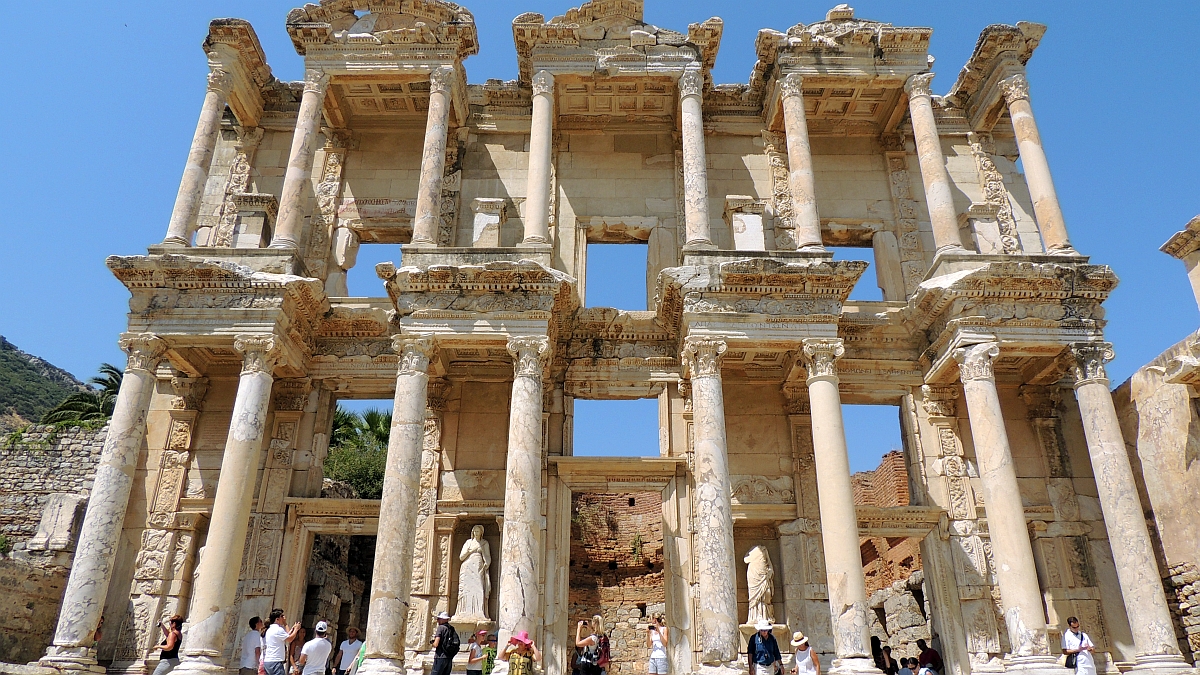 [Kev - this is the Library - probably the most impressive building in Ephesus.]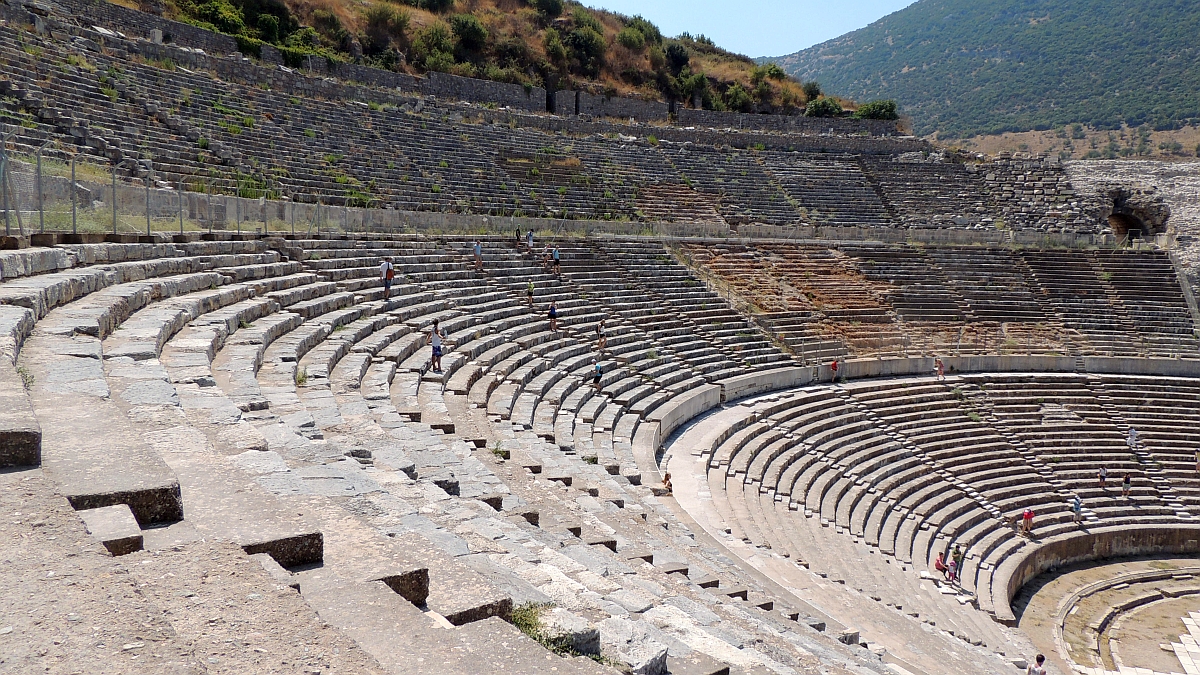 [Kev - the lazy woman had given up by this point as I clambered up the steps in near 100°F heat to take this photo.]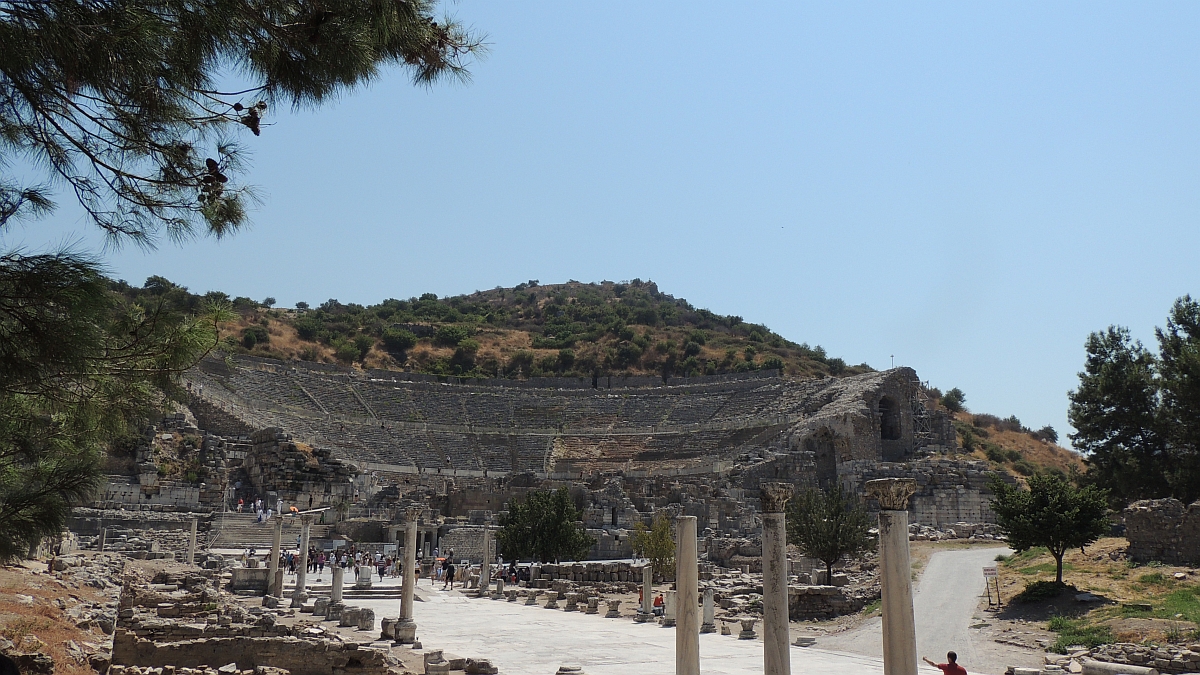 [Kev - it was an excellent few hours spent in Ephesus, especially with such a friendly and knowledgeable tour guide. If you get the chance to go I can highly recommend Ephesus Shuttle and ask for Melissa as your guide.]
Thankfully Melissa and our wonderful driver, who I inadvertently forgot to note his name, are waiting in the minibus with cold drinks and we are whisked off to the small village on Sirince where we requested to have lunch.
After a wonderful scenic drive up into the hills we arrive in the picturesque village of Sirince where we are shown a table on the terrace of the Dimitros Tavern. A vine clad patio area outside a traditional Turkish restaurant. The views across the hills and the peace and quiet make this a lovely place for a relaxing meal after a hard day sightseeing in the ruins of Ephesus. We have bread with mint and cucumber yoghurt to accompany stuffed vine leaves, stuffed courgette flower fritters and green sea grass, to follow we enjoy grilled chicken fillets with chips, salad and a pastry stuffed with herbs and cheese. The amazing price for this meal including an Efes each and jug of water is only TL20 plus tip. We are so pleased we saw people recommending going here for lunch as it really did finish off a wonderful day.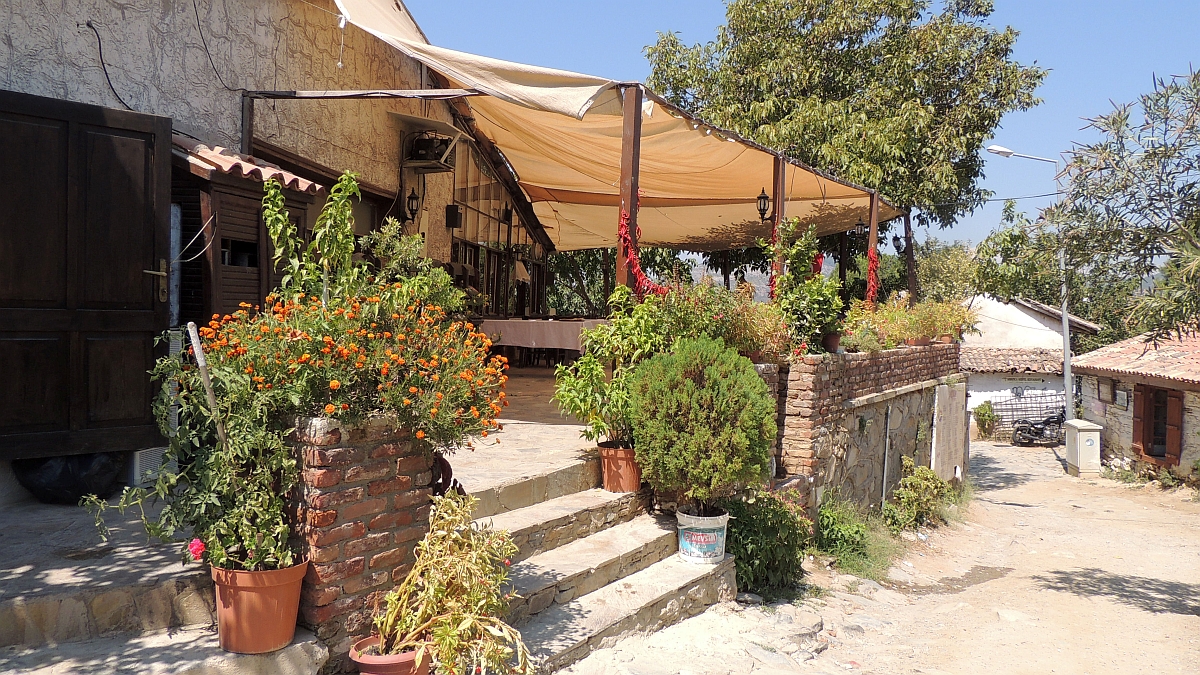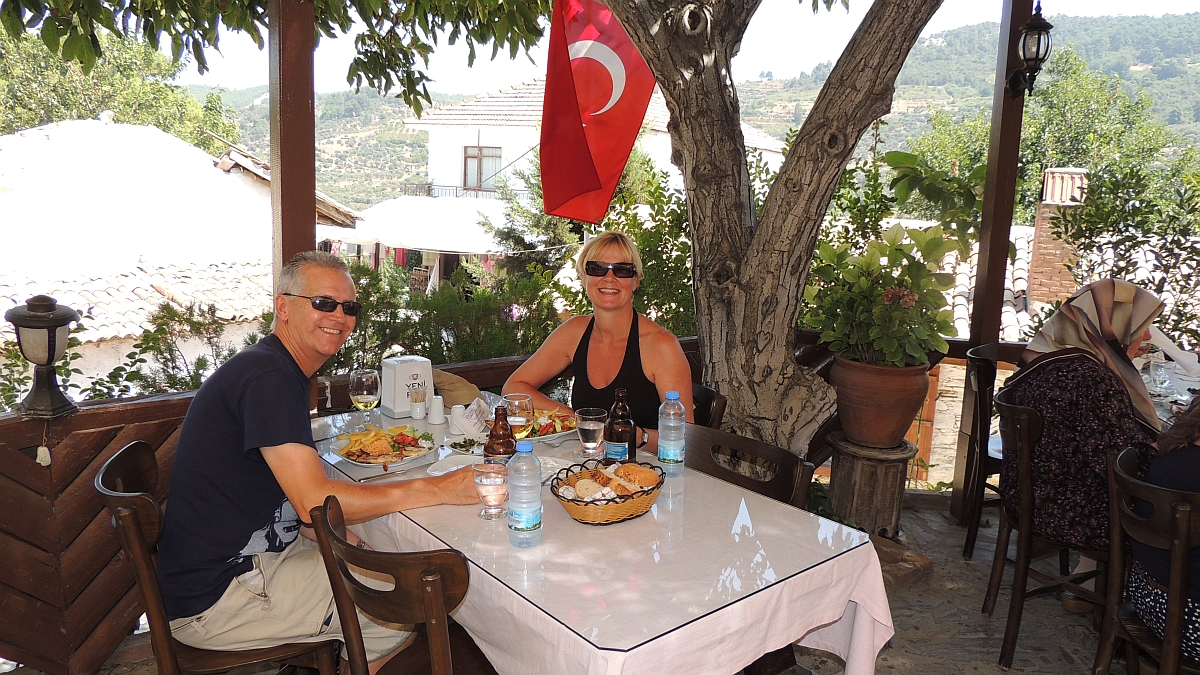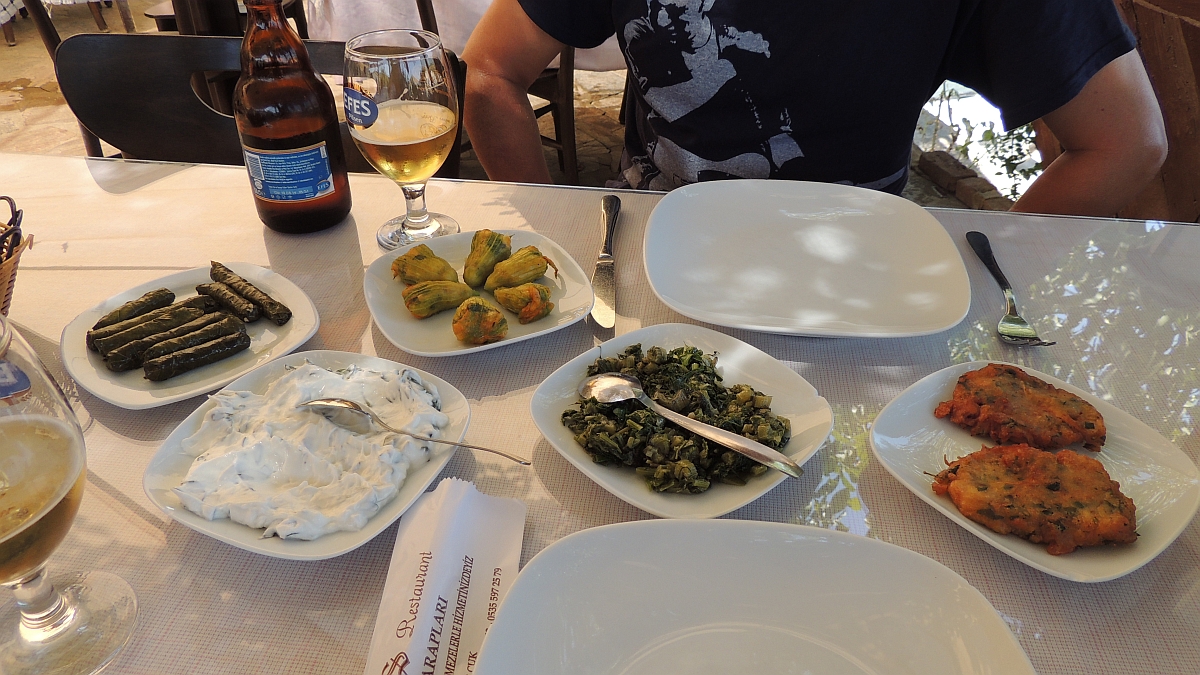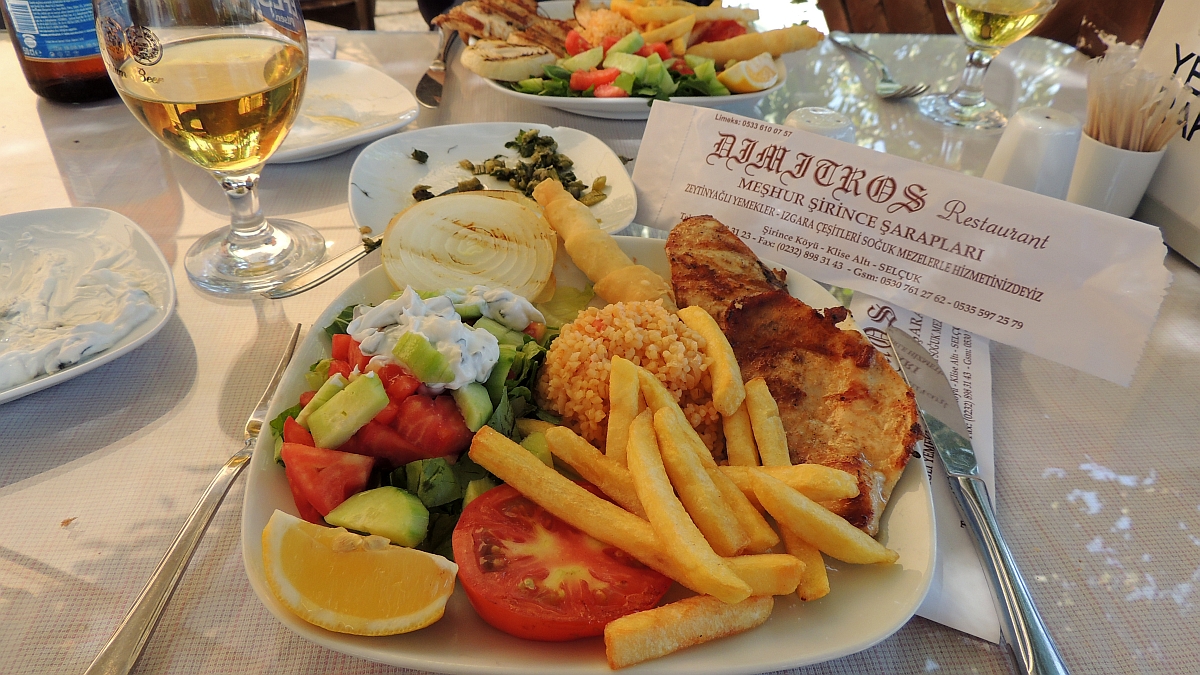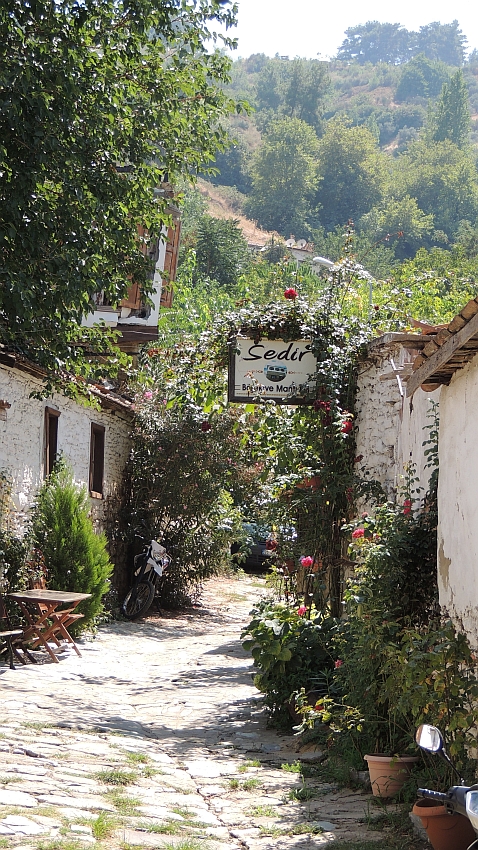 We take the minibus back to the port and get dropped in Kusadasi where we have a quick look around the shops and buy some baklava to take home.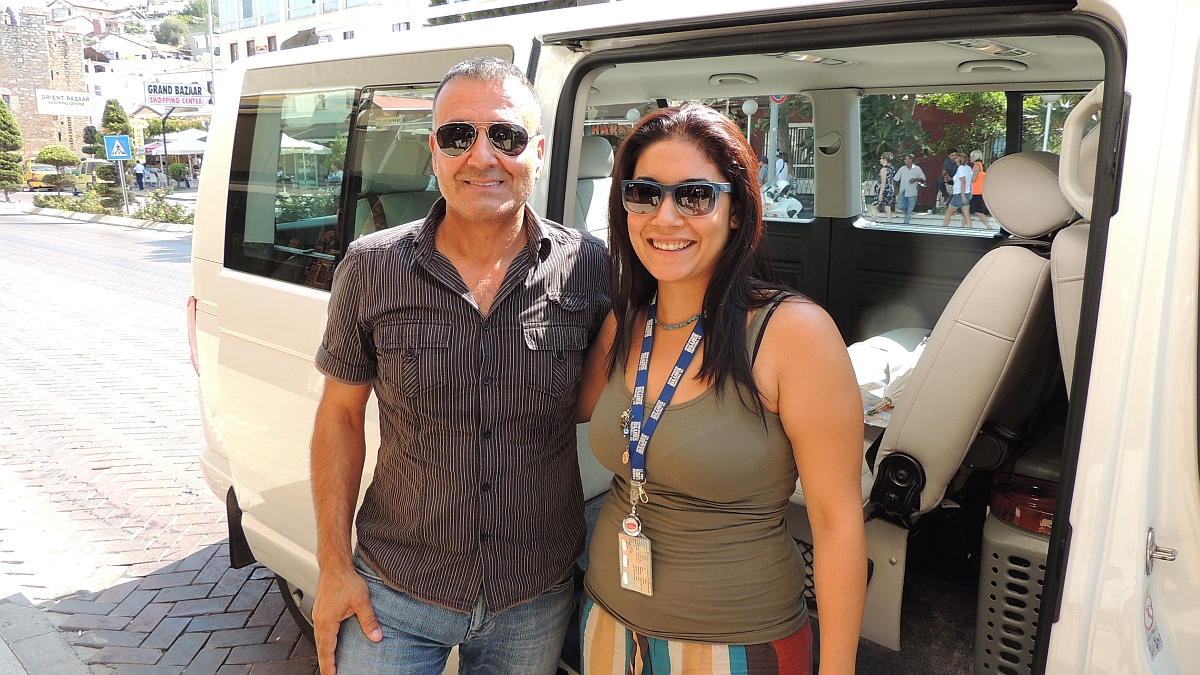 [Kev - Melissa and ...... er ..... the driver.]
Back on board we go to the cabin to change before going to the Aquaspa pool for a raspberry lemonade cocktail to help cool us down.
In the evening back to our favourite haunt the Molecular Bar to try a Pisco Cocktail and Kev has his regular Hawaiian Lava. (This became such a favourite that they kindly gave him the recipe and he has since re-created it at home and made it for visitors who, without exception, love it. We head out on deck to watch the sail away and then go to the Opus Dining Room for dinner.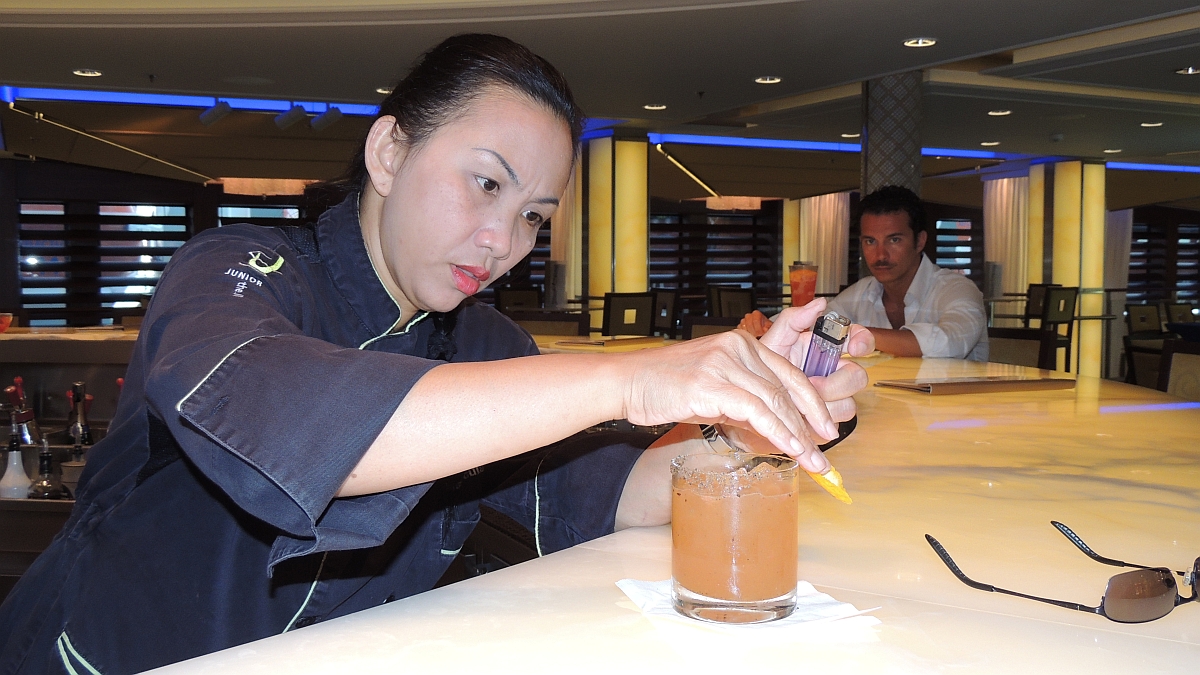 [Kev - Hawaiian Lava! I just loved those little beauties.]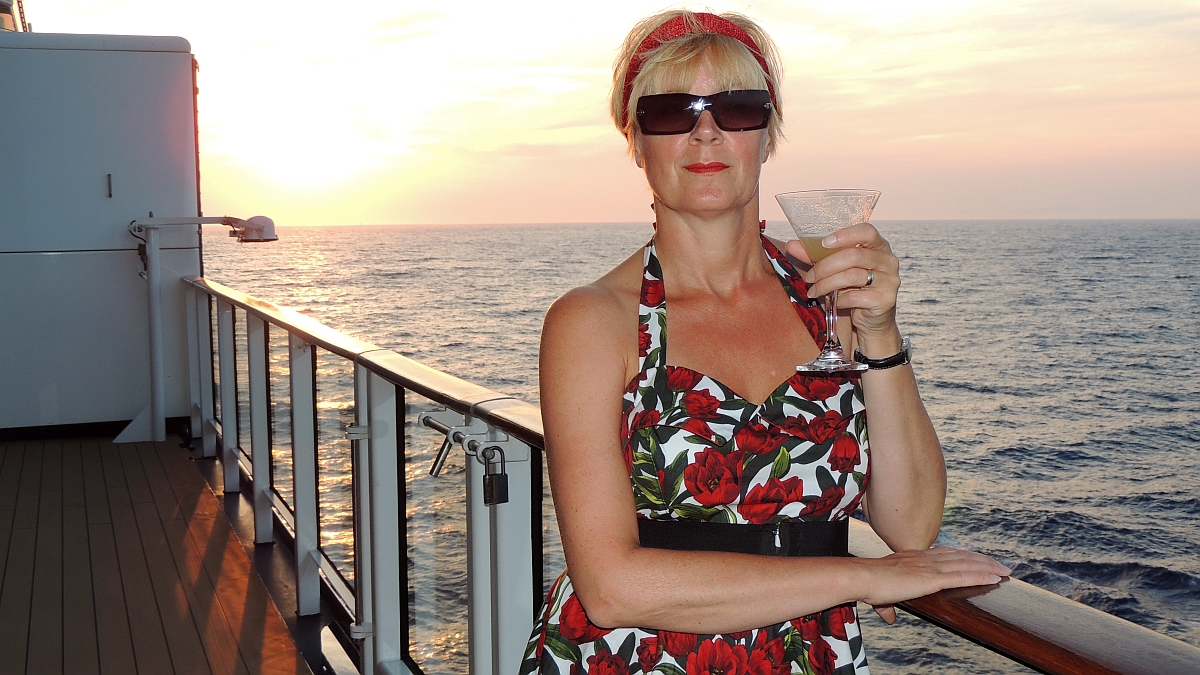 For starters we have a tuna dish and a pea and ham soup, followed by Australian Sea Bass with red pepper puree, this is all accompanied by a bottle of Chenin Blanc. For dessert we have a café crème pot which is rather delicious.
Back to the Molecular Bar for a Ginger Mojito and a Scorpion Kiss which we take into the theatre but we weren't very enamoured with the magic and piano show on so go to the Ensemble lounge for Axel Guidice Classical guitar which was very relaxing. This is followed by These Guys, an acapella group who were very entertaining. Sit at the bar and enjoy a bourbon and coke and a strawberry cocktail.
After the music finished we went up to the Sky Lounge to see what entertainment was on there – it was 70's and 80's disco and whilst there were a few people up there, as soon as the music changed at midnight the place completely emptied and all the under 18's were told to leave. As the music was not to our liking we also choose to leave with the youngsters. Still we enjoyed a Kir Royale and Margarita before heading to bed.
[AUGUST 2013 REPORT HOME PAGE]