DAY 11 - TUESDAY 27th AUGUST 2013
Written by Tam
Today we are docked in Piraeus - home port of Athens. We take breakfast in the Ocean View Cafe, cereal for Kev and oatmeal with French toast with bananas foster for myself - delicious.
[Kev - we decided to have a lazy day and just stay on the ship.]
Today we are trying another first on a Celebrity Cruise - the Alcoves. These are private areas on the lawn part of the deck which you can hire out for the day at a cost of £65.34 (based on the exchange rate in August 2013). Whilst you are there you enjoy the lounge chairs, the use of an ipad, fresh fruit, cheese and biscuits and waiter service during the day. We found this a wonderful relaxing way to spend a port day - just reading, listening to music in peaceful surroundings - perfect.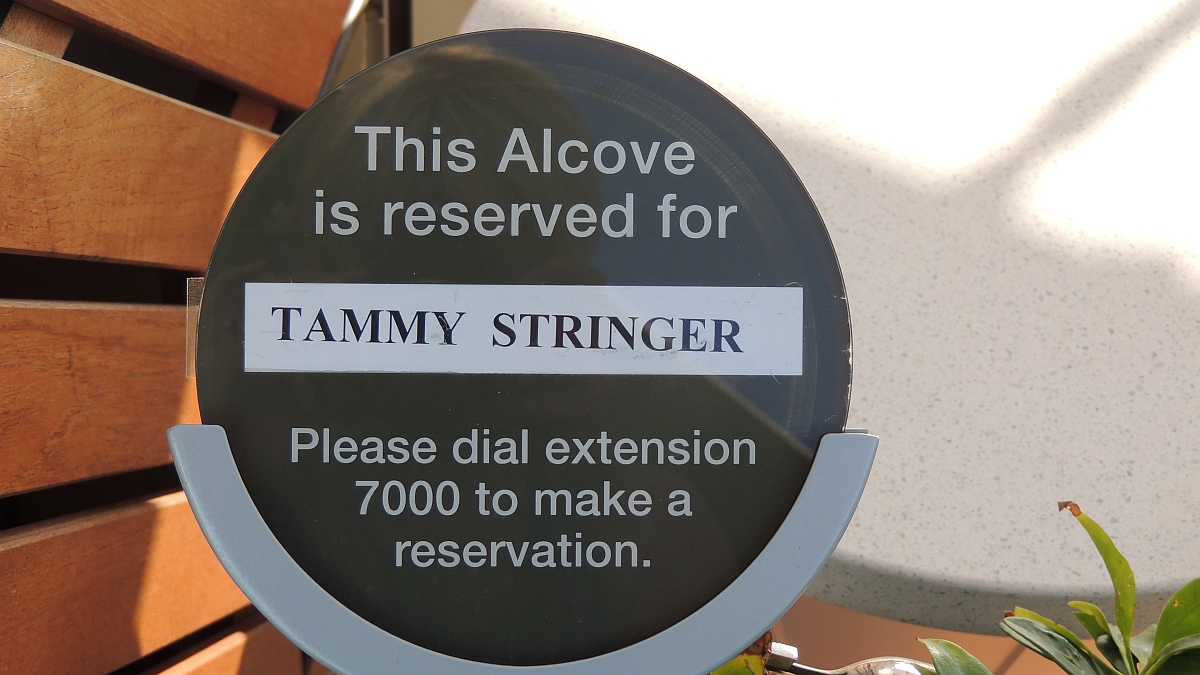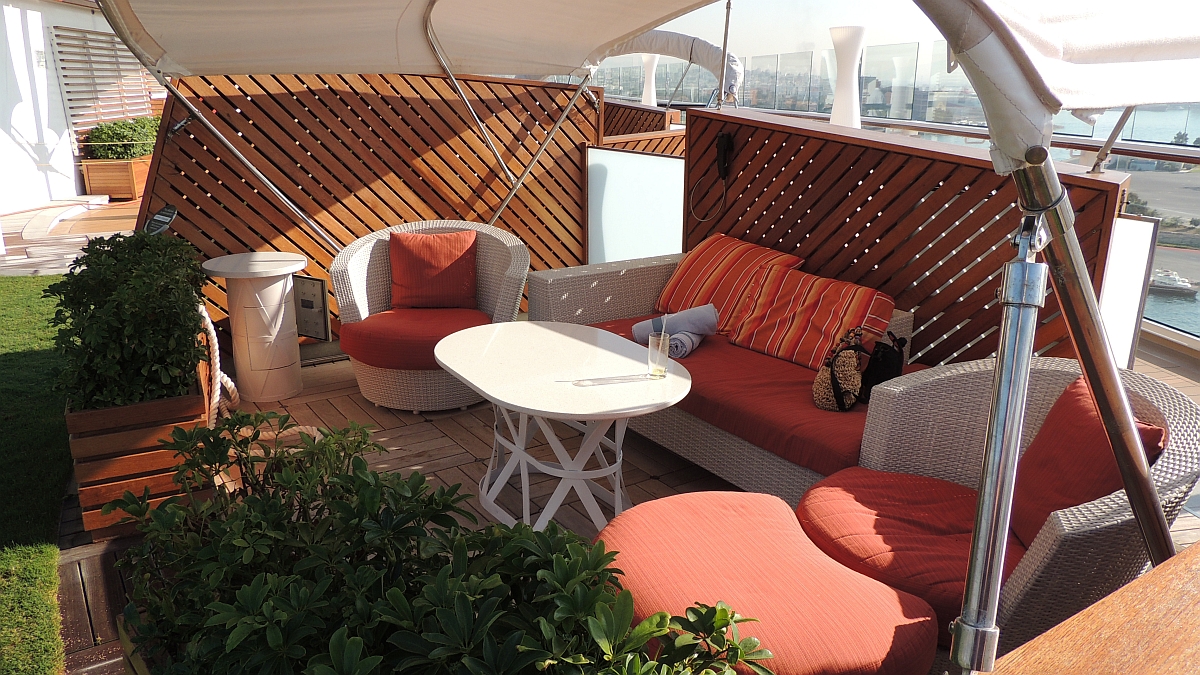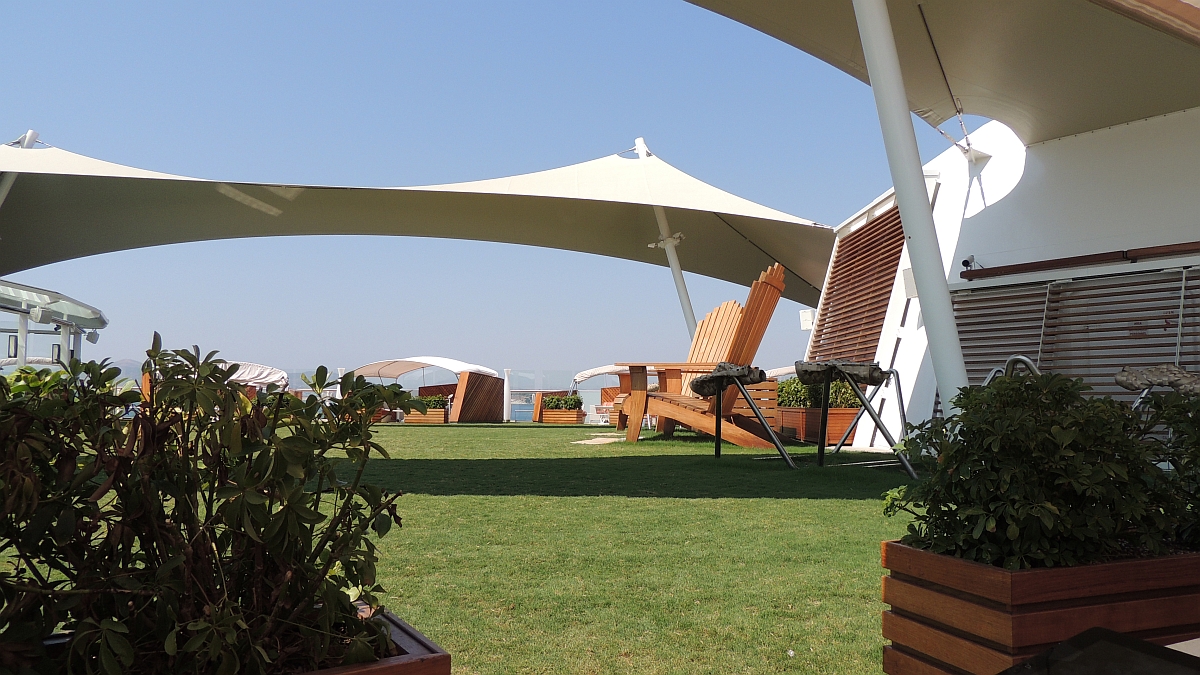 For lunch we went to Bistro on 5 for the beef salad and a glass of pinot noir. Back at the cabana the cheese and biscuits are waiting and we enjoy a bottle of wine with these.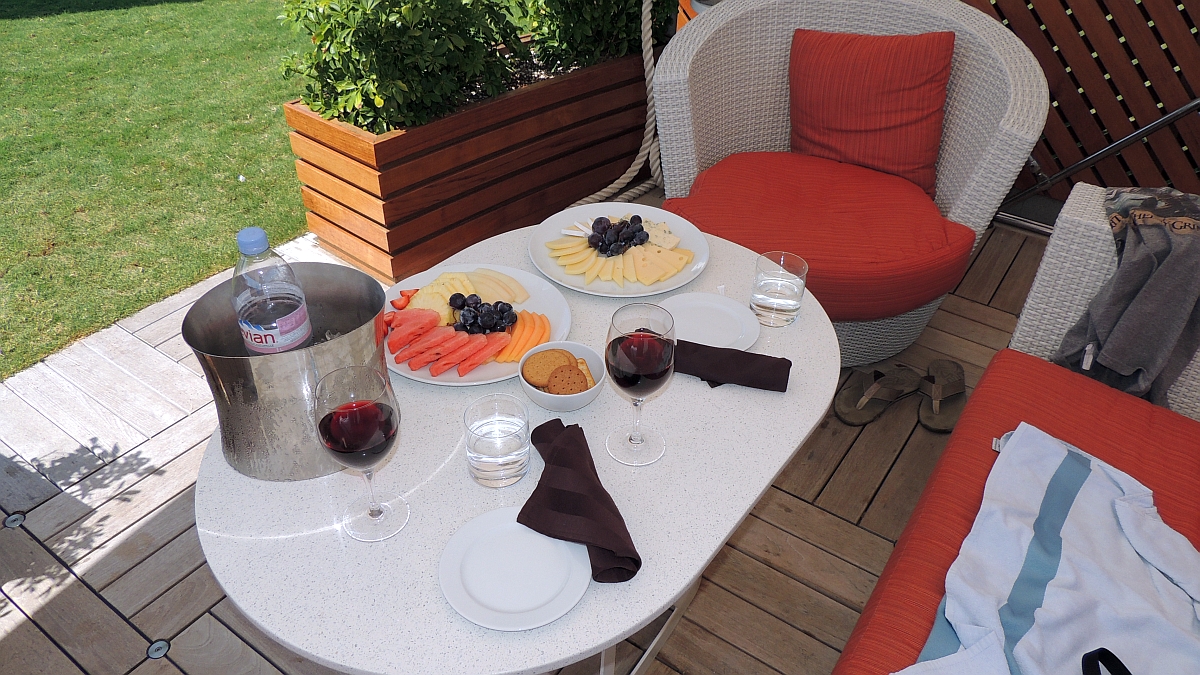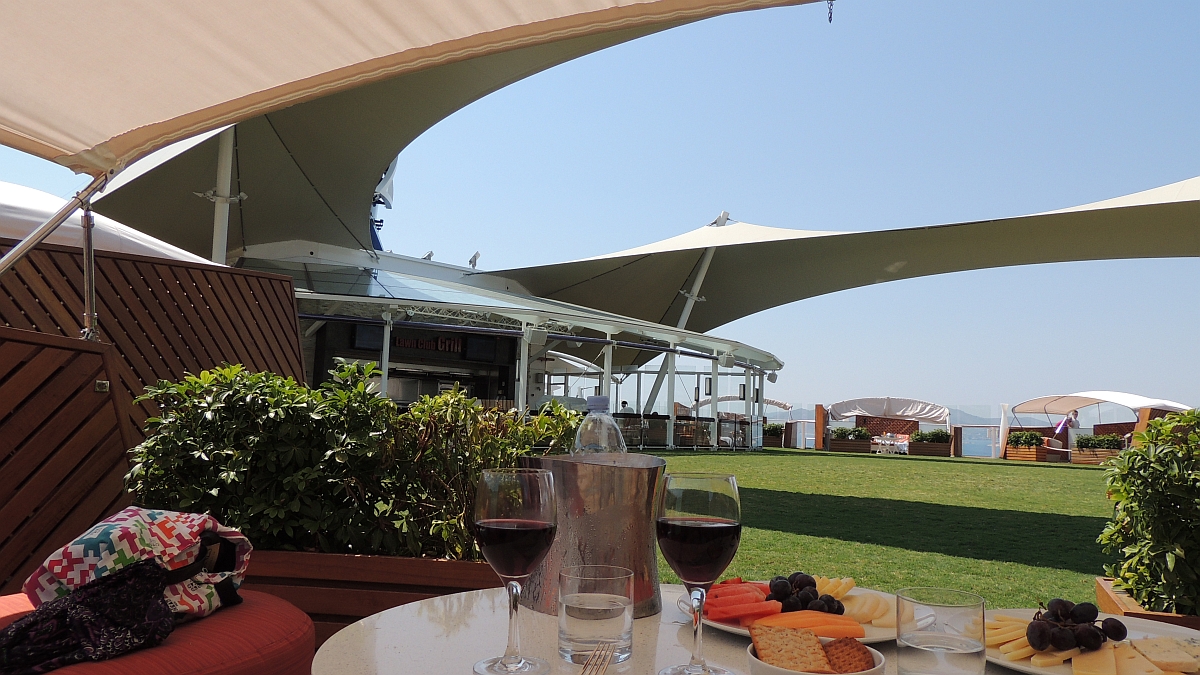 At 6pm it is sail away and we watch as the urban sprawl of Piraeus and the outskirts of Athens slowly slip into the distance. At 7pm we give up the luxury of the Alcove and go to the cabin to get ready for sunset.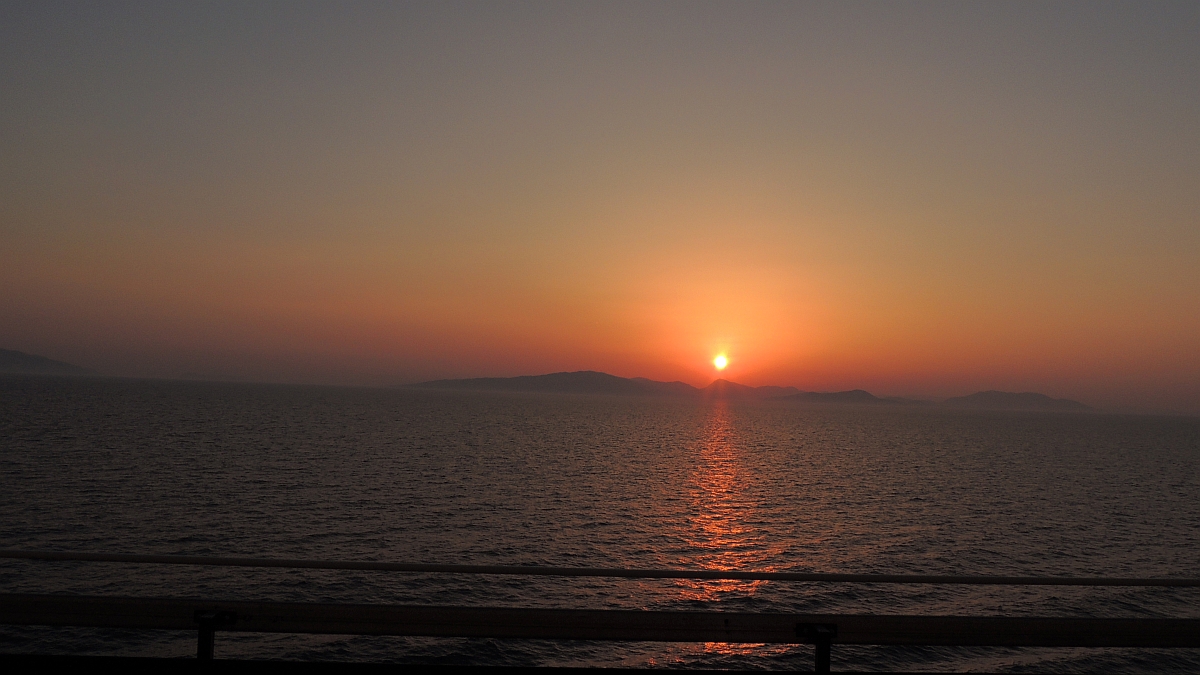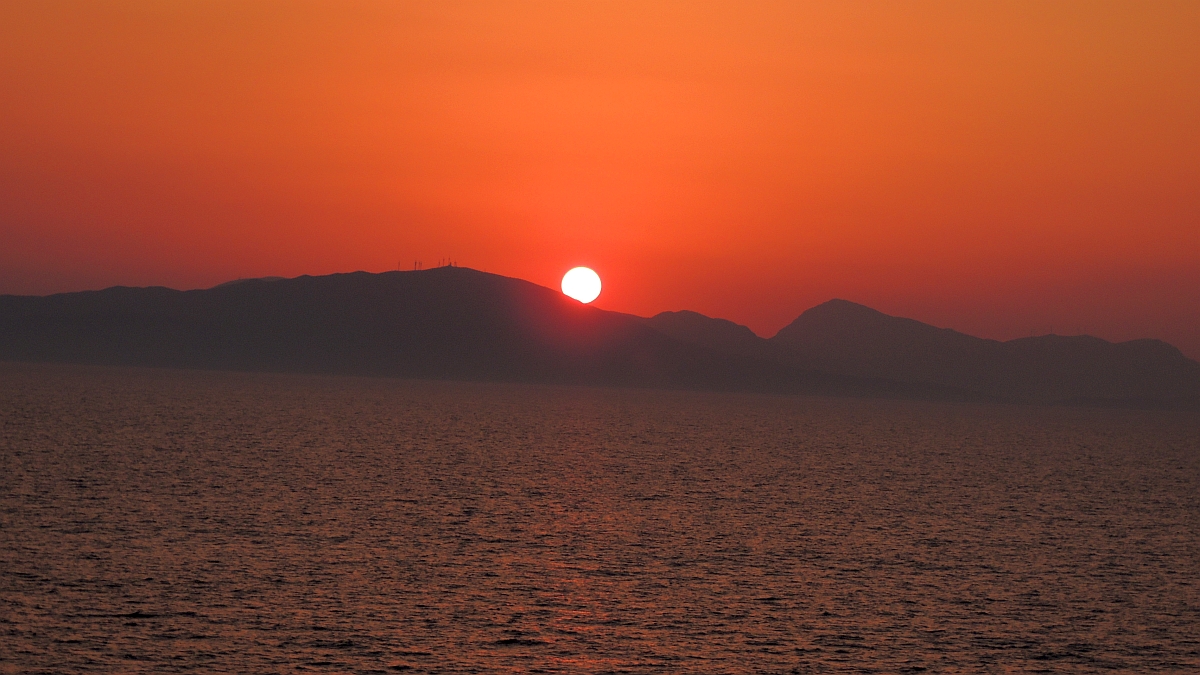 The Opus dining room is our restaurant tonight - Kev starts with lobster ravioli whilst I have the escargot in pernod herb sauce. Unfortunately I had fond memories of this from a previous Celebrity cruise but these didn't live up to expectations and I found them far to greasy for my taste. For the main course Kev chose chicken and I went for a duck breast with sweet potato croquettes. Over to the Molecular bar to sample some more of their delights. I have a Lucky Cat and a Tanned Russian whilst Kev tried an Avocado Metzal - which he hated so Sergey made him his favourite Hawaiian Lava.
He followed this up with a Kentucky Derby which was a mixture of bourbon and mint amongst other things and was finished with a spray of cinnamon.
To the Ensemble lounge where Kev has a rum and coke and I have a pomegranate mojito, which I didn't like so went for something completely different - a Highland Brewing Company - Black Mocha Stout - which was to my liking. There was a trio playing music in the background and this was a lovely way to end the evening.
[AUGUST 2013 REPORT HOME PAGE]