DAY 8 - THURSDAY 21ST AUGUST
I wake at 7.15am and go out of the cabin just before 8am – although I had forgotten that the clocks went forward an hour in the night. Head to the foyer to pick up a Britain Today – these are great little leaflets produced everyday for different countries – which filled us in on all the news back home. As it was the Olympics we made a point of picking one up every day and catching up on the medal haul. I head to the gym and have a mini workout – it really is quite surreal being on the treadmill looking out over the ocean. A lot of the machines look different to the ones I was used to so I don't do much before returning to the cabin where everyone is still asleep. So read on the balcony until everyone awakes. Unfortunately Celebrity has no self-laundry facilities so I do a spot of hand washing. Today for breakfast the Constellation restaurant is doing a Brunch – which was a new thing to take the place of midnight buffets. Personally I think it is a great idea as I have never been hungry at midnight on a cruise ship and it seems such a waste of food. There is a wonderful selection of normal breakfast fayre, plus omelette stations, rare beef, chicken pot pies, fresh salmon, prawns, salads, breads and numerous puddings including bread pudding, bananas foster (baked bananas) amongst other things. We get a table and are served tea, coffee and juice then make trips up to the buffet sampling all the delights on offer. There is a pianist playing on the top tier of the restaurant and it is all very civilised. The girls return to the stateroom but Kev and I have to take our passports for collection - which doesn't take long. Have another explore to find the conservatory which is a lovely part of the ship containing exotic flowers - a lovely, light and airy space.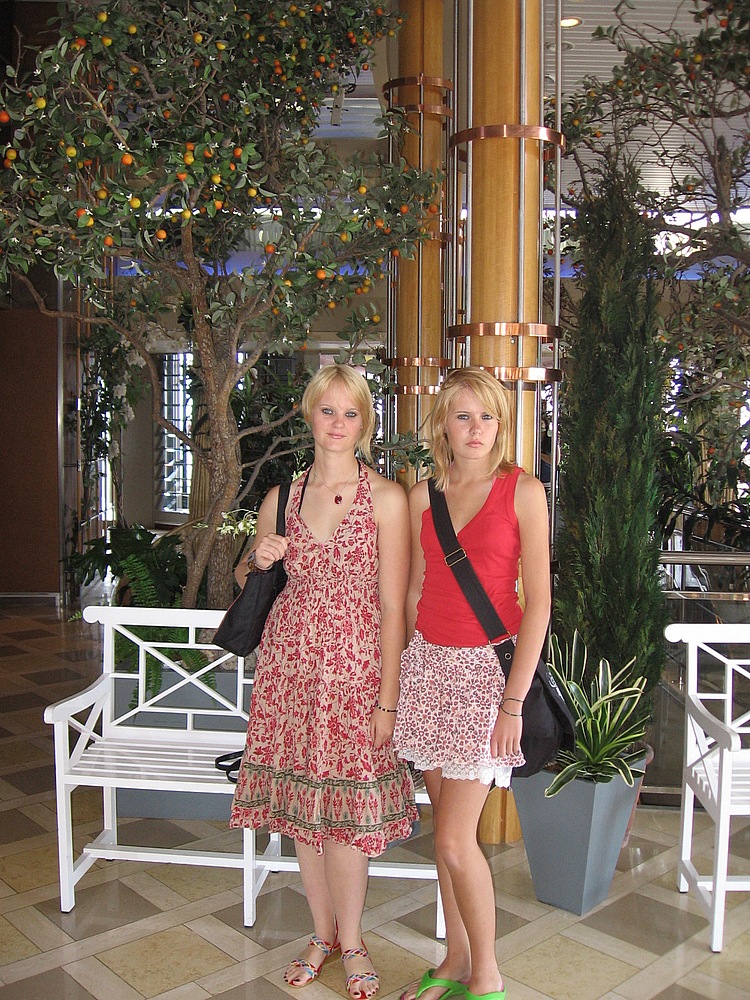 We then retrieve our stuff for the day and go in search of ever elusive sun beds. Even at 8am there were numerous towels on sun beds – so now our chances on finding a spare one is nigh on impossible. This is a real pain and I know Celebrity aren't alone in policing the reservation of the sun beds but I do think they should remove any that don't have any possessions on – that way everyone gets a fair chance of having one and if you leave to eat lunch or anything someone else gets a chance to lie down. It is very breezy today –especially on deck 11 at the top which was the only space left again – the one disadvantage is it is a fair trek from the bar, loos and pool.
After a few hours chilling and enjoying a cool beer we have a small snack – I have chilled Cherry soup from the Aquaspa café and India gets some pizza from the Waterfall Café which she says is as delicious as ever. We then decide to spend some time by the Thalosotherapy pool. Georgia can't actually go in the pool, as there is an age restriction for 16 and over. We don't stay in for too long as it is very hot so we go and have a look at the afternoon tea buffet in the Waterfall. There are tiny cucumber sandwiches, filled rolls, fresh cookies, cakes etc. All are beautifully presented in such a tempting manner that we take a small selection and eat inside in the shade whilst enjoying a cup of tea. I happen to glance up whilst eating and realise that the ceiling in here is mirrored and I could get quite a cool picture of us all if I take one of our reflection in the ceiling. So if you saw some strange looking Brits taking pictures of the ceiling you now know why.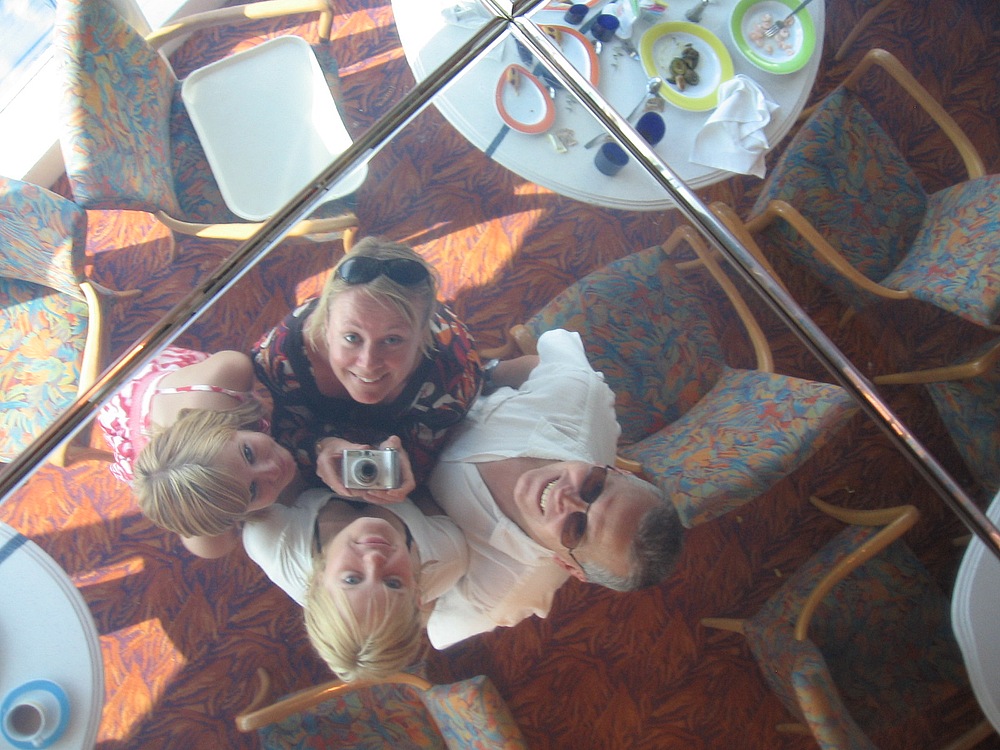 We go back to the cabin for a four-way Chinese checkers tournament – Kev reluctantly agrees (he's not keen on games) but then comes last – probably a ploy so he can argue against playing again. Girls play Racing Demons whilst we get ready for Formal Night. Kev and I fancy sampling a Martini flight in the martini bar before dinner so arrange to meet the girls there when they are ready. For $9.50 we have an original (our least favourite), Appletini, Flirtini, Martini Delight, Raspberry Lemonade and a Murano martini. A great way to sample some new martinis.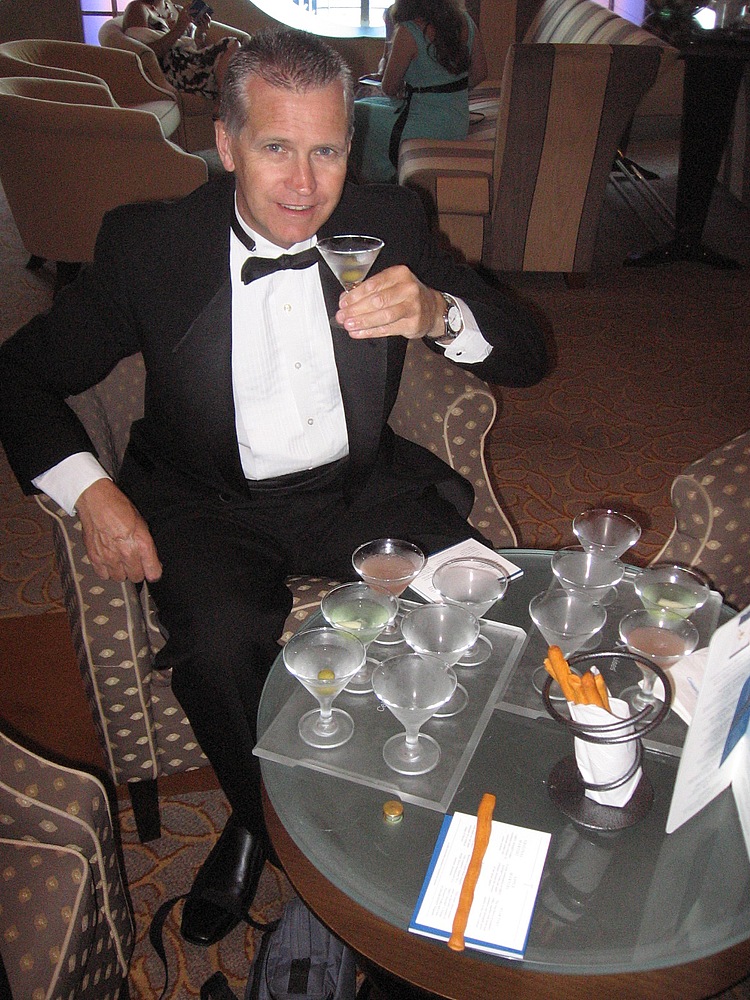 Again this evening everyone seems to have made a real effort with plenty of long dresses and tuxedos for Formal Night. For dinner tonight amongst the choices were frogs legs, soft spring rolls, beef carpaccio, chicken and sweet corn soup, followed by fillet mignon, quails stuffed with wild rice and Madeira sauce – then puddings of orange crème caramel and pear pudding amongst others. All very delicious as usual. We decide to go to Michael's Club with Bill, Ruth and Alan and tonight Katie is playing Jerome Kern and Cole Porter – which was great fun to listen to. Bed at 12.15am
[AUGUST 2008 REPORT HOME PAGE]