DAY 6 - TUESDAY 19TH AUGUST
Wake at 5.45am – we had a bed swap last night as Kev says that India's incessant wiggling on the bunk above his head was making too much noise. So Kev swapped with India last night. Not sure how much better Kev slept, but I can assure you that her tossing and turning all night next to me made up for the lack of noise from the top bunk. I make my way out to the balcony to watch as we approach the port of Civitavecchia. At 6.45am the alarm wakes the rest of the cabin and we have breakfast at the Waterfall Café before disembarking. There is a ship's shuttle, which takes us to the end of the pier – this one is actually free. We get to the train station for 7.45am to catch the 7.59am train. We buy 4 BIRG tickets at €9 each – this entitles us to 24-hour travel for trains, metro and buses in Rome. The journey takes around 1 hour 20 minutes – we pass the time looking at the scenery and reading our tour book. Georgia is very interested in all the events that used to go on in The Colosseum and relates various tidbits to us all. She then tells India how they started off by having the gladiators fight various animals – and as time went on they introduced bigger and more exotic animals to keep the excitement going. She said "They actually started off fighting snails" – amazingly India believed this as fact, until Georgia could no longer hold her solemn face. We get off the train at Roma Termini and get our bearings before heading off towards The Colosseum.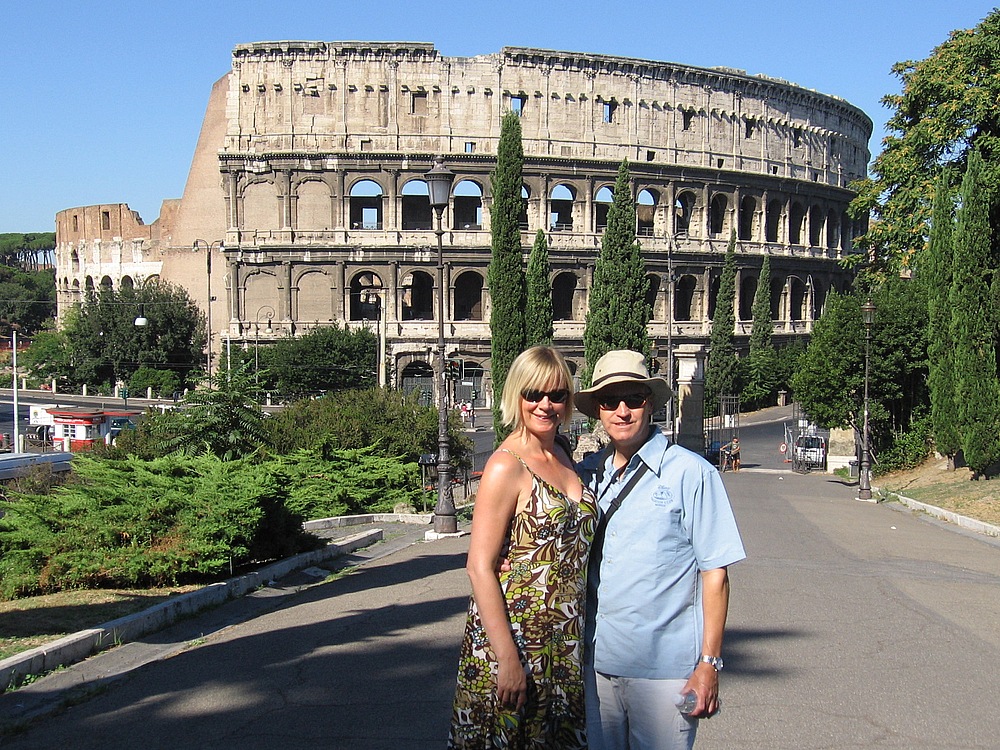 It is an amazing building – so big and with so much detail and it is truly amazing to see it in real life and right by the side of a busy road. We take pictures from the outside and then go up to The Palatine Hill, where we queue for tickets. There really isn't a great queue system here and it isn't obvious but if you already have a ticket from The Colosseum you can get straight in through the turnstile. Eventually we get to the head of the queue and are served by the grumpiest assistant we encountered all holiday. The ticket for entry to both venues was €9 for Kev and me plus €2 for entrance to exhibitions – we declined this addition but were informed it was obligatory!!! For EU citizens younger than 18 entrance is free but you need a ticket to get through the turnstiles – thankfully I realised this, and reminded the assistant that she hadn't given us tickets for the girls, before leaving the queue.
View from Palatine Hill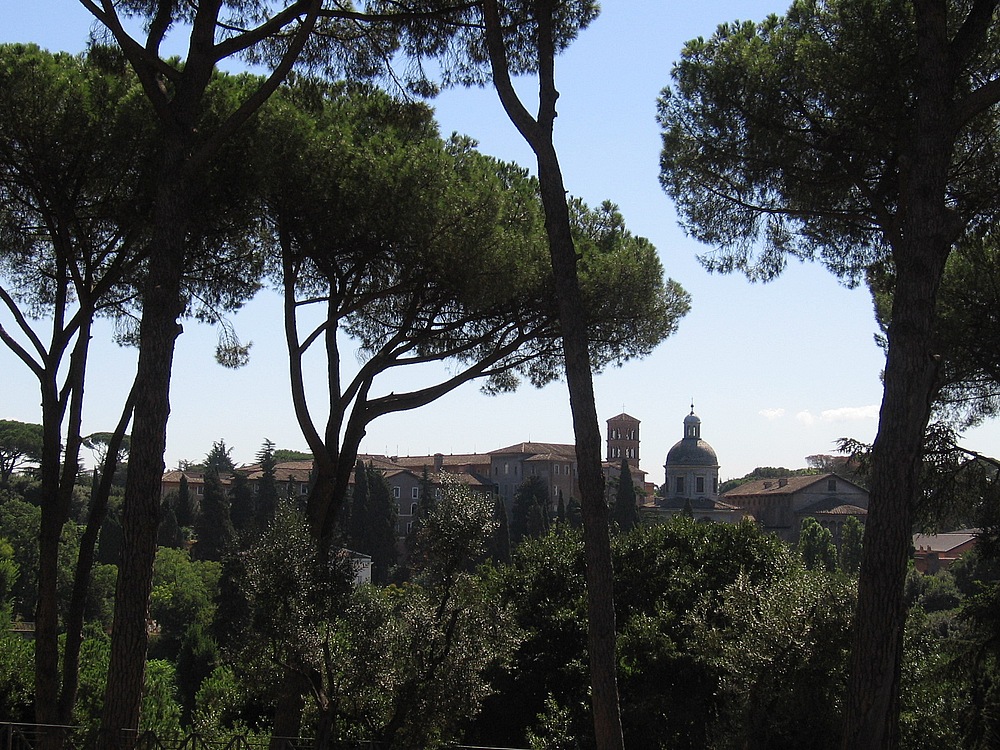 The Palatine is an enormous site where emperors August, Tiber, Domitian had their palaces and you can see the remains of these, plus a pool, stadium, temple etc. It was a beautiful place and we were so glad we had made the effort to explore – it was lovely and quiet in some places as the area is so large, and many parts were shaded by umbrella pines, which emitted an overwhelming smell of pine, which just added to the ambience of the place. It was amazing to think that all those years ago the emperors lived on this hill and dreamed up extravagant ways to entertain people in The Colosseum and thereby increase their popularity. They even flooded the Colosseum and had sea battles in there - which would have been an amazing feat of engineering so many years ago. The views looking down to The Forum and other parts of the city were amazing – whilst everyone knows that Rome is full of ruins I don't believe you can fully appreciate the scale until you see it in real life.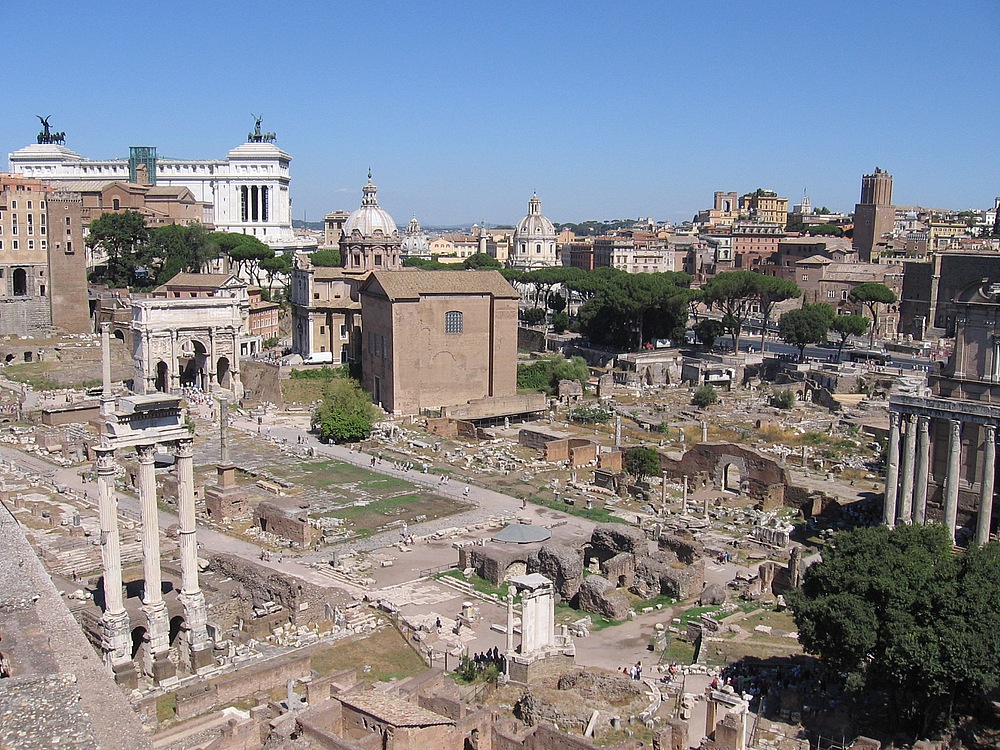 We exit and join the queue to enter the Colosseum – we are so grateful that we bought our ticket at Palatine Hill, as the queue for tickets here is never ending. In comparison the queuing time to enter once you have a ticket was relatively short. Through security (where bags are x-rayed) and then we enter. Wow this place is even more impressive inside – the sheer scale of this building, bearing in mind the time it was built, is phenomenal. You can see the cellars, which would have been under a wooden floor where the actual contests were staged. These would have housed the various animals and props that were used – apparently the emperors would dream up more elaborate and impressive displays to impress the crowds – therefore animals were shipped in from all over the world to wow the audiences. You could see the various tiers where the crowd would sit according to their rank – e.g. The Plebs were the lowest of the low etc. etc. Inside there were some exhibits and archaeological remains – many made from marble, which was ornately carved and was in fantastic condition. From the top the view is amazing – we hadn't originally planned on actually entering the Colosseum but it really was worth the time spent here, as pictures do not do it justice.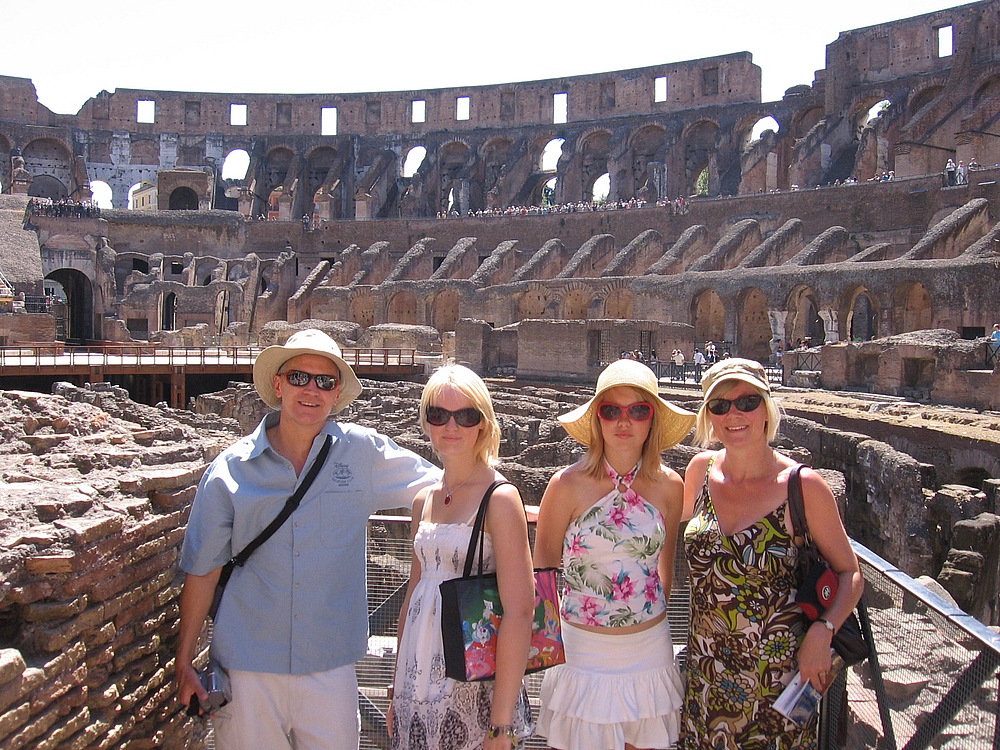 We leave and head towards the Spanish Steps, stopping to take pictures of Palazzo Venezia.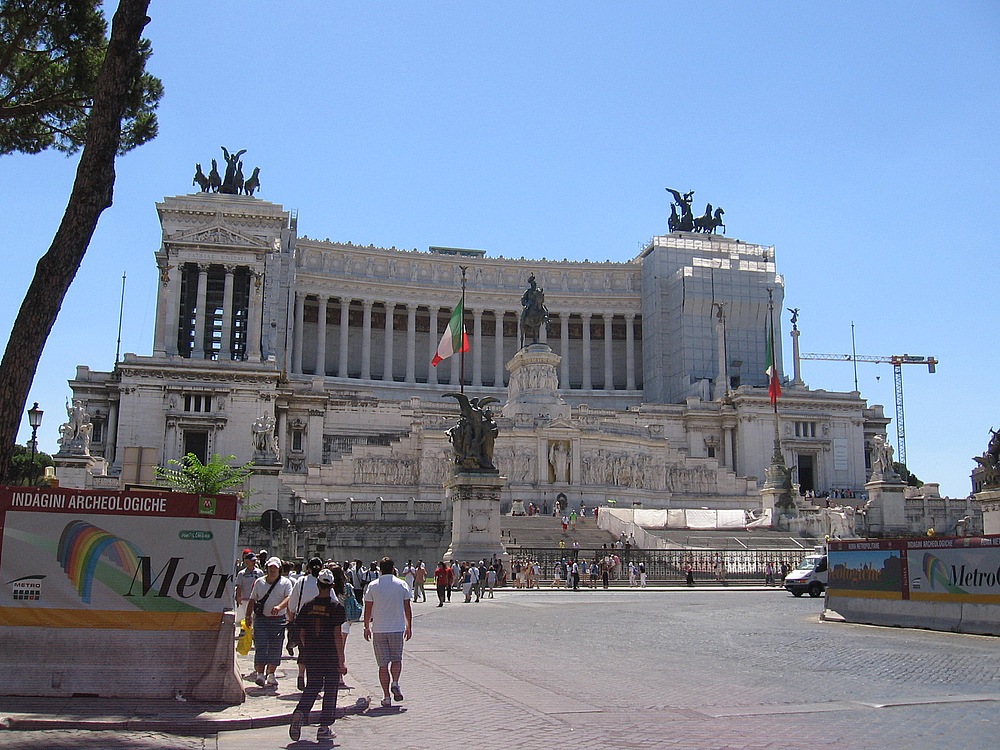 The Spanish Steps are very pretty and more photos and video are taken. By now we are ready to eat and thankfully find a little restaurant called Al Camnetta in La Spagna.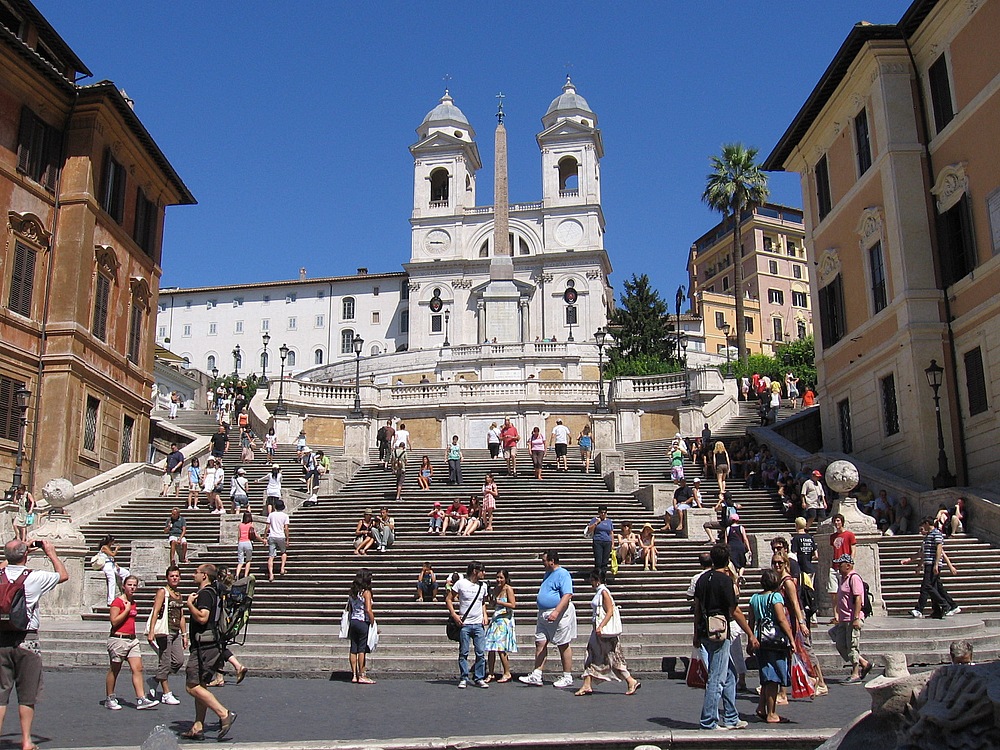 The girls have pizza proscuitto, Kev has ravioli and I have spaghetti with tomatoes and basil. Kev and I also have 2 ice-cold beers each and the girls have coke for €67 including tip. Feeling nicely rested we have to find the last of our "must sees" which is the Trevi Fountain. How hard can this be? We have maps, a tour book and there are signs posted of all the major sites. However, having been on a wild goose chase by following one of the signposts (which we realise must have been turned round) and getting diverted by a clothes shop where several purchases were made by the girls - we eventually find it and it is heaving with people. We manage to make it to the edge of the fountain and all throw a coin in so that we can return in the future. We read an interesting anecdote in the guidebook about a chap who used to regularly trawl the fountain with a magnet and pocket the cash which supposedly he distributed to the down and outs in Rome – but his plans came to an abrupt end with the introduction of the euro which wasn't magnetic. Whether this is one of those urban myths I don't know.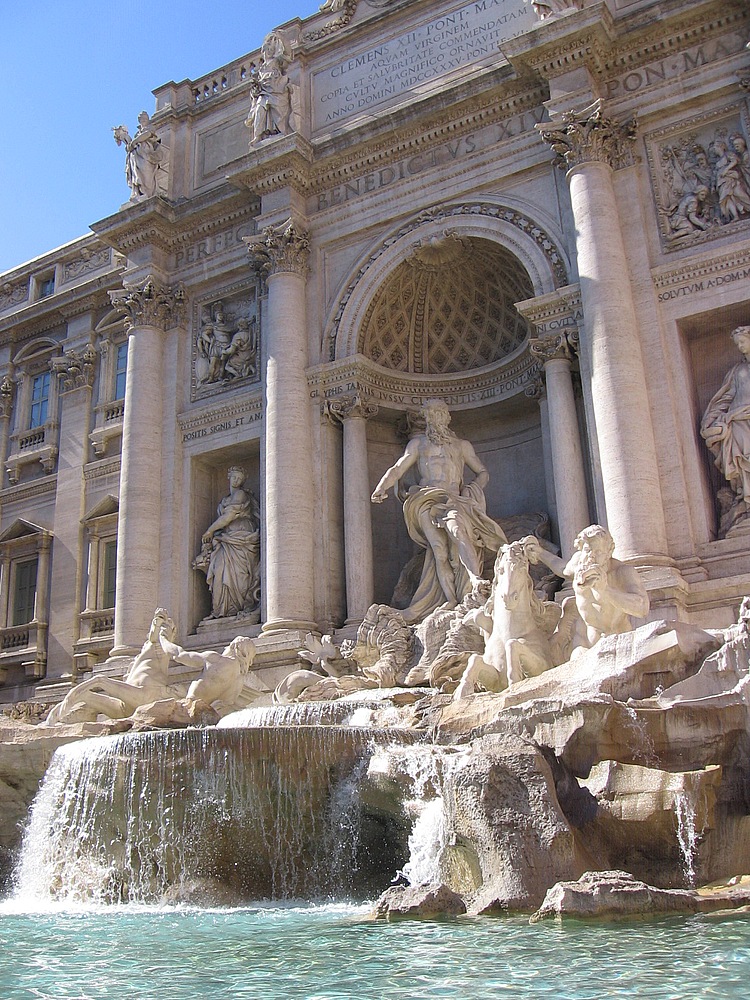 By now it is just after 4pm and we are seriously flagging in the heat and with all the walking we have done. All thoughts of going to the Vatican City vanished with our second beer at lunch, as it would be just too much for one day. We get on the metro and travel the 2 stops from Berberini to Termini. Have a bit of a problem finding platform 29 where our train is leaving from and literally have to run to get on the 16.39 with only 2 minutes to spare. The temperature in Rome was 32 when we got on the train and our thoughts are turning to the cold towels and cold water that will be waiting for us back at the port. We really enjoyed Rome and I would like to return to explore it in more depth and at a leisurely pace and to also see The Vatican City. After a non-eventful train ride we arrive back in Civitavecchia at 6.05pm, where we walk to the free shuttle, which is waiting to take us back to the ship. We are on board at 6.30pm and are thankful we decide to catch an earlier train than the one we thought we would take – as I seriously doubt we would have made the boat in time. I guess this is one of the perils of DIY touring and relying on public transport. Although everything ran to time it still takes longer than you imagine getting anywhere.
Back to the cabin to shower and Kev and myself go to the Waterfall Café to see if there is any chance of getting a table there tonight, but unfortunately it is full. We enjoy a drink on the aft deck whilst watching us sail away and the sun set. I have a Rum Runner and Kev has a John Daniels, which he has become quite partial to. On our way to the dining room we see a wonderful party of passengers who perform some wonderful dance routines, salsa etc., and it is truly awe inspiring to see them dancing so brilliantly. We see them on more than one occasion through out the cruise and I heard many fellow passengers talking about what a joy it was to watch them.
The girls have now joined us and we go to the Cosmopolitan Dining Room for dinner. Bill, Ruth and Alan are already seated and are soon joined by Michelle. I had a crab cake for starters, which was very tasty; other choices included broccoli soup, spinach salad with bacon and wine dressing. I chose black linguine with scallops, prawns and lobster veloute, Kev and Georgia had the roast turkey with sweet potato and vegetables, India chose the braised short ribs – which were all declared very good. For pudding I have an iced nougatine and a scoop of apricot sorbet, Kev and India chocolate mousse cake and chocolate ice cream with chestnut liquor. After coffee we go to the Rendezvous Lounge to watch the band playing swing numbers. There weren't too many people watching and we figure people must be flagging after the port days. Bed at midnight – tonight Kev tries the top bunk, India has the sofa bed and Georgia is in with me – it's like musical beds in our cabin.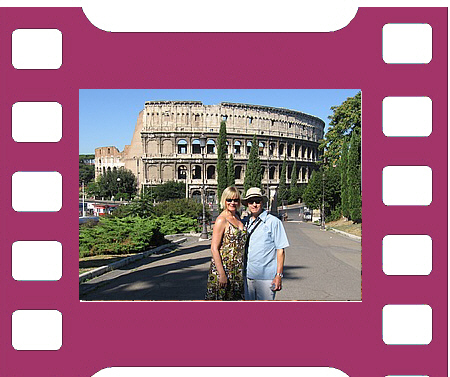 Click on the film strip to see some video of our time in Rome
[AUGUST 2008 REPORT HOME PAGE]