DAY 10 - SATURDAY 23RD AUGUST
Wake at 7am and onto the balcony for a view of Piraeus – which is a typical bustling port with many ferries going backwards and forwards servicing the Greek islands. I enjoy the peace and quiet on the balcony and read my Jeffrey Deaver book until 9.15am when I decide to rouse the rabble.
The plan had been to eat in the Cosmopolitan restaurant for a nice formal breakfast but we now realise it is only open between 7 and 8.30am today as it is a port day, so we eat at the Waterfall café before getting some comfy steamer chairs by the Thallasotherapy pool. There are very few sun beds available by the pool again today as they are setting up for the Flava night later - we are destined never to sit by the main pool on a lounger.
We had decided that Athens was always potentially going to be a stay on board day. I had visited on a school trip when I was 13 and we always knew the heat would be prohibitive and it was 96 degrees today – so it was a chance to relax and re-charge our batteries ready for the last couple of ports we had yet to visit.
We settle down with books and mp3 players and just relax until 1pm when we get lunch from the Aquaspa café. India has cashew chicken with rice – which she didn't like much, but this came with gun smoked slaw which she loved, the rest of us enjoyed the wonderful poached salmon with lemony hollandaise, asparagus and chicory – lovely and light and delicious. For pud I chose the fig, cinnamon couscous, tuile basket concoction that India had tried earlier in the cruise – it was very nice and really unusual. The others had a pineapple pudding which they also enjoyed.
India wants to make a phone call to her boyfriend back home, so I accompany her off the ship to the terminal building but we can't get the phone card to work so give up and have a quick shop in duty free for presents. Just purchase some olive soaps, as it isn't that big.
Back on board I get a book from the library for Georgia to read as she is just like her mother and finishing her books at a rate of knots. After further chilling, Kev and I return to the cabin to drink the Santorini wine, which we had arranged with John to put on ice for our return. Sit on balcony and enjoy the wine until it is time to get dressed in white for the Mediterranean Flava evening. This is a relatively new idea for Celebrity - an evening of Mediterranean cuisine served on deck buffet style, accompanied by music from the various countries we are visiting. Suggested attire for the evening is white and as such we have all packed suitable outfits. On deck at 6.45pm we get a table on the top deck and luckily it isn't too breezy – the temperature is perfect as we sail away with a just a slight breeze. The deck is laid out with lots of tables all with white tablecloths and there are buffets laid out on both sides with flags from the countries whose food was being served. The only thing lacking was a distinct lack of typical Mediterranean music – instead they are playing cheesy rubbish. Most people have made an effort and have at least one item of white on – but some were obviously not forewarned or did not care to conform.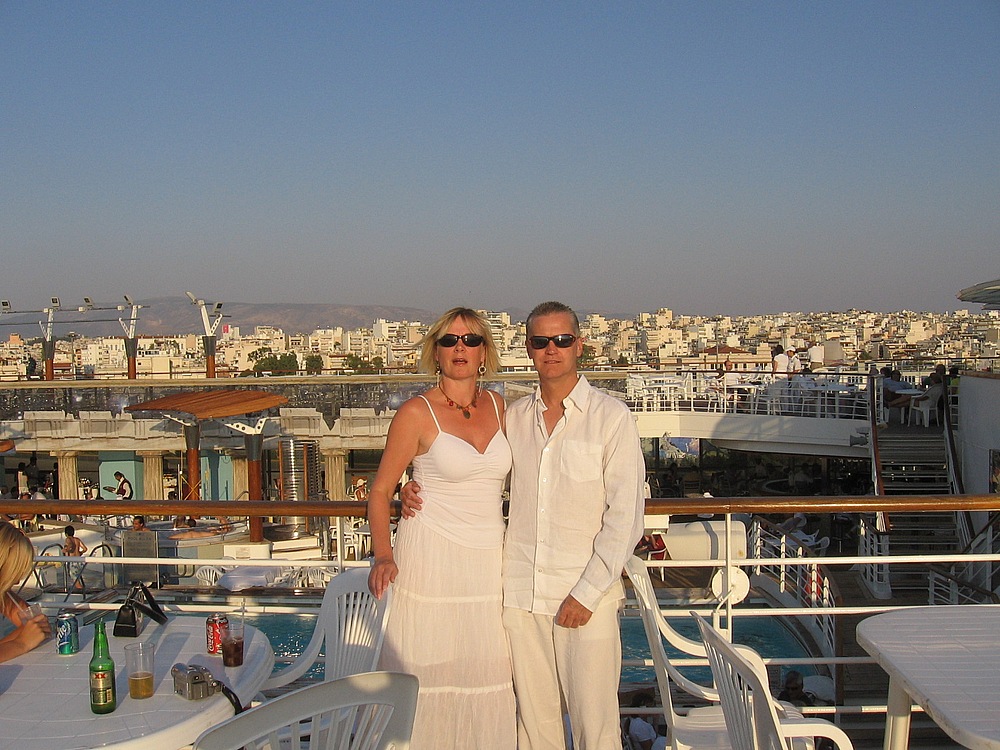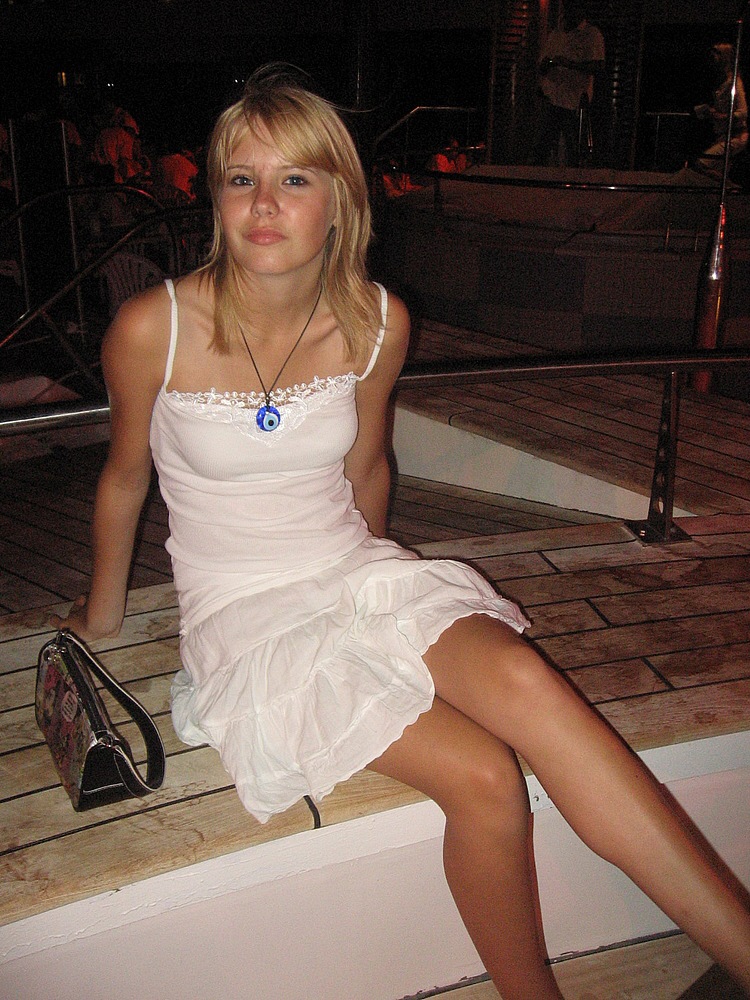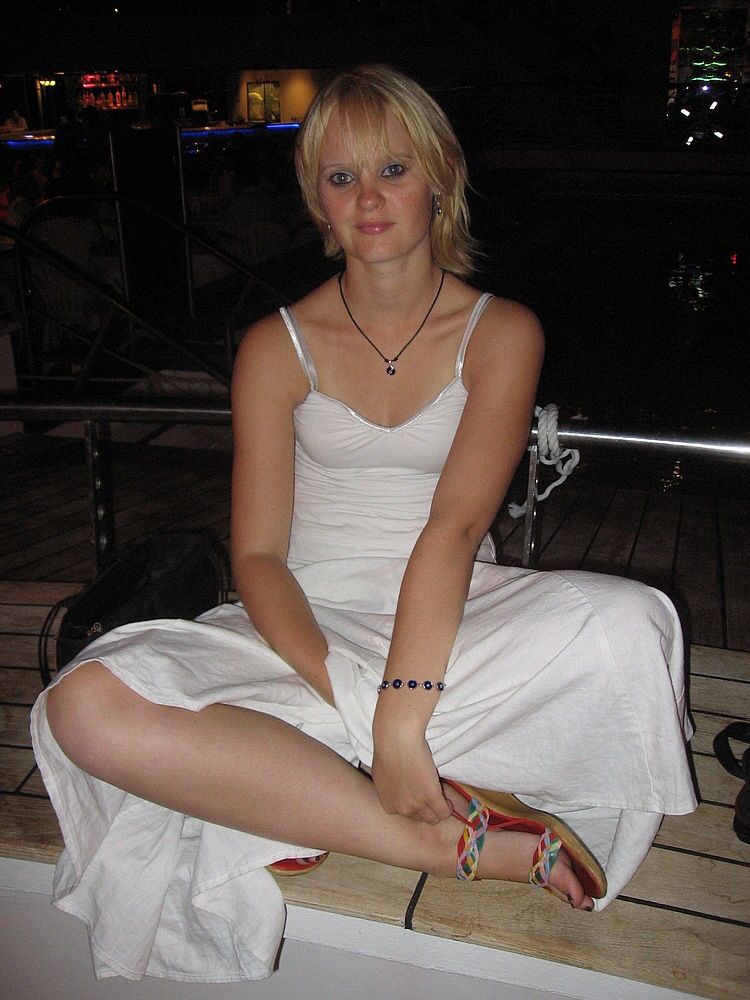 I enjoyed a White Sensation cocktail, which was served in a coconut shell. We then took it in turns to get our choices from the buffet. I had some doner kebab, boeuf bourguignon (which was fantastic), chicken cacciatore, Spanish tortilla, pork skewer with various salads and side dishes and still had room for baklava, some fruity pudding and halva.
There was another amazing sunset tonight and as we went past the land the white houses looked like snow on the sides of the hills – stunning.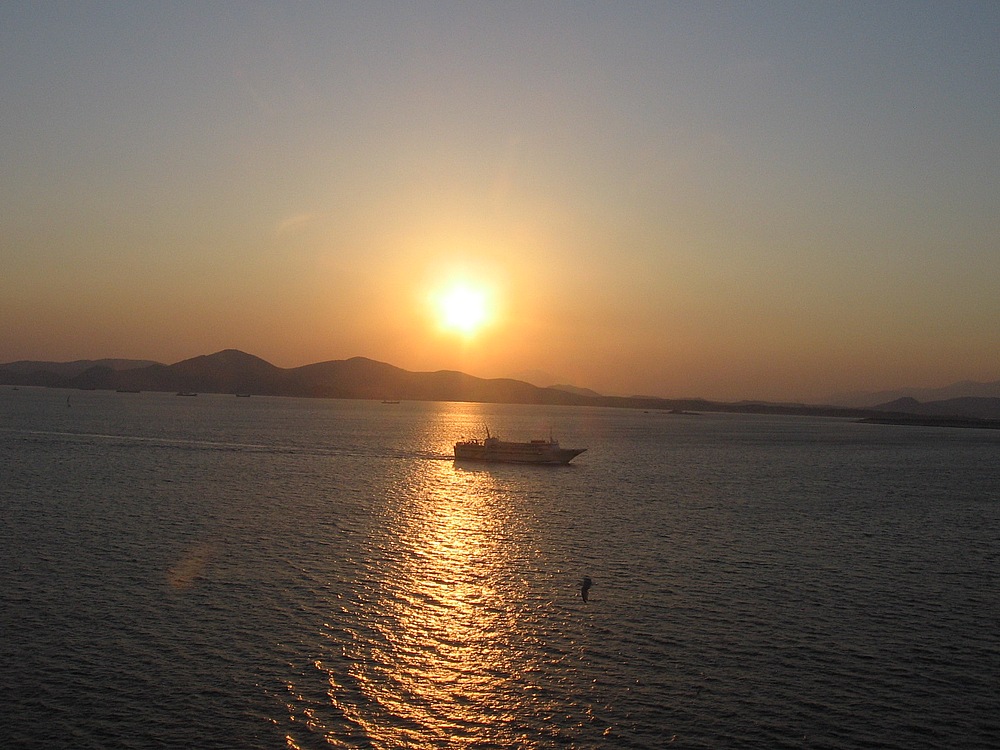 After a time the orchestra stops their cheese and the acapella group stands on the balcony above the orchestra and sings things like Amore, O sole Mia, Zorba the Greek etc. etc., which is much more in keeping with the theme of the evening. We leave after a while to buy Katie's CD from the Cova Café and then head to Revelations where there is "Interactive Trivia" which is not nearly as grand as it sounds. There are two teams already and we make up a third – we do some silly games but end up winners and get some Celebrity squishy head cushion things for our troubles. Kev and I then go to the casino to play the slots while the girls go to the games room, however we head back to the cabin at midnight as the clocks are going forward tonight. Do room service sheet for breakfast in the morning, as it is another at sea day.
[AUGUST 2008 REPORT HOME PAGE]