Kalkan - October 2019
Written by Kev

It's taken a while to get around to putting our trip to Kalkan onto the website, but lockdown has given me the kick up the backside I needed to finally get it done.
Tam and I decided early in 2019 that we would have two shorter holidays rather than one large one and with the small matter of the Barbados holiday out of the way we thought a return to Turkey would be nice. Kalkan suits our needs perfectly and with India, Georgia and Charlie joining us a villa seemed the best bet. Actually there are not really many hotels in Kalkan and certainly no huge high rise monsters thank goodness. There are many villas of a high standard available at very reasonable prices and we chose Villa Capella. It's just above the main road running above the town and we were a little concerned that there might be some road noise, but this proved to be unfounded as we heard very little at all.
We were able to walk down into Kalkan easily enough although it is down a very steep hill, so a taxi back was usually the best bet. These are cheap and readily available. We hired a car from the airport for the first time and the drive takes about 90 minutes and is very straightforward. Not quite so easy was the little road up to the villa and it is so steep. When we arrived a car was blocking the entrance at the top and I had to stop on the hill with a car full of 5 people and all our luggage. That was a real test for the poor car - let's just say the clutch may never be the same again!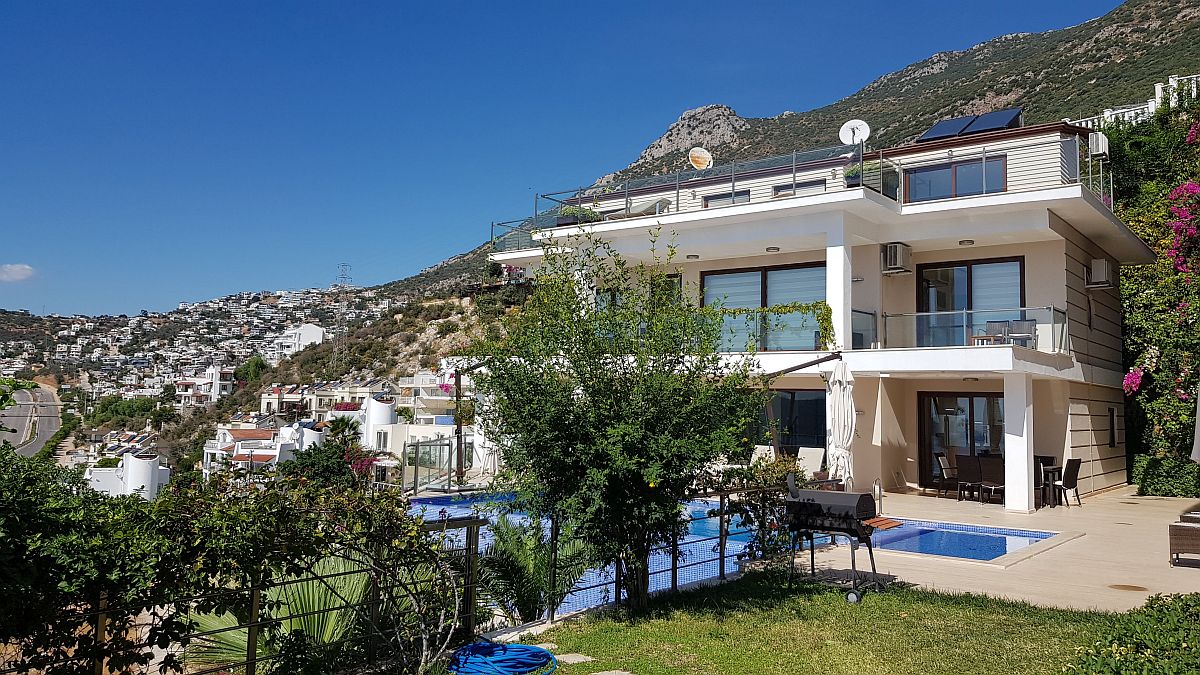 Here's Villa Capella in all its glory. All the bedrooms have their own balcony. Tam and I had the room at the top.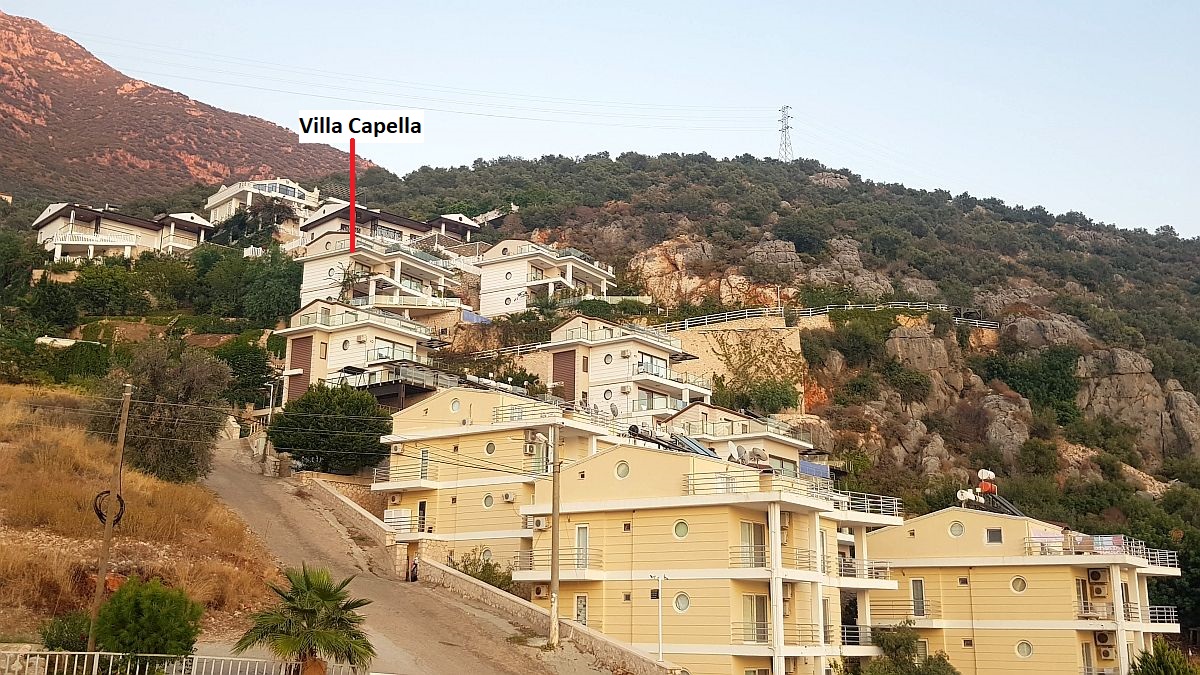 Believe me, the road is a whole lot steeper than it looks here and quite rough too. It certainly tested the ladies ability to walk down in high heeled shoes. A lot of arm holding was required to prevent them careering down the slope in ungainly fashion.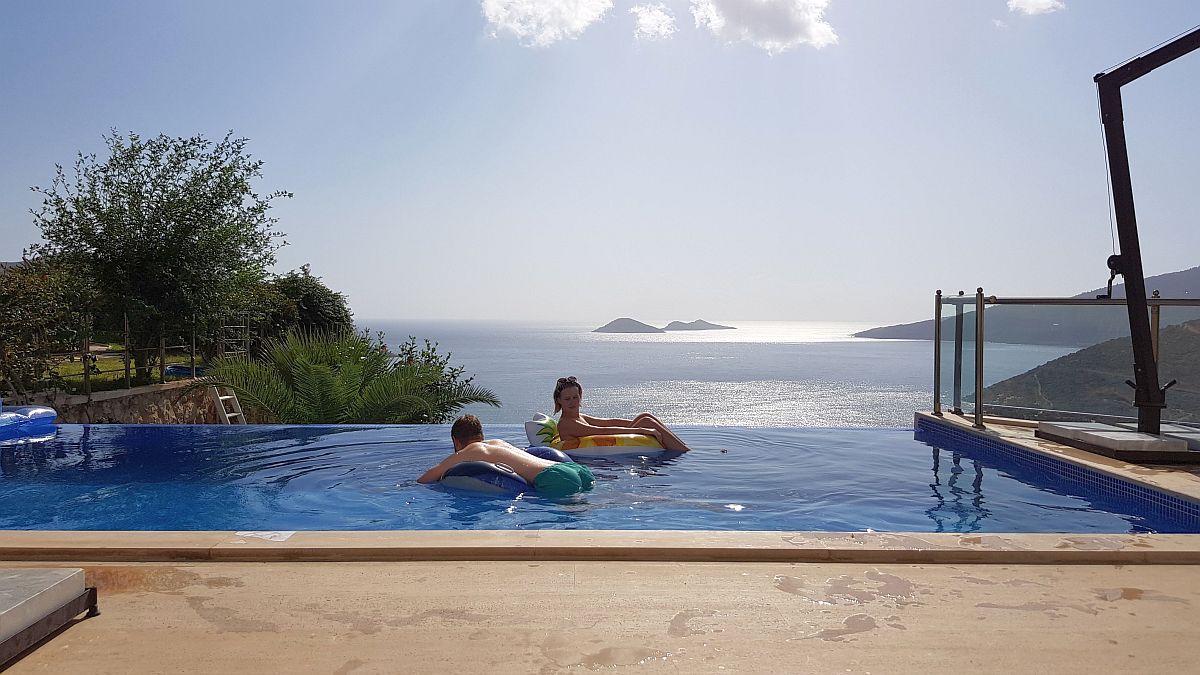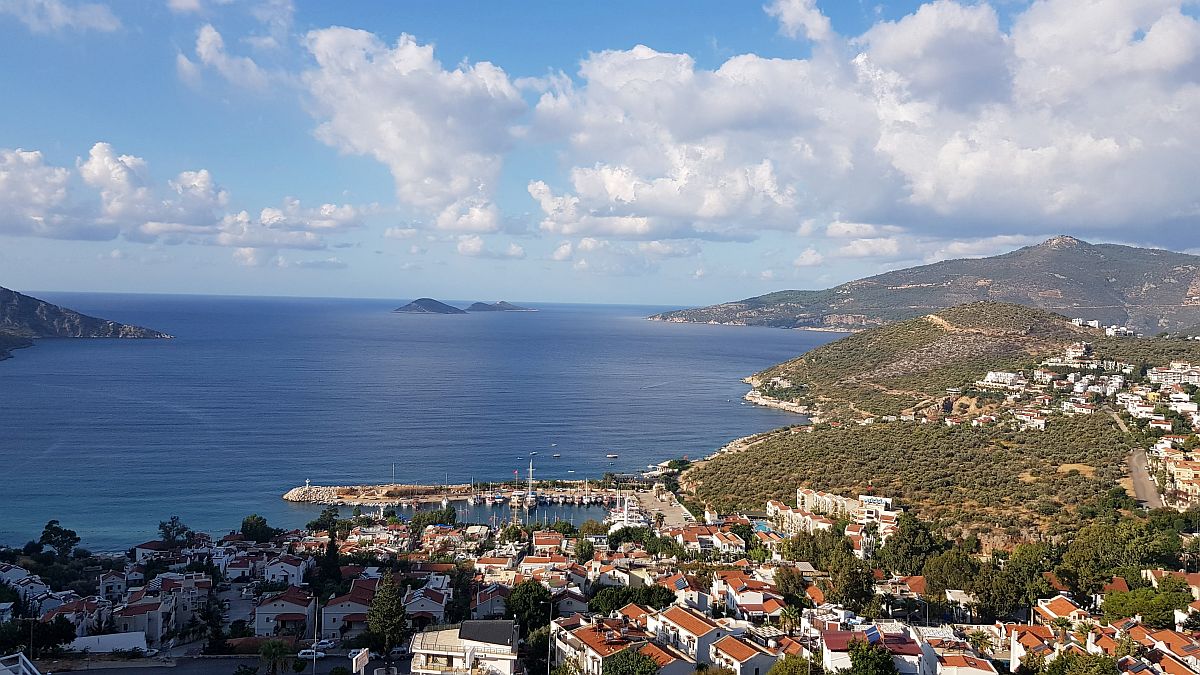 This is the view looking down into the harbour.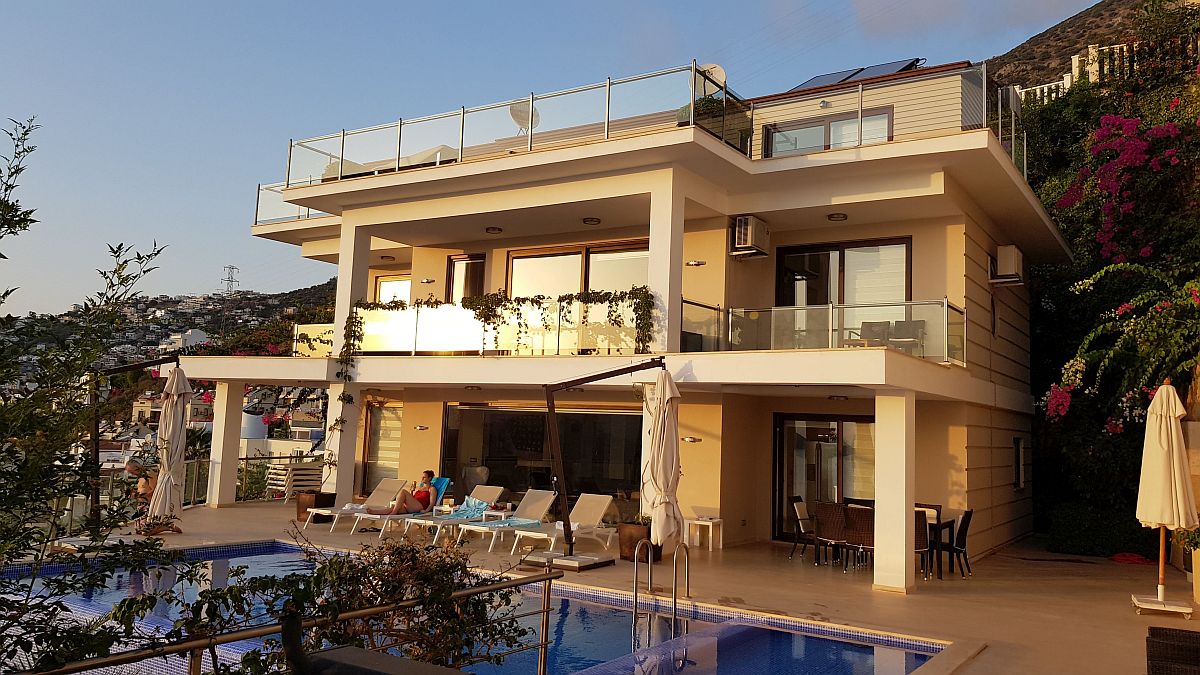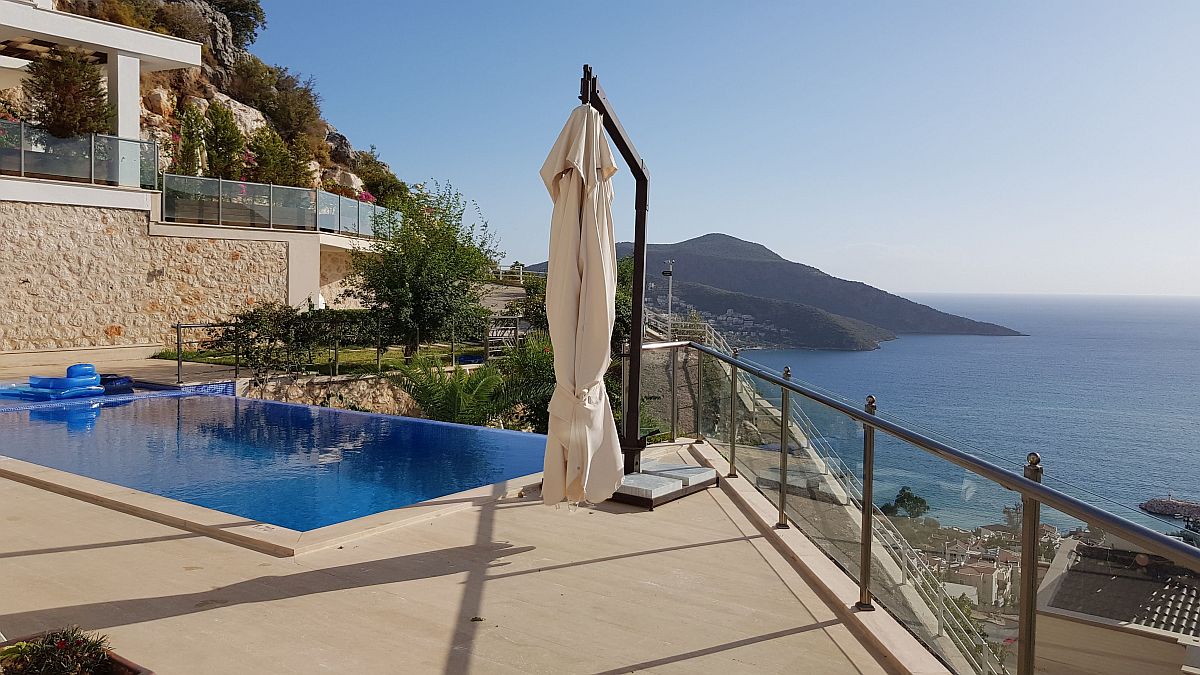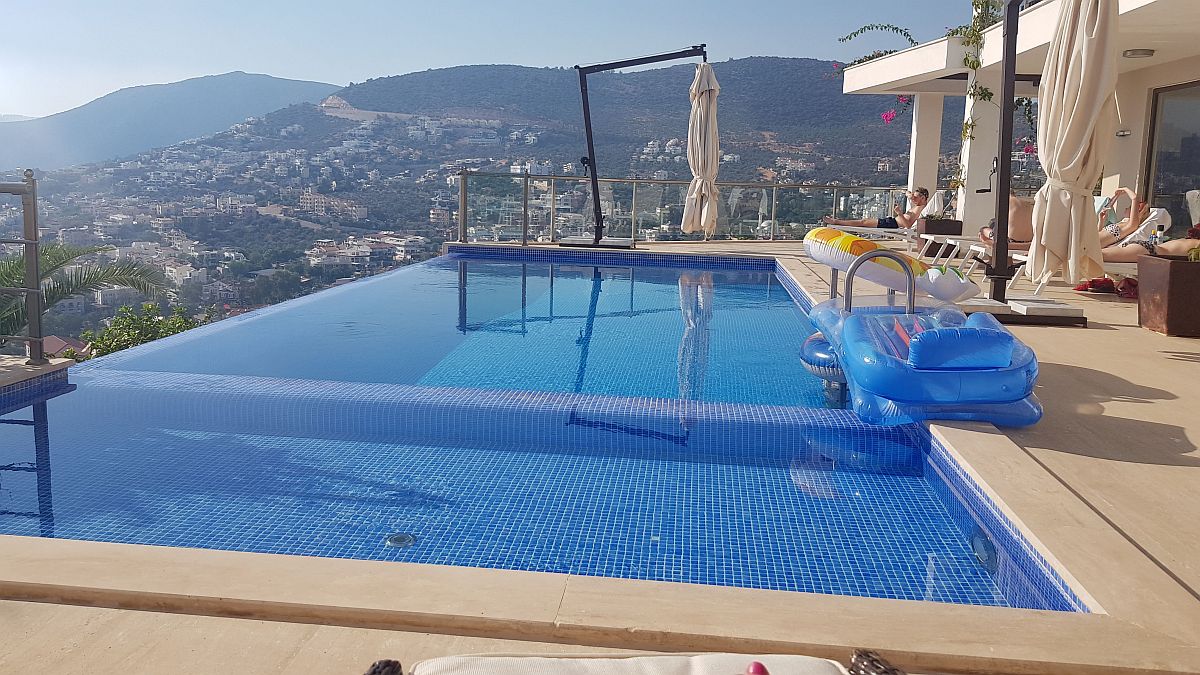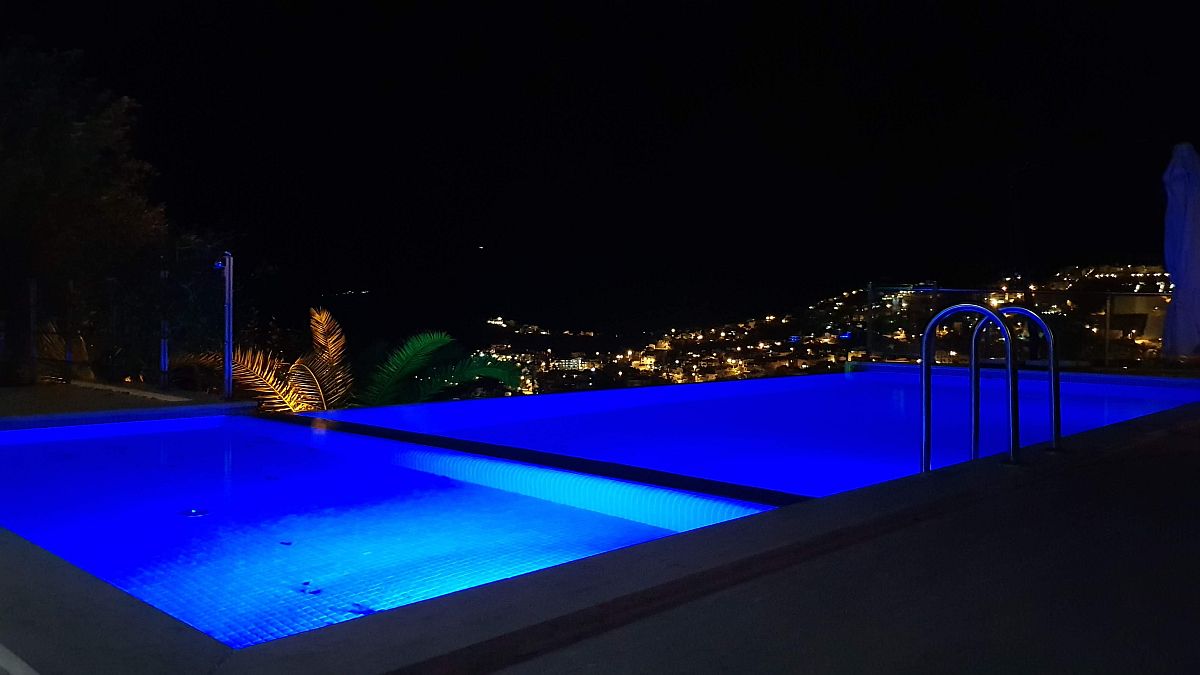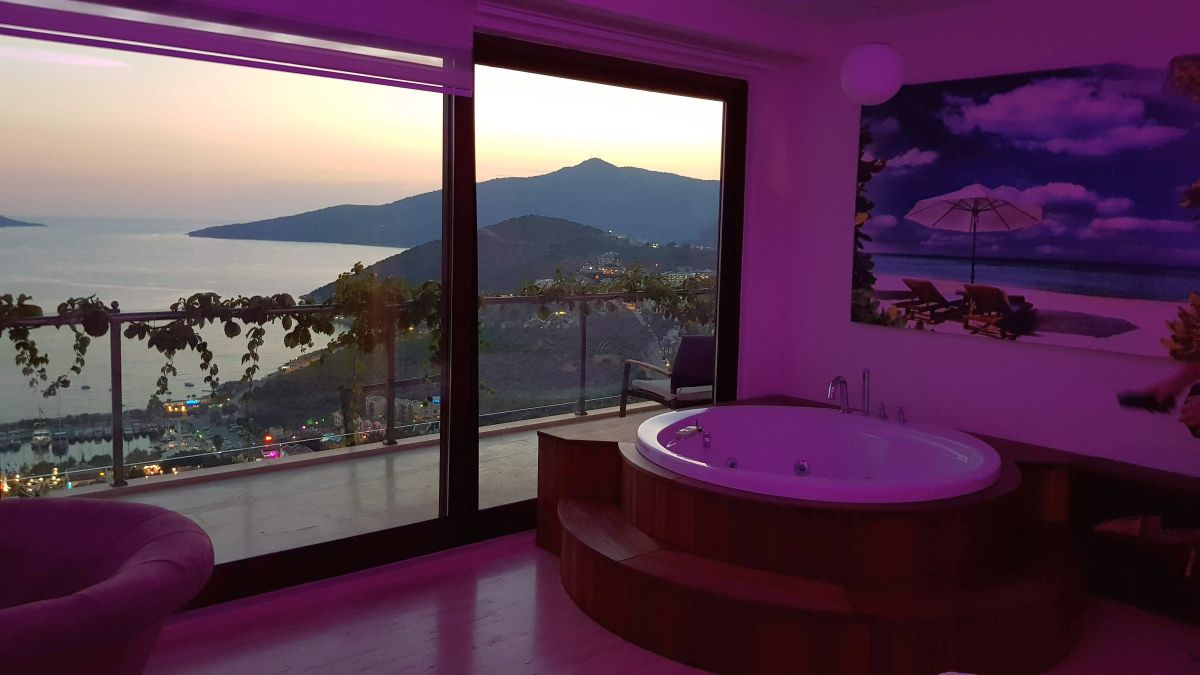 There was a lot of cool lighting and this was Georgia and Charlie's room with a hot tub.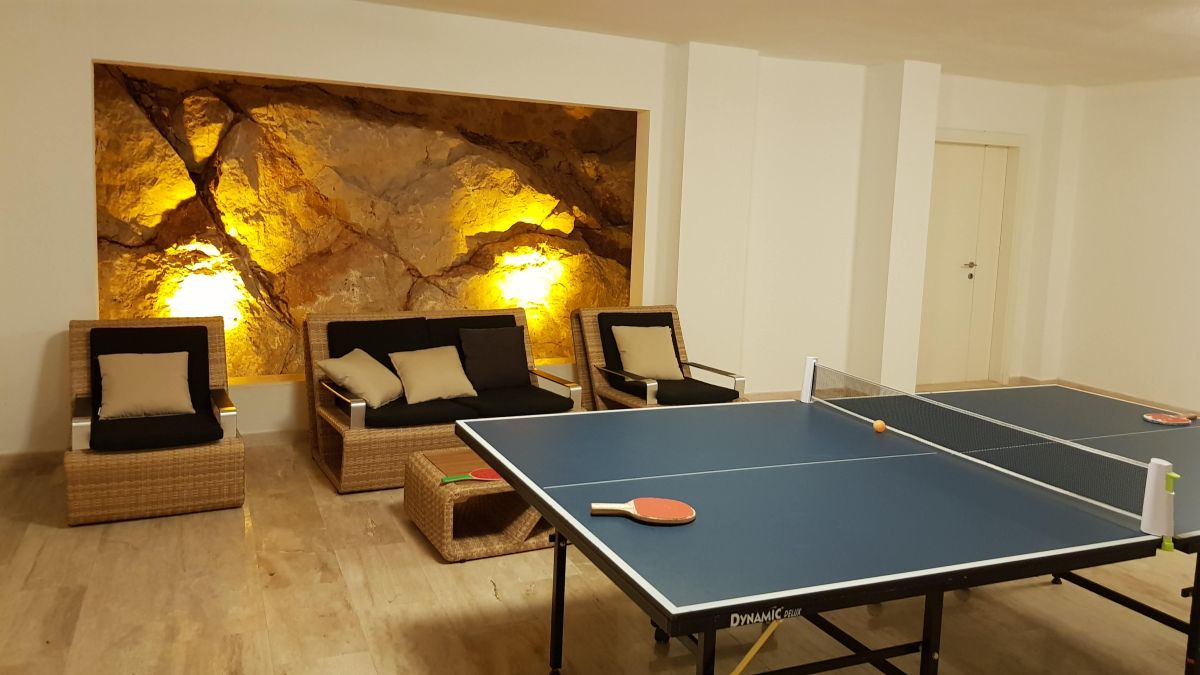 The games room was on the lower floor with table tennis and pool.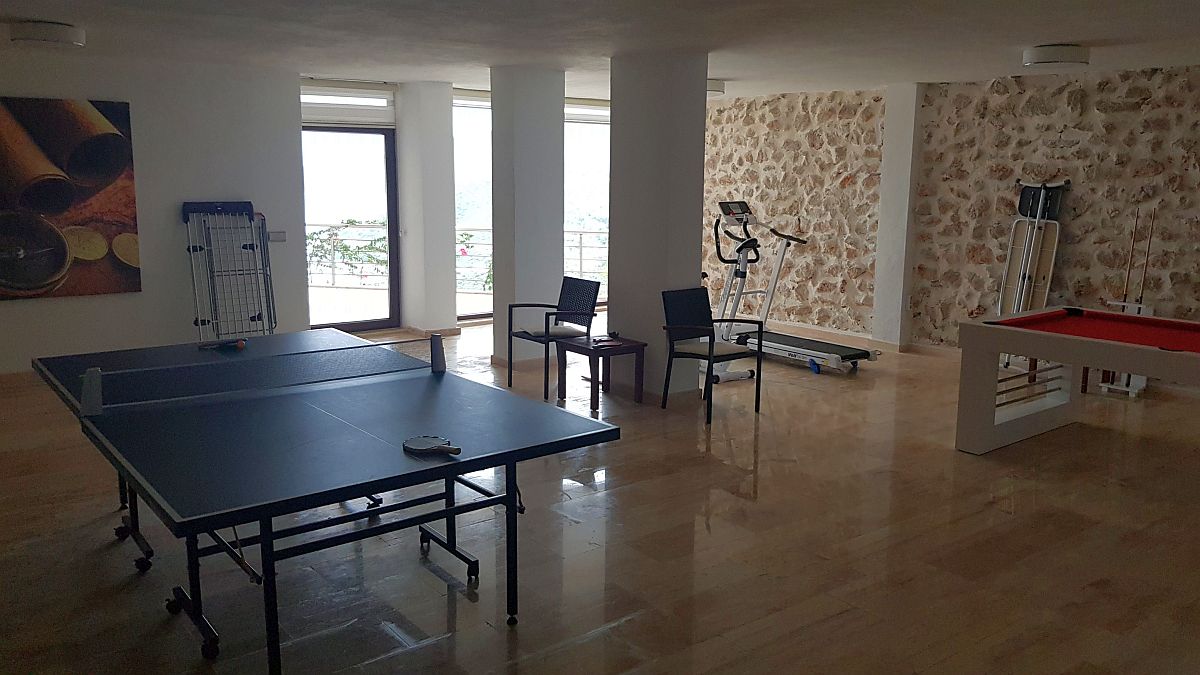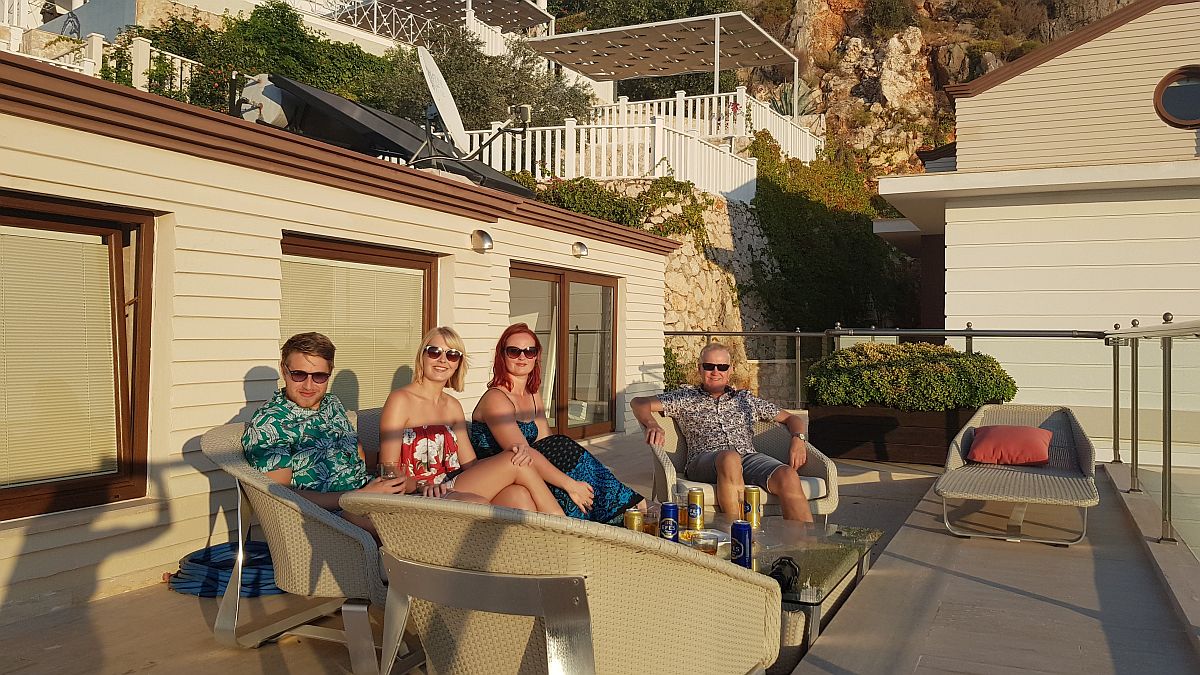 Pre-dinner beers on the top balcony.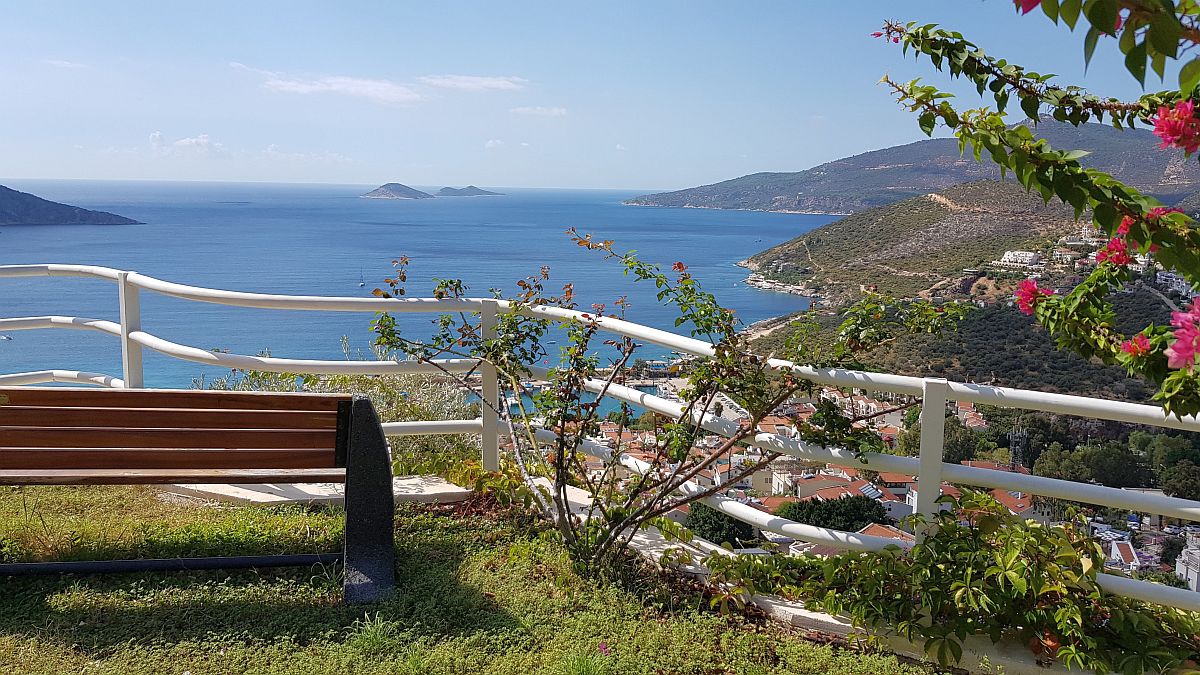 Kas is about 10 miles away along the coast road and we went on a kayaking trip from here.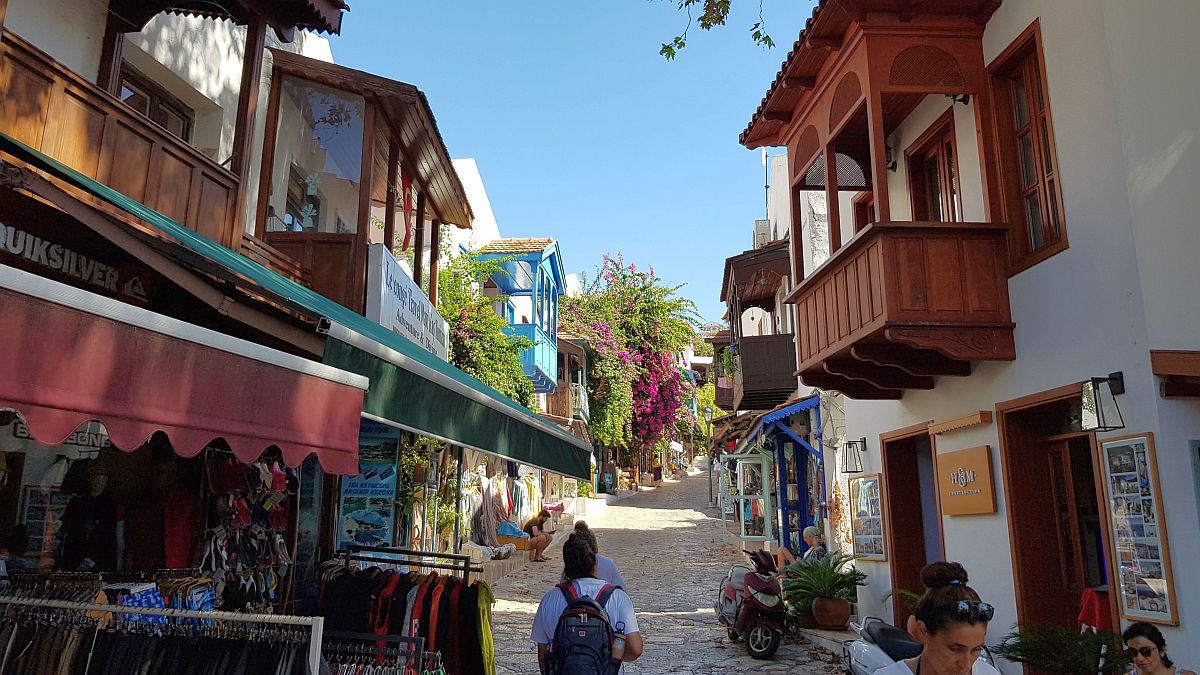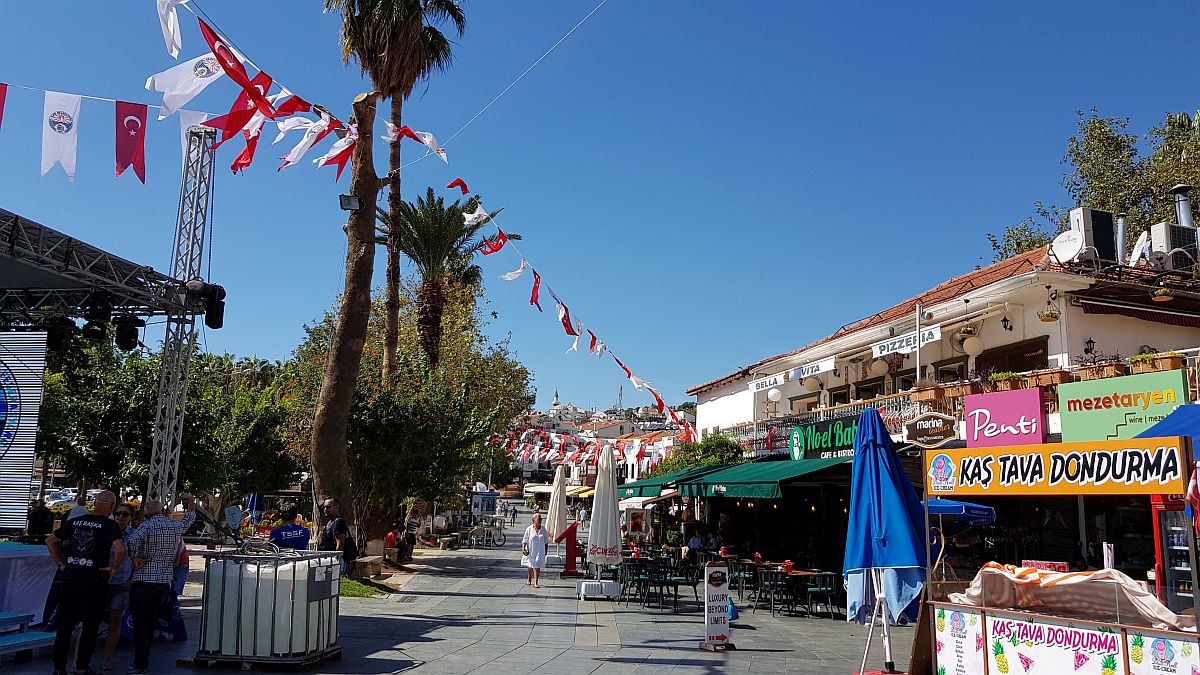 A bus picked us up in Kas and took us to a small village in the hills. Here we transfered to another vehicle for another short ride to the start of the kayaking adventure.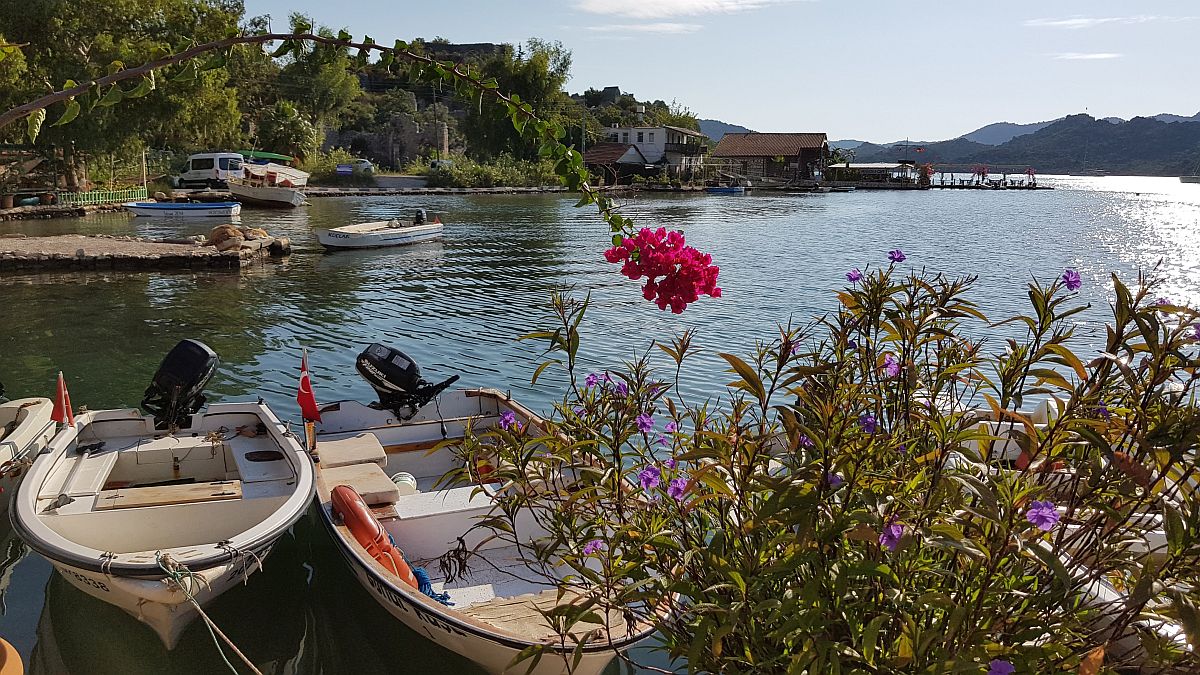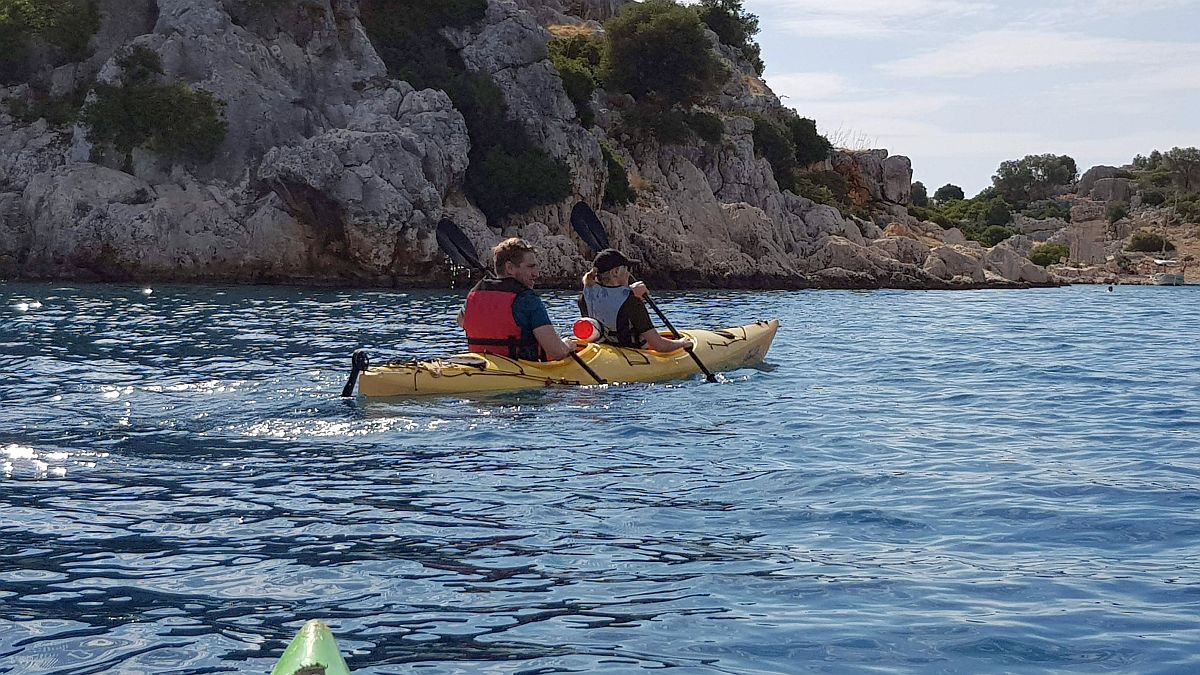 I forget to mention that this was a sea kayaking trip, so it was a little rougher than usual in places, but nothing too bad. Georgia and Charlie went in one kayak, Tam and I in another and India was in a kayak with the tour guide.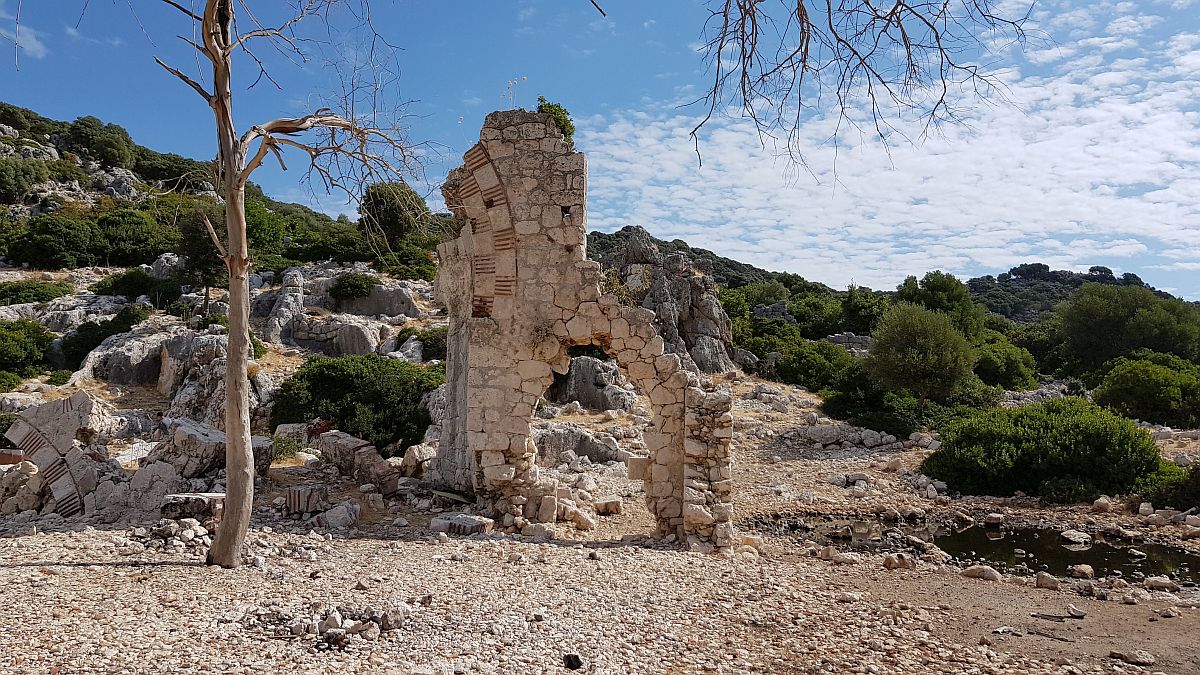 The first stop was on a small island with a few old ruins. You could swim or take a walk around.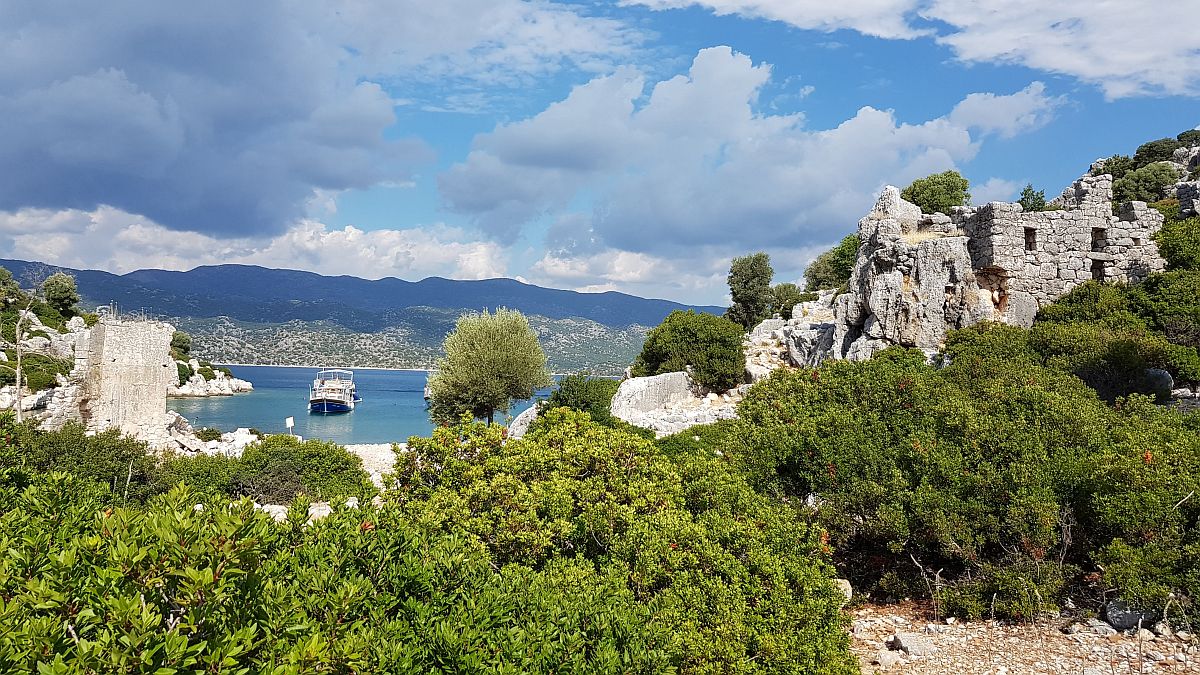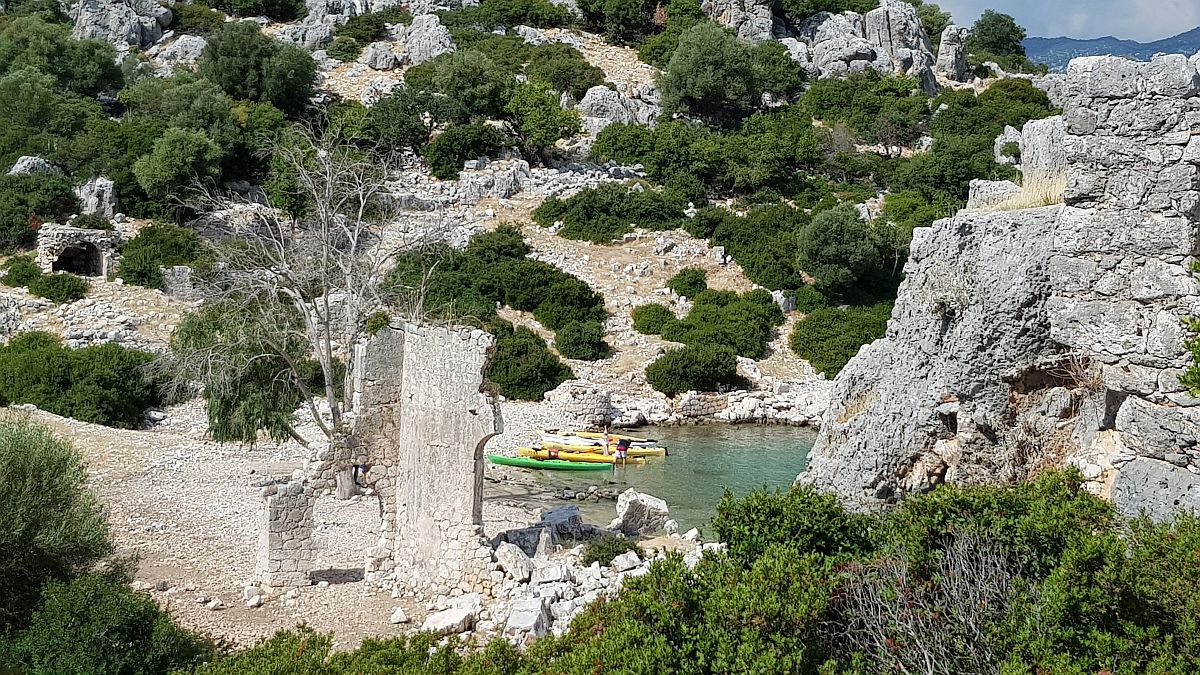 After this we paddled along the coast over a sunken village, which was the main point of the tour. To be honest you don't really see much apart from a few bits of old wall below the surface, but it was still good fun.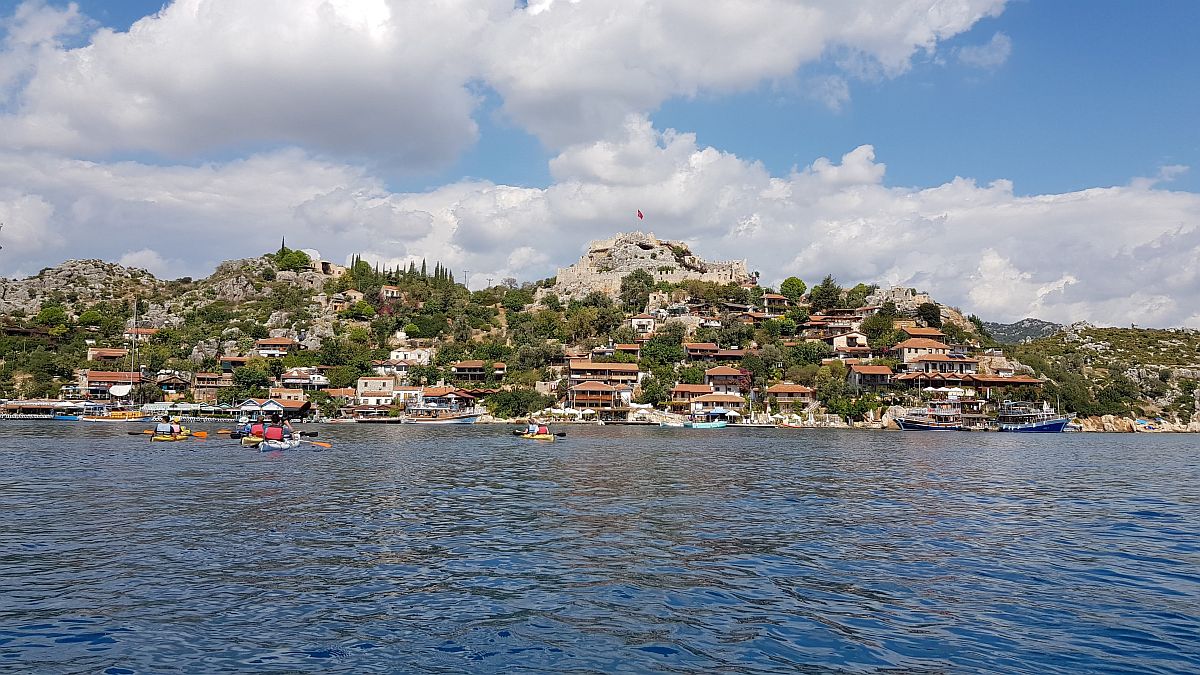 The next stop was a small village across the bay that is only accessible by boat. This was a very special place with a couple of small restaurants and an old fort up on the hill. We stopped here for lunch which was included in the price of the tour.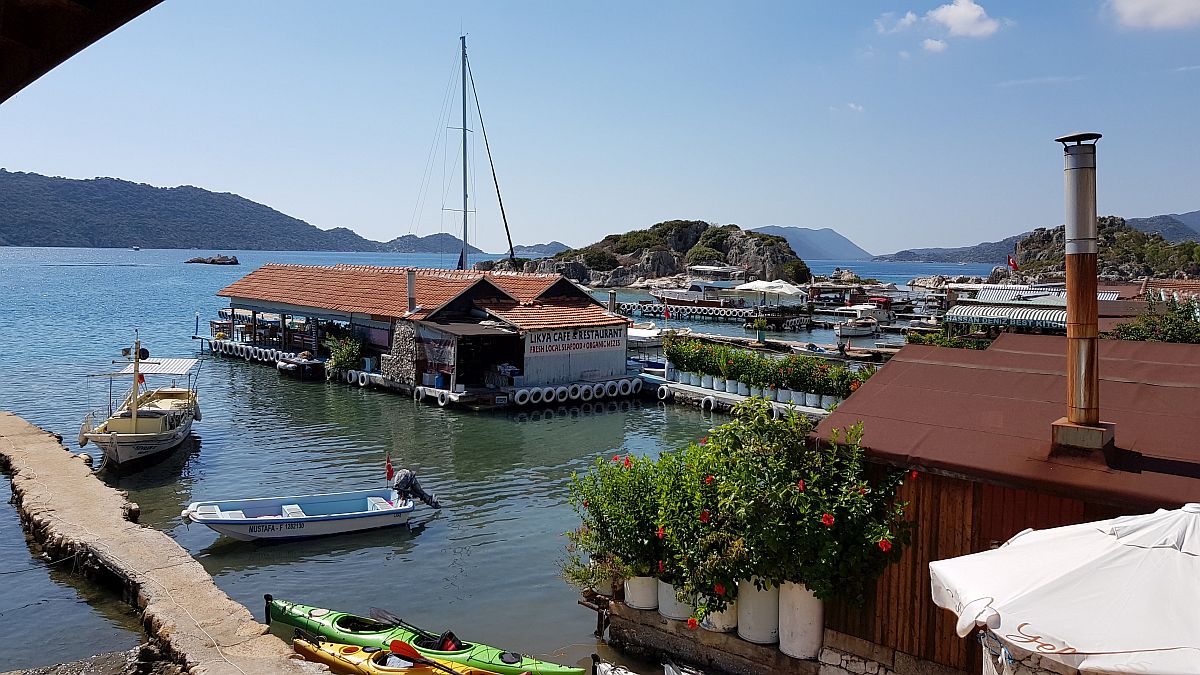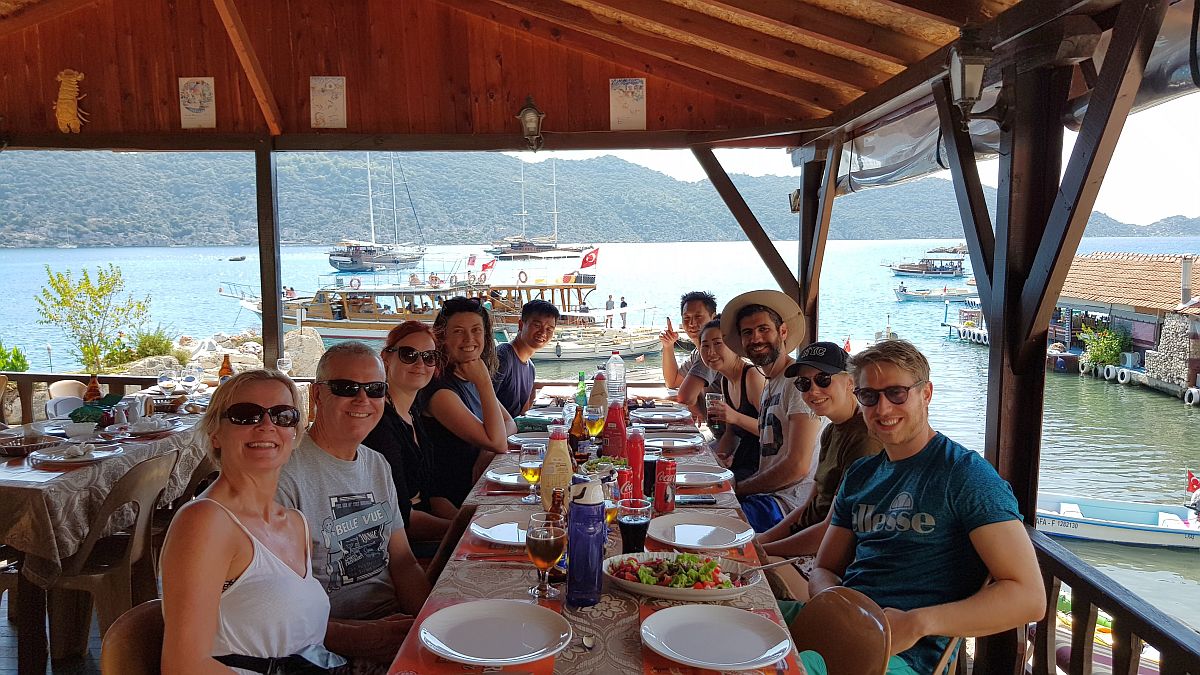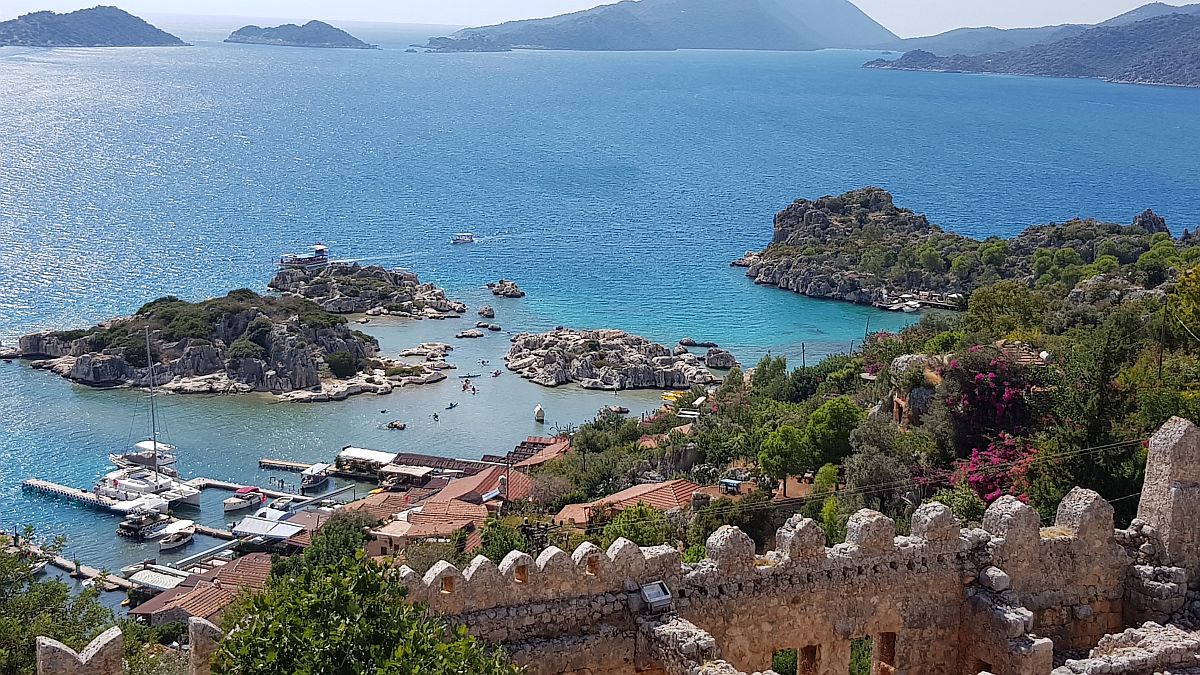 After lunch we climbed up to the old fort. The views from here were spectacular.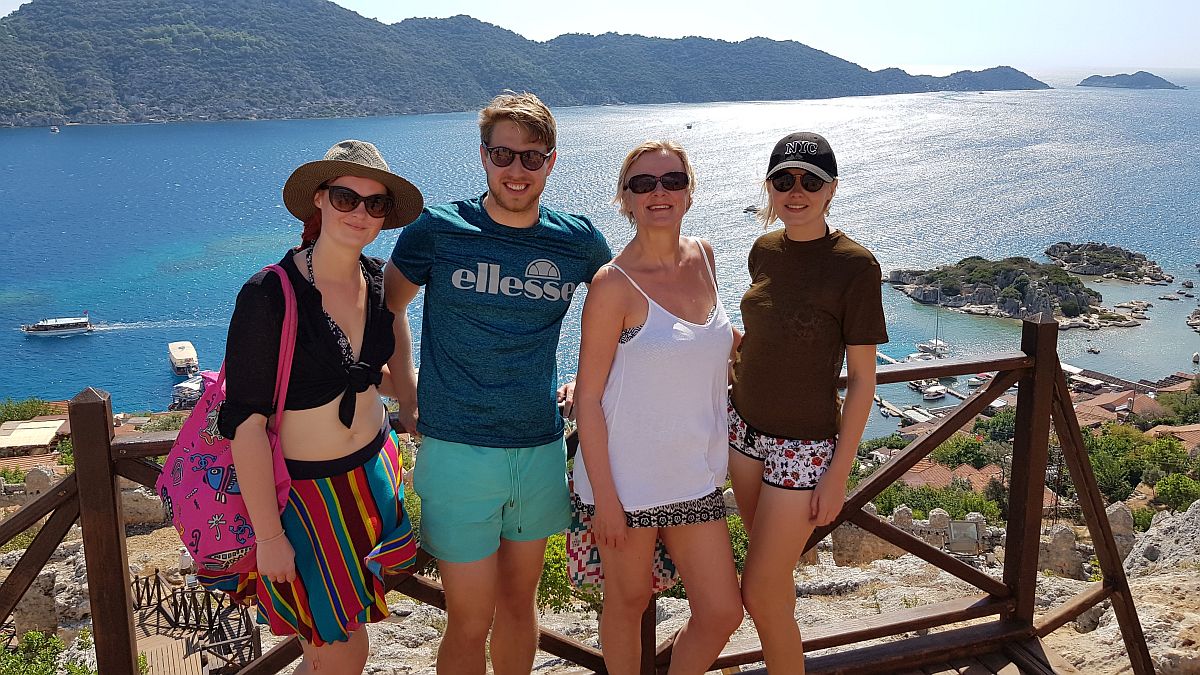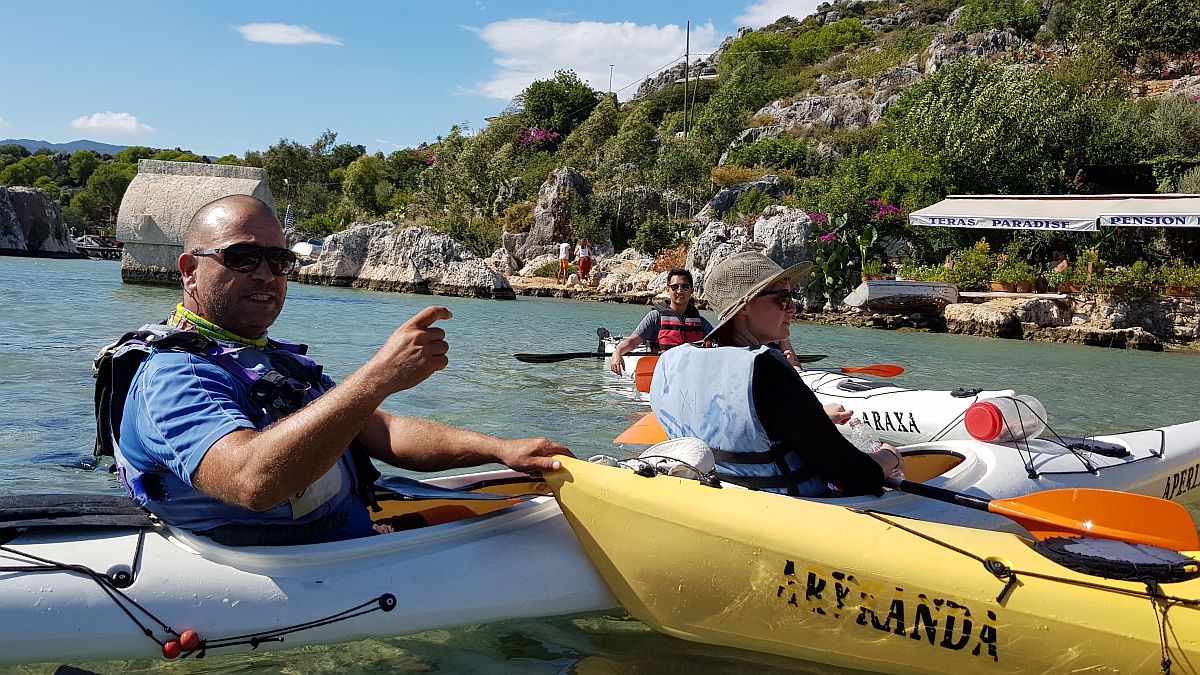 This is India with the tour gude. We had a great time on this trip. All of the tours we've done from Kalkan have been very good, but this may well have been the best yet.
We also did another boat trip. We used the same company as last time (Sunset Boats) and booked the entire boat for the 5 of us. Once again we enjoyed it tremendously, the food was lovely and the crew very friendly.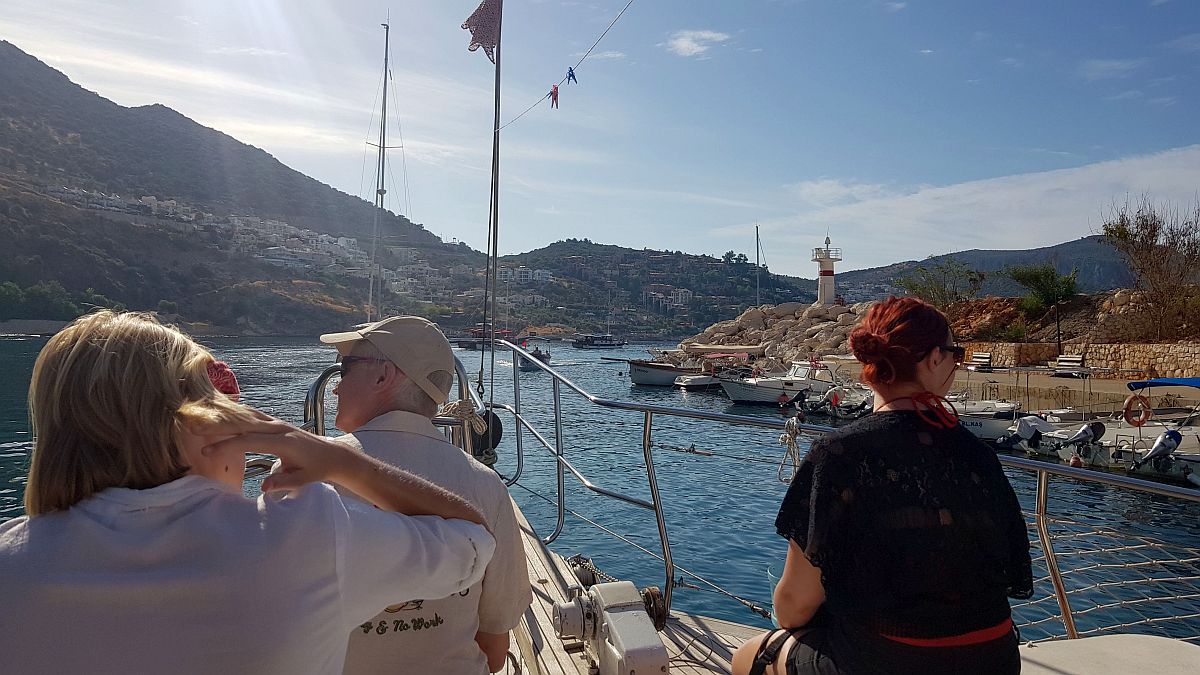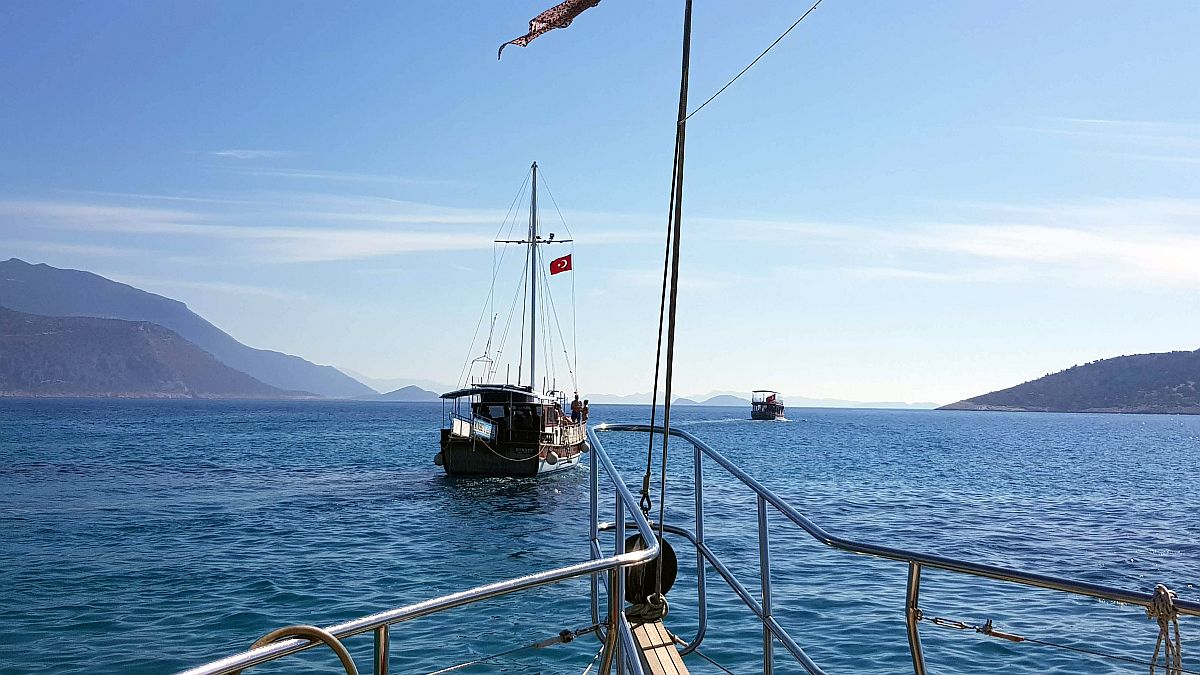 The boats tend to leave the harbour at rougly the same time, but soon spread out and it's always peaceful and relaxed.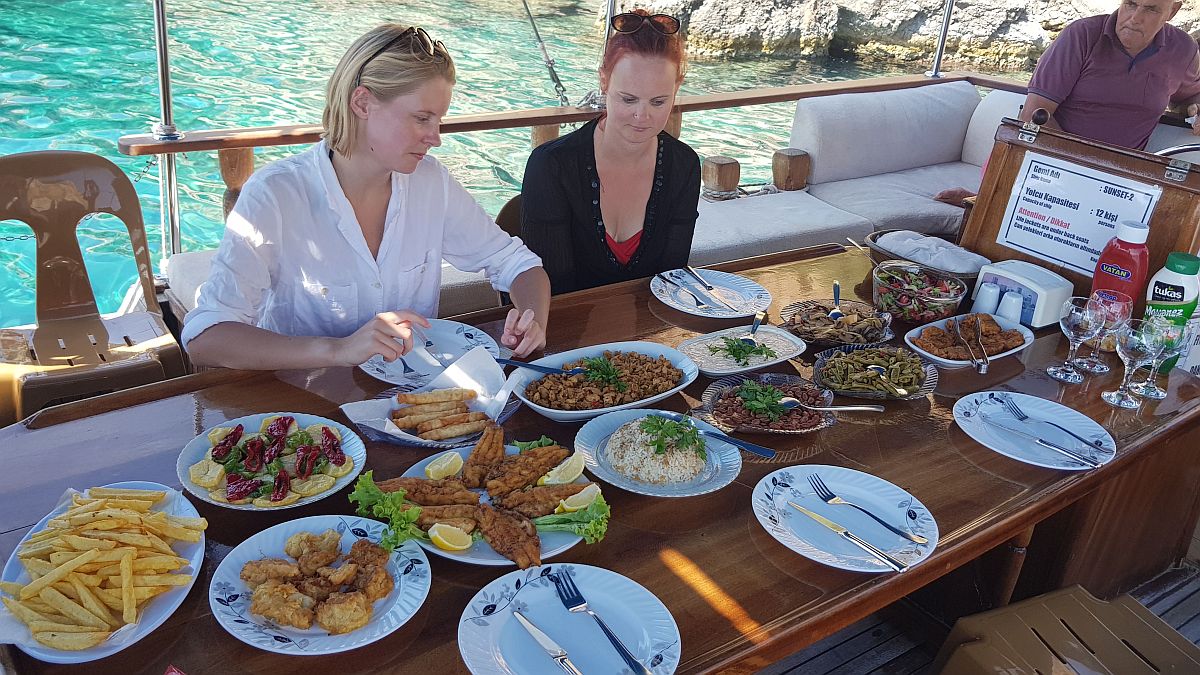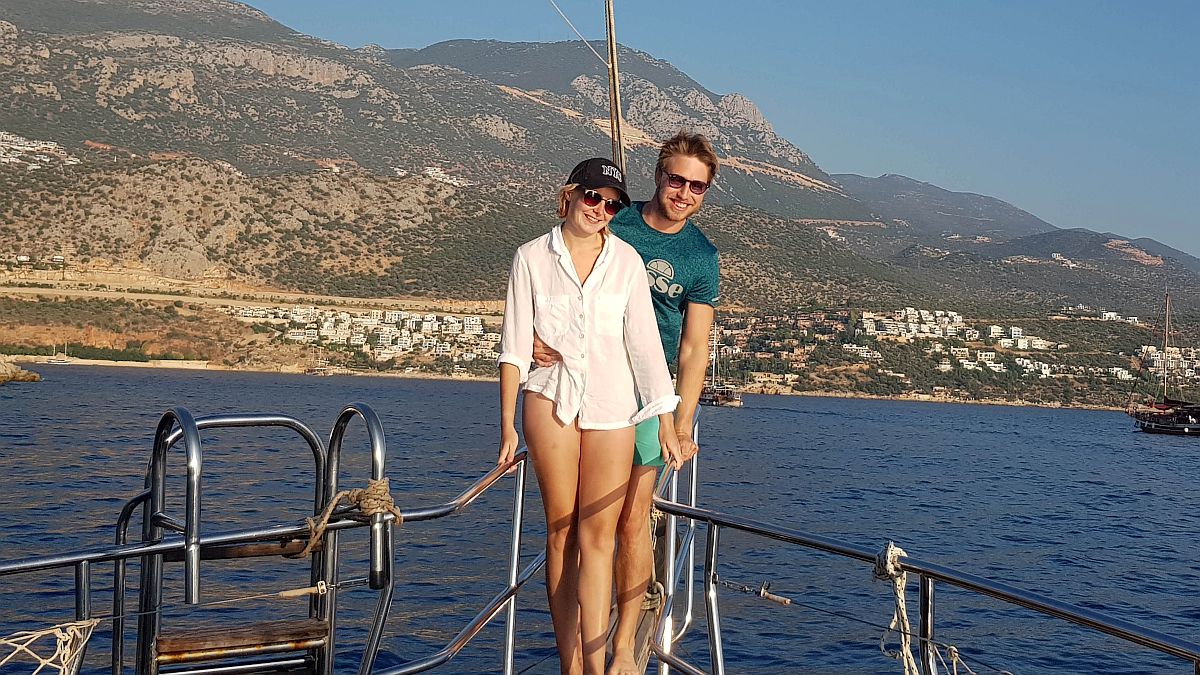 Obviously we had lots of lovely meals in restaurants, but most of them we have visited on previous trips, so I won't bother with too many photos. One that was new to us was Small House. The name gives it away really - it's a family run business in a small house. I don't know the exact number of people it can accomodate, but I don't think it's more than 12 to 15. This place gets booked up very fast, so you have to make sure you reserve a table well in advance. It isn't the most sophisticated of decor, but that's not really the point of the place. The food is traditionally Turkish and the welcome is friendly and relaxed.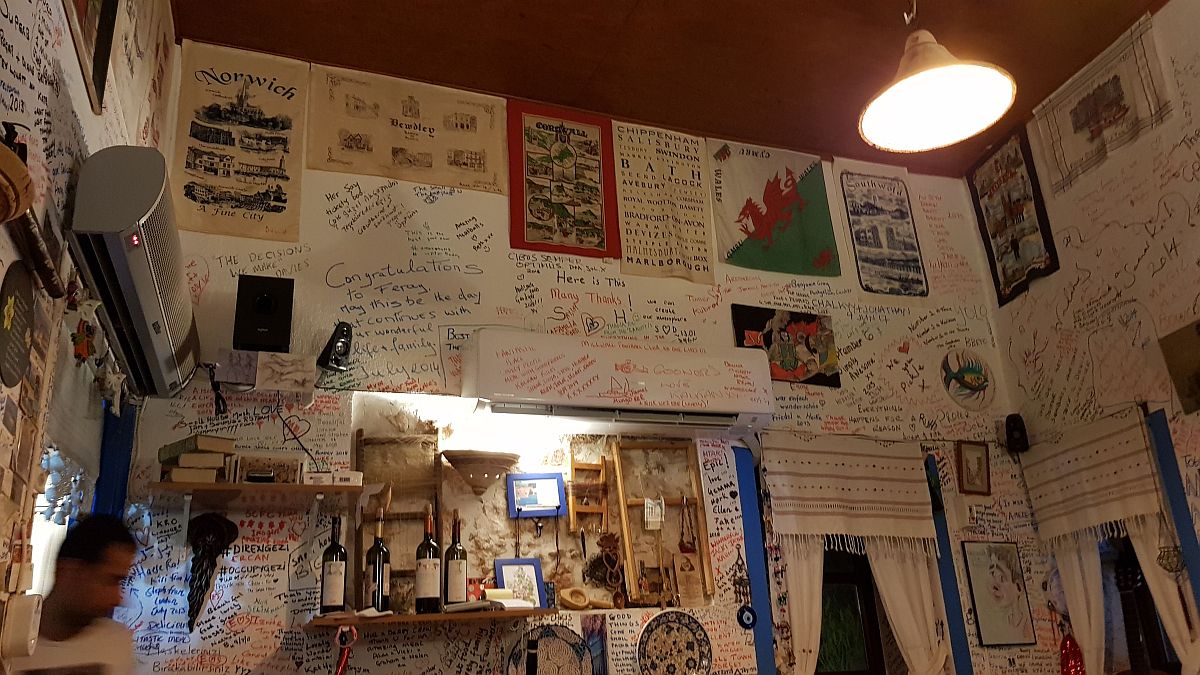 People from all over the world have left messages on the walls.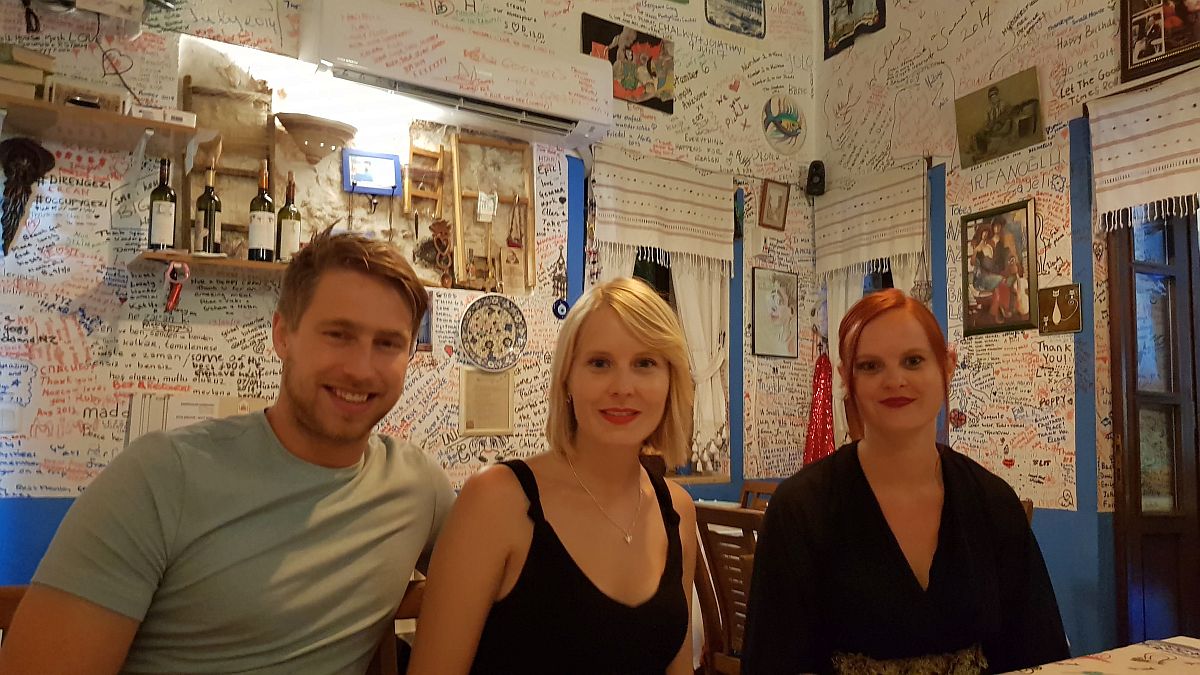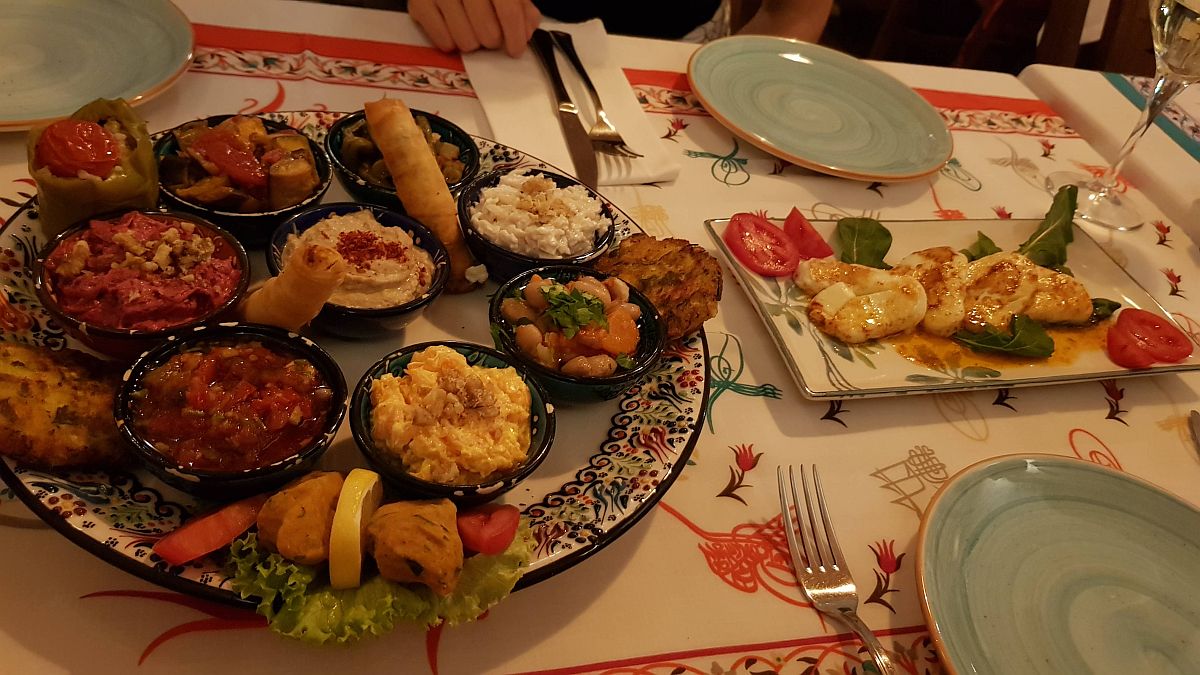 This was our truly wonderful meze starter.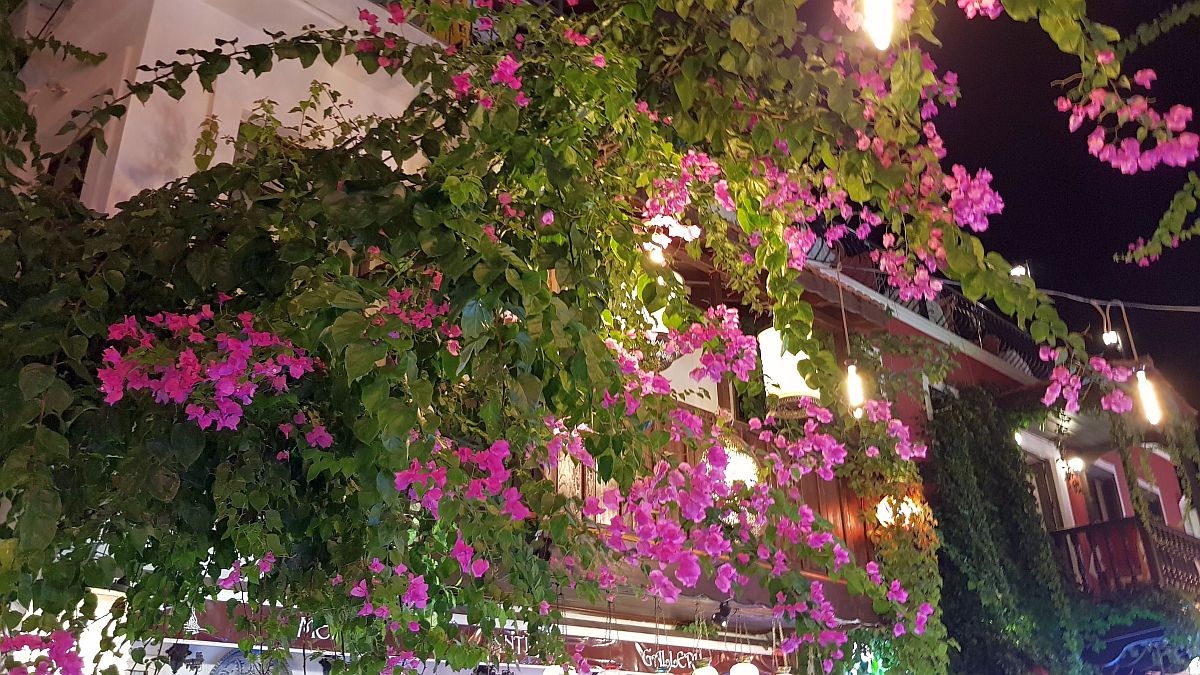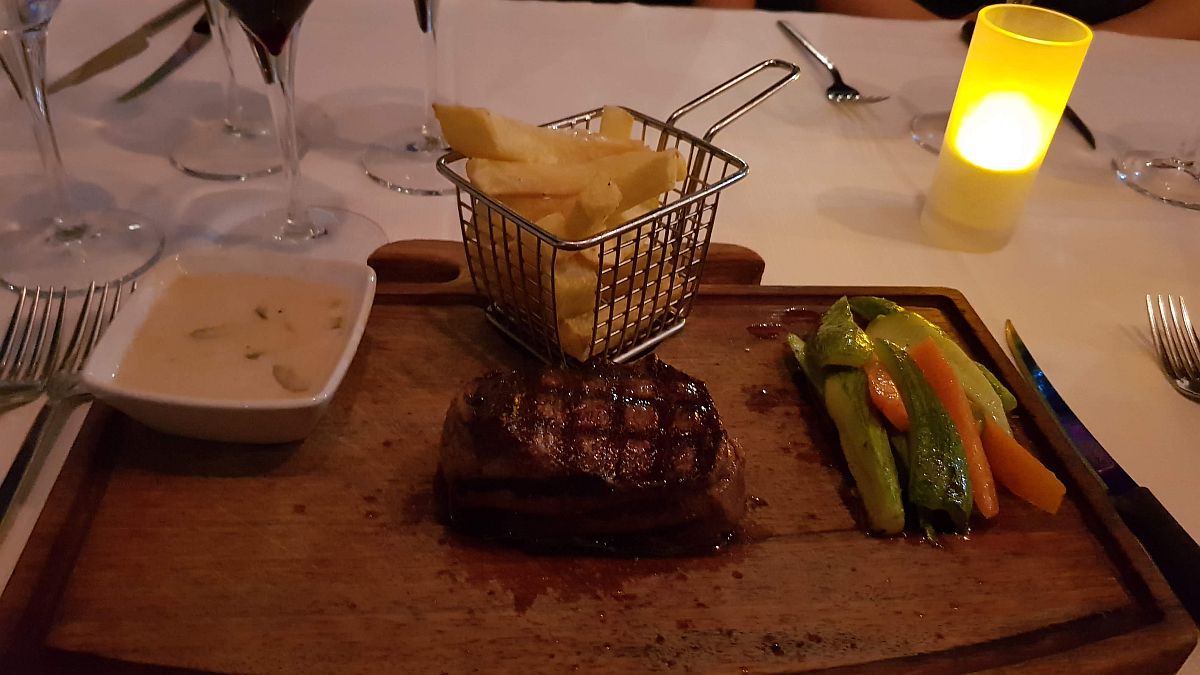 As usual we had a lovely steak in Sade Restaurant.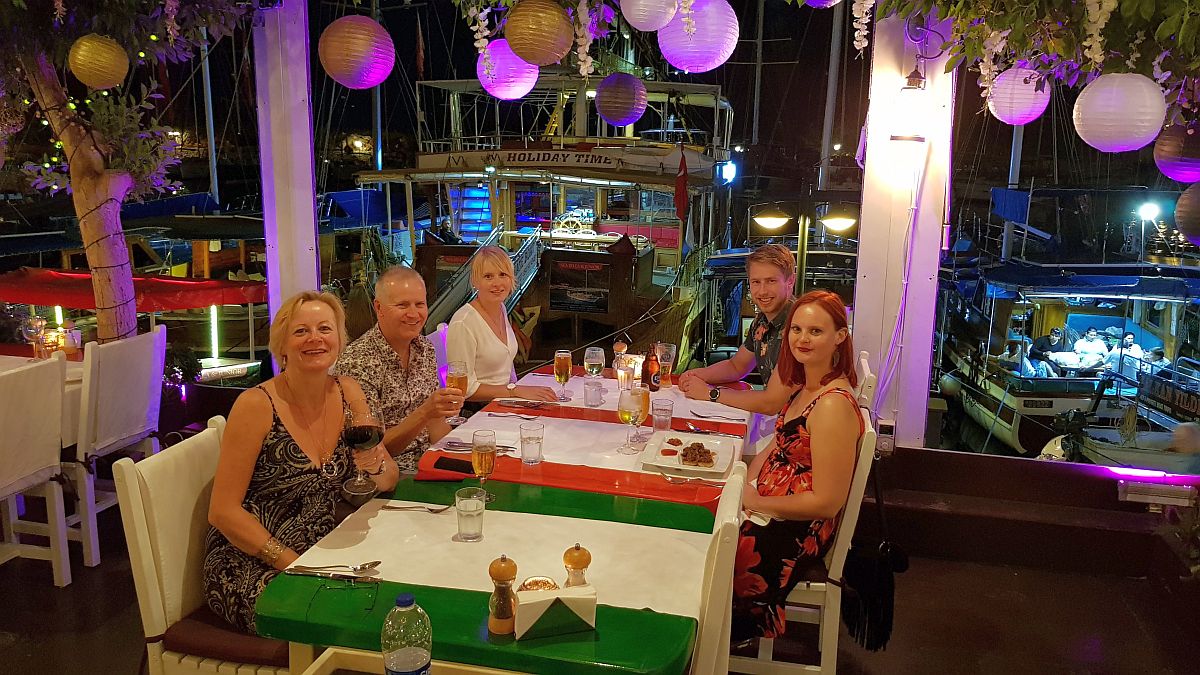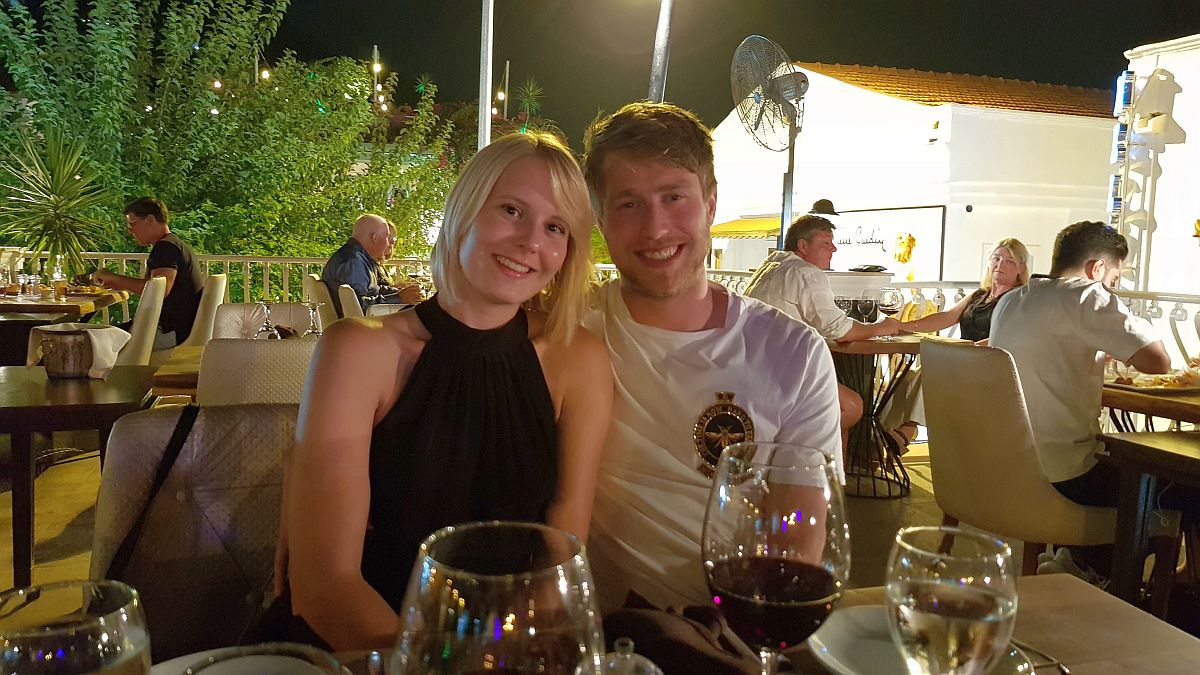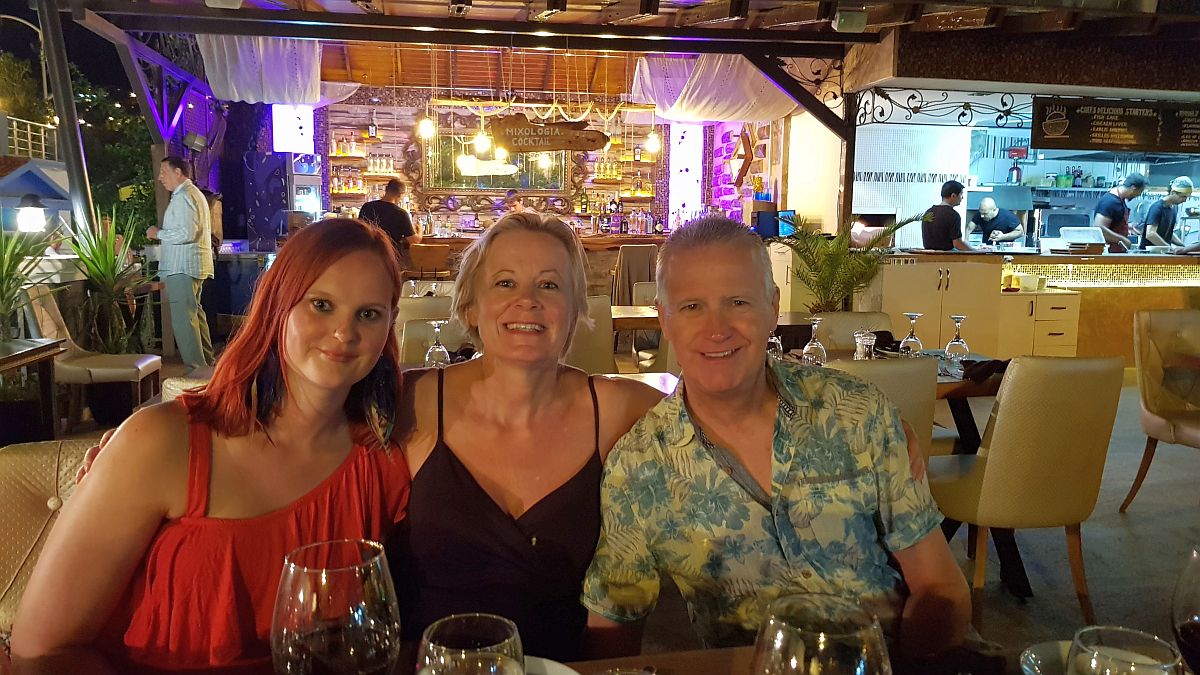 I think is Tam's 'serial killer' smile. She loves a chianti with her fava beans.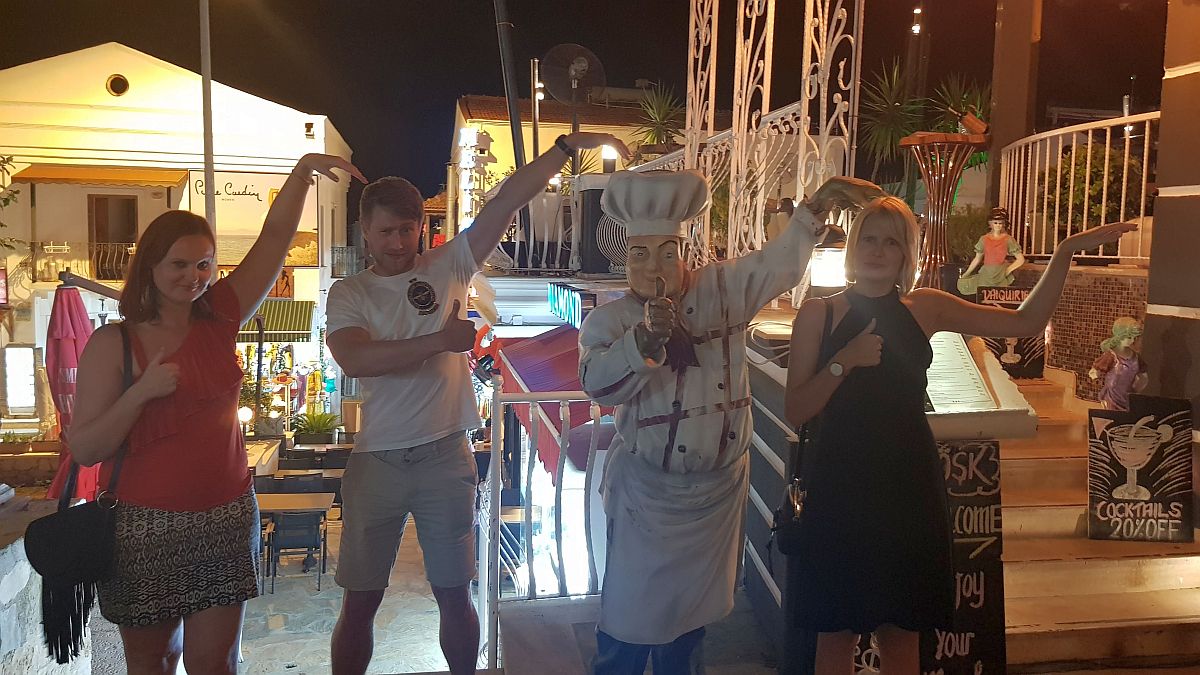 Of course a few bars were visited as well.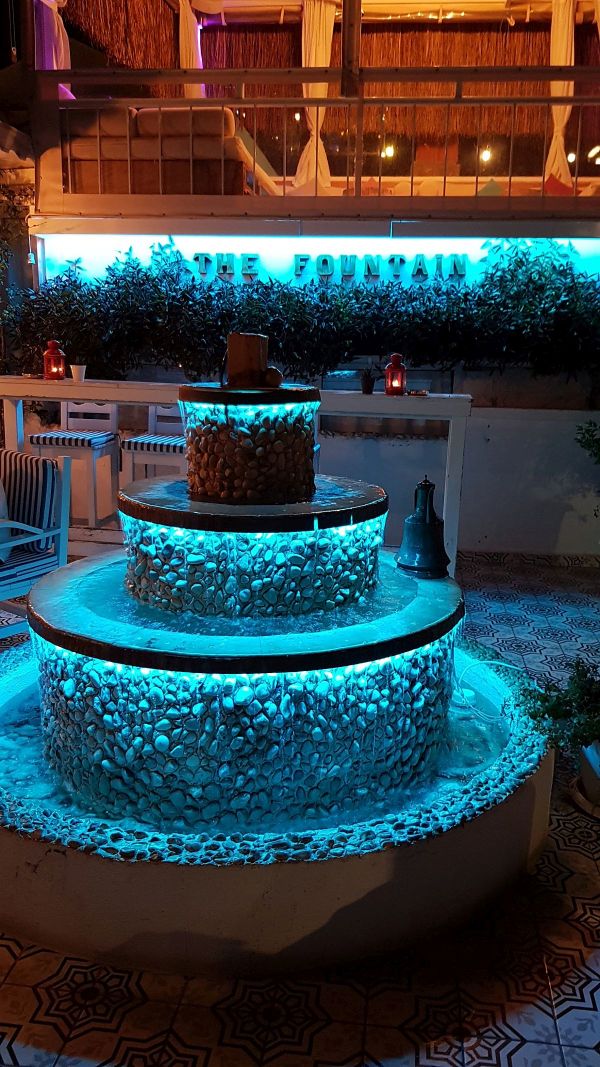 This is our old favourite The Fountain Bar.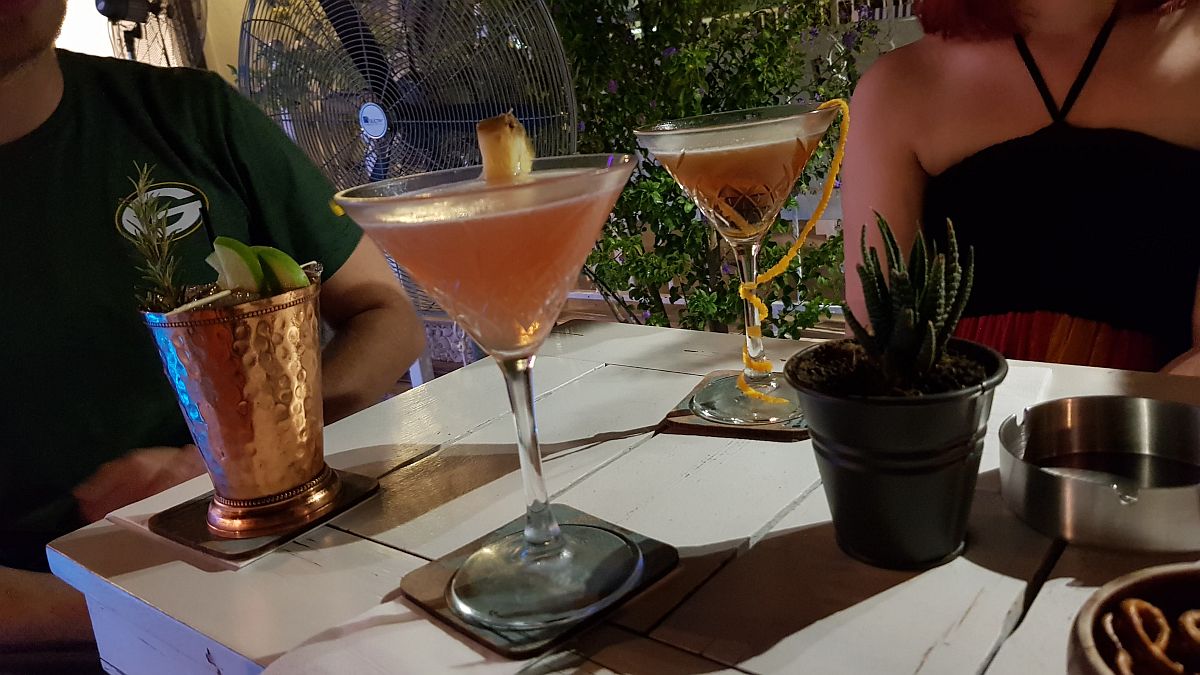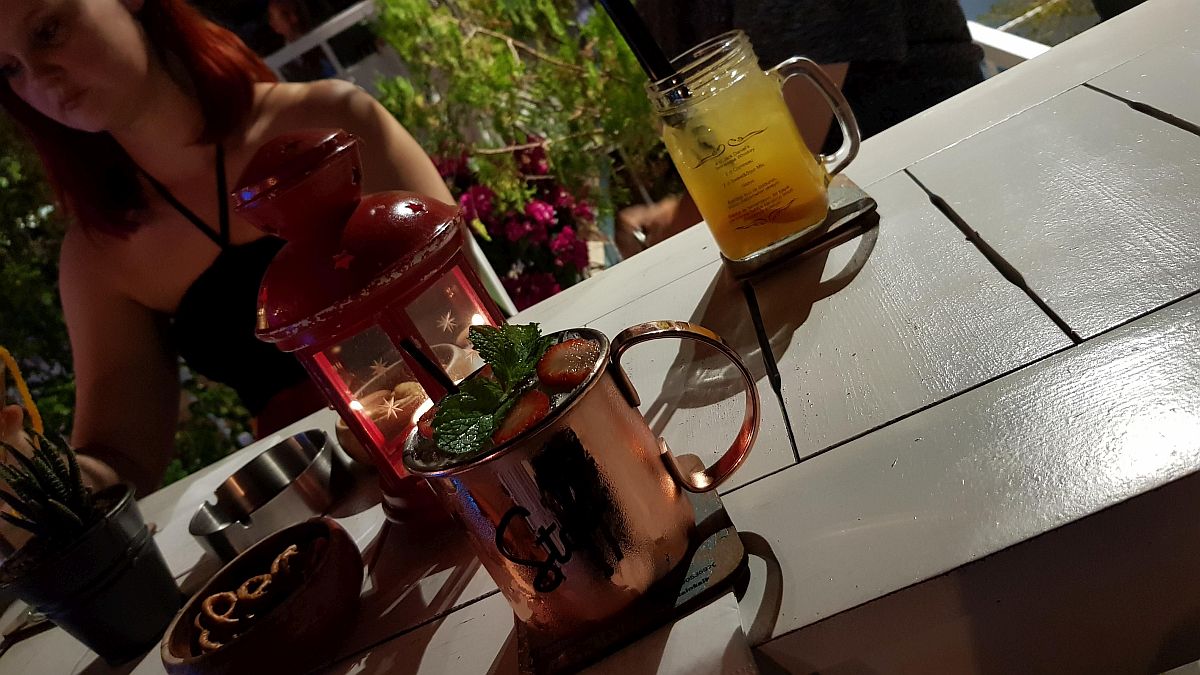 Tam got a bit 'arty' with this photo. Or she fell asleep.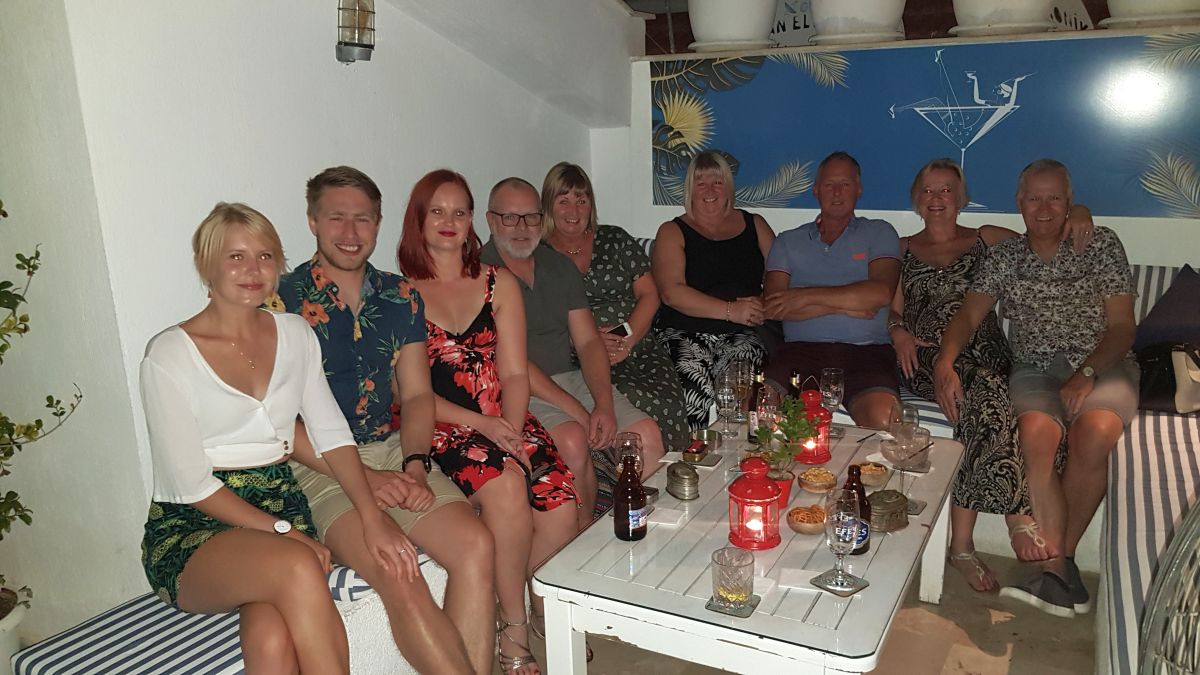 We met up with some friends from our home town who also happened to be in Kalkan at the same time and had a fun evening in a few bars.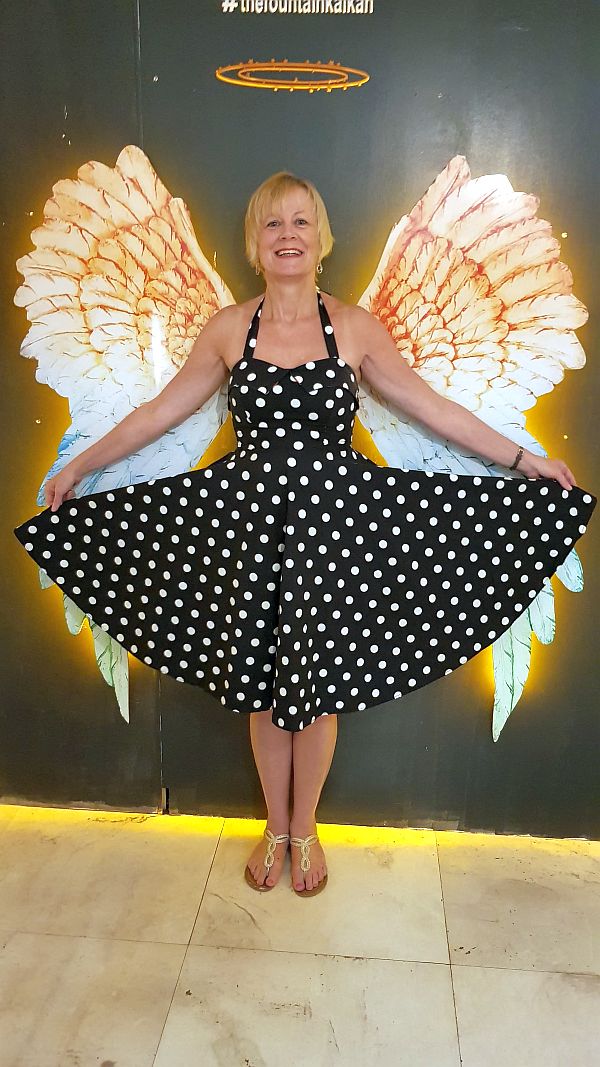 How could we miss the opportunity for silly photos.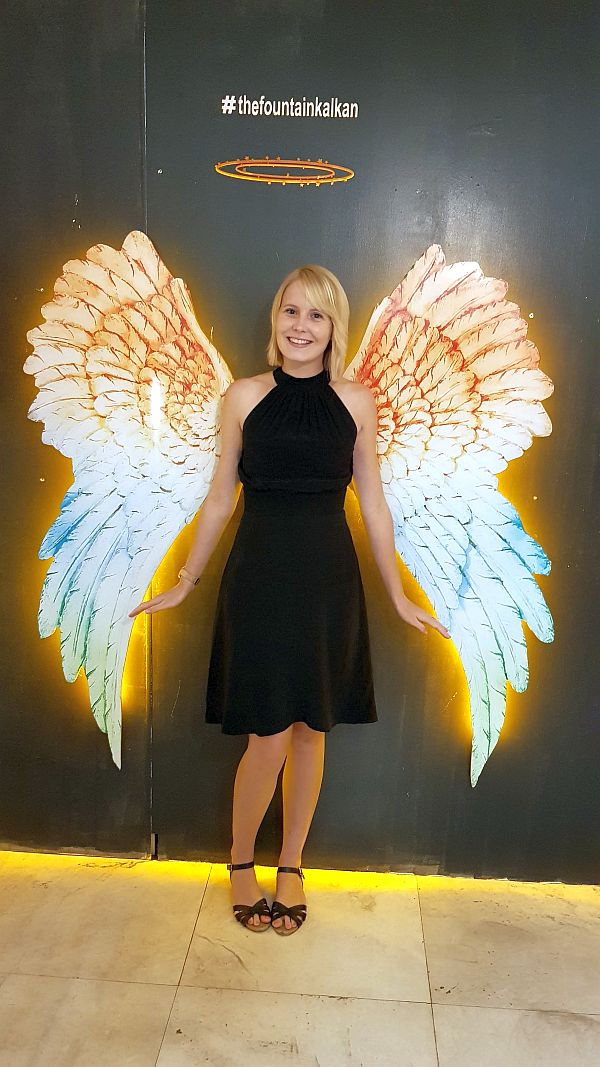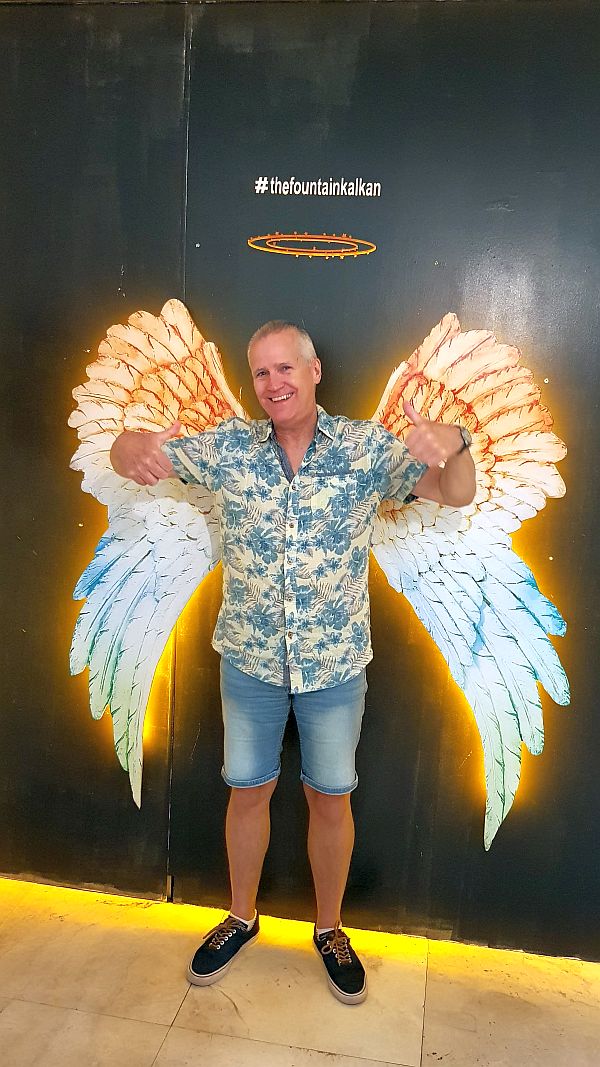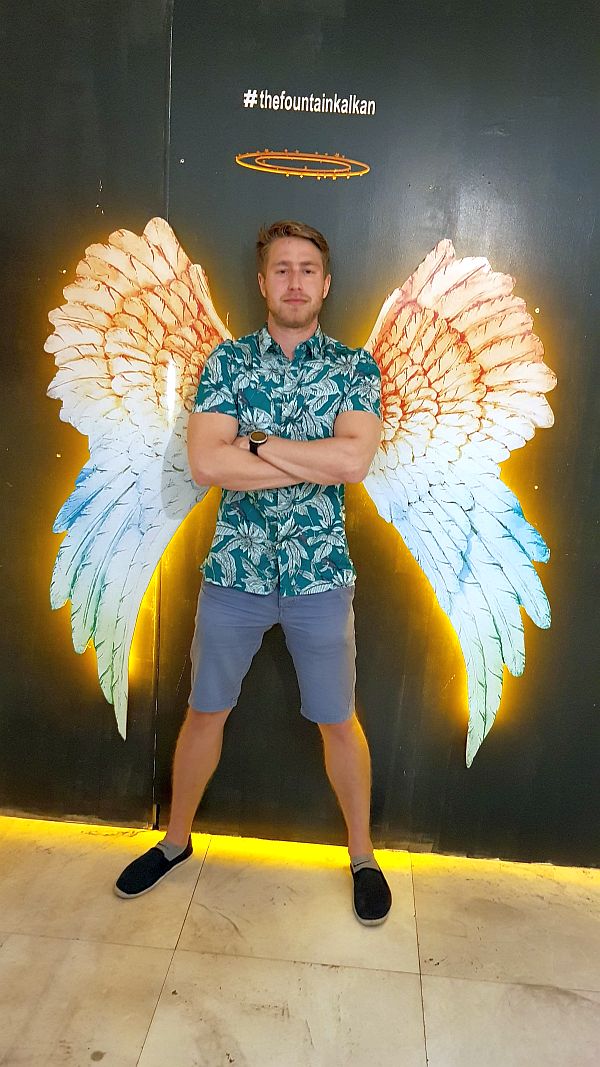 Macho angel Charlie. There isn't one of India - I guess she was the photographer.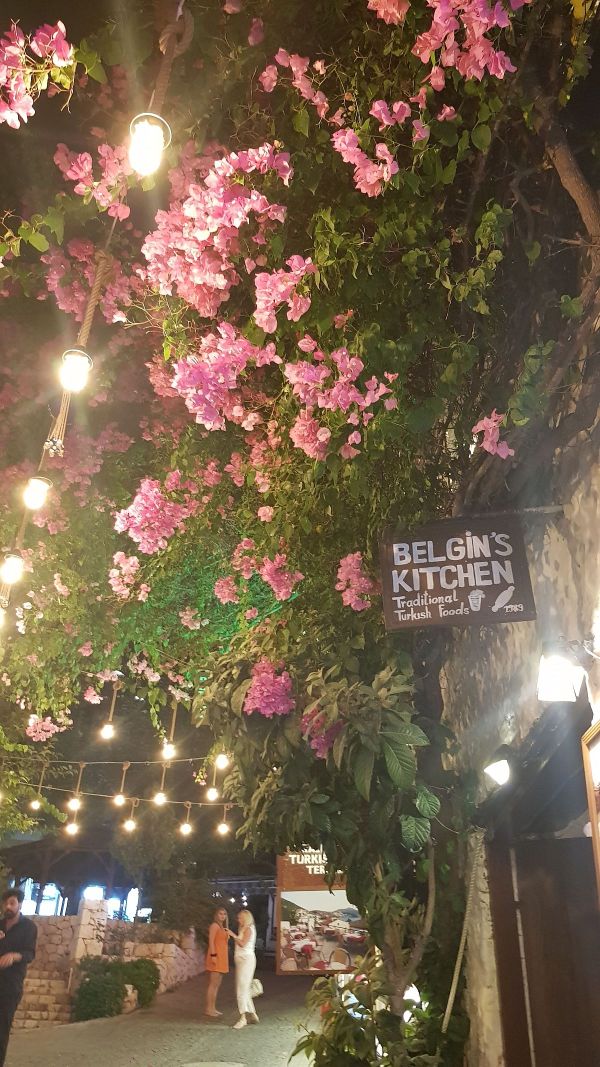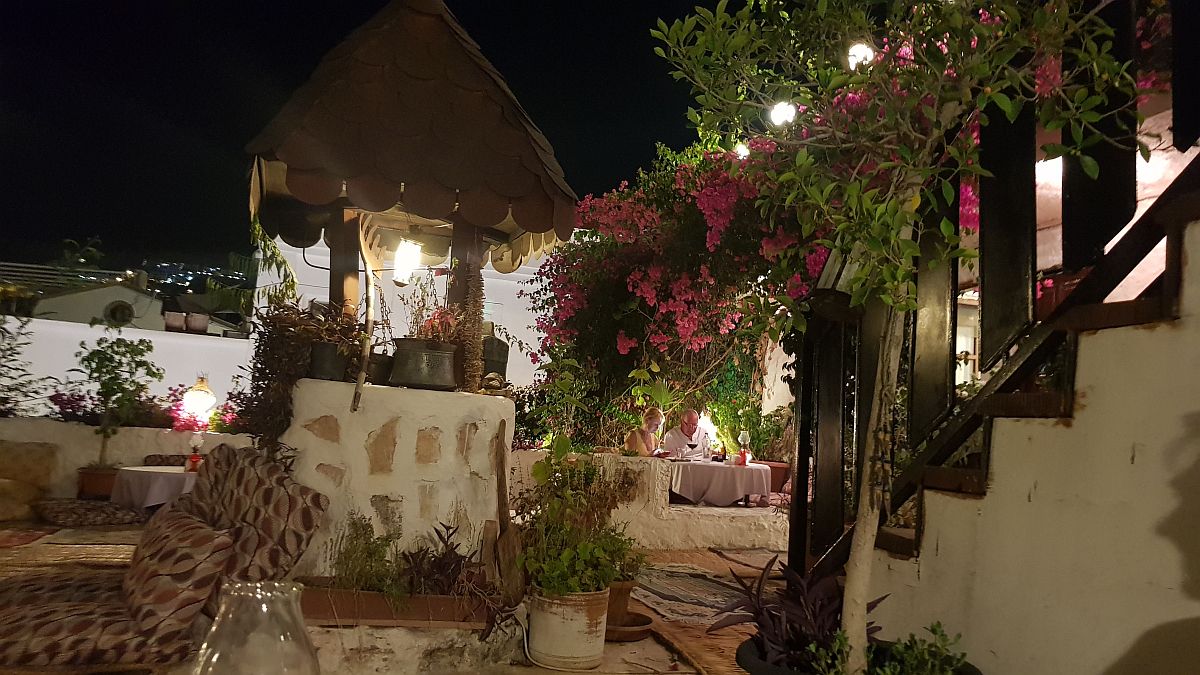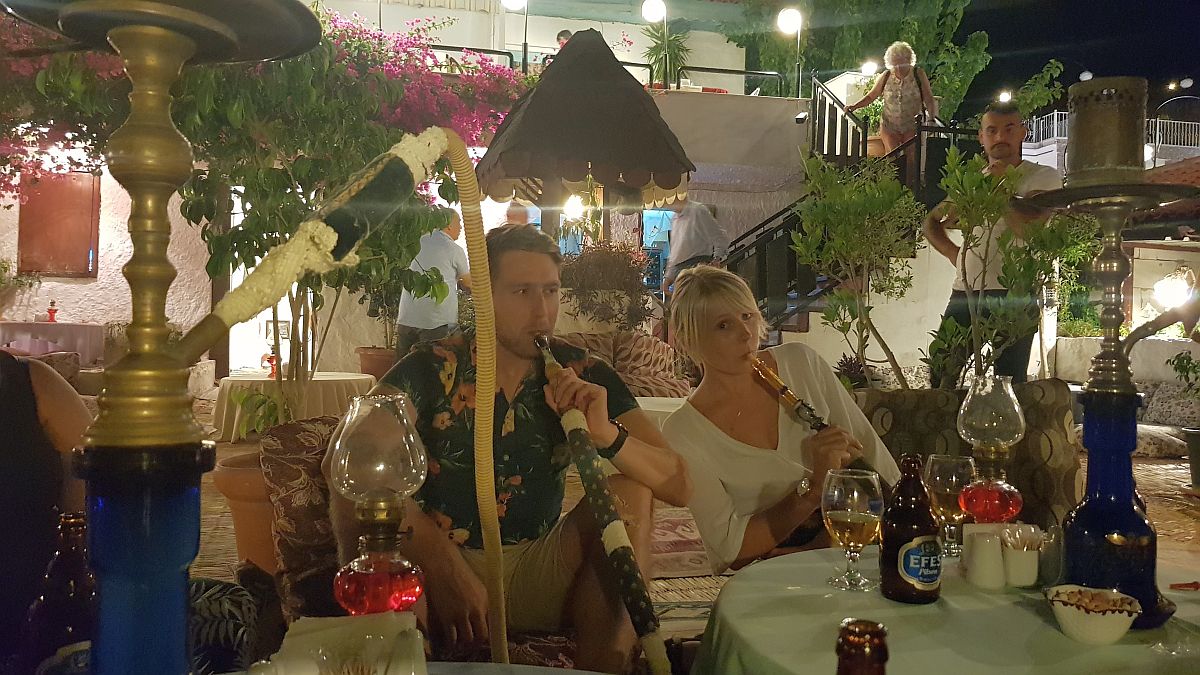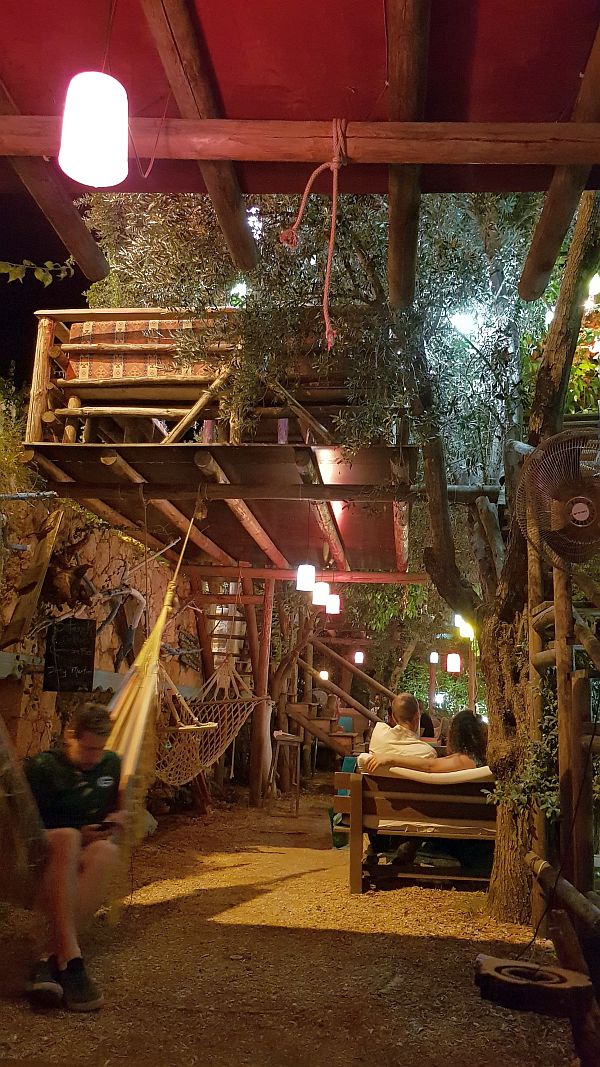 Botanik Bar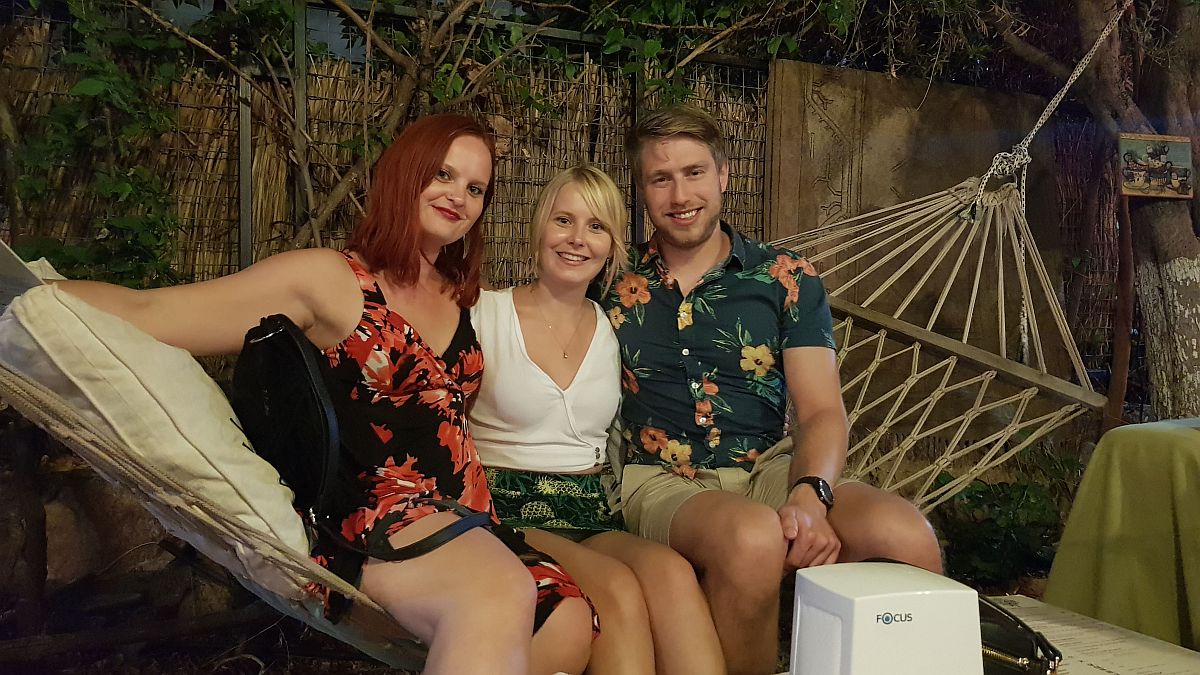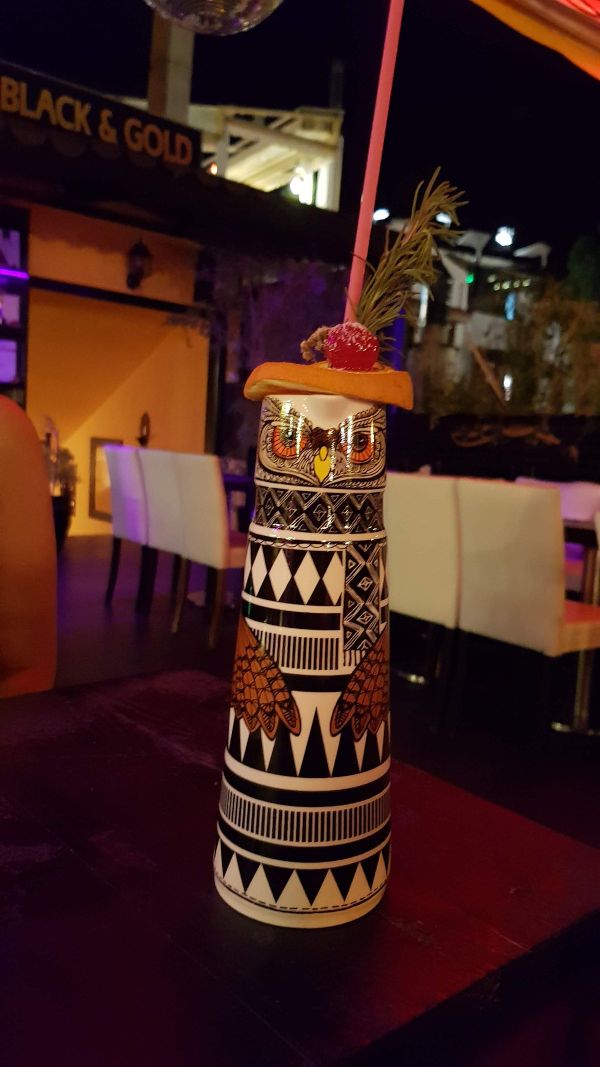 The Black and Gold Bar became one of our favourites with some rather unusual cocktails.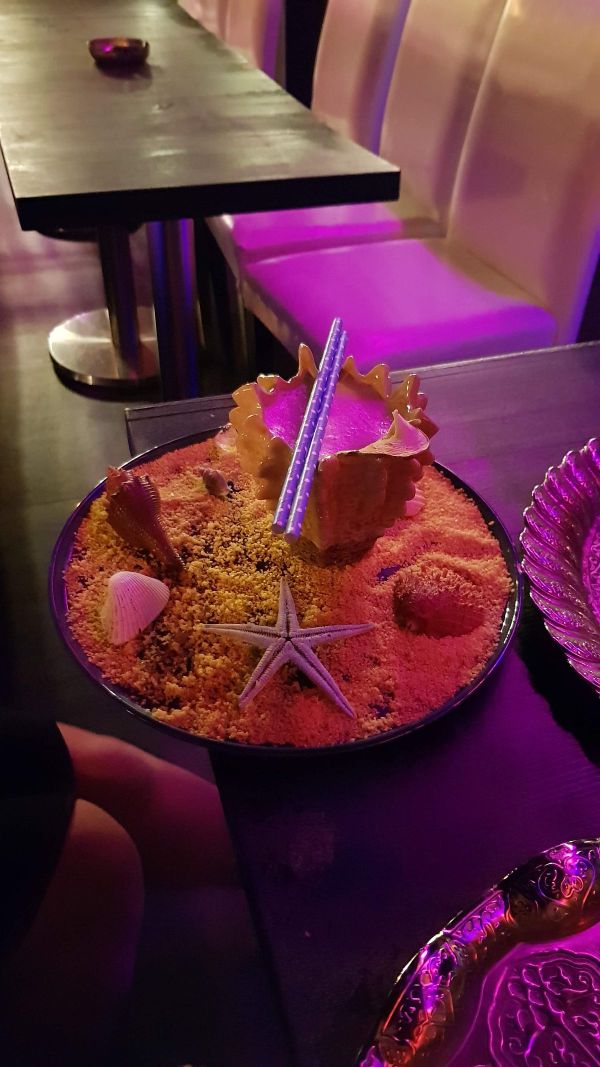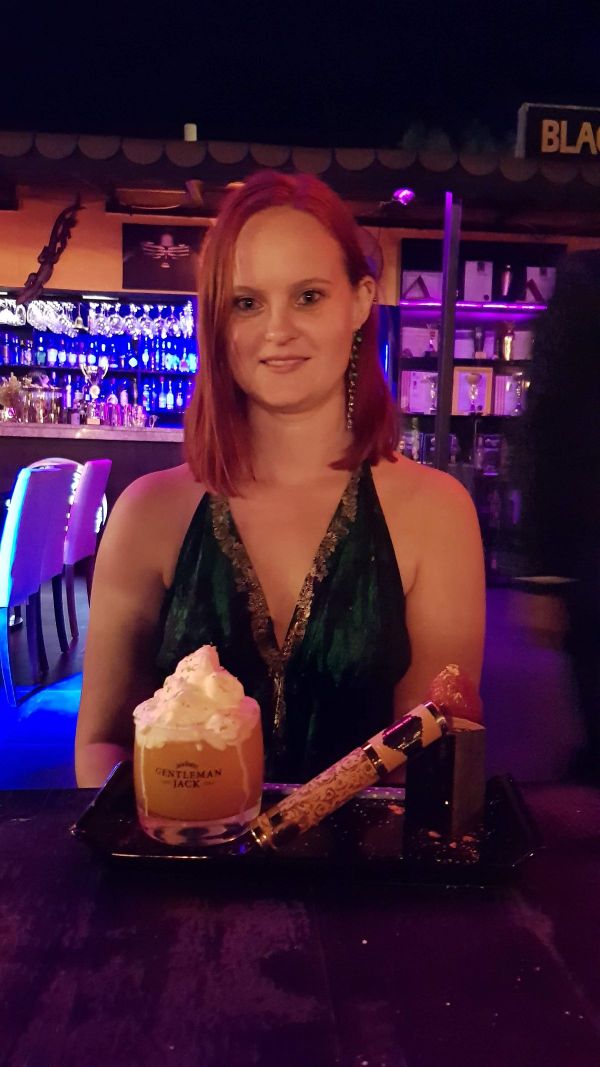 This cocktail came with its own cigar.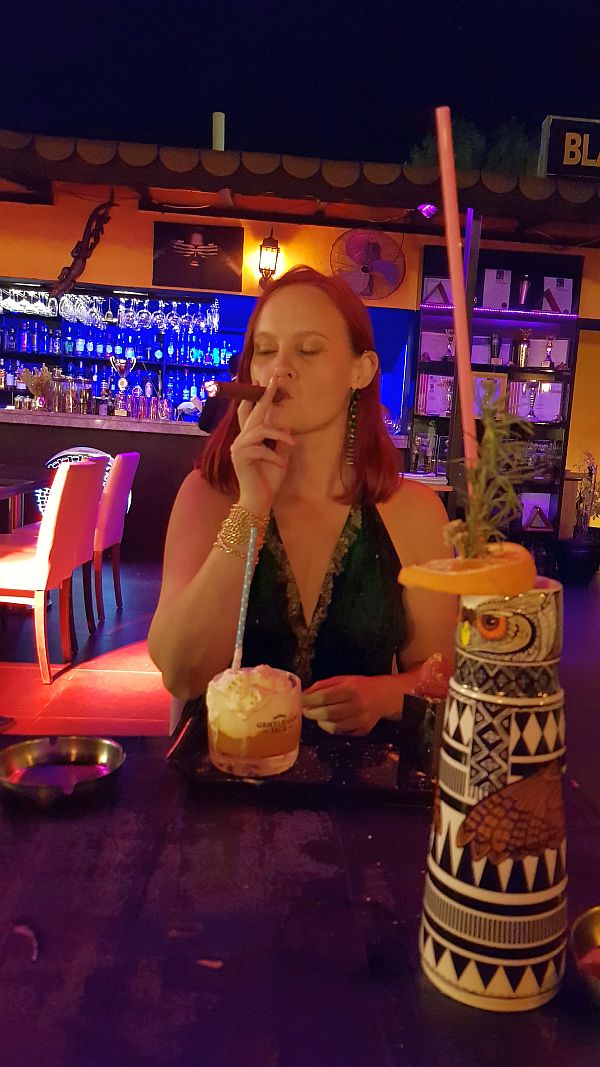 As you can see it wasn't exactly small.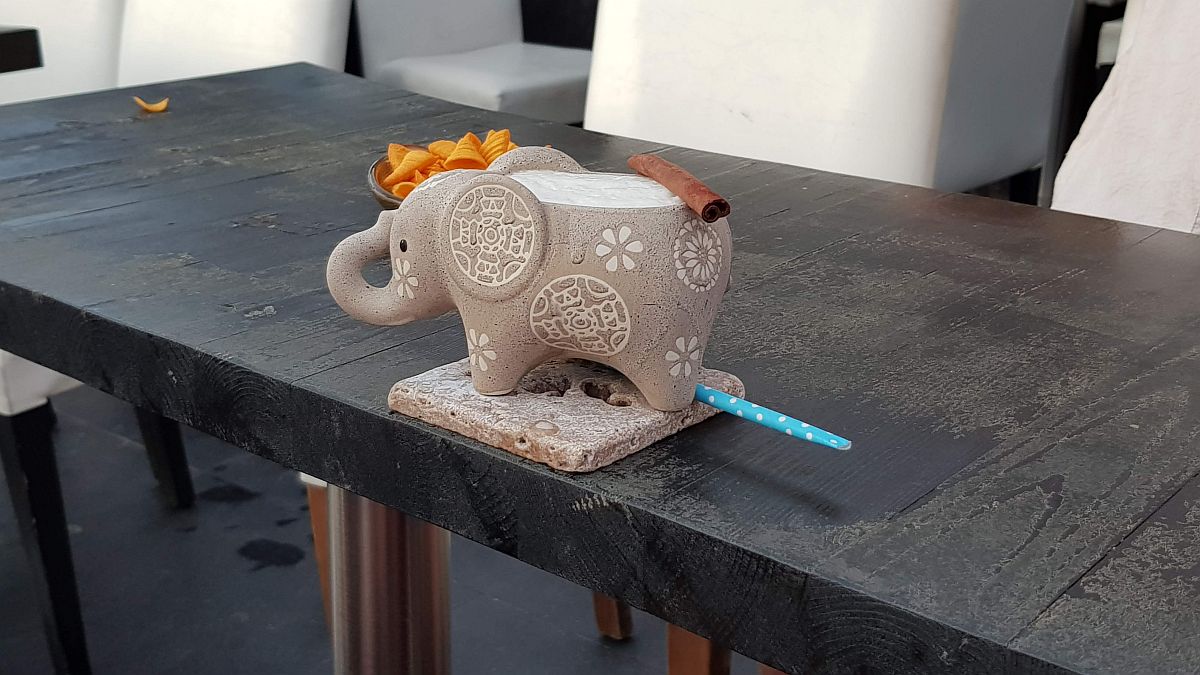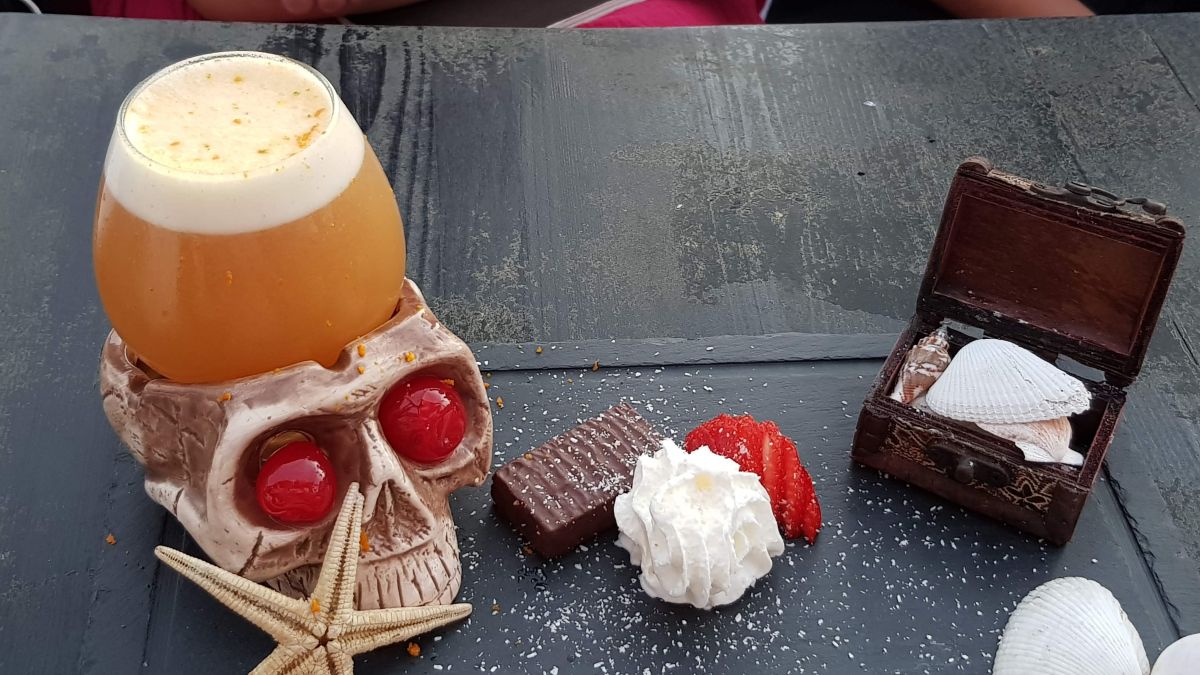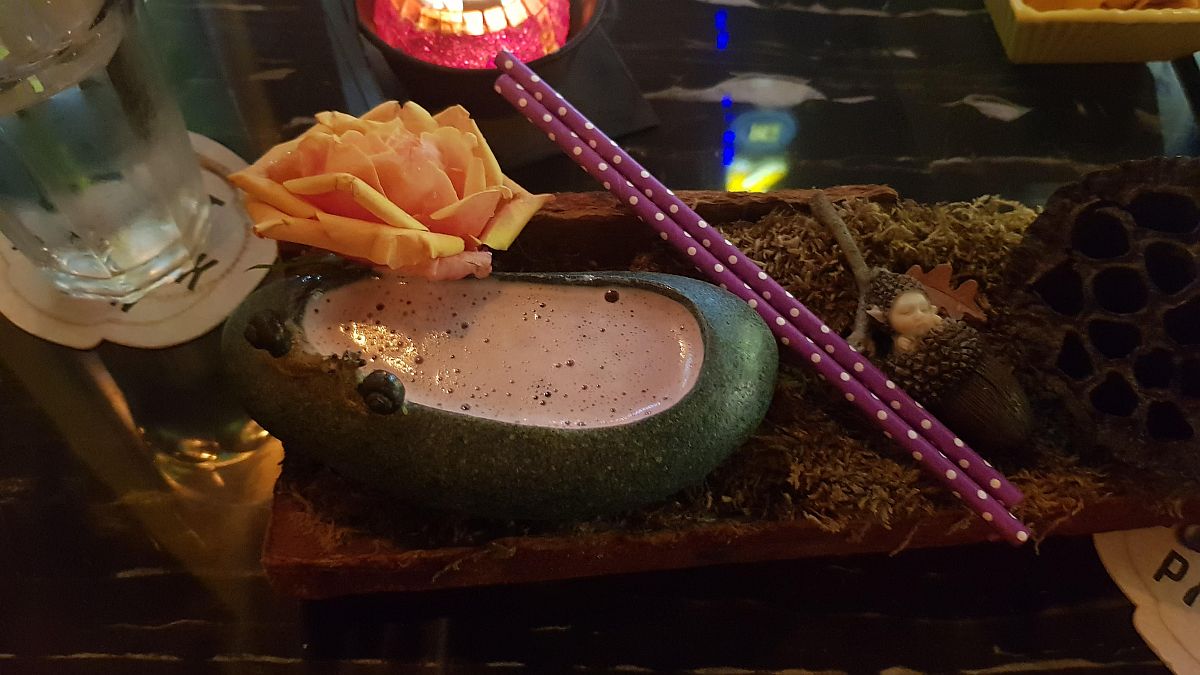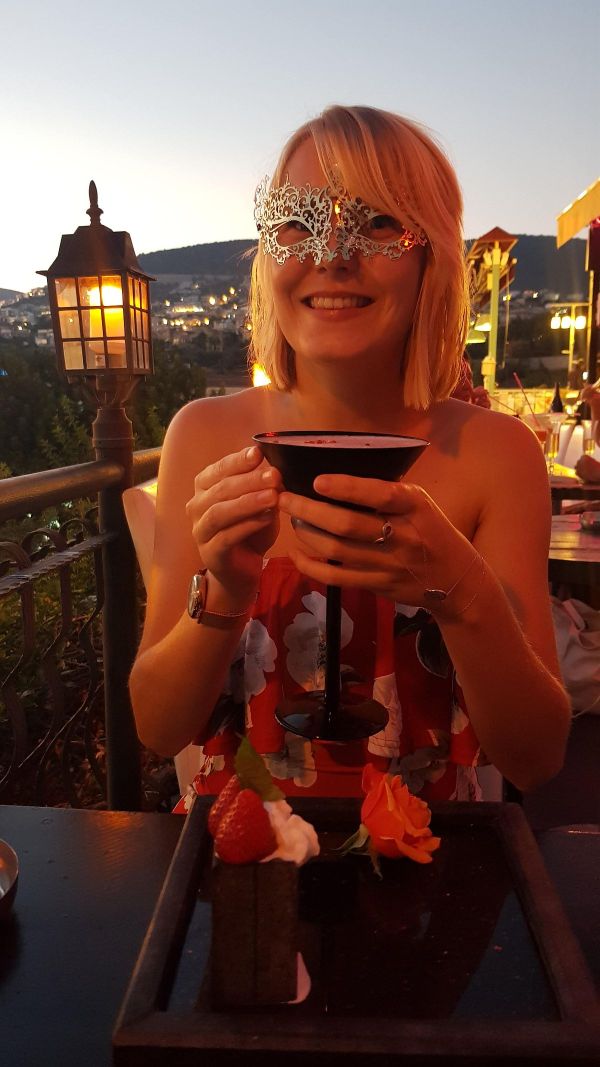 This cocktail came with a mask. You didn't get to keep it though.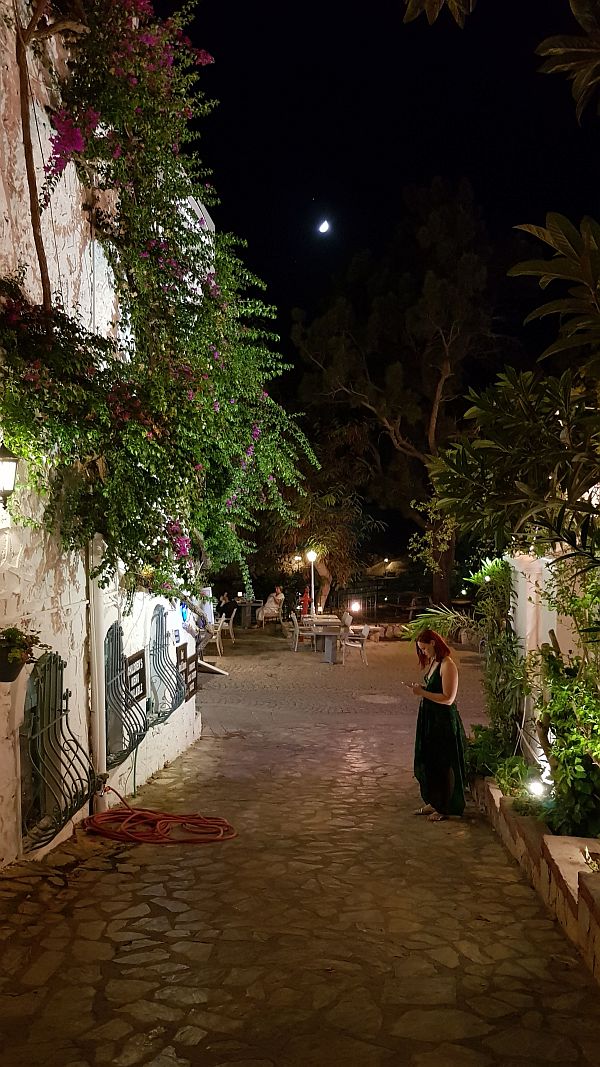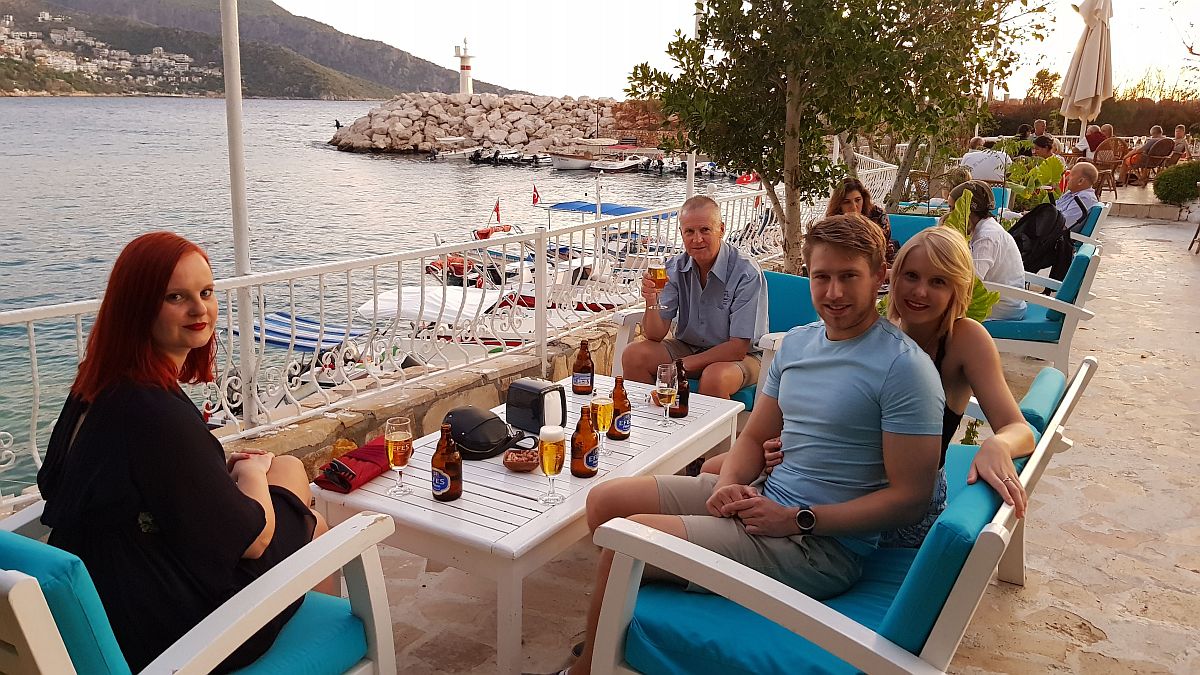 Feners Bar down by the harbour is always worth a visit at sundown.
So that's about it for another holiday.